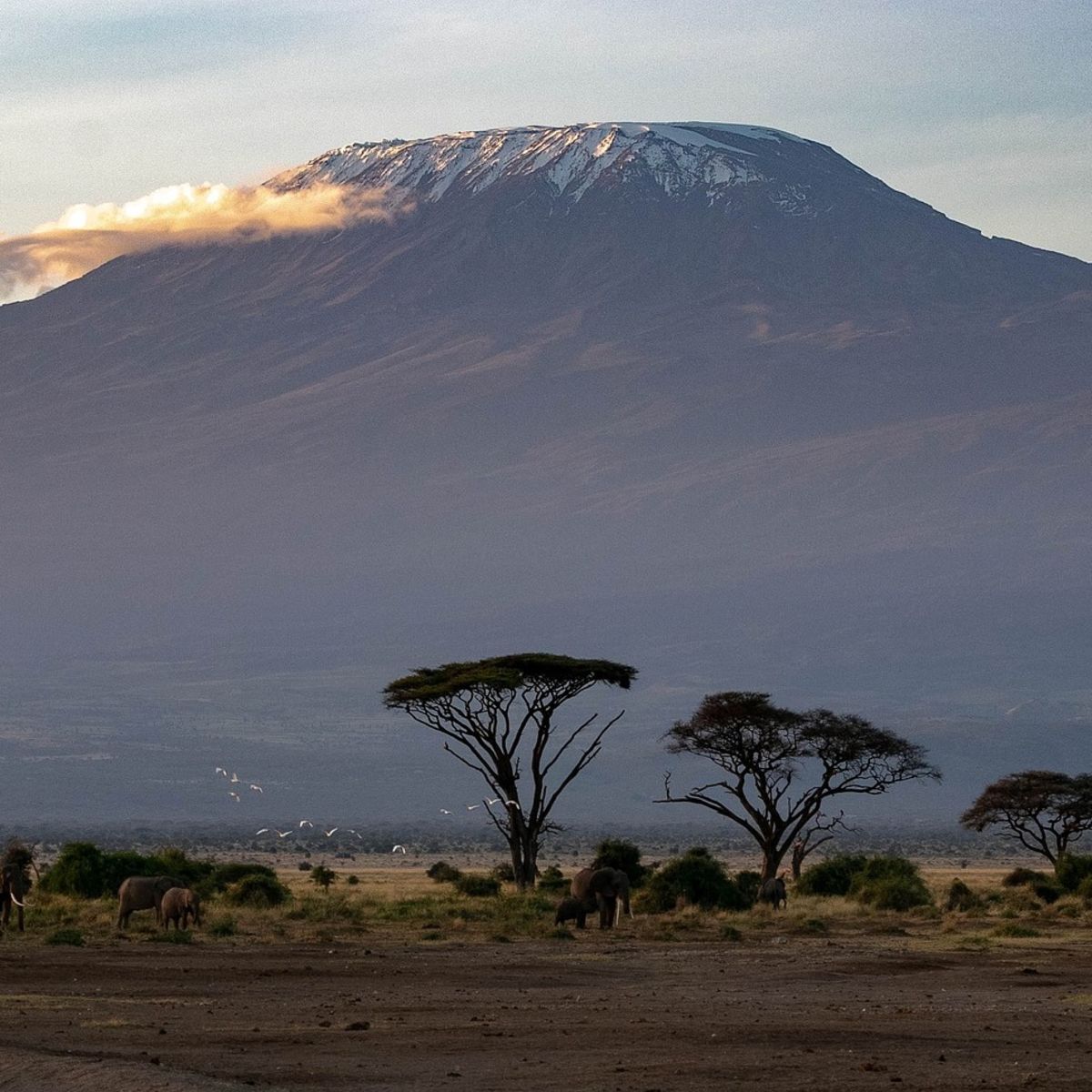 Climbing Mount Kilimanjaro FAQs
Sep 15, 2021
Reading time: 16 minutes
Other titles for this post could be "All your practical Kilimanjaro questions answered" or "We help you prepare for Kilimanjaro and travelling there". From visas and vaccines to what to expect of your group and mountain crew, we've got the answers for you!
No preamble necessary, we think – let's get tucked into the Q&As!
What is climbing Kilimanjaro really like?
We have put together a short documentary to show you what it's really like climbing Mount Kilimanjaro. Find out what it's really like to summit the roof of Africa at 5,895 m (19,341 ft) above sea level. No matter where you are in the planning stages, it's an extremely useful watch as you:
Meet the mountain crew who make this magnificent once-in-a-lifetime experience possible.

Watch the team trek through five unique ecosystems.

And find out what it really takes to conquer one of the world's greatest natural wonders.
There would be a youtube video here.
Sadly, the youtube player requires cookies to work.
How do I get to Mt Kilimanjaro?
Tanzania has three major international airports:
Dar es Salaam (DAR)

Zanzibar (ZNZ)

Kilimanjaro Airport (JRO)
The latter is the most convenient for Kilimanjaro, sitting only 42 km away from the mountain town of Moshi and 50 km from Arusha. In addition to flights to Tanzania, you may consider flights to Nairobi in Kenya, which is only a 5-hour shuttle bus ride to Arusha or a 1-hour plane ride to JRO. Note, however, that by choosing to fly to Kenya you may need a multiple-entry Kenya visa (if you are flying out of Kenya, too, for example, and spend longer than a fortnight in Tanzania), which can cost as much as $122 – thereby reducing or eliminating any saving you may have made in airfares.
In deciding which flights to book, you should take the full trip into consideration. For example, if you would like to spend a couple days in Zanzibar after the climb, it might be best to book one-way tickets from your home to Kilimanjaro Airport for the climb, from Arusha to Zanzibar after the climb, and then from Zanzibar back to your home.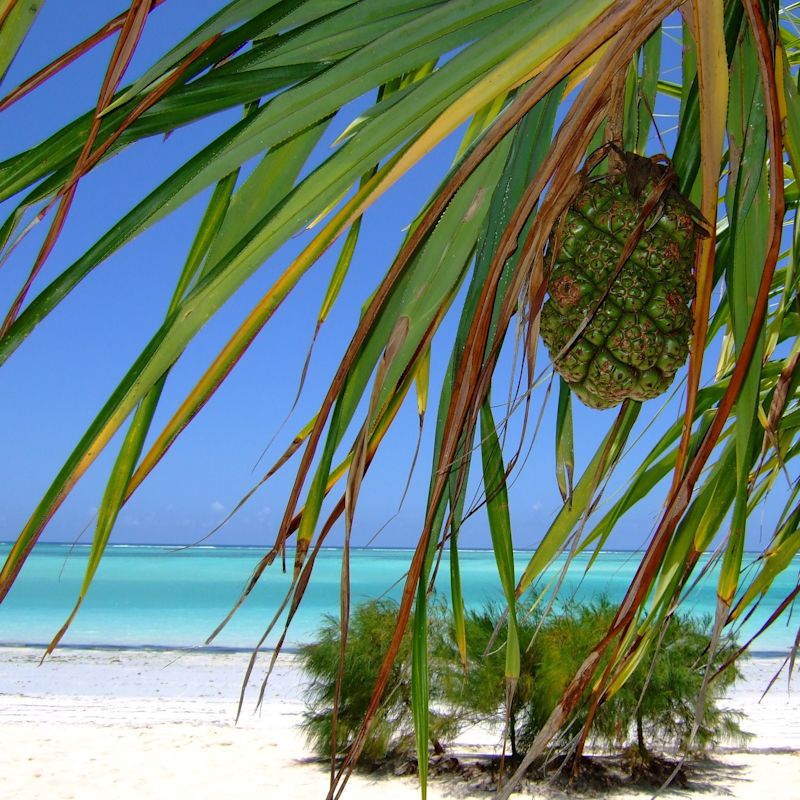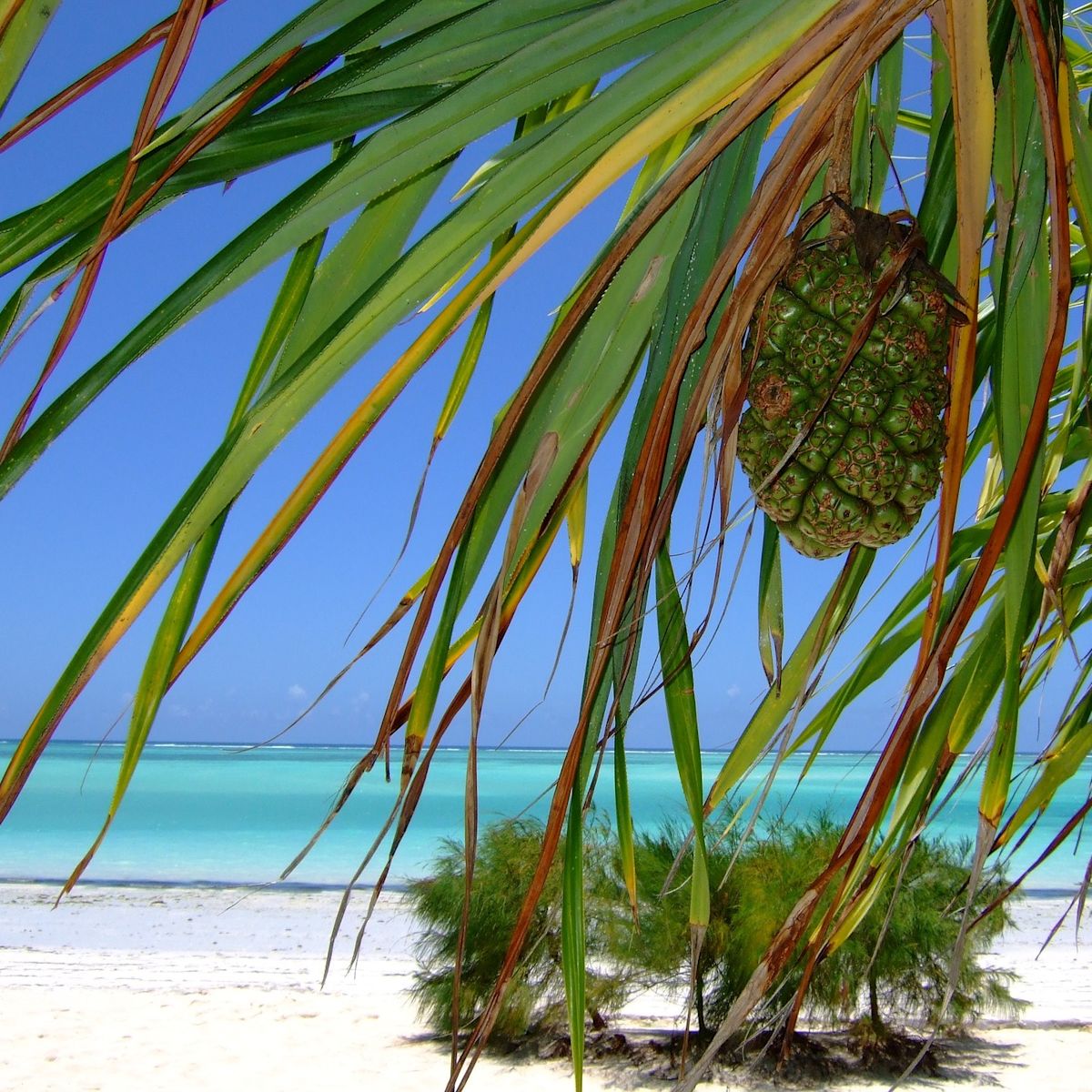 Many folks like to head on safari or to Zanzibar as a reward after the rigours of Kilimanjaro
How many days early should I arrive?
We recommend arriving one day early (called "arrival day"). This will give you time to relax, meet your fellow trekkers, and get a proper briefing before the climb starts. We do know, however, that travelling to Kilimanjaro can be a challenge and so we will accommodate your arrival time as best we can (for example, if you arrive only late at night the day before the climb starts).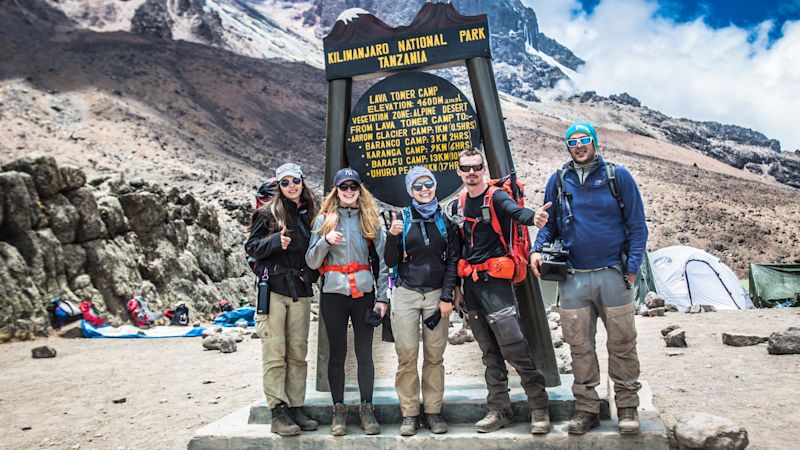 Every campsite has a sign with some altitude figures
Do I need a visa for Tanzania?
You will need a passport that is valid for at least six more months as well as a flight card which you will receive on the plane. Finally, you need a Tanzanian visa. US, Canadian, British and most European citizens can simply obtain their visas upon arrival at the airport. The cost is $100 for US passport holders and $50 for others. If you are a citizen of a different country, please check with your embassy if you can obtain a visa upon arrival.
What vaccinations do I need?
There are no specific vaccine requirements for entry into Tanzania. However, be aware that the Government of Tanzania requires proof of yellow fever vaccination upon arrival if you are travelling from a country with risk of yellow fever. We suggest you talk to your doctor about getting the following vaccinations (which are standard in developed countries): Hepatitis A & B, typhoid, yellow fever, tetanus, polio, MMR (measles, mumps and rubella) and meningococcal meningitis (Africa and Asia). Please check the Fit For Travel website for more up-to-date information.
Which is the best route?
There are seven different Kilimanjaro routes up the mountain. We recommend the eight-day Lemosho, seven-day Machame and nine-day Northern Circuit routes. These routes offer the best balance of a high success rate and beautiful scenery.
How hard is it to climb Kilimanjaro?
Kilimanjaro requires no technical climbing experience and any moderately fit person can summit the mountain. However, for most people, it will be one of the most difficult things they ever do in their lives.
When is the best time to climb?
Kilimanjaro is climbable all year round. The best months to clim, however, are July to October and December to February, as these are the warmest and driest months. July, August and September tend to be the busiest months on the mountain. Another factor to take into consideration is the full moon: summiting Kilimanjaro on a cloudless evening is without a doubt an unforgettable experience. Now imagine seeing the glaciers glitter in the moonlight – absolutely stunning. You can also summit the mountain to celebrate New Year's Eve. Why not join us on a New Year's Eve climb, a unique once-in-a-lifetime adventure?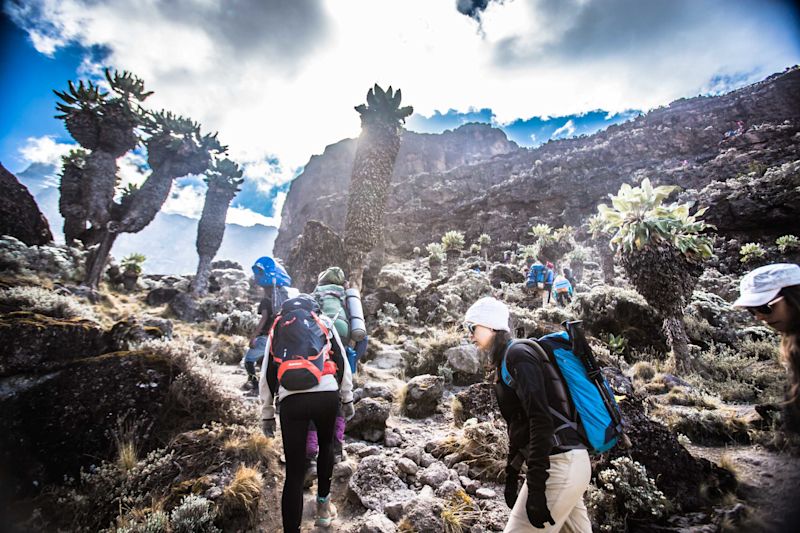 The moorland section has some really unusual and striking vegetation
What kind of food is prepared?
You'll be provided with locally sourced, healthy and nutritious meals cooked fresh every day by your cook and his assistant. Our menus have been carefully designed to ensure the food is delicious, easy to digest, and provides plenty of energy. Expect fresh veg, fruits, meat, nuts and snacks along the way, as well as clean water throughout.
The primary carbohydrates of the meals are rice, potatoes and pasta, as well as some meat. Fresh fruit and vegetables accompany every meal. Most meals will also have a selection of hot drinks like instant coffee, tea and hot chocolate. You may want to bring some supplementary comfort foods, such as candy, gum, chocolate, health bars and powdered energy drinks.
Can you cater for special diets?
Any special requests regarding your menu? No worries. We can accommodate vegetarian and vegan diets. For those with special diets, please contact us to discuss what we can or cannot do.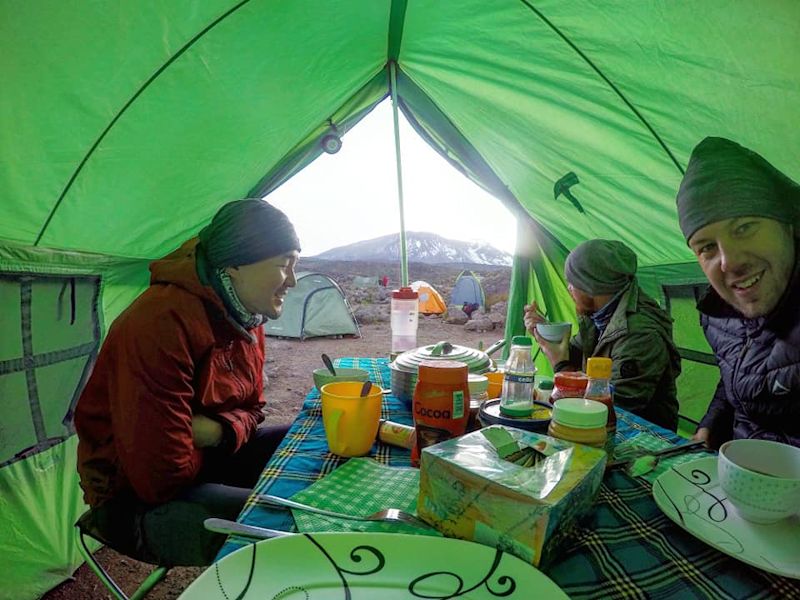 Staying cosy before a meal in the Follow Alice mess tent
How do I shower and use the loo?
This is an outdoor adventure trip in the African wild. There are no showers on the mountain. Warm water will be supplied in a bowl and you will be able to wash your face and hands. For the rest you can bring wet wipes.
At each campsite, we set up a private toilet tent which contains a plastic toilet. There are also simple, hole-in-the-ground public toilets (usually very dirty and not recommended). If you need to use the bathroom on the trail, you will find a spot behind a tree or rock.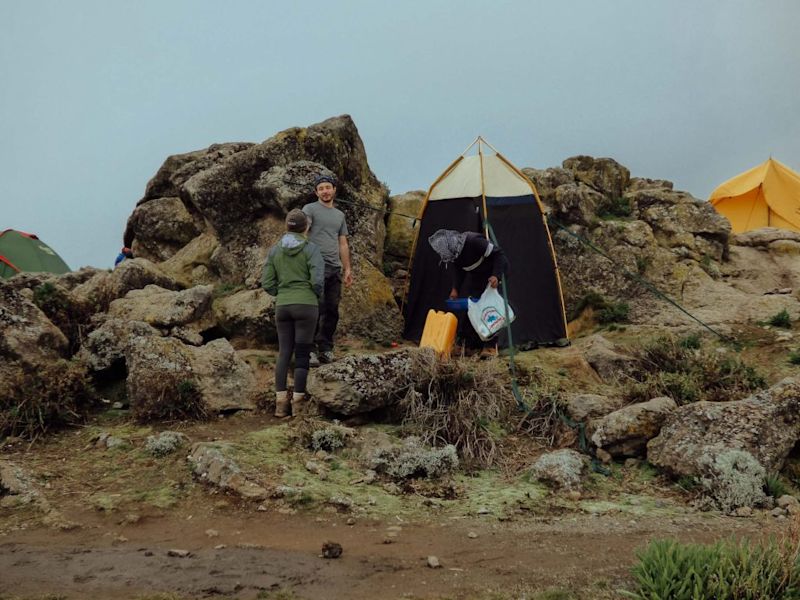 Most operators provide their climbers with a private toilet tent
What is the climate like?
Due to the great elevation gain on a Kilimanjaro climb, you will experience all kinds of weather, from 30° C (86° F) on the plains surrounding Kilimanjaro all the way down to -7 to -29° C (20° to -20° F) at the summit. So ensure you are prepared and bring the right clothing! You can learn more in Mount Kilimanjaro climate.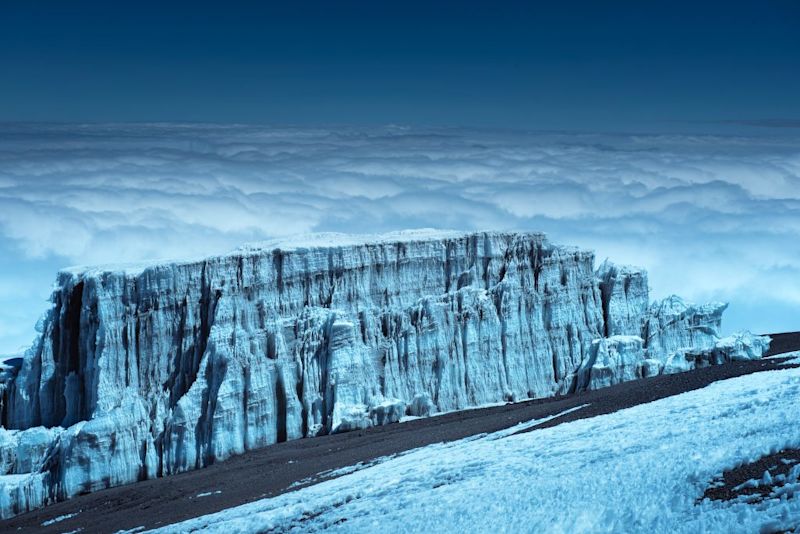 The glacier at the top of Kilimanjaro
What is accommodation like?
During the climb, we sleep in three-person, four-season dome-style mountain tents, two people per tent. These tents are modern and have an outer flysheet and large vestibules where you can store your equipment during the night. On the day before the trek (arrival day) and the day after the trek (departure day), we stay in a comfortable lodge set in spacious grounds shaded by banana trees near Arusha or Moshi. Both have stunning views, with lovely rooms and facilities to match. We understand that coming from a week on the mountain, you want to treat yourself with a hot shower, great food and maybe a good bottle of wine to celebrate!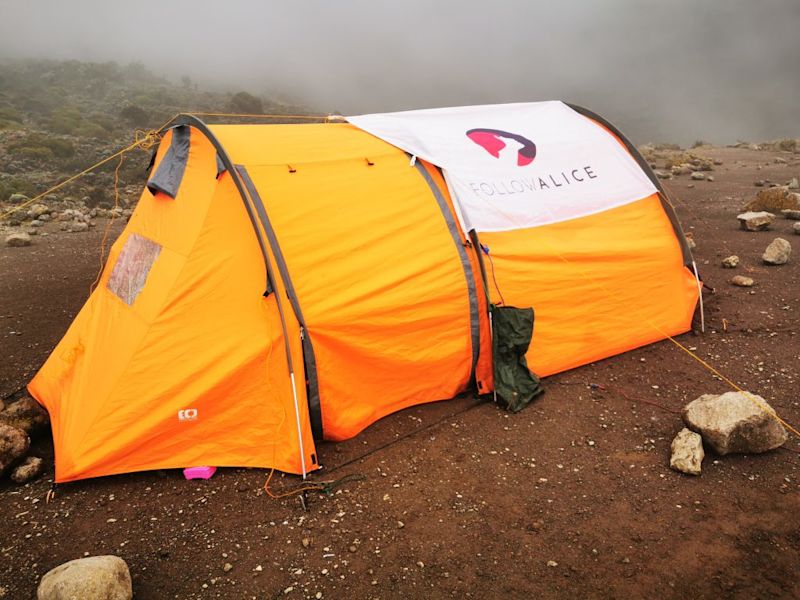 One of our Follow Alice sleeping tents
How many people are in a typical group?
On our Kilimanjaro climbs, we aim to build groups of 6 to 10 fellow travellers, with 12 people being the limit. Follow Alice groups are typically made up of 20 to 35 years olds who are sociable people from around the world looking to share an unforgettable adventure with you.
Can I join a group as a single climber?
Yes, we even encourage you to sign up! We make sure to match you in a bigger group of like-minded fellow travellers that will soon be your new friends. There is nothing greater than being 'stuck' with each other for a week on a mountain in Africa!
How do I prepare for Kilimanjaro?
Kilimanjaro preparation maximises your experience! Kilimanjaro requires no technical climbing experience and any reasonably fit person can summit the mountain.
That said, you should not underestimate the mountain. Depending on your current fitness, we suggest you start your physical training at least two or three months prior to the climb. Please read How should I train for Kilimanjaro? to learn more.
The fitter you are, the easier the climb will be for you. Despite all the preparation, the biggest challenge for any person climbing up Kilimanjaro are the effects of altitude, which seem mostly unrelated to fitness, age or gender.
How should I dress for Kilimanjaro?
You should follow the layering principle when you dress for Kilimanjaro. Staying warm and dry is imperative for a successful climb, and you can achieve it easily if you know how to properly layer:
1 base layer:

thermo underwear, long-sleeved shirt, sock liners, and thin gloves. The base layer consists of moisture-wicking items that are worn against the skin. By moving sweat away from your body, the base layer should keep you dry and provide some insulation. Synthetics for this layer, no cotton!

2 mid layers:

fleece pants, sweater, down jacket, and thick socks. The primary purpose of these layers is to provide warmth. Therefore, while searching for mid layers, you should look for those that have good insulating qualities. Use fleece, down or heavier synthetics!

1 outer layer:

waterproof jacket and pants, knit hat, and waterproof skiing gloves. The outer layer is designed to provide protection from the wind, rain and snow.
Don't let the changing temperatures on Kilimanjaro stump you – be prepared for any weather condition.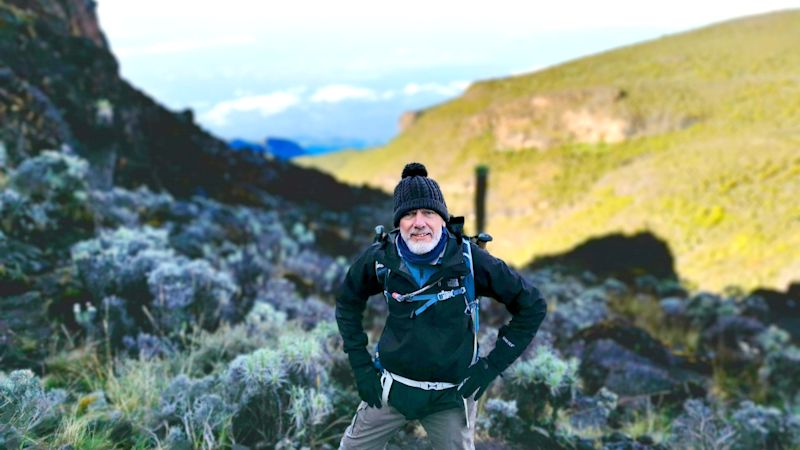 For most of the climb you need really warm clothes
What equipment do I need?
In our detailed Kilimanjaro packing list we identify a variety of mountaineering clothing and gear you need for your climb.
The two most critical pieces of equipment that you might need to buy are warm, waterproof hiking boots and an insulated, synthetic or down jacket for the cold summit day. Most other equipment is often part of many people's winter or skiing wardrobe already (like long underwear and a fleece jacket). We provide things like sleeping bags and trekking poles for free.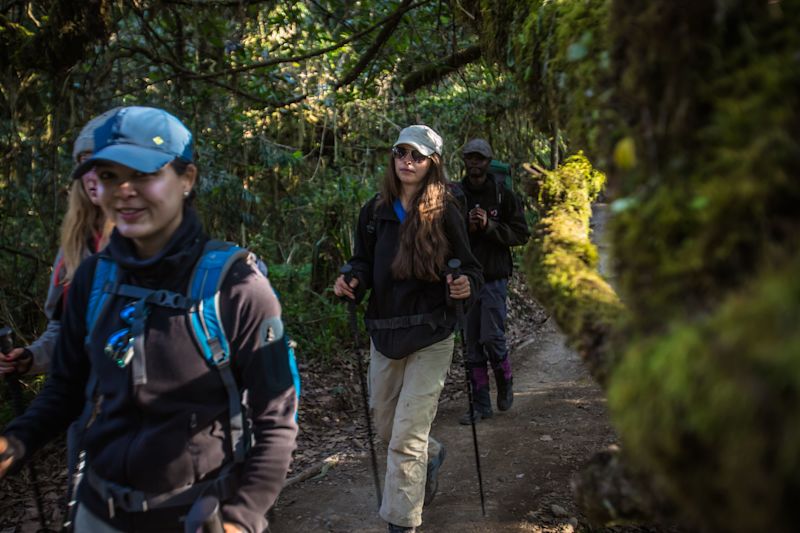 Many climbers find trekking poles useful, especially on the descent
Should I buy or rent equipment?
We recommend you bring or buy your own personal items such as hiking boots, thermal underwear, waterproof pants, down jacket, and gloves. We provide you with the more unusual items like a winter sleeping bag and trekking poles for free. Please let us know in advance what items from the equipment list you would like to use so we can arrange everything for your arrival.
What luggage should I bring?
When climbing Mount Kilimanjaro, you will need to bring at least two bags. One should be a daypack which you will carry yourself. The second bag can be a larger duffle bag or backpack. The daypack, which you can think of as your carry-on luggage, will contain your water, lunch, snacks, rain gear, camera and maybe an extra layer of clothing. The second, larger bag will be carried by your porter and will contain all your other clothing and toiletries. It might be a good idea to bring a third small bag so that you can leave any unnecessary items like city clothes at the lodge or in our local office before you go on the climb. This way you also keep them clean and free from dust for your return.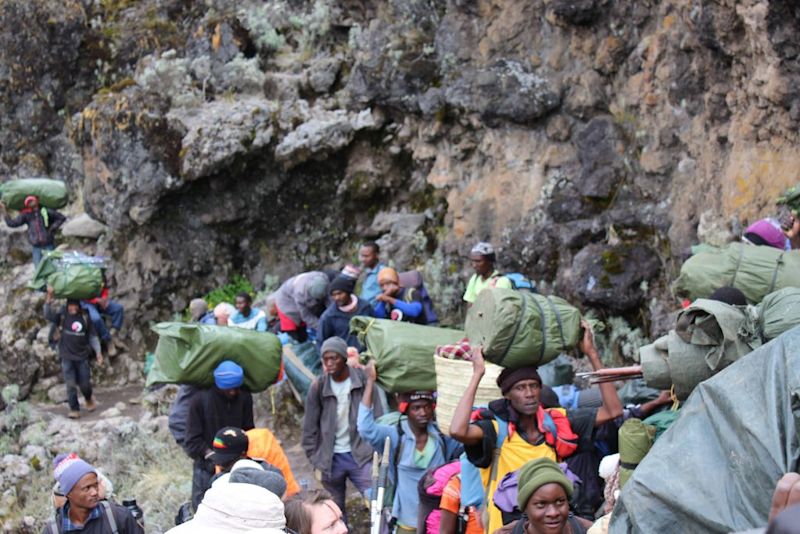 Porters carry the bulk of your goods and everything else on a Kili climb
How much luggage can I bring?
You should limit your larger duffle bag or backpack to 15 kg (33 lb) as this will ease the burden on the drivers, vehicles and, most importantly, the porters. Baggage should be of the round, squashy type rather than hard suitcases which are often difficult to fit into jeeps and carry up the mountain. Note that luggage restrictions on domestic flights are often also 15 to 20 kg (33 to 44 lb) per person, so be mindful when packing your bags. For your daypack, try to keep it under 9 kg (20 lb) for your own benefit when climbing up the mountain.
We also have a Kilimanjaro packing list video you might enjoy ...
There would be a youtube video here.
Sadly, the youtube player requires cookies to work.
What staff supports us on the mountain?
Your Kilimanjaro guides and porters are your greatest asset on the mountain. Quality guides and porters make for a wonderful time on the mountain, while a mediocre staff can put your life in danger. Each of our experienced guides is licensed by the Kilimanjaro National Park, trained in acute mountain sickness (AMS) as well as basic mountain first aid, and speaks fluent English.
Typically, each of our groups has one guide per two climbers, and each climber has three porters. Porters carry all gear, tents, cooking supplies and water. You will come to respect these guys greatly by the end of Day 1 of your climb – each porter carries about 20 kg (44 lb) of kit on their back up the mountain!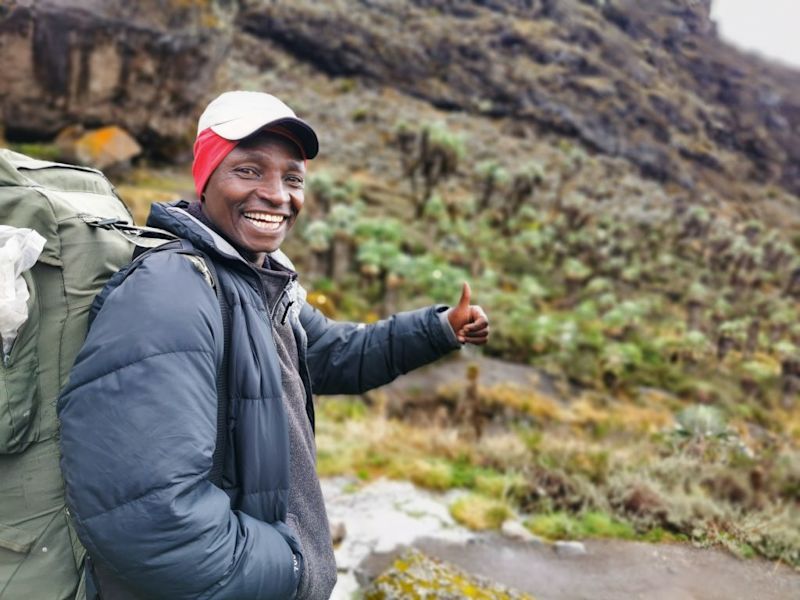 Meet Florence, one of our excellent guides!
Learn more about Kilimanjaro tipping and why this is such an important consideration before your climb.
There would be a youtube video here.
Sadly, the youtube player requires cookies to work.
What safety measures do you have?
Our guides are highly experienced to manage altitude sickness, which is the biggest obstacle on the mountain. They have an intimate knowledge of the network of shortcuts to escort climbers to safety, and they are trained to act quickly and calmly under any circumstances. We cover each of the things to consider about Kilimanjaro safety in-depth in How we keep you safe on Kilimanjaro.
Please remember that the purpose of this article is not to scare you, but to keep you well informed. At Follow Alice our top priority is your safety. We want you to know how to climb Kilimanjaro and how to do it in the safest way possible. It is safe to climb Kilimanjaro, but only when you are educated on the risks. It's a challenge, but that's what it's all about, right!?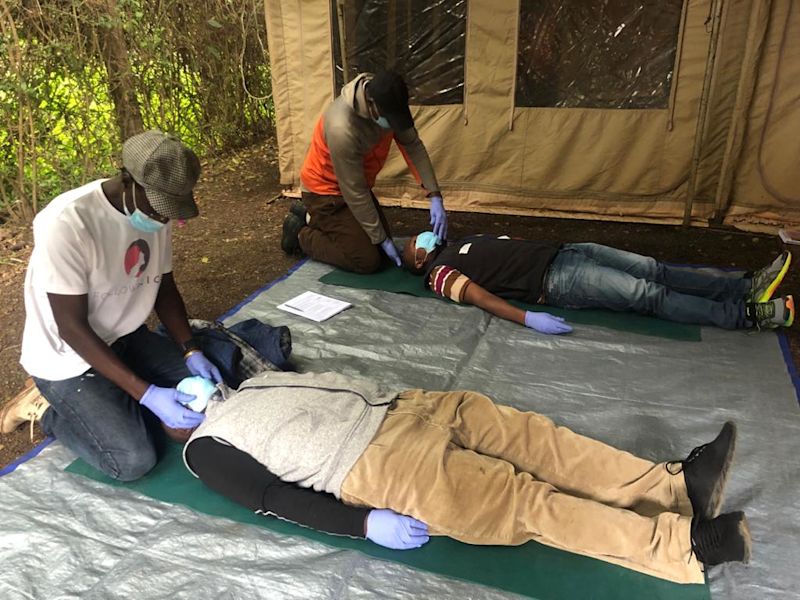 Our Kilimanjaro guides regularly undertake certified mountain safety refresher courses
What if I need to descend early?
Some climbers may fall short of reaching the summit, but not at the expense of the overall experience. Even for those who never reach the top, the trip to the wonders of Kilimanjaro will still be highly rewarding. If one or more people of the group decide they cannot continue, or if a guide deems it unsafe for a person (or a group) to continue the climb, they are escorted to the most convenient campsite and wait for the others to return.
Is climbing Kilimanjaro safe?
Kilimanjaro is a safe climb when taking one of the routes we recommend. However, there are always deaths on these big mountains. Kilimanjaro is no different. The most common cause of death is probably altitude-related and that is from going too fast and not taking the time to acclimatise. Our local guides and staff are trained to keep you safe and have the ability to treat climbers who become ill or injured (please read How we keep you safe on Kilimanjaro). Again, your health and well-being are our top priority.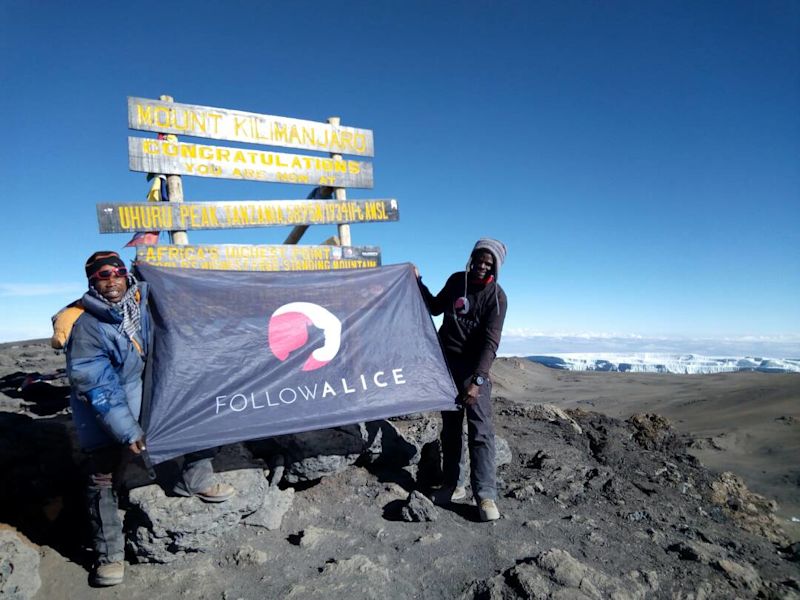 It takes a team for anyone to reach Kilimanjaro – you simply can't get there on your own!
What is altitude sickness?
Altitude sickness, or acute mountain sickness (AMS), is a negative health effect of high altitude. The percentage of oxygen in the atmosphere at sea level is about 21%. As you climb higher up the mountain, the percentage remains the same but the number of oxygen molecules per breath is reduced. At 3,600 m (12,000 feet) there are roughly 40% fewer oxygen molecules per breath. The body therefore finds it hard to adapt and function as normal with less oxygen. Altitude sickness is caused by a failure of the body to adapt quickly enough to these lower levels of oxygen. Often climbers make the mistake of going too high (altitude) too quickly (rate of ascent).
But don't worry, it is perfectly normal to get altitude sickness on Kilimanjaro. In fact, more than 75% of climbers will experience at least some form of mild AMS when above 3,000 m. It's therefore more than likely that you'll experience some form of altitude sickness when climbing Kilimanjaro. Age, sex or physical fitness have no effect on your likelihood of getting altitude sickness. Just because you haven't had it before doesn't mean you won't develop it on another trip.
Do I need to bring any medicine?
Avoiding altitude sickness is key. Do this by walking slowly. Drink lots of water and eat enough food. Go on all optional acclimatisation hikes. Consider taking Diamox. Also prevent other illnesses by disinfecting your hands every time after you use the bathroom as well as before any meals. Moreover, Tanzania has a moderate risk for malaria. Malaria occurs in all areas below 1,800 m (5,900 ft) and we recommend that you take precautions against malaria prior to the commencement of your trip. If you're planning to use Diamox on your Kilimanjaro climb, please consult your doctor as some malaria prophylactics cannot be used in conjunction with Diamox.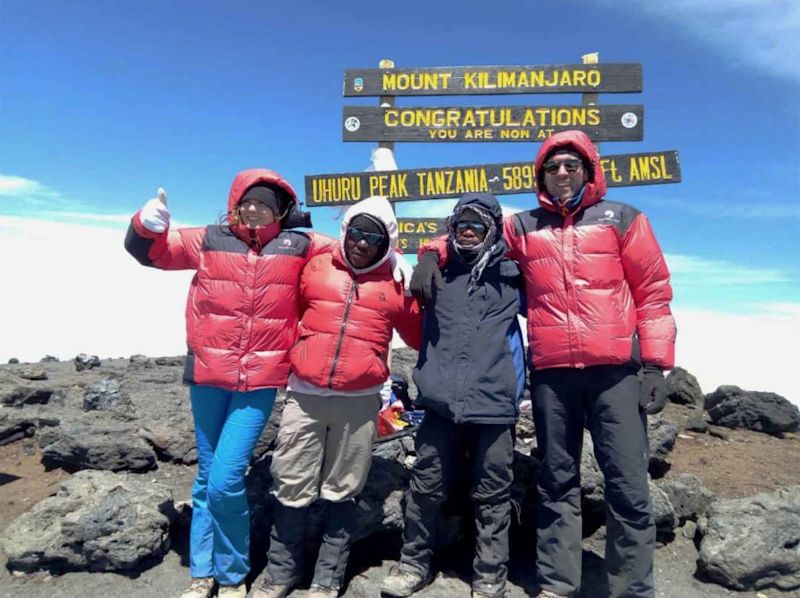 Some of the team celebrating at Uhuru Peak!
What if I get injured or sick on the climb?
All climbers pay a rescue fee to the Kilimanjaro National Park (included in our package price). If you cannot continue the climb because you get injured or sick, the guides and porters will gladly assist you on the way down. There is no extra charge for coming down and being taken back to the lodge early, but we will not be able to refund you for the days you missed on the mountain. Moreover, we ask all of our travellers to purchase a special adventure travel insurance that covers any possible medical expenses and evacuation costs – just to be safe!
If it's necessary, there's a helicopter evacuation service run Kili MedAir, which is based in the town of Moshi near to Kilimanjaro.
Post climb: safari or Zanzibar?
If all goes according to plan, you will be coming off the mountain knowing that you are one of the very few who have succeeded in climbing Kilimanjaro - well done! Now, it's time to relax and take in some of the amazing sights and experiences East Africa has to offer.
Choosing between a safari in the Tanzanian plains and a relaxing vacation on the great white sandy beaches of Zanzibar is tricky. The week on the mountain will be exhausting – so if you're eager to charge the batteries before the busy everyday life starts again, go with Zanzibar! But if you feel this might be the only time you come visit East Africa, we encourage you to go on a once-in-a-lifetime safari with us.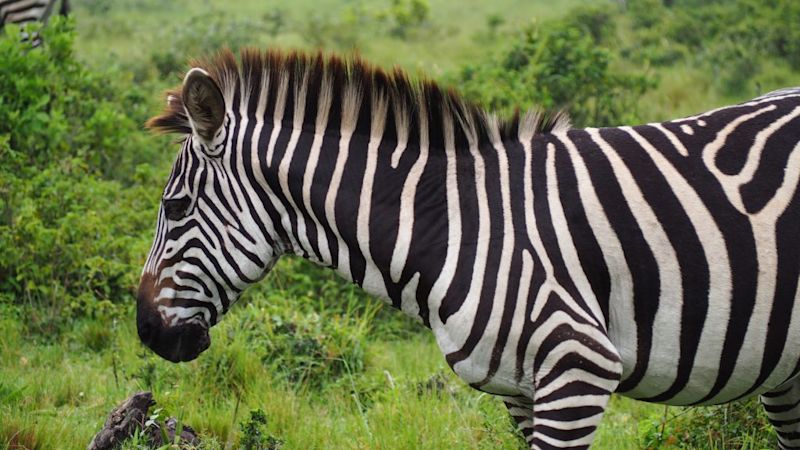 An African safari is always a good idea, and a lovely, relaxing post-Kili adventure!