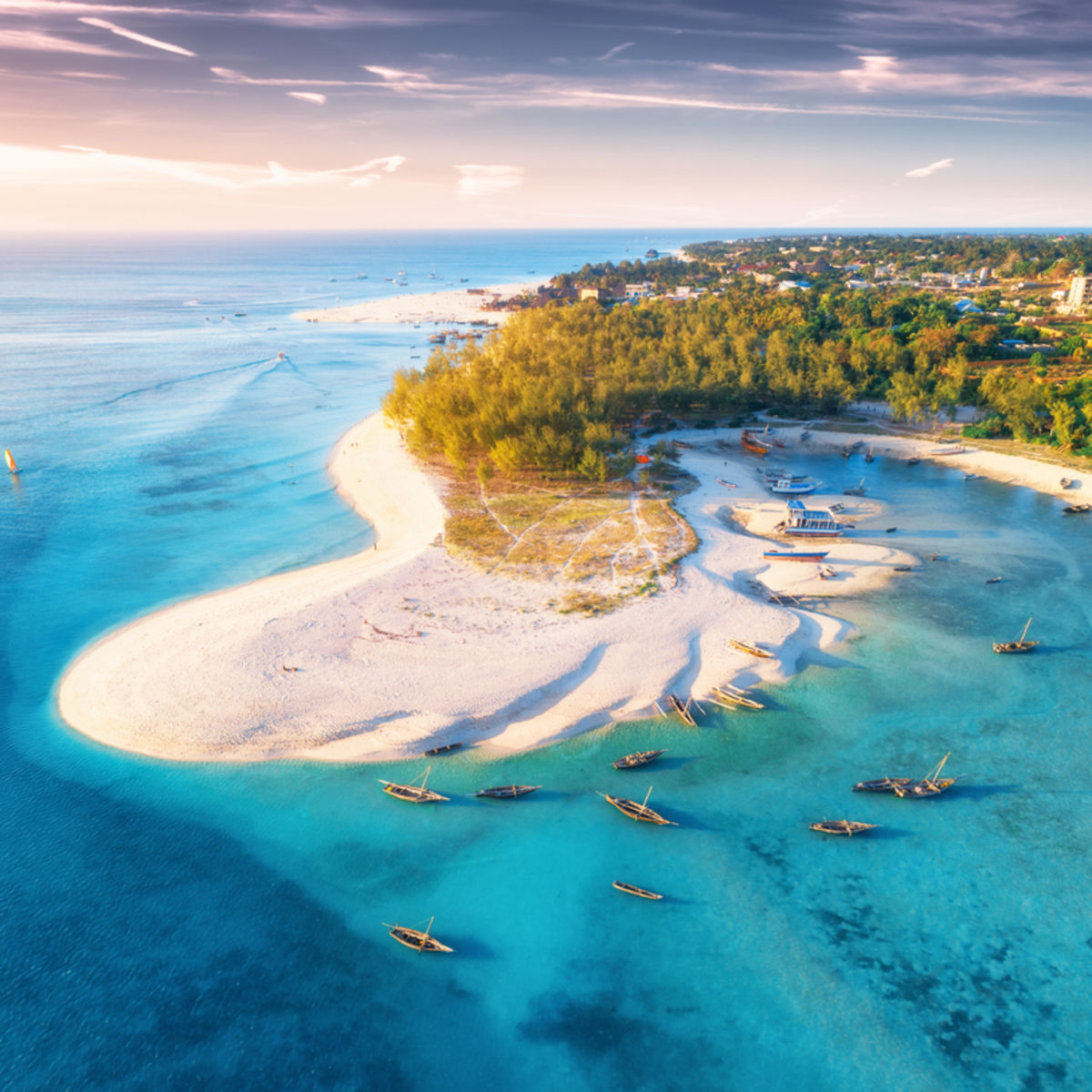 15 truly unmissable things to do in Zanzibar
Aug 7, 2023
Reading time: 17 minutes
All the rumours are true: Zanzibar has idyllic white-sand beaches and warm, pale blue waters. 😍 But it also has rich culture and history, beautiful architecture, unusual wildlife, great forest walks, incredible cuisine, and more.
Just to be sure you know where in the world we're talking about ... the famous Zanzibar Archipelago sits among the turquoise waters of the Indian Ocean about 30 km (19 miles) off the northeast coast of Tanzania.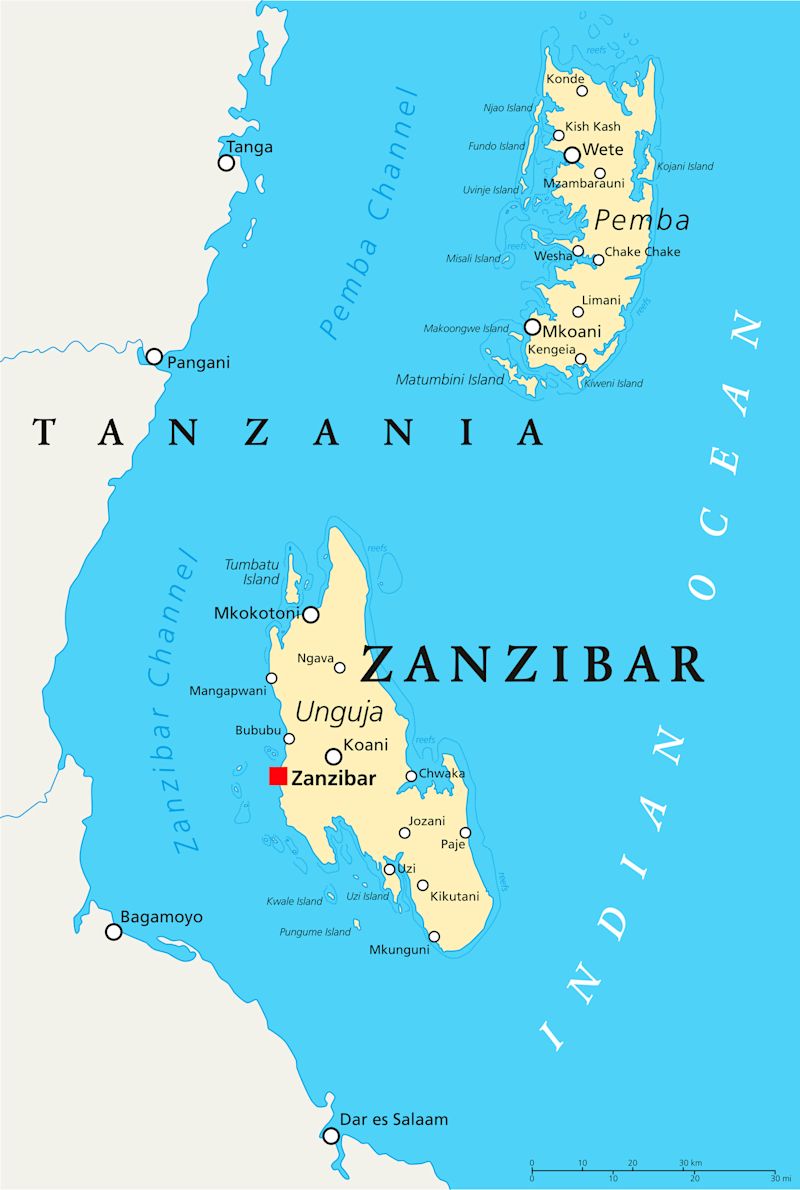 Map showing the two main islands of the Zanzibar Archipelago
The two biggest islands of the Zanzibar Archipelago are Unguja and Pemba, which you can see in the map above.
Most visitors fly into Zanzibar City on the west coast of Unguja, and spend all (or most) of their trip on this beautiful island.
Now that you've got the layout of the islands in mind, here's what we think are 15 truly unmissable things to do in Zanzibar when on holiday there!
1. Swim in the ocean and laze on sandy beaches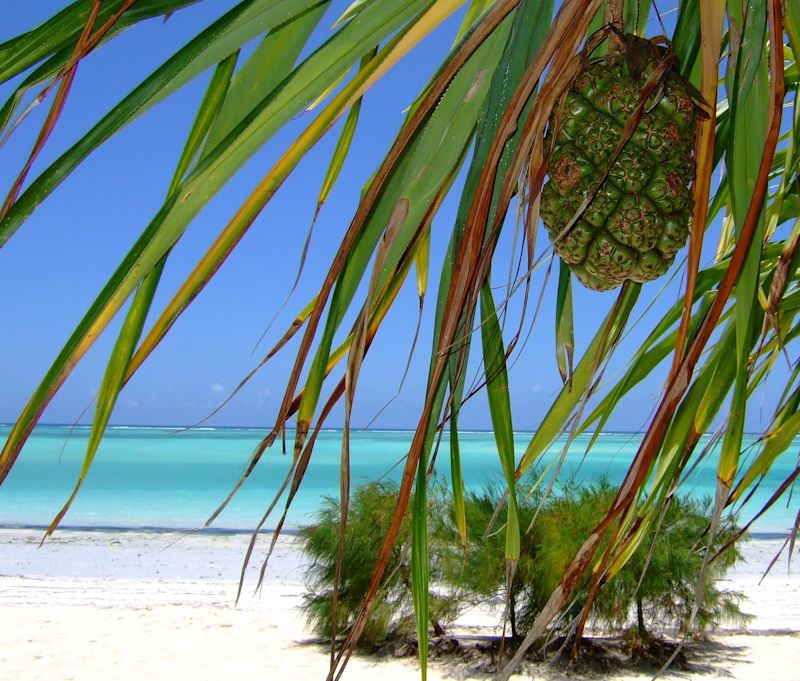 A pineapple-framed shot of a typical Zanzibari beach
Zanzibar offers that idealised beach holiday we all fantasise about when enduring a tough winter. The white, powdery sands of the beaches invite you to plop down on a towel or deckchair, bury your feet, and just be. And the blue, blue waters make an ocean dip more appealing than ever before!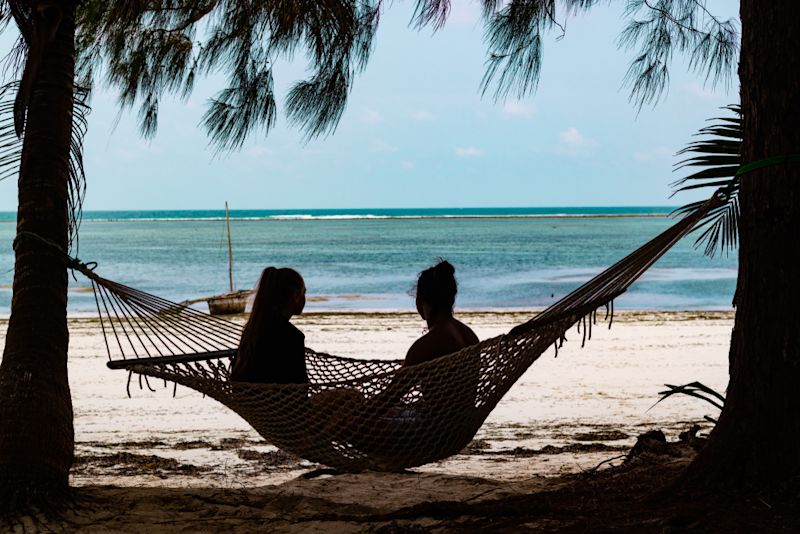 Spending time in a hammock is a must when on holiday on Zanzibar
An early morning swim? Float in the sea? Snooze in a hammock? Read a book? Worship Hyperion? We highly recommend doing them all when in Zanzibar!
There are many absolutely gorgeous, palm-fringed beaches all around the main island of Umguja to visit. You won't want to limit yourself to just one. So visit a few and give yourself plenty of time to just soak it all in and let the warmth and sea views work their restorative powers on mind and body.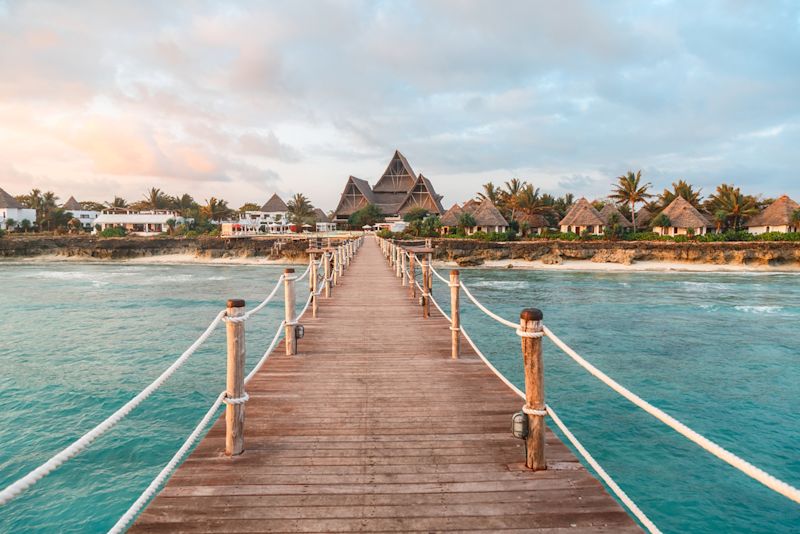 The north of the island has lots of upmarket hotels and resorts
Some of the best beaches on Unguja Island for swimming, strolling, wading and lazing are:
Bwejuu – a palm-lined beach that's one of the island's quietest.

Kendwa – a wide beach that's not effected by the tides and has epic sunsets.

Nungwi – the best beach for night life.

Kizimkazi – the coastline is raised and drops down to form lovely coves.

Jambiani – a beautiful, quiet, palm-lined beach.

Michamvi-Pingwe – a remote sequence of picturesque coves.

Matemwe – the longest beach in Zanzibar and it has traditional fishing villages where the land meets the sand.

Pongwe – a beautiful beach that's an arc and offers maybe the best swimming conditions because the nearby reef keeps the water really calm and safe.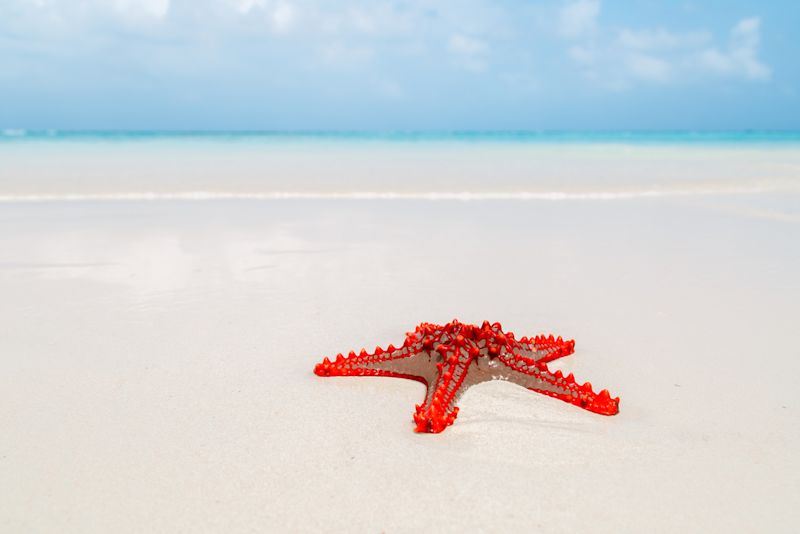 Look out for starfish on your Kendwa beach strolls
Is the water warm throughout the year?
Importantly, the water in Zanzibar is swimmable all year round!
The sea temperature in January and February (the height of summer) is around 29 °C (834 °F). And in August and September (which is winter), the sea temperature is around 25.5 °C (78 °F).
The sea water around Zanzibar is perfect for swimming all year round. It never gets too cold, even for fussy swimmers!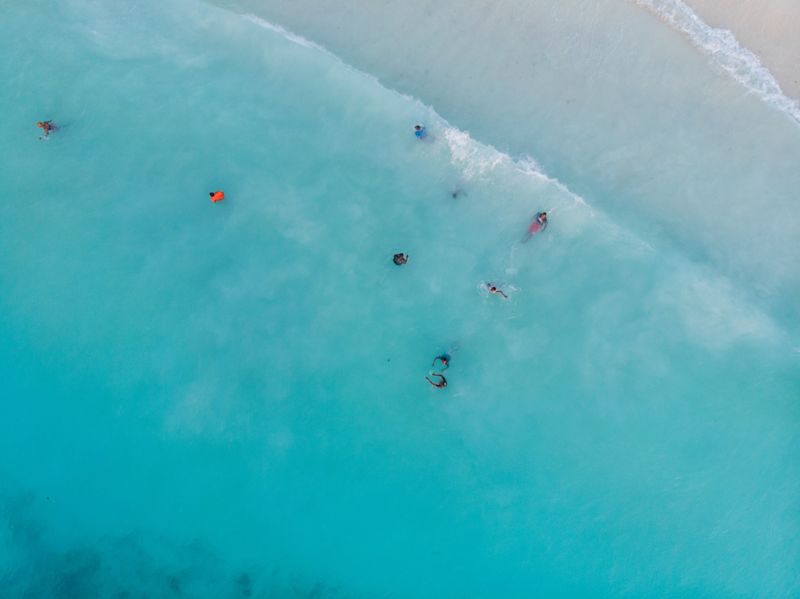 Kids swimming in Zanzibar's impossibly blue waters
2. Go on a guided tour of historic Stone Town
Stone Town is the historic centre of what is today Zanzibar City.
For centuries, this port city has been a maritime hub. As such, different civilisations from around the Indian Ocean and even the Mediterranean have interacted and intermingled here, creating a unique society that has clearly been influenced by societies both near and far.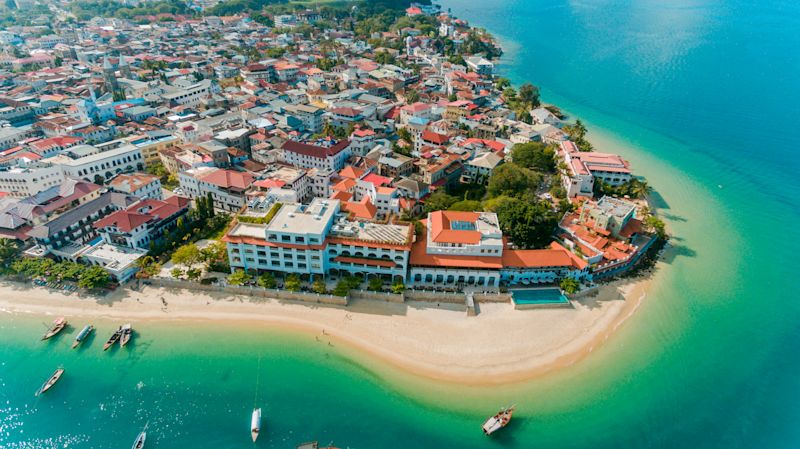 An aerial view of Stone Town on the west coast of Unguja Island
Unsurprisingly, Stone Town is a UNESCO World Heritage Site.
The best way to learn about the history of Stone Town, as well as its architectural legacy, is to go on a guided tour. You'll wander winding alleys, see carved doorways, pass colourful small shops, marvel at delicately built mansions, and pass pretty minarets.
The history of Stone Town has been shaped by many cultures, including the British, Indians and Persians. But the main influences have been Arabic and Swahili.
You'll also learn about the Omani Sultan's rule in the 1800s, the awful slave trade and its abolition, and the takeover by the British near the end of the century.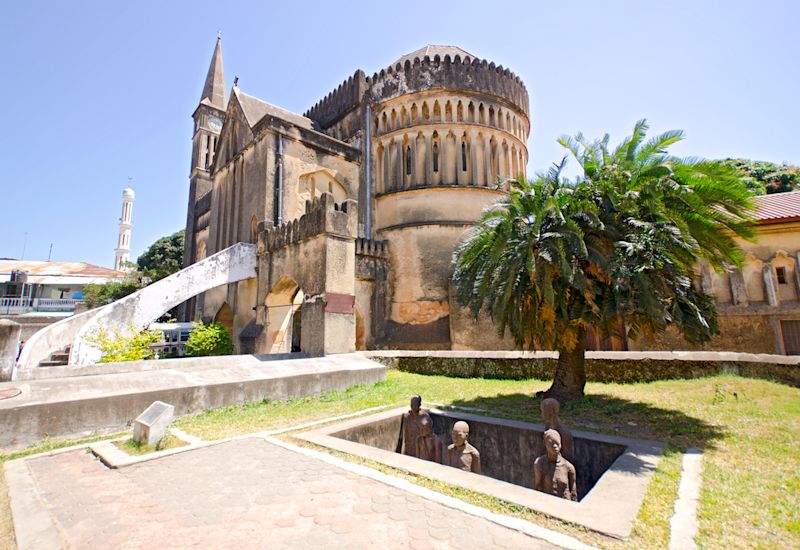 Slave Market Memorial and Christ Church, which helped to abolish the slave trade
A guided tour is also an excellent way to familiarise yourself with Stone Town so that you can then meander at another time by yourself, visiting the spots that you wish to explore more. With that in mind, here's our third choice of unmissable things to do in Zanzibar ...
3. Explore Stone Town on your own
While a guided tour of Stone Town is a must to learn about its history, architecture and more, an unguided amble through its warren-like lanes is also a must!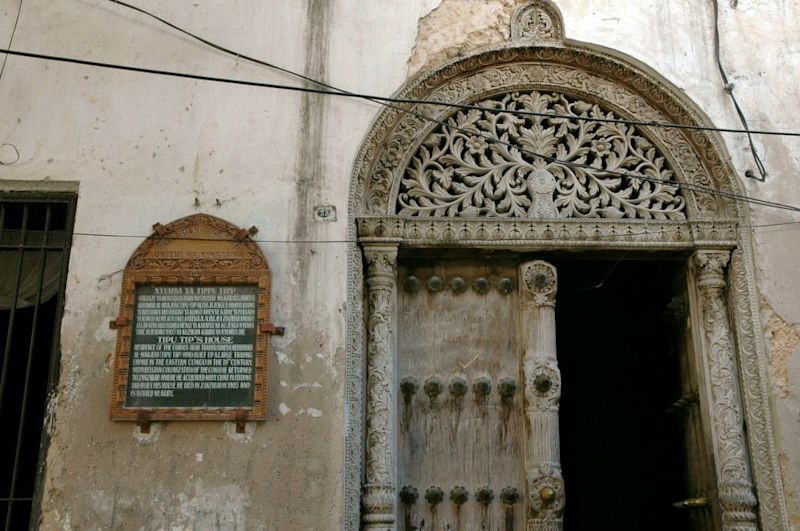 Stone Town is full of beautiful architectural details
We suggest that you give yourself a few hours one morning or afternoon to wander idly through Stone Town's alleyways. This gives you time to shop its bazaars (markets), sample the street food, poke your nose into shops, browse a museum or two, walk the promenade, explore Forodhani Gardens, soak up the atmosphere ...
An armoured embankment in Stone Town
We also encourage the coffee drinkers among you to make time for a traditional coffee ceremony. Various local coffee shops invite visitors to watch the roasting ceremony. The coffee is then served in delicate Arabian cups, and it goes without saying that it is at its best when paired with a sweet treat!
4. Go on a spice tour
A spice tour is an important part of any Zanzibar holiday! See, touch, smell and taste the fragrant spices that are synonymous with the islands.
Spice plantations built during Arab rule brought great wealth to Zanzibar. The archipelago even became the world's number one exporter of cloves. Zanzibaris today still farm cloves, as well as cardamom, turmeric, cinnamon, chilli, and black pepper.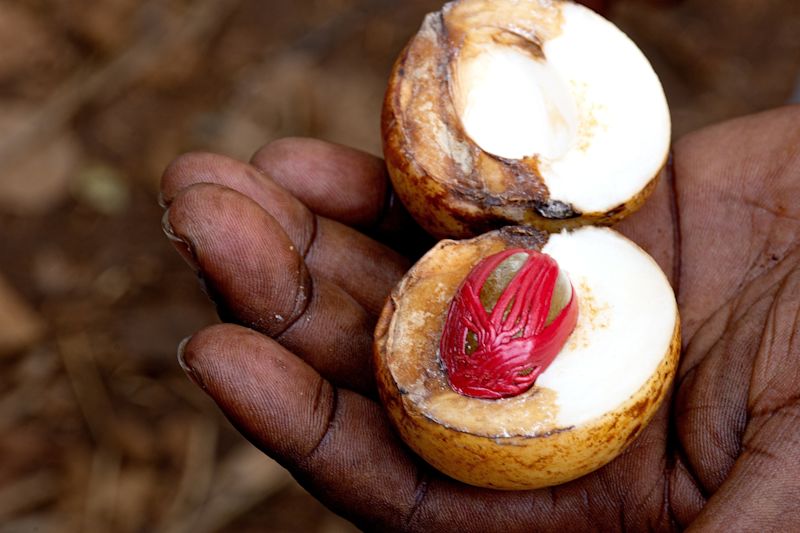 Nutmeg is one of the many spices grown on Zanzibar
On a spice tour you learn about the growing, harvesting and preparing of spices, as well as how they're used in traditional cuisine.
For those who really love their food, you can take things one step further and combine a spice tour with a cooking class. That way you go home knowing how to replicate the delicious flavours that stole your heart!
During its heyday in the spice trade, Zanzibar earned the nickname the Spice Island.
Just a note to check which spices and seeds you're allowed to bring back to your country before loading up your suitcases to the brim with them!
5. Make some space for street food
Stone Town has plenty of vendors selling appetising seafood kebabs and other tasty specialities.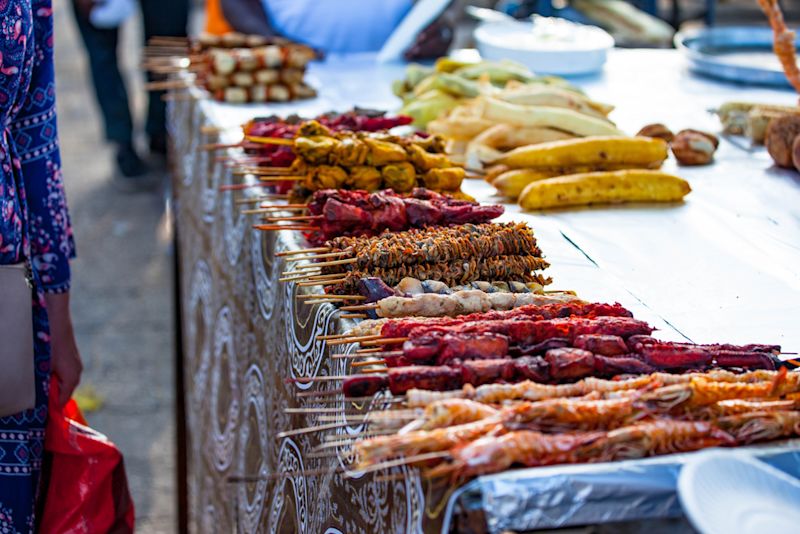 The street food scene in Stone Town is big
Be sure to visit Zanzibar Street Food Market, where you can sit down with your food if you like. They also host a night-time food market, which is a must on a balmy evening!
Another great food court can be found in Forodhani Gardens. Here, the most popular dish is the Zanzibar pizza, which looks and tastes far from the pizzas of Italy!
6. Visit beautiful Uzi Island
Just off the south coast of Unguja is Uzi Island, a small island with an intertidal causeway. The island is part of Menai Bay Conservation Area, which protects gorgeous mangrove forests, fresh-water forests, sea-grass beds, coral reefs and all the wildlife supported by these intertwined ecosystems.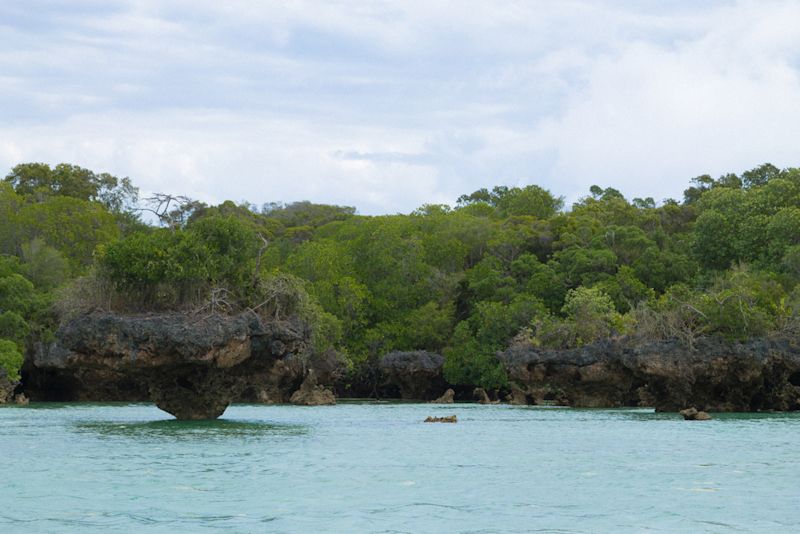 Menai Bay Conservation Area is a remote and utterly gorgeous ecosystem
What's more is that Uzi Island is mostly untouched by tourism, and so offers a window into an authentic, rural Zanzibari fishing community.
If you have the time, we recommend making a full day's outing of an Uzi Island visit. Though to visit, you must pay attention to the tides. If the tide is in, you paddle to the island on an ngalawa (wooden outrigger canoe), but at low tide you can drive across in a dala dala (bus) on the road that emerges. A visit usually involves a boat ride one way, and a bus ride the other.
Uzi Island can be reached by road at low tide, or by boat at high tide.
While on the island, you can go on a cultural tour in N'gambwa village, and be hosted by a local family who will serve you a traditional lunch. This is a great way to learn about rural life in one corner of Zanzibar.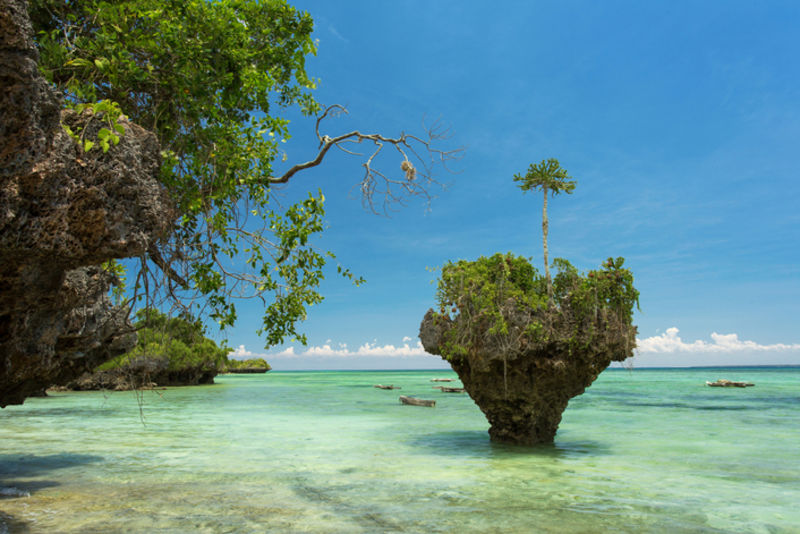 A secluded beach on Uzi Island
There's time later to swim in the sea at one of the quiet beaches. You can also go on a guided walk (or should we say, wade) through a mangrove forest, which immerses you in a watery world of incredible beauty and ecological diversity. You'll be given reef shoes to wear for the outing.
7. Take a boat ride to Prison Island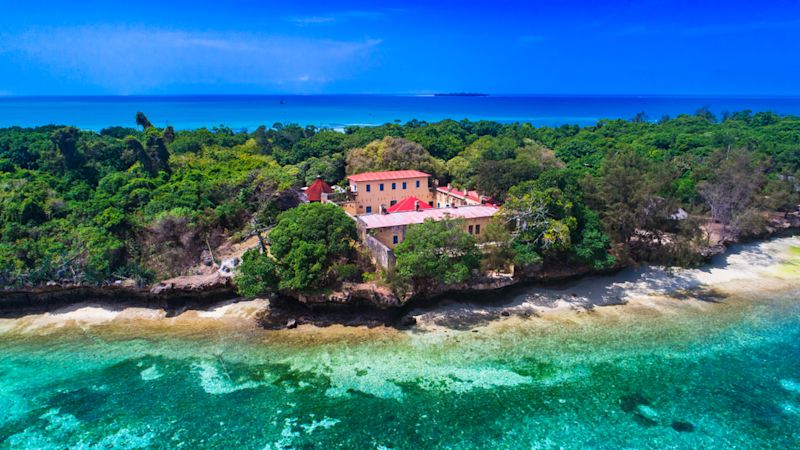 Prison Island, so named in the 1800s, was never actually used as a prison
A great thing to do while in Zanzibar is take a short boat ride from Zanzibar City to Prison Island (or Changuu Island). It which was never actually used as a prison, even though a prison building was constructed on it in the late 1800s.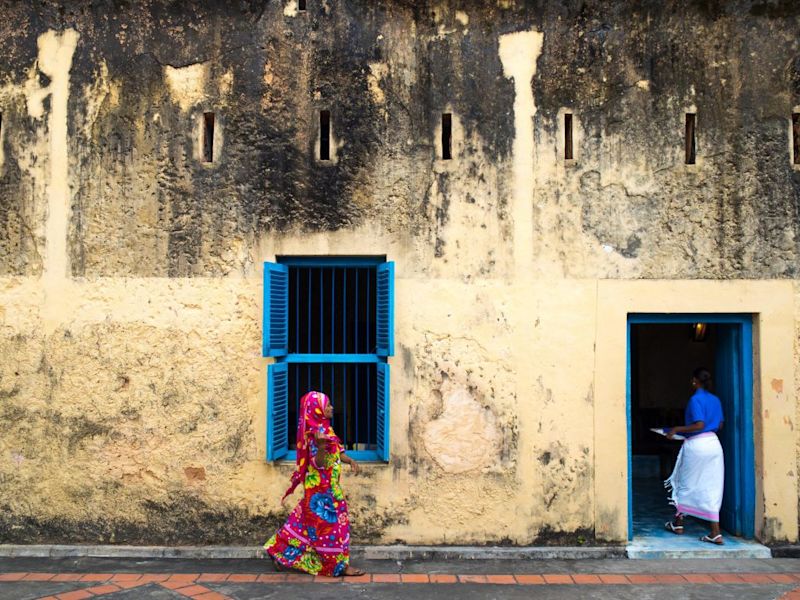 A woman on Prison Island, which is locally called Changuu Island
Today the island is known for its Aldabra giant tortoises. Did you know that a group of tortoises is called a creep? It makes sense given their super-slow pace!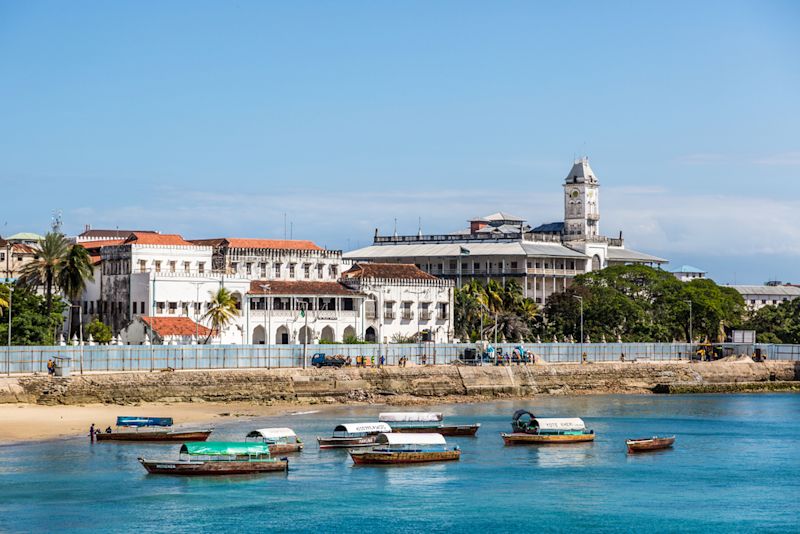 Stone Town's beautiful waterfront
Another great thing about visiting Prison Island is the fantastic view you get from the boat on the return journey of Stone Town's waterfront buildings. The row of palaces and mansions along the waterfront – built or commissioned in the 1800s by the sultanate – was designed to impress foreigners, who would arrive by sea.
8. Spot wildlife in Jozani Forest
An ideal outing while in Zanzibar is going on a nature walk in Jozani Forest. After the bustle of Stone Town and the heat of the beaches, it's wonderfully refreshing to step into the cool shadow created by the forest's dense and tangled greenery.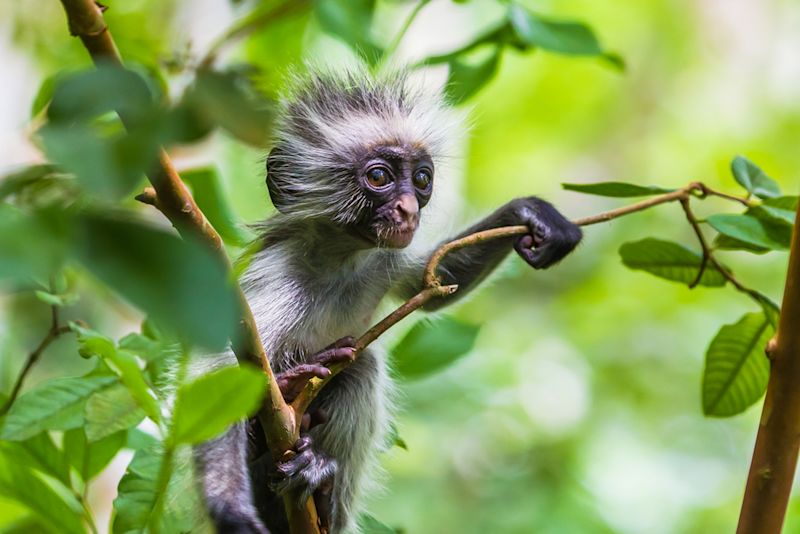 A red colobus monkey
You can choose between a guided nature walk or going it solo. And then you have various paths to choose from, which include gentle hour-long walks and half-day hikes.
There's a host of wildlife to look for in Jozani Forest, including endangered red colobus monkeys.
Some of the other animals living in the forest are leopards, civet cats, mongooses, blue monkeys, lemurs, African pigs, Ader's duikers, and pigmy antelopes.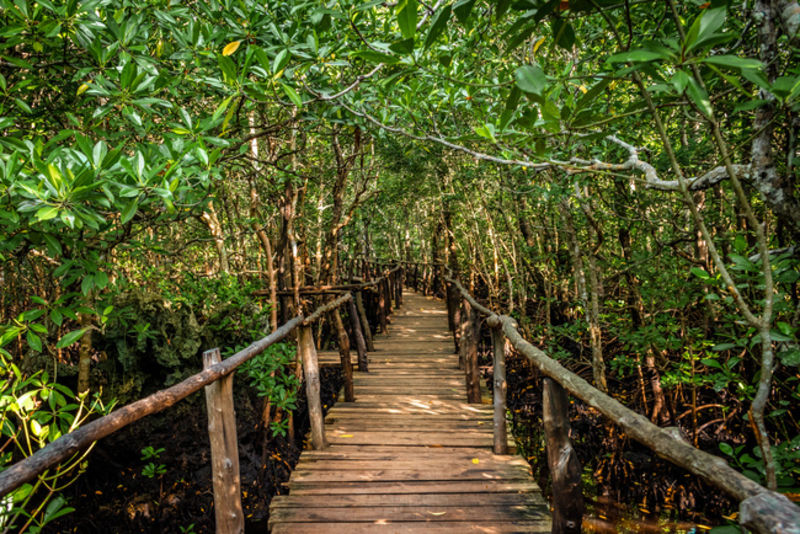 The Pete-Jozani Boardwalk keeps your feet dry in the mangroves
A walk or hike in Jozani Forest mainly has you walking along winding dirt footpaths. There is also a low boardwalk when you come to the coastal mangroves of Chwaka Bay.
As to birds, you've got plenty of rarities and beauties to try to spot! The forest is full of various species of waterbirds, raptors, shorebirds ... you name it! Some particularly pretty birds to look for are lilac-breasted rollers, purple-banded sunbirds, blue-cheeked bee-eaters, African pygmy kingfishers and golden-tailed woodpeckers.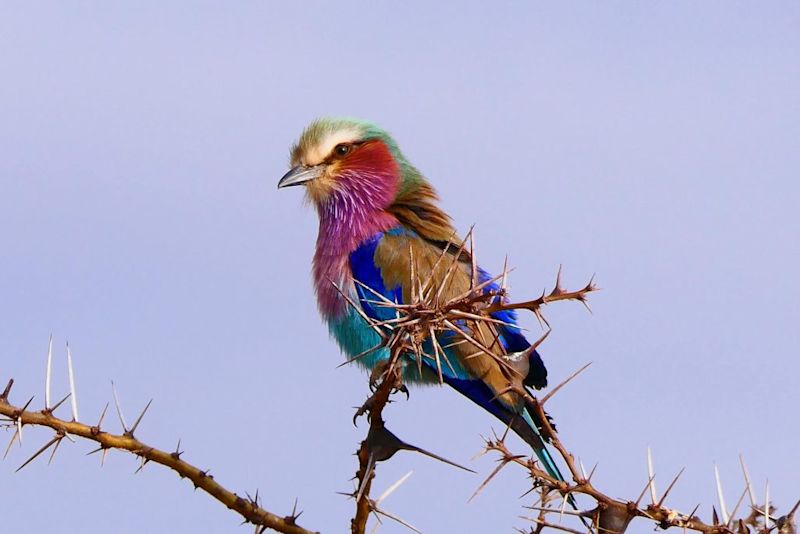 Lilac-breasted rollers magnificently coloured
Zala Park and Zanzibar Butterfly Centre
Those who visit Jozani Forest and want to make a day of the outing often stop in Zanzibar Butterfly Centre, a butterfly breeding centre. Here you can see a dozen or so of the forest's roughly 50 butterfly species by walking around inside a large, netted tropical garden. The project helps to provide employment for locals who can farm and sell pupae.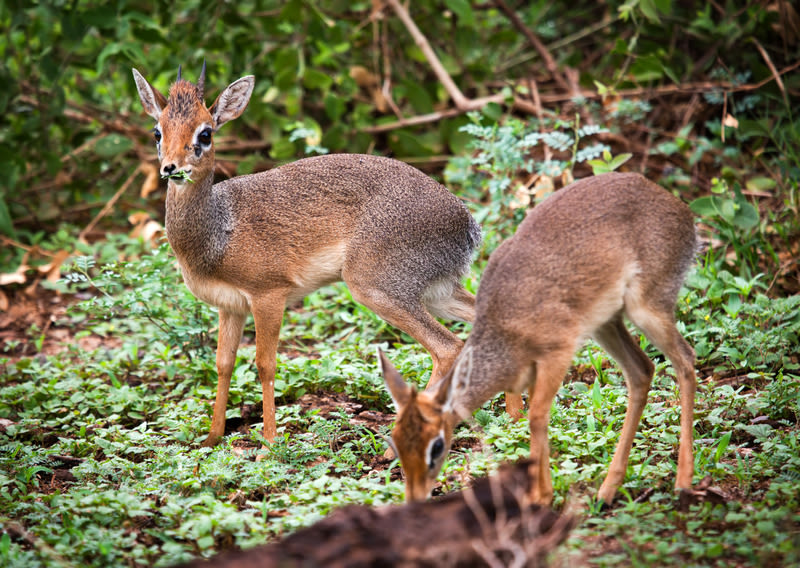 Dik-diks are tiny antelopes that live in Eastern and Southern Africa
Another great add-on to your Jozani outing is Zala Park, which is just 5 km from the forest. Basically a large garden, Zala Park is home to various reptiles like pythons, chameleons and tortoises. It's also a breeding centre for adorable dik-diks.
9. Eat at the Rock Restaurant Zanzibar
On Michamvi Peninsula on the east coast of Unguja Island is the ridiculously picturesque Rock Restaurant Zanzibar.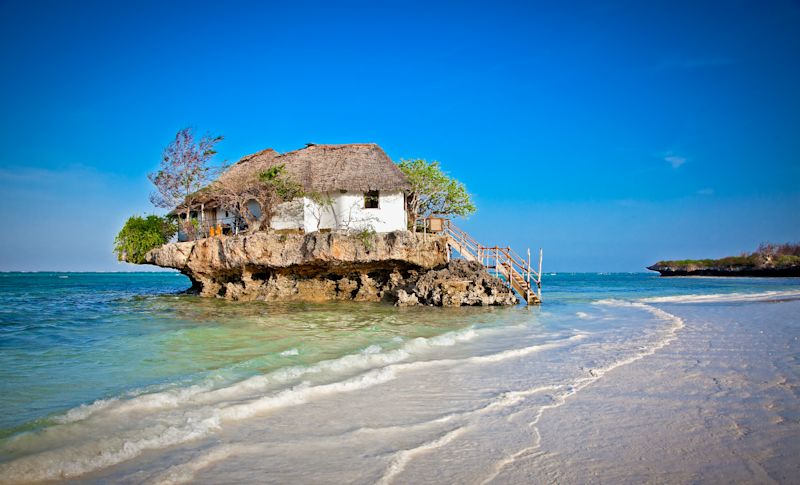 It doesn't get more magical than this!
The Rock Restaurant Zanzibar isn't just famous for its setting, however – it's also known for its excellent cuisine! Lobster is its primary speciality, but prawns and calamari also get a lot of love.
Note that this is fine dining, so you might want to look at the menu before going there to check that it's within your budget! Also, you need to book a table in advance as seating is naturally quite limited.
10. Snorkel and dive the coral reefs
We highly, highly recommend that you go snorkelling, diving or scuba diving while on your Zanzibar holiday! The coral reefs surrounding the archipelago's islands are heavenly.
Some of the sea animals you might see are shrimp, pipefish, lungfish, dolphins and sharks. In September and October you could see humpback and sperm whales passing through. And from December to April you might spot manta rays and whale sharks.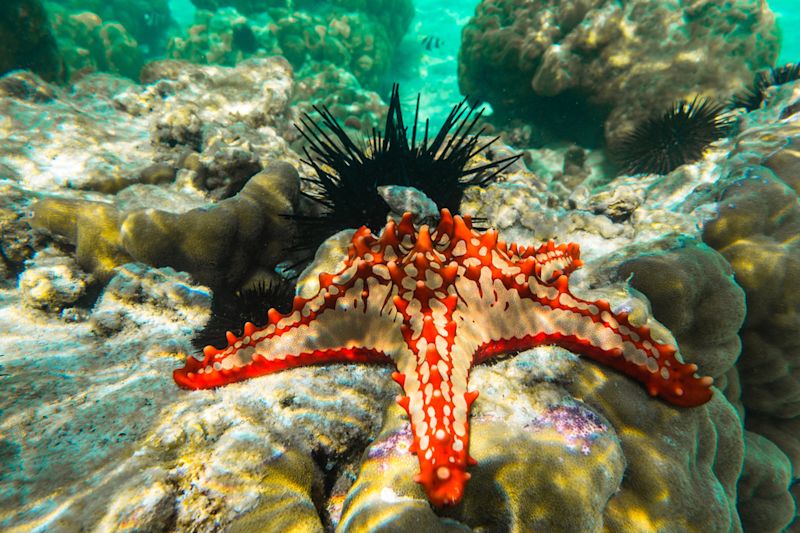 Red-knobbed starfish and sea urchins
While conditions are good year round for snorkelling and diving, the very best months for calm waters are mid November to January and June to August.
Zanzibar's clear, calm waters are perfect for snorkelling, diving and scuba diving.
One of the best places to snorkel or dive is Nakupenda Beach, also called Nakupenda Sand Bank. This long sliver of sand is just off the coast of Stone Town and in 2022 it was rated on TripAdvisor as the second best beach in Africa! In fact, the name Nakupenda means "I love you" in English.
Other great snorkelling and diving beaches include Prison Island (as already mentioned), Pungume Island, Mnemba Island, and Tumbatu Island.
Note that the island's western beaches aren't much affected by tides, while the eastern beaches are quite tidal.
But by far the best place of all for snorkelling and diving is the privately owned Chumbe Island off the southwest coast. Chumbe Reef Sanctuary does in fact host over 90% of all the hard coral species of East Africa!
11. Go scuba diving
When it comes to scuba diving, it doesn't get any better than the Zanzibar Archipelago. Seriously.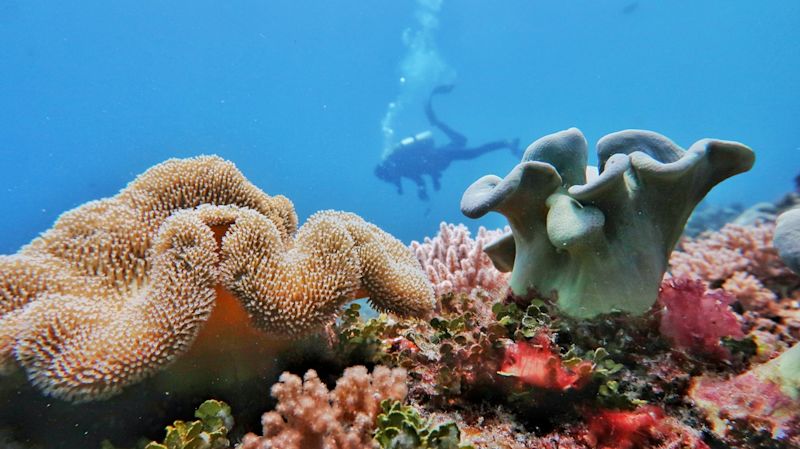 Scuba diving in the waters off Zanzibar is a super rewarding experience!
Some great spots for scuba diving off Unguja Island are:
Nyange Reef near Stone Town is gorgeous and the cheapest reef to access.

The barrier reef off the southeast coast is full of soft corals.

The heart-shaped Mnemba Atoll off the northeast coast of Unguja has a host of reefs, and there's a good chance of spotting turtles here.

Leven Bank is an undersea mountain in Pemba Channel (just north of the island) where you could well spot barracudas and moray eels.

The blue lagoon near Michamvi village is ideal for beginners as the coral gardens here are shallow and sheltered.
12. Interact with wild animals at Cheetah's Rock
Cheetah's Rock is a special reserve on Unguja Island that rescues wild animals, including cheetahs, lions, hyenas, zebras, lemurs, bushbabies, otters and tortoises. It also looks after some animals sent for conservation purposes.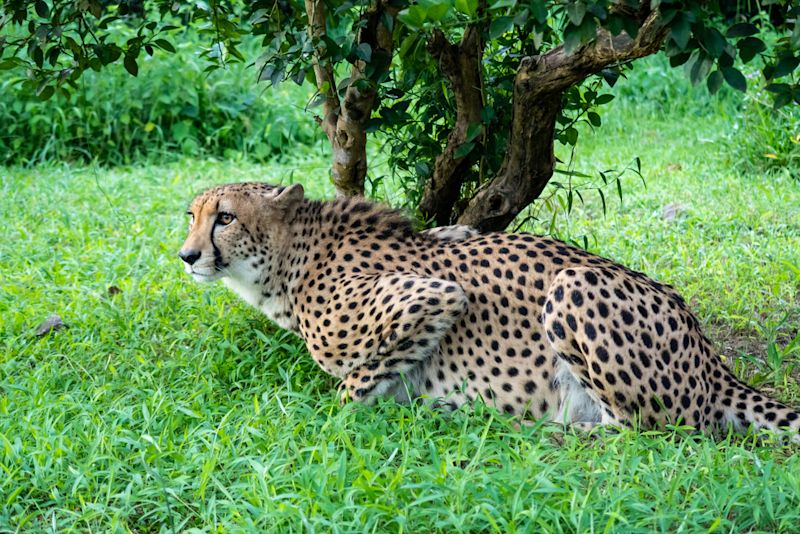 A crouched cheetah under a tree in Cheetah's Rock
Some of the animals at Cheetah's Rock are put back into the wild after rehabilitation, while others who can't be safely released are allowed to live out their lives in safety at the reserve.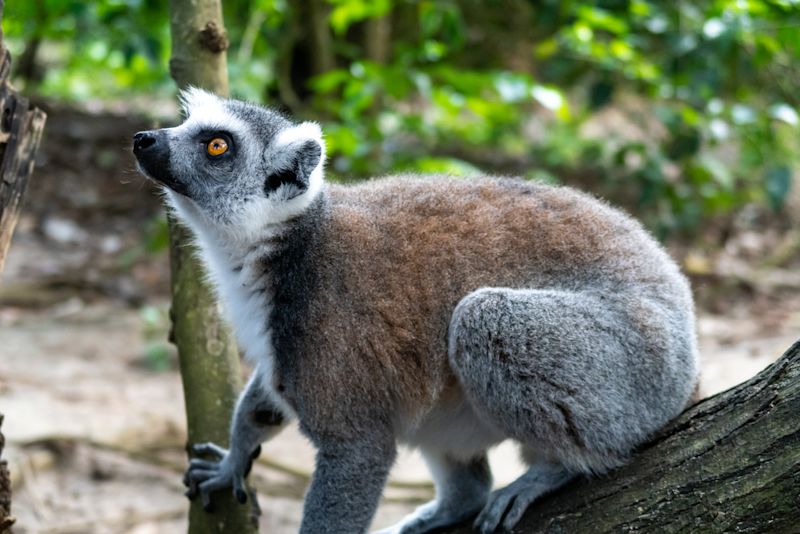 A lemur in Cheetah's Rock
One of Cheetah Rock's main sources of income are visits from tourists. Visitors are allowed to interact with many of the animals in really close proximity, a real USP! It's not unusual for visitors to feed and even touch the animals. So visiting this special rescue centre and having safely managed encounters with these beautiful wild creatures is a win–win!
13. Go on a dhow cruise
A great way to spend an afternoon in Zanzibar is to take a two- to three-hour dhow cruise from Nungwi. If timed properly, your cruise should end just after sunset so that you can enjoy the spectacle from the dhow.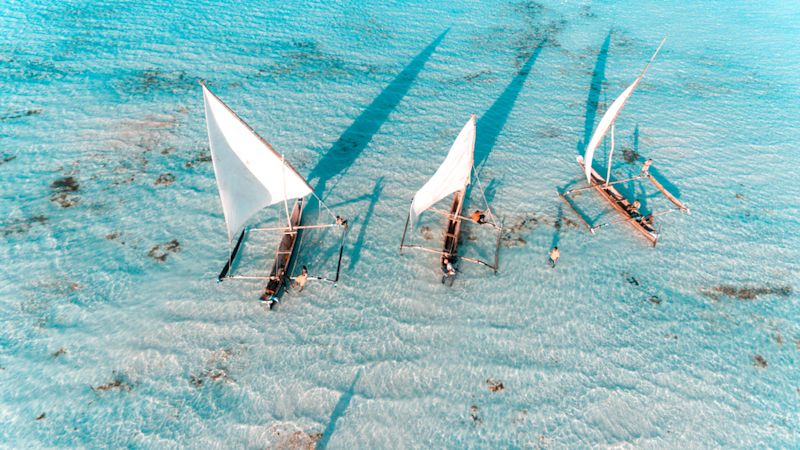 Local sailors on traditional dhow boats
The village of Nungwi on the northern tip of Unguja Island is the traditional centre of dhow building in Zanzibar, and you can still find craftsmen at work on the beach making these picturesque vessels.
When it comes to choosing a dhow cruise, note that you can opt for a private ride or join a group one. Drinks are usually included in the price.
14. Visit the seaweed farms of Paje
An iconic Zanzibari image is that of colourfully dressed women working in ankle-deep water in coastal seaweed plantations.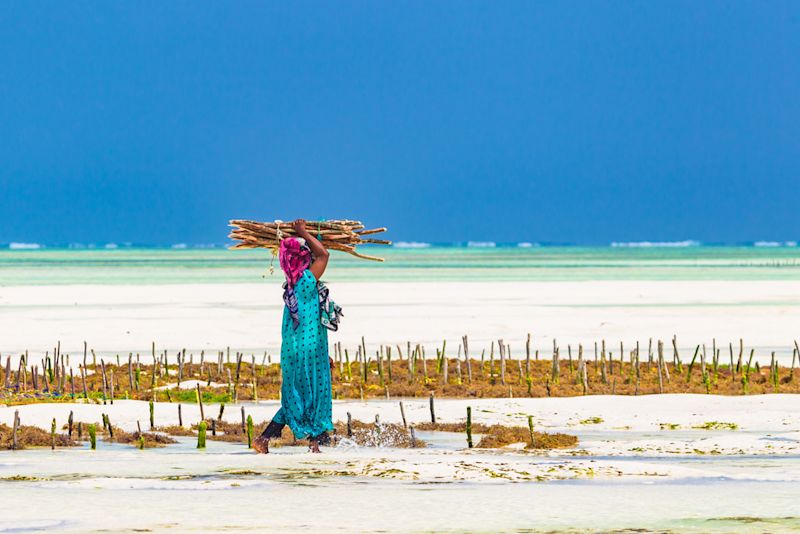 A Zanzibari woman working in a Paje seaweed plantation
The seaweed is grown in rows, as shown below, and makes for one of the prettiest types of farms imaginable!
The seaweed is exported mostly for use in pharmaceutical and cosmetics products. It's local women who do the harvesting, and the trade provides them with much-needed cash. In fact, seaweed has become the archipelago's third largest source of income. It also accounts for nearly 90% of its marine exports.
A seaweed farm
While much of Zanzibar's Unguja Island has been given over to tourist-related infrastructure and activities, we feel it's good to make the effort to visit those areas where traditional industries still thrive, don't you agree?
15. Stay on Pemba Island
Visiting Pemba is an important part of a Zanzibar holiday because you get away from all the development and wealthy tourist spots on Unguja. Pemba islanders live more traditionally. The beaches are quieter. And the nature is more protected.
Pemba has been dubbed the Emerald Island.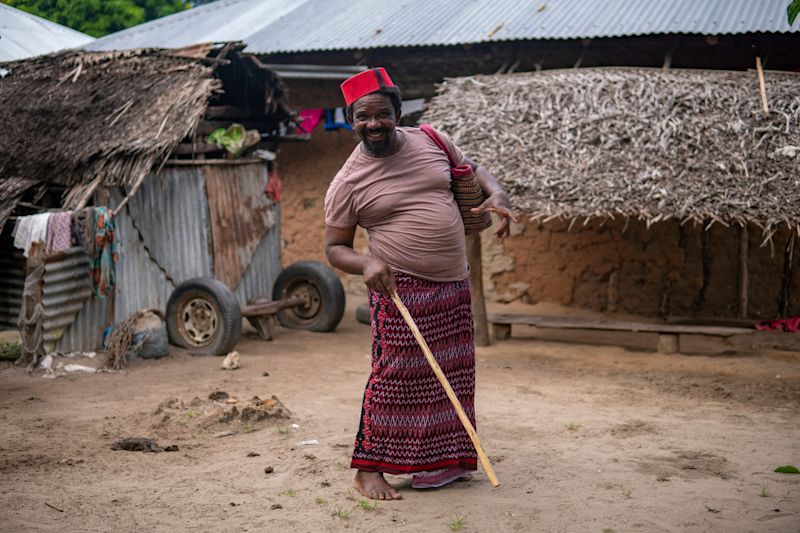 Pemba Island is full of farming communities
There are many things to do on Pemba Island, and if you can stay for more than just a day trip, do! There are beautiful coral reefs, as already discussed, so it's a great place for snorkelling and diving. There are also many great nature paths to walk. You can visit the mediaeval Pujini ruins of the Diba tribe, as well as other, more recent historical ruins. And you can go on cultural village tours.
Pemba Island is very, very different from Unguja Island.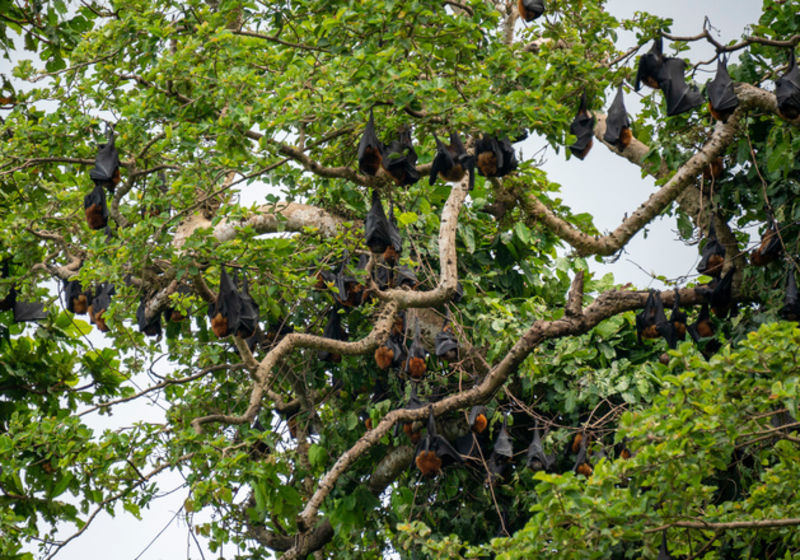 A colony of fruit bats on Pemba Island
The island is also home to some great wildlife, including Pemba flying foxes, which are large fruit bats with a wing span of 1.6 m (5 ft 3 in). When you find a roost of flying foxes, you'll be astounded by how large they are – there can be up to 850 bats in a single roost!
A note on sustainable tourism in Zanzibar
We encourage you do to your research before booking with a tour operator or accommodation spot in Zanzibar.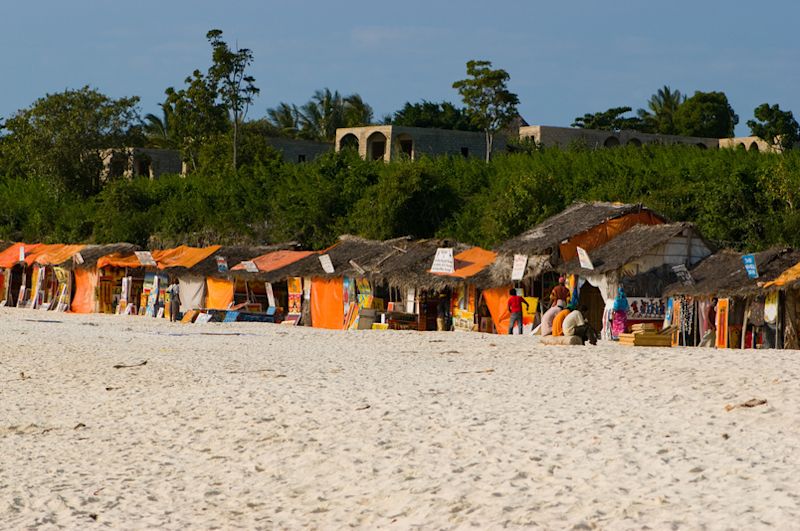 Local artworks for sale on the beach
Sadly, many of Zanzibar's international hotels and all-inclusive resorts send almost all of their profits outside of the country. They even import much of their basic foodstuffs. And they use up the lion's share of the local water supply.
Being a sustainable traveller means doing our best to ensure our visits abroad benefit local economies and communities. It also means trying to minimise our impact on the local environment.
A turtle in Nungwi Wildlife Preserve
There are a few great sustainable tourism tour operators in Zanzibar, such as Colors of Zanzibar and Zanzibar Ecotourism, that you could partner with for your trip.
Swahili is the main language spoken today in Zanzibar, and we encourage you to learn some Swahili phrases before coming here to help you interact with the locals and generate goodwill.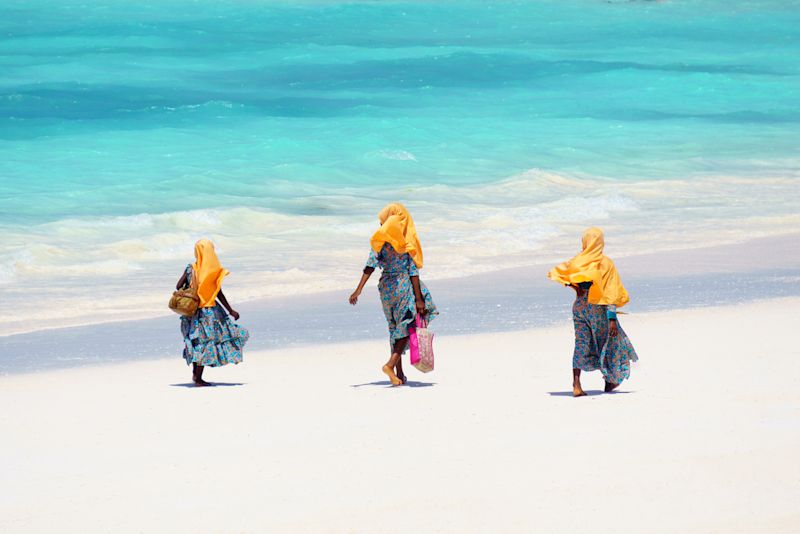 Local girls walking along the beach
Finally, the majority of the inhabitants of Stone Town are Muslim, so please be respectful in terms of how you dress when in town.
Further helpful reading
Since you're reading up on travelling to Zanzibar, here are some other topics that you might find useful:
Visiting Zanzibar is, in our opinion, one of the best things to do after climbing Kilimanjaro.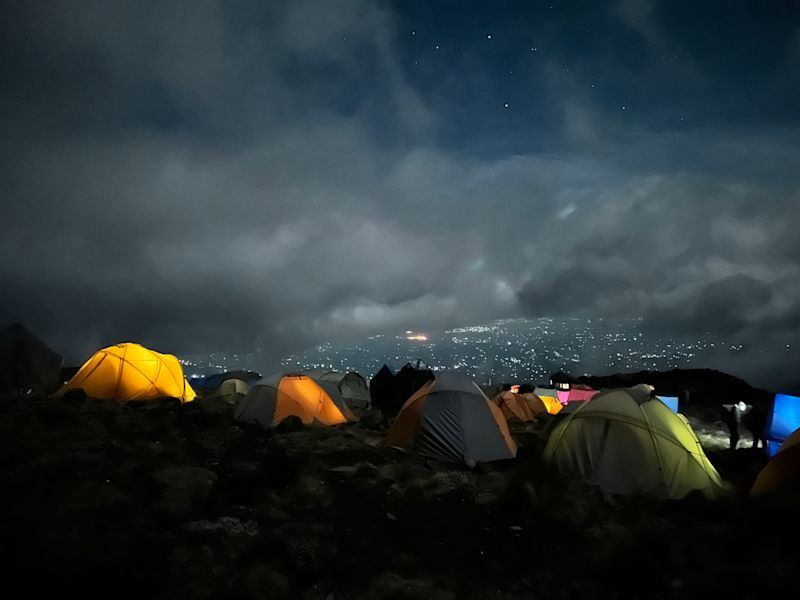 On a Kilimanjaro climb you camp under the stars
While we currently don't organise trips to Zanzibar ourselves, we do run Kilimanjaro climbs and Tanzania safaris, where we take you to world-class reserves like Serengeti National Park to the see the Big Five and the Great Migration!
Many folks heading to Tanzania like to do a Kilimanjaro climb and then reward themselves afterwards with a safari and a visit to Zanzibar. These three destinations together make for the perfect East African getaway in our opinion!