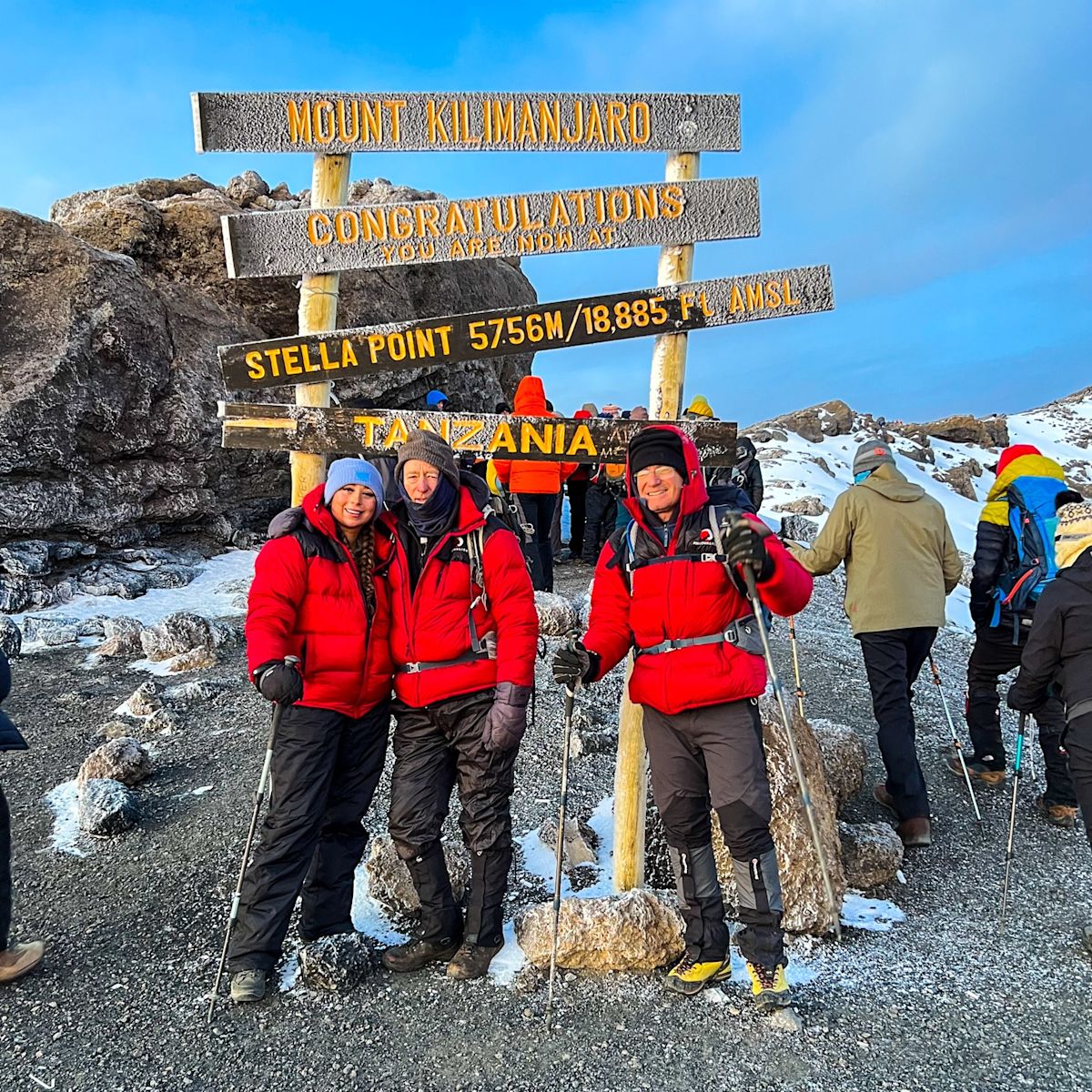 The ultimate Kilimanjaro packing list (+ free PDF)
May 5, 2023
Reading time: 22 minutes
What you pack for your Kilimanjaro climb is vitally important to your health and the success of your trek. We've put together a comprehensive list of what to pack, and why. Please use this as a checklist in planning and packing for your Kili adventure.
Now that you've made the decision to climb the highest peak in Africa, it's time to prepare!
We know that planning your Kilimanjaro packing list can seem a daunting task. So we've made it as easy as possible for you by putting together an extensive packing guide that you can follow.
If you pack everything in our list, you can rest assured you'll be more than sorted on your Kilimanjaro climb.
What do you need to climb Kilimanjaro?
On a Kilimanjaro climb, you start walking in a hot and humid rainforest and quickly ascend to a world of ice and glaciers. This means you need to pack hiking gear for multiple climates!
Climbing Kilimanjaro is like hiking from the Equator to the North Pole in a matter of days.
We've put together a comprehensive Kilimanjaro packing list to help you with your Kilimanjaro preparation.
But if you don't feel like reading a blog post, you can instead watch our video below ...
There would be a youtube video here.
Sadly, the youtube player requires cookies to work.
What's provided by Follow Alice
​Ultimately, we want to keep you warm, safe and healthy during your climb! In fact, we feel so strongly about this that we included the following equipment in all of our Kilimanjaro packages at no extra cost:
| Item | Details |
| --- | --- |
| Sleeping tent | We provide clients with high-quality, four-season mountain tents. Each tent sleeps two people, so please note that you'll be sharing your tent with one other person (unless you request a single supplement). |
| Follow Alice toilet | We supply our climbers with a private toilet that's housed in a little tent. This is more hygienic than using the communal ablutions. There's one toilet tent for every eight climbers. |
| Sleeping bag | You need a sleeping bag that can handle below-freezing conditions. We provide each client with a season four sleeping bag for use on the trip. |
| A sleeping mat | We provide you with a padded mat for the trip. This affords you a comfy, more insulated sleeping spot. |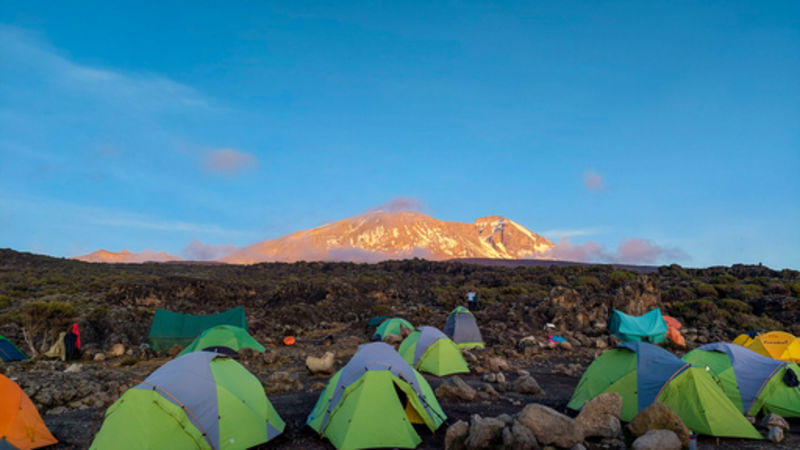 Sleeping tents, mess tent (dark green) and toilet tent (tall and narrow)
We also provide clients with the following items, but please note the rental fees attached to each:
| Item | Details |
| --- | --- |
| Down jacket | We supply high-quality down jackets that can withstand temperatures as low as -20°C (-4°F). These red-and-black branded jackets can be rented from Follow Alice for US$60 for the duration of the climb. We highly recommend these to ensure you stay warm enough! |
| Trekking poles | We can rent you high-quality, collapsible trekking poles for US$15 for the trip. |
We recommend you use our equipment for the above items as they adhere to our Kilimanjaro safety guidelines. But do, of course, feel free to bring your own if you prefer.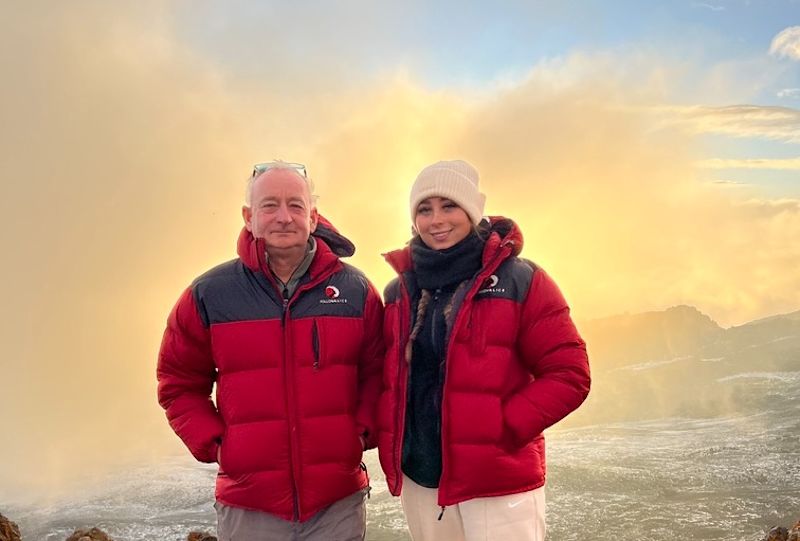 Two of our lovely clients in their Follow Alice jackets
Carrying equipment
You need to bring the following carrying equipment to Kilimanjaro:
Backpack (between 35 and 50 litres)

Backpack rain cover

Dry bags

Duffel bag (between 65 and 100 litres)

Hydration pack (water bladder)

Water bottle(s)
Here's a little more detail on each of the above important items ...
Backpack
This is the bag that you carry on your back while on each day's hike. All the items that you might need during the day go into this bag, including your snacks, drinking water, camera and extra layers of clothing.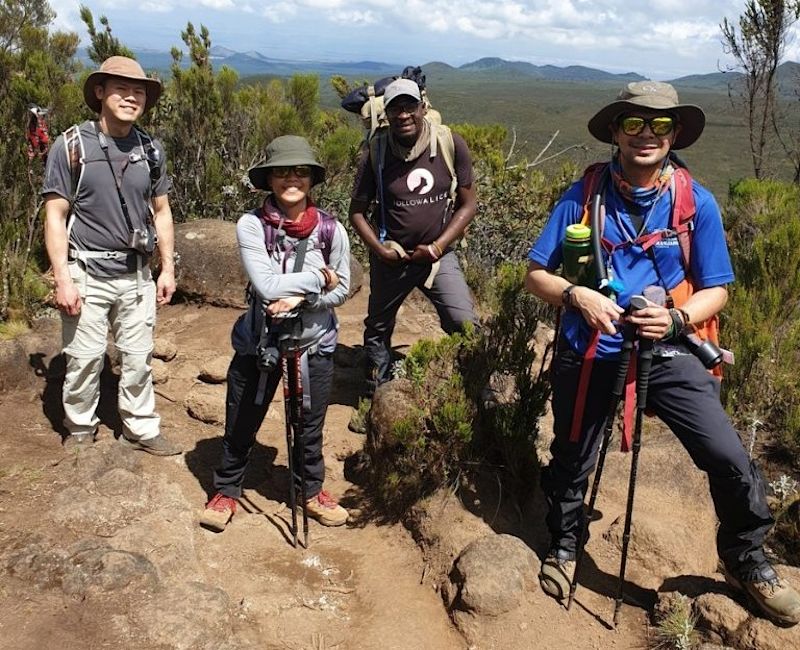 It's important you make an educated decision as to what backpack to bring. Really good, quality backpacks have an internal frame. They also have padded shoulder and hip straps, as well as sternum straps.
You should also look for a pack with a suspended mesh back, as this allows your body heat to escape. This is something that's especially important on those warmer days lower down the mountain.
Ideally, you want a backpack with a large (2 to 3ℓ) built-in hydration pack that allows you to drink from a hose.
Some backpacks also come with their own fitted rain cover, which is useful.
Further, if you intend to bring along trekking poles, see if there are hooks for attaching these to the exterior when you want your hands to be free.
Learn more: How to choose to a backpack for high-altitude trekking.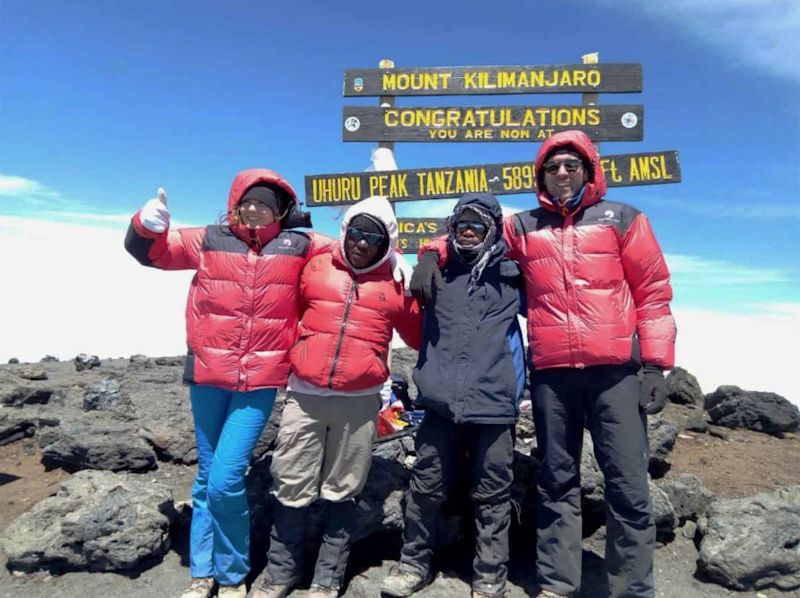 Uhuru Peak is the highest point on Kilimanjaro – it stands 5,895 m above seal level
Do training hikes with your backpack
As we discuss in How should I train for Kilimanjaro?, you should do some training hikes using your backpack. In this way you can ensure the backpack is comfortable.
On these training hikes, we recommend that you also carry all the water and other items that will go into it on Kilimanjaro to get used to the weight.
Backpack rain cover
We highly recommend you pack a rain cover that's fitted to your backpack, even if your backpack is water-resistant. Nobody needs the added challenge of carrying a sopping, heavy backpack when tackling a monster mountain like Kilimanjaro.
Many outdoor backpacks come with a built-in rain cover. This is really useful, as you stand no chance of forgetting it! It's also perfectly sized to your backpack.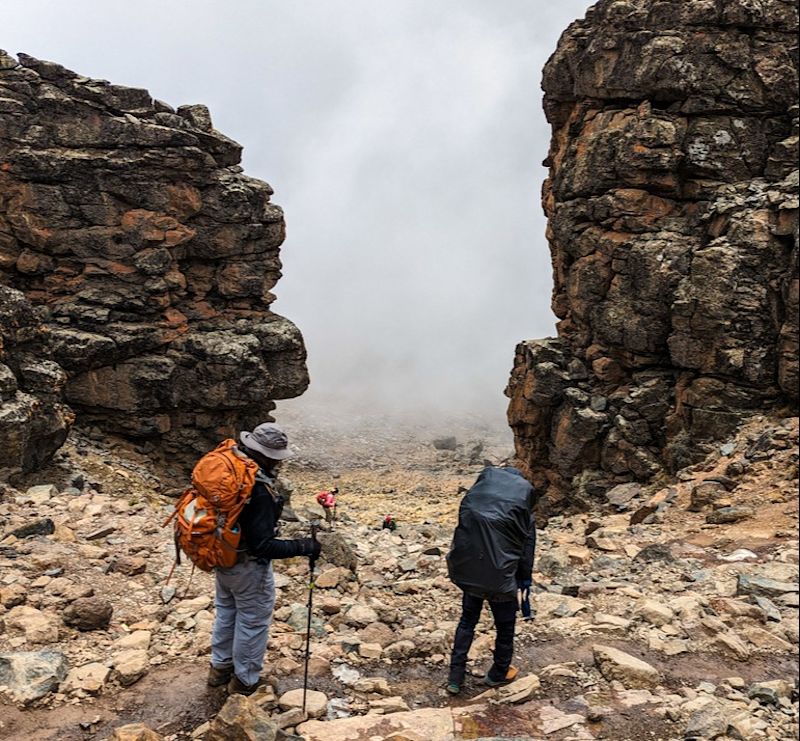 A misty photo en route to Barranco Camp by our client Simon
Dry bags
In an attempt to reduce pollution, the Government of Tanzanian has prohibited any plastic carrier bags from entering the country. You're therefore advised to avoid having plastic carrier bags in any of your luggage.
You're not allowed to bring single-use plastic bags into Tanzania.
While your backpack rain cover should keep the contents of your bag dry, it's a good idea to also bring along some dry bags. These are useful for:
Protecting clothes in case there's a leak in your bag

Storing worn, sweaty clothes
Duffel bag
Your duffel bag – or any other soft bag – contains everything else you need for the trek, including your sleeping bag and sleeping mat.
Your duffel bag is carried by one of the porters in your mountain crew and should weigh under 14 kg (31 lb).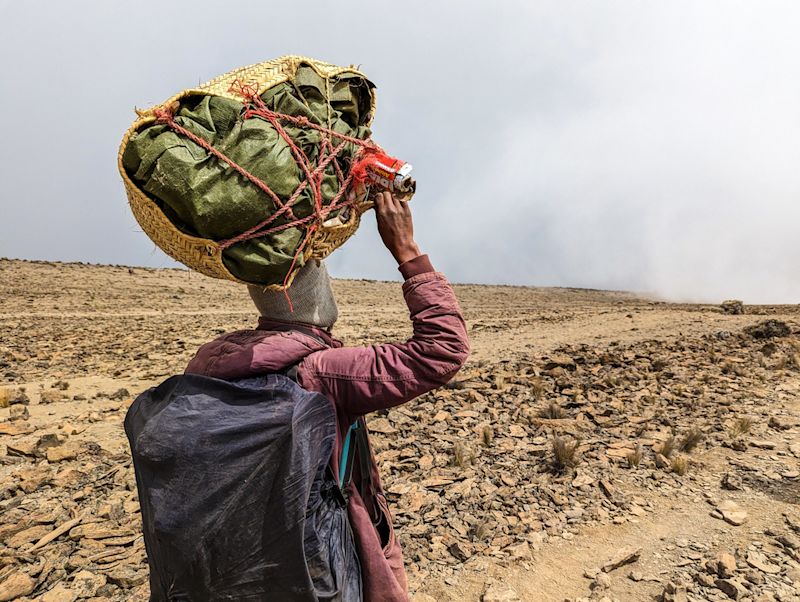 Another snap by Simon, this time of one of our hardworking porters
Please don't bring a stiff bag like a suitcase, or anything too precious, as it could get a bit squished when carried by the porter. It's also not as comfortable or easy for the porters to carry.
Please note that your pillow, sleeping bag and sleeping mat must fit into your duffel bag.
Ensure at the start of every day that you've put what you might need for that day's climate in your backpack. You'll also carry your own water and food. Everything else must fit into your duffel bag.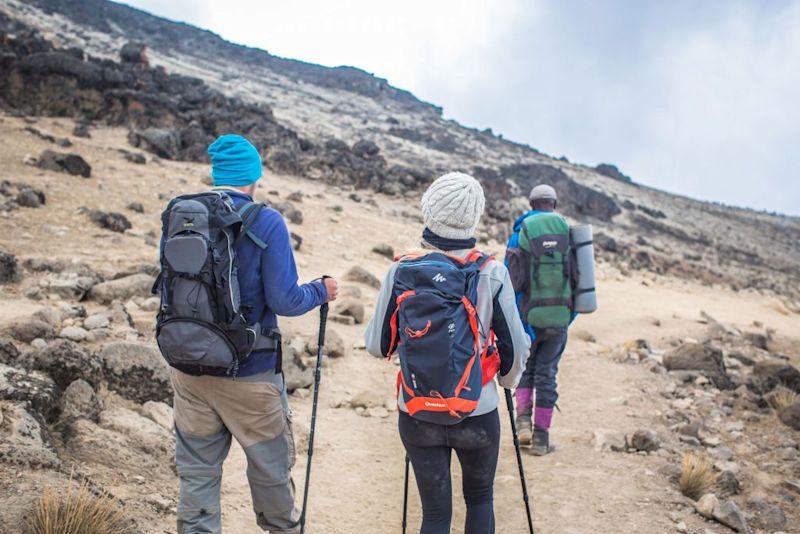 Your backpack is needed just for storing your stuff for that day's hike
Water carriers
When packing for Kilimanjaro we recommend you include the following water carriers:
Built-in hydration pack with drinking hose (ideal, but not essential)

Two or more one-litre water bottles with secure lids
An essential item to add to your Kilimanjaro packing list is a quality water carrier or two. We cannot over-stress how important it is to have enough water to drink while on your climb. Not only are you being very active and so need to hydrate, but water also helps to ease the symptoms of Kilimanjaro altitude sickness.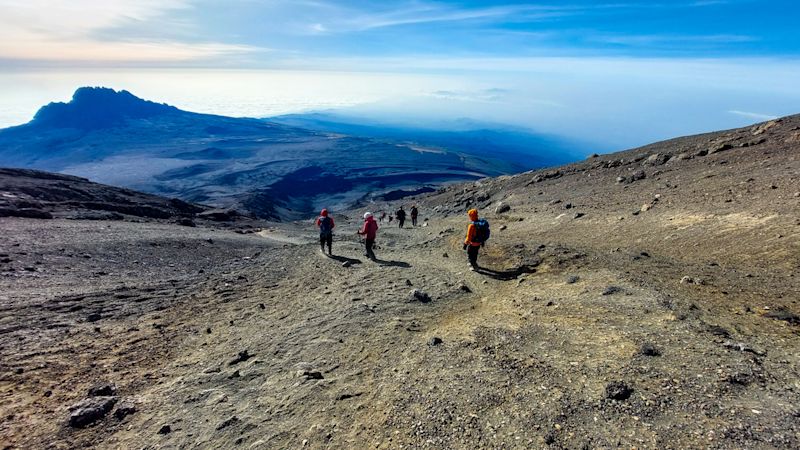 The top of Kilimanjaro is a dry, harsh place as shown in this pic by our client Andrés
Every trekker should carry two to three litres of water per day. While the mountain crew carries the water needed for the entire trek, you have to carry what you need for each day in your own water vessels.
Water helps to ease the symptoms of altitude sickness.
Hydration pack
Most hiking bags have hydration bags (also called water bladders). A well-known brand of hydration packs is the CamelBak.
Hydration packs come with a drinking hose built into them, which is really great. This means that instead of reaching for a water bottle when thirsty, you can just pick up the mouthpiece and drink from there. You should take sips of water often – if you're thirsty, then you're already dehydrated!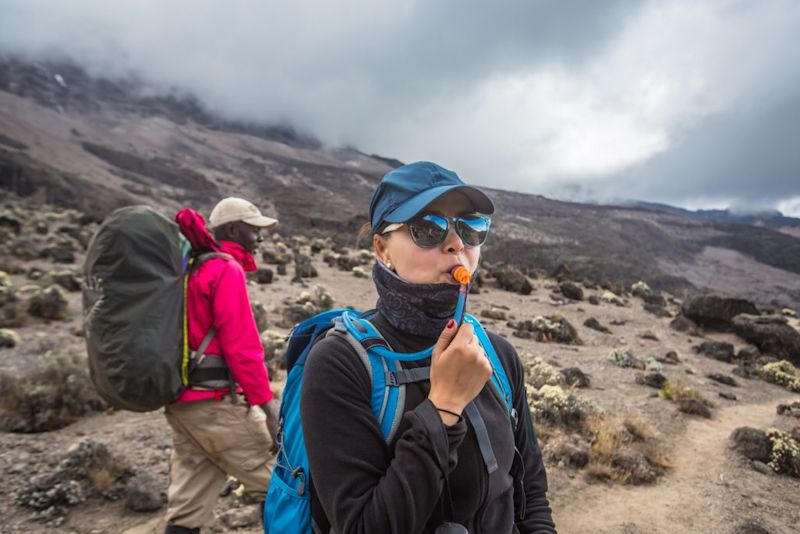 Built-in water bladders with drinking hoses are the best
On cold days like summit day you want to insulate your hydration pack so that your water doesn't freeze.
Water bottles
We recommend that you also carry a full water bottle or two should the water in your hose freeze (this does happen!). Technology is amazing, and you can even now find insulated water bottles that purify your water for you.
Ensure your water bottles are good quality and close properly. A leak won't be welcomed.
If you can, it's best to keep your water bottle as close to your body as possible to avoid it freezing over. Putting your water bottle inside a thermal sock also helps to keep it from freezing.
Also, note that water freezes from top to bottom, so if you carry your water bottle upside down then you can still drink from it even if the top part has started to freeze.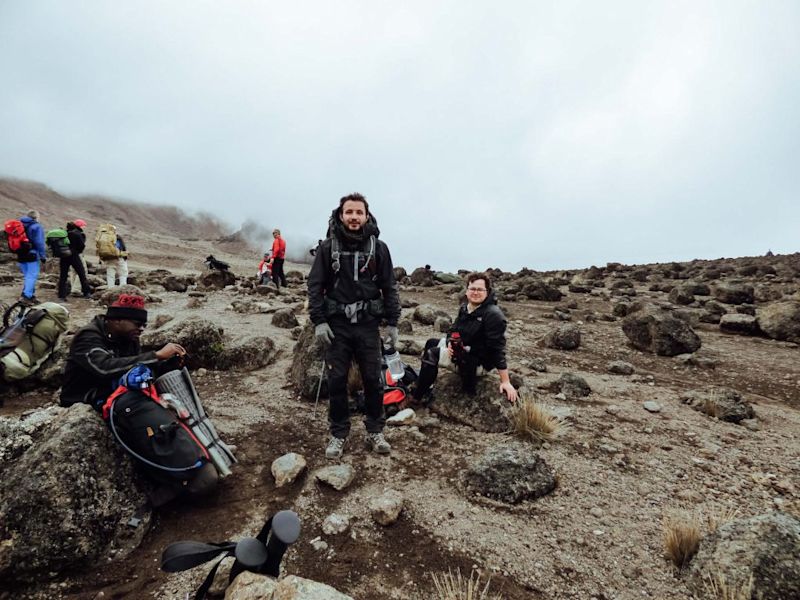 Footwear
You should pack the following footwear for Kilimanjaro:
Hiking boots

Gym shoes or sneakers

Gaiters (optional)
Hiking boots
The most important item on your Kilimanjaro packing list is a pair of comfortable, worn in hiking boots. As such these shouldn't be an afterthought in your Kilimanjaro preparation. There are so many options out there to choose from when shopping for the perfect pair of boots.
A pair of comfortable, worn-in hiking boots is the most important item on your Kilimanjaro packing list.
We recommend opting for either leather or a synthetic fabric like that used in Gore-Tex boots. Leather boots that are properly looked after last longer than any other type of boot. Synthetic fabrics, on the other hand, are easier to break in.
Learn more: The best hiking boots for Kilimanjaro.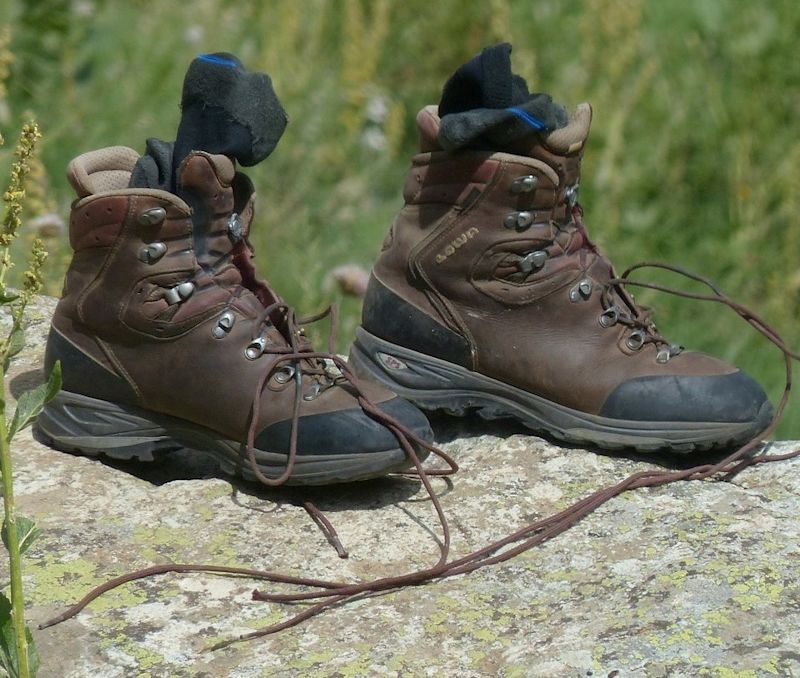 We recommend that you and your trusty boots cover at least 100 km together before your Kilimanjaro climb.
We also want to stress the importance of either wearing your boots or having them in your hand luggage on your travels to Tanzania. Should your luggage disappear, you want to at least have your essential items on you. We always do our best to help clients with any needed items, but new or borrowed hiking boots can compromise your climb.
Gym shoes or sneakers
After a long day of hiking, the thought of sitting back and kicking your boots off is pure bliss. This is great except for the fact that the temperature can plummet to well below freezing higher up on the mountain. So when you're packing for Kilimanjaro, it's a good idea to throw in a pair of comfortable, closed sneakers to wear around camp.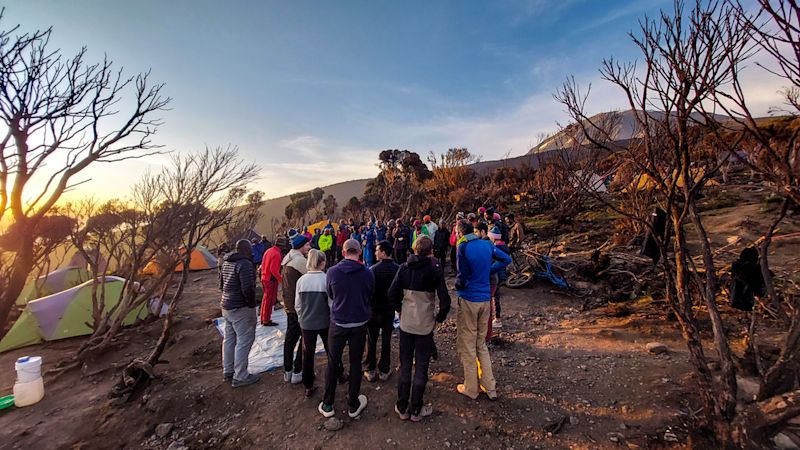 Andrés took this pic of his climb group in their camp shoes
Gaiters
Gaiters aren't essential, but we do recommend using them.
Gaiters are helpful in:
Keeping your calves and feet dry

Preventing sticks and stones getting into your shoes (super annoying!)

Protecting you from ticks, snakebites and other such nasties

Keeping you dry should you walk through snow on summit day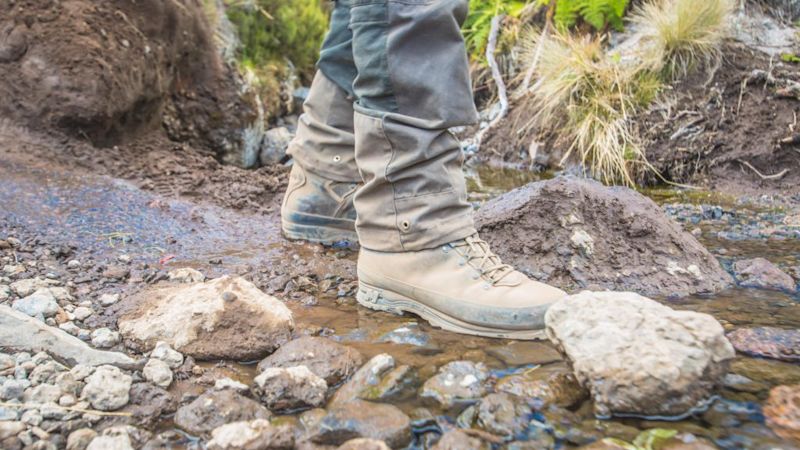 Things can get muddy on Kilimanjaro, making gaiters useful
Inner layers
We recommend you pack the following inner layers:
Base layers

Summit base layer

Fleece (or similar)

Sports underwear

Thermal underwear

Socks
Climbing Kilimanjaro means hiking through five distinct climate zones. For this reason, it's helpful to have quite a few layers to work with.
Base layers
A base layer is the clothing that sits closest to your skin and helps to regulate your body temperature. You don't want a fabric that takes a long time to dry (like cotton), as this will chill you whenever you stop exercising.
On the natural side of things, merino wool or bamboo works really well. Both are breathable and so moisture escapes easily.
Alternatively, choose a synthetic material – or one that's a combination of natural and synthetic fibres – that has really excellent sweat-wicking properties. Good options include nylon, polyester, polypropylene and MicroModal.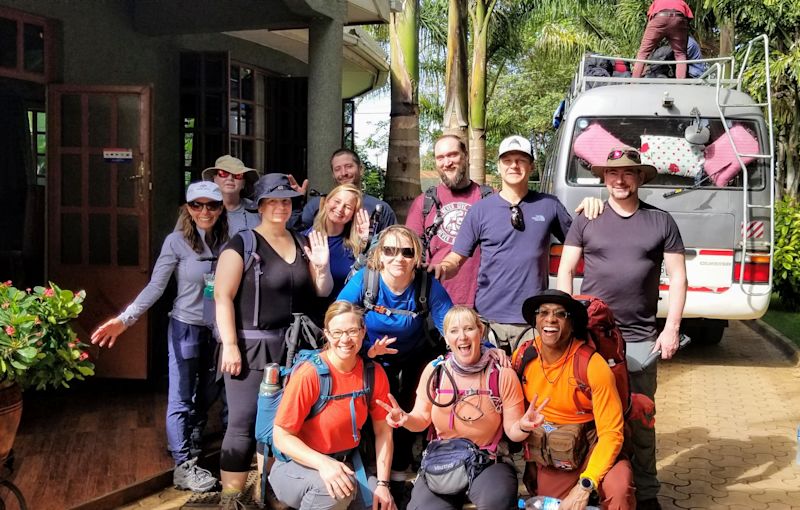 Summit base layer
Your summit base layer should include long johns and a thermal, long-sleeved vest (preferably made of merino wool) that you wear for summit day only.
Your summit day climb is by far the longest hike of the entire Kilimanjaro climb. In fact, you're on your feet for around 12 to 15 hours on summit day! So having a fresh and comfortable layer set aside especially for this day's hike is ideal.
Fleece (or similar)
Your middle layer is for your torso and is worn over your base layer. This garment should be comfortable and easy to move in. We recommend a thin fleece or parka for this layer.
Underwear
So it goes without saying that a fresh set of underwear is always a pretty good way to start each day! That's why we recommend that you bring multiple pairs along with you.
It's best to wear sports pants (and bras) on Kilimanjaro, as they're comfortable and breathable. Again, avoid cotton. You want fabrics that wick away sweat.
You experience five distinct climate zones during a Kilimanjaro climb.
Thermal underwear
The climate is very cold near the top of Kilimanjaro, so you need to pack thermal underwear. We recommend having two of each item – one of which you keep especially for summit day, the coldest and longest day of all.
Socks
Just like underwear, we suggest that you bring a few pairs of socks along with you. And we advise that you bring three different types of sock along with you:
Hiking socks

Thermal socks

Sock liners
First and foremost, you must pack some regular hiking socks. We advise that you test out your hiking socks before coming to Kilimanjaro. Use them when breaking in your hiking boots. This way you'll be able to detect any troublesome seams or the like.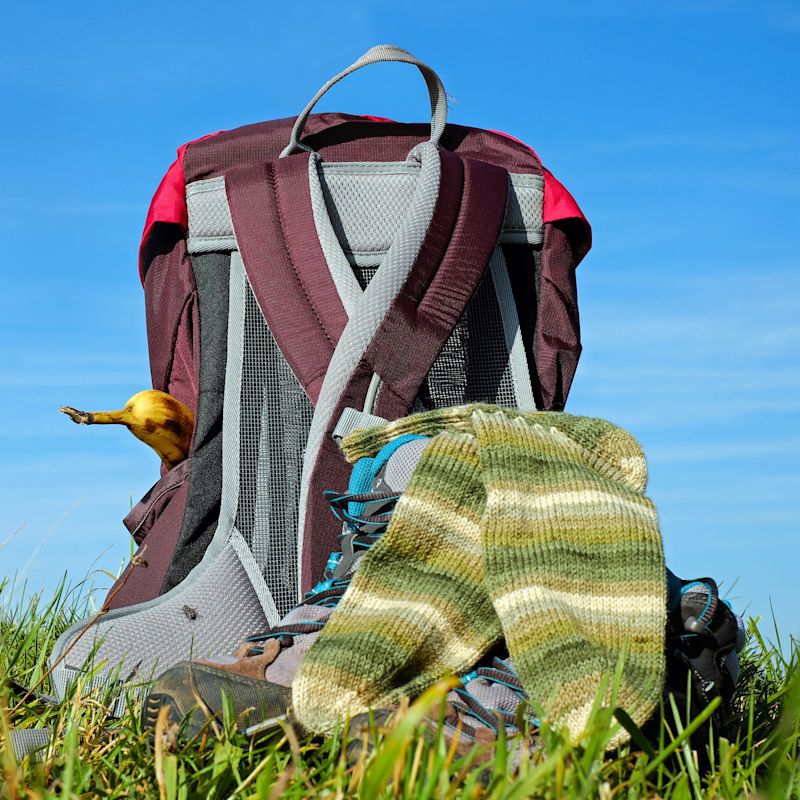 We're sure you've noticed a trend by now: have a fresh 'everything' that you save for summit day. This certainly goes for your hiking socks. Only note that your summit day socks should be thermal socks, as you need the extra warmth to avoid cold feet.
We also suggest you wear sock liners. Not everyone does, but these are great in helping to prevent blisters because the friction gathers between the liner and the sock rather than between your skin and the sock. It's quite common for climbers to get blisters on their feet, especially on summit day when you're on your feet for around 12 hours.
If you want to know more about avoiding and dealing with blisters, please read How to prevent (and treat) foot blisters when trekking.
Learn more: The 3 kinds of socks you need for Kilimanjaro.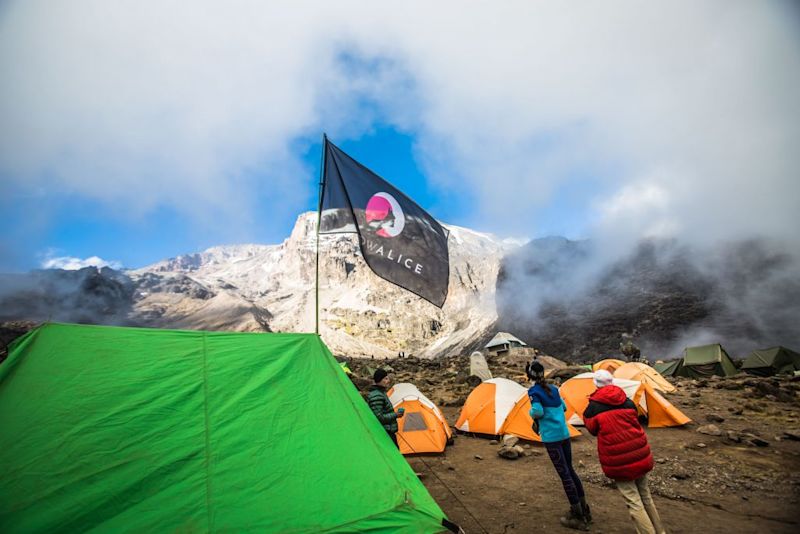 Climbers wearing warm gear around camp on Kilimanjaro
Outer layers
You need to pack the following outer layers for your Kilimanjaro climb:
Down jacket

Waterproof jacket and trousers

Hiking trousers
Down jacket
A good-quality down jacket is a very important item on your Kilimanjaro packing list.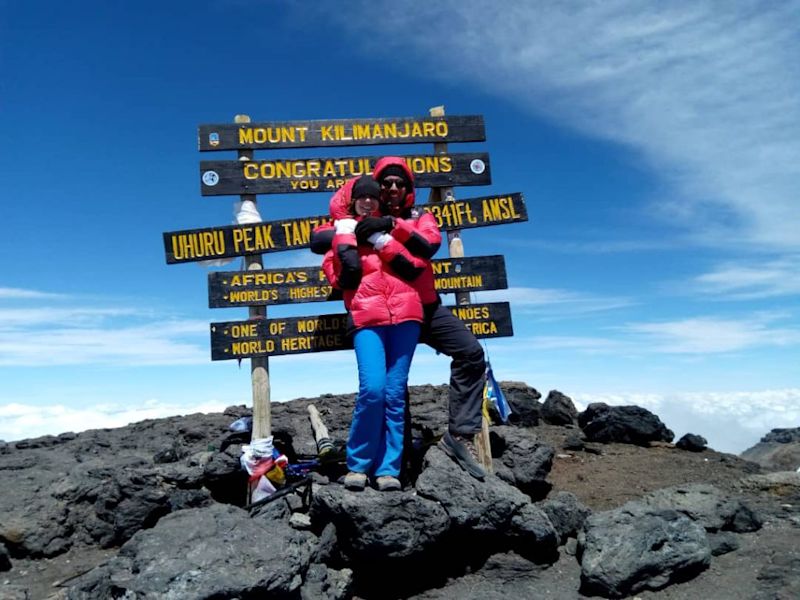 Two of our rented down jackets doing their job at the summit of Kili!
The first couple of days of the climb are relatively warm and humid, so your down jacket won't be needed and can be kept in your duffel bag. From then on you'll keep it in your backpack so that you can haul it out whenever you want it.
You're likely to start wearing your winter jacket when you reach the moorland zone. You'll certainly be wrapping up in it from the alpine desert zone! And it's also your best friend at camp in the evenings.
You can either buy a winter jacket of your own, or rent one from Follow Alice for US$60.
Follow Alice's down jackets have been designed and produced specifically for the climate on Kilimanjaro.
Waterproof jacket and trousers
Waterproof garments are essential for the first few days of your hike, especially if you climb Kilimanjaro during the rainy season. Higher rainfall is one of the reasons to do your research and choose the best time to climb Kilimanjaro. That said, it's smart to carry waterproof gear no matter when you climb.
While regular rain gear is waterproof, it generally isn't very breathable. Given how much you sweat when hiking, it's important to have a rain jacket and trousers that are relatively lightweight and have inner membranes to make them breathable.
We recommend bringing a jacket that has a 2,000 hydrostatic head (this tells you how waterproof the jacket is).
A windbreaker also goes a long way on Kilimanjaro. There's nothing worse than wearing multiple layers to keep warm and the wind still cuts right through. To keep the load light, we suggest looking for a waterproof jacket that is also a windbreaker. We love a two-in-one solution!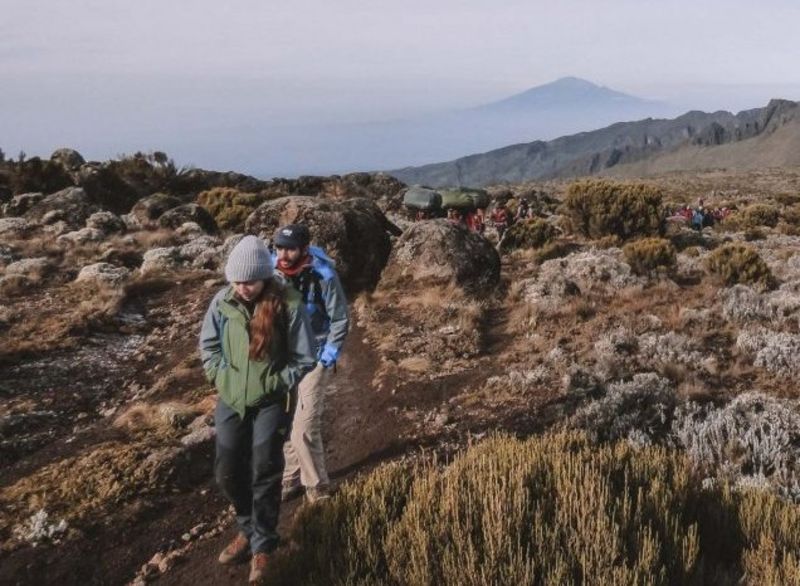 Also, jackets with elasticated wristbands are helpful in keeping out the cold and wind.
Hiking trousers
Pack at least one pair of durable, breathable and comfortable trousers. We love convertible (zip-off) trousers that you can turn into shorts on warm days. Again with the two-in-one winning formula! Obviously you could choose instead to pack regular hiking trousers as well as a pair of shorts.
Some people like to wear trousers no matter the temperature as they protect your legs from sunburn, insect bites and scratches. Long trousers also help to prevent dirt and pebbles finding their way into your boots.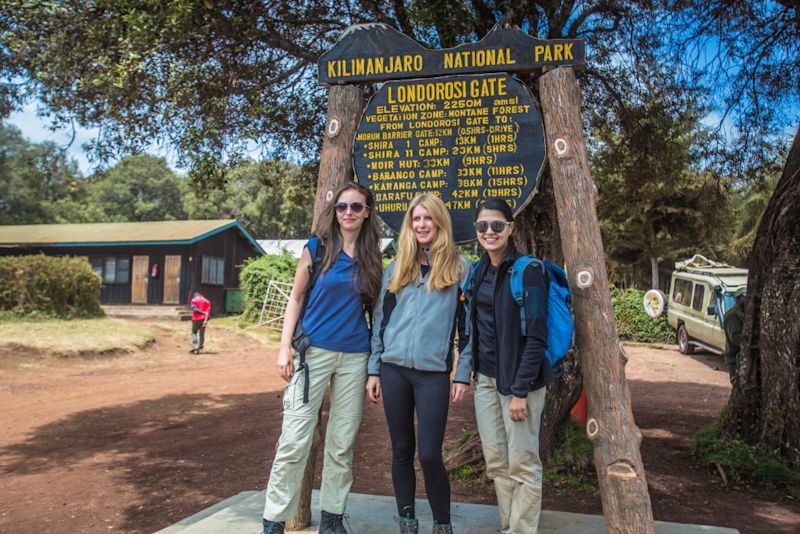 Accessories
Some important accessories to pack for a Kilimanjaro climb are:
Sunhat

Warm hat

Balaclava or snood

Head torch and batteries

Gloves or mittens

Glove inners

Sunglasses
Sunhat
A sunhat is important for the beginning and end of the trek when you're lower down on the mountain. The heat of the sun can be very intense in Tanzania – remember that you're near the Equator! A sunhat is better than a cap to protect the back of your neck.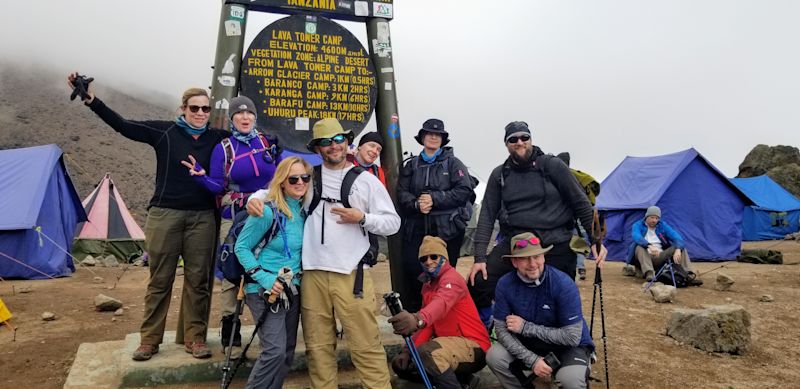 The odd person might like to bring a headband so that sweat doesn't run into your eyes.
Warm hat
As you climb higher, you need a warm hat like a beanie. A beanie can also be worn when you sleep to avoid heat escaping through your head.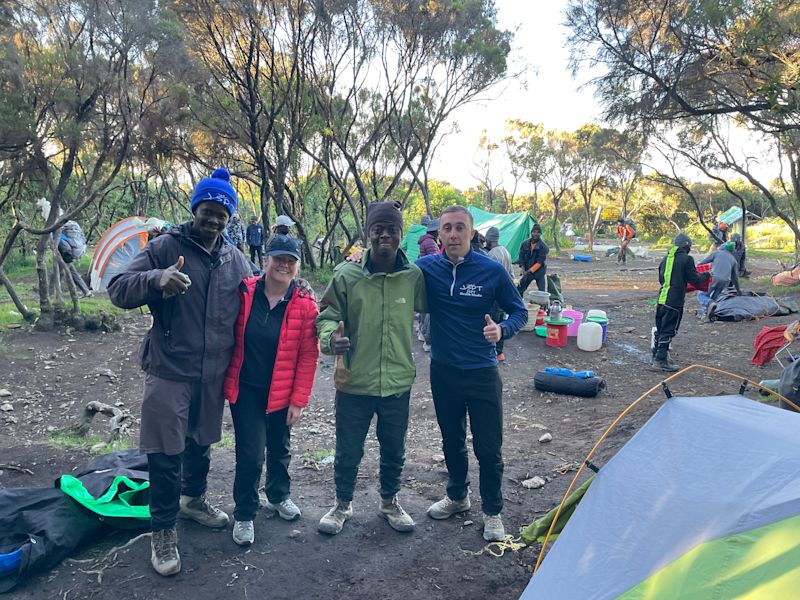 Balaclava or snood
We suggest you bring a thermal balaclava for summit day as this helps to keep your head, ears and neck warm.
Alternatively, consider a scarf or, even better, a thick snood, as this stands no chance of slipping off or flapping annoyingly.
Head torch and batteries
A head torch is your best friend while on a Kilimanjaro climb to help you get around camp when it's dark. Further, on summit day you leave camp at midnight and hike for hours in the dark.
Don't want to climb in the dark? Maybe you should consider a Kilimanjaro full moon climb where the light of the moon guides you to the summit?!
You also use your head torch in the evenings, so add a few extra batteries to your Kilimanjaro packing list – you will use them!
Gloves or mittens
You absolutely must pack winter gloves (or ski gloves) to keep your hands warm! We especially like mittens for summit day as having all your fingers together generates more warmth.
Having said that, mittens do make it quite challenging to take pictures. So if you'd prefer fingered gloves, do ensure they're a quality pair that offer proper insulation.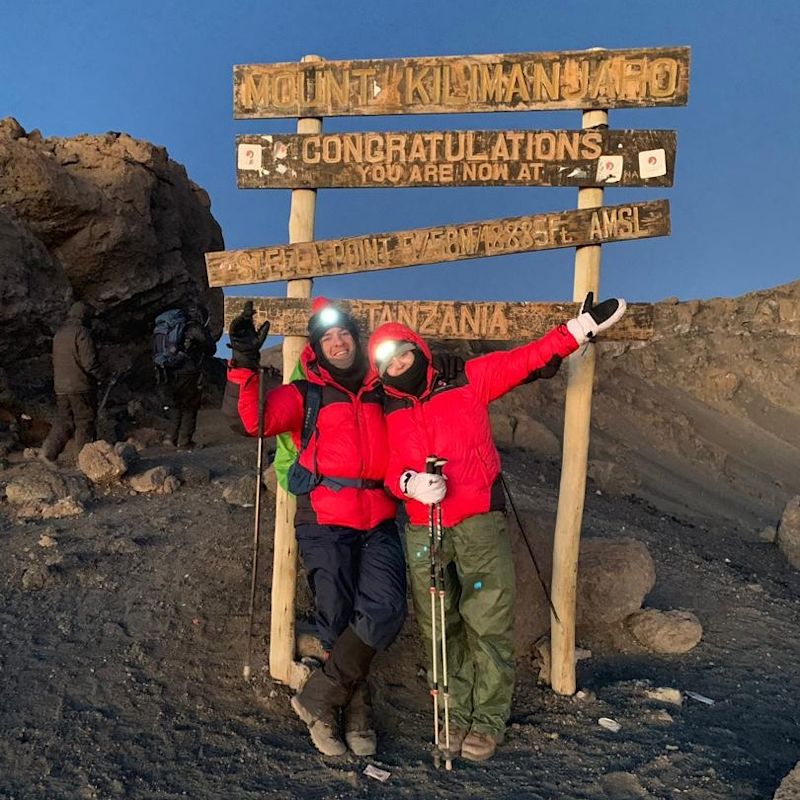 Glove inners
For summit day, one pair of gloves simply isn't enough. Some glove liners, or glove inners, will help to ensure your hands and fingers don't become icicles.
Sunglasses
Polarised sunglasses or ski glasses are essential, and not just for looking ultra cool in pictures!
On summit day you reach the arctic zone of Kilimanjaro, which means lots of snow and glaciers. The sun reflects off the snow, which can cause snow blindness. Snow blindness is a temporary but painful blindness that occurs when the human eye is overexposed to the Sun's UV rays. No fun at all!
You might also like to pack a sunglasses cord if you have one of those noses that likes to ditch glasses at the slightest opportunity. Or you could even bring ski glasses.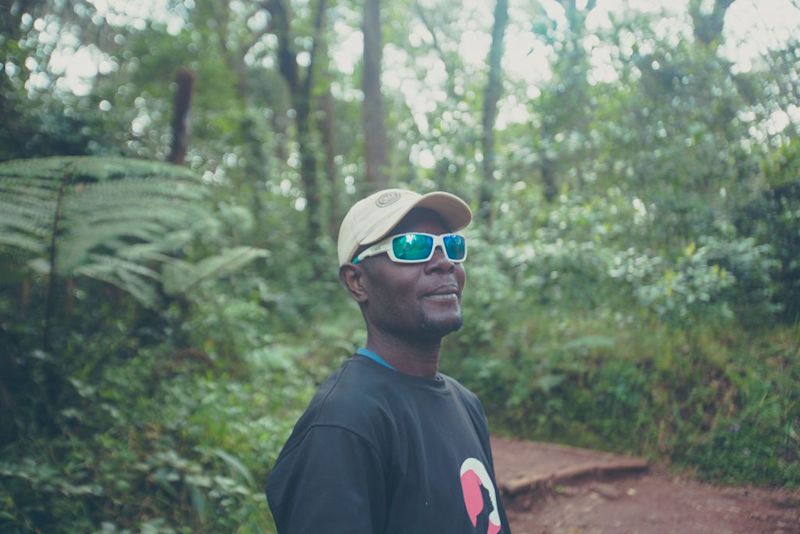 On clear days the glare can be intense, so pack your sunnies!
Toiletries and first aid
We recommend you pack the following personal items:
| Item | Details |
| --- | --- |
| Toilet roll | Always have your own roll to hand |
| Tissues | The desert zone can be dusty |
| Toothbrush | Because otherwise, ewww |
| Eco toothpaste | So that you don't pollute the environment |
| Wet wipes* | You can't shower on the mountain |
| A small microfibre towel | Microfibre towels are lightweight and dry quickly |
| SPF lip balm | Your lips take a beating at high altitude and need extra UV protection |
| Small moisturiser | The air is very dry high up the mountain |
| Quality broad-spectrum sunscreen | UV rays are more intense at altitude |
| Eye drops | The dryness of the air at altitude can irritate eyes |
| Regular plasters and antiseptic cream | In case you get any cuts |
| Blister plasters | For dealing with developing blisters |
| Hypodermic needle and zinc oxide sports tape | In case you need to pop and dress a blister |
| Insect repellent | This is needed in the rainforest zone |
| Altitude meds (like Diamox) | Speak to your doctor about this |
| Malaria tablets | Tanzania is in a malaria zone |
| Diarrhoea tablets | High altitude can cause diarrhoea |
| Painkillers | Headaches are a common symptom of high altitude |
* While there aren't any showering facilities on the mountain, you will get what the locals call 'washy washy' every day. This a bucket of water for you to use to wash your hands and face. This is when you'll need the microfibre towel so that you can dry off.
Since personal items tend to vary from one person to the next, please add whatever else you feel is necessary to your toiletry bag checklist.
Finally, please note that it's very common to experience symptoms of altitude sickness when climbing Kilimanjaro. Symptoms include diarrhoea, nausea, dizziness, headaches and sleeplessness. This is when meds like Diamox and painkillers come in handy.
Think carefully about what to include in a small, personal first aid kit. And even better, speak to your GP beforehand for advice on the matter.👩🏽‍⚕️
Learn more: Kilimanjaro altitude sickness.
Toiletries for women
For women, we recommend packing a urinating device and pee cloth.
A urinating device like a Shewee lets you pee while standing. A pee cloth, like a Kula Cloth, is an hygienic, environmentally friendly way to avoid the drip-dry method after peeing!
We also recommend bringing your menstrual cycle products, no matter the time of month, as high altitude can bring on your period unexpectedly.
Finally, if you find you tend to have to urinate during the night, you might consider bringing a pee bottle. It's never fun to have to exit your cosy tent just to take a leak!
Learn more: Advice for women climbing Kilimanjaro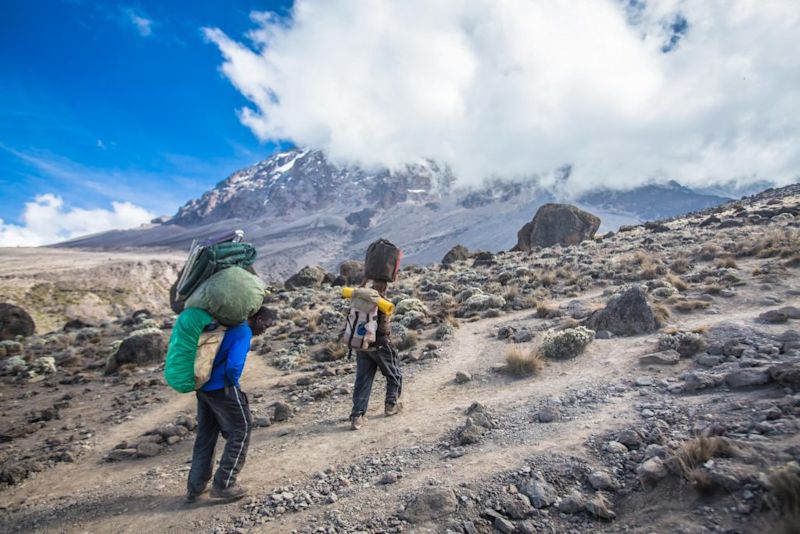 Porters are the true backbone of any Kilimanjaro climb
Technology
Some of the tech gear to consider packing is as follows:
Camera

Cellphone

(Solar) power bank

Small binoculars
There's limited cellphone reception on Kilimanjaro, but you can get reception at some of the campsites, namely Barranco, Karanga, Barafu, Mweka, Tarn Hut and Horombo. Have a look at the description of the different Kilimanjaro routes to see which ones stop off at these campsites.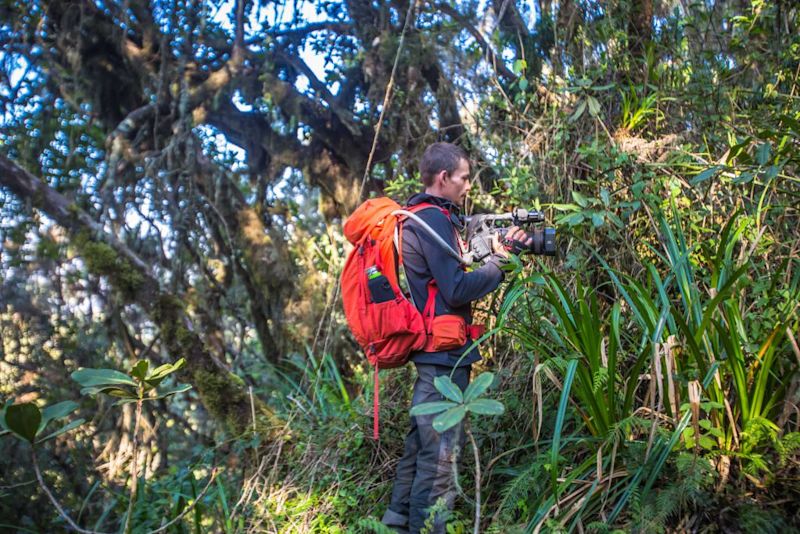 Bring along your camera – big or small – to capture the sights and special moments of the climb
Practical items
To travel to Tanzania you also need the following:
Please don't forget your passport! We can help with replacing pretty much anything if needed, but sadly we can't replace your passport. Make it number one on your Kilimanjaro packing list. And please ensure your passport is valid for six months after your arrival date in Tanzania.
You also need a Tanzanian visa. US, Canadian, British and most European citizens can simply obtain their visas upon arrival at the airport. The cost is $100 for US passport holders and $50 for others. If you're a citizen of a different country, please check with your embassy whether or not you can obtain a visa upon arrival. You can also view the Tanzania Visa Policy.
Don't forget your passport!
No specific vaccines are required before entry into Tanzania. That said, be aware that the Government of Tanzania does requires proof of yellow fever vaccination upon arrival if you're travelling in from a country with a known risk of yellow fever.
We suggest you talk to your doctor about getting the following vaccinations which are standard in developed countries: Hepatitis A, Hepatitis B, typhoid, yellow fever, tetanus, polio, measles, mumps and rubella (MMR), and meningococcal meningitis.
Please check the Fit For Travel website for more up-to-date information.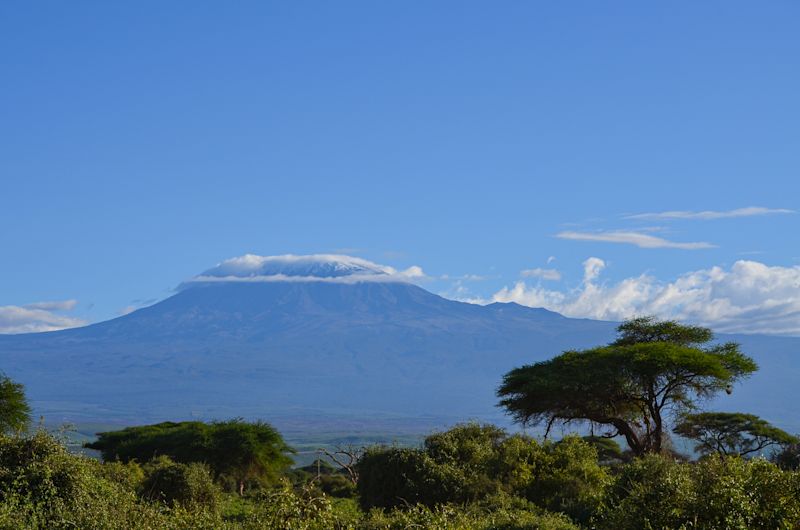 Kilimanjaro rises from the surrounding plain
Additional items
We have a handful suggestions of other bits and bobs you may want to add to your Kilimanjaro packing list. These aren't essential, but can make your climb even more enjoyable.
| Item | Details |
| --- | --- |
| Small pillow | |
| Pillow case | This could be stuffed with clothes and then you don't even need a pillow |
| Hot water bottle | Your crew will fill this for you at night |
| Favourite snacks | These offer a physical but also emotional boost when you're flagging |
| Electrolyte flavour sachets* | For adding to your drinking water |
| Playing cards or other games | There's time in the evenings for this |
| Book or e-reader | Ditto |
| Journal and pen | You won't remember all the details unless you write them down! |
| Safety pins, gaffer tape and cable ties | In case a zip breaks, a jacket rips, etc. |
| Plug adapter (and converter too if necessary) | Can be stored at the hotel during your climb |
* The mountain crew use water-purifying tablets to purify the water they provide you for drinking. These make the water safe to drink, but can alter the taste. Some folks like to add flavour sachets to their drinking water to make it more palatable. And adding some electrolytes to your drinking water is also a very good idea.
Top Kilimanjaro packing tips
Finally, here are our top two Kilimanjaro packing tips ...
1. Keep important gear with you during flights
When travelling by air, we recommend that you either wear your important trekking gear or carry it in your cabin bag. This way your Kilimanjaro climb isn't derailed if your check-in luggage gets lots or stolen. The main items we have in mind are your hiking boots, jacket, and any medication.
2. Have a pen and cash to hand
Save yourself some time at the airport by having a pen handy to fill out the visa form. Also have US dollars for your visa fee. Don't crinkle or fold the money. Note that ATMs can only be found after immigration.