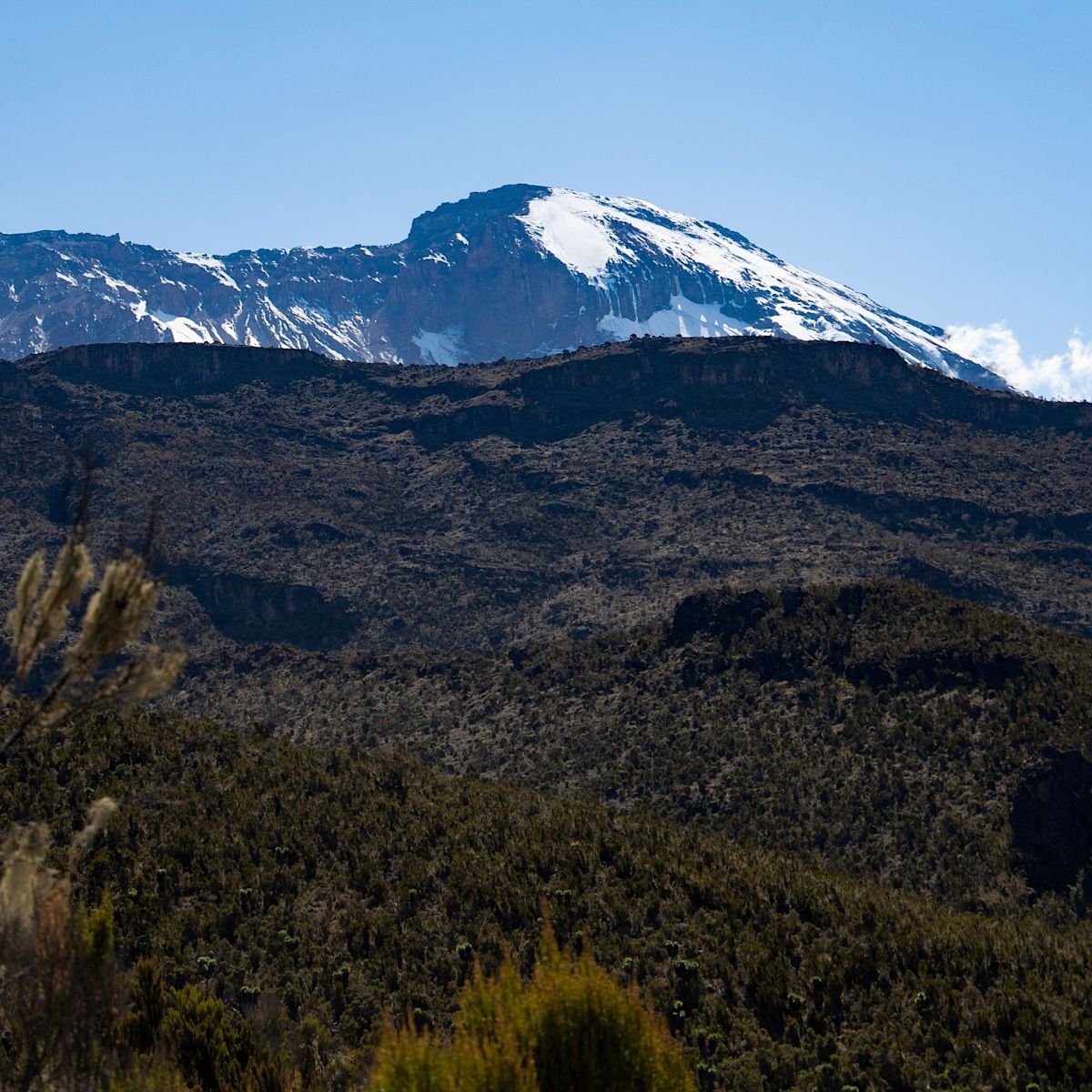 Kilimanjaro National Park
Jul 7, 2022
Reading time: 6 minutes
Kilimanjaro National Park is a jewel in the crown of Tanzania. And one of its most visited sites. Learn more about this important and extraordinary mountain park.
Kilimanjaro National Park in northern Tanzania is a unique and surprising place. And we're not just saying that. For starters, it's home to the highest mountain in Africa (5,895 m!), yet that mountain rises up out of a vast, relatively flat plain.
Most iconic mountains are a part of massive ranges, like how Mt Everest is part of the Himalayas and Mt Aconcagua part of the Andes. The reason for this is that Mt Kilimanjaro was once a volcano. This allows it to stand tall in a flat region, letting you enjoy unimpeded views of it from far away, even in Kenya.
Kilimanjaro National Park was made a UNESCO World Heritage site in 1987.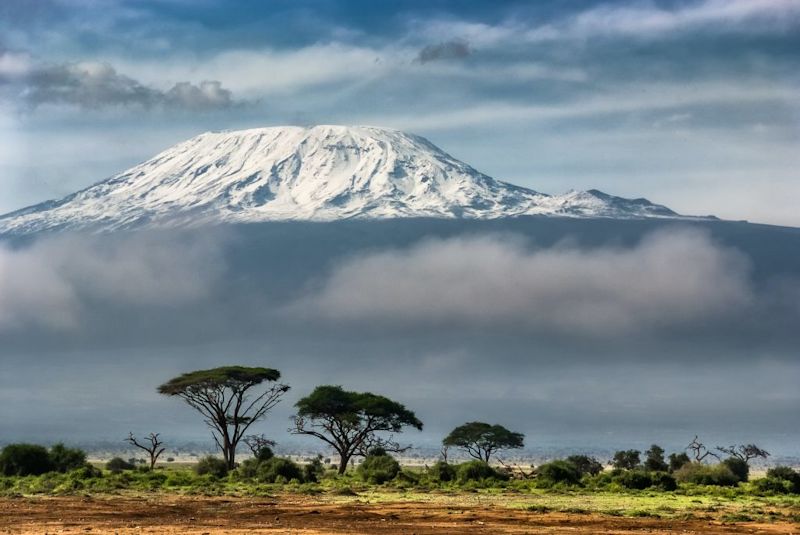 How tall is Mount Kilimanjaro?
Mount Kilimanjaro, Africa's tallest mountain, is a whopping 5,895 m (19,341 ft) above sea level. It's also the tallest free-standing mountain in the world, standing 4,900 m (16,076 ft) above its plateau base. Think about that: that's five vertical kilometres of straight-up mountain!
As with most things of immensity, you cannot fully appreciate the scale of the mountain from afar. It's only when you're on the mountain itself, taking step after step to climb to the summit, that its wild size comes fully home to you.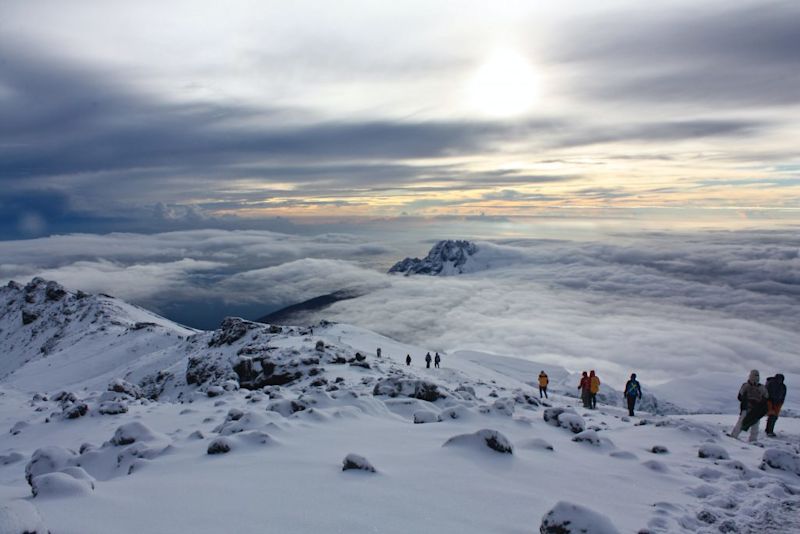 Though it sits near the Equator, the summit of Mt Kilimanjaro is so high that it's frequently covered in snow
Where is Kilimanjaro National Park?
Kilimanjaro National Park is located in the northeast of Tanzania, in eastern Africa. You can see it in the top-right corner in the map below.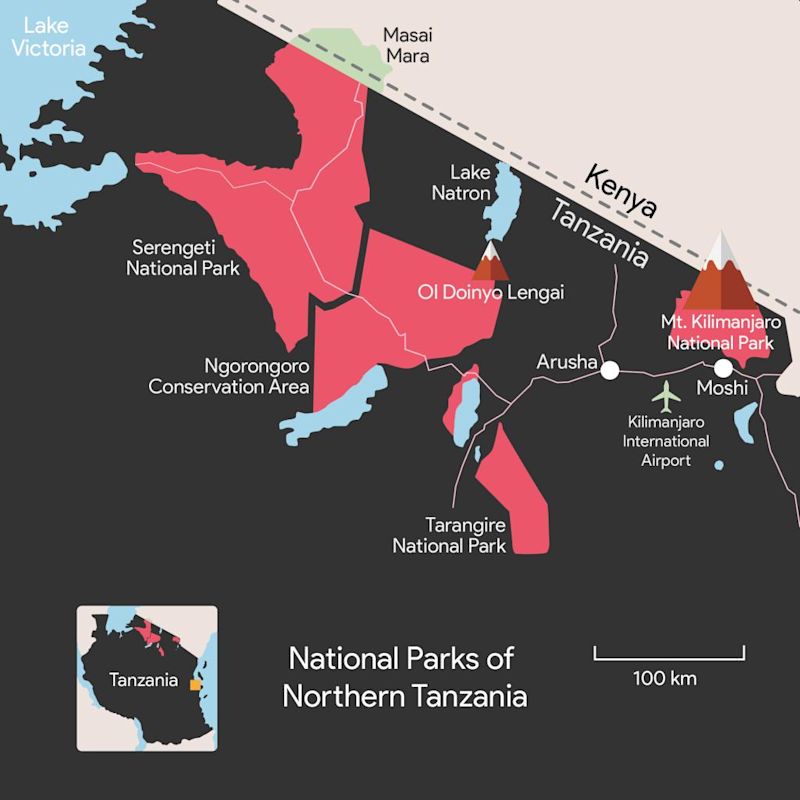 How do I get to Kilimanjaro National Park?
As the map shows, the quickest way to reach Kilimanjaro National Park is to fly into Kilimanjaro International Airport. The drive to the park from the airport is 75 km and takes about 90 minutes.
You could also opt to drive there from Julius Nyerere International Airport, Tanzania's main airport. The airport is just outside of Dar es Salaam, the country's largest city, which sits on the coast in the east of the country. Dar es Salaam is over 500 km south of Kilimanjaro National Park, and takes about nine hours to reach by car.
Alternatively, you could fly into Jomo Kenyatta International Airport in Nairobi, Kenya. The drive south is just 200 km, but you will, of course, have to get a Kenyan visa and deal with border control when entering Tanzania.
We'll fetch you from the airport
If you choose to climb Kilimanjaro with Follow Alice, we'll fetch you from Kilimanjaro International Airport (JRO).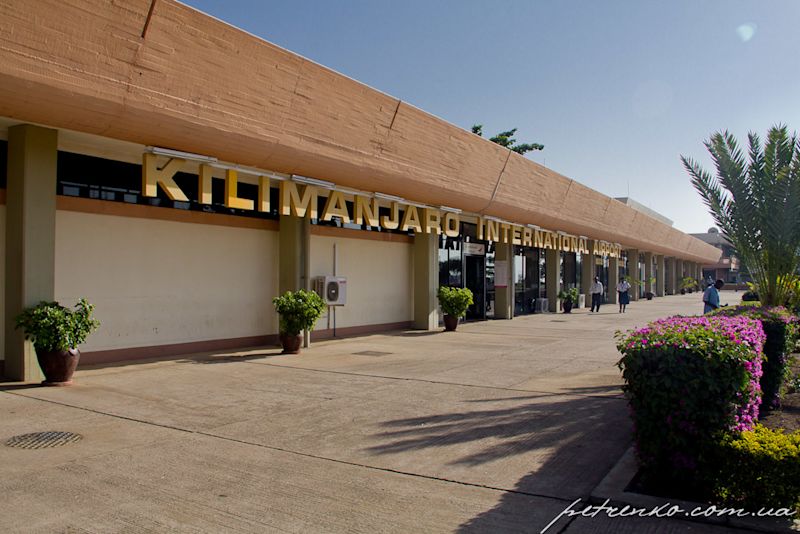 Flying into Kilimanjaro International Airport brings you within a few hours' drive of the mountain
Kilimanjaro National Park accommodation
Most people heading to Kilimanjaro National Park stay in the city of Arusha, or the town of Moshi. You don't actually stay inside the park, except when climbing Kilimanjaro.
As you can see in the map above, Moshi is very close to the park, especially if you use the park's southern entrance. Arusha is over two hours away by car, but many find it to be a good base for both visiting both Kilimanjaro and the safari parks of Tanzania's Northern Circuit.
We host clients in both Moshi and Arusha, depending on their needs. The lodges we visit are beautifully situated and comfortable, and the offer outdoor swimming pools and lounging areas, which are especially welcome after the major exertions of a Kilimanjaro trek!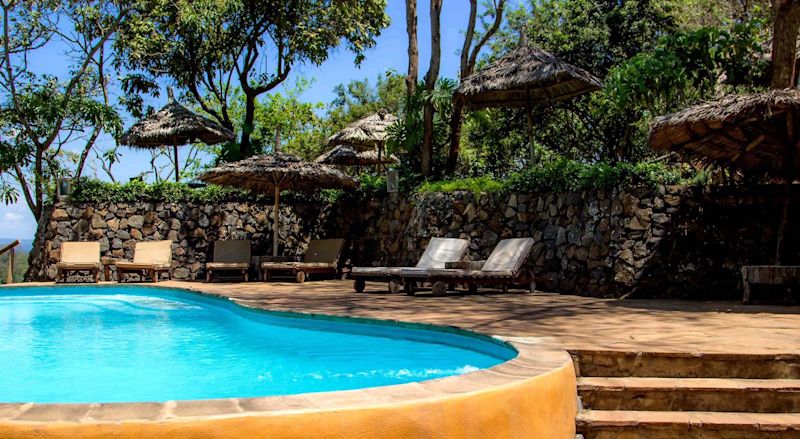 One of the lodges in Arusha we like to use before and after Kilimanjaro climbs
Trekker accommodation on the mountain
During the trek itself, climbers stay either in tented camps or huts. The tents are provided by your tour operator, while the huts are large, permanent structures supplied by the park. The huts are only available along the Marangu route, which is the original trail up the mountain. Along the other trails, you must camp. Operators provide their trekkers with sleeping tents, a mess tent, and a toilet tent. You can learn more in Sleeping on Kilimanjaro.
We've found that sitting around a campfire after a hard day of trekking is one of the highlights of a Kilimanjaro climb. Our awesome mountain crew sets up camp and cooks your dinner while you chill in a chair with a drink and soak in the view!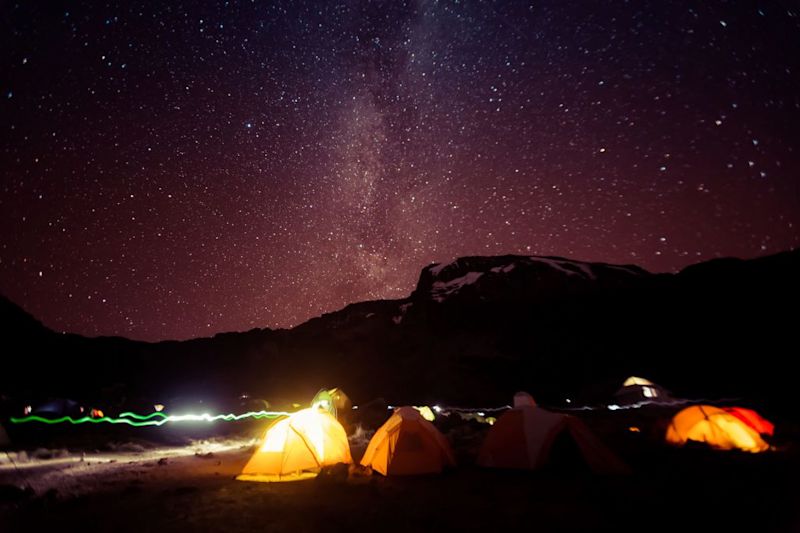 Barranco Camp with the endless starry sky typical of nights spent high on Kilimanjaro!
Is Kilimanjaro National Park safe?
Tanzania is a pretty safe country to visit. Like most countries, the cities pose a few more dangers like theft and pickpockets. But when you head to the country and parks, like Kilimanjaro National Park, you're pretty safe. This is a region dedicated to eco tourism, and you'll find the people are friendly, welcoming and helpful.
Is Mt Kilimanjaro safe?
Mt Kilimanjaro is an inactive volcano that hasn't erupted in 200 years. It's also a non-technical mountain, meaning you don't need any mountaineering experience or equipment to hike it. All you need are warm clothes, a good pair of hiking boots, strong legs and determination. The climb is arduous and will test your mettle!
The biggest risk in climbing Kilimanjaro is the possibility of developing altitude sickness. However, you can take precautions against this. Firstly, you can choose one of the Kilimanjaro routes with a good acclimatisation profile. One of our favourite routes is the Lemosho, as it's both beautiful and a good acclimatisation route.
Secondly, you can add to your safety on the mountain by trekking with a reputable tour operator. Good Kilimanjaro tour operators hire qualified staff and offer them regular training. This training includes how to detect, assess and treat symptoms of altitude sickness.
At Follow Alice, safety is a priority. Chris Sichalwe is the founding father of Follow Alice Tanzania. He's been climbing the mountain for many, many years and has been rated among the top 10 Kilimanjaro trek guides. He and his handpicked team of lead guides, guides, porters and cook are a friendly, knowledgeable, reliable and well-trained team.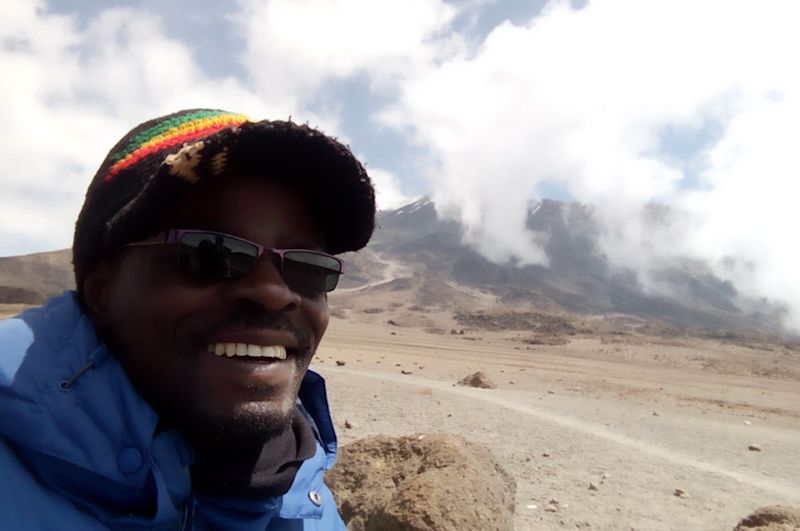 Chris is our charismatic and fearless Follow Alice Tanzania leader!
What wildlife is in Kilimanjaro National Park?
Kilimanjaro has plenty of exciting wildlife, especially as it has five different ecological bands, so it offers a few different environments for different types of animals. In the lower region, there are elephants, leopards, giraffes, buffaloes, hyenas and various antelopes. But this isn't the area where Kilimanjaro climbers walk, so we caution you not to expect to see such game on your trek.
The ecological zone that's the most exciting for animal spotting is the rainforest band. Here, the biggest highlight is the monkeys, particularly the unusual black-and-white colobus (see pic below). Also look out for dainty duikers and klipspringers. And keep your eyes peeled for the three-horned chameleon (or Jackson's chameleon).
The birdlife in the rainforest is spectacular, and you can hope to see beauties and rarities like Hartlaub's turacoes, silvery-cheeked hornbills, African pittas, malachite sunbirds, and African pygmy kingfishers.
To learn more, and see some great pics, please go to Animals on Kilimanjaro.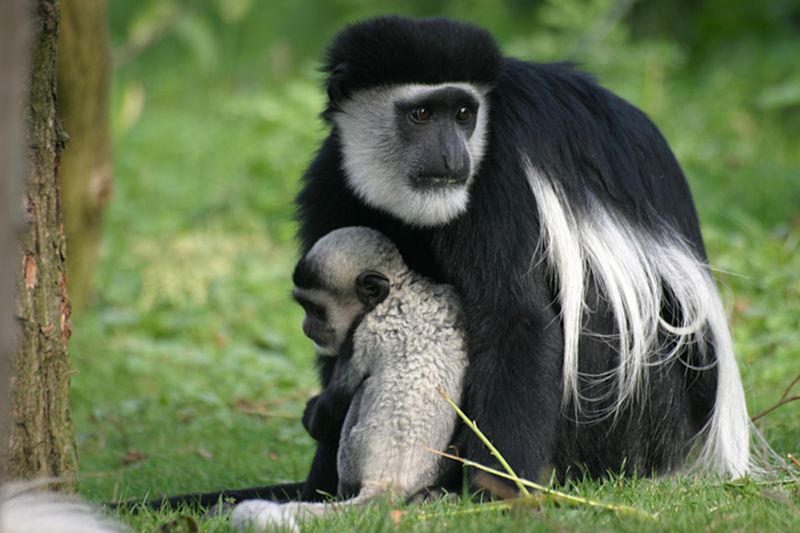 Black-and-white colobus monkeys are often seen in the rainforest of Kilimanjaro