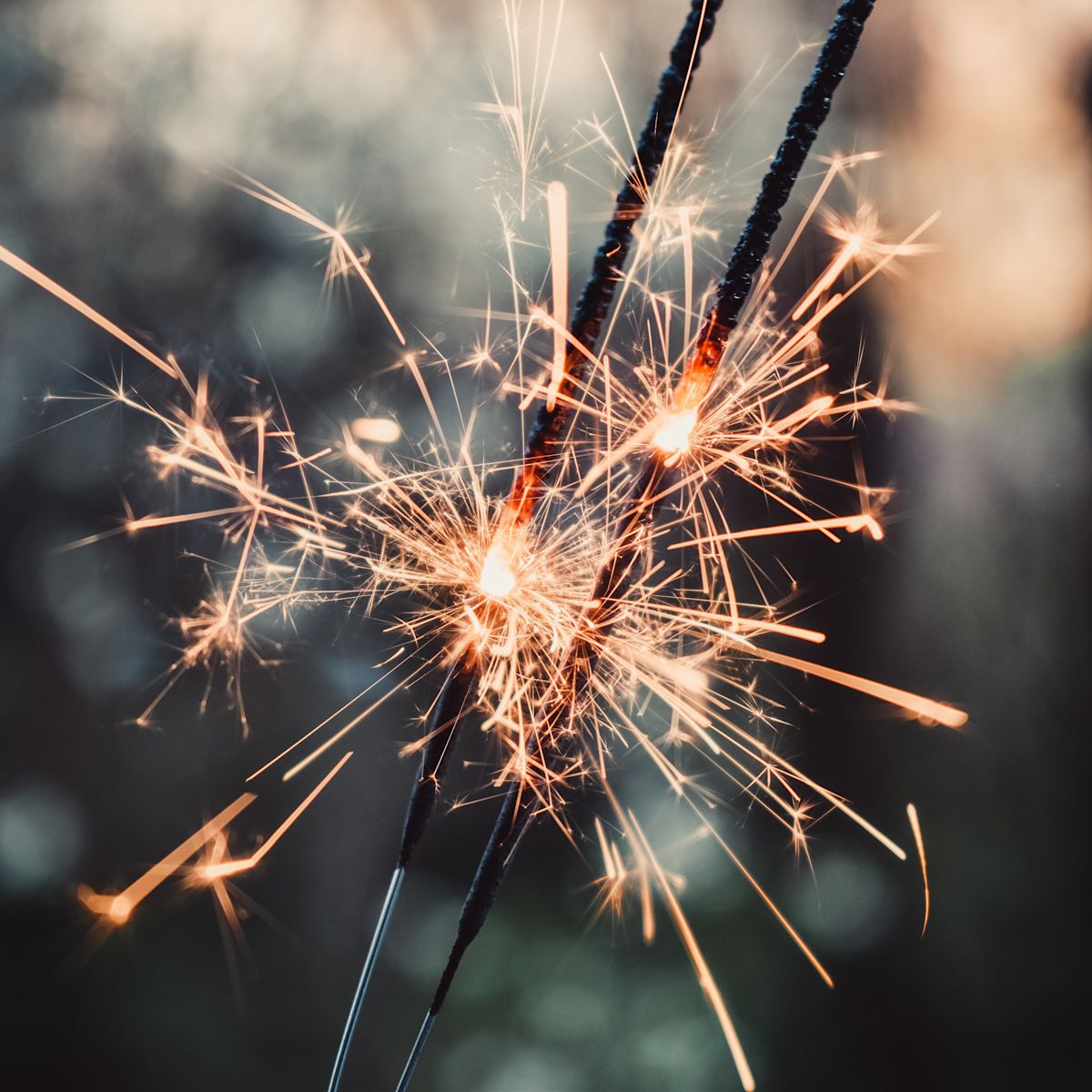 Unique New Year's Eve idea for seeing in 2024
Jun 30, 2023
Reading time: 30 minutes
Ever grow tired at the thought of another standard New Year's Eve party? We know we do. The good news is that we know how to inject some enthusiasm into your plans! Why not Follow Alice to one of our exciting destinations this next net New Year's Eve?
Why not plan to welcome in 2024 while standing on the roof of Africa in Tanzania? Alternatively, you could spend New Year's Eve in the jungle of Uganda getting up close and personal with mountain gorillas. Epic. Alternatively you could signal the changing year while exploring the Himalayas of Bhutan.
We love these ideas, and have even more to share with you. Please read on for our exciting New Year's Eve ideas for saying goodbye to 2023 and hello to 2024 ...
I love it! Travelling with Follow Alice over New Year really shook me up to realise how much I was missing out celebrating in a meaningless club. Best thing I ever did.
– Valeria Valerio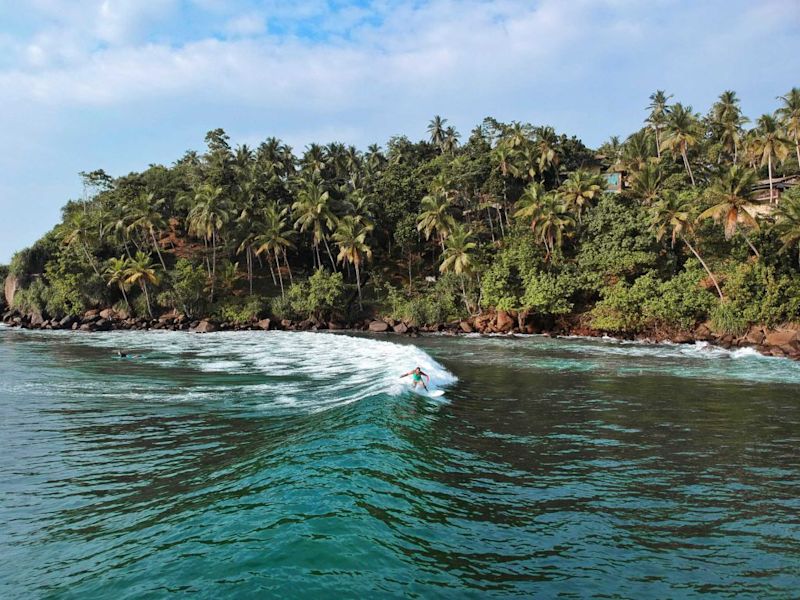 Sri Lanka with its gorgeous beaches is one of our unique New Year's Eve ideas!
Our exciting New Year's Eve destinations
Each of our trips taking place over the New Year period offers you something truly special. We're talking:
Hidden gems of Sri Lanka

Climb Mount Kilimanjaro

Gorilla trek in Uganda

Go trekking in Nepal

Discover Bhutan
Below we describe each trip in just enough detail to get you hooked! You an then scroll down further for more details about each.
Hidden gems of Sri Lanka
Sri Lanka is an island of green hills, tea plantations, ancient temples, spicy food, astonishing wildlife and postcard-like beaches. In other words, it has it all! We invite you to explore the hidden gems of Sri Lanka with us in an action-packed trip. We'll raft, snorkel, bike, tuk-tuk, swim, surf, hike, take a train ride and more through the amazing nature of this scenic island. We'll also go on safari to see elephants, leopards, crocs and other exciting creatures. And finally we'll relax and dine in some of the most beautiful boutique hotels and adventure lodges the country has to offer. Why not celebrate the New Year with friends in Sri Lanka??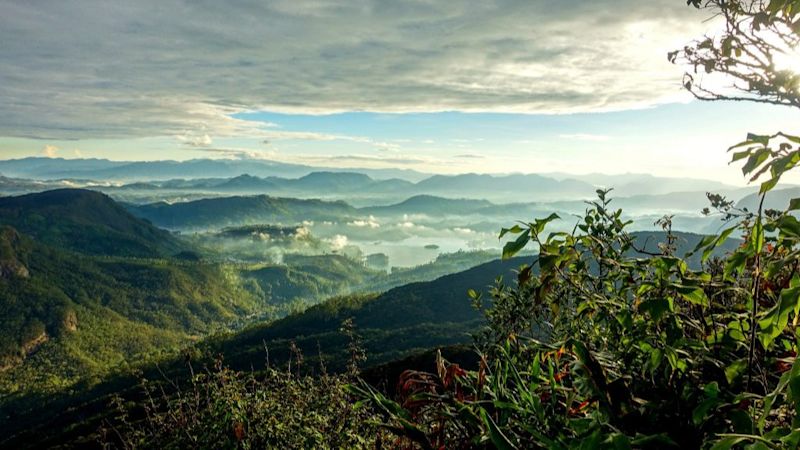 The beauty of the central highlands of Sri Lanka
Climb Mount Kilimanjaro
Mount Kilimanjaro is the tallest mountain in Africa, and the tallest free-standing mountain in the world! Join us on an epic adventure as we climb to the summit of this mighty mountain at 5,895 m above sea level. Each day we'll enter a new and rich ecosystem: savannah, forest, moorland, alpine desert, and then ice caps. On New Year's Eve we'll start our night climb to the summit, so that when the sun rises on the 1st of Janurary we'll be standing on Uhuru Peak, overlooking the world! Kilimanjaro is a challenging and exciting experience that leads to new friendships, greater confidence in your own capabilities, and a renewed sense of wonder at the majesty and diversity of Mother Earth.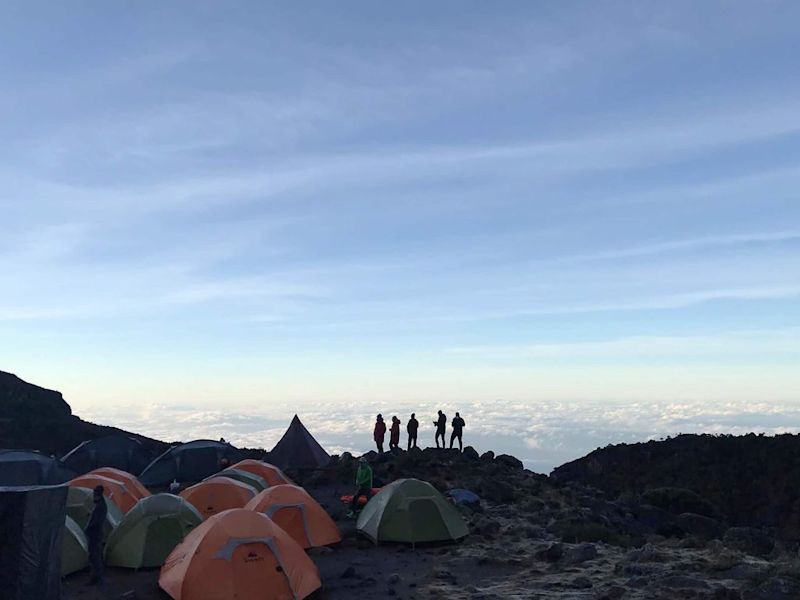 Kilimanjaro is 5,895 m above sea level, so standing above the clouds is part of the course on the climb!
Gorilla trek in Uganda
Uganda is known as the pearl of Africa, for very good reason. This lush country has mountains, jungle, mountain gorillas, savannah, the Big Five, island-dotted lakes, rich culture, welcoming people, and so much more. At Follow Alice we've put together a wild adventure holiday that takes in the best the country has to offer: we explore the capital city of Kampala, go on a mountain bike safari, row in traditional boats on the lake, zipline into the water, visit chimpanzees in the wild, and go on a boat cruise. And finally, our pièce de resistance: we take a trek in the rainforest to see mountain gorillas in their natural habitat. It's all epic times in Uganda!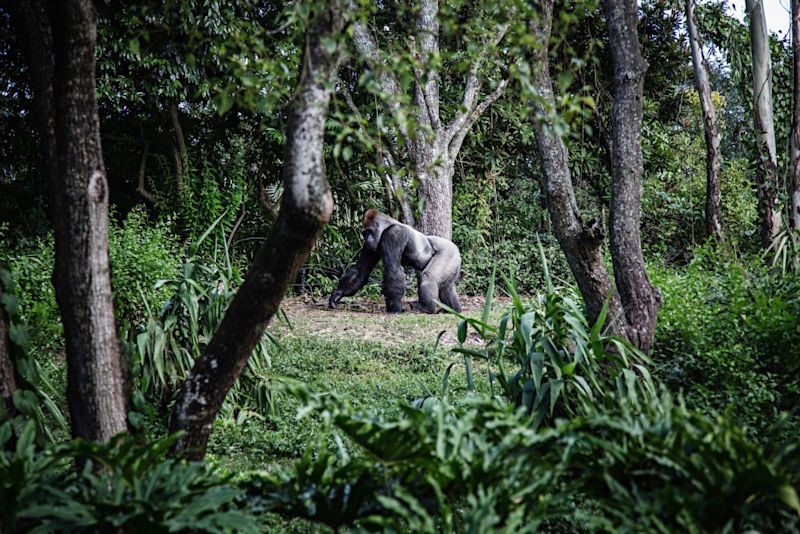 The highlight of the Uganda trip is trekking to see mountain gorillas in the wild!
Go trekking in Nepal
For the truly adventurous, the best way to spend New Year's Eve is trekking in the Himalayas of Nepal!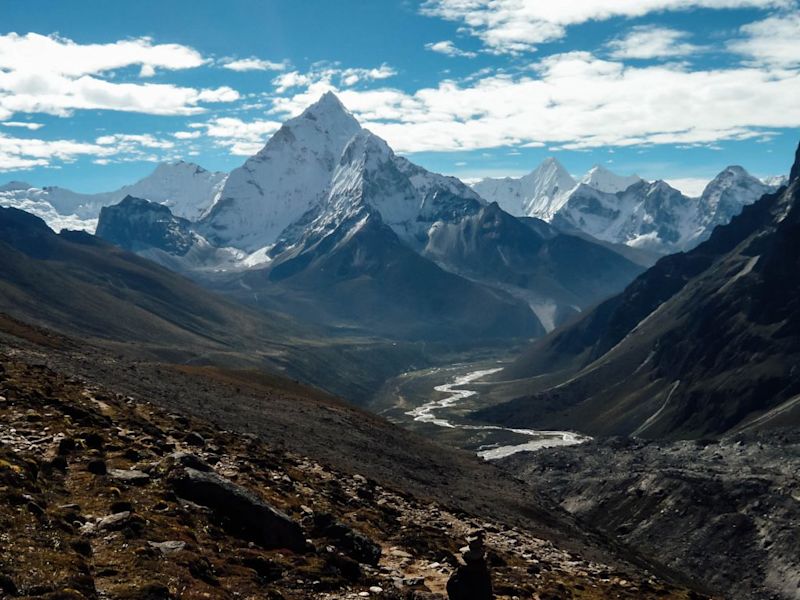 The views on the Everest Base Camp and Annapurna Circuit treks are spellbinding
Two of the best high-altitude treks in the world can be found here: the Everest Base Camp trek and the Annapurna Circuit trek. The Everest Base Camp trek leads you to the famous camp via a beautiful route that passes through forests and steep mountain valleys, past waterfalls and glaciers, over wind-blasted plains and through the shadows of some of the world's mightiest mountains. The Annapurna Circuit trek takes you through similarly dramatic terrain, leading up to the Thorung La mountain pass at nearly 6,000 feet above sea level!
Discover Bhutan
Tucked up against the Himalayas, Bhutan has beauty, culture and adventure to offer that's disproportionate to its small size!
We welcome you to join us this New Year on an epic Bhutan journey. We'll take you on a whirlwind adventure that includes white-water rafting, mountain biking and hiking in some of the most beautiful scenery you've ever seen. We'll also explore the local culture, go on guided tours of famous monasteries and temples, and eat plenty of tasty, spicy foods! There's no end to the world-class activities and sightseeing to do in this unique nation.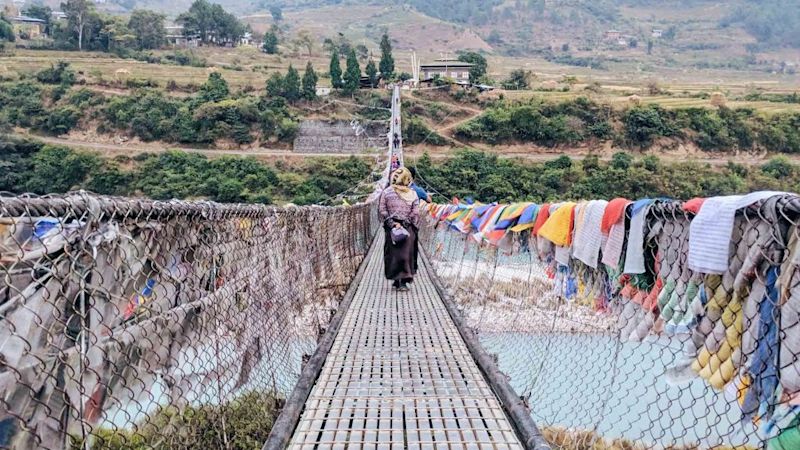 We love the colourful prayer flags you find everywhere in Bhutan
Want to know more? Of course you do – you're only human!
Let's now look in more detail at what each destination has to offer, as well as the fun times planned by Follow Alice to help you end 2023 in style, and welcome in the new year with verve!
The landscape of Sri Lanka includes idyllic warm-water beaches, jungle, tea plantations and high, tree-covered mountains.
In our 11-day trip to the island we explore the northwest of the country, where the turquoise waters meet the shore in beautiful white-sand beaches and pristine mangroves, and palm trees frame the scene. We then travel inland to go on safari, hike high in the mountains, and explore an ancient rock citadel. We also travel south for a dose of colonial history, some epic water sports, and more beautiful beaches.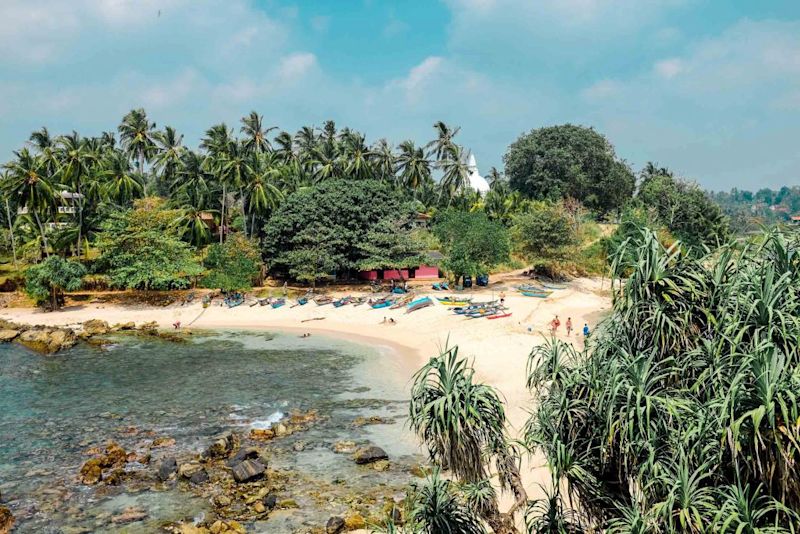 Sri Lanka has an abundance of beautiful beaches
What adventure activities are there to do?
At Follow Alice we're all about adventure, which makes Sri Lanka the perfect getaway! While staying on this beautiful island you can pick and choose from all of the following exciting activities:
Kite surf, whale and dolphin watch, cycle and visit the mangrove swamps in Kalpitiya

Go on a

tuk-tuk

ride in the historic city of Kandy and climb Baiharawa Kanda Buddhist statue

Take a guided climb to the top of the Sigiriya Lion Rock Fortress

Go on a jeep safari in Minneriya National Park

Climb to the top of the famous Adam's Peak in the Central Highlands

Go canyoning and white-water rafting or kayaking in the rainforest of western Sri Lanka

Go surfing, diving, snorkelling and swimming at some of the country's best southern beaches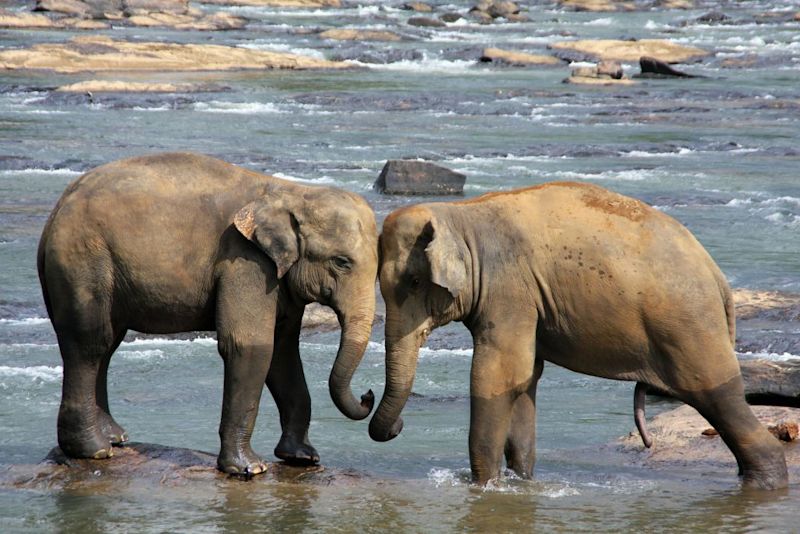 Asian elephants, as seen here, are smaller than African elephants, and have smaller ears too
Sri Lanka is a paradise for the adventurous spirit, and we're excited to show you all the amazing locations and activities we discovered there. And it's not just us who are in love with this island nation – Lonely Planet named it the number one country to visit in 2019!
What about the history and culture of Sri Lanka?
We know that no trip to Sri Lanka would be complete if you weren't exposed to some local colour and culture. So don't worry – we've got you sorted. We offer our guests the following handpicked outings:
Take a guided tour of the well-preserved seaside Galle Fort built in the 1500s by the Portuguese and later extended by the Dutch

Visit the Kosgoda Sea Turtle Conservation Project to learn about these special animals

Visit the iconic stilt fishermen who sit on simple stick stands while line fishing in the sea

Take a scenic train journey to Hatton and explore the Uva Halwapthethe Tea Estate and its factory

Take a guided tour of the fascinating Dumbulla Rock Cave Temple in central Sri Lanka
And finally, what's an island getaway without a little R&R? We'll book you in for a one-hour Ayurvedic massage at Spa Ceylon. In addition, there's time to dine and party in vibrant Colombo, the country's capital city.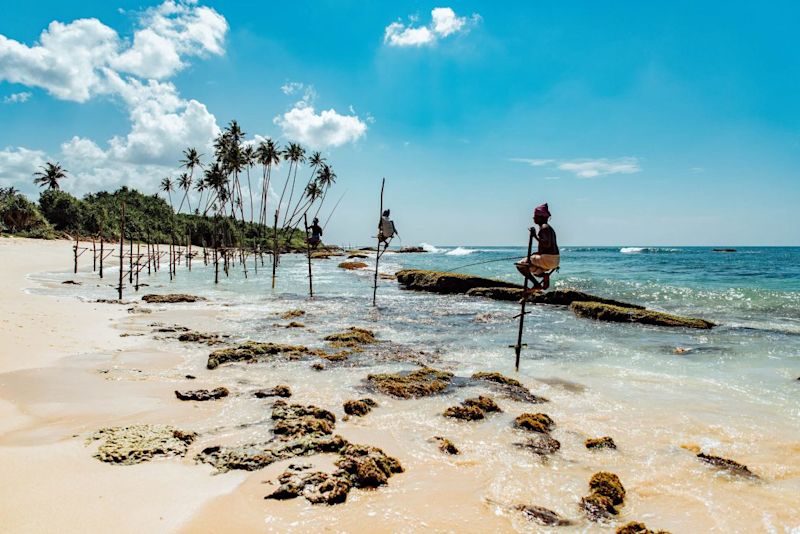 Stilt fisherman are unique to Sri Lanka
Why choose to climb Adam's Peak?
Adam's Peak is a mountain in the central highlands with an elevation of 2,243 m (7,359 ft). It has immense religious and cultural importance to various groups within Sri Lanka. For starters, some Muslims and Christians say it's where Adam first set foot after being cast out of Paradise by God, hence its name. Buddhists believe Buddha left the impression of his left foot there, and Hindus claim Shiva set foot there. The mountain is therefore called Sacred Foot (Sri Pada) by many. There are a bevy of other names and meanings attached to the mountain as well.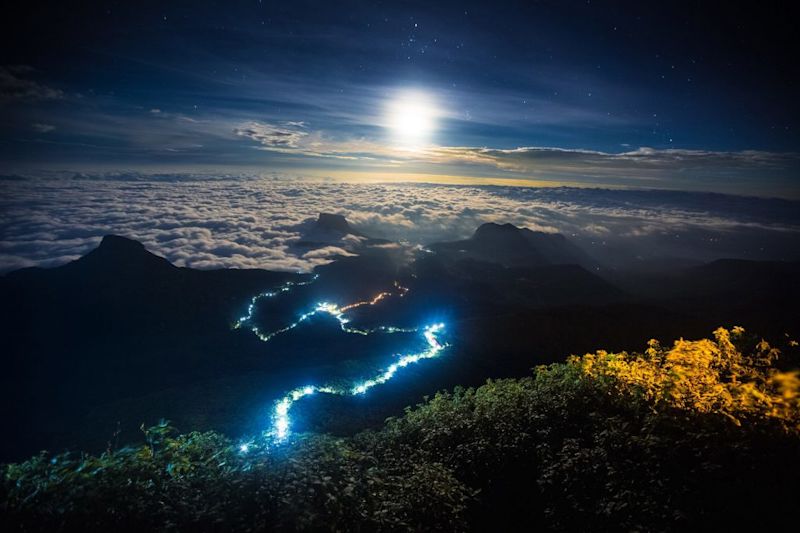 Night lights on the trail up Adam's Peak
For the visitor to Adam's Foot a huge part of its appeal is tackling one of the six challenging trails to the top. The trails consist of thousands of rock or cement steps, which are even lit at night with electric lights to make night-time pilgrimages to the top possible. The trails start in the forest but then take you up above the canopy for awesome views of the surrounding landscape. It's an important pilgrimage site for many Sri Lankans, especially Buddhists.
What is the Sigiriya Lion Rock Fortress?
The Sigiriya Lion Rock Fortress is not really a fortress at all, but rather a sophisticated fifth-century capital city complex that showcases incredible engineering skill. From the one side Sigiriya looks to be just a rock – albeit a very tall, impressive rock – poking up out of the forest. If you walk around to the other side, however, you'll see giant lion paws carved into the rock's base on either side of a stone staircase. A large fortress wall also encircles the bottom half of the rock. Climb about 100 m up the stairs and you'll also discover unique and intricate frescoes or rock paintings.
Perhaps most surprising of all, however, to the visitor with no previous knowledge of Sirigiya are the gardens on its top. An aerial view of the mountain reveals that the summit has been the site of intense industry, with terraced, sunken and water gardens covering every inch of it. They are, in fact, believed to be among the oldest landscaped gardens in the world!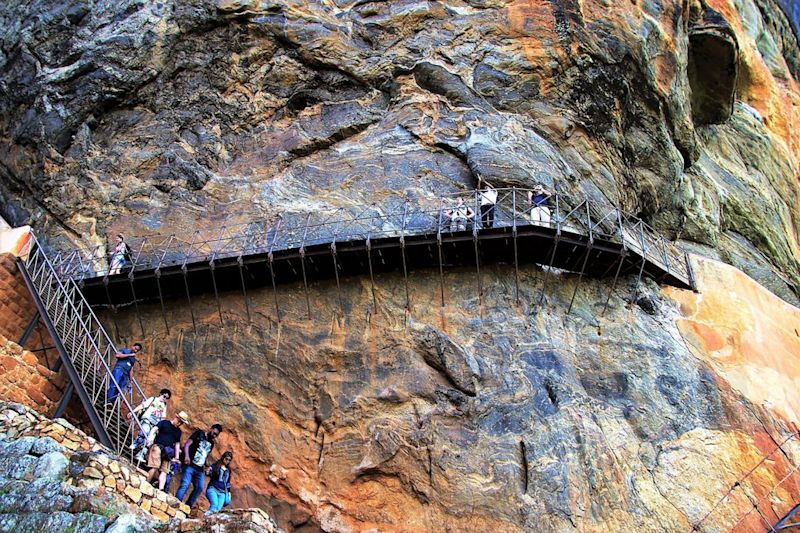 Visitors on the steps built into Sigiriya Lion Rock Fortress
Sigiriya also has the remains of a mirror wall, a palace, rock-hewn cisterns, and the list goes on. It would be hard to overstate the archaeological importance and historical richness of Sigiriya. You simply have to see it for yourself to understand why those who have insist on raving about it. We include Sigiriya in our list of adventure outings because you have to climb a narrow staircase built into the side of the rock to reach the top of this 200 m (660 ft) high rock!
What is the wildlife like in Sri Lanka?
You should definitely get excited about the wildlife you'll see on a holiday in Sri Lanka with Follow Alice! For starters, we'll go see some Sri Lankan elephants, a subspecies of the endangered Asian elephant. These gorgeous and family-oriented creatures are truly the definition of gentle giants.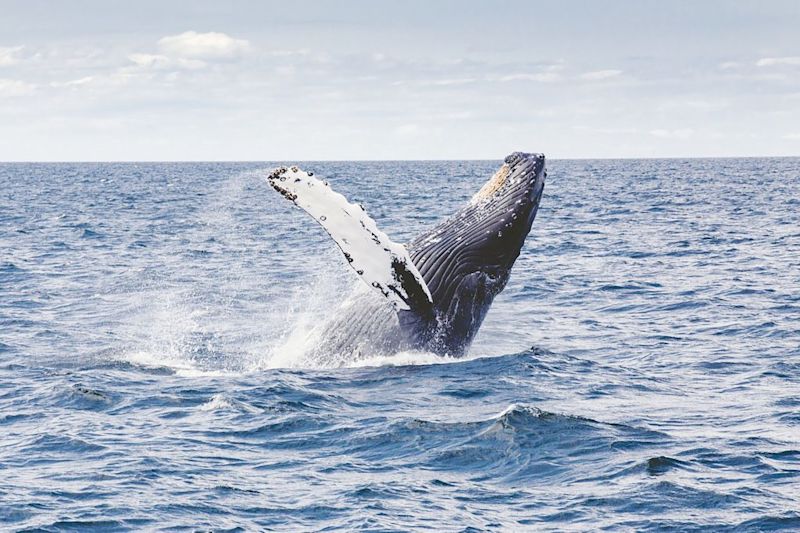 Whale watching is a popular pastime in Sri Lanka
In case you're a little rusty on your elephant knowledge (many of us are!), Asian elephants aren't only smaller than African elephants but they also have much smaller ears. Further, they have a double bump on their heads while African elephants have a single bump. Both the ears and head shape make the two species easy to distinguish from one another.
Like neighbouring India, monkeys are also a staple feature of Sri Lankan life. The island is home to three species: the tufted gray langur, purple-faced leaf monkey, and Toque macaque. Other wildlife to look forward to include leopards, sambar deer, crocs, sloth bears, turtles and flamingoes. In fact, Sri Lanka's biodiversity is through the roof and you'll be astonished by the abundance of animals and birds you see.
What must I bring on holiday to Sri Lanka?
Packing for Sri Lanka is pretty easy: bring your swimming trunks or costume, some cool clothes and a sunhat, and a good pair of walking shoes! We'll be staying in fantastic hotels, lodges and luxury campsites like Kowera Lodge and Royal Majesty Bungalow where all the necessary amenities are supplied.
So what do you say – are you keen to join us for this unique New Year's trip in Sri Lanka?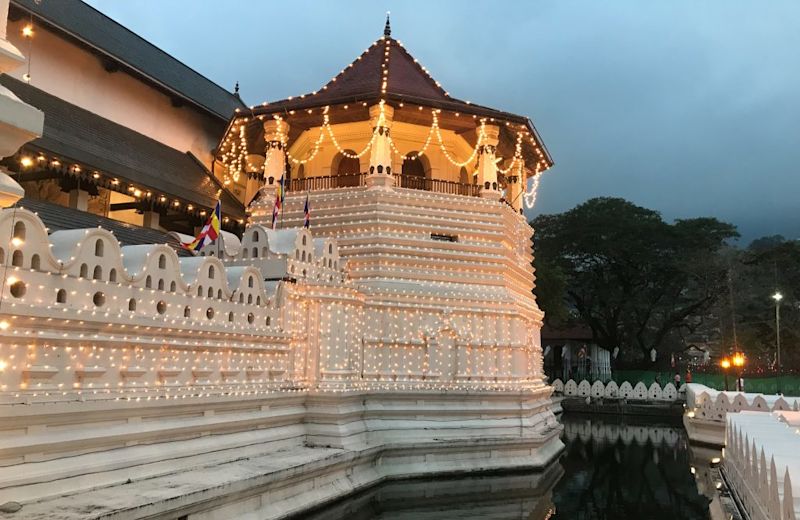 Temple of the Tooth in the city of Kandy
Climb Mount Kilimanjaro
Climbing Kilimanjaro is a truly adventurous way to end the year. You'll also be starting the new year on a huge win – reaching the top of Kilimanjaro is an impressive feat can dine out on for the rest of your life!
Climbing Mt Kilimanjaro with Follow Alice was an unforgettable experience. It was a topnotch trip with a bunch of crazy people - loved it! Thumbs up.
– Hugh Barber
What's special about Kilimanjaro?
You already know that Kilimanjaro is Africa's tallest mountain. This means it's one of the so-called Seven Summits, which are the highest mountains from each of the continents. The first person to climb all seven summits, Richard Bass, only did so in 1985. Kilimanjaro is also the world's tallest free-standing mountain. But it isn't a mountain in the traditional sense, because it's actually a dormant volcano. Not only that, but it stands in the middle of a plain – how many mountains can you think of it that pop up seemingly out of nowhere? Standing atop Kilimanjaro is unique in that the views appear to go on endlessly in every direction.
Kilimanjaro is also special for what it teaches us about ourselves, others, teamwork and more. You might like to read 7 things Kilimanjaro taught me by one of our climbers to see how the trek impacted her and what lessons she took away from the experience.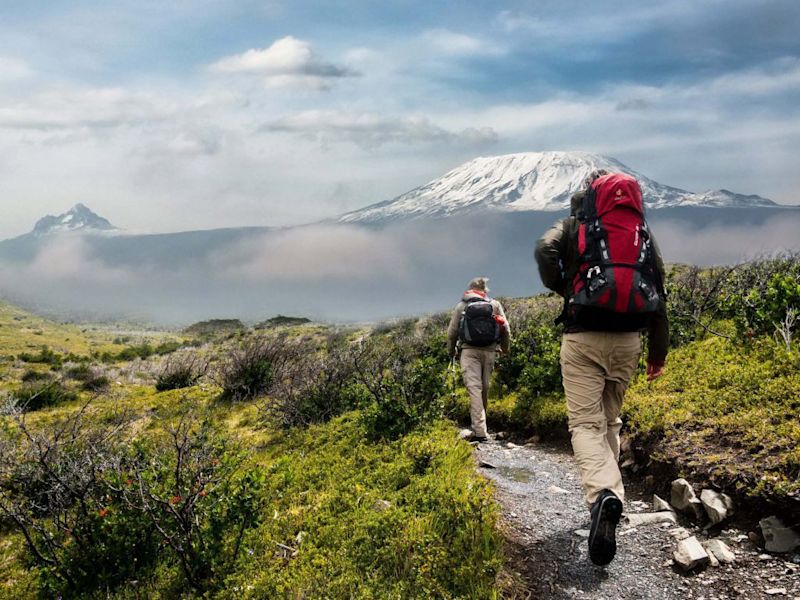 Kilimanjaro is the tallest free-standing mountain in the world
We climb the Lemosho route
We've planned this trip so that you'll be spending the days up to, including and after New Year's Eve in Kilimanjaro National Park. This trip is an eight-day climb up and down Kilimanjaro via the Lemosho route, our favourite Kilimanjaro route. The Lemosho route is one of seven possible routes up the mountain. The route ascends the western slope of Kilimanjaro, and it's a fantastic choice for a number of reasons, including:
It has a very high success rate because it allows for good acclimatisation

It's a very beautiful route, offering great and varied scenery

It's not as difficult as some of the other routes

It requires you to overnight in tents, which is part of the fun!
Choosing a route with a good acclimatisation profile is very important, as sometimes trekkers don't make it to the summit because their bodies react badly to climbing too high too quickly. An eight-day trip allows you to 'climb high, sleep low', a strategy for high-altitude trekking that increases the chances of you being able to adapt to the high altitude and so complete your trek.
The Lemosho route also takes you past Shira Cathedral, which is a large and dramatic rock spur that rises out of the forest to reach about 600 m (2,000 ft) in height. Because we stay at New Shira Camp on the Lemosho Route, you can visit the cathedral at leisure.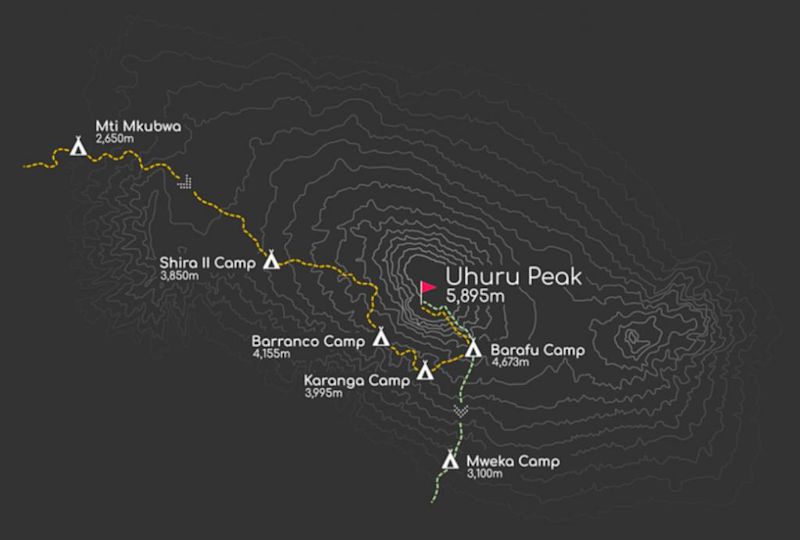 Map showing the Lemosho ascent route and Mweka descent route on Kilimanjaro
Five different climates on Kilimanjaro
Kilimanjaro offers a fascinating diversity of terrain, wildlife and plants. Every day on the trek you literally enter a different ecosystem. Climbers generally start the trek in shorts and t-shirts and end it swaddled in every warm item they packed!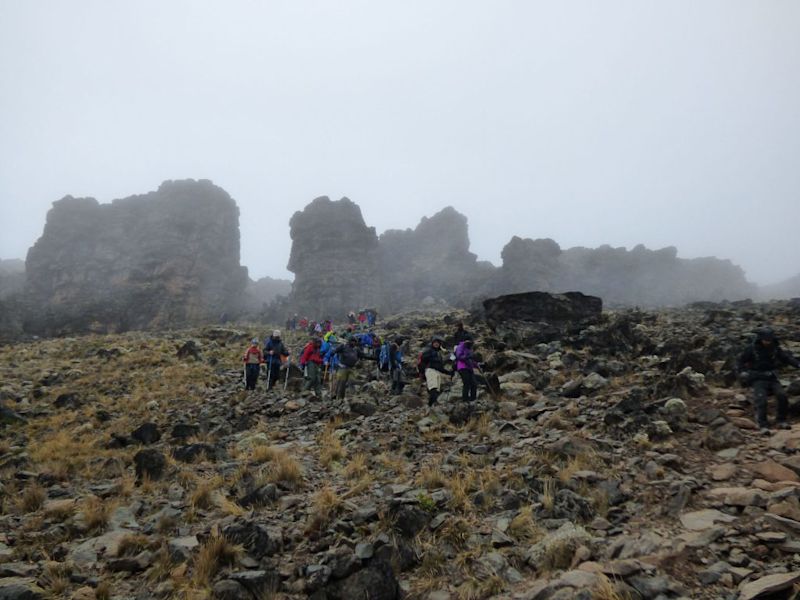 Climbers walking through mist in the heather and moorland zone of Kilimanjaro
On Day 1 of the climb we walk through the savannah of Kilimanjaro's lower slopes, which is where the local Chagga people live. The next day we walk along forest trails surrounded by lush trees. The following day we ascend into heather and moorland, and things get much cooler. The next ecosystem we enter is the alpine or highland desert zone. And finally, at the top of Kilimanjaro, we enter the arctic zone, where's it all about scree, ice patches, dramatic glacier walls and freezing temperatures.
Wildlife on Kilimanjaro
One of the greatest perks of trekking is getting to spot amazing wildlife that you probably wouldn't otherwise see, at least not in the wild. You're almost guaranteed to see some monkeys, including the blue monkey and black and white colobus monkey. There's also the tree hyrax or tree dassie which is (fascinatingly) distantly related to the elephant even though it's more the size and look of a rabbit without the big ears! Some of the other animals to look out for that are, however, much harder to spot are the crested porcupine, serval (a wildcat), African civet, aardvark and genet.
An African pygmy kingfisher | Image by B. DUPONT
You won't have a hard time spotting birds, however, especially in the cloud forest. The silvery-cheeked hornbill is quite the sight with its outsized Roman nose of a beak, as is the large white-necked raven. Also look out for beautiful kingfishers, shrikes, barbets, starlings, woodpeckers and chats. Further, there are plenty of colourful sunbirds jumping around the proteas and lobelias of the heather and moorland zone – a truly special sight.
The three volcanoes of Kilimanjaro
Kilimanjaro is a dormant volcano. At its top are three volcanic cones: Shira, Kibo and Mawenzi. The mountain used to be covered by one big snow cap, but this has since receded and broken up into smaller ice caps. Uhuru Peak is the highest point on the mountain, and is on the crater rim of Kibo. Uhuru Peak is where we end our trek, next to the sign proclaiming our mega achievement: the peak is 5,985 m above sea level!
The word uhuru actually means 'freedom' in Swahili. The name was given to the peak in 1961 when Tanganyika, now Tanzania, gained its independence from the UK.
What do I need to climb Kilimanjaro?
To successfully climb Kilimanjaro you need, above all, to have a positive attitude and determination. That said, we can all hit a low moment or two during a long and difficult trek. That's when our supportive trek team, headed by our excellent local tour guide Chris, steps in to encourage you and help you push on.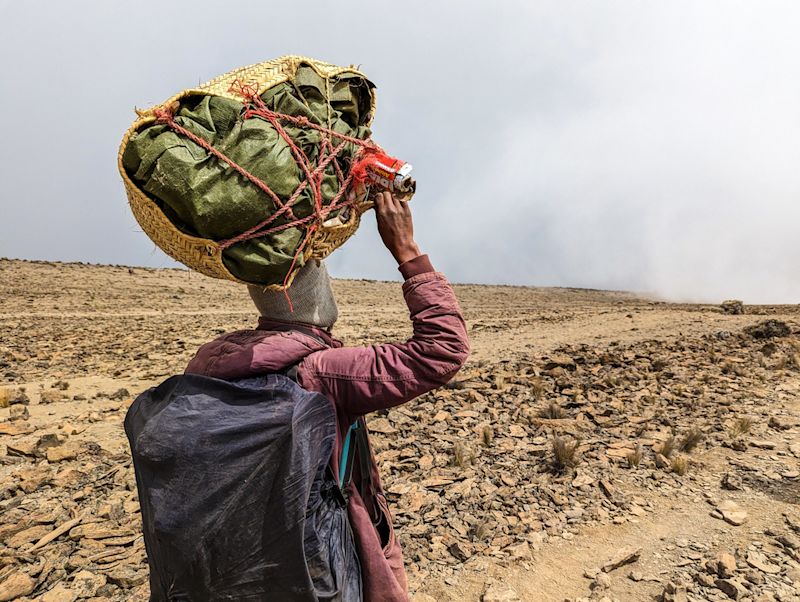 Our client Simon took this snap which showcases how hard Kili porters work!
Apart from the right attitude, you'll also need a pair of decently strong legs. This is a non-technical mountain, meaning you don't need any mountaineering equipment or experience – score! – but it will be tough. The trek will be tough not only because you're climbing up a mountain, but also because the high altitude increasingly makes every bit of exertion that much more difficult. If you tend to opt for the lift (elevator) instead of climbing one flight of stairs, then this might not be the right New Year's Eve celebration for you. At least not right now – perhaps it's a goal to work towards for next New Year's Eve??
And finally, you'll need to pack the right clothing, which includes a good pair of worn-in trekking boots and warm, waterproof clothing. Check out our Kilimanjaro packing list here. You'll also need a light daypack for carrying some essentials. Much of what you need can be loaned from Follow Alice at no extra charge. We also provide you with everything you need for camping, from a tent and warm sleeping bag to all your meals and drinking water. Have a read here for more information about doing the right Kilimanjaro preparation.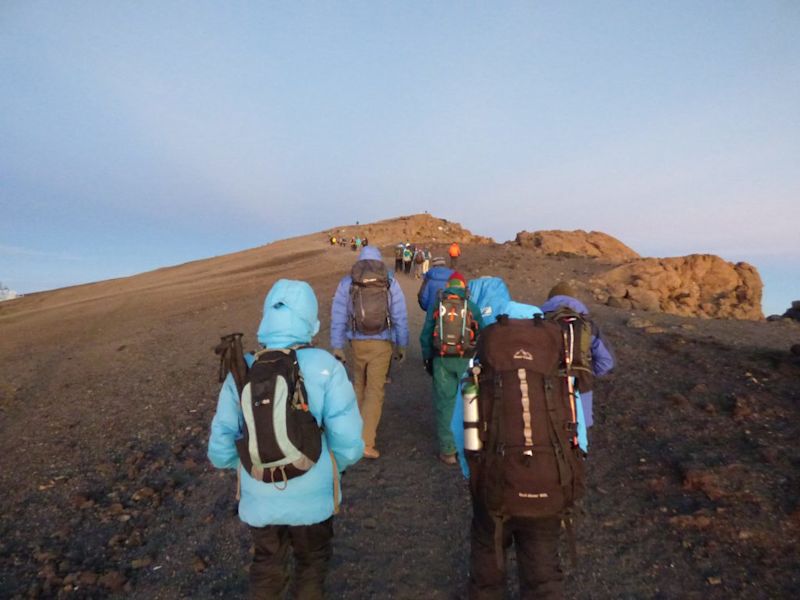 It's important to have the right gear and clothing to climb Kilimanjaro
New Year's Eve summit
We'll start the climb to the summit of Kilimanjaro late in the evening on 31 December 2023. At midnight we'll be in the thick of the climb. And when the sun comes up in the morning – on 1 January! – we'll be at the top of the mountain standing on Uhuru Peak, kings and queens of the world! We really cannot think of a better way to spend New Year's Even than this.
Climb Mount Kilimanjaro this New Year's Eve and Follow Alice into the new year with your friends above the clouds.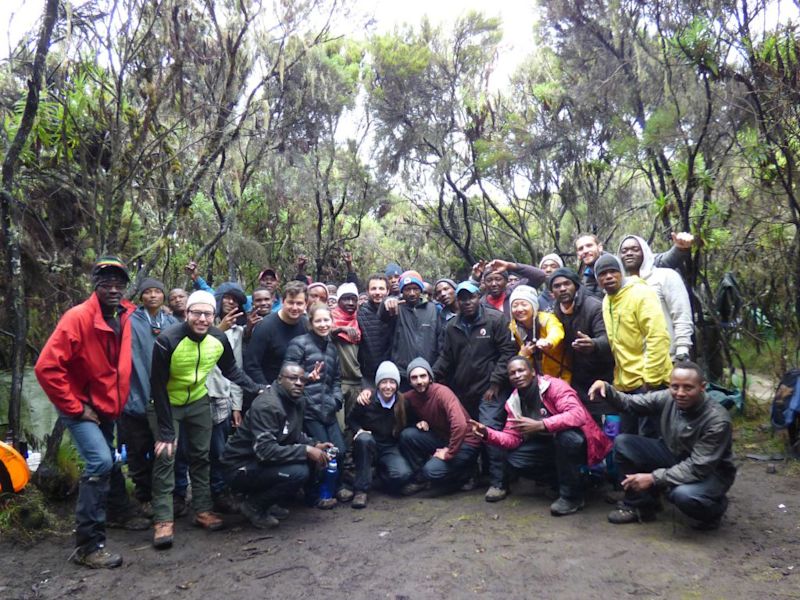 Climbing Kilimanjaro is a truly bonding experience for everyone taking part
Gorilla trek in Uganda
Go gorilla trekking on New Year's Eve? Yes please! That's what we've got planned for any of you who wish to join us in Uganda over the New Year. And not only will we go gorilla trekking in the forest – we'll also do plenty of other exciting and adventurous activities in some of the most fantastic parts of Uganda.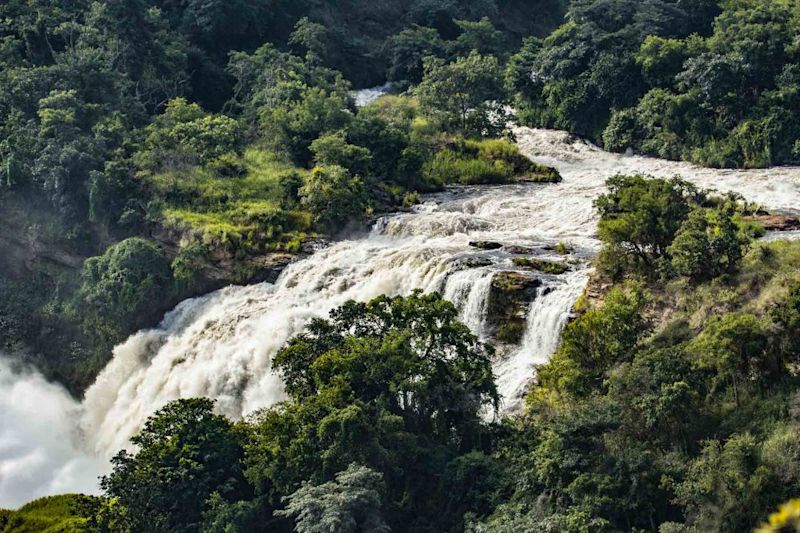 The stunning Murchison Falls on the Victoria Nile River
An adventure-packed itinerary
During our eight-day stay in Uganda, we take you to various beautiful spots around the country. Some of the exciting activities on the cards are:
Visit Nedere Cultural Centre in Kampala, Uganda's capital city

Go on a mountain bike safari in Lake Mburo National Park

Hike to see chimpanzees in the wild

Take a boat cruise on Bunyonyi Lake and zipline into it

Quad bike around Bunyonyi to explore local villages

Row in traditional dugout canoes on the lake to visit some of its islands

Take an evening walk into the town of Kabale

Go on a jeep and boat safari in Queen Elizabeth National Park

Trek in Bwindi Impenetrable Forest to see a gorilla troop
Uganda is by itself a beautiful and fascinating country, and Follow Alice's team helped us with adjusting the itinerary to meet exactly what we wanted: the right mix of culture, wildlife and adventure. It was EPIC.
– Bernardo Guimarães da Fonseca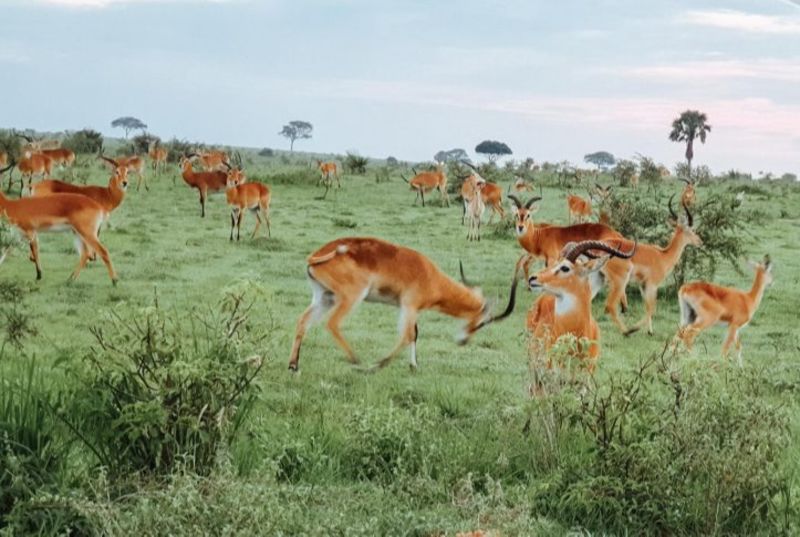 A trip to Uganda wouldn't be complete without a safari drive!
Why should I be excited about Lake Bunyonyi?
Lake Bunyonyi, found in the southwest of the country near the border with Rwanda, is perhaps the most picturesque lake imaginable. It's about 2,000 m above seal level and is surrounded by tree-covered and terraced hills.
The word bunyonyi means 'place of little birds', which is highly suitable because there are 200 species of birds. Some of the birds to look out for include vibrantly coloured sunbirds and pretty little swamp flycatchers, which are only found in Africa. You can also look for black herons, weavers, kingfishers, wagtails and shrikes.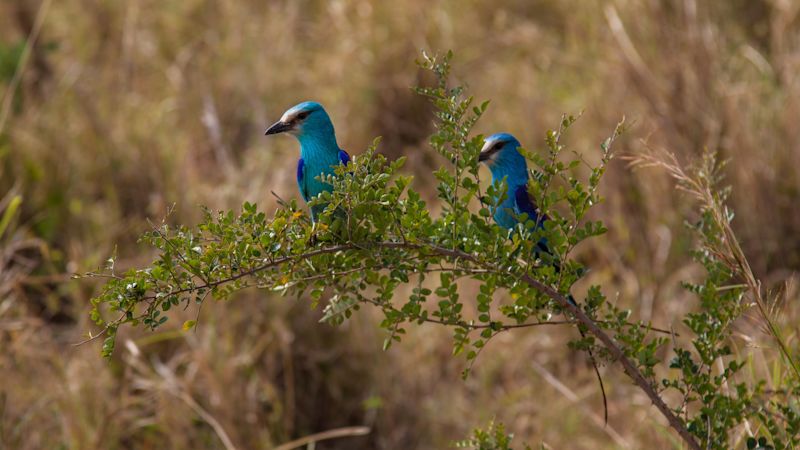 Uganda is one of the world's top birding destinations
You can swim in Lake Bunyonyi, which is actually quite something as most of the other lakes in East Africa sport crocs, hippos and bilharzia! It also has 29 gorgeous green islets that you can row to in a traditional dugout canoe. Lake Bunyonyi and its surrounding hills are a paradise for hikers, mountain bikers, quad bikers and birdwatchers. While staying there we do it all:
Take a boat cruise on the lake

Swim and zip-line into the water

Go on a quad bike trip to explore some of the local villages

Canoe to an island for an explore and picnic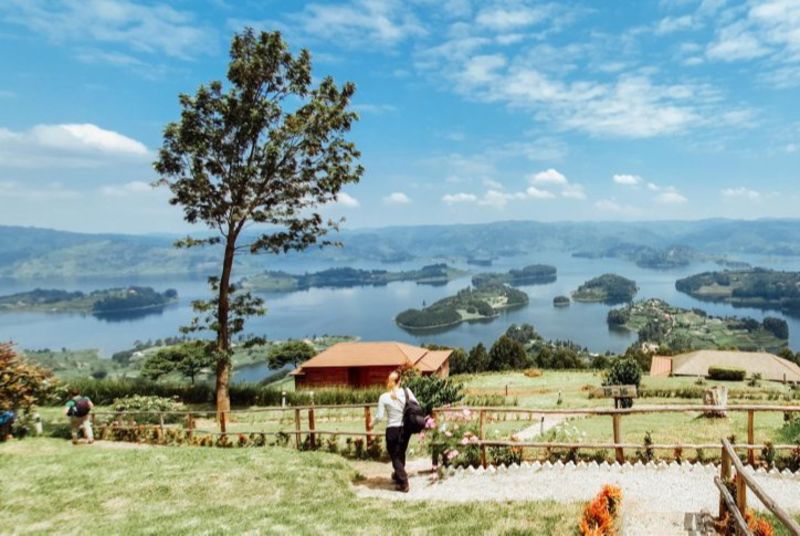 Lake Bunyonyi with its 29 islands is a paradise for hiking, swimming, fishing and more
What animals will I see on Ugandan safari?
Uganda is home to the Big Five: lion, rhino, leopard, buffalo and elephant. Sadly, its rhino population went extinct in the 1980s, and while it's been reintroduced at the Ziwa Rhino Sanctuary, you can't find it in the wild.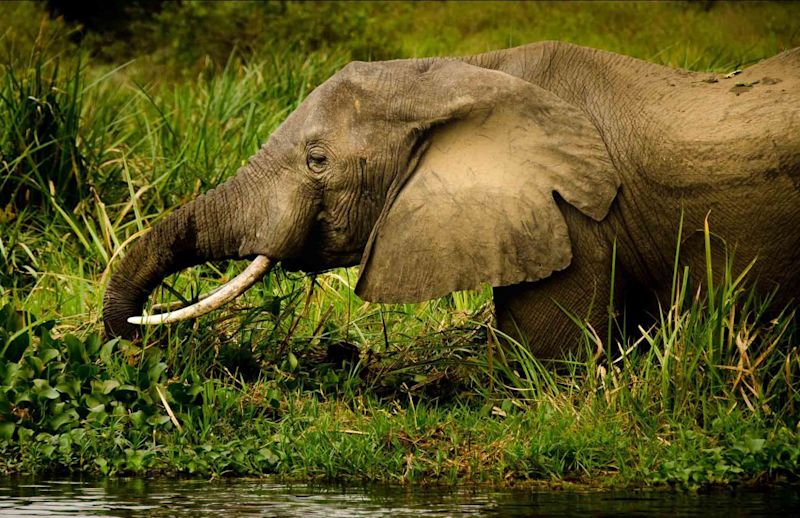 An elephant in Murchison Falls National Park
You can, however, look forward to hopefully seeing lions, leopards, buffaloes and elephants. You can also anticipate spotting many other African wild animals like waterbuck, hyena, zebra, cheetah, warthog and giraffe. There's also the Ugandan kob to look out for, which is a beautiful, reddish-brown antelope only found in South Sudan, the DRC and Uganda.
During our trip to Uganda we truly make the most of the safari opportunities on offer. We visit Queen Elizabeth National Park in the southwest of the country where we go on three different safaris! We go on a mountain bike safari, then a jeep safari, and finally also a boat safari! The boat safari is on Kazinga Channel, a 32 km-long waterway in the park that links Lake Edward with Lake George and is chock full of wildlife like hippos, cranes and crocs. Do not forget your camera at home!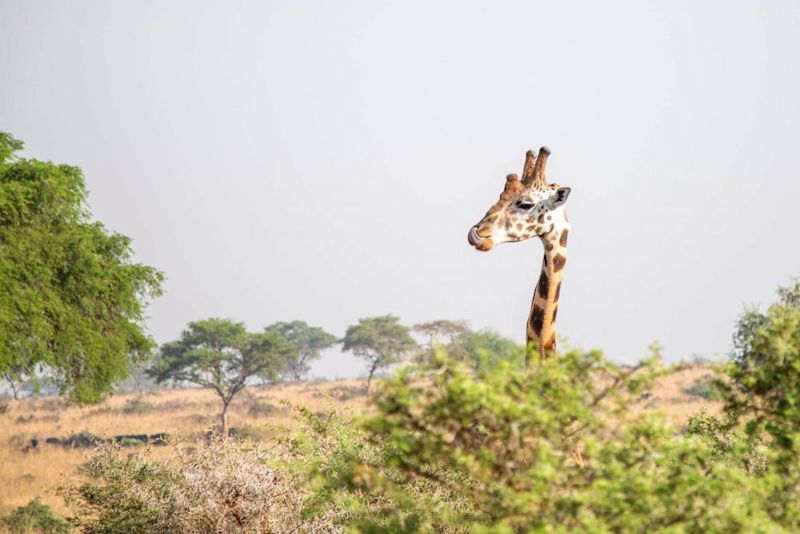 Did you know giraffes have the same number of bones in their necks as humans? They're just much, much longer.
What can I expect from the gorilla trek?
The gorilla trek is the highlight of our trip. And for good reason. The mountain gorilla is an endangered animal – there are only about a thousand in the wild. They live solely in the forested mountains of Uganda, the DRC and Rwanda.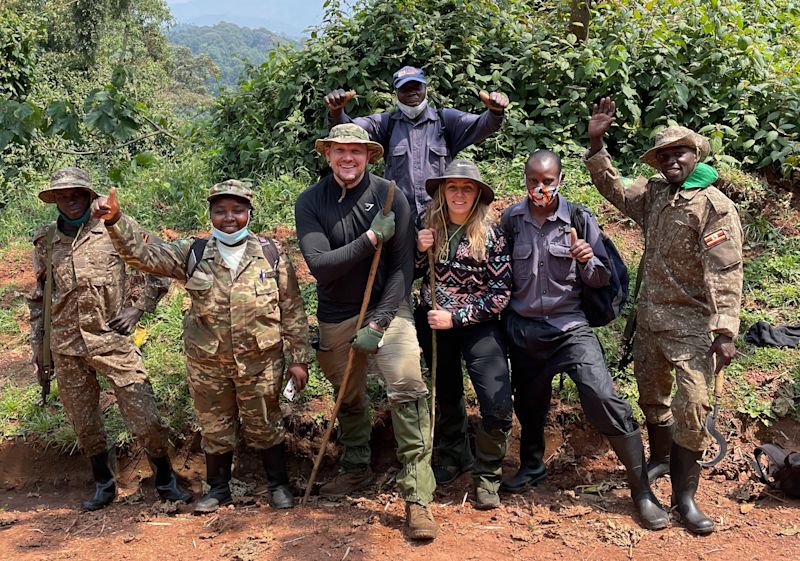 Trekking to find gorillas is always a group affair
We'll take a guided trek through the Bwindi Impenetrable National Park to find a troop to observe. As the name of the forest suggests, we'll be trekking through dense vegetation. You can expect overgrown trails, walls of green, dripping leaves, rivers and rivulets, forest sounds, mist and perhaps the odd downpour! Trekking through such an untouched and thick forest like this is a treat in and of itself.
Gorillas live in troops, each of which is headed by one or two silverbacks, which are the dominant males. Their babies are called infants. Mountain gorillas are known for being mostly gentle and shy. The gorilla troops that are visited are habituated ones, meaning they're used to the presence of humans. It's wonderful to watch them interact among themselves, and hear their grunts and barks. Very few people are afforded the opportunity to view these gentle giants in their natural habitat – those who do rarely leave the forest unaffected.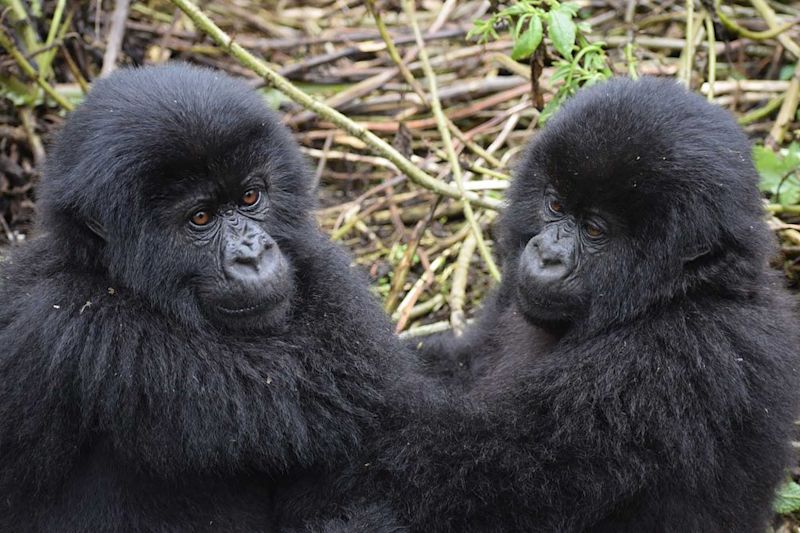 Spending time with a mountain gorilla troop in the wild is something few people get to experience
Enviable accommodation throughout the trip
Our Uganda trip doesn't require you to rough it. While you'll be active and getting happily dirty during the day, in the evenings you can chill in comfort. We stay at some beautifully situated guesthouses and lodges like Rwakobo Rock and Rushaga Gorilla Camp where the views are truly spectacular.
This means while travelling with us in Uganda you'll be able to end your days by soaking in a tub, lolling in a hammock, or taking a dip in the swimming pool. You can enjoy sundowners on the terrace and watch traditional dances. And always there'll be a tasty dinner to enjoy while reliving the day's events.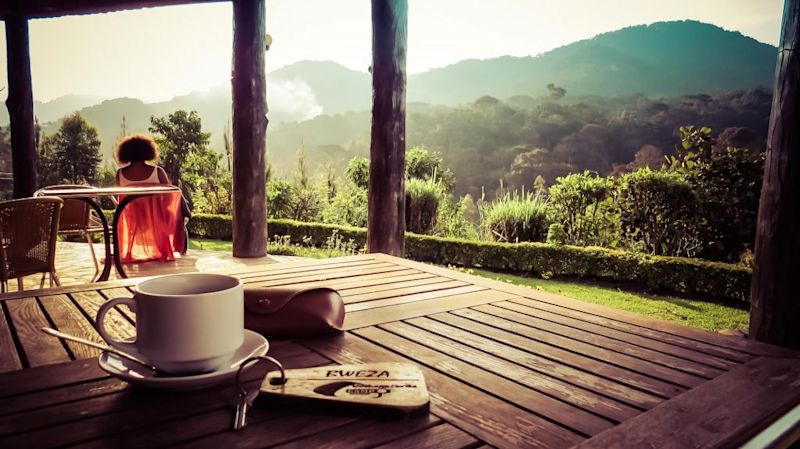 Coffee on the terrace at Rushaga Gorilla Camp
How must I prepare for a Uganda trip?
There's very little you need to do to prepare for a trip to Uganda. Our list of 20 things to know about gorilla trekking offers pretty much all the info you might need. Basically you'll want to pack the right clothes for the adventure activities, and possibly also visitor your doctor beforehand to see about any vaccinations for this part of the world. It's then just booking your flights to Uganda, where we'll meet you and take you on this epic tour of one epic country!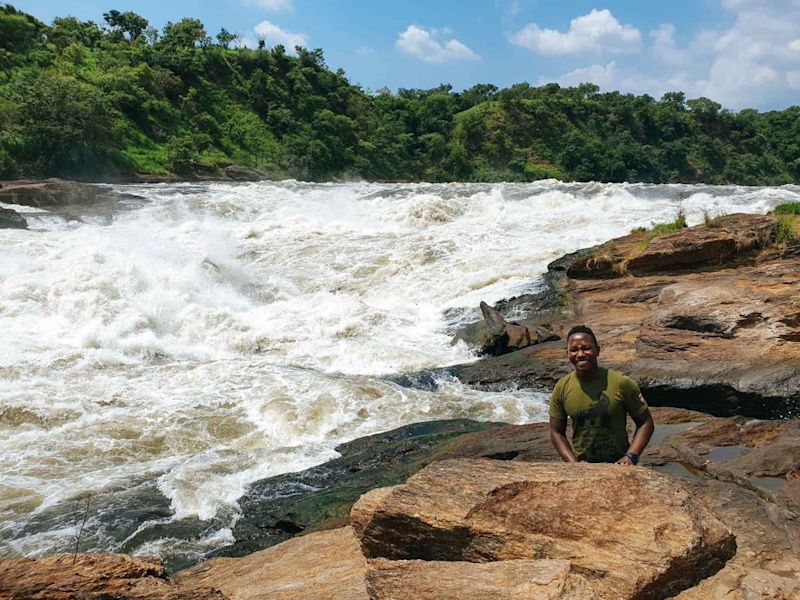 Our local tour guide Dan is always smiling – he's the best!
Go trekking in Nepal
Nepal offers some of the best high-altitude trekking in the world. That's because the country runs along the south side of part of the mighty Himalayan mountain range.
At Follow Alice we offer two guided treks in the Nepali Himalayas: the Annapurna Circuit and the Everest Base Camp trek! Both are truly epic trips that require determination and an adventurous spirit.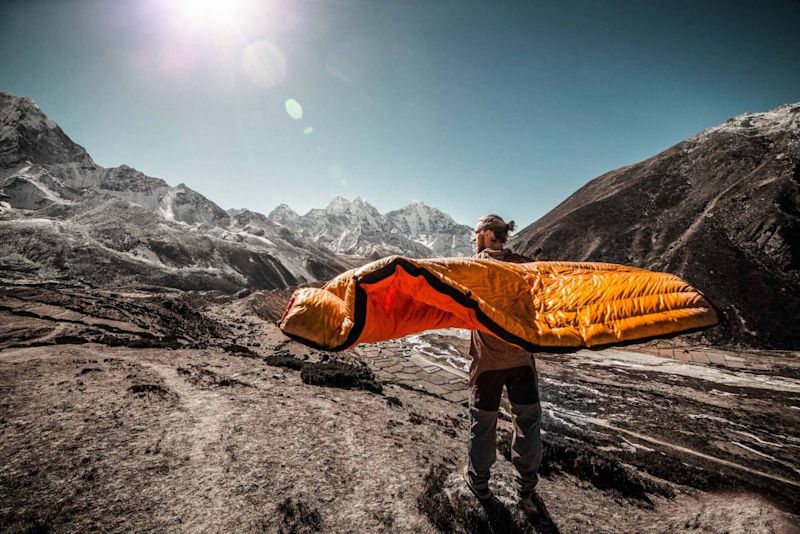 Trekking in Nepal is for the adventurous spirit
The Annapurna Circuit trek
The Annapurna Circuit trek is an incredibly varied and exciting high-altitude trek. Located in Nepal's central Himalayas, the Annapurna region boasts some of the world's highest mountains, including Annapurna I, the seventh highest peak in the world.
On the Annapurna trek we hike deep into the Himalayas. We wind our way up steep, forested valleys and canyons, walk narrow paths that snake round the sides of mountains, visit an ice lake, and cross a bleak summit pass. The higher we climb, the fiercer the weather, with strong winds and temperatures that drop below freezing at night.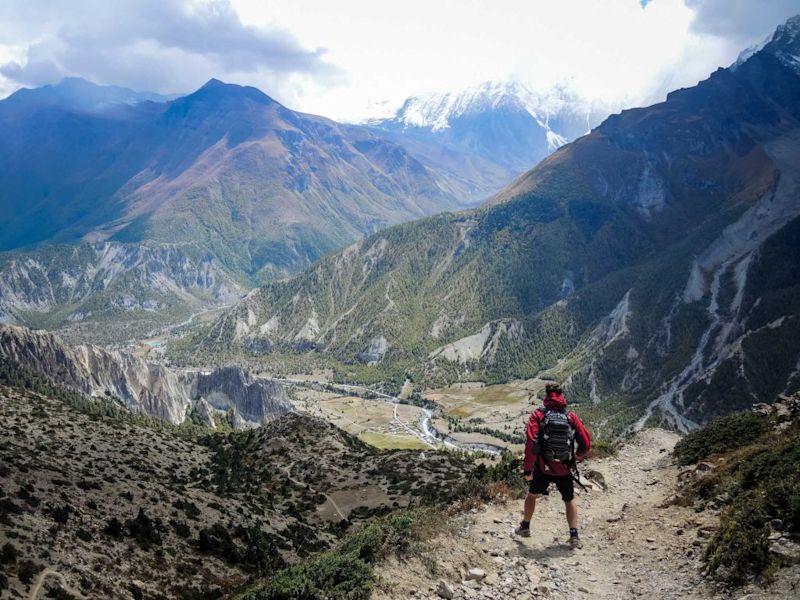 The mountains are calling and I must go
Further reading for the interested
If you'd like to know more about this trek, we have everything you need to know in the following blog posts: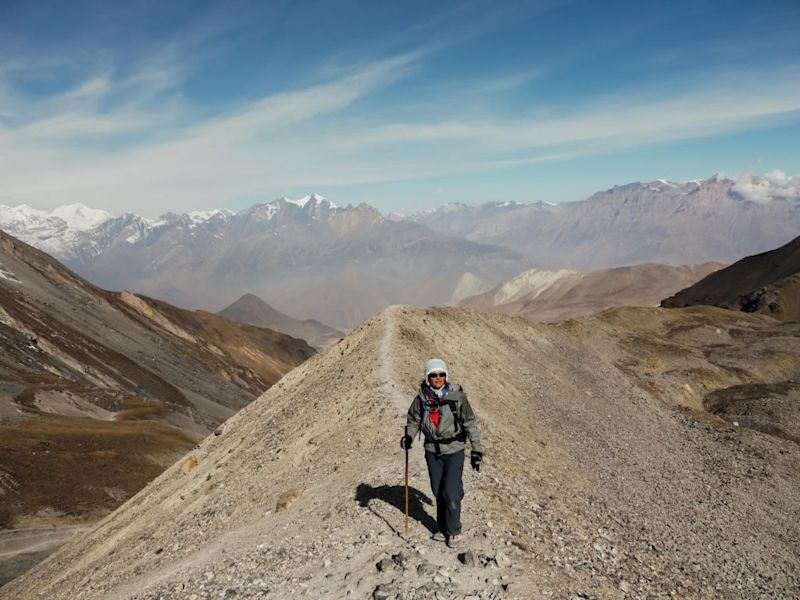 Hiking one of the high, barren stretches of the Annapurna Circuit
Everest Base Camp trek
Not everyone can or want to climb Mount Everest, but most of us can make the trek to its famous base camp. The Everest Base Camp trek is a two-week hike through the Himalayas. It starts in the temperate zone at around 2,500 m and requires you to climb up to the alpine zone at over 5,000 m. We hike up steep, forested valleys, over suspension bridges, across desolate valley floors and lake beds, along high contour paths, and over snowy mountain passes.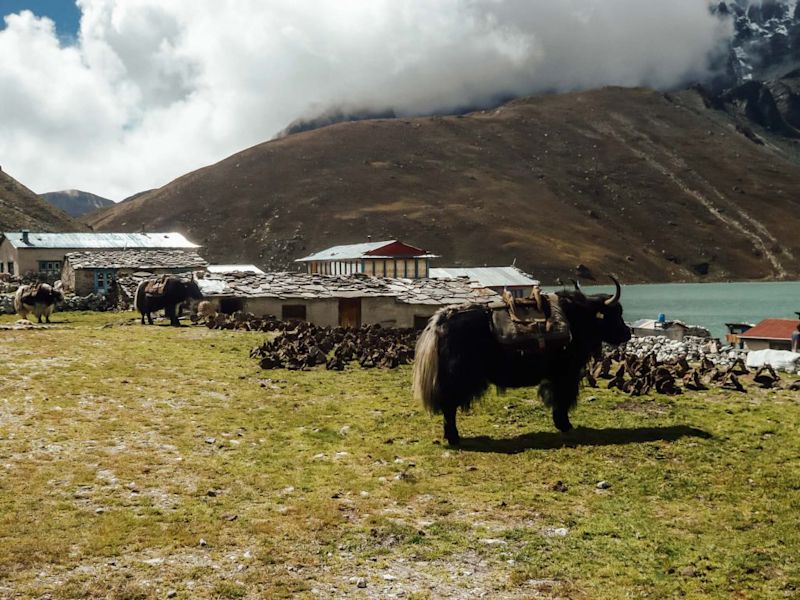 Yaks are part of the course when it comes to the Everest Base Camp trek
We stay in traditional Sherpa villages, eat Nepali food, visit Buddhist monasteries, stand back for passing yaks, dip our toes in icy high-altitude lakes, and marvel at snow-capped mountain peaks every way we turn. And in the middle of it all, we get to stand in Everest Base Camp, where the prayer flags are pulled at relentlessly by the wind and we contemplate the start of the trail taken by many greats to reach the top of the world's highest mountain.
Further reading for the interested
If you're keen to trek to Everest Base Camp, take a look at the following blog posts for more insight into what it involves and how to prepare for it: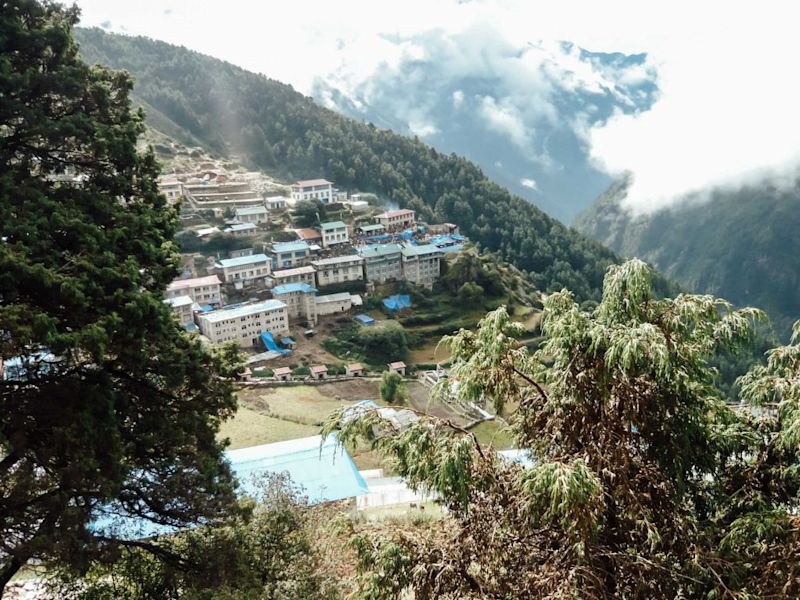 We stay in traditional Sherpa villages during our time on the Everest Base Camp trek
Explore Bhutan
Bhutan is a small country sandwiched between China and India that has the Himalayan mountain range running through its northern half. It has an excess of beautiful scenery to show off to tourists, and is also rich in culture, religion and history. At Follow Alice we've put together an exciting itinerary that takes in some of the most culturally rich and picturesque spots of Bhutan so as to offer an exciting and adventurous holiday that you'll remember for a lifetime!
The Follow Alice crew did everything they could to make our trip such a good experience. I'd recommend them to any and all of my friends!
– Alexandre Polise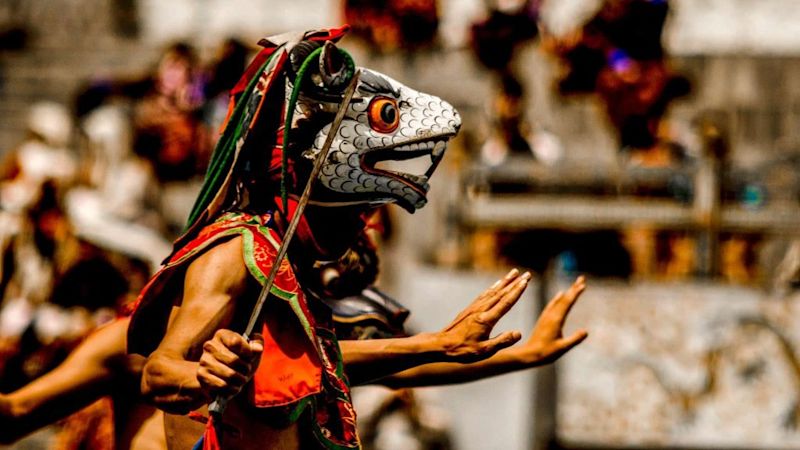 Is it time to Follow Alice to Bhutan this New Year's Eve?
The exciting activities on offer
Our Discover Bhutan itinerary has three main foci: adventure sports, history and culture, and R&R. Put together we think they're a recipe for the perfect getaway! Some of the exciting adventure activities planned are:
Take a sightseeing hike around the Himalayan town of Punakha and visit its beautiful 17th-century fortress Punakha Dzong

Go white-water rafting down the Mo Chu river

Take a gentle bike ride from Paro to Thimphu, passing through paddy fields, virgin forests and sleepy villages

Hike to Taktshang Monastery, also known as Tiger's Nest, which clings to the side of a cliff
Some of the culture and history fixes we've got planned are:
Spend a day exploring the culturally rich Thimphu, Bhutan's gorgeous capital city

Visit the Motithang Takin Reserve to see gnu goats

Learn about Bhutanese arts and crafts at the National Institute of Zorig Chusum

Tour a traditional Bhutanese farmhouse and farm before being treated to a delicious lunch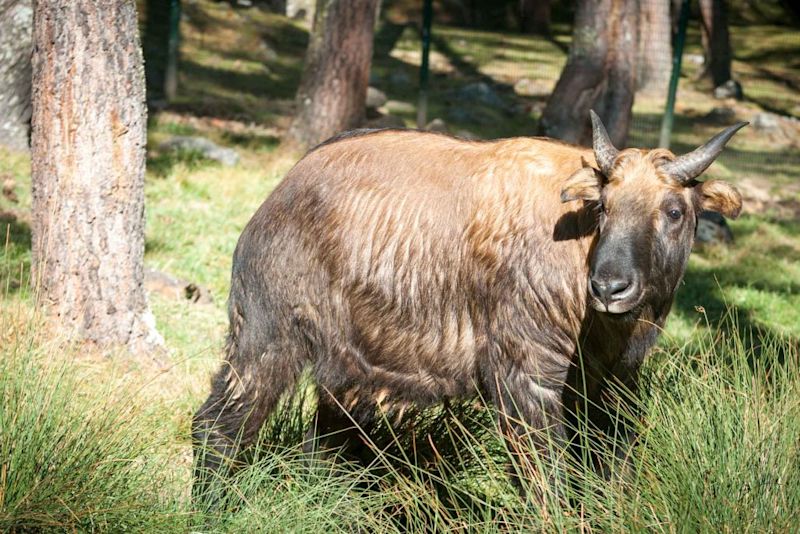 This handsome fella is a takin, also known as the gnu goat
Bhutan, Land of the Thunder Dragon
The local name for Bhutan is Druk Yul, which means 'Land of the Thunder Dragon'. It's so named for the violent thunderstorms that descend from the Himalayas. Such a storylike name only serves to heighten the somewhat mystical image of the country in the eyes of most foreigners. Bhutan only really began to open up to outsiders in the 1970s. This small, hard-to-reach nation of mountains, valleys and rivers has fewer than a million inhabitants.
Bhutan's official focus on happiness
In recent years the world has learned with fascination of Bhutan's official public policy of pursuing Gross National Happiness. The idea behind the policy is rooted in Buddhist values that measure quality of life based on your spiritual and mental well-being.
If I had to name the biggest difference between Bhutan and the rest of the world, I could do it in one word, civility.
– American author Linda Leaming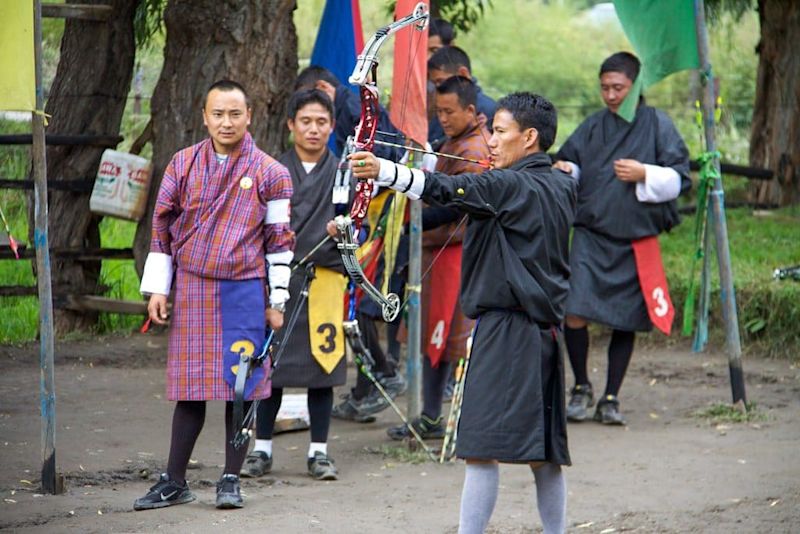 Archery is an important part of Bhutanese history and culture
Why you'll love the city of Punakha
You're probably picking up on the fact that Bhutanese cities are a rather different story from those that most of us know. In place of tall, grey buildings, traffic lights, crowds and smog, in Bhutan you have light-walled buildings, a hint of traffic, small populations, and green hills and trees.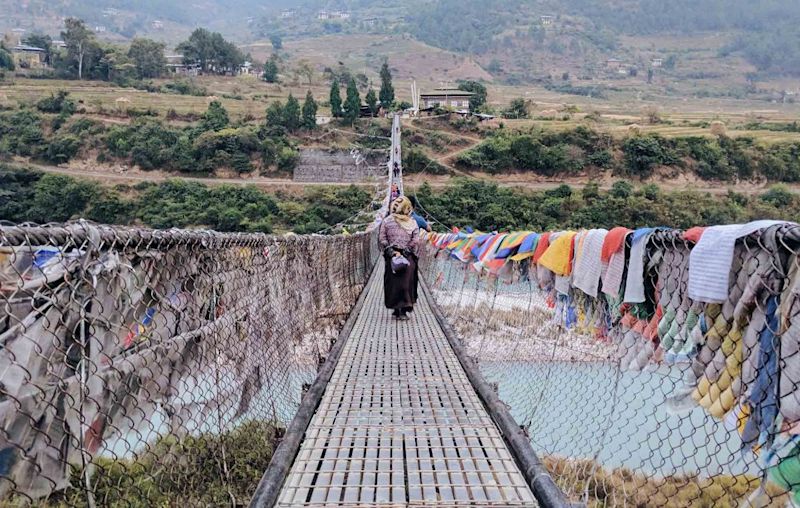 The Punakha suspension bridge
Punakha is no exception. This small valley city, which sits 1,200 m (3,937 ft) above sea level, has a population of a little over 6,000. The old capital, with its gorgeously designed fortress of stone, earth and timber and its surrounding rice fields, is the very definition of picturesque.
Punakha Dzong fortress
The heart of the city is Punakha Dzong fortress, which was built sometime in the seventeenth century, though its exact origins are unknown outside of legend. Built from stone, earth and timber, it beautifully carved woodwork and intricately decorated interiors.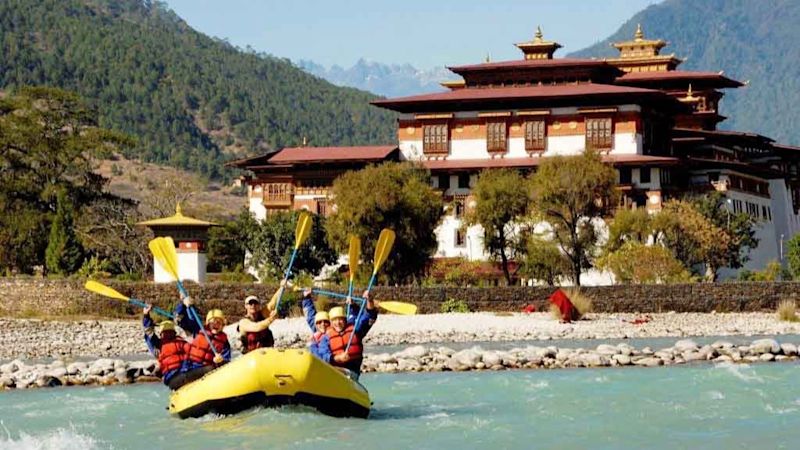 River rafting past the fortress Punakha Dzong in Bhutan
Another name for Dzong fortress is Pungthang Dewachen Phodrang, which means 'Palace of Great Happiness'. You've got to love that. It's built at the meeting point of two rivers: Pho Chhu and Mu Chhu. As you may have guessed, chhu means 'river' in Dzongkha.
We get to raft past the fortress on our rafting excursion, and it's one of the highlights of the entire trip. And if you get to see Punakha Dzong when the purple jacaranda trees are in bloom alongside it, then you've truly hit the jackpot of life.
How must I prepare for the Bhutan trip?
There's almost nothing you need to do to prepare for this trip. The most important thing is to just book your spot and get here! All you really need are a pair of hiking boots, a sunhat, and lots of enthusiasm. We hope you'll join us in exploring the gem that is Bhutan for a New Year's Eve celebration with a difference!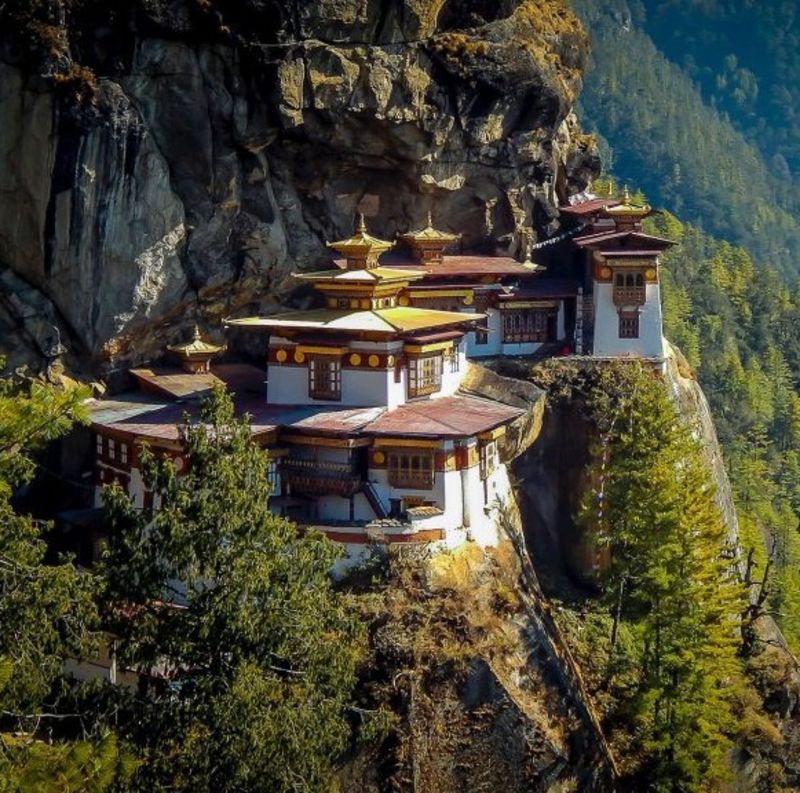 Tiger's Nest. Need we say more?
It's not too late to turn the start of the new year into something special and memorable!
Be a mover and shaker – grab a friend (or two or more), hop on a plane, and join us for some New Year's Eve fun! But first steps first: contact us so we can start chatting about how to make your trip of a lifetime happen. 😄