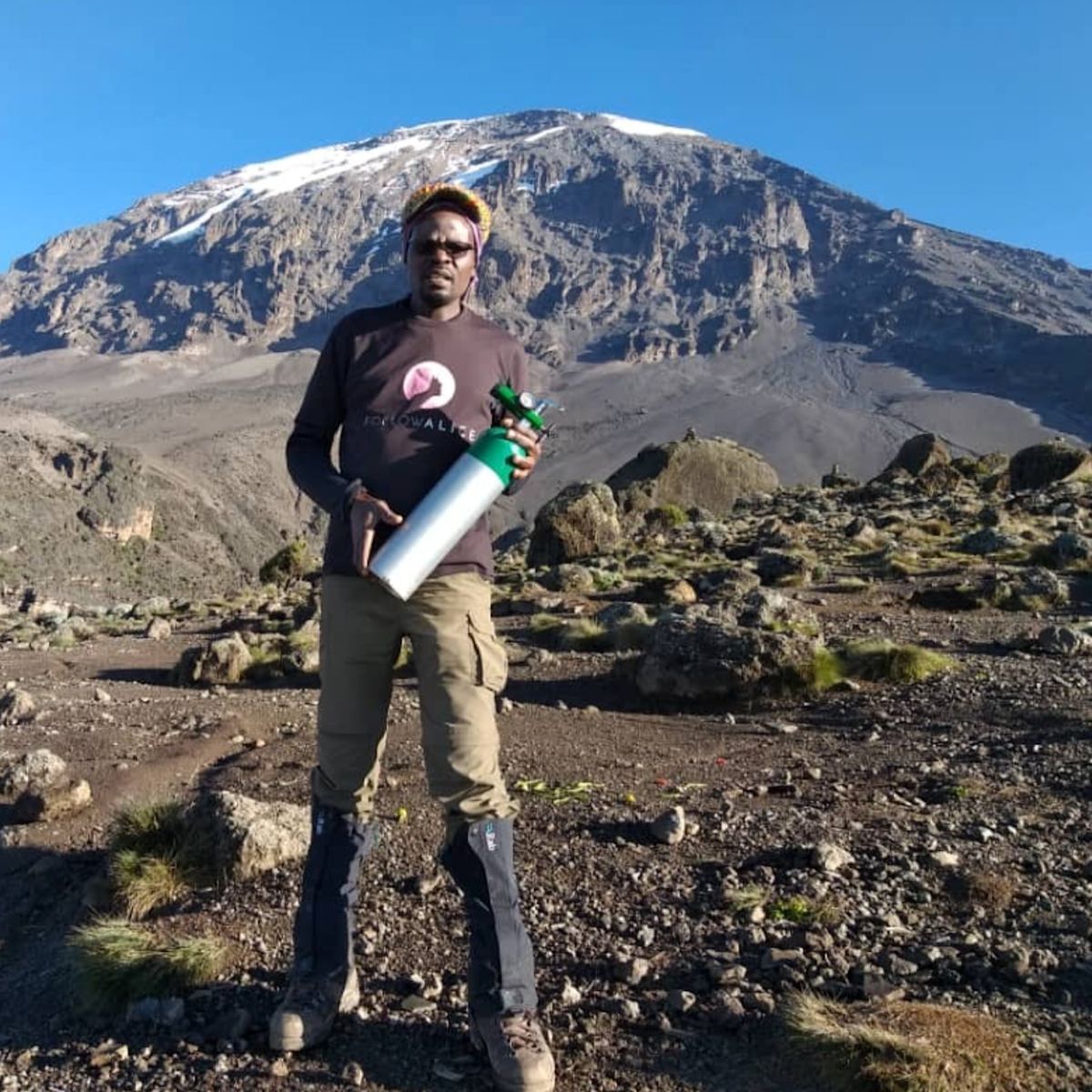 How we keep you safe on Kilimanjaro
May 23, 2023
Reading time: 19 minutes
It's our job to keep you safe on Kilimanjaro, and we take that job seriously. We do this by employing well-trained guides, carrying necessary medical equipment, having an established evacuation plan, and providing you with clean water and nutritious food.
Safety is everything on Kilimanjaro. It simply has to be, because the mountain soars to an icy peak 5,895 m (19,341 ft) above sea level where the air is very thin.
It's therefore vital that climbers take their Kilimanjaro preparation seriously.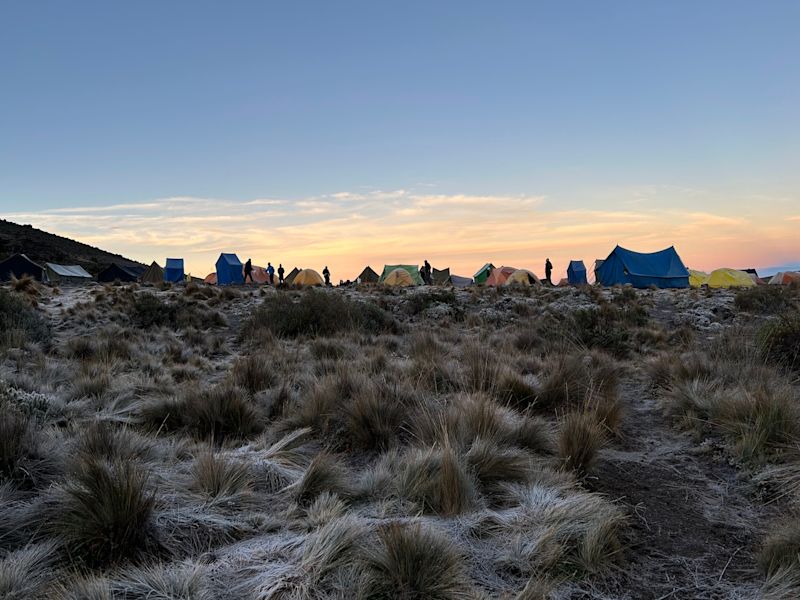 Our client Romy captured this beautiful sunrise on Kilimanjaro
But even more important than your efforts to ensure you have a safe climb are the efforts of your tour operator. You only want to climb Africa's highest mountain in the company of a crew that has the right qualifications, experience, equipment and attitude.
But first, we just want to briefly introduce you to the risks associated with climbing Kilimanjaro so that you understand the importance of the various safety measures that all responsible Kilimanjaro tour operators have in place.
Understanding the risks
Occasionally, we come across folks who mistakenly think that climbing Kilimanjaro will be pretty easy. They reason it can't be that hard because you don't need any mountaineering equipment or experience. Oh how wrong they are!
For most of us, climbing Kilimanjaro is the easily the hardest thing we'll ever do. And there are some very real dangers if you enter the harsh environment of the upper mountain ill-prepared.
The three areas that could most easily land you in trouble are:
1. Harsh weather
One of the primary risks faced by those trekking up Kilimanjaro is overexposure to the harsh weather conditions of the upper mountain. Temperatures regularly drop below freezing point, the wind can be extremely fierce, and there's often snow and ice at the summit.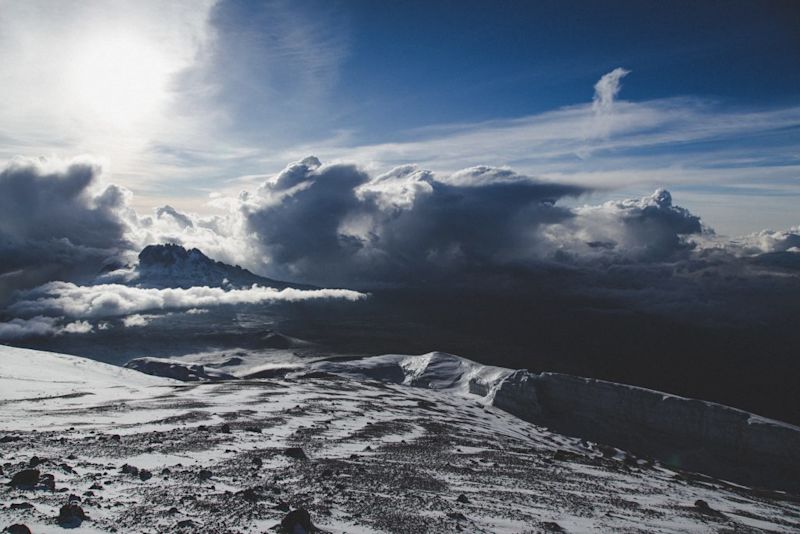 Even though Kilimanjaro is near the Equator, the summit is so high that it has an arctic climate
While your trekking clothing is largely up to you (although some operators, like Follow Alice, offer you the choice of renting essential items like down jackets), the quality of the tents you sleep in are, at the very least, up to your climb operator. You want to ensure your operator provides four-season tents that will offer you proper protection from the elements.
Unlike most Kilimanjaro tour operators, we provide you with a sleeping bag that's specially designed to withstand the cold high up on the mountain.
Just a few operators – including us – also provide four-season sleeping bags and sleeping mats to ensure their climbers are warm enough at night. We also provide you with hot water bottles if you want them, for that extra-snuggly bedtime experience.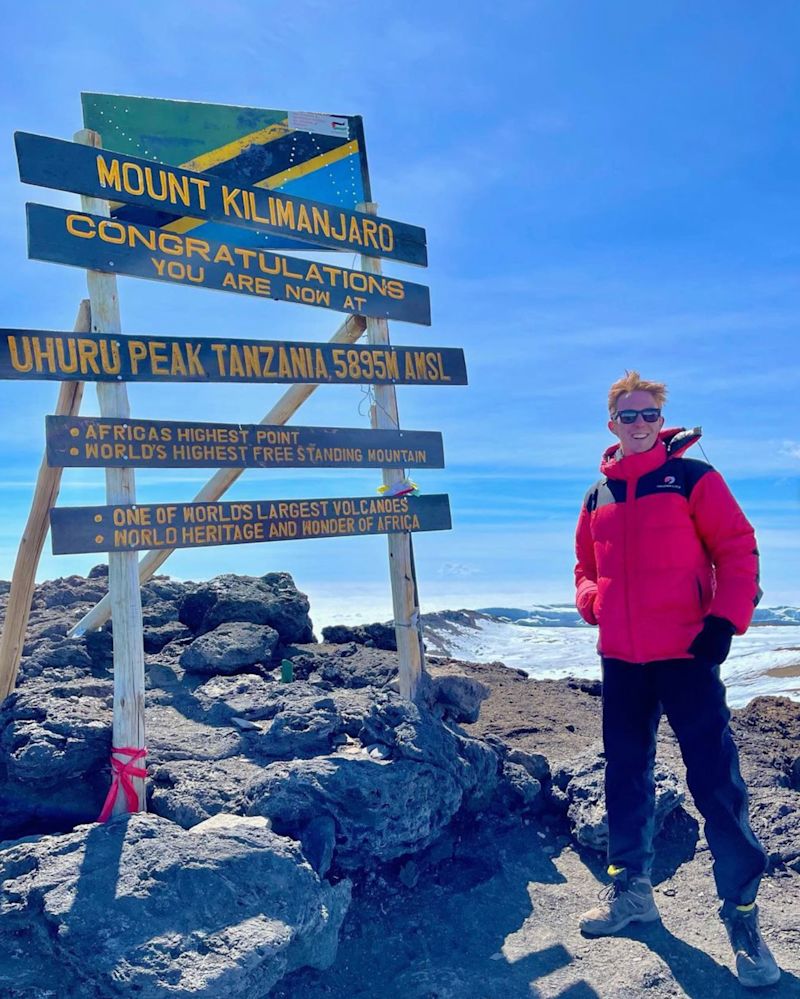 One of our climbers, Finn, is keeping warm at Uhuru Peak in his rented red-and-black Follow Alice jacket
2. Altitude sickness
Altitude sickness is an illness that develops when the body fails to adapt sufficiently well to the reduced oxygen intake per breath associated with high altitude.
In its mildest form (also known as acute mountain sickness, or AMS), altitude sickness causes unpleasant symptoms like headaches, nausea and sleeplessness. In its most serious form, it can cause HAPE or HACE and so lead to death. This is why altitude sickness must be taken very seriously, both by you as the climber, but especially by your Kilimanjaro guides.
Your guides on the mountain are the ones who need to know:
The symptoms of altitude sickness (you want them to detect it early)

How to monitor and test climbers for altitude sickness

How to treat mild altitude sickness

How to proceed in cases of serious altitude sickness
To be able to address the potential dangers of altitude sickness, every climb group needs to consist of enough experienced and properly qualified guides as well as have the right safety, medical and evacuation equipment. We discuss our guides and our equipment in detail further on.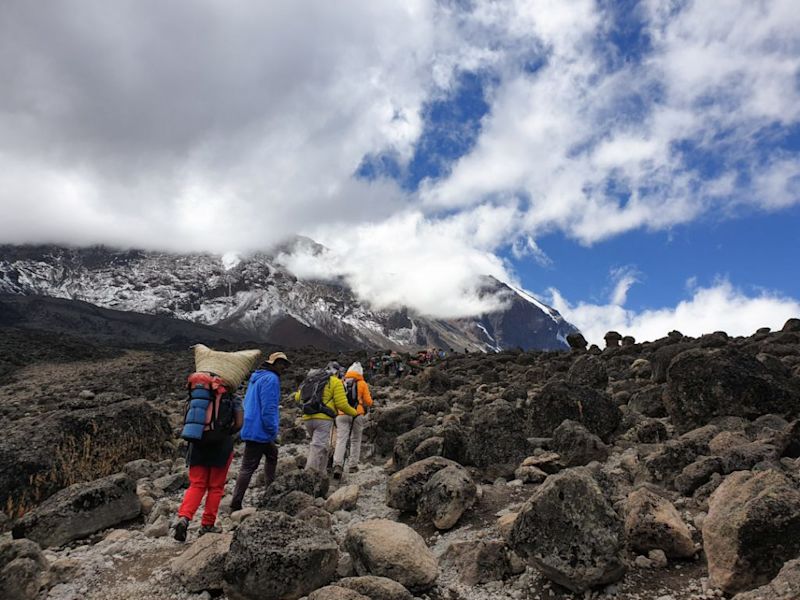 Mt Kilimanjaro is nearly 1.5 km higher than the Matterhorn!
3. Unclean water and poor nutrition
Finally, two lesser dangers are drinking unclean water and not eating enough nutritious food. You need a tour operator with a good water purification system in place. You also need a cook who knows what's required to fuel you for all the climbing you do on the mountain – and then ensures the company provides the supplies necessary to cook those meals at the required quantities. Inadequate meals are one of the quickest ways to ensure an unhappy climbing group!
Again, we discuss in detail how we keep you safe on the mountain in terms of meals and drinking water further on in this post.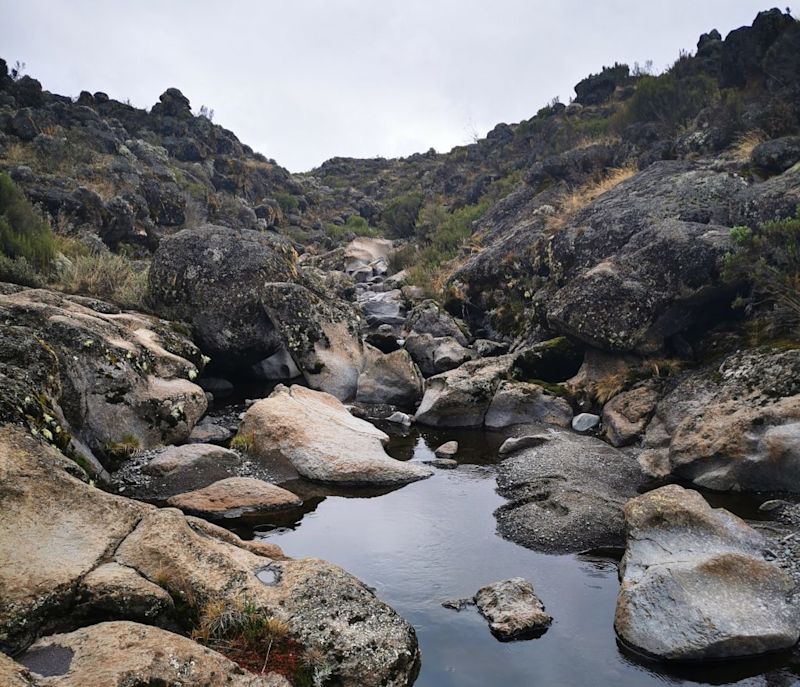 Water collected from the slopes of the mountain must be properly purified
The overall point we wish to make here is that Kilimanjaro can be dangerous if your mountain crew is inexperienced, ill-prepared or inclined to cut corners. So when you research Kilimanjaro tour operators, you want to find out how they approach the dangers and challenges posed by the mountain.
Qualifications and experience of guides
One of the main ingredients of a safe Kilimanjaro climb are experienced, well-trained and qualified guides. Guides are responsible for the safety of the entire climb group.
The lead guide is the person with overall responsibility, and so he or she needs to be an experienced guide, a leader, and someone who is very organised, sensible, responsible and trustworthy.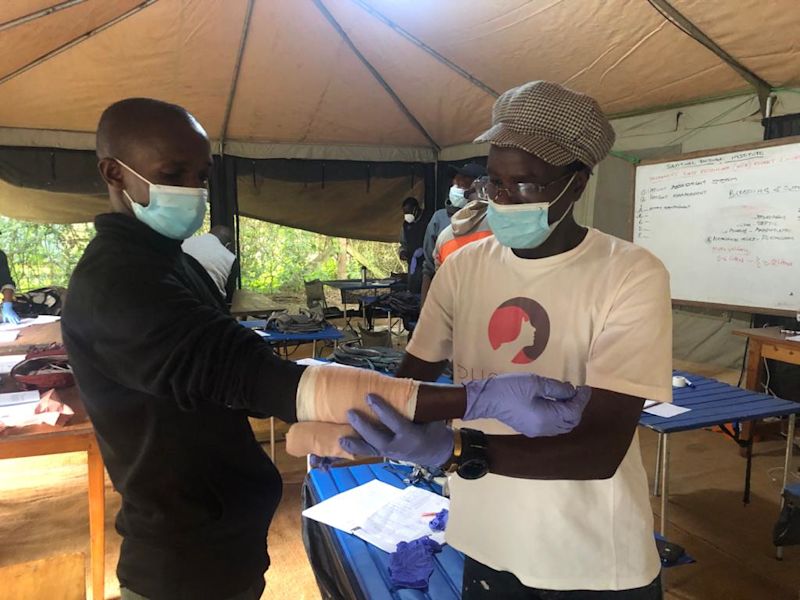 Follow Alice lead guide Chris doing a refresher course at the Sentinel Outdoor Institute
Wilderness first responders
All of our Kilimanjaro guides (both lead guides and assistant guides) are qualified wilderness first responders (WFRs), which is the highest non-medical training you can have as a wilderness guide.
You might like to check out our blog post Safety on Kilimanjaro – see our crew train as wilderness first responders to learn more about the WFR training.
Impressive experience
Each of our lead guides has summited Kilimanjaro over 200 times! So you can rest assured they know the in's and out's of the mountains seriously well!
All of our trek guides have summited Kilimanjaro at least 200 times!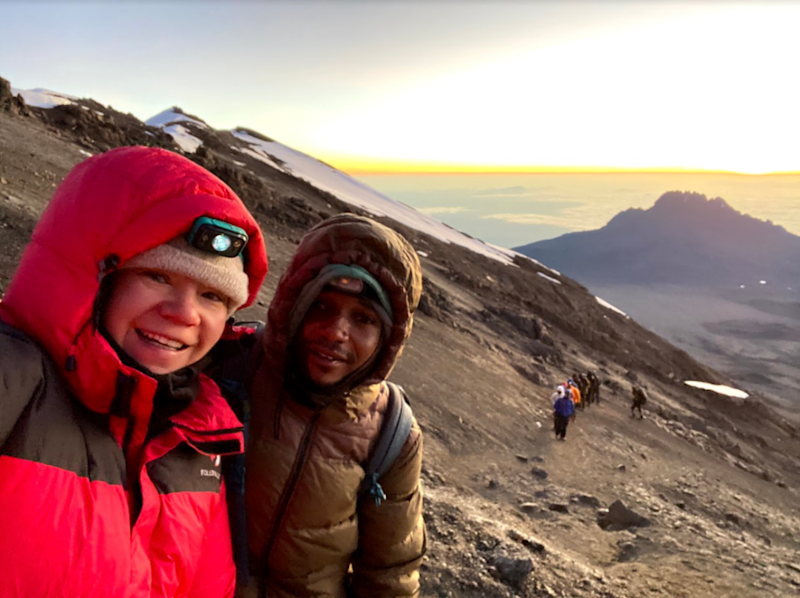 Your guide is your best friend on Kilimanjaro – there to believe in you, encourage you, monitor your health, and join in your selfies!
Meet our lead guides, Chris and Robert
There are no middle men at Follow Alice. We sell and run our own Kilimanjaro climbs. This means we have intimate knowledge of every aspect and detail that is needed for a successful trip, from planning to execution.
Chris Sichalwe has been climbing Kilimanjaro since 1999 and is the director of Follow Alice Tours (T) Ltd. He has been to the summit over 300 times and has guided thousands of clients to a successful summit!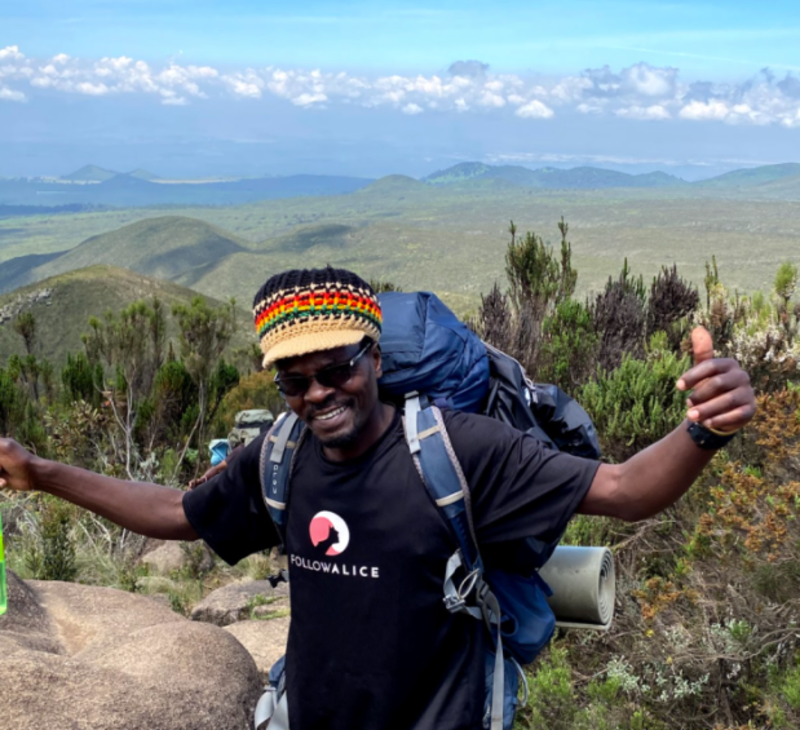 Chris climbing his favourite mountain in his favourite hat
When Chris is your lead guide, you know you're in very capable hands. He's cool as a cucumber – never gets rattled. You've also got a great storyteller with you, and someone with a fantastic sense of humour.
Robert Sichalwe is our other director at Follow Alice Tours (T) Ltd and one of our excellent lead trek guides. He's very warm and welcoming, and shows genuine interest in people's lives. He's a real family man.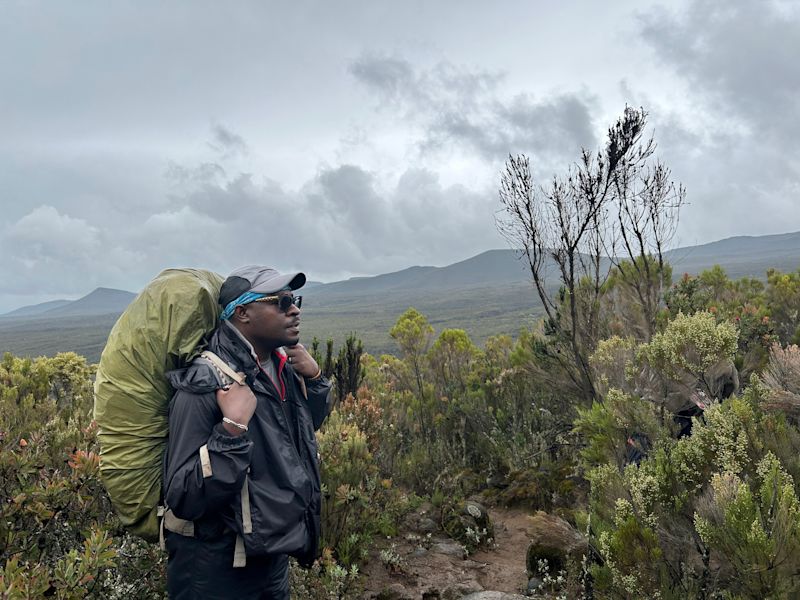 Romy snapped this pic of Robert on a Kilimanjaro climb
Robert – or Bobu as we like to call him – loves a good chat and is well versed in current affairs. He also loves photography, soccer and pizza. And he's a truly great encourager – something so important when you're tackling Africa's highest mountain and feeling the strain!
And yes, Robert has the same surname as Chris, because they're brothers!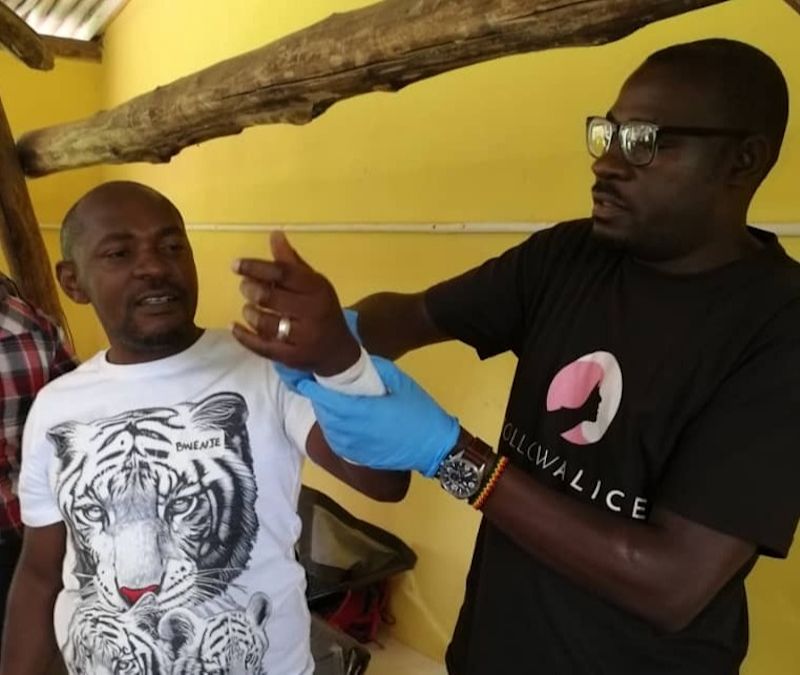 Robert (in black shirt) practising his bandaging skills
We don't outsource any aspect of our Kilimanjaro operation – our lead guides, Chris and Robert, are the directors of Follow Alice Tours (T) Ltd.
Kilimanjaro Porters Assistance Project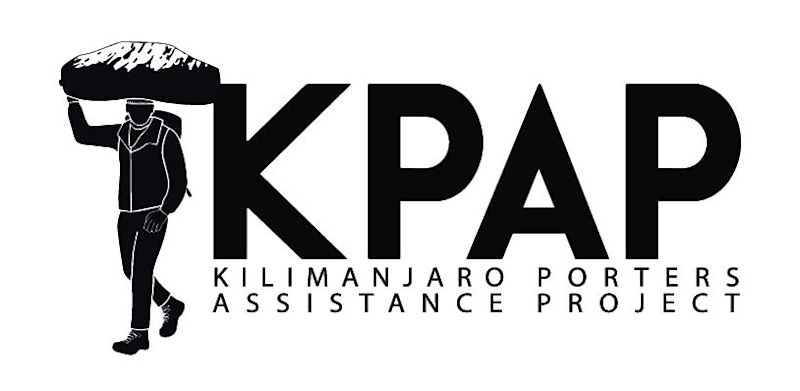 We're proud to be able to say that we're a partner of the Kilimanjaro Porters Assistance Project (KPAP). We received a perfect score from KPAP, and are pleased to earn this acknowledgement of our good and equitable treatment of porters. Porters are the backbone of every Kilimanjaro climb, and we wish to treat them with respect and pay them well.
We encourage you to choose a Kilimanjaro tour operator who is a member of KPAP, as that way you know you're climbing with a company that treats its staff well.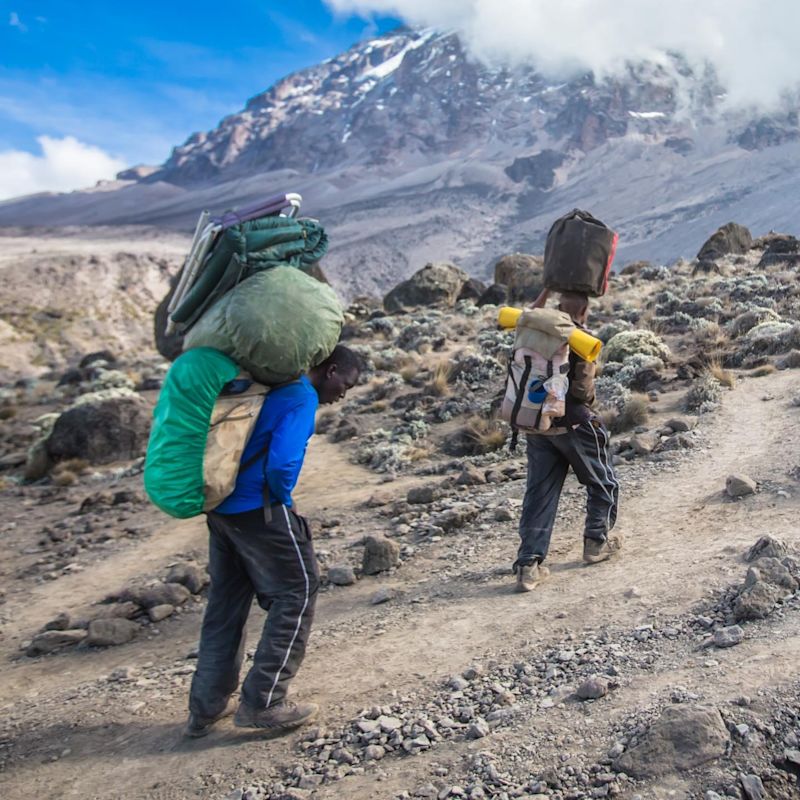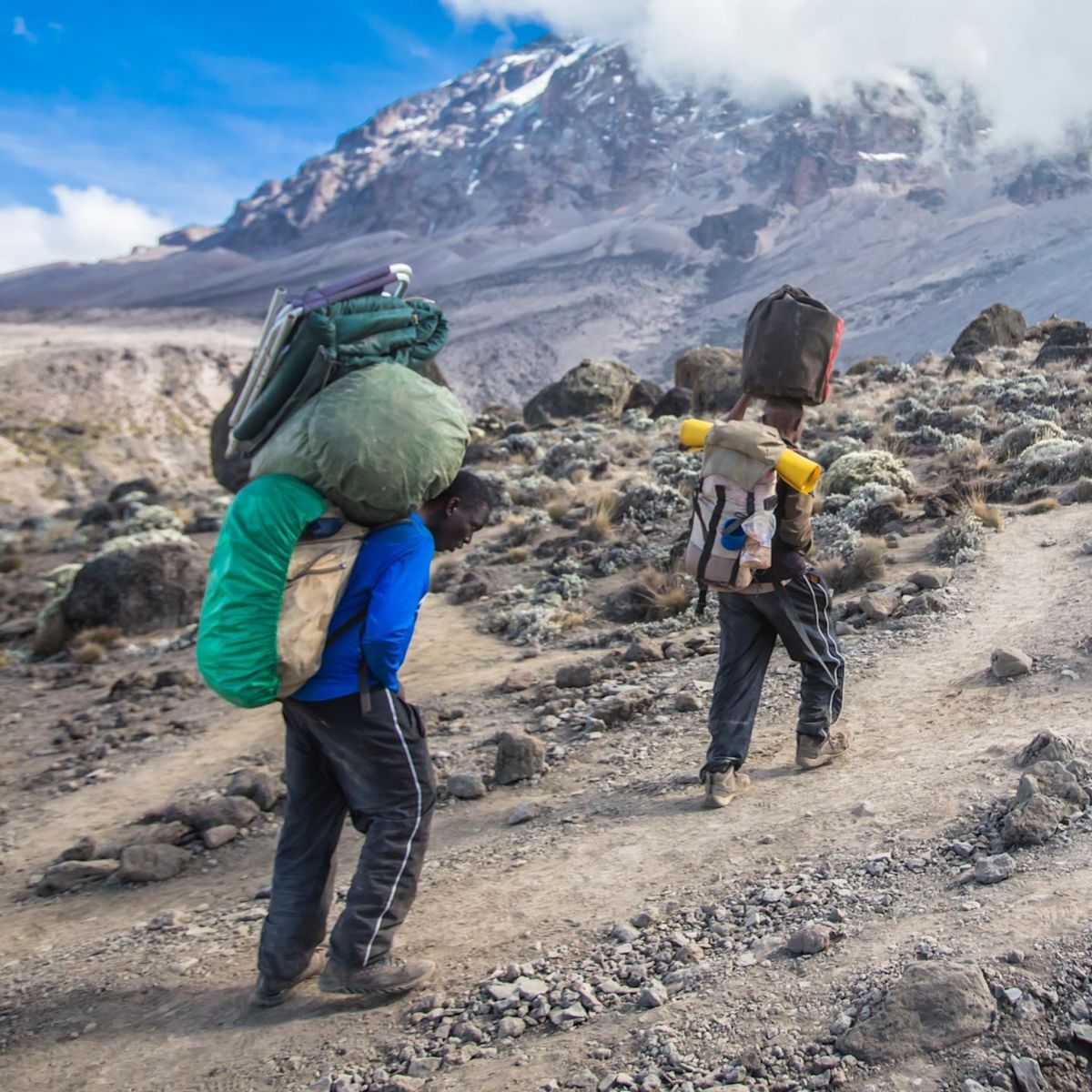 Kilimanjaro porters work so darn hard and deserve respect and equitable treatment by all
Pre-climb safety measures
Before your group climbs Kilimanjaro – before you even hop on a plane to Tanzania – we have a few steps in place to ensure everything runs smoothly and safely. Specifically:
1. Health and safety form
Before the climb, we ask you to fill in our health and safety form to collect information on matters such as allergies, dietary requirements, insurance details, and any pre-existing medical conditions.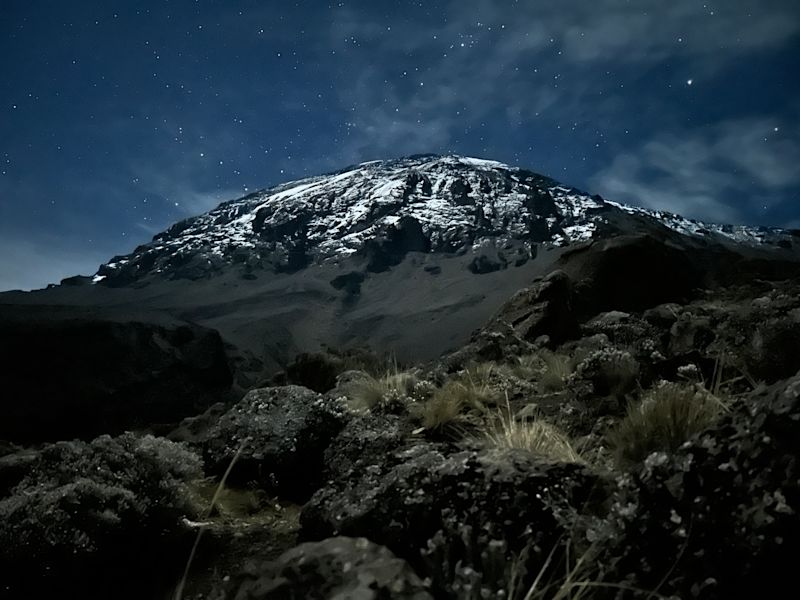 Romy captured this pic of Uhuru Peak at night
2. Preparation manuals
We send you our Kilimanjaro preparation manuals to help you mentally and physically prepare yourself for the rigours of the climb. This includes a packing list, an "All you need to know" doc, and a focused Kilimanjaro safety doc.
3. Client WhatsApp chat group
For every Kilimanjaro climb group we set up a WhatsApp chat group. On the group is every climber as well as the trip manager and any local leaders related to your trip (this might also include Kazi, our safari local leader, if you're going on safari in Tanzania after your climb).
This chat group is a great place to start getting excited together, introduce yourself to those you don't know, and ask and answer any questions. It's also very useful if a client needs to let us know about last-minute flight changes or delays.
4. Zoom chat
In the month prior to your departure for Tanzania, your Kilimanjaro trip manager hosts a chat with you and everyone else soon heading out on a Kilimanjaro climb with us via Zoom. This chat is held to ensure you're all on top of everything and know what to expect.
Tash, one of our Kilimanjaro trip managers, hosting a group preparation Zoom call
5. Climb briefing the night before
Once everyone has settled into the hotel in Moshi (or Arusha) the night before the start of the climb, your lead guide gives you a group briefing.
He'll chat about what to expect, ensure you've packed all the right equipment, the importance of letting him or another guide know of any ailments or niggles you feel while on the mountain, and answer any questions. This is also a good first bonding moment with the whole climb group.
Your lead guide will also guide you in picking a team representative, who will be given a tipping sheet to hold onto during the climb. This comes into play later on when you as a group want to decide what to tip the various members of the climb group. (You can learn more about this topic in Tipping on Kilimanjaro.)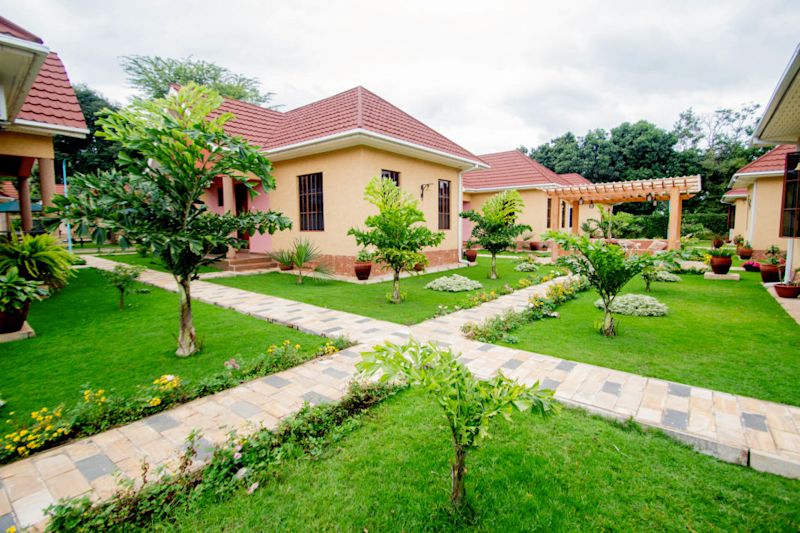 Your lead guides briefs you the night before the climb at your lodge in Moshi
Dedicated trip manager
Every Kilimanjaro climb group is assigned a trip manager. His or her job is to communicate with you and ensure everything to do with your trip goes smoothly. Even when you're on the mountain and under the care of your lead trek guide and mountain crew, your trip manager is checking in with the team on the ground to ensure all is going well. We don't outsource any aspect of our operation, so we're all in, on every detail, all of the time!
Note that in the lead up to your trip (and afterwards too), your trip manager is your go-to person for any questions or concerns.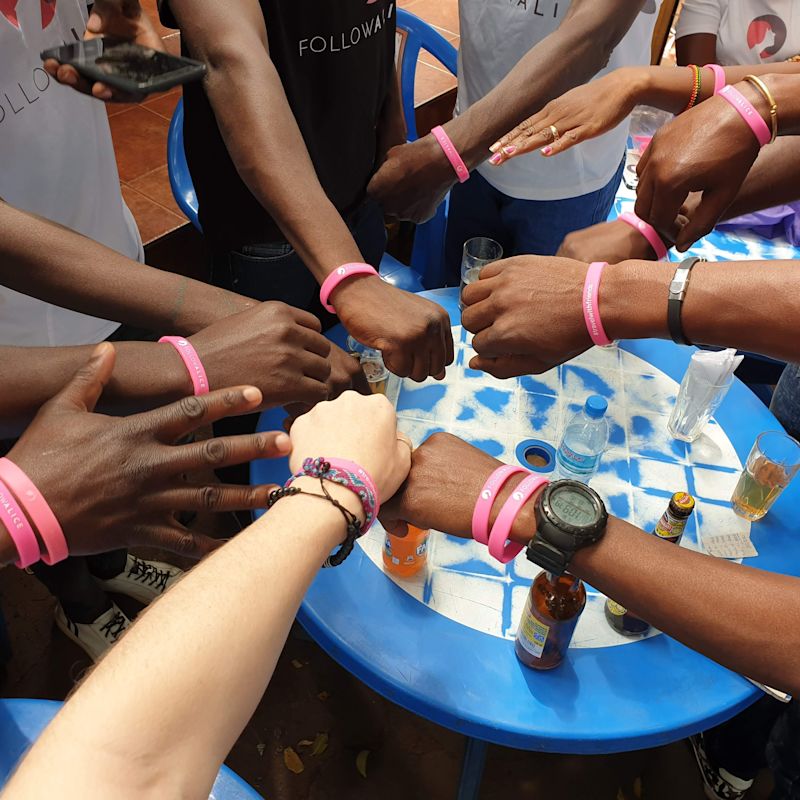 It's teamwork all the way at Follow Alice!
Tash, one of our experienced trip managers, shares her own Kilimanjaro experience in a video journal here ...
There would be a youtube video here.
Sadly, the youtube player requires cookies to work.
Safety measures on the mountain
Here's what you need to know about our guides and our safety measures on the mountain:
Every Follow Alice lead guide is a certified wilderness first responder (WFR). A WFR qualification is the highest level of certification on Kilimanjaro. It means your guide is (among other things) very good at detecting and assessing the symptoms of altitude sickness. They also know how to treat or manage common mountain-related medical issues and emergencies, including altitude sickness.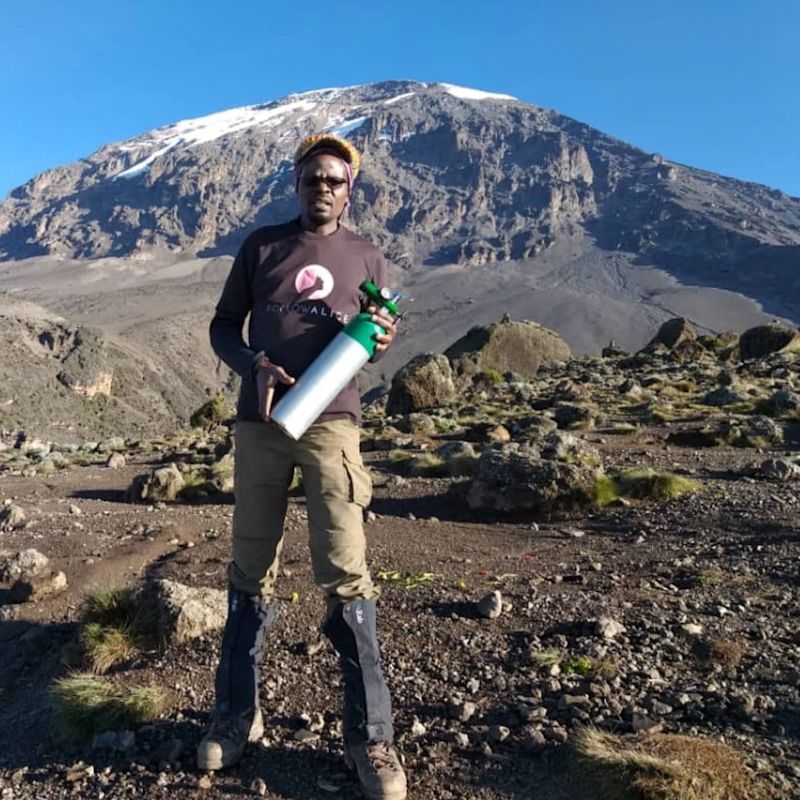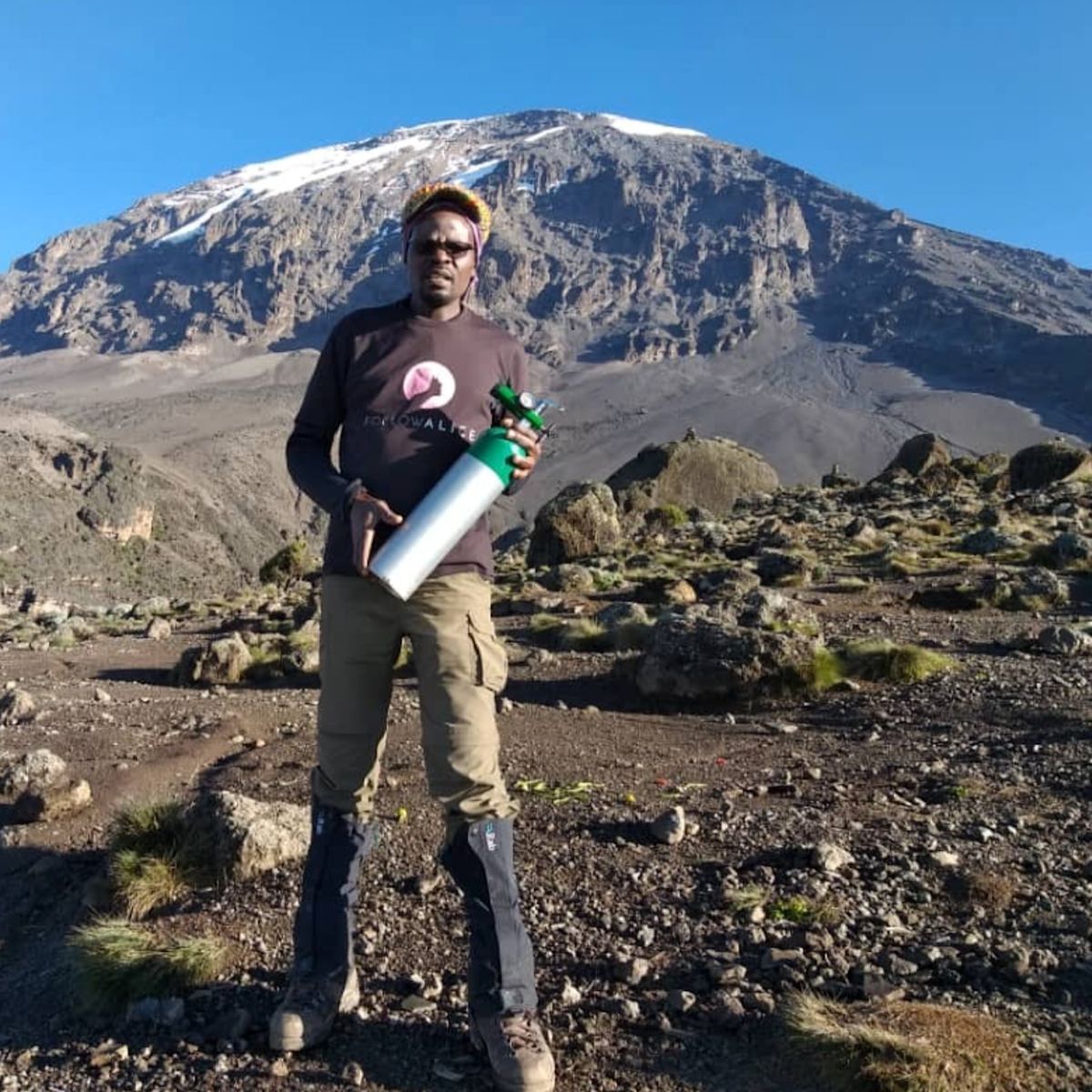 Lead guide Chris looking badass on Kilimanjaro with an oxygen cylinder!
Every climber receives daily health checks on the mountain, administered by one of the guides. These checkups involve using a pulse oximeter to monitor your oxygen saturation and pulse rate.

One oxygen tank is carried up the mountain for every six climbers (this is plenty, as we explain further on).

If you display symptoms of severe altitude sickness, one of our guides will administer the Lake Louise Scoring System (LLSS) to determine the severity. They'll then take the established course of action based on your score. If evacuation is deemed necessary, you'll be escorted (or carried) down the mountain.
Helicopter evacuation service
The Kilimanjaro helicopter evacuation service is now run by Kili MedAir, a company based in the town of Moshi, which is the nearest town to Kilimanjaro. Airlifting someone off of the mountain is only used in the most extreme cases.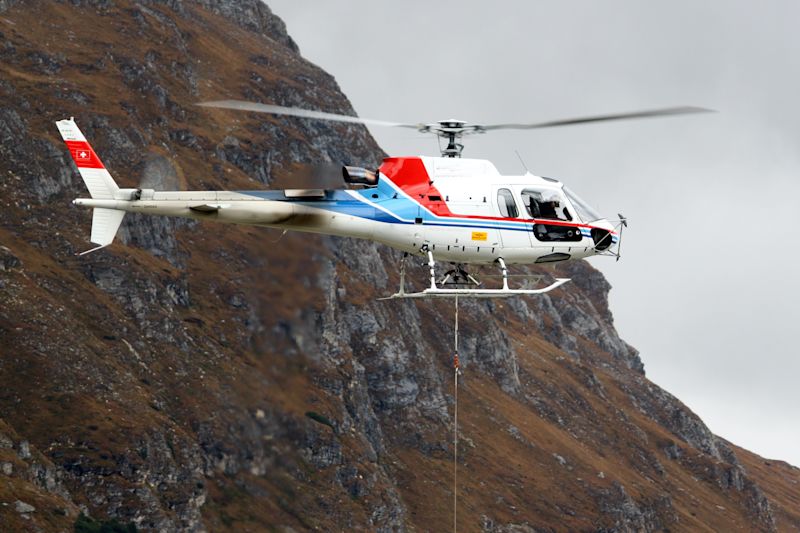 A Kili MedAir helicopter in flight
While helicopter evacuation is an option when necessary, by and large, sick or injured climbers are carried off the mountain via stretcher.
Evacuation protocol at Follow Alice
If someone falls ill or is injured and cannot continue on the climb, they are evacuated off the mountain and taken to hospital if necessary. Note that the efficiency with which the evacuation process is carried out is determined by the training, experience and equipment of your tour operator, not the park authority. This is one of the reasons why it's important to choose a good Kilimanjaro tour operator.
When someone is sick or injured on Kilimanjaro, the well-known rule of thumb is 'descend, descend, descend'.
Established evacuation procedures
Each Kilimanjaro operator is responsible for evacuating its own clients and personnel. At Follow Alice we have clear protocols in place so that our guides (who are all Wilderness First Responders) know exactly what steps to take, and when.
Firstly, any climber who becomes sick or injured will be assessed and treated by a guide. If evacuation is deemed necessary, the climber is escorted down the mountain – either on foot, or by stretcher – with a guide in attendance. The shortest route to reach the closest access point within

Kilimanjaro National Park

will be used (see details below). The guide will monitor the patient's condition throughout the descent.

Having been radioed for assistance, a vehicle will be waiting at the access point to transport the climber back to the hotel or closest hospital.

During this time the guide will also be in contact with the Follow Alice administration team, who will contact the next of kin and keep them updated on their loved one's condition (if required). If the climber is in hospital, the guide will attend to his or her needs and receive communications to pass on to the family.
Evacuation routes and access points
Below we identify the evacuation route to be used based on an incapacitated climber's approximate location. We also list the duration of such an evacuation.
Mti Mkubwa Camp:

Descend via Lemosho route to Lemosho Gate, 1 hr

Shira 1 Camp:

Descend via Shira route to rescue point, 20 min

Moir Hut:

Descend via Shira route to rescue pick up point, 1 hr

Lava Tower:

Descend via Shira route to rescue pick up point, 1.5 hr

Barranco Camp:

Descend via Umbwe route to Umbwe Gate, 8-10 hr

Karanga Camp:

Descend via Mweka route to Mweka Gate, 7-9 hr

Barafu Camp:

Descend via Mweka route to Mweka Gate, 7-9 hr

Crater Camp:

Descend via Mweka route to Mweka Gate, 9-11 hr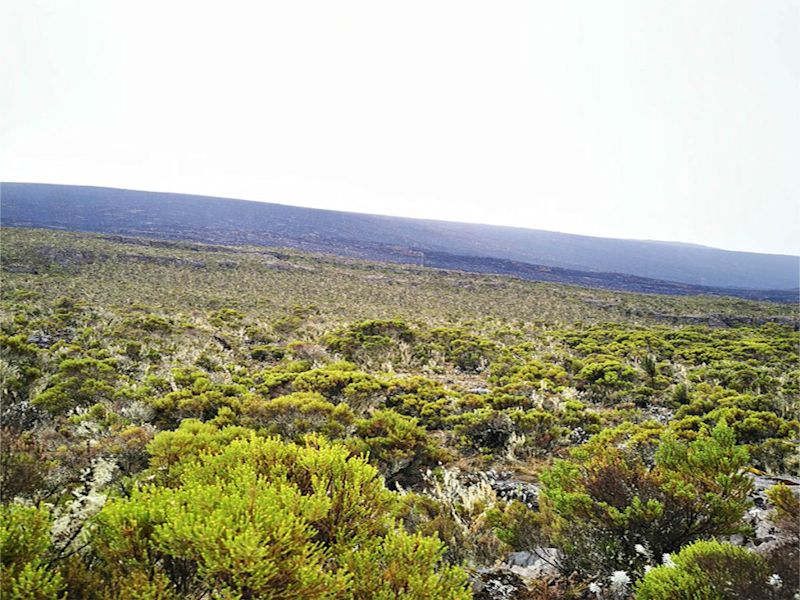 The view along a section of the Mweka route, one of the favoured evacuation routes on the mountain
Our safety and health equipment
Below is a list of all that's included in your Follow Alice climb fee that has to do with your health and safety, from sanitary ablutions to warm camping equipment, potable water and well-trained staff:
High-quality, four-season mountain tents

High-quality, four-season sleeping bags

Insulated sleeping mats

Private Follow Alice toilet tent

Highly trained and experienced English-speaking guides who are Wilderness First Responders

All meals on the mountain, prepared by an experienced Kilimanjaro cook

All water (purified) on the mountain

Pulse oximeter for daily health checks

Emergency oxygen cylinders (for anyone who displays symptoms of AMS)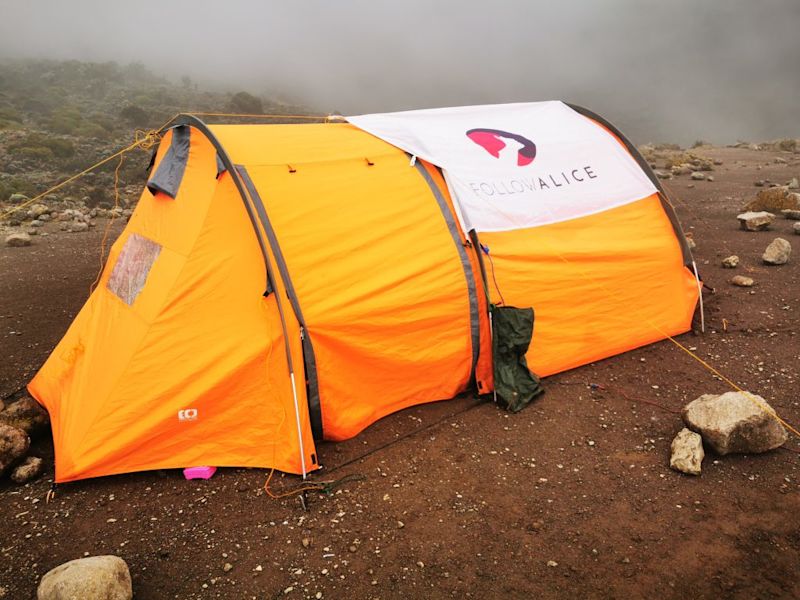 One of our four-season sleeping tents – each accommodates two people
Also, we can rent you one of our winter down jackets (which feature our stylish Follow Alice logo on them 🤓 ).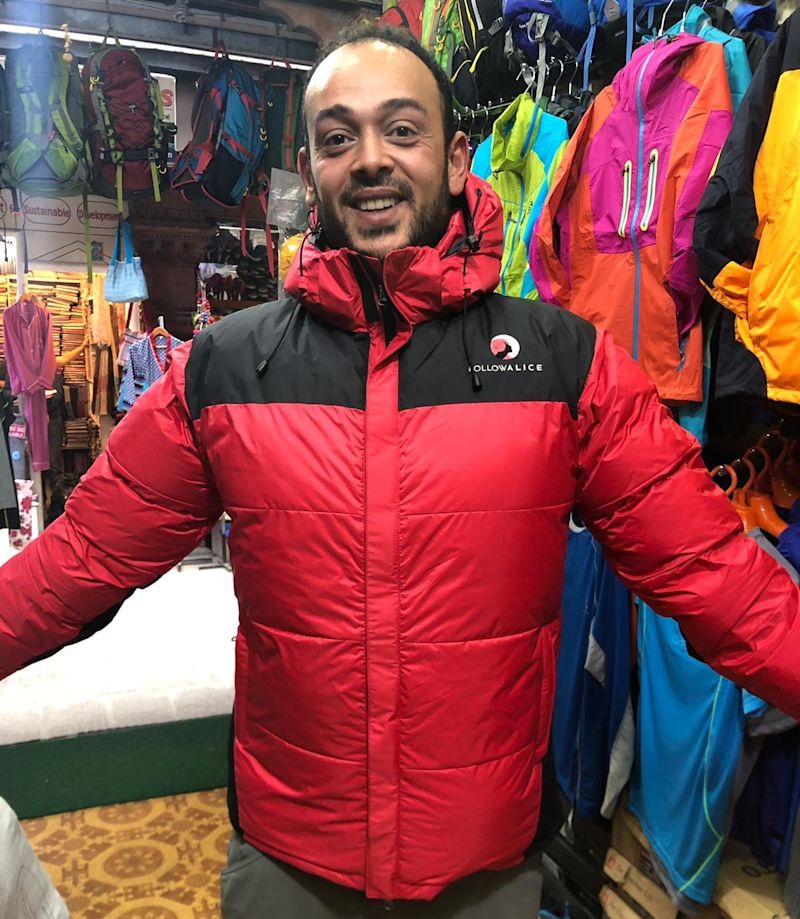 Follow Alice team member Salo modelling our Follow Alice down jacket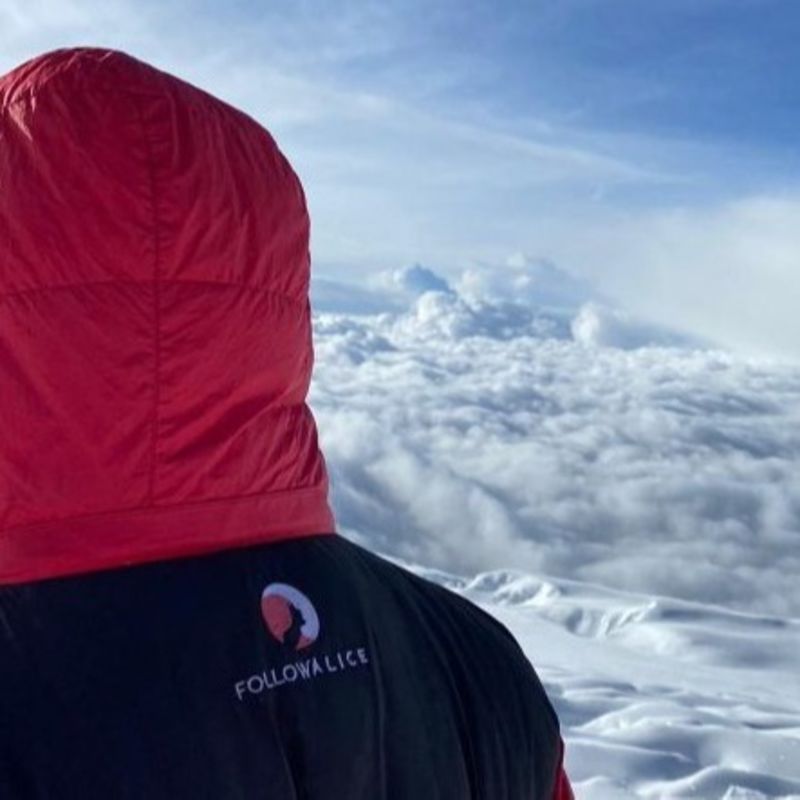 And here we have the back of the jacket, as seen keeping him warm on the mountain!
Food and water
During your time on the mountain, you'll be provided with locally sourced, healthy and nutritious meals cooked fresh every day by your cook and his assistant. Our menus have been carefully designed to ensure that the food is easy to digest and provides plenty of energy with lots of carbohydrates. Expect fresh veg, fruit, meat, and snacks along the way, as well as clean, purified water throughout. Any special requests regarding your menu? No worries, we cater for all dietary requirements and allergies. We also have porters bring further food supplies to us halfway up the mountain to ensure the food we're serving is nicely fresh.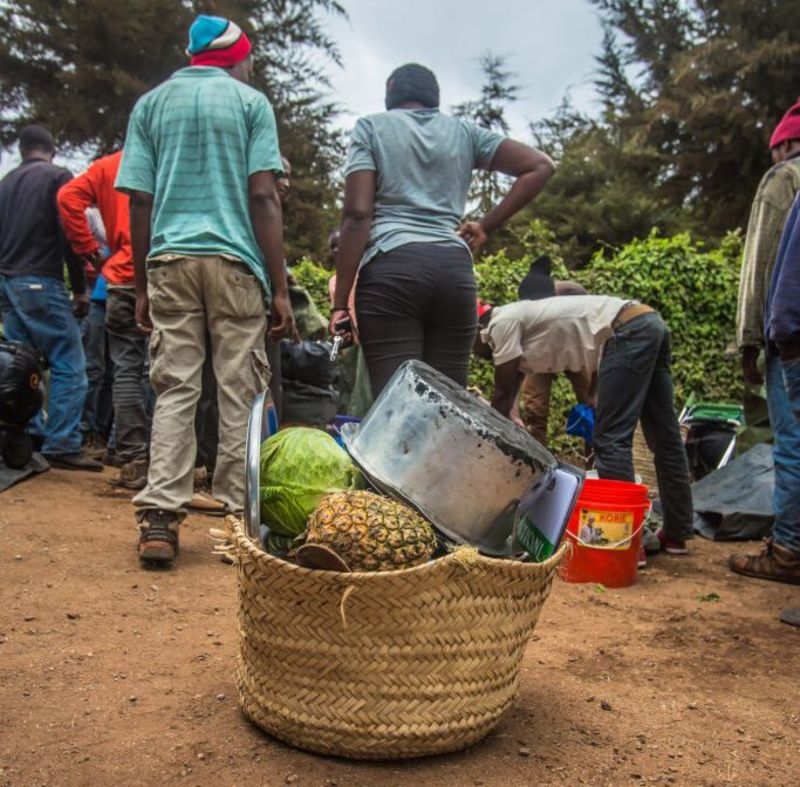 Fresh produce waiting for the porters to add it to their bundles
The importance of food to your well-being
We cannot overstate the importance of plentiful, nutritious food to a Kilimanjaro climb. Even when you're not hungry (a common symptom of mild AMS), we encourage you to try eat your meal, as you need the sustenance to fight the cold and complete the long hours of trekking.
As we discuss in Why do prices differ so much between Kilimanjaro tour operators?, some operators try to offer lower climb prices by cutting corners on meals. By this we mean they don't provide quality, nutritious food or enough food (for both climbers and crew).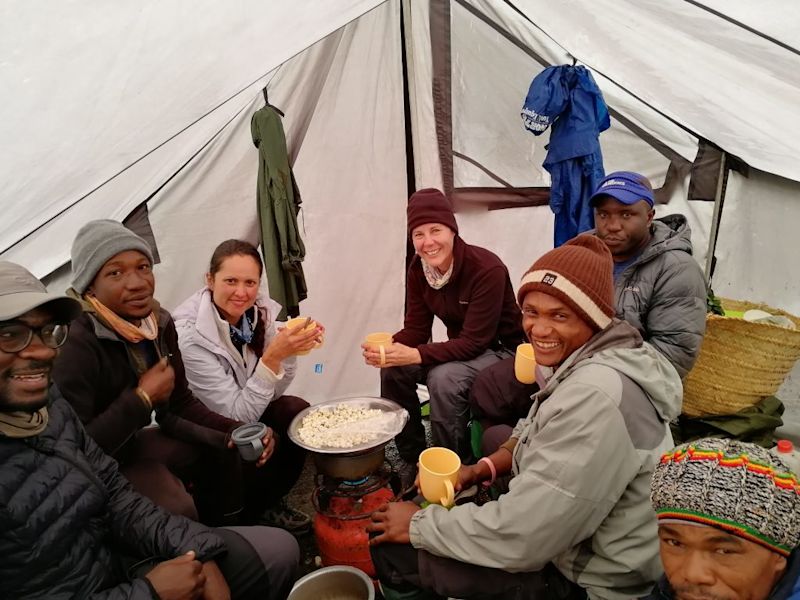 Popcorn and hot drinks in the mess tent after a hard day's trekking
The Follow Alice menu
Those who climb with Follow Alice are provided with locally sourced, healthy and nutritious meals cooked fresh every day by our cook Rajabu and his assistant.
Our menus have been carefully designed to ensure that the food is easy to digest, and provides plenty of energy with lots of carbohydrates. Think of breakfasts like porridge, yoghurt, fresh fruit, pancakes, eggs, sausages and toast. Lunches like soup, toasted sandwiches and salad. Post-hike snacks like nuts, popcorn, hot chocolate and fresh fruit. And dinners like beef stew, chips, cooked spinach and sliced avo. And yes, we also cater for special diets, no probs.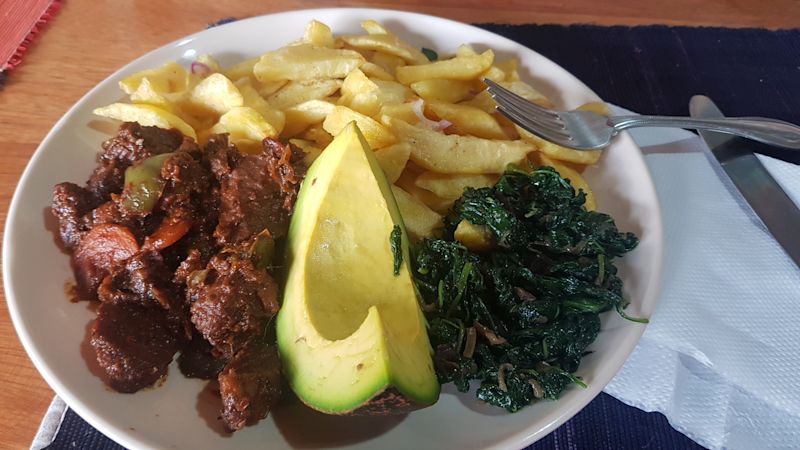 A hearty dinner on the mountain
Meet Raja, our Follow Alice cook
Rajabu (or just Raja) Mwnaga is our excellent Kilimanjaro cook. He has over six years of experience as a head cook. His job is cooking freshly made and nutritious meals to fuel our climbers and crew.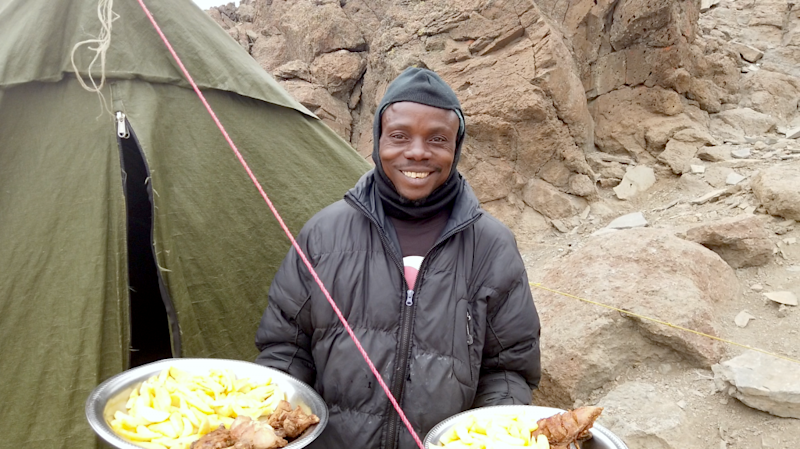 Rajabu has been serving up hearty and nutritious meals on Kilimanjaro for over six years
The Follow Alice mountain crew
The size of any Kilimanjaro crew depends on how many climbers attend and how much equipment there is to carry. Let's say there are eight climbers – on a regular climb, that requires a crew of 40.
The exact number of crew will be determined at Londorossi Gate, when everything is weighed. You'll be introduced to each crew member by name, and you'll be besties by the end of the adventure!
Below we explain how we work out our crew-to-climbers ratio ...
Lead guide – 1 per trek group
He is the overall trek leader, responsible for your health and safety. He can also be referred to as the expedition leader.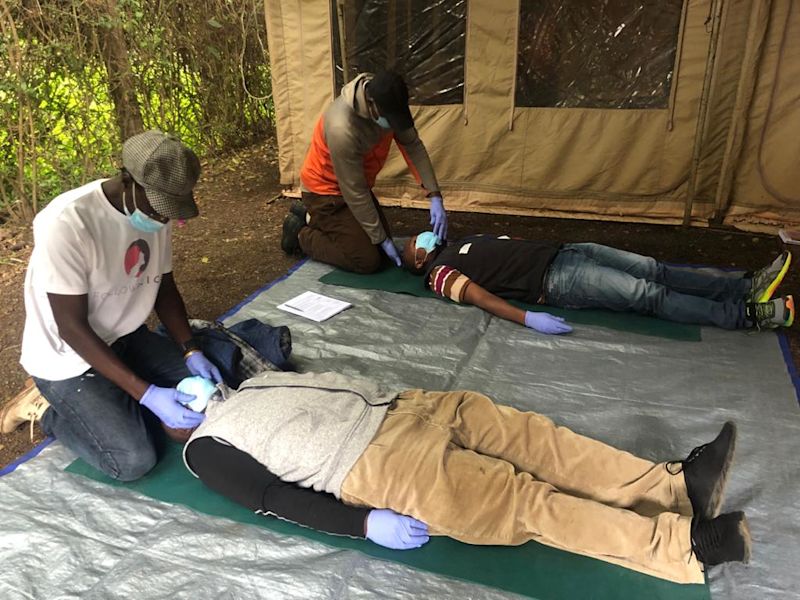 Follow Alice lead trek guide Chris (white shirt) doing a Wilderness First Responder refresher course at the Sentinel Outdoor Institute
Assistant guides – 1 for every 2 or 3 climbers
These folks lead you safely and efficiently up the mountain, answer your questions, and monitor your health. They can also be referred to simply as guides.
Cook – one per trek group
He prepares all of your food (breakfast, lunch, dinner, drinks and snacks).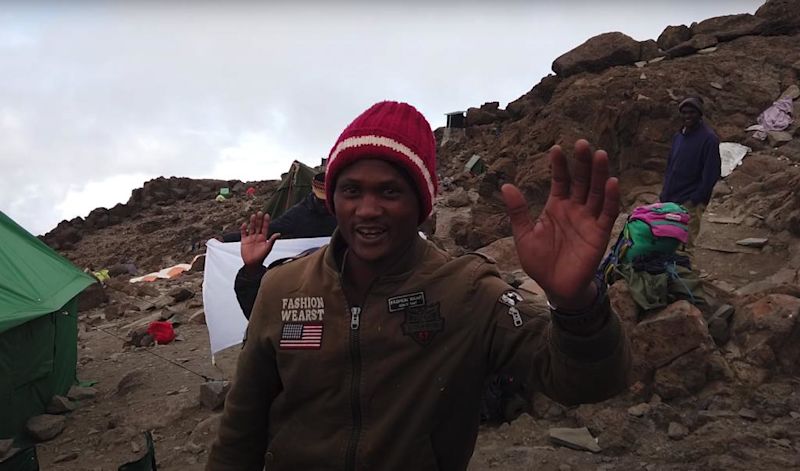 Hello again, Raja!
Porters – 3 per climber
These guys and gals carry food, camping equipment and everyone's personal belongings, set up and strike camp, and take on various other duties.
Helping porters – numbers vary per trek
These folks work as porters but each has an additional duty such as serving as your waiter, washing dishes or servicing the toilet tent.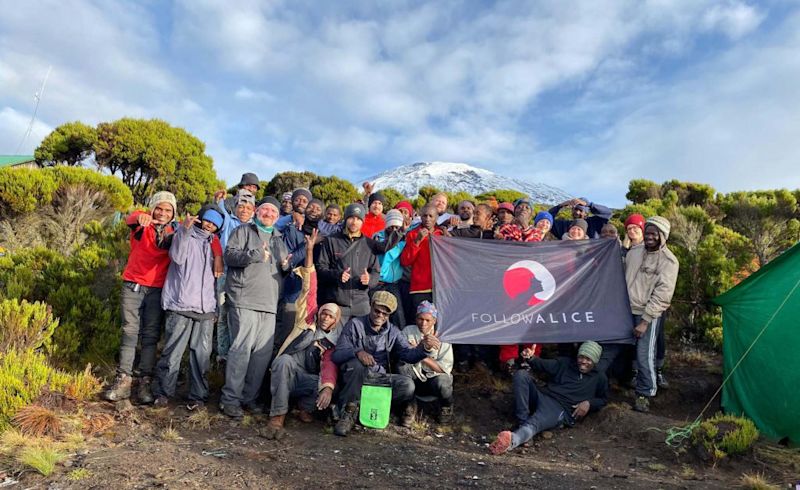 Every Kilimanjaro climb is only made possible by the efforts of a large team of guides, porters and the cook working together
The importance of having enough guides on each climb
Some budget Kilimanjaro tour operators try to cut costs by having fewer guides on each climb. This is a risky move. For starters, you don't want a guide to have to monitor the health and progress of too many climbers. A guide who is stretched thin is less available to you (for answering questions, encouraging you, and so on), and also less likely to pick up on any subtle signs of altitude sickness. We like to have one guide for every two or three climbers.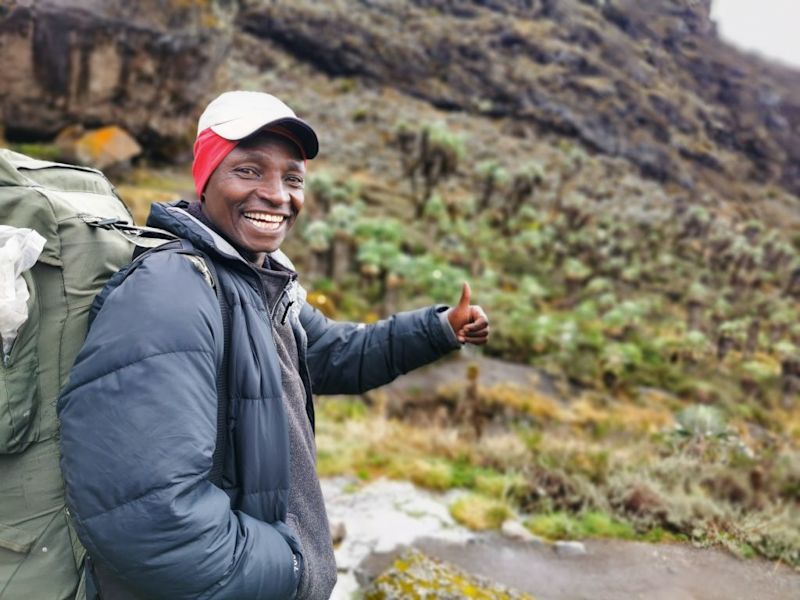 Florence is one of our excellent Kilimanjaro guides
Too few guides can also leave your group in a precarious position should someone need to be evacuated off the mountain. You need enough guides so that the one who descends the mountain with the sick or injured climber doesn't leave a gaping hole in the team – in other words, doesn't leave the remaining climbers without sufficient guidance and oversight.
Choosing a safe Kilimanjaro route
There are seven routes up Kilimanjaro, each with different pros and cons. Importantly, some allow for better acclimatisation than others, and so improve your chances of not developing altitude sickness. We recommend reading our post on the seven Kilimanjaro routes in which we identify for you the routes that offer the best acclimatisation and so offer a safer climb.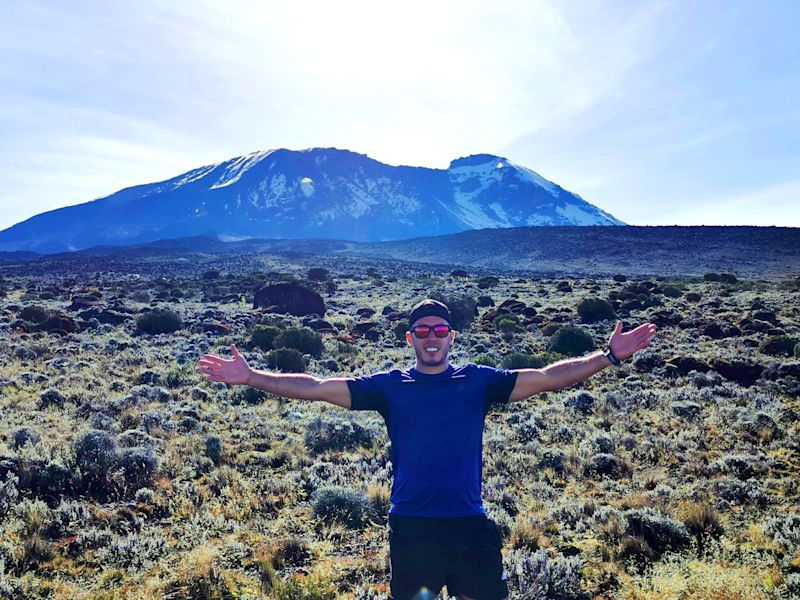 The Lemosho is one of our two favourite routes as it offers really good acclimatisation
A note about travel insurance ...
Insurance is not included in the trip price. That said, travel insurance is a mandatory requirement for climbing Kilimanjaro with Follow Alice. It's essential you choose a policy that covers you for "hiking up to 6,000 m above sea level". We recommend the travel insurance offered by World Nomads. To learn more, please read Travel Insurance.
The summit of Kilimanjaro is 5,895 m above sea level, so you need insurance that covers you for trekking to that height
Chat to us if you have any questions
As always, we welcome you to reach out to us with any questions or concerns you may have. We're here to help!
We're sure you'll agree, we're an extremely approachable bunch of folks!