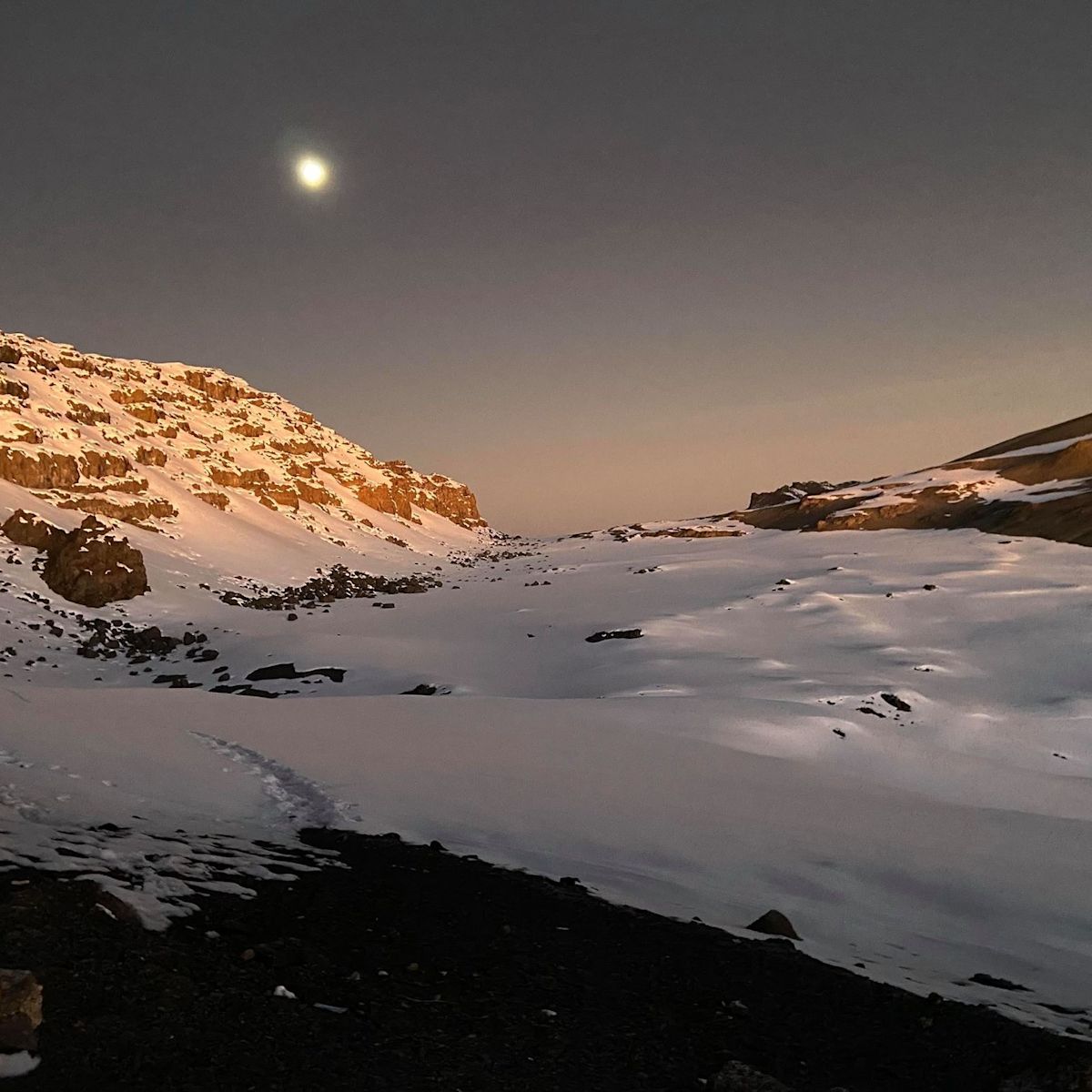 Kilimanjaro full moon climbs
Aug 4, 2023
Reading time: 5 minutes
Most climbers tackle summit night by the light of their headlamps. But for those who climb during a full moon, the whole night-time summit attempt is well lit by the glorious light of the moon! Learn when to plan your trek to enjoy a moonlit summit!
Did you know that no matter which of the seven Kilimanjaro routes you choose, on summit 'day' you actually start your ascent to the peak at midnight? Yup, that's right. Get ready to wake up nice and early to some tea and biscuits. Switch on your head torch. Then climb your way into the dark night over stone scree to reach the top just in time for sunrise. Many describe this part of the climb – the summit attempt – as the most mentally and physically challenging part of the whole experience when they climb Kilimanjaro.
If you're lucky enough to be making the journey to Tanzania's Kilimanjaro whilst there is a full moon in play, then you're in for a treat! If you thought your Kilimanjaro climb couldn't get any more beautiful, then listen to this ...
I climbed Kilimanjaro during the full moon and it was truly amazing! The views were second to none.
– Sarah Johnson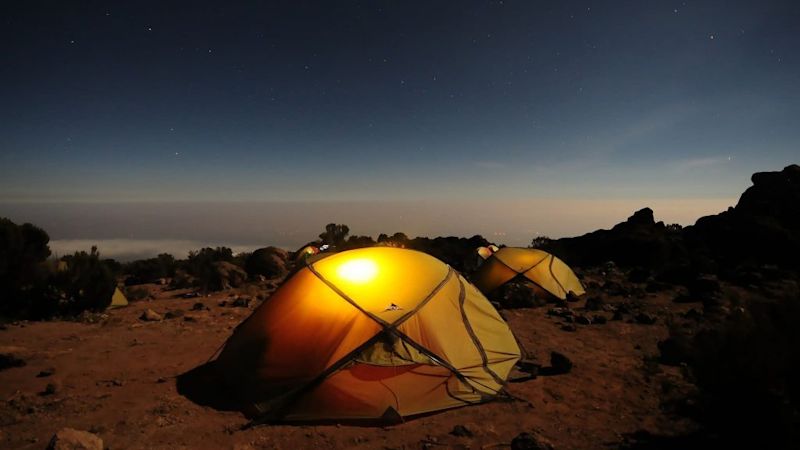 Pofu Camp on the Northern Circuit | Image by G. Vijayaraghavan
Why are full moon climbs so popular?
Firstly, you'll be accompanied and guided in your night-time trek by the bright light of the full moon. It illuminates your six-hour journey up to Uhuru Peak, making the glaciers glitter and the rolling clouds below you glow. The moonlight also makes the earth beneath your feet glisten. Sounds like a dream, right?
Secondly, a practical reason for climbing during a full moon is that its brightness (when paired with a clear sky) improves visibility throughout your Kilimanjaro trek, especially during your summit attempt.
Thirdly, climbing Kilimanjaro during a full moon offers you magnificent night views of Kibo from most of the overnight camps.
So to summarise, a full moon offers:
Stunning views

Improved visibility during summit attempt

Views of Kibo from most camps
A full moon therefore makes what's already a very special trip just that little bit more special. The full moon is widely considered one of the best times in the month to climb Kilimanjaro. As to which month is the best month to climb? Read more about The best time to climb Kilimanjaro.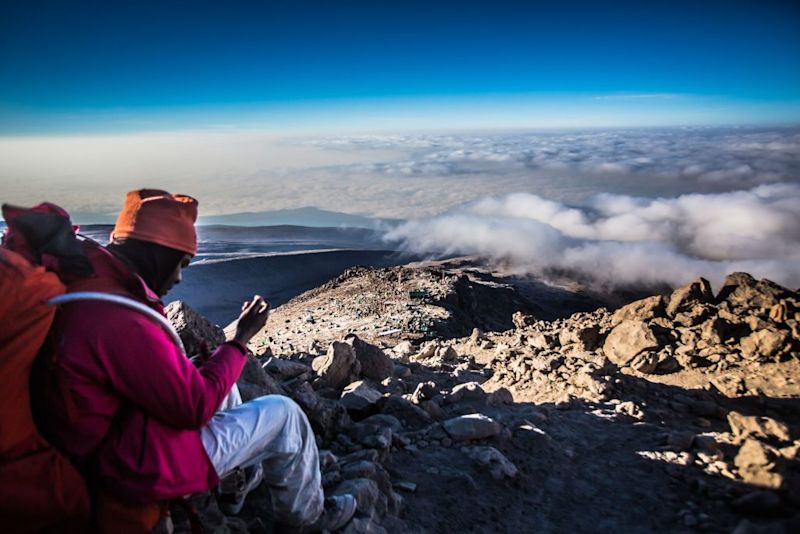 A viView over the clouds
What exactly is a full moon?
A full moon is the lunar phase when the Moon can be seen in its entirety from Earth. This occurs when Earth is positioned directly between the Sun and the Moon (more exactly, when the ecliptic longitudes of the Sun and Moon differ by 180°). So, all of this technical stuff means that once every month the Moon appears to be completely round and beautifully bright in the night sky. It occurs about every 29 days, so you have 12 times in a year to witness the full moon. That's one opportunity every month to witness this beautiful celestial event from the summit of Mount Kilimanjaro.
Glittering glaciers
One of the key geographic features of Mount Kilimanjaro (and part of what makes it so unique) is its crowns of ice glaciers. These glaciers used to be more than 100 m (300 feet) deep and extend for 2 km (1.2 miles) from the mountaintop. Due to the effects of global warming and long-term climatic cycles, however, the ice has been thinning from the top down at a very alarming rate. Some scientists estimate that Kilimanjaro's ice cap will be completely gone by 2050. So if you're thinking about undertaking this epic climb, do yourself a favour and do it sooner rather than later. The glaciers are definitely not something you want to miss!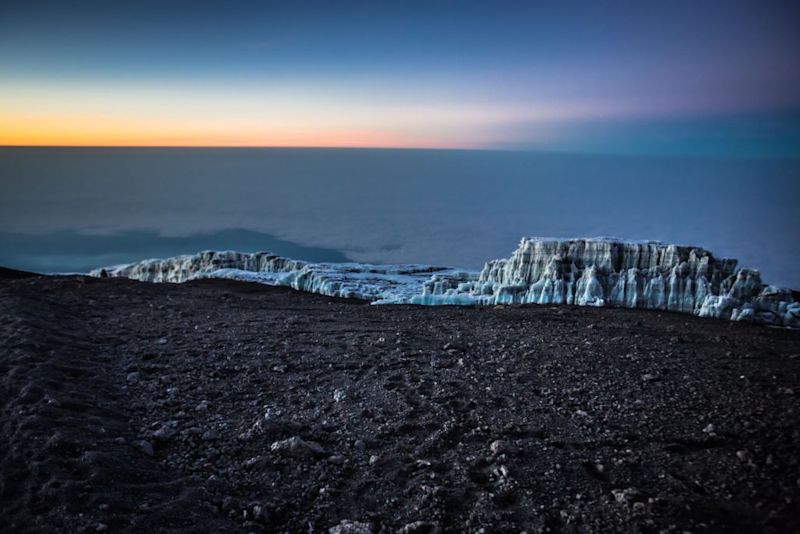 See the beautiful ice glaciers at the top of Kilimanjaro
Full moon dates
Here's the schedule for the 202, 2022 and 2023 full moons. If you would like to experience a full moon whilst on your Kilimanjaro climb, then chat to us about when to plan your trip. Please note that the dates provided below are best estimates as per reputable weather forecasting websites. You may find different dates across different Kilimanjaro operator websites. Therefore please don't rely on this data as gospel. We recommend you double-check dates on weather websites such as timeanddate.com.
The dates below are for the full moon itself. Your climb will be arranged around these dates so you summit one day before or after. This is because it can get a little busy on the full moon date. The effect and experience of the full moon remains the same one day either side.
Remaining 2023 full moon dates
30 August

29 September

28 October

27 November

26

/27

December
2024 full moon dates
25 January

24 February

25 March

24 April

23 May

22 June

21 July

19 August

18 September

17 October

16 November

15 December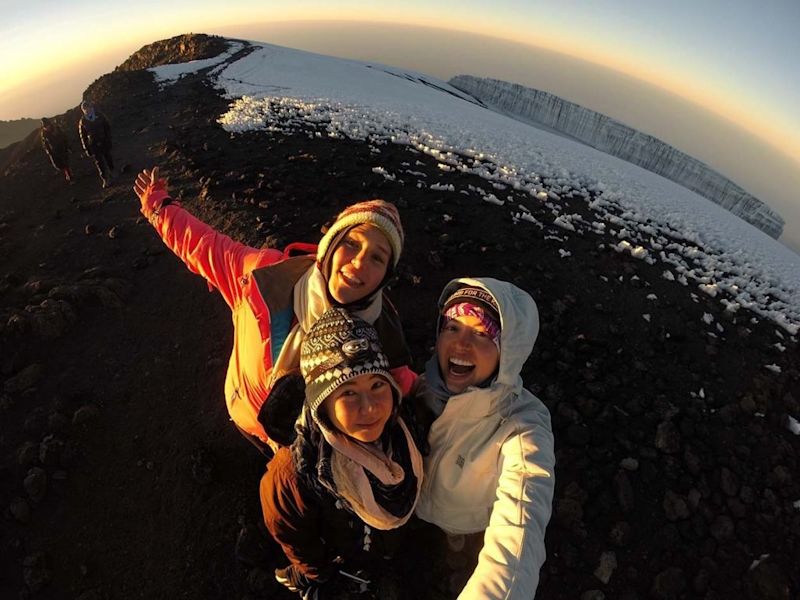 A Kilimanjaro full moon climb is always better with friends!
The only downside ...
There had to be one!
Because of how wonderful a Kilimanjaro full moon climb is, many people organise their treks around these dates. That means if you plant to summit the mountain during a full moon, you'll be doing so with plenty of company.
If you'd prefer a less crowded trek, then we recommend avoiding the full moon dates. Or, alternatively, perhaps arrange your dates so that you summit a handful days before or after the full moon.
Further to this, you can avoid the crowds by opting for one of the less-trodden Kilimanjaro routes, such as the Northern Circuit route.
Kilimanjaro full moon climbs are often the most popular dates on the mountain.
So when doing your Kilimanjaro preparation, think if you wish to coincide your summit attempt with the presence of a full moon. It really does make your Kilimanjaro climb an even more memorable experience (if that's even possible!?). We offer several full moon summit group climbs during the dry season. These treks tend to fill up fairly quickly so it's better to book well in advance!
Check out our Kilimanjaro climb trip calendar. And if you don't see a date that works for you? Chat to us about opening up a new one!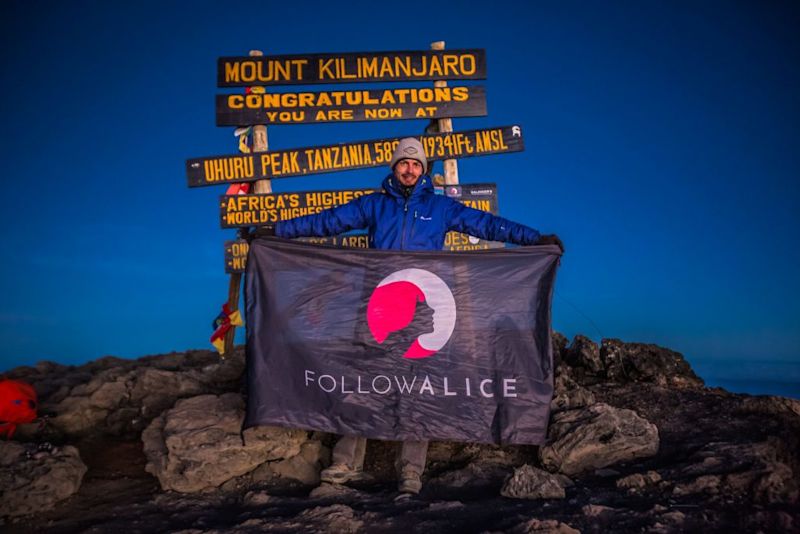 Feel like standing on the Roof of Africa?