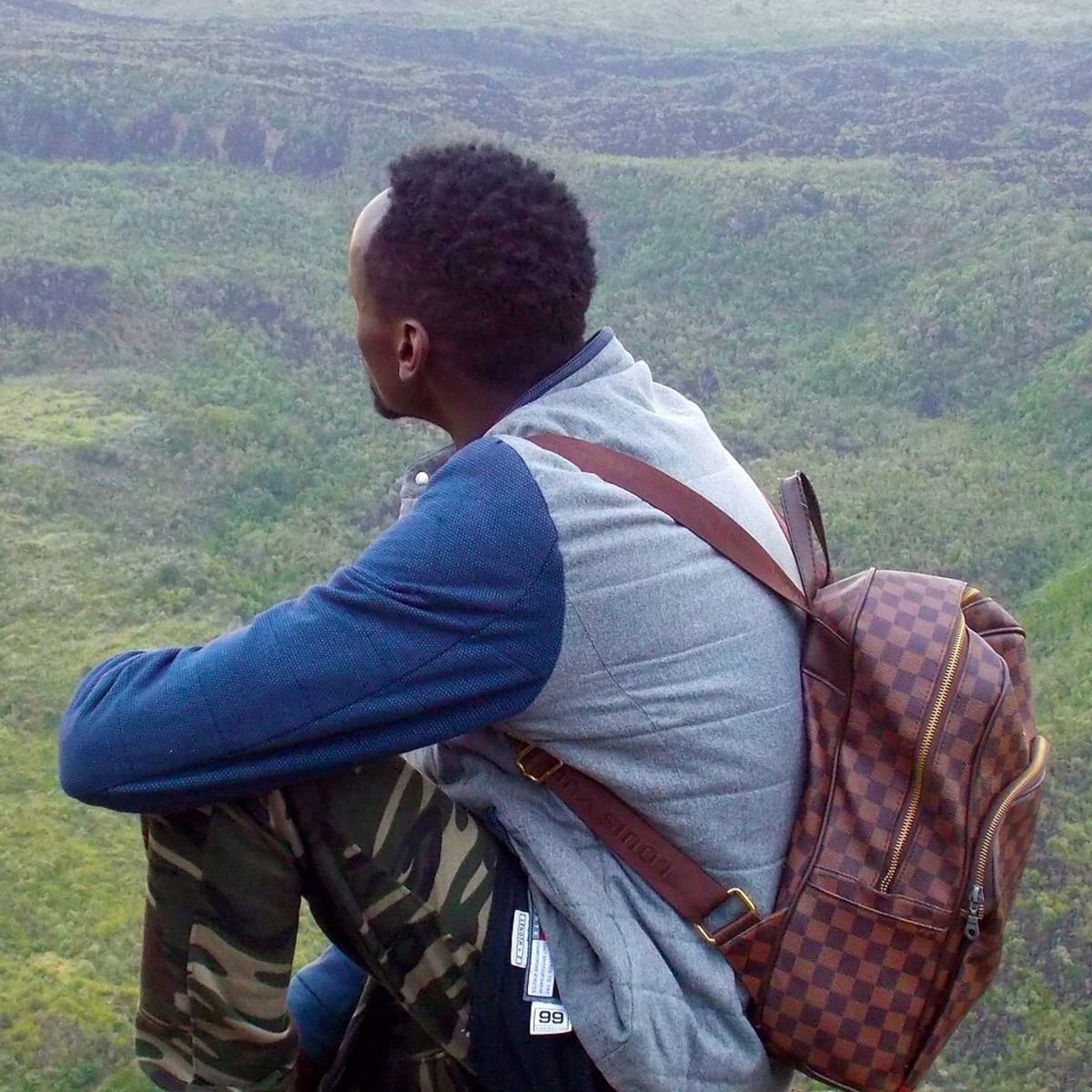 Adventure trips for solo travellers
Jun 30, 2023
Reading time: 26 minutes
Thinking of travelling on your own? You're not alone! Solo travel is on the rise. We discuss the what and why of solo travel, the top trending destinations with solo travellers, the value of travelling with an experienced tour operator, and more!
Solo travel is on the rise, and there are many reasons for this:
Often friends and family are too tied up with children or work to join you on holiday.

Other times mates have different bucket lists or are broke.

Sometimes your nearest and dearest just aren't as adventurous as you!
If you wait for others to join you before making travel plans, those plans might never happen!
At Follow Alice we're all about people taking life by the horns and embarking on adventures on their own terms. So this is where we come in to facilitate. We host group adventure trips for solo travellers and others which allow you to explore our wide world in the company of other travel-loving people.
It's all about #travelwithfriends with us, even when those friends are the people who were strangers at the beginning of your journey!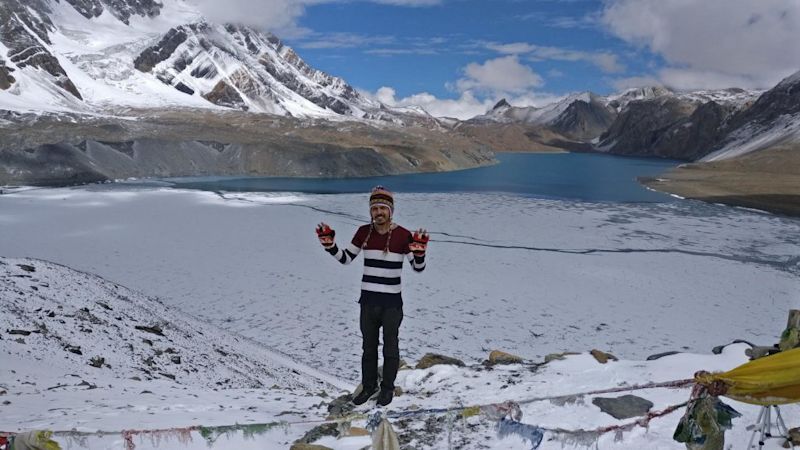 Adventure is out there – you just have to go find it!
In fact, we have numerous stories of folks who came along on one of our adventure trips on their own, but left with a life-long friend (or two or three). Very often travellers stay in touch with one another long after the adventure. They also often visit each other in their respective countries and hometowns, and go on to plan further holidays together. Having a shared experience like rafting in Bhutan or gorilla trekking in Uganda has a unique way of bonding people for life!
Follow Alice adventure trips are truly a great way to explore new places while meeting other adventurous folks.
The what and why of solo travel
Gallivanting around the world on your own – popularly known as solo travel – is on the rise. Big time. According to Condor Ferries, 11% of the entire travel market is made up of solo travellers. And Klook Travel reported solo travel as the number one travel trend of 2019! Another interesting stat is that far more women engage in solo travel than men, at a ratio of about 4:1.
As mentioned, there are plenty of reasons why people opt to travel on their own. Often it's out of necessity, because they have nobody else to travel with. But research shows that it's also often born of a desire to strike out on your own – to be bold and independent. Self-discovery is the name of the game in the twenty-first century!
According to Squeeze Pod, the main reason that women travel alone is to enjoy an escape from everyday life. Another reason for solo travel is that many young people want extended periods of exploring, or to live the nomad life.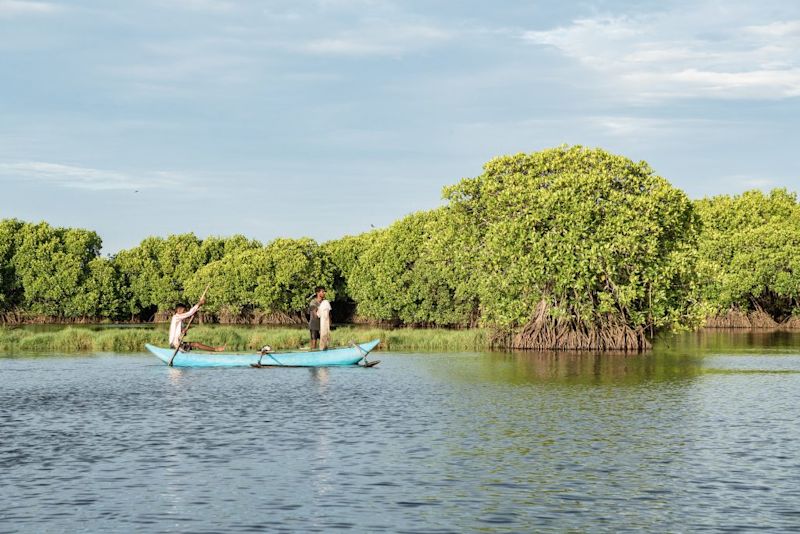 The solo traveller can head anywhere in the world he or she wants!
Time to take the leap?
If you've been thinking of travelling on your own, but have been hesitant to do so for whatever reason, we encourage you to take the leap. Join the growing community of solo travellers around the world! You learn so much not just about the world when you travel solo but also, importantly, about yourself.
When travelling with friends or family, part of your energy naturally goes into coordinating your plans and considering everyone's needs and preferences. When travelling on your own, however, you're not responsible for anyone else. You can really take the time and space to focus on your own journey – both the practical outer journey and your inner journey.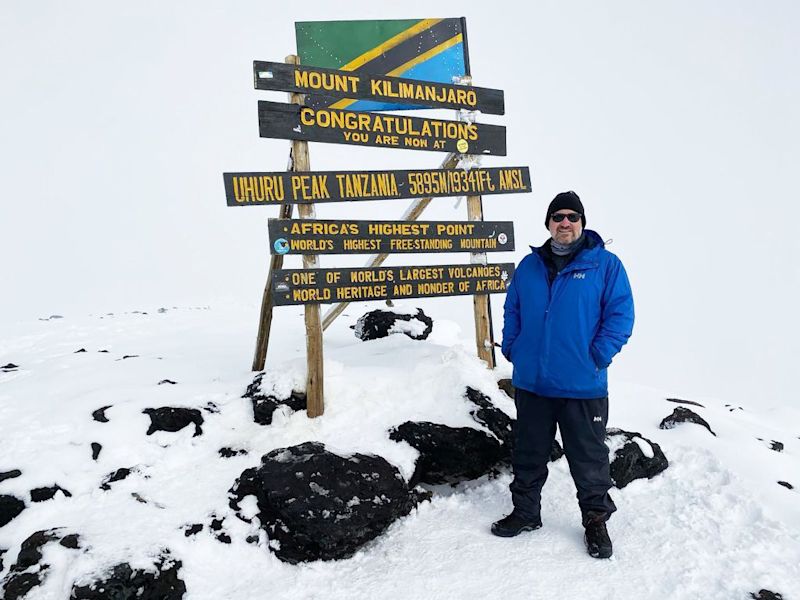 One of the big reasons for solo travel is the search for adventure!
Top destinations with solo travellers
Currently the most popular destination with solo travellers is Australia. In fact, according to Condor Ferries, over 70% of solo travellers have visited Down Under! Hot on its heels as the most popular destination with solo travellers is New Zealand.
Europe is very popular with solo female travellers, as it's felt a safe destination in which to travel alone. In fact, if we look only at women solo travellers, Europe outranks Australasia as the most popular destination, according to Squeeze Pod. The USA is also popular with female solo travellers.
Here's another statistic that we find very interesting: about a third of solo travellers are interested in adventure travel! We have definitely seen this interest in adventure trips among solo travellers with our own clients.
Research shows that about a third of solo travellers are interested in adventure travel.
Further, increasingly more solo travellers are looking for culturally rich destinations to visit. In fact, nearly half of all solo travellers say they choose to travel in order to experience new cultures, according to Condor Ferries. We can again attest to the truth of this research based on our own experience. This is one of the reasons we like to incorporate cultural and historical activities in our adventure holidays. In our Hidden Gems of Sri Lanka trip, for example, we offer adventure and culture. There's surfing, hiking and river rafting, among other exciting things, but also visits to historic temples, a hike to the top of an ancient mountain citadel, and stilt fishing with local fishermen!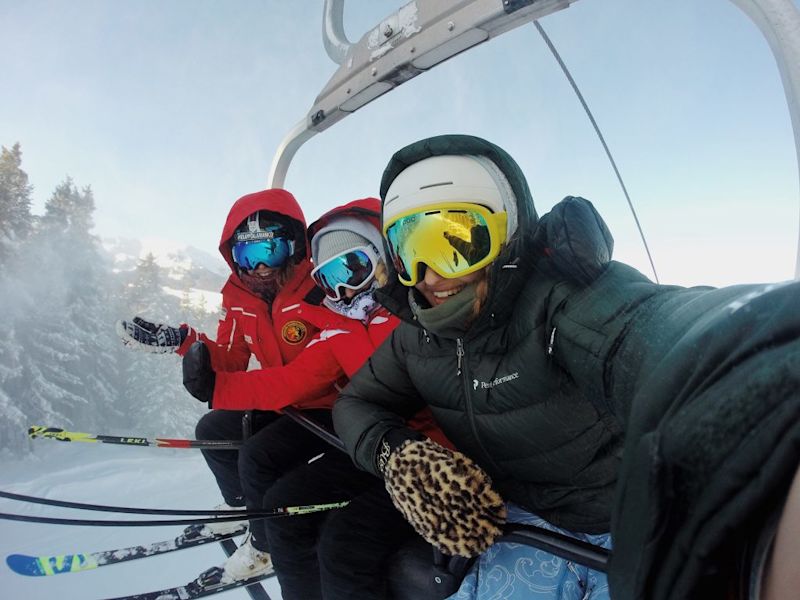 Skiing in the Alps is an adventure trip that'll never go out of fashion!
The value of travelling with an experienced tour operator
One of the reasons behind the success of tour operators like Follow Alice is that we offer solo travellers the safety of joining in a well-organised group trip. Moreover, we go to destinations where you might feel uncertain about going on your own. Most of our adventure trips take place in African and Asia countries. Here, the languages, cultures, customs and transport systems are usually quite unfamiliar to many international travellers.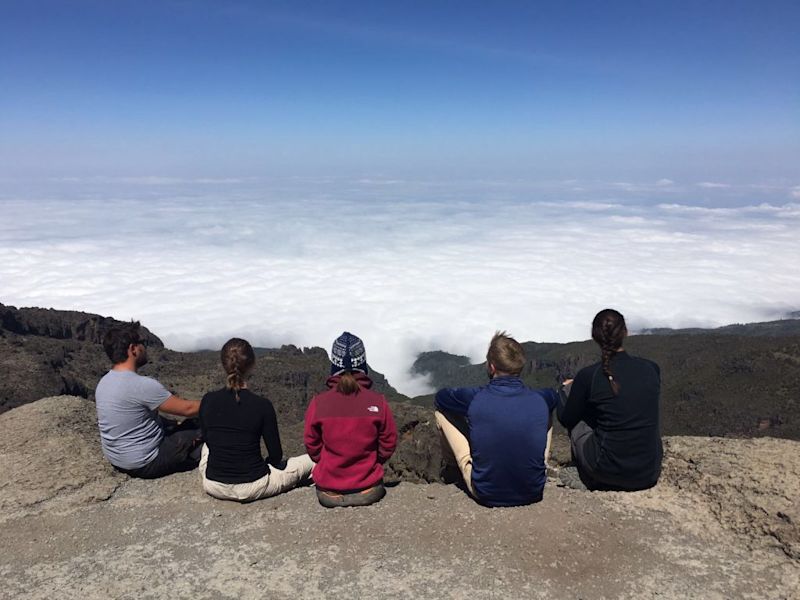 On a Follow Alice trip you meet people from all around the world
There's great benefit to travelling with an experienced tour operator, not only in terms of safety but also in terms of cost and logistics. Tour operators offer group rates, and they organise your transport and more. Further, tour operators take most of the admin off your hands. And finally, they've also done most of the research for you, having identified the best spots within a region or country to visit.
The benefits of solo travel
When you travel on your own, you're more likely to make new connections. You're compelled to interact with others, which at times make take a little effort, but is usually very rewarding. As wonderful and important as it is to have people who know you well, sometimes it helps to step out into spaces where nobody knows you. Suddenly there are no expectations or preconceived ideas of who you are and how you must be. It's not necessarily about reinventing yourself as it is about feeling a little more freedom - freedom, perhaps, to be a little more spontaneous and daring.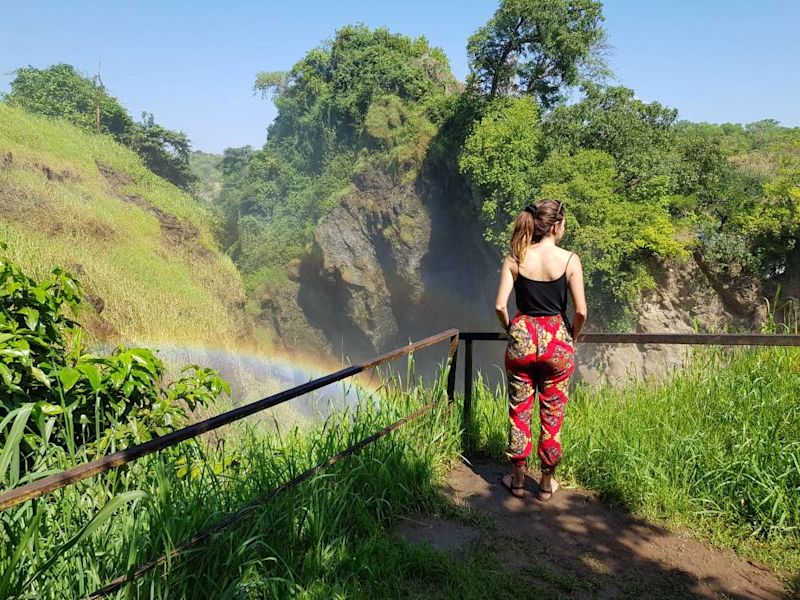 Solo travel invariably teaches you something new about yourself
Not only does solo travel increase the chances you'll make connections with new people, it also increases your chances of connecting with yourself, as mentioned above. Travel teaches you about yourself. It's a great way to engage in inner exploration through outer exploration. By putting yourself in new contexts and accepting novel experiences and challenges, you learn new things about yourself. Solo travellers invariably engage in meaningful self-reflection and come back home having changed in big or small ways.
Why choose to go solo with Follow Alice?
A trend within solo travelling is joining up with a tour group so that, yes, you're travelling on your own, but you also aren't. You enjoy the feeling of breaking away from routine, family and friends to explore a new culture and society. But you also have the safety and enjoyment of adventuring in company with others. Not only do you meet people in the travel destination, but you also meet travellers from all around the world. Getting to know new people with different backgrounds from your own is arguably the raison d'être for solo travel!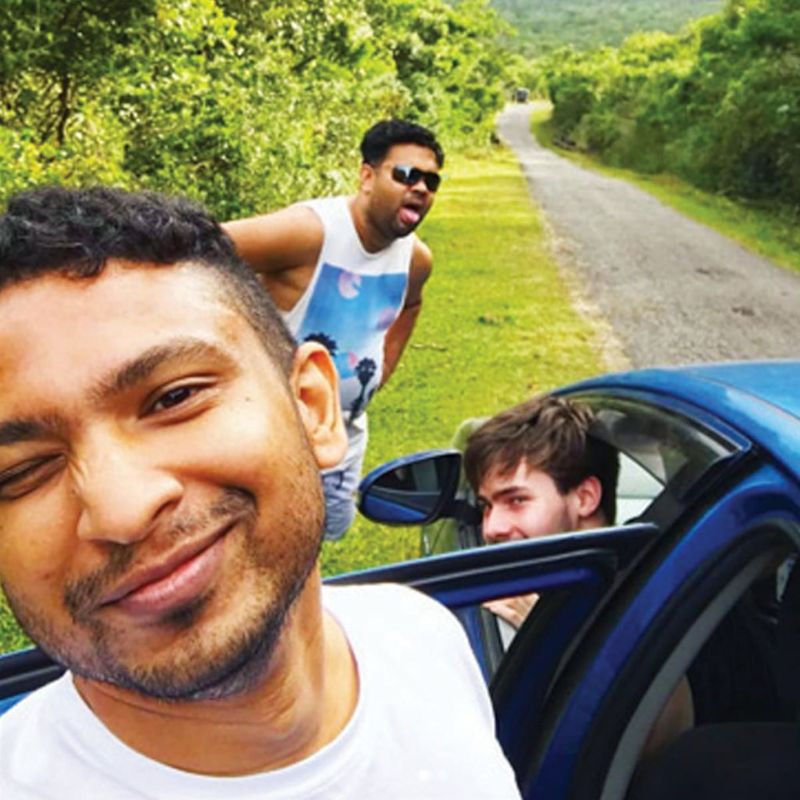 Meet Dinesh, our fantastic tour guide in Sri Lanka!
At Follow Alice we scout out the most exciting adventure destinations in the world, and then we get busy doing our homework. We research the best locations, most adventurous and engaging activities, and ideal accommodations. And we form strong relationships with enterprising and enthusiastic local people who can be our team on the ground.
We're especially proud of our local guides, like Chris who leads treks up Kilimanjaro and Sonam who leads treks in Nepal. These guys are exceptional individuals – friendly and professional, as well as deep wells of knowledge and insight into the local nature, people and culture.
Many times clients feedback to us that a huge reason for their trips being so memorable was the beautiful people who served as their guides. We love hearing this. 🙂
Follow Alice adventure trips
Follow Alice is all about adventure. It's about following your inner Alice (from Alice in Wonderland) down that rabbit hole to unknown places. Here are the exciting adventure trips currently on offer from Follow Alice ...
1. Climb Kilimanjaro
The Kilimanjaro climb is where it all began with Follow Alice, so it's a trip very close to our hearts.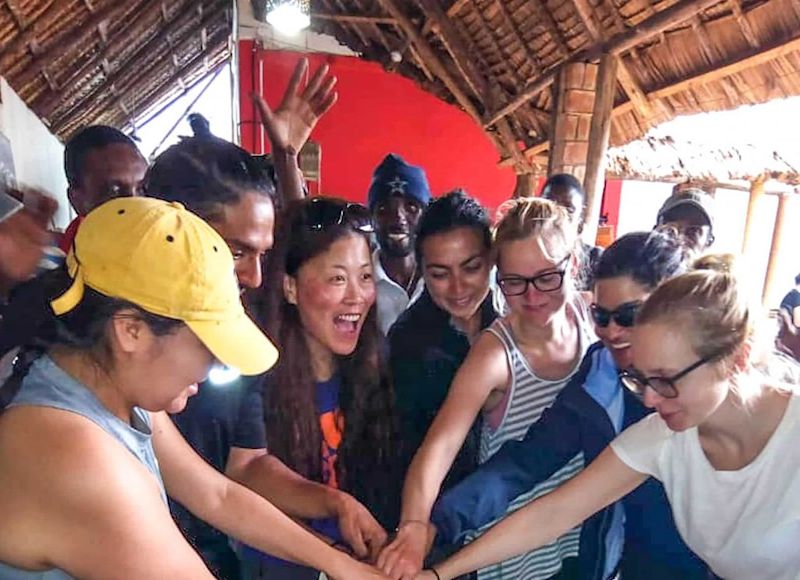 Your climb group quickly becomes your trekking family on Kilimanjaro!
Climbing Kilimanjaro is a true adventure, requiring sweat, perseverance, and mental grit. It's also very much a team endeavour, as nobody can climb Kilimanjaro on their own. Every Kilimanjaro climber hikes the mountain as part of a group, supported by a mountain crew of guides, porters and cooks.
The team spirit engendered by such a trip is remarkable, and climbers often come away from the experience with new friendships firmly in place.
One of the Seven Summits
Kilimanjaro is Africa's tallest mountain and the world's tallest free-standing mountain. But it isn't a mountain in the traditional sense, because it's actually a dormant volcano. At the top of Kilimanjaro are three volcanic cones: Shira, Kibo and Mawenzi. The highest point of Kilimanjaro is Uhuru Peak, which is on Kibo's crater rim.
A rugged experience
Part of the adventure of climbing Kilimanjaro is how it brings you back into contact with nature. Every day you hike through beautiful terrain, surrounded by the natural vegetation.
Those who are observant see plenty of wildlife, including – on certain routes – large game like elephants and antelope. Climbing Kilimanjaro actually takes you through five different climate zones: forest, heath, moorland, alpine desert, and arctic. You pretty much enter a different ecosystem every day of the trek!
There are seven Kilimanjaro routes leading to the summit of the mountain. Except for the Marangu Route, all require you to camp. It's wonderful to spend evenings relaxing in camp chairs, sipping hot drinks and chatting about the day's adventures and the challenges to come tomorrow.
All tents on the Kilimanjaro climb sleep two, so solo travellers get a readymade teammate in their tent buddy.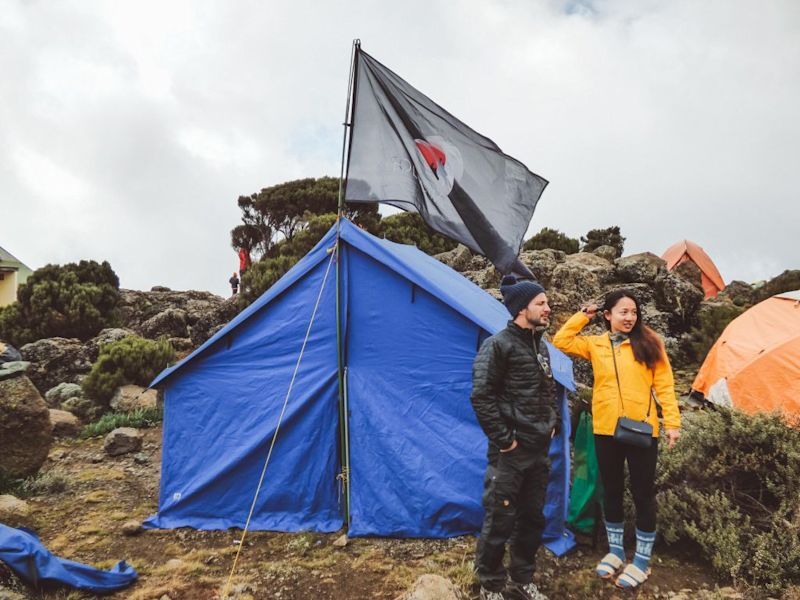 We love the camp life on Kilimanjaro
I climbed Kilimanjaro last year with Follow Alice and it was an unforgettable experience!! All the planning was made at their side and I just enjoyed the beautiful climb – so simple and well delivered.
– Silvia Coimbra
2. Tanzania safari
Tanzania is arguably the ultimate safari destination for wildlife lovers. With 16 beautifully maintained national parks, it offers some of Africa's best game viewing. Some of the animals one can find on safari include African elephants, lions, zebras, giraffes, buffaloes, hippos, wildebeests, dik-diks, antelopes, gazelles, elands and kudus.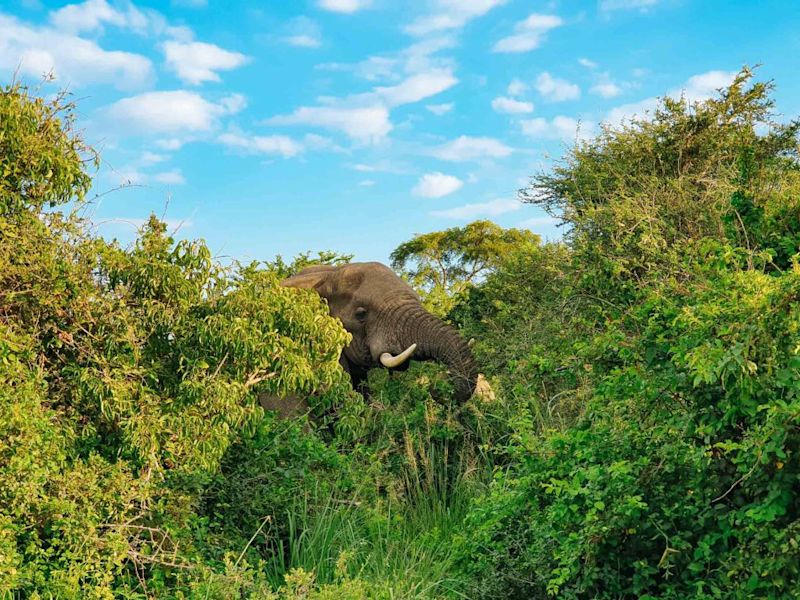 African elephant having a munch
Tanzania has dedicated more of its land to its national parks than any other wildlife destination in the world. In total the country has 42,000 square kilometres of national park!
Highlights of a Tanzania safari
Some of the highlights of our Tanzania safari trip are:
Go on safari in the UNESCO-listed Serengeti National Park

Spot lions, leopards, Cape buffaloes, African elephants, cheetahs, giraffes and much more!

Camp overnight in some of Africa's most beautiful national parks

Watch the sunrise over the African savannah

Experience the rich culture of local Tanzanian tribes

Do it all in the company of a group of lively young people whom you get to know well over the course of the journey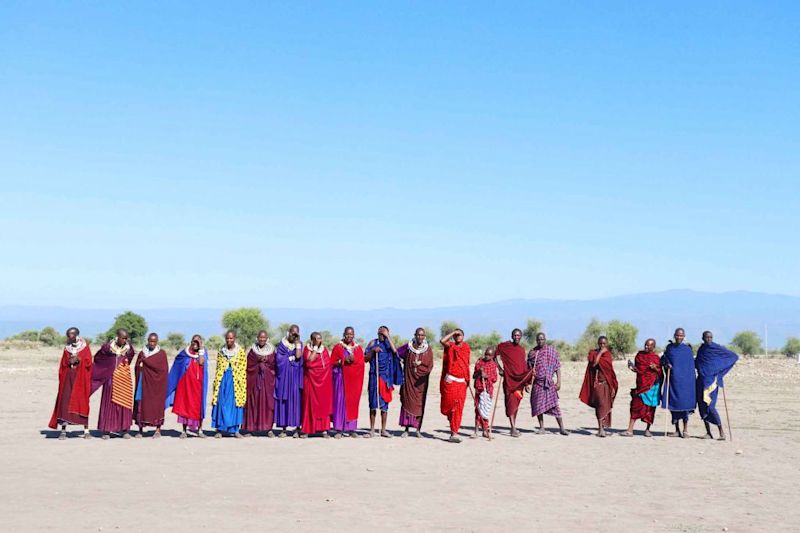 Maasai people of Tanzania
Our exciting destinations
During our time on safari we visit the following world-famous sites:
Lake Manyara National Park

Serengeti National Park

The Ngorongoro Crater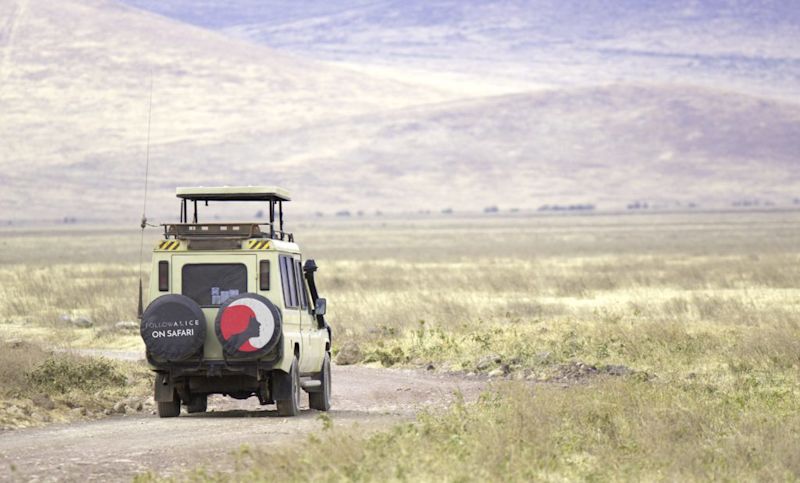 Everyone should go on an African safari at least once in their lifetime!
Lake Manyara National Park is one of Tanzania's smaller parks, but it packs a real punch, boasting savannah, bush plains and evergreen forest. The chance to see elephant families moving through the forest is reason enough on its own to visit this gem of a park!
The word serengeti means 'endless plains' in the Maasai language, and this is truly apt. Serengeti National Park is home to the Great Migration, the famous annual migration of over two million grazing animals like wildebeest, zebra and gazelle. Our drive in the park affords us ample game-watching opportunities, as well as the chance to visit the beautiful Olduvai Gorge. We'll also visit the Maasai Culture Boma to learn about the history and culture of this fascinating tribe.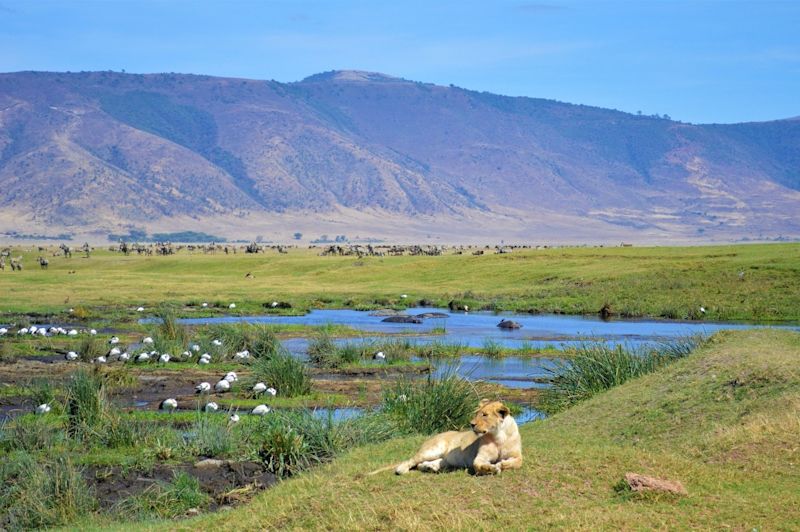 A lion in Ngorongoro Crater
Directly south of Serengeti National Park is Ngorongoro Crater, the largest collapsed volcanic crater in the world! The walls of the crater have protected the area over time and created an oasis of wildlife.
You can expect to see lions, elephants, zebras, hippos, wildebeest, jackals, kobs, eagles, vultures, and so much more. There are also brightly coloured flamingoes in the crater lake and hippos in the swamp, which is where we stop for lunch!
3. Gorilla trek in Uganda
Uganda is known as the Pearl of Africa, for very good reason. This lush country has mountains, jungle, mountain gorillas, savannah, the Big Five, island-dotted lakes, rich culture, welcoming people, and so much more.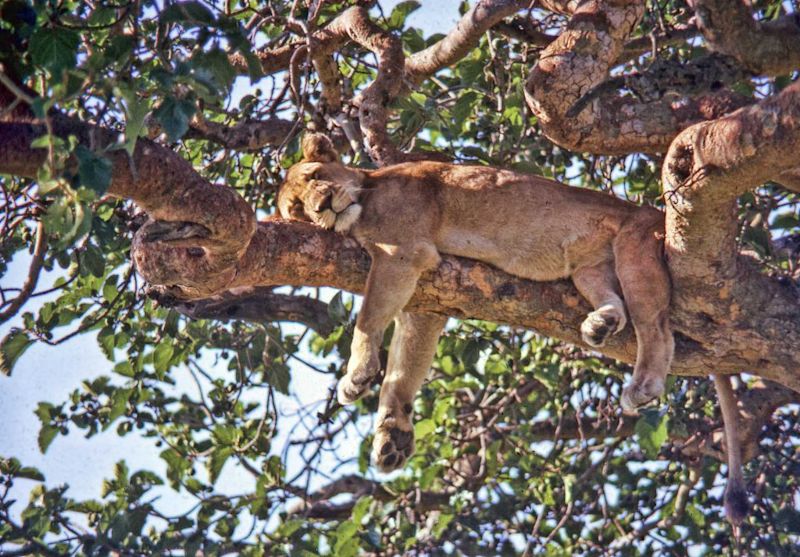 A Ugandan safari is a must when you visit the country
At Follow Alice we've put together a wild Uganda adventure holiday that takes in the best the country has to offer: we explore the capital city of Kampala, go on a mountain bike safari, row in traditional boats on the lake, zip-line into the water, visit chimpanzees in the wild, and go on a boat cruise. And finally, our pièce de resistance: we take a trek in the rainforest to see mountain gorillas in their natural habitat. It's all epic times in Uganda!
An adventure-packed itinerary
During our trips in Uganda, we take you to various beautiful spots around the country. Some of the exciting activities that most folks choose to include in their itinerary are: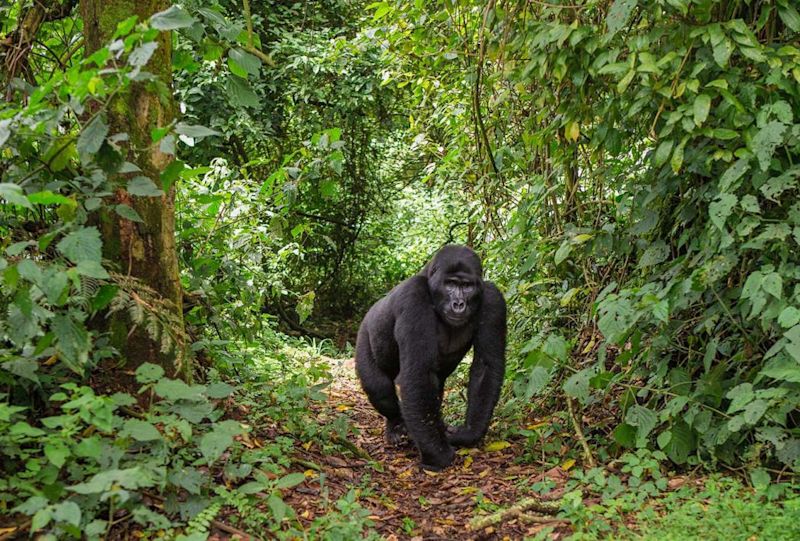 Mountain gorillas are gentle giants, so we get to see them up close
Trekking to see mountain gorillas
The gorilla trek is the highlight of our trip. And for good reason. The mountain gorilla is an endangered animal – there are estimated to be fewer than 900 in the wild. They live only in Uganda, the DRC and Rwanda.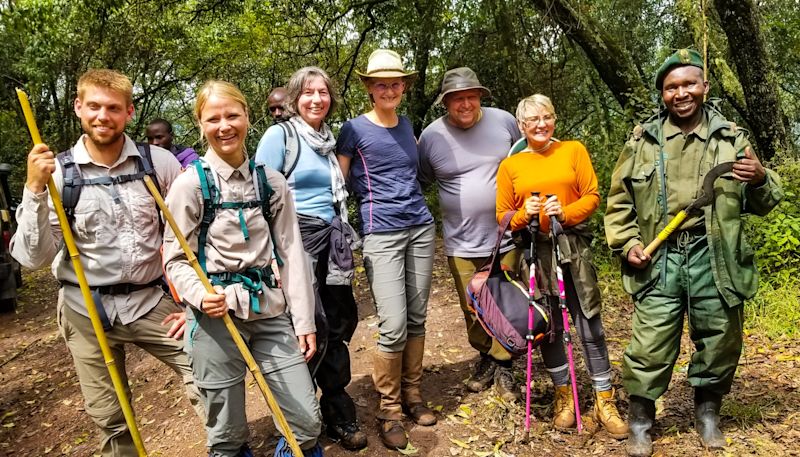 You trek through dense jungle to find mountain gorillas
We'll take a guided trek through the Bwindi Impenetrable National Park to find a troop to observe. As the name of the forest suggests, we'll be trekking through dense vegetation. You can expect overgrown trails, walls of green, dripping leaves, rivers and rivulets, forest sounds, mist and perhaps the odd downpour! Trekking through such an untouched and thick forest like this is a treat in and of itself.
Join us in Uganda for an unforgettable adventure!
Mountain gorillas are known for being mostly gentle and shy. The gorilla troops that are visited are habituated ones, meaning they're used to the presence of humans. It's wonderful to watch them interact among themselves, and hear their grunts and barks. Very few people are afforded the opportunity to view these gentle giants in their natural habitat – those who do rarely leave the forest unaffected.
4. Trek to Everest Base Camp
Not everyone can climb Mount Everest, but most of us can make the trek to its famous base camp. The Everest Base Camp trek is a challenging but ever-so-rewarding two-week hike through the Himalayas. It starts in the temperate zone at around 2,500 m and requires you to climb up to the alpine zone at over 5,000 m. During the trek we hike as a group up steep, forested valleys, over suspension bridges, across desolate valley floors and lake beds, along high contour paths, and over snowy mountain passes.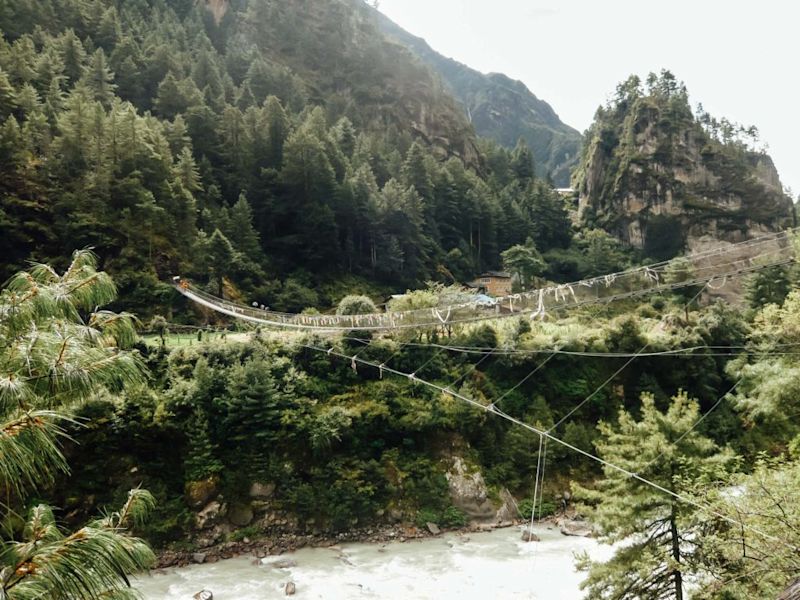 Suspension bridges are common along the lower parts of the Everest Base Camp trek
We stay in traditional Sherpa villages, eat Nepali food, visit Buddhist monasteries, stand back for passing yaks, dip our toes in icy high-altitude lakes, and marvel at snow-capped mountain peaks every way we turn. And in the middle of it all, we get to stand in Everest Base Camp, where the prayer flags are pulled at relentlessly by the wind and we contemplate the start of the trail taken by many greats to reach the top of the world's highest mountain.
Highlights of the Everest Base Camp trek
This two-week trip to the Himalayas of eastern Nepal is not just about standing at Everest Base Camp. No, no – it has so much more in store for the curious and intrepid traveller. When you travel to do the Everest Base Camp trek with Follow Alice, you'll:
Take an exciting flight from Kathmandu to the mountain town of Lukla

Trek for two weeks through the beautiful Sagarmatha National Park

Stay in traditional Sherpa villages and experience the local culture and cuisine

Visit Tibetan Buddhist monasteries and other important cultural sites

See wild and domesticated animals like musk deer and wild goats

See Mt Everest, Khumbu Glacier and many other spectacular Himalayan peaks and glaciers

Visit the world's most iconic base camp

Stay on the shore of the beautiful Gokyo Lake

Challenge yourself physically and mentally as you trek at great altitude

Make friends with fellow trekkers from around the world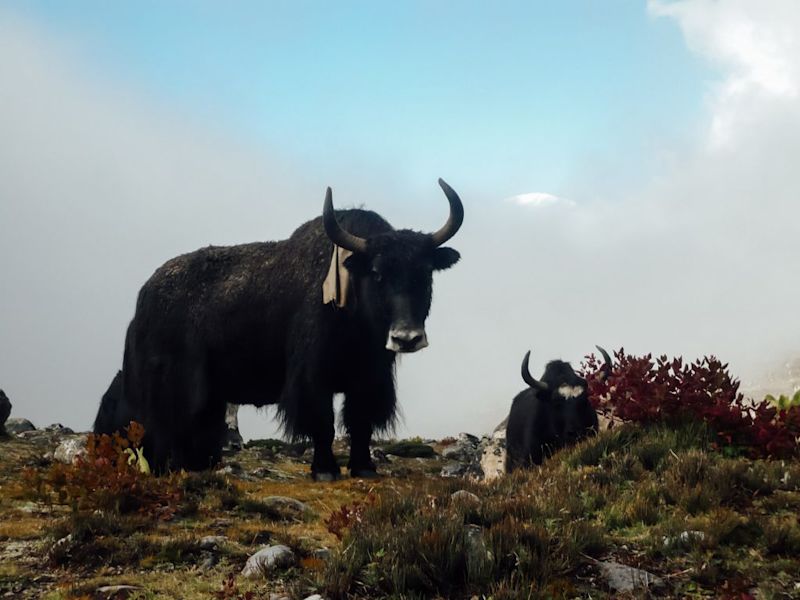 Yaks are a common sight on the Everest Base Camp trek, not least because they're used by porters to carry trekkers' luggage
How far is the trek to Everest Base Camp?
The Everest Base Camp trek is 65 km each way when you walk the most direct route. This is the traditional trek route. There are, however, variations to this route, a common one being the Everest Base Camp trek via Gokyo Lakes.
We hike the Everest Base Camp trek via Gokyo Lakes, an exciting alternative to the classic trek route that takes in more of the area.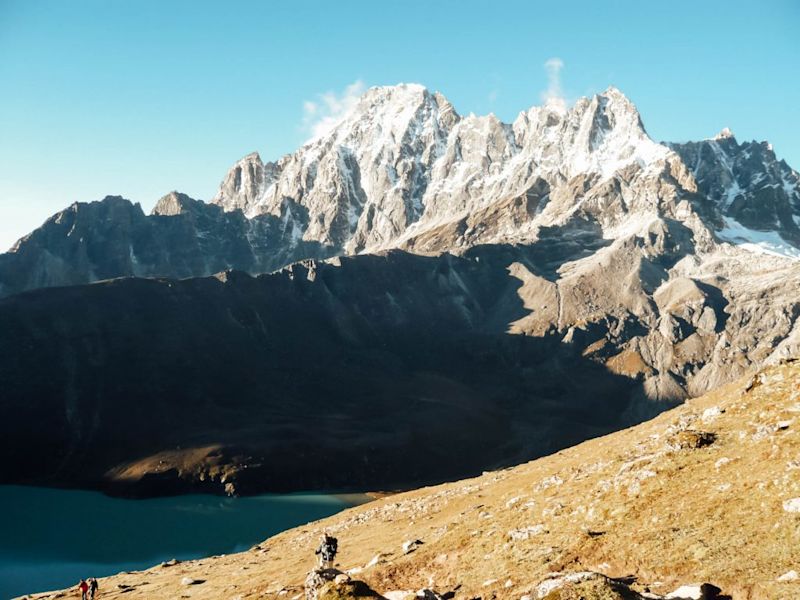 The Gokyo Lakes are an incredibly beautiful corner of the Himalayas
Who should do the Everest Base Camp trek?
If you're a curious soul who doesn't mind a little discomfort for the sake of new experiences, then the Everest Base Camp trek is for you!
You don't need any mountaineering skills or equipment, nor do you need to be an athlete. You do, however, need to be reasonably fit. Simply put, if you're able to go on a day-long hike wherever you live without falling over with fatigue and complaining that life is no fun, then you should be perfectly able to tackle Everest Base Camp.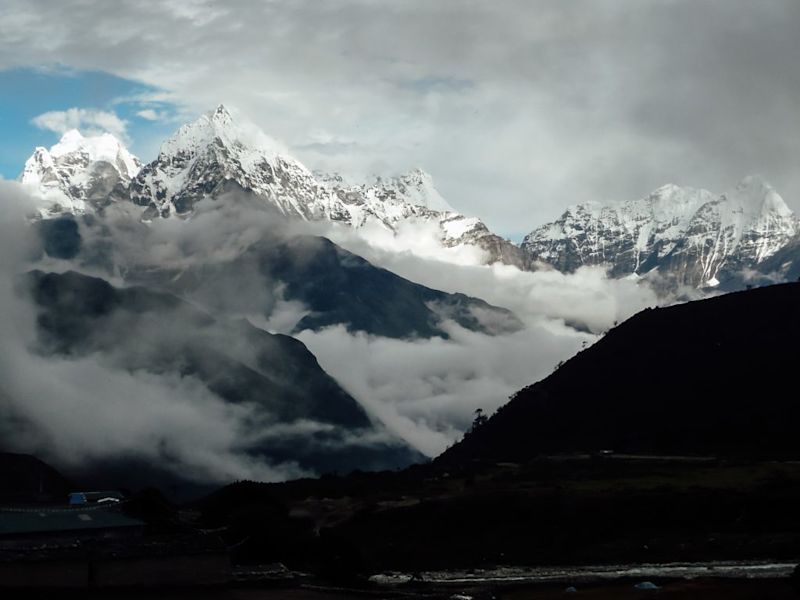 The mountains of the Everest Base Camp trek are the uncontested stars of the show
5. Trek the Annapurna Circuit
The Annapurna Circuit trek is an incredibly varied and exciting high-altitude trek. Located in Nepal's central Himalayas, the Annapurna region boasts some of the world's highest mountains. Most famous is Annapurna I, the seventh highest peak in the world at 8,091 m (26,545 ft).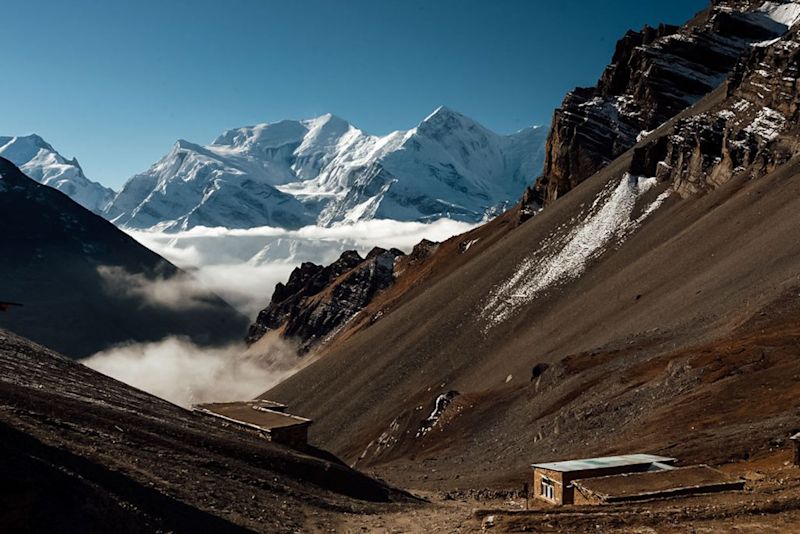 Annapurna is a high-altitude trek that takes you up into a rain shadow
On the Annapurna Circuit trek we hike deep into the Himalayas. We wind our way up steep, forested valleys and canyons, walk narrow paths that snake round the sides of mountains, visit an ice lake, and cross a bleak summit pass. The higher we climb, the fiercer the weather, with strong winds and temperatures that drop below freezing at night. It's a fantastic adventure trip for solo travellers (and others) who want a challenge and something out of the ordinary!
Annapurna Circuit people and culture
The people groups we meet along the Annapurna trek route vary greatly. At the trail's start we meet Hindu communities with close ties to Indian culture, but when we enter into the remote mountains we meet Tibetic groups who are closely connected in culture to their neighbours to the north. Along the trail we encounter temples, prayer flags, stupas, gompas, prayer wheels, and more. Every day on the Annapurna circuit introduces you to something new and surprising.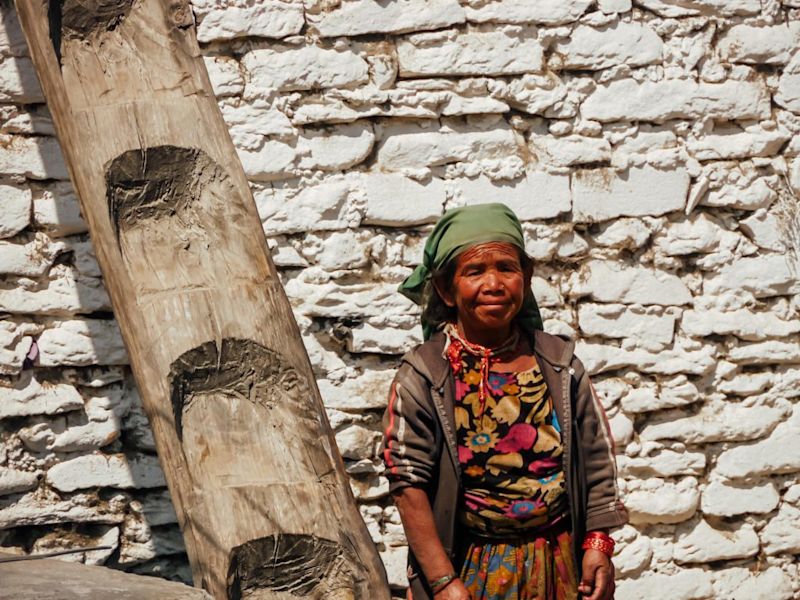 We stay in traditional villages along the Annapurna Circuit, meeting many local people
The Annapurna Circuit trek route
Many treks around the world involve hiking from Point A to Point B and then back along the same route, often because the terrain dictates it. Not a problem, but arguably not ideal. The Annapurna Circuit route, by contrast, is a roughly circular route that takes you anticlockwise through the valleys and gorges and over some of the heights of the Annapurna Massif. Every day brings something new!
We start in the small village of Pisang. Over the next few days we hike deep into the remote mountains, eventually climbing up into a rain shadow. Colourful prayer flags and Buddhist stupas (religious monuments) can be seen all along the trek route. The pinnacle of the trek – both literally and mentally – is reaching the top of the mountain pass Thorung La. Thorung La is 5,416 m (17,769 ft) above sea level. It's a snow-covered spot that's blasted by fierce winds.
After this special moment of victory, the trek's descent begins. The route drops down from the chilly heights into the woods before reaching the hills and plains of the Mustang District, where we spend a night. Next we fly to the beautiful lakeside city of Pokhara, a popular tourist destination, where we stay a night. We have the option of exploring the city, canoeing on the lake, ziplining above the trees, and more!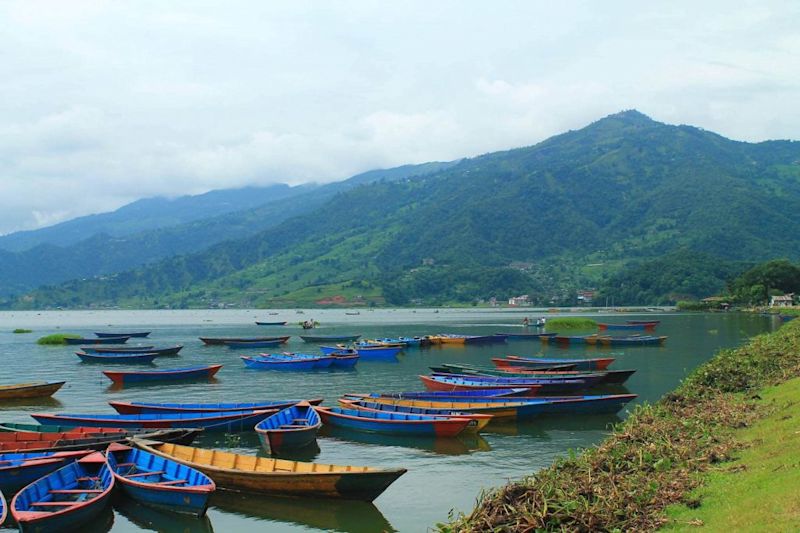 Pokhara is a beautiful lakeside city popular with local and international tourists
Solo travellers almost always leave a Follow Alice adventure trip with a new friend or two.
Who should hike the Annapurna Circuit?
The Annapurna Circuit trek is one of the most popular treks worldwide. This is because of the sheer diversity and beauty of the trek route. We can vouch for the fact that every day on this trip is new and exciting. And also that the hard work and sweat to complete it is one hundred percent worth it. The views, the people and the memories are truly special.
The Annapurna Circuit is a non-technical route, which means you don't need any special experience or skills to complete it. You just need a good pair of hiking boots and a decent level of fitness. So if you're a reasonably fit person with an adventurous spirit, we hope to share the experience of trekking the Annapurna Circuit with you soon!
6. Discover Bhutan
Bhutan is a small country sandwiched between China and India that has the Himalayan mountain range running through it. It has an abundance of natural beauty, and a fascinating culture, religion and history. At Follow Alice we've put together an exciting itinerary that takes in some of the most culturally rich and picturesque spots of the country. This is an adventure holiday you'll remember for a lifetime!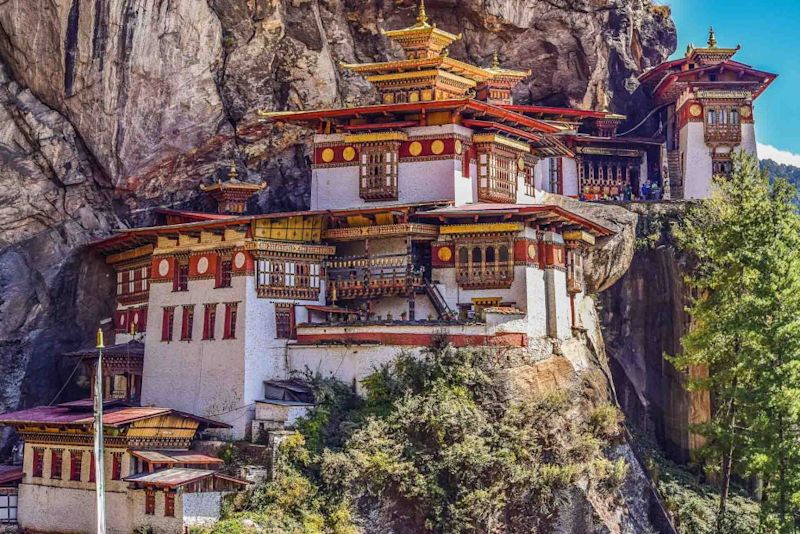 One of the highlights of our time in Bhutan is hiking to Tiger's Nest
A stellar and exciting itinerary
Our Discover Bhutan itinerary has three themes: adventure sports, history and culture, and R&R. Put together we think they're a recipe for the perfect getaway! Some of the exciting adventure activities on offer are:
Take a sightseeing hike around the Himalayan town of Punakha and visit its beautiful 17th-century fortress Punakha Dzong

Go white-water rafting down the Mo Chu river

Take a bike ride from Paro to Thimphu, passing through paddy fields, virgin forests and sleepy villages

Hike to Taktshang Monastery, also known as Tiger's Nest, which clings to the side of a cliff
Some of the culture and history fixes we've got planned are:
Spend a day exploring the culturally rich Thimphu, Bhutan's gorgeous capital city

Visit Motithang Takin Reserve to see gnu goats, also called takins

Learn about Bhutanese arts and crafts at the National Institute of Zorig Chusum

Tour a traditional Bhutanese farmhouse and farm before being treated to a delicious lunch
At Follow Alice we specialise in adventure trips for solo travellers and groups alike.
Bhutan, Land of the Thunder Dragon
The local name for Bhutan is Druk Yul, which means 'Land of the Thunder Dragon'. It's so named for the violent thunderstorms that descend from the Himalayas. Such a storylike name only serves to heighten the somewhat mystical image of the country in the eyes of most foreigners. Bhutan only really began to open up to outsiders in the 1970s. This small, hard-to-reach nation of mountains, valleys and rivers has fewer than a million inhabitants.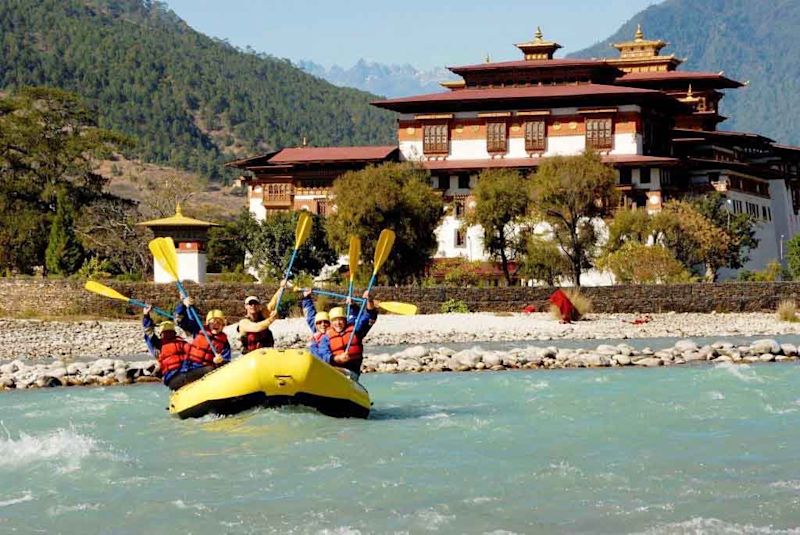 One of our Follow Alice groups rafting the Mo Chu River in Punakha
In recent years the world has learned with fascination of Bhutan's official public policy of pursuing Gross National Happiness. The idea behind the policy is rooted in Buddhist values that measure quality of life based on your spiritual and mental well-being.
Sri Lanka is an island of green hills, tea plantations, ancient temples, spicy food, astonishing wildlife and postcard-like beaches. In other words, it has it all! We invite you to explore the hidden gems of Sri Lanka with us.
We'll raft, snorkel, bike, tuk-tuk, swim, surf, hike, take a train ride and more through the amazing nature of this scenic island. We'll also go on safari to see elephants, leopards, crocs and other exciting creatures. And finally we'll relax and dine in some of the most beautiful boutique hotels and adventure lodges the country has to offer.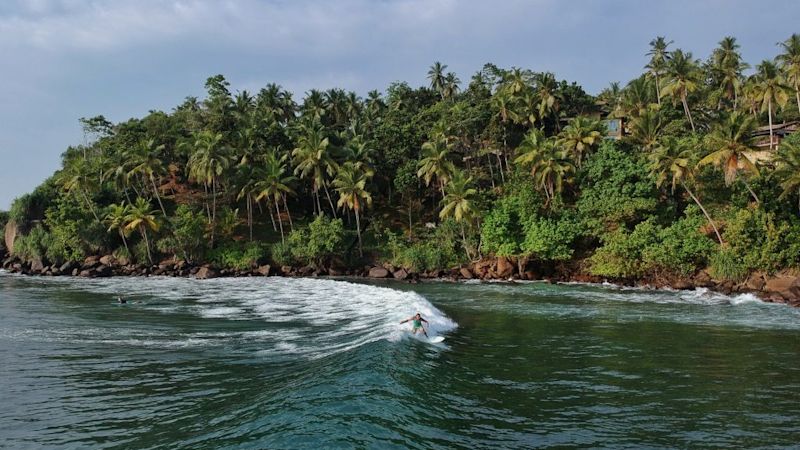 Sri Lanka is a paradise for water babies
The landscape of Sri Lanka includes idyllic warm-water beaches, jungle, tea plantations and high, tree-covered mountains. In our 11-day trip to the island we explore the northwest of the country, where the turquoise waters meet the shore in beautiful white-sand beaches and pristine mangroves, and palm trees frame the scene. We then travel inland to go on safari, hike high into the mountains, and explore an ancient rock citadel. We also travel south for a dose of colonial history, some epic water sports, and more beautiful beaches.
An exciting and action-packed itinerary
While staying on this beautiful island you can pick and choose from all of the following exciting activities:
Kite surf, whale and dolphin watch, cycle and visit the mangrove swamps in Kalpitiya

Go on a tuk-tuk ride in the historic city of Kandy and climb Baiharawa Kanda Buddhist statue

Take a guided climb to the top of the Sigiriya Lion Rock Fortress

Go on a jeep safari in Minneriya National Park

Climb to the top of the famous Adam's Peak in the Central Highlands

Go canyoning and white-water rafting or kayaking in the rainforest of western Sri Lanka

Go surfing, diving, snorkelling and swimming at some of the country's best southern beaches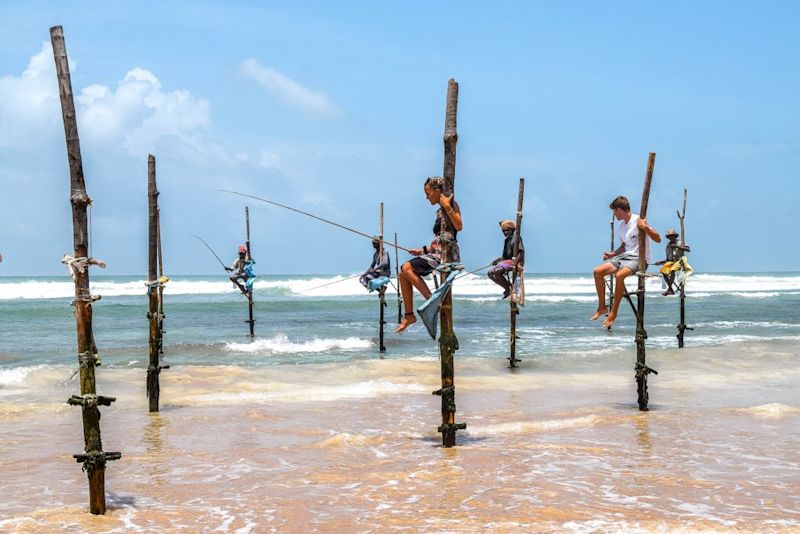 Tourists join Sri Lankan stilt fishermen to give it a go ...
Sri Lanka is a paradise for the adventurous spirit, and we're excited to show you all the amazing locations and activities we discovered there. And it's not just us who are in love with this island nation – Lonely Planet named it the number one country to visit in 2019!
At Follow Alice we're all about adventure, exploration and meeting new people.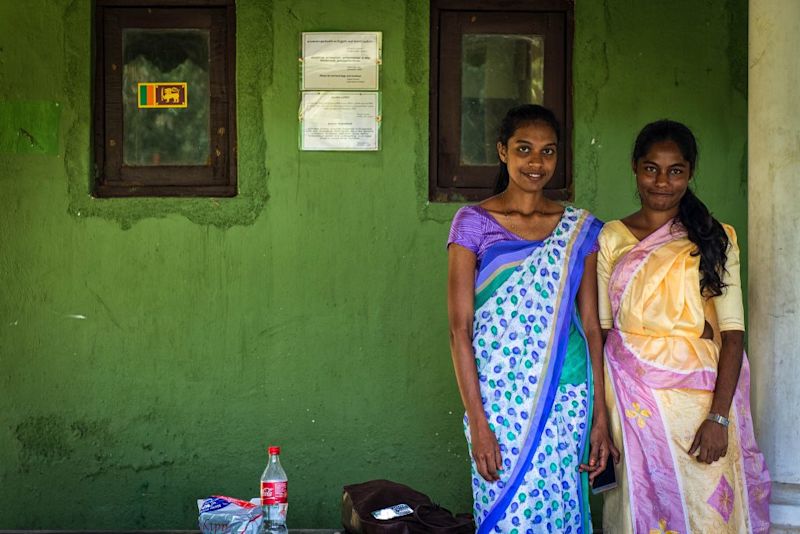 Sri Lanka has a rich history and thriving cultures
A great dose of history and culture
We know that no trip to Sri Lanka would be complete if you weren't exposed to some local colour and culture. So don't worry – we've got you sorted. We offer our guests the following handpicked outings:
Take a guided tour of the well-preserved seaside Galle Fort built in the 1500s by the Portuguese and later extended by the Dutch

Visit the Kosgoda Sea Turtle Conservation Project to learn about these special animals

Visit the iconic stilt fishermen who sit on simple stick stands while line fishing in the sea

Take a scenic train journey to Hatton and explore the Uva Halwapthethe Tea Estate and its factory

Take a guided tour of the fascinating Dumbulla Rock Cave Temple in central Sri Lanka
And finally, what's an island getaway without a little R&R? We'll book you in for a one-hour Ayurvedic massage at Spa Ceylon. In addition, there's time to dine and party in vibrant Colombo, the country's capital city.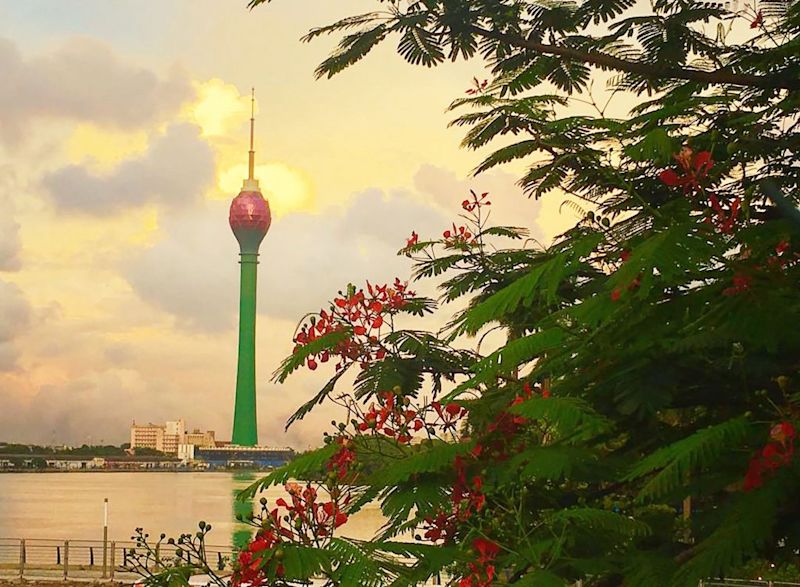 The famous Colombo Lotus Tower in the capital city
8. Alpine Oasis Ski Weekend
You are officially invited to join us for a fantastic weekend of skiing, adventure, good food and friends in Switzerland!
This is a fantastic adventure trip for solo travellers! Picture yourself gliding (or whizzing) down freshly prepared piste, and tackling some superb cross-country trails. Then picture yourself sitting back on your deckchair in the sun with a drink in hand. Evenings are spent eating local cuisine like fondue in cosy mountain huts with friends. And how about a night-sled ride down the slopes? This is a trip you do not want to miss!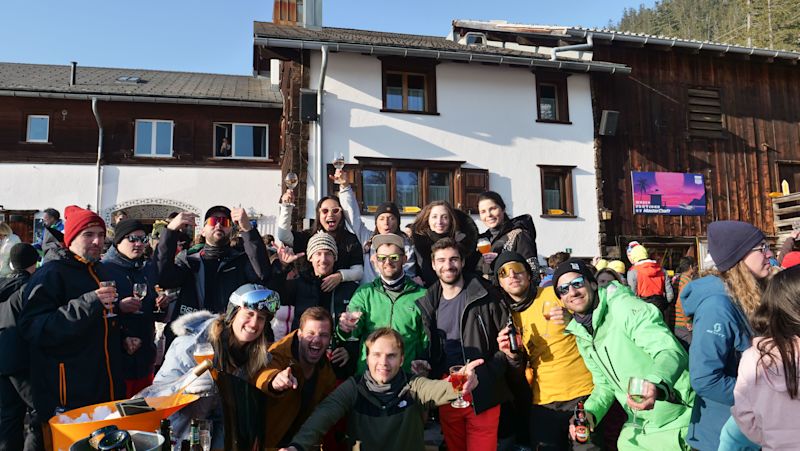 A bit of sun in the Alps does everyone a world of good!
The ski weekend was a bit of everything, fun in the snow, apres-skis, private parties! You're sure to make some cool new friends, the vibe is great. Can't recommend it enough!
– Natalie Janicka
We have chosen the beautiful Arosa Lenzerheide as the site for our alpine weekend getaway. Arosa Lenzerheide is a mountain ski resort in east Switzerland that boasts 225 km of prepared slopes. The area also has more than 40 cosy mountain restaurants and sun terraces. Moreover, it has a record-breaking number of sunny days, with both sides of the valley enjoying sun in the morning and afternoon. It's a true paradise for skiers, snowboarders and winter hikers. Or just anyone who enjoys a stunning view!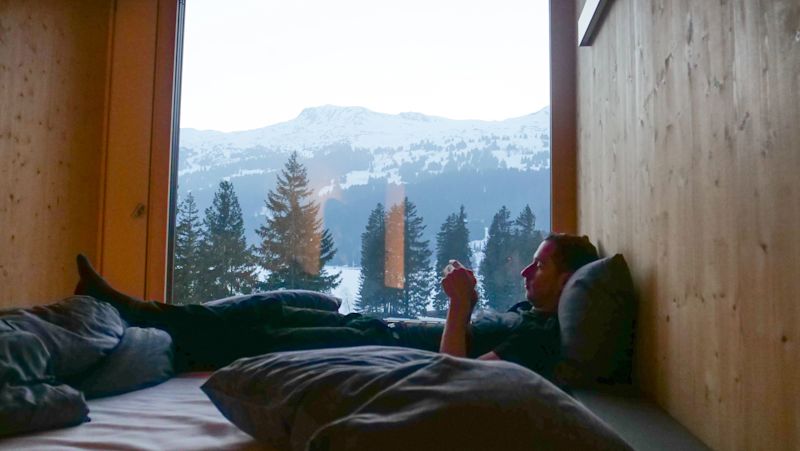 The views on this trip are incredible, even from your bedroom
Stay in beautiful accommodation
Revier Mountain Lodge on the shore of Heidsee Lake is our luxurious home-away-from-home for the weekend. The lodge is right on the doorstep of one of the ski lifts, all the better to just get on with some skiing from the moment you step outside! The lodge also has a great restaurant, bar, terrace and, of course, awesome mountain views.
As with almost all Follow Alice trips, accommodation is based on double occupancy. If you come on your own, we'll try to pair you with someone else, unless you request your own room.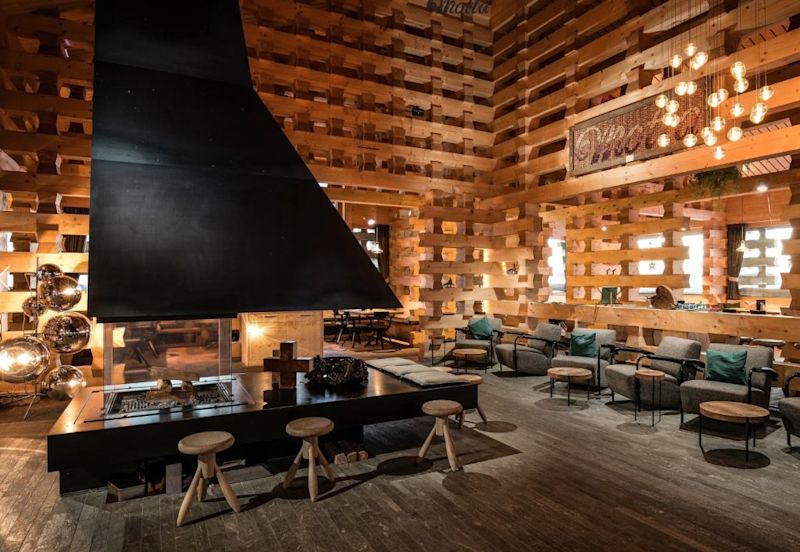 Rivier Mountain Lodge, our weekend home base
Keen to join us on an adventure??
Feeling inspired to take on an adventure trip as a solo traveller? Please drop us a line and we'll be in touch soon!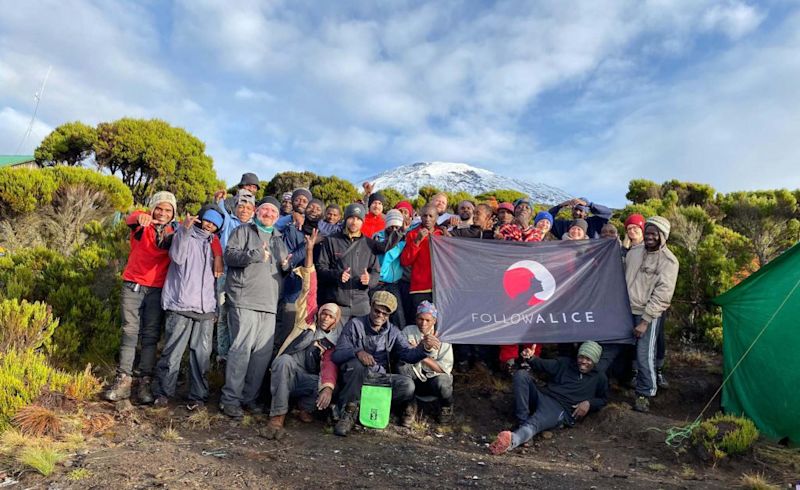 We look forward to adventuring with you!