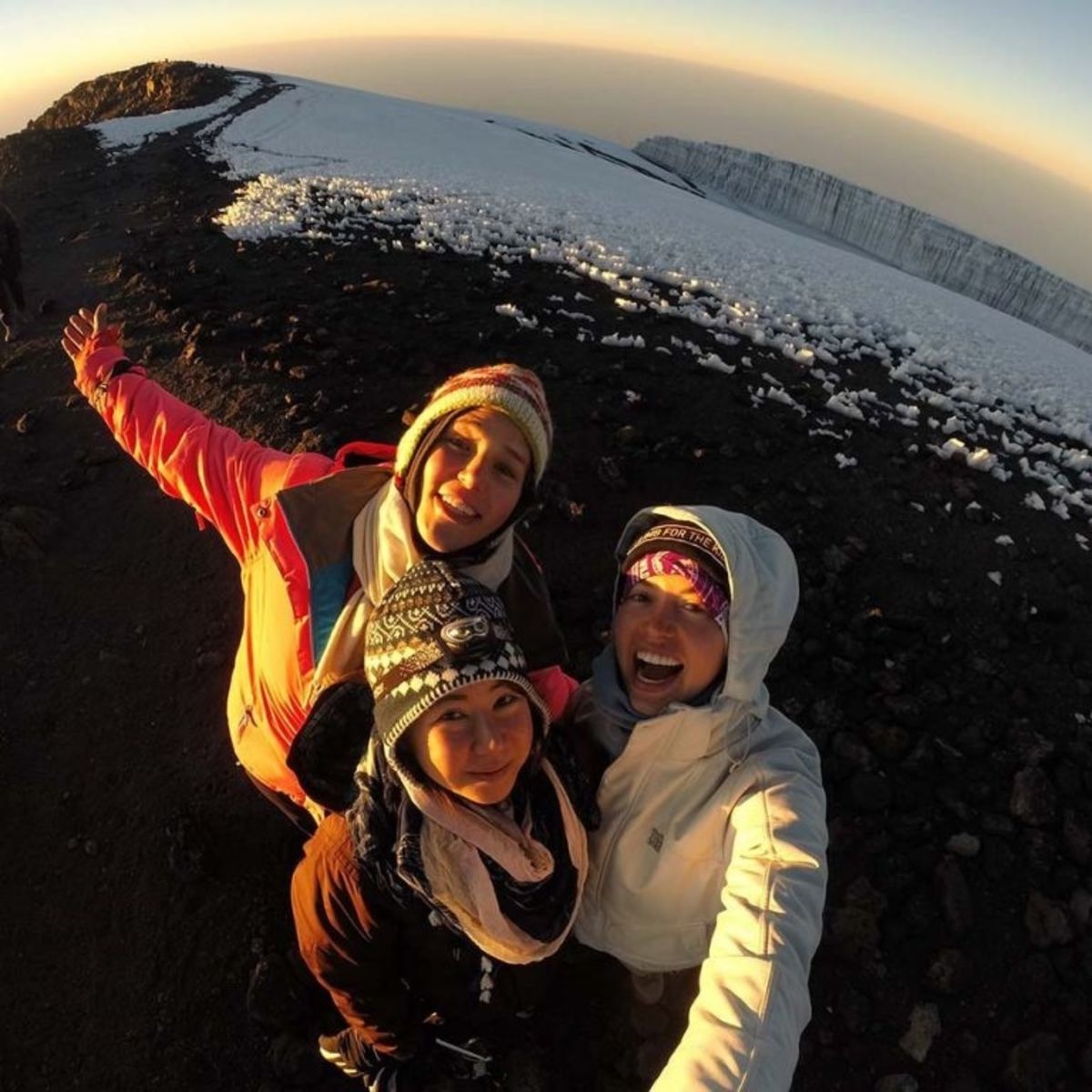 Northern Circuit
11 days
The Northern Circuit takes you up the northern slope of the mountain, where few trekkers go. The views are just amazing! It's a nine-day trek (the longest one on offer) and as such the highest summit success rate. It's also a very pretty and varied route. We love it, and highly recommend this route to anyone keen to climb to the roof of Africa!
Details
Inclusions
Accommodation
Reviews
Detailed Itinerary
Day 1: Arrival day
We fetch you from Kilimanjaro International Airport and drive you to your lodge. Here you meet your mountain crew and fellow trekkers. Relax and bond over dinner, followed by a briefing from your lead guide.

Day 2: Hike in pristine forest
Today you drive to Londorossi Park Gate, where you're recorded in the Kilimanjaro National Park records. You then start the trek from Lemosho Gate, hiking through mountain rainforest for three to four hours to reach Mkubwa Camp (2,895 m), where you stay the night.

Day 3: Enter the heath zone
Today you trek through the last of the rainforest, before entering moorland terrain. The trail leads towards Shira Plateau and Shira 1 Camp (3,505 m), where you stay the night. All in all today's hike takes about five to six hours.

Day 4: Walk the Shira Plateau
Today you make your way across the Shira Plateau to Shira 2 Camp (3,810 m) on a trek that lasts four to six hours. Temperatures start to change rather dramatically at this point of the trek, with the nights sometimes plummeting below freezing.

Day 5: Break from the crowds
On this day you can expect a trek of two to three hours through the high alpine desert. You climb to Shark's Tooth rock formation. You then head back down Moir Camp (4,206 m). This is an important acclimatisation day.

Day 6: Traverse the northern slope
Today you hike for four to five hours. The trek begins with a steep incline as you journey around Kibo's north face. You then walk through the alpine desert to reach Pofu Camp (4,033 m), where you spend the night.

Day 7: Descend to Third Cave
Much like the past couple of days, the journey today is lengthy but can be very rewarding. Buffaloes are sometimes spotted here. You cross valleys on this trek of four to six hours and end at Third Cave (3,870 m), where you stay the night.

Day 8: Walk through alpine desert
Today you undertake a steady climb over the Saddle, a stretch of barren land connecting the two peaks of Kibo and Mawenzi. The terrain is pretty inhospitable, being high-altitude desert. You climb for four to five hours to arrive at Kibo Hut (4,750 m), where you get some rest before the big day!

Day 9: Summit day!
It's all been leading to this. So it's time to dig deep. Your guide wakes you at midnight to get ready. The route ascends northwest into the dark night. In about six to seven hours you reach Stella Point, and then, after another hour of walking, you're at Uhuru Peak (5,895 m), the highest point in Africa! You did it!! You then hike down for six to eight hours to Mweka Camp (3,068 m). All in all, you hike for 12 to 16 hours today!

Day 10: Last day on the mountain
Today you do the last bit of hiking (three hours) down to the foot of the mountain through a beautiful section of rainforest. At Mweka Gate (1,640 m) you meet your driver, who takes you back to the lodge. Time for high-fives and a celebratory drink! Followed – trust us – by an epically long sleep.

Day 11: Departure day
We salute mighty Mt Kilimanjaro and take you to the airport, where we part ways. Unless, that is, you're heading on safari with us, in which case the adventure continues!

Inclusions
In-depth preparation documents
Assistance and advice concerning Covid testing requirements
2 overnight stays at Lindrin Lodge in Moshi (incl. breakfasts and dinners)
In-depth pre-climb safety briefing at Lindrin Lodge
Transport to and from trailheads
Kilimanjaro National Park entrance fee
Qualified, experienced, English-speaking guides
All meals on the mountain
Daily bowl of water for 'washy washy'
High-quality, four-season sleeping bag
High-quality, four-season sleeping tent
Private Follow Alice toilet (1 per 8 climbers)
Organisation of any rental equipment, if required
Medical equipment (incl. pulse oximeter and emergency oxygen)
Airport transfers ($25 per person per transfer)
Single supplement ($200) if required
Where you'll stay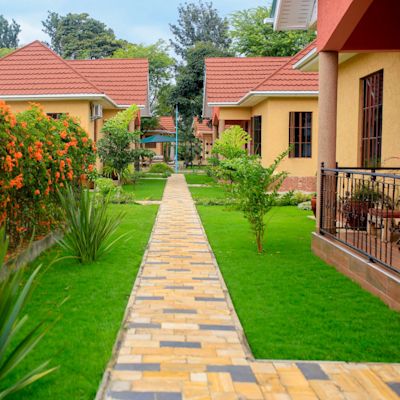 Lindrin Lodge
Lindrin Lodge in the town of Moshi offers chalet accommodation in a pretty and well-maintained garden setting.
What others have to say
See our reviews on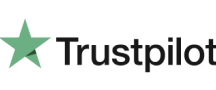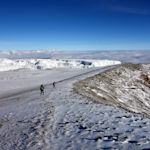 In June 2021, my friends and I visited Tanzania and Follow Alice organized our trip which consisted of a 4-day stay in Zanzibar, 9-day climb of Mt. Ki

...
limanjaro and a 5-day safari. From day 1, we knew choosing Follow Alice to plan and organize our trip was the most perfect choice. Tash, Trip Manager, thank you for providing us with all information needed for our trip, your prompt response to our questions and your availability. Mt. Kilimanjaro - We chose the northern circuit route-9 days. What an amazing crew. Our guides Chris and Francis, were very knowledgeable, caring, encouraging and supportive. They also made me feel safe the entire time. Together with the entire crew (porters, etc.), all went above and beyond to ensure we would successfully reach the summit of Kilimanjaro. Thank you to our cook, Peter- food was delicious everyday. Rama, thank you for your kindness, attention, patience (always smiling) making sure we ate and had our packs ready with water for the day. A big THANK YOU to the Porters - an amazing, outstanding group - so encouraging, positive attitude and helpful the entire time. All of you do a superb job and I am sincerely grateful. After Kilimanjaro, my friends and I, did a 5-day Safari. We got to see the Big 5, visiting 4 different parks and what a wonderful adventure it was. Amazing wildlife! Nestory, our guide was very knowledgeable, friendly and also an excellent driver. Calvin, our cook, prepared some delicious food. Prior to Kilimanjaro, we had a 4-day stay in Zanzibar, such a relaxing and enjoyable place. Asante sana to the whole crew at Follow Alice for a memorable experience! If Tanzania is your next adventure, don't hesitate - book with Follow Alice!
Climb Kilimanjaro - Northern Circuit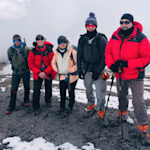 Follow Alice is an amazing company to work with. In the planning phase Tash was great,. She built a completely custom itinerary for us including the c

...
limb and a Safari, and made several recommendations that made our trip even better. Once in country Chris was awesome. He took care of us every day we were in Moshi, he even helped me get a haircut and shave between the climb and safari. As for the climb, we did the Northern Circuit over 10 days, our guides William, Robert, and Safiri, and the whole crew (30 total) did a great job. The weather wasn't awesome but they did everything they could to make us comfortable and see that we had a great time. On a personal note I would not have made summit day without William and Roberts constant encouragement. The food was great, I miss the cucumber soup already. I can't imagine a better crew to have climbed with. After the climb, doing a Safari for 4 days was a great addition. Our guide Kazi did an outstanding job getting us into tons of animals every day. I highly recommend spending a night or two in the Serengeti at the tent camp we stayed at. Nothing like hearing Hyenas calling right outside your tent at night. And finally while in Moshi there is no better place than the Pink Flamingo boutique hotel. Theresa and Alejandro are wonderful hosts and it was a paradise to come home to in between our other adventures.
Climb Kilimanjaro - Northern Circuit
FAQs
Do I climb the Barranco Wall on the Northern Circuit route?
Is the Northern Circuit an easy or hard route?
What is the distance of the Northern Circuit route?
What is the scenery like on the Northern Circuit route?
Where do I go to the toilet on the trek?