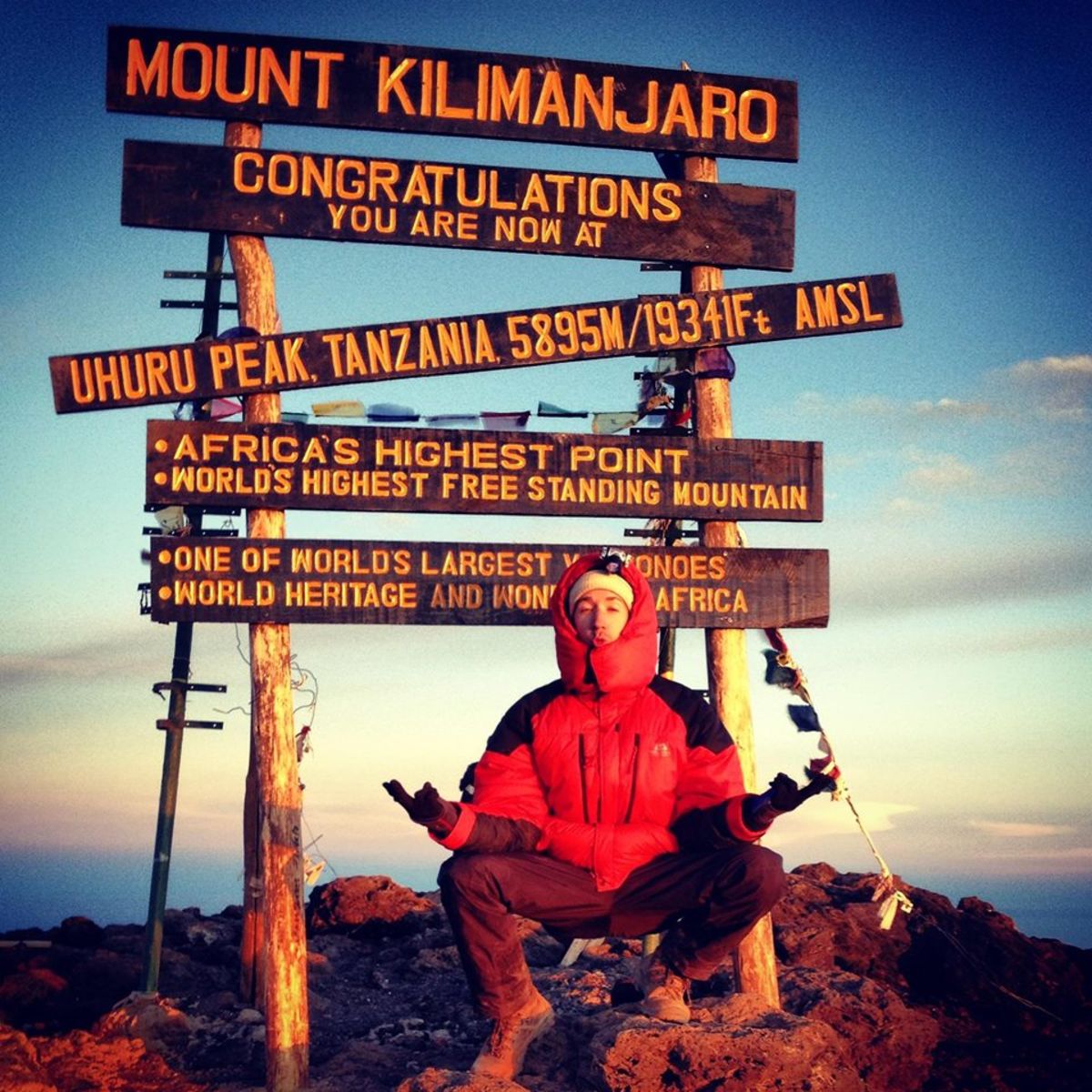 What is it like to climb Kilimanjaro?
Feb 9, 2023
Reading time: 13 minutes
Climbing Kilimanjaro is like walking from the Equator to the North Pole in a week. It's also a very bonding experience, requires good prep, and is much better (and safer!) with a good tour operator. Read on for all you need to know ...
Know what you're getting yourself into ...
Thinking of adding a Kilimanjaro climb to your plans for the future? Epic idea! We'd love to help. One of the first things we can do in that vein is answer the commonly asked question: What is it like to climb Kilimanjaro? Your preparation will be all the more effective – and your anticipation all the sweeter! – when you have a clear view of what you're getting yourself into.
Like walking from the Equator to the North Pole
Kilimanjaro is a snow-covered mountain just a stone's throw from the Equator. It's a giant in the landscape, with a base that's encircled by a green forest, which in turn is surrounded by dry savannah as far as the eye can see.
Climbing Kilimanjaro is like walking from the Equator to the North Pole in a week. We say this because you experience a handful of dramatic changes in vegetation, wildlife and climate during the ascent. Every campsite on Kilimanjaro provides a breathtakingly beautiful view that is strikingly different from that of the day before.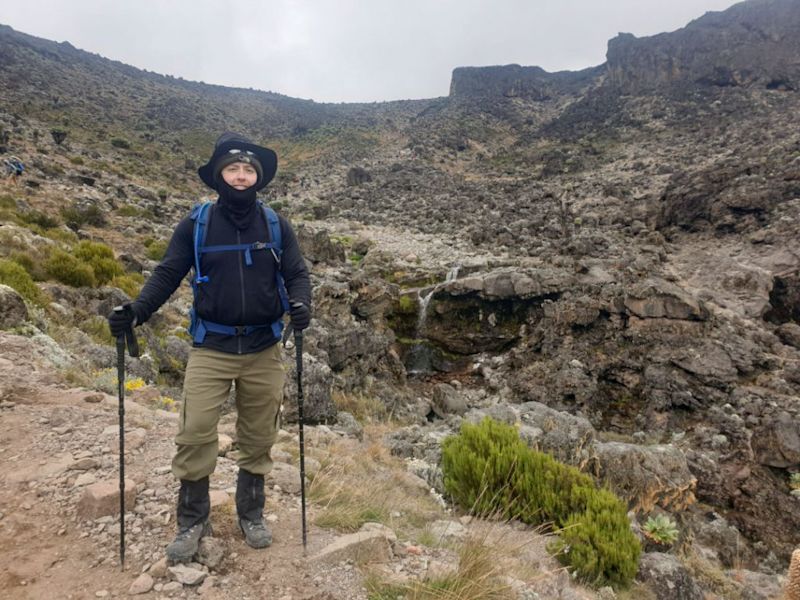 You can go from a shirt to three cosy layers in one day on Kilimanjaro!
Different climates
Kilimanjaro is a fascinating mountain, as it rises straight up out of an African plain. This has resulted in the mountain having five different climates zones! You drive through the lowest zone, which is one of coffee cultivation. (Kilimanjaro is famous for its arabica coffees!)
Most Kilimanjaro routes have trailheads in the rainforest zone. The lower forest is newer forest, while the upper forest is ancient and full of diversity. The next climate zone is moorland (or heather), and this is a truly fascinating environment. You find rare and unusual plants here like giant lobelias and giant groundsels, as well as gorgeous proteas, impatiens and more.
The next climate zone is alpine desert, and this is harsh, unforgiving zone where little grows. And finally you have the arctic zone, which often receives snow. Uhuru Peak is the highest point of the mountain, reaching 5,895 m above sea level!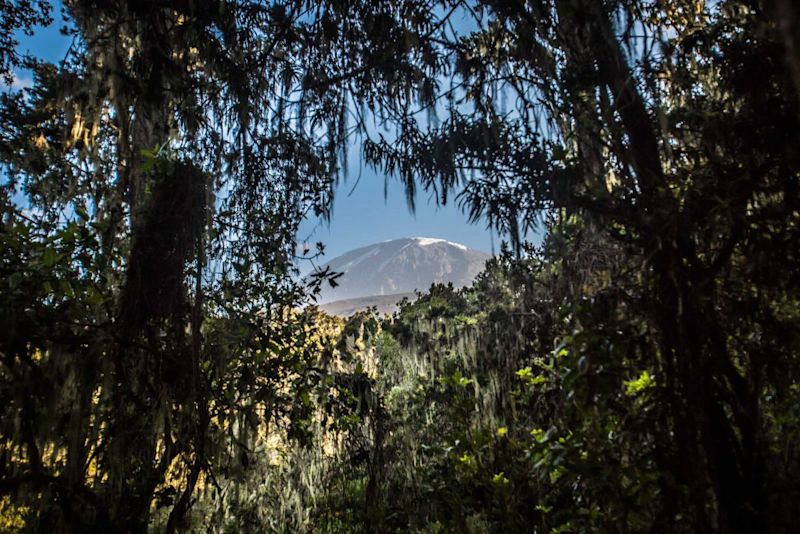 Kilimanjaro is encircled by a beautiful rainforest
A sneak peak
In the our video Climb Kilimanjaro, we follow a group of friends as they climb the beautiful Lemosho route. We also introduce you to Chris Sichalwe, our Kilimanjaro trek guide and Tanzania local leader.
We suggest getting a cup of your favourite tea or coffee, putting your feet up, and letting the video sweep you away to a magical mighty mountain in Tanzania known as the Roof of Africa ...
A bonding adventure
One of the very special aspects about climbing Kilimanjaro is the relationships that you form with your guides and fellow climbers. In a short space of time you really get to know your Tanzanian guides, and learn some Swahili phrases. You also forge strong bonds with the other trekkers in your group – whether they were friends or strangers at the start, it doesn't matter!
In fact, we've had people who met on Kili and then went on to meet up in other parts of the world for further adventures together! Climbing Kilimanjaro really is a great way to meet fellow adventurous souls like yourself.
Picture this: you share stories at night with your guide and fellow travellers whilst tucked in your warm mess tent. You laugh and share your nerves for summit day with your tent mate. And on summit day you stand tall (even though tired!) by the Uhuru Peak sign, arms around one another, smiling into the camera as you digest the fact that you reached your grand goal!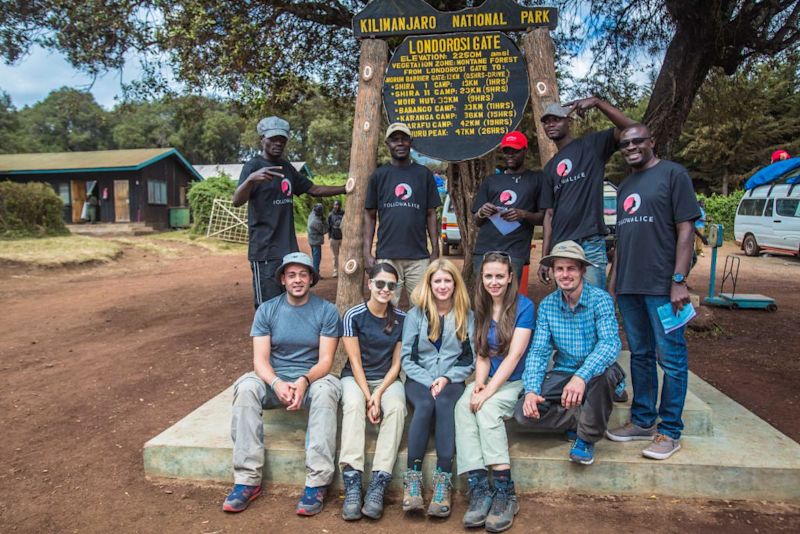 Chris and the rest of the Follow Alice gang with some of our happy climbers!
What past climbers have to say
Sometimes the best way to learn what it's like to climb Kilimanjaro is to listen to what past climbers have to say about the experience. Below we quote some folks who have climbed Kilimanjaro with Follow Alice in recent year ...
Climbing Kili is the best thing I've ever done in my life. I'd highlight particularly the beautiful lodges before and after the climb, and the guides with their positivity that made me feel safe all the time. I was lucky to be in an awesome group of young people that increased the fun factor of the experience massively!
– Hans Ullrich
Climbed the Kilimanjaro in October 2020 during the pandemic difficult times and it was a great break after being locked down for weeks in my home country (France). ... The Northern Circuit turns out to be a great choice when it comes to scenic view and time to acclimatise. It is one of the most successful rated routes advertised and I can say it is worth spending a little more for those who can afford it (9 days), in order to enjoy better the mountain with a minimum of altitude sickness.
– Roger
In February 2020 we conquered Kilimanjaro and stood atop the highest peak of Africa..... Thanks to the amazing guys & "mama" of Follow Alice. A physical challenge to us all which was only possible with the laughs, smiles, Kilimanjaro songs and blood & sweat of the group. ... An amazing experience with memories made which will last forever, of those people we spent our 8 days together up and down. Was my first ever summit climb and Follow Alice was a perfect partner.... although we are still looking for Alice. 😉
– Ross Davies
And finally, here's a review from Arwa, who's Kilimanjaro journal shares more of her experience of the climbing the Lemosho route in the off-peak, rainy season.
We climbed Kilimanjaro with Follow Alice in November 2020. It was above expectations! ... The guides were so experienced, funny and welcoming. The porters were great. The food was excellent. Tea, snacks, popcorn, soup and new menus every night. I already miss our guides Florence and Msafiri and their funny stories. Rama, Trevor, Raja. Everyone was teamed up to make our journey as good as possible. I think part of our success to make it to the roof of Africa goes back to them. ❤️ 🌍
– Arwa Mrad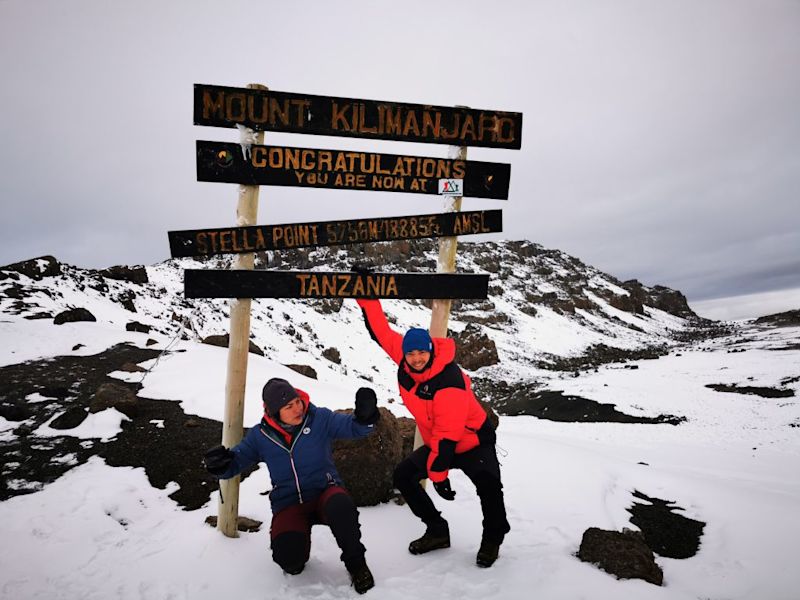 Arwa and her partner at a snowy Stella Point, an important landmark on the way to the summit!
How safe is it to climb Kilimanjaro?
Climbing Kilimanjaro requires no technical climbing skills and is generally considered a 'safe' mountain. That said, every mountain poses some dangers – they're mountains, after all. And the climb up Kilimanjaro exposes your body and mind to a number of challenges.
On your way to the top, expect to hike about four to seven hours per day. And on summit day, you'll be on your feet for at least 10 hours. That's the physical challenge. It's a tough, tough mountain, for all that it's reasonably safe and doable by anyone who's fit. You should train in advance to manage the physical demands of the trek.
In addition to the long hours of uphill hiking, your body is exposed to temperature fluctuations and the altitude. Even though most Kilimanjaro routes offer good acclimatisation profiles, don't underestimate the effects of the high altitude. It's vital that you walk slowly, drink lots of water, and keep your trek guide informed of how you're feeling.
While it's fair to say that climbing Kilimanjaro is not akin to climbing Everest or K2, it's still something to be approached with care. But after all, isn't it the challenge that makes it interesting??
Local leader Chris Sichalwe
Our lead guide Chris has been working on Kilimanjaro for over 16 years and has made it to the summit over 300 times. He's been ranked sixth out of 261 guides on Kilimanjaro by clients. He's also attended the Wilderness First Responder (WFR) Training with Sentinel Outdoor Institute, where he earned both CPR and WFR certificates. He's an incredibly knowledgeable and experienced leader who always puts your safety first.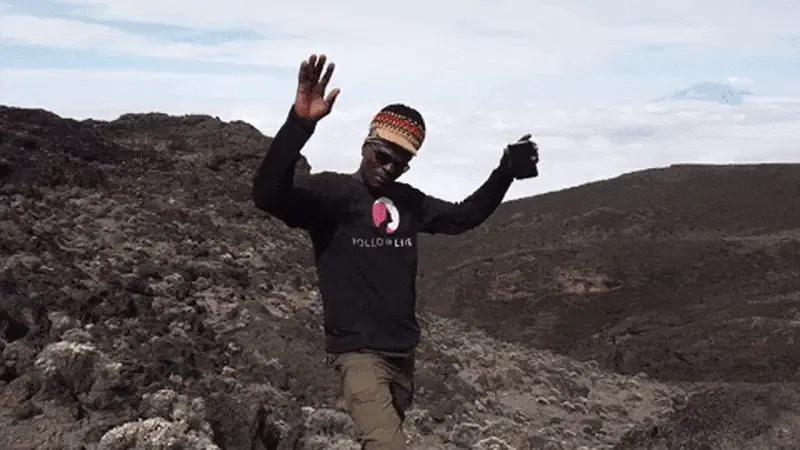 How much does it cost to climb Kili?
When it comes to climbing Kilimanjaro, prices per person normally range from $1,500 up to $5,000, depending on tour operator and route. We discuss Kilimanjaro climb prices in detail in How much does it cost to climb Kilimanjaro?
Why do operator prices differ so much?
We gave you a very broad price range above for a Kilimanjaro climb. We explain the reasons for this in detail in Why do prices differ so much between Kilimanjaro operators. But we also provide an abbreviated answer to this important question below. To help us do that, we discuss the different types of Kilimanjaro tour operators, which are:
budget operators

value-for-money operators

luxury operators
Budget operators
A budget Kilimanjaro tour operator will take you on a six- or seven-day climb for as low as $1,500 to $1,900. The margins they make are as thin as it gets and so there's very little room for them to pay their guides and porters decently. They also tend to skimp on the quality of food and camping and safety equipment.
The Kilimanjaro National Park fees for a six-day climb are fixed at around $900 per trekker. So if you consider that that money comes out of your operator's fee, then you can see they're left with just $600 to $1,000 to cover all other expenses (like transport, paying the mountain crew, purchasing food supplies, safety equipment and camping gear, and training staff).
One word: hmmmm.
Value-for-money operators
We like to refer to the middle group of Kilimanjaro tour operators – those offering six- or seven-day climbs for around $1,900 to $3,200 – as value-for-money operators. These are businesses that try to keep costs down while not compromising on safety and comfort essentials, and (of course) still trying to make a profit. We believe we at Follow Alice fall into this category.
Importantly, operators within this category pay their mountain crew (guides, cook and porters) a fair wage. We also provide a higher guide-to-client ratio, which is important for climber safety. You can expect your guides to speak English well and have extensive experience and knowledge of Kilimanjaro.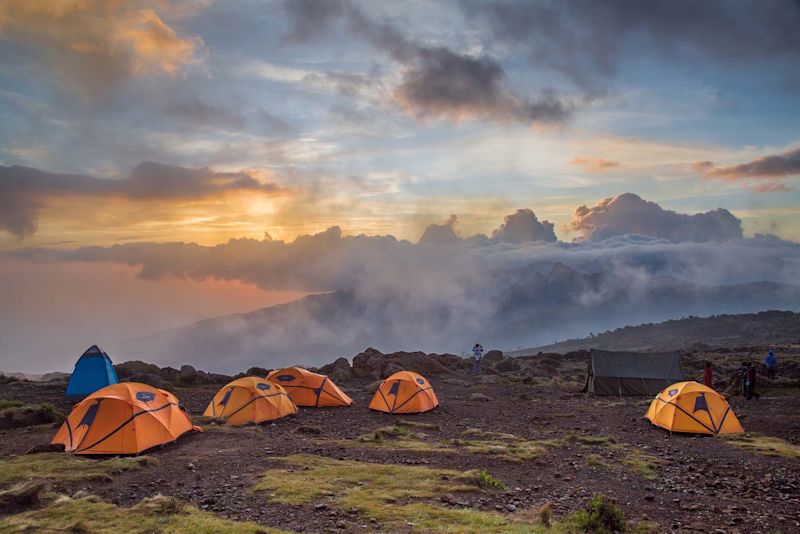 A value-for-money Kilimanjaro campsite
Luxury operators
If you pay from $3,200 upwards for a seven-day climb, then you're likely to be signing with a luxury Kilimanjaro tour operator.
Luxury operators charge more because they provide some extras, like portable showers, bottled water, wine, and individual oxygen tanks. We advise asking any luxury operator you're researching what extras precisely are included to justify the higher climb price. You'll then be able to decide if those extras (and the attendant cost) are things you really want and are therefore happy to pay for.
Note that you will, of course, still be doing the same amount of work to climb up Kilimanjaro with a luxury tour operator. And you will still be camping. But the camping experience is just a little more luxurious.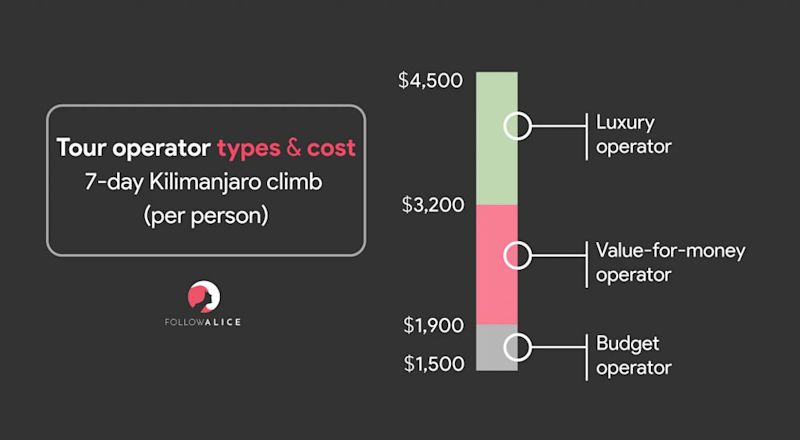 Different types of Kilimanjaro tour operators
What equipment do I need?
On all routes up to the top, temperatures vary significantly. Most routes start in the rainforest zone, where it can get very hot and humid. And of course all routes end in the arctic zone of the summit. Further, temperatures can go up and down dramatically on the same day on the mountain. So every climber needs to be prepared to experience a temperature range from 30° C to -25° C. That's why we said earlier on that hiking Kilimanjaro is like hiking from the Equator to the North Pole!
The most effective way to deal with fluctuating temperatures is to wear many layers. All inner clothing should be made from synthetic wicking material to help you keep dry. Stay away from cotton as it absorbs moisture and dries very slowly on Kilimanjaro.
Also be sure to protect your extremities from the cold; most heat gets lost through the hands, feet and head, and they're most vulnerable to frostbite. So think woollen socks, a warm beanie, inner gloves and thermal gloves or mitts.
We provide some of the most important equipment needed on the trek – namely tents, sleeping bags and sleeping mats – to ensure the quality is appropriate for the conditions on Kilimanjaro. We also rent Follow Alice down jackets for just $60 per trip. These have been designed specifically for the cold and windy conditions near the summit of Kilimanjaro.
Here's a detailed packing list of gear needed for climbing Kilimanjaro.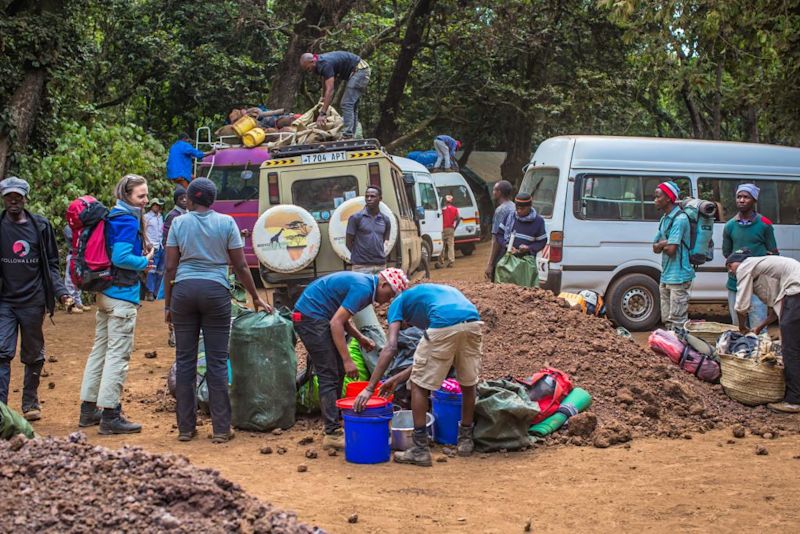 Most of the equipment you need for Kilimanjaro is carried by porters
How steep is the climb?
The seven standard Kilimanjaro routes up Kilimanjaro are very manageable, with no climbing equipment (beyond your legs, and occasionally hands!) needed. The steepest section is Barranco Wall, found on the southern slope of Kilimanjaro. Here, you sometimes need to use your hands and knees to help you scramble a little. That's as steep as it gets.
If you decide to trek the Western Breach, there's a steep section there too. But for most, Barranco Wall is the biggest obstacle up the mountain. And it tends to have a wonderful community spirit about it, as it funnels trekkers for a few routes together. Many people report just loving this section, and, of course, the view from the top is incredibly rewarding!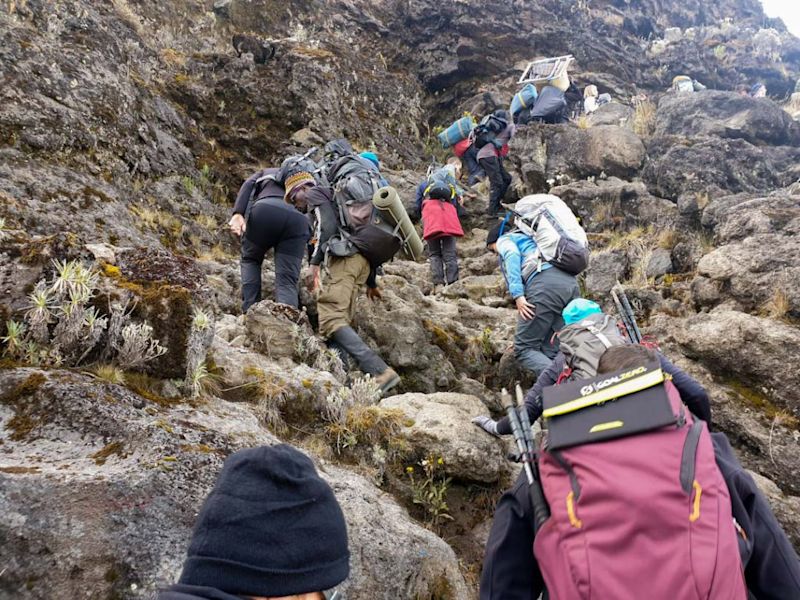 Many climbers find trekking poles useful additions on the climb – but on Barranco Wall you strap them to your backpack and use your hands!
How should I train for Kilimanjaro?
To state the obvious, the fitter you are, the more you'll enjoy your trip and the higher the likelihood of you having a successful summit. You're probably going to climb Kilimanjaro just once, so if you've decided to take on the adventure, be sure you put in the work beforehand!
The climb is definitely an adventure to remember … expect breathtakingly beautiful views, fresh mountain air, birds and other wildlife, and bonding with other climbers. But also expect a very real physical and mental challenge.
For the physical part of your Kilimanjaro preparation, we recommend reading our blog post How should I train for Kilimanjaro?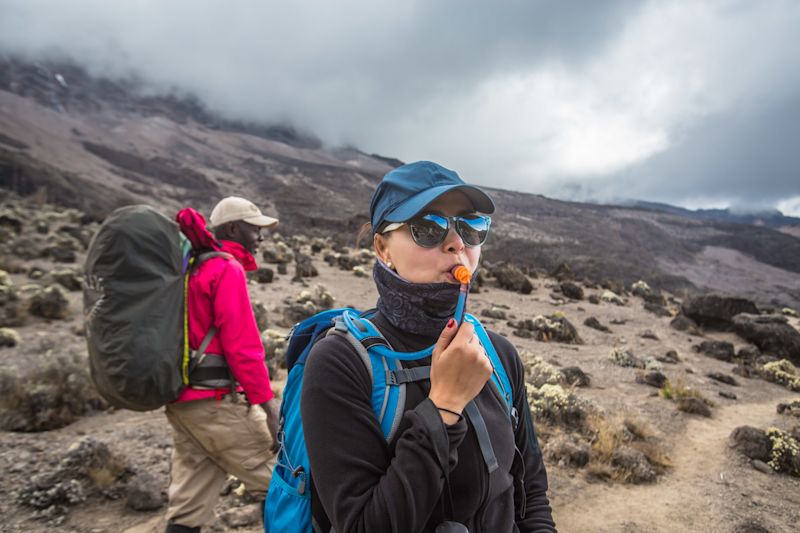 Staying hydrated on the mountain is very important
Make the trip motivation
Physical training is just one part of getting in shape. If you have an unhealthy lifestyle, use the climb as your motivation to change. Reduce your McDonald's visits and up the veggies and fruit intake. Reduce drinking and smoking, and get enough sleep!
That being said …
Good fitness and preparation are great, but not a guarantee for a successful Kilimanjaro summit. Some people don't train much, aren't very fit, and fare very well, while others engage in a disciplined training programme and succumb to the altitude in a few days.
Different people react differently to high altitude. While you can't rule out that element, being in excellent physical shape will definitely up your likelihood of a successful and enjoyable climb!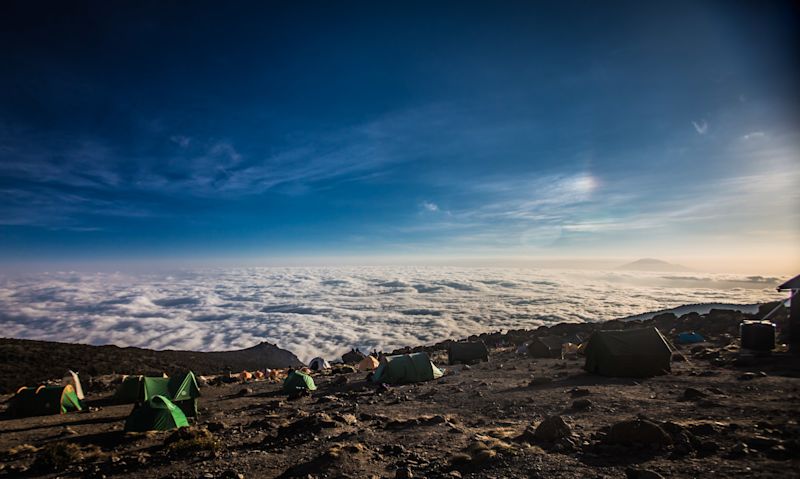 Stunning views over the clouds from the roof of Africa
Last, but not least, stay positive!
Finally, a positive mental attitude can work wonders for you when fatigue and doubts arise.​ Stay happy and positive. Trust in our lead guide Chris's motto:
Laughter is the best medicine on Kilimanjaro!
He must know, he has been up to the summit more than 200 times!