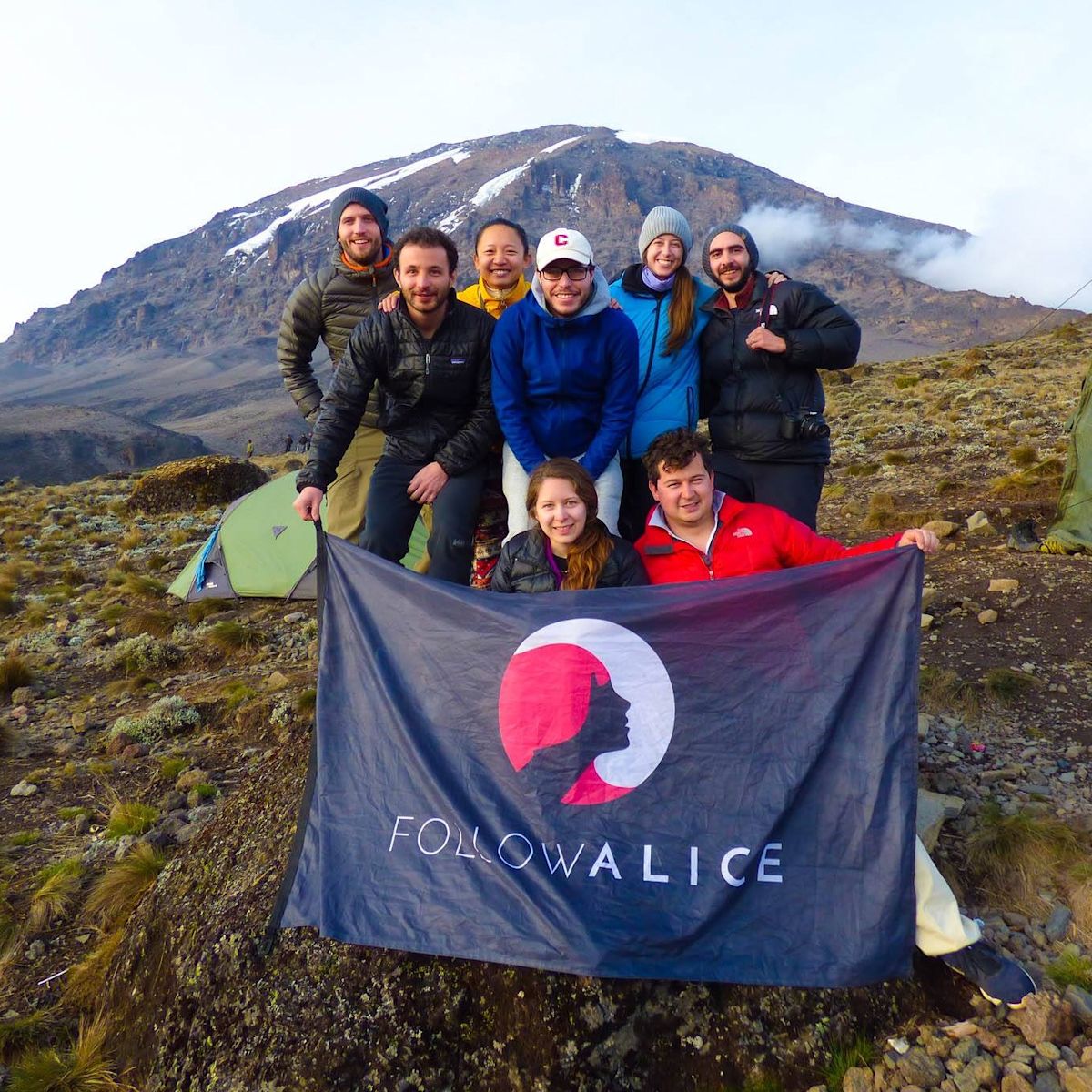 How much does it cost to climb Kilimanjaro?
May 23, 2023
Reading time: 42 minutes
A seven-day Kilimanjaro climb costs around $2,500 to $3,200 on average when travelling with a reputable tour operator. This post explains all the costs involved in a Kilimanjaro climb so that you can make an accurate budget for yourself.
Climbing Mount Kilimanjaro is an epic adventure trip. We're excited for you that you're considering doing it!
We're here to demystify the costs involved and help you make a budget for your Kilimanjaro adventure.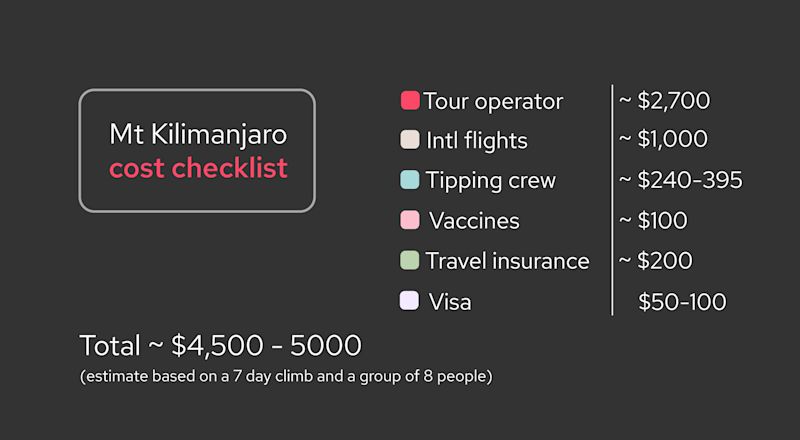 A seven-day Kilimanjaro budget in US dollars based on a group of eight climbers
Of course, everyone's budget will look a bit different based on various factors, such as:
How far you must fly to get to Tanzania.

How many days you want to spend hiking.

How much luxury you want on the climb.

The size of your group (because tipping guidelines vary greatly depending on group size).
For those of you without the time or inclination to read the post below, here's a five-minute video that identifies the different costs involved in a Kilimanjaro climb. But we encourage you to read the post at a later stage as the video isn't as detailed – it's more an introduction to how much a Kilimanjaro climb costs.
There would be a youtube video here.
Sadly, the youtube player requires cookies to work.
Overview
In this post we discuss all of the different finances required to make it to Tanzania and then have an enjoyable and safe climb on Kilimanjaro. As such, we discuss the following costs:
Travel to Kilimanjaro

Tanzania visa

Airport transfers

Travel insurance

Using tech devices in Tanzania

Vaccinations and meds

Trekking gear

Trekking clothing

Kilimanjaro tour operators

Solo traveller supplement

Choice of Kilimanjaro route

Spending cash

Tipping on Kilimanjaro
At the end of the blog post we have a table you can use to figure out your personal Kilimanjaro cost based on all that's been discussed!
Travel to Kilimanjaro
To climb Kilimanjaro you have to get there and back. The mountain is in the northeast of Tanzania in the Arusha region. The town of Moshi and the city of Arusha serve as popular pitstops for visitors on either side of their climb. Moshi is a 66 km drive from Kilimanjaro National Park, and Arusha is an 83 km drive.
At Follow Alice, we overnight in Moshi or Arusha before and after the climb. Where we stay depends if you're attaching a Tanzania safari to your Kili climb – a fantastic idea, in our opinion!! We often take groups to do both, since a safari is an excellent reward for completing your mega mountain climb.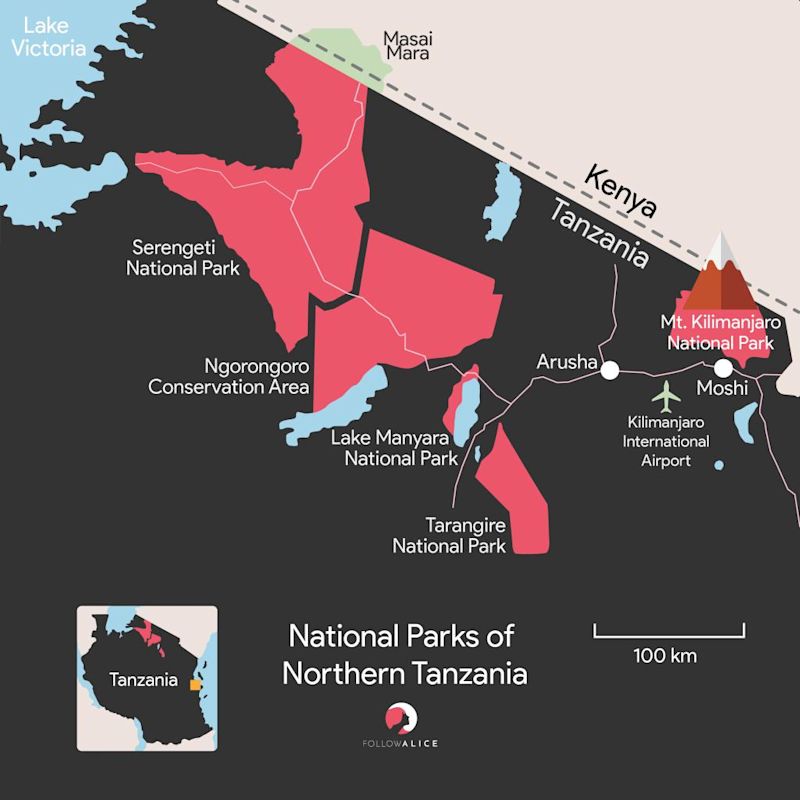 Map showing the location of Mt Kilimanjaro in northern Tanzania
Tanzania international airports
You will want to investigate flights to the following three international airports in Tanzania:
International Kilimanjaro Airport (JRO)

Julius Nyerere International Airport (DAR)

The Abeid Amani Karume International Airport (ZNZ)
JRO is where most people fly to for their Kilimanjaro climb. It offers wonderful proximity to Mt Kilimanjaro. It's also just 67 km from Moshi, and 46 km from Arusha.
JRO is also a good starting point for safaris in the north of the country. The famous Serengeti National Park and Ngorongoro Crater are in the north of Tanzania. These are world-class destinations, among others, that you really don't want to miss seeing!
DAR is just outside the port city of Dar es Salaam and is the country's main airport. Importantly, it's the gateway to safaris in the south of the country. ZNZ is the airport on the island of Zanzibar, a popular tourist destination for its beautiful beaches and rich culture and history.
We mention all three of the above airports because many Kilimanjaro climbers like to include a Zanzibar and/or safari trip in their Tanzania holiday.
If you choose to fly into DAR or ZNZ (or even somewhere else in East Africa, like Nairobi in Kenya), we recommend catching a flight to JRO to get to Kilimanjaro, otherwise you'll need to organise ground transport, which is time-consuming and also costly unless you travel by train.
You will need to consider airport transfers to drive you from the airport to the lodge in Moshi or Arusha.
Internal flights
If you're coming to Kilimanjaro from another airport, you'll need to factor in the cost of an internal flight or hiring a shuttle to get you there. Alternatively, you could road trip to get there, but we don't really recommend this option (especially if you're not used to driving on the left-hand side of the road!)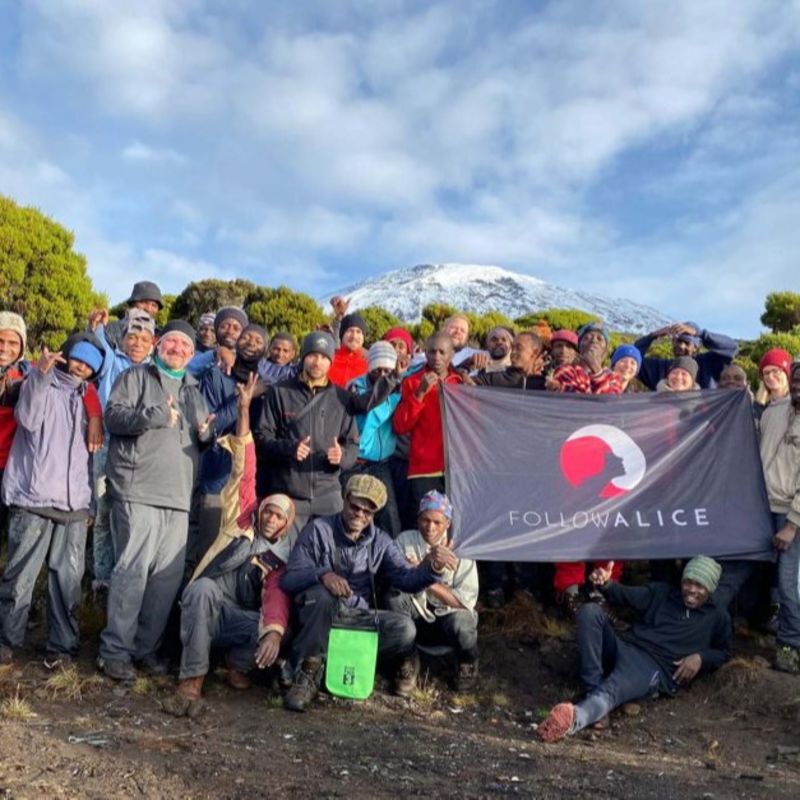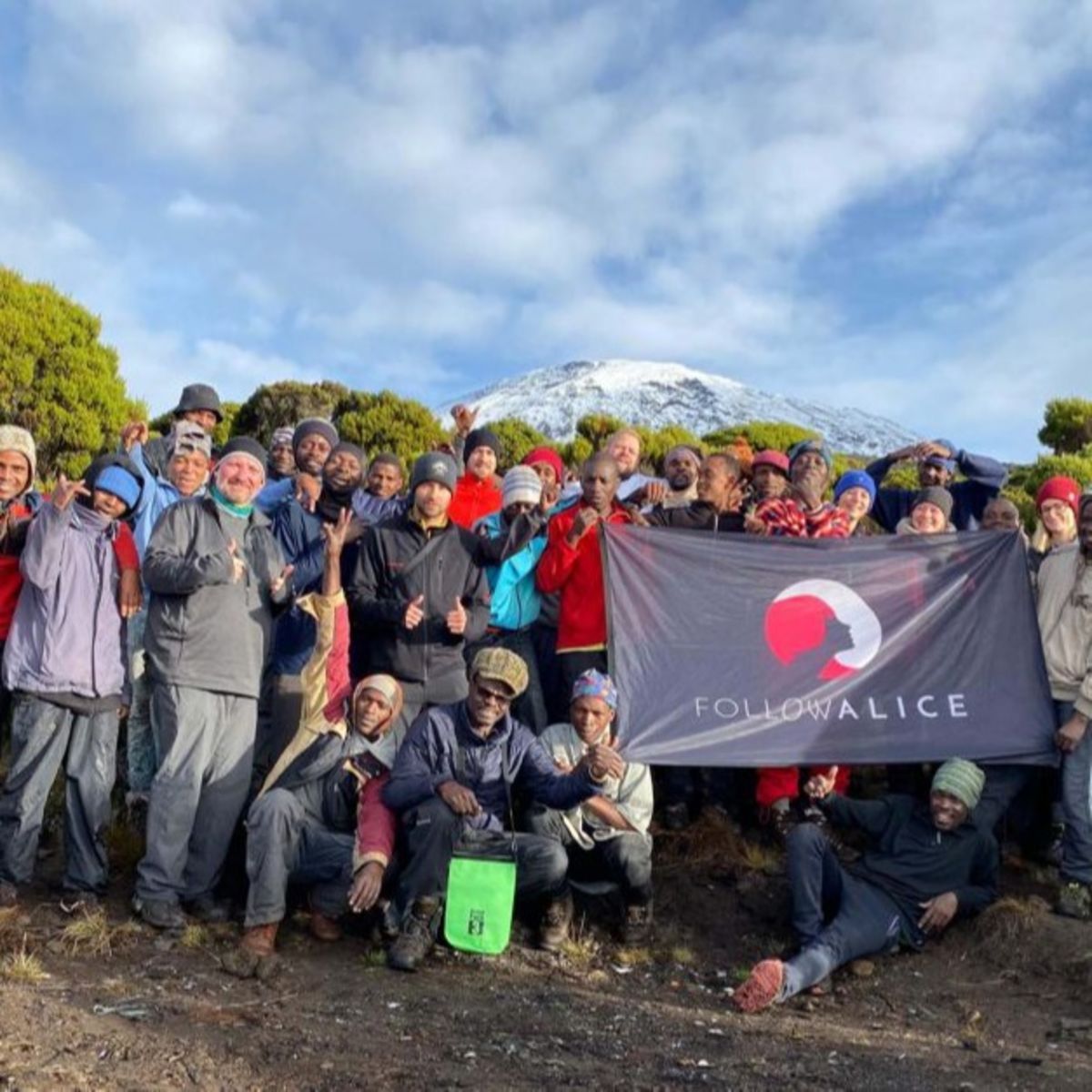 Climbing Kilimanjaro is a team affair – the camaraderie is a beautiful thing!
Catching the train to Kilimanjaro
As of December 2019 the Tanzania Railway Corporation restarted the Dar es Salaam to Moshi passenger line. This is the first time in 25 years that a passenger train from the city port to Kilimanjaro has been available. There are, at present, two journeys a week on offer.
Tanzania visa (US$50 or $100)
A 90-day, single-entry travel visa to Tanzania costs US$50. This visa allows you to travel between the mainland and Zanzibar, an important consideration if you're wishing to add this exciting beach destination to your travel itinerary.
Note that things are a little different for US citizens visiting Tanzania. A tourist visa will cost you US$100, not $50. This price difference is the result of a special Tanzania-USA travel agreement. The tourist visa it buys is valid for a year, and allows for multiple 90-day entries into the country. You can also travel between the mainland and Zanzibar as often as you like.
Remember that to get a visa your passport will need to be valid for six months from your date of arrival in Tanzania, as is standard practice in most countries. So if your passport is ageing out, best you get onto renewing it quick quick!
You can apply for a Tanzania visa online. Note that you'll be applying for a "Tanzania tourist visa", also known as an "Ordinary visa". We recommend this route as being the easiest. You can also obtain a visa when you land in Tanzania. Chat to us if you have any questions about applying for your Tanzania visa.
Airport transfers (US$25 each way)
At Follow Alice, airport transfers aren't included in your package fee. We charge US$25 for a transfer each way.
Travel insurance (~US$100)
While insurance is a somewhat unsexy topic, it's a crucial one and we recommend you don't skip reading this section!
Traveller's insurance is a must for anyone undertaking to hike Kilimanjaro. In fact, travel insurance for hiking up to an elevation of 6,000 m is a requirement.
When taking out travel insurance, we suggest choosing one that offers cover for all of the following (which is what we do personally when travelling):
Delayed, cancelled or interrupted travel

Medical insurance

Lost or damaged luggage
Delayed, cancelled or interrupted travel
Delayed travel covers things outside of your control like a traffic jam preventing you from reaching the airport on time, a mechanical issue with your plane, or severe weather preventing the plane from reaching its destination. It also covers missed connections that are out of your control.
Trip cancellation covers having to abort your trip beforehand for reasons such as injury, illness, severe weather, or a natural disaster or terrorist attack at your destination. Trip interruption covers the costs involved when you have to abort your trip post departure, for any of the same reasons listed for trip cancellation.
Both trip cancellation and trip interruption should also cover having to cancel or abort a trip as a consequence of illness or injury of a travel companion or family member.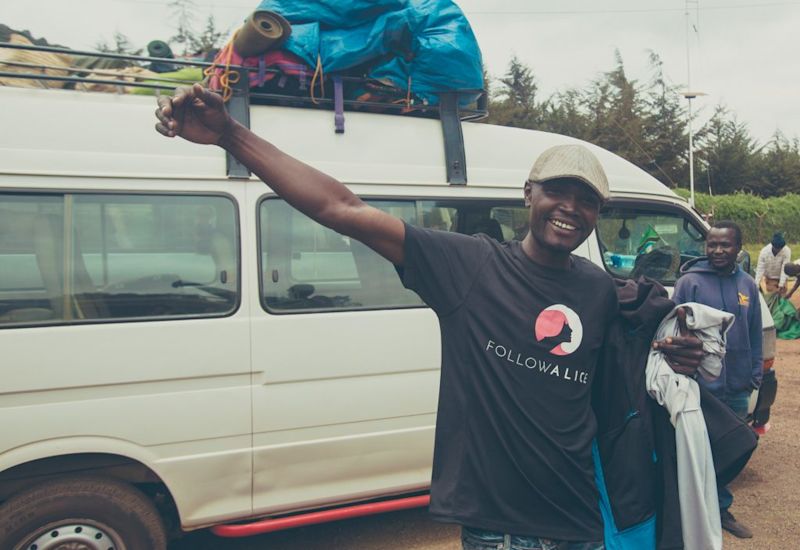 At Follow Alice we collect you from Kilimanjaro Int. Airport and drive you to the lodge where we spend the first night of our adventure
Medical insurance
Regular medical aids don't cover medical expenses incurred outside of your own country. This is why medical insurance is a critical component of any traveller's insurance. Proper medical insurance covers medical emergency as well as medical evacuation. This means that should you fall ill or be injured, your insurance will pay for all hospitalisation and doctor fees as well as all transportation to and from hospital (including ambulance services) and to get you back home.
Cover for lost or damaged luggage
The cover for lost or damaged luggage is important. You can't climb to the summit of Kilimanjaro without the proper gear!
There are shops in Arusha and Moshi offering all the varied equipment you might need, so should your luggage go missing you could use the insurance money to gather together what's needed and still continue on with your trip.
That said, one of our top travel tips is to travel with essentials like your hiking boots and your expensive winter jacket on you. Replacing lost undies and thermals is far less of an issue than breaking in new boots while doing the hike of your life.
Recommended cover
We recommend that you cover yourself to the tune of at least US$200,000 for each of the above categories of insurance (except for luggage). Crucially, you need to cover yourself for "hiking up to 6,000 m".
Whichever travel insurance you choose, we'll require you to send us the details of your policy before you head to Tanzania.
Note that many credit cards offer free, automatic travel insurance when you book your flights with them, so do look into this. The cover usually isn't enough on its own, but it's a useful extra.
Also, pay special attention to exactly what is and isn't covered by your credit card. This is to ensure your independent traveller's insurance covers all gaps and shortfalls.
Cost of Kilimanjaro travel insurance
While it's only a ballpark figure, you can expect your travel insurance for Kilimanjaro to cost around US$200 if you opt for the sort of package we've discussed above.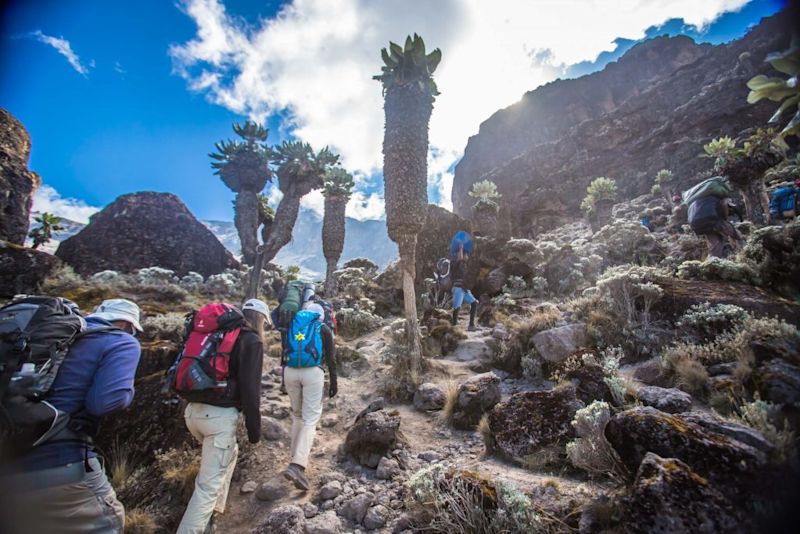 You should never go on a trek without traveller insurance
Using tech devices in Tanzania
Tanzania uses type D plugs and operates on a 230V supply voltage and 50 Hz.
Depending on where you're coming from, this might mean purchasing a universal adaptor and even a voltage converter or transformer. If you're travelling with friends, a team adaptor might suffice?
We offer more detail on plug type D and adapters and converters in What type of plugs do they use in Tanzania?
Buying a local SIM card
International roaming rates often seem designed to make one cry. We recommend that those staying in Tanzania for a couple of week or more make the effort and buy a cheap SIM card in Tanzania. We say "make the effort" because the process of registering for a SIM card with your passport tends to be lengthy.
A local SIM card costs under US$2 (or €2).
There are five network providers in Tanzania:
Vodacom

Airtel

Zantel

Tigo

Halotel
We recommend going with Vodacom or Airtel, as these are the biggest players offering the widest coverage. We recommend simply buying a SIM card at the airport when you land in Tanzania.
If you'd like to know more about the country's network providers and the regions in which each one shines, read buying a SIM card in Tanzania.
Reception on Kilimanjaro
For some the chance to climb Kilimanjaro is a chance to leave tech behind for a few days. But we know that many of you will want your gadgets, especially your mobile phone, on the climb, so these details are for you.
You'll have steady access to electricity in Tanzania right up till the moment you leave to drive to the Kilimanjaro National Park. After that you'll need to charge any devices with your own power source.
Note that solar charges aren't ideal, as the sun isn't always out on Kilimanjaro. This is especially the case early on when you're in the rainforest and moorland sections of the mountain. We recommend bringing a standard power bank if you want to charge devices on the mountain. Fortunately they are fairly inexpensive these days.
Reception has improved dramatically in recent years and you can now find a cellphone signal on most of Kilimanjaro. Reception can be slow at times, but it'll certainly be good enough to send you dearly beloveds regular reassurances that you haven't fallen off the mountain.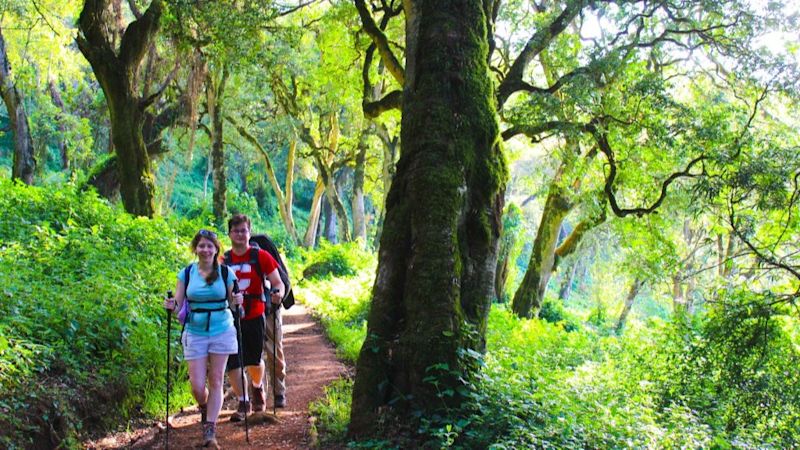 Walking through the forest of Kilimanjaro
There is now internet access on parts of Kilimanjaro. You can read about this in Kilimanjaro now has internet! A good or bad thing?
We feel that it's probably still best to save up the pics you want to share with others for when you're back at the lodge after the climb.
Vaccinations and meds
Ideally you should go see your GP one or two months before you plan to travel to Tanzania. You may want to get vaccinated and/or get your hands on any necessary medication, such as anti-malaria meds. Depending on how healthcare works in your country, you may need to add this visit to your budget.
Vaccinations for Tanzania (~US$200)
It's important when travelling to get vaccines that target diseases well known to exist in the destination country.
For Tanzania, you want to be vaccinated against Hepatitis A and B, typhoid and rabies. You'll also be required to present proof of yellow fever vaccination if you're travelling in from a country where the disease is present.
Here's the full lowdown on travel vaccines for Tanzania if you'd like to read more on the topic.
It can also be useful to get a booster vaccine before travelling internationally for your standard baddies like meningitis and measles. If you visit your local GP you can ask him or her what's advisable for a trip to Tanzania. Note that if you live in the UK, it's possible to get some vaccines for free through the NHS.
Tanzania and malaria
Did you know that word malaria comes from the two Latin words mal and aria, which together mean 'bad air'? This is because Romans thought malaria hovered in the air. Of course we now know the disease is transmitted via mosquito bite.
All of Tanzania is a malarial zone, and so we recommend anti-malaria medication before heading to Kilimanjaro. You will need to speak with your doctor about this medication. Check out this website for the most up to date information on malaria in Tanzania.
Kilimanjaro and altitude meds
Kilimanjaro is very nearly 6,000 m (19,685 ft) above sea level. In other words, Kilimanjaro altitude sickness is a very real danger. If you decide to take medication to help with the altitude, speak to your doc to prescribe you the one that's best suited you.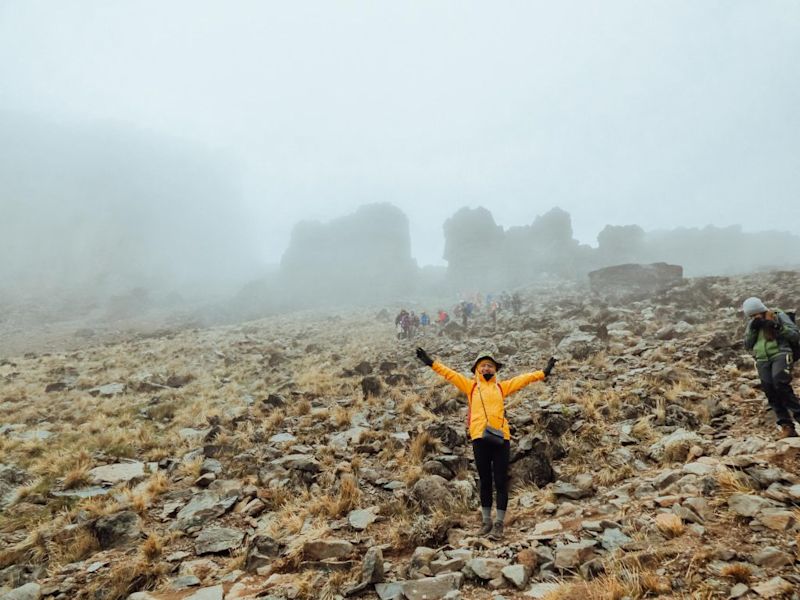 Be happy (not sick) on the mountain – ask your doctor to prescribe you altitude meds
Trekking gear
Kilimanjaro is a non-technical mountain, meaning it doesn't require any sort of climbing gear like crampons and ropes. You also don't have to have any mountaineering training or experience. This is because all the trails leading to the summit are simple hiking trails.
That said, the mountain trails are rocky and rough in places. And there's an arctic climate at the summit. In fact, did you know there are glaciers at the top of Kilimanjaro? With the rocky terrain and cold conditions in mind, you do need to come prepared with the right gear and clothing. We discuss your Kilimanjaro packing list in detail in another post.
For the purposes of this post on the climb Kilimanjaro cost, we want to draw your attention to the potential costs involved in certain trekking gear and clothing.
Most people who climb Kilimanjaro do it camping style. Only those trekking the Marangu route stay in hut accommodation.
Given that you'll almost certainly be flying into Tanzania to do Kilimanjaro, you can't be expected to supply your own camping equipment. The good news is that any good tour operator will provide basically everything you need for camping, like tents, a mess tent, cutlery, cooking equipment, the food itself, and so on.
That said, always check before booking with a tour operator as to exactly what's provided as part of the package fee.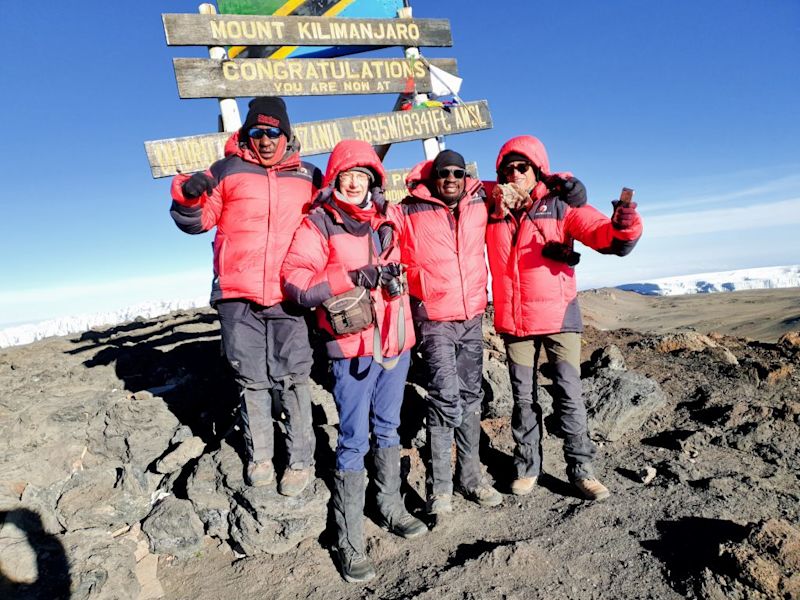 Trekkers staying snug in their red Follow Alice down jackets at the summit of Mt Kilimanjaro!
Gear provided by tour operator
Pretty much every tour operator provides climbers with all camping gear, which includes tents, tables and chairs.
At Follow Alice we also provide you with a high-quality four-season sleeping bag and a sleeping mat at no extra charge. Most Kilimanjaro tour operators don't provide these extras, so don't assume they're inclusions with every operator unless stated.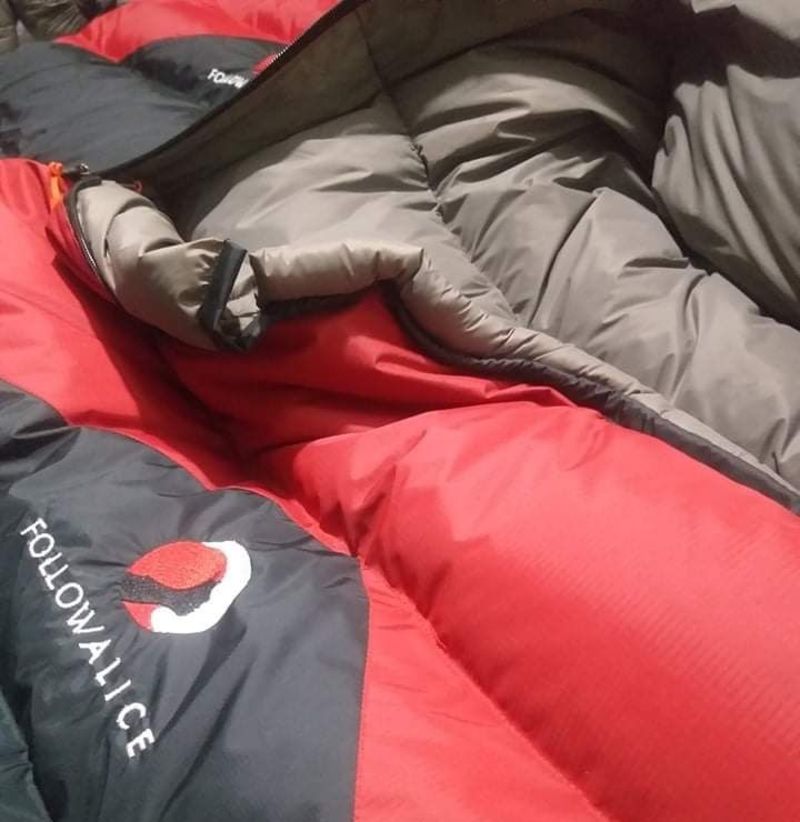 A Follow Alice sleeping bag
If you wish to bring along your own camping stuff (like a sleeping bag) and don't yet have them, please factor these into your budget.
When choosing a sleeping bag and sleeping mat, we recommend choosing ones that can handle temperatures as cold as -20° C. We have no affiliation at all with The North Face, but we recommend their sleeping bags and mats. In fact, we've purchased a bunch of The North Face's season four sleeping bags, and we offer clients the use of one at no extra charge.
Note that you'll also need to bring along a headlamp for getting easily and confidently around camp at night. These can also be rented locally in Tanzania. Chat to us if you need any help with renting gear for your Kilimanjaro climb.
Double occupancy is the norm
Most tour operators work on a double occupancy policy, which means two persons per tent. This also applies to the lodge or hotel accommodation before and after the climb. If you're coming as a solo traveller, we'll pair you with someone. If, however, you wish to you have your own tent, we can arrange that for an extra charge of around US$200.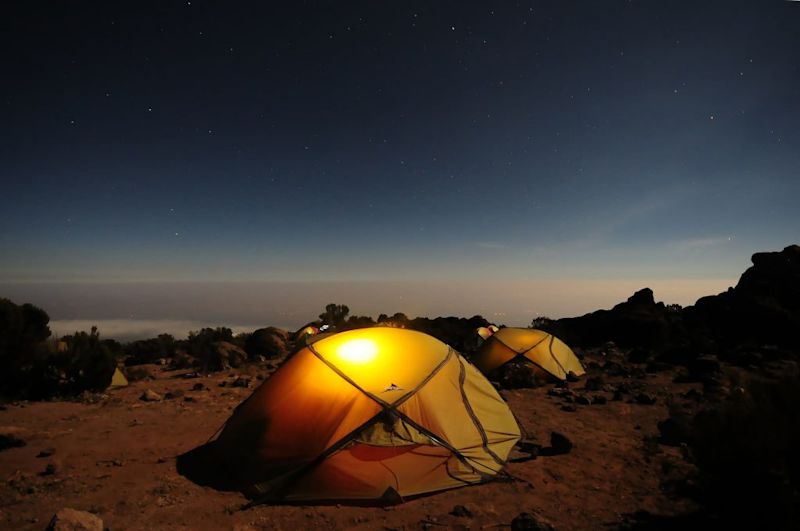 Sleeping tents on Kilimanjaro at Karanga Camp
Trekking clothing
Getting together the correct clobber for when you climb Kilimanjaro will likely cost you more than the camping and trekking gear, as this must be organised by you personally. As already mentioned, we list all you need to bring in our Kilimanjaro packing list post.
But if you're a novice trekker, we just want you to note that you may need to purchase certain items, like thermal inner-wear, a good pair of trekking boots, trekking trousers, and a proper winter jacket. That said, by all means ask friends and family members for items you can borrow to reduce your costs!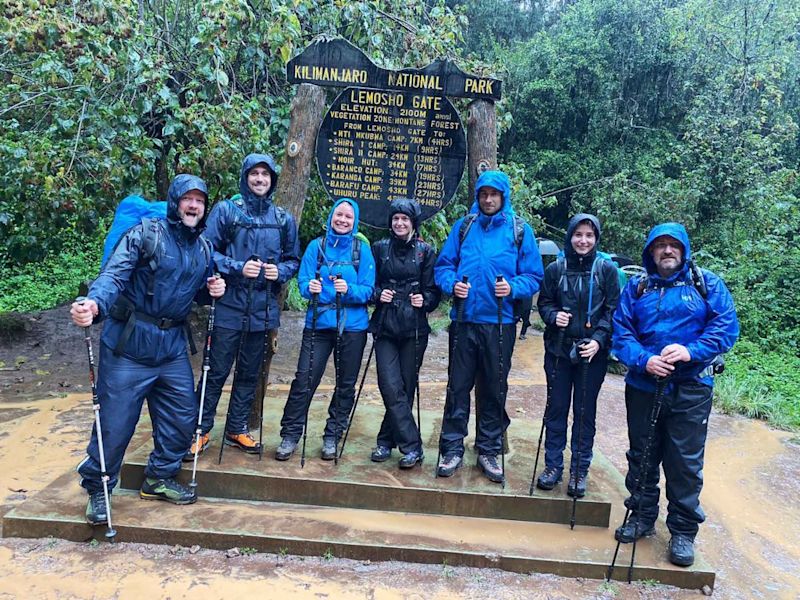 When it's cold, or wet, or both, you're going to want to have the right trekking clothes!
Down jacket provided by Follow Alice
The great news is that we at Follow Alice have a store of down jackets you can rent from us for US$60 for the entire trip.
Not only does renting one save you having to fork out on this expensive item, you can also rest assured that you'll have exactly the right sort of jacket for Kilimanjaro. Our down jackets are 900 fill down and offer protection against the harsh conditions on Kilimanjaro!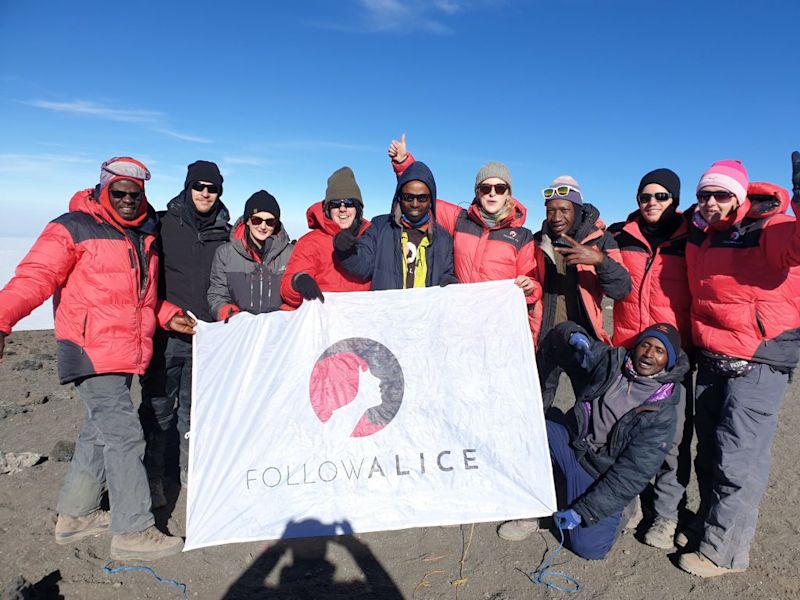 You can see many in this team are wearing our red-and-black Follow Alice down jackets
Kilimanjaro tour operator
If you're in the early days of your Kilimanjaro research, you might not yet realise that you can only legally climb Kilimanjaro through a licensed tour operator. This is one of the regulations set by the Kilimanjaro Park Authority. So if you were pondering a solo Kilimanjaro climb, time to bin that idea!
What's covered in a tour operator's fee?
Every tour operator charges a package fee for taking you up Kilimanjaro. This fee covers the following expenses:
Kilimanjaro National Park daily fees

Mountain crew wages

Equipment and supplies

Food and drinking water

Kilimanjaro safety equipment and crew training

Indirect taxes

Accommodation for one night before and after the climb

Tour operator's commission
Below we discuss each item very briefly so you understand what it is and why it's included.
Kilimanjaro National Park fees
There are various Kilimanjaro National Park fees, including an entry permit and rescue fee, that each climber must pay. These fees are charged on a per person, per day basis. We list these fees a little further on in the blog post.
Tour operators work all of these fees into their package fee so they can pay for them on your behalf. One less piece of admin for you – hooray!
Mountain crew wages
It takes a small army to get climbers to the summit of Kilimanjaro. Every climber requires a guide, cook and three porters. Each climbing group therefore requires many individuals to make the trek possible.
So who exactly makes up the mountain crew? We're glad you asked ...
Lead guide.

He or she leads you safely up and down the mountain. Your lead guide is also a wonderful source of knowledge and encouragement.

Assistant guides.

They assist the lead guide in leading you safely up and down the mountain. They also provide vital advice and encouragement.

Cook.

He or she provides all of your meals on the mountain, as well as snacks and drinks.

Porters.

These folks carry all the food and gear, set up and dismantle camp, and more. And they work incredibly hard and are true superstars.
One of the reasons for the large crew is that everything you need on the mountain has to be carried there and brought back down again. Even those who hike the Marangu route, which offers hut accommodation, require the assistance of guides, a cook and porters.
Each guide, cook and porter should be paid a certain amount per day to avoid exploitation. (And there should be sufficient numbers of each to ensure their and the clients' safety.)
Each crew member is paid individually, and a good trekking company will ensure your package fees are sufficient to pay the crew fairly.
Unfortunately, the mistreatment of porters is a troubling challenge in the climbing industry. Follow Alice wishes to help bring improvement to the business. Accordingly, we applied and have become an approved partner company of the Kilimanjaro Porters Assistance Project (KPAP) and the International Mountain Explorers Connection (IMEC).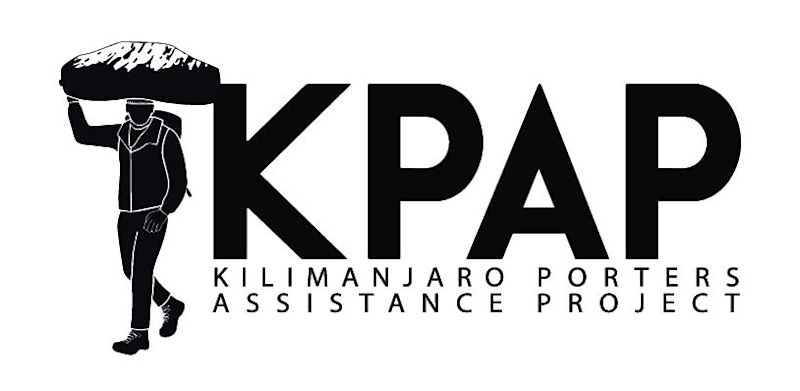 We voluntarily submit to KPAP's monitoring activities, which includes allowing KPAP a representative to evaluate the treatment of our porters on our climbs. By climbing with us you can rest assured that your porters are being treated and paid well.
KPAP also helps to improve the working conditions of porters by:
Lending donated clothing at no charge to the mountain crew for use while climbing

Offering educational classes to porters

Educating the public on porter working conditions and climbing responsibly

Providing industry guidelines for proper porter treatment
Please consider supporting KPAP by making a financial contribution to enable them to continue in their mission.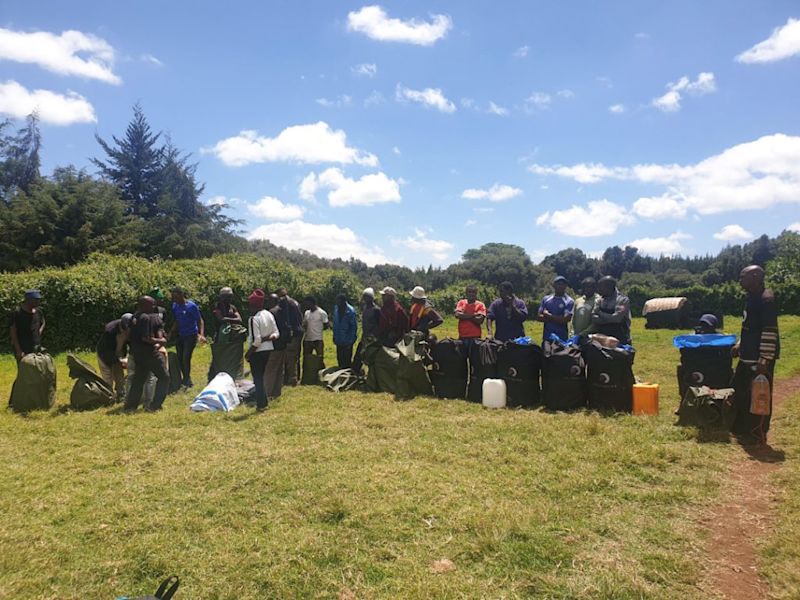 The Follow Alice mountain crew at the start of the trail, checking they have everything they need to carry up the mountain
Equipment and supplies
Your package fee also covers the costs involved in buying, maintaining and replacing all the equipment and supplies necessary for a Kilimanjaro expedition.
Equipment refers to all the 'things' that are needed to set up and run a camp. Think water containers, buckets, crockery, gas cooker, foldaway tables, tents, sleeping mats, sleeping bags, the portable toilet, a first aid kit – the list goes on. (You can see now why so many porters are needed for the climb!) Supplies refers to all the items that get used up on each climb, like food, dishwashing liquid, toilet paper, medicines and so on.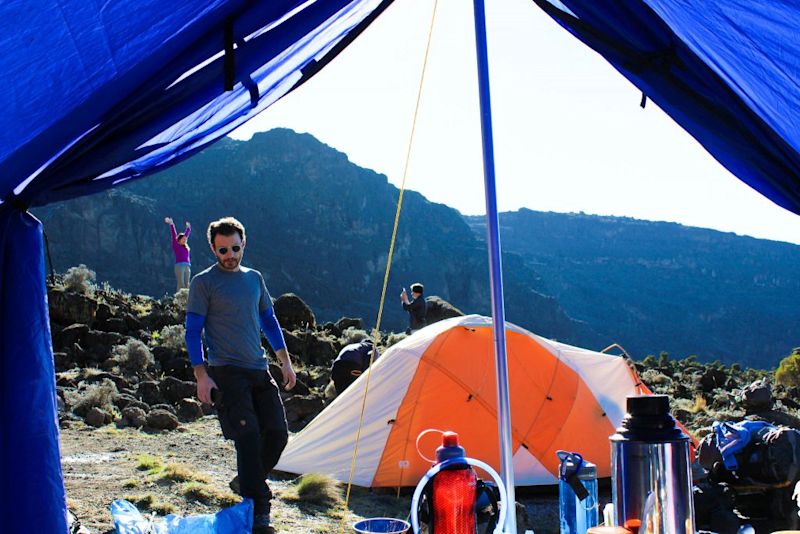 Setting up a working and comfortable Kilimanjaro campsite is no small feat!
Food and drinking water
All food consumed on the mountain must be carried up by porters. Sometimes operators will drive some fresh food supplies as high up the mountain as high as possible so that porters can deliver this to campsites that are a little higher up on the mountain and which climbers will only reach after a day or two of hiking.
Early on in the climb water can be collected from streams and purified (usually through the use of purification tablets). However, the higher parts of the mountain are dry, and all drinking water for use up there must be carried up by porters.
Safety equipment and crew training
This is an area that separates the wheat from the chaff in terms of Kilimanjaro tour operators. Good tour operators never cut corners when it comes to climbers' safety. This means training staff (as well as regularly updating their training) in mountain safety and first aid. It also means carrying important equipment like oximeters and emergency oxygen.
Indirect taxes
The Tanzanian Government charges all business certain taxes and annual fees. Kilimanjaro tour operators therefore work a percentage of this into their package fee.
Accommodation before and after climb
All Kilimanjaro tour operators work on the premise that you'll spend one night before the climb and one night after the climb somewhere local. The region is too remote for anything else. These are your arrival and departure days.
Most operators will work the cost of accommodation for your arrival and departure days into your package fee. That said, be sure to check its included to help you in your climb Kilimanjaro cost comparisons.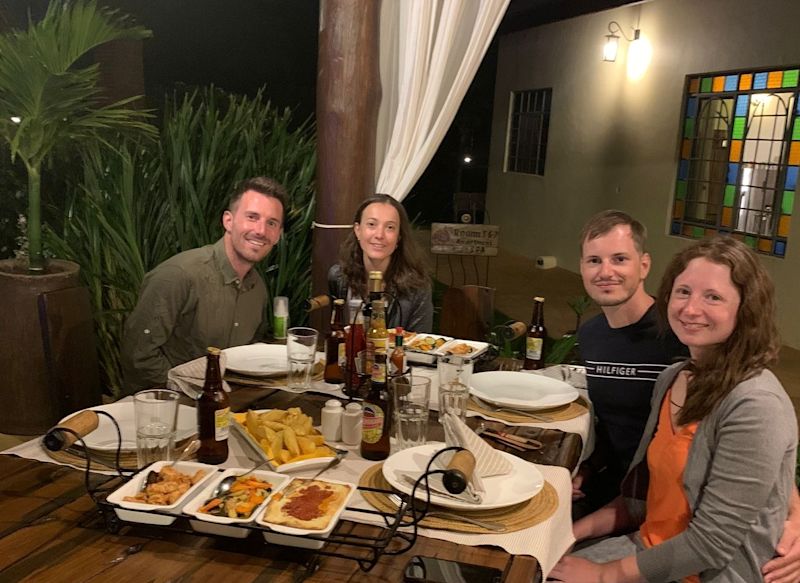 Dinner at your hotel the night before the climb is usually included
As already mentioned, we at Follow Alice put our clients up at a comfortable lodge in either Moshi or Arusha (depending on if you are also doing a Tanzania safari). When it's available, we use Lindrin Lodge in Moshi.
Tour operator's commission
This part of the package fee is what the tour operator makes as profit. Organising a Kilimanjaro expedition is a huge feat that takes endless hours of hard work.
Advice on choosing a tour operator
If you're only just starting to research your climb to the roof of Africa, the first thing you need to know is that Kilimanjaro tour operators can charge anywhere between US$1,500 and $5,000 per person.
Also, there are over 300 registered Kilimanjaro tour operators!
But don't feel overwhelmed with choice! We provide you with insights into the different types of tour operators to help you whittle down those that suit your needs. You'll also see why the prices vary so much and why the cheapest deals are often a very risky investment.
But before we go another step and risk losing you to a caffeine call or phone notification, we have one piece of very important advice for you. The advice: please don't decide on a tour operator based on price alone. If you read on, you'll see why we stress this point.
To help us discuss the different types of Kilimanjaro tour operators, we like to group them accordingly:
Budget tour operators

Value-for-money tour operators

Luxury tour operators
We discuss the differences in the three groups in just a moment. But first, some ballpark figures for the different types of Kilimanjaro tour operators …
Kilimanjaro tour operator package fees
Budget Kilimanjaro tour operators are those who charge anywhere below US$1,900 for a seven-day climb.
We advise against using such operators as they usually are only able to offer such low rates because they cut corners on matters like staff wages and Kilimanjaro safety training and equipment. More on that in a moment.
Value-for-money Kilimanjaro tour operators usually charge between US$1,900 and $3,200 for a seven-day climb.
We consider ourselves – Follow Alice – to be a value-for-money Kilimanjaro tour operator. This is because we try to offer the most competitive rates possible while still looking after our staff, safeguarding our clients' health, and also striving to provide a pleasant and comfortable experience.
Luxury tour operators generally charge in the region of US$3,200 to $5,000, or even more, for a seven-day climb!
There's nothing wrong with opting for a fancy outfitter if that's your vibe. Just remember that no matter the thread-count of your napkin at meal time, it's still you who has to do the hard work of getting to the summit!
At the end of the day you'll be spending thousands of dollars on your Kilimanjaro climb no matter which tour operator you choose. You're investing in a once-in-a-lifetime adventure, and as with any investment, you shouldn't leave things to chance.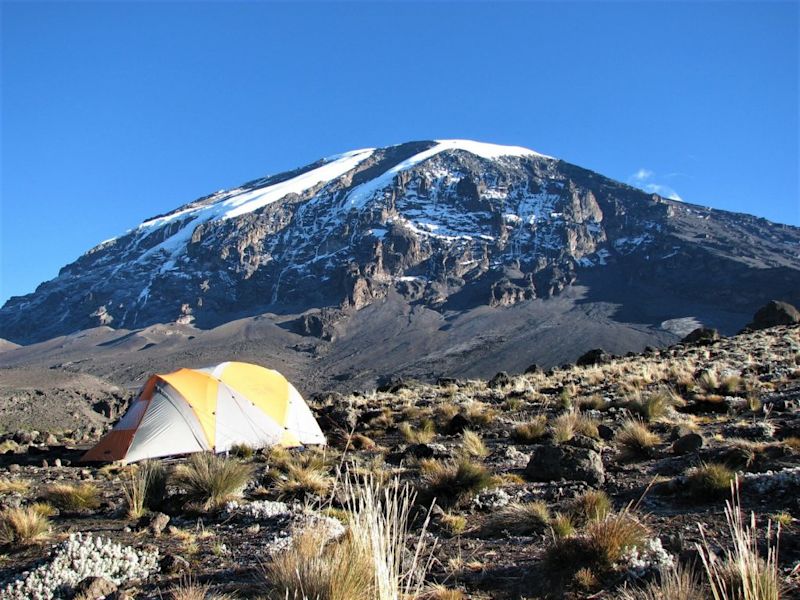 Research the sort of camping setup offered by the Kilimanjaro tour operator you're looking to book with
Different types of tour operator
As already mentioned, there are three different types of Kilimanjaro tour operators available to you:
Budget tour operators

Value-for-money tour operators

Luxury tour operators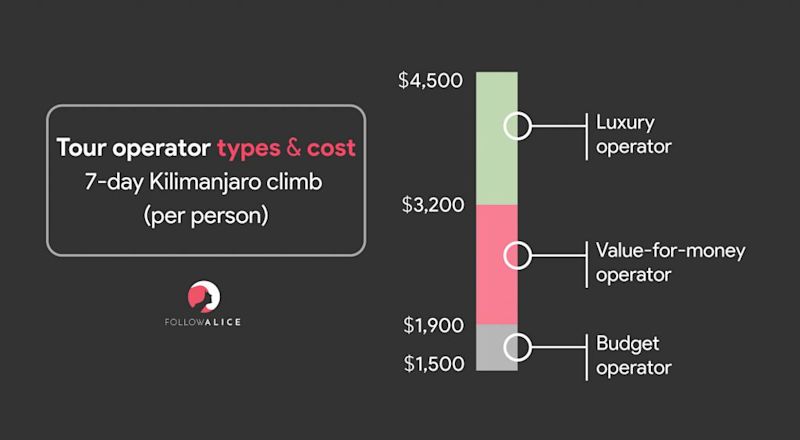 We briefly discuss the pros and cons of each type of operator. (Note that we also have another blog post that offers a focused discussion on why prices differ so much between different Kilimanjaro operators.) The goal here is to help you understand where your money goes with each type of operator. We hope you'll then feel equipped to decide on the sort of one that best meets your needs and so plan your budget.
Budget Kilimanjaro tour operators
We strongly advise against working with a budget tour operator on your Kilimanjaro climb. While their prices are very attractive, they employ dubious practices to make them so. Without going into too much detail, we explain why we say this according to the following important points:
Subpar safety policies

Unprofessional mountain crew

Poorly paid mountain crew

Lean camping amenities and food

Risk of fraud

Mistreatment of mountain crew
Subpar safety policies
Every year there are five to 10 fatalities on Kilimanjaro. This is an upsetting number as it's completely unnecessary. With the right training and safety equipment in place, nobody should lose their life while engaged on this adventure. But sadly some budget operators cut costs by foregoing training their staff in first aid.
Some budget tour operators also look to save a few bucks by not purchasing or monitoring the condition of important safety equipment. How sad for your climb to end because your guide can't offer you some needed oxygen or patch up your cut? A proper mountain crew monitors your health every day and allows for extra acclimatisation if necessary. Inexperienced mountain guides sometimes push their groups when an extra day of acclimatisation is actually all that's needed to help those with altitude symptoms adapt and so successfully complete the climb.
Unprofessional mountain crew
Not only do you want a mountain crew that's skilled and properly equipped, we imagine you'd like a cohesive, friendly, encouraging and all-round professional crew. You'd also like one with good general knowledge about the local nature, customs and history. Learning things as you progress along the trail like the rarity of a plant you see and the survival habits of an animal you spot can enrich your experience greatly.
Poorly paid mountain crew
Budget tour operators almost always under pay their staff. On occasion they pay them nothing at all and these men are remunerated only through clients' tips. This is truly disheartening. Further, some tour operators don't provide their staff with adequately warm clothing. They also don't provide them with sufficient food.
We feel confident you don't wish to partake in such mistreatment. At Follow Alice we know that a content, healthy and respected mountain crew is the backbone of a good trekking operation. We really encourage you to ensure you choose a Kilimanjaro tour operator committed to fair wages and treatment of employees.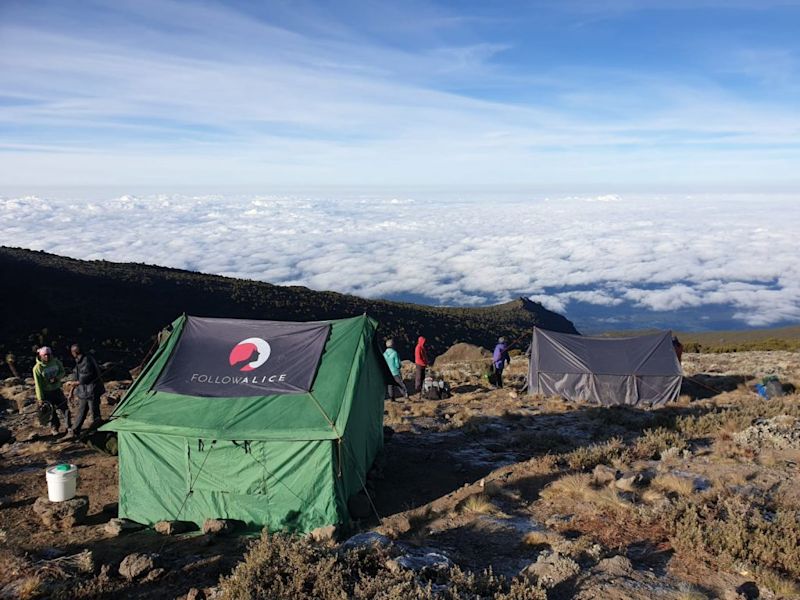 You want to travel with a company who uses quality equipment and maintains it well
Lean camping amenities and food
Some tour operators offer what we might euphemistically call lean or rudimentary camping facilities. We don't think that's what clients want. At Follow Alice we're pretty confident that you want some sort of chair to sit in at the end of a gruelling day of trekking. We think you want a reasonably comfy and cosy tent and mat to lay down on at night. You also want nourishing and plentiful food to fuel your legs for the hard climb. And we're pretty sure you want a clean loo for when nature calls you out of nature and into the toilet tent. Be wary therefore of budget tour operators, as they won't all provide such things.
Proper camping facilities and good meals are vital comforts on Kilimanjaro. The climb itself will test your limits, so tasty meals and comfy seating and bedding are essential to lifting your spirits and reestablishing your resolve. Don't be the forlorn soul on Kilimanjaro looking longingly at the neighbouring camp - be the one lolling on the air couch with a hot chocolate in hand thinking about how great life is.
Risk of fraud
We're sorry to report that there are some fraudsters out there posing as Kilimanjaro tour operators. Some ask for an upfront payment before disappearing, it seems, off Planet Earth. Others cancel the trip and fail to refund you. Some even demand further payments while on the mountain! Shocking, we know, but you don't need us to educate you on the dubious side of human nature. The main point here is to encourage you to research the history and reputation of the tour operator you're looking to book with.
To summarise, budget Kilimanjaro tour operators don't treat their staff well, play fast and loose with clients' safety, provide sub-optimal food and camping facilities, and are occasionally even fraudsters. Enough said!
Value-for-money Kilimanjaro tour operators
Value-for-money Kilimanjaro tour operators basically offer everything budget operators don't:
A well-trained and professional mountain crew

Proper wages for mountain crew

A focus on client safety

Nutritious and plentiful food

Quality camping facilities
What they don't offer are the frills and finery that would up the price beyond what it needs to be. The target market is the majority of Kilimanjaro climbers, with the assumption that you'd like to pay the smallest package fee possible while still having a safe and enjoyable climb. Further, we find that many don't like the idea of making Kilimanjaro too comfy – many adventurers like the idea of toughing it to a degree. It makes for steelier stories back home.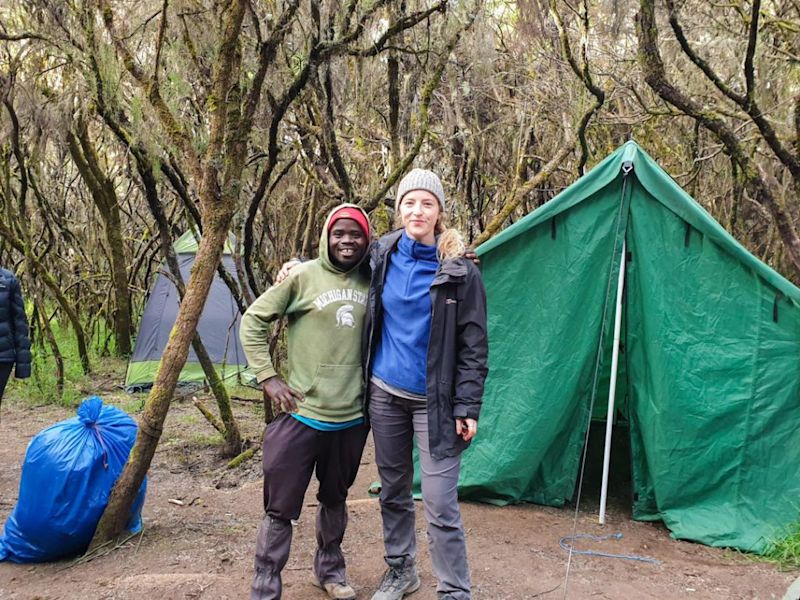 The mountain crew you climb with become an integral part of your memories of the trip
The value Follow Alice offers
At Follow Alice, we use highly experienced mountain guides, quality cooks, and well-trained porters.
In fact, one of our lead guides, Chris Sichalwe, has been up and down Kilimanjaro well over 300 times and has been voted among the top 10 Kilimanjaro guides out there! He's incredibly knowledgeable about the mountain and loves sharing his insights with clients.
At Follow Alice we pay all our staff liveable wages and strive to create a healthy work environment based on mutual respect.
Our camping facilities include double occupancy sleeping tents, a mess tent, a toilet tent, camping chairs, and more.
Our menu is specially designed to give you the nutrition you need to keep on climbing. And our mountain crew is trained in first aid and carry all the necessary equipment to monitor and take care of your health on the mountain.
If you'd like to know more about the tent accommodation we offer at Follow Alice or what the food is like, read our Climbing Mount Kilimanjaro FAQs.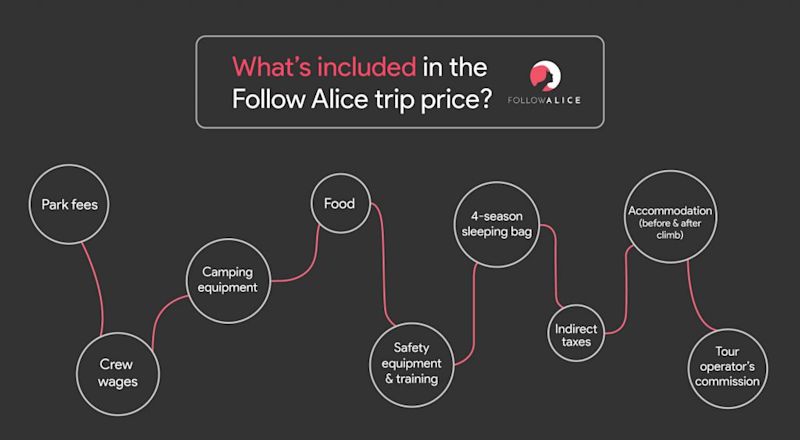 Luxury Kilimanjaro tour operators
Luxury Kilimanjaro tour operators offer what value-for-money operators offer, but they also offer more. The target market for such operators is naturally small.
The differences or extras offered by luxury Kilimanjaro tour operators include things like five-star accommodation on either side of the climb, a smarter drive to the start line, foam mattresses, the option of single-occupancy tents, fancier food, and comfort or gift packs containing items like lip ice and moisturiser.
We encourage you to research the add-ons offered by luxury tour operators to ensure they justify the higher package price.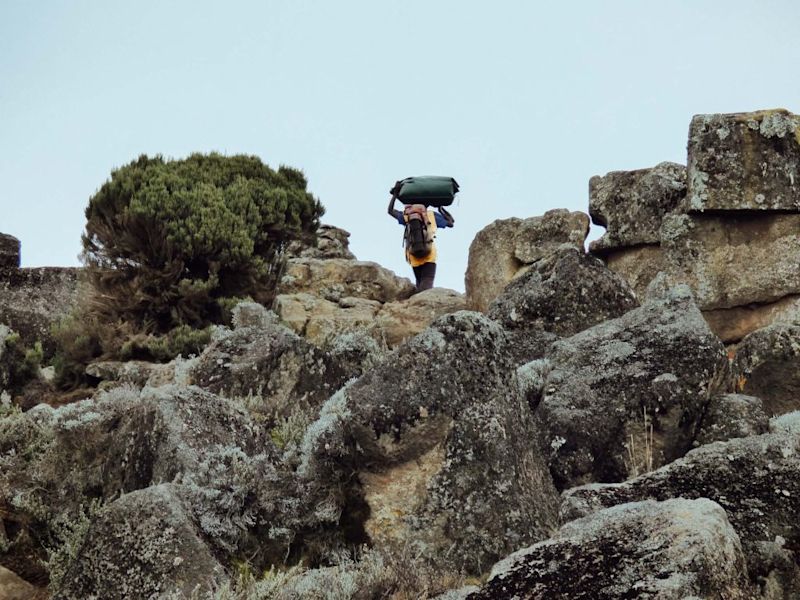 At Follow Alice we truly value our mountain crew – they're the backbone of every Kilimanjaro climb
Solo traveller supplement
Solo traveller? Most Kilimanjaro packages are based on double occupancy. This means that if you are a solo traveller or would like your own accommodation (on and off the mountain) you will have to pay a single supplement fee. This can vary from operator to operator.
At Follow Alice the single supplement fee is US$200.
That said, we're happy to pair you with another solo traveller if you'd like – provided of course there's someone available on the same Kilimanjaro climb as you. So just shout if you'd like us to look out for someone to pair you with so that you don't need to pay the single traveller supplement.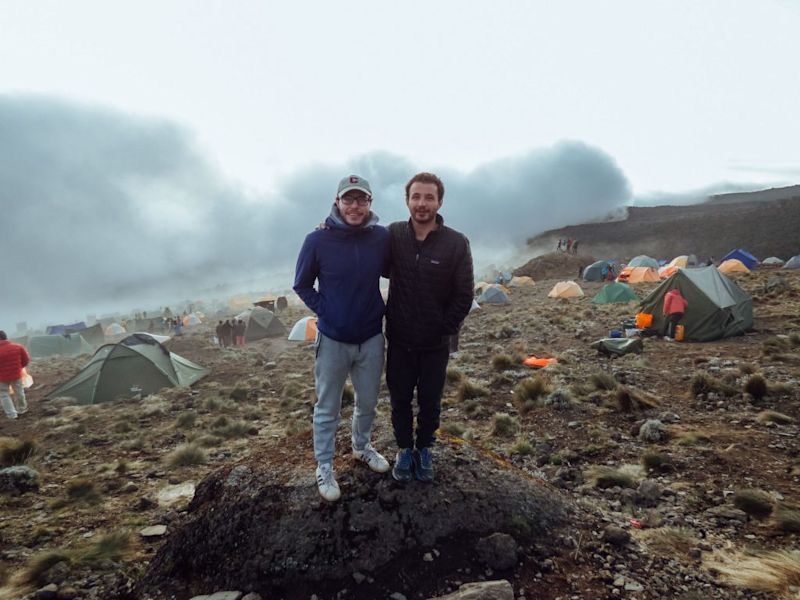 Solo travellers don't stay solo for long – Kilimanjaro inevitably introduces you to new friends
Choice of route
Did you know that Kilimanjaro is a dormant volcano? It has three volcanic cones: Kibo, Mawenzi, and Shira.
The mountain's highest point of Kilimanjaro – Uhuru Peak – is on the crater rim of Kibo. Though different surveys have come up with slightly different figures, the sign on Uhuru Peak states the height of mountain as being 5,895 m above sea level.
It takes between five and nine days to climb Kilimanjaro. The exact day count depends on the route you choose, as some routes are longer than others. You can also choose to take one or two more days than the required minimum on each route to make the hike a little easier. We refer to the variations per route as the itineraries for each route.
Giant groundsels are found in very places, with Kilimanjaro being one of them
More days also allow for better acclimatisation, and we cannot overstate the importance of proper acclimatisation to the success of your climb. We discuss the length and day counts of each of the Kilimanjaro routes with you in just a moment. But first, an important note on climb duration and expense ...
Longer Kilimanjaro routes cost more
Obviously the fewer days spent on the mountain, the smaller the expense. This is because the longer you spend on the climb the higher the wages of the crew looking after your group. It also means more money towards food and park entry fees.
When engaging on an expedition like climbing Kilimanjaro, we advise you not to try to cut costs everywhere. You should be thoughtful about matters that could affect your health and safety, your enjoyment of the trip (many of us will only get to do this epic feat once in our lives), and your chances of succeeding in summiting the mountain.
Not everyone who climbs Kilimanjaro reaches the top, often because they develop altitude sickness and feel to unwell to push on. Altitude sickness symptoms include nausea, fatigue, dizziness, sleeplessness and headaches.
While mild altitude sickness is experienced by the majority of Kilimanjaro climbers and can usually be overcome, a key reason for developing a more bothersome form of altitude sickness is not providing your body enough time to acclimatise.
An extra day on the ascent might be all that it takes for your climb to be successful. So we really do recommend thinking through your day count carefully before opting for the shorter hike just to save money.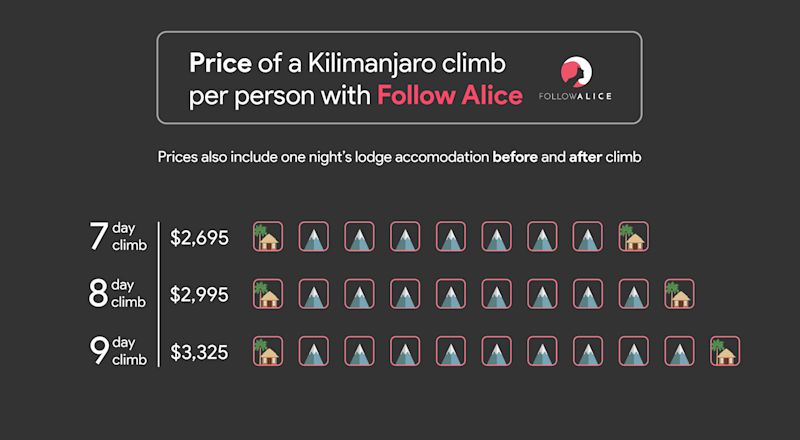 The seven Kilimanjaro routes
There are currently seven trekking Kilimanjaro routes, all of which lead you to Uhuru Peak for a triumphant stance and victorious gaze over the terrain you've conquered.
The acclimatisation profile and length of each route is shown in the table below. Note that success rate refers to how many climbers make it to the summit. The success rate for each route is linked to its acclimatisation profile – the longer the route, the more time one has to acclimatise to the higher altitude. Longer routes therefore have higher success rates.
| Route | Acclimatisation | Duration |
| --- | --- | --- |
| Northern Circuit | Excellent | 9 or 10 days |
| Lemosho | Very good | 7 or 8 days |
| Machame | Good | 6 to 8 days |
| Rongai | Okay | 6 or 7 days |
| Marangu | Okay | 7 or 8 days |
| Shira | Poor | 7 or 8 days |
| Umbwe | Poor | 5 or 6 days |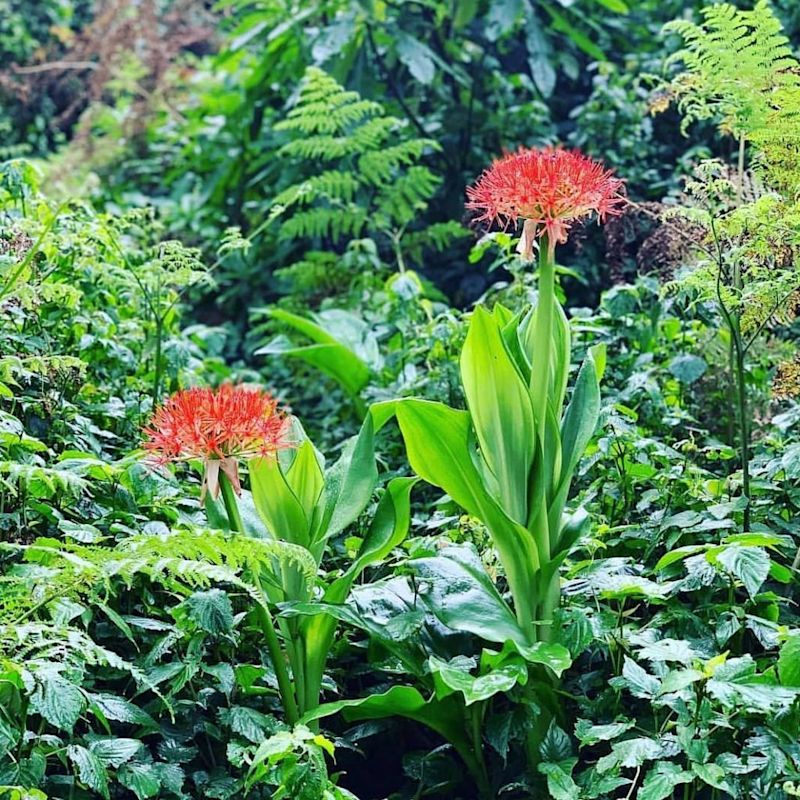 The vegetation of the forest section of your climb is very, very pretty
Kilimanjaro National Park fees
The Kilimanjaro National Park Authority has made it compulsory for all who climb Kilimanjaro to spend a certain number of days over the endeavour. Those trekking via Rongai or Marangu have to take at least five days, while those trekking any of the other Kilimanjaro routes have to take at least six days.
This rule was implemented to reduce the chances of climbers developing altitude sickness through inadequate acclimatisation. It also aims to reduce the number of emergency evacuations that must take place.
You might wonder how the park authorities can enforce such a rule, but you must remember that nobody can climb Kilimanjaro solo – to climb the mountain you must engage a tour operator.
Each day that you are on the mountain costs you. One of the big expenses of climbing Kilimanjaro is therefore the cumulative park fees, which are charged per person, per day. Specifically, every day that you're on the mountain you must pay the following mandatory Kilimanjaro National Park fees (amounts given in US dollars).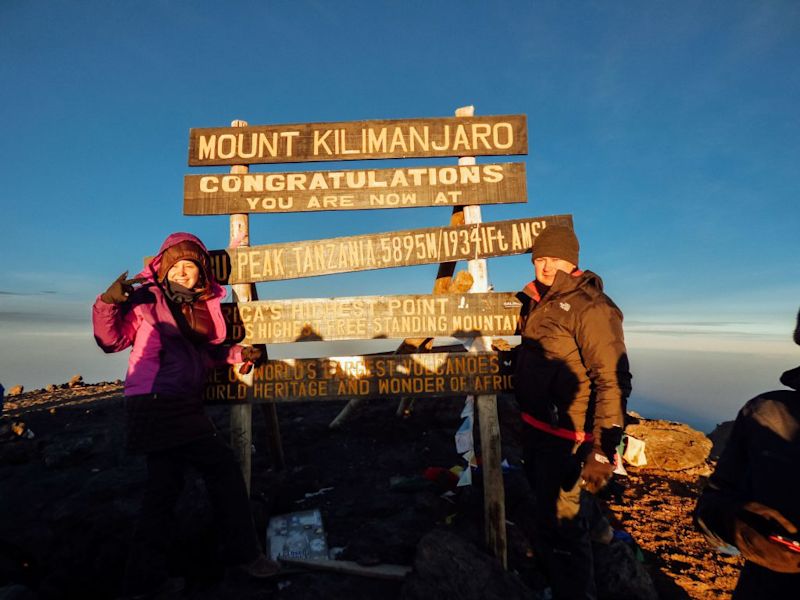 We recommend choosing a Kilimanjaro route with a high success rate so you too can stand at the top of Africa!
Kilimanjaro National Park fees per person per day
| Permit | Fee in USD |
| --- | --- |
| Entry permit | 70 |
| Camping permit | 59 |
| Rescue fee | 20 |
* These fees are accurate as of January 2023.
Every day you're on the mountain you must therefore pay US$100 simply for the privilege of being there.
Kilimanjaro routes preferred by Follow Alice
If you choose to climb Kilimanjaro with Follow Alice, you can choose between climbs that take six to nine days. Anything shorter than six days is too risky from an acclimatisation point of view, and we want all our clients to have the satisfaction of reaching their goal and standing in glory on Uhuru Peak.
We usually lead groups on climbs up the Lemosho, Machame and Rongai routes. We like these routes for their beauty and good acclimatisation profiles. That said, we're happy to lead groups up any of the seven Kilimanjaro routes.
Note that we also offer the exciting option of a New Year's Eve Kilimanjaro climb! Why not celebrate the start of the next year while standing on the roof of Africa?!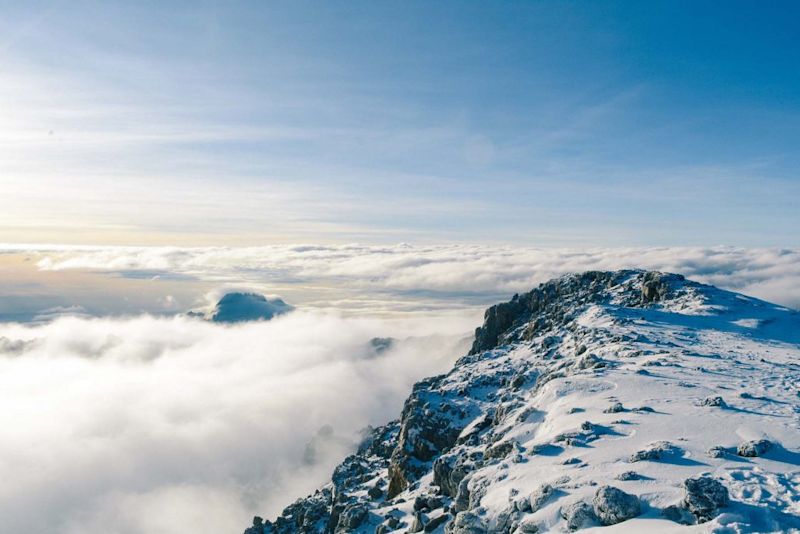 Join us for a New Year's Eve Kilimanjaro climb and start the year with this view!
We also offer full moon Kilimanjaro climbs, which are great as you can see the trail ahead of you on summit night without the aid of a headlamp. You also get to enjoy some mesmerising night-time views! Think moonshine reflecting off glaciers ... 🤩
Spending cash
You won't have to worry about spending money for the mountain. That said, on either side of your climb you may wish to have some cash for the odd purchase like a souvenir, drink or snack.
Tanzanian currency
The currency in Tanzania is the Tanzania shilling (TSh).
Hyperinflation means US$1 buys you roughly 2,340 TSh as of February 2023. (For exact and up-to-date currency exchanges, you can visit XE.)
Tanzanian shillings come in the following notes: TSh 500, TSh 1,000, TSh 5,000 and TSh 10,000. The following coins are also in use: TSh 20, TSh 50, TSh 100 and TSh 200.
Note that you can't get Tanzanian shillings outside of the country.
Most people bring US dollars with them to Tanzania. These notes need to be post 2013 and in good condition or they won't be accepted anywhere in Tanzania.
Alternatively, you can use a Visa or Mastercard to draw cash from an ATM. ATMS are readily available throughout the country.
Cost of drinks
Your meals will most likely be part of your accommodation package fee before and after your Kilimanjaro climb. But you generally buy your own drinks in Tanzania, even when staying at all-inclusive lodges.
Here's the cost of a few common drinks in Tanzania ...
| Item | Cost in TSh | Cost in USD |
| --- | --- | --- |
| 330 ml bottle of water | 690 | 0.30 |
| Coca-Cola | 1,000 | 0.45 |
| Imported beer | 5,000 | 2.15 |
| Regular cappuccino | 4,500 | 1.95 |
* These prices are accurate as of December 2022
As you can see, euros and dollars go a long way in Tanzania! So if you're wanting to bring along cash for the odd small purchase like a bottled drink, you really don't need much.
And just so you know, bargaining in tourist areas for things like souvenirs is standard practice and expected.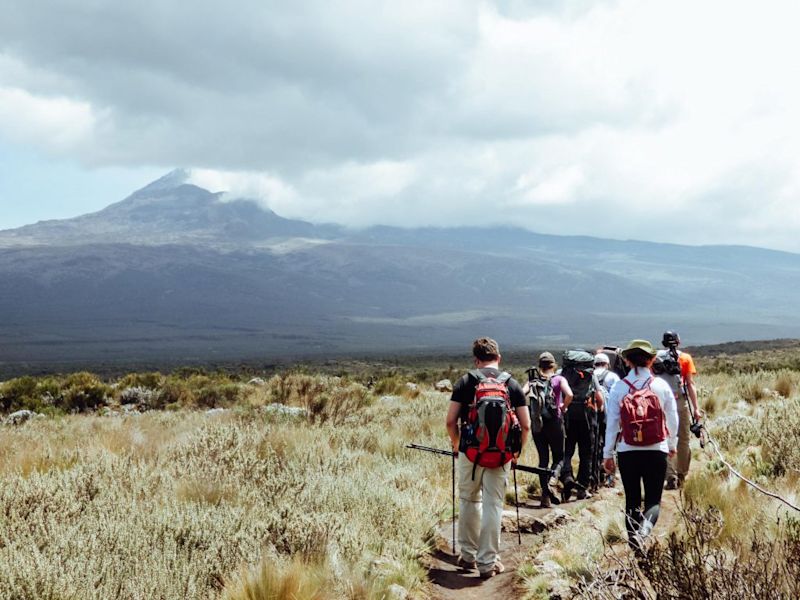 You need very little cash for Kilimanjaro – cos where you gonna spend it??
Tipping on Kilimanjaro
Tipping your Kilimanjaro support staff is not compulsory, but it's expected. In fact, tipping on Kilimanjaro has a long history. We urge you to abide by this custom, as not only does it form an important component of staff income, but you'll probably feel pretty awkward during the tipping ceremony if you're the only climber not doing any giving.
And yes, you read right – there's a tipping ceremony at the end of every Kilimanjaro climb! It's a lot of fun, involving song and dance, and is a great moment to collectively celebrate your adventure and show gratitude for the incredible support offered by your climbing crew.
How much to bring for tipping
You pool your tip money with your fellow climbers to provide a lump sum for each crew member at the end of your adventure.
Let's first look at how much that works out to for each type of crew member.
Recommended tip per day, per crew member
| Crew member | Tip in USD |
| --- | --- |
| Porter | 6-10 |
| Helping porter | 8-12 |
| Cook | 10-15 |
| Assistant guide | 15-25 |
| Lead guide | 20-30 |
* These tip amounts are our recommendations as of January 2023.
But what do these figures mean to you individually for your climb? The tables below help you work out an exact amount to bring along in your backpack for the post-climb tipping ceremony based on the duration of your climb and how many people were in your group.
Note that the more people in your climb group, the smaller your total tip amount will be. That said, more people equals the need for more porters. So it's not a neatly descending figure, but generally speaking the more climbers, the smaller your personal contribution to the total overall tip.
Total tip amount per climber for a SEVEN-day Kilimanjaro climb
The top row indicates the number of climbers in your climb group. Please scroll right for the complete table.
| | 1 | 2 | 3 | 4 | 5 | 6 | 7 | 8 | 9 | 10 | 11 | 12 |
| --- | --- | --- | --- | --- | --- | --- | --- | --- | --- | --- | --- | --- |
| Min amount (in USD) | 575 | 425 | 295 | 255 | 280 | 255 | 240 | 240 | 235 | 235 | 235 | 225 |
| Max amount (in USD) | 905 | 680 | 475 | 410 | 455 | 415 | 395 | 395 | 385 | 385 | 380 | 365 |
We recommend tipping the maximum amount if you're really happy with the service you received. If the service was just adequate, please only tip the minimum amount.
Total tip amount per climber for an EIGHT-day Kilimanjaro climb
The top row indicates the number of climbers in your climb group. Please scroll right for the complete table.
| | 1 | 2 | 3 | 4 | 5 | 6 | 7 | 8 | 9 | 10 | 11 | 12 |
| --- | --- | --- | --- | --- | --- | --- | --- | --- | --- | --- | --- | --- |
| Min amount (in USD) | 655 | 485 | 370 | 315 | 320 | 300 | 295 | 280 | 290 | 275 | 270 | 260 |
| Max amount (in USD) | 1,030 | 775 | 595 | 510 | 520 | 485 | 480 | 460 | 470 | 445 | 440 | 425 |
We recommend tipping the maximum amount if you're really happy with the service you received. If the service was just adequate, please only tip the minimum amount.
Total tip amount per climber for a NINE-day Kilimanjaro climb
The top row indicates the number of climbers in your climb group. Please scroll right for the complete table.
| | 1 | 2 | 3 | 4 | 5 | 6 | 7 | 8 | 9 | 10 | 11 | 12 |
| --- | --- | --- | --- | --- | --- | --- | --- | --- | --- | --- | --- | --- |
| Min amount (in USD) | 740 | 570 | 435 | 380 | 370 | 345 | 335 | 325 | 330 | 315 | 310 | 300 |
| Max amount (in USD) | 1,160 | 920 | 700 | 615 | 600 | 560 | 545 | 530 | 540 | 510 | 505 | 485 |
We recommend tipping the maximum amount if you're really happy with the service you received. If the service was adequate, please only tip the minimum amount.
If the tip amount above seems a large amount at first blush, remember that you'll be dividing it between your whole mountain crew.
Also, don't underestimate how important these folks are to your climb – they work so hard, smile while doing it, encourage you when you're feeling tired and demotivated, and much more. We're pretty confident you'll want to thank them with every penny you have on you.
Here's a look at one of our Kilimanjaro tipping ceremonies in action ...
There would be a youtube video here.
Sadly, the youtube player requires cookies to work.
US dollars are great
Kilimanjaro mountain crews actually really like receiving US dollars. So you don't need to exchange money for Tanzanian shillings if you have dollars. Just a couple of notes though: please ensure the notes are in good condition (they have no tears and aren't crumpled beyond recognition), or the crew might have trouble exchanging them.
Also, please note that only US dollar notes produced after 2013 have value in Tanzania. It would be so sad and disappointing for both you and the crew if your old notes couldn't be used!
If you're coming from a country with another currency, then please get your hands on Tanzanian shillings for the tipping ceremony.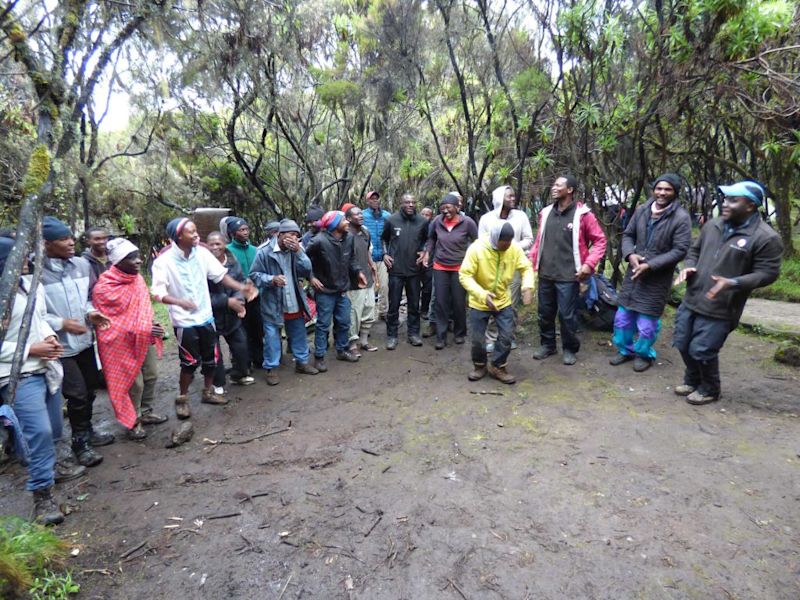 The Kilimanjaro tipping ceremony is lots of fun – you'll see!
Work out your personal Kilimanjaro cost
And finally it's time for you to work out your own Kilimanjaro cost. Use the table below to make some calculations and arrive at your personalised Kilimanjaro budget. Once again, amounts are given in US dollars.
| Item | Details or cost in USD |
| --- | --- |
| GP visit, meds and vaccinations prior to departure | Variable |
| Travel to Tanzania | The price of international flights from your country |
| Travel within Tanzania to Arusha | Cost of internal flight to Kilimanjaro Int. Airport (JRO) or the cost of the drive to Arusha region |
| Tanzania tourist visa | $50 (or $100 for US citizens) |
| Airport transfers | $25 each way if travelling with Follow Alice |
| Traveller's insurance | Around $200 |
| Universal adapter and converter | Price of a universal adapter and voltage converter if you need |
| Tanzanian SIM card | $2 |
| Camping and trekking gear (incl. a sleeping bag) | No cost if using a tour operator like Follow Alice |
| Trekking clothes | Variable (you can rent a Follow Alice down winter jacket for $60) |
| Tour operator package fee | Variable (between $1,900 and $3,200 for a seven-day climb with a value-for-money operator) |
| Single supplement (if you don't want to share a tent) | $200 at Follow Alice |
| Spending cash | Personal preference |
| Mountain crew tips | Variable (see our tables above to work out your tipping range when you know how large your group is) |
Et voilà – you're done! That said, if you'd like to talk through the specifics of the cost to climb Kilimanjaro with someone, please feel free to give us a shout. We'd love to help you work things out to make your dream to climb Kilimanjaro a reality!