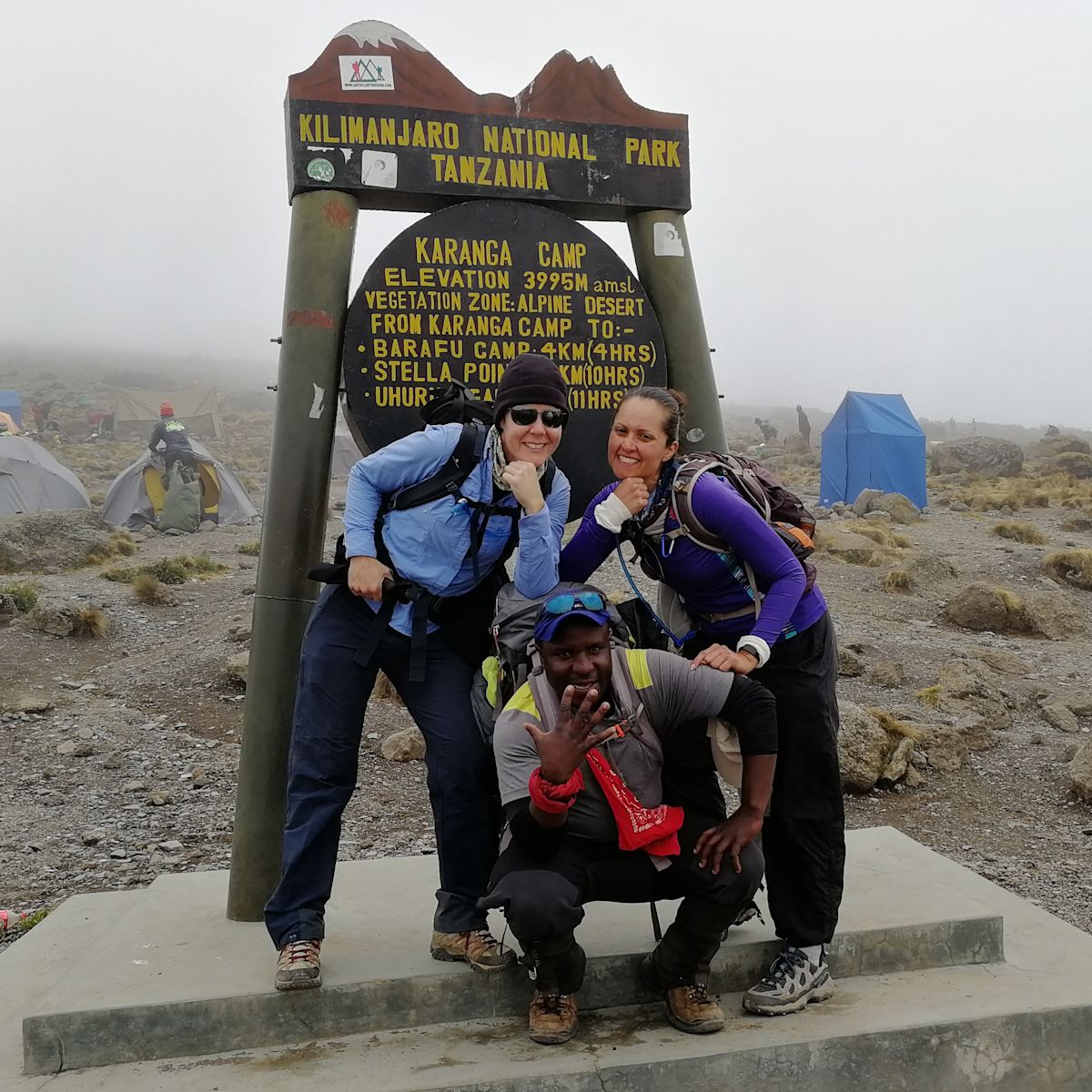 Why prices differ so much between Kilimanjaro operators
Feb 1, 2023
Reading time: 8 minutes
You get three types of Kilimanjaro operators: luxury, value-for-money and budget. We explain the different types of operators, why budget operators are able to offer such low prices, and what to look for to ensure you have a safe, enjoyable climb.
When a Kilimanjaro tour operator offers you a price tag below $2,000 per person for a climb, you want to ask yourself what's being left out or compromised to make that price possible?
Three different types of operators
There are many, many Kilimanjaro tour operators out there, and their prices vary drastically.
Some offer climbs for as low as $1,500, while others can ask for as much as $5,000! If you're in the early stages of your Kilimanjaro research, you might naturally be quite baffled by the massive price differences!
Don't worry, we'll soon help you to understand the reasons behind the greatly varying fees asked by different tour operators. To help us do this, we've divided Kilimanjaro operators into the following three groups:
budget operators

value-for-money operators

luxury operators
Let's now look at the differences in their offerings, which explains the differences in price ...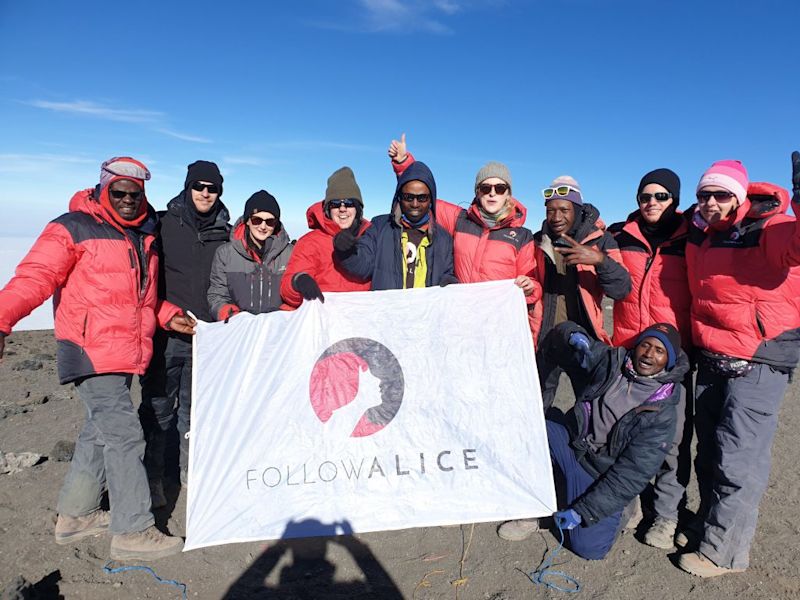 Your Kilimanjaro mountain team is with you every step of the way – both physically and mentally, encouraging and supporting you through it all
1. Budget operators
Budget Kilimanjaro operators will take you on a six- or seven-day climb for as low as $1,500 to $1,900. The margins they make are as thin as it gets, meaning there's very little room to pay the mountain crew decently, nor offer climbers high quality food and equipment. Just the park fees for a six-day climb are fixed at around $900 per trekker and cannot be lowered.
The concerns with budget operators are that they might be paying and feeding their mountain crew too little, and not providing them with adequate equipment, from warm clothing to regularly maintained medical equipment. Some budget operators don't even feed their crew sufficient food! Their training of staff might not be up to scratch either.
In terms of the client, the quality (and quantity) of the food, equipment and support given to clients can be compromised. For instance, budget operators sometimes don't have enough guides for the number of climbers. You want a low guide-to-climber ratio to ensure your health is being properly monitored. Also, should a guide need to descend the mountain with an ill or injured climber, there needs to still be enough guides to safely lead the remaining climbers.
Even though there might be plenty of people who have great experiences with a budget operator, we wouldn't recommend taking the risks associated with them just to save a little money. You don't want to expose yourself to unnecessary risks, or have less-than-pleasant food or accommodation. Since climbing Kilimanjaro is a once-in-a-lifetime experience for most people, we recommend ensuring you trek with a really reputable tour operator and ensure your trip is a great one!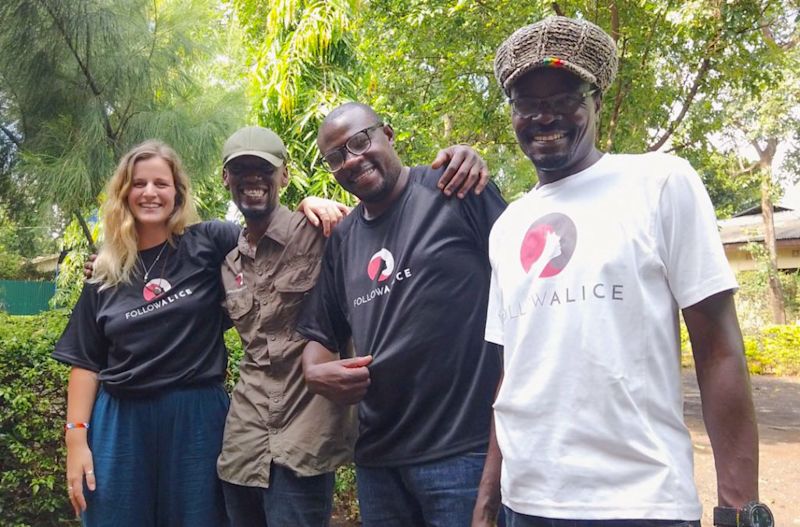 Follow Alice Tanzania Team
2. Value-for-money operators
Value-for-money tour operators offer seven-day Kilimanjaro climbs for around $1,900 to $3,200. We consider ourselves at Follow Alice to fall into this category.
This is because we, like other value-for-money operators, do our best to keep costs costs to a minimum without compromising on important things like:
safety

the quality and upkeep of equipment

providing ample and nutritious food (to both clients and mountain crew)

providing hygienic amenities

paying our mountain crew fair wages
Value-for-money companies also offer a higher guide-to-client ratio. This is important in many ways, such as keeping a keen eye on every climber's health and being able to detect the early warning signs of altitude sickness. and encouraging you when you're struggling.
The guides also speak English well and so are able to encourage you when you're flagging or doubting yourself. They have extensive experience of summiting the mountain and so can tell you what to expect each, when the next camp is nearby, and so on.
Value-for-money tour operators offer a good guide-to-client ratio, which is valuable in terms of safety as well as your chances of successfully summiting the mountain.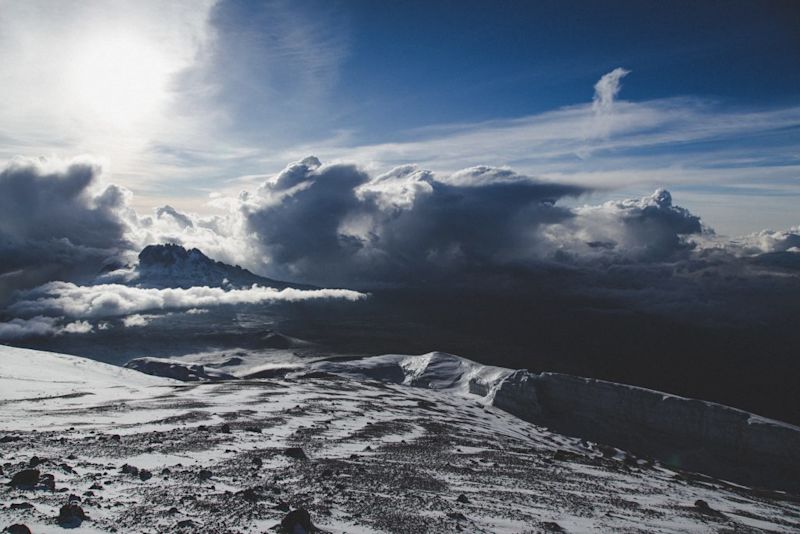 You don't want to be in the harsh conditions and thin air of the summit in the presence of poorly trained guides
Good crew treatment
Sadly, the mistreatment of porters is a challenge in the climbing industry.
At Follow Alice we know that porters are the backbone of every climb, and wish to help bring improvement to the climbing business by always treating them well and with respect, and paying them decently. Accordingly, we applied and have become an approved partner company of the Kilimanjaro Porters Assistance Project (KPAP) and its associated NPO the International Mountain Explorers Connection (IMEC).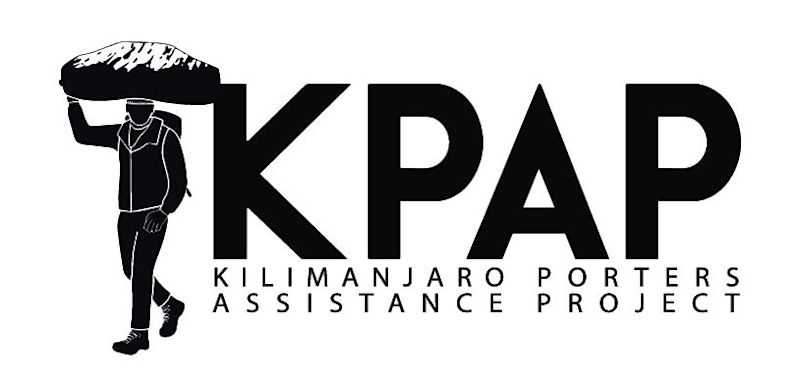 Follow Alice is proud to be a partner company with KPAP
We voluntarily submit to KPAP's monitoring activities, which include allowing a KPAP representative to evaluate the treatment of our porters on our climbs. By climbing with us you can rest assured that your porters are being treated and paid well.
There would be a youtube video here.
Sadly, the youtube player requires cookies to work.
We cannot really overstate the importance of a well-trained and happy mountain crew to the success, safety and enjoyment of your Kilimanjaro climb.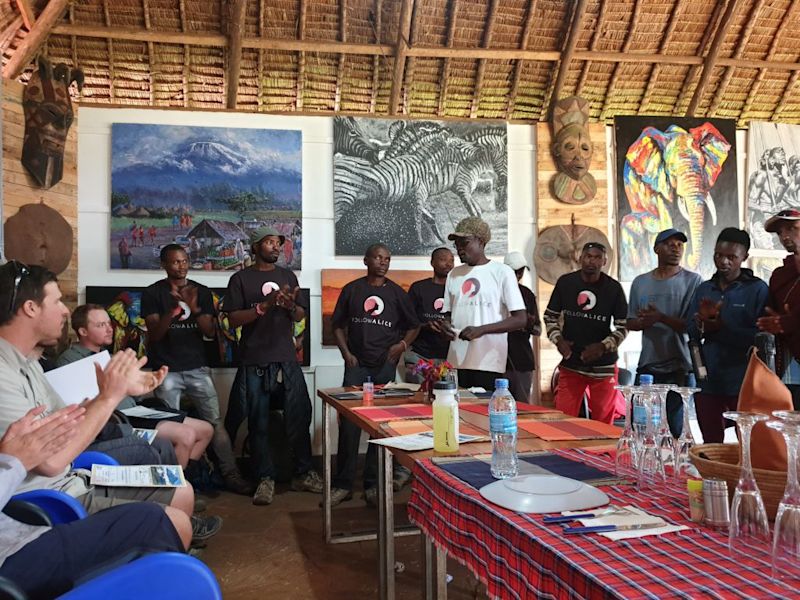 Here is Chris Sichalwe, our lead mountain guide (seen in a white shirt), surrounded by his team while he briefs climbers (seated on the left) about the upcoming trek
3. Luxury operators
Every company asking for $3,200 and upwards can be classified as a luxury operator. How do they distinguish themselves and how do they justify the high prices? For starters, they provide extra amenities such as portable showers, wine, and fancier food. So you'll still be doing the same amount of work to climb up Kilimanjaro with a luxury tour operator, there will just be some extra goodies along the way.
Such luxuries – especially the shower! – can certainly be very nice. And for those with cash to spare, this is a good option. We do, however, find that most people cannot justify spending the extra money on such marginal benefits. Climbing Kilimanjaro tends to be a fairly pricey endeavour without adding hundreds or even thousands extra to the tab just for a handful of luxuries. One could even argue that roughing it is part of what makes the experience so memorable!
Luxury operators also sometimes carry extra oxygen – one oxygen tank per person. This sounds good, but it simply isn't necessary to be honest.
Sales agents versus operators
Finally, we want to also point out that there's a difference between sales agents and tour operators. There are some Kilimanjaro websites where you're dealing with sales agents only – not the people who will actually accompany you up the mountain. Sales agents usually liaise with a local tour operator (often a budget one) and add their margin on top.
At Follow Alice, our approach to pricing is to offer an affordable price without cutting costs on important factors such as safety, quality of equipment, hygiene, nutrition, and our staff's wellbeing.
We advise against booking with a sales agent. For starters, their level of involvement and knowledge simply cannot compete with companies who have feet on the ground in Tanzania – and on the mountain itself!
Further, you may think you're booking with a value-for-money operator given the price, but actually the sales agent's markup fee is misleading and you're actually being connected with a budget operator.
The Follow Alice Kilimanjaro team is ONE team
At Follow Alice your sales agent and Kilimanjaro operator are all part of the same company!
We mentioned this because it's an unusual setup – most Kilimanjaro sales and marketing teams belong to a separate company from the folks you meet in Tanzania who actually run the Kilimanjaro climbs.
So we're proud of the fact that the different members of the Follow Alice team – from the travel agent you chat to online all the way to the guys and gals setting up your campsites – are all part of the same company. We are all Follow Alice.
We think you'll agree that this is a strength. It makes us a better, more unified team, and allows us to offer a far better customer service and experience.
We love being together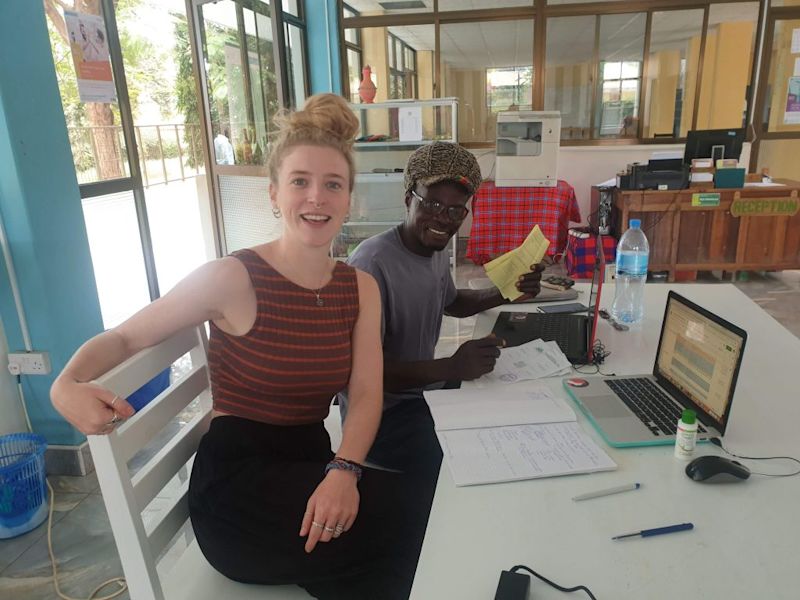 Here you have Tash and Chris, two of the key people working to give you a truly memorable Kilimanjaro experience from start to finish!
In the above photo you have Tash and Chris.
Tash splits her time between London and Cape Town and head up our Sales and Operations team in HQ. But she travels to Tanzania when she can to visit with our Tanzanian colleagues.
Chris was born and raised in the Kilimanjaro region. He's the director of Follow Alice Tanzania, and often takes our clients on Kilimanjaro climbs as their lead guide. He was one of the three founding members of Follow Alice! (You can learn more about how we started here.)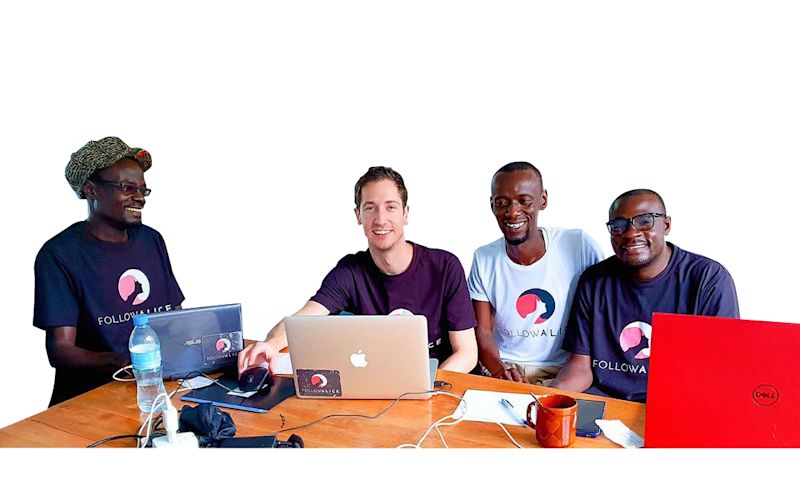 Follow Alice's first team meeting in 2014 was in Tanzania!
Our HQ staff and Kilimanjaro crew work closely together, meeting in person when we can, and at other times WhatsApping and having Zoom calls to stay in touch, share knowledge, and ensure we're all on the same page when it comes to what is best for our clients.
We hope you'll choose to climb Kilimanjaro with us and be part of this special Follow Alice community that we've created!