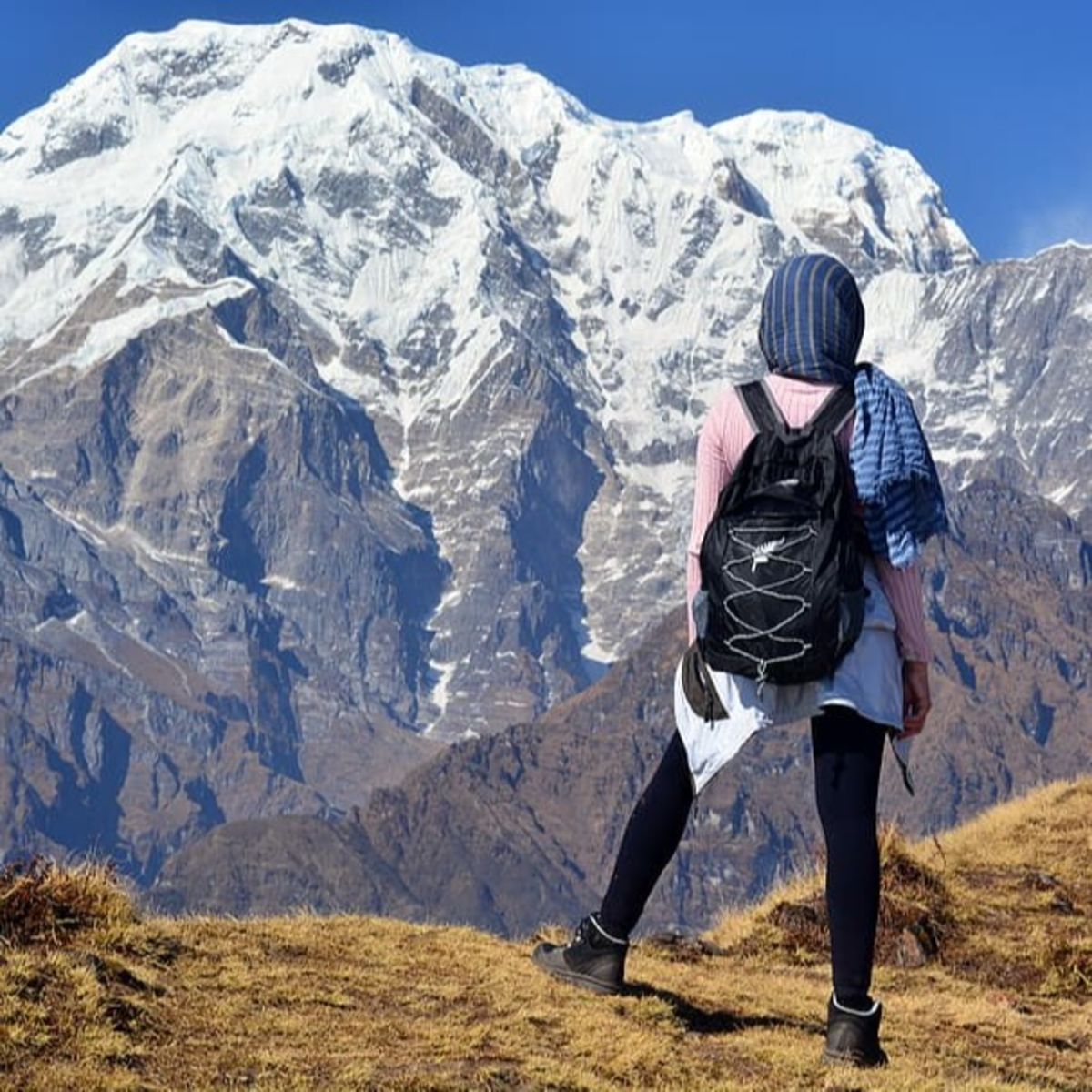 Your complete Everest Base Camp packing list
Sep 1, 2023
Reading time: 38 minutes
Before any great adventure comes the necessary planning. We don't want you to lose a pinky toe to frostbite or fly home with the infamous Khumbu cough. So here's our comprehensive Everest Base Camp packing list to ensure you bring all you need with you.
So you've decided to do the Everest Base Camp trek? Well done you! We applaud this decision as brave, smart, and inspired.
We know what you're in for when you trek to Everest Base Camp: culinary firsts, new friendships from around the world, glaciers, Sherpa villages, stretching experiences, strengthened glutes, Tibetan prayer flags, birdsong, ancient monasteries, phenomenal mountain views, and so very much more.
Bill Bryson writes in his travel memoir Neither Here Nor There (1991):
I can't think of anything that excites a greater sense of childlike wonder than to be in a country where you are ignorant of almost everything. Suddenly you are five years old again. You can't read anything, you have only the most rudimentary sense of how things work, you can't even reliably cross a street without endangering your life.
But not to worry. On our adventure trips we're right beside you to ensure you not only cross roads, but also the Himalayan foothills, safely.
And looking after you starts right now, with advising you on your Everest Base Camp packing list!
Overview of your packing list
So let's discuss your Everest Base Camp packing list. You can use the list below to navigate to a particular section if you wish.
Trekking equipment
Duffel bag

Backpack

Rain cover

Trekking poles

Sleeping bag

Sleeping bag liner

Hydration bladder

Water bottle
Clothing and shoes
Base layers (and underwear)

Middle layers

Outer layer

Socks

Trekking boots

Gaiters

Neck gaiters or balaclavas

Warm hat

Sunhat or sports cap

Inner gloves

Waterproof gloves or mitts

House clothes

Sneakers
Other essentials
First aid kit

Water purification tablets

Toiletries

Sunglasses

Microfibre towel

Pillowcase

Head torch (flashlight)

Dry bags

High-energy snacks

Spares (of everything)

Passport and visa

Currency
Non-essentials
Camera

Portable charger and adapter

Hand warmer or hot water bottle

Safety whistle

E-reader

Playing cards

Small gifts

Journal and pen
Trekking equipment
Here are the details about each of the trekking equipment items you need for the Everest Base Camp trek ...
Duffel bag
Follow Alice arranges one porter for every two trekkers on the EBC trek. This means you'll need a duffel bag to give the porter. Note that we say duffel bag and not suitcase or rucksack; porters ask that you only give them duffel bags to transport.
Please note that the bag you give to your porter should be a duffel bag and not a suitcase, rucksack or any other type of bag.
Your duffel bag should have a capacity of around 65 litres. And it should weigh no more than 10 kg (22 lb) when full. This is for the sake of not overloading your porter.
Note that your sleeping bag goes inside your duffel bag. If you're going to use a Follow Alice sleeping bag for the trek, we can tell you that this weighs 2.2 kg.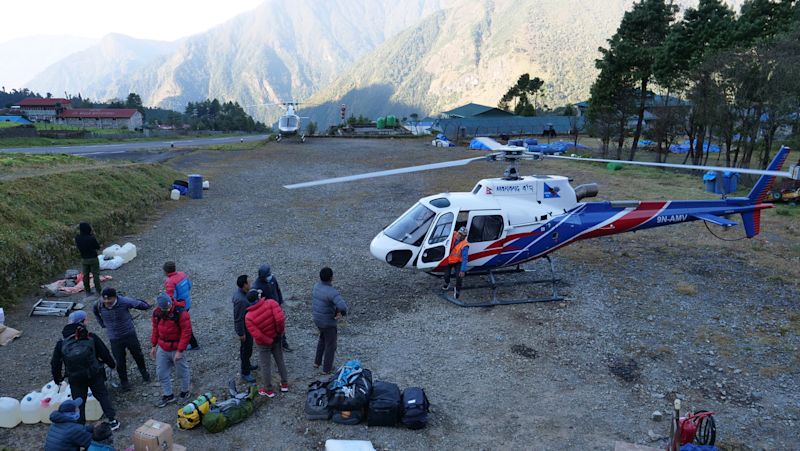 One of our EBC trek and helicopter return groups
Finally, note that you can only carry 15 kg in total luggage (i.e. duffel bag plus backpack) on the light aircraft to Lukla.
Backpack
You don't need a very large backpack on the EBC trek since you'll have the use of use a porter for the bulk of your belongings. You'll also be overnighting and eating your dinners and breakfasts in teahouses (guesthouses), so you don't need camping and cooking equipment.
We advise you to bring a backpack of around 30 to 50 litres. Your backpack is where you'll carry your essential items for each day's hike like water, snacks, lip balm, sun cream, camera and extra layers.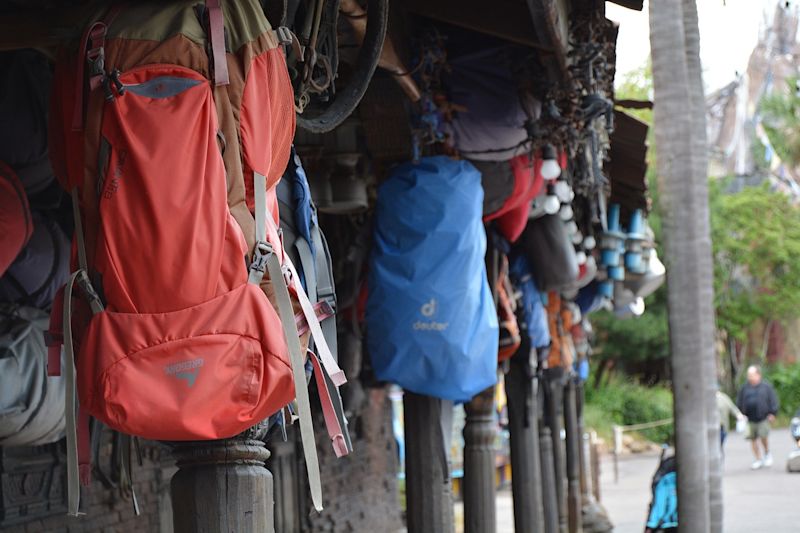 Your backpack is one of your most important packing list items
You should use your backpack as your hand luggage on the small airplane flight to Lukla, and put your duffel bag in the hold. If you wear you winter jacket and trekking boots, that helps to lessen the load that must go into your 15 kg luggage allowance.
What should I look for in a backpack?
Think carefully about what backpack to bring. Even though it won't contain everything you need, it's still going to be heavy-ish since you're carrying all of your own water. So you want comfortable and wide shoulder and hip straps. A chest strap is important for keeping the pack sliding from side to side.
Also look into getting a backpack with a mesh breathing panel, so that you don't get a sweaty back. Side pockets and straps for attaching things (like your trekking poles) are also very helpful. Be sure to use the pack before coming to Nepal to ensure it's a comfy fit.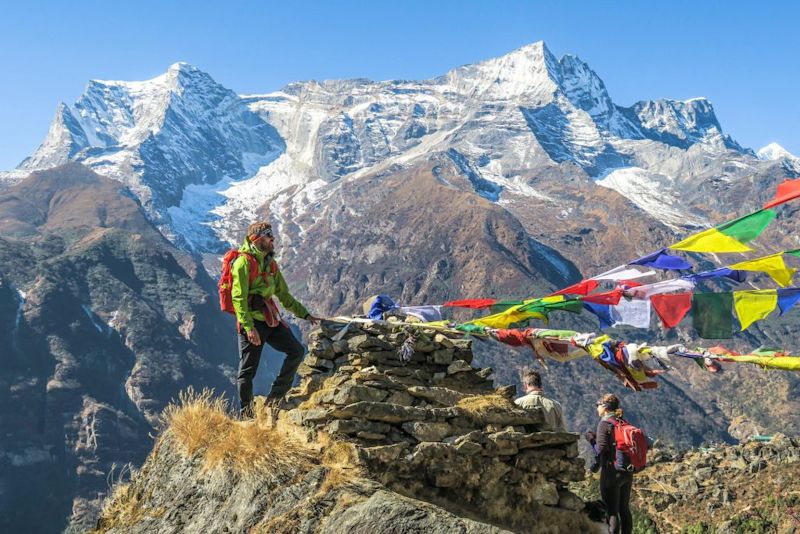 The wide shoulder and hips straps of this backpack are ideal, as is the chest strap
The ideal backpack for the EBC trek has a built-in hydration pack.
When it comes to the fabric of the rucksack or backpack, canvas is a traditional choice as it's very hardy. However, it's also relatively heavy. This is why most people now opt for polyester or very strong nylon backpacks.
Either way, you want a quality bag to ensure there are no unnecessary tears, broken zips and other frustrating nonsense.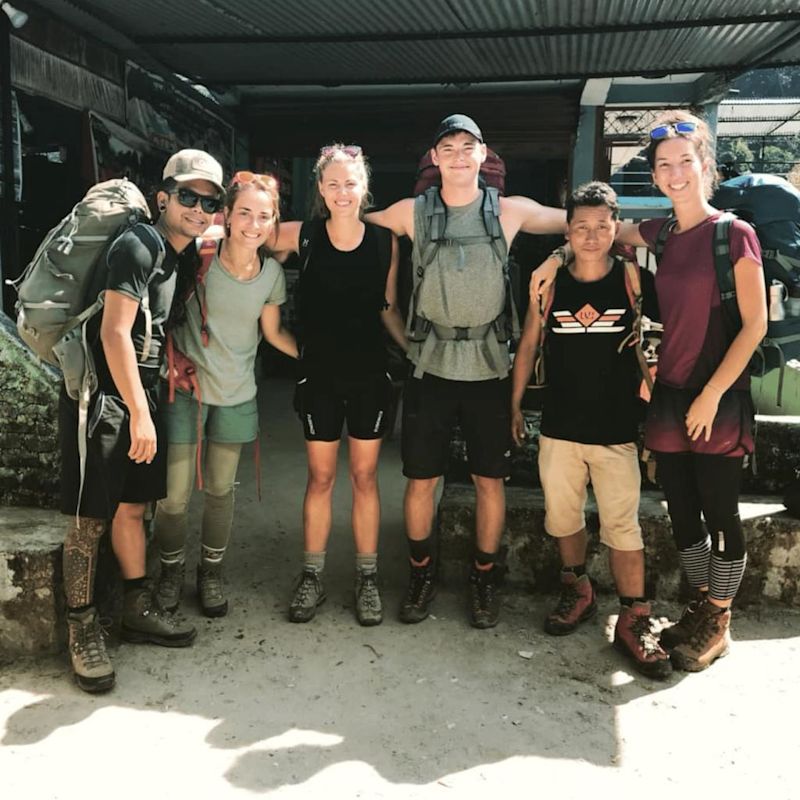 Oangdi (far left) is our awesome friend and one of our Follow Alice local leaders in Nepal!
Look for a backpack with wide shoulder straps as these distribute the weight better. You don't want thin straps digging into your shoulders as you trek.
You also want padded hip belts. These let you carry some of the weight on your hips – a must!
We also recommend a pack with multiple compartments besides the main bin. This makes it much easier to organise and find your gear.
For a more detailed discussion of how to choose a backpack that can handle the rigours of high-altitude trekking, please read How to choose a backpack for high-altitude trekking. And we recommend going into a brick-and-mortar building if possible and having an experienced sales clerk help you try on different backpacks.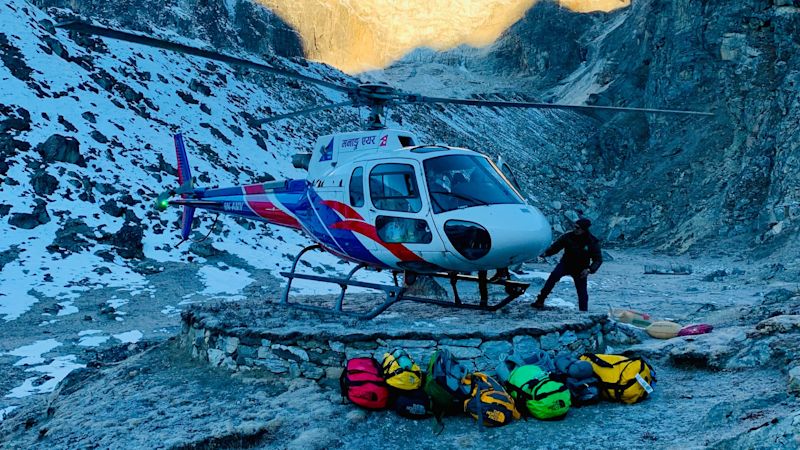 Backpacks ready to be loaded onto the heli for the flight from base camp to Lukla
Rain cover
A wet bag is a heavy bag, never mind the state of its contents. A rain cover is therefore an important item to pack if yours isn't waterproof.
As with all your waterproof gear, you're going to want to pack this item in a side pocket. This makes it easy to lay hold of should there be sudden rain. Fortunately these can be bought cheaply, are lightweight, and don't take up much space.
Alternatively, you could get a backpack with a built-in rain cover. These are very useful, as they're made to fit your specific backpack snugly.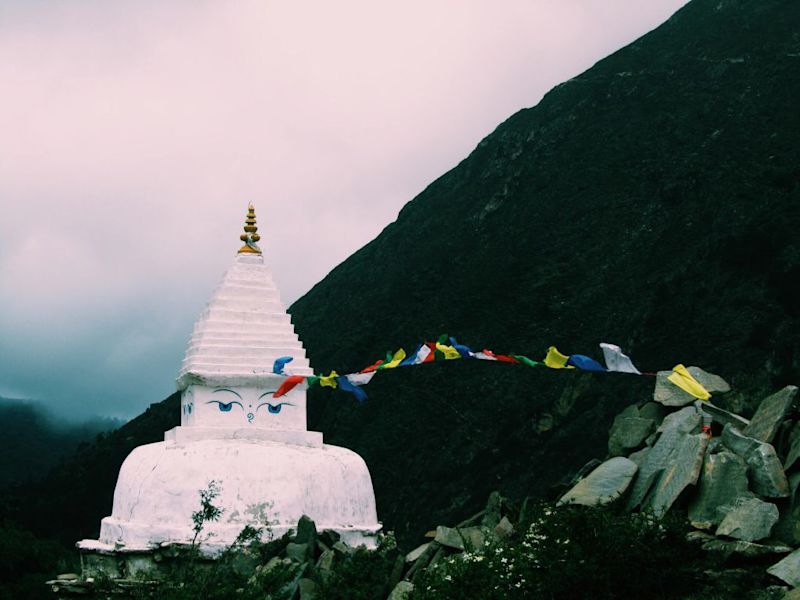 The weather in Khumbu Valley is unpredictable and changeable
Trekking poles
Most of the Everest Base Camp trek is done within the Sagarmatha National Park. The trails are rough and treacherous in places, as you'd expect from a vast mountainous park. Trekking poles are therefore important.
Trekking poles help your with balance and confidence. Especially when tackling something tricky like a river crossing or uneven surface. They can also take some of the weight off your knees on steep descents.
Good trekking poles:
Have wristbands so you don't drop them.

Are made from a lightweight but sturdy material like carbon fibre or aluminium.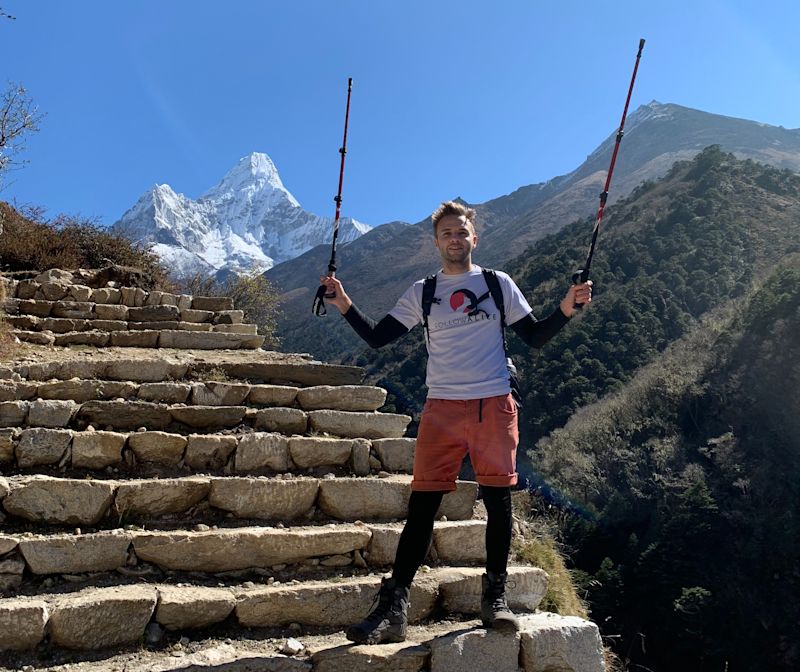 Dez here has adjustable trekking poles with wristbands (even if he isn't using them right now)
If you have the option, choose adjustable trekking poles as they offer multiple benefits:
They're easier to transport and store.

You can tailor them to your height.

If you're walking along a trail that is cut into a hill, you can extend and shorten your poles to allow you to keep using them.
If you have ski poles and don't wish to buy trekking poles, then by all means use the former. A walking stick is an option, but not a great one.
I always dreamt about Everest Base Camp, and then came the day where I decided to take on this adventure. The trek was wonderful and truly unforgettable!
– Luke Roberts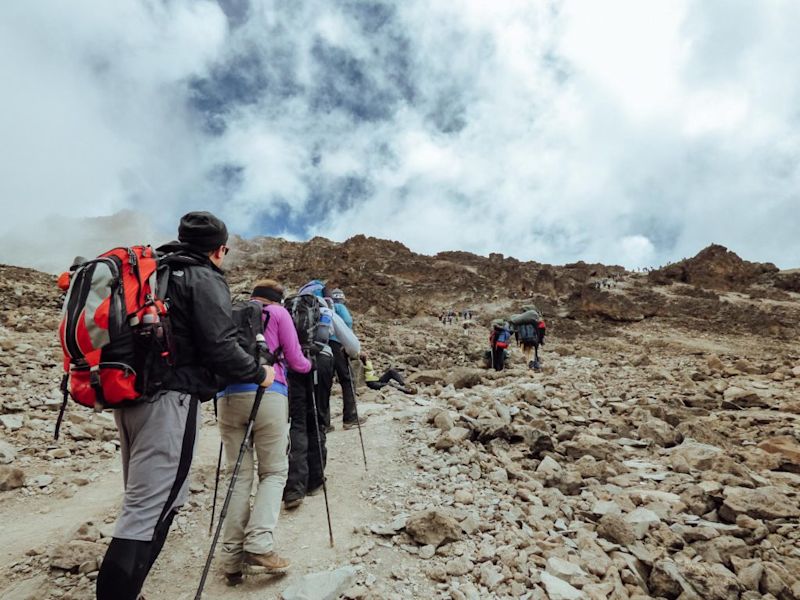 Remember to pack a lightweight waterproof rucksack or backpack cover
Sleeping bag
The average night-time temperature does of course vary depending on the time of year you do the trek. It also depends on where along the trail you are.
Nepal, which lies north of the Tropic of Cancer, has a cold, dry winter from December to March. It has a warmer, wetter summer from June to September. October and November are some of the best months for trekking.
October and November are two of the most popular months for trekking as weather conditions are at their best.
When it comes to your sleeping bag, it is better to play it safe. Get one that can handle an even lower temperature than what's expected. That said, you need to consider the weight of the bag against the usual temperatures. Have a sleeping bag that's rated around -6º or -10ºC? You can still bring that along for an autumn trek.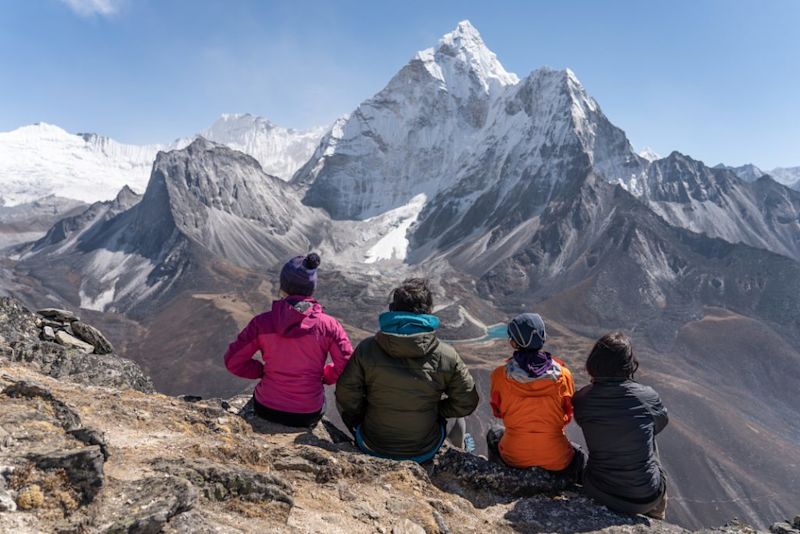 View of Ama Dablam from Nangkart Shank viewpoint near Dingboche
Most teahouses and lodges have spare duvets you can use if your sleeping bag isn't enough. However, these shouldn't be relied upon.
Remember to also factor in what you know about yourself. If you always get cold when everyone else is feeling fine, bring along a warmer bag than is the norm.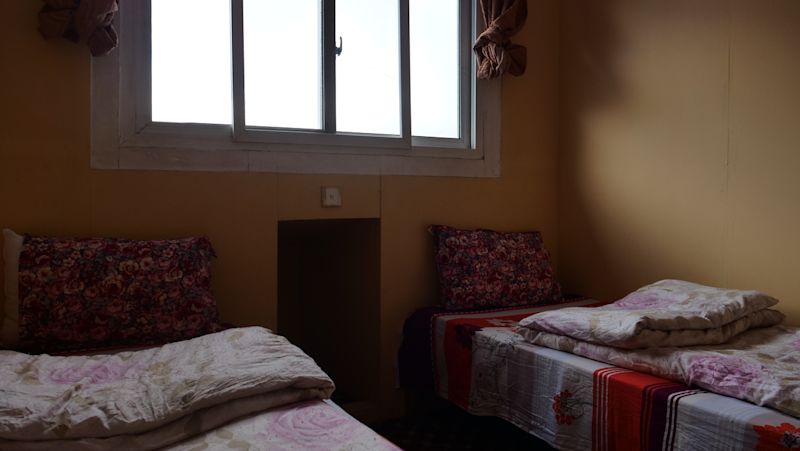 Many Nepali teahouses provide duvets which offer some extra warmth
Note that many sleeping bag ratings are more a rough guideline than an exact science. Having spare thermals and layers is also important. If you want a relatively reliable sleeping bag rating, look for a Euro rating.
Which material should you choose?
Another thing to consider when choosing your sleeping bag is its insulation material. Down bags are excellent, as they're very lightweight, compress easily (making them easy to stow), and are durable. Their only down side (pun intended) is that they can be pricey.
Note too that if you do decide to purchase a down sleeping bag, we encourage you to look for the acronym RDS (responsible down standard) or TDS (traceable down standard) on the label. This means the goose or duck down has been responsibly sourced.
Your other option of a sleeping bag – and still a good one at that – is a bag made with synthetic insulation. This option is more affordable.
What shape should you choose?
How about the shape of the sleeping bag?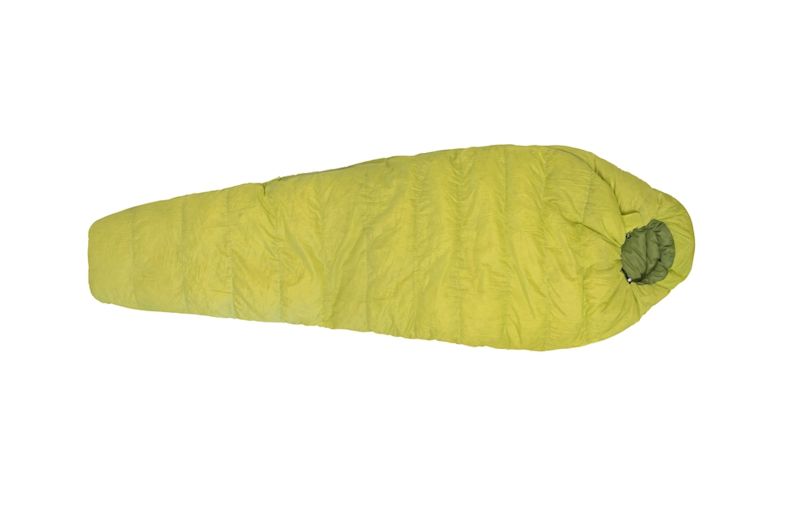 A mummy sleeping bag
The mummy sleeping bag is arguably a better choice for this trek than the rectangular or semi-rectangular bag. This is because it weighs the least and the narrow foot end will keep your feet warmer. However, if you know you get claustrophobic in a narrow space, then work with who you are! You might also like to source a bag with a hood and stash pocket.
The mummy shape of sleeping bag is arguably a better choice for this trek.
We offer further detail about the best sleeping bag fabrics, fill, sizes, shapes and more in The best sleeping bags for trekking in Nepal.
Compression stuff sack
Finally, you'll definitely need a compression stuff sack for your sleeping bag, as winter sleeping bags are bulky. A quality bag should have one accompanying it; if it doesn't, why not suggest the retailer throw one in?
Renting a sleeping bag
Note that you can rent a sleeping bag in Nepal if you don't wish to fork out for one. Thamel, a buzzing area of Kathmandu, is chockfull of businesses renting sleeping bags, which helps to keep prices competitive. But if you choose to go this route, you're definitely going to want to purchase a sleeping bag liner.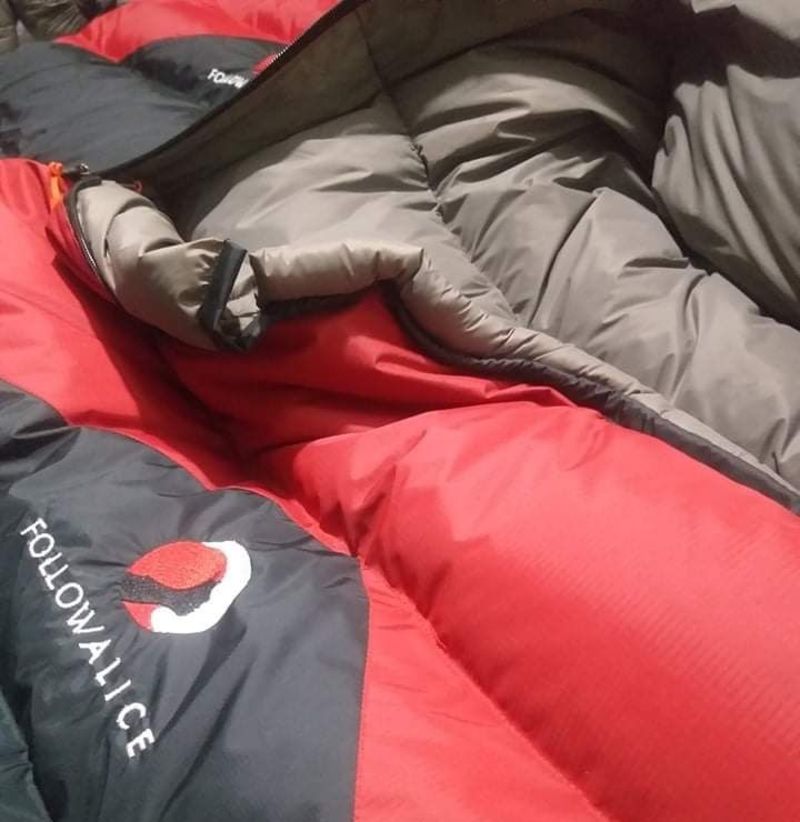 A Follow Alice winter sleeping bag
That said, if you do the EBC trek with Follow Alice and don't have your own sleeping bag ... we can rent you one for no extra charge!! That's right, we have Follow Alice winter sleeping bags that are perfect for keeping you warm along the EBC trail, and these are free for our clients to loan during the trek.
Follow Alice trekkers can borrow one of our very own winter sleeping bags at no extra charge! 🎉
Sleeping bag liner
A sleeping bag isn't easy to clean, which makes a liner a good idea. Some people simply stitch together a simple liner at home with an old sheet. This is a viable option if you'd like to save some pennies. Otherwise you can purchase a thermal liner, which of course offers an additional layer of snuggly-ness. Some liners can actually offer up to 15 degrees more warmth.
Silk bag liners are popular with trekkers as they're lightweight, breathable and warm. Fleece sleeping bag liners are also popular and comfortable. If you're using a mummy-shaped sleeping bag, opt for a liner that's also in the mummy shape. And those with a drawstring hood are also great.
As already mentioned, if you're opting for a rented sleeping bag, a bag liner seems really rather non-negotiable.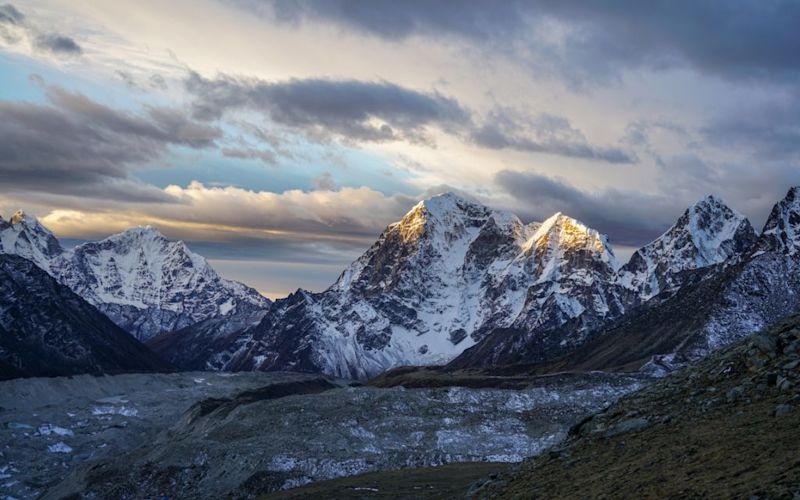 The amazing view from Kala Patthar, which you climb the morning after visiting Everest Base Camp
Hydration bladder
You want to carry at least two two litres of liquid when trekking. But three litres is better. So you'll need a hydration bladder (like a CamelBak) of that capacity or more. Ideally the hydration bladder and its drinking hose is built into your daypack.
Dehydration is a common issue amongst Everest Base Camp trekkers. The higher altitude increases urination, makes you breathe more rapidly, and causes the air to be drier. You want to regularly be sipping from your water supply.
Remember that you shouldn't wait till you're thirsty to drink – when you're thirsty, you're already dehydrated!
A hydration bladder is generally a better option than a bottle. You don't have to do arm gymnastics or wait for your friend to retrieve it for you every time you want a sip. And you're therefore more likely to take the odd sip here and there.
Water bottle
We recommend bringing along a lightweight water bottle that you know won't leak in addition to your hydration pack.
Firstly, this will allow you to carry more water than can be stored in your hydration bladder. Secondly, you may like to add an electrolyte sachet to the water in it while keeping the water in your hydration bladder as just water.
Finally, a water bottle is very useful at night. The bedrooms in the teahouses and lodges aren't heated, and at higher elevations you'll wake up to find that all liquids in your room have frozen solid overnight. Those in the know put some water in their bottle in the evening and then place the bottle by their feet in the sleeping bag. This way you'll have some drinkable water when you wake up.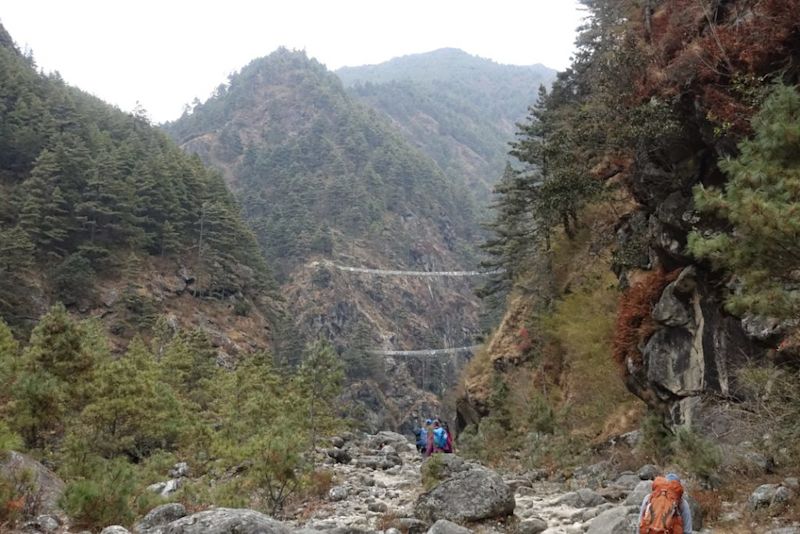 It's vital to stay well hydrated while hiking, especially when hiking at high altitude
Clothing and shoes
You will be layering your clothes for the entirety of your Everest Base Camp trek. You will experience different weather conditions, so being able to 'peel' layers on and off is essential. These are split into your three layers that are arranged from the skin outwards:
Your

base layer

draws moisture away from the skin

The

middle layer

keeps in your body heat

Your

outer layer

is wind- and waterproof
Base layers
You'll need at least a couple of snug-fitting, long-sleeved vests and long johns (or leggings) as your base or inner layers. The primary function of these items is offering you warmth. You want to choose thermals that have good stretch and are hardy (a well-placed hole can lead to all sorts of unpleasant friction!).
Also be sure that your inner items are very comfortable, with no troublesome seams. This means you need to wear them for long stretches of activity before the trek, as that's the only way to know for certain that they're comfy.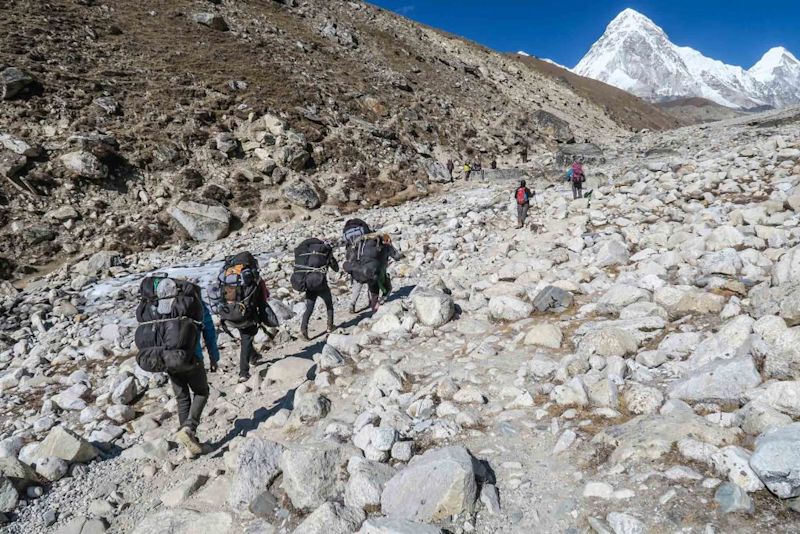 Located at the foot of greatest mountain range in the world, Everest Base Camp makes for a spectacular trek
Further, you want all the clothes sitting against your skin to have a high wicking capability to help keep you dry. This applies to your underwear too. Cotton clothing stays wet and becomes heavy and uncomfortable. Rather, clothes made from synthetic fabrics like polyester, nylon, spandex and lycra are good options.
Finally, ladies, ensure you're bringing moisture-wicking sports bras that don't drag on your shoulders. You'll need to be comfortable wearing them for many hours a day.
Middle layers
Your middle layers are:
Trekking shirts

A fleece jacket

Trekking trousers

Hiking shorts
Trekking shirts
Trekking shirts are lightweight, breathable shirts that you'll wear every day on the trek. Mostly you'll want long-sleeve trekking shirts, but not exclusively. Naturally you should consider the time of year you're trekking to help you decide the ratio of short to long sleeves.
As with your inner layers, you want to buy trekking shirts made from materials like merino wool. These have good moisture wicking. (Side note: you are going to get smelly on the trek, but if you wear cotton you'll scare the wildlife.)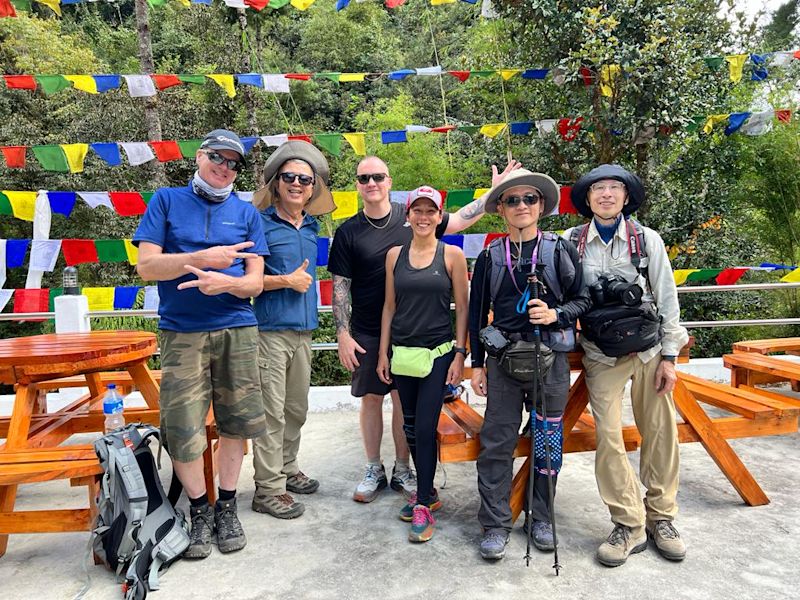 One of our EBC trekking groups 😊
Fleece jacket
A very important part of your gear is a good polar fleece or micro-fleece jacket. You'll wear this over your trekking shirt to keep you warm.
Fleece is fantastic at trapping body heat. You can't wear it as base layer, however, as it absorbs moisture readily. This is why the fleece goes over your trekking shirt.
While wool is also highly insulating, we recommend a jacket made from fleece as it's more lightweight.
Trekking trousers
Every day you'll be wearing trekking trousers. Trousers with a few pockets, especially zipped ones, are a great option. They allow you to put things like your lip balm within easy reach. A good idea is to get trekking trousers with zip-off pants. These allow you to whip off the bottom half of your pants without undressing. The weather is very changeable in Khumbu (the northeastern region of Nepal). Being able to layer up and down quickly is incredibly useful.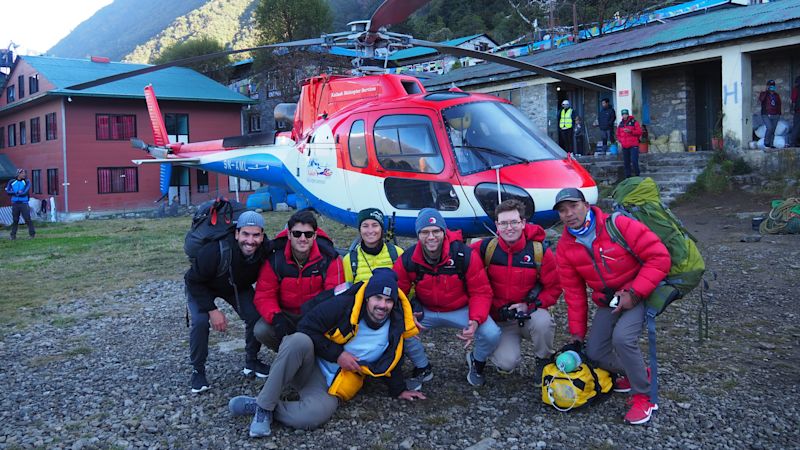 Dark trekking pants help to hide the dirt
In fact, we can't stress the need for multiple layers enough. The weather can turn on a dime, and you need to be able to bundle up rapido style. Temperatures in Khumbu can, in fact, vary by 40º C within a day. (Though of course you should be tucked in bed during the worst of it.) The point is that you want to be able to layer up and down easily to allow for adjustments in temperature, as well as your own body heat as you work up a sweat.
Hiking shorts
If you don't buy zip-off trousers, you'll need a pair of hiking shorts. These will be worn during the lower and warmer parts of the Everest Base Camp trek.
Everest Base Camp is one of the best attractions for the adventurous travellers or thrill-seekers. The base camp provides the complete Himalayan experience.
– Tiffany Price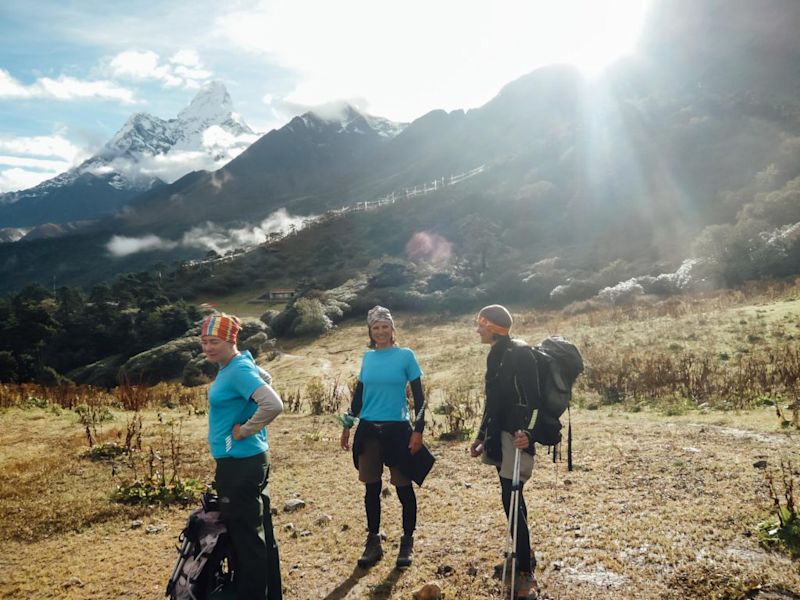 It's not all snow and freezing winds on the Everest Base Camp trek – some days are sunshiny and positively balmy!
Outer layer
Next you need an insulating and waterproof outer layer. This final upper layer – sometimes referred to as your 'shell' – is very important because fleece, as already mentioned, isn't water-resistant.
Winter jacket
We recommend looking for a winter jacket made from down. This material, as already mentioned, is an excellent insulator while also being lightweight. If you go for a synthetic jacket, ensure it offers adequate warmth in ratio to its weight. A jacket with a detachable hood is a great option, as is one with closed (zip-up) pockets.
This jacket will likely be one of the more expensive purchases you make in terms of gear. We encourage you not to stint on this item. See it as an investment, because a quality jacket can travel with you through life. Alternatively, you can rent one in Kathmandu.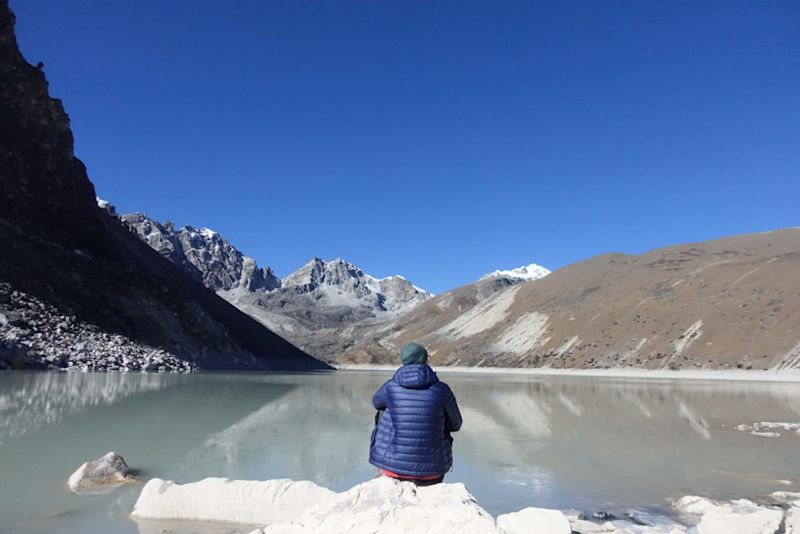 Having a really good winter jacket is of vital importance to a safe and enjoyable Everest Base Camp trek
Ski trousers
On days when it's raining or snowing it is a good idea to head out in a pair of ski trousers. These are warm, insulating and also waterproof. You likely won't want to wear these everyday, as they can get too warm.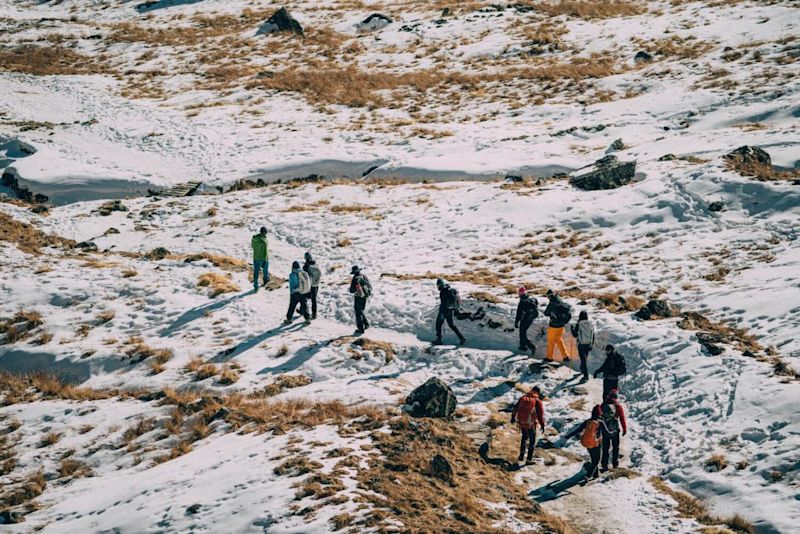 A good Everest Base Camp packing list covers you for all possible weather conditions
Waterproof over pants
It's a good idea to also pack lightweight over pants that can be slipped over your trekking trousers when there's a downpour or unexpected turn in the weather but it isn't that cold.
Socks
Socks are a very important topic. Uncomfortable socks can ruin your trek by causing cold feet, or blisters, or both. We recommend packing not just hiking socks, but also thermal socks for the higher altitudes, and sock liners for extra warmth and further friction fighting.
Hiking socks
The socks you wear can make or break your trek. We don't advise you wear any brand new socks on the trek; like shoes, you should test them out beforehand to ensure there are no issues like a worrisome seam. And as with underwear, you want to avoid cotton socks as they retain moisture.
The main things you want in a hiking sock are comfort, cushioning, flat seams, and moisture-wicking capabilities. Sock technology has come a long way in recent years. We recommend you go to a store with a wide range or look online to find the best options. Merino wool socks are a good option as they're very breathable.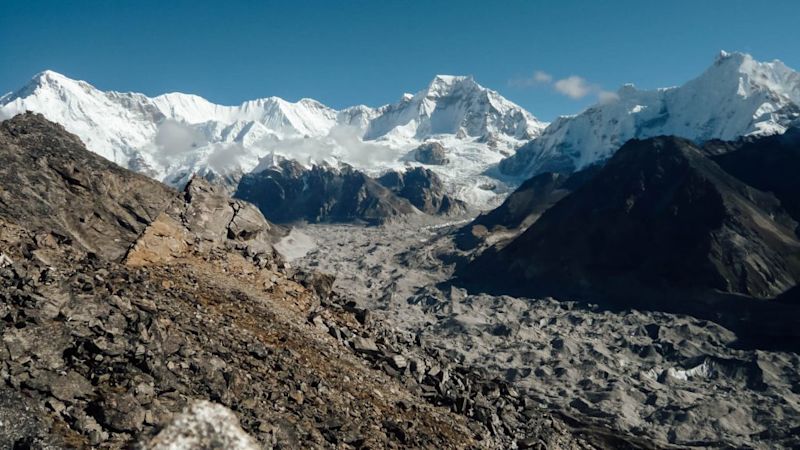 Experience the wonderful mountain scenery on the Everest Base Camp trek
As we discuss in How to treat (and prevent) foot blisters when trekking, you might also like to pack a couple of small plastic bags in our backpack. In a pinch, if your boots and feet get soaked, you can put on dry socks and then put each foot into a plastic bag before putting it back in the wet boot. This will allow you to keep trekking with dry feet.
Thermal socks
The nearer to Everest Base Camp you come, the colder it gets. No surprises there! You will need some thermal socks in addition to your regular hiking socks. Especially if you're trekking in the colder months. Merino wool hiking socks are wonderfully warm.
The same guidelines apply that we've given for hiking socks, only you'll be looking within the thermal sock range. We suggest bringing at least two pairs of thermal socks.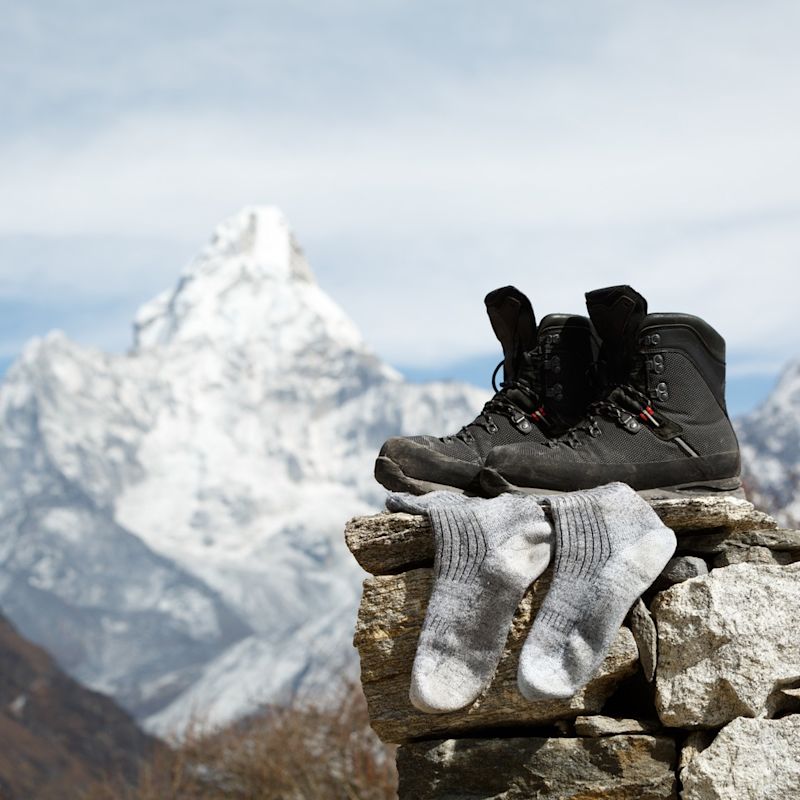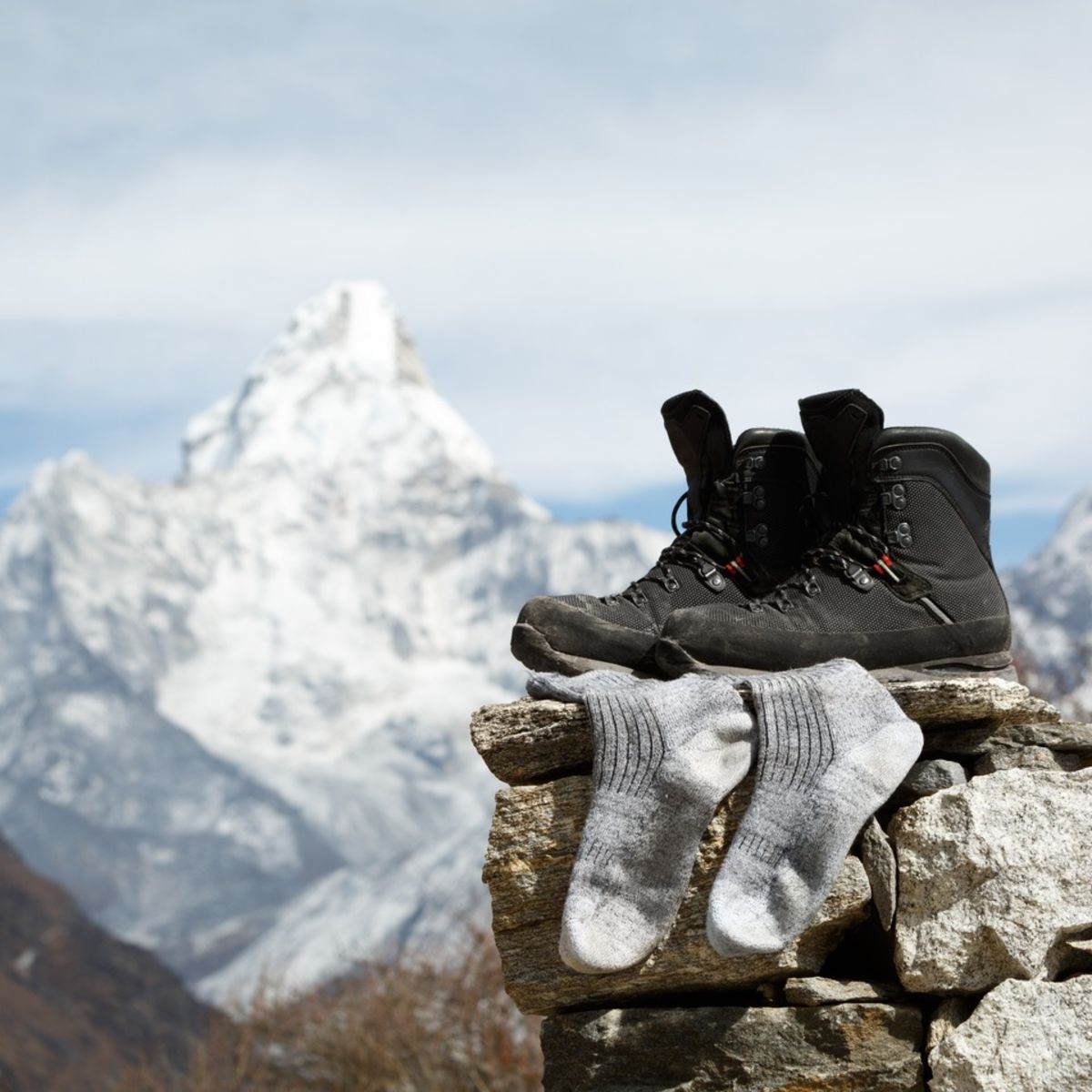 Ama Dablam can make even a picture of drying socks attractive!
Sock liners
Sock liners are thin inner socks that offer an extra layer of warmth while also reducing any possible friction from the main socks against your feet.
Sock liners are often made from synthetic material to help wick away moisture. They're also long enough so there's no risk of them shifting down and bunching. We suggest packing at least two pairs of sock liners so that you can rotate them and ensure you only ever pull on a dry pair.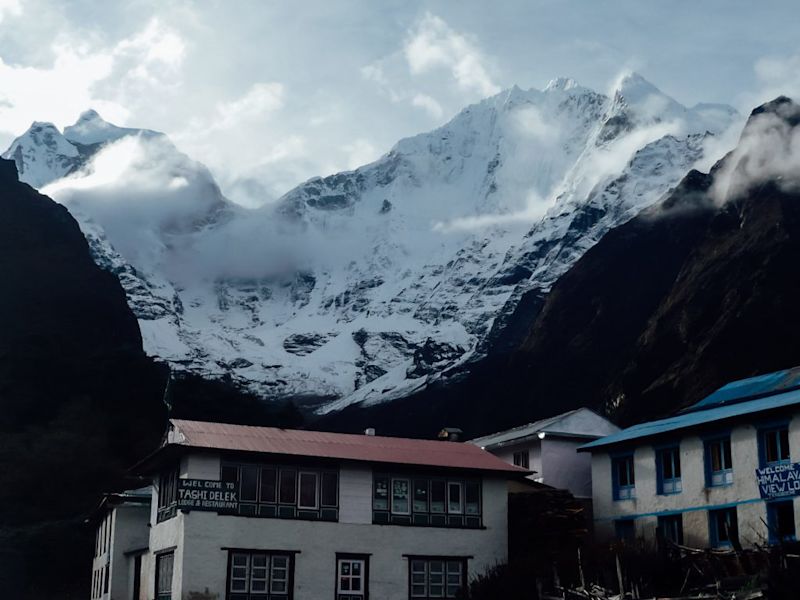 Beautiful forests, Sherpa villages, glacial moraines, and foothills can be seen throughout your trek
Trekking boots
Speaking of boots, you'll need to come with a good pair of hiking boots or you may as well stay at home! Your boots should be comfortable, light or mid weight, and waterproof. They should also have good grip. For the Everest Base Camp trek you should ideally wear backpacking boots. These are the hardiest and most supportive walking shoe out there. That said, hiking boots are also perfectly fine, especially for the hiking newbie. They take less time to wear in and still offer a decent degree of ankle support.
It's difficult to describe the Everest Base Camp experience in a few words. Once completing it, there was a great sense of accomplishment and a chance to see breathtaking views.
– Danny Hudson
The right size boot
When it comes to choosing the right size boot, you first need to have the socks you'll be wearing. Once you've got your hiking socks on, slip your feet into the boots. Leaving the laces untied, push your feet as far forward as they'll go. Then insert an index finger between your heel and the back of the boot. You want your finger to fit in snugly (too much space and the shoe is too big, too little space and the shoe is too small). Also, about 60% of people have differently sized feet, so always try on both the left and right boots.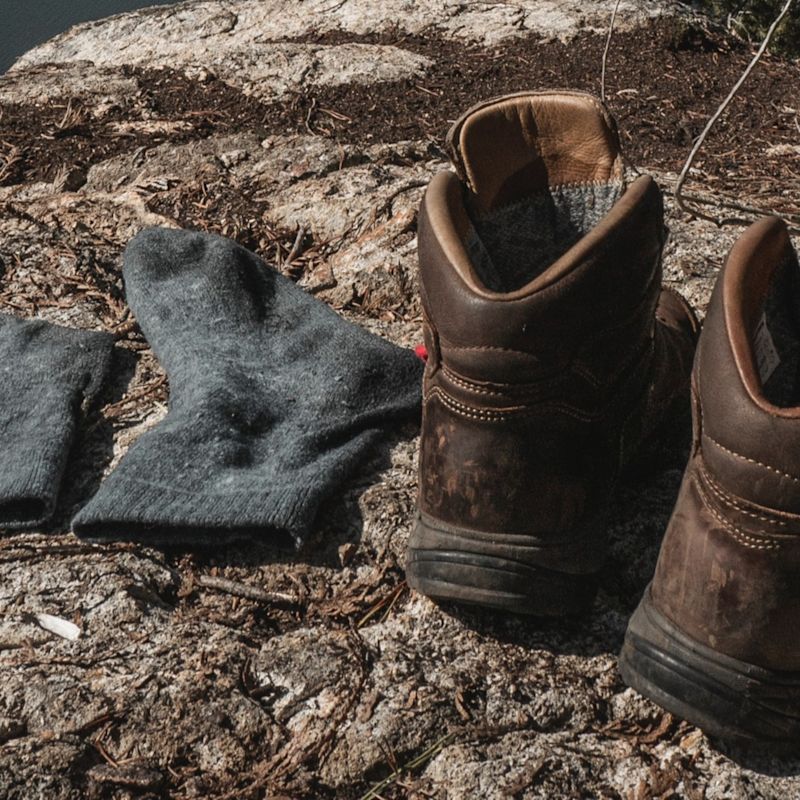 Finding the right boots for you takes a little research and effort
Highly experienced trekkers may well have nicely worn in leather boots. For most of us a full-on leather boot isn't required and it adds unnecessary weight. We suggest you look for a shoe made from split-grain leather (which is leather paired with nylon or nylon mesh) or synthetic fabric.
You can learn more in The best hiking boots for trekking in Nepal.
It probably goes without saying, but just in case, we'll say it: be sure to wear in your boots before coming on the trek. Wear them on a couple of decent hikes so you can suss out any potential issues.
Gaiters
It's a good idea to bring along a pair of gaiters. You put them over your lower legs and boots on days when you're trekking through snow or mud. They'll keep your legs and feet dry when overpants are overkill. Gaiters also help prevent small stones and dirt working their way into your socks and boots.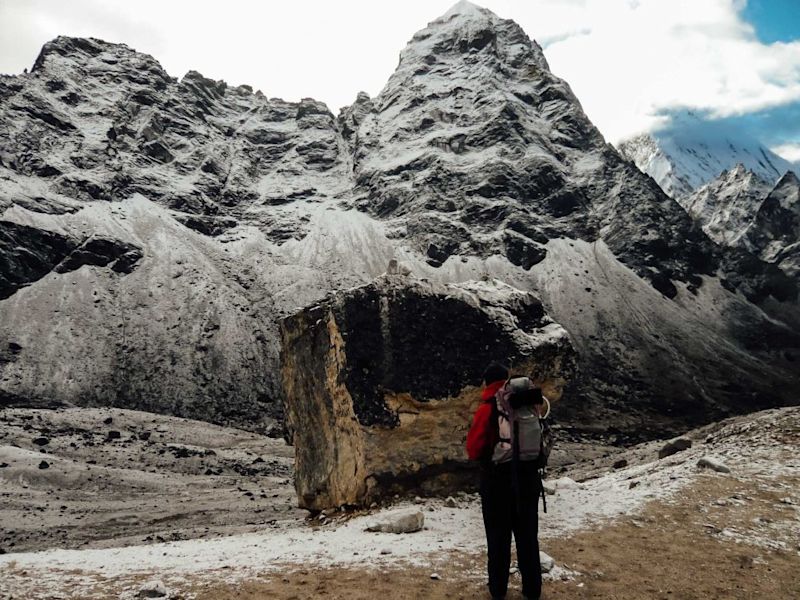 It's important to bring the right clothes on the Everest Base Camp trek to combat the cold
Neck gaiters or balaclavas
We love the versatility of the neck gaiter. Unlike a scarf, it never falls off and it also moves effortlessly between being a neck warmer, headband or beanie. Importantly, it can also be stretched across the lower face to help protect you from the cold air. A balaclava is an alternate option to the neck gaiter and offers a warm hat into the bargain.
You already heard us mention the Khumbu cough. Many visitors to Khumbu develop a high-altitude hack known as the Khumbu cough. It's believed to be caused by the extreme cold and dryness of the air, which dry out the lungs and bronchi. A quality neck gaiter keeps your neck warm. It also can be pulled over your mouth and nose to create more moisture and so help prevent the Khumbu cough.
Note that you're going to need more than one neck gaiter or balaclava so that the one you wear when gripping a steaming drink and looking at the constellations at night isn't the same damp one from that day's hike.
Warm hat
We lose so much heat through our heads, as we know you already know. A warm hat like a fleece or down beanie is therefore essential, especially in the evenings. An aviator or pilot hat is a good option as it also offers ear flaps. Alternatively, bring a pair of ear muffs in addition to a hat. If you opted for the balaclava instead of the muff to keep your neck warm, this can double as your warm hat.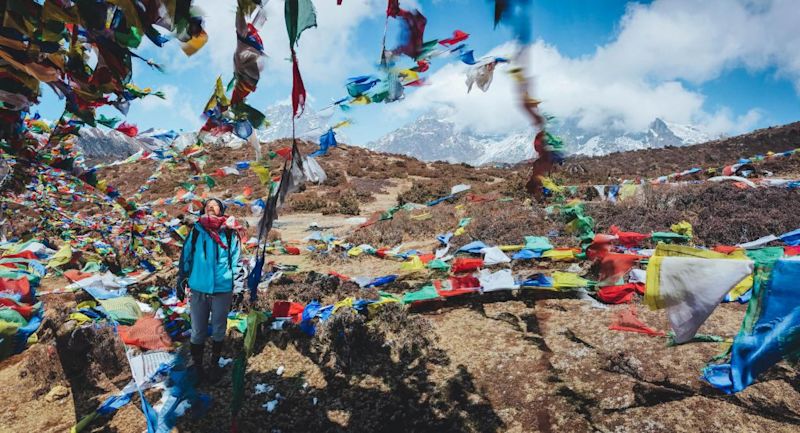 Remember that you lose most heat through your extremities, so keeping your head, hands and feet warm is essential
Sunhat or sports cap
Yes, the trek to EBC is mostly going to be cold. But it can also occasionally get warm. In Lukla, your starting point for the trek, temperatures can reach 20º C plus in summer. Though more likely the daytime temperatures will be lower than that.
But heat isn't the main reason for bringing a hat; more importantly, you want to keep the sun off your face and neck. You may remember from geography class that the higher the elevation, the easier your skin burns. This is because the sun's rays have less atmosphere to pass through. In fact, every kilometre upwards that you travel exposes you to up to 10% more UV rays.
That means EBC trekkers who live at sea level have a 50% increased chance of burning!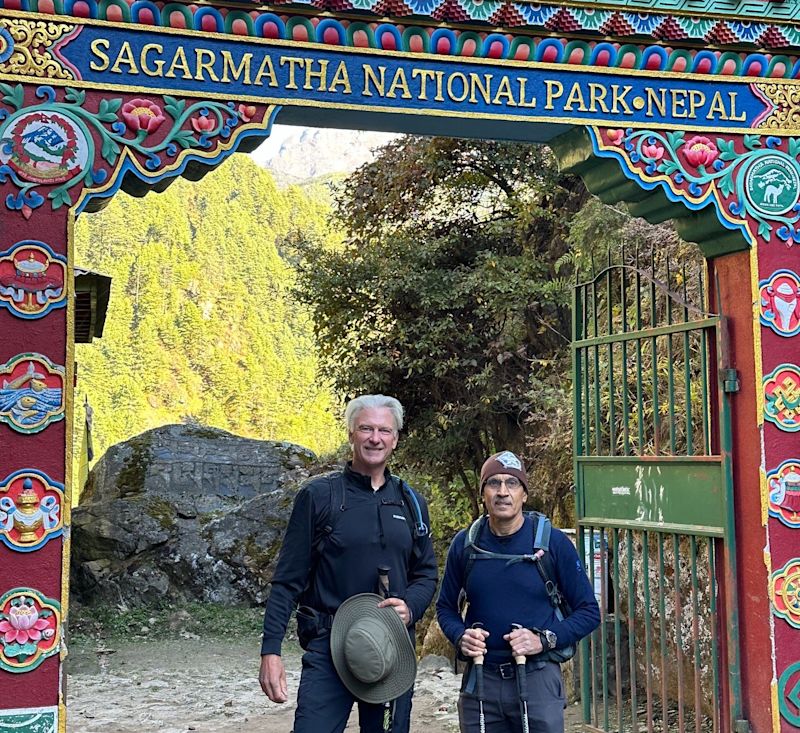 Our client Ross has a nice field hat with a proper, all-round brim
A sunhat (or field hat) is preferable to a sports cap as it protects the back of your neck. And a sunhat with a drawstring is ideal to ensure it doesn't get redistributed by a strong wind. If you go with a cap, we recommend one with a long, wide visor.
Inner gloves
Inner gloves – also called thermal gloves or glove liners – are close-fitting gloves you wear to keep your hands warm. These gloves should not only fit your hands snugly, thereby insulating them and affording good dexterity, but be moisture-wicking.
Waterproof gloves or mitts
When choosing a pair of outer gloves, ensure you try them on over your inner gloves. While mitts can offer greater warmth, during trekking hours you might appreciate the dexterity afforded by fingered gloves more.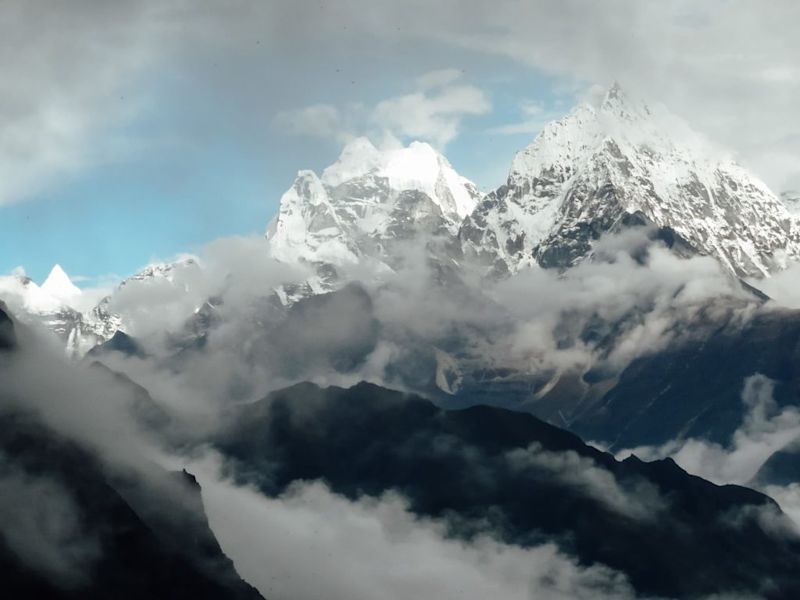 Sagarmatha National Park is home to eight mountains reaching over 7,000 m, including Mt Everest, which rises to 8,848 m
House clothes
When you're relaxing at a teahouse in the evening, you're going to want comfortable clothes that can double as your PJs. Think along the lines of a long-sleeved fleece top and leggings, or a tracksuit, or stretchy sweatpants and a hoodie. We suggest you also pack a pair warm bed socks. And winter slippers.
Note that the teahouses aren't heated. The dining room is generally snug, as there's a fire. But your bedrooms when you're high up in the mountains are icy, so you'll need to combat this.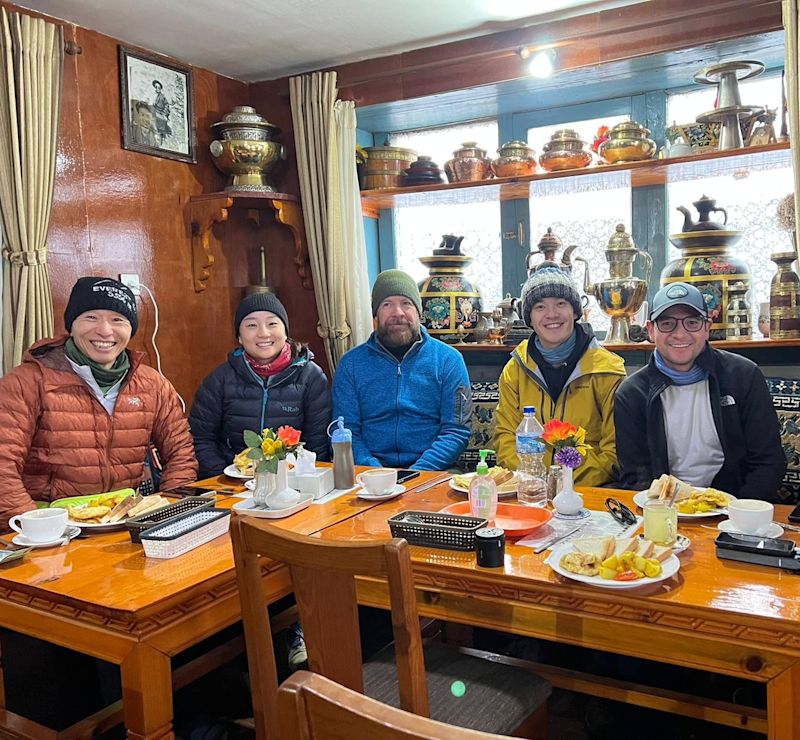 Our client Kevin took this group teahouse snap on his 2023 EBC trek
Sneakers
When you arrive at a teahouse for the night you will not want to wear your hiking boots! We recommend packing a pair of lightweight sneakers you can slip on. Be sure they allow plenty of space for warm socks.
Other essentials
Here now are some diverse essentials that each need to find their way into your luggage.
First aid kit
A few things we recommend you include in your personal first aid kit are:
| Item | Use |
| --- | --- |
| Antiseptic cream | For any cuts or burst blisters |
| Plasters (band aids) and blister plasters | For any cuts and abrasions |
| Blister plasters | To put over any hot spots |
| Hypodermic needle and zinc oxide tape | To pop and dress any nasty blisters |
| Altitude meds (like Diamox) | Speak to your GP about this |
| Non-drowsy painkillers | High altitude can cause headaches |
| Anti-nausea tablets | High altitude can cause nausea |
| Anti-diarrhoea tablets | High altitude can cause diarrhoea |
| Anti-constipation tablets | Eating at lots of different places increases your chances of an stomach upset |
| Anti-bacterial meds* | In case you develop a stomach issue |
| Allergy meds | Just in case |
| Petroleum jelly or anti-chafing cream | Apply to any area that's becoming a hot spot |
| Medicinal throat lozenges | Just in case |
| A good multivitamin | A good idea for boosting your immunity |
* It's not uncommon for foreigners to develop stomach issues since you're eating in so many different establishments on this trip. Consider visiting a pharmacy in Kathmandu upon arrival to buy something you can keep with you for just in case. A past client of ours bought Tinidazole (an oral, broad-spectrum antimicrobial that has activity against bacteria as well as several parasites) and Ciprofloxacin (an antibiotic used to treat a number of bacterial infections) in Kathmandu and these saved him on his trek when he developed a stomach upset.
We do, naturally, recommend that your first aid kit be kept in your backpack, not your duffel bag, so that you have constant access to it.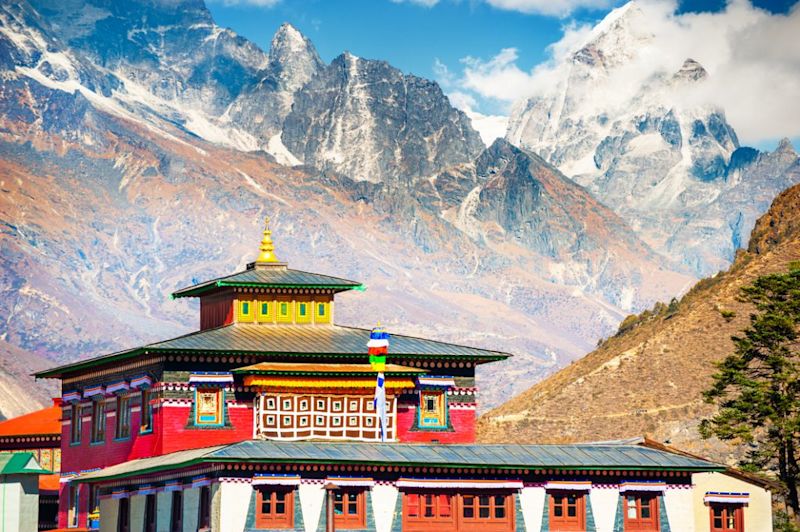 We visit Tengboche Monastery on the Everest Base Camp trek
Water purification tablets
If you're trekking on your own (versus a tour group), you'll need to pack water purification tablets. The drinking water in Nepal is not safe for drinking. If you're with a crew, however, they'll purify your drinking water for you and so you don't need to pack tablets.
While you can buy bottled water at many places along the trek route, we wouldn't recommend relying on this alone.
Electrolyte sachets
Adding some electrolytes to your water is a good idea, especially on particularly strenuous days. So we recommend bringing along some rehydration sachets to add to the H₂0 in your water bottle.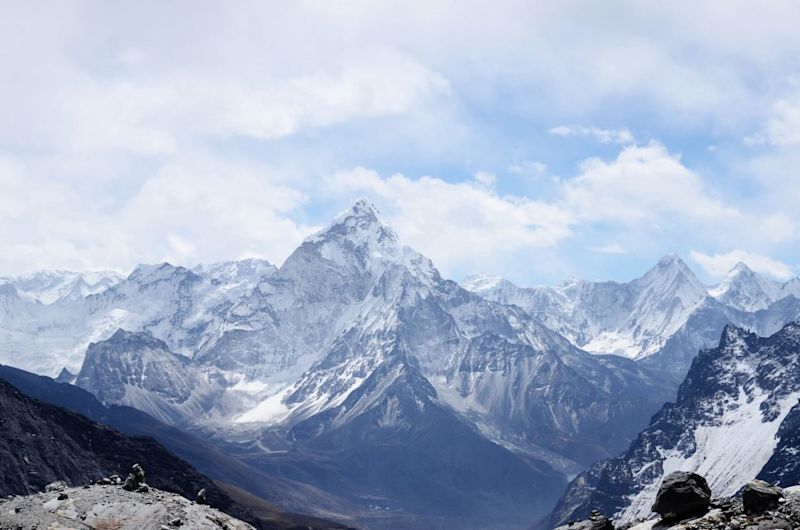 The Everest Base Camp route brings you into close quarters with some of the highest mountains in the world
Toiletries
When it comes to your toiletries, try to take only the amount of each item that you'll need. To do this, decant your liquids into plastic, travel-size containers. Or save up the samples and airplane items you're given.
Some items to consider putting in your toiletries bag are:
| Item | Use |
| --- | --- |
| Face wash or face wipes | Face wipes are easier in remote villages with no running water |
| A hardworking face cream | The frigid air near base camp will dry out your skin |
| Hand cream | Ditto |
| Lubricant eye drops | The cold air and winds could easily cause eye irritation |
| SPF lip balm | The cold air and wind, together with the high UV rays, give your lips a beating |
| Waterless hand sanitiser | For use on the trail and when there's no running water |
| Wet wipes | For cleaning yourself when there are no showers |
| Biodegradable soap and soap box | There are showers during the early part of the trek |
| Toilet roll | You never want to be stuck without! |
A couple of items that aren't as important, but you might also like to consider packing are:
Baby powder.

This is for sprinkling in your boots after trekking to mitigate the pong. You might also want to put a little on your roots if a hair wash hasn't been possible in quite a while.

Dryer sheets.

These are for rubbing on smelly clothes to help freshen them up just that little bit. You can also place them inside your boots overnight to absorb some of the smell.

Ear plugs.

Unless you pay the extra to have your own room, you'll be sharing a bedroom with one or more other trekkers. Also, the walls in the teahouses tend to be thin, so a loud snorer next door could also be a nuisance.
A note on wet wipes
We can't stress the wet wipes enough.
While there are showers during the lower portion of the EBC trek, there are a few consecutive nights when you'll be without.
When this is the case, sometimes you can obtain a bucket of water (for a fee). But you can't rely on a wash (or a wash you'd want to take). So wet wipes are therefore your lifeline.
We encourage you to opt for bamboo eco wipes, or similar. Wet wipes made from long-growing trees and that contain harmful chemicals are unhelpful to the environment.
Words can't describe the achievement of reaching Everest Base Camp and seeing Mt Everest up close.
– Mike Webb
A note on sunscreen
There are many sunscreens on the market. So you need to know what you're looking for to ensure you purchase one that will be effective for the EBC trek.
The sun protection factor (SPF) promoted on sunscreens refers to the degree to which the cream protects you from ultraviolet B (UVB) rays, which are the ones that make you turn pink. For the EBC trek, you should opt for an SPF of 40 or 50+.
Note, however, that you also need protection from UVA rays. And not all sunscreens offer this. UVA rays penetrate deeper and are believed to be even more damaging over a lifetime. To protect yourself in this regard, you need a sunscreen that is broad spectrum.
So look for a sunscreen that offers broad-spectrum protection, as this protects you against UVB and UVA rays.
We recommend using a broad-spectrum sunscreen with an SPF of at least 40.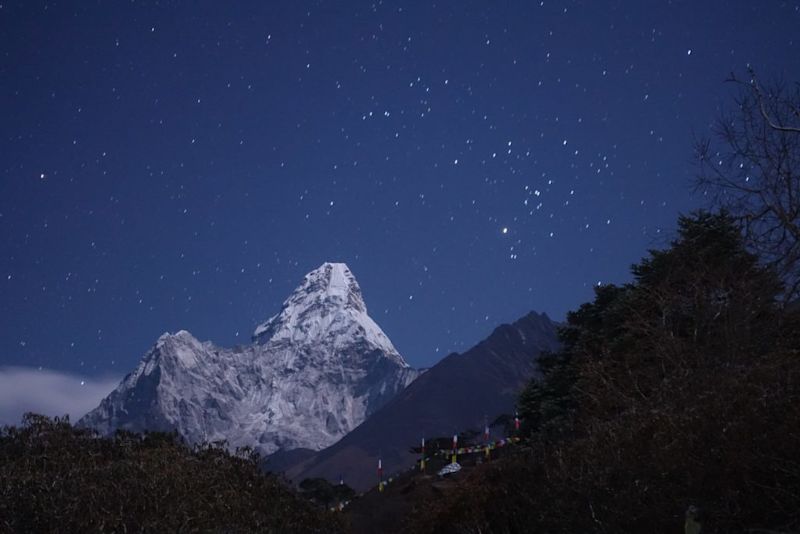 Ama Dablam under a starry night sky
Finally, the eco-conscious traveller should look for a mineral versus a chemical sunscreen to ensure you don't wash chemicals down the drain. It's also healthier for your skin.
Sunglasses
Similar to sunscreen, please ensure your sunglasses are actually protecting your eyes from solar radiation by purchasing a pair that offers broad-spectrum UV protection.
The best option would be to have your optometrist evaluate your sunglasses. Many professionals now have instruments capable of measuring the exact UV protection offered by a lens.
Take note that you should wear your sunglasses even in the shade and on overcast days. Reflected rays are still harmful.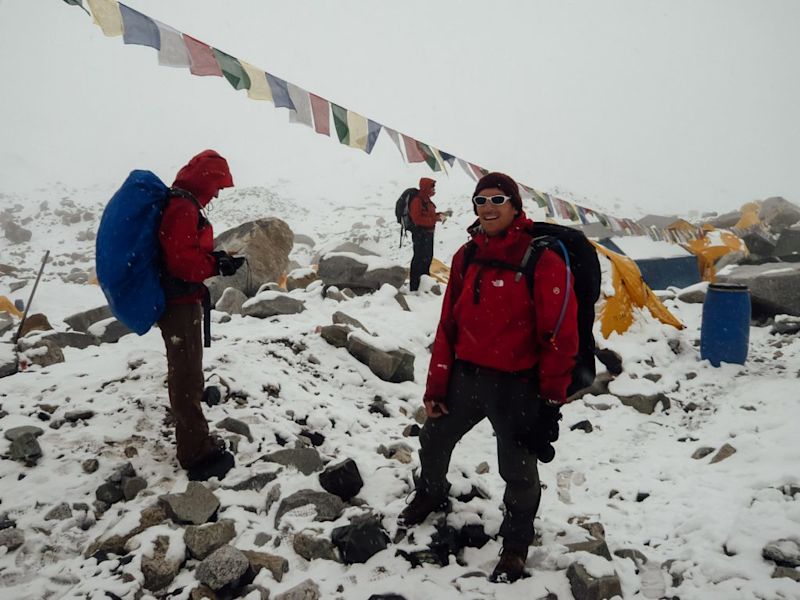 You should wear your sunglasses even on overcast days
And speaking of reflected rays, fresh snow can reflect up to 80% of UV rays. You'll need to wear your specs at pretty much all times during the trek.
We recommend investing in a pair of wrap-around sunglasses to prevent sun rays sneaking in from the sides. We also suggest a glasses cord if you have one of those noses that tries to ditch your glasses every time you look down.
With a cord, you also won't risk dropping or losing your specs when you take them off for a moment. You also keep both hands free.
Microfibre towel
You'll need a towel for drying off at times, whether it's drying your hands or mopping your sweaty face. You'll need that towel to dry quickly. We suggest you pack a small, lightweight microfibre towel or two. Microfibre is a synthetic material made from polyester and polyamide. It's non-abrasive and can absorb up to seven times its weight in water!
Pillowcase
The teahouses provide pillows, but the hygiene isn't always spectacular. Bring along your own case to ensure you feel better about bunkering down with an unknown pillow. If you have a scarf, you could also use this for the same purpose by wrapping it around your pillow.
Head torch (flashlight)
Every adventurer needs a good head torch. Choose one with an adjustable strap and use it before the trek to ensure it's comfortable. Be sure to pack spare batteries.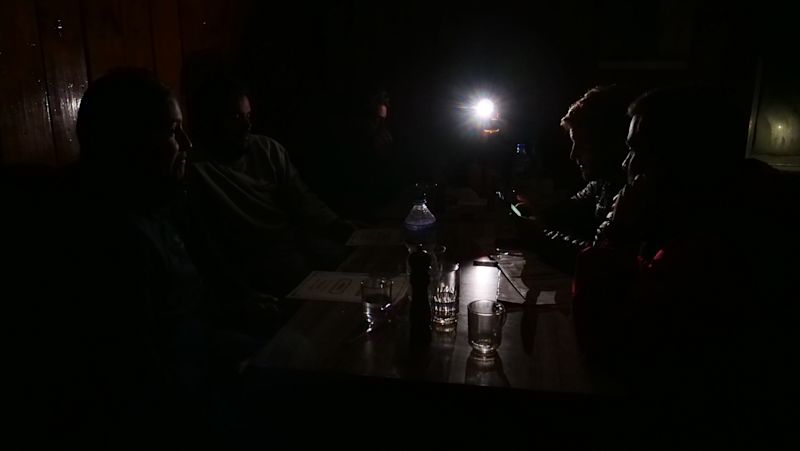 You may need a headlamp if the power goes off
Dry bags
Even with all the preparation and planning in the world, things will still get wet or damp sometimes. It's important to having some dry bags to put them in. Dry bags come in all shapes and sizes, so it's handy to have a few to store different items in. They also come in many different colours. To make things simple with your packing, why not assign a colour bag to a certain item?
For example, clean underwear in the green dry bag, and dirty underwear in the red one. This means that you will be able to head straight for the correct bag. Nothing worse than rummaging around for half an hour trying to remember where you put that last pair of knickers.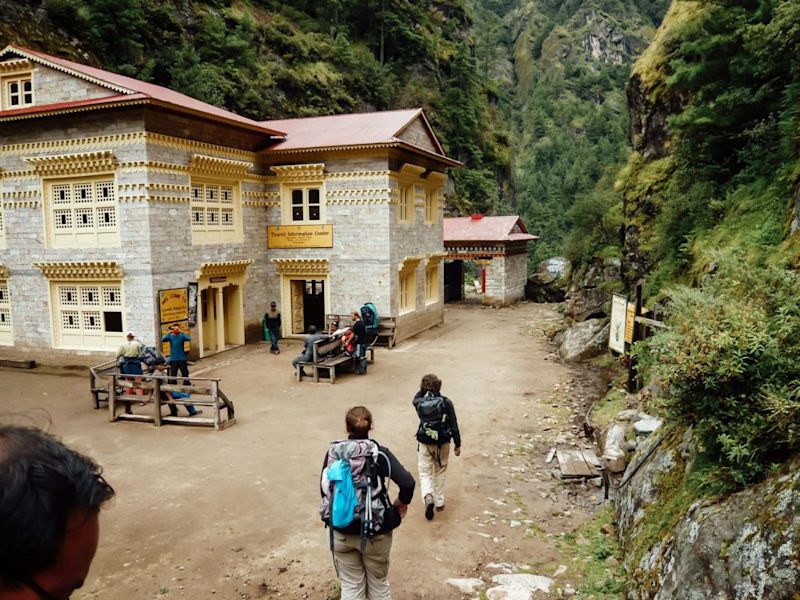 The Everest Base Camp trek takes you through many famous Sherpa villages and settlements
High-energy snacks
We recommend having a few of your favourite snacks with you to power you along the route. Experiencing Nepalese cuisine is part of any adventure trips. During challenging moments along the trail it can still be comforting to have a familiar treat. Think protein bars, dried fruit and nuts, and sweets or mints.
Also, choose items that won't fall apart when bumped around for days in a backpack.
You can bring these snacks with you, or also buy them in Kathmandu before your trek commences. There are plenty of shops where you can buy savoury and sweet snacks. That said, familiar snacks are often the best comfort treats on a hard trek, so we recommend that you bring at least a few from home with you to Nepal.
Spares (of everything)
With many of the items discussed in this Everest Base Camp packing list you need to pack spares. The closer the item sits to your skin, the more spares you need. That said, understand that everyone doing the Everest Base Camp trek is temporarily and necessarily lowering their hygiene standards. Your BO won't be noticed among the bevy of BOs.
Passport and visa
Given that this is a post about what to pack, we can't leave off these two important items! You're going to need to bring along your passport. As always with international travel, it must not expire within three months of your expected return to your home country.
Your tourist visa can be obtained quite easily at Tribhuvan International Airport in Kathmandu when your flight lands. Of course you may prefer to obtain one while still at home. To learn all you need to know about getting a tourist visa for Nepal, read more about the Everest Base Camp trek cost.
Cash in local currency
You cannot obtain Nepalese rupees before entering the country. It is a closed currency. You can get cash once you arrive in country, from the foreign exchange desk at the airport to an ATM.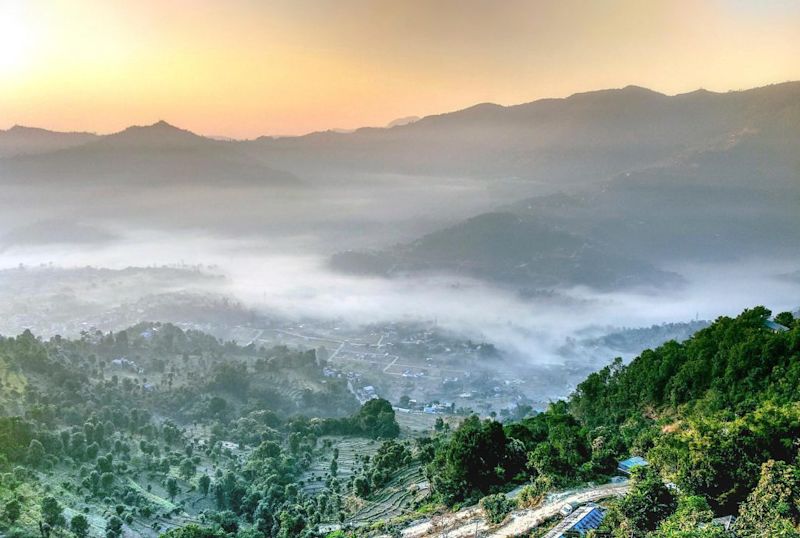 The Everest Base Camp adventure starts in Kathmandu, where everyone flies into the country
Non-essentials
Now we list some non-essentials that you could consider packing for your trek ...
Camera
Most of our cellphones have inbuilt cameras that take fantastic photos, but we're always concerned we'll drop the darn things and smash the screens. We recommend bringing along an old-fashioned, single-purpose camera for this trip; not only are they hardier than cellphones, but they also offer no potential distractions. When you bring out your camera to take a photo, all you end up doing is taking a photo. Trekking to Everest Base Camp is all about stepping away from the regular, and we think you'll be more mindful and present with a standard camera in hand.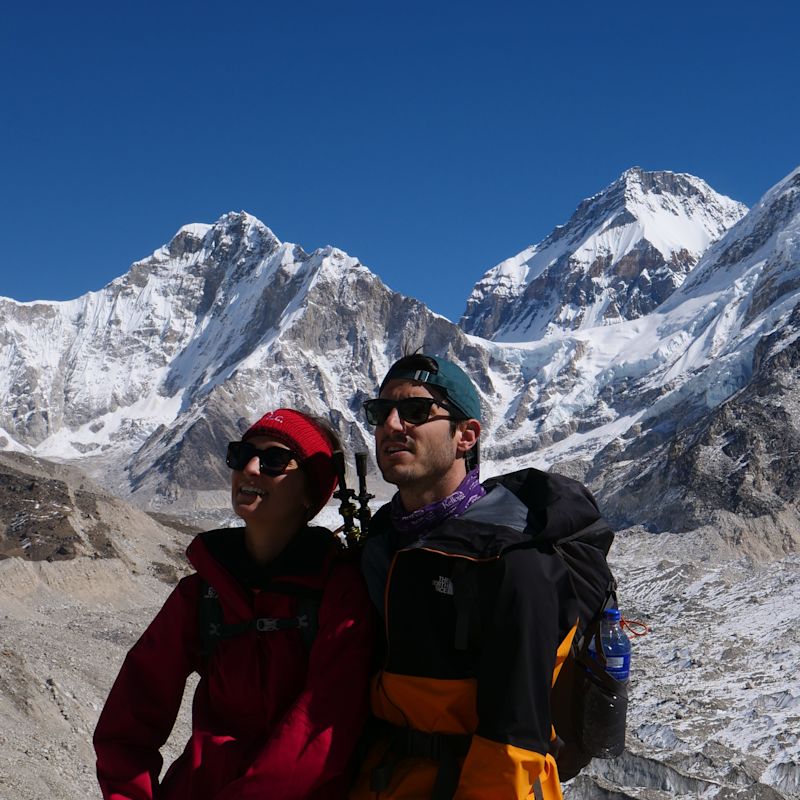 You're definitely going to need your camera when you reach Everest Base Camp!
Portable charger and adapter
While we recommend a regular camera, we also know your cellphone is still coming with you, so bring along a portable charger and power bank.
Nepal has types C, D and M power sockets and plugs, so you may need an adapter as well. The standard voltage is 230 V and the standard frequency is 50 Hz.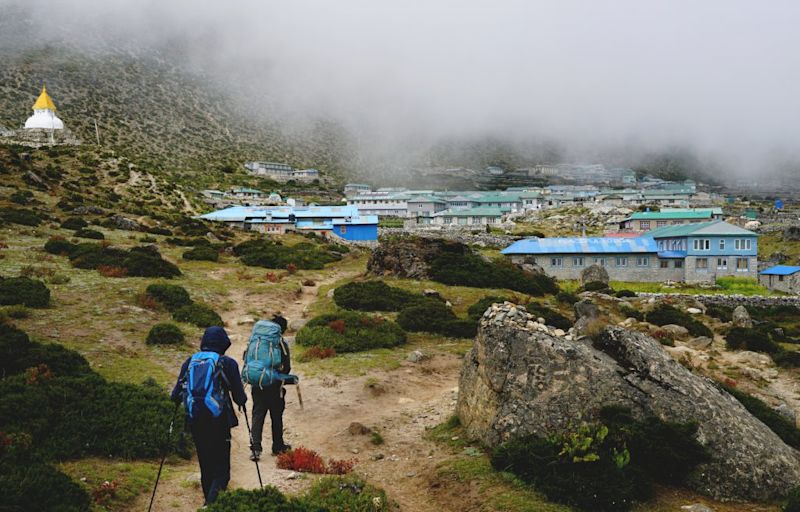 Dingboche is one of the Sherpa villages where we overnight on the EBC trek
More and more trekkers are opting for solar power banks that they clip onto their backpacks while hiking. This option does of course insist on sunshine, so isn't very reliable.
You'll be happy to hear that there's Wi-Fi in both Lukla and Namche Bazaar, the two towns you visit on the Everest Base Camp trek route. There's also Wi-Fi at some of the more upscale lodges and teahouses in some of the villages. In some establishments the Wi-Fi is free or included, but at others you need to pay to use it.
Hand warmer and/or hot water bottle
It's likely that you'll be washing your hands in the evenings, no matter the water's temperature. This can leave them achingly cold. Having hand warmers will warm your digits as well as your spirit. And as to going to bed with a hot water bottle on a cold night - we don't need to explain this.
Safety whistle
It's a good idea to attach a safety or alert whistle to a hook on the outside of your backpack for just in case. Some backpacks come with in-built whistles, but they tend to be cheap and poor quality. A safety whistle is a great item to have for numerous outdoor activities, so it's something you can use after the trek as well.
E-reader
You might like to bring along your Kindle or other e-reader for diving into a book at night and on acclimatisation days. You always remember the books you read on holiday. They become part of the memory tapestry of that trip. So be sure to download the books you really want to read, not the ones you feel you ought to read.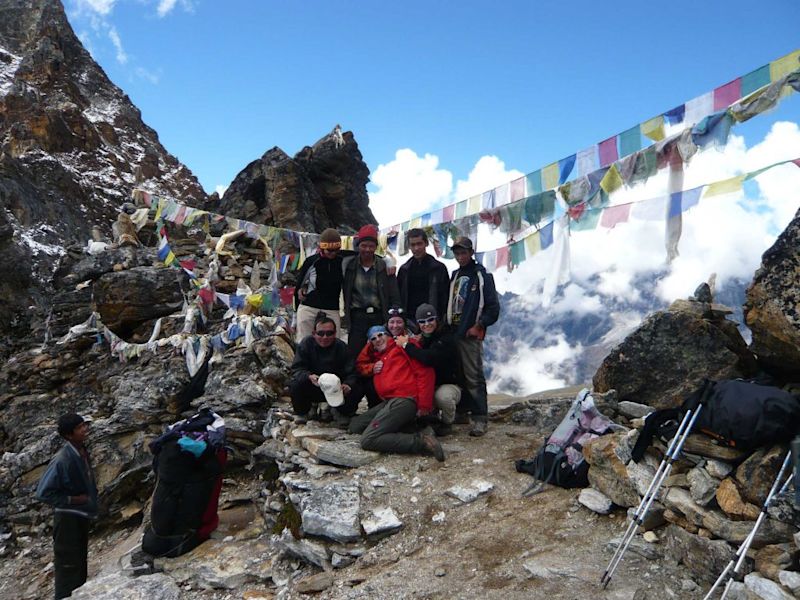 Tibetan Buddhist prayer flags make for a beautiful backdrop to new friendships
Playing cards
Consider bringing along a deck of cards or a similarly small game for playing with your fellow travellers in the evenings. This can be a great bonding activity.
However, if your backpack is getting too heavy by this point, scrap the cards and instead go online to refresh your memory as to group mental games.
The Everest Base Camp trek is a great time to reconnect with the games we used to play before tech consumed our leisure time.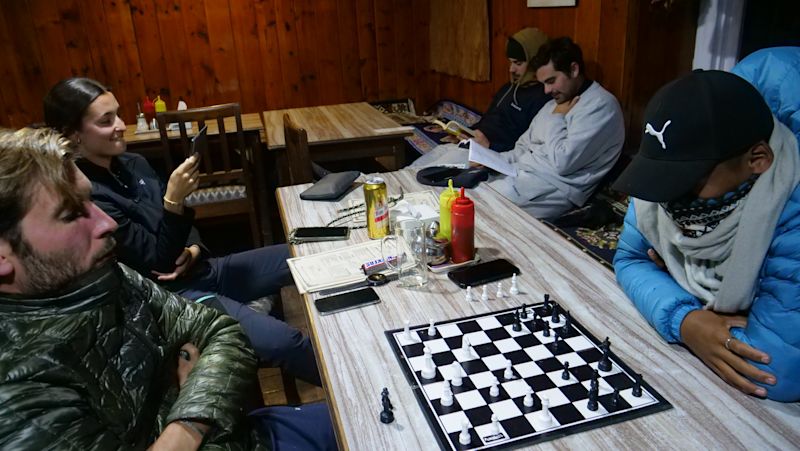 One of our Everest Base Camp groups playing chess and reading
Small gifts
You'll be meeting and getting to know the locals as well as fellow trekkers from around the world. In setups like trekking groups you often experience fast-and-firm bonding. You may wish to pass on a small memento from your country such as a beaded bracelet or wooden figurine that represents your own culture. It will remind the person of your time together.
Journal and pen
We think we'll remember everything, but of course we never do. It's always amazing when looking over old journal entries, emails or letters to realise how much has been forgotten. Even just a few lines of scrawl can be the trigger to a happy or important memory otherwise lost to you. So we highly recommend a journal and pen find their way into your backpack.
Further, you're going to be witnessing truly phenomenal sights. You'll be learning from people who live and think differently to you, and no doubt reflecting to some degree on the voyage, your life at home, and much more. While we all take photographs, possibly the best way to honour your investment in this trek is through penning your thoughts and observations. Years from now, you don't know how valuable these might prove.
Sandra Marinelli writes:
When I look back on my personal story through my journals, it struck me my words had an unmatched power to heal me. To change me.
All that said, keep the journal small and light!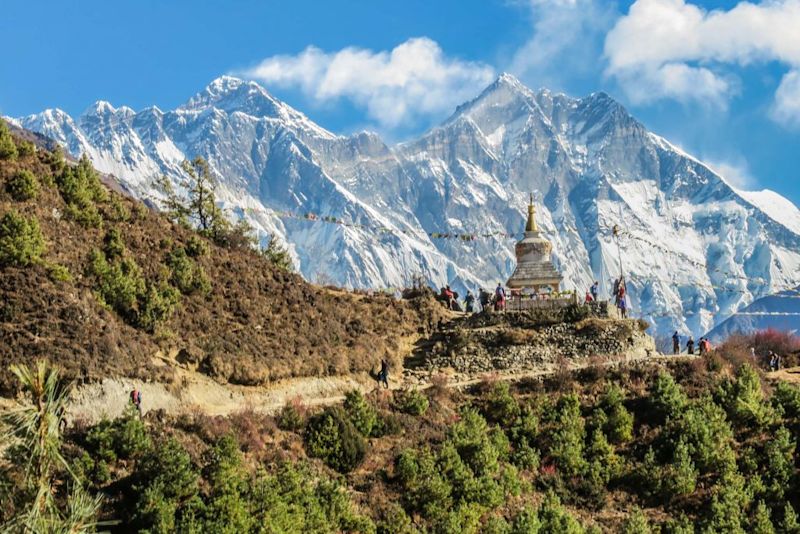 The scenery of the Everest Base Camp trek blows you away. Every. Single. Day.
And that's the end of the Everest Base Camp packing list. If you have any questions, please give us a shout– we'd love to chat with you about the gear, your plans, or just your excitement over the upcoming trip.