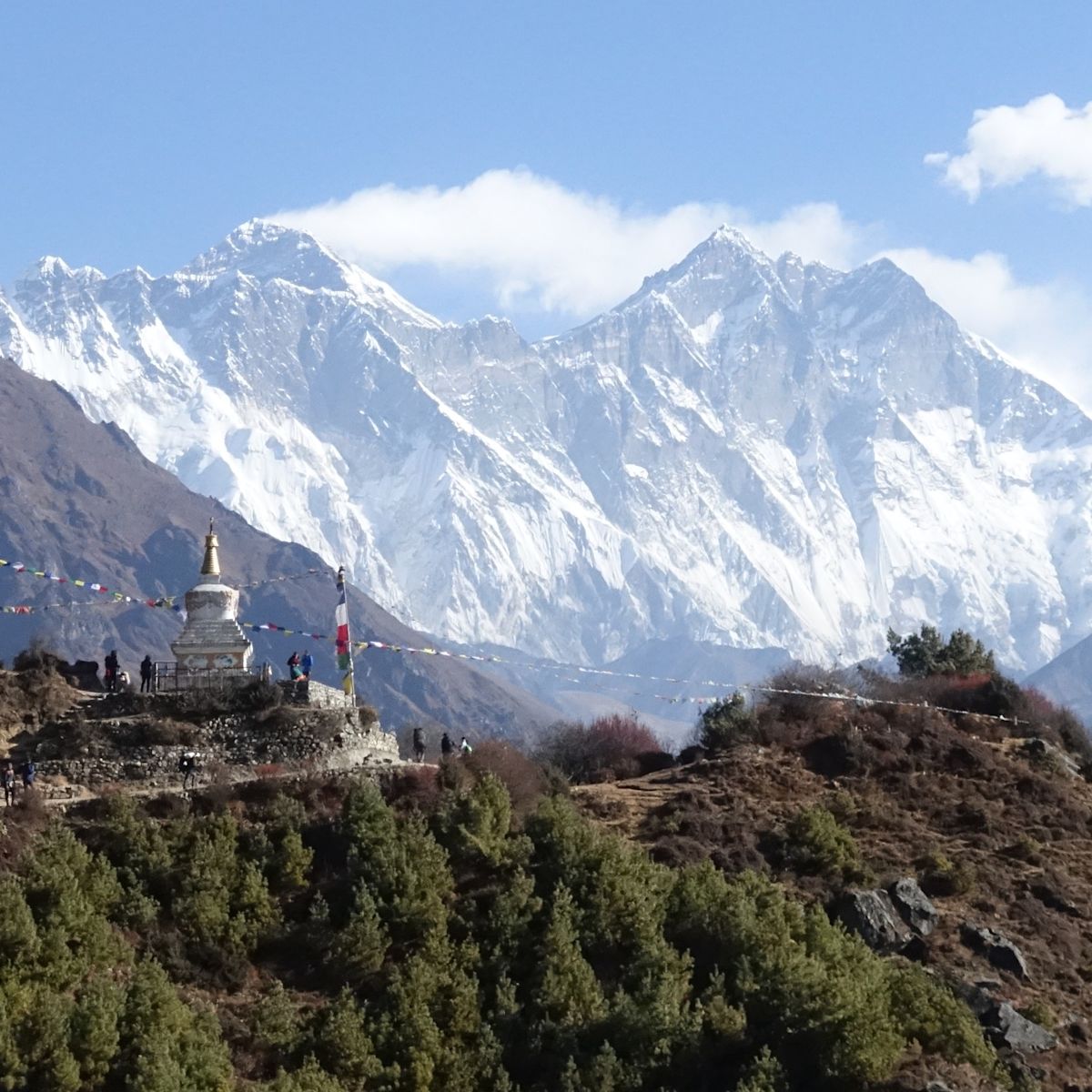 Everest Base Camp route
May 11, 2022
Reading time: 30 minutes
You can trek to and from Everest Base Camp via the classic route or an alternate route. You can also catch a helicopter ride back from base camp. We describe the different Everest Base Camp routes (and the pros of each) to help you decide which is for you.
The Everest Base Camp trek is a truly exhilarating and once-in-a-lifetime experience. The trek route takes you deep into the Himalayas, where you enjoy fantastic views of Mount Everest as well as some of the world's other mighty peaks. Not only do you come into close proximity with some of the world's highest and most famous mountains on the Everest Base Camp trek, you also see glaciers, forests, lakes, waterfalls, and wild animals. And you do all this while staying in traditional villages and experiencing the unique Sherpa culture.
But of course you have many questions, like where exactly is Everest Base Camp, how long does it take to get there, and how high do you trek? We answer all of these questions and more, as well as outline the Everest Base Camp route for each day, all the better to get you excited for what's to come!
What is the trek's total distance?
The Everest Base Camp trek is 65 km each way when you walk the most direct route. This is the traditional – or classic – trek route.
The shortest possible Everest Base Camp route is 65 km (40 miles) each way. So that's 130 km (80 miles) in total.
There are, however, variations to this route, a common one being the Everest Base Camp trek via Gokyo Lakes. And if you opt to fly home, then you only need to trek the 65 km in one direction.
At Follow Alice we offer two variations of the Everest Base Camp route:
A 13-day trek that includes a detour via Gokyo Lakes on the return journey so is longer than the traditional trek.

An eight-day trek where you're fetched by helicopter the day after reaching base camp and flown back to the start. So it's just 65 km in total length.
We're also happy to lead you on the classic route or on other variations of this epic trek route – you only need to ask!
The video below shows a Follow Alice group trekking to EBC, then flying back to Lukla ...
There would be a youtube video here.
Sadly, the youtube player requires cookies to work.
Everest Base Camp classic trek
The classic or traditional Everest Base Camp route involves trekking along a trail that is 65 km (40 mile) from the town of Lukla to Everest Base Camp. You then retrace your steps on the return journey. So the total trek distance is 130 km.
Most of the trek takes place within Sagarmatha National Park. This is a region where the famous Sherpa people live and the villages and towns you visit and stay in belong to the Sherpa.
The route starts in a lush, forested and beautiful area and then ascends into a dry and unforgiving rain shadow area.
The route starts in a lush, forested and beautiful area and then ascends into a dry and unforgiving rain shadow area.
But let's now talk about the two different routes that are our primary offering, starting with the homeward detour to Gokyo Lakes.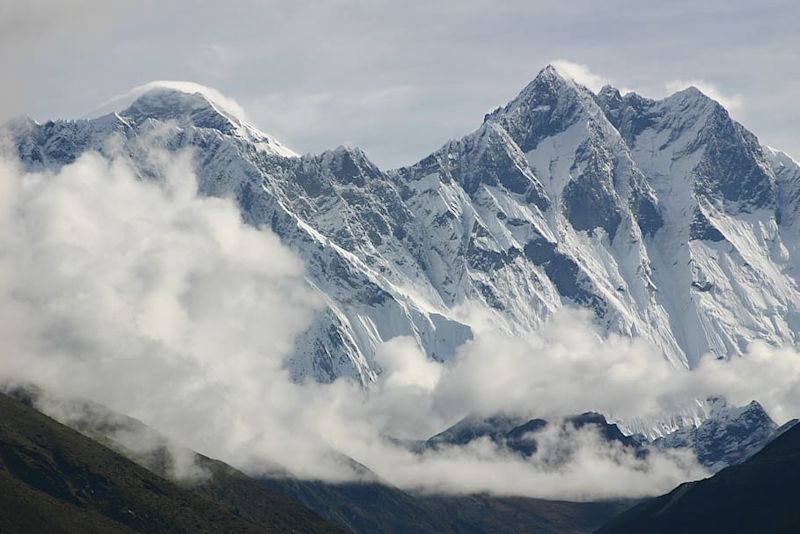 Everest and Lhotse
Everest Base Camp trek via Gokyo Lakes
The Everest Base Camp trek via Gokyo Lakes route is a popular alternative to the classic Everest Base camp route. It involves trekking the usual route to Everest Base Camp, but then taking a detour to the Gokyo Lakes on the return journey.
There are a few pros to doing the Everest Base Camp trek via Gokyo Lakes:
Firstly, it creates a loop in the trail, meaning for most of your return hike you walk through fresh territory. There's so much cultural and natural richness in Khumbu, we feel it would be a pity to tramp the same path when you can divert just a little and enjoy more of it.

Secondly, this alternate route gives us the chance to cross Cho La Pass, summit Gokyo Peak (5,357 m), see the magnificent Ngozumpa Glacier, and visit the beautiful Gokyo Lakes.

And finally, this slightly longer route is quieter than the main one, allowing us to experience an even more remote part of the Himalayas.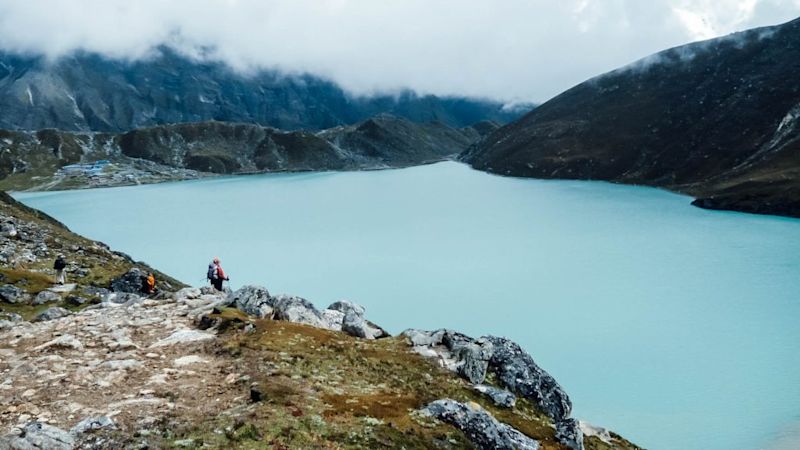 Tonak Pokhari, one of the Gokyo Lakes, is a glorious sight in any season. The settlement of Gokyo where we spend two nights can be seen on the far shore.
We tell you more about this trek route in a moment, but first, let's look outline the helicopter option ...
Everest Base Camp with a helicopter return
There is the option of trekking to Everest Base Camp along the classic 65 k route and then hopping in a helicopter for a breathtaking ride back to Lukla (the starting point of the trek route). This option has three main advantages:
You don't need to find as many days to have the adventure of a lifetime!

You avoid the possibility of trekker fatigue by shortening the time on the trail, whilst still reaching a famous landmark.

You got to view Everest, other famous peaks, renowned glaciers and the incredible scenery from the truly memorable vantage point of up in the sky!
A Follow Alice trek group after their flight back to Lukla
How many days is the trek?
The Everest Base Camp trek takes roughly two weeks (unless you fly back to the starting point via helicopter). It's up to each trekker or trekking group to decide how long to take to complete the trip. There are a few factors that can decide the length of your trek.
For starters, the overall number of days will be affected by the route you decide to follow. Do you follow the classic Everest Base Camp route there and back? Or do you use one or more alternate – and slightly longer – routes for the outward and/or return journeys?
There are also many towns and villages along the various routes that offer trekkers hospitality, so you can decide how far to trek before stopping for the night. Fitter trekkers might want to cover more ground per day than less fit trekkers. Some might just want to savour the trip more by taking things slower and stopping over in more villages. And perhaps doing some day hikes from different stopover points.
Finally, proper acclimatisation is an important aspect of any high-altitude trek. Altitude can start to be a problem from anywhere above 3,000 m. On the Everest Base Camp trek, we climb to well above 5,000 m. The graph below shows the Everest Base Camp route via Gokyo Lakes as trekked by Follow Alice. The entire route, as you can see, takes place at high altitude.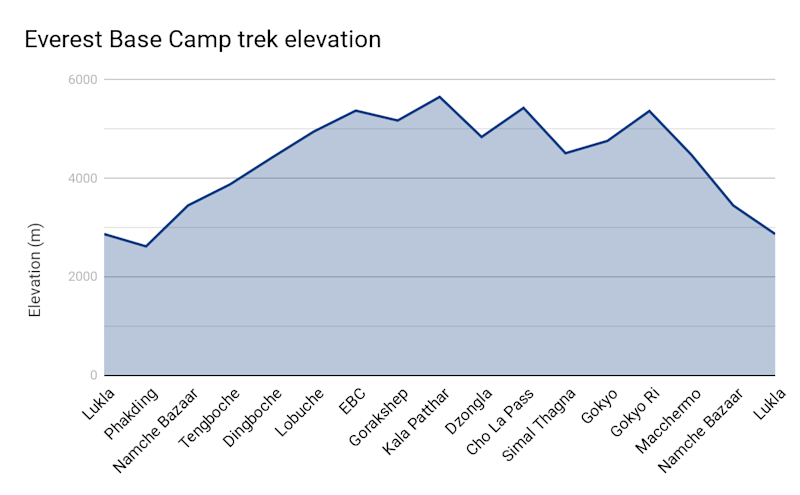 Deciding on acclimatisation days
The number of acclimatisation (rest) days you take on the outward journey are up to you. Though we advise you be guided in this by your trek operator as well as the prevailing wisdom on the matter. Some include only one acclimatisation day in their ascent to base camp, while others include two, or occasionally even three. It's up to you. But this will of course impact the duration of your trek.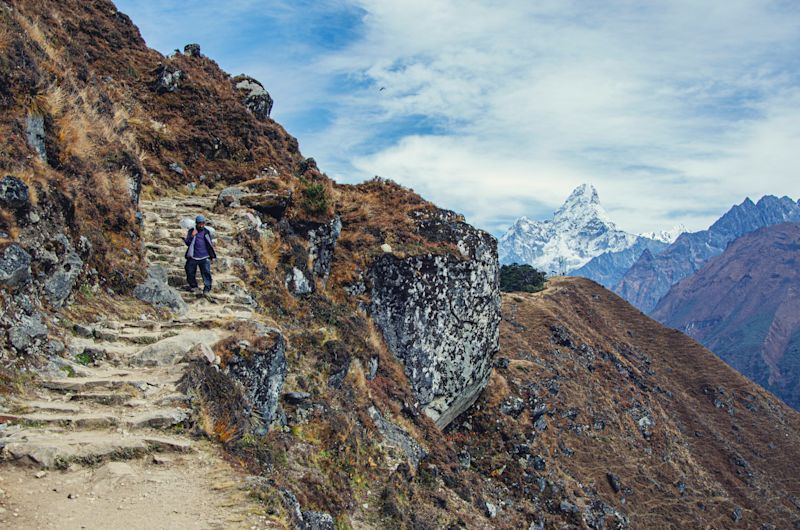 The Everest Base Camp trek route isn't just for tourists – it's the same path that locals use to get around
Why we need acclimatisation days
One of the key ways to help your body adjust to a higher altitude is to ascend slowly, and also allow for acclimatise days. Acclimatisation days help your body adapt to the reduced oxygen level. Those who climb too high too quickly can experience altitude symptoms such as headaches, nausea and dizziness. In the worst cases, people who ascend too quickly develop acute mountain sickness (AMS), which can prove fatal if ignored. Anyone with AMS symptoms has to descend to a lower altitude straight away.
Everest Base Camp requires at least one acclimatisation day
Please allow yourself at least one day's rest for acclimatisation on the ascent to Everest Base Camp. Your body needs it!
When trekking to Everest Base Camp (5,364 m) from Lukla (2,860 m), we advise allocating at least one acclimatisation day. Most folks take an acclimatisation day in Namche Bazaar. This is because most people hike there from the village of Phakding, and this results in a big jump in altitude of about 800 m. Namche Bazaar is also a great place for a longer stopover as there's lots to see and do here. It's also situated an intersection that allows you to explore various nearby attractions.
Two days for acclimatisation is arguably even better. Both could be done at Namche Bazaar, or perhaps one at Namche Bazaar and one at Dingboche further up the trail. If you're travelling in a small group, perhaps there will be leeway to add another rest day at some point should you feel you need it.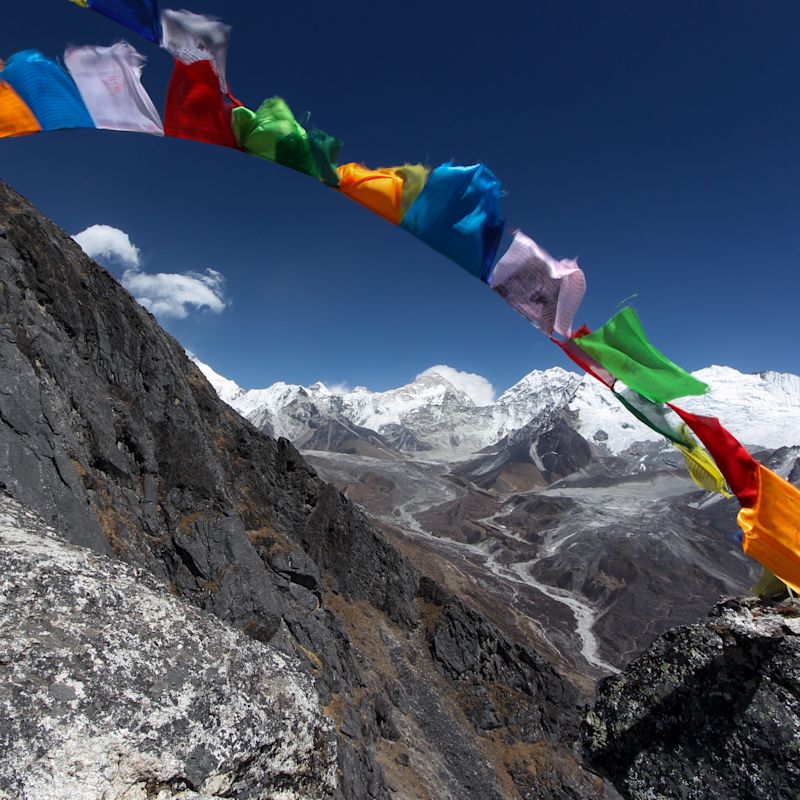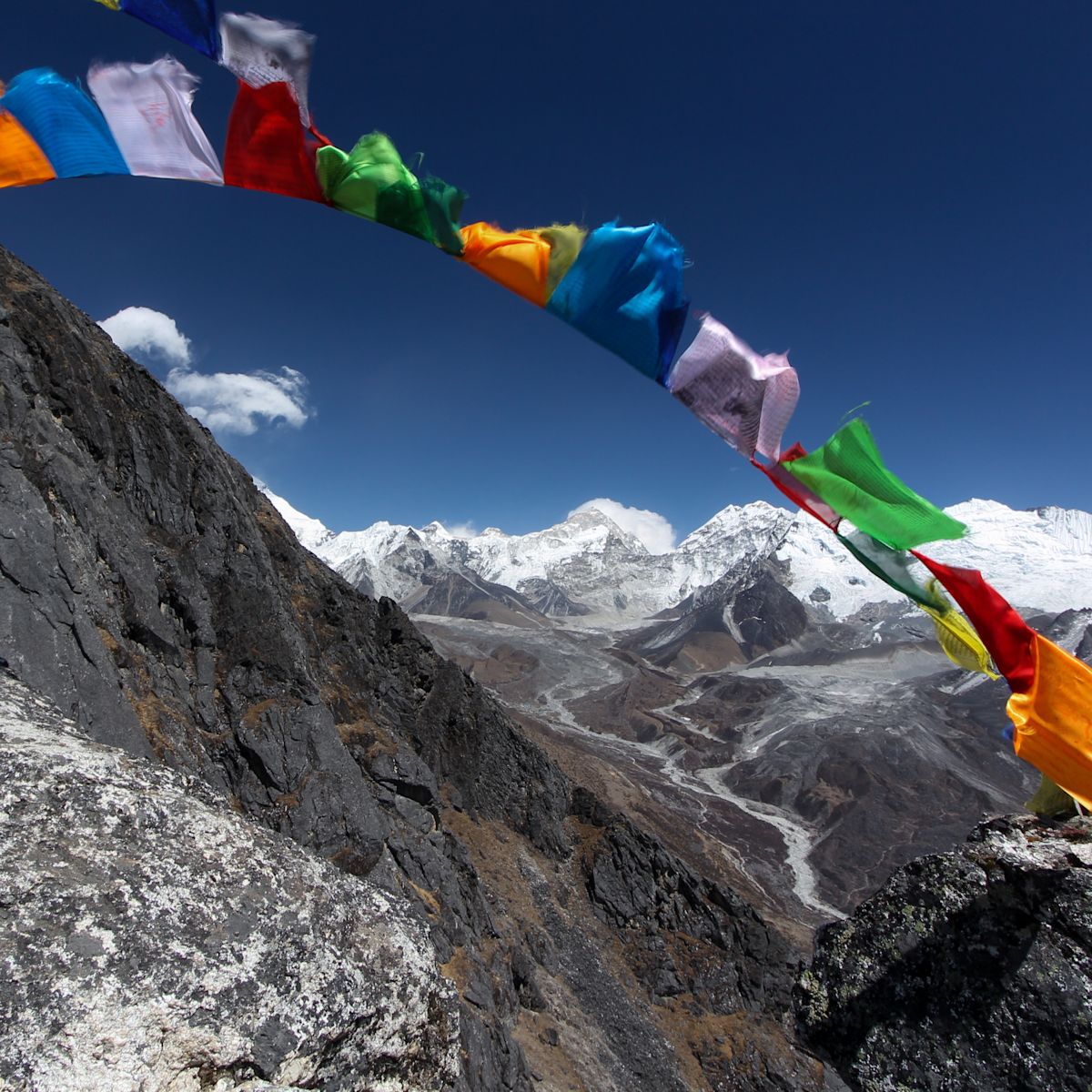 Tibetan Buddhist prayer flags are a common sight along the trek route
How hard is the trek?
The Everest Base Camp trek isn't easy. You trek for roughly five to eight hours a day. The path is often uneven, rocky and loose. There are plenty of steps to conquer, and some of the climbs are long and steep. Furthermore, the higher you ascend, the harder everything becomes as you're working off less oxygen.
You don't, however, have to carry a heavy rucksack, as we've organised porters to transport our belongings. This means you only need to carry a daypack containing your water, snacks and other essential trekking items. (Learn more in How hard is the Everest Base Camp?)
If you're relatively healthy, you can most definitely set your sights on hiking the Everest Base Camp trek.
But while the Everest Base Camp route isn't easy from a physical viewpoint, you don't need any special equipment or training to do it. There's no rock climbing involved. And you always walk along a well-marked path. All that's needed to do the trek is a decently strong pair of legs, as well as some essential gear like good trekking boots and winter trekking clothes. To learn more about what you'll need, read our blog post Everest Base Camp packing list. You might also like to download our packing checklist PDF on offer below.
Where is Everest Base Camp?
It's worth noting that there are actually two Everest Base Camps: one to the south of Mt Everest in Nepal, and one to the north of it in Tibet. The one in Nepal is sometimes referred to as south base camp to distinguish it from north base camp in Tibet. The base camp we're talking about in this blog post is south base camp, and we simply refer to it as Everest Base Camp.
Nepal's Everest Base Camp – not to be confused with Tibet's Everest Base Camp – is on the south side of Mt Everest, and within Sagarmatha National Park in northeast Nepal.
Everest Base Camp is inside Nepal's Sagarmatha National Park. Most of the Everest Base Camp trek, which starts in Lukla and ends at base camp, is also inside Sagarmatha.
Sagarmatha National Park
Sagarmatha National Park is famous for its high peaks, glaciers, steep, forested valleys, elusive snow leopards, and the Sherpa people who live there. The name Sagarmatha is actually the Nepali name for Mount Everest. It means 'forehead in the sky', which is rather more poetic than Everest, which is the surname of the Welsh surveyor who mapped much of the subcontinent in the mid 1800s. Sagarmatha has been a World Heritage Site since 1979.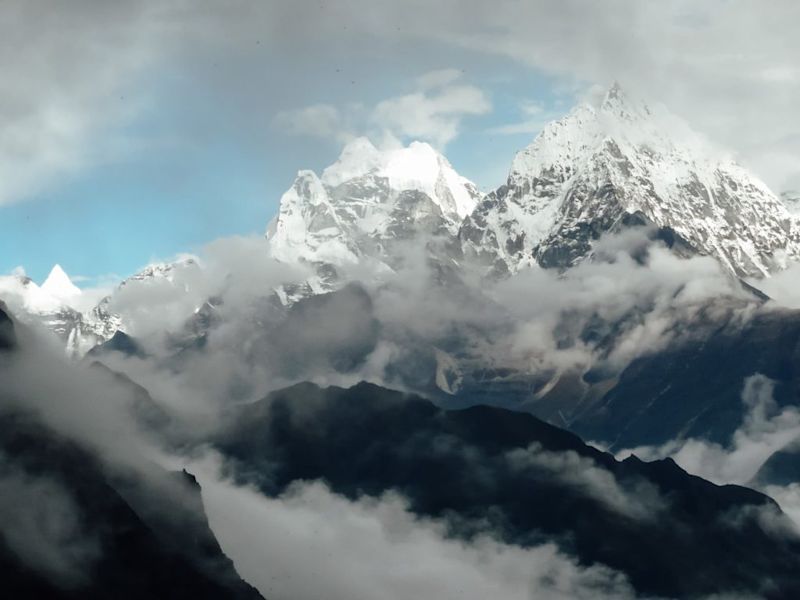 Sagarmatha National Park is home to eight mountains reaching over 7,000 m, including Mt Everest, which rises to 8,848 m
How do you get to the trailhead?
There are only two viable ways to get to the start of the Everest Base Camp route: be flown in by helicopter, or hike there along the Everest Base Camp route. It's mostly just mountaineers who fly to Everest Case camp; the rest of us bask in the challenge of trekking there.
The trek route starts and ends in Lukla, a small mountain town. Lukla, which is in Nepal's Solukhumbu region in the east of the country, is 2,860 m (9,383 m) above sea level. It's known as the gateway to the Everest Base Camp trek.
You might also be interested to know that Lukla sits at the same elevation as Ecuador's Quito, the world's second highest capital city.
How do I get from Kathmandu to Lukla?
You cannot drive to Lukla, as there are currently no roads leading into it. (The Nepalese Government has, however, announced plans to build a road to Lukla). That leaves us with the following travel options:
Fly from Kathmandu to Tenzing-Hillary Airport in Lukla.

Hike in from a nearby town, which will take at least three days.

Take a helicopter ride to Sangboche, a town inside Sagarmatha National Park.
Like most other trekkers, we fly to Lukla. All flights to Lukla are courtesy of light aircraft, as the single runway that constitutes Lukla's Tenzing-Hillary Airport is sloped and very short. The flight lasts for just 25 minutes.
Delays in and out of Tenzing-Hillary Airport are frequent, as weather conditions need to be favourable to make take-offs and landings safe.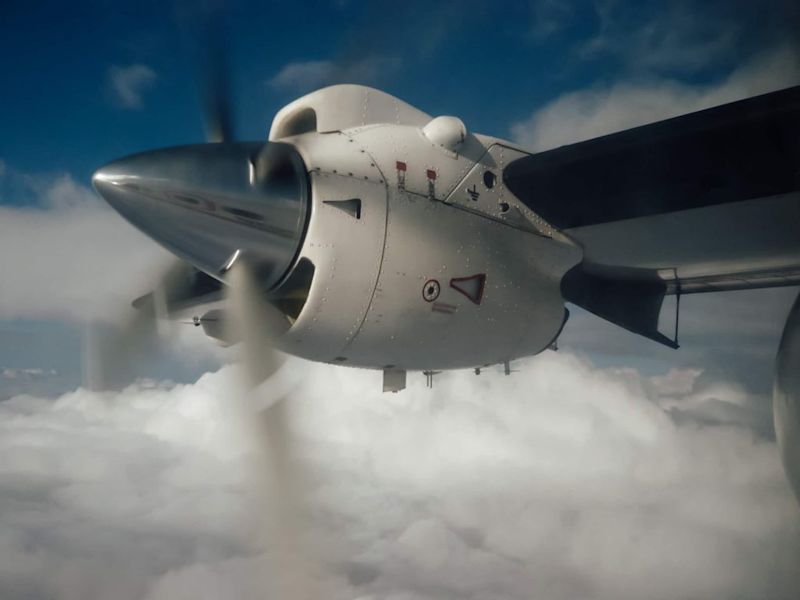 Only small aircraft can manage Lukla's short runway
Tips for flying from Kathmandu to Lukla
We have a few top tips for you when flying to Lukla:
pack snacks and reading material in case there's a delay

pick a seat on the left of the plane for better views

bring something to suck on to prevent your ears from hurting

pack rescue drops if you're a nervous flyer, as this flight isn't for sissies!
Lukla's airport is named after the Sherpa Tenzing Norgay and the Englishman Sir Edmund Hillary. Norgay and Hillary were the first to summit Mt Everest. They accomplished this amazing feat in 1953.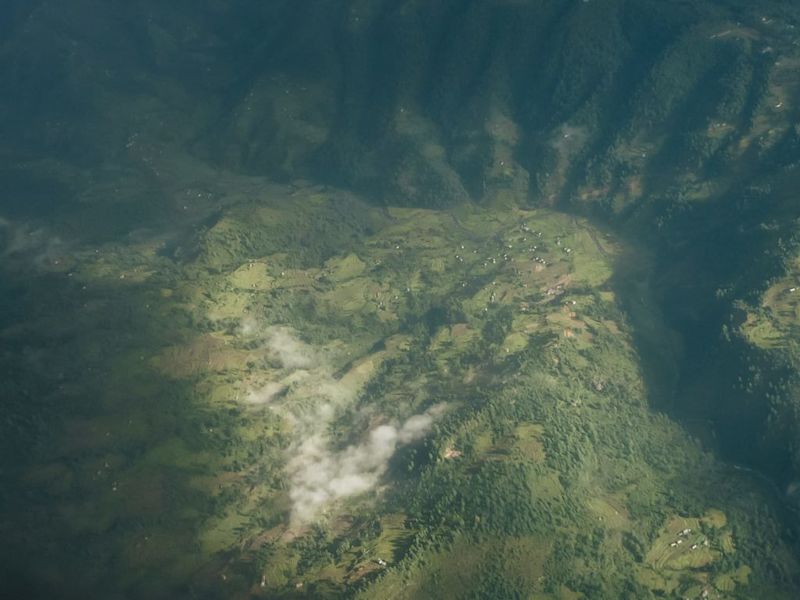 A beautiful valley as seen on the flight to Lukla
How high is Everest Base Camp?
Everest Base Camp sits at 5,364 m (17,598 ft) above sea level. At this altitude oxygen levels are pretty low, and those of us unused to such rarified air will most certainly feel the impact.
The starting point for the Everest Base Camp route is Lukla, as you already know, which sits at 2,860 m above sea level. This means we ascend roughly 2,500 vertical metres over the course of the Everest Base Camp route! It's one serious step climber of a route.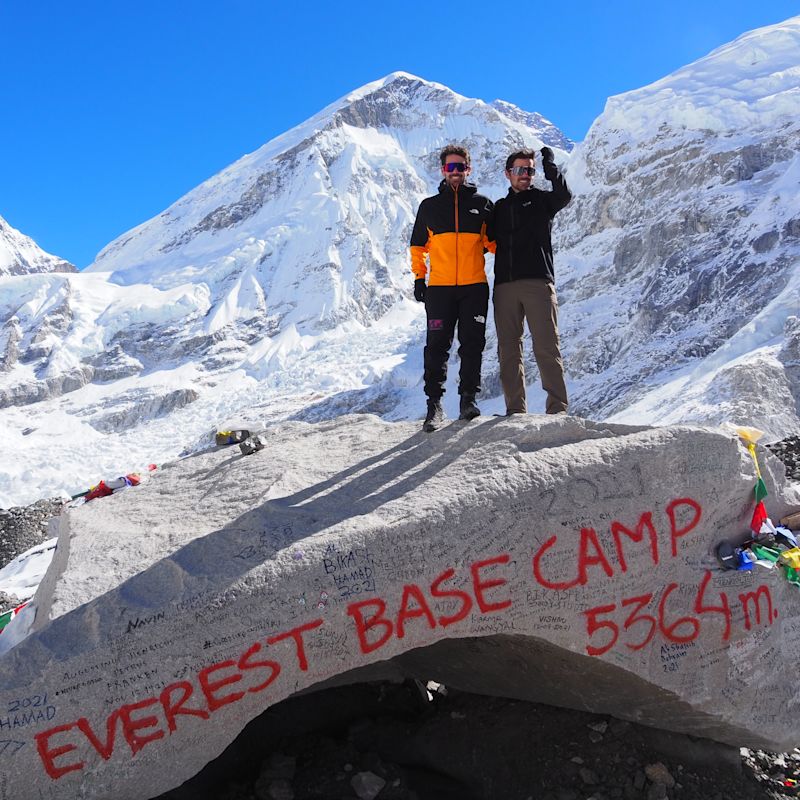 Twins Miguel and Pablo on a helpfully marked boulder in base camp
Where on Mt Everest is base camp?
Everest Base Camp is on the south side of Mt Everest. Mountaineers use the camp as a staging post for climbing Mt Everest via its southeast ridge.
Everest Base Camp is also located at the foot of the Khumbu Glacier, which flows between Mt Everest and the Lhotse-Nuptse ridge. This is the world's highest glacier.
At the head (top) of the glacier is the infamous Khumbu Icefall, a steep part of the glacier that is known to form large crevasses with little warning. Those ascending Mt Everest have to cross the Khumbu Icefall, and most try to do this early in the day when the ice hasn't yet had a chance to thaw and potentially crack.
Mt Everest, to remind you, is a whopping 8,848 m (29,029 ft) above sea level. That's almost 3,500 m higher than Everest Base Camp! But climbers don't hike to the peak in one go – there are four further overnight staging posts for climbers that help them to acclimatise each step of the way before the final push.
Everest is a whopping 8,848 m (29,029 ft) above sea level.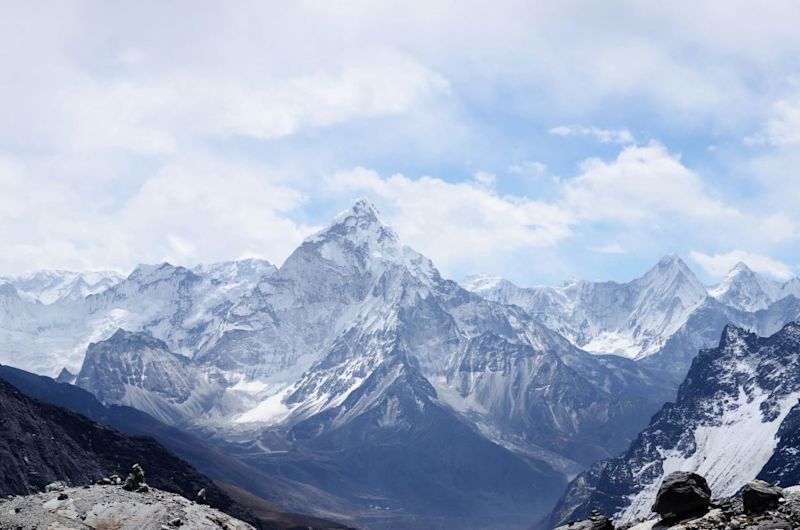 The Everest Base Camp route brings you into close quarters with some of the highest mountains in the world
Everest Base Camp via Gokyo Lakes itinerary
We give a brief outline below of the Follow Alice itinerary for the Everest Base Camp trek via Gokyo Lakes, after which we give a detailed itinerary.
Day 1: Fly into Kathmandu and gather together at the hotel in Thamel, Kathmandu.
Day 2: Take a short but exhilarating plane ride from Kathmandu to Lukla. Trek to Phakding (2,610 m) and enjoy the rivers, green mountains and relatively mild temperatures.
Day 3: Trek from Phakding up the valley to Namche Bazaar (3,440 m), the largest town in the Khumbu region. This day involves a big jump in elevation.
Day 4: Today is an acclimatisation day. So explore Namche Bazaar (attractions include the Sherpa Museum and Namche Monastery) and take a day hike if you'd like to the beautiful village of Khumjung.
Day 5: Trek from Namche Bazaar up to Tengboche (3,867 m), where you can visit the Tengboche Monastery, the largest monastery in Khumbu.
Day 6: Trek from Tengboche to the small settlement of Dingboche (4,260 m). Today involves another big jump in elevation.
Day 7: Trek from Dingboche to the tiny village of Lobuche (4,940 m).
Day 8: Trek to Everest Base Camp (5,364 m) and snap 1,000 selfies! 🏆 Turn around and trek to down to Gorakshep (5,164 m) for the night.
Day 9: Hike up Kala Patthar (5,643 m) for the best view of Mt Everest. Then trek to Dzongla (4,830 m) for the night
Day 10: Cross Cho La pass (5,420 m) and then descend to Thagna (4,500 m) for the night.
Day 11: Trek to the tiny village of Gokyo (4,750 m) and marvel at the beautiful, pristine lake.
Day 12: Hike up to Gokyo Peak (5,357 m) for a panoramic view of some of the world's mightiest mountains. Then trek to the village of Machhermo (4,470 m) for the night.
Day 13: Descend to Namche Bazaar.
Day 14: Descend to Lukla and enjoy all that oxygen-rich air!
Day 15: Fly to Kathmandu. Relive the memories over a lifetime. 😀
Let's now look at each day in turn, including some of the natural and cultural highlights along the way. We dare you to remain unexcited as you read on.
Day 1: Arrive in Kathmandu
Today is simply about arriving in Nepal and getting together as a group. We take care of all your travel once you land in Kathmandu, so you'll be met at the airport and brought to the hotel in Thamel, a vibey district of Kathmandu. We'll have dinner together and get to know each other a bit. Then it's time to rest well, as it's all go from the moment we land in Lukla tomorrow!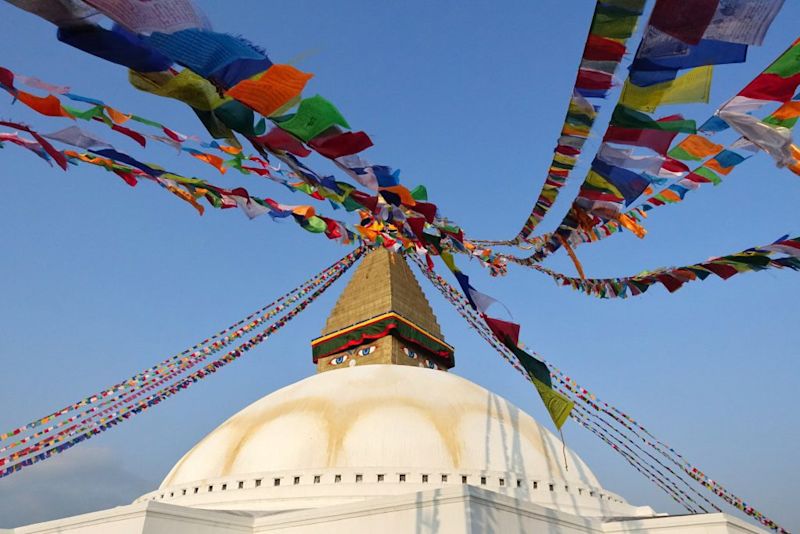 A stupa and prayer flags in Kathmandu
Day 2: Fly to Lukla and trek to Phakding
Today starts with the short flight to Lukla, which you'll do dressed in your trekking gear, as the moment we land, we're off on the trail!
Many people picture bare rock and snow when they imagine the Everest Base Camp route. While this is true of the higher portion of the trek, the lower part is quite lush. For the first few days of the trek you'll be hiking in a temperate zone. You can expect pine, fir and juniper forests as well as rushing rivers, bridges and waterfalls. If you trek in the Everest Base Camp route in summer (April and May), you'll see the beautiful and iconic rhododendron trees in bloom.
Everest Base Camp animals
Note that you want to keep your eyes open for wildlife during the entire trek. Some of the wild animals to look for are red panda, musk deer, langur monkeys and snow leopard (though the latter is an extremely rare sighting). Also look for birds, such as choughs, the Himalayan monal, and the blood pheasant. Sagarmatha is home to 118 species of birds, so bring your binoculars as there'll be plenty of spotting to do.
Domesticated animals are also an important component of the Everest Base Camp route. Would it actually be a Himalayan trek if there wasn't the gentle jangle of yak bells? One can also expect to farmers and herders looking after horses, donkeys, cattle, sheep and even yattle (cow-yak hybrids).
Phakding
Our first night's destination is the picturesque village of Phakding (2,610 m). The main industry in Phakding is tourism, so there are plenty of teahouses. We're confident you'll love Phakding, as it sits in a lush, forested valley alongside the Dudh Khosi river.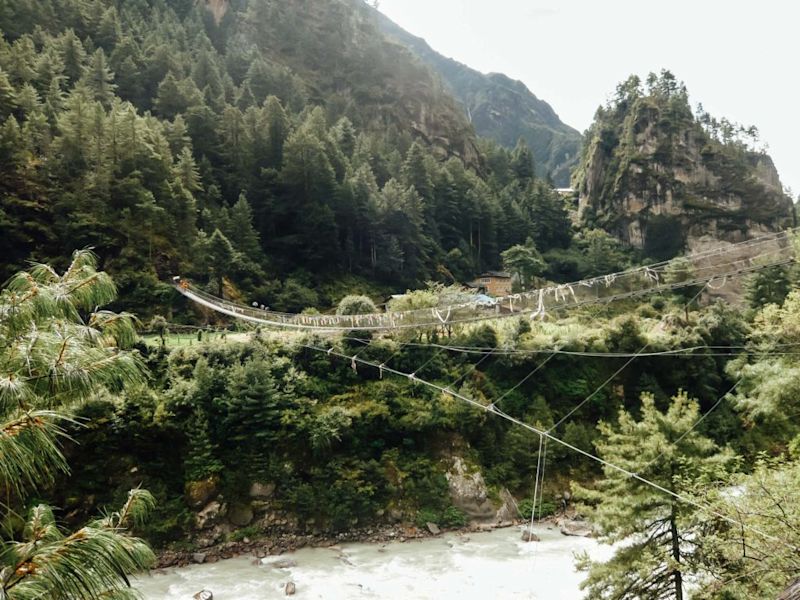 In the lower part of the Everest Base Camp trek we cross several suspension bridges
Day 3: Trek from Phakding to Namche Bazaar
Today we trek for around five to six hours to the town of Namche Bazaar. The hike involves a big jump in elevation of about 800 m. So you'll be working those calves hard. The trail runs roughly parallel to the Dudh Khosi river for most of the day, and then finally we have a steep climb up to reach our rest stop of Namche Bazaar.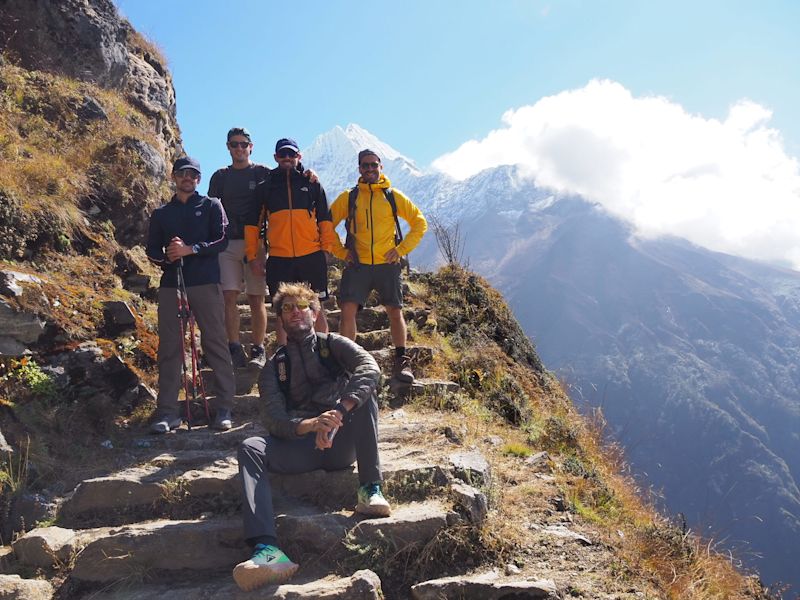 A Follow Alice climb group striking a group pose
Namche Bazaar
Namche Bazaar sits high on a mountain, overlooking the confluence of two rivers. It's the largest town in Sagarmatha National Park as well as the entire Khumbu region. But this is, of course, quite relative, as with fewer than a hundred buildings and around 2,000 residents, it's actually a very small town. Namche is an historic trading hub, and continues to be an important trading post among the Sherpa today. If you're lucky enough to be there on a Saturday, you can visit the weekly market.
It's very important that we rest in Namche Bazaar for a day to allow our bodies to acclimatise to the high altitude. Remember, Namche is 3,440 m above sea level!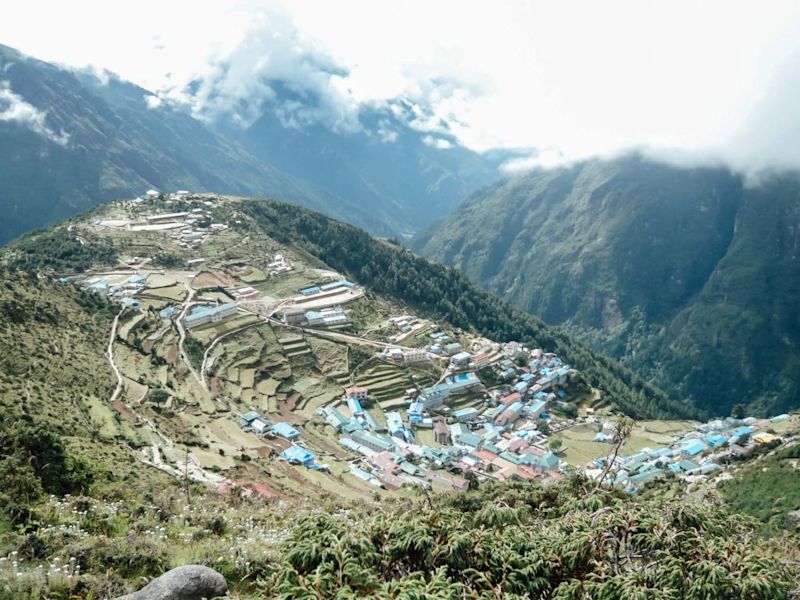 Namche Bazaar, the main settlement in Sagarmatha, as seen from above
Rest day
Following Hillary and Norgay's successful Everest climb, tourism in the Everest region has grown tremendously. Namche's topography makes it a natural departure point for a few different trekking trails, including the main one to Everest, so the town has grown in prosperity over recent decades. In fact, Namche is one of Nepal's wealthiest districts, with a higher average income than that of the capital city.
Namche is an exciting place to visit. For starters, there's Namche Monastery, the Sherpa Culture Museum, Sagarmatha National Park Museum, Lawudo Gompa, and more. It's also a great base for some fantastic day trips, one of which we do during our acclimatisation day. More about that in just a moment.
Ama Dablam
Namche offers trekkers their first breathtaking view of the mountain Ama Dablam to the northeast. This mountain keeps trekkers company for much of the Everest Base Camp route. It's a favourite peak in the Everest region for its striking shape: it looks a little like a mother with outstretched arms. The word ama means 'mother' and dablam means 'necklace'. The mountain's glacier is somewhat reminiscent of the necklaces worn by Sherpa women.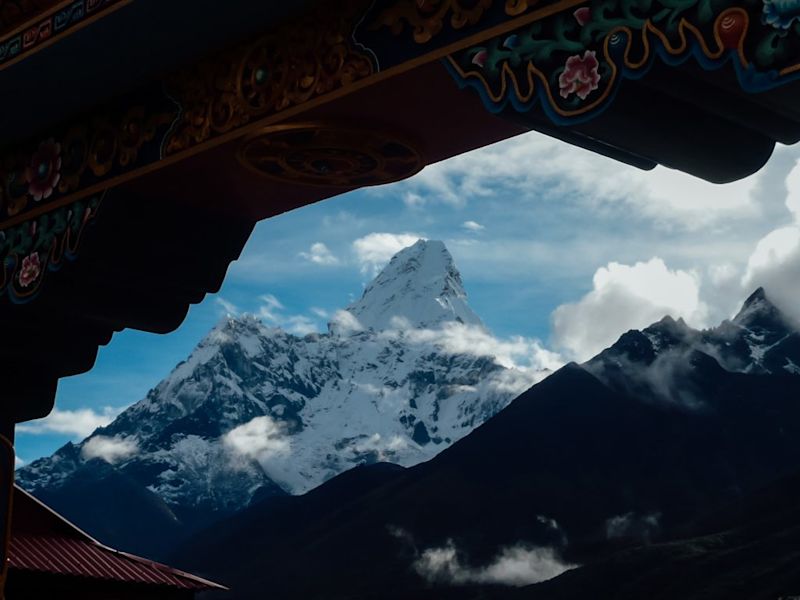 A monastic view, if you will, of Ama Dablam
Day 4: Acclimatisation day in Namche Bazaar
Today we live by the adage 'trek high, sleep low', as we do a five-hour hike up to Khumjung (3,790 m) and back.
Khumjung
Khumjung is a widely spread valley town. Almost all of the buildings have green or blue roofs, giving it an attractively cohesive look. Drystone walls divide the land into dozens of small fields. In summer, the village and surrounding mountains are covered in green. It would be very appropriate to get excited about visiting Khumjung, as many consider it the prettiest of all the Sherpa villages!
Khumjung is home to the first school started by Sir Edmund Hillary's Himalayan Trust. Speaking on the topic, Hillary said: "Reaching the summit of a mountain gives great satisfaction, but nothing for me has been more rewarding in life than the result of our climb on Everest, when we have devoted ourselves to the welfare of our Sherpa friends."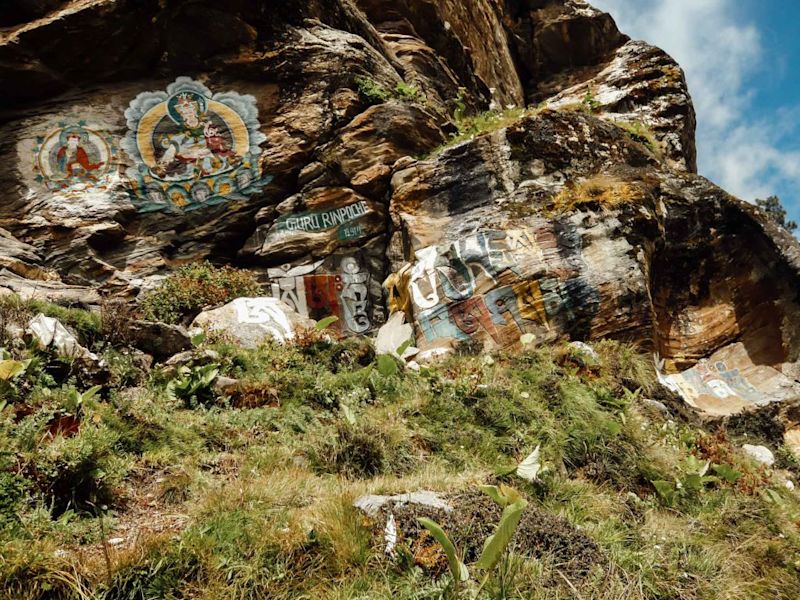 These paintings of the C8th Buddhist master known as Guru Rinpoche can be seen on the Everest Base Camp route. Tibetan Buddhism is the main religion of the Sherpa people.
Khumjung Monastery
One can also visit Khumjung Monastery, a small working Tibetan Buddhist monastery that's colourfully painted and decorated. The monastery is famous for housing a purported yeti scalp (though you'll be forgiven if you decide you don't wish to actually see an ancient, severed scalp).
Mt Khumbila
Khumjung sits at the base of Mt Khumbila (5,761 m). Khumbila is said to be an old god, and its name actually means 'God of Khumbu'. Most Sherpa people believe the mountain is too sacred to be climbed.
Day 5: Trek from Namche Bazaar to Tengboche
Today's trek takes about five hours. You'll feel the altitude as you climb, but hopefully the acclimatisation day in Namche Bazaar has steadied your body enough to cope. We again head up the valley, which involves trekking along forest paths, passing through small traditional villages, crossing some narrow suspension bridges, seeing magnificent snow-capped peaks ... just another day on the Everest Base Camp trek!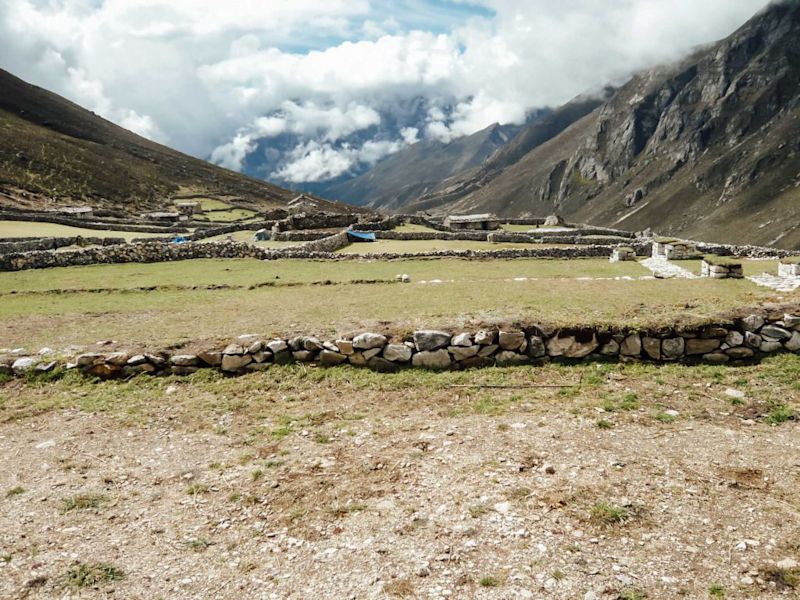 Many settlements in Khumbu use drystone walls to separate fields
Tengboche
Tengboche, much like Namche, sits at the meeting point of two valleys. It overlooks the confluence of the Dudh Khosi and Imja Khola rivers. Head northeast out of town and you're on the main trail to Everest Base Camp; head northwest and you're heading to Gokyo Ri.
Tengboche Monastery
A highlight of stopping at Tengboche is visiting Tengboche Monastery, a working monastery and the largest in the Khumbu region. It's a relatively new gompa (religious building), having been built in 1916. The large gateway to the monastery is highly impressive, with a mythical creature on a pedestal standing guard to each side. The gompa's exterior is covered in colourful and ornate decorations and religious symbolism, but nothing can beat the exuberant display of colour on the inside. The monks themselves add to the mix, wearing traditional maroon robes. The monastery is very welcoming of visitors.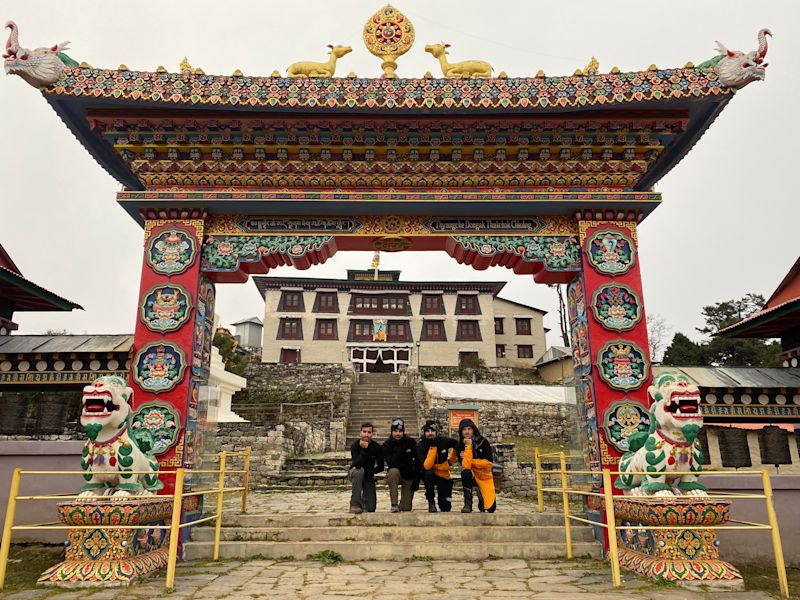 Entrance to Tengboche Monastery
Day 6: Trek from Tengboche to Dingboche
Today we hike for five to six hours to reach the village of Dingboche. We hike up out of the valley, leaving Imja Khola river well behind.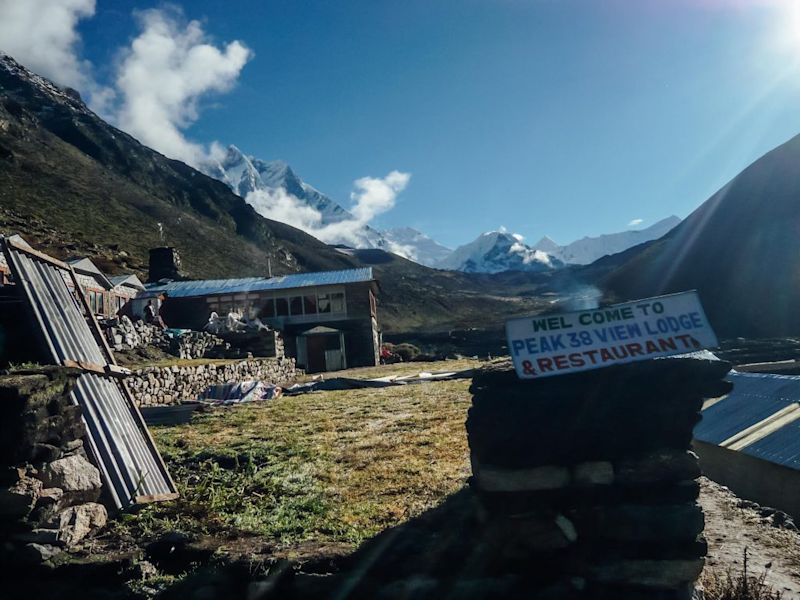 Dingboche is a small settlement, but as you can see from the sign: visitors are welcome!
Dingboche
Dingboche is a small settlement. It isn't much of a looker: the buildings are utilitarian, and trees are a distant memory. But the mountains surrounding it are sublime, and Ama Dablam is on your porch.
The area has an alpine climate, and is always cold. Dingboche has an average temperature of just 1° C, and the thermometer doesn't even crack 10° C at the height of summer. You can expect to feel the altitude keenly every time you exert yourself. Some find it starts to affect the quality of their sleep too. We're really in the thick of the trek now.
Day 7: Trek from Dingboche to Lobuche
Today we wind our way up a wide valley for five to six hours to reach Lobuche. The terrain in this area is pretty barren.
Lobuche
The settlements grow ever smaller and more modest the higher and further into the Himalayas we climb, and Lobuche is no exception. This far into the mountains we no longer look for cultural and religious gems but are just grateful for a hot meal and a bed to drop onto at night.
Lobuche is particularly busy in spring when porters pass through while transporting supplies to Everest Base Camp in preparation for summiting season in May.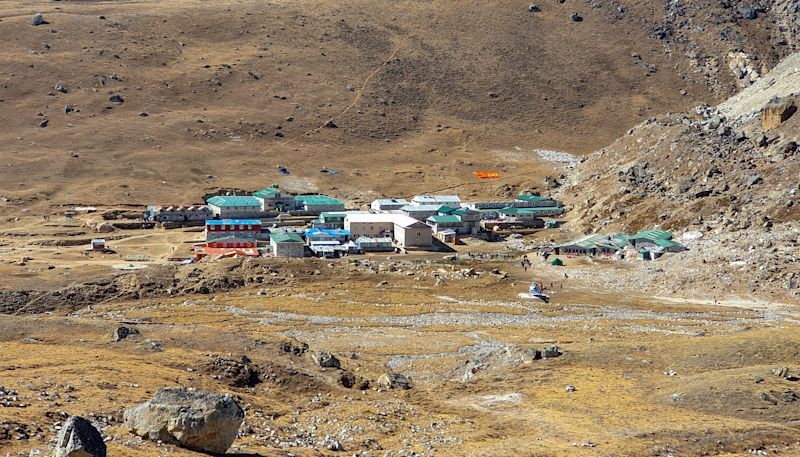 A view from above of Lobuche village
Day 8: Trek from Lobuche to Everest Base Camp, then Gorakshep
Today is a big day: it's Everest Base Camp day! It's also one of our longest and toughest days, as we trek for nearly eight hours and for the first time climb above 5,000 m in elevation. Time to strap on some determination.
Everest Base Camp
For most of the year Everest Base Camp is empty, marked just by a sign and a flurry of wind-battered prayer flags. It's a barren, rocky site, though of course the views in every direction are amazing. If it's important to you that you see Everest Base Camp when it's in operation, then you need to do the trek in May. This is when the camp is awash with tents and teems with mountaineers and support staff. It's exciting to watch people from around the world readying themselves to summit Everest.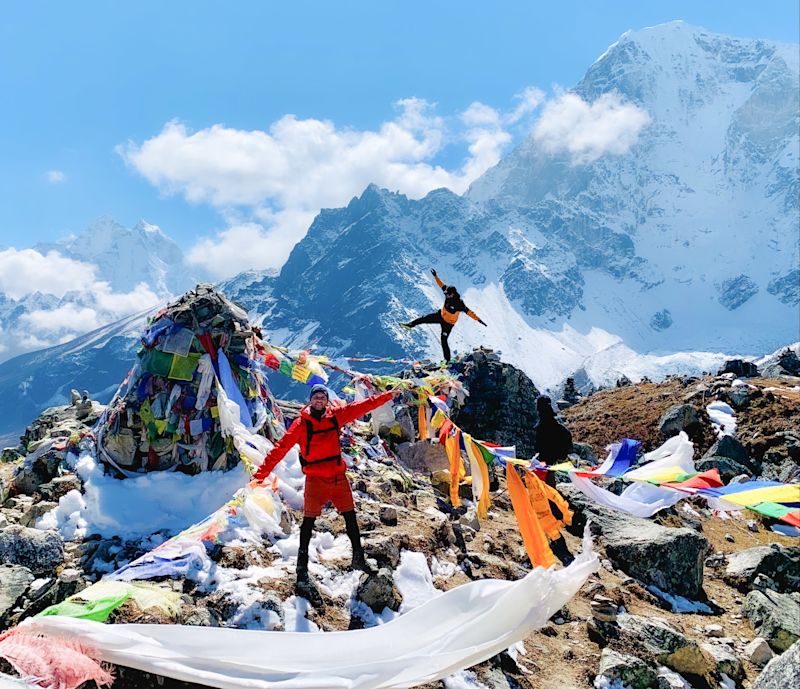 Fun times at Everest Base Camp, cos you gotta celebrate!
Gorakshep
After glorying in having reached Everest Base Camp, we turn around and trek back the way we came for a little while to reach the small settlement of Gorakshep. You can expect a cold night whatever the time of year, as shown by the graph below.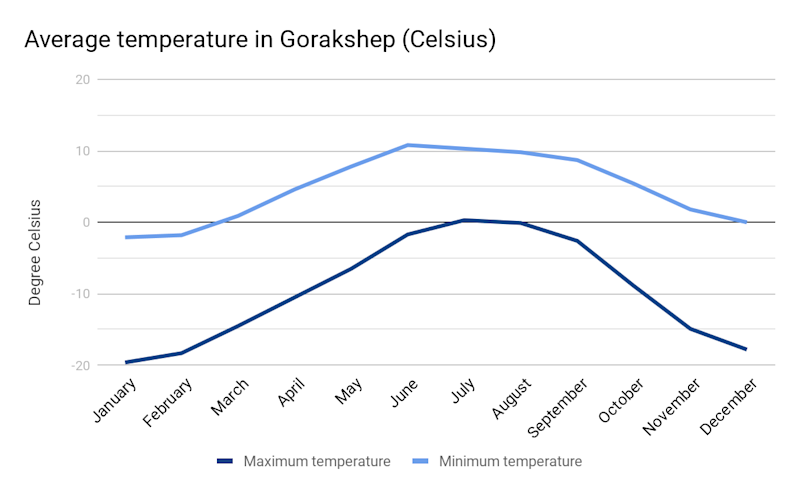 Day 9: Hike up Kala Patthar, then trek to Dzongla
Today we hike up Kala Patthar, reaching our highest elevation (5,643 m) along the entire Everest Base Camp route. We then trek to Dzongla for the night. We'll be on our feet for six to seven hours today.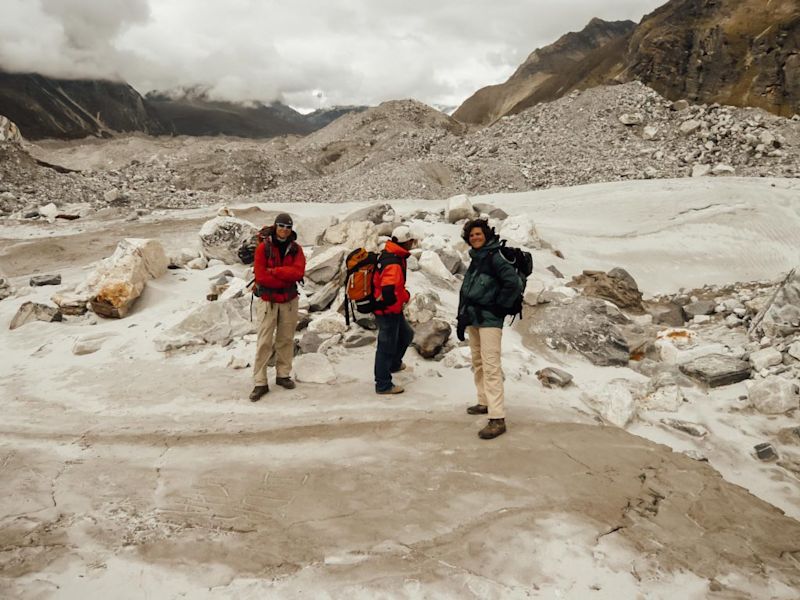 The trail becomes barren and strewn with boulders, rocks and scree the higher we climb
Kala Patthar
Kala Patthar means 'black rock' in Hindi, Urdu and Nepalese. This black rock near Gorakshep has become an absolute must on the Everest Base Camp route as it offers you your best and closest view of Mt Everest. You don't actually see Everest from base camp, which is good to know beforehand so you're not disappointed. Kala Patthar is therefore where it's at. The climb up Kala Patthar is a steep and tough one, so it's good that we tackle it first thing in the morning.
Dzongla
After standing in the conqueror pose atop Kala Patthar, we leave the main Everest Base Camp route to trek to the village of Dzongla (4,830 m). This is another small and remote settlement in the vein of blink and you might miss it.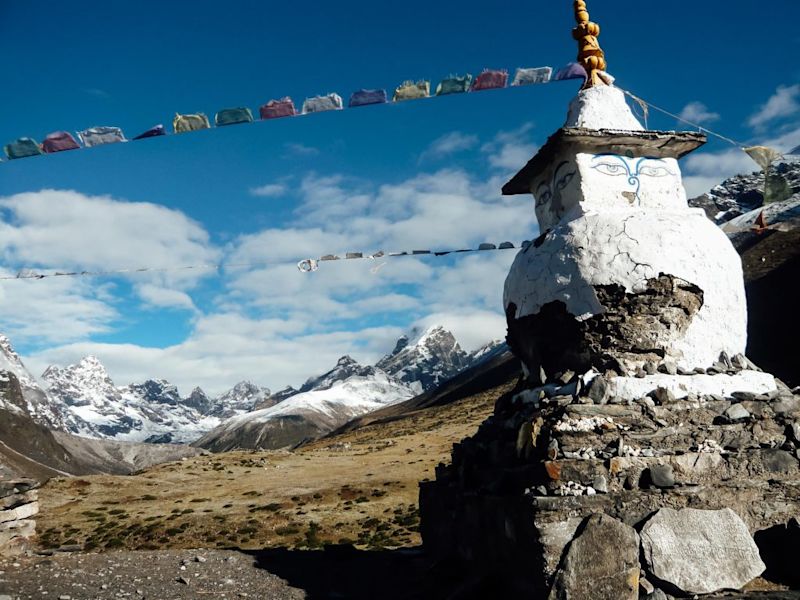 There are many gompas and prayer flags along the Everest Base Camp route
Day 10: Summit Cho La Pass, then head to Thagna
Some might think that having visited Everest Base Camp, the excitement of the trek is mostly over. So wrong. Today's trek route takes us all the way up to Cho La Pass (5,420 m) for some panoramic views. We then hike down to Thagna (or Thagak) for the night. Today is another very long day: we walk for nearly eight hours, and there are some steep ascents. Hopefully you haven't eaten all your energy bars just yet.
Cho La Pass
Cho La Pass can be dangerous if you're unfamiliar with it, which is why it's vital that one hike it with a trek guide, as we do. The going is steep, and the ground can be rocky, loose and icy, with large boulders along the way. This is arguably the wildest, most formidable part of the entire Everest Base Camp route.
Day 11: Trek from Thagna to Gokyo
Today we trek to the village of Gokyo (4,750 m), and see the beautiful Gokyo Lakes! This is a spectacular day indeed. And after yesterday's huge effort, it's a relatively tame trek of just four to five hours.
Gokyo Lakes
The Gokyo Lakes are six lakes sitting between 4,700 m and 5,000 m above sea level. The largest lake is Thonak Lake. The Gokyo Lakes are the world's highest freshwater lake system, and they serve as an important wetland for migratory birds. Depending on when in the year you visit Gokyo, you can look out for ruddy shelducks, known locally as Brahminy ducks. These ducks are some of the most attractive you'll ever see, being a beautiful mix of tan, white and black. They each have a black 'choker' encircling the neck, which makes them easy to identify.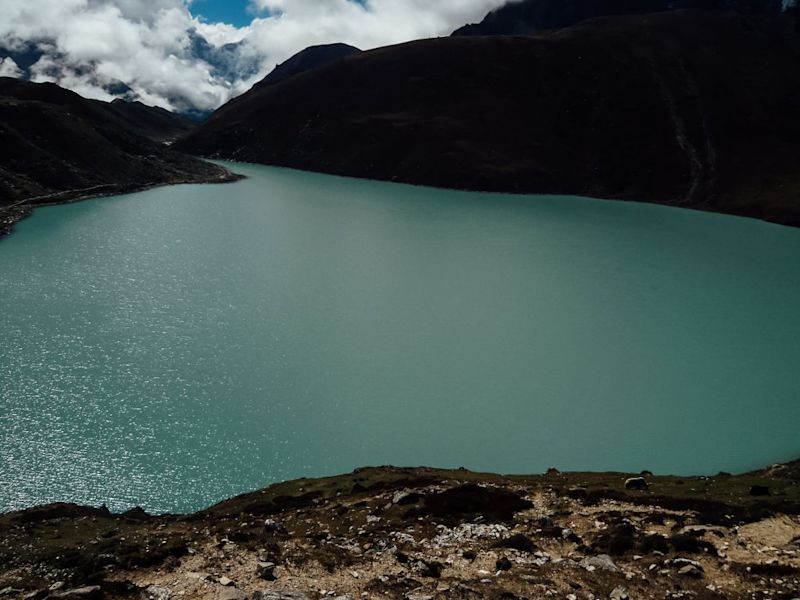 The Gokyo Lakes are sacred to both Buddhists and Hindus
In late spring and summer the lakes are surrounded by green banks and mountains. In autumn there are red shrubs with snow starting to encroach on the lakes' shores. And in winter, snow lays a white blanket over the entire landscape. The Gokyo Lakes are important to both Hindus and Buddhists. Every year about 500 pilgrims come to the lakes in August to take a dip during Janai Purnima, a sacred festival in Hinduism.
Gokyo
The tiny settlement of Gokyo on the shore of Dudh Pokhari Lake is a popular overnight stop with trekkers. Gokyo receives about 7,000 visitors annually. But it's a seasonal village, with locals moving in during the warmer months to service tourists, then moving down to milder villages like Namche Bazaar for the colder months.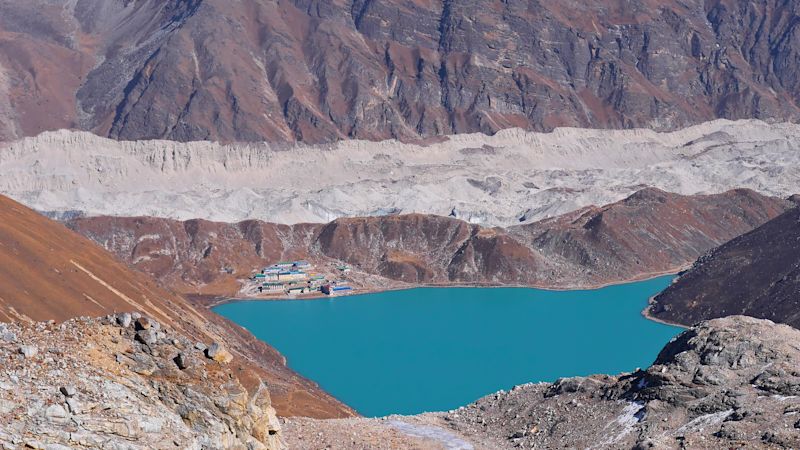 Here you can see the village of Gokyo with the glacier Ngozumpa in the background
Day 12: Summit Gokyo Peak, then trek to Machhermo
Today we head northeast out of Gokyo to summit Gokyo Peak (5,357 m), known locally as Gokyo Ri. Then we head south to the village of Machhermo. We trek for four to five hours, the same as yesterday.
Gokyo Ri and Ngozumpa Glacier
Standing on top of Gokyo Peak you can see four of the world's 14 peaks reaching above 8,000 m! They are:
Everest, which at 8,848 m is 237 m taller than the next highest mountain, K2

Lhotse, which at 8,516 m is the fourth highest mountain

Makalu, which at 8,485 m is the fifth highest mountain

Cho Oyu, which at 8,188 m is the sixth highest mountain
Also, to the east of Gokyo Peak is Ngozumpa Glacier, Nepal's longest glacier.
Standing on Gokyo Peak, you really won't know which way to look first. Happy problems.
Machhermo and the Dudh Khosi
Machhermo sits in the Dudh Khosi River valley. It's a small village, and while it's not much in and of itself, the hike there and back is what makes this excursion incredibly special. We walk along contour paths and witness the Dudh Khosi in its infancy – a brisk, boulder-strewn stream in a steep mountain valley. (Eventually the Dudh Khosi is fed by the waters of the Imja Khola and widens out, flowing through the valley we trekked in our outward journey.)
The views today are truly inspiring, whether decked with snow or covered in grass and shrub. It's also easy to feel this little neck of the Himalayas is yours entirely, as we're far from the trekking crowds here.
Day 13: Trek from Machhermo to Namche Bazaar
Today's trek from Machhermo to Namche Bazaar takes about four to five hours. It's a very pretty part of the Everest Base Camp route, and we pass through a handful picturesque mountainside villages like Dole along the way.
As the trek is relatively short, we reach Namche in good time, and you might like to visit any of the sites in the town you weren't able to fit in on the outgoing trek.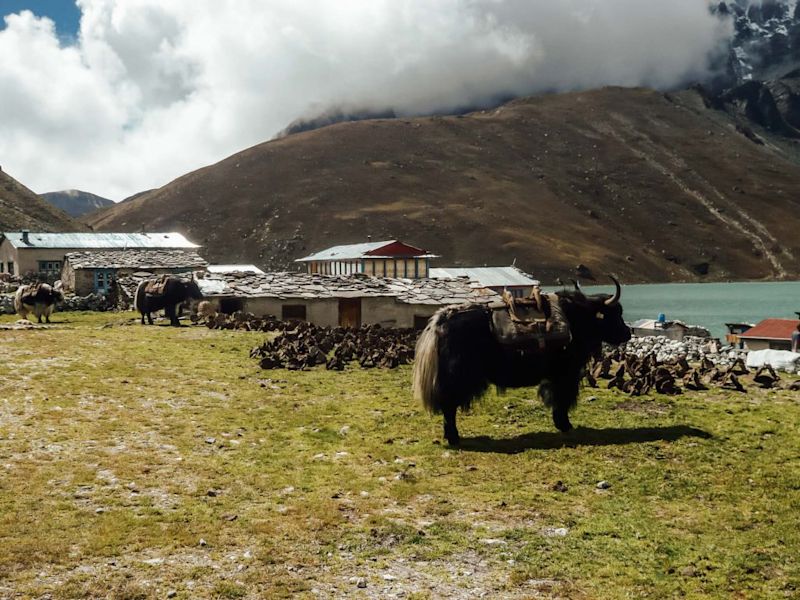 Yaks are used throughout the Himalayas to transport goods
Day 14: Trek from Namche Bazaar to Lukla
Today's trek takes about five hours. We'll be on familiar turf here, hiking the same route as Days 1 and 2 in reverse. Having built up you trekking muscles over so many days, as well as descending into more oxygen-rich air, you might feel like you have the strength of a star athlete today.
Day 15: Fly from Lukla to Kathmandu
Today we say goodbye to Khumbu and fly to Kathmandu. While it's a sad day in many ways, our hotel in Kathmandu is ready to comfort us with hot baths and plush towels. At dinner tonight we'll relive the adventures of the past two weeks.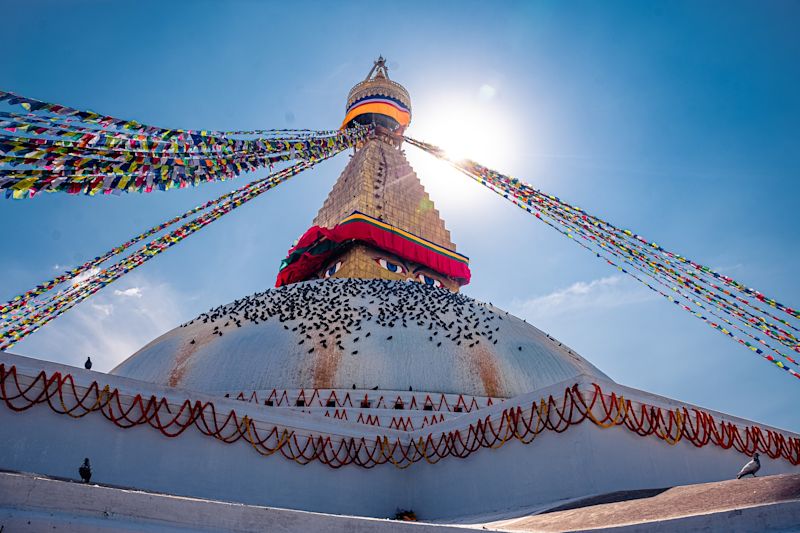 You might choose to spend some of today exploring some of Kathmandu's landmarks
Day 16: Transfer to Tribhuvan International Airport
It's departure day, and we take you to the airport where we bid you farewell and (hopefully!) see you soon.
Everest Base Camp and helicopter itinerary
The itinerary for the helicopter option of the Everest Base Camp trek is exactly the same as that outlined above for the Everest Base Camp via Gokyo Lakes trek for the outward journey. It's only the day after reading Everest Base Camp that the itinerary deviates. This is because instead of trekking back to Lukla we climb into a helicopter and take the flight of your dreams to go there!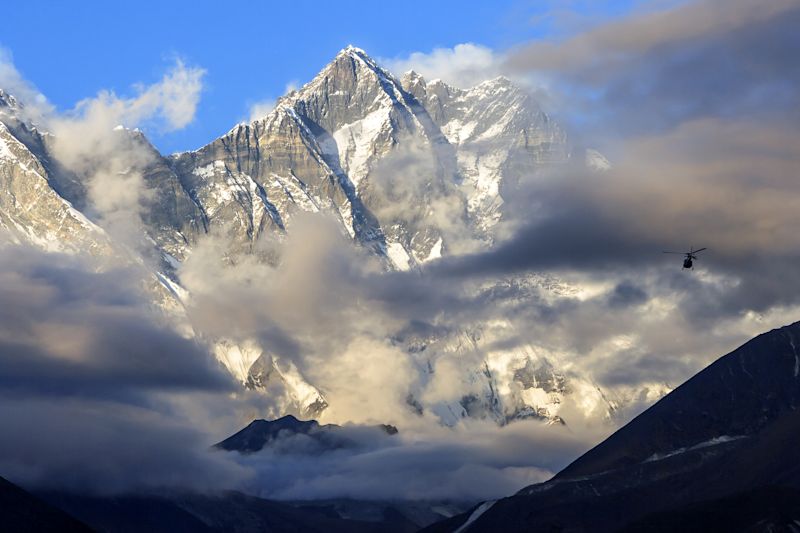 Here you can see a helicopter becoming dwarfed in the presence of Lhotse mountain!
From Lukla, we fly back to Kathmandu that same day. We spend a night at the hotel in Thamel, and then the next day we can take you to the airport if you wish for your flight home.
And that's it, folks! If you'd like to know anything more about the Everest Base Camp route, or the trek in general, please contact us. We'd love to hear from you. Or if you're ready to take the plunge, book your spot on the Everest Base Camp trek now!