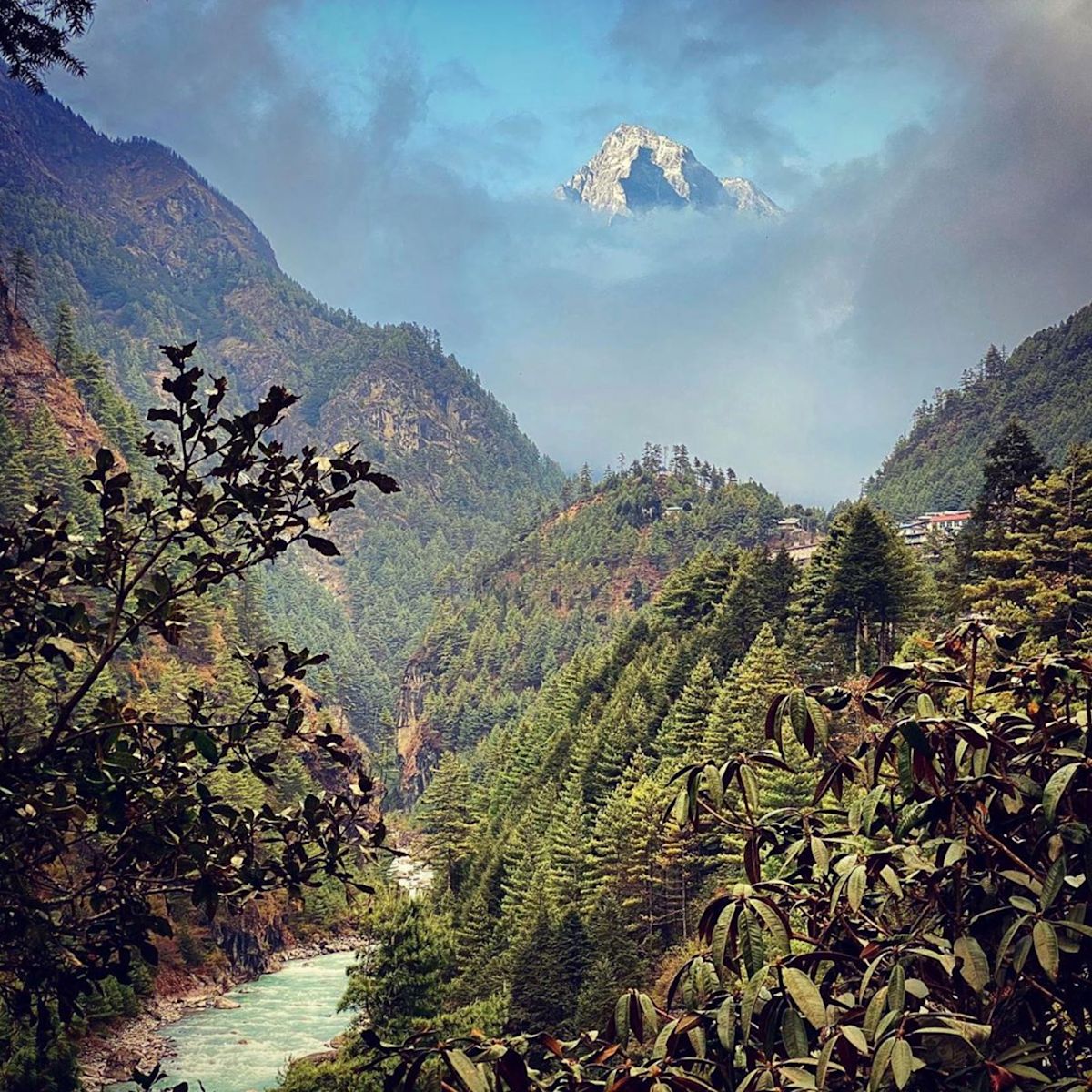 Annapurna Circuit route
Nov 23, 2022
Reading time: 21 minutes
At Follow Alice we offer an exciting six-day Annapurna Circuit trek which sees you walk the very best section of the famous trail. The overall trip is 13 days as there's some travel involved, and we also give time for enjoying Kathmandu and Pokhara.
The Annapurna Circuit is a favourite Nepal trek, as we discuss in Why the Annapurna Circuit is Nepal's golden child.
The original Annapurna Circuit trek takes about two weeks and starts at Besisahar. However, many nowadays choose to trek only the middle portion of the route, which takes you into the highest and remotest parts of the Annapurna mountains.
There are a handful reasons for this shortening of the trek. Most notably, jeep tracks now connect most of the villages along the earlier section of the traditional circuit route. Many prefer to not walk alongside vehicles and so walk only the higher and remoter section of the Annapurna Circuit route. We're among those folks!
Many villages have a formal entrance arch like this one *
* Photos with a star are courtesy of our lovely clients Vonie and Amanda
Our version of the Annapurna Circuit route
At Follow Alice we've chosen to offer a slightly shorter version of the original Annapurna Circuit that takes in the most special and best preserved portions of the route. We spend six days trekking along the circuit and absorbing the world-class views! Two of the six days involve roundtrip hikes, because we need to stay put in one location for a while in order to properly acclimatise to the high elevation.
While the trek itself is six days, the entire Follow Alice trip is 13 days. This is because there's some driving and flying to do to get to the Annapurna Mountains from Kathmandu and then back again. Notably, there's a thrilling flight through a deep gorge called the Kali Gandaki at the end of the trek!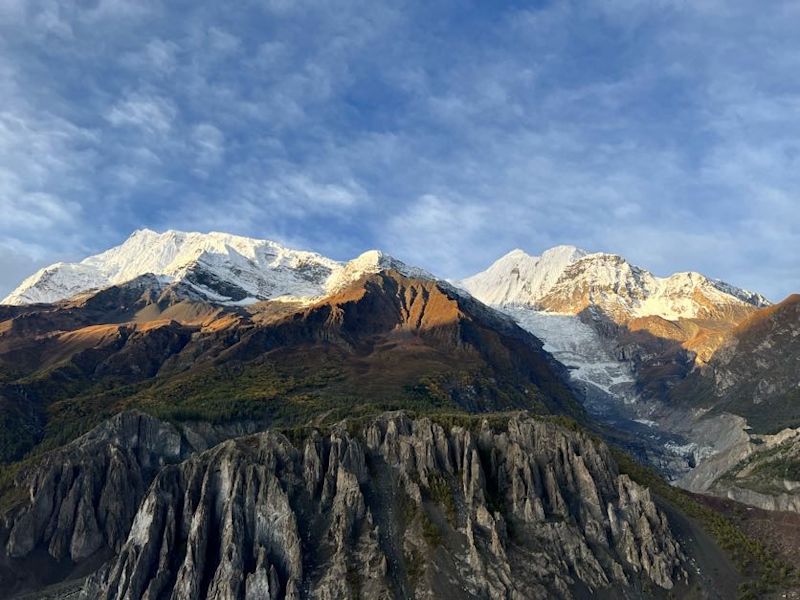 The scenery on the Annapurna Circuit is truly breathtaking **
** Photos with two stars are courtesy of our talented client Hala Macknight
Annapurna Circuit map
The map below shows the Annapurna Circuit trek route offered by Follow Alice.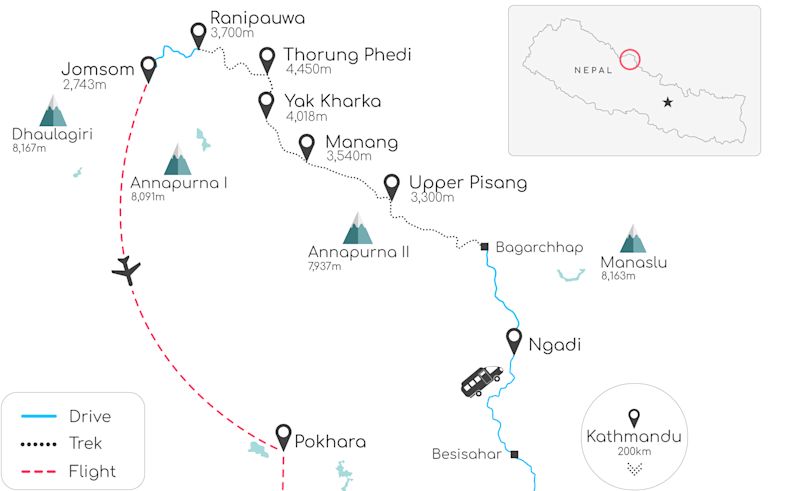 Map of the Annapurna Circuit
Video of the Annapurna Circuit
Follow Alice team member Salwan trekked the Annapurna Circuit in 2019 and recorded his adventure in a vlog. Note that the route he followed before the pandemic is slightly different in the first couple of days to the one that we now offer, but the main highlights are all the same.
Check it out!
There would be a youtube video here.
Sadly, the youtube player requires cookies to work.
Annapurna Circuit trip itinerary
We give a breakdown below of the 13-day Annapurna Circuit trek as organised by Follow Alice, which begins and ends in Kathmandu, the capital city of Nepal.
Day 1
Arrive in Kathmandu.
Day 2
Drive to the beautiful valley village of Jagat via the town of Besisahar for lunch.
Day 3
Drive to the village of Lower Pisang and do a short hike up to Upper Pisang.
Day 4
Trek to the regional hub of Manang via the historic village of Nyawal (6 hr).
Day 5
Do a challenging roundtrip day hike to the high lake of Kicho Tal (6 hr).
Day 6
Do a roundtrip hike to Gangapurna Lake (1 hr), then later visit the Himalayan Rescue Association.
Day 7
Trek to the small high village of Yak Kharka (6 hr).
Day 8
Trek to the tiny, wind-blasted village of Thorung Phedi (5 hr).
Day 9
Trek to the town of Ranipauwa by first summiting the mountain pass of Thorung La (6-7 hr)!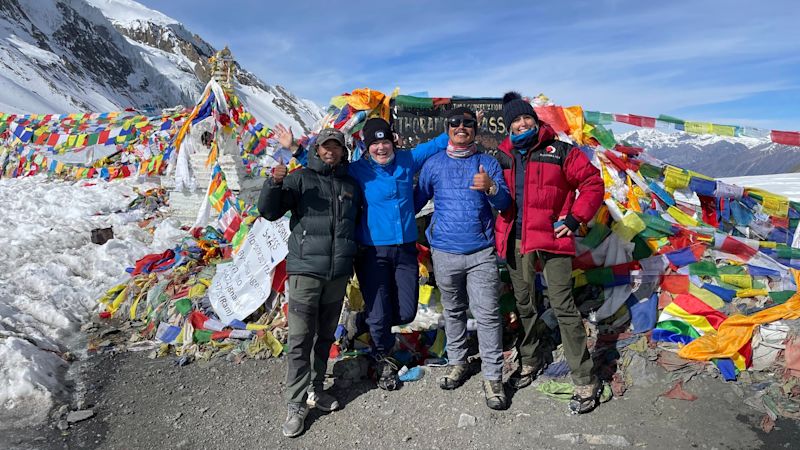 Thorung La is the highest point on the Annapurna Circuit at 5,416 m (17,769 ft) above sea level!
Day 10
Drive to the airport town Jomsom via historic Kagbeni village.
Day 11
Fly to Pokhara and explore this beautiful lakeside city.
Day 12
Fly to Kathmandu and explore the city's many gems.
Day 13
Departure day.
Day 1: Arrive in Kathmandu
Today is simply about arriving in Nepal and making our way to the hotel in Kathmandu.
Kathmandu is home to 1.5 million people
Kathmandu's Tribhuvan International Airport (KIA) is on the outskirts of the city. Your Follow Alice guide will be waiting at KIA to greet you when you land. As discussed in our blog post Annapurna Circuit cost, you might wish to exchange some money for Nepalese rupees while still at the airport. There's also free Wi-Fi in the international terminal, so you can let family know you've arrived.
You can expect to hear both Nepali and Nepal Bhasa spoken in Kathmandu.
Kathmandu has a population of over one million, and sits in a bowl valley. It's known to many as the City of Temples, a title it deserves as there's a staggering number of Buddhist and Hindu religious buildings and monuments throughout the city.
Thamel
The hotel where we all meet up (usually Arushi Boutique Hotel) is in Thamel, a busy and fascinating city neighbourhood.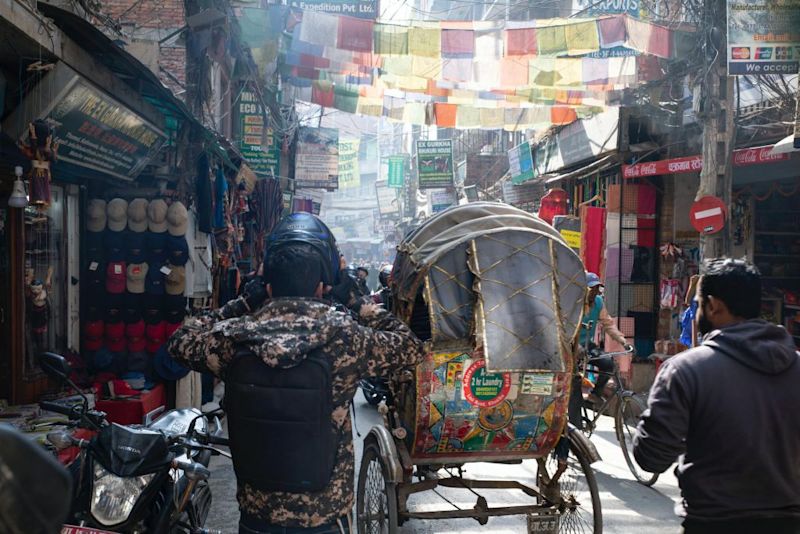 A busy Thamel street
Depending on where in the world you're coming from, you may well at this point want to just nosedive into your bed. We've all been there. But if you're not too late in arriving and have the energy to venture out for lunch or dinner, there are many places within easy walking distance. Upmarket or budget – you can find it all in Thamel.
If you need to head out to buy a SIM card and data, or hire any equipment for the Annapurna Circuit trek, then this is your moment too.
Day 2: Drive to Jagat via Besisahar
Today we leave Kathmandu for the Annapurna region. We pile into a private, air-conditioned vehicle and spend the day driving to Jagat, a small village along the initial section of the Annapurna Circuit route.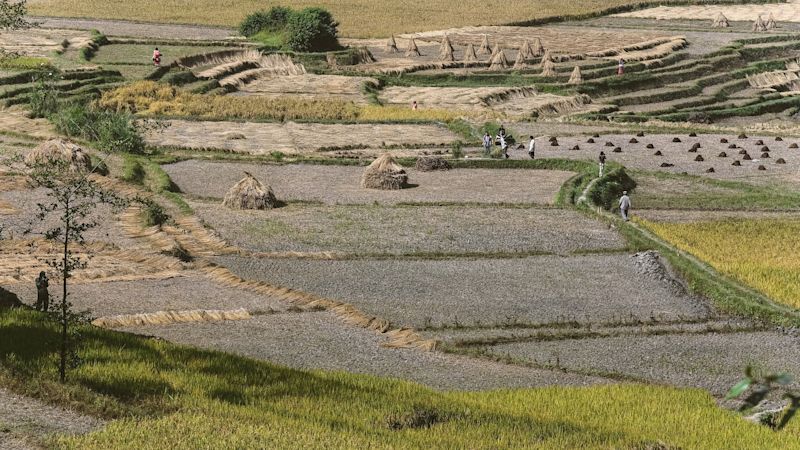 We pass many agricultural fields on the drive today
While the drive is long, don't fret – you'll be too busy exclaiming over the passing scenery and sights to notice it much. We also stop en route in the town of Besisahar for lunch and a leg stretch.
Drive time:

8-9 hr

Lunch stop:

Town of Besisahar

Overnight:

Village of Jagat
Parts of today's drive will either strike you as thrilling adventure or send you scratching for rescue drops: narrow roads with sharp bends and steep drops to the side will keep your nose pressed to the window.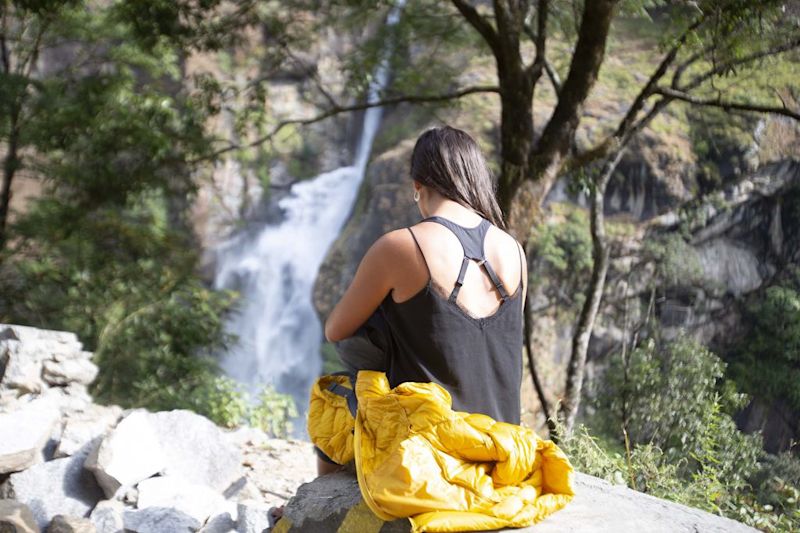 We enjoy some lovely stops along the way
Besisahar
Besisahar, our lunch stop, is a busy town of about 40,000 people. The town has power lines and prayer flags endlessly crisscrossing the streets. It's the last big town we'll see for many days. Bring on the remote mountain communities!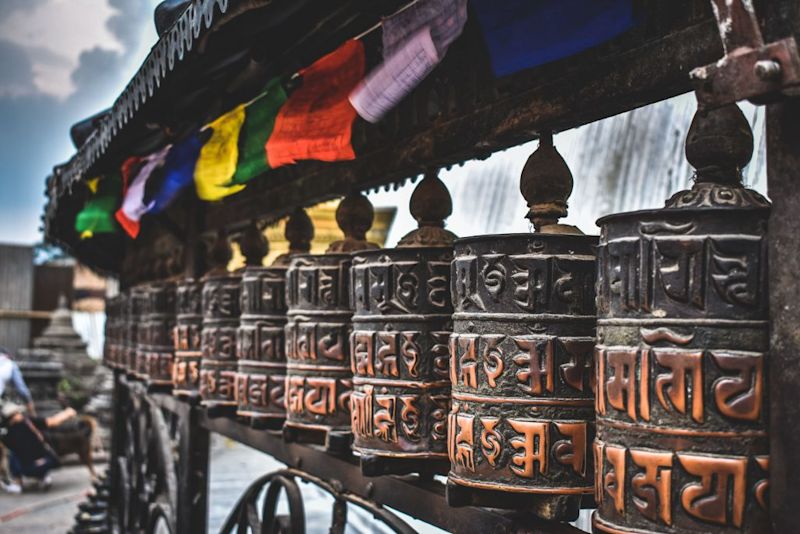 Prayer flags and prayer wheels in Besisahar
Jagat
Jagat is a pretty valley-floor village that sits at 1,413 m above sea level. Mountains rise steeply all around you! The people here are Tibetic and generally practice the Tibetan Buddhist faith.
Lots of the buildings in Jagat are painted in bright colours like pink, royal blue and bright green, which give the village a very cheerful look. It's a bustling village and you share the streets with packhorses and other everyday animals.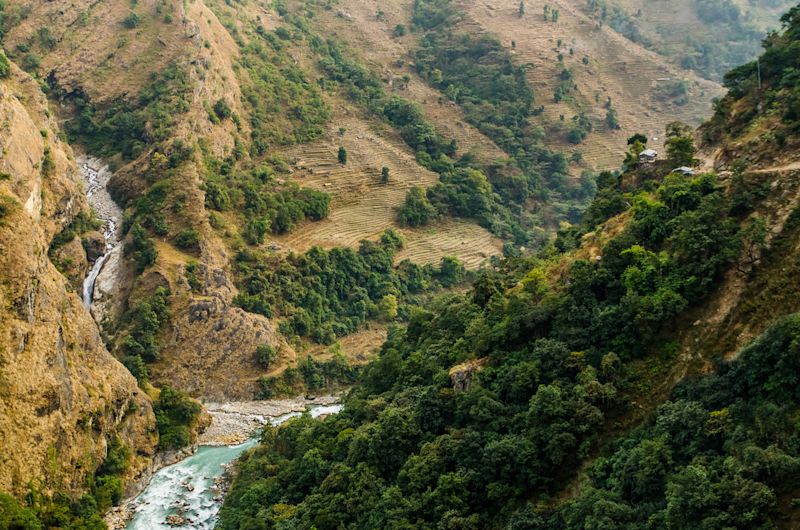 The Marsyangdi River near Jagat
Tonight we book into our first teahouse. Some have actually called the Annapurna Circuit the 'apple pie' circuit. This is because it's a relatively round route serviced by teahouses (guesthouses) that offer home-baked goods.
Teahouses are an integral part of any Nepal trek, and a place where you mingle with people from around the world, each with their own interesting backstory as to why and how they came to be trekking there.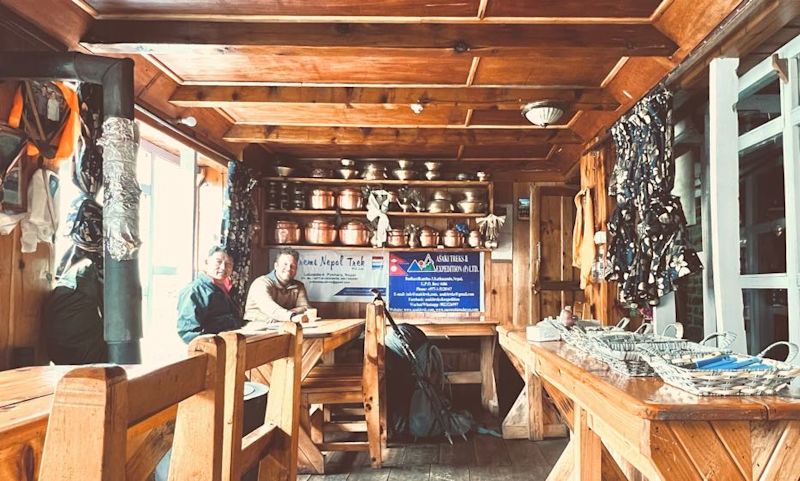 Inside a teahouse dining room **
Day 3: Drive to Lower Pisang, walk to Upper Pisang
Today we zigzag our way up the Marsyangdi River valley all the way to Lower Pisang, gaining around two kilometres in elevation! We pass trekkers en route who opted to start the circuit at a lower elevation. But we want to get to the section of the Annapurna Circuit trail where vehicles can't go and it's just footpaths and super rural mountain vibes!
At Lower Pisang we wave goodbye to our driver and walk the short distance to Upper Pisang, which involves crossing a suspension bridge and climbing a little ways up the mountainside.
Lower Pisang elevation:

3,200 m / 10,499 ft

Overnight:

Upper Pisang

Upper Pisang elevation:

3,300 m / 10,827 ft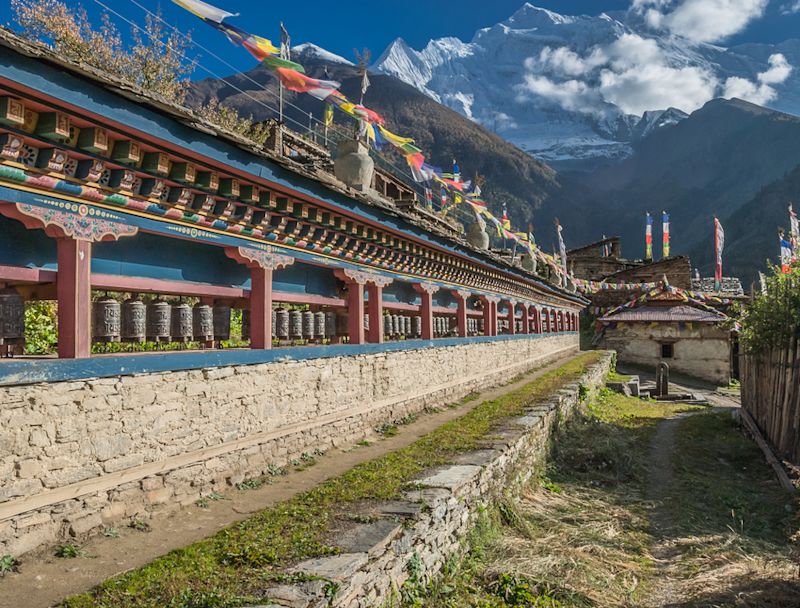 The famously long prayer wheel of Upper Pisang
Upper Pisang
Upper Pisang is a small, steep and ridiculously scenic mountainside village. The views up and down the Marsyangdi Valley and the surrounding snowcapped peaks will thrill you.
The village has several teahouses servicing Annapurna Circuit trekkers and visitors hear all sorts of languages from around the world being spoken here.
Most visitors run a hand along the sequence of carved, copper prayer wheels that are part of the village's Tibetan Buddhist Prayer Wheel Wall. This has become something of a rite of passage along the Annapurna Circuit route.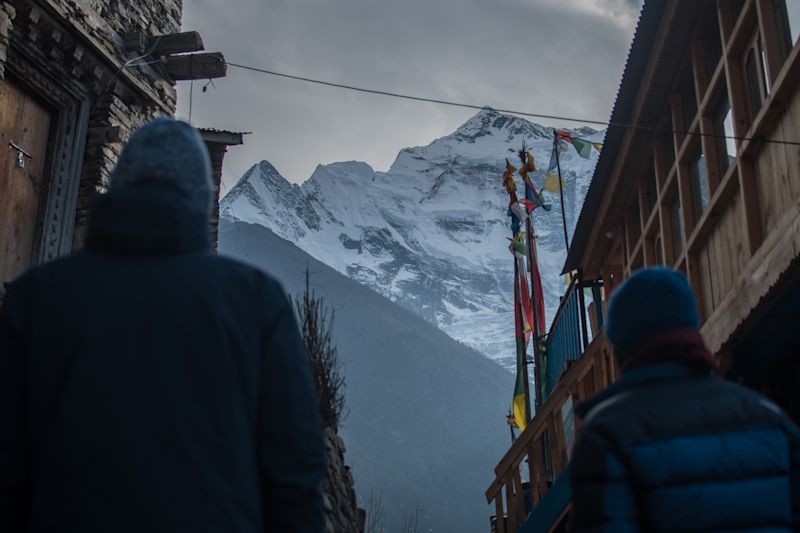 Looking up at the soaring Annapurna Mountains from a street in Upper Pisang
Day 4: Trek to Manang via Nyawal
Today we start trekking! We head up the valley towards the town of Manang, but stop en route at Nyawal for a little explore of this historically important village.
Upper Pisang elevation:

3,300 m / 10,827 ft

Trek distance:

16 km / 10 mi

Trek time:

5-6 hr

Nyawal elevation:

3,650 m / 11,975 ft

Overnight:

Manang

Manang elevation:

3,519 m / 11,545 ft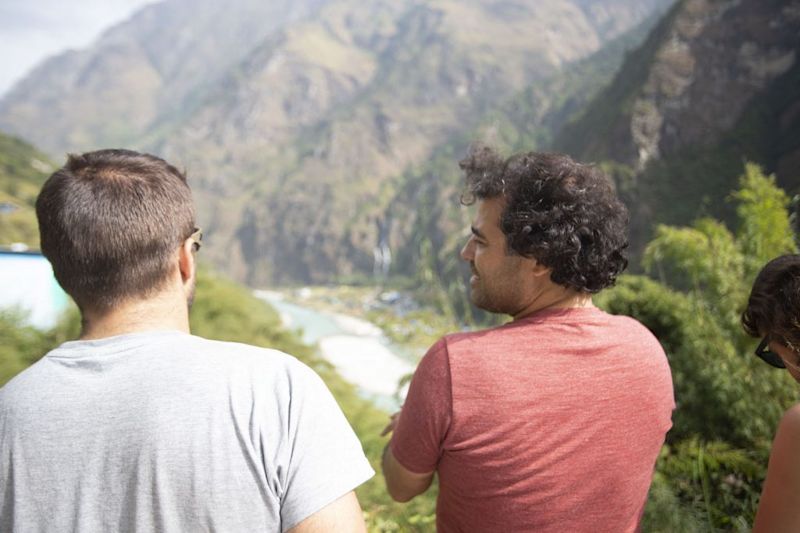 One of the things we love about our treks are the bonds that you quickly forge with your fellow trekkers
We start early today, as we have many kilometres to cover. First of all we make our way to Upper Pisang Viewpoint, which stands at 3,800 m (12,467 ft) above sea level, for a glorious eyeful of the mountains.
The trek today is incredibly scenic, and done to the sound of the rushing river below. The valley isn't too narrow this far down. You can expect to pass plenty of locals going about their daily affairs, including farming and herding livestock.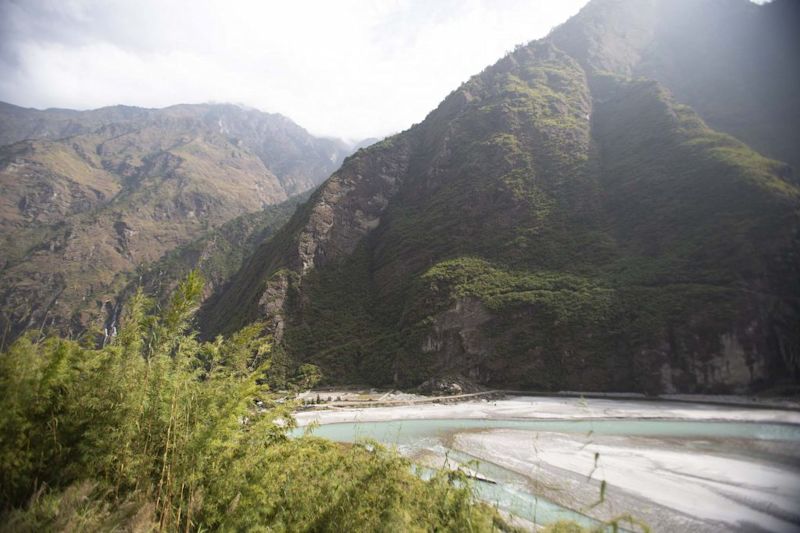 The beautiful Marsyangdi valley
Nyawal
Nyawal (also spelled Ngawal and Nawal) is an historic village of light-coloured stone buildings that blends with the cliff face behind it. It's mostly the multicoloured prayer flags that attract your attention from a distance.
It's a tiny Buddhist settlement of only about 300 residents, with a few fields just below. It's a hard place to live, for sure.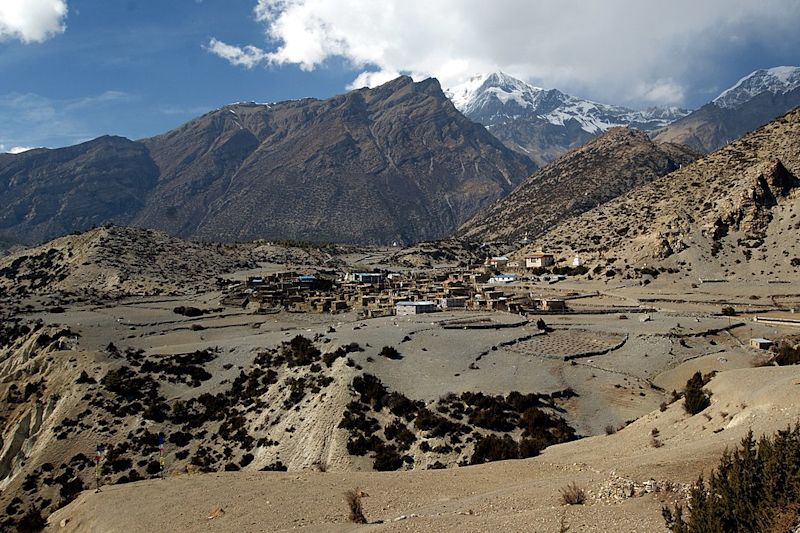 The village of Nyawal as snapped by Kondephy
We recommend making the effort to follow the prayer flags above town to the chorten (a Buddhist shrine), as the views from here are superb. If time and energy levels allow, you can also hike for about 40 minutes from Nyawal to visit the cave Ney Guru Sang Phuk, which contains an image of Guru Rinpoche believed to be divinely drawn (ie humans didn't make it).
Manang
Manang is the largest town in the area, having a population of a few thousand. The slopes of the mountain surrounding the town have been turned into terraced farms.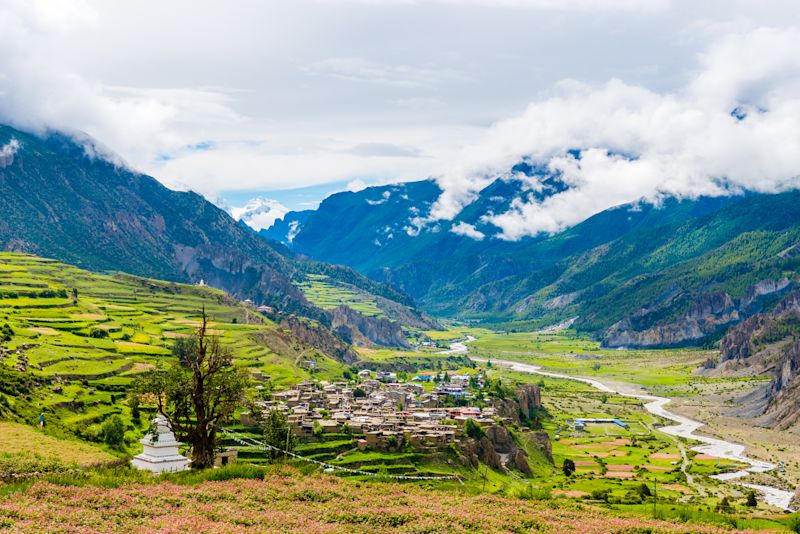 A view of Manang looking gorgeous after the monsoon rains
Manang is a popular resting place along the Annapurna Circuit, and so trekkers are likely to bump into other trekkers from all over the world while staying here. Many spend two or three nights here to acclimatise before pressing on. We do the same!
It's the perfect spot for spending a few nights as it's a great base for exploring various attractions in the region, like high mountain lakes. It also has stores for acquiring any supplies you might need at this point.
Day 5: Roundtrip hike to Kicho Tal
Today is about acclimatising, so we stay put in Manang for another night. During the day we hike up to Kicho Tal, a high, pristine lake. We do this in keeping with the adage 'trek high, sleep low', as doing so helps the body to acclimatise.
Manang elevation:

3,519 m / 11,545 ft

Kicho Tal elevation:

4,620 m / 15,157 ft

Hike distance:

3.5 km / 2 mi

Hike time:

5-6 hr

Overnight:

Manang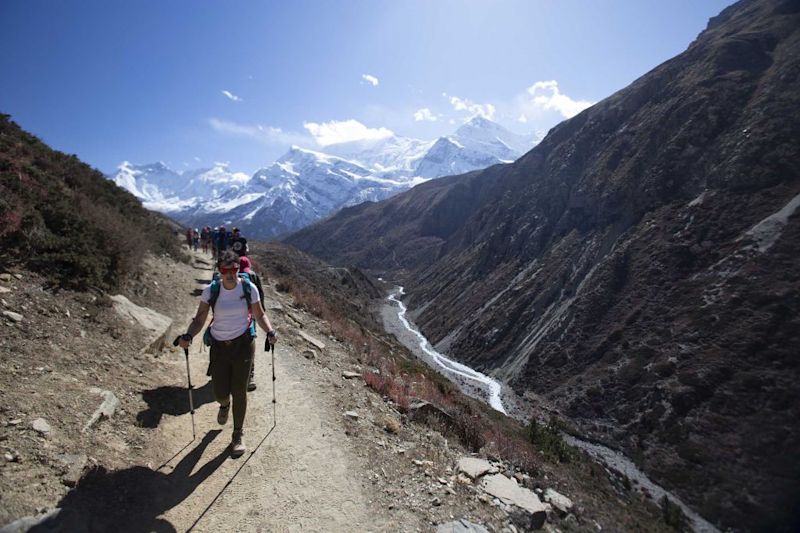 Sarah leads the pack along a contour path typical of the Annapurna Circuit route
Kicho Tal
The word tal means 'lake' and kicho means 'frozen' or 'ice'. So today we'll hike up to the Ice Lakes, which are among the highest in Nepal. Note that this a tough hike! It takes about four hours of climbing to gain the 1,000 m or so to reach the lake. It's not at all technical, but the wind gusts can be strong.
Because Kicho Tal is high above the main Annapurna Circuit route, many trekkers give it a skip. Silly, silly. The lakes are pristine and reflect the towering mountains beautifully on a clear day. Sitting on the shore you feel intensely the isolation of the spot.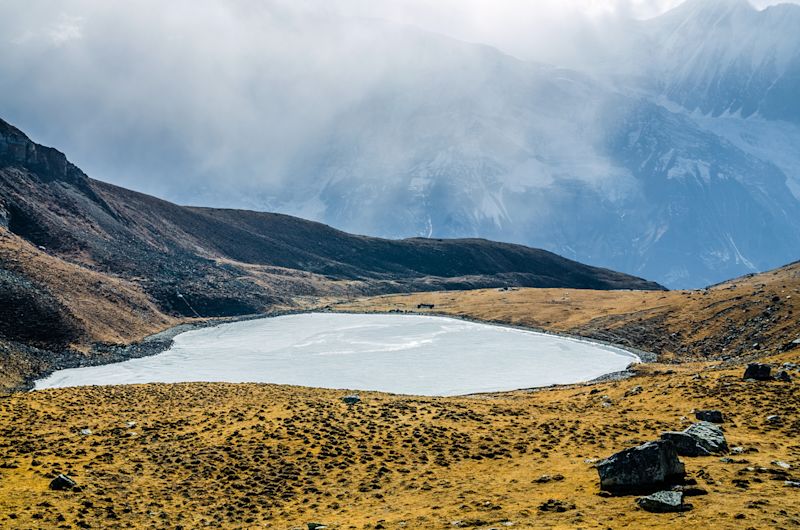 Beautiful Kicho Tal
Day 6: Roundtrip hike to Gangapurna Lake
While trekking in the Himalayas, it is essential to acclimatise slowly and steadily which is why today is another acclimatisation day.
An acclimatisation day, as you know by now, certainly doesn't have to mean doing nothing. Unless of course that's the vibe you're feeling! Far be it for us to deprive you of a day on the terrace with your novel.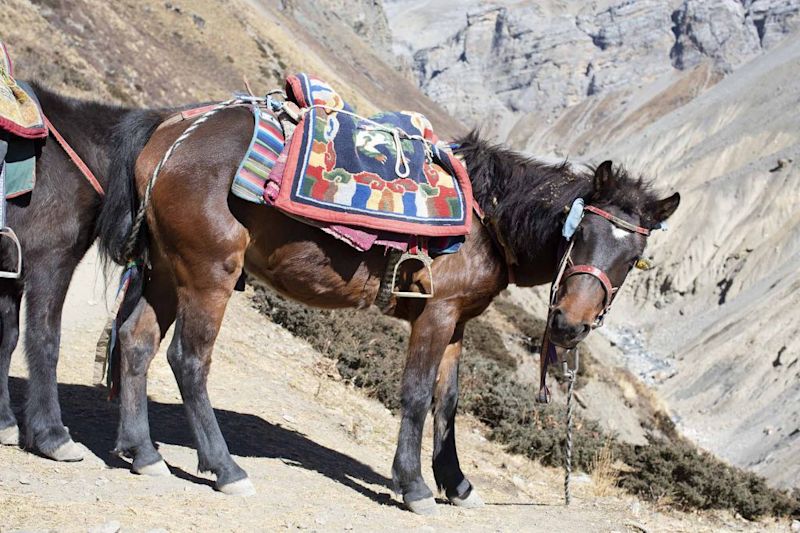 The Annapurna Circuit route is an ancient trading route
Should you feel like venturing forth today, we have two great outings on the cards:
A hike to Gangapurna Lake.

Visiting the Himalayan Rescue Association.
Gangapurna Lake hike
Gangapurna Lake is a glacial lake that has a beautiful pale blue colour owing to the glacial sediments.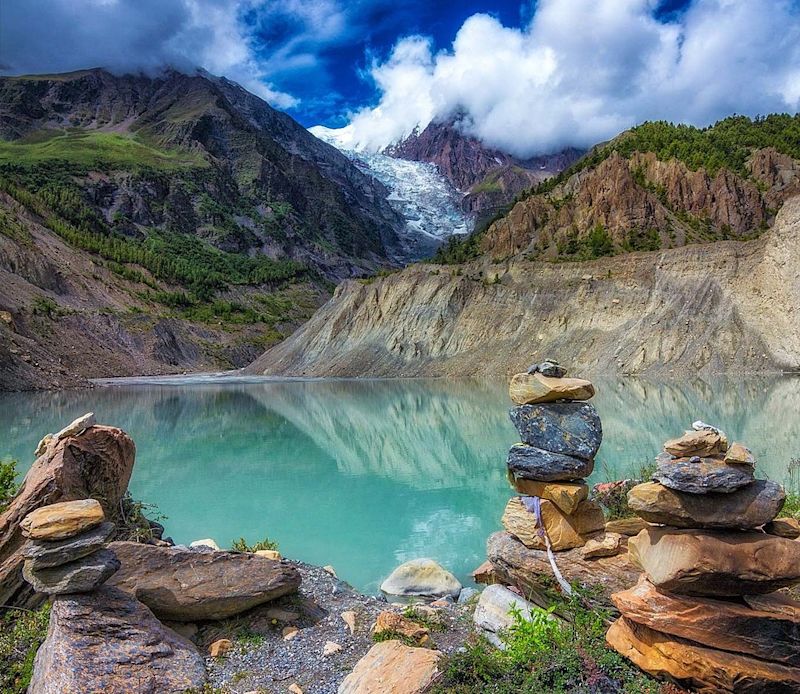 This beautiful pic of Gangapurna lake was taken by Ameet Ranjit
Visiting Gangapurna Lake from Manang is a much easier hike than Kicho Tal. It's only about an hour there and back. So if you chose not to do the hike yesterday, we definitely encourage you to take on this one!
Himalayan Rescue Association (HRA) Nepal
The HRA is an incredibly important body. Its mandate is to both treat AMS victims and prevent the illness through education. According to the Journal of Wilderness Medicine, the non-profit has significantly lowered the numbers of casualties since its inception.
The HRA has two aid posts. The first is Pheriche, Khumbu, in eastern Nepal. Established in 1973, it serves Everest Base Camp trekkers. The second aid post is in Manang. Established in 1981, it serve Annapurna Base Camp and Annapurna Circuit trekkers.
This acclimatisation day is also an ideal time for any tasks that have piled up or you haven't yet found time for, from an essential bit of laundry to journalling your experience of the Annapurna Circuit route so far, cloud-watching, sketching, meditating, or sitting down for that important rummy rematch. It's entirely up to you.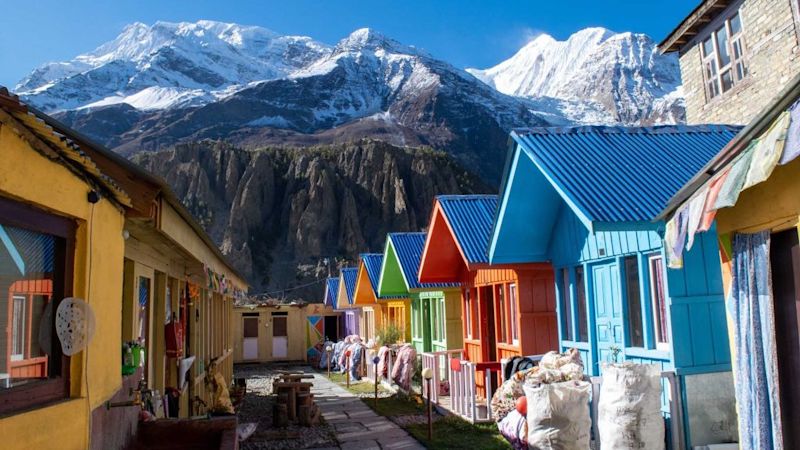 A colourful street in the town of Manang
Day 7: Trek to Yak Kharka
Our bodies have acclimatised by now and so we resume our ascent today! The going won't be easy, as we have to climb above 4,000 m. The Annapurna Circuit route has its challenges of course, but they are completely worth it!
Manang elevation:

3,519 m / 11,545 ft

Yak Kharka elevation:

4,018 m / 13,182 ft

Trek distance:

10 km / 6 mi

Trek time:

5-6 hr

Overnight:

Yak Kharka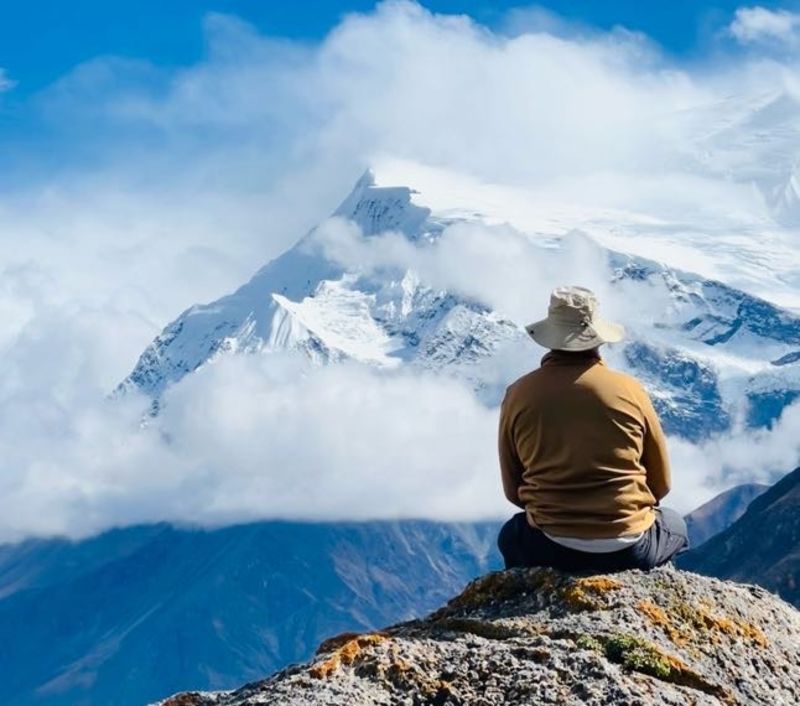 The views are what the Annapurna Circuit is all about! **
The trail from Manang to Yak Kharka takes us through scrubland and offers amazing panoramas. Be on the lookout for goats and cattle, as the sparse vegetation makes them easy to spot even when far off. We'll also see more of the beautiful, traditional stone homes of the region, with their flat roofs and prayer flag poles.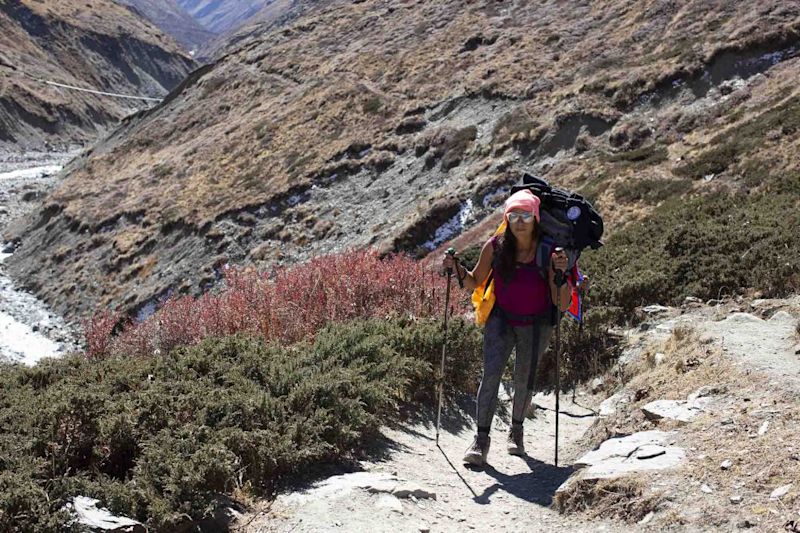 Sometimes you get great weather and it's pretty warm, even deep into the mountains
Yak Kharka
Yak Kharka is our second-to-last stop before the big push to summit the mountain pass of Thorung La. It's a small settlement with sizeable lodges for accommodating trekkers. Steep mountain slopes rise up all around you. The name Yak Kharka translates as 'yak territory'. Yaks used to graze here, and you can still see yaks grazing nearby.
You can expect to be tired from the trek and high altitude and to be keen for an early night.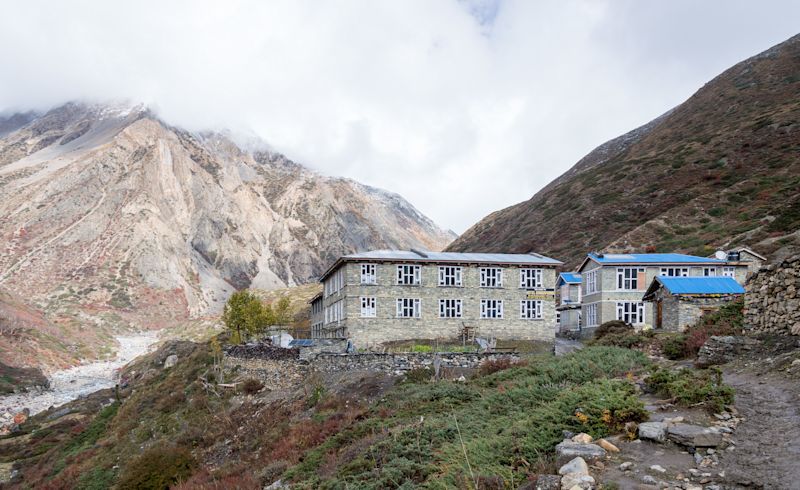 This lovely pic by S. Ashmarin shows the village of Yak Kharka
Day 8: Trek to Thorung Phedi
Today we ascend slowly up the Thorong Khola valley to Thorung Phedi. During the trek we cross a large suspension bridge over Jarsang River, which is a memorable moment. By the end of the day our elevation will have increased by another 500 m, so you can expect to huff and puff during the trek from the dwindling oxygen.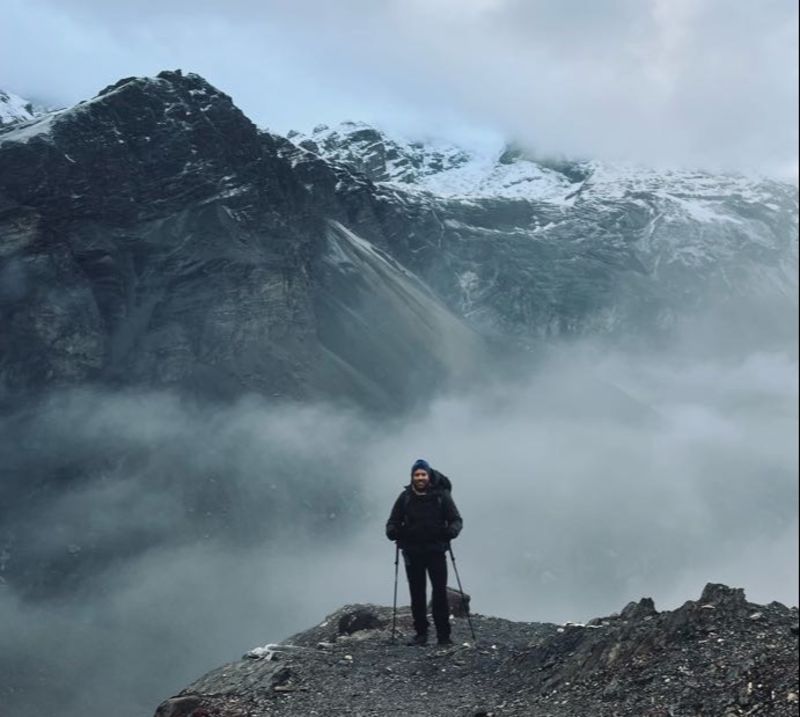 You need to be prepared for all weather at all times of year on the circuit **
The Annapurna Circuit route would be incomplete without the streaky cliff faces, slate-coloured scree, and the snowy ridges and peaks that today has in store for us. Or perhaps the view will be an intimate one of just the nearest slope and then a pale grey wall of mist. At times the trail is nothing but a thin line etched into the side of smooth mountainside that sweeps steeply down to a boulder-filled stream.
Yak Kharka elevation:

4,018 m / 13,182 ft

Thorung Phedi elevation:

4,540 m / 14,895 ft

Trek distance:

7 km / 4 mi

Trek time:

4-5 hr

Overnight:

Thorung Phedi
Thorung Phedi
Thorung Phedi is a small settlement surrounded by soaring cliff faces. It has a handful simple, stone Buddhist chortens with prayer flags linking the tops.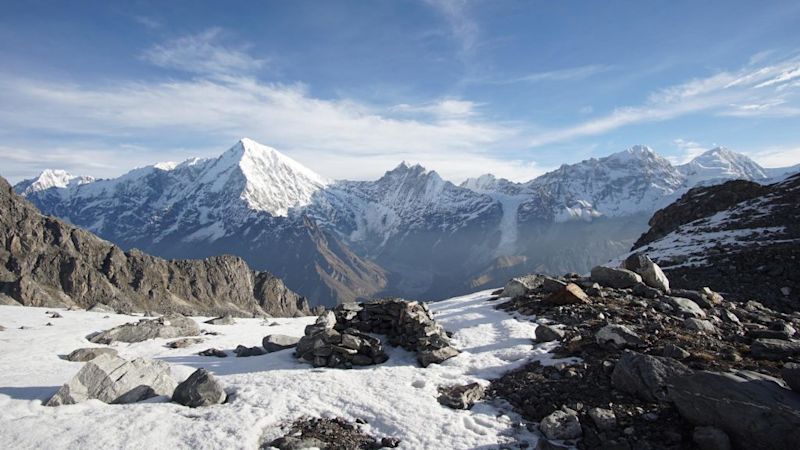 View of snow-capped peaks on the Annapurna mountain range
Day 9: Trek to Ranipauwa via Thorung La
Today is a special day, because we reach the highest point of the entire Annapurna Circuit route: Thorung La, which is the pass between the mountains Khatung Kang and Yakawa Kang. Expect pink cheeks that evening from plentiful blasts of Himalayan air.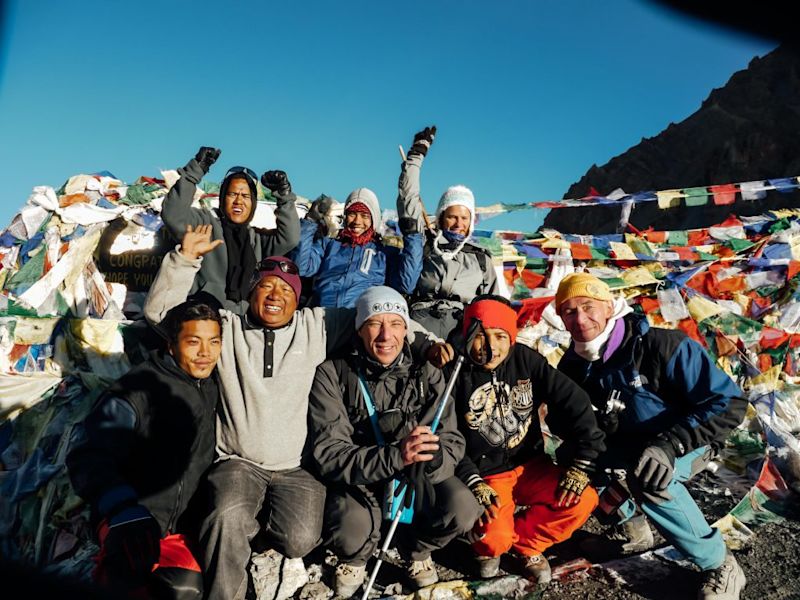 A celebratory group shot at Thorung La is pretty much mandatory
After Thorung La we climb steeply down to the village of Ranipauwa, a descent of 1,500 m!
Thorung Phedi elevation:

4,540 m / 14,895 ft

Trek distance:

13 km / 8 mi

Trek time:

6-7 hr

Thorung La elevation:

5,416 m / 17,769 ft

Overnight:

Ranipauwa

Ranipauwa elevation:

3,700 m / 12,140 ft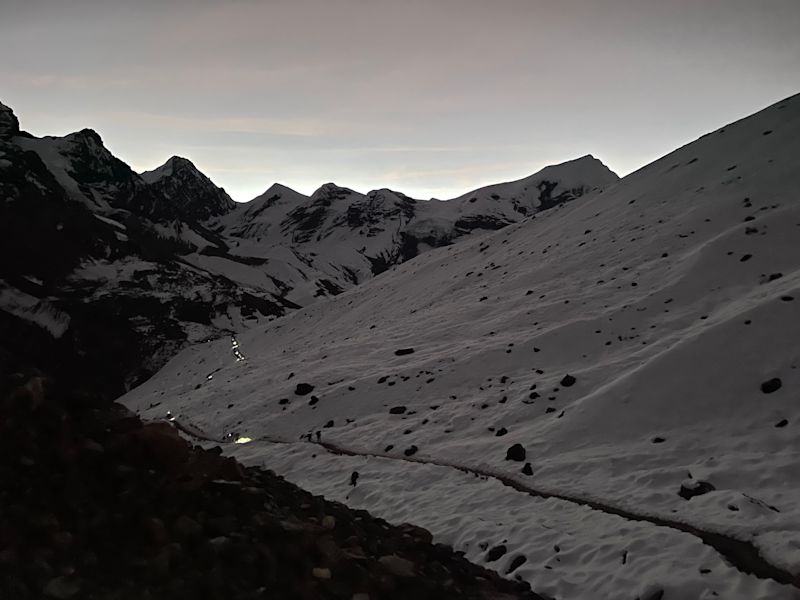 We start the climb to Thorung La very early *
Thorung La
Thorung La is the high point – physically and metaphorically – of the Annapurna Circuit route. It's marked in the same way as Nepal's famous base camps, with a congratulatory sign and agglomeration of prayer flags.
This trip was an amazing insight into the culture and landscape of the Annapurna region - with the added physical challenge of crossing Thorung La!
– Matt Hawkins
Having summited the pass, it's then time a for a looong descent. But don't worry, there'll be lunch and tea stops along the way to both rest and warm you up after the extreme cold of Thorung La.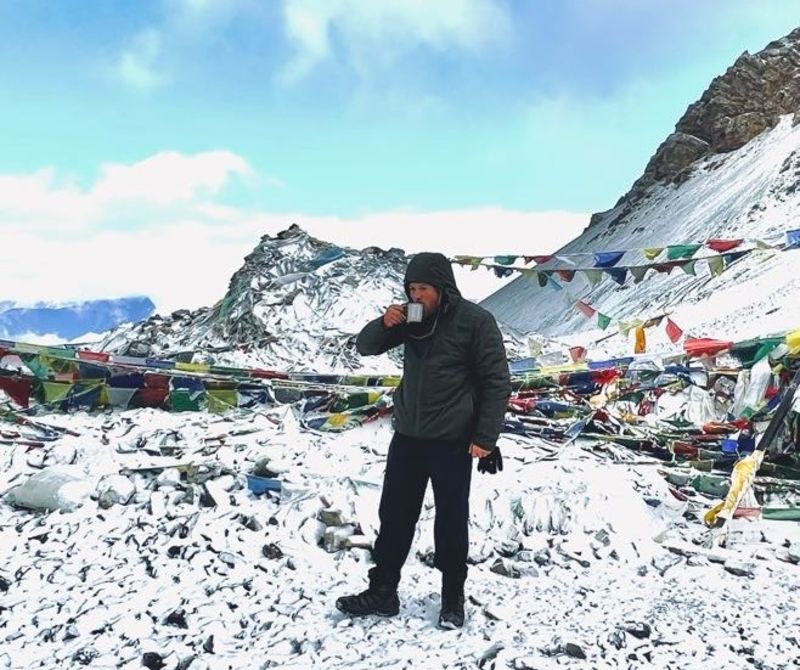 We give you a hot drink at the summit to warm you up! **
Thorung La marks the boundary between the Manang and Mustang Districts. Up till now we have trekked in the Manang District. Once we start the descent, we're in the Mustang District, a highly remote district that has a history of travel restrictions which have allowed it to retain a very distinct culture.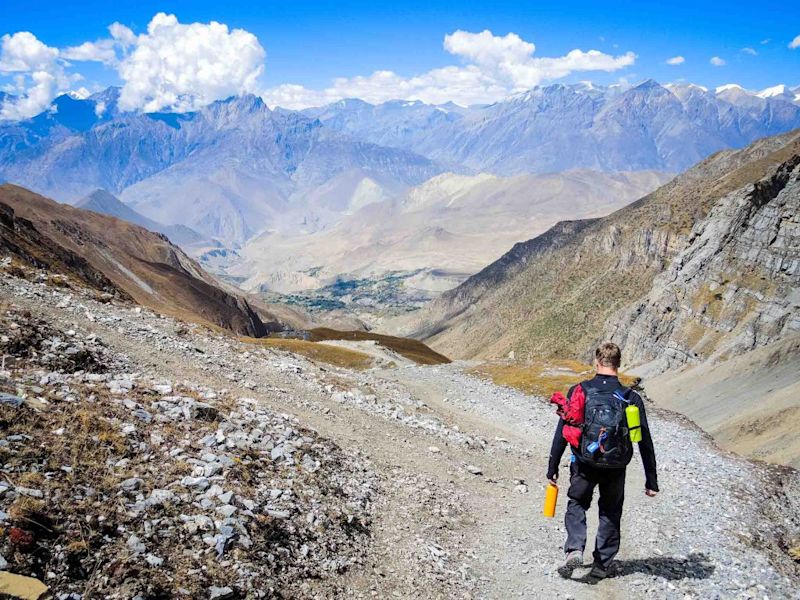 Tackling the long descent from Thorung La to Ranipauwa ...
Ranipauwa
Ranipauwa, where we stop trekking, was once part of the Kingdom of Mustang. The town is a popular stop with trekkers as well as Hindu and Buddhist pilgrims on their way to nearby Muktinath. The Temple of Muktinath has a bath devotees enter to cleanse themselves.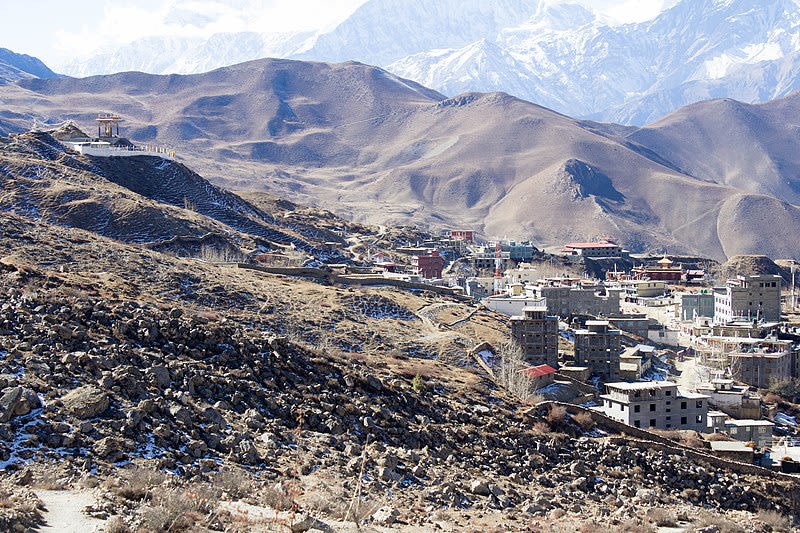 This pic by B. Chaurasia shows the Mustang town of Ranipauwa
Day 10: Drive to Jomsom via Kagbeni
Today we're driven to the airport town of Jomson. The views along the route are incredible, and so different from what most of us are used to! Excitingly, we also stop at the historic village of Kagbeni en route.
Kagbeni
Kagbeni (or just Kag) is a mediaeval village of closely packed mud buildings and narrow alleyways. It's the gateway to Upper Mustang District, though you can't travel further north without a restricted area permit.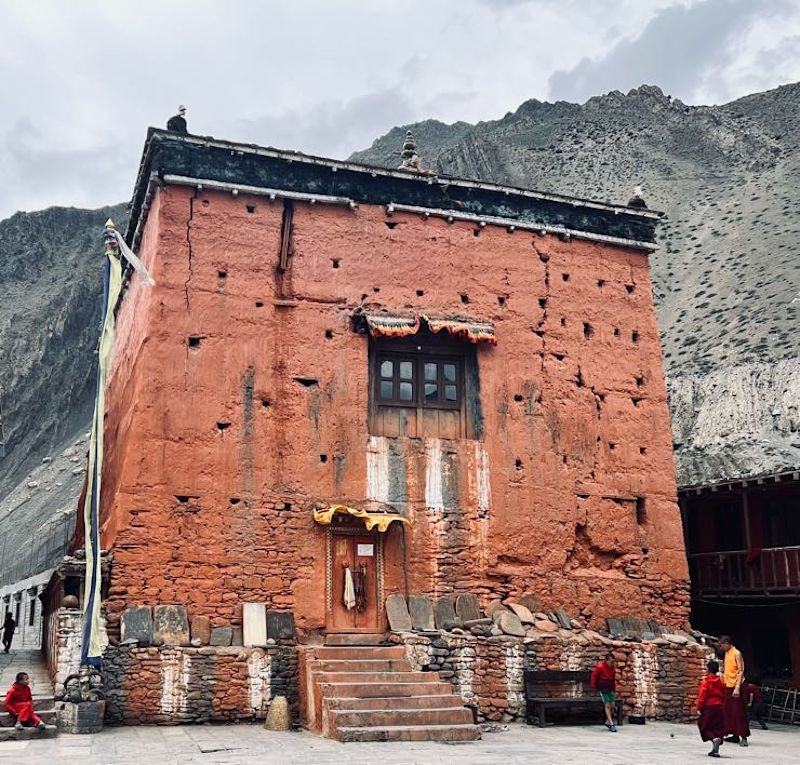 The monastery of Kagbeni **
The monastery – whose full name is Kag Chode Thupten Samphel Ling – is 500 years old and is still a working monastery. It boasts beautiful woodwork and Buddhist statues. Wonderfully, we're allowed to visit, and the monks are very welcoming and informative.
Drive to Jomson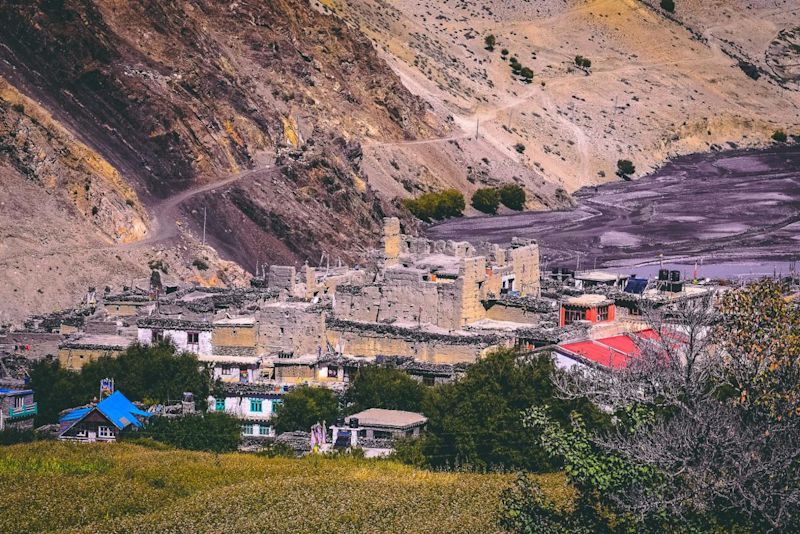 Jomsom sits on the floor of Kali Gandaki Gorge
If your knees are wobbly from descending 1.5 vertical kilometres yesterday, the good news is that you'll be able to park off for a few hours during the drive today to the town of Jomsom.
Jomsom is a riverside town in the Kali Gandaki Gorge, the world's deepest gorge! The Kali Gandaki River has its source to the north near the Tibetan border. It's a tributary of the larger Gandaki River, which in turn flows into the famous Ganges River.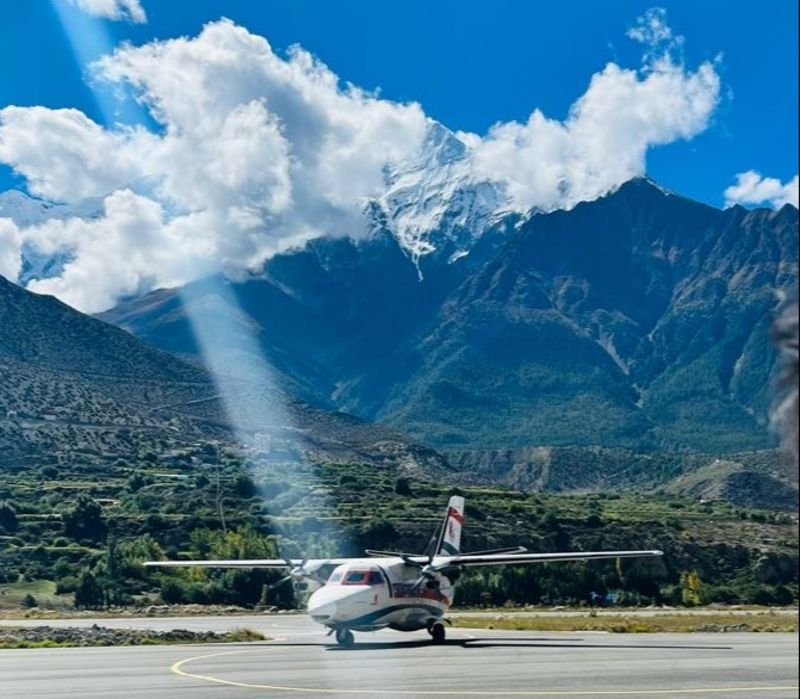 Jomson Airport only serves small aircrafts
We overnight in Jomsom so that we're ready for an early morning flight to Pokhara tomorrow.
Day 11: Fly to Pokhara, explore the city
Today we board a small plane in Jomsom and take a short flight to Pokhara, Nepal's second most populous city, and a beautiful one too. In fact, Pokhara is a hugely popular holiday spot with Nepalis. And you should always pay attention to what the locals like!
Flight time:

20 min

Overnight:

Pokhara
On the 20-minute flight we fly through Kali Gandaki Gorge. On the east you have the Annapurna mountains and on the west you have the Dhaulagiri mountains (with Dhaulagiri I reaching 8,167 m!).
The runway at Jomsom Airport
Given the height of the mountains, our flight threads through the gorge, with mountains towering above the small airplane on each side.
The only place planes fly to from Jomsom is Pokhara, as it's the only place they essentially can fly to! This is a rare plane ride you won't soon forget.
Pokhara
Pokhara lies on the banks of beautiful Phewa (or Fewa) Lake, and has many attractions.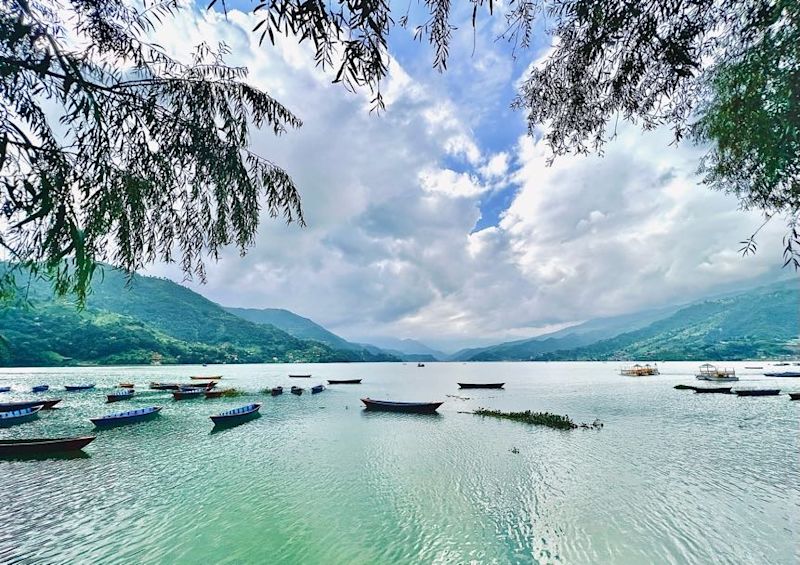 Phewa Lake is perfect for canoeing **
You might, for starters, enjoy visiting the International Mountain Museum which showcases the history of mountaineering as well as the people groups living in the Himalayas. Or you might just wish to take a stroll along the lake shore. There's a two-storey pagoda called Tal Barahi Temple that's used for worship by Hindus on an island in Phewa Lake, and you can rent canoes to take out on the lake.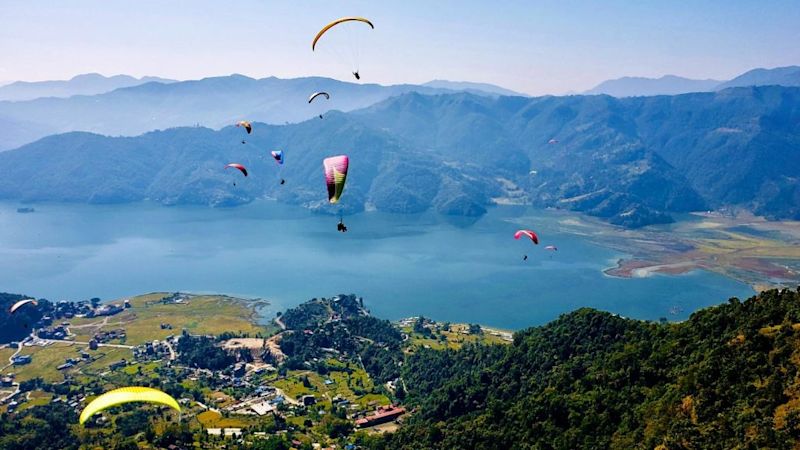 The gorgeous lakeside city of Pokhara
Day 12: Fly to Kathmandu, explore the city
This morning we fly back to Kathmandu, and then check into our hotel in Thamel.
Flight duration:

30 min

Overnight:

Thamel
If you have the energy – and we think you will! – there are some great attractions just a hop and skip away from the hotel, such as:
The recently renovated and beautiful

Garden of Dreams

, an historic garden built in 1920 that is 250 m from the hotel and has an entrance fee of just Rs 200 (€1.62)

Kathmandu Durbar Square

, a UNESCO World Heritage site that is located in front of the old royal palace and is just 1.6 km from the hotel

The ancient

Swayambhunath temple complex

, with its famous gold-topped stupa, which is 2.4 km from the hotel and has an entrance fee of Rs 200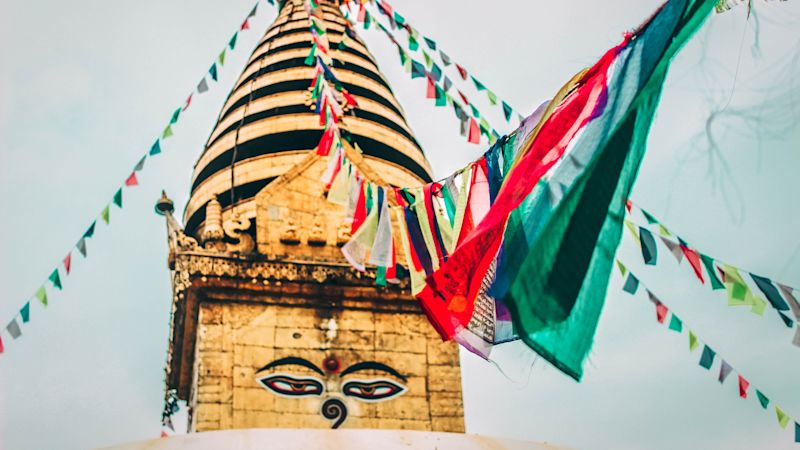 The Monkey Temple in Kathmandu
Day 13: Depart Nepal
After an unforgettable journey trekking in the Himalayas, today is goodbye day. We do, however, suspect you'll have made some good friends you'll be planning to meet up with somewhere in the world at some point. If you have some spare time before your flight, you could check out some of the local attractions already mentioned.
Note that there's a post office in Kathmandu International Airport, so should you wish to send postcards or letters with a Nepali stamp, here's your moment.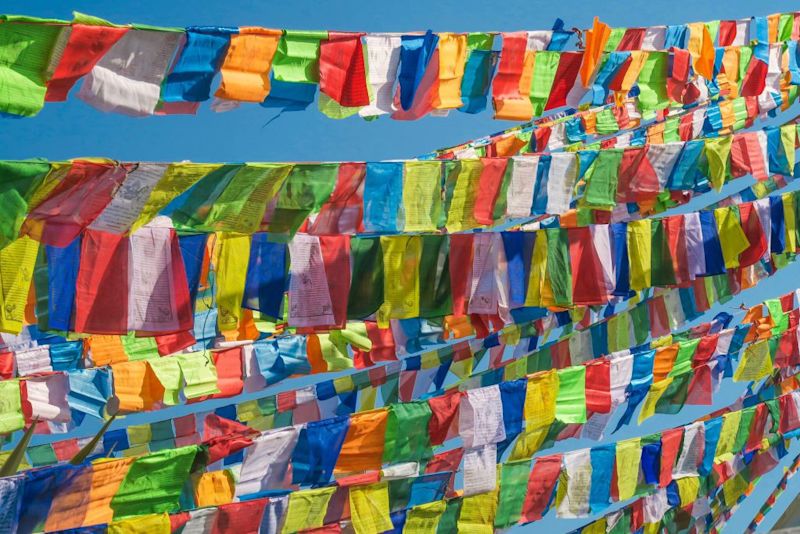 Tibetan prayer flags can be seen strung up all over Nepal
Popular trekking months
In 2015, over 5,000 international tourists trekked the Annapurna Circuit route, according to data from the Tourist Checkpost in Besisahar, a town near the start of the trail. During peak seasons, around 200 trekkers embark on the trail daily. This number drops by more than half during off-peak seasons.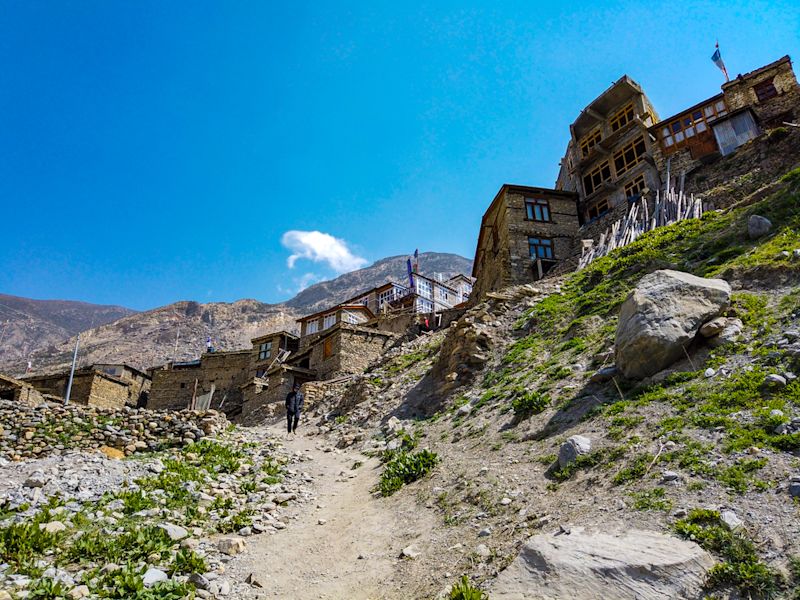 Ideally you want blue skies like this when trekking the Annapurna Circuit
November is a great trekking month in Annapurna as the rains are gone and the views are sharp.
The best times of year to trek the Annapurna Circuit route are October, November, March and April. This is because monsoon season hits the area from June to September, and the area gets 70% of its rainfall in this period. Rains mean slippery paths, drenched trekkers, and the possibility of landslides and rockfalls. From December to early March, it's just too darn cold to trek the circuit (though some do, and they're arguably a bit nutty).
All that said, this is the Himalayas and it does what it wants, when it wants! So we always go prepared, rain and safety gear ready and waiting.
You can learn more in Best time to hike the Annapurna Circuit.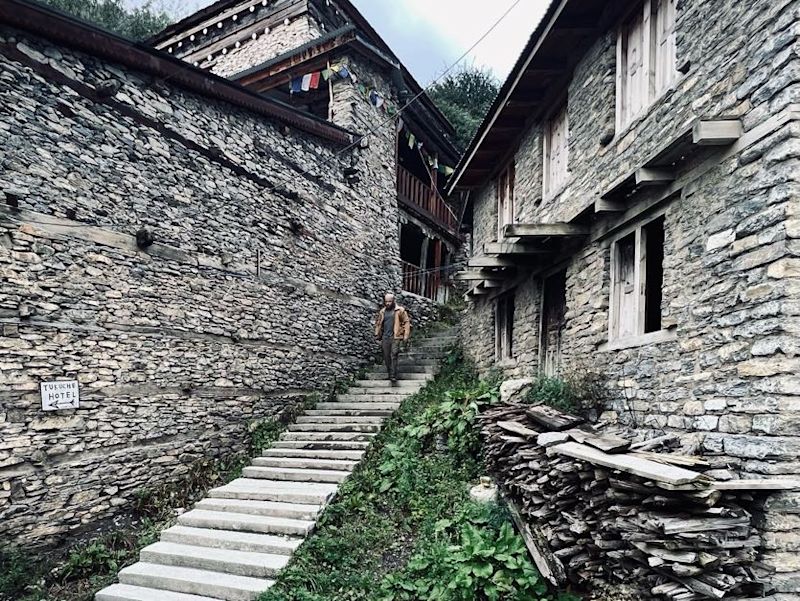 The Annapurna Circuit is an incredibly varied and exciting once-in-a-lifetime journey
And so, with all the above details of the Annapurna Circuit route laid before you, we rest our case. We've done our best to persuade you that the trek is unique, fascinating, beautiful, nicely challenging, and immensely rewarding. We feel pretty sure that trekking the Annapurna Circuit is now firmly on your bucket list. 😄