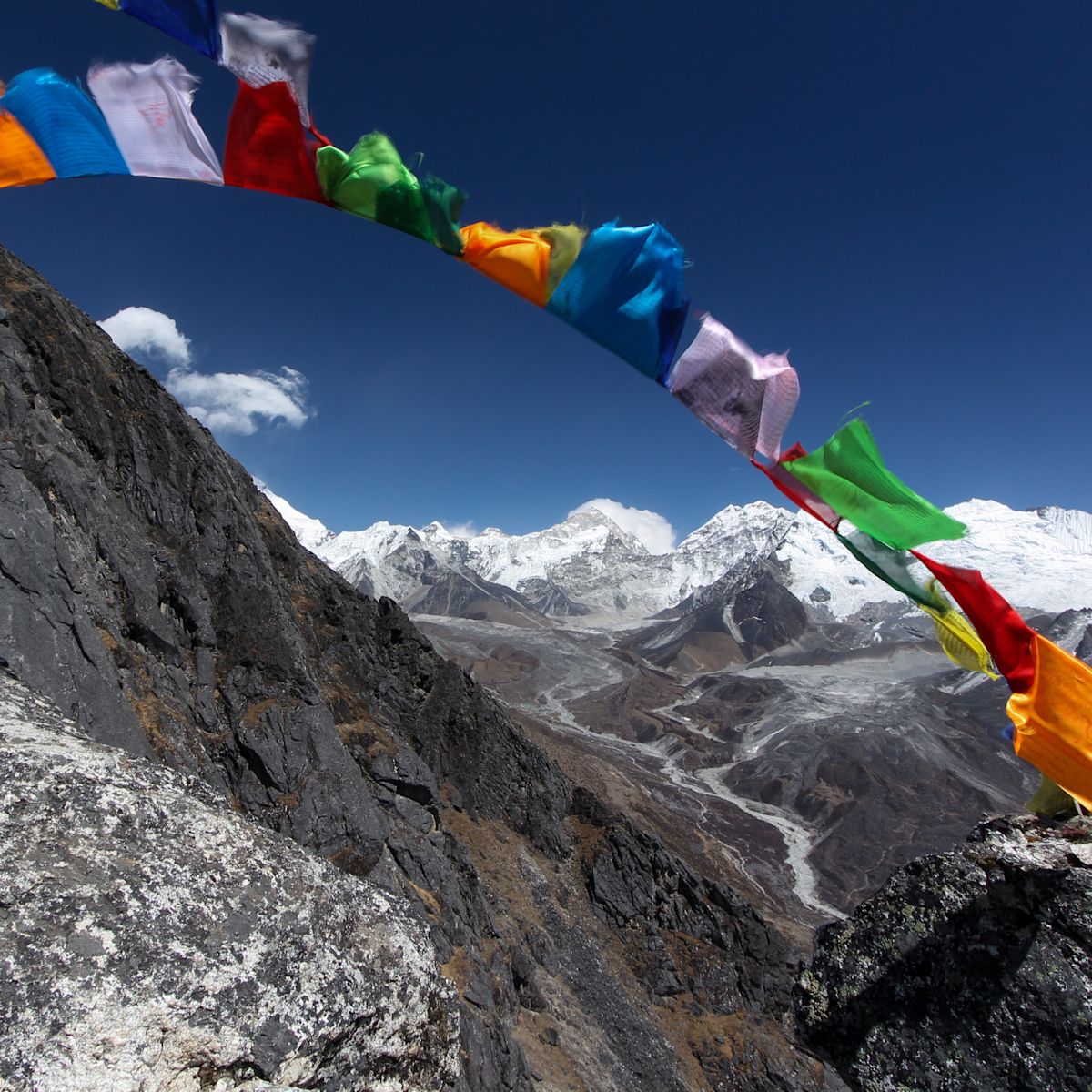 How hard is Everest Base Camp?
Aug 28, 2023
Reading time: 20 minutes
The Everest Base Camp trek is a tough challenge. But it's also immensely doable. We break down the various things that make it hard – like high altitude, the cold and sparing amenities – to help you work out if this is the next challenge for you!
We're going to say that the Everest Base Camp trek is hard, but not restrictively so. Also, what's hard about it isn't necessarily what you're thinking! Quite a complicated answer, we know.
What we mean by all that is that it's challenging enough to be something you'll be extremely proud to conquer. It's also easy enough to be something that anyone with a basic level of fitness can tackle.
While summiting Mount Everest itself obviously requires years of mountaineering experience and technique, trekking to Everest Base Camp (EBC) requires no mountaineering experience or technique. A fact that makes it wonderfully open to many, including, most probably, you.
Our goal is not to put anyone off doing the trek, but rather help you identify if this is an investment suited to you physically as well as mentally.
Brendan – our graphics whiz – made a video journal of the EBC trek which we share below. He shows how tough – and incredible – this journey really is!
There would be a youtube video here.
Sadly, the youtube player requires cookies to work.
'Hard' in different ways
Further to the fitness required to complete it, the Everest Base Camp trek is hard in ways not everyone has necessarily considered. It involves a decent degree of discomfort, such as incredibly cold nights. There also certain mental challenges. You will need to push on even when you're drained, perhaps not feeling your best, and longing for frothy cappuccinos you cannot have.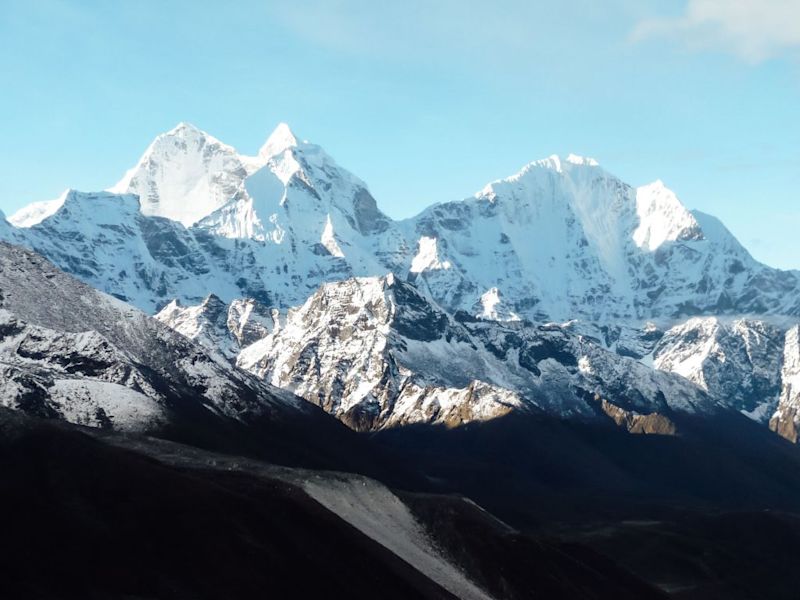 The EBC trek is also known as the 'Steps to Heaven'
But obviously you'd like a little more detail than that. You need some help to fine tune your sense of your own capability and suitability when it comes to the trek.
With that in mind, let's start by discussing what is required of you from a fitness perspective to actually manage the trail.
Trek distance and elevation
The exact route of the trek to Everest Base Camp (EBC) – also known as South Base Camp to distinguish it from the one on the other side of Mount Everest in Tibet – can and does differ from group to group. Many simply follow the shortest EBC route there and back (53 km – or 33 miles – each way). However, they miss out on many attractions that are just a little distance away and could be seen if a slightly different return route was used.
With this in mind, we at Follow Alice have put together what we think is a particularly exciting and varied 13-day trek itinerary that involves a slightly longer return trail. On this route, you hike over the pass known as Cho La and via the beautiful Gokyo Lakes. This EBC trek variation takes in more of the area than the classic EBC trek. Known as the Everest Base Camp and Gokyo Lakes trek, it is roughly 112 km (70 miles), not counting two optional day hikes.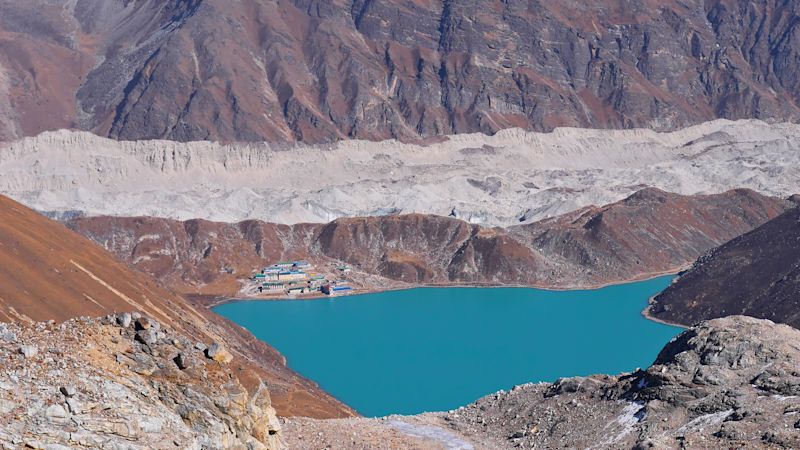 Gokyo village is one of the stopovers on the Everest Base Camp via Gokyo Lakes trek
We also offer the option of taking an exhilarating helicopter flight back from Gorakshep the day after visiting Everest Base Camp. This means you only trek the outward 53 km to reach base camp, plus 7 km back to Gorakshep for the night. You also tackle a challenging 2.4-km roundtrip hike up Kala Patthar ('Black Rock') for a view of Mt Everest the morning of your helicopter flight.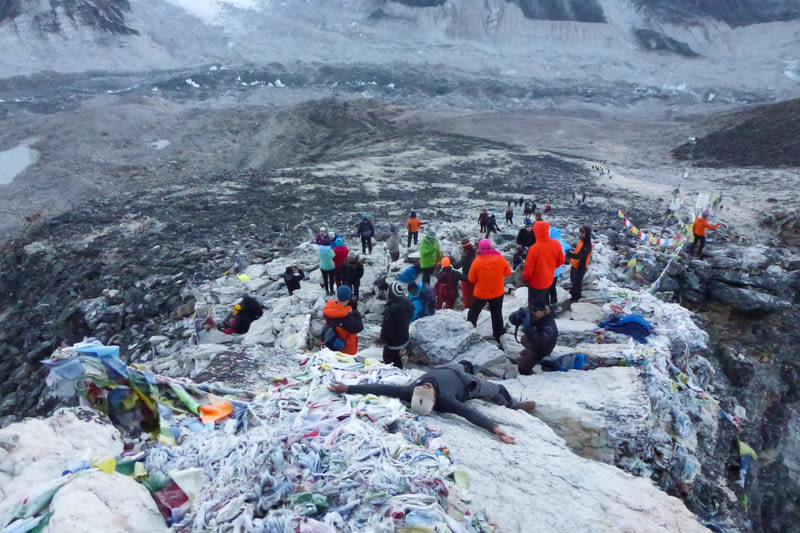 Trekkers at the top of Kala Patthar, which is 5,644 m high!
The start of your Everest Base Camp trek
Your Everest Base Camp trek with Follow Alice starts in Kathmandu, Nepal's capital city. From there we drive south to Manthali, as one cannot currently fly directly from Kathmandu to Lukla.
The next morning we catch a flight from Manthali to Lukla, a small town in northeastern Nepal that's 2,680 m above sea level. Lukla has a hair-raisingly short runway positioned on the side of a mountain.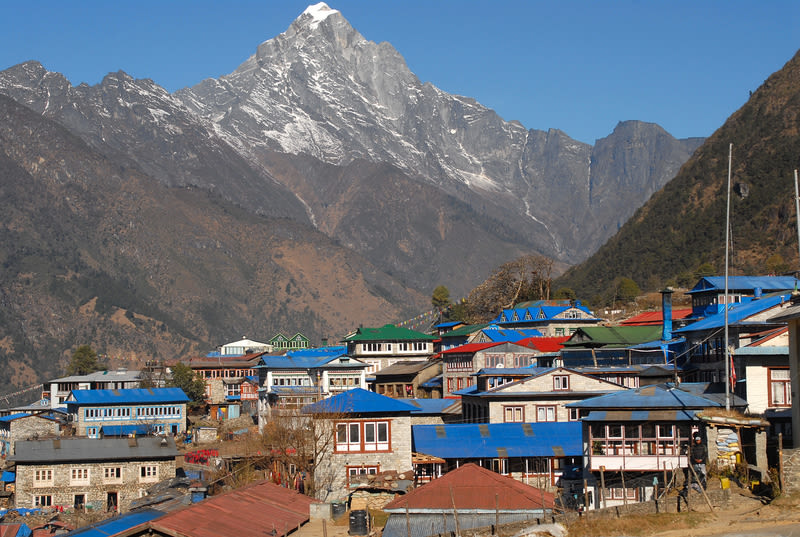 The town of Lukla is the gateway to the EBC trek
On the same day that we land in Lukla, we strap on our boots and begin the trek!
We start with nearly six hours of trekking to the lush valley village of Phakding. This day is a gentle introduction to the trek. It entails walking along a smooth and easy path, and you actually end up lower in elevation in Phakding than where you started in Lukla.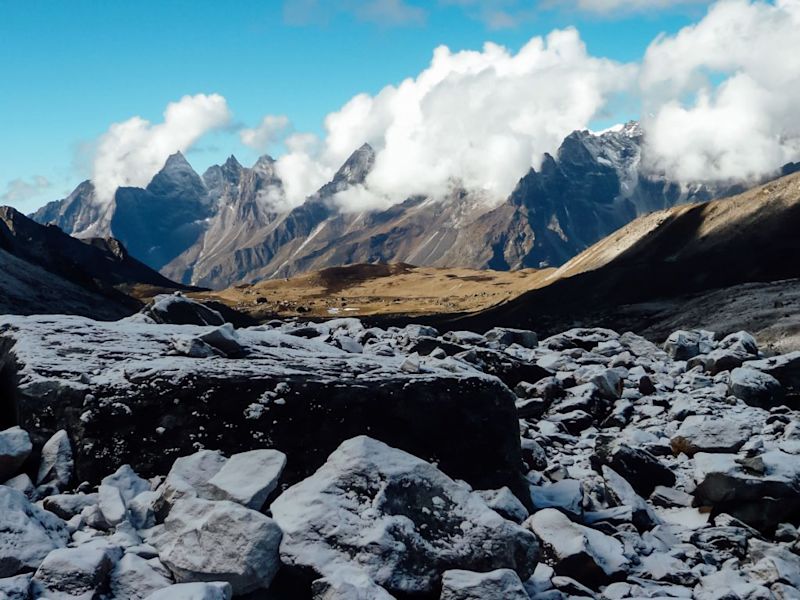 A dry riverbed in the Himalayan mountains
Getting higher
Day 2 of the trek we climb nearly a thousand vertical metres to Namche Bazaar. This is the Khumbu region's largest town. Due to this jump in altitude, the next day is a rest day to allow your body to acclimatise.
There's a great deal to see in Namche Bazaar, like the Sherpa Museum and Namche Monastery. But it doesn't have to be all rest. There are also some fantastic short hikes we can take from Namche Bazaar to great lookout spots. There's a roundtrip hike to Hotel Everest View that we particularly love!
On the hike to Hotel Everest View
You've likely heard the adage 'climb high, sleep low'. This references the wisdom of climbing to a higher altitude during the day to introduce your body to the thinner air, then dropping back down for the night to let your body recover.
Remote Himalaya
The next four days all involve trekking between 10 km and 15 km a day. This is while climbing higher and further into the remote Himalaya.
The first of these days we spend trekking to Tengboche. The next day involves reaching Dingboche, and the one after that is about reaching Lobuche. From Lobuche we then hike to EBC, the trek's terminal point.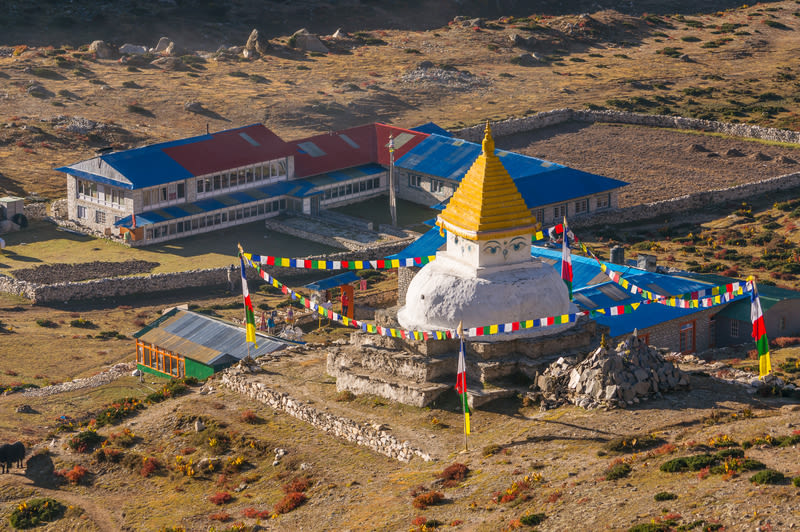 A Buddhist stupa in the village of Dingboche
Note that Everest Base Camp itself is empty most of the year. Summiting season is a short period in late May (as we discuss in Best time to trek EBC), so you shouldn't expect to see the bevvy of tents and buzz of mountaineers you've no doubt seen on TV or online. After glorying in the reality of being at EBC, we'll drop back down to the dot of a settlement called Gorakshep for the night.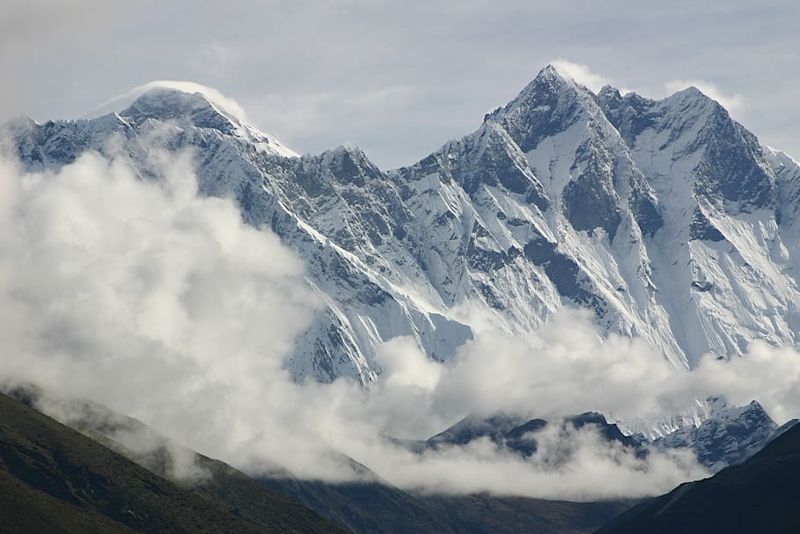 Mt Everest and Mt Lhotse
The day after Everest Base Camp, we hike from Gorakshep up to the top of Kala Patthar. At 5,643 m it is actually the highest point you'll reach on the trek. Kala Patthar is popular for offering a magnificent view of the peak of Mount Everest, which you can't actually see from EBC, as one might expect.
Break from the crowd
So far the route we've described is the common trek route to EBC. You can expect to encounter plenty of other trekkers en route.
But on the return trip we break from the crowd, as already mentioned, turning southwest towards Cho La instead of south and back to Dingboche. We spend a night at Dzongla.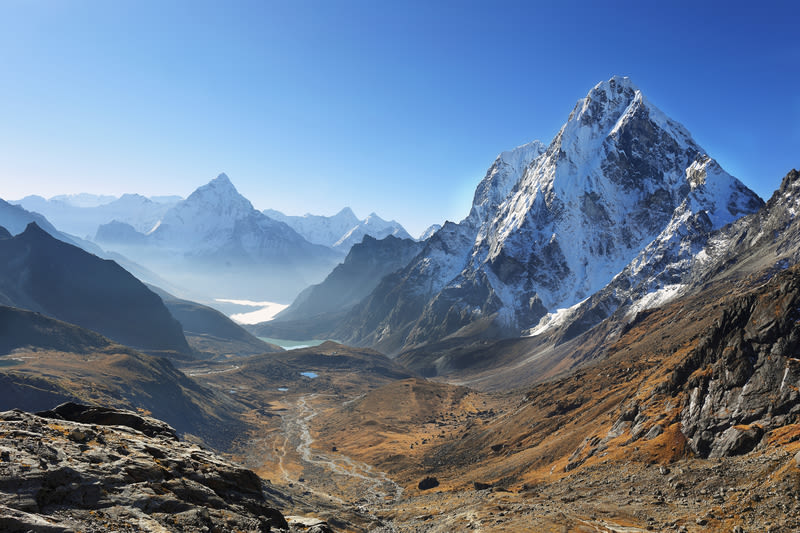 An incredible view from Dzongla
Then the next day we ascend to the summit pass of Cho La, which sits at 5,420 m. This is a long day of trekking, and involves a steep ascent and descent.
The section below outlines our 17-day Everest Base Camp and Gokyo Lakes trek itinerary, including the hours spent trekking each day. The itinerary should give you a stronger sense of the intensity level of the trek. The hours trekked take into account the gradient and also the level of oxygen. Everyone has to go slower the higher the elevation.
14-day trek itinerary
Day 1: Fly into Kathmandu and gather together at the hotel in Thamel, Kathmandu.
Day 2: Drive south to Manthali in Ramechhap District, ready to catch a morning flight tomorrow to Lukla, the Gateway to the EBC trek.
Day 3: Take a short but exhilarating plane ride from Manthali to Lukla. Trek to Phakding (2,610 m) and enjoy the rivers, green mountains and relatively mild temperatures.
Day 4: Trek from Phakding up the valley to Namche Bazaar (3,440 m), the largest town in the Khumbu region. This day involves a big jump in elevation.
Day 5: Today is an acclimatisation day. So explore Namche Bazaar (attractions include the Sherpa Museum and Namche Monastery) and take a day hike if you'd like to the beautiful village of Khumjung or to Hotel Everest View for a cappuccino and view like no other!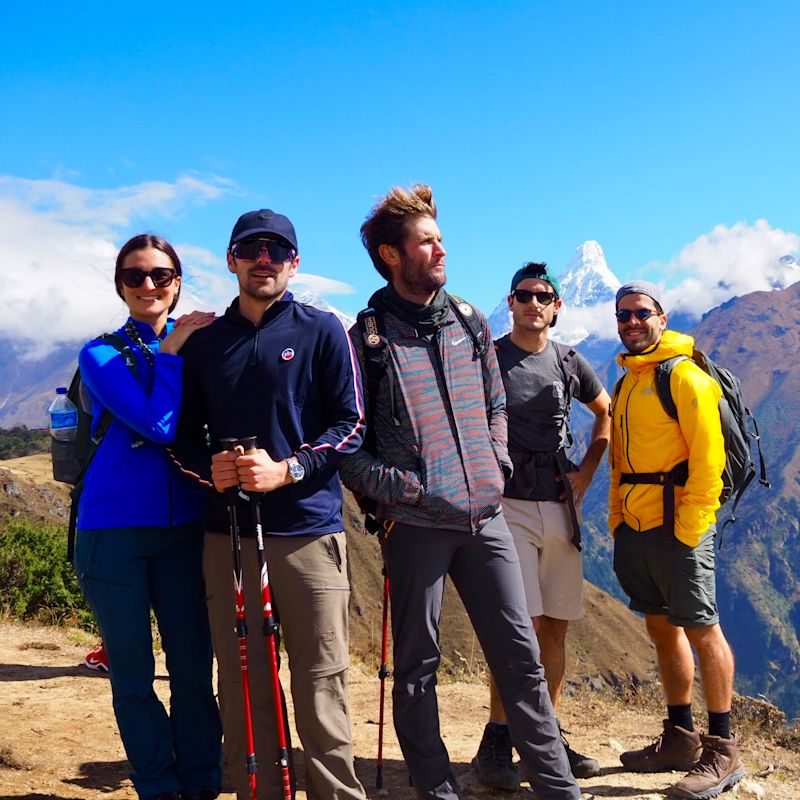 Biel (centre) is striking a quality pioneer pose
Day 6: Trek from Namche Bazaar up to Tengboche (3,867 m), where you can visit the Tengboche Monastery, the largest monastery in Khumbu.
Day 7: Trek from Tengboche to the small settlement of Dingboche (4,260 m). Today involves another big jump in elevation.
Day 8: Trek from Dingboche to the tiny village of Lobuche (4,940 m).
Day 9: Trek to Everest Base Camp (5,364 m) and snap 1,000 selfies! 🏆 Turn around and trek to down to Gorakshep (5,164 m) for the night.
Hello, Everest Base Camp!!
The oxygen level at Everest Base Camp is roughly half what it is at sea level, so every mile trekked here is a BIG effort!
Day 10: Hike up Kala Patthar (5,643 m) for the best view of Mt Everest. Then trek to Dzongla (4,830 m) for the night
Day 11: Cross the pass called Cho La (5,420 m) and then descend to Thagna (4,500 m) for the night.
Day 12: Trek to the tiny village of Gokyo (4,750 m) and marvel at the beautiful, pristine lake.
Day 13: Hike up to Gokyo Peak (5,357 m) for a panoramic view of some of the world's mightiest mountains. Then trek to the village of Machhermo (4,470 m) for the night.
Day 14: Star the return journey, by trekking to Namche Bazaar.
Day 15: Descend to Lukla.
Day 16: Fly to Manthali, then drive to Kathmandu. Share your best stories from the trip over drinks!
Day 17: Depart Nepal.
Return via helicopter itinerary
If you choose to fly back to Lukla from Everest Base Camp, then your trek itinerary looks he same as the above itinerary up to Day 9. On Day 10, you still climb up Kala Patthar in the morning for a brilliant view of Mt Everest. But you then hop into a helicopter for an absolutely breathtaking flight back to the trek's starting point. The next day you travel to Kathmandu, and then the next day you depart Nepal.
This is the EBC trek itinerary we offer as part of our 12-day EBC trek and helicopter package.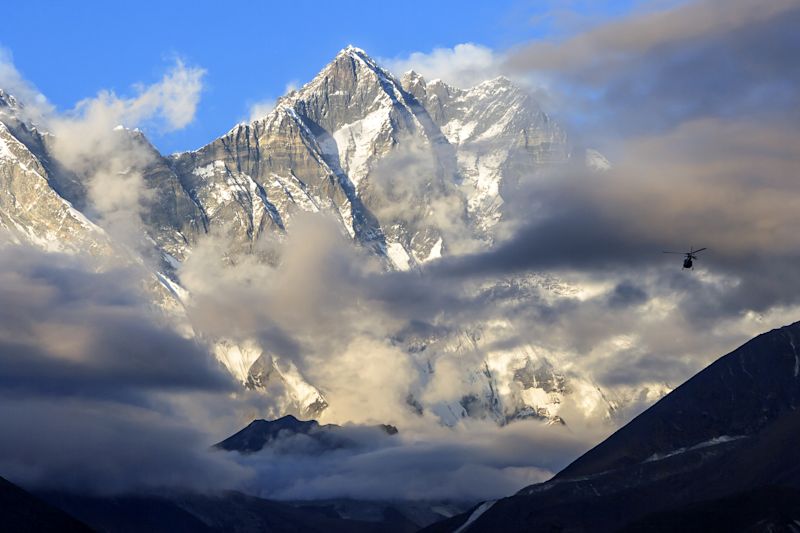 Just look at how tiny this helicopter is as it flies past Lhotse!
What does the trail look like?
The trek to Everest Base Camp involves walking along mountain paths. You do not climb, which is a distinction we wish to make very clear, as climbing requires special equipment, skill and practice. Walking a path requires none of that. All you really need are a good pair of hiking boots and some trekking poles.
That said, while the route often consists of a smooth dirt path, there are places where it's uneven and even rocky. This is where your trekking poles really pay their way.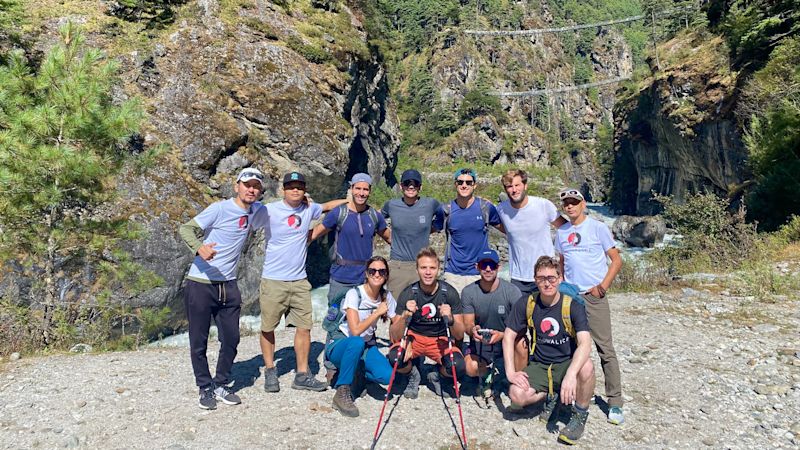 Day 2 of the trek with the Edmund Hillary Suspension Bridge in the background
The importance of sturdy trekking boots also becomes apparent in protecting you from twisting an ankle or worse. You can also expect steps (which can be steep in places) and scree along the trek route. Sometimes the path runs alongside a river, other times it contours along the side of a mountain, and at other times it's a challenging up or down.
There will be yaks on the paths transporting goods. You can expect to encounter them all along the trek. When this happens on a narrow path, it's important to step to the side of the trail that's against the mountain, so that if you're bumped you fall uphill rather than down. Nobody wants the word yak in their obituary.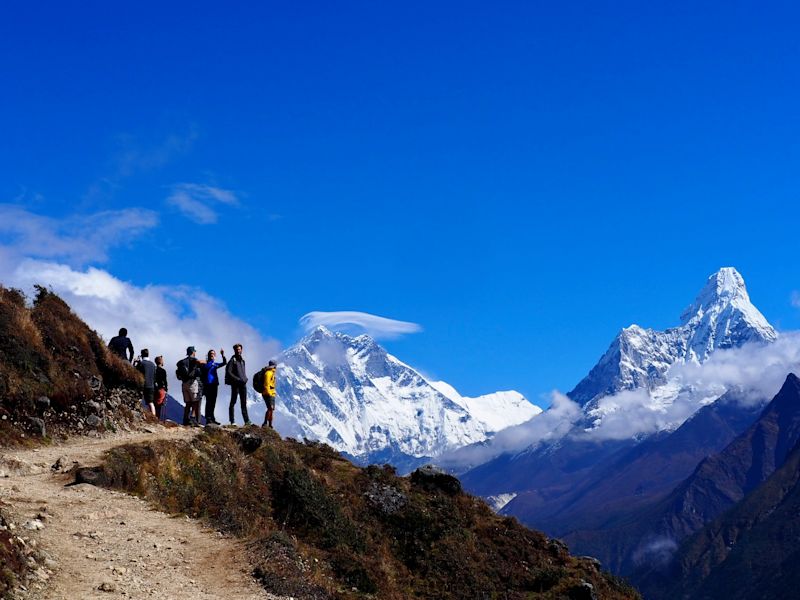 Trekkers admire Ama Dablam (the strikingly shaped mountain to the right)
Training for Everest Base Camp
As you likely already know, walking on different surfaces affects your body differently. A treadmill, for instance, places less strain on your ankles, knees and hips as it offers a degree of shock absorption. Treadmills also don't strengthen your ankles in the same way that uneven surfaces do.
So while training on a treadmill or paved surface is excellent exercise, in preparing for the EBC trek it's not as ideal as training in natural terrain. For this reason we encourage you to do actual hikes as part of your training.
Training hikes
Training hikes are also ideal for testing out the socks, boots and rucksack or backpack you plan to use on the trek. It's important to wear in your socks and shoes to check there are no niggles.
The same goes for your rucksack or backpack. Hiking with a bag prior to the trek is also helpful in building up your shoulder strength.
We recommend following the Everest Base Camp packing list and as you would bring on increasingly lengthy hikes. The longest trekking day on the EBC trek is seven and a half hours, which includes uphills. If you're able to comfortably hike for eight hours in a day in varied terrain while carrying a backpack containing water and backup clothes, then you'll do just fine on the EBC trek.
As already mentioned, the higher the elevation, the slower you will walk, even on easy paths. This is simply because your body is battling with the low oxygen supply. If it's within your ability to do so, training at a higher altitude is desirable for preparing your body for the rarified Himalayan air.
Cardio and strength training
While long hikes are fantastic training for the Everest Base Camp trek, they shouldn't form the entirety of your physical preparation. You should try to include cardio and strength training during the week. The fitter you are the less oxygen your muscles need to move. This is invaluable in the low-oxygen environment of the Himalayas.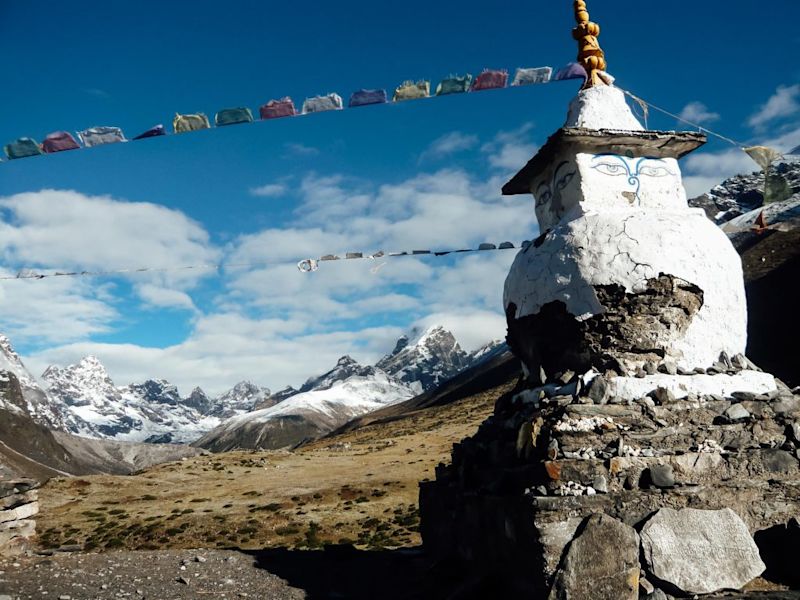 Buddhist prayer flags decorate the Everest Base Camp trek
We encourage you to really invest in your training beforehand. The stronger you are the more enjoyable your trip will be all round.
For more detailed info, please read How should I train for the Everest Base Camp trek?
Hiring a porter
The trek can be made significantly easier if you choose to use the services of a porter to transport the bulk of your belongings. Follow Alice arranges for one porter per two trekkers, and this fee is worked into your Follow Alice fee. That said, if you'd prefer to carry all your equipment yourself, you're more than welcome to do so.
If using a porter, you'll need to bring a backpack for use during the day. This is as well as a sensible and durable other like a duffel bag for the rest of your belongings. Leave the vintage box suitcase at home.
Here you can see yak-cow hybrids (known as jyopyaks locally) transporting goods
I can't think of anything that excites a greater sense of childlike wonder than to be in a country where you are ignorant of almost everything. Suddenly you are five years old again.
– Bill Bryson
The option of a porter means that you can, to a degree, choose the level of difficulty of the trek. Not an experienced trekker? Only carrying a daypack and sending your bulky and heavy belongings with a porter is an excellent way of literally (and figuratively) easing the load on this trek. This thereby makes the whole journey that much more doable.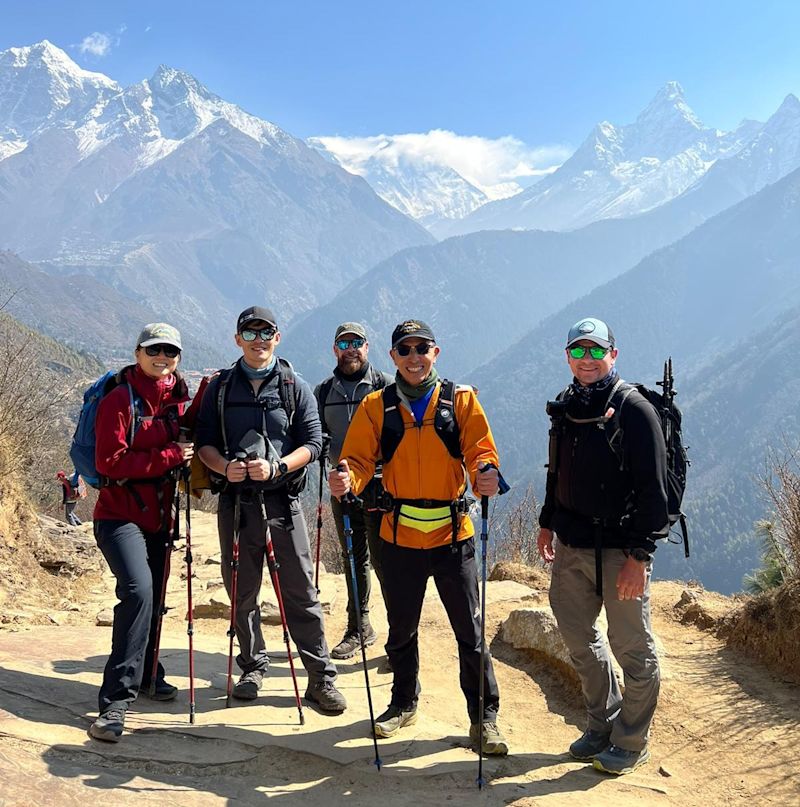 One of our trekking groups carrying only what they need that day in their backpacks
Mental and health challenges
Possibly one of the hardest parts of undertaking the Everest Base Camp trek is accepting that factors outside of your control can arise to hamper, or even derail, your trip. Examples include:
Delays at Tribhuvan International Airport in Kathmandu or Tenzing-Hillary Airport in Lukla, usually because of uncooperative weather

Not being able to trek for a day, or even days, as a result of poor weather conditions

Suffering from headaches as a result of the extreme altitude

Developing severe mountain sickness and having to descend without completing the trek

Injuring yourself and having to abort the trek
The main point here is that there's risk involved. The risk that you won't be able to finish the trek you've been planning for and dreaming about for months or even years.
But safety absolutely has to come first in an environment like the Himalayas. If there's an issue like severe altitude sickness symptoms, then unfortunately you just have to accept the untimely end of your trek.
Be prepared for the challenge mentally
Of course certain things are down to pure luck (or 'unluck'). Some people get sunny days and relatively mild temperatures the entire trek, while others get clouds, snow and desperate temperatures. The odd person contracts food poisoning, while everyone else goes untouched. And then someone does something scream-worthy like spraining an ankle stepping out of the teahouse. The chances of most of these things happening are low, but they do exist and they can signal the sad end of your trek.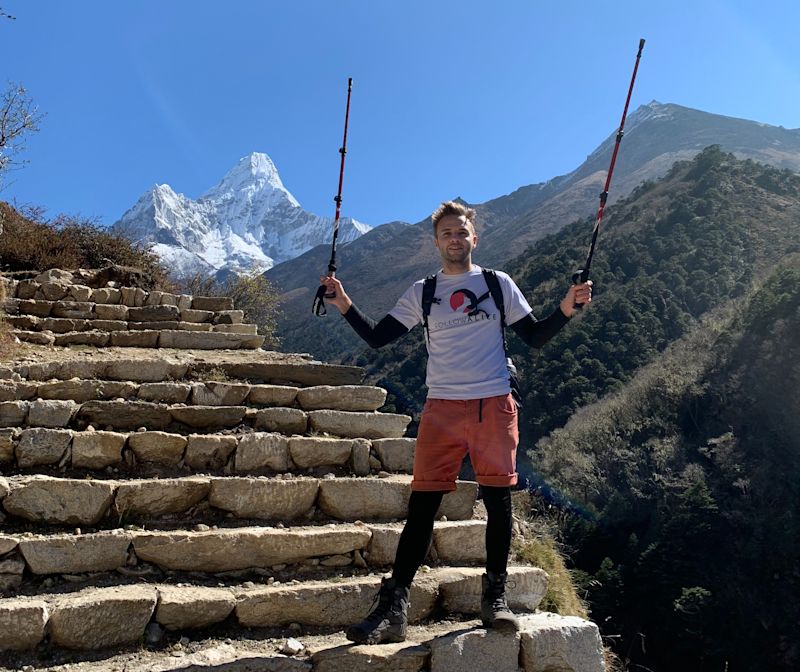 Be prepared to climb lots and lots and lots of steps
As a side note, this seems a good moment to point out the wisdom in taking out traveller's insurance before embarking on the Everest Base Camp trek. Read more about how much the Everest Base Camp trek cost.
Altitude sickness
Note too that altitude sickness doesn't discriminate when it comes to age or fitness level. Its symptoms can include, but aren't limited to, headaches, dizziness, nausea, vomiting, appetite loss and difficulty sleeping.
You can help to ward off altitude sickness by taking altitude meds, such as Diamox. We advise visiting your GP to get a prescription for something that best suits you. Be sure to also discuss with him or her if the planned trip might aggravate any pre-existing conditions.
Less oxygen
As already discussed, the further you hike along the Everest Base Camp trek route, the thinner the air and so the shallower your breathing becomes. This means even a relatively small degree of exertion can lead to breathlessness, which can be disconcerting.
Thin air can also mean headaches and disrupted sleep.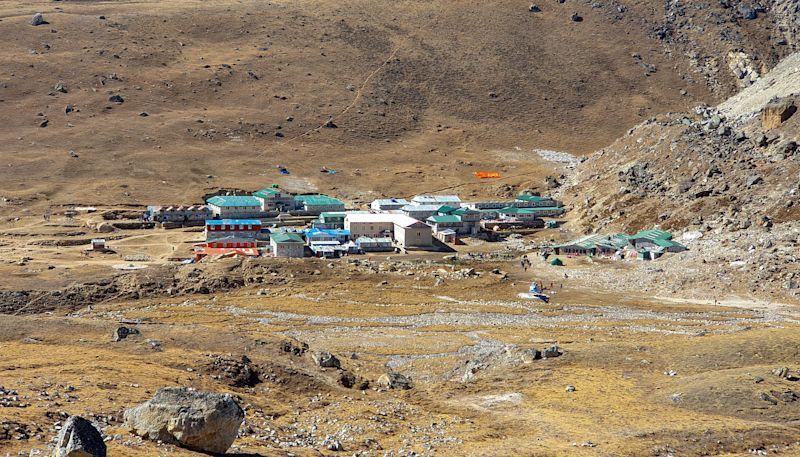 The village of Lobuche is 4,940 m above sea level
The main thing here is to know yourself: do you fall apart at the hint of a headache? Are you known for coming down with man flu? If so, then perhaps a different sort of adventure trips is in order.
Very cold temperatures
Probably the top of the list of common struggles along the Everest Base Camp trek should go the cold, especially after the sun goes down. At Gorakshep, for instance, the average night-time temperature in November, a popular trekking month, is -15ºC (or 5ºF).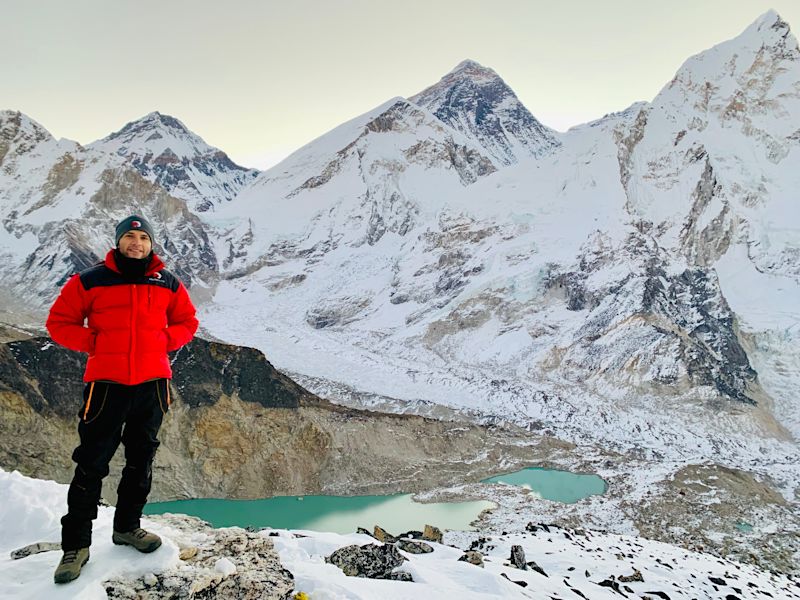 Follow Alice co-founder Dez in his Follow Alice down jacket and beanie
Most of the windows in teahouse bedrooms consist of a single sheet of glass. And while the common room may be heated, bedrooms aren't. When this happens, trekkers usually wear all their layers to bed, and yet it can still be a trying experience on particularly icy nights.
On top of the night-time cold, the winds can be savage, buffeting you and cutting through your clothes as you trek.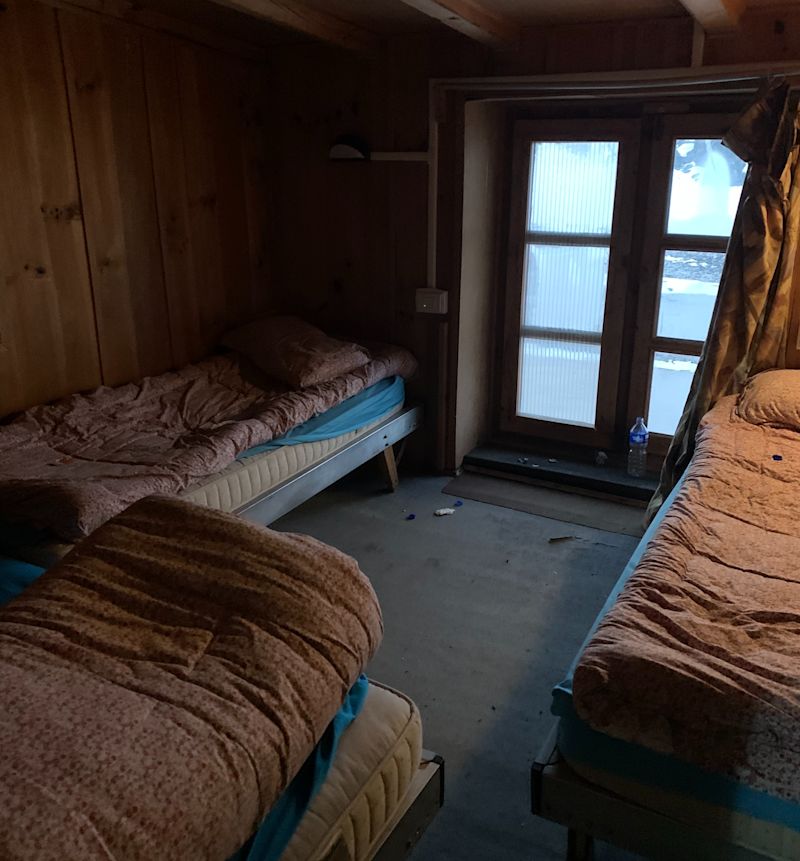 A typical teahouse bedroom
Bright sunlight
Sunglasses are an essential item. Not only do they protect you from glare but they also protect your eyes from wind and dirt.
Narrow suspension bridges
It's also worth mentioning that during the first couple days of the trek you have to cross a few rope suspension bridges. For those who are fearful of heights these can be a real challenge. The bridges are fairly narrow, though they do just allow for two-way traffic, and they can sway when the wind is up. On the plus side they do tend to offer amazing views up and down the valleys.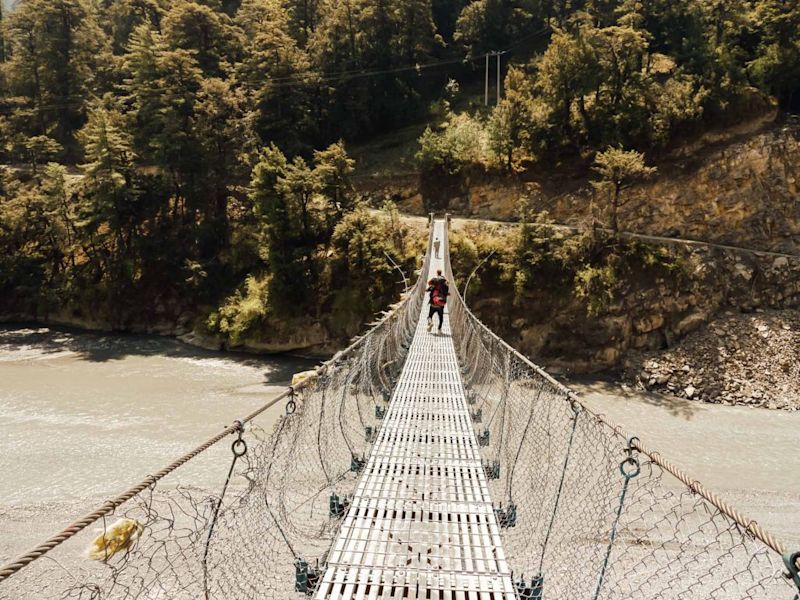 One of the suspension bridges you cross on the lower section of the Everest Base Camp trek
You also cross some smaller wood bridges on occasion. You want to be reasonably surefooted to cope with these elements without being fazed.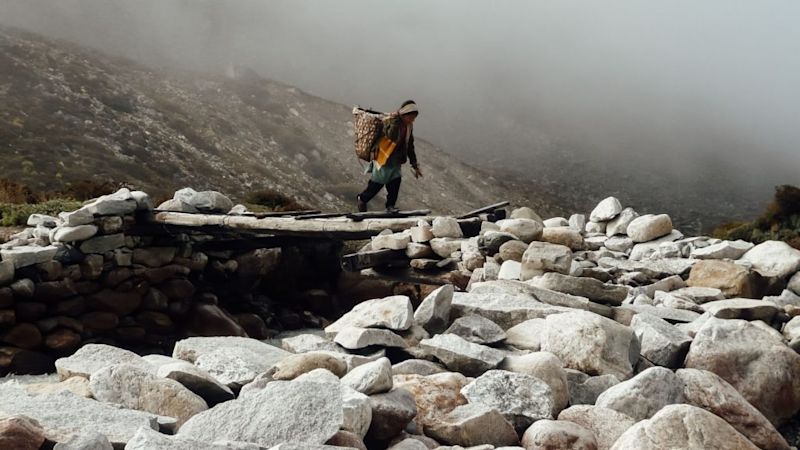 A local walks across a simple bridge along the upper EBC trek route
Cleanliness can be challenging
Next on the list of discomfort is cleanliness. Hygiene on the EBC trek is generally quite circumspect, as you can go days without a shower. Your clothes even longer without a decent wash, or any sort of wash at all. The higher you climb, the more likely it is that you'll wake to frozen water stores, including a frozen water bottle.
You should know that the towns and villages we visit during the trek vary greatly in terms of size and amenities. Lukla, for instance, has a Starbucks and Wi-Fi, while some of the higher villages rely on solar power and yak dung for power. (The pong of burning yak dung can in itself be a challenge.) Some nights will therefore feel like the lap of luxury compared to others of more spartan means.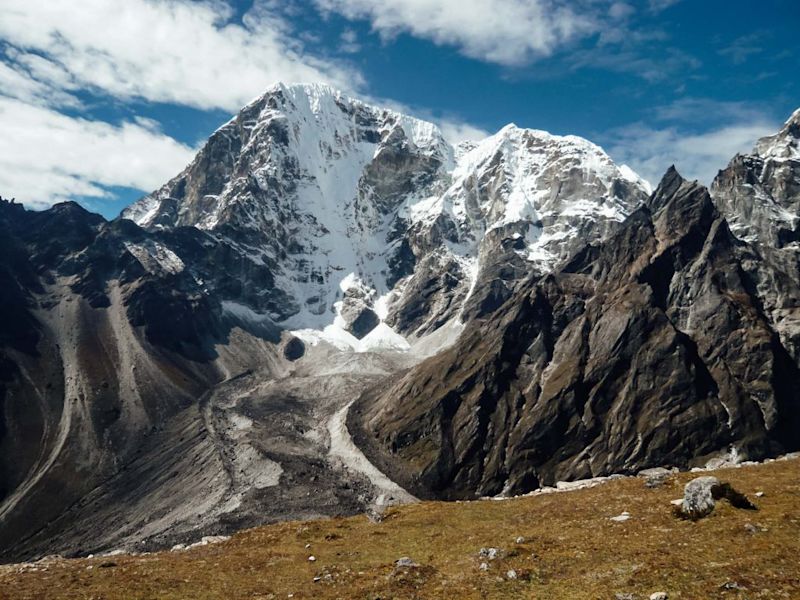 The views along the Everest Base Camp trek are sublime
For instance, there are teahouses along the trek that make use of long drops, which to some Westerners can be a bit of learning curve. Further, the higher the elevation, the more one needs to urinate, which for ladies in particular can mean annoyingly frequent nature calls along the trail.
Mostly the issue of hygiene boils down to your personal qualms; if you know you're something of a germaphobe, you need to consider how much your desire to complete the trek will carry you through.
Limited food choices
Food is another factor to consider if you have dietary restrictions or strong dislikes. The choices are obviously fairly limited as this is a remote, hard-to-access region. Expect lots of high-carb food options like bread, pancakes, rice, pasta and potatoes, which will help power you along the trek route. There will also be plenty of eggs and cheese along with some cooked veg, but little in the way of fresh fruit and salads.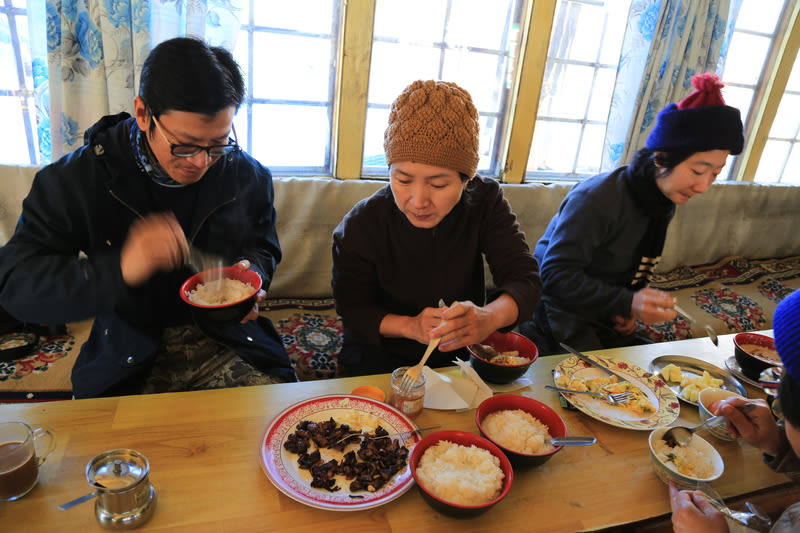 You eat your meals in teahouses like this one
Some also find that what they order from the menu, though written in English, often doesn't arrive resembling what they were anticipating. So the more flexible and relaxed you are about what you put into your mouth, the easier you'll find your time on the trek.
Motivation
Since you're reading this blog post, we imagine you're like us: you hear about colourful prayer flags, jagged, snowy peaks and small, mountainside Sherpa villages and your heart beats a little faster. You need to see and experience it for yourself. If that's you, then we feel sure that the drive to get to Nepal and take on the Everest Base Camp trek will carry you through the trail's steep inclines, smelly ablutions and other challenging moments.
Teddy Roosevelt famously said:
Nothing in the world is worth having or worth doing unless it means effort, pain, difficulty.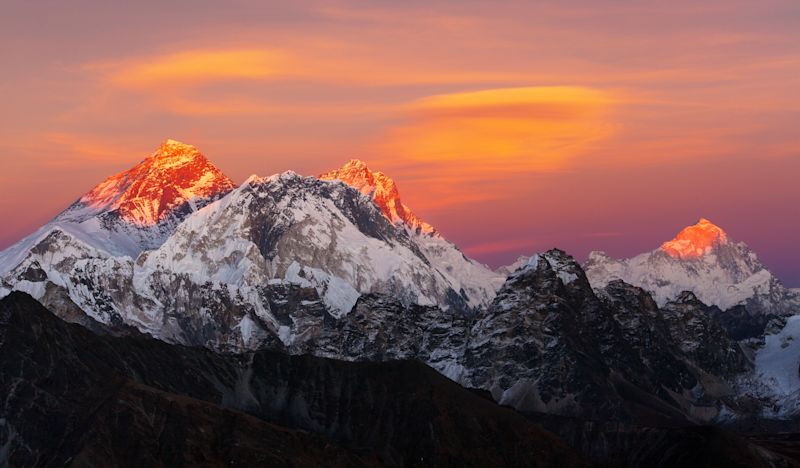 The peaks of Mounts Everest, Lhotse and Makalu bathed in evening light
From the effort to get to Nepal, to the physical strain, to walk all those kilometres in rarified air – all of this makes the Everest Base Camp trek a worthy challenge for those seeking to push themselves and experience the world in a new way.
Get prepared
While an element of surprise can be nice, if you're someone who likes to know as much as possible what to expect on a trip, then know that YouTube is awash with documentaries, video journals and more that show trekkers en route to Everest Base Camp from Lukla and even Kathmandu.
If you undertake the the trek with Follow Alice, then many of the considerations and pitfalls discussed are matters you won't have to think about. We'll be taking care of most of the admin and our local guides Oangdi and Sonam will be looking after your safety. But as we said, if you prefer knowing, there's a wealth of online information you can access to learn about all the various aspects of the Everest Base Camp trek.