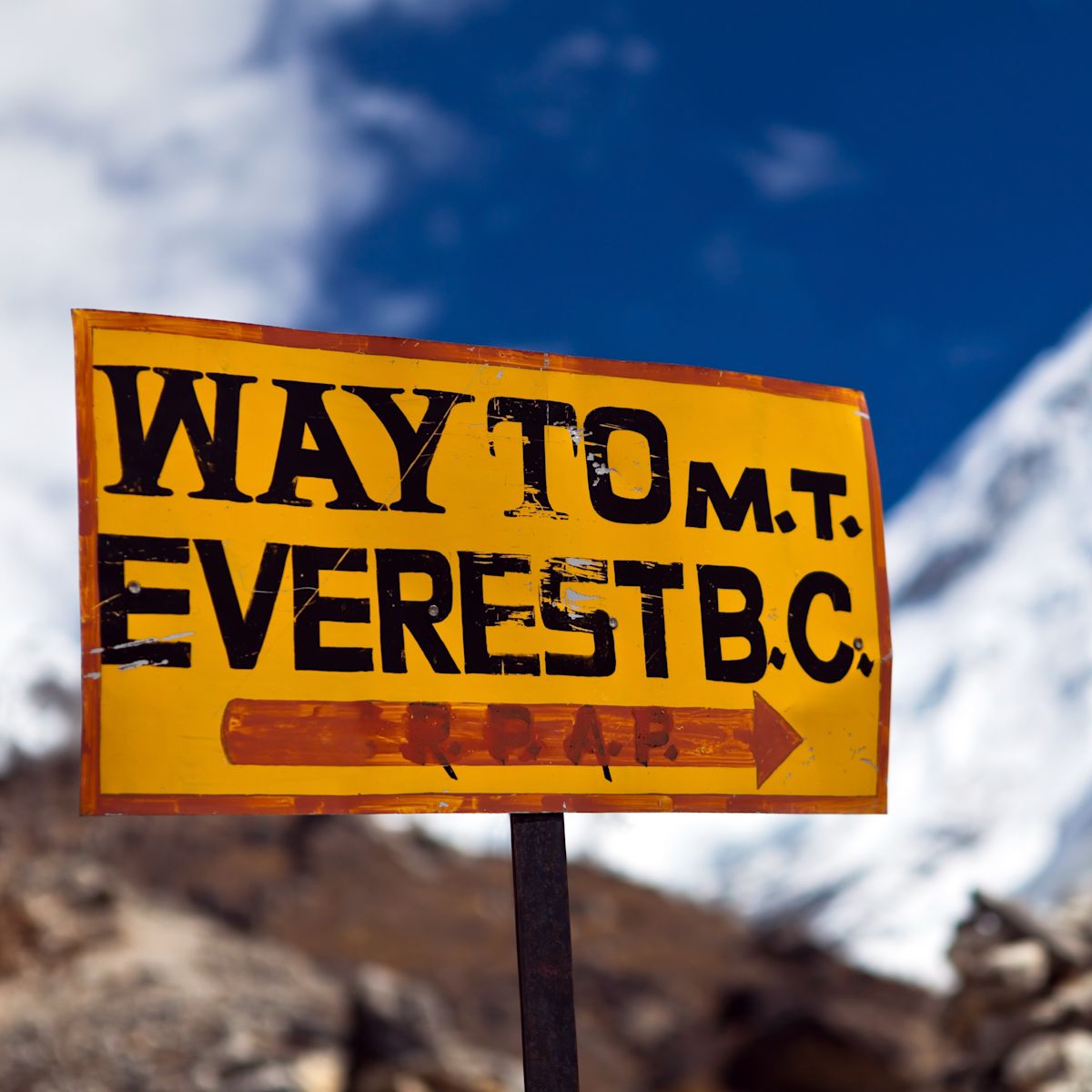 Everest Base Camp trek cost
Oct 3, 2023
Reading time: 18 minutes
At Follow Alice we offer three different Everest Base Camp packages. The package fee includes almost every cost while you're in Nepal. They range from US$2,290 to $2,790. Read on to find out what's included in each package fee. Spoiler alert: it's a LOT!
Trekking to the base of the world's highest mountain in a remote corner of the Himalayas is never going to be cheap. But it may be more affordable than you expect.
Firstly, Nepal is a very economical country to travel to for most of us, as the currency plays nicely against the dollar, euro and other major currencies. Also, the Everest Base Camp trek is far from being a luxury trip. The food and accommodation on the trail, though sufficient, are modest, and so don't hurt like a stay at the Ritz would.
That said, it takes a bit of effort to travel to Lukla, the doorway to the EBC trek.
We lay out all the costs involved in this epic trek so you can make a budget for yourself.
I was standing at the base camp at the top of the world. Words can't even begin to describe the feeling, though probably 'accomplishment' was high on the list. After this trek to EBC, only summiting will probably top this.
– Jason Lane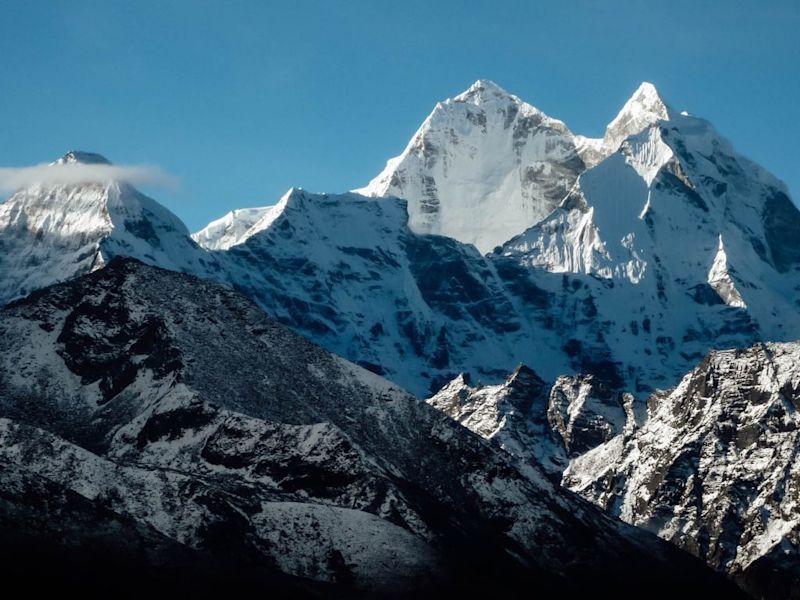 The beautiful snow-capped peaks of the Himalayas
How much does the trek cost?
Your two main outlays for a trip to Everest Base Camp are:
Your international flights.

Your Follow Alice package fee.
By having just two primary expenses – flights and the package fee – you can put together a pretty accurate budget for the Everest Base Camp trek.
The cost of your flights will of course vary depending on where you live. But your package fee is very knowable ...
Follow Alice package fee
We offer three different versions, or itineraries, of the Everest Base Camp trek at Follow Alice. They are:
| Trek | Cost | Trip duration | Trek duration |
| --- | --- | --- | --- |
| | US$2,790 * | 12 days | 8 days |
| | US$2,290 | 17 days | 13 days |
| | US$2,390 | 19 days | 15 days |
* The helicopter ride is what makes this itinerary the most expensive, even though it's the shortest trek. But our clients absolutely love this option, because it gifts you a thrilling ride with out-of-this-world views!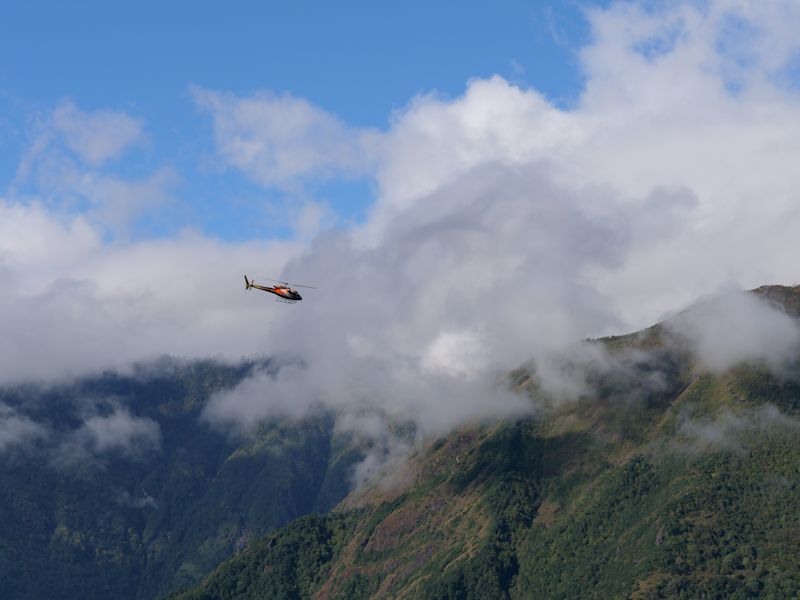 There's the option of flying back to Lukla via helicopter after reaching EBC
The Follow Alice package fee covers the cost of almost everything once you step foot in Nepal. We do it this way to make your life that much simpler; you hand over all the admin to us and you get to focus on things like getting in better shape and packing your bags. It also saves you many hours of research and possible anxiety over making poor choices like where to stay and so on.
What's included in the Follow Alice fee?
The Follow Alice trip fee includes all your big expenses within Nepal, as well as most of the middling and littles expenses. Specifically, your trip fee includes all of the following:
All

accommodation

during your stay, which includes:

Hotel accommodation before and after the trek

Lodge accommodation during the trek

All

transport

during your stay, save for airport transfers (these can be arranged for an extra fee), which includes:

Private vehicle transport to and from Manthali Airport before and after trek

Return flight from Manthali Airport to Tenzing-Norgay Airport in Lukla

Most

food

throughout the trip, namely:

Breakfasts in Kathmandu

Three meals per day when on the trek

Bottled drinking water on the trek

Tea and coffee at the lodges

A highly experienced

mountain crew

, which includes:

An English-speaking Sherpa lead guide

Assistant guides

One porter per two trekkers

Entrance and permit

fees

, which include:

Khumbu Pasang Lhamu Rural Municipality fee

Sagarmatha National Park entry permit

A TIMS permit

Group

medical supplies
We elaborate on the items listed above to explain their scope and importance …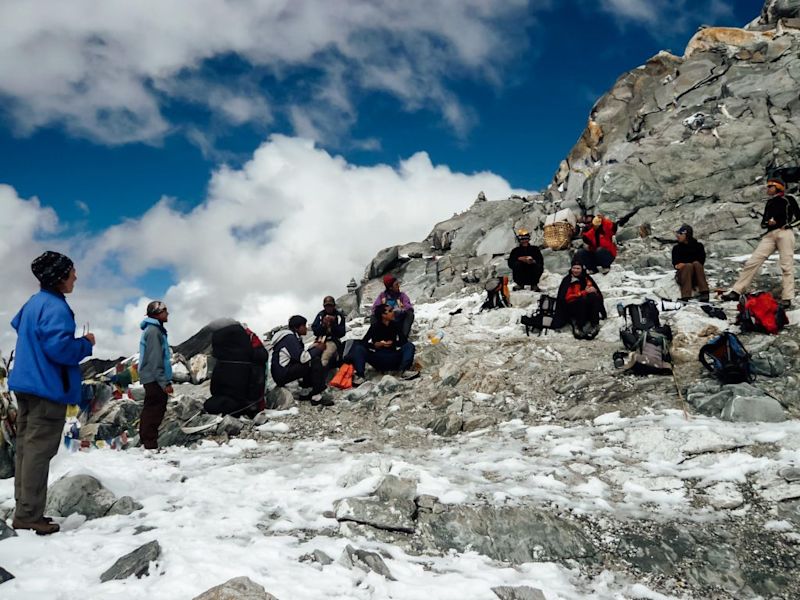 Everest Base Camp trekkers stop off for a short break
1. Accommodation
In Kathmandu, you stay at a hotel in Thamel, a vibey district in Kathmandu about a 30-minute drive from the airport. Here you will spend the night and get to meet any other trekkers in the group you might not yet know.
When you're on the trek, you stay in teahouses, which are usually independent, family-run lodges. You can expect these to vary a fair deal in terms of size, amenities and even cleanliness. The most basic of the teahouses offer small rooms with two single beds and nothing else. You sometimes have to pay for Wi-Fi. Not all have showers and western-style toilets.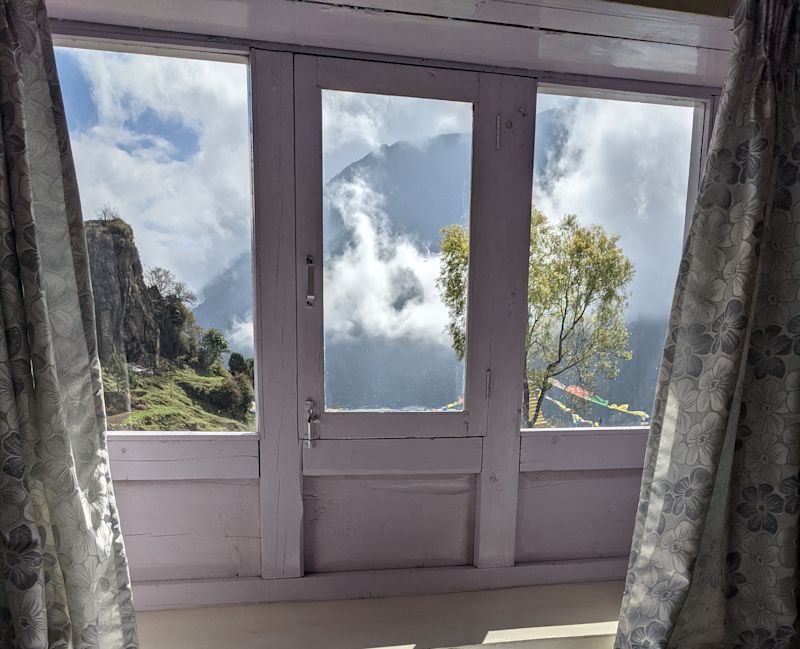 EBC teahouse bedrooms are simple affairs – but you can't fault the views!
Please note that all accommodation on this trip is double occupancy. You can opt to have your own rooms, but this will require an additional fee.
2. Transport
If you'd like, your Follow Alice guide will greet you at Tribhuvan International Airport (TIA) in Kathmandu. So from the moment you land in Nepal you can hand over all travel logistics to us. But please note that airport transfers aren't included in your package fee.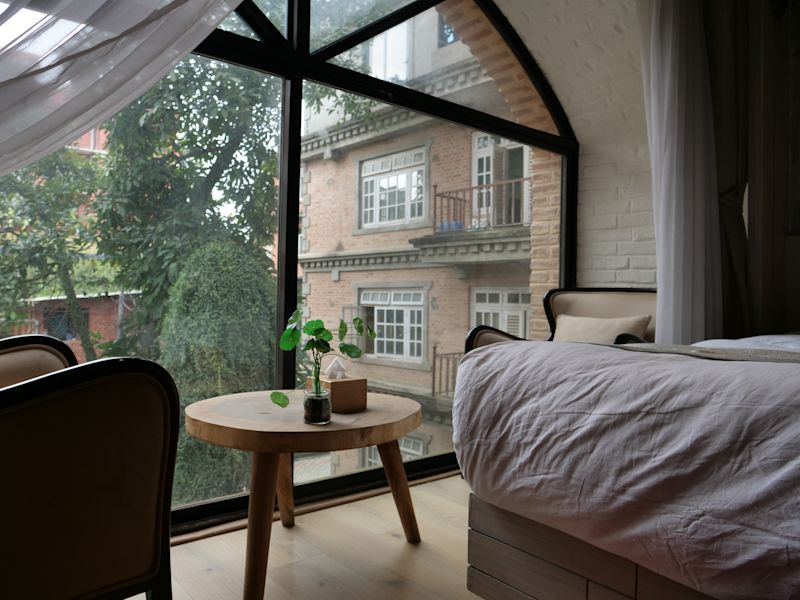 A bedroom view at Arushi Boutique Hotel, where we like to send clients when there's availability
The next day we'll be driving southeast to the city of Manthali in the Ramechhap District so that we can catch a flight the following morning to Lukla, where the EBC trail starts!
We drive you in a private vehicle, and this is great time to get to know anybody in your trek group whom you haven't met before!
We can't at present fly from Kathmandu to Lukla, as we did in the past, as TIA is undergoing some major construction that means domestic flights aren't being operated there. When the renovations are complete, we'll revert to flying to Lukla from Kathmandu, which will shave off some travel time to and from the EBC trailhead.
So with that explanation in place, after a night in Manthali, we hop on a short yet very memorable 30-minute flight to Tenzing-Hillary Airport in the town of Lukla in eastern Nepal.
As you've probably already heard, Lukla has a one-of-a-kind airport that sits tucked into the side of a mountain at an elevation of 2,860 m and has a staggeringly short runway.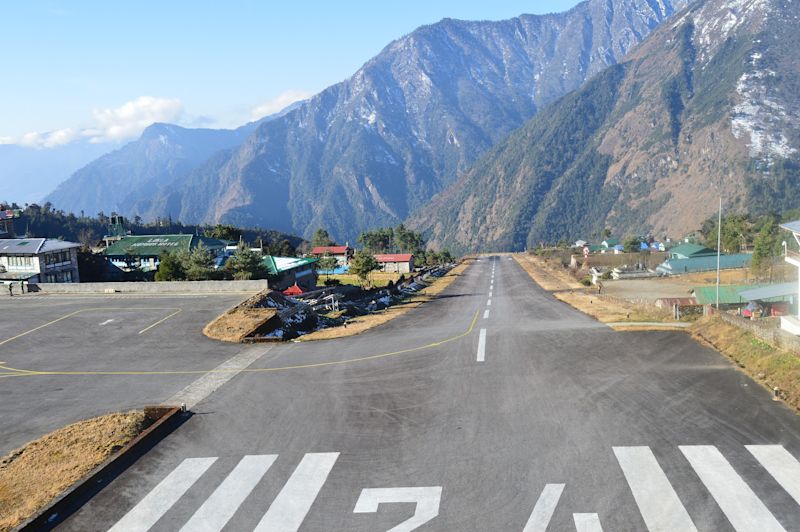 The famous Lukla Airport runway
Upon landing, you start trekking the EBC trail right then and there!
3. Food
Nearly all of your meals are covered by the trip fee. When in Kathmandu, your breakfasts at the hotel are included. Then, when you're on the trek itself, you're provided with three meals a day, as well as bottled drinking water.
All of your meals on the trek are taken at teahouses. Sometimes, in nice weather, you can have lunch outside. Most often, however, you're served meals in a heated common room where you'll be able to meet fellow Everest Base Camp trekkers.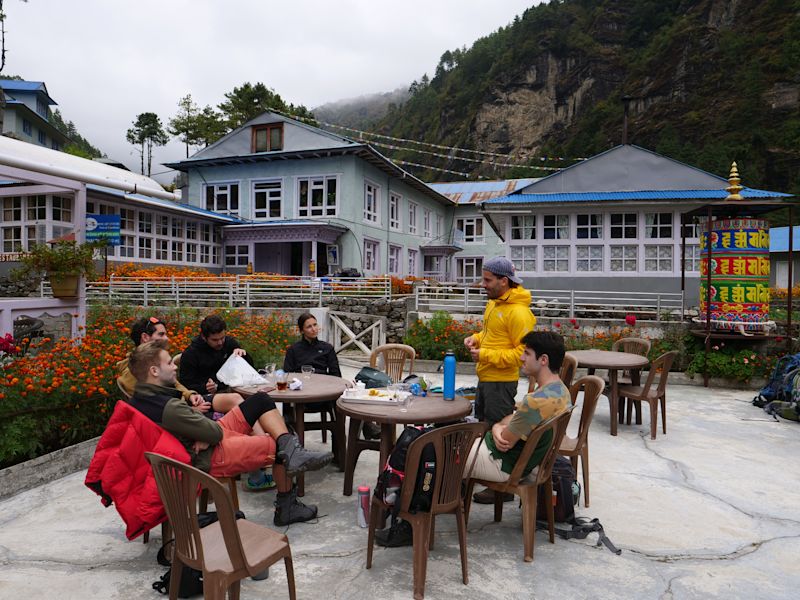 Early on in the trek you can often sit outdoor for lunch
You can expect generous portions that will definitely fill you up. You can also serve yourself as much tea and coffee as you like!
4. Mountain crew
We partner with local guides who are highly experienced and know the Khumbu region like the rest of us know the apps on our phone. Trekking with a local guide or guides is the best way to ensure you stay safe and also don't miss any of the sights and details around you.
Depending on the size of your trek group, you'll have not only a lead trek guide but also an assistant guide or two. These folks are there to keep you safe, answer your questions, and encourage you.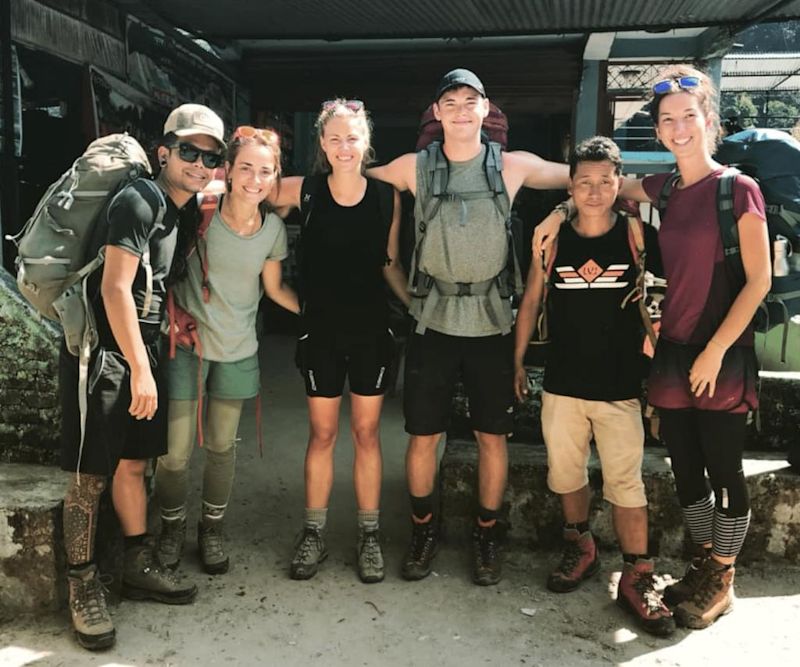 Oangdi (far left) is one of the excellent Nepali trek guides we partner with at Follow Alice
You'll also be given the service of a porter along the entire trek. The porters on the EBC trek usually use beasts of burden like donkeys and yattle (yak-cow hybrids) to transport luggage. This is why we ask you to please use soft bags like duffel bags for packing your belongings.
5. Entrance fees
Anyone trekking to Everest Base Camp is required to obtain certain permits, all of which we'll have secured for you.
Firstly, there's the Khumbu Pasang Lhamu Rural Municipality fee. This fee is levied for entering the Solukhumbu district of Nepal. This district, as indicated by the name, comprises the Solu and Khumbu regions of eastern Nepal. The Everest Base Camp trek takes place within the Khumbu region. The Khumbu Pasang Lhamu Rural Municipality is named after the Sherpa Pasang Lhamu. She was the first Nepalese woman to summit Mount Everest.
Secondly, the Sagarmatha National Park entry fee is required as the bulk of the Everest Base Camp trek takes place within this park. Sagarmatha is one of five large national parks in Nepal and obviously a source of great national pride. We enter Sagarmatha on the second day of the trek when we hike from Phakding to Namche Bazaar.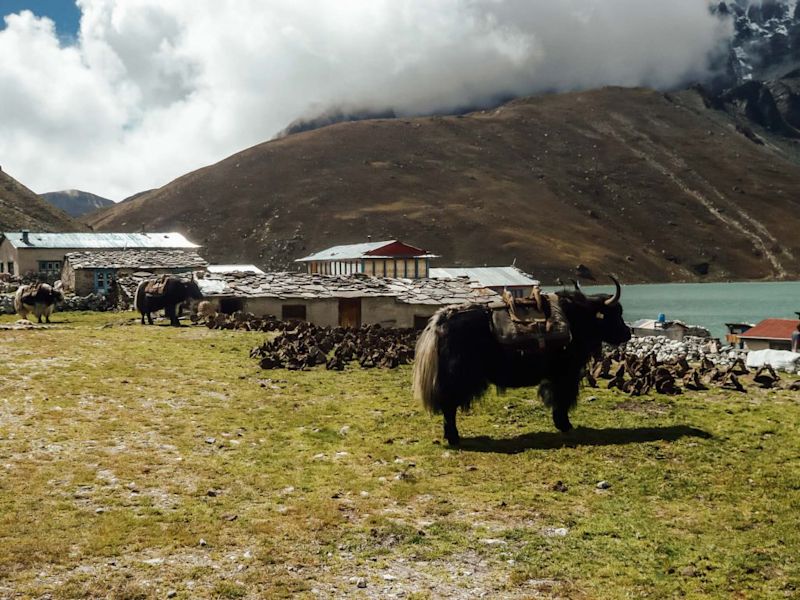 Yaks are everywhere in the higher regions of the Himalayas
Finally, there's your TIMS card. This is administered by the Trekking Agencies' Association of Nepal and gathers trekkers' info with the aim of regulating the trekking industry as well as securing trekkers' safety. If you're a solo trekker, a TIMS card costs NPR 2,000 (around $17), but if you're part of a trekking group, the card costs just NPR 1,000 (around $8).
6. Group medical supplies
Your Follow Alice fee also covers basic medical supplies for the group, which your Follow Alice lead guide will carry with him. That said, we still advise taking your own little first aid kit that's stocked with your altitude meds as well as other essentials.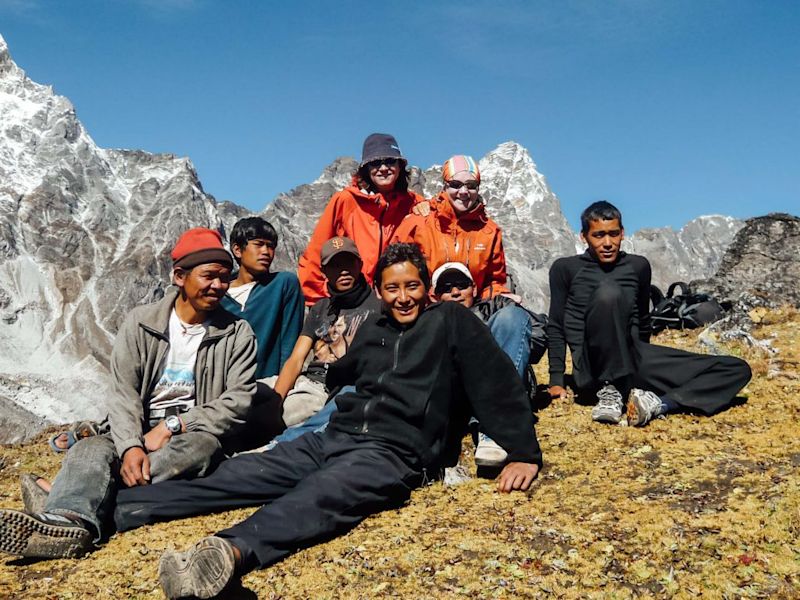 The mountain crew are the backbone of this incredible trek
What's not included in your Follow Alice fee?
Here are some further costs not covered by your Follow Alice package fee for you to consider and work into your budget ...
1. Nepali visa
When it comes to getting a tourist visa to Nepal, you have two choices: acquire one from a Nepalese diplomatic mission in your country prior to flying to Nepal, or purchase one upon arrival at TIA in Kathmandu.
The visa you want is a single-entry tourist visa for 30 days. As of 2019, the Nepalese Department of Immigration website lists a single-entry, 30-day tourist visa when arriving through TIA as $50.
A 30-day tourist visa for Nepal costs US$50.
Many opt to obtain a visa when they arrive at TIA, as the process is fairly simple. Though sometimes, like during peak tourist time, the queues can be quite long. That said, nationals of certain countries are required to obtain a visa before flying to Nepal. So you'll need to check up on this online. If you obtain a visa before entering Nepal, note that your day count starts from the day you enter the country.
Be sure to check the official Nepal Immigration website for all the details you need about obtaining a Nepal tourist visa.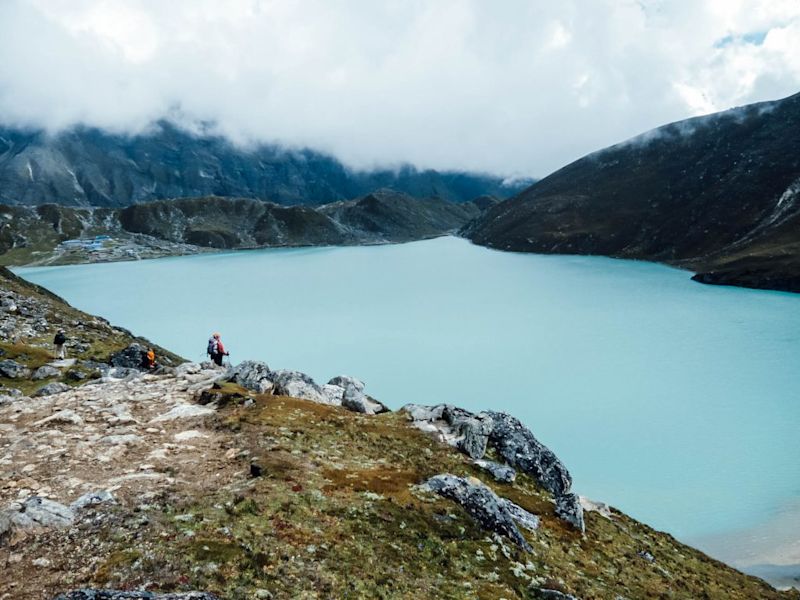 Our extended EBC trek itinerary takes you past the beautiful Gokyo Lakes
2. Traveller's insurance
Traveller's insurance is a must for anyone undertaking the Everest Base Camp trek. In fact, travel insurance is a requirement if you wish to undertake a trip with Follow Alice. This is because you're embarking on an adventure holiday, so the risks are higher than when lolling on a beach. Further, the Nepalese Government doesn't grant trekking permits without travel insurance!
When taking out travel insurance, we advise choosing one that offers cover for all of the following:
Delayed, cancelled or interrupted travel

Medical insurance

Lost or damaged luggage
Delayed travel covers things outside of your control like a traffic jam preventing you from reaching the airport on time, a mechanical issue with your plane, or severe weather preventing the plane from reaching its destination. Given bad weather is a part of the Himalaya vibe, this is an important aspect to cover.
Delayed travel also covers missed connections that are out of your control. Trip cancellation covers having to abort your trip beforehand for reasons such as injury, illness, severe weather, or a natural disaster or terrorist attack at your destination.
Trip interruption covers the costs involved when you have to abort your trip post departure, for any of the same reasons listed for trip cancellation.
Both trip cancellation and trip interruption should also cover having to cancel or abort a trip as a consequence of illness or injury of a travel companion or family member.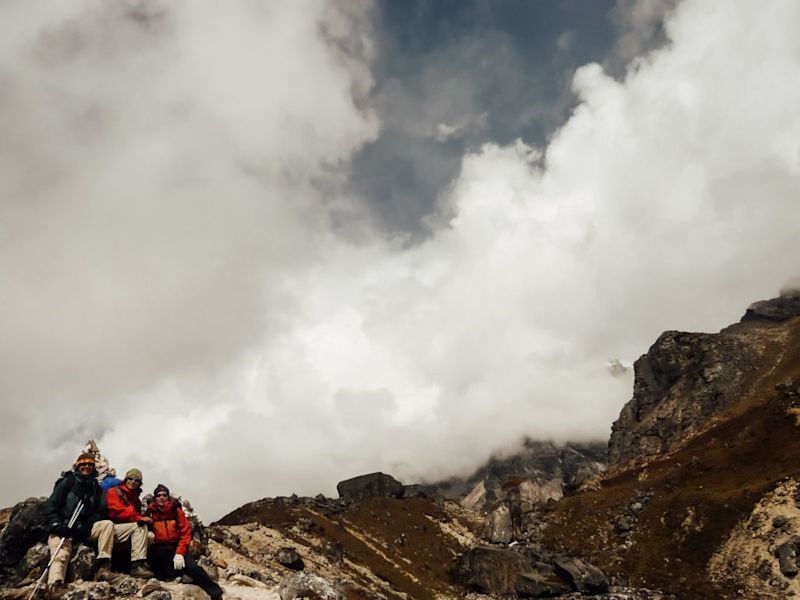 Trekking to Everest Base Camp will be one of the greatest challenges and adventures of your life!
Ensure you have the right cover
Regular medical aids don't cover medical expenses incurred outside of your own country. This is why medical insurance is a critical component of any traveller's insurance.
Proper medical insurance covers medical emergency as well as medical evacuation. This means that should you fall ill or be injured, your insurance will pay for all hospitalisation and doctor fees as well as all transportation to and from hospital (including ambulance services) and to get you back home.
Every day is like walking in a postcard. Everest base camp includes three majestic passes with the pristine and peaceful Gokyo Lake. One of the most beautiful and rare beauty that a place can possess.
– Lynn Palmer
The cover for lost or damaged luggage is important. You can't trek to Everest Base Camp without the proper gear! Both Kathmandu and Lukla have plenty of stores offering all the varied equipment you might need for purchase or hire. So should your luggage go missing you could use the insurance money to gather together what's needed and still continue on with your trip.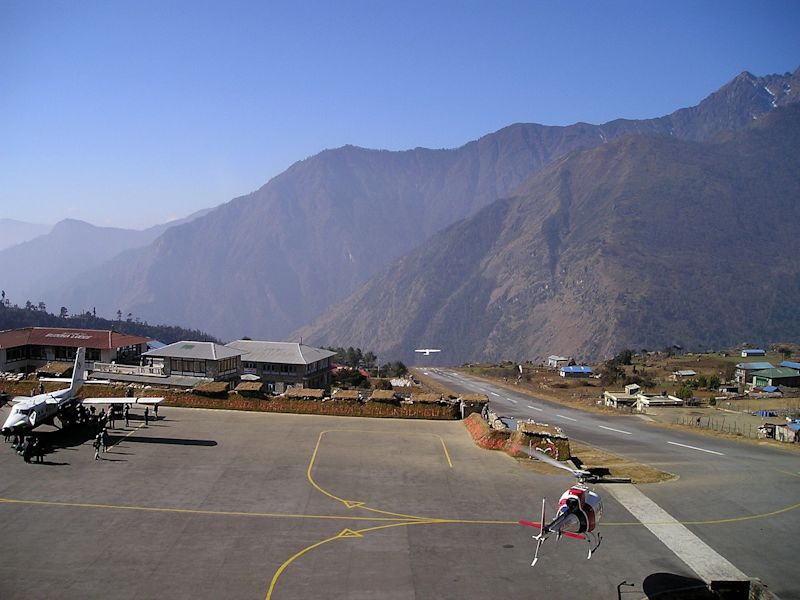 Another view of the runway at Lukla's Tenzing-Hillary Airport
Recommended cover
We recommend that you cover yourself to the tune of at least $200,000 for each of the above categories of insurance (save luggage).
Most of us at Follow Alice, as well as many of our clients, opt to buy travel insurance from World Nomads. We would, however, recommend that you also do your own research into finding a company that you feel offers comprehensive yet affordable insurance.
Whichever travel insurance you choose, we'll require you to send us the details of your policy before your arrival in Kathmandu.
Note that many credit cards offer free, automatic travel insurance when you book your flights with them, so do look into this. The cover usually isn't enough on its own, but it's a useful extra. Also, pay special attention to exactly what is and isn't covered by your credit card. This is to ensure your independent traveller's insurance covers all gaps and shortfalls.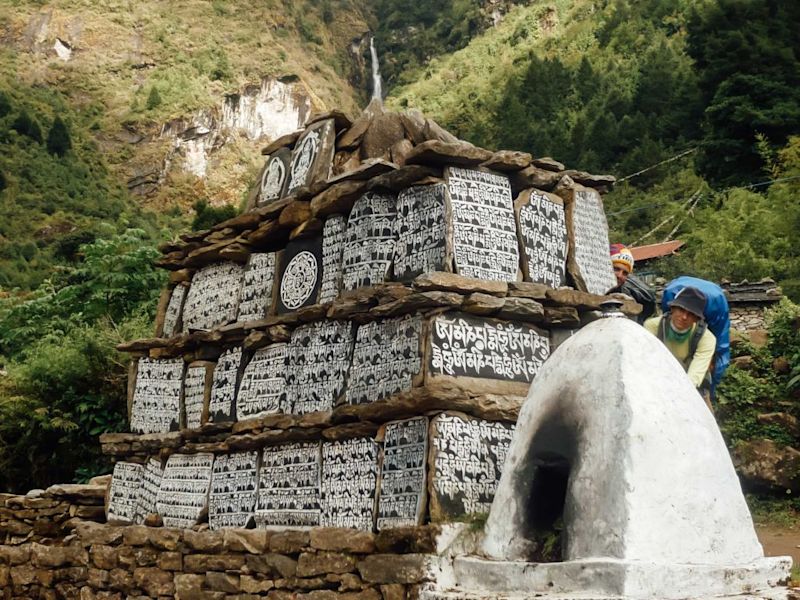 A Buddhist monument on the Everest Base Camp trail
3. Local SIM card and data in Nepal
The entire Everest Base Camp trek route now has 3G connectivity. A mast has been installed at Gorakshep, the final settlement on the way to base camp. In Nepal it's cheaper to buy a local SIM card than use international roaming.
Thamel, where Follow Alice trekkers spend the first night upon arriving in Nepal, has plenty of English-speaking shop owners selling SIM cards. They can show you how to install the card and upload credit.
Do note that to get a SIM card you'll need to provide a photocopy of your passport and a passport photo. You'll want to purchase an Ncell SIM card. This is the operator that works best in the area of Nepal where you'll be trekking. A SIM card is usually in the area of Rs 300 (€2.50) and data packages are extremely cheap.
Your Follow Alice guide will of course have a phone with him or her throughout the trip should an emergency arise. You therefore don't actually need a working phone from a safety or emergency point of view. For some, the opportunity to truly disconnect might be heaven sent.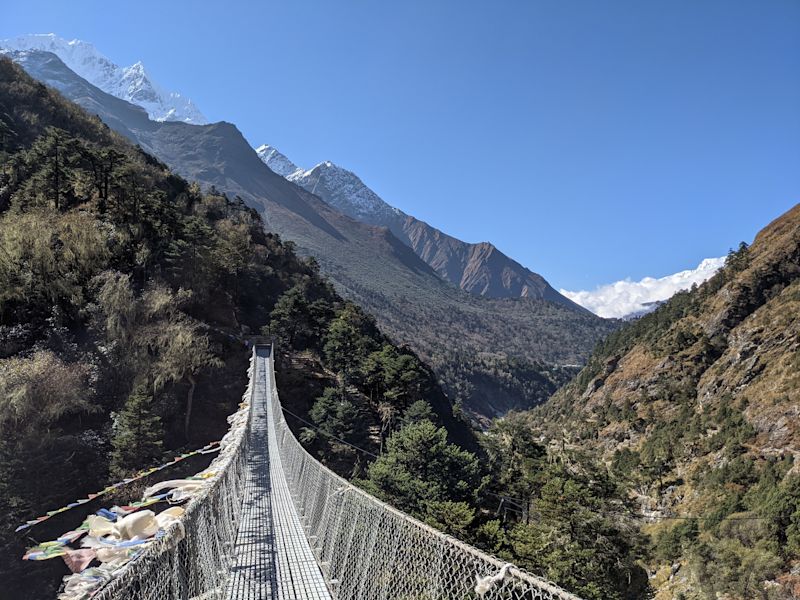 You cross quite a few suspension bridges in the early days of the trek
4. Mountain crew tips
Follow Alice will pay the salaries of your trek guides and porters out of your group's trip fees. But it's standard practice in Nepal to also tip trek guides and porters when you're happy with their service.
You give the tips to your mountain crew just before saying goodbye to them. Please pool your tips as a group and then divide the money among the porters and guides.
We suggest that you bring along two envelopes you can use to write each person's name and insert the money for a nice tip handovers. Maybe even bring along a few small cards you can write in to include with the tips? Just a thought. 😊
Recommended group tip per day (in USD) per type of mountain crew member
| Porter | Assistant guide | Lead guide |
| --- | --- | --- |
| ∼$10 | ∼$15 | ∼$20 |
If you're very happy with the service you received, can give more than the stipulated amount.
Total tip amount for each climber to budget (in USD) based on the number of climbers in your group and the number of days you're trekking.
* Number of trekking days is in the left-hand column, and number of climbers in your group is in the top row.
| | | | | | | | | | | | |
| --- | --- | --- | --- | --- | --- | --- | --- | --- | --- | --- | --- |
| | 2 | 3 | 4 | 5 | 6 | 7 | 8 | 9 | 10 | 11 | 12 |
| 8 | 120 | 105 | 80 | 105 | 85 | 85 | 90 | 90 | 80 | 90 | 85 |
| 10 | 150 | 135 | 100 | 130 | 110 | 105 | 115 | 110 | 100 | 115 | 105 |
| 14 | 210 | 185 | 140 | 180 | 150 | 150 | 160 | 155 | 140 | 160 | 145 |
| 16 | 240 | 215 | 160 | 210 | 175 | 170 | 180 | 180 | 160 | 180 | 165 |
Ask your Follow Alice trip manager to confirm the number of climbers in your group if you're unsure!
Etiquette in Nepal is to hand money to someone with your right hand.
Note that etiquette in Nepal is to hand money to someone with your right hand. Obviously locals will still accept money proffered with the left hand, but it's nice to abide by this custom if you can remember it.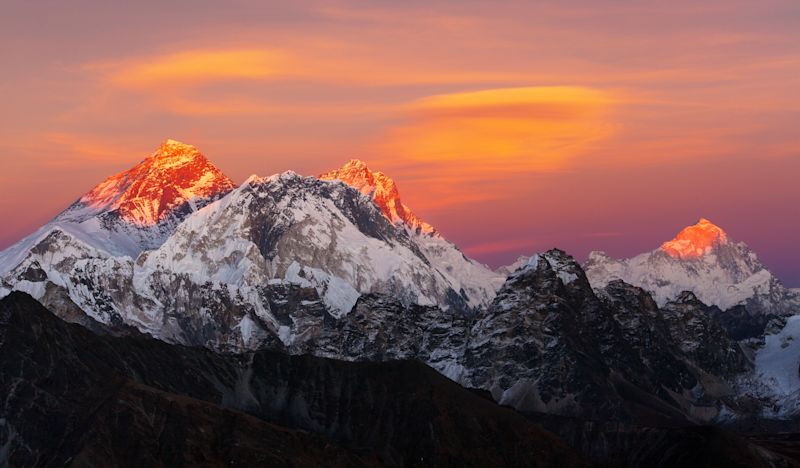 Sunset over Everest, Lhotse and Makalu as seen from Renjo Pass
5. Spending money
Nepal's currency is the Nepalese rupee, which can be abbreviated as NPR or Rs. As of January 2023, there's an exchange rate of about Rs 139 to €1, and Rs 132 to US$1. To help you get your bearings, the price of a cappuccino in Thamel is about Ns 200 (€1.44 or US$1.50).
The airport in Kathmandu offers a money exchange service, so many people simply get the rupees they need when they land.
Do note that if you're wanting to exchange cash for Nepalese rupees, then your notes must be in perfect condition to be accepted. Even a fold crease has been known to make them unacceptable. The foreign exchange desk also won't accept all currencies. Major and strong currencies like euros, pounds, dollars and yen aren't a problem.
ATMs
While there are plenty of ATMs in Nepal, Sagarmatha National Park of course isn't the place for them. The last ATM you can expect on the trek is in Namche Bazaar, which is early on in the trek route.
Further to this, ATM fees can be very high and ATM skimming is a problem in Nepal.
You don't require much cash on the trek as Follow Alice deals with most payments on your behalf. We therefore recommend acquiring the maximum amount you might need for your trip once off at your local foreign exchange or bank or at the foreign exchange desk in TIA.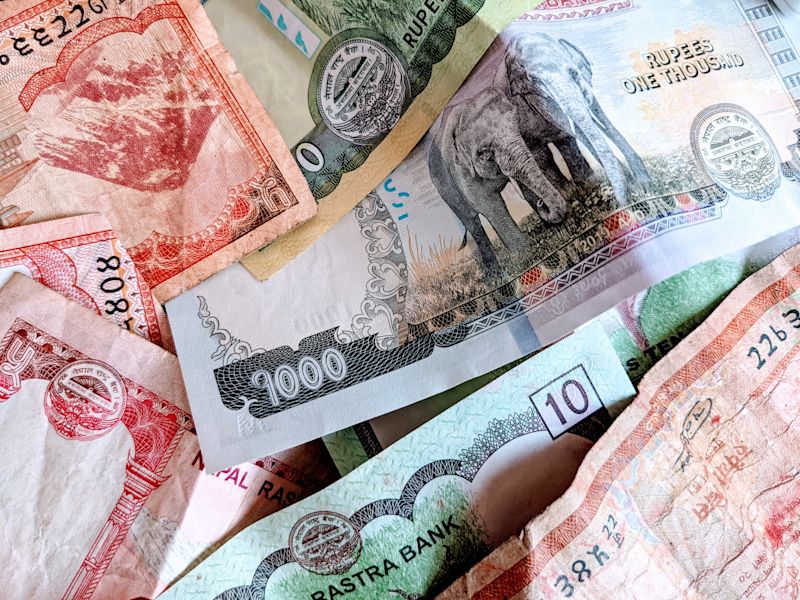 Some Nepali rupees (NPRs)
Cash
Nepal is a cash economy. So it's definitely a good idea to have some Nepalese rupees floating in your pocket. Note that traveller cheques aren't accepted in Nepal. And most shops and vendors won't accept credit or debit cards.
As already mentioned, most of your food and drink is covered by your Follow Alice trip fee. But you will need to buy your own alcohol, soft drinks and of course any snacks you wish to purchase.
Other possible reasons for having cash are to buy and send postcards and purchase the odd souvenir.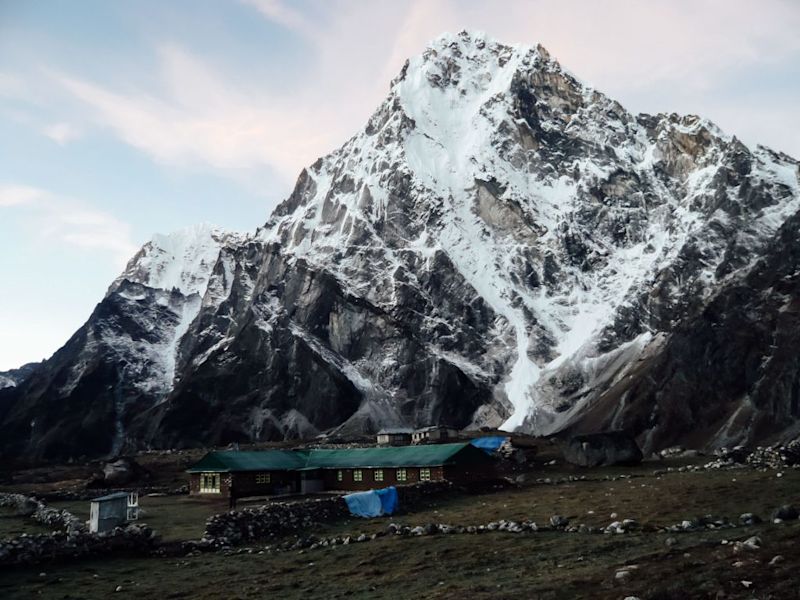 The villages on the Everest Base Camp route are incredibly remote
The lodges (teahouses) along the Everest Base Camp trek also offer very different amenities. Some include in their fee things that others charge for, such as showers and the use of plug points to charge electronic devices. There's also no free Wi-Fi after Namche Bazaar, so you'll need to pay for that when you want it.
Even just €5 or US$5 in cash per trek day should be more than enough to cover any bits and bobs along the trail or at the teahouse. If you decide to tip the guide and porter, as discussed above, then you'll want extra cash for that too.
A note on personal belongings
There's a fair amount of equipment required to do the Everest Base Camp trek. From a backpack and hiking boots to thermal underwear and water purification tablets. To help you work out what you have or can borrow versus what you'll need to buy or hire, read your Everest Base Camp packing list.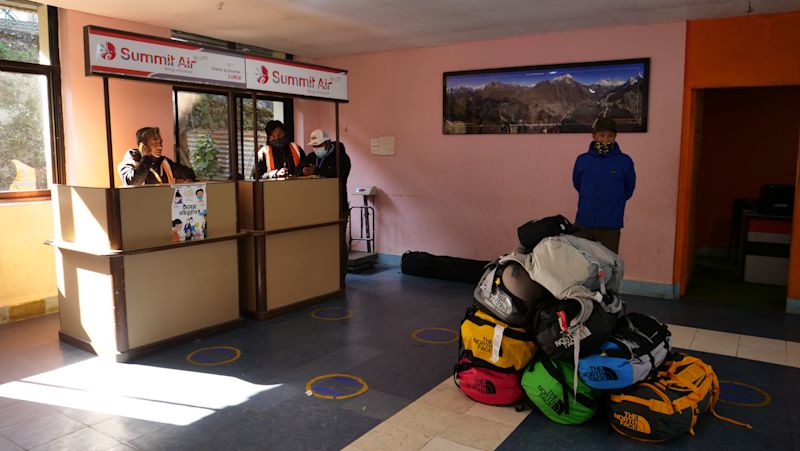 Please bring a duffel bag like one of these
As always, if you have any questions that aren't answered in this blog post – that's what we're here for! Give us a shout, and we'll gladly answer your questions.