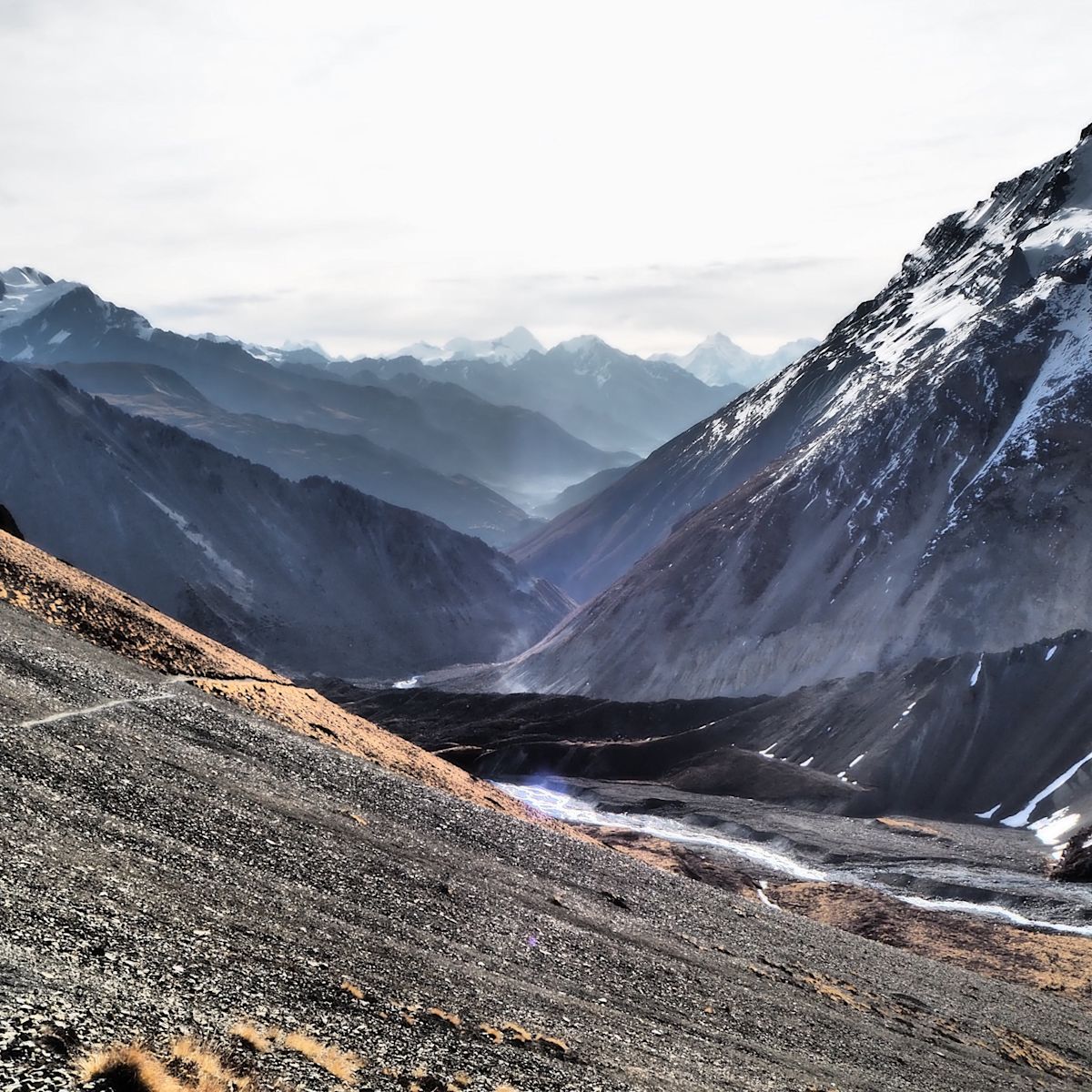 How much does it cost to trek the Annapurna Circuit cost?
Oct 6, 2023
Reading time: 25 minutes
The 13-day Annapurna Circuit trip offered by Follow Alice costs US$1,990. We explain what that price entails, and also break down the other things you need to budget for to plan this amazing, once-in-a-lifetime adventure!
Your two main expenses for an Annapurna Circuit adventure are:
The trek package fee (which is US$1,990)

Your international flights
These are the main costs involved because the Follow Alice fee covers virtually everything once you step foot in Nepal.
We do it this way to make your life simple: you let us handle all the admin so that all you need to focus on is putting together the finances, getting yourself into shape, and gathering together the necessary equipment.
Planning an Annapurna Circuit trek with an experienced travel operator like us makes your life heaps easier.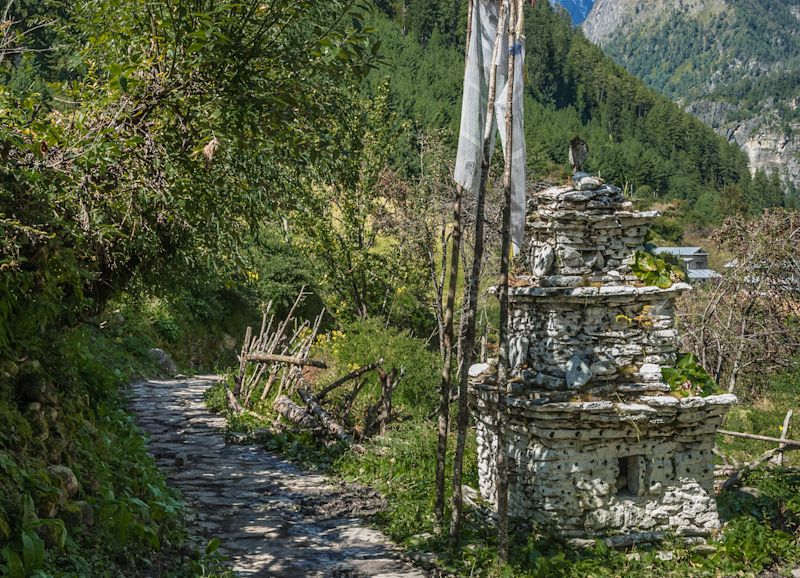 Further, by having just two primary expenses – your flights and the Follow Alice trip fee – you can work out a pretty accurate budget for your total Annapurna Circuit cost. In fact, this blog post aims to give you all the information you need to work out your total Annapurna Circuit cost.
So read on, and we feel confident you'll soon know the Annapurna Circuit cost.
Vibrant, intense and all-consuming best describe Nepal, and this trip in general. It was a proper adventure, the type where you pinch yourself afterwards and think: wow, I did that!
– Travis Holland
What's included in the Follow Alice fee?
The Follow Alice trip fee includes all of your big expenses within Nepal, as well as most of the middling and little expenses. Specifically, your trip fee includes all of the following:
An experienced, English-speaking trek guide and assistant guide as well as a porter

A -20°C sleeping bag for use on the trek

All

transport from the moment you step foot in Nepal

All

accommodation while in Nepal, based on double occupancy

Almost all meals, as described below

Annapurna Conservation Area Permit

Trekker's Information Management System Permit

Group medical supplies
We elaborate on the items listed above to explain their scope and importance for understanding the Annapurna Circuit cost ...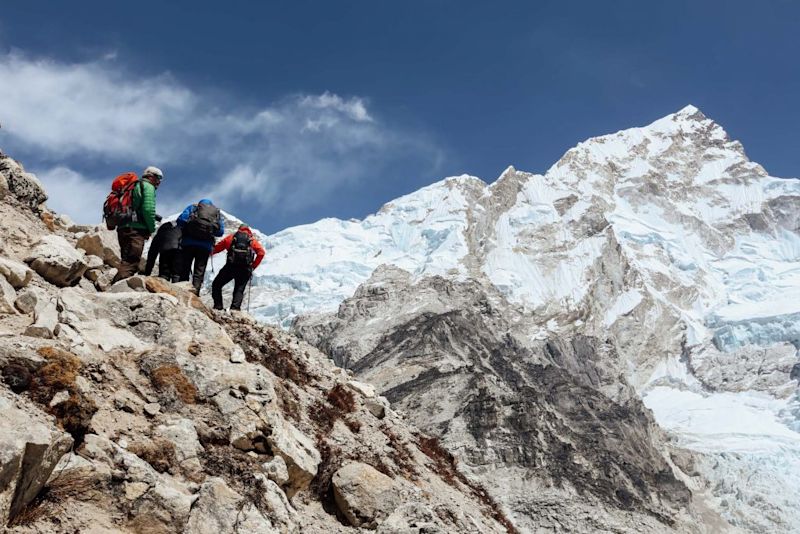 1. Trek guide, assistant guide and porter
Every Follow Alice Annapurna Circuit trek comes with a highly experienced lead guide, an assistant guide, and porters.
Our lead guides speak English, so you'll be able to communicate with him or her on all matters. Your guide is with you for the entire trip. Any questions, concerns or difficulties you have during the trip can be tossed to him or her. While many trek the Annapurna Circuit without a guide, and do so safely, there are many very real pluses to trekking with a guide.
On numerous occasions the Annapurna Circuit trek has been voted the best trek in the world!
Firstly, trek guides are locals who know the landscape, wildlife, plants, people, religions and customs intimately. They point out animals and birds you might've missed, knowing their names and details about them. You will discuss the dishes that incorporate the wild herb at your feet, and learn facts about the glacier in front of you. A guide tells you why local farmers farm that vegetable in that way. And a guide explains the significance of the stupas you see, the prayer wheels you turn, the flags you admire.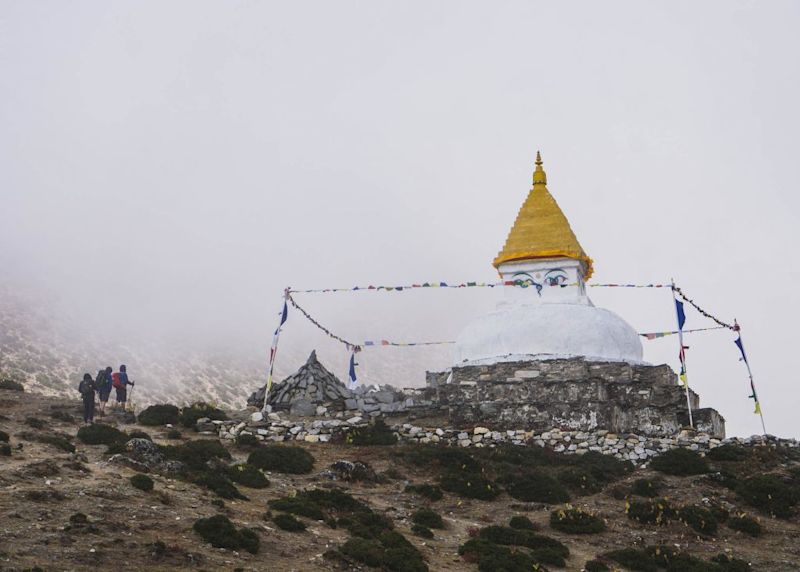 Guides also help you with practical matters, like knowing the spots to stand in to obtain the best cell reception. And if you're a suspicious eater, one of your guides can tell you what's in your food (though we can already answer that one for you: it's lentils!).
Guides can also alter the trek route when necessary based on things like a recent landslide or a crowded trail.
We arrange one porter for every two trekkers. This is standard practice. (As we discuss later on, while we pay their salaries, tipping your guides and porters is common practice and very much appreciated and even relied upon.)
Safety is of utmost importance
Most importantly, however, a guide is an expert trekker who makes your safety his or her primary concern. While it's uncommon, people have died trekking the Annapurna Circuit. This is a harsh landscape with extreme temperatures and dangerous altitudes.
Guides are important because they understand the weather patterns of the area, know the hazardous spots in the trail, and are the first to spot the warning signs of serious altitude sickness.
The only remedy for moderate to severe altitude sickness is to descend in altitude, and if your guide says you need to descend, then we're afraid you need to do as told. Safety always comes first.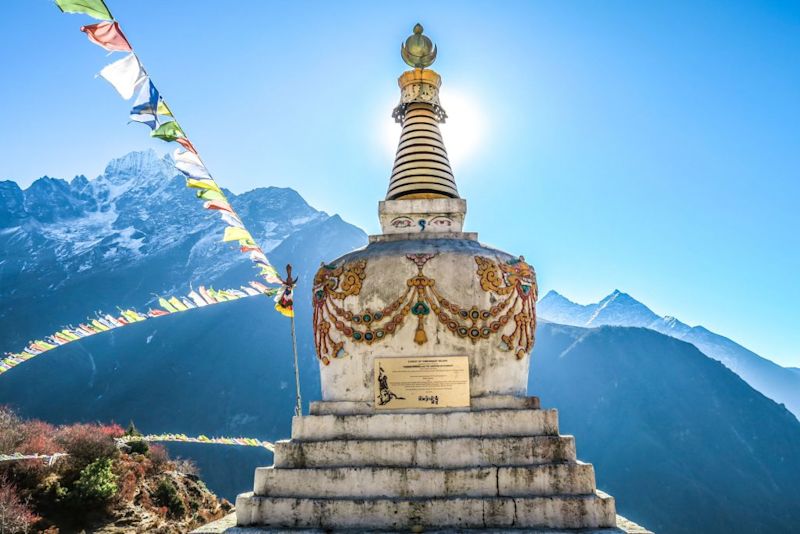 There are strong Tibetan Buddhist ties and traditions in the higher, remoter parts of the Annapurna mountains
2. Use of a -20°C sleeping bag
We've designed our own four-season Follow Alice sleeping bags which we loan to you for the duration of the trek. These can keep you warm in temperatures as low as -20°C (-4°F)! Your sleeping bag is a truly vital piece of equipment, as we discuss in Annapurna Circuit packing list.
While we do of course clean the bags between treks, it's always a good idea to pack a sleeping bag inner or liner, even if using your own sleeping bag.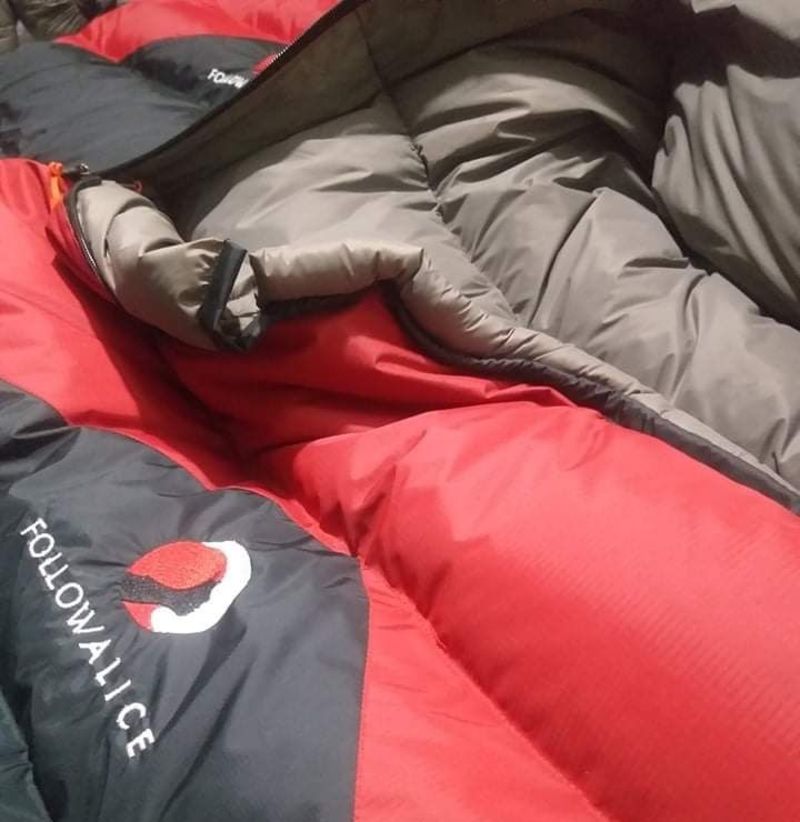 You can see how plump and cosy our Follow Alice sleeping bags are
3. All transport
From the moment you step outside the airport, we have all your air and ground transport covered. You can expect taxis, a private vehicle, a light aircraft, and a standard airplane. (There are no trains on our route, in case you were wondering about that.)
We've also organised porters to carry your bags on the trek, as mentioned.
In fact, the only transport we can't offer is piggybacks. When it comes to trekking days you'll have to transport your body yourself.
Flight from Jomsom to Pokhara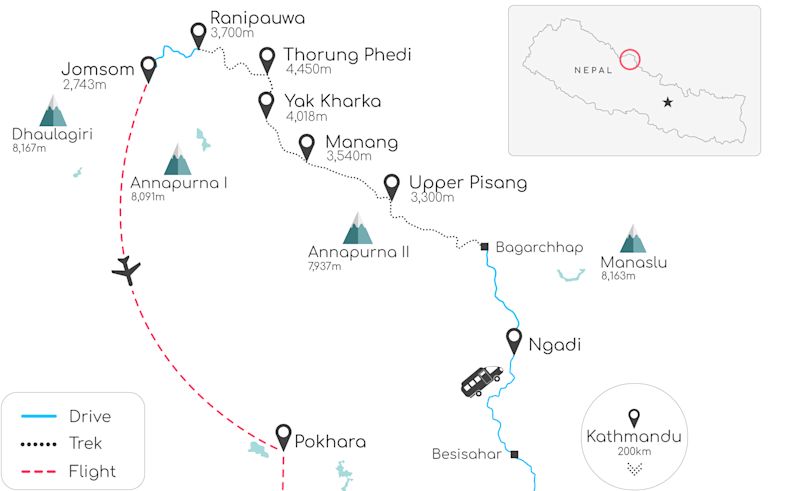 You can anticipate a truly fantastic flight from Jomsom to Pokhara (see the map above). We fly out of Jomsom Airport, which has a single runway suitable only for short takeoff and landing aircraft. Planes leaving Jomsom fly only to Pokhara. The runway in Jomsom lies adjacent to the Kali Gandaki River, which eventually feeds into the Ganges.
Given that we fly during the day, and the plane winds through the Kali Gandaki River gorge, you have awesome views of the peaks above you and the valley below. And since the plane is small, you're never more than one seat from a window. The descent to Pokhara Airport over the city is also very special.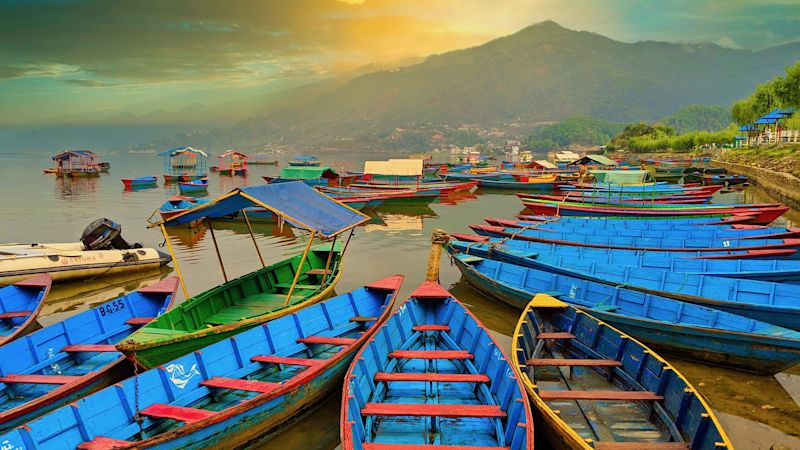 Pokhara sits on the shore of beautiful Lake Phewa
Note that when we say all your transport in Nepal is covered, we really do mean it. We'll fetch you from the airport on arrival day and drop you off at the airport on departure day.
This trip definitely exceeded expectations; hiking 200 km around the Annapurna ranges was an experience I'll never forget. The guides, porters, food and accommodation were all amazing.
– Rex Bennett
3. All accommodation
All of your accommodation while in Nepal is covered by your Follow Alice trip fee. Every type of accommodation is based on double occupancy. You will be sharing a room with a fellow Follow Alice trekker, all the better to bond over the day's experiences and ensure nobody oversleeps.
Here's what you can expect in terms of accommodation each night during your Annapurna trip ...
Day 1: Kathmandu, hotel
The hotel is in Thamel, a busy area of Kathmandu with lots of shops, cafés, restaurants and narrow alleys. This is a good place for picking up a local SIM card and also renting any trekking equipment you might need. (Though remember that we loan you a sleeping bag as part of your package fee.)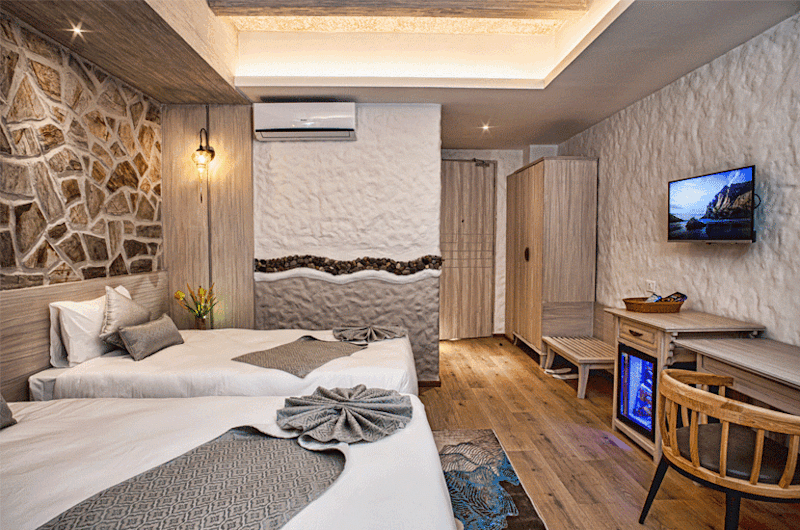 We usually have clients stay at Arushi Boutique Hotel during their time in Kathmandu
The night of your arrival you'll be staying at a hotel in Thamel. This is the main tourist area and is pretty central in Kathmandu. It's very visitor-friendly and has a vibrant nightlife scene.
Many trekkers acquire various types of equipment in Thamel on their way to the Himalayas. There are plenty of shops stocking high-altitude trekking gear for purchase or rental. We discuss the equipment you'll need for the trek further on in this blog post, but just know that this is the moment you'd pick it up if you decide to go this route.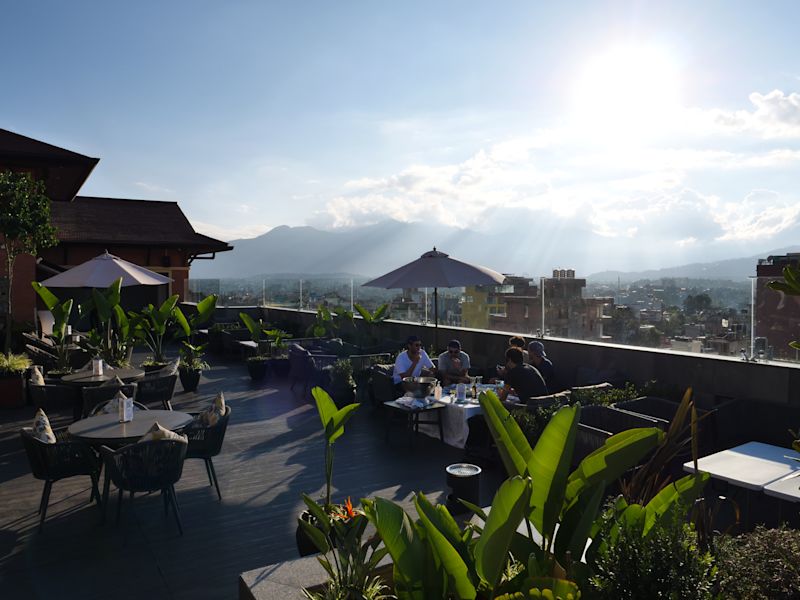 Arushi Boutique Hotel has a lovely roof terrace and pool
Day 2: Jagat, teahouse
We're driven to Jagat, a small village in the Marsyangdi River valley that sits along the main Annapurna Circuit trekking trail. We stay in the first of many teahouses here.
Teahouses are guesthouses or lodges. We discuss them in a little more detail in just a moment.
What's fun about teahouses in Nepal is that each is individually owned, and so varies in terms of architecture, size, amenities and food. This makes it easy to remember each one specifically when recollecting your time on the trek.
Day 3: Upper Pisang, teahouse
We're driven along a twisting road to reach the village of Pisang in the Marysangdi Valley. We stay in Upper Pisang, the section of the village up on the mountainside, which is popular with Annapurna Circuit trekkers as the views are just spectacular.
Tomorrow morning we start trekking!
Day 4: Manang, teahouse
We trek via the historic town of Nyawal to reach the town of Manang. This is the largest settlement for many miles and is used by most Annapurna Circuit trekkers as an acclimatisation stopover. The town offers fantastic views of the mountains Annapurna III and Gangapurna.
Day 5: Manang, teahouse
This is an acclimatisation day, so we stay at the same teahouse in Manang (but we do go on a challenging day hike to the beautiful Ice Lakes).
Day 6: Manang, teahouse
We have another acclimatisation day in Manang (and so a third night at the same teahouse). We can hike to Gangapurna Lake (a short hike) and then also visit the Himalayan Rescue Association Clinic to learn about their work in the Annapurna Mountains.
Day 7: Yak Kharka, teahouse
We trek up to Yak Kharka, a small village along the trail that's primary trade is hosting trekkers.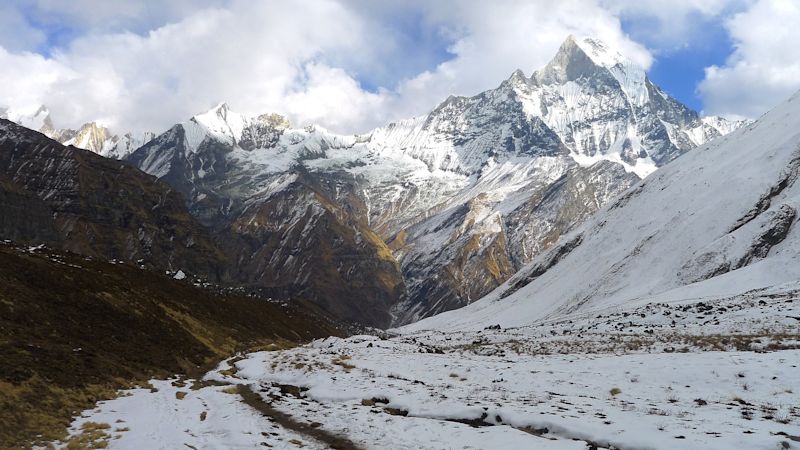 No matter the time of year, always ensure you pack the necessary equipment for snowy conditions
Day 8: Thorung Phedi, teahouse
Thorung Phedi is our last pit stop before summiting the mountain pass of Thorung La. You can expect it to be very, very cold tonight!
Day 9: Ranipauwa, teahouse
Today we reach our highest altitude on the trek as we cross the mountain pass Thorung La! We then descend a long way to the village of Ranipauwa where we overnight. Here we're in the extremely harsh environment of the Mustang District.
Day 10: Jomsom, teahouse
We hop in a vehicle and are driven south to Jomsom, a small airport town in the Kali Gandaki Gorge.
Day 11: Pokhara, resort
This morning we take a short and awe-inspiring flight through the Kali Gandaki Gorge to the lakeside city of Pokhara, popular with domestic and international tourists alike.
At the resort in Pokhara you'll feel like you landed on a cloud after your arduous trek. After the dirt trails and barren mountain slopes you might in fact be blinded by the shine of the floor tiles, the blueness of the swimming pool, or the whiteness of the napkins. And not just because of where you've come from.
We usually try to get clients into Mount Kailash Resort, which is a plush landing spot no matter where you were before! An award-winning, 3-star establishment, it offers all the modern amenities you'll be craving by this point, like a bathtub, laundry service and bar. If this resort is full, we'll book you into somewhere similar.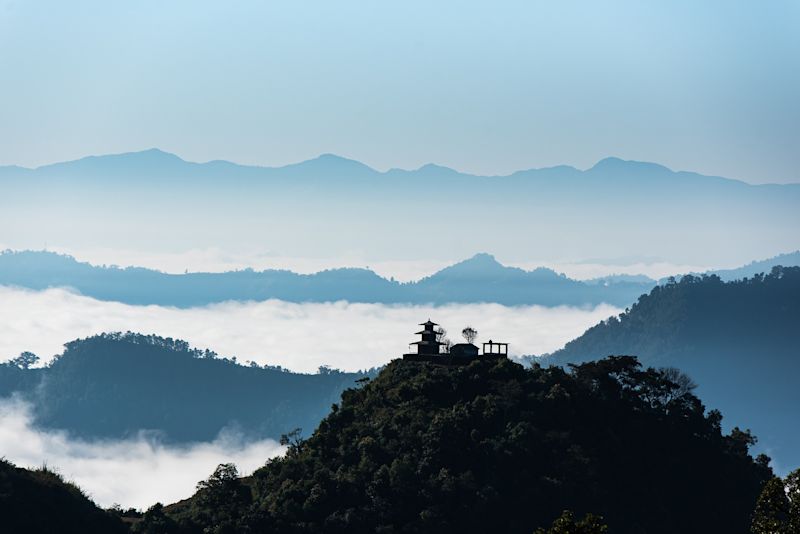 View of the hills and mountains surrounding Pokhara
Day 12: Kathmandu, hotel
We fly from Pokhara to Kathmandu, and explore the city. Please read Annapurna Circuit route for some suggestions of what you might like to do on your Kathmandu day.
At the hotel in Thamel you can spend another evening languishing in suds or doing whatever other luxury activity you discovered you missed the most on the trek. Spa treatment? Dinner at a nice restaurant? It's all possible!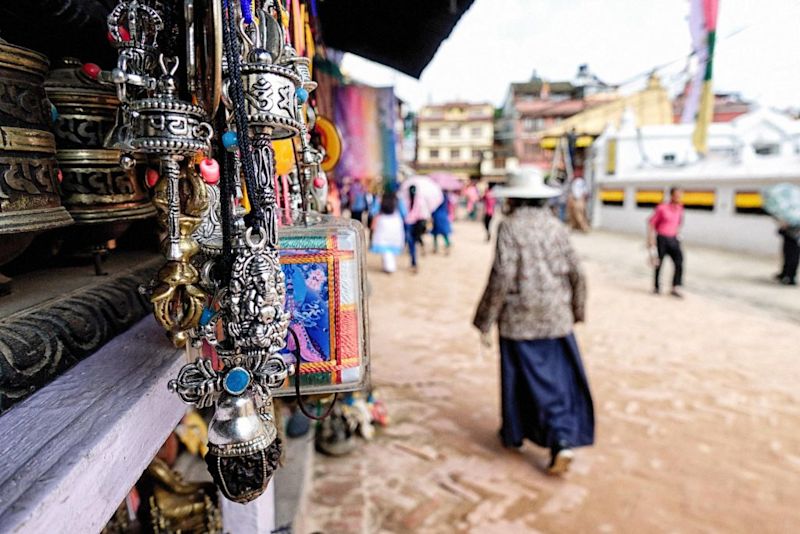 Colourful trinkets, flags and busy local stalls are all common sights in Nepal
Day 13: Departure
We drive you to the airport for your flight home.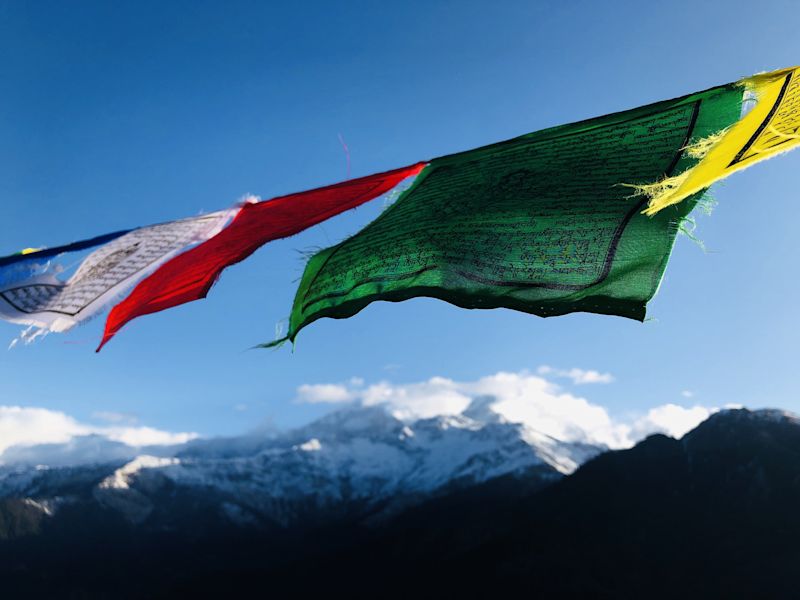 Tibetan prayer flags can be seen everywhere along the Annapurna Circuit
Teahouses
When we leave Kathmandu, all accommodation until we fly to Pokhara is teahouses (lodges). The good news is that all the teahouses along the Annapurna Circuit have electricity. Though not all offer electrical outlets in the bedrooms. When this is the case, you'll have to charge appliances in the common rooms.
Some teahouses along the Annapurna Circuit offer Western-style ablutions, while others provide squat toilets. Some even offer ensuite bathrooms, which is quite the luxury when trekking!
Ever done the Everest Base Camp trek? The teahouses along the Annapurna Circuit will actually feel a bit Ritz-y in comparison, as they tend to have larger rooms and more and better amenities. That said, don't expect water jugs with mint sprigs and slices of apple and lemon. Teahouses are very modest, independent affairs, and this is part of their appeal.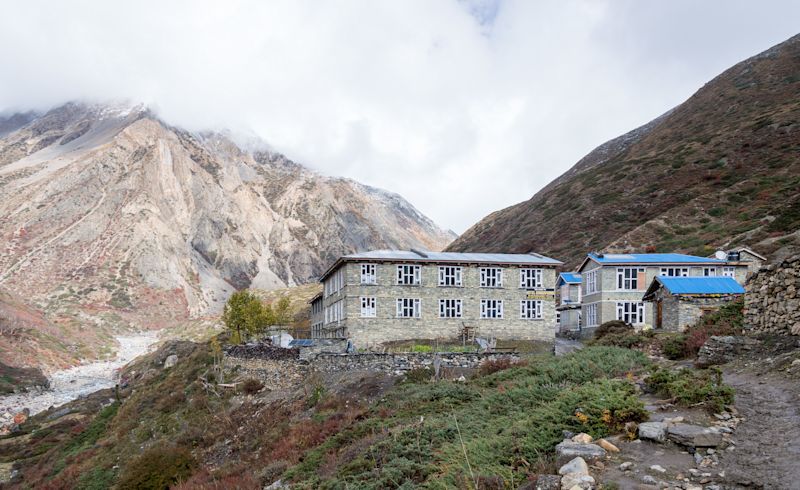 Teahouses (or lodges) dominate the village of Yak Kharka
5. Almost all meals
As part of the Follow Alice package fee, you're given breakfast, lunch and dinner from the start of Day 2 up until (and including) breakfast on Day 11. The meals we don't include are some of those in Kathmandu and Pokhara, where people often like to eat out at different restaurants. In this way you can choose the sort of eatery you fancy.
During the trek itself we eat dinners and breakfasts at the teahouses. This is actually expected of you. The accommodation itself costs almost nothing, but is priced this way with the understanding that you'll purchase your dinner and breakfast at the teahouse.
Some days we eat lunch at a restaurant or cafe en route, while on others we have a packed lunch made for us by the teahouse we're departing.
Meals at teahouses are usually served in a heated common room where you have the chance to meet other trekkers working their way along the Annapurna Circuit. It's fascinating to chat with people from far-flung countries and all walks of life who have at least one common interest with you: trekking. While your primary bonds will doubtless be forged with your fellow Follow Alice trekkers, you can expect many other wonderful meetings if you're open to them.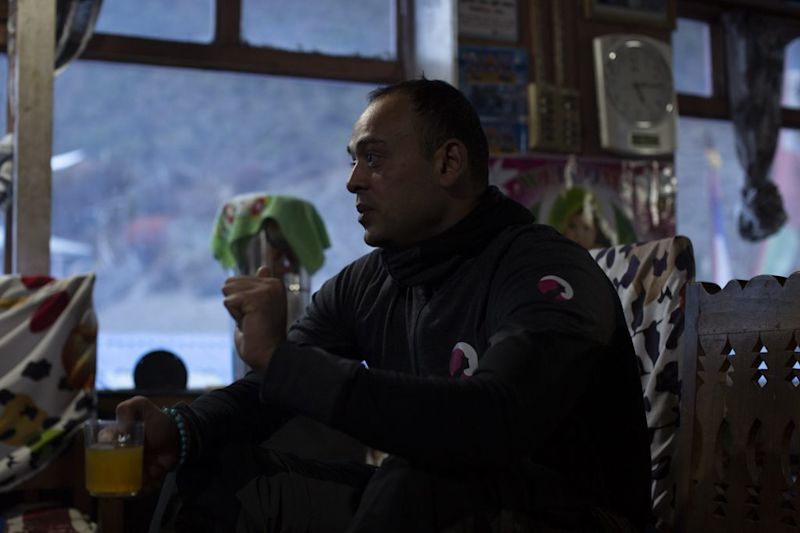 Salo telling a story during mealtime in an Annapurna teahouse dining room
Often other trekkers – whether trekking on their own or with another tour operator – will be following a similar itinerary. So you sometimes meet up in the same villages and teahouses and wind up sharing news of noteworthy blisters, prickly plants and close encounters with yaks.
Dal bhat
You can expect a good deal of dal bhat along the trek. Dal bhat is a traditional Nepalese meal consisting of steamed rice, lentil soup, and a side of vegetables. It's very tasty and filling.
You can expect a good deal of dal bhat along the trek.
When we reach Mount Kailash Resort in Pokhara, it'll be dinner and breakfast at the poolside restaurant. This will possibly be followed by amplified stories of the trek at the bar. At Yatri Suites and Spa in Kathmandu, on our final night together, you'll enjoy a complimentary breakfast buffet, which offers local as well as Western dishes.
Rough meal costs
Note that for the meals that aren't covered by your Follow Alice Annapurna Circuit trek fee, you'll have plenty of choice as to where to eat in both Kathmandu and Pokhara.
A meal in Thamel, Kathmandu, will set you back by about Rs 250 (€2). A cappuccino costs Rs 200 (€1.60), an imported beer costs Rs 500 (€4), and a 330 ml Coke costs Rs 58 (50 c).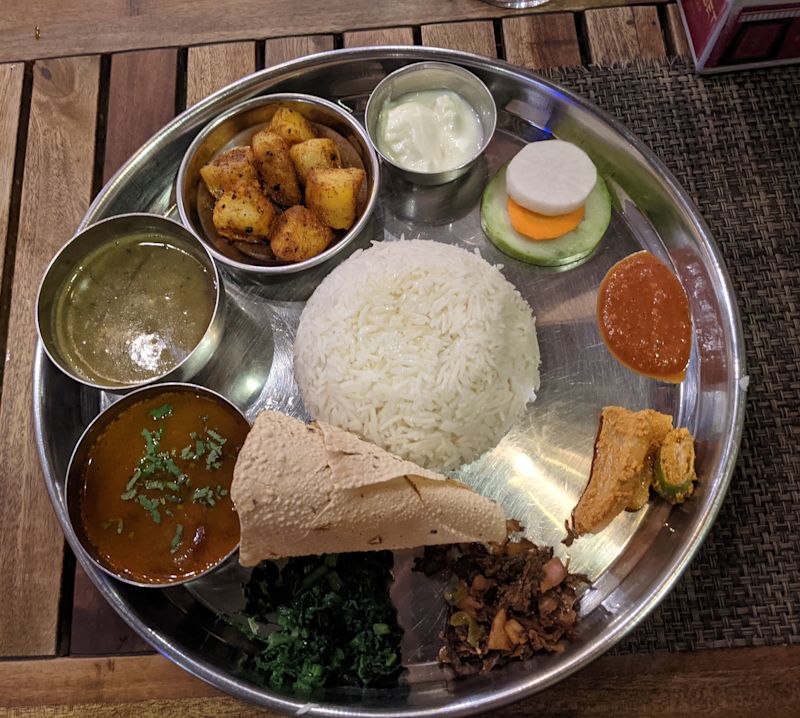 You're spoilt for choice when it comes to dining Kathmandu
Eating local cuisine is far more affordable than eating at an international franchise like McDonalds; a combo meal at McDonalds is about Rs 750 (€6). However, if you're too tired to venture out, our Thamel hotel has an Indian restaurant and a pizzeria, so dinner in slippers is an option too.
6. Annapurna Conservation Area Permit
Everyone undertaking the Annapurna Circuit has to purchase an Annapurna Conservation Area Permit, and so we take care of this for you. The Annapurna Conservation Area (ACA), established in 1985, is actually Nepal's largest protected area. It covers an area almost the size of New Jersey.
As of December 2021, an ACA permit costs NPR 3,000 (or around €23).
As I have always dreamed to be in the area surrounded with beautiful scenery, this was fulfilled when I achieved the Annapurna Circuit.
– Helen Taylor
As already mentioned, the ACA boasts many different climates and vegetation, and this is because elevations range from 790 m to 8,091 m. Really think about that: that's a difference of over seven vertical kilometres!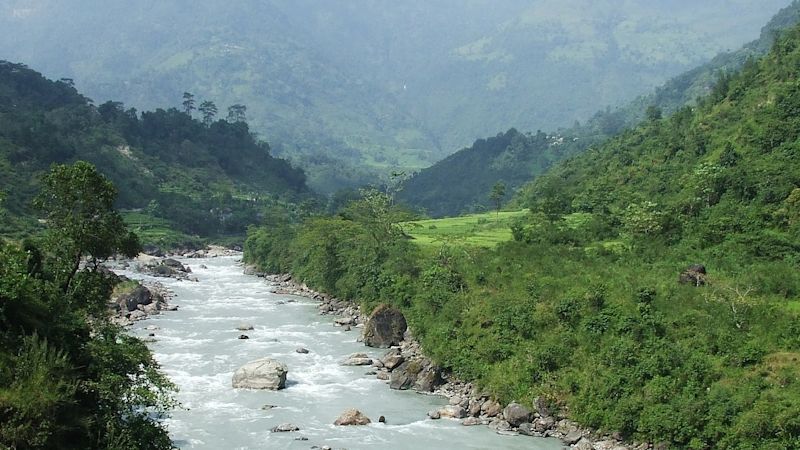 The ACA consists of various ecosystems, not just high mountains
In the centre of the ACA not only do you have Annapurna I, the mountain that reaches 8,091 m, but you also have numerous other enormous mountains gathered with it. Together they create a grouping of some of the world's tallest peaks, as though several mountain gods settled themselves down in a sociable ring.
We trek to the centre of these mountains on the Annapurna Circuit, so when you turn in a revolution you'll have an uninterrupted view of these steep snowy mountain gods.
7. TIMS Permit
To trek the Annapurna Circuit you must have a Trekker's Information Management System (TIMS) Permit from the government. We explain what this is in Nepal trekking permits and fees (2023).
We're happy to save you the hassle of obtaining a TIMS permit by doing it for you.
As of December 2021, this costs NPR 2,000 (or €15).
8. Group medical supplies
Your Follow Alice fee also covers basic medical supplies for the group. Your Follow Alice guide will carry with him or her. That said, we still advise taking your own little first aid kit that's stocked with your personal medical supplies as well as other essentials.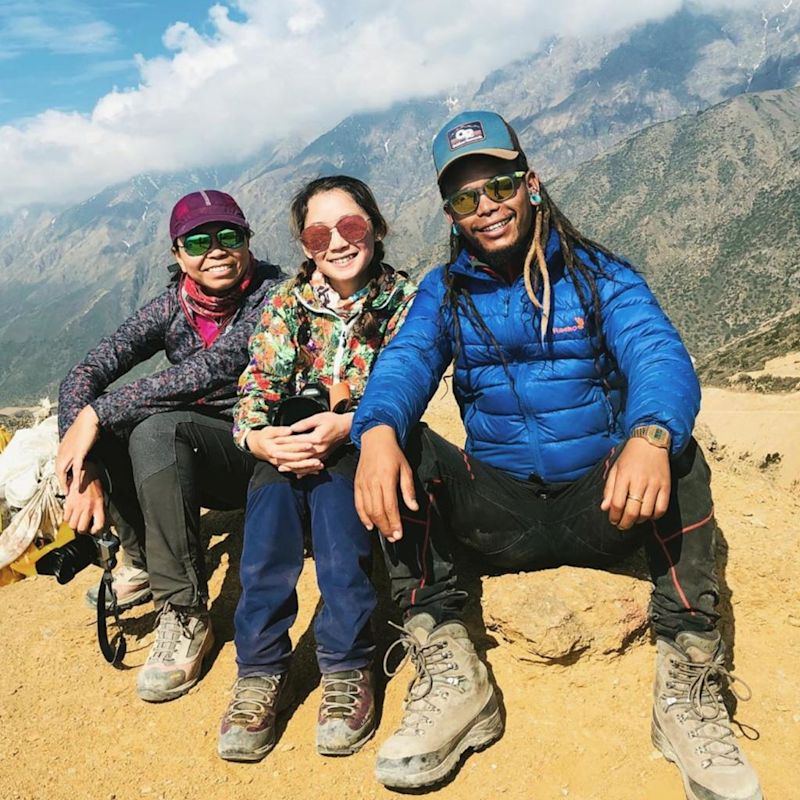 Our trek leader always carries medical supplies for the group
What's not included in the Follow Alice fee?
The things that are not included in the Follow Alice fee that you must (or should consider) purchasing are:
Trekking equipment and clothing

Nepali visa

Traveller's insurance

Local SIM card and data

Tips

Spending cash
1. Trekking equipment and clothing
There's a fair amount of equipment required to safely and successfully complete the Annapurna Circuit route, as we discuss in Annapurna Circuit packing list. From a sturdy backpack and trekking poles to thermal socks and sweat-wicking inner garments, you can't skimp on warm and durable clothing and equipment.
We have Follow Alice winter down jackets that you can rent for the duration of your trek for US$60. But do please let us know ahead of your trip if you want to rent one of these so that we can have it ready for you when you arrive.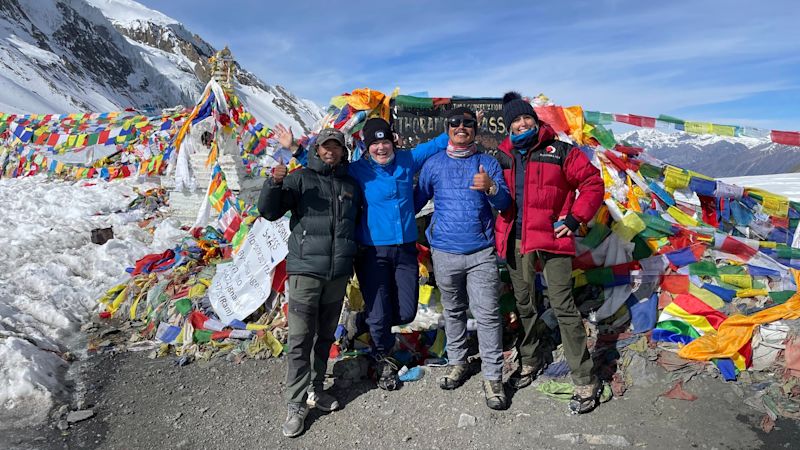 Our red and black Follow Alice jacket on display in this pic from Vonie and Amanda
As mentioned, we do however provide you with a suitable sleeping bag to use during the trek. Most tour operators don't do this, and you'll need to rent one if you don't have your own.
There's a fair amount of equipment required to safely and successfully complete the Annapurna Circuit.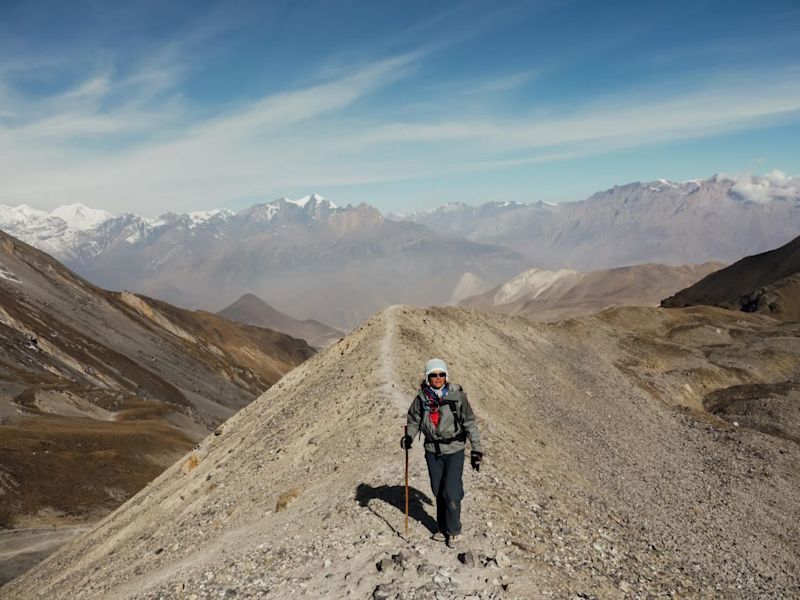 Trekking poles or a walking stick are a good idea on the Annapurna Circuit
2. Nepal visa
When it comes to getting a tourist visa to Nepal, you have two choices: acquire one from a Nepalese diplomatic mission in your country prior to flying to Nepal, or purchase one upon arrival at KIA in Kathmandu. The visa you want is a single-entry tourist visa for 15 days. As of December 2021, the Nepalese Department of Immigration website lists a single-entry, 15-day tourist visa when arriving through KIA as US$30 (or €27).
A 15-day tourist visa for Nepal costs US$30 (or €27).
Many opt to obtain a visa when they arrive at KIA, as the process is fairly simple. Though sometimes, like during peak tourist time, the queues can be quite long. That said, nationals of certain countries are required to obtain a visa before flying to Nepal. You'll need to check up on this online. If you obtain a visa before entering Nepal, note that your day count starts from the day you enter the country. Find all the details you need about obtaining a tourist visa for Nepal.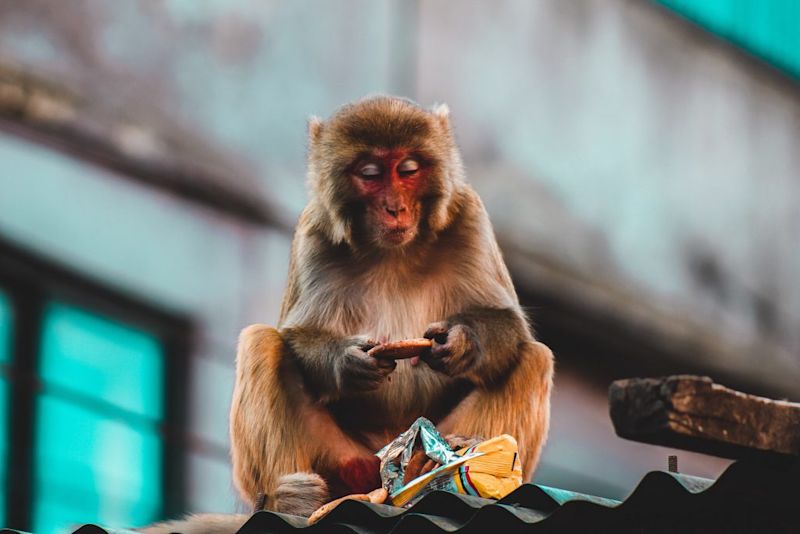 Keep an eye on the local Macaque monkeys – they will want your delicious treats!
3. Traveller's insurance
Traveller's insurance is a must for anyone doing this trek, and should be factored into your overall Annapurna Circuit cost. In fact, travel insurance is a requirement if you wish to undertake a trip with Follow Alice. This is because you're embarking on an adventure trip, so the risks are higher than when sipping mai tais on a sandy beach. Further, the Nepalese Government doesn't grant trekking permits without travel insurance!
When taking out travel insurance, we advise choosing one that offers cover for all of the following:
delayed, cancelled or interrupted travel

medical insurance

lost or damaged luggage
Delayed, cancelled or interrupted travel
This covers things outside of your control like a traffic accident preventing you from reaching the airport on time, a mechanical issue with your plane, or severe weather preventing the plane from reaching its destination. Delayed travel also covers missed connections that are out of your control.
Trip cancellation covers having to abort your trip beforehand for reasons such as injury, illness, severe weather, or a natural disaster or terrorist attack at your destination.
Trip interruption covers the costs involved when you have to abort your trip post departure, for any of the same reasons listed for trip cancellation. Both trip cancellation and trip interruption should also cover having to cancel or abort a trip as a consequence of illness or injury in terms of a travel buddy or close family member.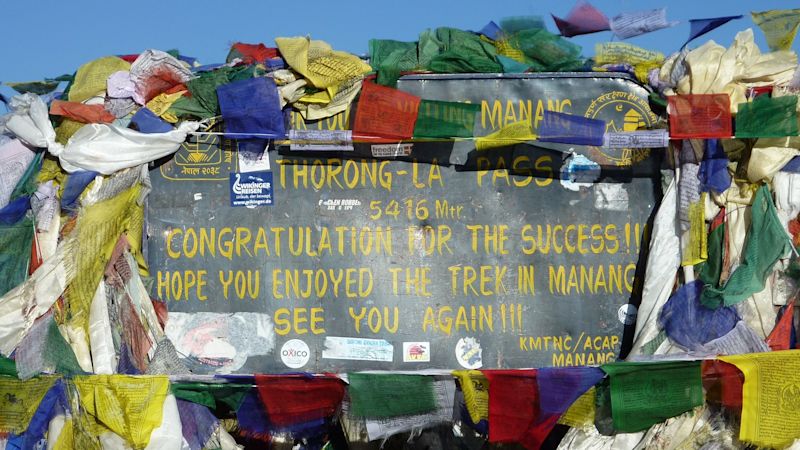 Your insurance should cover you for climbing up to 6,000 m because Thorung La, as seen above, is nearly that high
Medical insurance
Regular medical aids don't cover medical expenses incurred outside of your own country, which is why medical insurance is a critical component of any decent traveller's insurance. Note too that proper medical insurance covers medical emergency as well as medical evacuation (repatriation). This means that should you fall ill or be injured, your insurance will pay for all hospitalisation and doctor fees, as well as all transport to and from the hospital, including an ambulance service if necessary. The insurer will also pay to get you back home by whatever mode is required.
Nepal and the Annapurna Circuit in particular are like no other place in the world. This is truly a once-in-a-lifetime experience that is not to be missed.
– Dora Bishop
Lost or damaged luggage
The cover for lost or damaged luggage is important, as you can't trek the Annapurna Circuit without the proper gear! Both Kathmandu and Lukla have plenty of stores offering all the varied equipment you might need for purchase or hire, so should your luggage go missing you could use the insurance money to gather together what's needed and still continue on with your trip.
We recommend that you cover yourself to the tune of at least $200,000 for each of the above categories of insurance (except luggage) when taking out a policy.
Most of us at Follow Alice, as well as many of our clients, opt to buy travel insurance from World Nomads. We would, however, recommend that you also do your own research into finding a company that you feel offers comprehensive yet affordable insurance.
Whichever travel insurance you choose, we'll require you to send us the details of your policy well before your arrival in Kathmandu so that we can get to work on obtaining TIMS and ACA permits.
Credit card insurance
Note that many credit cards offer free, automatic travel insurance when you book your flights with them, so do look into this. The cover usually isn't enough on its own, but it's a useful extra. Also, pay special attention to exactly what is and isn't covered by your credit card to ensure your independent traveller's insurance covers all gaps and shortfalls.
4. Local SIM card and data
While not everywhere along the Annapurna Circuit has mobile coverage, a surprising percentage does. You can therefore expect connection for most of the trek except for the highest and most remote portions.
When we're on the trek, your mountain crew will be able to inform you as to when and where to find the best reception. Many teahouses and cafés along the circuit also offer free wi-fi. Sometimes you must purchase it.
In Nepal it's cheaper to buy a local SIM card than use international roaming.
We recommend purchasing a SIM card from one of the two main operators: Nepal Telecom or Ncell. SIM cards and data packages are extremely cheap.
Your Follow Alice guide will of course have a phone with him or her throughout the trip should an emergency arise, so you don't actually need a phone in terms of emergencies. Many trekkers embrace the circuit as a time to intentionally disconnect from the outside world. (We doubt anyone has ever spotted a yeti while texting.)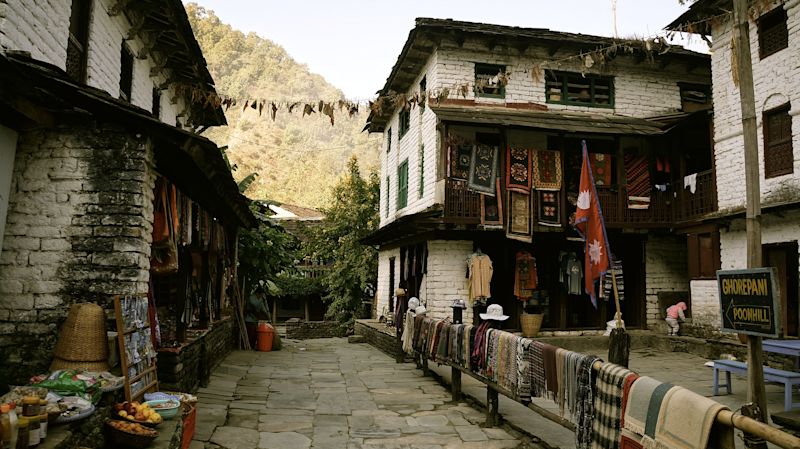 Many villages in the Annapurna mountain range have shops
5. Tips
While we will pay your mountain crew's salaries, it's common practice in Nepal to also tip guides when you're happy with the service. Suggestions as to amounts can vary, but we recommend the following amounts ...
For groups of five or more
If there are five or more of you in the trek group, we recommend budgeting about US$100 per trekker, which will be spilt among your guides and porters.
If there are only two to four of you in the group, we recommend budgeting a bit more per trekker. This is because the overall tipping amount per trekker is calculated in order to give each mountain crew member the following daily tip amount:
US$10 per porter

US$15 per assistant guide

US$20 per guide
Tipping etiquette
Did you know that etiquette in Nepal requires you to give money to someone with your right hand?
Obviously locals still accept money proffered with the left hand, as they know foreigners don't mean disrespect by the act, but it's respectful to follow this custom if you can remember it. And arguably even abiding by small customs like this help you to experience the local culture more fully.
6. Spending cash
The currency in Nepal is the Nepalese rupee, which is abbreviated as NPR or Rs. Note, however, the Indian rupee is also abbreviated as Rs, so if you google currencies don't get caught out by this. The Nepalese rupee currently has an exchange rate of about Rs 123 to €1, and Rs 113 to $1.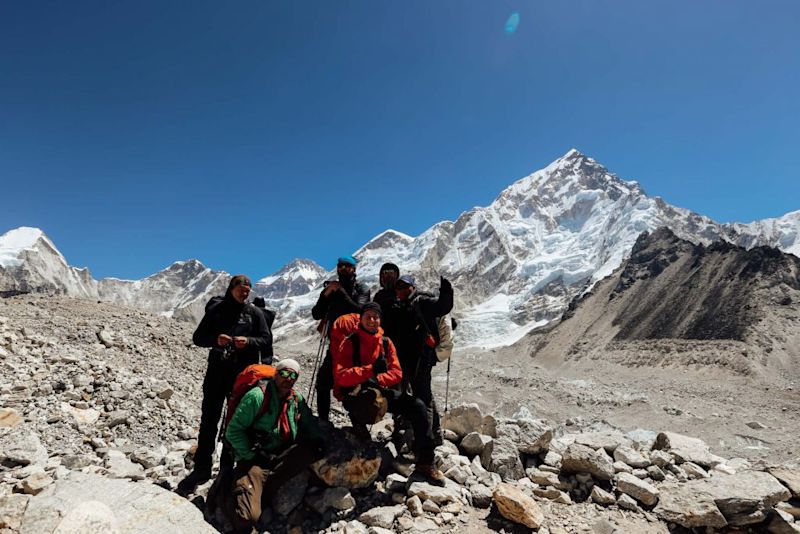 Amazing viewpoints and photo ops abound on the Annapurna Circuit trek
Foreign exchange
TIA Airport offers a money exchange service, so many people simply get the rupees they need when they arrive. Do note, however, that if you're wanting to exchange cash for Nepalese rupees then your notes must be in perfect condition to be accepted. Even a fold crease has been known to make them unacceptable. The foreign exchange desk also won't accept all currencies, though major and strong currencies like euros, pounds, dollars and yen aren't a problem.
ATMs
ATM fees can be very high and ATM skimming is a problem in Nepal. Given that you don't require much cash on the trek as Follow Alice deals with most payments on your behalf, we recommend acquiring the maximum amount you might need for your trip once off at your local foreign exchange or bank or at the foreign exchange desk in TIA.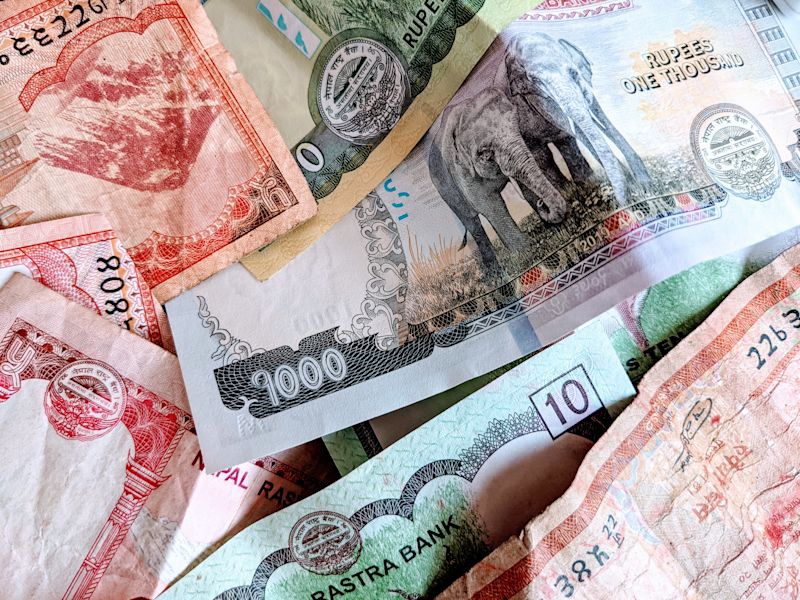 The local currency is Nepali rupees (NPR)
Cash
Note that Nepal doesn't accept traveller cheques, and most shops and vendors won't accept credit or debit cards, so it's definitely a good idea to have some Nepalese rupees floating in your pocket. As already mentioned, all food and drinks are covered by your Follow Alice trip fee, except for alcohol, soft drinks and of course any snacks you wish to purchase. As you already know from our earlier discussion on meals, food and drink in Nepal is incredibly cheap.
Other possible reasons for having cash are to buy and send postcards and purchase the odd souvenir. Even just €5 or $5 in cash per trek day should be more than enough to cover any bits and bobs along the trail or at the teahouse. And don't forget that our last night in Nepal is at Yatri Suites and Spa. Is it even legal to stay at a spa and not get a massage?
If you decide to tip the guide and porter, as discussed above, then you'll want extra cash for that too.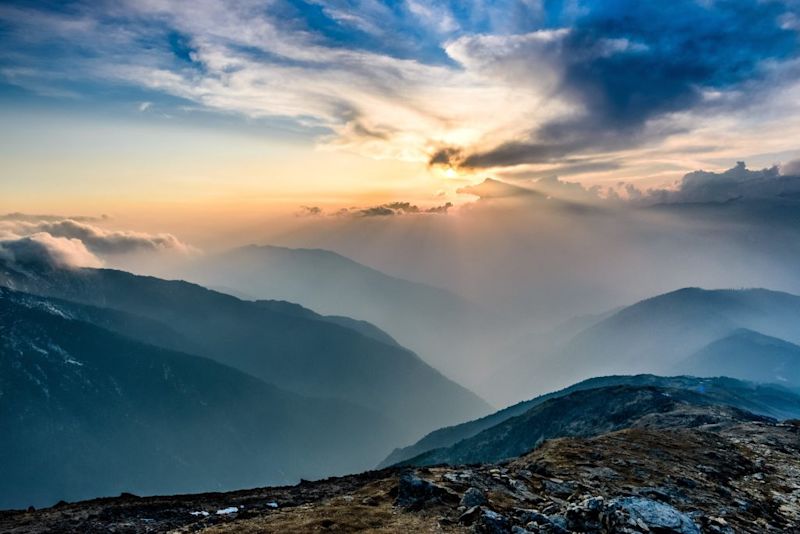 A breathtaking sunset over the Annapurna mountain range
Wisdom tells us that experiences are more important than things, and it's better to have stories to tell than stuff to show. Investing money in the Annapurna Circuit trek is about investing in the story of your life. It's about experiencing more of the world – its beauty, diversity and surprises – as well as building friendships and getting to know yourself better. We hope you'll join us in this epic adventure.
The Annapurna Circuit was a physically challenging but incredibly rewarding and wonderful experience. Jaw-dropping scenery of the Himalayas, delicious
dal bhat
, the kindness and openness of the people and culture, incredible staff and a fun group of people made this a trip I'll never forget.
– Susan Rhodes