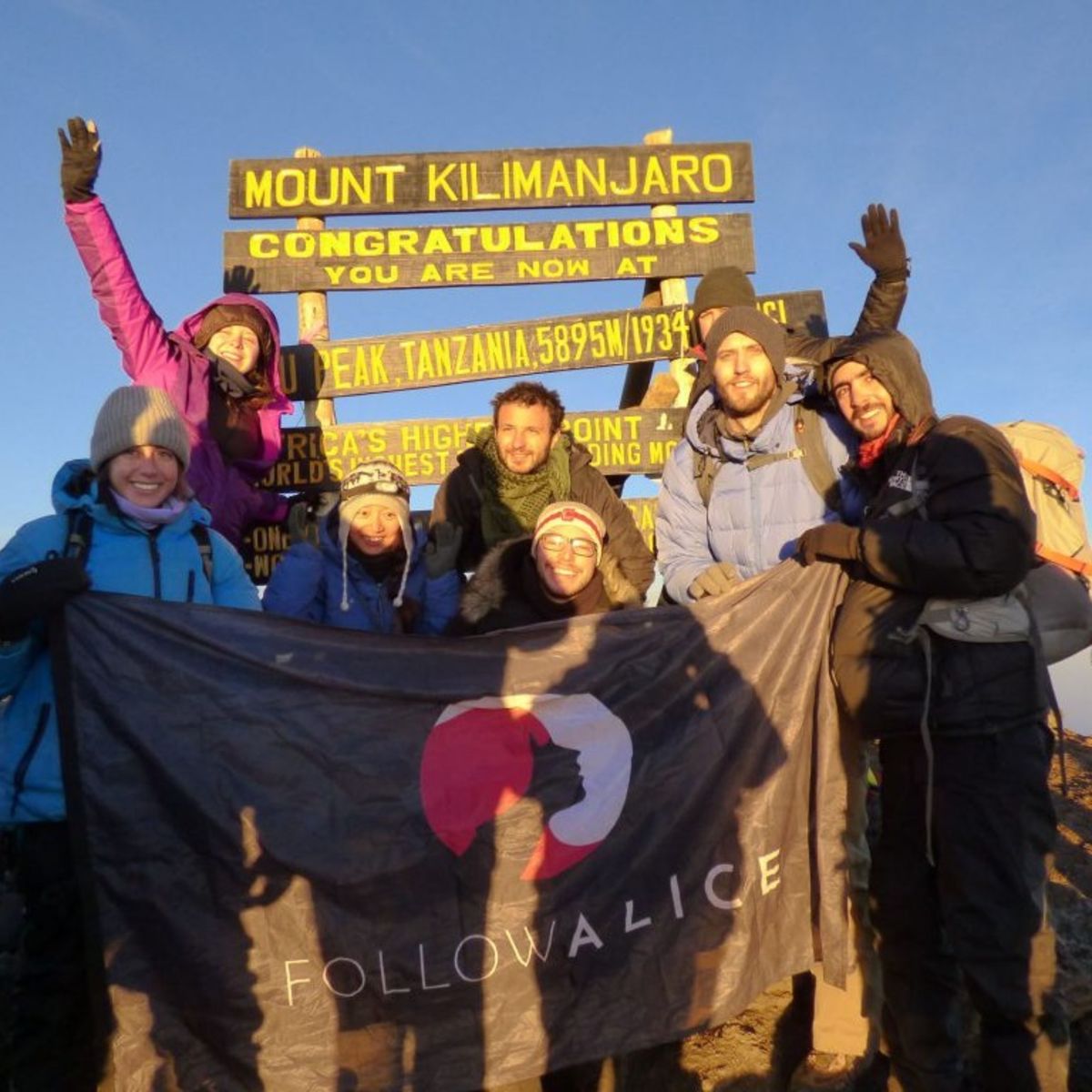 7 things Kilimanjaro taught me
Jul 7, 2022
Reading time: 6 minutes
Hi. Jenny here. 🙋🏻‍♀️ I climbed to the Roof of Africa with Follow Alice and summited on New Year's Eve! From mental obstacles to pushing physical boundaries, Kili is the teacher of many lessons. I want to share with you seven lessons I learned along the way.
Kilimanjaro is about being focused, setting a goal and pushing yourself. But in my opinion one of the most important lessons was to not be too hard on yourself. I'm an athletic person and although I had never climbed a real mountain in my life before, I did a good job on the top of Africa. But I can tell; I was not in my element on this mountain.
1. Be kind to yourself – all the time
I struggled a lot and I needed help with small things like repairing the zipper of my convertible trousers which almost made me lose my marbles. 😉 I realised that it is okay to not be a top performer in every situation. I learned to keep talking to myself with an empowering and no judgement inner monologue which helped me persevere.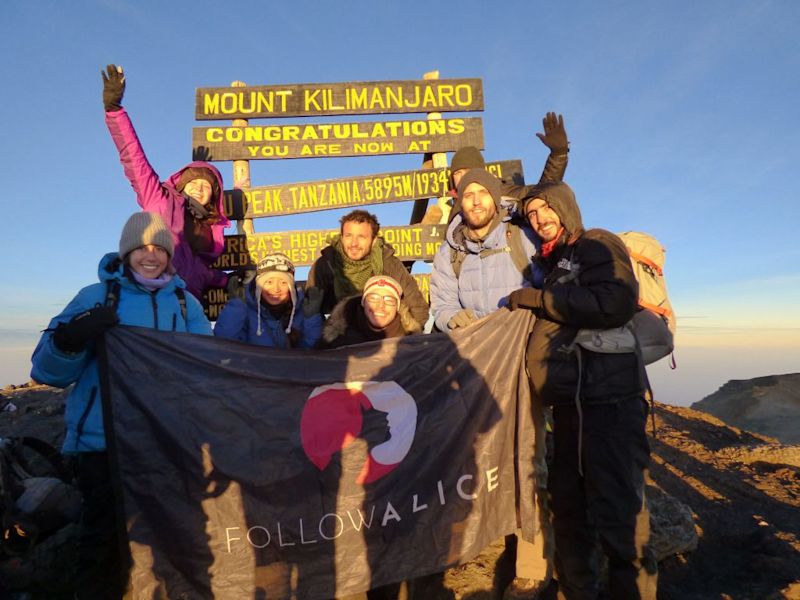 The victory pic!
2. Feel it all
What guides and porters tell you all day long is "Hakuna matata" or "Stay positive" – and although this is 100% true (it's not too big of a surprise that a positive mindset helps with getting through tough times), there's one piece missing: it's not only about feeling positive, it's about feeling it ALL.
In my experience, positive thinking is often understood as not having any negative feelings at all and pushing away doubts and fears immediately. But I would rather put it this way: the key is to first accept the shadow (as fears or pain) and even embrace it and THEN refocus on what's good and positive. The light then will automatically follow. On Day 2 (out of 8) I wanted to quit for the first time. I mean, not really (I'm not a quitter 😉 ) but I truly asked myself: why the hell am I doing this??? I was not in my best mental state, but I knew: vulnerability is part of the process and so I tried to accept it.
All of a sudden I knew: if it was only for this moment, it was already worth it.
So guess what: happy times were just around the corner. After a ten-hour hike I was rewarded when we arrived at camp; I saw this incredible night sky with billions of stars. It was just pure beauty and my mind was clear, peaceful, happy, forgiving and all of a sudden I knew: if it was only for this moment, it was already worth it.
3. See yourself as part of a team
I asked our great guide Chris for his opinion on why Follow Alice Kilimanjaro climbers were more successful than other companies. He had a very clear answer: we are all one team – guides, porters, climbers. Kilimanjaro is not an ego trip, it's a community goal that requires taking care of each other.
So thanks Chris and Robert for letting us feel safe in every moment. Thanks @briecheesepls for acting as a wonderful host during meals, thanks Maria for asking me so many times if I was okay that day where I had a pinched nerve and had to climb "the wall". Thanks @dijanakokai for bringing me to bed every night. 😉 Thanks Emma for your funny stories, @m0286g for giving us the sweetest wake up calls) and @nosceilings for carrying my hiking poles, always watching my back and being the most thoughtful person on earth. Thanks for the hard and the happy times.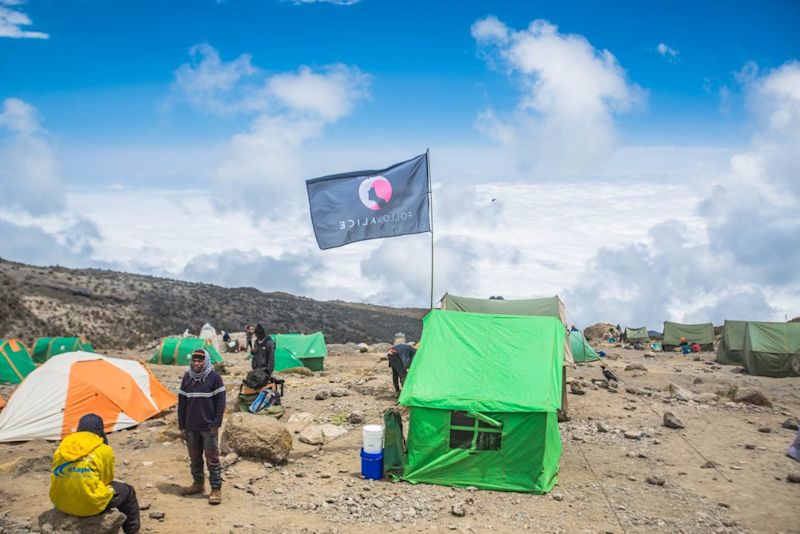 Chilling time at camp
4. Lose track of time
One of my new year's resolutions for 2018 was to feel the way I did in my childhood more often. We just had spent so much time in the woods, not caring about time and not trying to catch unforgettable moments with our mobile phones and cameras. Kilimanjaro was the perfect opportunity to break up with my phone. I didn't bring my iPhone and I didn't bring a watch.
For eight days I neither had a clue about what time it was, nor when I went to bed. It was quite an experience to feel the eternity of a day, the peace in yourself, the calm around you and the adventure of life.
5. Take care of your body
Before I went to Africa I had been asked several times if I was fit enough to climb 5,885 meters. As mentioned in my previous posts I think it's not the physical part that is the most challenging, but the mental one. Nevertheless I was aware of how important it is to prepare my body in order to have enough energy, to be strong enough to deal with emotional issues and to avoid altitude symptoms.
So I figured out three important things:
I feel assured to not have taken any medicaments, altitude pills or pain killers due to the possibility of side effects. I decided to follow the advice of an ultra mountain runner and opted for natural and high quality (!) supplements with different vitamins, minerals, amino acids and iron. During 8 days I had no altitude symptoms such as headache, vomiting or breath issues.

I was drinking like a camel, at least 3-4 litres a day. I didn't allow myself to not have finished my camel bag by the time we arrived at the camp every day.

To eat is king. We have been served by a great cook 2-3 times a day (!) - of course with pleeeenty of carbs.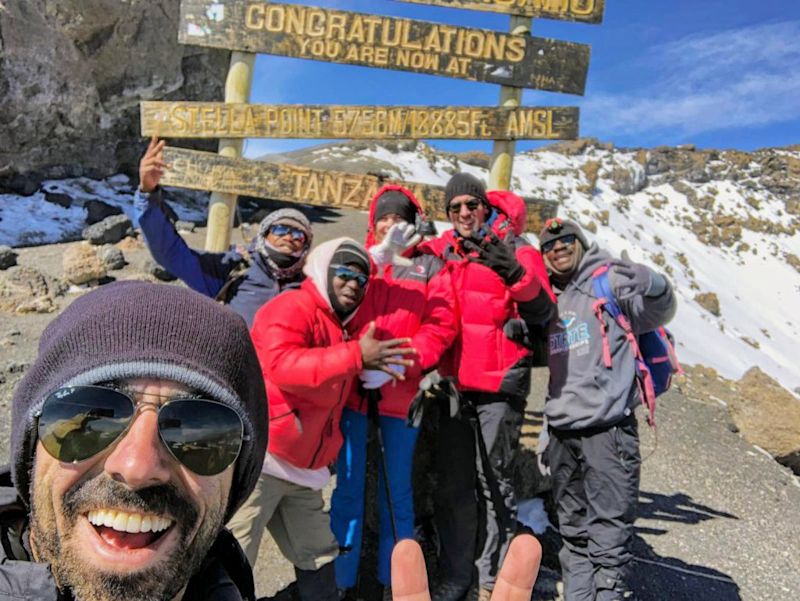 We made it to Stella Point!
6. Take it 'pole, pole'
Short and simple: Kilimanjaro is not a sprint, it's a marathon – and so is life. Although I have to admit I looove to sprint in order to create momentum, success (however success is defined) is about thinking and visualising long term, keep going and never giving up, even if it is a long road.
7. Celebrate!
Don't hunt the next goal immediately. Be proud. Honour your victory. Share your accomplishments with your friends. Take your time to regenerate. Now you're ready to take a deep breath that gives you gratitude and energy for whats's next ...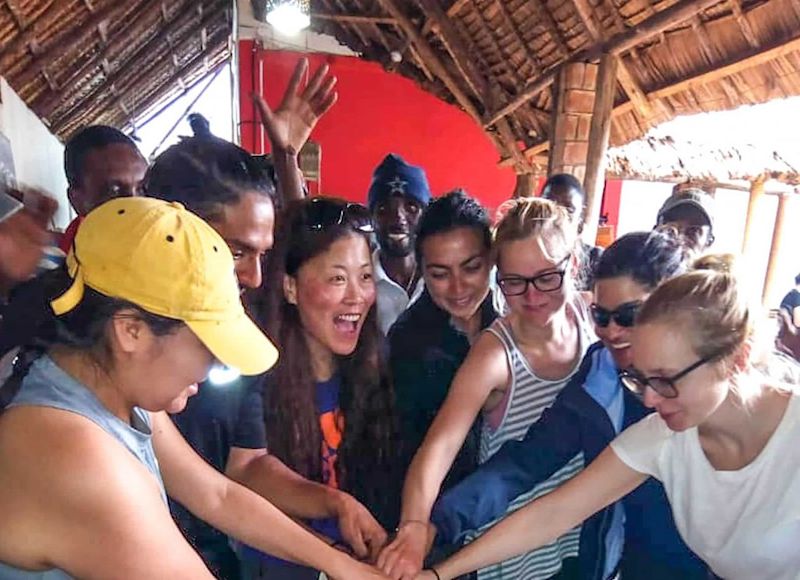 Always make time to celebrate
Here's my final thought ...
Short and simple: Kilimanjaro is not a sprint, it's a marathon – and so is life.
Thank you, Jenny, for sharing your phenomenal experience with us!
Having read her thoughts, are you keen to get those hiking boots out and join us on our next summit adventure?