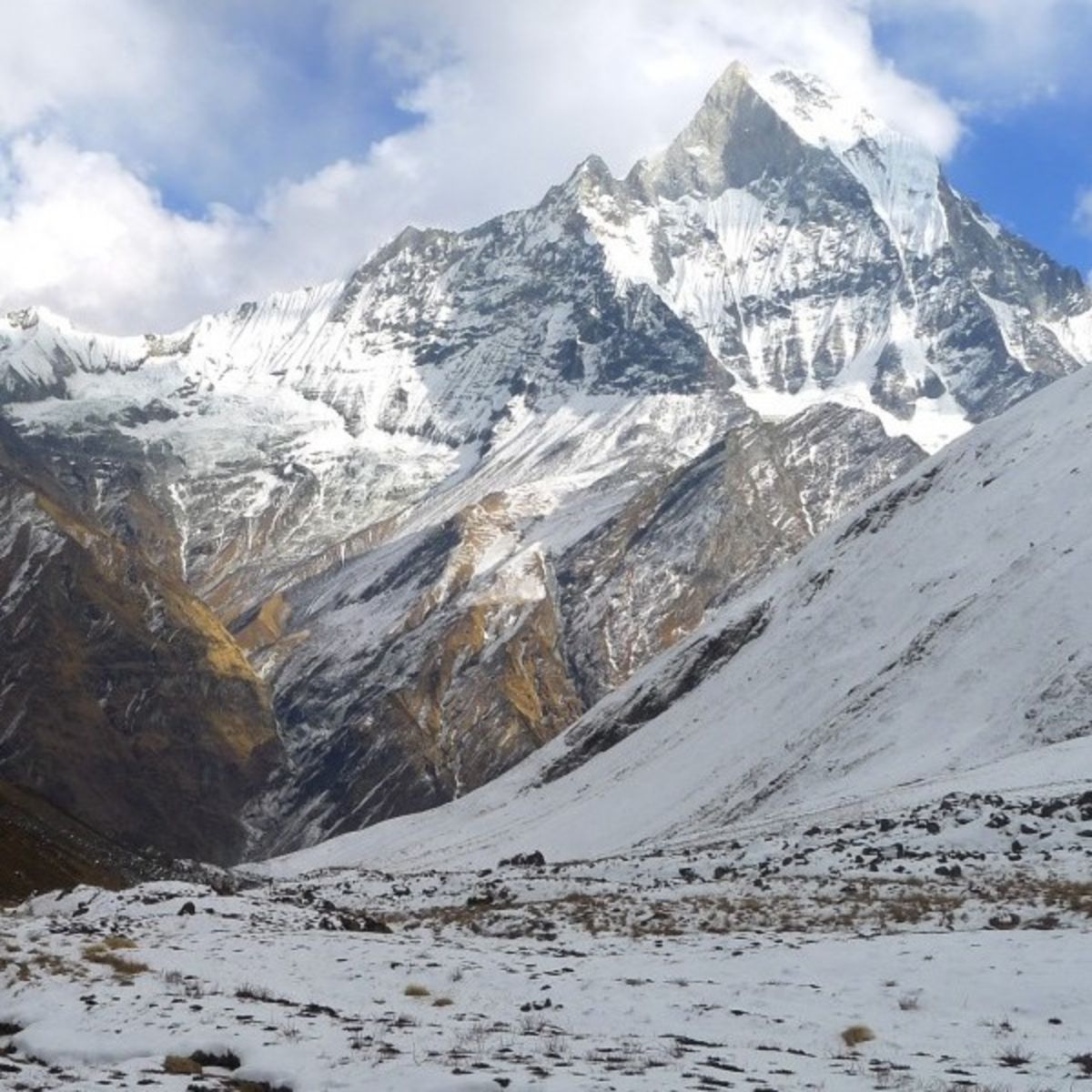 Is the Annapurna Circuit hard?
Jul 13, 2022
Reading time: 19 minutes
The Annapurna Circuit is a tough but totally doable and rewarding multiday trek in a remote part of the Himalayas. If you're thinking of doing it, you probably should!
Before investing time and money in travelling to Nepal, potential trekkers naturally want to know: is the Annapurna Circuit hard? The answer is yes, it's hard, but it's not too hard. It's a trek anyone with reasonable fitness can tackle and hope to complete. What makes it hard is not only the steep climbs and long distances, but also the altitude and, for some, the pared-down amenities. We discuss all the things that make the Annapurna Circuit trek hard, as well as ways to prepare yourself to make the trip as enjoyable as possible.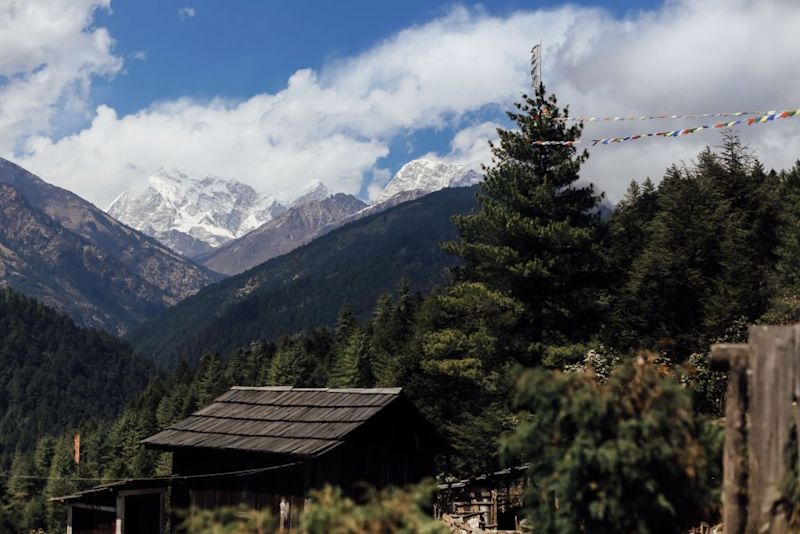 The Annapurna Circuit trek is something anyone with reasonable fitness can do
How many days is the Annapurna Circuit?
The Annapurna Circuit trek organised by Follow Alice is a 12-day trip that starts and ends in Nepal's capital, Kathmandu. The trekking portion of the trip involves six days of hiking and one acclimatisation day.
The is some driving and two short local flights included in the itinerary. There are necessary for getting to and from the Annapurna region, as Kathmandu lies roughly 175 km east of the mountain range. Kathmandu has the country's only international airport, and so this must by necessity be our starting point.
Mao of the Annapurna Circuit trip run by Follow Alice
Fortunately, the time spent on the road is exciting, as we pass through fantastic and varied landscapes. We also take a short plane ride through the world's deepest gorge, Kali Gandaki. Further, we stop at some great locations for lunches and overnight accommodations, including the beautiful lakeside city of Pokhara.
Pokhara is a popular tourist destination of its own. It has plenty of water sports on offer, many beautiful religious monuments like stupas to visit, and it has one of the world's longest zip-line rides.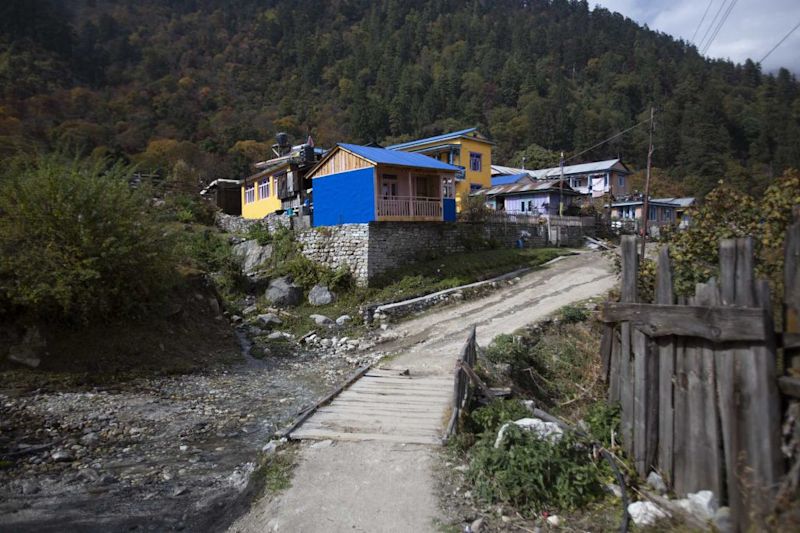 You start the trek in pretty green valleys
How far is the Annapurna Circuit?
The original Annapurna Circuit trek was over 200 km. Newly built roads have made it possible to drive much of that route, which is why few now trek the original route in its entirety. The part of the trek route that we hike at Follow Alice is the highest, most remote part. We begin the trek in Bagarchhap in the Manang District. We end it seven days later in the town of Ranipauwa in the Mustang District.
As already mentioned, one of the days on the trail is an important acclimatisation day. On this day we explore the sights of Manang, including the Himalayan Rescue Association Clinic.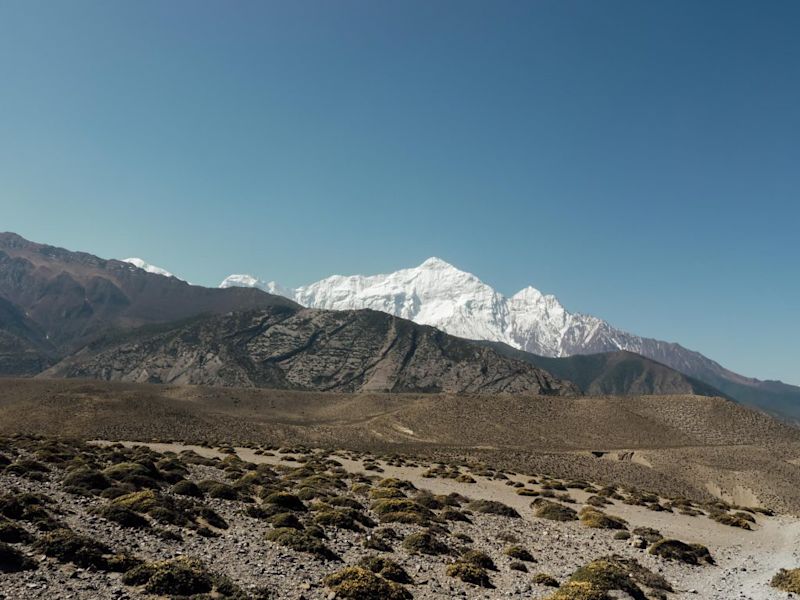 You trek long distances through mountainous terrain on the Annapurna Circuit
Annapurna Circuit itinerary
Below is an outline of our Annapurna Circuit trip itinerary, including the distances we cover each day.
Day 1: Arrival day – fly into Kathmandu
Day 2: Drive west to Ngadi.
Day 3: Drive to Bagarchhap in the morning, then trek 13.5 km (8 miles) to Chame in the afternoon.
Day 4: Trek 19 km (12 miles) to Manang.
Day 5: As part of your acclimatisation strategy, do a 3.5 km (2 miles) roundtrip hike to Kicho Tal (the Ice Lakes), then stay another night in Manang.
Day 6: Spend another day in Manang to help with acclimatisation.
Day 7: Trek 10 km (6 miles) to Yak Kharka.
Day 8: Trek 7 km (4 miles) to to Thorung Phedi.
Day 9: Trek 13 km to Ranipauwa, summiting Thorung La Pass (5,416 m) on the way! Drive south to Jomsom.
Day 10: Fly through the spectacular Kali Gandaki gorge to Pokhara. Explore the city or relax at the resort.
Day 11: Fly to Kathmandu in the morning and then explore the city for the rest of the day.
Day 12: Departure day – fly home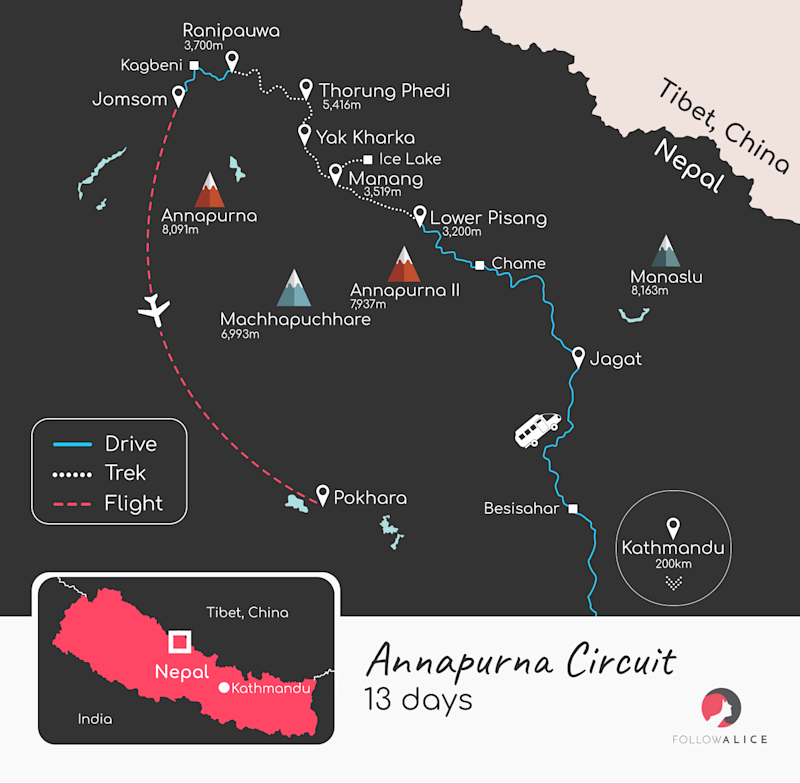 When driving west to the Annapurna region, we're driven in a private, air-conditioned vehicle.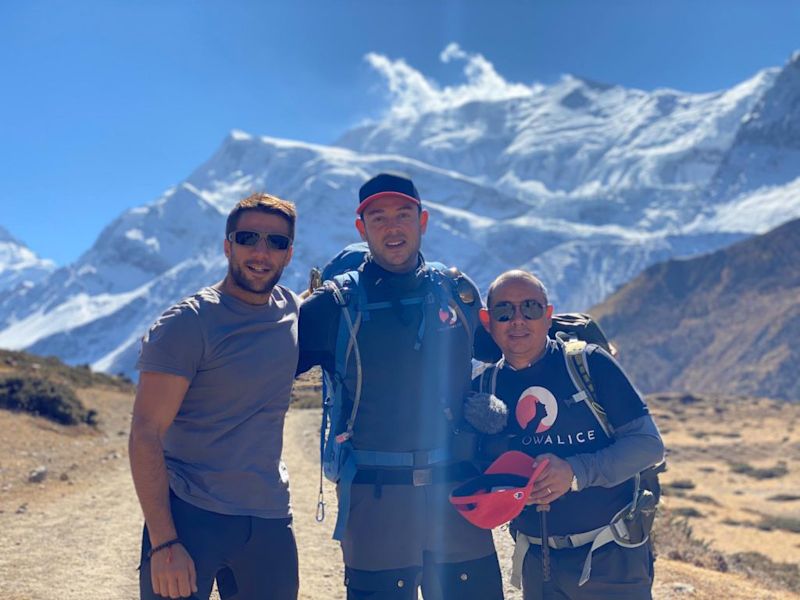 Sonam (right) is our highly experienced Annapurna Circuit trek guide
How high is the Annapurna Circuit?
The graph below shows the elevations of the trip, starting with our arrival in Jagat, which is in the Annapurna region, and ending with Pokhara.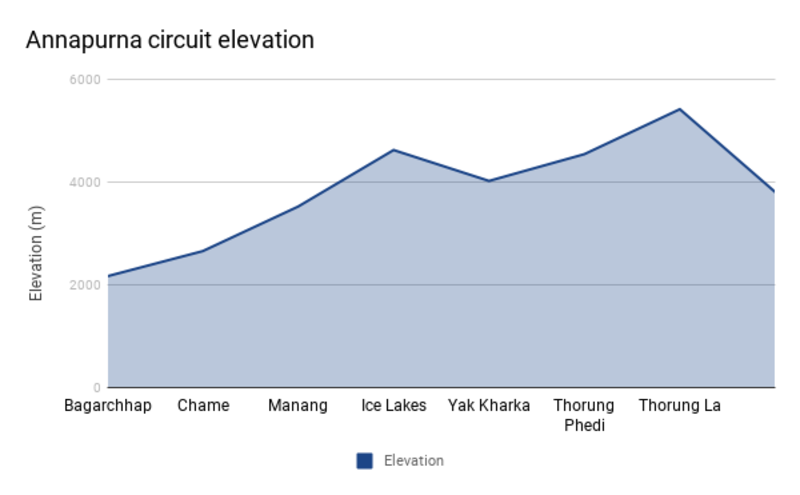 Elevation graph of the Annapurna Circuit trek
Part of what makes the Annapurna Circuit challenging is the distances hiked. Another part is the steep climbs and descents. We begin the trek at an elevation of 3,200 m. Over the trek we ascend to 5,416 m to reach Thorung La Pass, so that's a climb of over two vertical kilometres. We also hike up to 4,620 m to reach Kicho Tal (the Ice Lakes) during a day hike out of Manang, which sits at 3,519 m. That means we climb and descend over a vertical kilometre for one day's hike.
It's also important to remember that high altitude makes you tire more quickly. We discuss the effects of high altitude with you in detail in a moment. For now, we just want to point out that the distances hiked and heights ascended on the Annapurna trek will feel that much harder than normal. Think about this: every thousand metres you travel above sea level makes aerobic exercise 10% harder. We spend all of the Annapurna Circuit trek above 3,000 m. At 3,000 m, trekking is 30% harder than usual. And when we hike to Thorung La, it's 50% harder than usual!
Every thousand metres you travel above sea level makes aerobic exercise 10% harder.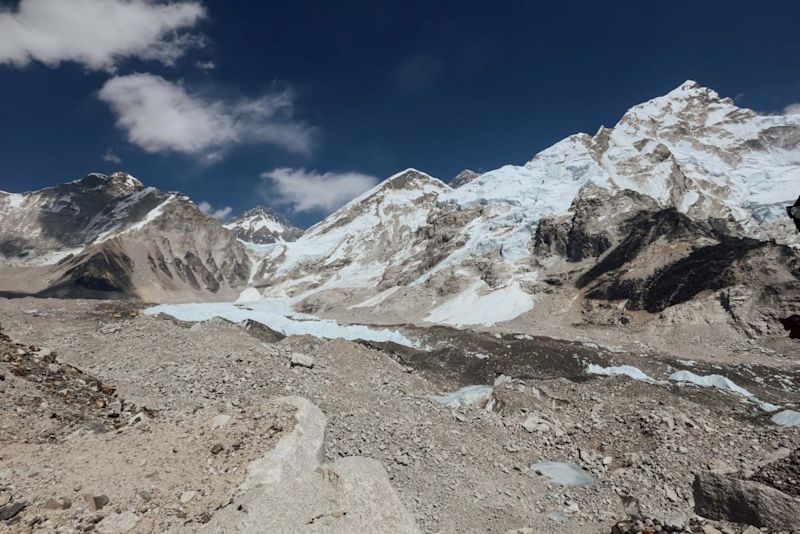 Trekking at high altitude is far more tiring than trekking at sea level because of reduced oxygen levels
Training for the Annapurna Circuit
One of the key ways to prepare for the Annapurna Circuit trek would therefore be to train as much as possible.
Training hikes
As you likely already know, walking on different surfaces affects your body differently. A treadmill, for instance, places less strain on your ankles, knees and hips as it offers a degree of shock absorption. Treadmills also don't strengthen your ankles in the same way that uneven surfaces do. So while training on a treadmill or paved surface is excellent exercise, in preparing for the Annapurna Circuit trek it's not as ideal as training in natural terrain. For this reason we encourage you to do actual hikes as part of your training.
Training hikes are also ideal as they let you test the socks, boots and backpack you plan to use on the trek. It's important to wear in your socks and shoes to check there are no niggles. The same goes for your backpack. These training hikes give you the chance to see if the pack 'works'. You also want to test out the hydration pack, to see there are no issues there. Hiking with a bag prior to the trek is also helpful in building up your shoulder strength. We recommend packing your bag with the belongings you'll bring on the Annapurna trek and going for increasingly lengthy hikes.
Training at altitude
One of the difficult aspects of trekking the Annapurna Circuit that most of us cannot prepare for is the altitude. As already mentioned, the higher the elevation, the slower you will walk, even on easy paths, simply because your body is battling with the low oxygen supply. If it's within your ability to do so, training at a higher altitude is desirable for preparing your body for the rarified Himalayan air.
Strength and cardio training
While long hikes are fantastic training for the Annapurna trek, they shouldn't form the entirety of your physical preparation. You should try to include cardio and strength training during the week. The fitter you are, the less oxygen your muscles need to move, and that's invaluable in the low-oxygen environment of the Himalayas.
We encourage you to really invest in your training beforehand as the stronger you are, the more enjoyable your trip will be all round.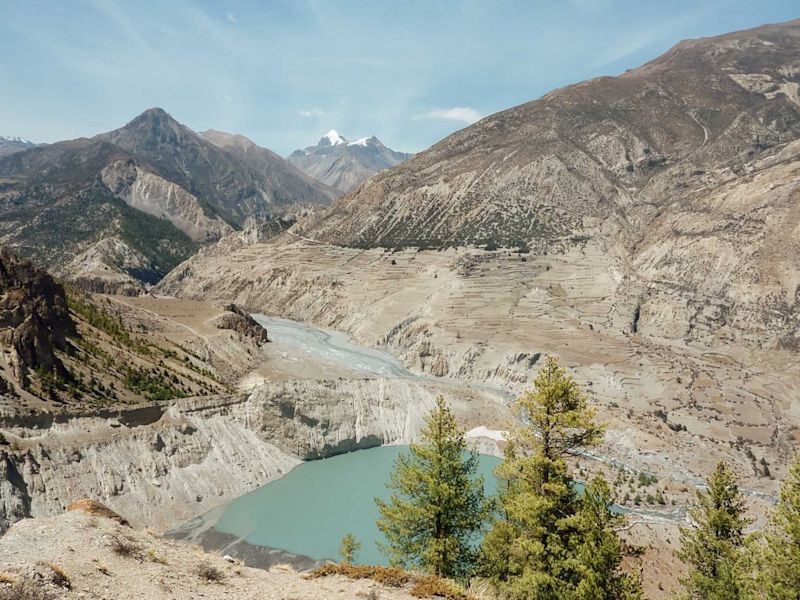 The more treks you can do beforehand in preparation, the better you'll cope with the demanding Annapurna Circuit route
Using a porter
The Annapurna Circuit trek can be made significantly easier if you choose to use the services of a porter to transport the bulk of your belongings. Follow Alice arranges for one porter per two trekkers, and this fee is worked into your Follow Alice fee. That said, if you'd prefer to carry all your equipment yourself, you're more than welcome to do so. Those using the services of the porter will pack the bulk of their belongings into something soft and easy to carry like a duffel bag.
The option of a porter means that you can, to a degree, choose the level of difficulty of the trek. If you're not an experienced trekker, then only carrying a daypack and sending your bulky and heavy belongings with a porter is an excellent way of literally and figuratively easing the load on this trek, thereby making it that much more doable. If you'd like to up the ante on the trek, however, or use it as a training ground for a tougher trek, then by all means duke it out with a rucksack and carry all your own stuff!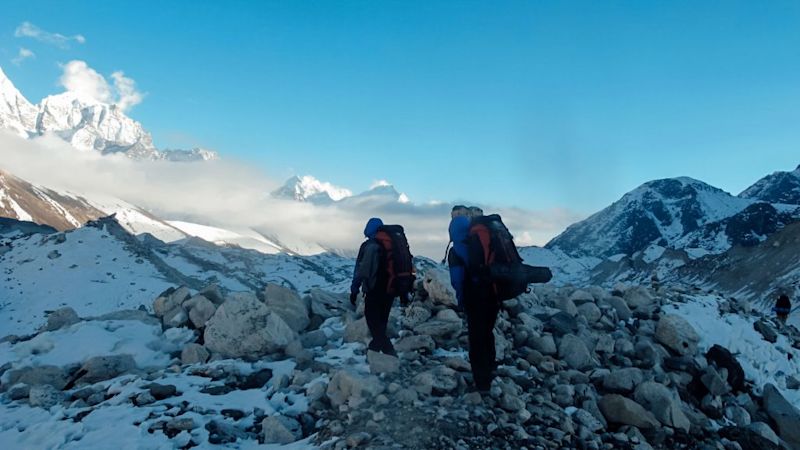 You don't need any mountaineering equipment or training to trek the Annapurna Circuit
Is the Annapurna Circuit dangerous?
Mount Annapurna, also known as Annapurna I, is a very dangerous peak to summit. The Annapurna Circuit trek, however, is pretty safe. The Annapurna Circuit is a circular route through the Annapurna Massif. It mostly takes you through valleys and encircles many of the highest mountains in the Annapurna range. So while you're up close and personal with some mighty peaks, you take on none of the dangers associated with climbing them.
The Annapurna Circuit takes you up close to some of the mightiest mountains on Earth without the risks associated with climbing them.
Obviously the risks in trekking the Annapurna Circuit exceed those of a coastal trek, as you have very high altitudes and the cold to deal with. But by being properly prepared and travelling in a group with a trained guide, you can greatly reduce the risk and make the trip a reasonably safe adventure.
Note that you don't need any special equipment, training or expertise to trek the Annapurna Circuit. The Annapurna Circuit trek is a long-distance trek only. We don't cross any glaciers or do any rock climbing. You don't need to pack any ropes, crampons, picks or the like. All one really needs for the Annapurna Circuit trek is warm clothes, sturdy boots, and the ability to put one foot in front of another!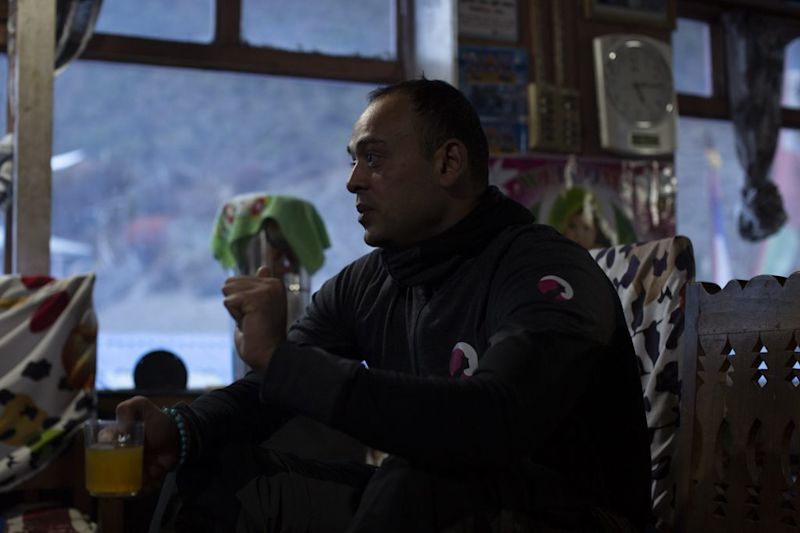 Relaxing ad chatting over hot drinks in a teahouse after hours of hiking is a daily treat on the trek
Mount Annapurna
Mount Annapurna (8,091 m), as mentioned, is very dangerous. The mountain has the highest fatality rate of all the 14 mountains that rise above 8,000 m. It has a ratio of 34 deaths to every 100 successful climbs. K2, by comparison, which is the second most dangerous eight-thousander, has a ratio of 29 deaths to every 100 successful climbs. And Mount Everest has a fatality rate of just 7 deaths per 100 successful climbs.
One of the appeals of the Annapurna Circuit trek is coming in close range of this mighty monolith. But we stick to the circuit trail, which is a well-trod route that takes you through various towns, villages and gorgeous landscapes.
The importance of a trek guide
Pivotal to trekkers' safety is keeping an eye on the weather forecast. At Follow Alice we always have a highly experienced Nepalese trek guide to guide us on the Annapurna Circuit trek. Local, highly trained trek guides are integral to visitor safety.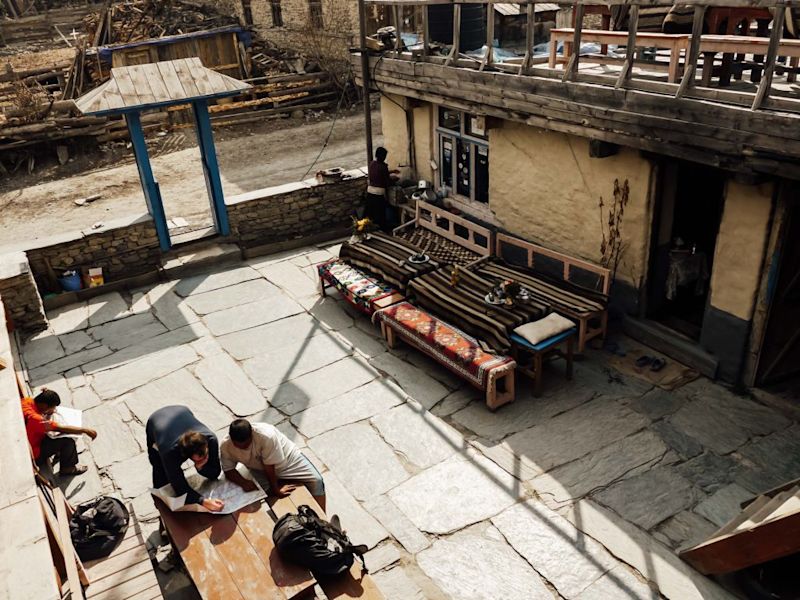 A trek guide discusses the day's route with a hiker with the help of a map
How cold is the Annapurna Circuit?
Also important to trekking the Annapurna Circuit route safely is being properly prepared. This means packing the appropriate equipment and clothes to fend against the cold and other weather elements. Items such as thermal base layers, gloves and a winter jacket are essential to battling the cold and other elements. You can find out more in our Annapurna Circuit packing list.
Monthly temperatures along the Annapurna Circuit
The graph below shows average monthly temperatures for the town of Manang, where we spend two nights on the trek. Manang is 3,519 m above sea level and deep in the Annapurna mountain range. As you can see, it gets very cold in autumn and winter. Note too that wind chill can drop the real feel by a further 10 degrees.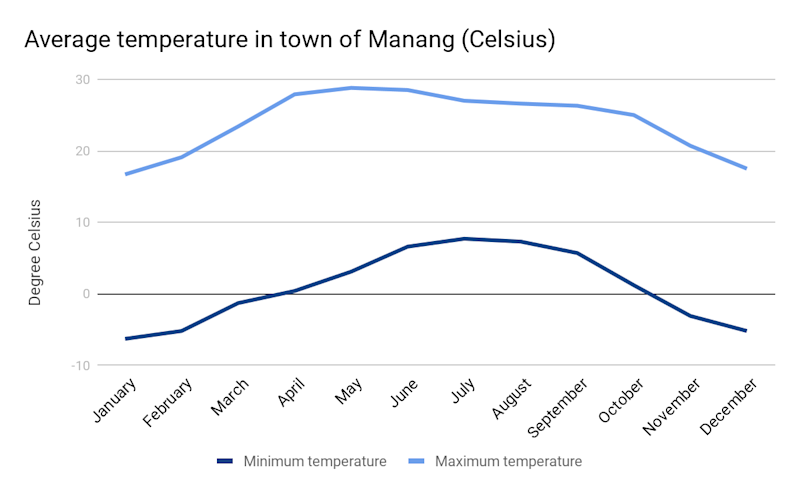 Even if you were to plan to trek the Annapurna Circuit in summer, it's important to pack the necessary clothes and equipment to protect you should there be an unexpected turn in the weather.
The Himalayas are unpredictable and should be treated with all due respect.
Rainfall along the Annapurna Circuit
One also must be prepared for rain and snow by packing the necessary waterproof gear like gaiters, a waterproof hooded jacket, and a backpack rain cover. The Annapurna region receives most of its rainfall during the summer monsoon season, but, again, you must be prepared for all eventualities.
The graph below shows the monthly average rainfall for Upper Pisang, which is a village we pass through near the start of the trek. The rain patterns do, however, vary substantially as we progress along the trek route. This is because we move from a temperate climate to a mountain one, then back to a temperate one. When we are in the mountain zone, we're in a rain shadow, which is a region blocked from rain systems by a natural barrier. In this case, the barrier is the Annapurna mountains.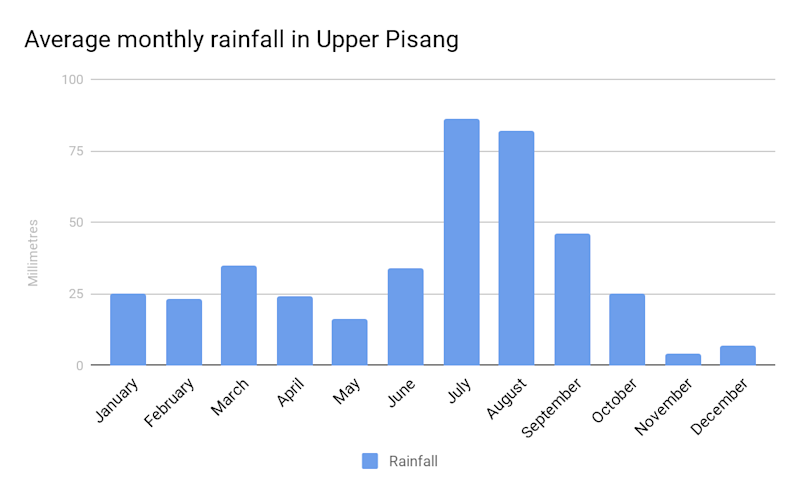 Snow along the Annapurna Circuit
While the Annapurna mountains are covered in snow throughout the year, circuit trekkers can often hike the entire route on dry ground. In autumn and winter, however, you can expect Thorung La Pass and its surrounds to be covered in thick snow. But again, it's important to pack for snow even if you don't expect it.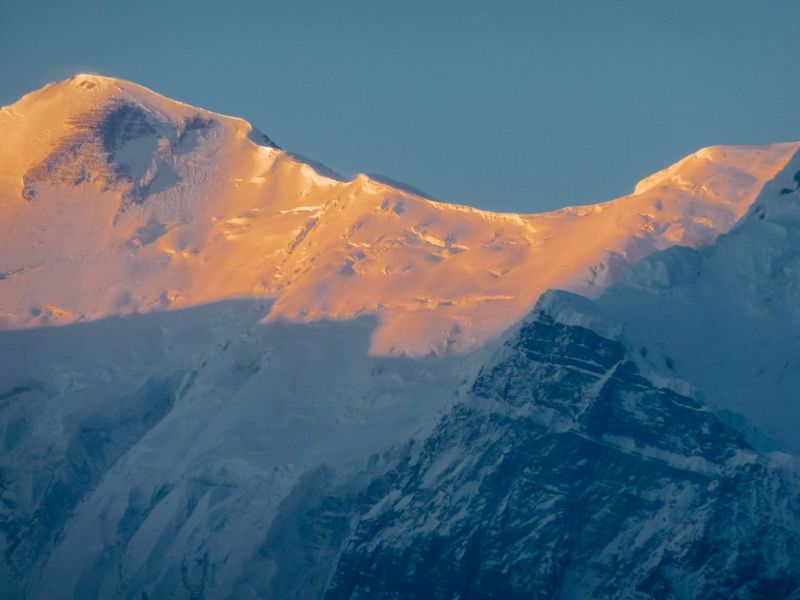 The peaks of the Annapurna mountains are always covered in snow
Forces you can't control
Possibly one of the hardest parts of undertaking the Annapurna Circuit trek is accepting that factors outside of your control could arise to hamper or even derail your trip. Examples include:
not being able to trek for a day, or even days, as a result of poor weather conditions

suffering from headaches as a result of the extreme altitude

developing acute mountain sickness (AMS) and having to turn back without completing the trek

injuring yourself and having to abort the trek
The main point here is that there's risk involved – the risk that you won't be able to finish the trek you've been planning for and dreaming about for months or even years. But safety absolutely has to come first in an environment like the Himalayas, and so if there's an issue like AMS symptoms then unfortunately you just have to accept the untimely end of your trek.
Of course certain things are down to pure luck (or 'unluck'). Some people get sunny days and relatively mild temperatures the entire trek, while others get clouds, snow and desperate temperatures. The odd person contracts food poisoning, while everyone else goes untouched. And then someone does something scream-worthy like spraining an ankle stepping out of the teahouse. The chances of most of these things happening are low, but they do exist and they can signal the sad end of your trek. (As a side note, this seems a good moment to point out the wisdom in taking out traveller's insurance before embarking on the Annapurna Circuit trek.)
Acute mountain sickness
Note too that AMS doesn't discriminate when it comes to age or fitness level. AMS symptoms can include, but aren't limited to, headaches, dizziness, nausea, vomiting and appetite loss.
You can help ward off AMS by taking altitude meds, and for this we advise visiting your GP to get a prescription for something that best suits you. Be sure to also discuss with him or her if the planned trip might aggravate any pre-existing conditions.
You can help ward off AMS by taking altitude meds, and for this we advise visiting your GP to get a prescription for something that best suits you.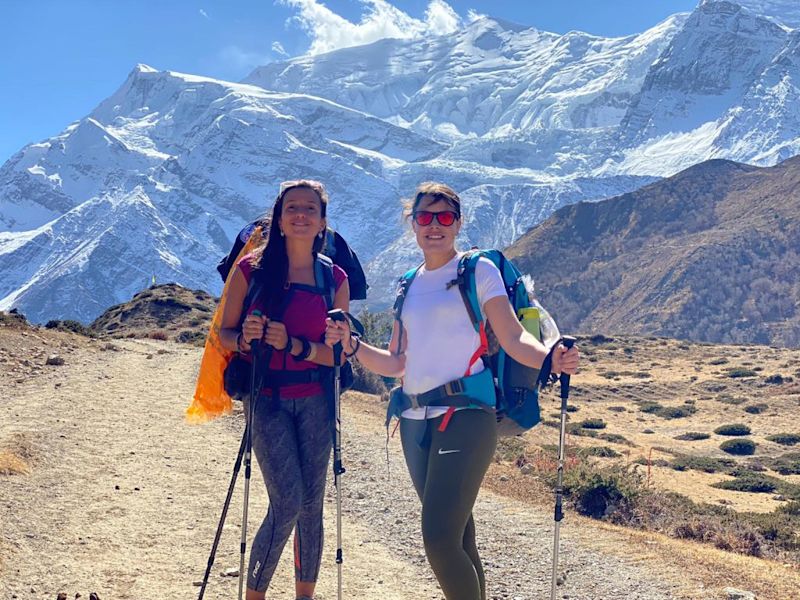 Altitude sickness is no respecter of age nor fitness
Altitude symptoms
As already discussed, the higher you hike along the Annapurna Circuit route, the rarer the air and so the shallower your breathing becomes. This means even a relatively small degree of exertion can lead to a feeling of extreme breathlessness, which can be disconcerting.
Thin air can also mean headaches (even for those not suffering from AMS). For some, the altitude affects their sleep, making it difficult to fall asleep, and then causing frequent awakenings and vivid dreams. Poor sleep leaves you feeling fatigued the next day, but on trek days you need to rally and push on.
The main thing here is to know yourself: do you fall apart at the hint of a headache? Are you known for coming down with man flu? If so, then perhaps a different sort of adventure is in order.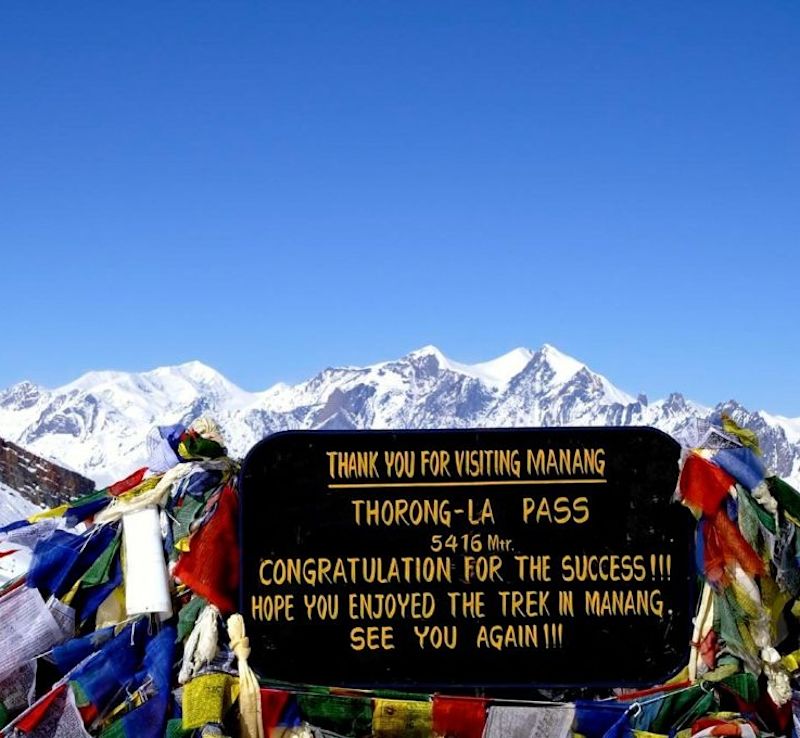 Thorung La Pass, the highest point of the Annapurna Circuit
Annapurna Circuit paths
The paths we trek on the Annapurna Circuit vary greatly, from jeep track to narrow dirt footpaths. At times we walk along rocky paths, and trekking poles are very useful in such moments. (Sturdy trekking boots are also essential to keep you from twisting an ankle.) At other times we follow single-file contour paths that wrap around the sides of mountains and have steep drop-offs. This is one of the key reasons why we don't trek in summer, as landslides are too much of a risk along a water-clogged trail.
You can also expect to share the path with locals – both people and animals! The route has been used for centuries as a trading route between the Manang and Mustang regions. People have and continue to trek goods and animals to and fro. So you can expect to see shepherds with herds of animals like sheep and traders with burden-laden animals like horses and yaks. You'll also share the path with local men, women and children going about their daily business. Part of the charm of the Annapurna Circuit is that it's not a purely tourist route; the route plays an integral part in the lives of the local communities and economy.
Footbridges
It's also worth mentioning that at points along the Annapurna Circuit we cross footbridges of various natures, from rope bridges to planks masquerading as bridges. Those who are fearful of heights might find some of these bridges challenging.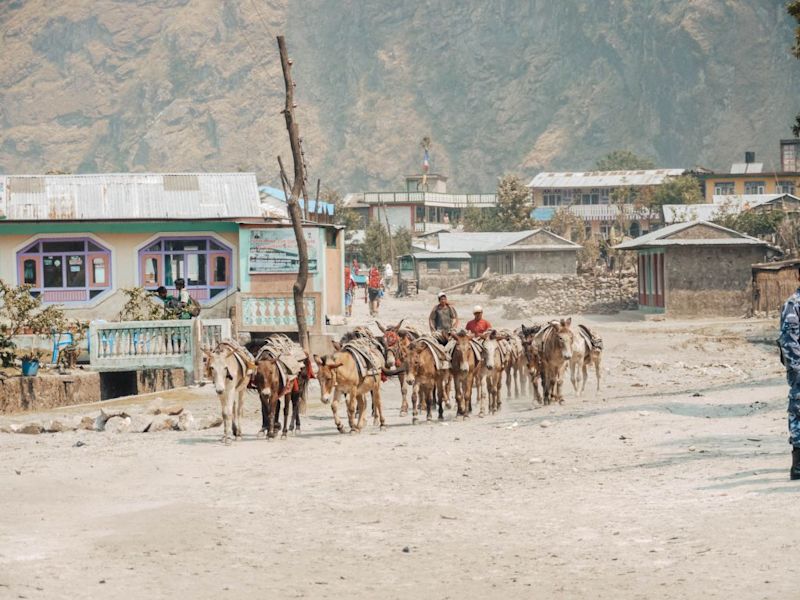 Mules walk through a small town in the Annapurna mountains
How basic are Annapurna Circuit amenities?
As you likely know, accommodation and other amenities along the Annapurna Circuit are pretty modest. This is part of what makes the Annapurna Circuit trek reasonably affordable. While simple or sparing amenities don't make the Annapurna Circuit hard as such, they do require some practical preparation as well as perhaps some mental prep. Forewarned is forearmed, after all.
Accommodation
You should know that the towns and villages we visit during the trek vary greatly in terms of size and amenities. Some nights will feel like the lap of luxury compared to others of more spartan means. Generally speaking, the higher we climb into the remote Himalayas, the more austere you can expect the accommodation to be. Bedrooms are generally simple affairs consisting of just two beds and nothing else. Bathrooms are often communal. Some toilets are long drops.
One of the top discomforts along the Annapurna Circuit is the cold. At Manang, for instance, where we spend two nights while acclimatising to the altitude, the average night-time temperature in November, a popular trekking month, is between 0 and -10ºC (or 32 and 14ºF). Most of the windows in teahouse bedrooms consist of a single sheet of glass. And while the common room where guests eat may be heated, bedrooms aren't. When this happens, trekkers usually wear all their layers to bed, and yet it can still be a trying experience on particularly icy nights.
On top of the night-time cold, the winds can be savage, buffeting you and cutting through your clothes as you trek. Sunglasses are an essential item as not only do they protect you from glare but also from wind and dirt.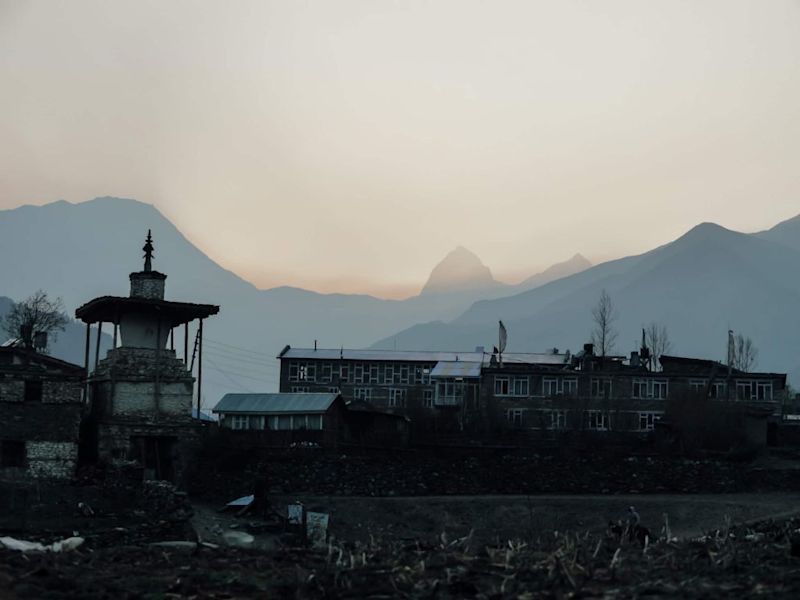 We stay in towns and villages of varying size and amenities during the Annapurna Circuit trek
Food
Meals along the Annapurna trek are eaten at the teahouses and lodges where you stay. The food is simple but hearty and filling, which is important for fuelling your legs for the next day's trek. You can expect plenty of rice, potatoes, bread, pasta, eggs and lentils. We recommend keeping it vegetarian throughout the trek to avoid the dangers of meat gone wrong. If you have food allergies or strong dislikes, the nature of the food is worth considering.
Hygiene
Personal hygiene on the Annapurna trek can at times become a bit iffy. For starters, you'll go days without a shower. Your clothes are likely to go even longer without a decent wash, or any sort of wash at all. While water is available for washing, it might be too cold to wash yourself properly. And if you use it to wash your clothes, they might well freeze in place of drying.
Note too that the higher the elevation, the more one needs to urinate. For ladies in particular this can mean annoyingly frequent nature calls along the trail.
Mostly the issue of hygiene boils down to your personal qualms. Does squatting behind a bush sound like an ordeal, or do you roll your eyes at the very suggestion that it could be a problem? If you know you're something of a germaphobe, we recommend you consider how much your desire to complete the trek will carry you through the above-mentioned challenges.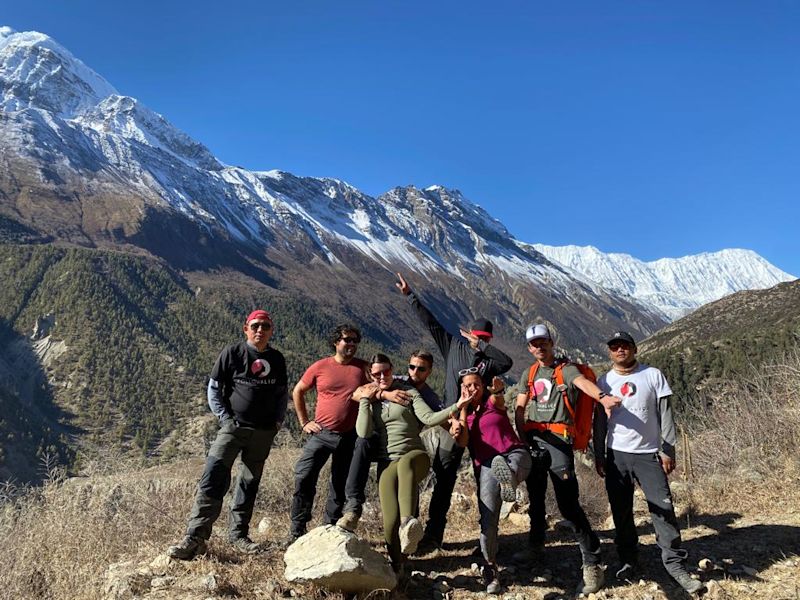 Legendary memories await along the Annapurna Circuit!
Summary
Having read all the above facts and insights, we hope you feel informed enough to decide if the Annapurna Circuit trek would be hard for you. If it does strike you as a challenge, we encourage you to still take it on! Ralph Waldo Emerson said that "Unless you try to do something beyond what you have already mastered, you will never grow." Wise words. We hope you'll challenge yourself, whether it be the challenge of leaving hot showers behind for a week, or the challenge of training and trekking some steep, high-altitude miles.
Follow Alice was founded to offer people adventure holidays that stretch and grow them. The Annapurna Circuit trek is just such an adventure. We also curate trips that afford you the chance to see different and inspiring places, make new friends, and create priceless memories. We hope you'll rise to the challenge and join us for this amazing trek in the Annapurna mountains!