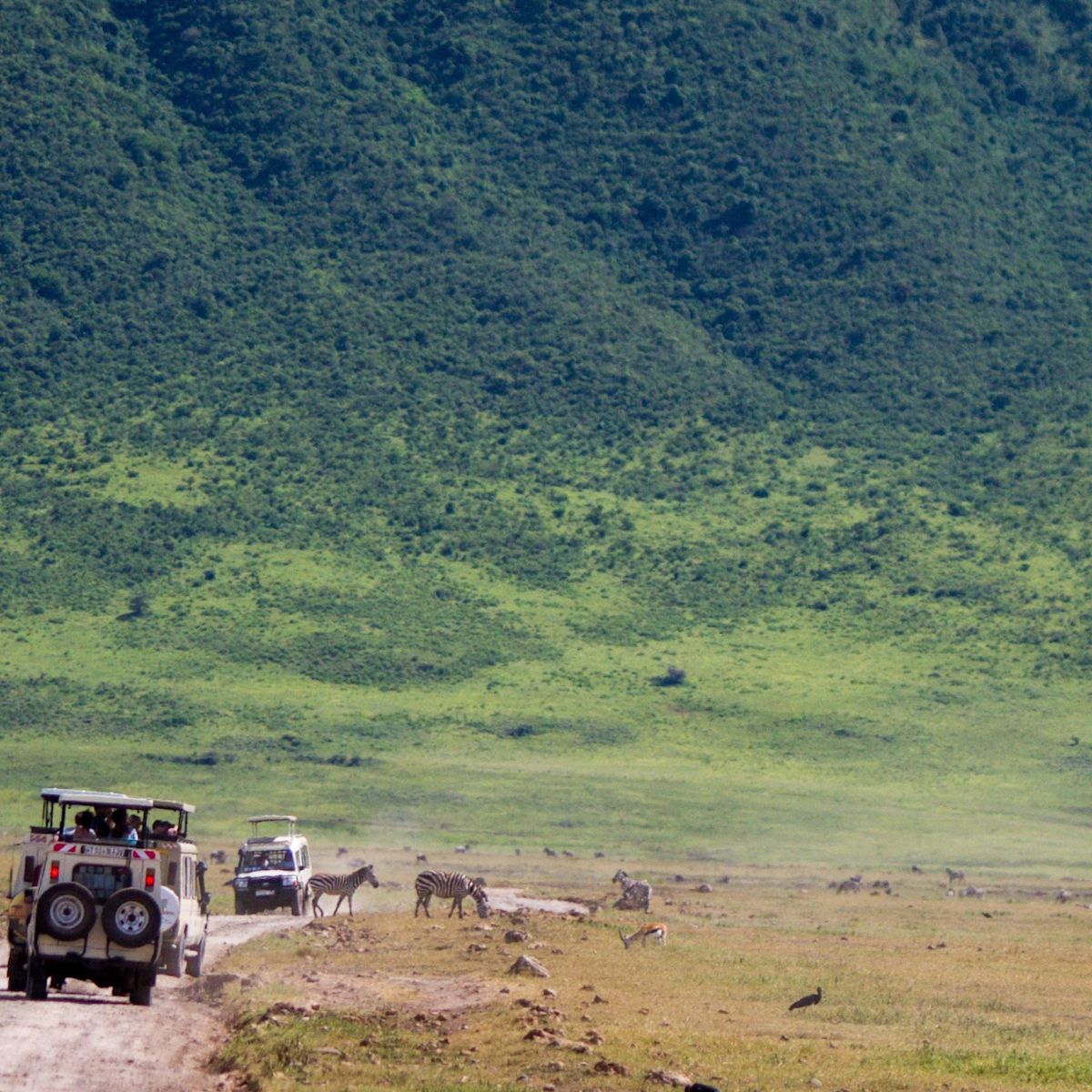 Ngorongoro Crater – the world's eighth natural wonder
Jan 16, 2023
Reading time: 10 minutes
Ngorongoro Crater is a beautifully untouched and well-preserved natural phenomenon that has become a sanctuary for all kinds of wildlife. Some argue that it's uniqueness and impressive nature should even make it the world's eighth natural wonder!
First off, we have to just say that Ngorongoro Crater is beautiful. Breathtakingly so. And also absolutely awe-inspiring. Adjectives like these often lose their meaning a little as they're overused. But if we can take back their original meanings, Ngorongoro Crater is the perfect feature to represent that true meaning of beautiful, awe-inspiring and breathtaking!
So for those who've not seen it ... Ngorongoro Crater is a massive, 19 km-wide, bowl-like depression in northern Tanzania. In spring it's a bowl of deep green, and in drought it's a brown, dusty place.
The crater was was formed by a volcano that collapsed in on itself a long time ago. The walls of the caldera (crater) rise to 600 m above the plains of the floor.
Not only can you find the Big Five in Ngorongoro Crater, you can find an amazing density of them. There's also a rich abundance of other indigenous animals and birds to be viewed here. There are truly just animals everywhere you look!
Ngorongoro Crater has the rare black rhino as well as a dizzying abundance of other spectacular wildlife.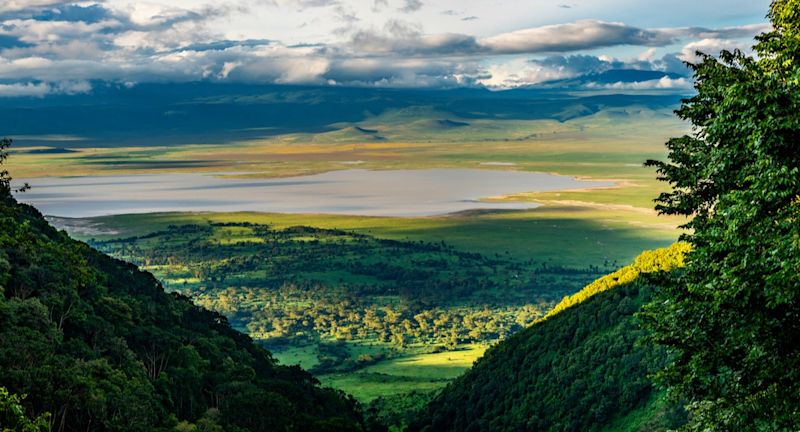 You can't really see them from the rim, as you're too high up, but there are roughly 30,000 large mammals in the crater!
The crater is, in fact, home to thousands upon thousands of animals. There are around 30,000 large mammals living in the crater, many of them herbivores. But also there's a mind-blowing density of predators like lions, leopards, cheetahs and hyenas.
As if the breathtaking caldera and its abundance of wildlife wasn't enough of a drawcard, the habitats within the crater are varied and truly beautiful. The high walls of the crater are covered in forest, while the floor of the crater boasts a lake, swamps, acacia forest, glades, and expansive grasslands.
Going on a Tanzania safari in Ngorongoro Crater is a truly mesmerising experience. We wish everyone could witness the beauty of this site at least once in their lifetime!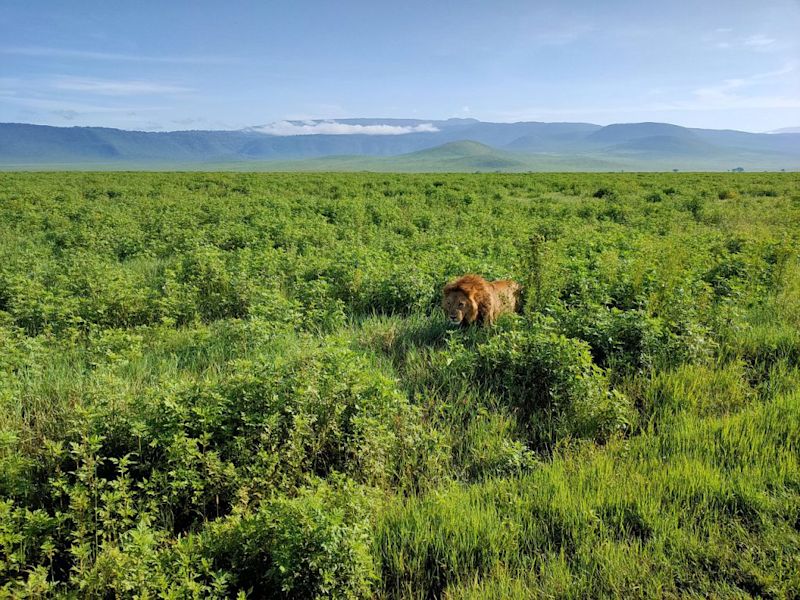 A lone lion in the crater
What is Ngorongoro Crater?
The Ngorongoro Crater is a caldera, which is a very large crater that's formed when a volcano erupts and collapses in on itself. Volcanoes played a large part in shaping the Tanzanian landscape. Think, for instance, of Mount Kilimanjaro, which is a dormant volcano. Some actually believe that Ngorongoro was once taller than Kilimanjaro!
Ngorongoro Crater is almost 20 km wide and covers 264 km². The crater wall, or rim, rises about 600 m above its floor. This rim is a barrier to the outside world, and it's allowed the crater to become a true sanctuary for all sorts of wildlife.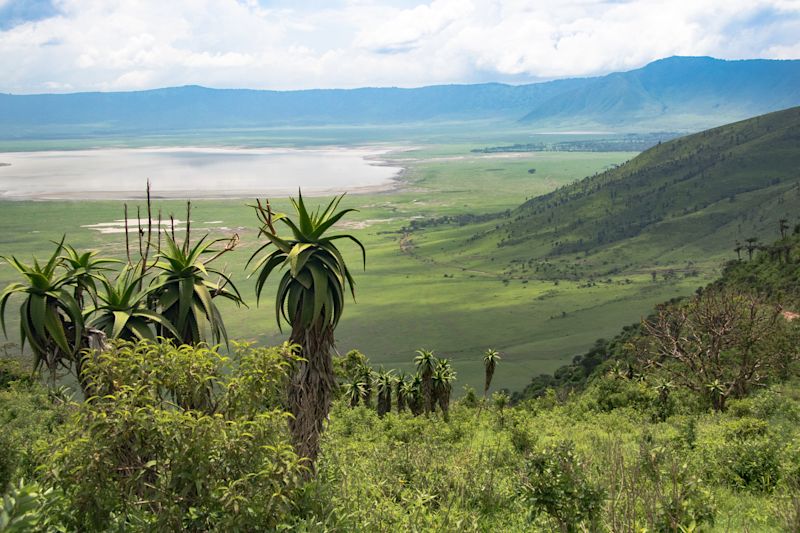 Ngorongoro Crater and Lake Magadi
When you stand on the ridge of the Ngorongoro Crater and look down, you see a vast, 'empty' expanse. And yet Ngorongoro Crater is quite literally teeming with wildlife! It's only when you descend to the floor of the crater that you're close enough to start actually seeing the wildlife. This fact might give you a small glimpse into how tall and immense the crater actually is.
The Ngorongoro Crater is not only famous for its wildlife, but also its natural beauty, as already mentioned. Other than a few roads for safari drives, the crater is free from human industry. Various ecosystems thrive within its walls, like woodland, forest, prairie and wetland.
Where is Ngorongoro Crater?
Ngorongoro Crater sits in the north of Tanzania, and is part of the Northern Circuit, a famous safari route. It sits in the southeast of the Ngorongoro Conservation Area, as shown below.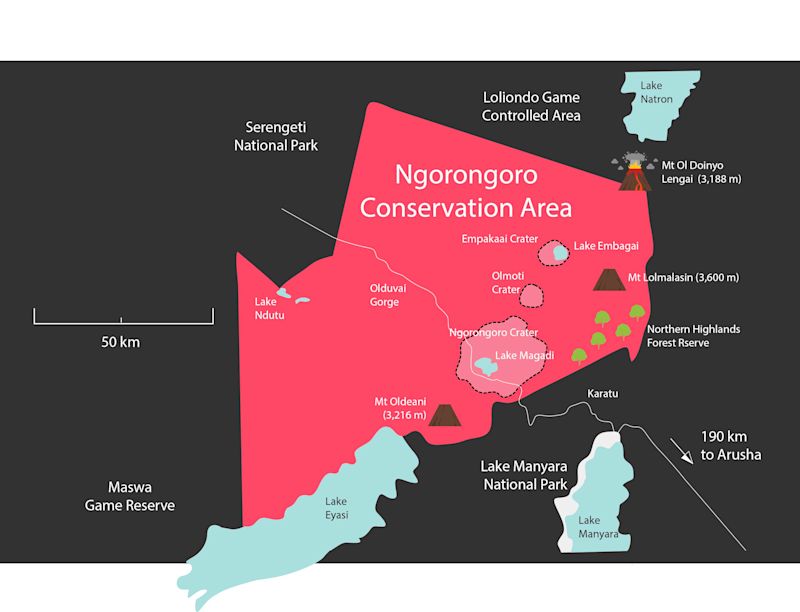 Map showing location of Ngorongoro Crater within the NCA
While Tanzania boasts amazing features like Mt Kilimanjaro, the Great Wildlife Migration, and Zanzibar, those in the know often cite Ngorongoro as the most magical of the country's sites. In fact, Ngorongoro Crater is Tanzania's most visited wildlife attraction! It receives roughly 45,000 tourists a year.
The crater sits within the Ngorongoro Conservation Area, which is a much larger area.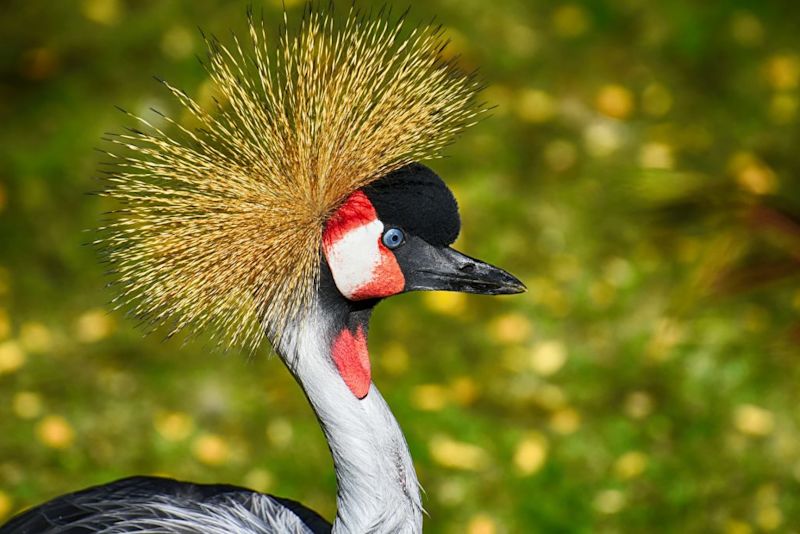 A grey crowned crane, one of Tanzania's most famous birds, and a regular inhabitant of Ngorongoro Crater
Ngorongoro Conservation Area
The Ngorongoro Conservation Area is 8,292 km² (3,202 mi²), which is roughly the same size as Puerto Rico or Cyprus.
The conservation area became a UNESCO World Heritage Site in 1979. It includes three craters (Ngorongoro, Olmoti and Empakai), Olduvai Gorge and its nearby shifting black sand dunes, tall, vine-draped forests, bushland, and vast swathes of savannah.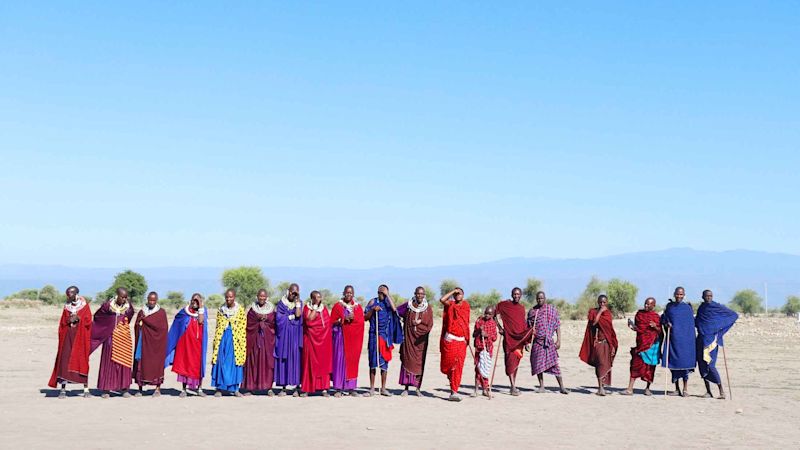 Maasai tribespeople live and herd cattle in the Ngorongoro Conservation Area
At the beginning of each year the western savannah plains of the Ngorongoro Conservation Area welcome herds from the Great Wildlife Migration. This is because the Ngorongoro and Serengeti are part of the same large ecosystem.
Ngorongoro has been dubbed by some as the eighth wonder of the world, and we think they're onto something!
The Ngorongoro Conservation Area receives over half a million visitors annually. It's also home to around 40,000 people, most of whom are Maasai tribespeople.
Amazing wildlife of Ngorongoro Crater
There are around 25,000 to 30,000 large mammals inside Ngorongoro Crater in the wet season! These include:
African bush elephants

African civets

African lions

Baboons

Bat-eared foxes

Black rhinos

Black-backed jackals

Blue wildebeests

Cape buffaloes

Caracals

Cheetahs

Elands

Fruit bats

Grants's gazelles

Gnus

Golden jackals

Grant's zebras

Hartebeests

Hippos

Leopards

Mountain reedbucks

Serval cats

Spotted hyenas

Thomson's gazelles

Warthogs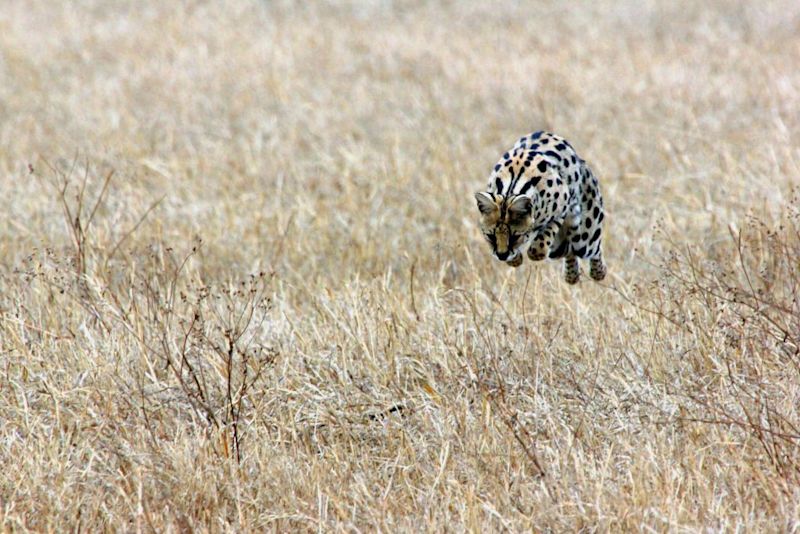 A serval cat pouncing on its prey
There are giraffes in the Ngorongoro Conservation Area, but none inside the crater. It's speculated that the sides of the crater are too steep for them to descend. But you'll certainly see them as you head to and away from the crater.
Other notable absences from the crater are impalas and oribis.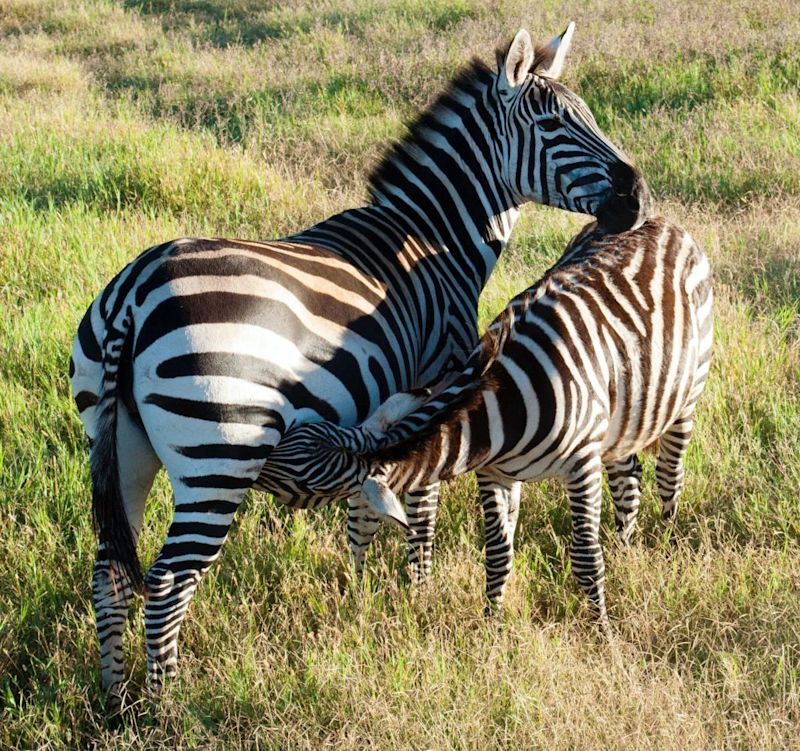 Two Grant's zebras in the grasslands of Ngorongoro Crater
Different animals in different parts of the crater
Every Ngorongoro Crater safari starts with a winding game drive down the crater wall. Keep you eyes open here for leopards, as they like to sit in the trees lining the crater walls.
Also look for leopards when passing through Lerai Forest on the crater floor. Here you might also see blue monkeys and, near the forest's edge, waterbucks.
The grasslands (plains) of the crater are where most of your game spotting takes place. And what game spotting it is! Animals litter the landscape, and you're possibly going to be ruined for all other game drives in the future after witnessing this spectacle!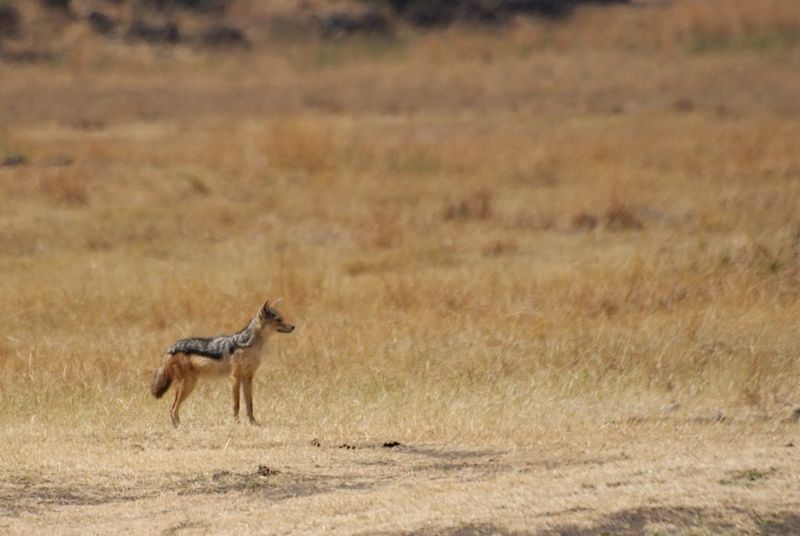 A black-backed jackal in the short grass of dry-season Ngorongoro Crater
The plains are where you're likely to see elephants, large wildebeest herds, Cape buffaloes, prides of lion, cackles of hyenas, African wild dogs and zebras. You're also guaranteed to see antelopes of all sizes and varieties, from large elands and hartebeests right down to small mountain reedbucks.
The lucky few Ngorongoro safari-goers may also spot some of the harder-to-see animals, like servals and civets.
Lake Magadi
When you head to the crater's soda lake, Lake Magadi, and its surrounding wetlands, you're treated to a whole different spectrum of wildlife. There are hippos in the Hippo Pool, warthogs, lesser flamingoes and pelicans, among others. The squeamish might be quite pleased to know that there are no crocodiles in the crater!
Lake Magadi with hippos in the foreground and clouds rolling off the crater rim in the background
Predatory animals
As mentioned, Ngorongoro Crater is famous for its high density of predatory animals. You've got lions, leopards, cheetahs, caracals and foxes. There are also plenty of scavengers and omnivorous guys, like hyenas, jackals, baboons and civets. The abundance and diversity of wildlife in Ngorongoro is truly staggering.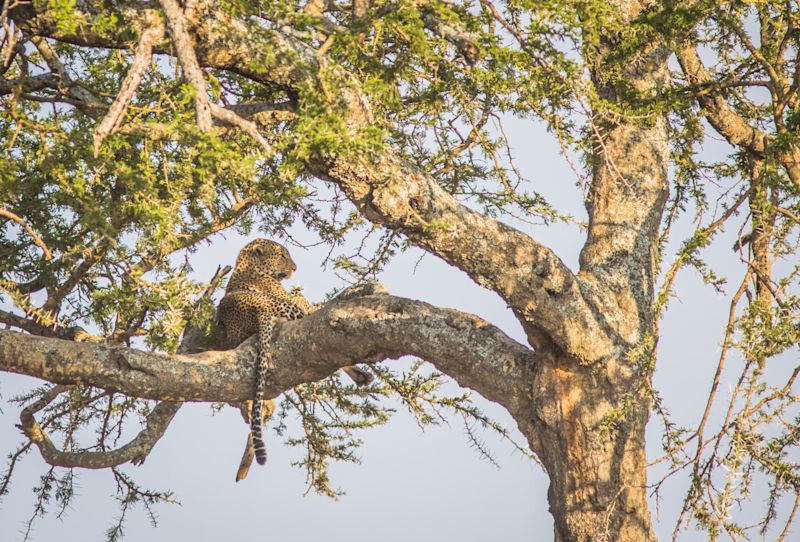 Leopards tend to stick to the tree-lined walls of Ngorongoro Crater
Birdlife
Some of the magnificent birdlife to look out for in the Ngorongoro Crater are as follows:
Barbets

Bustards

Buzzards

Chats

Cranes

Doves

Eagles

Flycatchers

Francolins

Hawks

Hornbills

Kites

Lapwings

Lesser flamingoes

Longclaws

Pelicans

Ostriches

Sparrows

Spoonbills

Spurfowls

Storks

Sunbirds

Turacos

Vultures

Weavers

Wheatears

Widowbirds
There are, in fact, so many different species of many of the birds listed above, that it would be hard to list them all!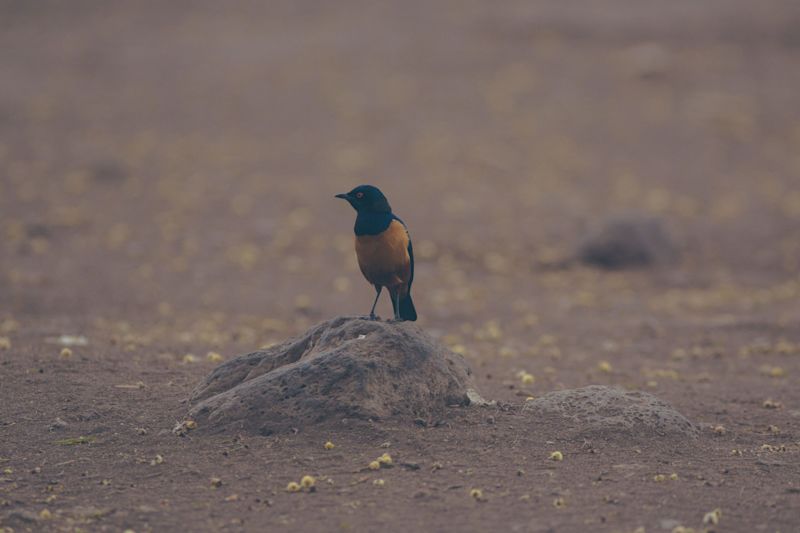 This is a little Hildebrandt's starling, one of the many beautiful birds to grace Ngorongoro Crater
Lake Magadi's flamingo population
One of the highlights of visiting Ngorongoro Crater is witnessing its population of flamingoes spread all across the lake. Thousands of this leggy bird – both the greater flamingo and lesser flamingo – flock to the crater's lake in the rainy season. The greater flamingo is the larger of the two and has whiter plumage, while the lesser flamingo is smaller and has pinker plumage.
Did you know that flamingoes, which eat crustaceans and algae, do a 'dance' at mealtime? This is done to loosen the mud.
To learn about the best time to see the flamingoes, as well as the crater's other birds and its various animals, please read Best time of year for an Ngorongoro safari.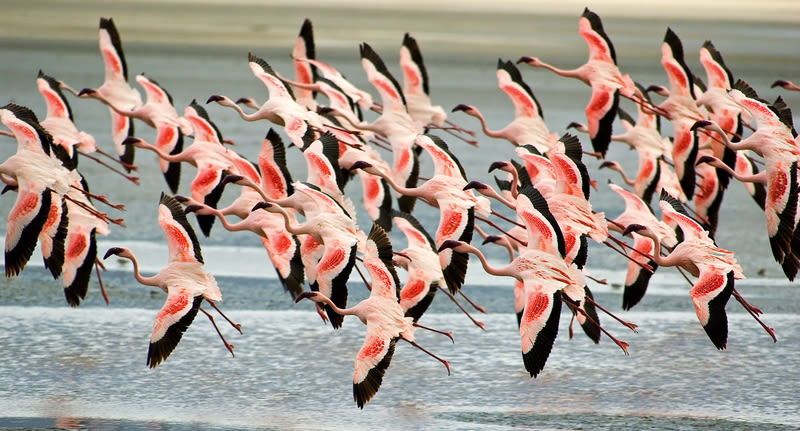 Flamingoes flying across Magadi Lake
Vegetation
Fortunately for humans, the animals of Ngorongoro Crater are generally pretty easy to spot, as much of the crater is open savannah. The local leopards, however, are more elusive (aren't they always?), as they stick mostly to the crater rim. The rim has plenty of euphorbias and fig and fever trees, among other plants, and so it's easier for leopards to catch prey here.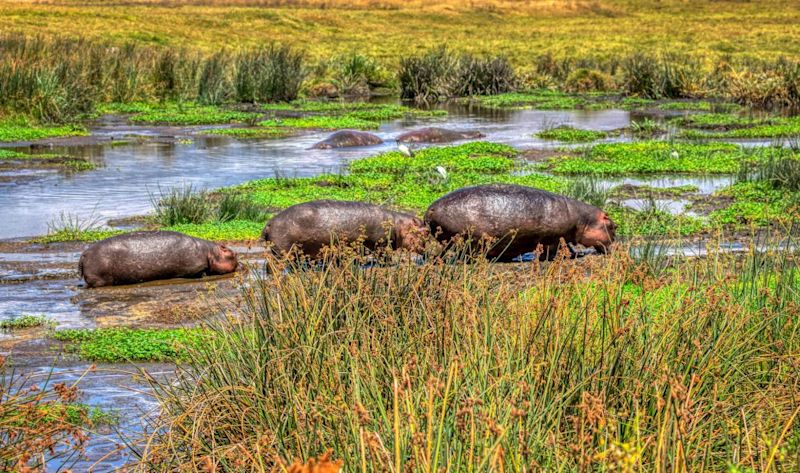 Hippos moving through the wetland around Lake Magadi
The sausage tree (Kigelia africana) can be found on the rim too – this tree has long fruit shaped like a sausage and is quite the exotic sight to those from abroad!
In the rainy season the crater is an inviting green. There's also a burst of prairie flowers like the vlei ink-flower. In the dry season, most of the vegetation yellows and browns.
Many beautiful sedges grow in the crater's Gorigor Swamp. This is also where the hippos like to hang out.
Go on safari in Ngorongoro Crater
The Ngorongoro Crater is a surprisingly well-kept secret. For instance, how many people do you know who have been there? As mentioned earlier, one of the wonderful things about the crater is how close it is to so many other world-class attractions, like Kilimanjaro, Lake Manyara and Serengeti National Park.
We're in love with Ngorongoro Crater at Follow Alice and so we like nothing more than taking visitors there! The very best way to enjoy and explore the crater is on a safari drive, as you can't walk down into the crater. You can talk walks along the rim, but we're pretty sure you want to descend to the floor and get as close to the wildlife as possible!
The steepness of the crater wall is on full display in this shot
So yes, it's all about the game drive when you visit Ngorongoro Crater. One day is sufficient if that's all the time you have. Though of course another day or two opens up more possibilities and allows you the chance of seeing even more animals. And that crater rim walk is actually a fabulous option too when it's not the sole activity you do in the area. We find clients often like to pair an Ngorongoro safari with a Kilimanjaro climb.
Is it time to get your safari on??
If you're keen for an Ngorongoro Crater safari – and why wouldn't you be? – we can help! Take a look at our various epic Tanzania safari itineraries. Alternatively, contact us and we can chat about how to make this amazing adventure happen in your life!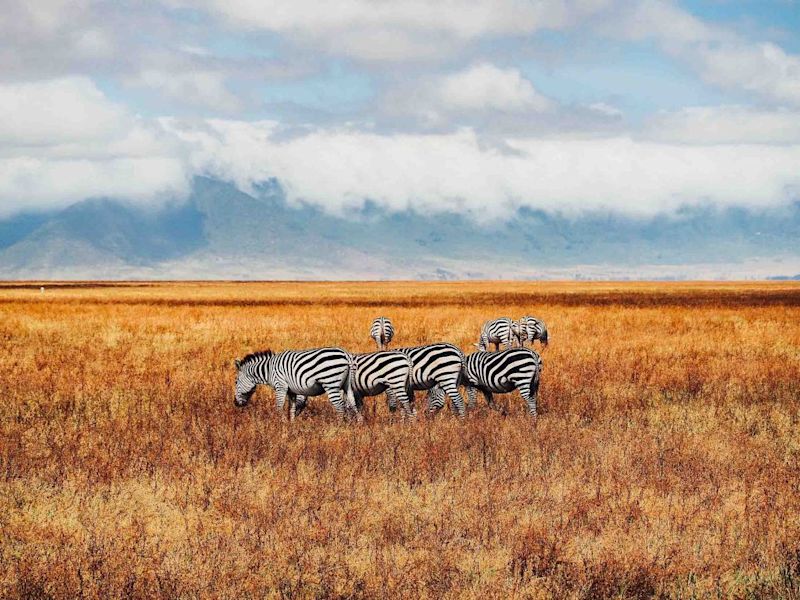 A dazzle of zebras in the crater during the dry season