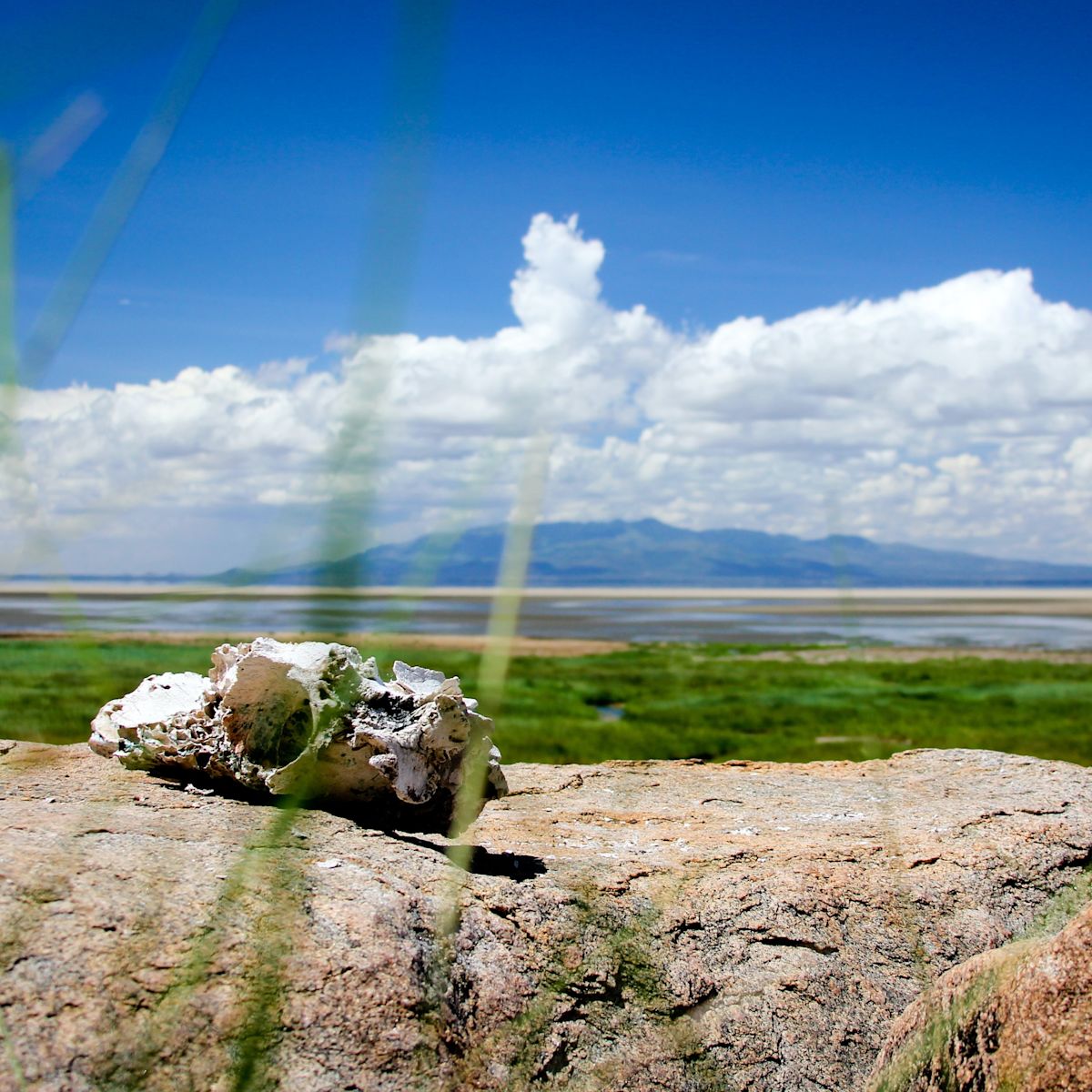 Why we love Lake Manyara National Park
Jun 12, 2023
Reading time: 10 minutes
Lake Manyara National Park is one of those special smaller game parks that you want to visit while the cat is still in the bag. 🤫 It's a gorgeous park centred on its eponymous lake, which is a magnet to wildlife from all around during the dry season.
Lake Manyara National Park is one of the smaller, lesser-known of Tanzania's many amazing game reserves. And that's one of the things keeping it so special: it's a quiet park that offers uncrowded game drives. But that's not the only reason why we love Lake Manyara! There are plenty of other reasons besides ...
For starters, the park has a high concentration of elephants, and some of the largest herds anywhere on earth! Then there are the tree-climbing lions, which are a rarity. Thirdly, the lake is often covered in flamingoes, pelicans and other waterbirds – a beautiful sight.
Then there's also an exciting canopy walk in the forested portion of the park. And there's also the hippo pool, which is always stocked with a good number of the wallowing, hefty beasts.
But we're not done yet.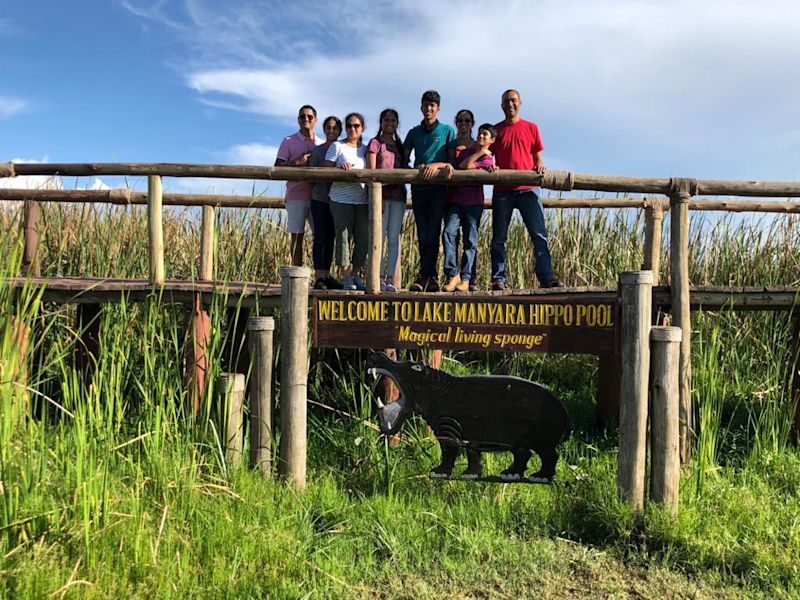 Follow Alice clients at the Lake Manyara Hippo Pool
A striking landscape
Lake Manyara National Park has a shallow soda (or alkaline) lake that's fed by a series of rivers coming over the escarpment. It has no outlets.
Part of the appeal of the park is its varied terrain and vegetation. There's a groundwater forest of evergreen figs and mahoganies, for starters. You then encounter acacia woodland and open savanna. Around the lake, which runs northeast-to-southwest and consumes the eastern portion of the park, there's marshland and salt flats. For anyone embarking on a 'big year', this is great birdwatching territory.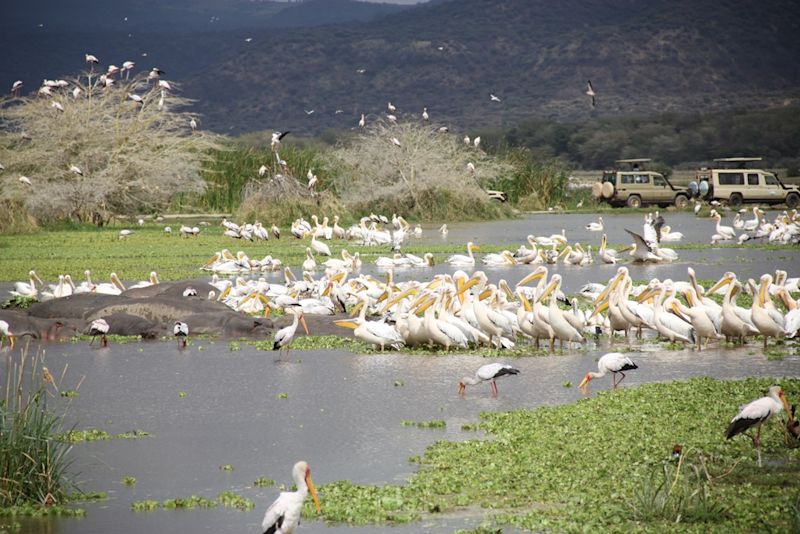 Pelicans and other waterbirds create a scene of beautiful chaos in the wetlands of Lake Manyara | Image by A. Filippov
Thanks to its abundance of water, Lake Manyara National Park is incredibly lush. The lake itself is truly something to behold, with the 600 m-high Rift Valley escarpment plunging down to meet its western shore.
There's no other park quite like it.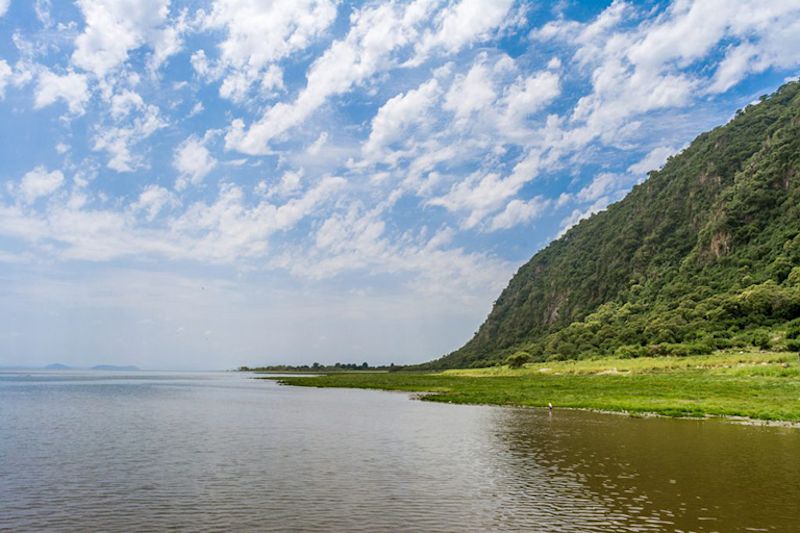 The escarpment of the Rift Valley plunging down to meet Lake Manyara
A unique collection of wildlife
It's because of all these varied and amazing habitats that the park boasts a unique bevvy of animals and birds. These are the many of the usual suspects, like lions, leopards, giraffes, Cape buffaloes, hippos, zebras, impalas and wildebeests. As well as many smaller but nonetheless exciting mammals like monkeys, baboons, dik-diks, mongooses and civets.
But let's dive in and share with you all of the exciting animals and birds you can hope to see on a visit to Lake Manyara ...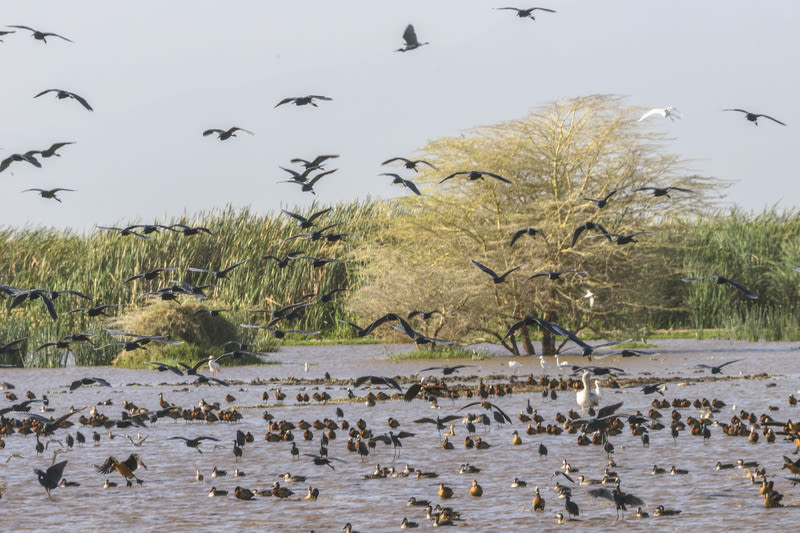 African spoonbills and ducks on the waters of Lake Manyara
Animals of Lake Manyara National Park
Lake Manyara has diverse habitats that shelter various mammals. This underrated park actually has some of the highest densities of large mammals in the world! This includes the Big Five, save for rhinos. Elephants are synonymous with the park, and there are plenty of large herds to spot.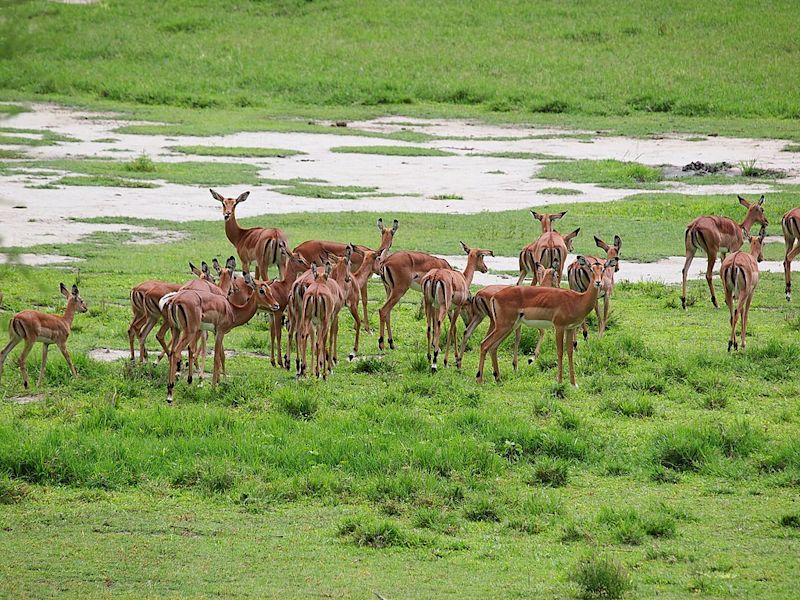 A herd of impalas | Image by J.M. Burke
Here now is a list of some of the animals you can look forward to hopefully seeing on safari in Lake Manyara National Park:
Baboons

Buffaloes

Bushbucks

Civets

Dik-diks

Elephants

Galagos

Genets

Giraffes

Hippos

Hyenas

Impalas

Leopards

Lions

Monkeys

Mongooses

Squirrels

Warthogs

Waterbucks

Wildebeests

Zebras
Baboons in the forest at Lake Manyara National Park
While they're incredibly elusive, the lucky few visitors have also spied cheetahs and wild dogs in the park. If you're keen to see baboons, you'll be interested to note that the park has the largest concentration of baboons anywhere in the world, and its troops can have over a hundred individuals!
Lake Manyara National Park has the world's highest concentration of baboons.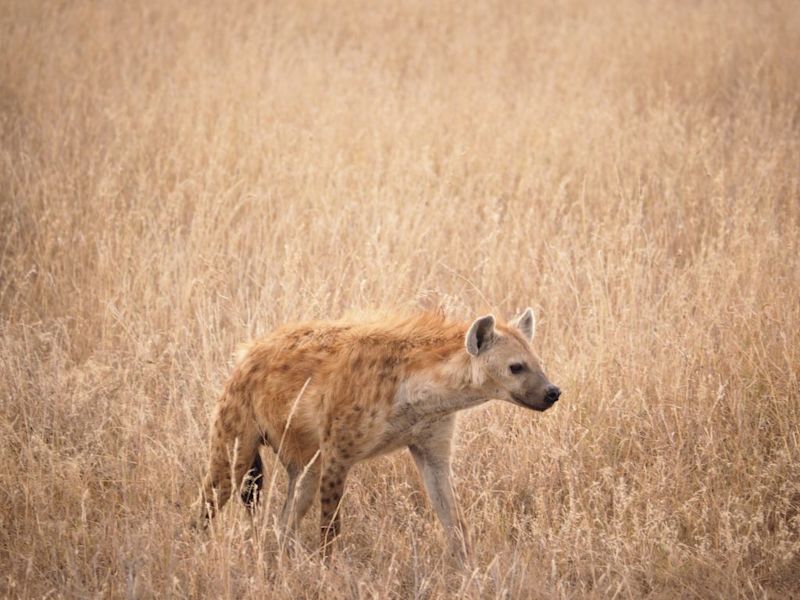 Hyenas can look almost cute, until they open their mouths and you see those fearsomely gnarly gnashers!
Birds of Lake Manyara National Park
There are over 400 species of birds for you to train your binoculars on at Lake Manyara. Fifty of these are birds of prey, including various types of eagles.
One of the reasons for the richness of birdlife is the diversity of habitats within the park: there's forest, woodland, grassland, marshland and the lake.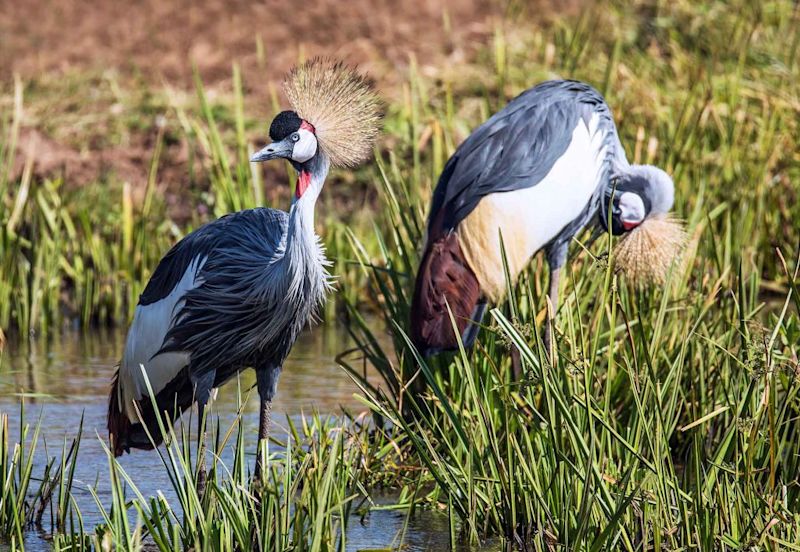 Grey crowned cranes, also known as African crowned cranes, are a common sight in the park
Some of the other birds in the park to look for are:
Spoonbills

Buzzards

Cormorants

Rollers

Cranes

Trogons

Kingfishers

Weavers

Bee-eaters

Barbets

Woodpeckers

Ibises

Storks

Hornbills

Vultures

Owls

Nightjars

Herons

Shrikes

Doves

Cuckoos

Eagles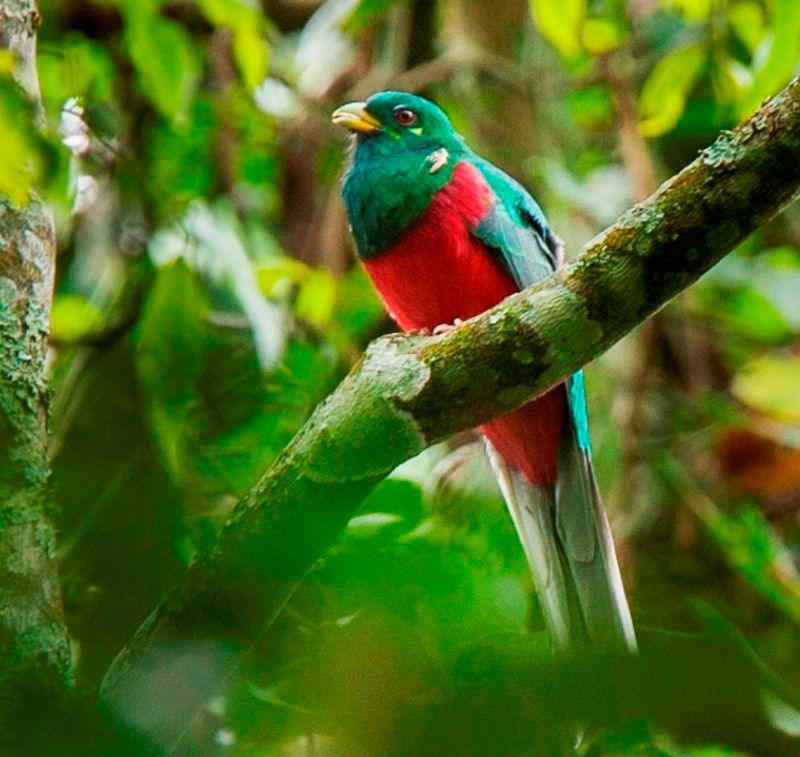 A vibrant narina trogon male perched among the leaves | Image by F. Veronesi
A flamingo wonderland
Perhaps the avian highlight - and one of the sights for which the park is most famous - is the lake's flamingoes. At times large stretches of water are painted pink from thousands of the birds huddled together on their stalk-like legs. At other times, isolated pink specks create a polka dot pattern on the water's surface. And have you ever seen a stand of flamingoes take flight? Their wings can be heard beating the air, their calls are a cacophony of goose-like honks, and the spectacle of the communal lift is mesmerising.
Lake Manyara plays home to both greater and lesser flamingoes, the two species of the bird native to Africa. The greater flamingo has whitish-pink feathers, a pink bill with a black tip, pink legs, and black-edged wings. The lesser flamingo weighs about half the size of the greater flamingo and is 50 cm or so shorter. They're much the same in appearance, but can be easily distinguished by their black bills and their much pinker plumage.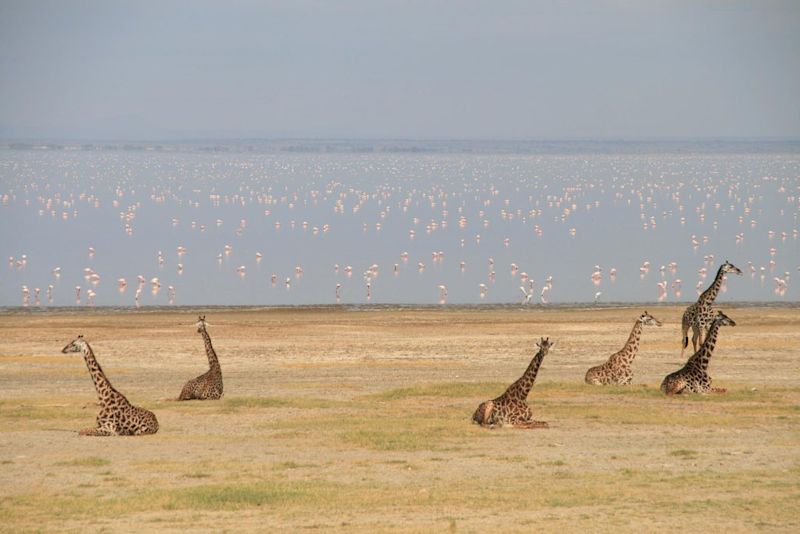 Giraffes rest while flamingoes dot the lake | Image by M. Veraart
The algae that grow in the alkaline waters of the lake turn toxic when ingested by most animals, but flamingoes are immune. In fact, the pink in their plumage is because of this algae.
Flamingo species
The image below shows the various species of flamingoes found around the world.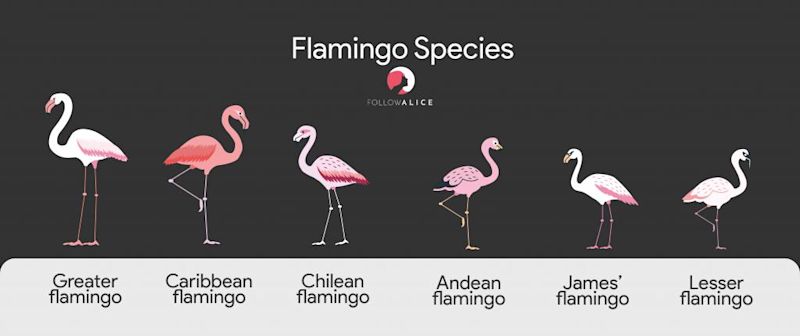 As you can see, the greater flamingo is the largest flamingo species, and the lesser flamingo the smallest
More reasons why Lake Manyara is so great ...
We'd like to elaborate on a few points made above to help you understand why we love Lake Manyara National Park so much ...
An uncrowded park
Well, first of all, Lake Manyara National Park is quieter than most of the bigger, more famous parks. There are fewer safari vehicles, especially in the morning, to obscure the scene and potentially frighten away the animals.
If you want an exceptionally quiet safari, head to the south of the park, where even fewer vehicles venture.
Stunning concentration of elephants
The second reason this park deserves to be on your itinerary is that it has an epic concentration of elephants. Sightings of these gentle and giant creatures are pretty much guaranteed.
Not to hammer the point home too hard, but when people think of Lake Manyara National Park, they think elephants.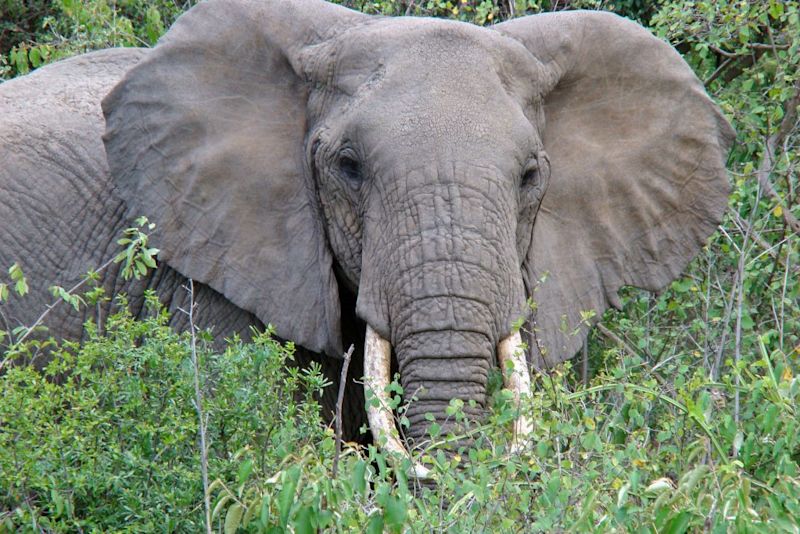 Lake Manyara National Park has a massive African elephant population
Tree-climbing lions
Thirdly, and very importantly, Lake Manyara is home to tree-climbing lions. Such lions are very rare, and can only be found in a handful of parks in the world, three of which are in Tanzania (the other is Queen Elizabeth National Park in Uganda). Most lion populations stick to the ground, and you find them idling among the grasses, on top of rocks, and sheltering from the sun under trees.
At Lake Manyara, however, you can look for lions framed by leaves with their limbs dangling down the sides of branches. If you see a lioness lead her cubs up a tree, or a whole pride draped over the various parts of an acacia ... well, it might be time to die and head for heaven.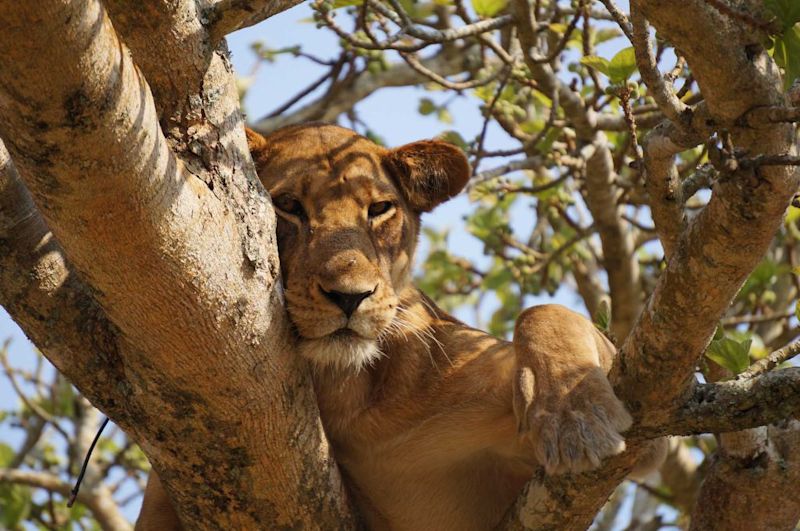 Tree-climbing lions can only be found in a few places in Uganda and Tanzania, and Lake Manyara National Park is one of them!
There's so much to do
Game-spotting is the primary activity at Lake Manyara National Park. But there are also many other great activities on offer:
Go on a

night game drive

(if you stay at the park's lodge)

Do the

Treetop Walkway

(great for spotting birds and monkeys)

Do a

canoe safari

on the lake (water level permitting)

Join a

village tour

(like one visiting a Maasai boma) just outside of the park

Picnic

or enjoy a bush meal at the Msasa, Majimoto or Endalla picnic sites

Stroll along the raised

boardwalk

at the Majimoto Kubwa

hot springs

for a fantastic view of the lake

Go on a

mountain bike

tour

Abseil

down the escarpment

Go on a guided evening

walking safari

along the Msasa or Lake Shore trail

Walk the raised boardwalk to the

Hippo Pool Viewpoint

, from where you can see the lake, escarpment and, of course, the hippos!

Go on a

forest walk

along the escarpment just outside of the park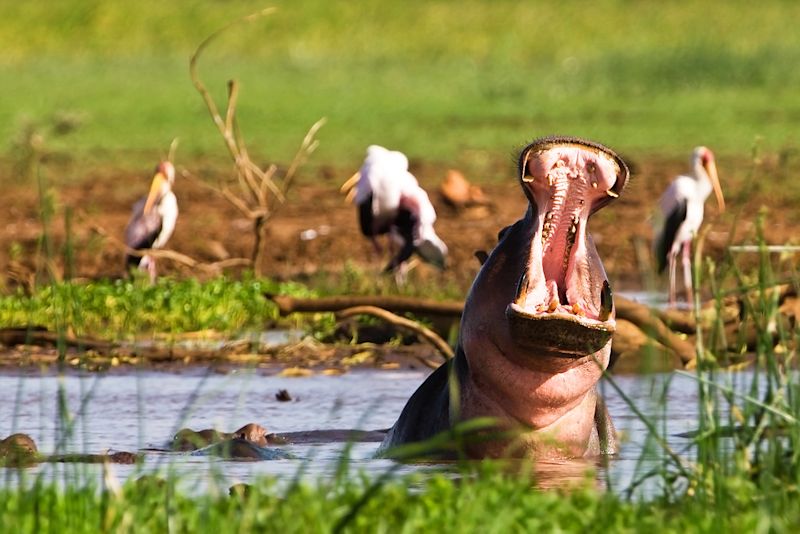 Hippos in Lake Manyara's Hippo Pool, with African spoonbills in the background
Note that you need to book your spot for many of the above activities so you won't be disappointed. Also some of them carry a fee above and beyond that of the park entrance fee. The Treetop Walkway, for instance, is an extra $30 for non-residents of East Africa.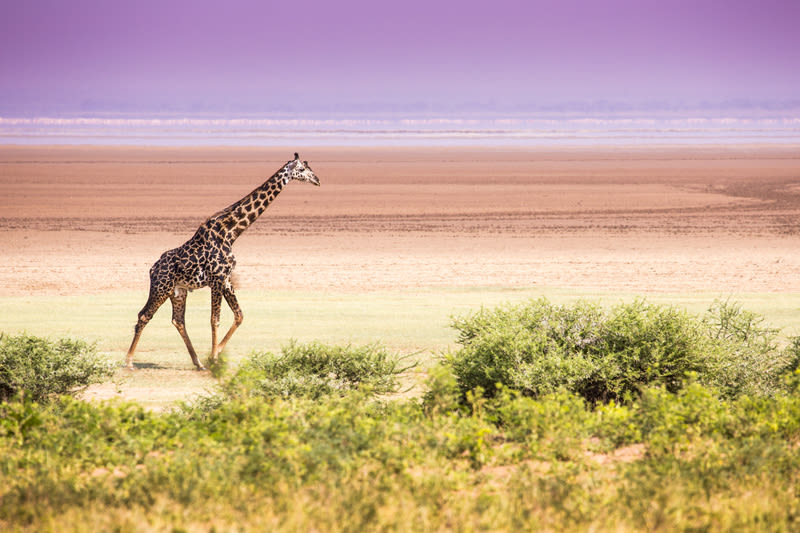 A lone giraffe walking in Lake Manyara National Park
How do I get to Lake Manyara?
The best or easiest way to get to Lake Manyara National Park is to fly into the city of Arusha in north Tanzania. Arusha is also the staging post for a Kilimanjaro climb, so many who trek the mountain then head west to go on a Tanzania safari.
Lake Manyara National Park is a drive of 126 km (78 mi) to the southwest of Arusha. The drive takes about two hours. This makes it a perfect day's outing for anyone staying in Arusha.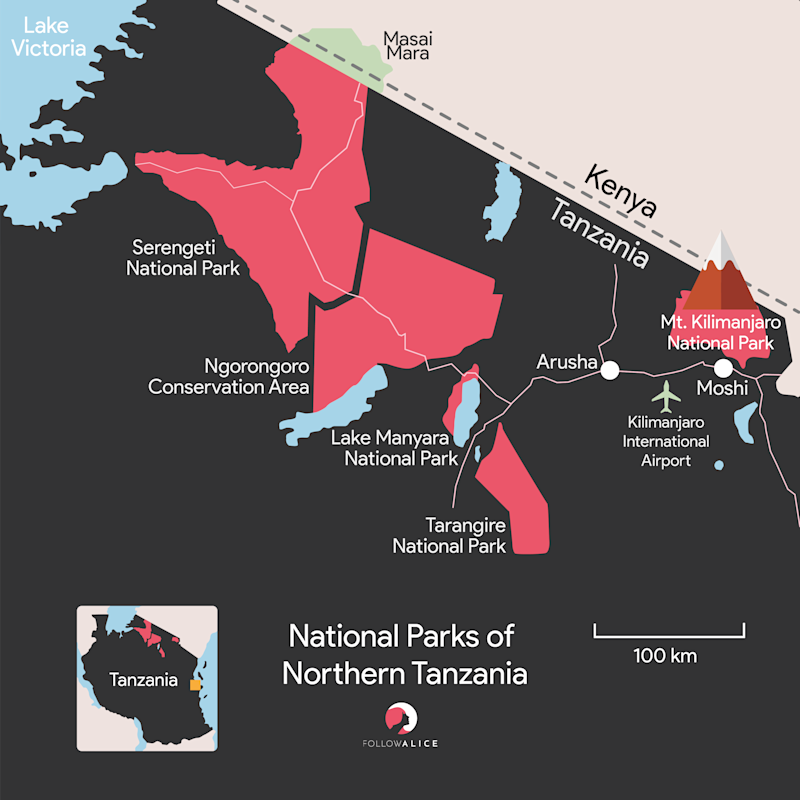 Map showing the location of Lake Manyara National Park
Lake Manyara is also a great place to visit en route to Ngorongoro Crater as it borders the former, which in turn is en route to Serengeti. A Northern Circuit safari that includes Lake Manyara along with Ngorongoro and Serengeti therefore makes a great deal of sense. That's what we suggest to clients of Follow Alice, at least.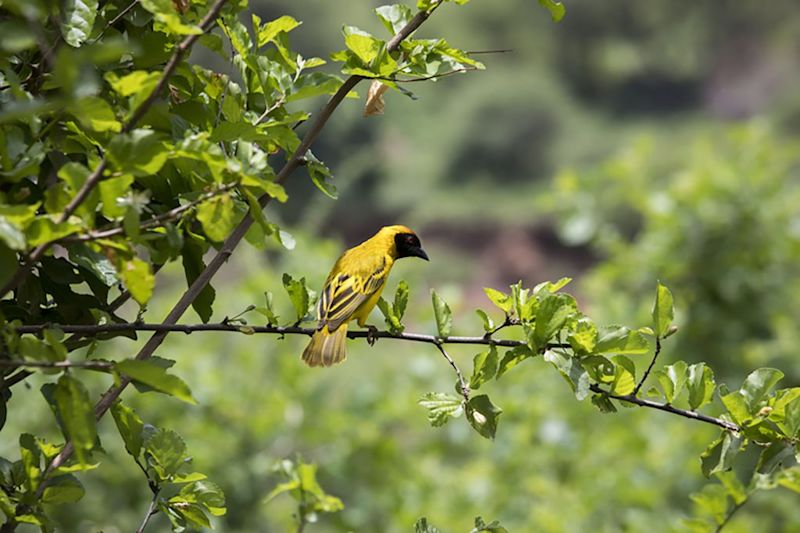 A pretty little northern masked weaver
Best time of year to visit Lake Manyara
The best time of year for game viewing at Lake Manyara National Park is the dry season, which is July to October. This is because there's less foliage during this period hiding or camouflaging the animals. Also, many animals from other parks converge on the lake as this is the region's long dry season.
The best time of year for bird watching is from November to April, as this is when the migratory birds from Europe and northern Africa come to the hood. Many are also in their glorious breeding plumage. The wet season is also good for waterfalls and canoeing.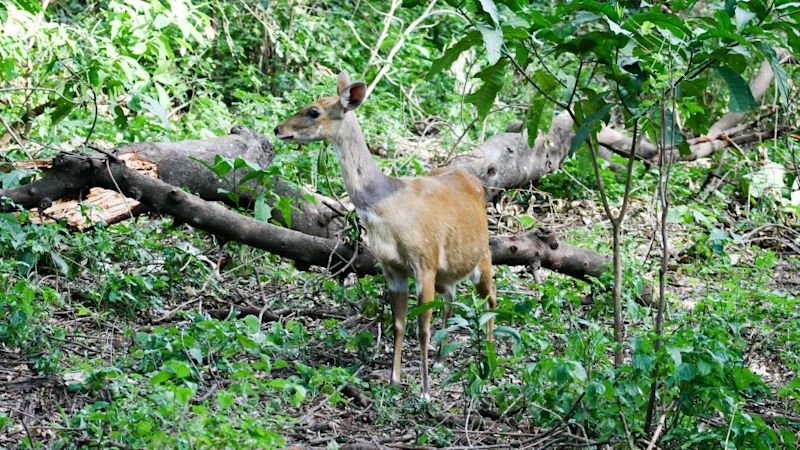 A lone bushbuck in the forest of Lake Manyara National Park | Image by C. Strässler
Follow Alice to Lake Manyara
At Follow Alice we've put together an exciting Tanzania safari that explores some of the very best locations in north Tanzania, including Lake Manyara. Check out our Visit the Serengeti itinerary, which begins with a Lake Manyara game drive.
Our Tanzania safari is the perfect addition, in our opinion, to a Kilimanjaro climb. It also pairs very nicely with a gorilla trekking experience in Uganda. If you're keen to Follow Alice to Tanzania, please give us a shout!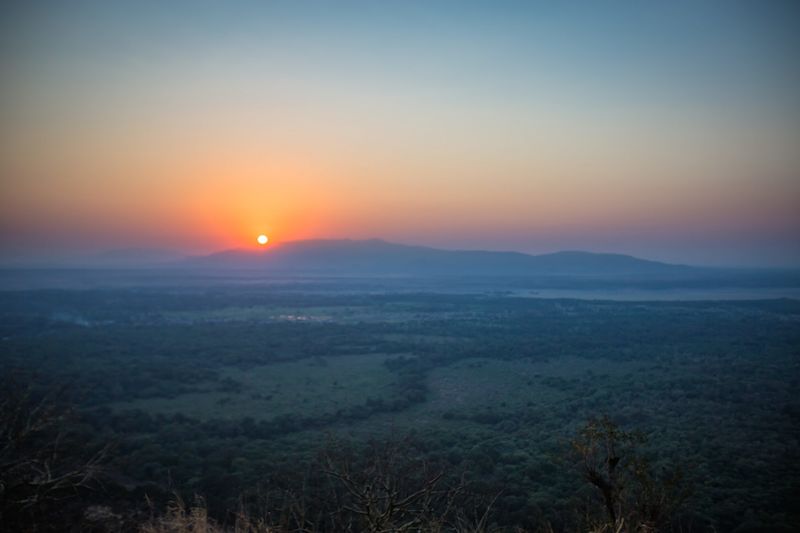 Sunrise over Lake Manyara National Park, with the lake visible top right