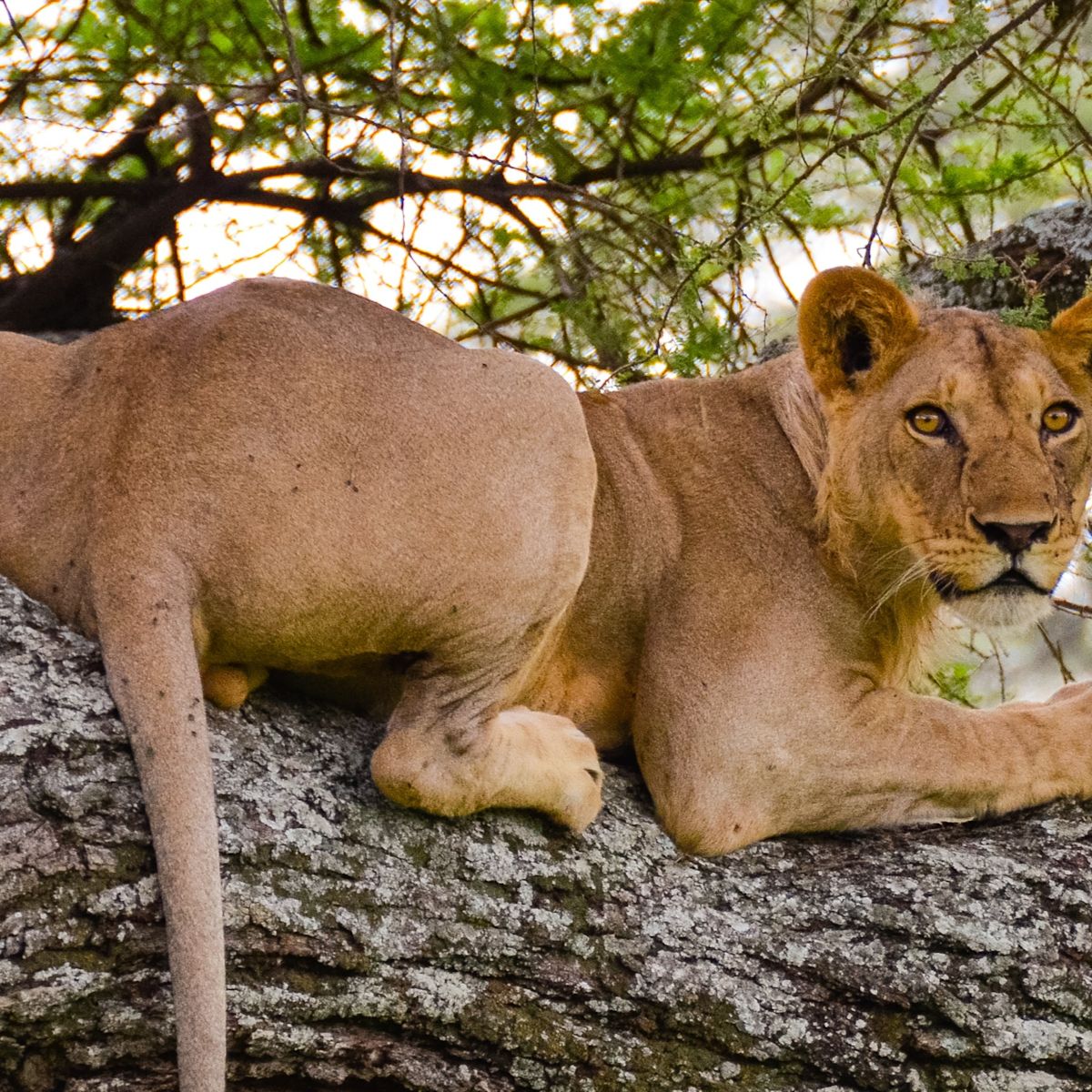 The incredible wildlife of Tarangire National Park
Aug 21, 2023
Reading time: 10 minutes
Tarangire National Park, located in northern Tanzania, is known for its enormous elephant herds, tree-climbing lions, impressive wildlife diversity, amazing spectrum of birds, red termite mounds, and many beautiful baobab trees.
At Follow Alice we love to take our travellers to explore Tarangire National Park. It's a treasure, in our opinion, and a game drive there never disappoints!
The park is very accessible, being a reasonably short drive from the city of Arusha and Kilimanjaro International Airport. This makes it an excellent safari destination.
Not only can and should you do a game drive in Tarangire, you can go on a walking safari in parts of the park! This is an unforgettable experience and not allowed in the other Northern Circuit parks.
The word tarangire means 'river of warthogs', so expect to see plenty of warthogs in Tarangire National Park!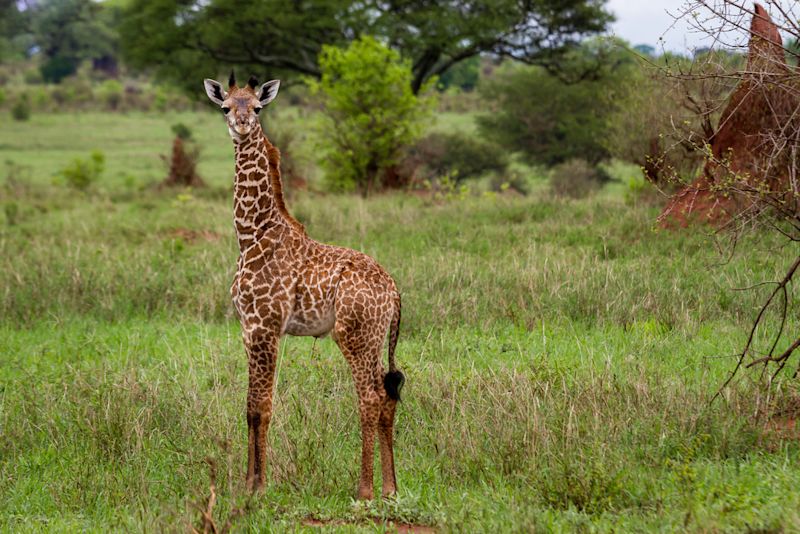 A young Masai giraffe with a termite mound in the top right corner
More animals, fewer people
Tarangire is one of Tanzania's lesser-known parks. A perk of this is that visitors to the park get to enjoy a relatively uncrowded safari. On top of this, the biodiversity of Tarangire is next level. This is a great destination if you're all about the animals!
Tarangire allows walking safaris and night-time game drives in the northeast section of the park, and these are truly memorable experiences.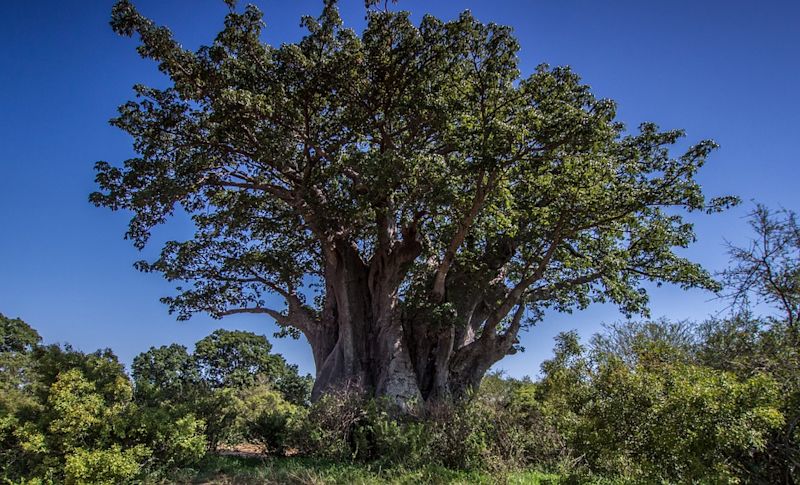 A mighty baobab tree – Tarangire National Park has them everywhere
Where is Tarangire National Park?
Tarangire National Park is located in northeast Tanzania, not far from the city of Arusha.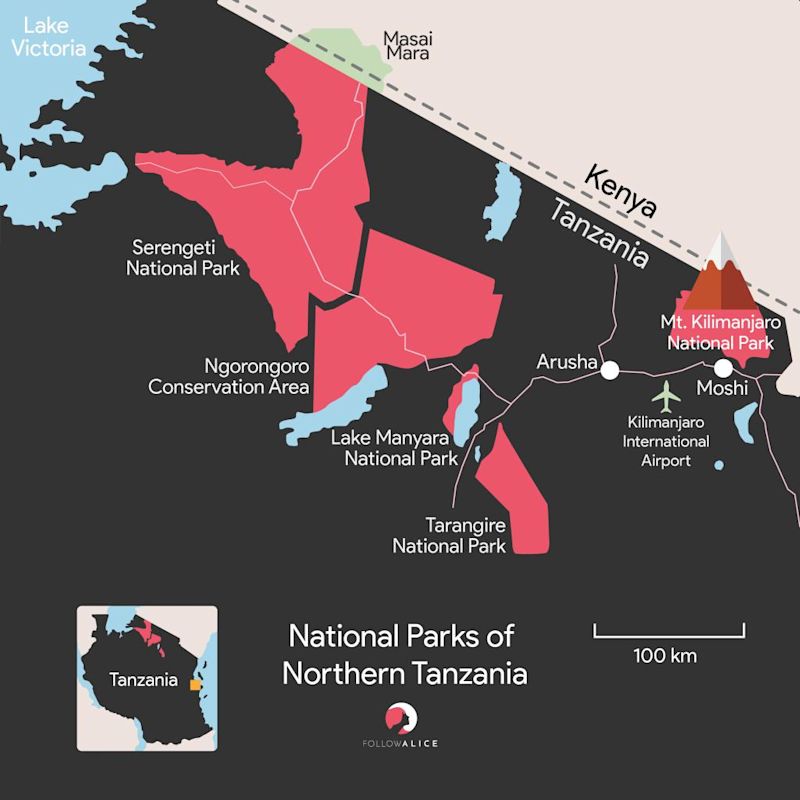 As you can see, Tarangire is the southernmost park of the Northern Circuit
Tarangire is one of several world-class conservation areas and national parks that make northern Tanzania a safari hotspot. Just a stone's throw to the northwest of Tarangire is Lake Manyara National Park, for instance, known for its flamingo-choked eponymous lake. Head a little further in the same direction and you stumble across the incomparable Ngorongoro Crater. Continue even further in that direction and you have the famous Serengeti National Park, the primary location of the Great Wildlife Migration. Need we say more?
How big is the park?
Tarangire National Park is about 2,850 km². That's almost the size of Rhode Island. It was established in 1970 and is the sixth largest park in Tanzania.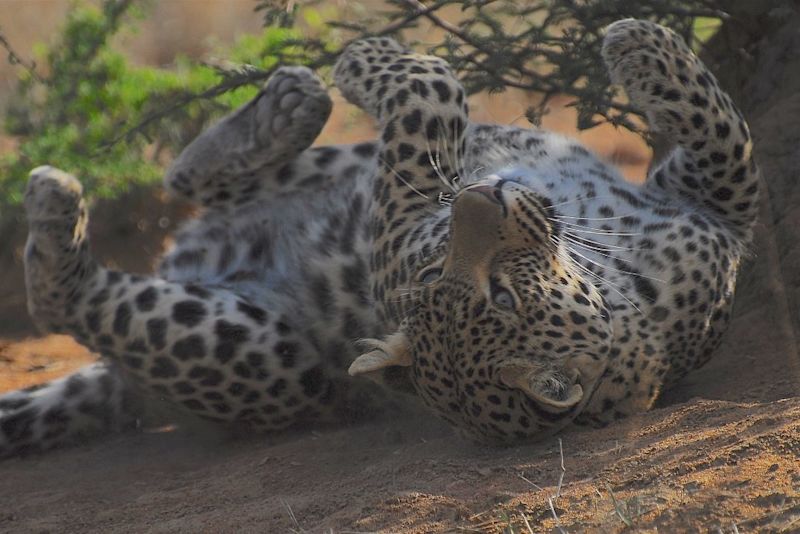 A leopard reminding us that he's really just a big cat, and so likes to roll in the dirt!
How do I get to Tarangire?
Tarangire National Park is 120 km southwest as the bird flies from the city of Arusha. The drive from Arusha to Tarangire is 140 km along the A104, and takes three hours.
Arusha is the gateway to northern Tanzania, as its the closest city to Kilimanjaro International Airport. It's used as a base by those heading on a Northern Circuit safari as well as those on their way to climb Kilimanjaro.
Many visitors fly directly into Kilimanjaro International Airport, while others connect there through Dar Es Salaam or Nairobi.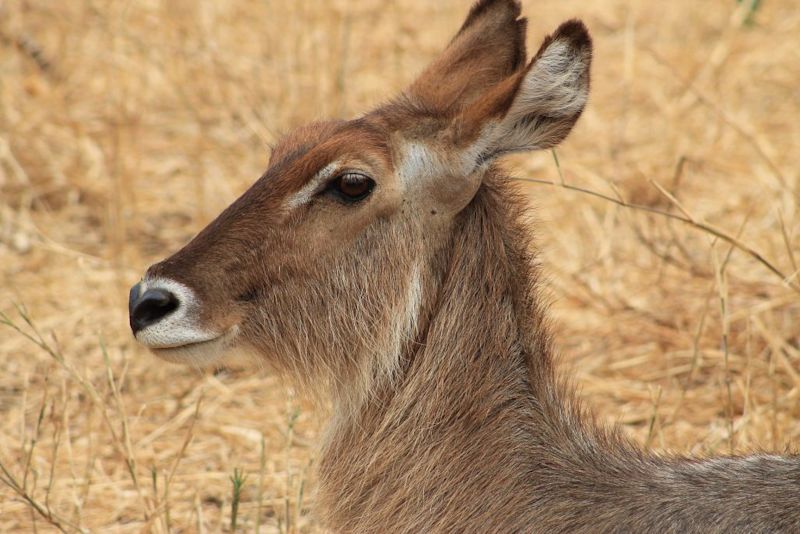 Close up of a female waterbuck, one of the many antelopes you can find in Tarangire
A truly varied landscape
Being such a large park, the landscape of Tarangire varies greatly as you move about. For starters you have plenty of grassland plains dotted with ancient baobab trees. You also have riverine woodlands, rocky hills, rugged gullies, bushland. The primary river running through the park is Tarangire River, and because of this you also have numerous swamps and floodplains.
Trees include not only baobabs, but also sausage trees, beautiful acacias (thorn trees), fan palms and candelabra trees (euphorbias), among others.
Red termite mounds
These various habitats support an incredibly diverse and high concentration of wildlife. And this includes the little guys too – like the termite, which thrives in Tarangire. Termite mounds can be seen everywhere, and sometimes grow into towers that are double the height of a grown man.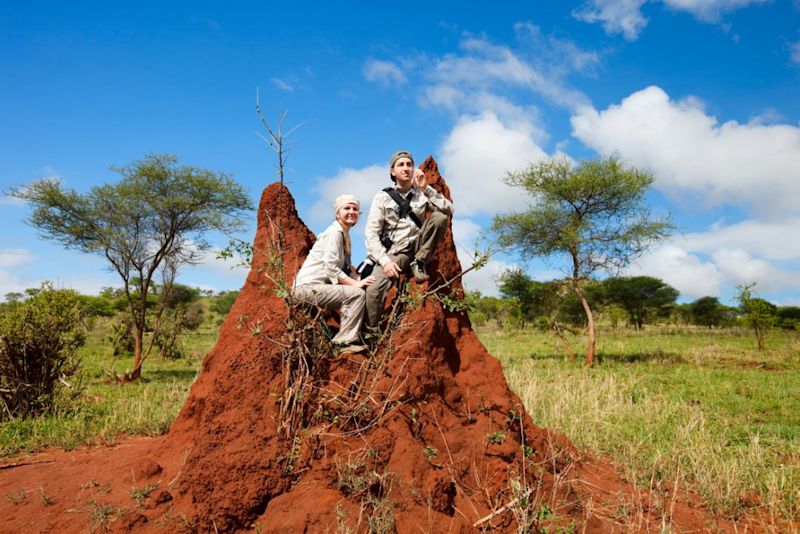 Tarangire National Park is famous for its massive red termite mounds
Massive, red-earth termite mounds are synonymous with Tarangire National Park.
Baobab trees
Tarangire also has the most diverse vegetation of any northern Tanzania park. One species of particular note, which we've already mentioned, is the enormous African baobab tree. In fact, an African baobab trunk can grow to be around 30 m (100 ft) in circumference. Further, these trees grow to a crazy age.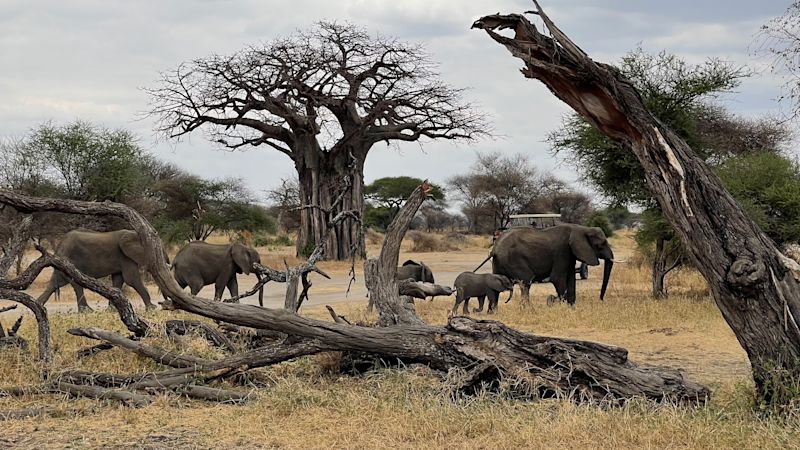 Our client Danielle snapped this elephant herd passing in front of a baobab
One baobab tree (not in Tarangire) was found to be 1,275 years old! So you're seeing something truly special when you see a baobab tree. The tree is also dotted everywhere with various types of acacia trees, which remind you that you're definitely in Africa.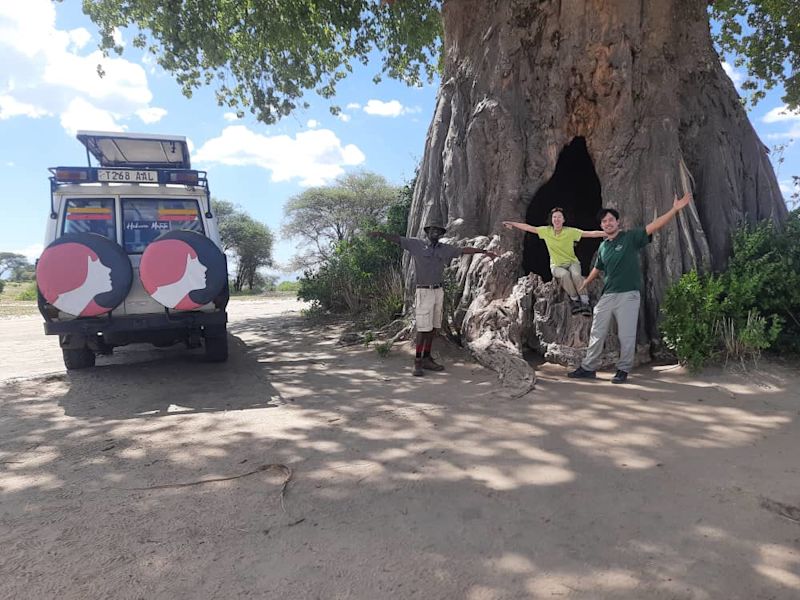 Kazi with clients in front of an enormous, hollowed baobab that was once used to hide poached tusks!
Sausage trees
The kigelia (or sausage tree) is a favourite with lions. They particularly enjoy draping themselves over the branches of sausage trees. These trees have a thick canopy and large, sausage-shaped, hanging fruits. And if the lions weren't reason enough to pay special attention to sausage trees on a Tarangire safari, note that leopards and pythons also enjoy hanging out in them.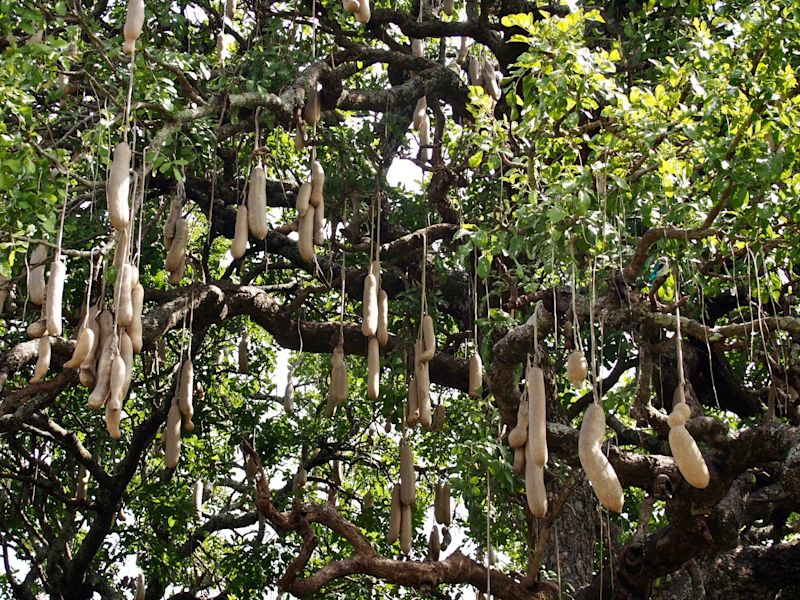 The lions and leopards of Tarangire enjoy chilling in sausage trees | Image by Robur.q
Tarangire River and Lake Burunge
Tarangire River flows out of Lake Burunge, which sits in the northwest corner of the park. The lake is an alkaline body, and as such attracts lots of flamingoes. During the rainy season, the water becomes fresh enough for mammals to drink. But at the end of the long dry season, it pretty much dries up to become a bed of salt.
Tarangire River flows south throughout the length of the park. It's the only constant water supply in the region during the dry season. And this is why the park attracts so many migratory animals every year during the long dry season (June to October).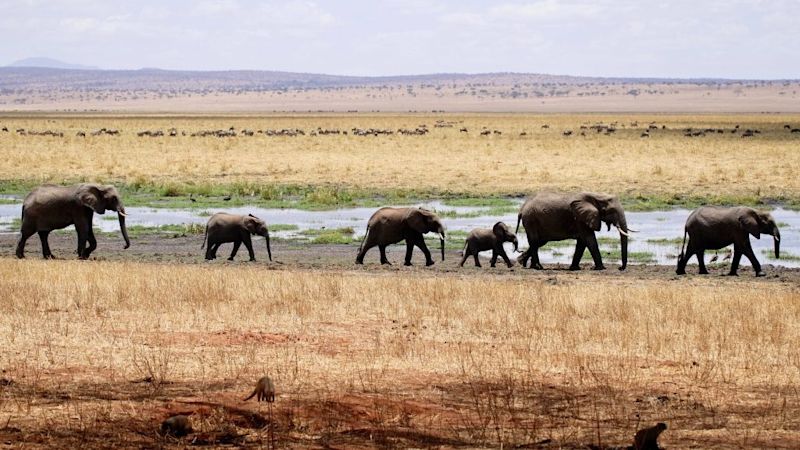 Animal spotting requires absolutely no skill during the dry season in Tarangire!
Animals of Tarangire National Park
Tarangire National Park has the second highest concentration of wildlife in Tanzania after Serengeti National Park.
Some of the animals you can look for on safari in Tarangire are:
bush elephants

lions

hippos

leopards

cheetahs (rarely seen)

African buffaloes

hyenas (rarely seen)

zebras

giraffes

African wild dogs (also called painted dogs)

bat-eared foxes

warthogs

jackals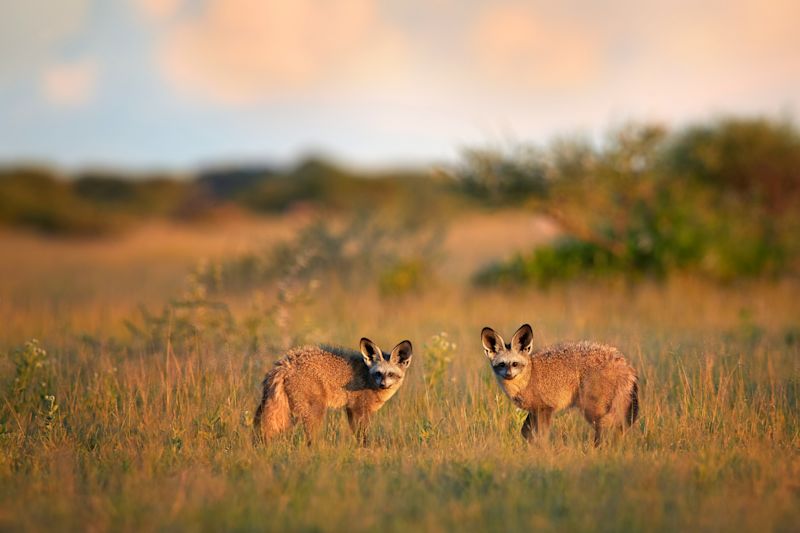 Two bat-eared foxes
Elephants, lions and buffaloes are very common sights in Tarangire.
The park's antelopes include:
wildebeests

hartebeests

kudus

fringe-eared oryxes

common elands

waterbucks

gerenuks

impalas

dik-diks
Also look for olive baboons, vervet monkeys, banded and dwarf mongooses, honey badgers and ground squirrels while in the park.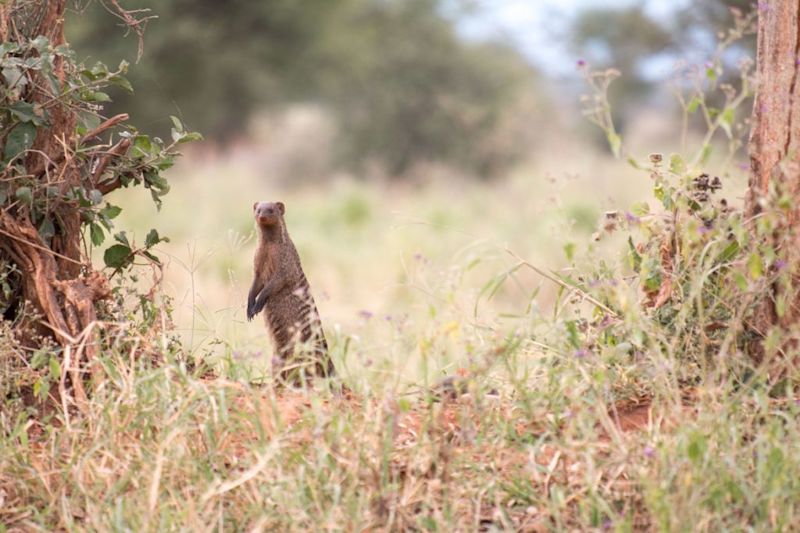 A banded mongoose
Large elephant herds
A number one boast that Tarangire can make is having the highest elephant concentration in the world. And believe it or not, in Tarangire the elephant herds can reach over 300 individuals! If you've never seen an elephant, or just love these gentle giants, then you most definitely need to head to Tarangire.
Tarangire has the world's highest concentration of elephants!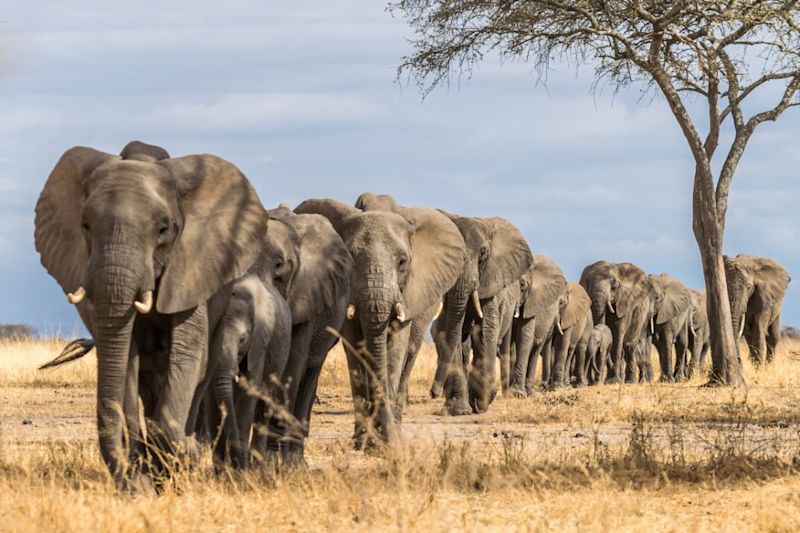 An elephant herd in Tarangire National Park walking in a line
Lions
The other animal species that would be emblazoned on a Tarangire bumper sticker is the lion. An exciting aspect of Tarangire National Park is how likely you are to spot lions.
Moreover, the parks lions are tree-climbing lions, which are only found in northern Tanzania and southern Uganda. There are around 700 lions in the park, so your chances of spotting a pride or two (or three) are very high.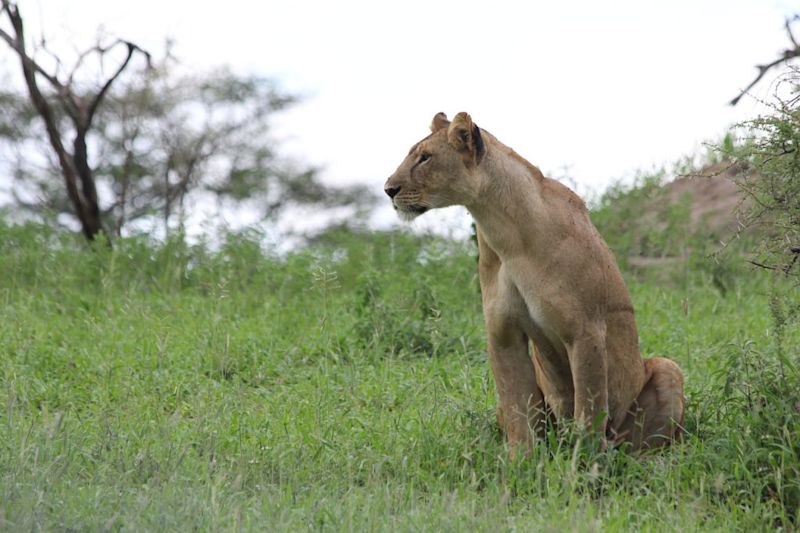 Tarangire National Park has one of the highest concentrations of lions in the world
Fringe-eared oryxes
Oryxes are amazing creatures. They live in hot, dry regions, and they can actually raise their body temperature to avoid perspiration.
The subspecies known as the fringe-eared oryx lives only in southern Kenya and parts of Tanzania. So you really want to make an effort to see them while in the hood, as you can't see them on just any African safari.
Tarangire is the only place in the country where you can regularly find fringe-eared oryxes and gerenuks, two fascinating species of antelope.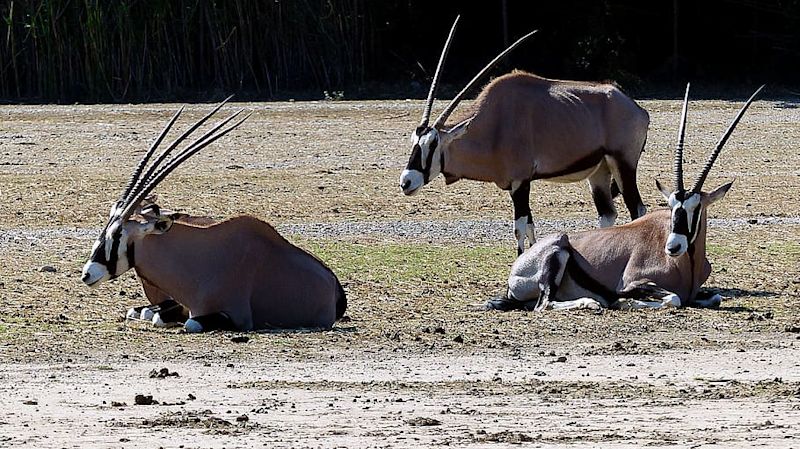 Four fringe-eared oryxes showing off their fearsomely long horns
Gerenuks
Gerenuks are unusual-looking antelopes. They're sometimes called giraffe gazelles, because of their long necks. Their tiny heads with long ears sitting atop such slender, long necks make them an almost comical sight.
Gerenuks are near endangered. They can only be found in the Horn of Africa and some of the drier parts of East Africa (which include Tarangire). They're an exciting find on a safari.
The word gerenuk means 'giraffe-necked' in Somali.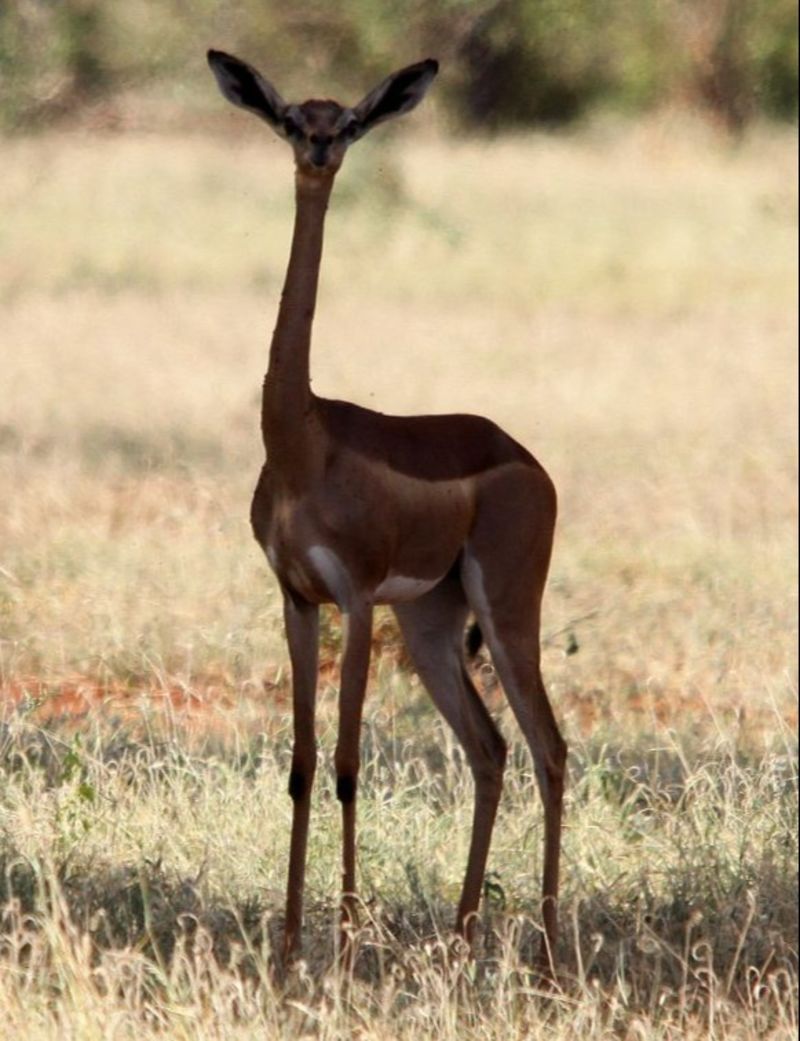 Gerenuks aren't commonly seen in Tanzania – your best bet to see one is in Tarangire | Image by Donald Macauley
Birds of Tarangire National Park
Tarangire boasts more than 550 species of birds. Its bird population is one of the most diverse in all of Africa! Many of the birds, like flamingos and hornbills, are drawn to the park for its lake and numerous swamps. Many other species enjoy the plentiful acacias (thorn trees). One reason for this is that the long thorns are a good foundation for making nests, and they also deter predators.
Impressive fact: Tarangire has more breeding species of birds than anywhere else on Earth!! It's a birder's dream destination. 😍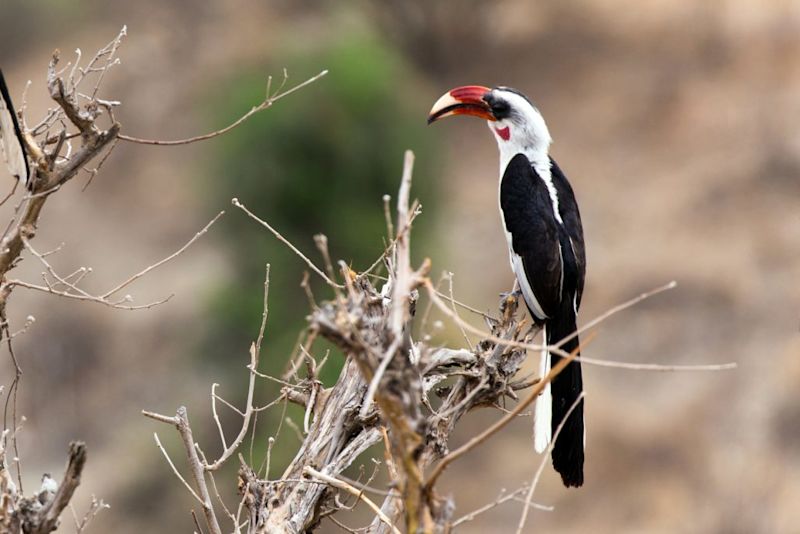 Von der Decken's hornbills are endemic to East Africa
There are just so many endemic, rare, beautiful, colourful, wonderfully named and interesting birds to see in Tarangire, that one doesn't quite know where to begin discussing them!
But for starters, keep a keen eye open for the kori bustard. This is the heaviest flying bird in the world. A hefty non-flyer inhabiting the park is the Masai ostrich, a subspecies of the common ostrich.
A beauty to try to spot is the yellow-collared lovebird, or masked lovebird. They often hang out in pairs or colonies, and make a colourful little splash on the landscape. Also look for the gorgeous Nubian woodpecker, which has a black, white and brown spotted body with strikingly red head.
And see if you can spot a watch of northern white-crowned shrikes, also called white-rumped shrikes. They're gregarious birds that can usually be seen in groups of about a dozen.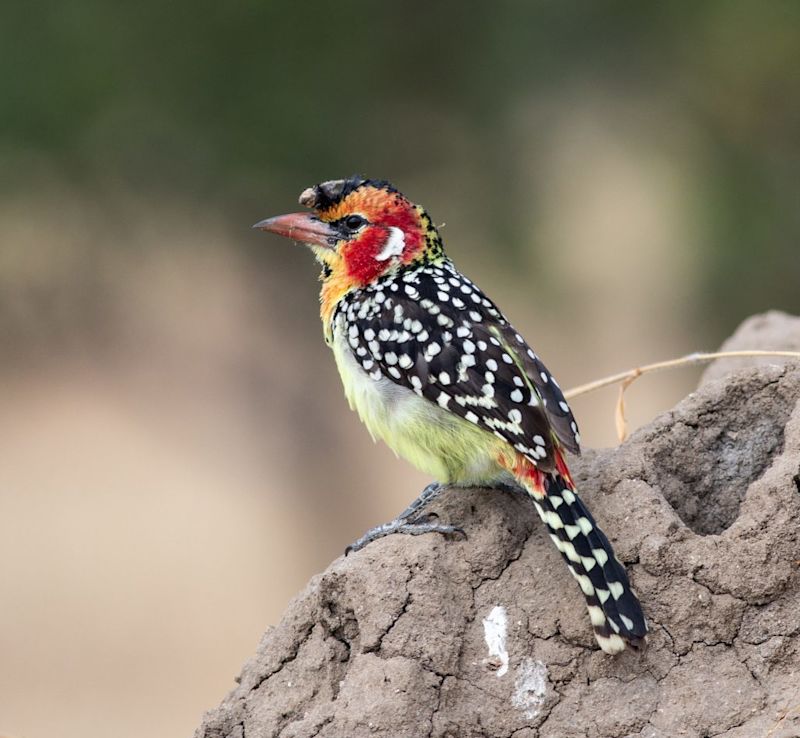 A gorgeous male red-and-yellow barbet on a termite mound
Notable birds
Here now is a list of some notable birds to look for in Tarangire, including those already mentioned ...
African fish, steppe and bateleur eagles

lappet-faced vultures

hornbills

kori bustards

stocking-thighed ostriches

lesser flamingoes

helmeted guinea fowls

northern white-crowned shrikes

African hoopoes

superb and ashy starlings

lilac-breasted rollers

pygmy falcons

red-and-yellow barbets

brown parrots

white-bellied go-away-birds (loeries)

yellow-collared lovebirds

saddle-billed storks

Nubian woodpeckers
The best months for birding are October to May, as this is when winter migrants are present in the park. But go earlier rather than later, as the swamplands can become impassable from late March.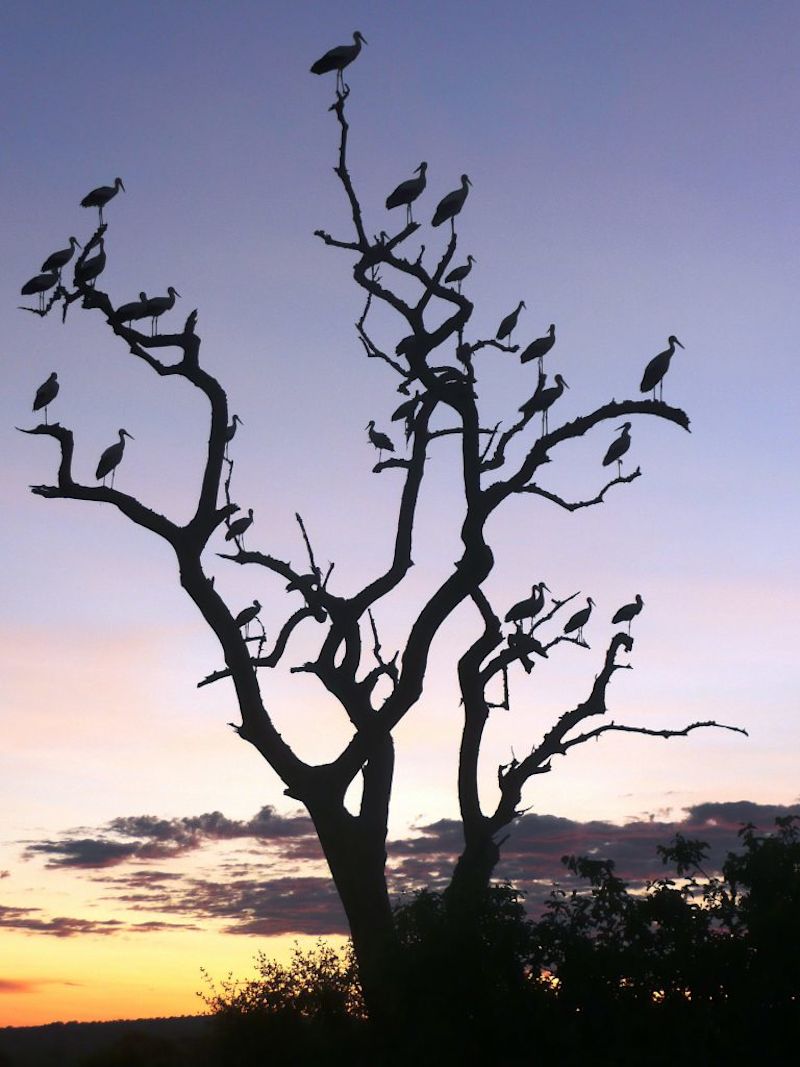 A mustering of storks transforms this barren tree into a magical sunset tableau
Best time to visit Tarangire National Park
The best time of year to visit Tarangire National Park is during the long dry season, which is June to October. In the dry season, thousands of zebras and wildebeests migrate to the park. They're drawn by the waters of Tarangire River, which flows through the middle of the park.
During the long dry season (June to October), Tarangire has the highest concentration of mammals of any of Tanzania's national parks.
Tarangire River is the only stable water source in the region during the dry period. So you can understand why such a concentration and diversity of animals flock to the park in summer.
The vegetation of the park is also sparser at this time of year, making game spotting that much better. And if that weren't enough, the scarcity of water forces the animals to congregate at the river. So spotting plentiful large game in the dry season is simply a given in Tarangire. The water level is also lower, making hippos very easy to see.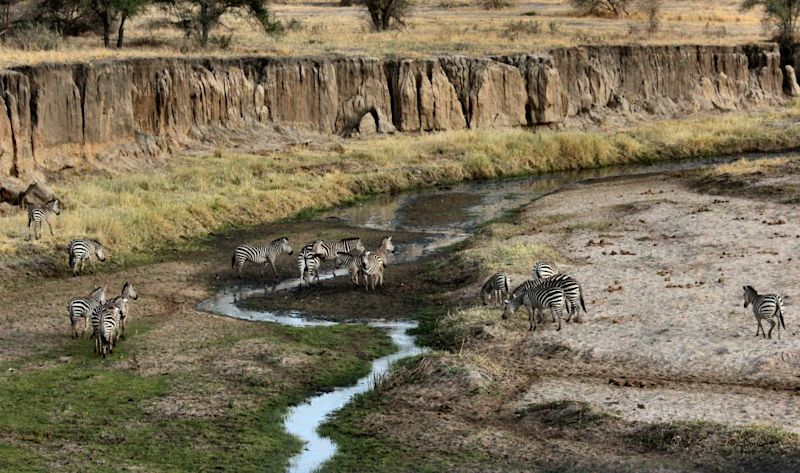 In the dry season, animals congregate at Tarangire River, the only steady water supply in the entire region
Off-peak season
The remainder of the year (November to May), is the park's off-peak season. This is because many of the migratory animals have headed back north. The park still has plenty of resident wildlife during this time, however. And there are always plentiful elephants in the park, no matter what the season.
If you enjoy a lush landscape, and don't like having other safari vehicles around you, then this is a good time to visit. The southern portion of the park, being a little bit of a further drive from Arusha, is especially quiet.
Note that certain swampy areas within the park can become unnavigable after too much rain. Late March to May often see the heaviest of the rains.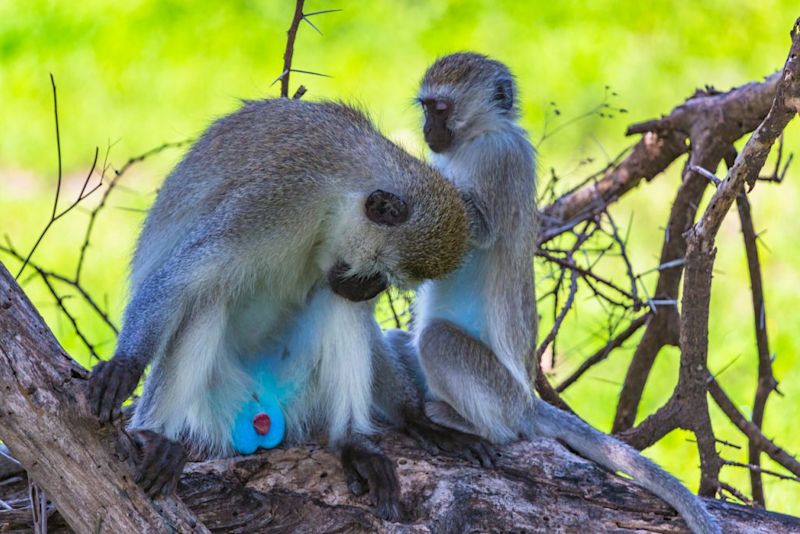 The blue, black and grey of these vervet monkeys contrasts prettily with the fresh green grass in the background