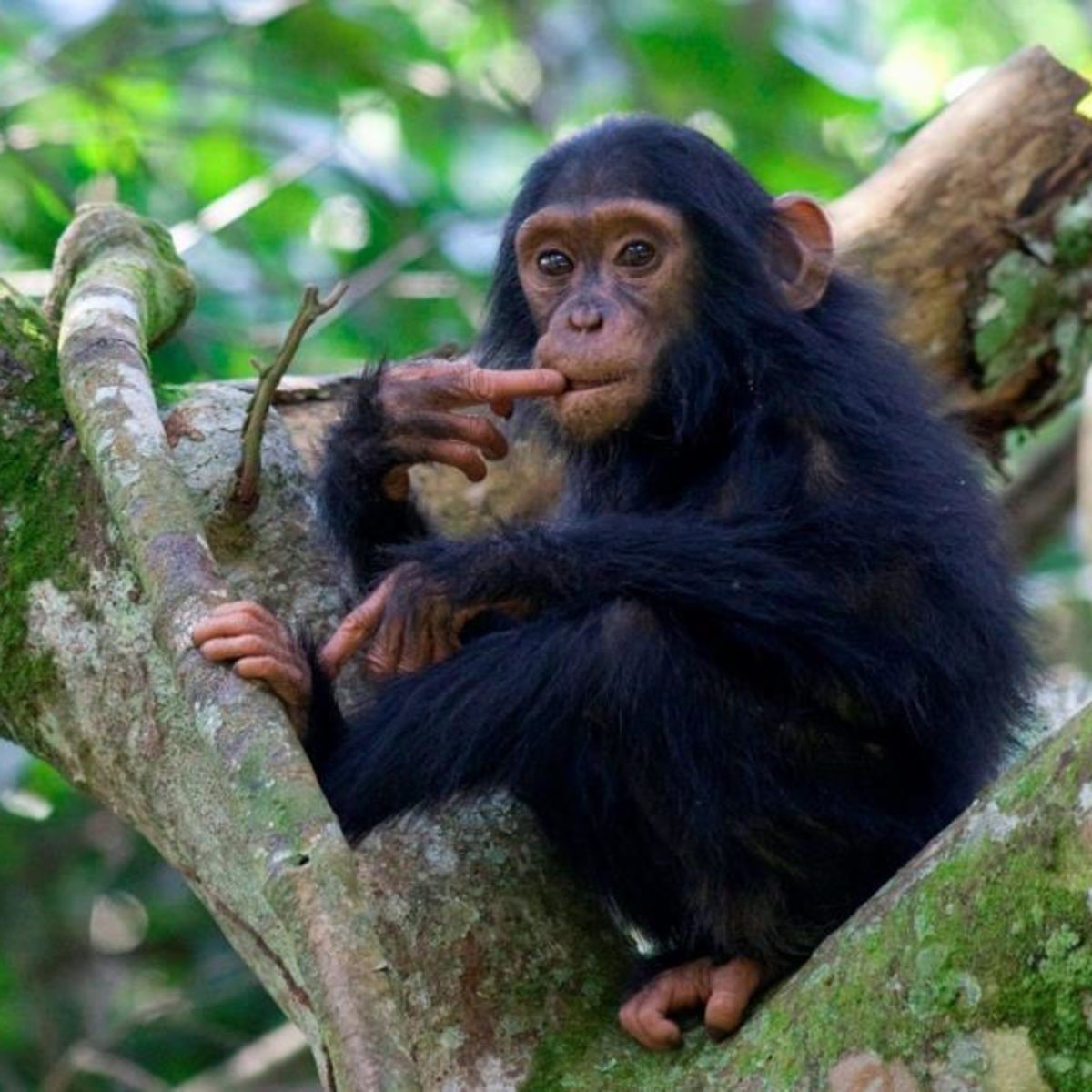 All about chimpanzee trekking in Uganda
Jun 12, 2023
Reading time: 4 minutes
Chimpanzee trekking in Uganda is an underrated adventure, and we want to fix that! We chat things like where you can trek to see them, how difficult the hike is, and what the experience is actually like...
If you're keen on seeing mountain gorillas in the wild, chances are you'd also love to see chimpanzees in the wild! Trekking to see endangered chimpanzees in the wild is a wonderful excursion to add to a trip in Uganda. In fact, we include it in our Top 20 things to do in Uganda – the definitive list!
Differences between gorilla and chimp trekking
Similar to gorilla trekking, in chimpanzee trekking a small group goes on a hike with trained rangers to see and spend time with a chimpanzee troop in the wild. Chimps are very similar to gorillas in many ways, while also of course having easily noticeable differences.
One of the main differences between a chimp trek and a gorilla trek is that chimps live primarily in trees while gorillas live on the ground. This means chimps are a little harder to spot and photograph. The best times of year for chimp trekking are the same as for gorilla trekking: November to February, and June to October. This makes it easy to take on both treks during a trip to Rwanda or Uganda.
Chimpanzees also live in much larger troops than gorillas: chimp troops constitute around 50 to 150 individuals.
The best times of year for chimp trekking are the same as for gorilla trekking – super convenient!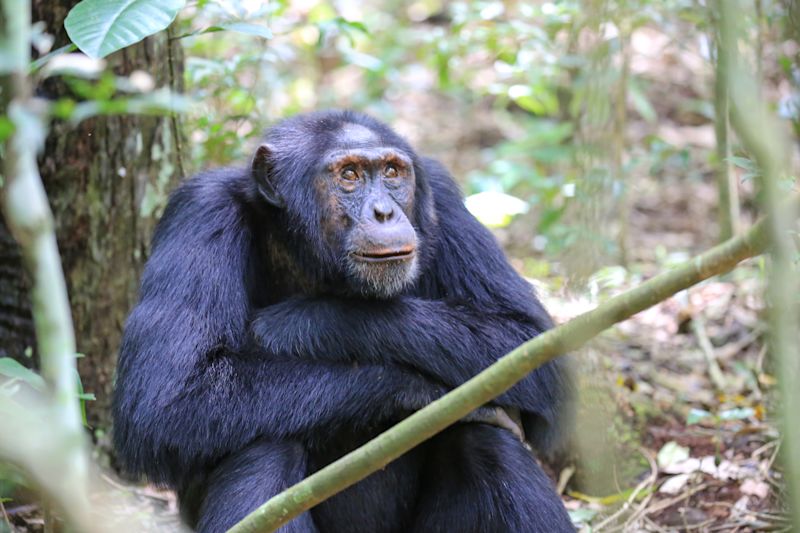 Chimpanzee in Kibale Forest in Uganda
Where in Uganda you can go chimp trekking?
There are several places where you can trek to see chimpanzees in Uganda. The most popular places are Kibale Forest and Kyambura Gorge. Both of these areas have groups of habituated chimpanzees. You can also go chimp trekking in Budungo Forest.
Kibale Forest
The beautiful Kibale Forest National Park in Uganda is one of the best places in the world to see chimpanzees in their natural habitat. The park is about 230 km from Bwindi Impenetrable National Park.
Kibale Forest is home to around 1,200 chimps. It also hosts 12 other species of primates, namely:
red-tailed monkeys (or red-tailed guenons)

black and white colobus monkeys

Uganda red (or ashy) colobus monkeys

L'Hoest's (or mountain) monkey

vervet monkeys

olive baboons

Uganda mangabeys

patas monkeys

blue (or diademed) monkeys

grey-cheeked mangabeys

Prince Demidoff's bushbabies (galagos)

Bosman's pottos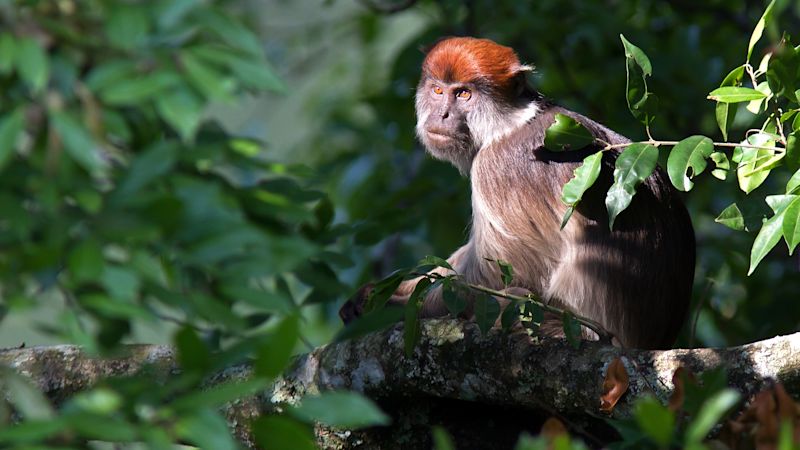 A red colobus monkey
The park is a remnant of a once huge central African rainforest. It covers 776 km on the edge of the Queen Elizabeth National Park. It's one of the most diverse and varied rainforests in Africa. There are several habituated groups of chimpanzees in Kibale and groups of up to eight people can trek to see them.
Kyambura Gorge
Kyambura Gorge is a gorge on the edge of Queen Elizabeth National Park. It's filled with a tropical rainforest that's home to about 16 chimpanzees. This forest is cut off from the larger forests like Kalinzu and Maramagambo where other chimps live, a fact that has led to them being called 'the lost chimps of Kyambura'.
The forest is beautiful and home to many species of birds as well as primates, including red-tailed monkeys, black-and-white colobuses, baboons and vervet monkeys.
Please note that it's a very steep hike down into the gorge. And what goes down, must also make its way back up! Trekking to see the lost chimps of Kyambura is thus a taxing enterprise, but also an incredibly rewarding one!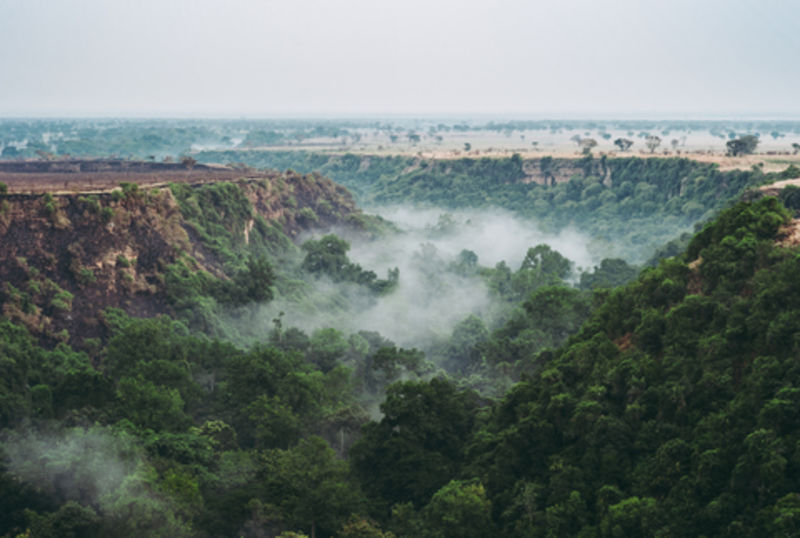 Mist lingers in Kyambura Gorge
Budungo Forest
It's also possible to trek to see chimpanzees at Budungo Forest near Murchison Falls. This is a beautiful rainforest which is home to 800 chimps. It's the largest remaining tropical forest in East Africa, covering 825 km. It's under the protection of the Jane Goodall Institute and there are several habituated chimpanzee groups here.
Your Follow Alice trip manager will assign the best chimp trekking region to suit your tour and needs.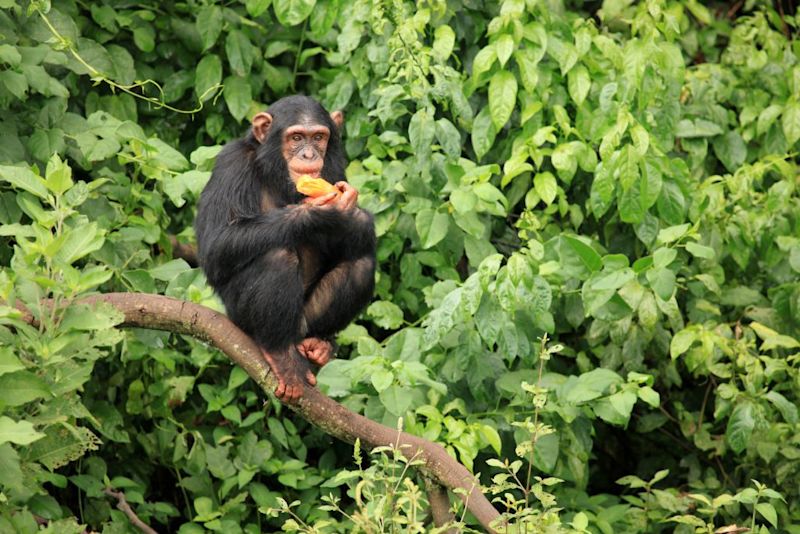 Unlike mountain gorillas, chimps spend much of their time up in trees
All about chimp trekking in Uganda
Here are seven facts about chimp trekking in Uganda which we feel should answer your practical answers ...
Chimp trekking permits cost US$200 per person. Two departure times per day are offered for chimp trekking: 8 am and 2 pm.

Groups are limited to six people per group.

You are briefed by a ranger about the trek and what to expect before setting off.

You can hire a porter to carry your backpack and help you over any difficult and slippery sections.

Once briefed, your group sets off into the forest, lead by your ranger. The forest is alive with birdsong and the calls of monkeys!

One you reach your chimp troop, you spend one hour with them.

You can, alternatively, book a chimpanzee habituation permit ($250). This allows you four hours with the chimps. Such treks depart at 6 am.