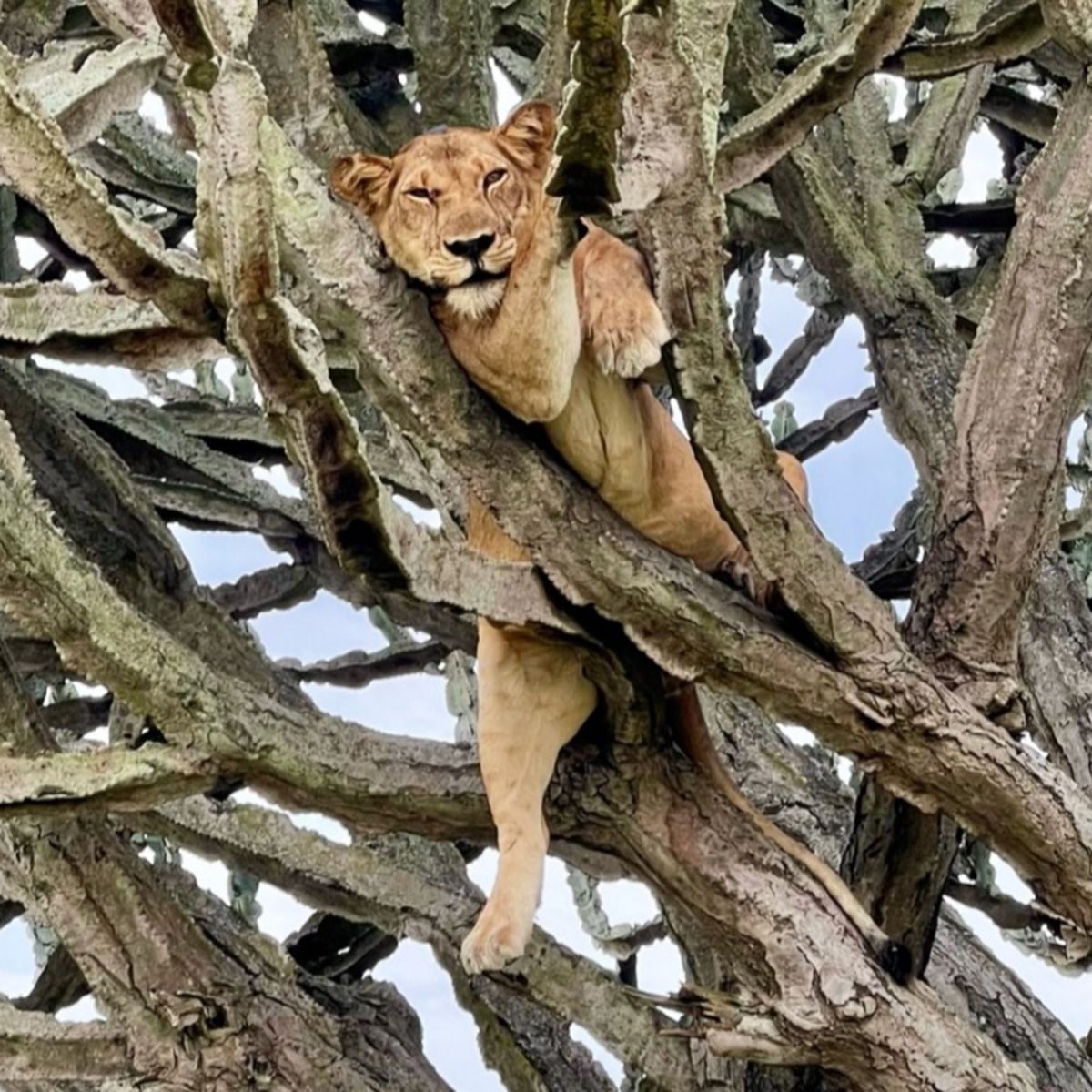 6 unmissable things to do in Queen Elizabeth National Park, Uganda
Jun 12, 2023
Reading time: 14 minutes
There's so much to see and do in Queen Elizabeth National Park. In fact, its abundance of animals and birds borders on the ridiculous! From visiting beautiful craters to going on boat safaris and forest walks, this game park in southwest Uganda has it all.
Queen Elizabeth National Park is Uganda's most biodiverse park, and its second largest.
Initially named Kazinga National Park, it was renamed in 1952 in honour of Queen Elizabeth II and Prince Philip's first visit to Uganda.
Any trip to Uganda should include a visit to this special game park, not only to see the varied wildlife but also to enjoy the varied and beautiful landscapes.
Map of Queen Elizabeth National Park
The map below shows the main features of the park and is a helpful reference for the activities described below.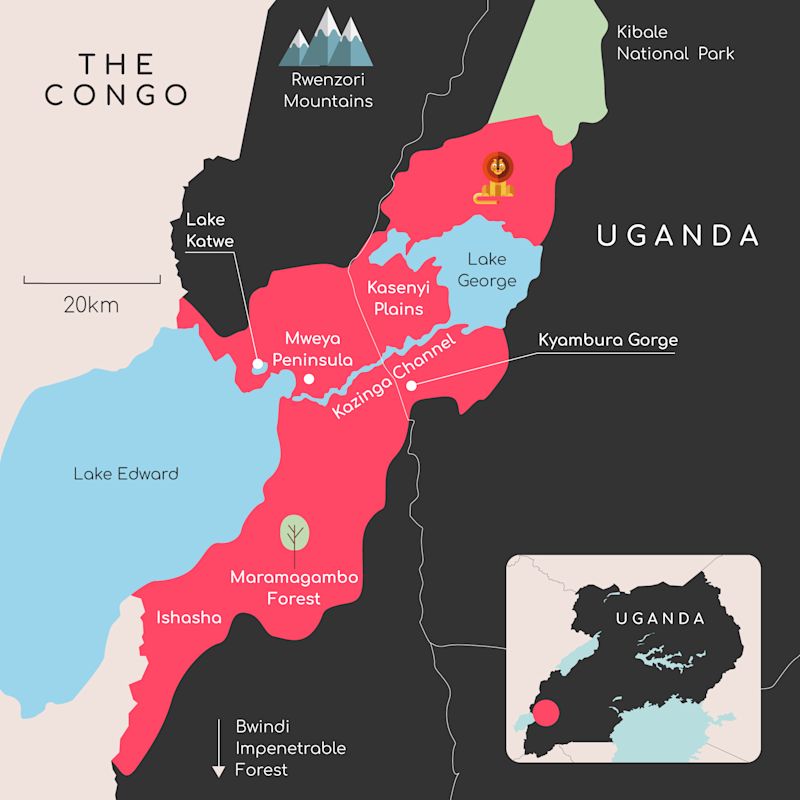 Map of Queen Elizabeth National Park in southwest Uganda
Top six things to do in the park
Let's look at the most popular and rewarding activities on offer within Queen Elizabeth National Park ...
1. Visit the Explosion Craters
One of the most striking features within Queen Elizabeth National Park is the Katwe-Kikorongo Explosion Craters (or simply the Katwe Craters) in the north of the park.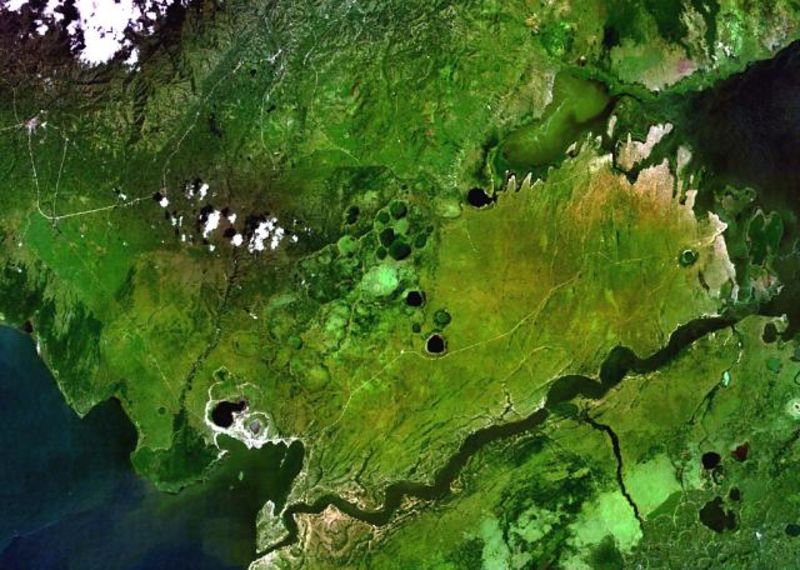 Katwe Craters as seen from space, image by NASA
These volcanic craters exist because Queen Elizabeth National Park sits within the famous Albertine Rift, a seismically active region. Some are now covered in vegetation, while others are filled with water, as you can see in the satellite image above.
A journey to the Explosion Craters is a game drive as well as a scenery fest.
Driving to and exploring these some of the craters is a fantastic and rewarding outing. Helpfully, they're not too far from the park's camps and lodges.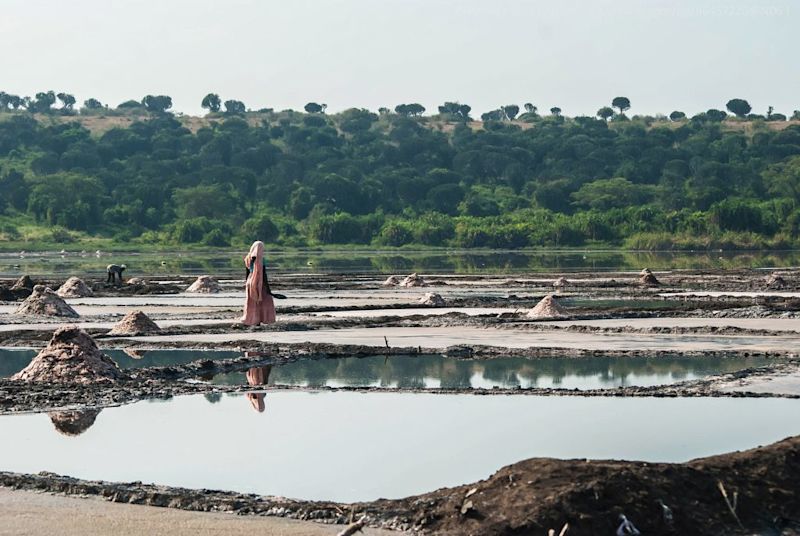 Lake Katwe is rimmed with salt pans
Lake Katwe sits in one of the Explosion Craters and has been mined for salt for centuries. Salt farms still exist there today, and decorate the rim of the lake. It's fascinating to learn about the history of this region and its highly prized salt mines.
2. Go on a game drive on Kasenyi Plains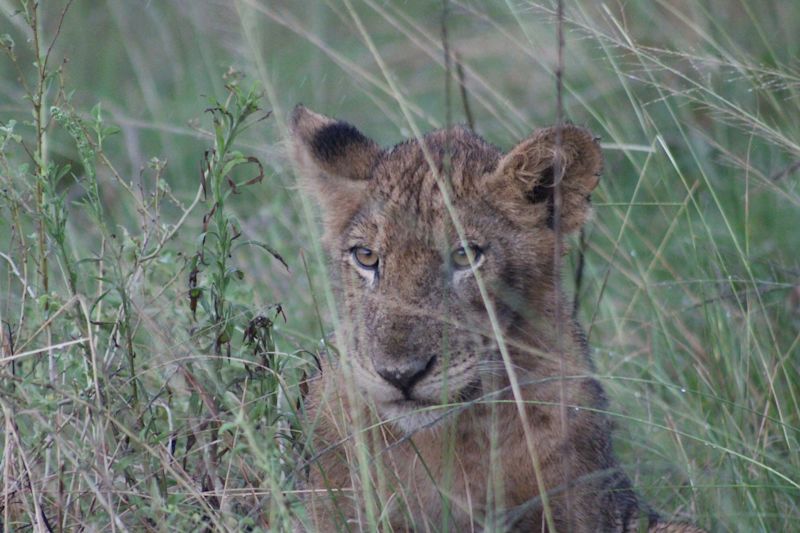 Lions prey on the antelopes of Kasenyi Plains, photo by Seraina
Queen Elizabeth National Park is one of the best spots in Uganda for game drives! The Kasenyi Plains in the northeast of the park are an especially popular part of the park for animal spotting as you can find a dazzling abundance of game spread out in relatively plain view here.
Some of the most notable creatures in this bushy plains region are lions, elephants, leopards, spotted hyenas, side-striped jackals, buffaloes, Ugandan kobs, bushbucks, topis and Defassa waterbucks.
A game drive in the Kasenyi Plains is an absolute must for anyone visiting Queen Elizabeth National Park!
A great rest stop during a Kasenyi Plains game drive is the pretty Bunyampaka Lake. This crater lake is a traditional salt mine site, like Katwe Lake. There are also cold drinks and handicrafts on sale at a handful of kiosks.
3. Do a boat safari on Kazinga Channel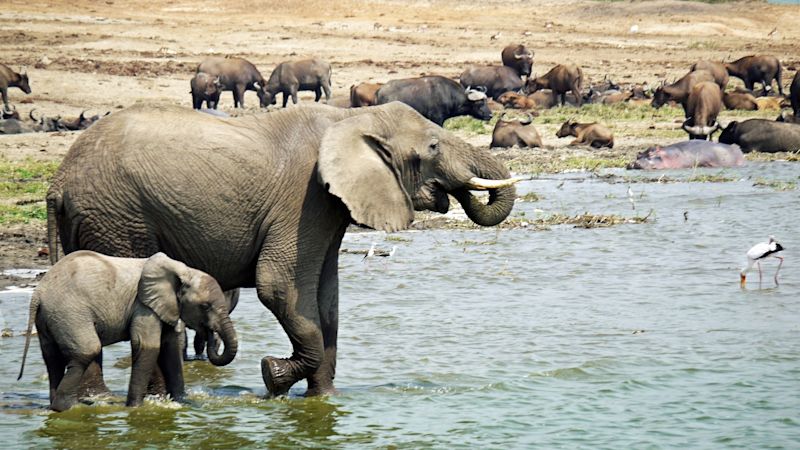 Elephants, buffaloes, hippos and waterbirds in Kazinga Channel
Another must when visiting Queen Elizabeth National Park is going on a boat cruise on Kazinga Channel. It's a real adventure to be able to enjoy animal-spotting from the water – one that allows you to see different animals up close.
Kazinga Channel cuts across the game park, linking Lake Edward in the southwest with Lake George in the northeast. This natural channel allows water from the larger, much deeper Lake Edward to flow into the smaller, very shallow Lake George. The marshes around Lake George are a Ramsar Wetland.
Top tip: you or your tour operator should book in advance if you want to do a boat cruise in the peak months of June to September.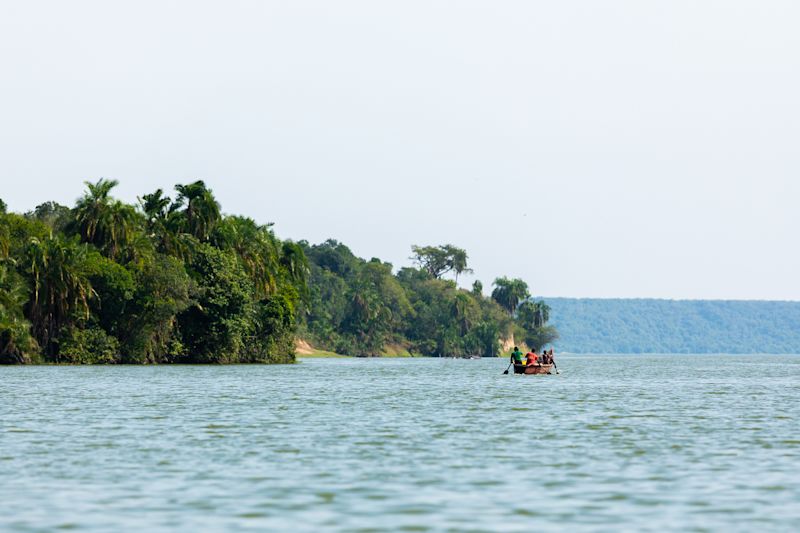 Local fisherman on Kazinga Channel
Most folks who head out on a Kazinga Channel boat cruise spot many hippos, elephants, buffaloes and Nile crocodiles. You also see plenty of waterbirds, like flamingoes, pelicans, herons, storks, skimmers and kingfishers.
Candelabra trees (Euphorbia candelabrum), which are large succulents, also grow in abundance along Kazinga Channel, and are a particularly striking sight.
4. Go chimp tracking in Kyambura Gorge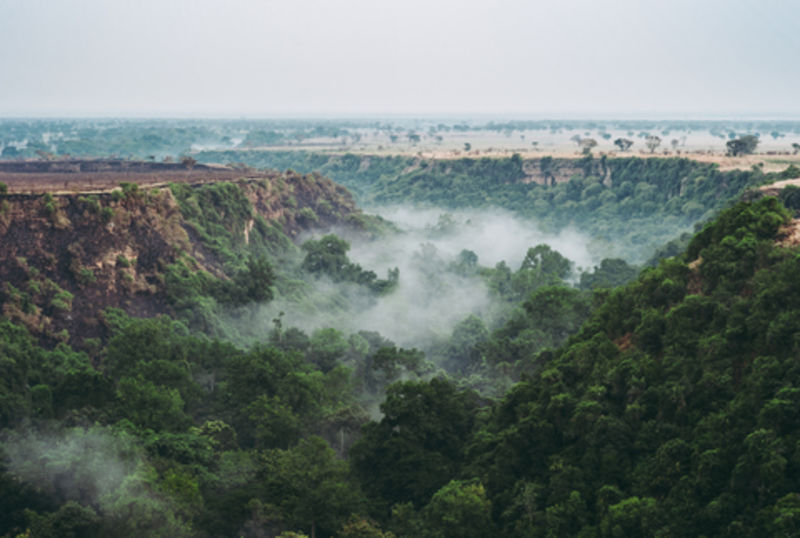 Kyambura Gorge with a thin covering of mist
In the far east of the park is the 11 km-long and very pretty Kyambura Gorge. The gorge is yet another special ecosystem within the park, and one that's home to a troop of chimpanzees!
Visitors can go on a guided hike into the forested gorge as part of an exciting chimp tracking experience. As there's only the one troop of chimps in Kyambura Gorge, it's not guaranteed that you'll see them on the hike. (We generally advise visiting Kibale Forest National Park just to the northeast of Queen Elizabeth NP for a more reliable chimp tracking experience.)
That said, a chimp tracking expedition is a fantastic outing regardless, as its appeal is not just about the chimps – it's also a chance to go on a scenic hike within the park and explore a small but rich ecosystem.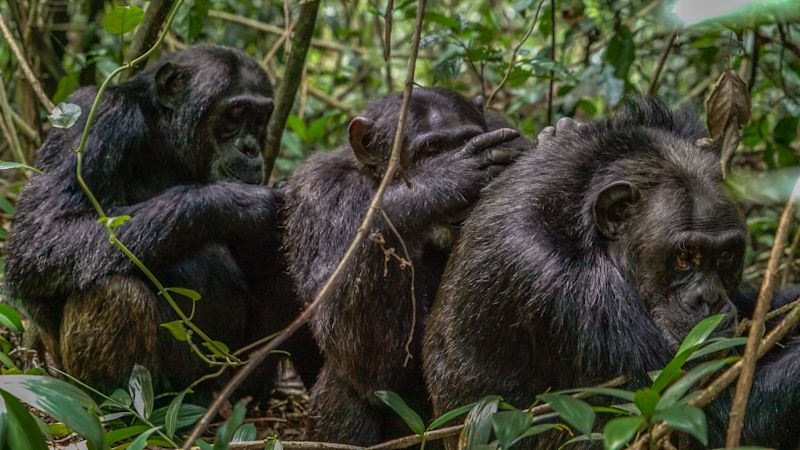 Chimps are social groomers
Chimp tracking hikes into Kyambura Gorge take place in the morning and generally last two to three hours. You descend into the gorge and cross the river at various points over log bridges. If you're lucky, you'll hopefully see the chimps effortlessly gliding through the branches above you. During the hike, your guide will fill you in on all sorts of fascinating details about the chimps and their habitat.
But of course one should be on the lookout for other wildlife besides the chimps! There are also other primates living in the gorge, namely olive baboons, red-tailed monkeys and black-and-white colobus monkeys. And there are other types of animals living here too, like side-striped jackals, giant forest hogs, waterbucks and jackals.
A red-tailed monkey
Top tip: you or your tour operator should book your chimp trek in advance to ensure you get a spot.
If you love birds, then this hike will be especially wonderful for you. The number of bird species to be found within this relatively small forest is incredible: nearly 350! These include the secretary bird, bar-tailed godwit, African finfoot, Chapin's flycatcher, Ovampo sparrow hawk, black-rumped buttonquail, and blue-headed bee-eater.
5. Go on a nature walk in Maramagambo Forest
While it's not as well-known as some other sections of the park, we feel that those who have the time should most definitely go on one of the guided nature walks in the beautiful Maramagambo Forest! Ranging from two to six hours, the hikes are lovely scenic outings. There are also two crater lakes on the edge of the rainforest which you can view on certain routes.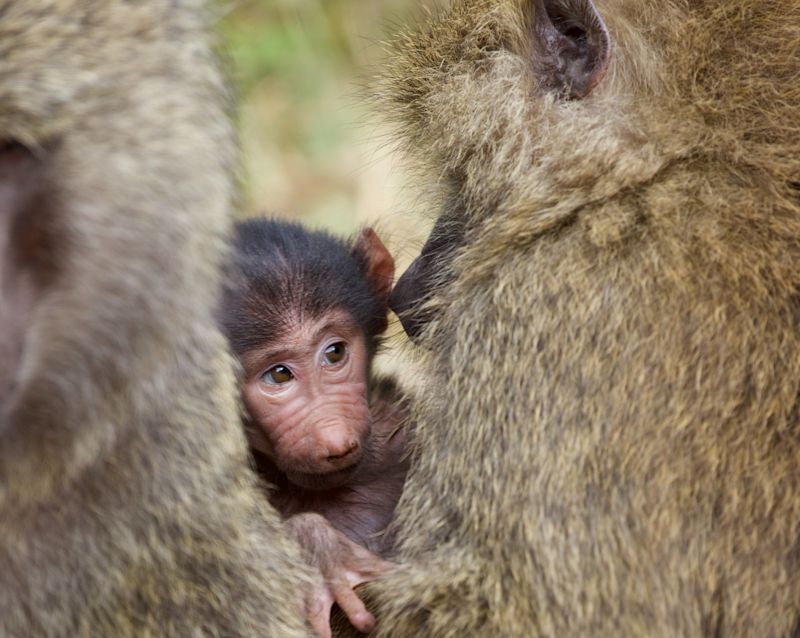 An infant olive baboon looking impossibly adorable
Not only is the scenery a drawcard, but there's also the chance to see some incredibly varied wildlife, and learn some interesting local history.
For starters, the forest is home to various primates, namely vervet monkeys, red-tailed monkeys, chimps, black-and-white colobus monkeys, olive baboons, blue monkeys, and l'Hoest's monkeys.
In addition to primates, Maramagambo Forest has a cave filled with bats which visitors can view from a little distance. You could also potentially spot one of the pythons that like to visit the cave hoping for a bat meal.
There are two nocturnal species living the forest: bush babies and pottos monkeys. You can go on a guided night walk in the forest, so if you're keen to see these nocturnal treasures, be sure to book your spot on one of these walks!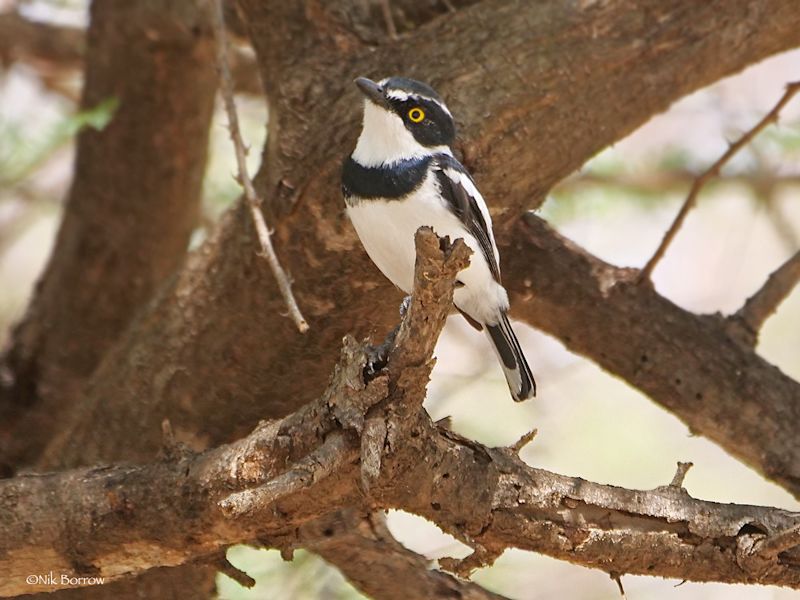 An eastern black-headed batis, photo by N. Borrow
Maramagambo Forest is a truly great place for birdspotting. Species that can be found here include the bat hawk, papyrus canary, dark-capped yellow warbler, sulphur-breasted bush shrike, fawn-breasted waxbill, and eastern black-headed batis.
Your nature walk guide will also be sure to fill you on local legend and history, of which there's quite a bit! For instance, the name Maramagambo means 'end of words'; legend says a group of travellers got lost in the forest for many days, and when they finally emerged they were so tired and traumatised that they couldn't even speak.
6. Look for tree-climbing lions in Ishasha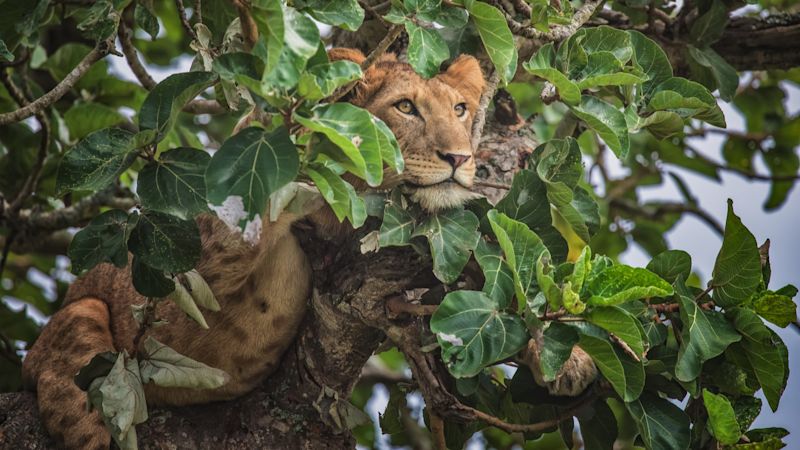 Look at that bulging belly!
Queen Elizabeth National Park is famous for being one of the few places in the world where lions like to climb and lounge about in trees. There are a few theories for why they do this, including the desire to escape insects and the heat. Whatever the reason, it's a real treat to see a lion or more draped over the branches of a tree! They particularly like to climb and rest in fig, acacia and candelabra trees.
It's important to note that the region where the lions climb trees – Ishasha – is in the extreme south of the park. This is a very remote area, and it takes around three hours to drive there from Mweya. Given that most visitors would've already seen lions on Kasenyi Plains, and that you can't of course even be guaranteed to find any tree-climbing lions on the day you visit, we don't really recommend going there.
Note that you need a lot of time to get to Ishasha to see the lions.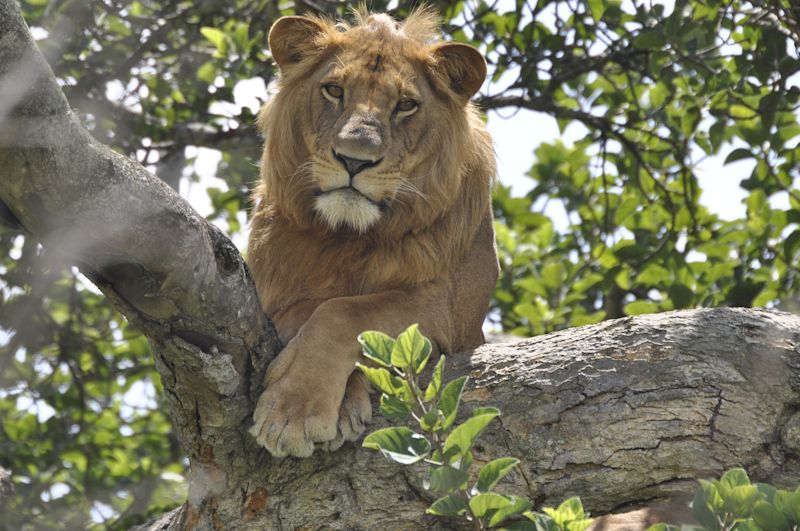 Just a big ol' pussy cat, he seems to say
That said, if you're dead keen on going to Ishasha, we suggest spending a night at a lodge in Ishasha so that you're not travelling for six hours in one day. Just note that there's only luxury accommodation in Ishasha, so you'll need to dig a little deeper into your pockets for this.
What animals live in Queen Elizabeth National Park?
Queen Elizabeth National Park is home to upwards of 95 mammal species! That's the most of any of Uganda's parks, and helps to explain why this is the country's most-visited safari destination.
Four of the Big Five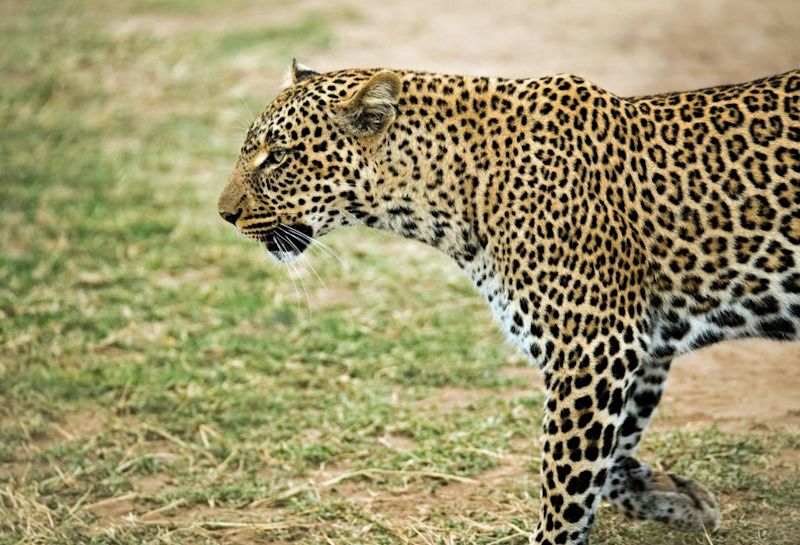 Leopards are one of the most sought-after animals by safari goers
Queen Elizabeth National Park has healthy numbers of four of the Big Five animals. These are:
Bush elephants – around 3,000 of them!

African lions – around 200

African leopards – around 250

African buffaloes – around 15,000
Remember that the Big Five doesn't refer to the biggest animals, but rather the animals that nineteenth-century hunters considered the most dangerous to hunt on foot. Buffaloes are actually considered the most dangerous of the Big Five.
Interestingly, two of the parks largest animals – elephants and buffaloes – sometimes show signs of interbreeding with their Congolese rainforest neighbours. The park's buffaloes sometimes have a reddish tinge, suggesting mingling with the Congo's forest buffaloes. And the bush elephants occasionally seem to show similarities with the smaller, hairier forest elephants of the Congo.
Carnivores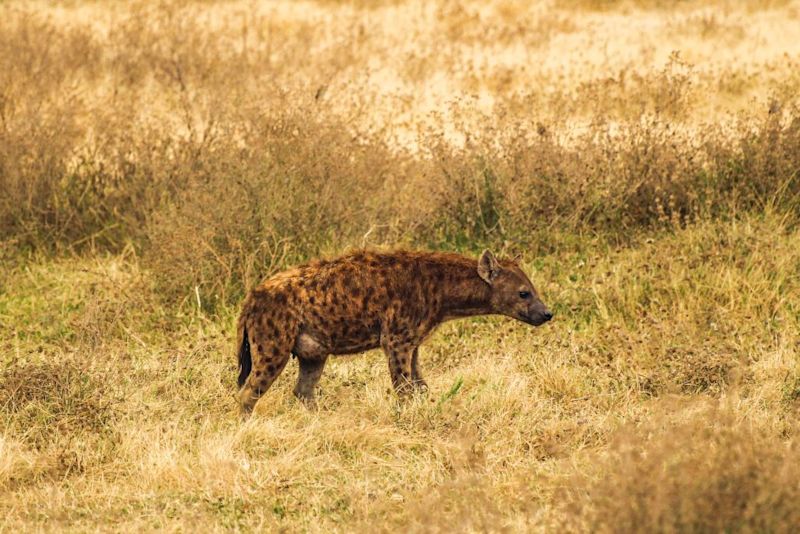 A spotted hyena, photo by B. Greenway
Apart from the carnivores of the Big Five, namely lions and leopards, you can also look for these two carnivorous creatures:
Spotted hyenas – they're both predators and scavengers

Side-striped jackals – they're nocturnal, so aren't easy to spot
Side-striped jackals are actually one of the so-called Elusive Eleven, which are African safari animals that are very hard to spot! Spotted hyenas, on the other hand, are usually pretty ease to find on a game drive.
Other big 'uns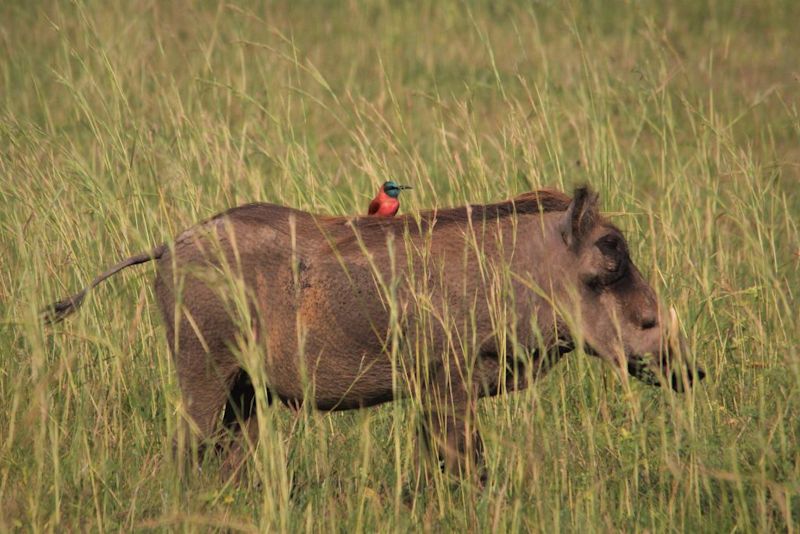 Warthogs are frequently seen in Queen Elizabeth NP
Big 'uns is the very scientific phrase we're using to group together the remaining hefty creatures that live in Queen Elizabeth National Park. Of particular note are:
Hippos – these wallowers are easy to spot on a boat safari

Giant forest hogs – they're the largest species of the wild pig family

Warthogs – a smaller species of wild pig

Nile crocodiles – these are regularly spotted on boat safaris
Giant forest hogs are often spotted in the park, both on game drives and on boat safaris.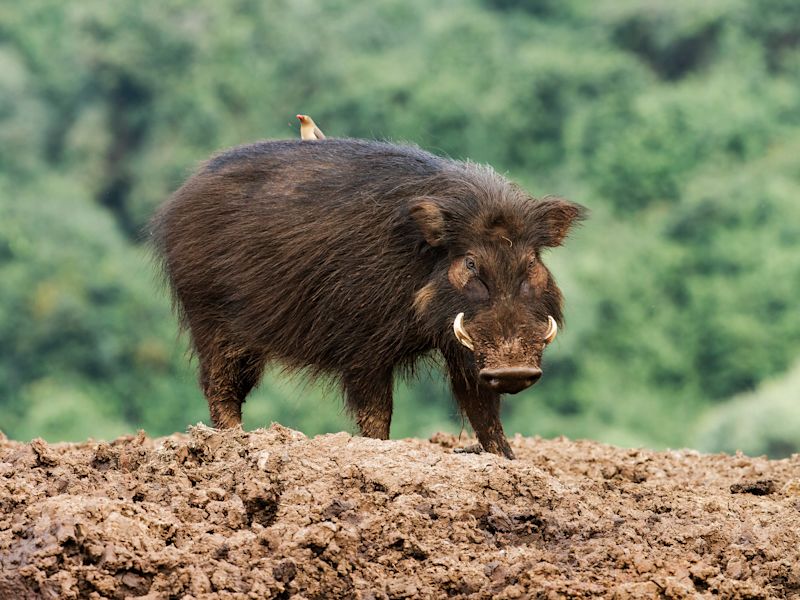 A giant forest hog, photo by N. Athanas
Crocodiles were absent from Lake Edward, Lake George and Kazinga Channel up until the 1980s. It's hypothesised that the waterfalls and rapids of the Semliki River to the north, along with thick rainforest on its banks, prevented them from reaching these suitable regions. This idea seems to hold water (pun intended) because deforestation along the Semliki in the 1980s led to crocs suddenly appearing in the park's lakes and in the Kazinga Channel! You'll be hard-pressed to miss them now on a Kazinga Channel cruise.
Primates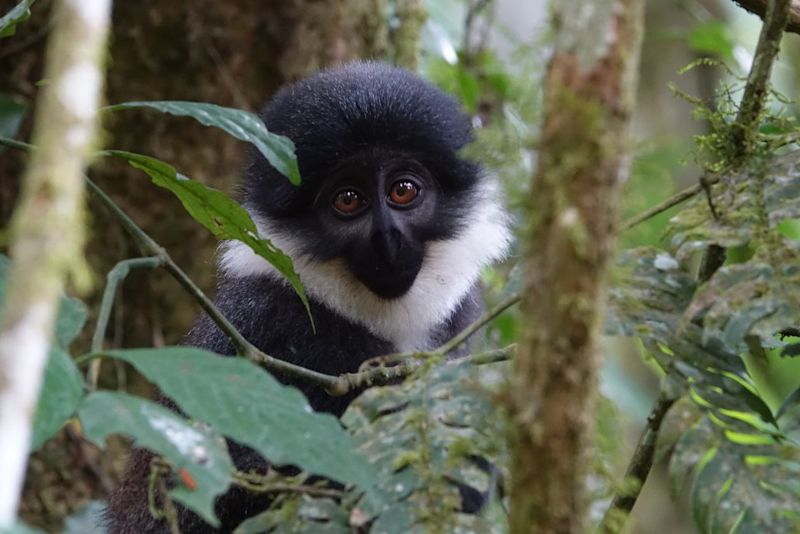 L'Hoest's monkeys look like they have white beards
There are 10 primate species in Queen Elizabeth National Park, including:
Red-tailed monkeys

L'Hoest's monkeys

Black-and-white colobus monkeys

Uganda grey-cheeked mangabeys

Golden monkeys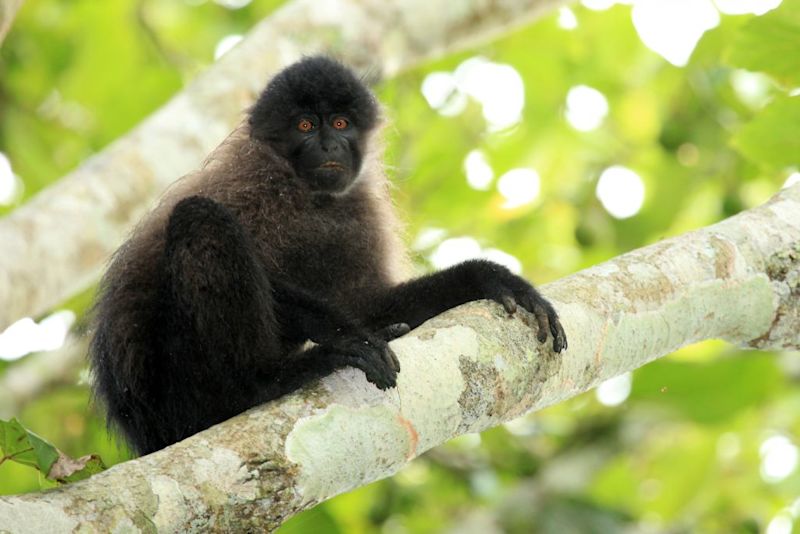 A Uganda grey-cheeked mangabey
The Uganda grey-cheeked mangabey is found only in Uganda and in Minziro Forest Reserve, just over the border in Tanzania. Seeing one therefore places you in a very exclusive club!
Antelopes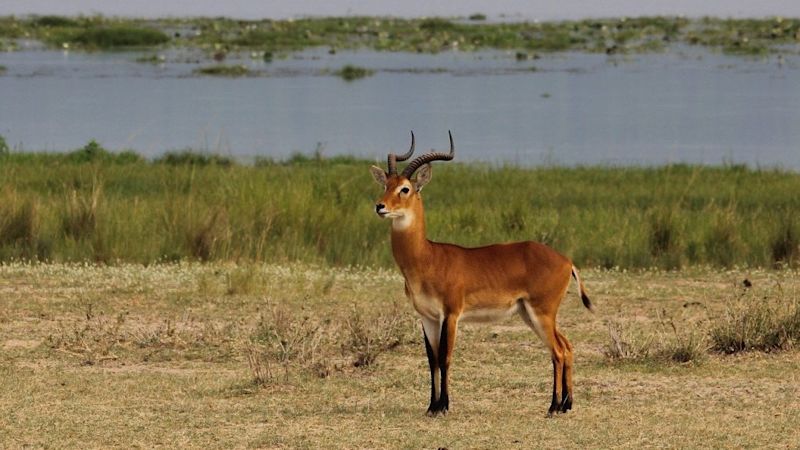 Ugandan kobs look similar to impalas but are more heavily built
The antelopes to look for on safari in Queen Elizabeth National Park include:
Ugandan kobs – there's around 20,000 of them!

Bushbucks

Topis

Defassa waterbucks

Sitatungas – they like the papyrus swamps around Lake George

Duikers – there are four species living in Maramagambo Forest

Bates's pygmy antelopes – these also live in the forest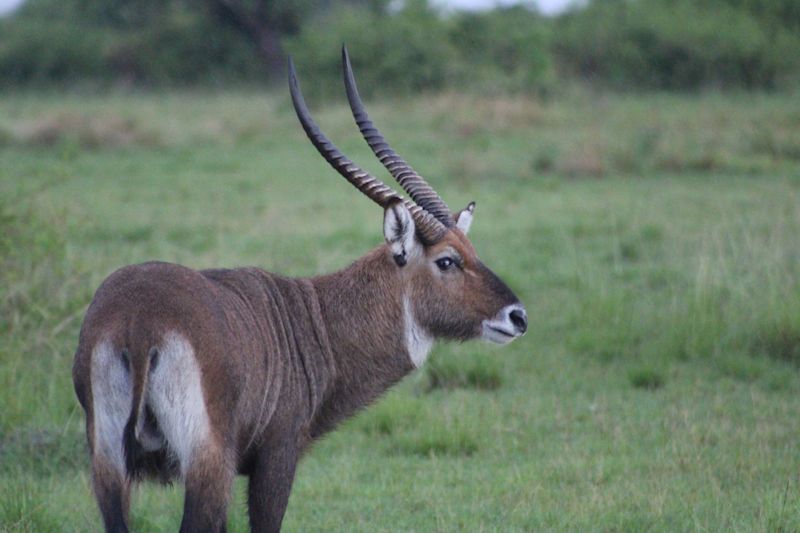 A male waterbuck, photo by Seraina
The papyrus swamps around shallow Lake George are hard to access, so understand that most visitors won't be going there. It's the plains antelopes that you're most likely to see, with the chance of seeing the forest ones too if you go on any of the guided forest walks.
Smaller creatures
Some of the smaller animals to look for during your time in Queen Elizabeth National Park are:
Serval cats

Civets

Banded mongooses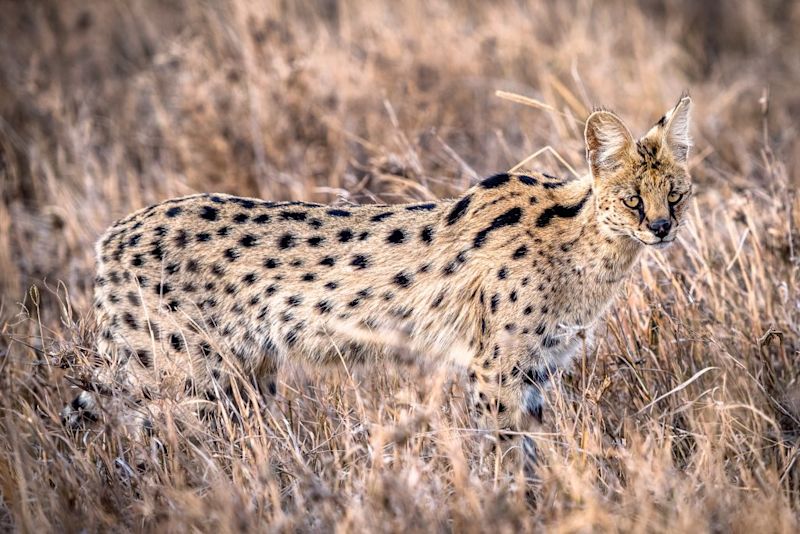 A serval cat
Servals and civets are included in the list of the Elusive Eleven of an African safari. If you stay over inside of Queen Elizabeth National Park, be sure to look as far as you can from your lodgings into the darkened landscape at night to check if any servals, civets or other nocturnal creatures are lurking nearby.
Birds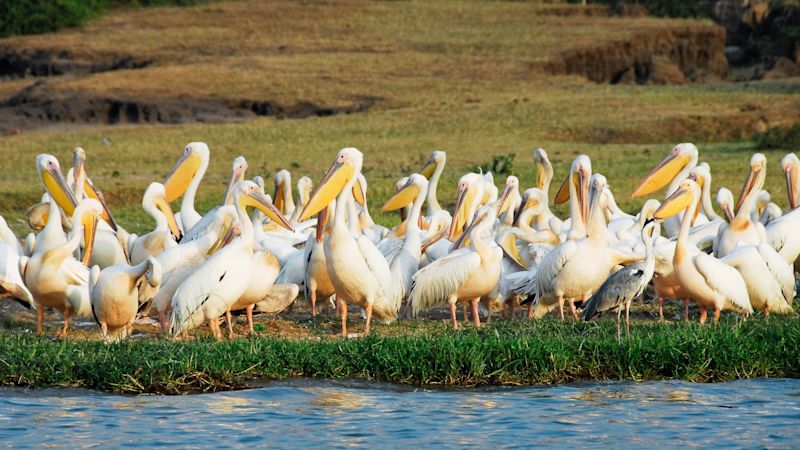 A pod of pelicans on the bank of Kazinga Channel
The number of bird species known to frequent the park are around 610, a truly incredible figure. The famous Kruger National Park in South Africa and Serengeti National Park in Tanzania are seven and 10 times larger than Queen Elizabeth respectively, yet neither has that many species of birds!
If you're into birdspotting, then you should know that Queen Elizabeth National Park is one of the best locations in all Africa for seeing as many species as possible!
Raptors
As many as 54 raptor species have been spotted in the park. These include:
Whalberg's, long-crested, martial, bateleur, brown snake and African fish eagles

Palm-nut, hooded, African white-backed, Rüppell's and lappet-faced vultures

Grey kestrels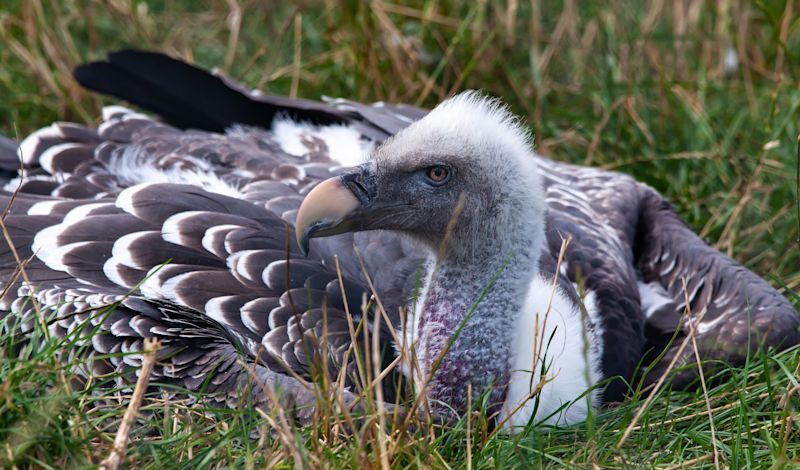 A Rüppell's vulture
Waterbirds
The park is also a truly fantastic place for seeing waterbirds. There's a bird observatory at Mweya Peninsula adjacent to Kazinga Channel. A boat cruise also of course allows you to spot many waterbirds.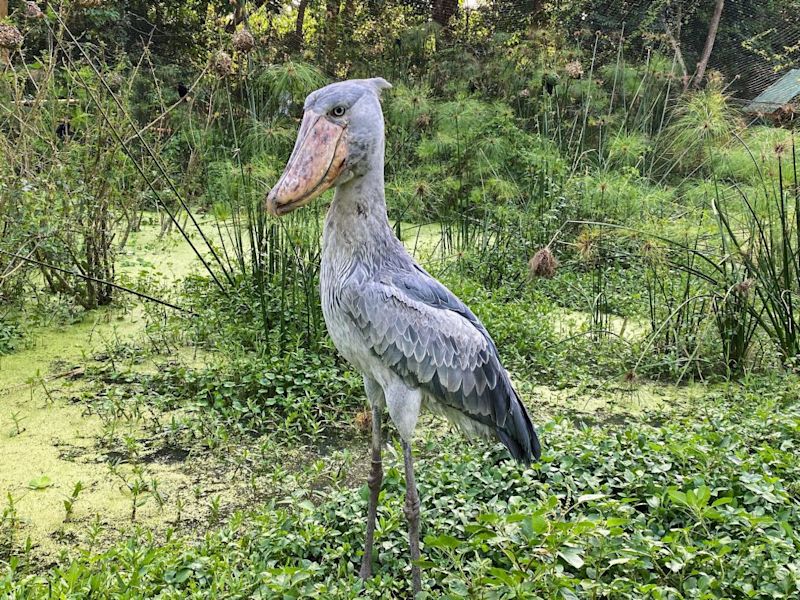 Shoebill storks are unusual-looking birds
Some of the myriad waterbirds to look for in Queen Elizabeth National Park include:
Lesser and greater flamingoes

Winding and Carruthers's cisticolas

Abdim's, African open-billed, saddle-billed and shoebill storks

Great white and pink-backed pelicans
Forest birds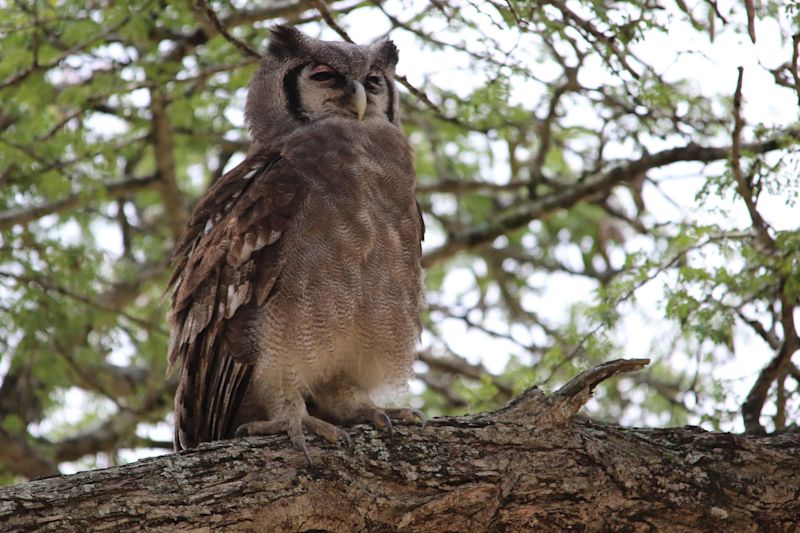 The Verreaux's eagle owl is the largest owl in Africa
Some of the park's varied and exciting forest bird species are:
Verreaux's eagle and Pel's fishing owls

Scarlet-chested and red-chested sunbirds

Yellow-throated, red-chested, black, African emerald and diederik cuckoos

Ross's, black-billed and white-crested turacos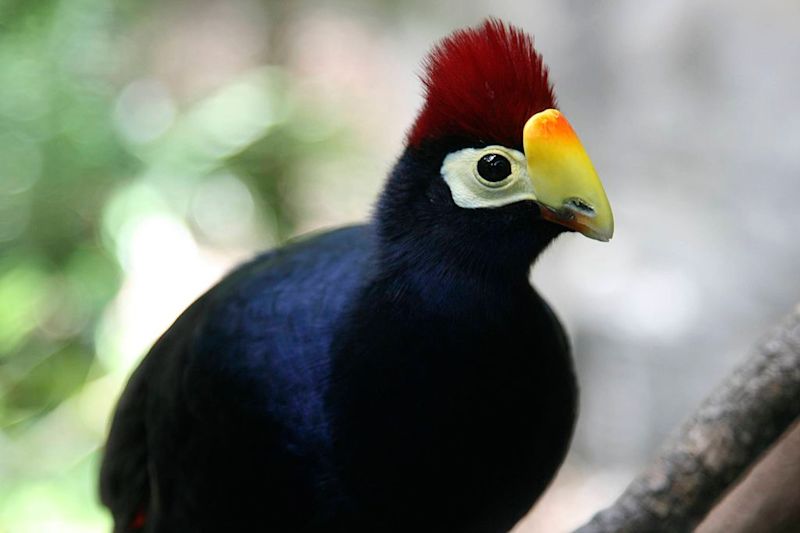 A Ross's turaco, photo by E. Schipul
The forests in Ishasha, Kyambura Gorge and Maramagambo are great places to look for these and other forest bird species.
Savannah birds
While on a game drive looking for the big animals, don't forget to be on the lookout for many of the exciting birds that frequent the plains and bushland too! For example, you might be able to find:
Rufous napped, flappet and white-tailed larks

African wattled, crowned, Senegal and Kittlitz's plovers (or lapwings)

Black-bellied and Denham's bustards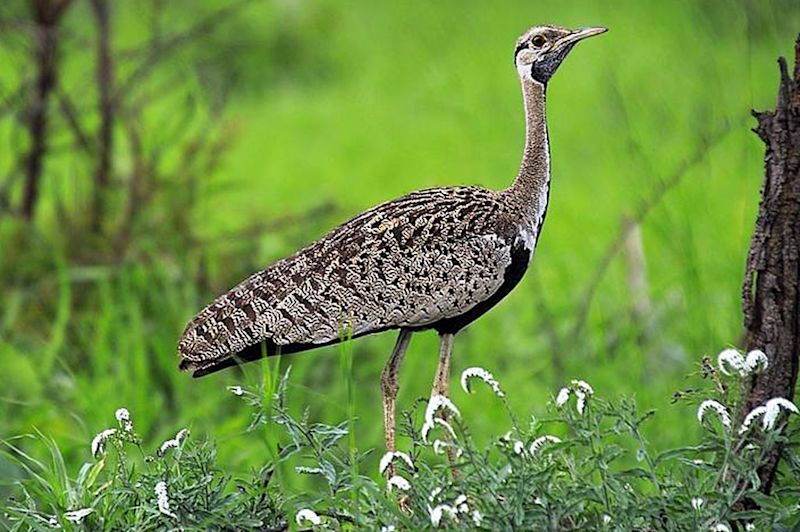 A black-bellied bustard, photo by A. Meintjes
All of the above lists of species don't, however, do the variety of birds present in the park justice. In the migratory season, there are more bird species present in Queen Elizabeth National Park than in North America!
Millions of migratory birds come to the park every year to escape the harsh winter in Europe.
Note that you will be able to find a full list of the birds in the park in the bird observatory at Mweya.
Absentees
There are some interesting absentees from the park's animal list that you'd expect to find there as they're common in most other Ugandan game parks. We're talking:
cheetahs

zebras

giraffes

wildebeests
If you're particularly keen to see this animals, the good news is that you can find them in plenty of other parks in Uganda.
Also missing from the park are rhinos; these can be visited at Ziwa Rhino Sanctuary in central Uganda.
Best time to visit Queen Elizabeth National Park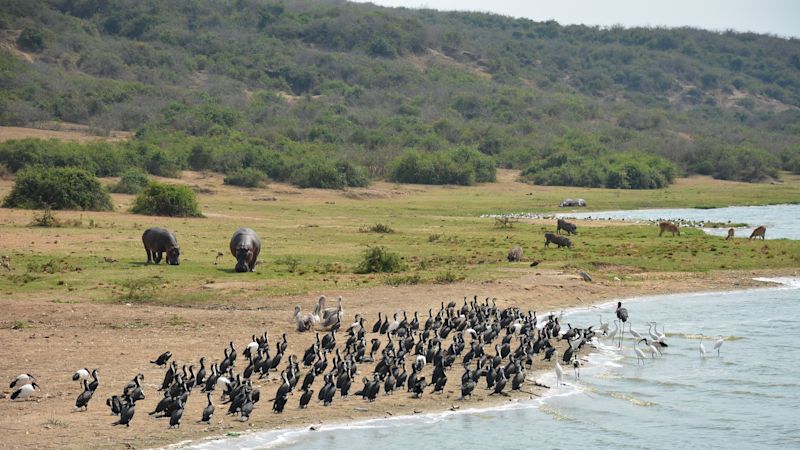 Rush hour at Kazinga Channel
The best months for game spotting in Queen Elizabeth National Park are June to September and January to March.
The park is a great game destination all year round.
Generally speaking, however, the dry seasons are the best times for game viewing. This is because the shorter, drier vegetation makes the animals easier to spot. Also, watering holes become places of congregation for countless thirsty animals.
The dry seasons in Queen Elizabeth National Park are:
winter (June to September)

summer (January to March)
While the wet seasons make the landscape very pretty, be aware that certain roads within the park can become impassable after heavy rains.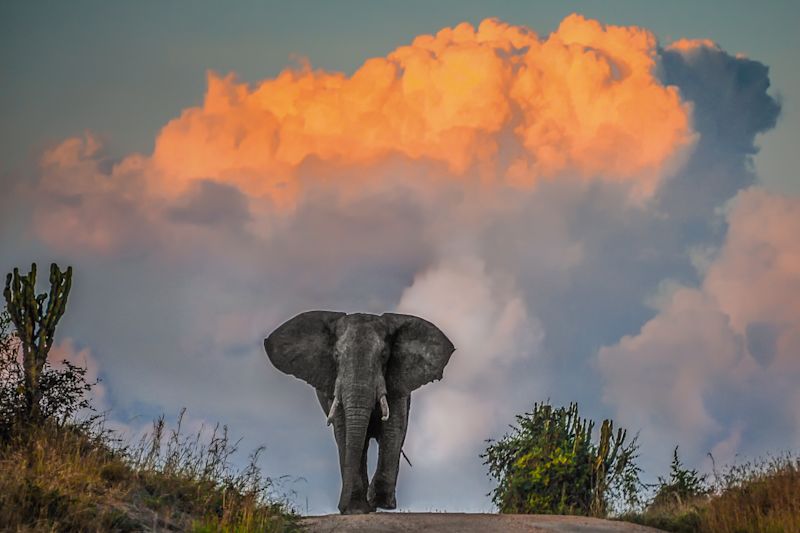 An elephant with a gorgeous cloud backdrop on Mweya Peninsula
If you're keen to visit Queen Elizabeth National Park – and we don't see how you could not be! – we can help. 😊 All but one of our exciting Uganda itineraries include some time spent in the park. Check them out here.