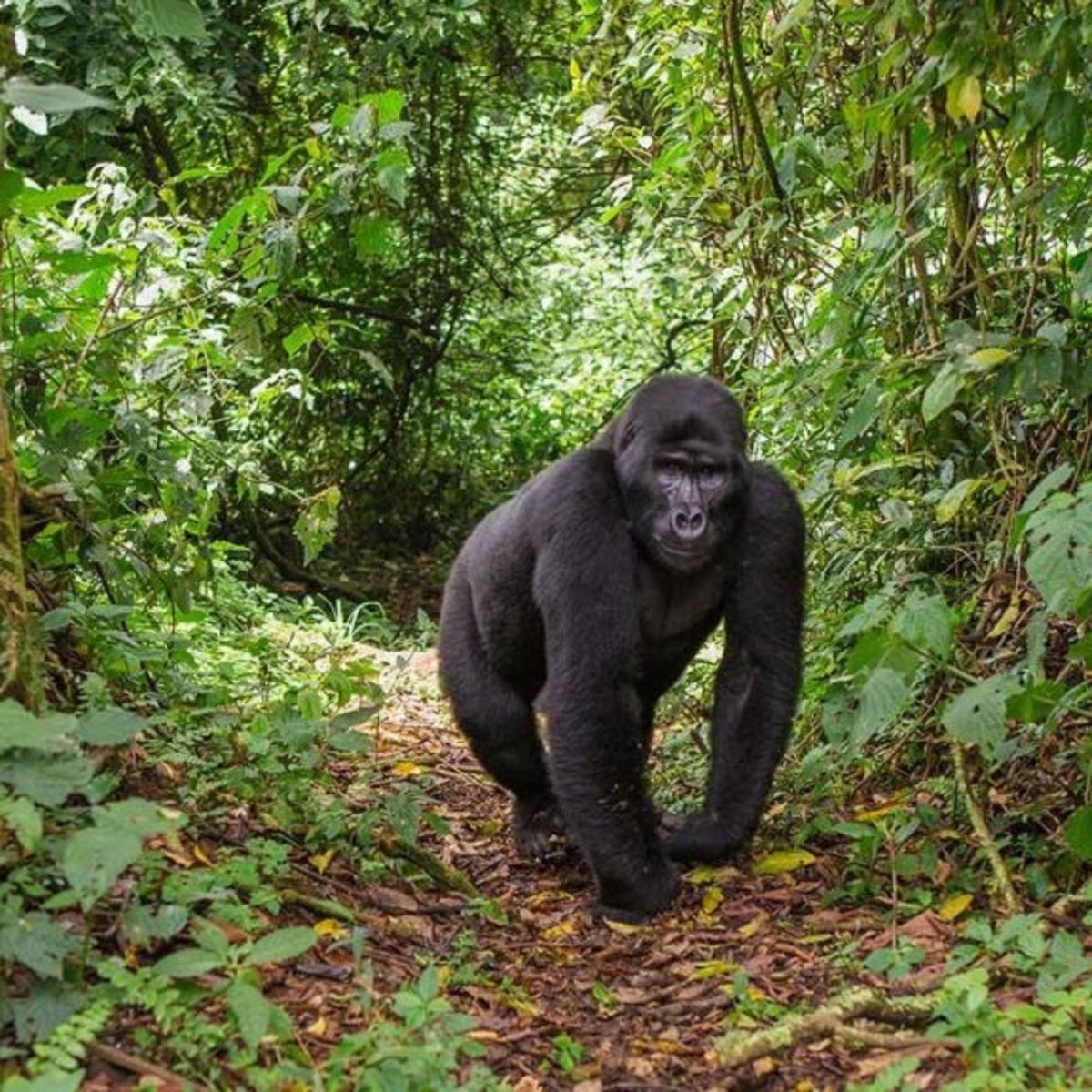 All you need to know about gorilla trekking tours
Nov 3, 2023
Reading time: 19 minutes
So you are considering going gorilla trekking but are unsure about what it involves? We've got you covered. This post answers all your questions about gorilla trekking in Uganda.
Most people who want to see mountain gorillas travel with a gorilla trekking tour operator. There are a few reasons for this, like less admin and safe and cost-effective travel.
So of course you want to choose a good tour operator – you don't want a company that will in any way fudge this special trip! In this blog post we answer all of your questions about gorilla trekking tours so you feel empowered to choose a good tour operator.
There would be a youtube video here.
Sadly, the youtube player requires cookies to work.
What is gorilla trekking?
Gorilla trekking refers to embarking on a guided group hike through the forest to see mountain gorillas in their natural habitat. Because mountain gorillas don't live anywhere in the world outside of the forests of Central and East Africa, gorilla trekking is the only way for humans to see and observe these special and rare apes.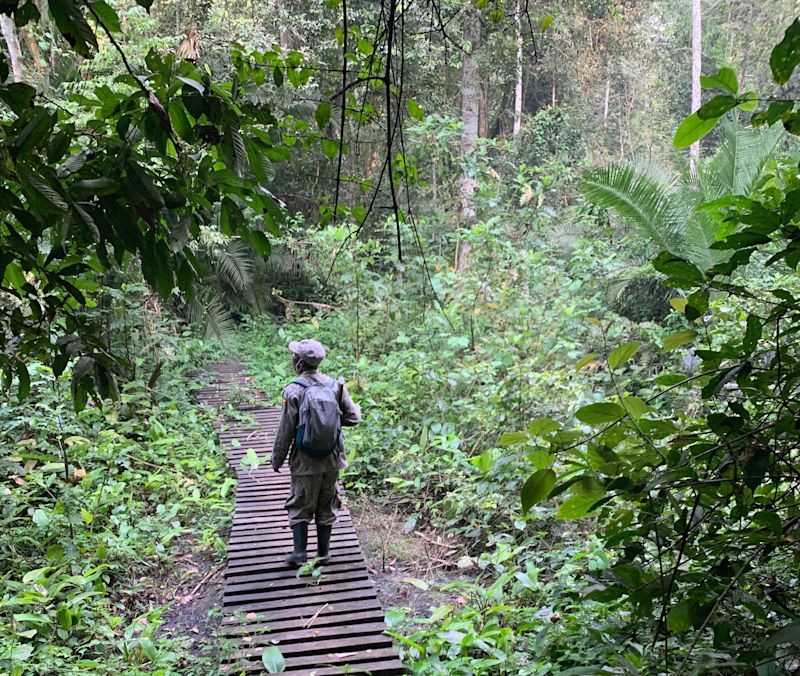 Our clients Amber and Scott took this snap of their gorilla trek guide
Gorilla trekking has become a very popular trip with conservationists, nature and animal lovers, eco tourists, and adventure travellers.
Fortunately mountain gorillas aren't aggressive animals, unless provoked. That means we as humans get to come in relatively close contact with them on a gorilla trek.
In fact, you can usually come within a few metres of a gorilla troop. It's an incredibly special experience that seems to leave a lasting impression on everyone who goes.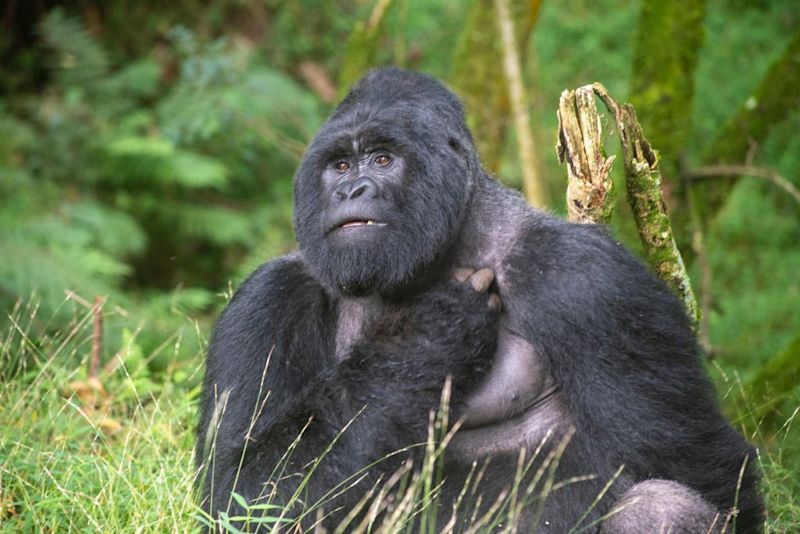 Gorilla trekking involves going on a guided hike to find a specific gorilla troop and spend an hour in their company
Trekkers visit habituated mountain gorillas
The mountain gorillas that you trek to see are those that have become habituated to the presence of humans. The process of gorilla habituation takes about two to three years.
Even though the gorillas you visit have become used to the presence of humans, there are still strict rules in place to protect them, their lifestyle, and the habitat. As there should be.
For starters, only one group of eight people is allowed to visit each gorilla troop per day. And each visit lasts only for an hour. Other rules, as discussed in 20 things to know about mountain gorilla trekking, include not making loud noises and sudden movements. Common sense sort of stuff, really.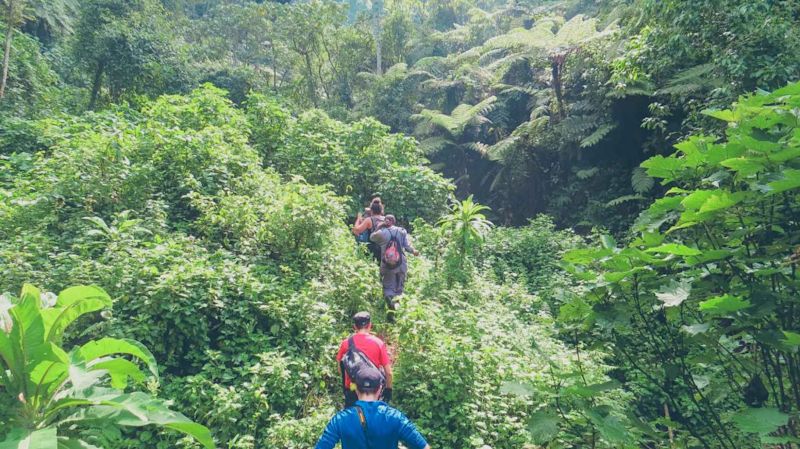 You trek through dense montane rainforest to see a gorilla troop
The finer points, like which hand signals might be problematic in front of a gorilla, are shared with you by your trek guide.
Where can I go gorilla trekking?
Mountain gorillas live in the montane (mountain) forests of East and Central Africa. The mountain range where they live is called the Virunga Mountains, and it consists of extinct volcanic mountains.
The Virunga Mountains stretch for 80 km (50 mi) over the border region of the DRC, Uganda and Rwanda. Given the current unrest in DRC, gorilla trekking takes place almost exclusively within Rwanda and Uganda.
Gorilla trekking Rwanda vs Uganda
You can go gorilla trekking in either Uganda or Rwanda. Rwanda and Uganda are neighbours, and their respective mountain gorilla populations live on either side of the border within the same forest ecosystem.
Both countries have their pros and cons when it comes to gorilla trekking, and we discuss these in detail in Gorilla trekking Rwanda vs Uganda. A big factor in favour of Uganda is that it's by far the cheaper option. In Rwanda a gorilla trekking permit costs $1,500 per person. Uganda, on the other hand, charges just $700.
In Uganda you can visit mountain gorillas in Bwindi Impenetrable National Park or Mgahinga National Park. The gorilla population in Mgahinga isn't as large and steady as that of Bwindi, making the latter the better and more popular option. At Follow Alice we head straight to Bwindi.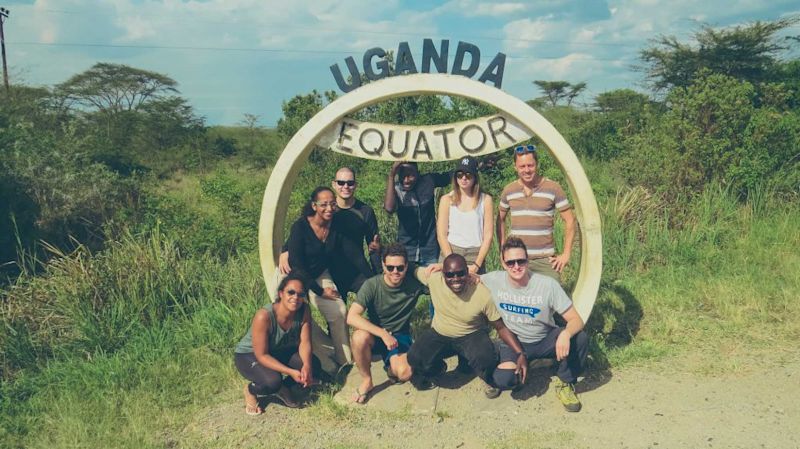 At Follow Alice we take our Uganda visitors to the Equator line too
How much does a gorilla trekking permit cost?
Currently, as of 2023, a one-hour gorilla trekking permit costs US$700 in Uganda, and US$1,500 in Rwanda. A four-hour gorilla habituation experience (which can only be done at Bwindi Forest in Uganda) costs US$1,500.
We discuss the reason for the high permit prices, why Rwanda charges so much more, and what both countries do with the permit money in What a Uganda gorilla trekking trip costs.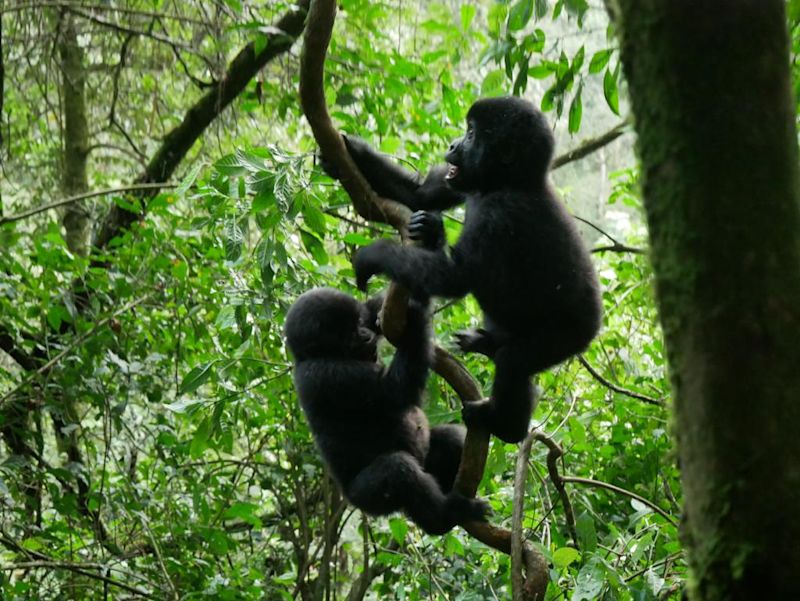 Two infants playing in the trees in Bwindi as snapped by our clients the Walshes
Is gorilla trekking safe?
Yes, gorilla trekking is safe. The countries are safe to visit, the trek itself is reasonably safe, and mountain gorillas (especially those habituated to people) aren't dangerous.
We provide a few more details on each point below to further calm any fears or concerns you might have ...
Uganda and Rwanda are safe countries for visitors
Both Rwanda and Uganda are stable countries with thriving tourism industries.
And the are well run. Visitor safety is a top priority, and experienced trek guides always accompany every gorilla trekking party.
Further, park rangers and tourism police are on duty every day to ensure the safety of both visitors and the mountain gorillas.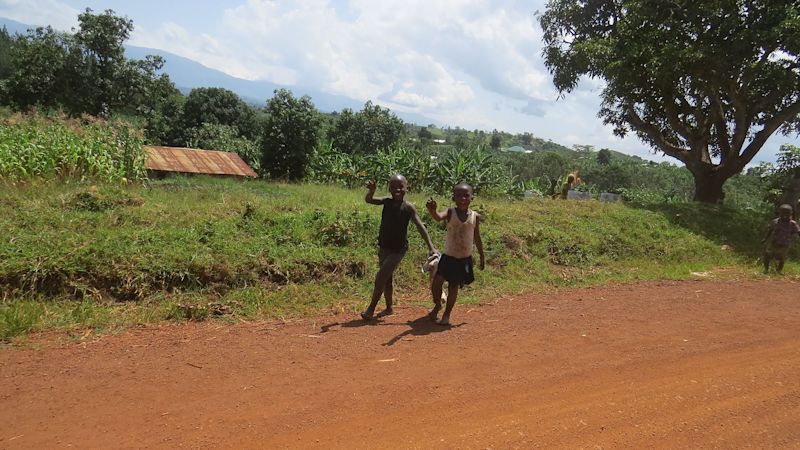 Ugandans are renowned for being incredibly welcoming, warm and hospitable with foreigners
The trek itself is safe
Aside from the usual dangers accompanying any hike into nature and the mountains, the trek is safe.
You can ask to go on a short or long hike; be honest with yourself and the trek guide about your fitness level. There are no large predatory animals in Bwindi Park, so no worries on that score.
Note that you generally bushwhack to get to the gorillas – they obviously don't sit themselves at the terminus of a trail like a pot of gold at the end of a rainbow.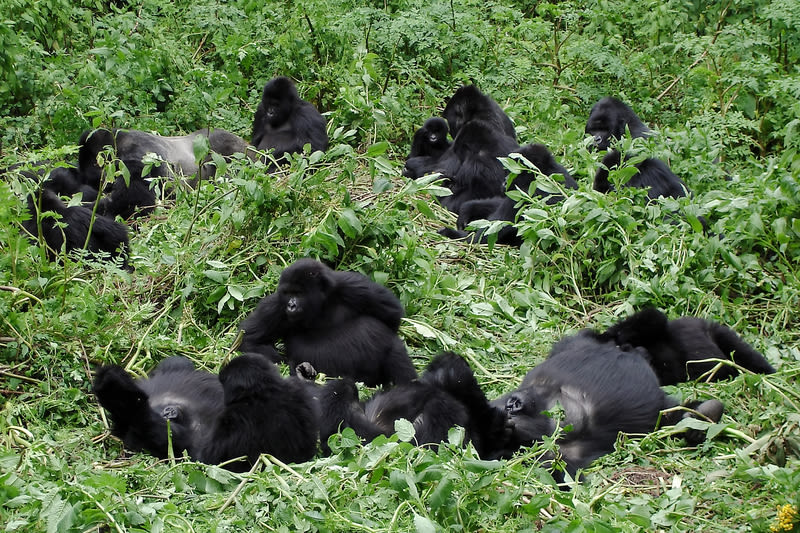 A mountain gorilla troop
We suggest you read 20 things to know about mountain gorilla trekking if you'd like to know what clothing and equipment to bring for the trek.
Note too that occasionally some trekkers experience mild symptoms of altitude sickness, as the air is thinner up in the mountains.
Mountain gorillas are gentle giants
Mountain gorillas are gentle creatures, so gorilla trekking is quite safe in that respect too.
Further, the troops that trekkers visit have become habituated to the presence of humans.
Your trek guide brings you within a few metres of the creatures, and you can stay for an hour with them to observe them as they play, groom themselves, and more.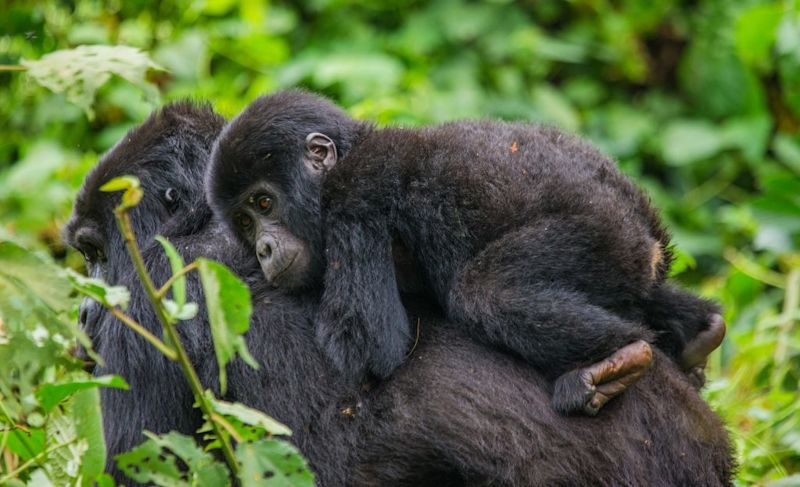 Mountain gorillas aren't aggressive unless provoked
What to look for in a tour operator
When investing time and money into a gorilla trek, you want to ensure you invest it well. This means choosing a reputable tour operator.
While you can book a gorilla trekking permit yourself, we find most people value the help of a tour operator. One of the reasons for this is that a gorilla trek is often part of a broader East Africa trip. A tour operator can be useful in booking accommodation and activities, organising group transport, acting as tour guide, looking after you, and more.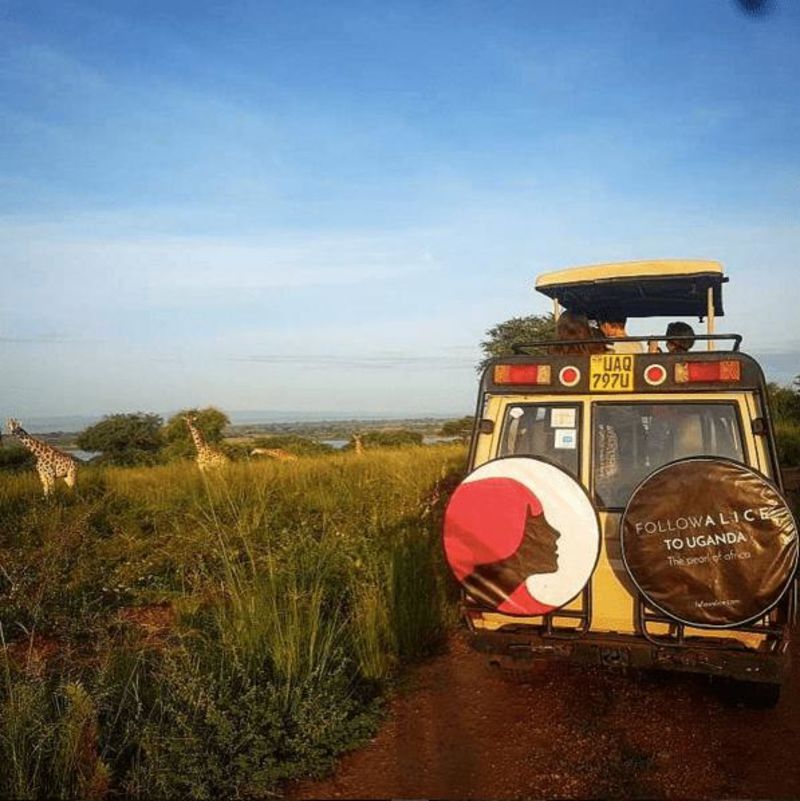 Follow Alice is an experienced, reliable and fun gorilla trekking tour operator
How to find a good tour operator
There are many tour operators out there; some offer a great service, while others ... not so much.
So how do you separate the wheat from the chaff?
Here are a few ways to ensure you're dealing with a professional and reliable company that also has proper gorilla trekking experience:
Browse the website to see that everything is solid and consistent

Check for a physical address in the contact info.

Browse the gorilla trekking section – a company that offers gorilla treks should offer plenty of details about it on their website.

Compare their gorilla trekking prices with those of competitors; if it's drastically cheaper, check they can explain why (remember, the gorilla trekking permit is a fixed fee in both Uganda and Rwanda).

Search for independent reviews of their services and gorilla treks, not just those on their website (which could be made up).

Check out their social media platforms, and read the comments.

Ask them some questions about gorilla trekking and see if the responses provide sufficient detail.

Assess their communication with you – don't ignore your gut if it's saying something is off.
A well-organised gorilla trek requires planning and knowledge of the system.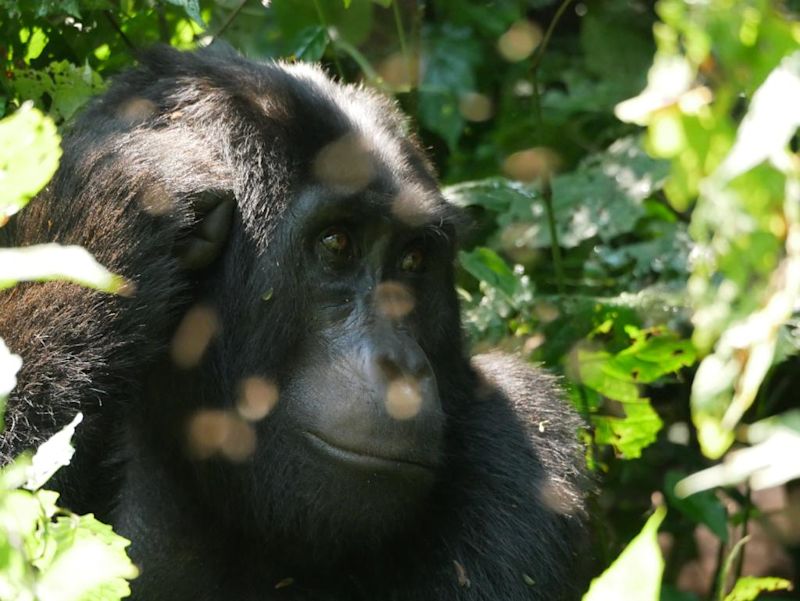 Another incredible pic shared with us by the Walshes!
A good tour operator knows, for instance, which gate of Bwindi Park to take you to based on your permit. Bwindi Impenetrable National Park is a big place – 331 km2 (128 sq mi) – and arriving at the wrong gate will likely mean that you miss your trek!
You want a company that thinks of everything for you, like reminding you to bring your passport with you on the day to be let into the park.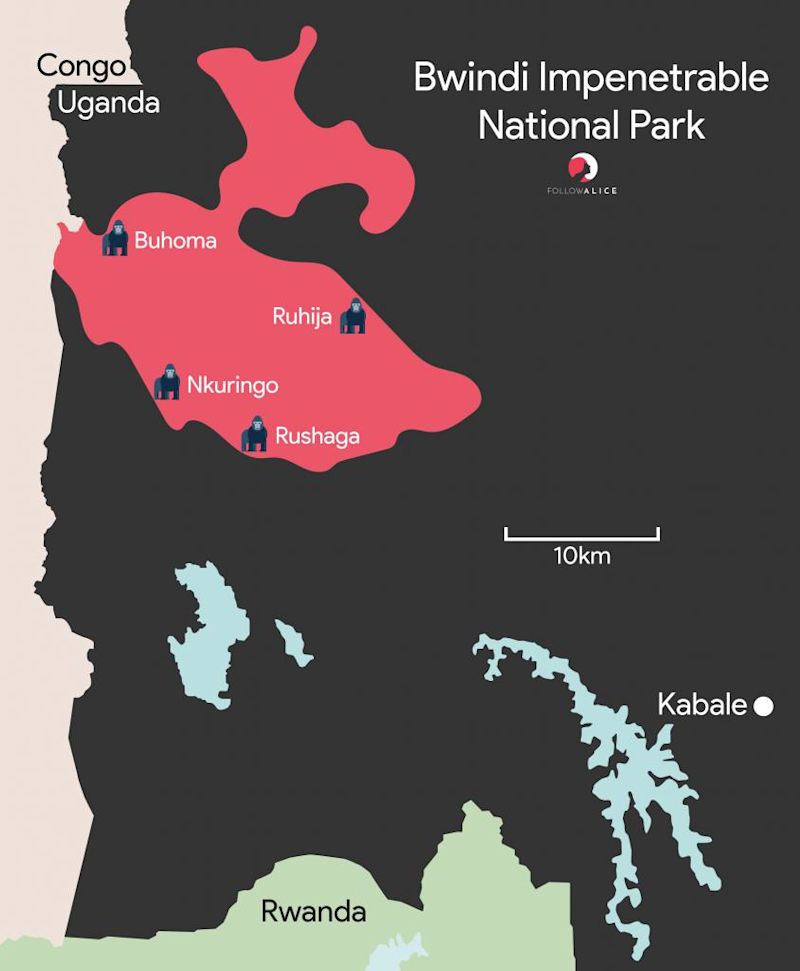 Map showing the different entrance gates and sections of Bwindi Impenetrable National Park in Uganda
What else is in the gorilla trekking package?
Most companies offering gorilla trekking do so as part of packages that take in other sights in Rwanda or Uganda. Both countries offer excellent safari opportunities, among other things, so why not do some game-spotting while you're in that neck of the woods?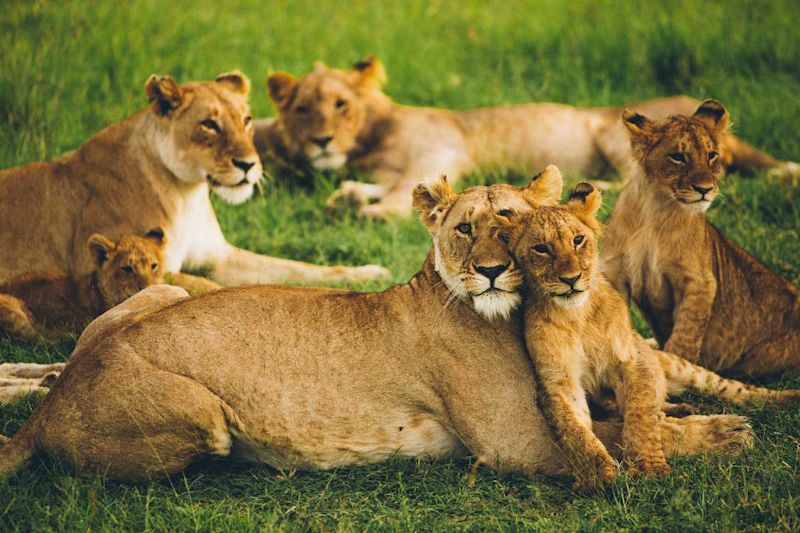 Both Rwanda and Uganda offer excellent safaris
Find a company with feet on the ground
You also want to choose a tour operator with feet on the ground – not one that outsources the gorilla trekking trip to another company.
And you want someone who is there with you at all times, looking after your safety, ensuring the smooth running of your trip, and just generally serving as your touchpoint throughout your adventure.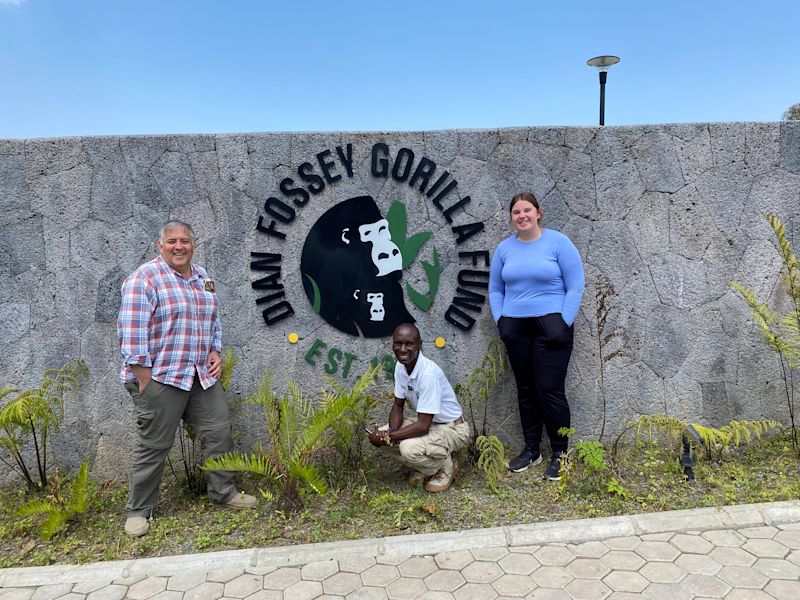 Our clients Brad and Rebecca in at the Dian Fossey gravesite with their guide Peter
At Follow Alice we have knowledgeable local leaders who ensure you are where you need to be, with the equipment you need, the morning of the gorilla trek. They also look after your safety throughout the rest of your trip, answer your questions, troubleshoot any issues that may arise, and just generally look after you.
The goal of our local leaders is always to ensure you have a fantastic and utterly memorable time in Uganda or Rwanda!
Things that make a gorilla trek good
One of the things that is vital to a good gorilla trek is coming properly prepared. Our article 20 things to know about mountain gorilla trekking is a good one to read before heading to Uganda for a gorilla trek. In it we discuss the sorts of footwear and clothes you should wear for the trek.
Do a trek that's the right difficulty for you
Another factor in a good gorilla trek is taking on a hike that's the right length and difficulty for you. Gorilla treks vary in duration. Some opt for the shortest hike, which can be about 30 minutes each way. Others choose a more arduous hike that can last a few hours.
If you travel with a tour operator, they'll ask after your preference before making a booking on your behalf.
None of the gorilla trek hikes are a dawdle, however: there are likely to be some steep climbs, the ground can be muddy, stinging nettles will try to leave their mark on you, and insects will search out bare flesh. The high altitude and humidity might also be a challenge for some.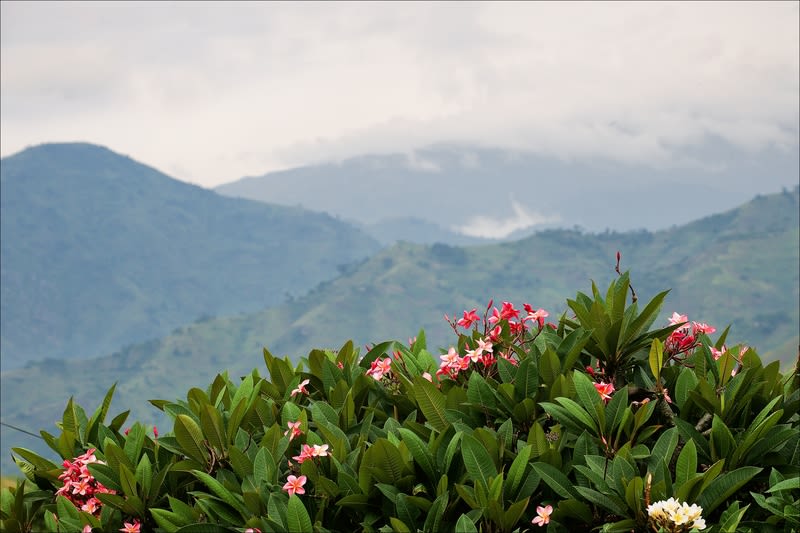 You can generally ask for a longer or shorter hike to suit your preference
If you're fit and want to see as much of the forest as possible, it's important to go on a longer trek.
The Nkuringo sector of Bwindi Park is higher in altitude than the others, and the treks there are generally longer, so it's better that only the young and very fit head there. We recommend a shorter trek of under an hour for anyone unused to hiking or strenuous exercise.
Hire a porter
For some, a porter might be a good idea. A porter will carry your water, fancy camera equipment, or whatever it is you want to take with you. Your porter is also there to help you navigate any sections of the walk that are tricky.
Please consider tipping your porter if you're happy with the service, as tipping is customary in this part of the world.
Bring your camera
And speaking of cameras, be sure to bring yours along. But note that you'll have to keep the flash turned off so as to not disturb the gorillas. It can get quite gloomy at times in the forest, but you'll have to make do with the natural light.
You might consider bringing along a tripod to allow for longer exposures.
All that said, remember to not spend your entire hour behind a camera.
Try to be present in the moment, breathing in the forest scents, listening to the sounds of nature, and watching the intricacies of the social interactions of the gorillas. If you're going in a group, perhaps assign one person to be team photographer.
Or just decide that you'll take a few photos and then put your camera away so you can sit and silently observe.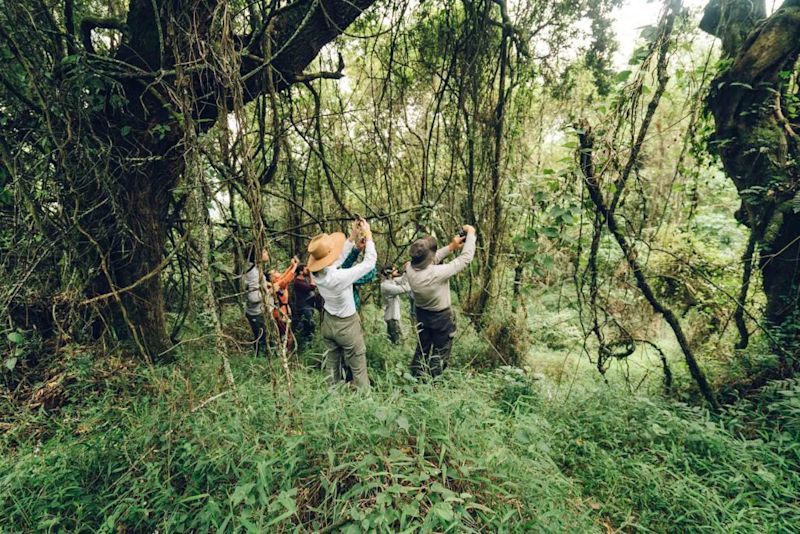 Protecting the mountain gorillas and their forest habitat requires hefty resources, hence the expensive gorilla trekking fee
Is gorilla trekking worth it?
Speak to anyone and they'll tell you the same thing: gorilla trekking is 100% worth it! The time, the money, the effort – nobody regrets investing in a gorilla trek.
We've never met anyone who was anything less than thrilled with their gorilla trekking experience!
On a gorilla trek you encounter a species of ape that shares 98% of our human DNA. These similarities make for an extraordinary meeting.
It's fascinating, for example, to watch the young gorillas at 'play', which includes activities like climbing trees, swinging from branches, and chasing one another.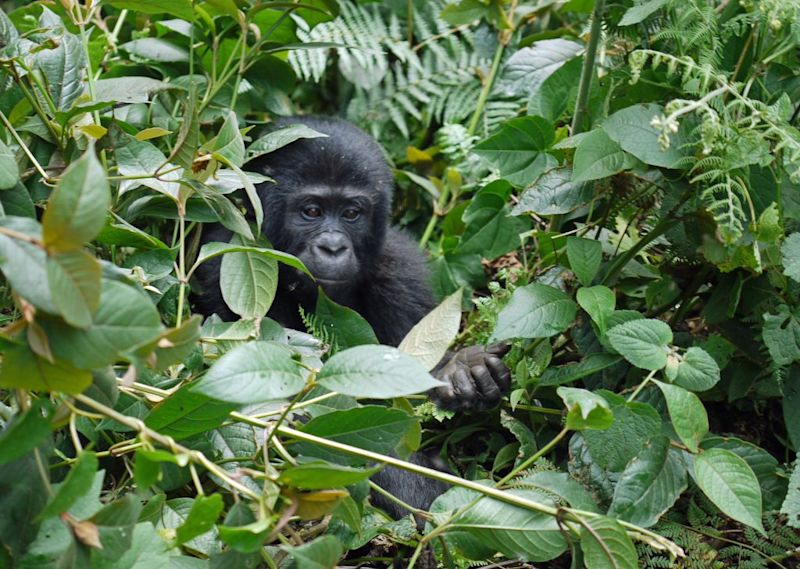 Spending time with these fascinating primates is a privilege most of the world never experiences
For a whole hour on your trek you get to quietly observe these mighty animals as they engage with each other, munch on leaves and roots, groom themselves, suckle their infants, and more.
You're close enough to look into the gorillas' eyes, and many visitors come away with an increased sense of connection to the animal world and nature in general.
A few facts about mountain gorillas
You might be interested to know that:
The scientific name for the mountain gorilla is

gorilla beringei beringei

.

Mountain gorillas live in high mountain forests.

They're a species distinct from other gorillas like the lowland gorilla (Gorillas World explains the different gorilla types nicely).

Mountain gorillas are social creatures, and live in family groups known as troops or bands.

Mountain gorilla babies are called infants, and they ride on their mother's backs for two to three years.

Older adult males are called silverbacks because they develop silver fur on their back and hips at around age 12.

The average mountain gorilla lives for about 35 years in the wild.

When fully grown, a mountain gorilla stands about four to six feet high.

Mountain gorillas are vegetarians, eating shoots, bark, roots, fruit, wild celery and pulp.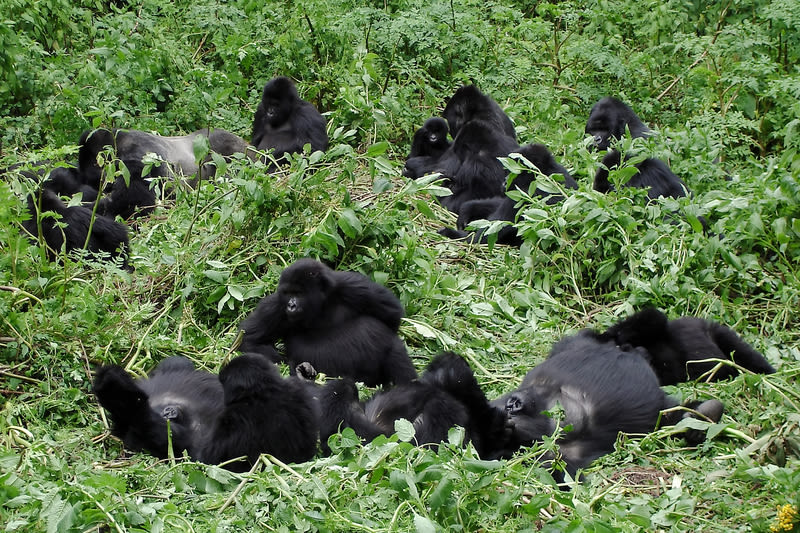 Gorillas live in family units called troops
Mountain gorillas are endangered
Unfortunately mountain gorillas are an endangered species, mostly thanks to humans. The plight of mountain gorillas was brought to international attention by Dian Fossey through her 1983 book Gorillas in the Mist. You've probably seen the movie adaptation starring Sigourney Weaver.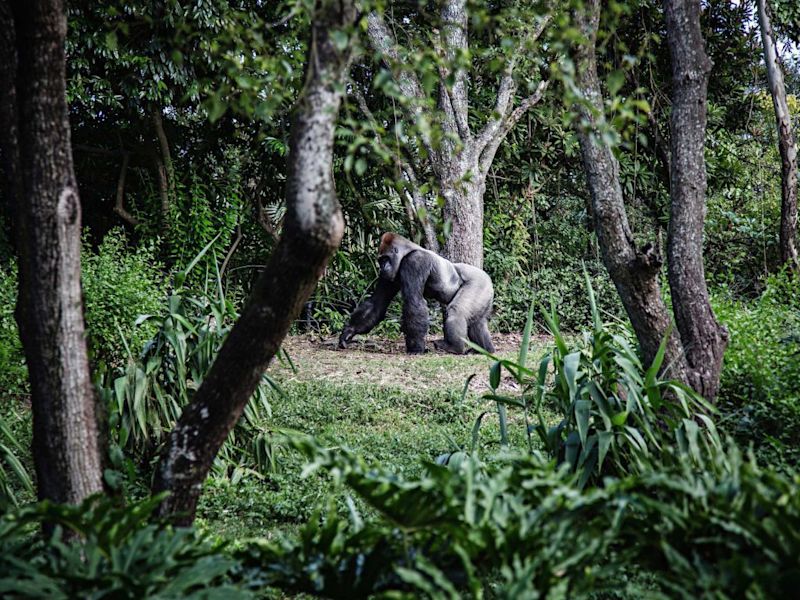 When you go on a gorilla trek your permit fee helps to protect these incredible creatures
Most mountain gorillas live in the Virunga Massif, a volcanic mountain range that runs along the border region of the DRC, Uganda and Rwanda.
A recent census put the Virunga mountain gorilla population at around a thousand individuals.
There are no known mountain gorillas in captivity. This means you can only see mountain gorillas by flying to Africa and visiting them in their natural habitat. What a great excuse for an African adventure!
You hike through pristine rainforest
Something else that makes gorilla trekking so special is having the opportunity to trek through a highly remote and pristine rainforest. Both Volcanoes National Park in Rwanda and Bwindi Impenetrable National Park in Uganda contain Afromontane forest, which is ancient and extremely diverse.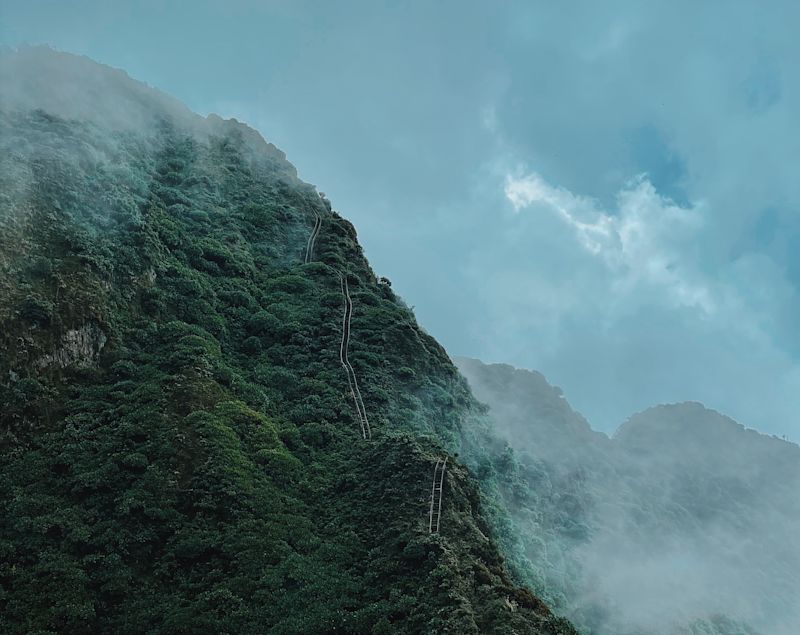 The Virunga Mountains are often shrouded in mist
In Bwindi Forest, for instance, you have more than a hundred fern species as well as about 140 tree species. These tree species include the Guinea plum, African alpine bamboo, and African mahogany.
If you're interested in botany, your heart will start racing with delight the moment you step into the forest on your gorilla trek!
The Virunga Mountains are a truly breathtaking part of the world.
Being so close to the Equator, the forests are humid; streams, waterfalls, rivulets and dripping leaves are all standard! And during your gorilla trek you can look forward to a vibrant rainforest soundtrack. There'll be flitting and buzzing insects, frog croaks, bird calls and wing flaps, dripping water and splashing streams, monkey howls, and, of course, the closer you get to them, gorilla grunts!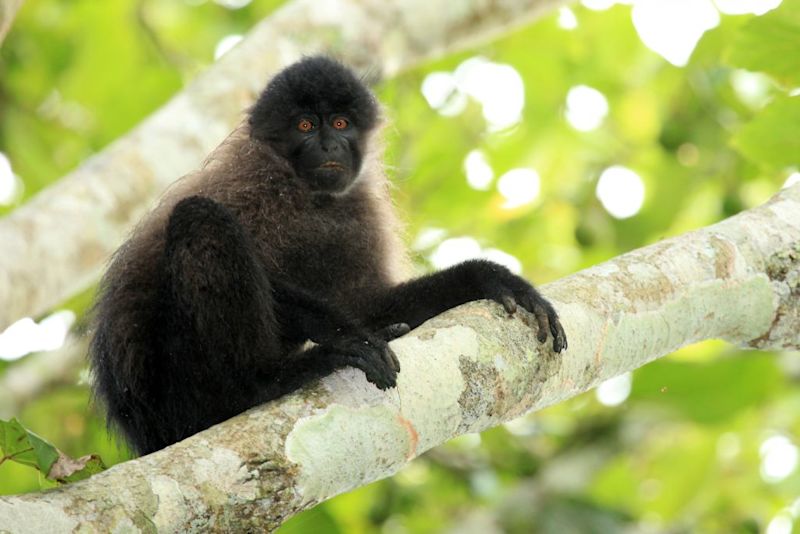 Grey-cheeked mangabeys are among the various primates living in Bwindi Forest
Who should go gorilla trekking?
We believe gorilla trekking is a fantastic experience for just about anyone.
There are, however, a couple of exclusions: children under the age of 15, and those unable to engage in a short hike.
For everyone else, gorilla trekking presents a wonderful opportunity for an eco adventure. It's suitable for groups as well as solo travellers. It's even a great adventure honeymoon idea in our opinion.
You have to be 15 years or older to go on a gorilla trek.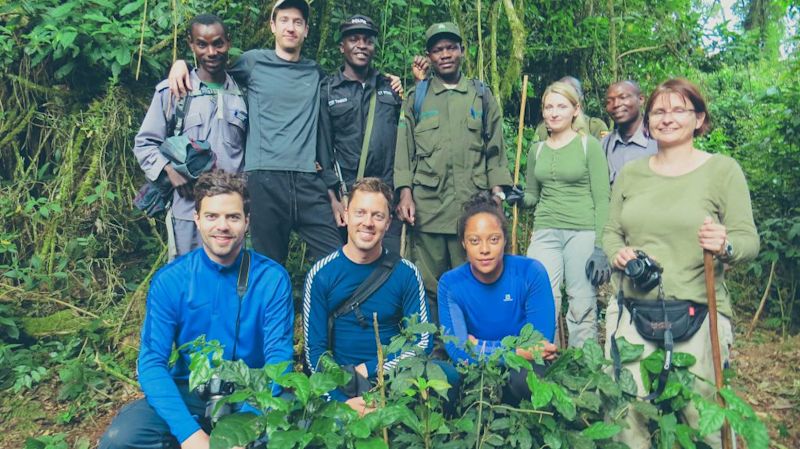 A Follow Alice gorilla trek group
What's the best time for gorilla trekking?
You can go gorilla trekking any time of the year, as mountain gorillas don't migrate, hibernate or anything of that sort.
That said, gorilla trekking in the wet season is a very muddy and slippery experience, so maybe don't go then. The best times of year for gorilla trekking are the two dry seasons: mid December to early February, and June to September.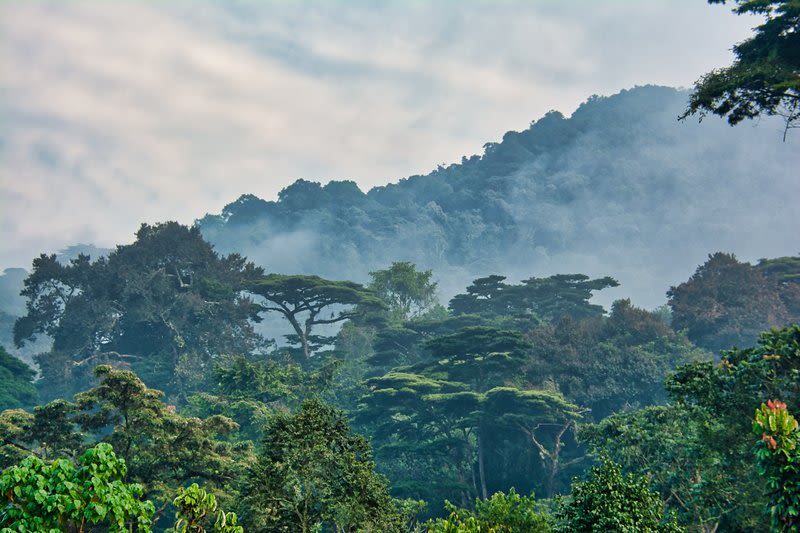 Don't wear anything fancy or special to you on a gorilla trek as it can get very muddy sometimes
The word dry is, however, fairly relative. Volcanoes National Park in Rwanda as well Mgahinga and Bwindi in Uganda experience rain and mist to some degree throughout the year.
And when you go gorilla trekking, mud happens, and it happens hard. So leave your fancy kicks at home.
Gorilla habituation experience
The Uganda Wildlife Authority currently offers visitors a full-day gorilla habituation experience in Bwindi Impenetrable National Park.
Habituation refers to the years-long process whereby a particular gorilla troop is made to grow accustomed to the presence of humans. Park staff spend hours each day in the presence of the troop, observing and learning about them, helping them grow accustomed to the presence of humans, and gradually readying them for visits from the public.
The four-hour gorilla habituation experience is only offered in Uganda.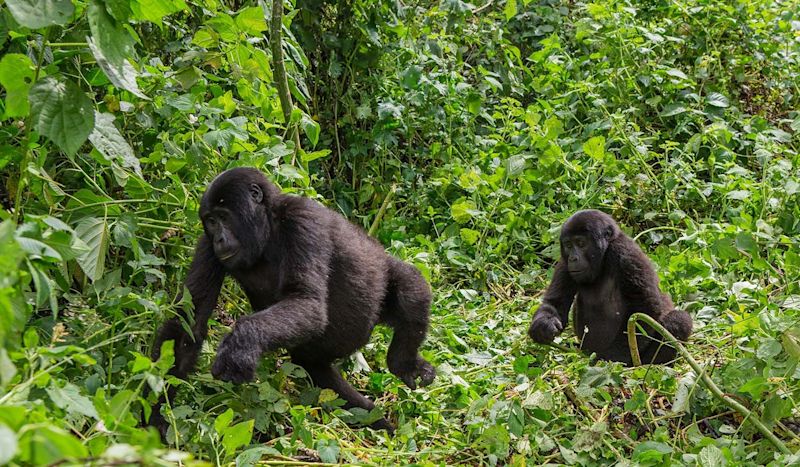 A gorilla habituation experience is the ultimate gorilla trek
How much does a gorilla habituation experience cost?
The habituation experience takes place in Rushaga, the southern sector of Bwindi Forest National Park. Rushaga is the only sector of Bwindi where gorilla troops undergo the habituation process. And it's also the only place in the world offering a mountain gorilla habituation experience.
As mentioned earlier on, the permit for this experience is US$1,500.
Only eight visitors in total are allowed to take part in the habituation experience each day. There are two gorilla troops in the process of being habituated, so that's four visitors per troop. You therefore absolutely have to book well in advance to secure one of these spots.
Only two groups of four can take part in a gorilla habituation each day, so book well in advance to enjoy this amazing experience.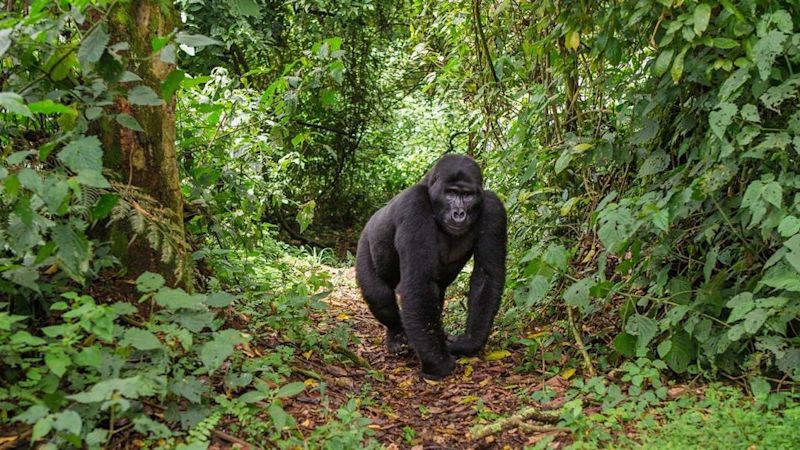 It's amazing given their size and strength how docile mountain gorillas generally are
What can I expect of my gorilla habituation experience?
On the day of the trek, you'll head out into the forest in the company of trek guides and trackers. The trackers will lead you through the forest to find one of the gorilla troops undergoing habituation.
Once you've found them, you spend four precious hours with them. During this time you as a visitor watch and engage in the habituation process.
This could mean being asked by the guides to make certain noises, for instance. The gorilla habituation experience is a rare treat, and something you'll no doubt be telling others about for the rest of your life!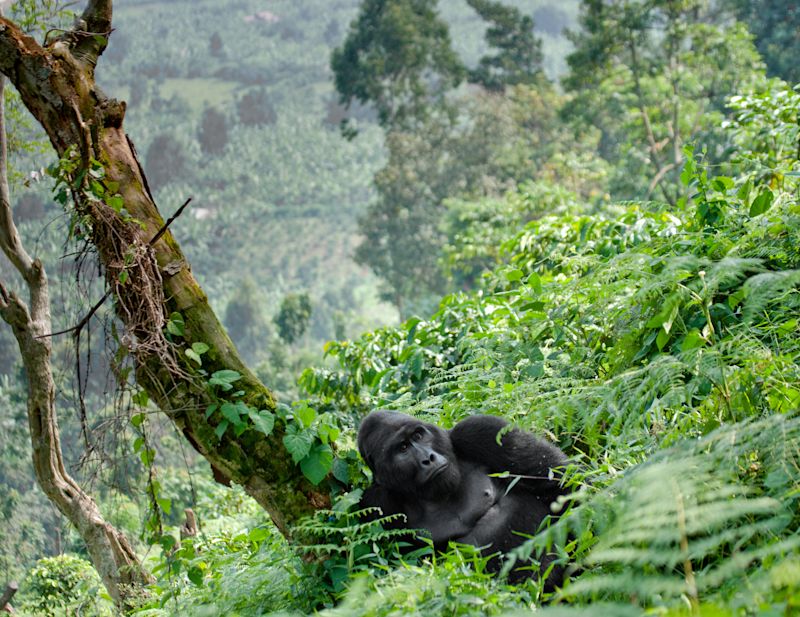 A gorilla habituation experience lets you spend four hours with a gorilla troop
Chimpanzee trekking
If you're keen on seeing mountain gorillas in the wild, chances are you'd also love to see chimpanzees in the wild. The beautiful Kibale Forest National Park, which is about 230 km north of Bwindi Forest, is one of the best places in the world to see chimpanzees in their natural habitat.
A chimpanzee trekking permit in Uganda's Kibale Forest National Park costs just US$150.
Similar to gorilla trekking, small groups go on a hike with trained rangers to see and spend time with a chimpanzee troop in the wild.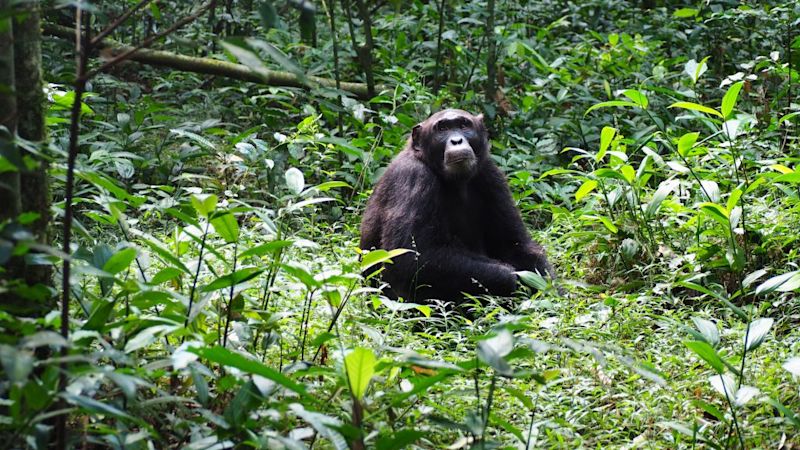 Humans and chimps share about 99% DNA!
Chimps are very similar to gorillas in many ways, while also of course having easily noticeable differences like size and shape. One of the main differences between a chimpanzee trek and a gorilla trek is that chimps spend much of their lives in trees. So a chimpanzee trek has you looking up a lot more.
Fortunately, the best times of year for chimp trekking are the same as for gorilla trekking: November to February, and June to October.
Gorilla trekking with Follow Alice
At Follow Alice we offer a gorilla trekking Uganda trip as well as a gorilla trekking Rwanda trip. We're also more than happy to organise a gorilla habituation experience in Uganda for anyone who's keen to spend even more time with the gorillas.
If you'd like to chat more with us about Uganda or Rwanda, mountain gorillas, chimpanzees, or anything else vaguely related, please feel free to drop us a line!
We're regular folks like you with a thirst to explore our beautiful planet. Let's each sit down with a cuppa and have a cyber chat, or we can chat via email. Whatever floats your boat. ⛵️