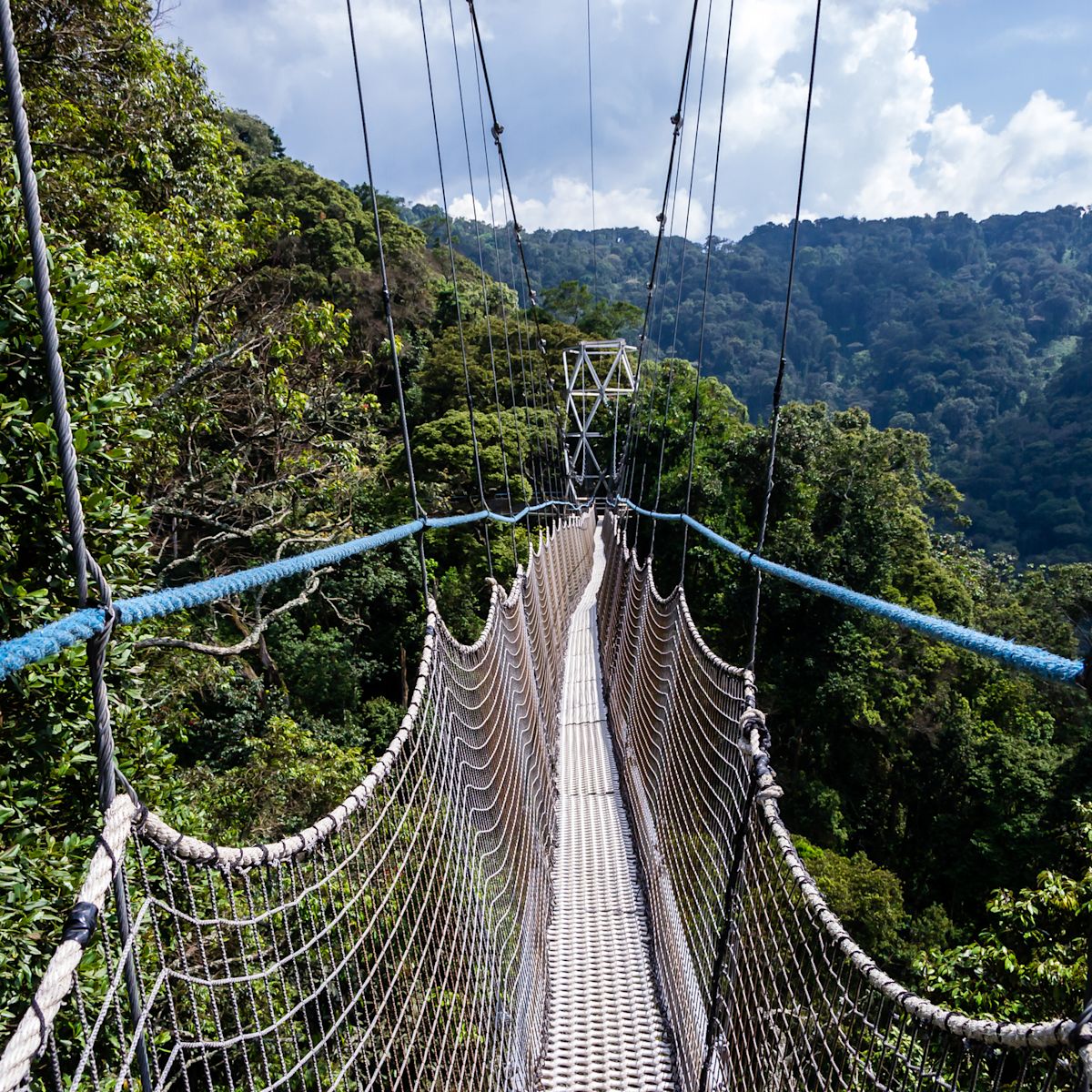 Look for birds, chimps and more on a thrilling canopy walk in Nyungwe Forest
Nov 15, 2023
Reading time: 3 minutes
Those who walk the narrow walkway above the canopy of Nyungwe Forest in southwest Rwanda are in for a thrilling wildlife experience! From this vantage point you can look for various primates and countless birds while also enjoying truly spectacular views.
How high and long is the canopy walkway?
The canopy walkway in Nyungwe Forest National Park is a narrow suspension bridge that climbs around 50 m (164 ft) above the forest floor at its highest point. And it's roughly 160 m (525 ft) long.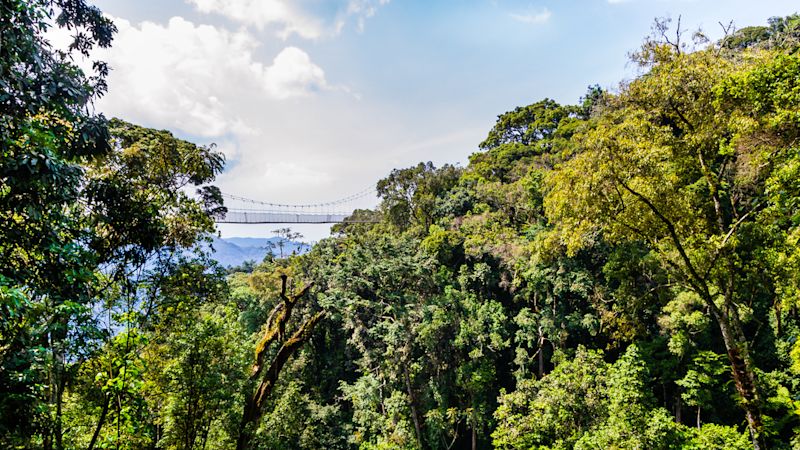 A distant view of the walkway emerging between the treetops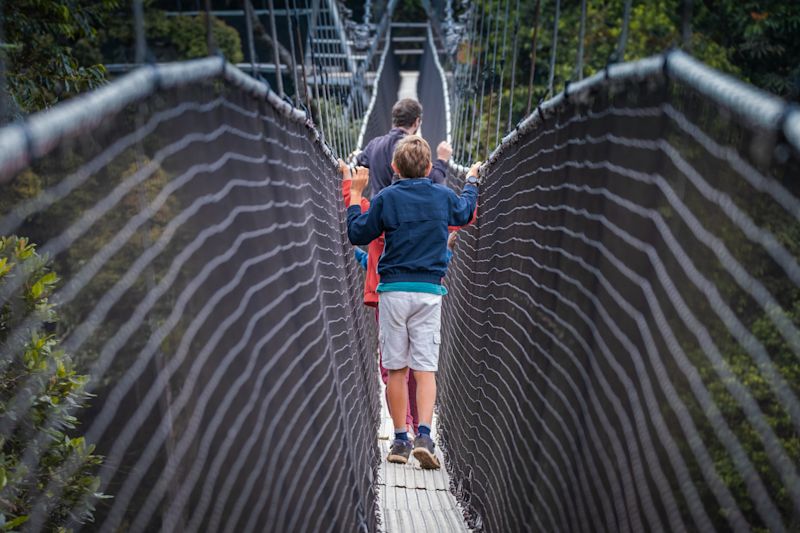 The walkway is very secure
What primates live in Nyungwe Forest?
Nyungwe Forest has a stellar cast of primates, clocking in at 13 species!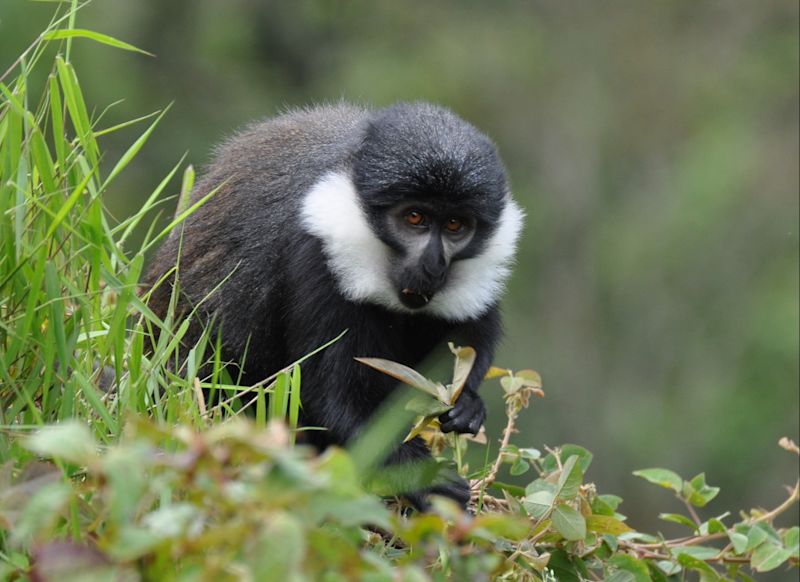 A L'Hoest's monkey on a hillside in Nyungwe Forest NP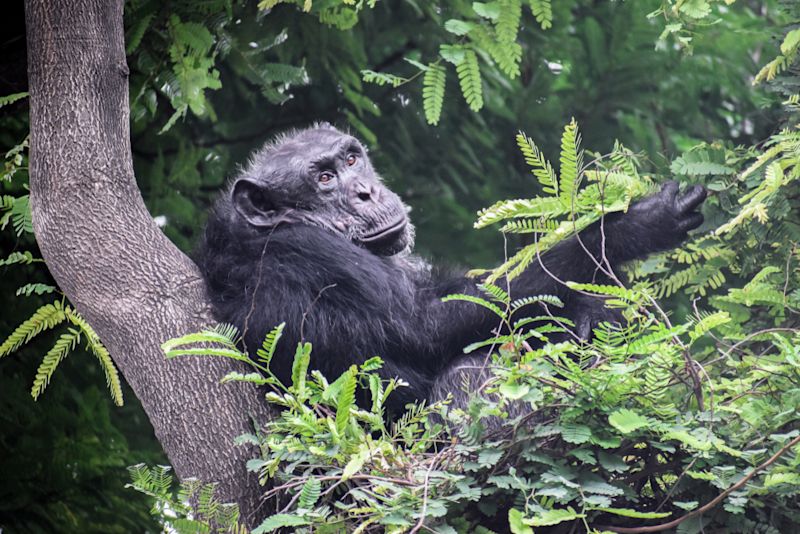 Chimps are one of the star attractions at Nyungwe Forest
When walking the forest floor or along the canopy walkway, be sure to keep your eyes open for the following stunners, among others:
Chimpanzees

Angola colobuses

Black-and-white colobuses

L'Hoest's monkeys

Olive baboons

Golden monkeys

Grey-cheeked mangabeys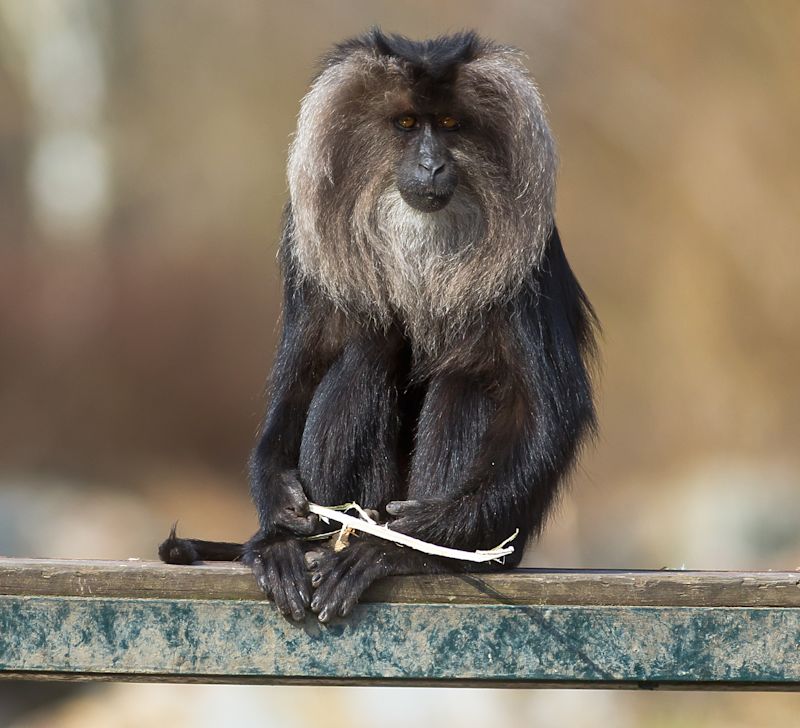 There's no mistaking an Angola monkey!
Nyungwe Forest is one of the best places in East Africa for spotting a variety of distinctive and fascinating Old World primates.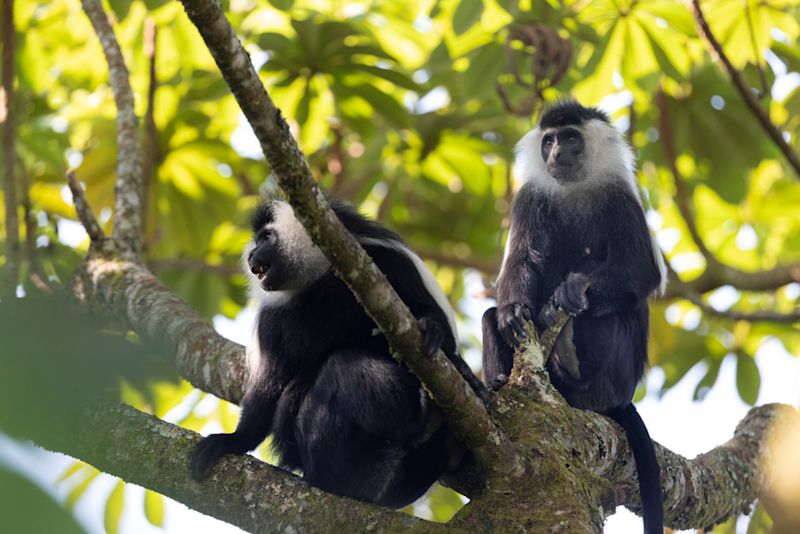 Visitors to Nyungwe Forest often see black-and-white colobus monkeys
What birds can I find in Nyungwe Forest?
Nyungwe Forest was made for birdwatching!
Birders from around the world flock to Nyungwe Forest (pun intended) to look for the over 300 species that have been recorded here.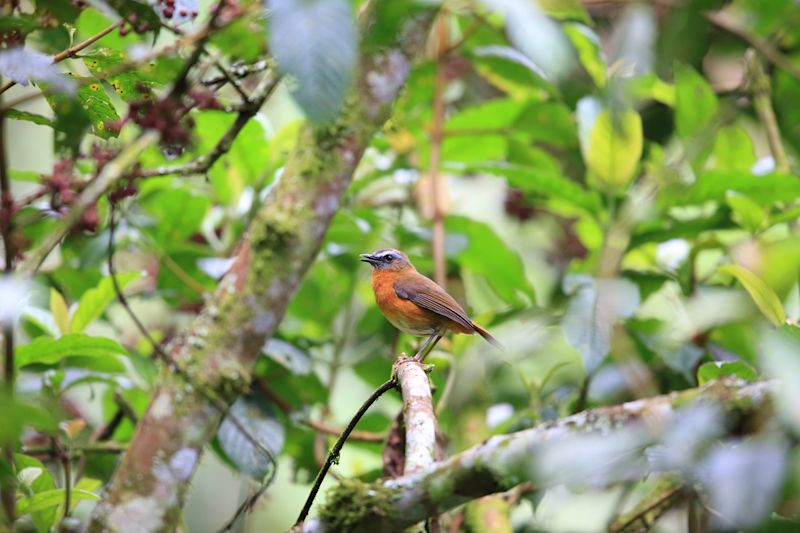 An archer's ground robin spotted in Nyungwe Forest
The park's diverse birds include many forest-dwelling birds, waterbirds and migratory species. Of especial note are the following birds which are endemic to the Albertine Rift Valley:
Grauer's rush warblers

Albertine owlets

Rwenzori turacos

Handsome francolins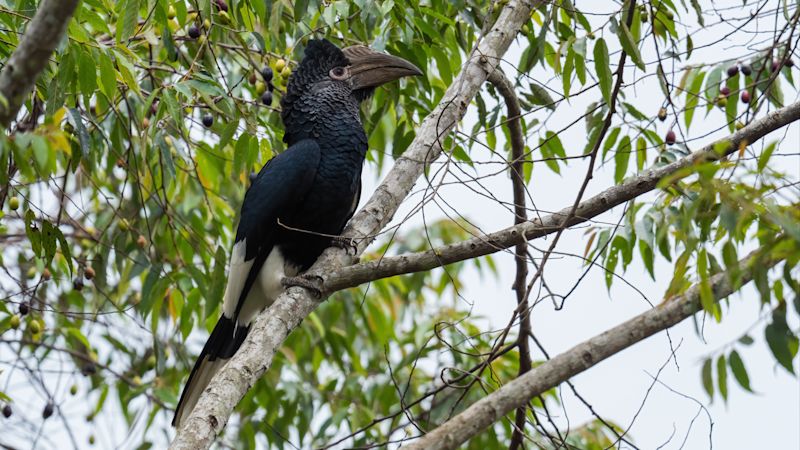 A black-and-white casques hornbill
Other exciting and notable birds to look for during your canopy walk or when on the ground are:
Grauer's broadbills

Kungwe apalises

Shoebills

Ruwenzori batises

White-headed wood hoopoes

Yellow-eyed black flycatchers

Purple-breasted sunbirds

Dusky twinspots

Crowned eagles
Here's a small gallery of some other bird beauties that have been captured on film in Nyungwe Forest National Park ...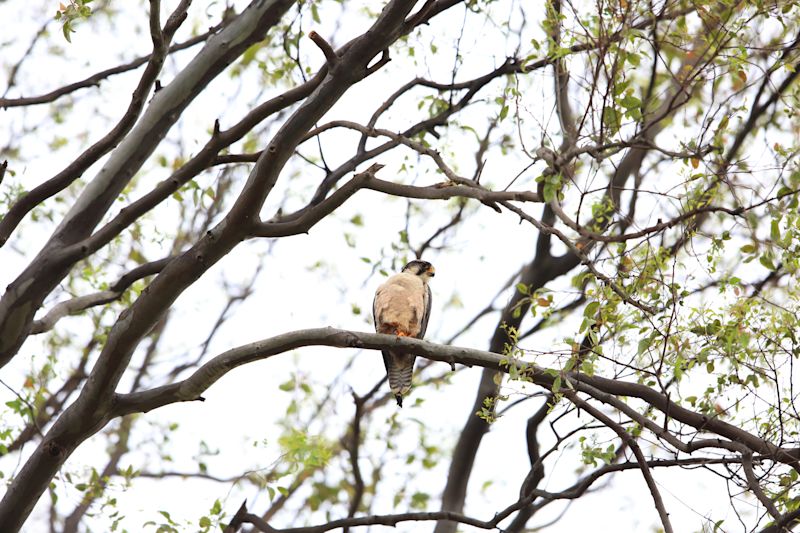 A lanner falcon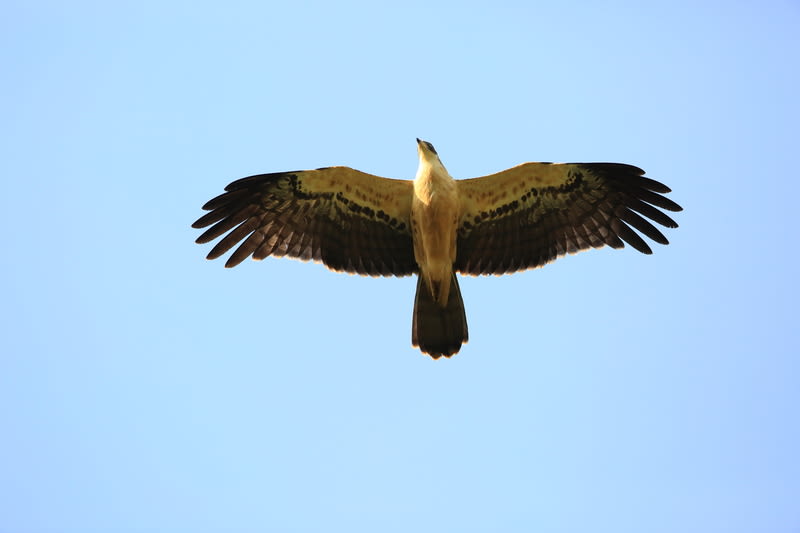 An Ayre's eagle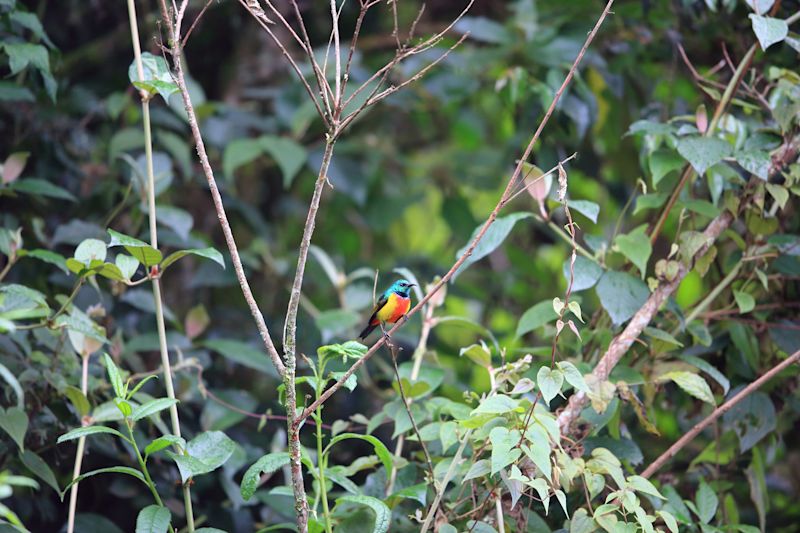 A regal sunbird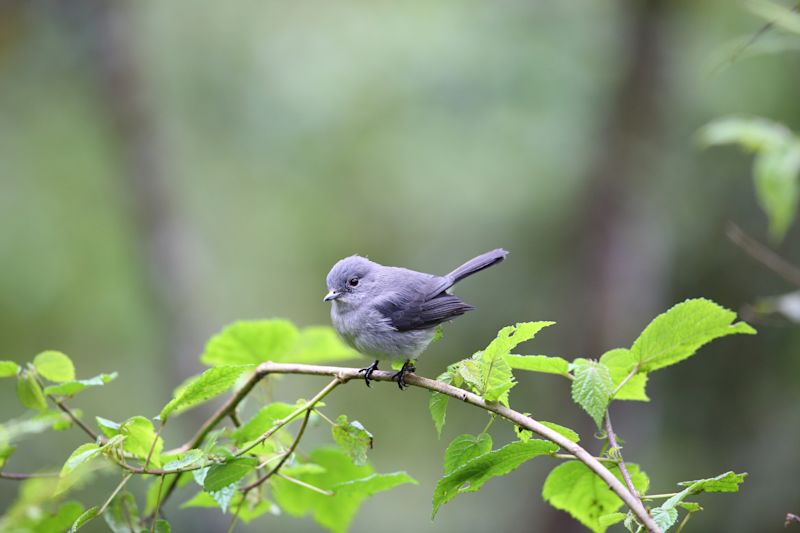 A white-eyed slaty flycatcher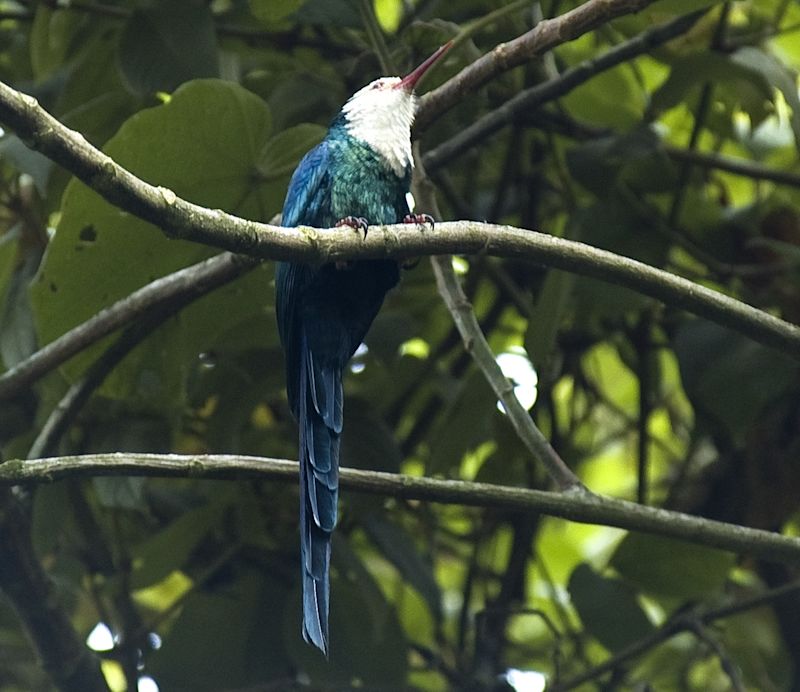 A white-headed wood hoopoe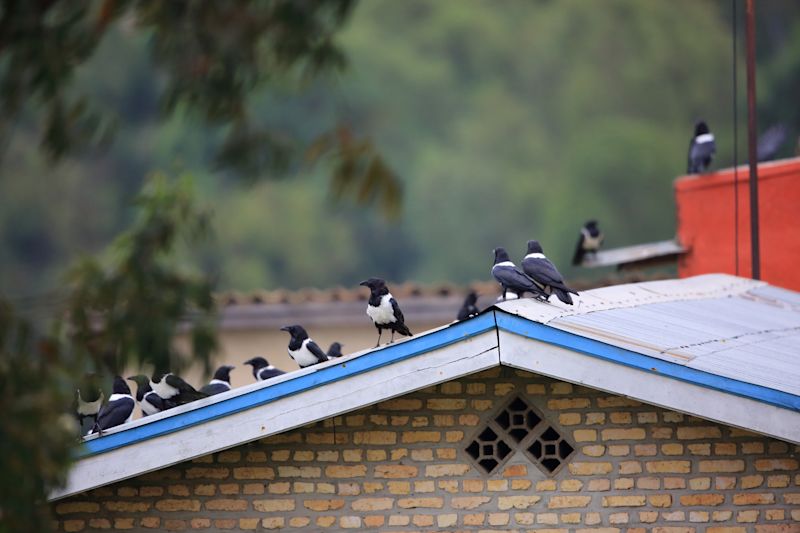 Pied crows (always an easy spot within Nyungwe Forest NP
What other wildlife lives in the forest?
Nyungwe Forest isn't just biologically rich in terms of primates and birds – it's also home to many other exciting wildlife species, both large and small, predator and prey.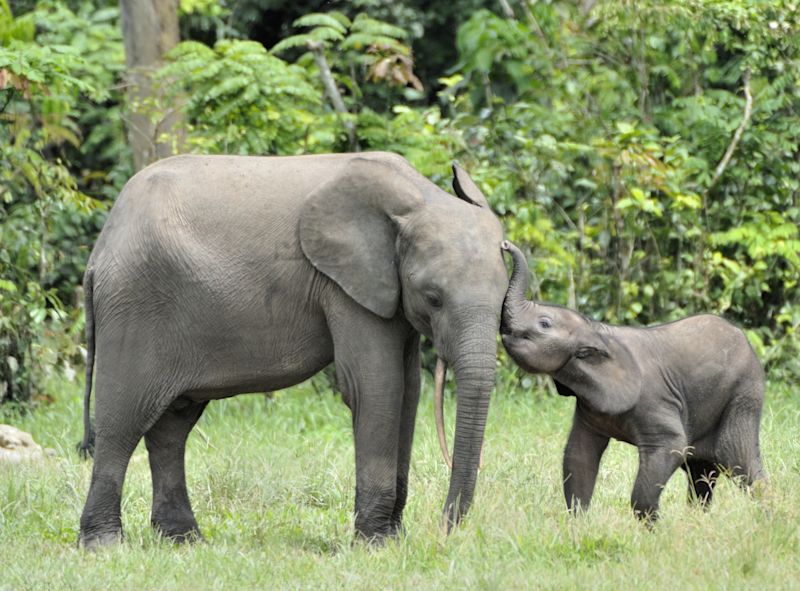 African forest elephants
Some of the mammals to look for when visiting Nyungwe Forest National Park, whether on the canopy walkway or on a hike or safari drive, are:
Forest elephants

African buffaloes

Leopards

African golden cats

Servals

Bush pigs

African civets and palm civets

Side-striped jackals

Duikers

Forest hogs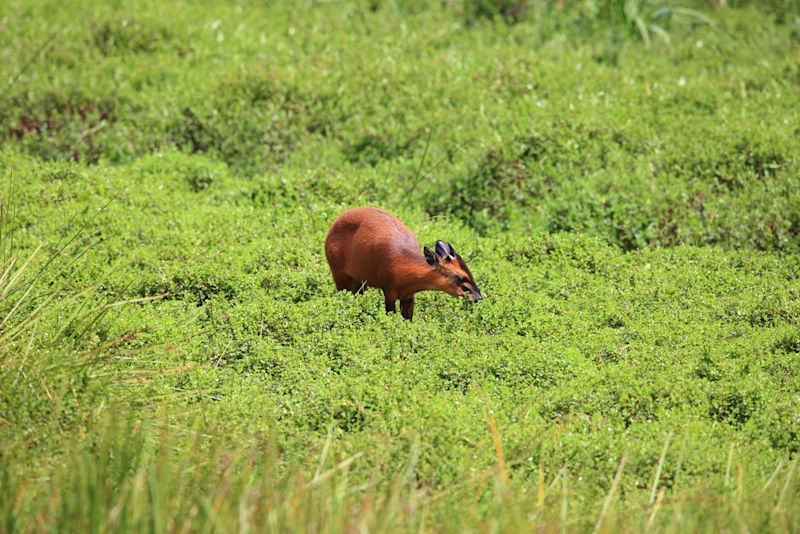 A red forest duiker spotted in Nyungwe Forest National Park
Where in Rwanda is Nyungwe Forest?
Nyungwe Forest National Park sits in the southwestern portion of Rwanda, about a five-hour drive from the international airport in the capital of Kigali.
The park is near the border with Burundi to the south and Lake Kivu to the west. It covers a significant portion of the Nyungwe Rainforest, thereby helping to protect the latter's rich biodiversity.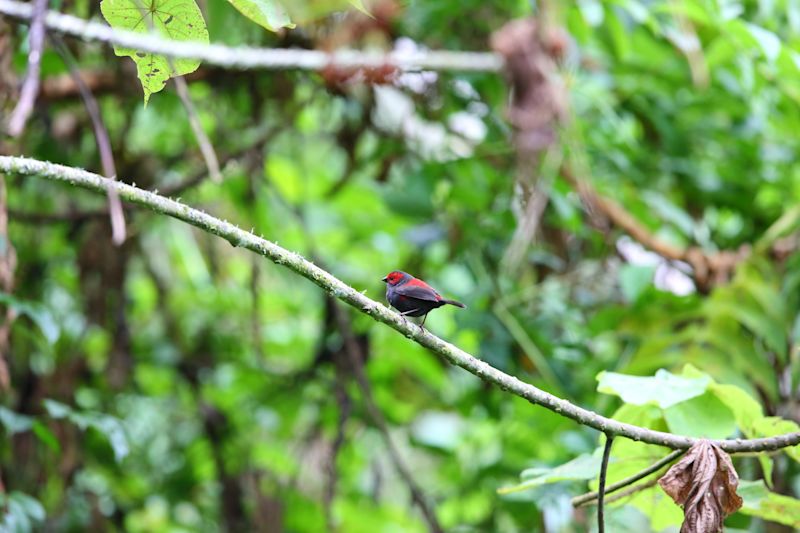 A dusky crimsonwing spotted in the park
What's the scenery like?
In a word: sublime.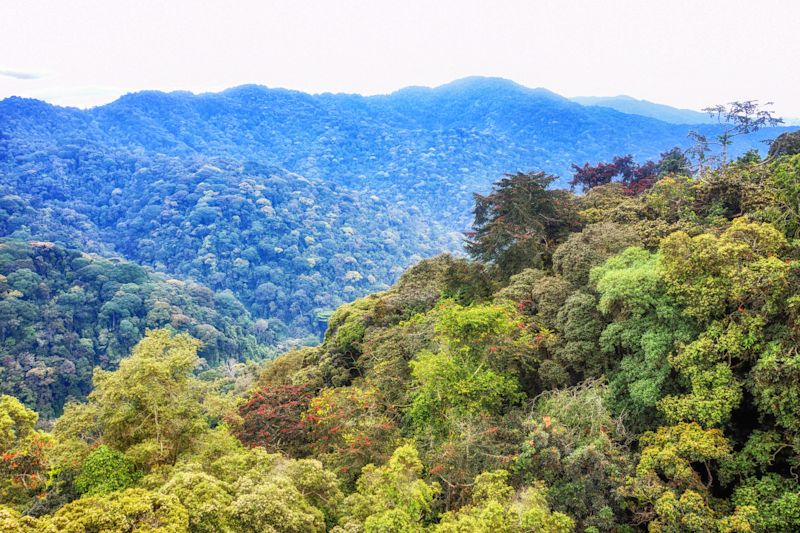 A view of Nyungwe Forest's thick and beautiful canopy
Nyungwe Forest National Park consists of gorgeous tropical rainforest (as well as grasslands and swamps) that's sometimes bathed in sunshine, at other times covered in mist or rain.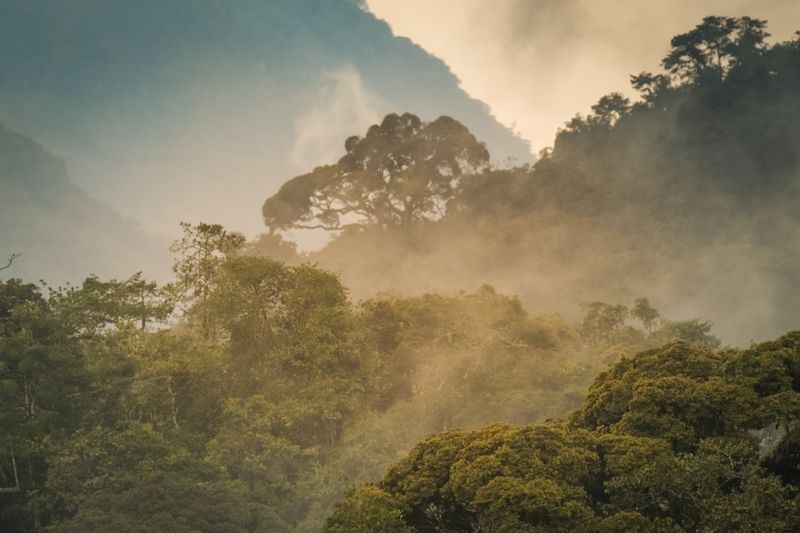 A misty morning view of the canopy
The canopy walkway is naturally one of the very best ways to appreciate the beauty of the park's rainforest, as it lets you climb above the treetops for incredible, panoramic views. So let us know if you'd like any help arranging to visit this utterly beautiful corner of Rwanda!