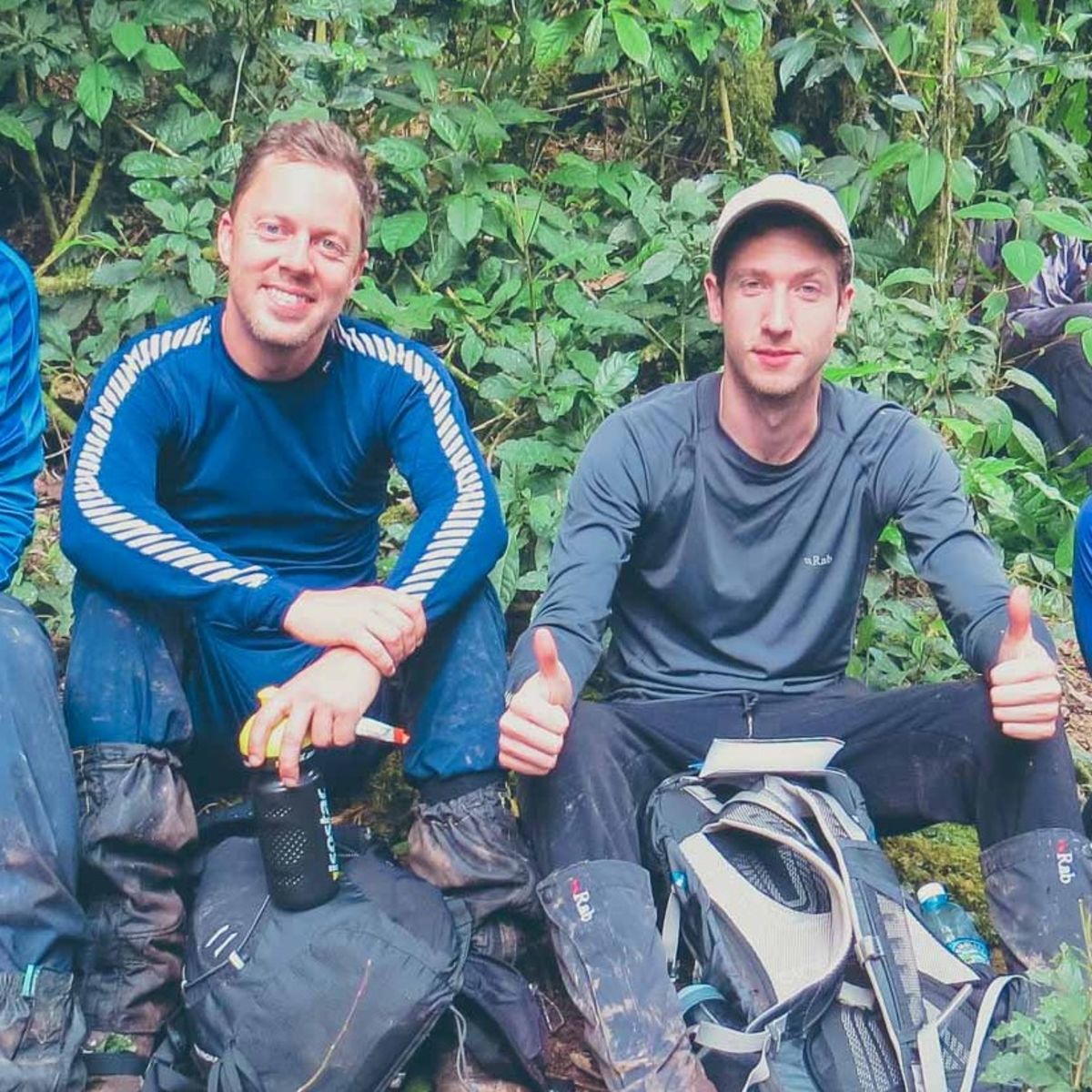 Your complete list of what to pack for gorilla trekking
Jul 11, 2023
Reading time: 6 minutes
The ultimate guide of what to pack for gorilla trekking from the boots, to the gloves and clothing to make sure you are as comfortable as possible while on your gorilla trekking adventure.
Gorilla trekking is an adventure of a lifetime! But to properly enjoy the experience, you need to come prepared.
Uganda and Rwanda both have a warm tropical climate, but the mountain gorillas live at altitude, and the temperature there drops quite a lot at night and remains cold into the early morning.
Daytime hours are generally humid and chilly, and mist and rain are common throughout the year.
Gorilla trekking is no walk in the park
On a gorilla trek you hike through thick tropical rainforest. So this is no gentle amble along well-defined pathways. Instead, the guides and porters regularly use machetes to hack through the jungle to clear a pathway for everyone.
Moreover, the trails are steep and slippery. At time you have to scramble over logs and rocks, grab onto vines and creepers (which can have thorns), and wade across streams.
Moreover, there are stinging nettles and insects such as soldier and fire ants (their names alone should give you pause!).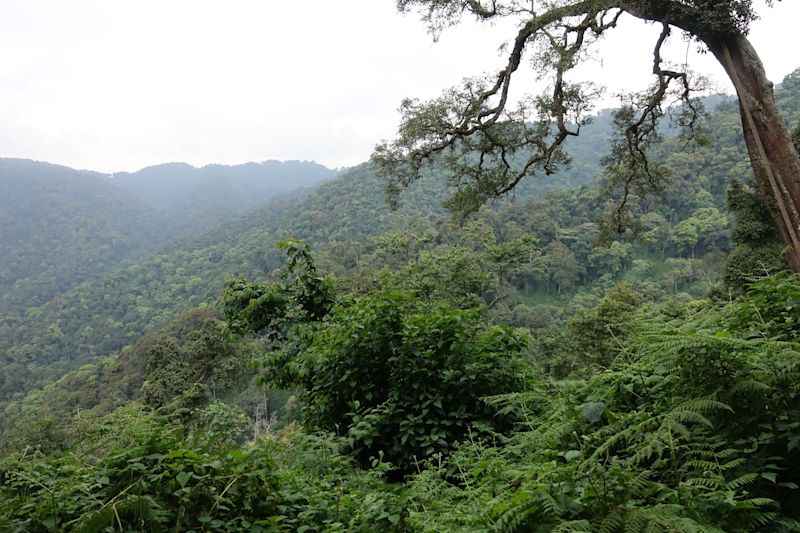 So as you see, you need to be properly attired for your gorilla trekking adventure if it's to be memorable for the right reasons.
Here now is our definitive list of gorilla trekking clothing to help with your packing and trip preparation ...
Long trousers
We suggest that you wear long trousers. If you can find a pair that is water-resistant, all the better.
These should ideally be tucked into your socks or boots to help prevent insects such as fire ants crawling up your legs and biting you.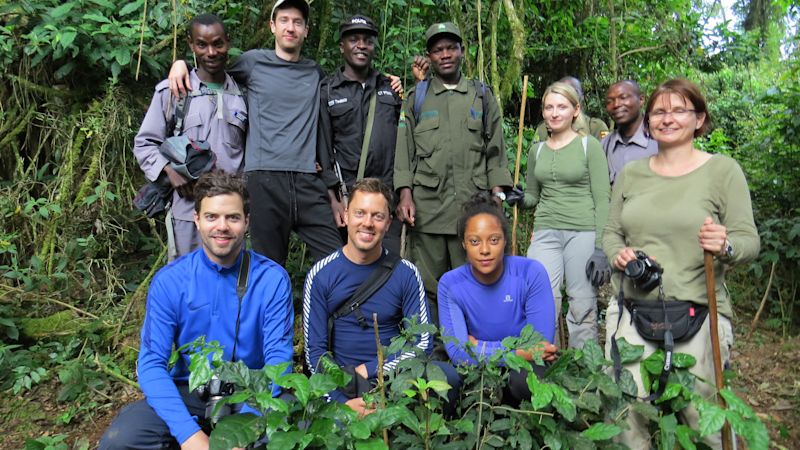 A long-sleeved shirt
Long sleeves are a good idea to help protect you from the cold during the early colder hours of your trek. They also offer protection from insects, nettles and branches and vines that would scratch you.
Choose a shirt that's a neutral colour such as khaki, green or light brown. Bright colours aren't advisable (it's hard to be an unobtrusive gorilla spectator in a neon pink parka).
Blue and black are also unadvisable, as these can attract insects like tsetse flies, believe it or not.
Sturdy, waterproof hiking boots
One of the most important pieces of gorilla trekking clothing is a good pair of hiking boots.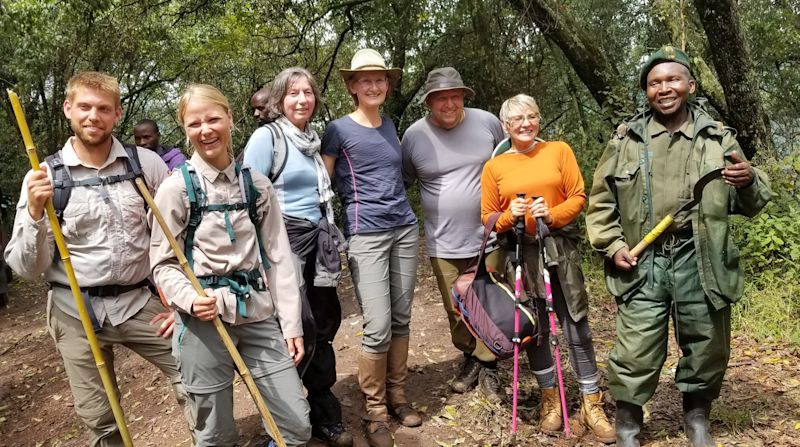 This trek is not something you want to try and attempt in sneakers or sandals. The paths are muddy, slippery and you need to have good traction while hiking. Hiking boots provide proper support for your ankles, offer balance and stability, and protect you against thorns and insects.
You should buy your boots in advance and wear them so you don't run the risk of sore or blistered feet on the trek.
Thick socks
A good pair of thick socks provide warmth during the cold early morning start of the trek. You should also tuck your trouser ends into your socks. This helps prevent insects from crawling up your legs while trekking and is additional protection against the stinging nettles.
Hardy gloves
We recommend you bring gardening gloves. Yes, you read right. In fact, this is one of the most important pieces of your gorilla trekking clothing.
Gardening gloves are generally designed to protect your hands against thorns, and that's the sort of protection you need on a gorilla trek. You often have to grab hold of branches and vines to help yourself up or down the mountainside.
A lightweight rain jacket or poncho
Rain occurs throughout the year in southwest Uganda, with showers most likely to occur in the morning. A lightweight rain jacket or poncho helps to keep you dry and comfortable while trekking.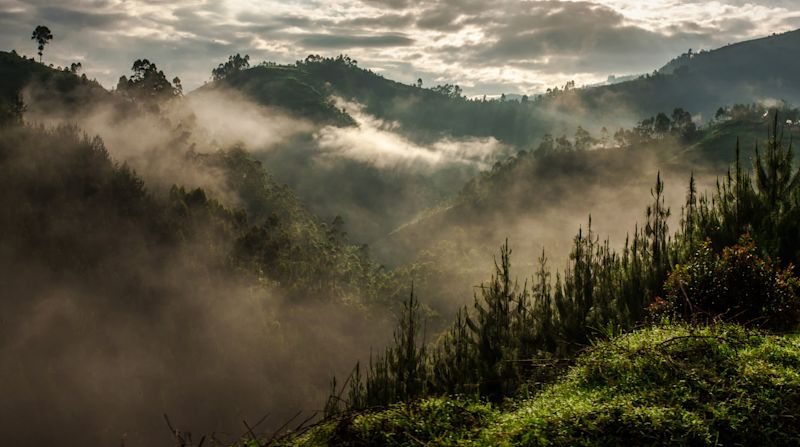 A wide-brim hat
You aren't always walking under trees on a gorilla trek, and when the morning mist clears, you need a hat. Remember that you're at a high altitude and the sun is more intense here.
Moreover, a hat not only protects you from the sun – it also offers some degree of protection from rain and wayward or flicking branches. And you arrive back at base with fewer leaves and twigs in your hair.
Sunscreen
Related to the point above, you should protect your skin from the sun. The rays can be fairly brutal around midday (the altitude, remember?). Most of your body will be covered up already if you've taken our advice, but your face will need a lick of sunscreen. And we recommend a sunscreen stick go into your backpack so you can reapply it when necessary (gorilla treks are sweaty affairs, given the high humidity of the rainforest).
Insect repellent
You may have noticed how often we talk about insects? There are many insects in the jungle, and so wearing a good insect repellent such as RID or a citronella-based one is a good idea to ensure your trek is comfortable. Take some along in your backpack for reapplications.
Water bottle
Please pack a good, reusable water bottle that's filled with water or use a hydration pack with a drinking hose. And perhaps also bring a smaller bottle too which has water flavoured with a rehydration mix.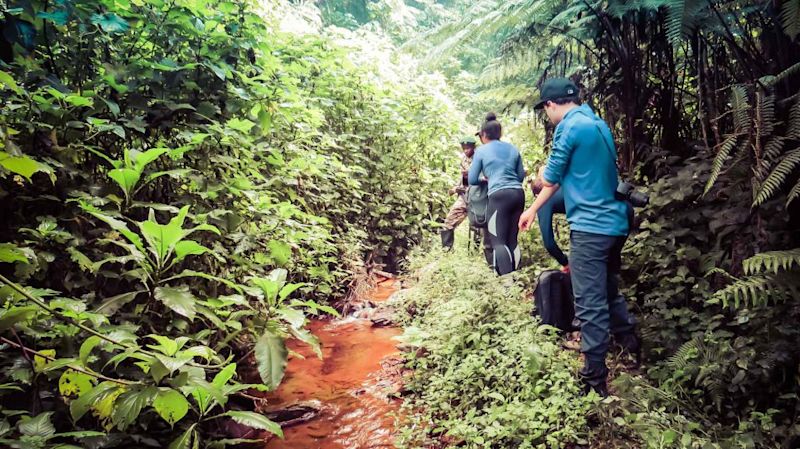 As mentioned, you can expect to sweat a lot of the trek, and your electrolytes could get low. The more water you take, the better.
If you're worried about the weight of lots of drinking water, remember that there are porters who are keen to be hired to carry your pack and help you along the route. They're a real asset if you get nervous on steep or slippery sections, as they'll literally hold your hand when needed.
Camera
A phone often has a good enough camera these days, but if you have a really good camera, we suggest you take it with you to capture these moments of a lifetime.
Ensure your phone or camera battery is charged the night before. If your camera is battery-operated, we suggest you bring along a spare battery.
And please be sure to pack all necessary charging cables (and an international adapter, if relevant) before heading to Uganda or Rwanda. You don't want to be standing and fuming in your hotel room mid-trip over a dead camera.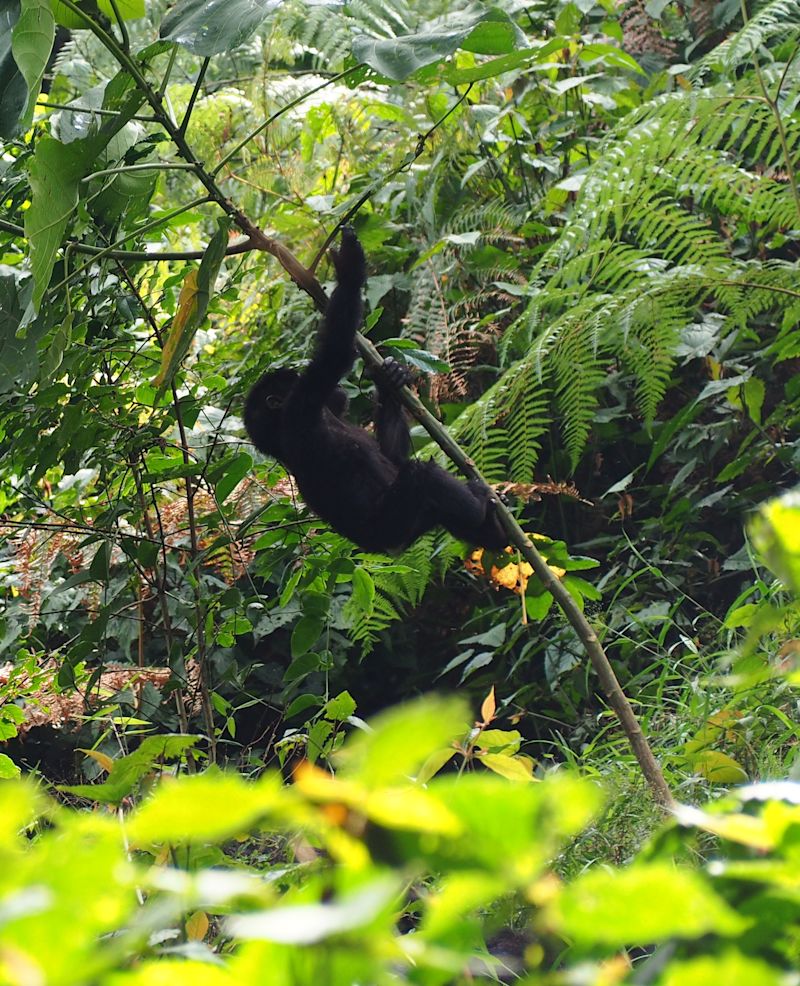 Malaria prevention medication
Uganda and Rwanda are high-risk area for malaria. Speak to your local GP or a travel clinic about the right prophylaxis for you. The most common ones are Malarone and doxycycline.
Still have questions left unanswered by this blog post? Please feel free to drop us a line and we'll gladly help in any way we can. 🙂