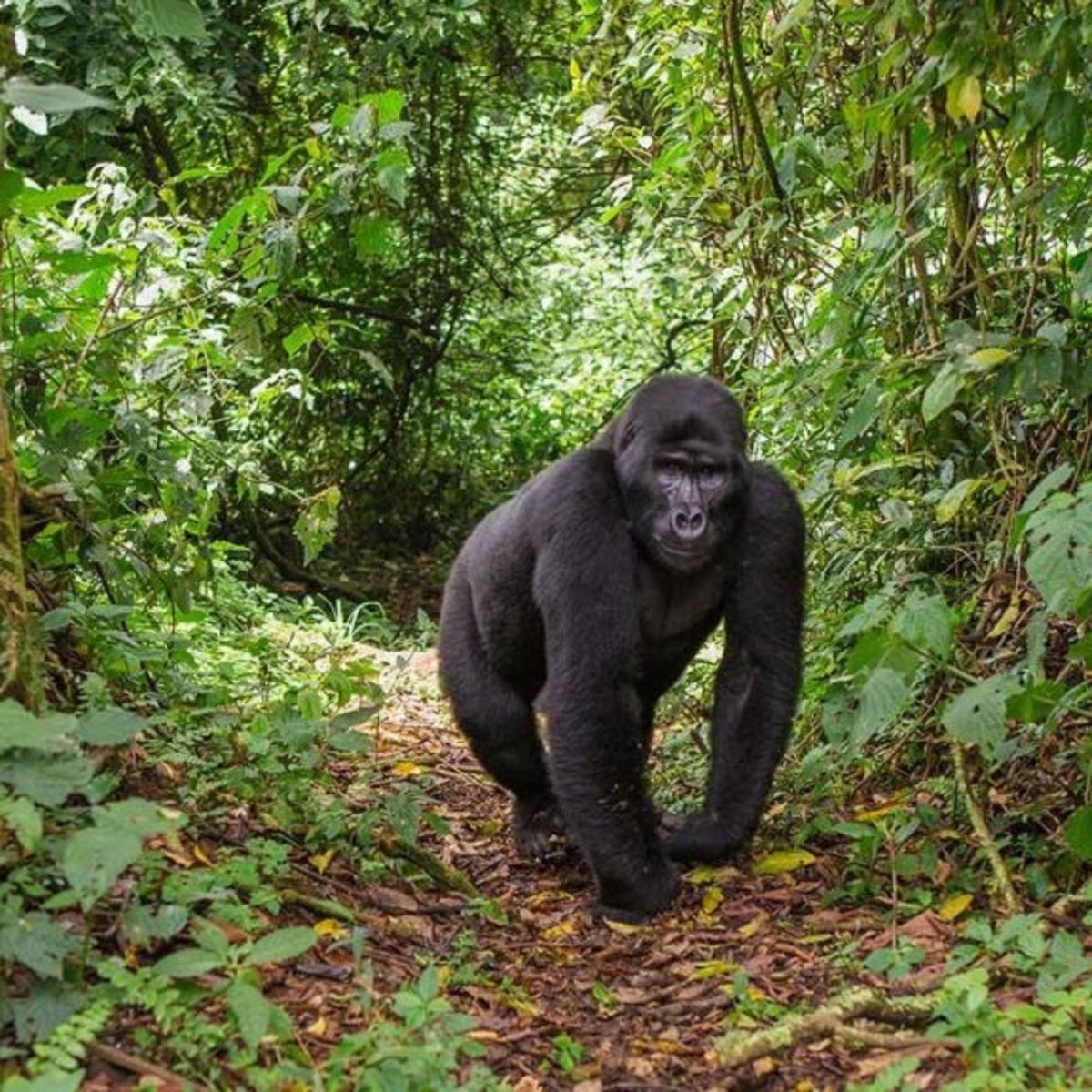 Gorilla trekking in Uganda vs Rwanda – the pros and cons of each
Jul 11, 2023
Reading time: 9 minutes
Both Rwanda and Uganda offer excellent gorilla treks. So how do you choose? There are some key differences that we discuss here, like location and accessibility, costs and number of gorilla troops.
So you want to go mountain gorilla trekking … awesome idea! We've been, and we can tell you that it's definitely, absolutely, positively worth it. It's one of our favourite things to do in Uganda. Standing just a few feet from these gentle giants in their forest habitat and seeing them munch on fruit and plants, play with or groom one another, and idly look at the curious bipeds looking at them – these are magical moments that stay with you for a lifetime. But to get to be in that special place, you first must decide where to go to see them. Do you go gorilla trekking in Rwanda? Or do you go gorilla trekking in Uganda? Well, answering that question is what this blog post is all about.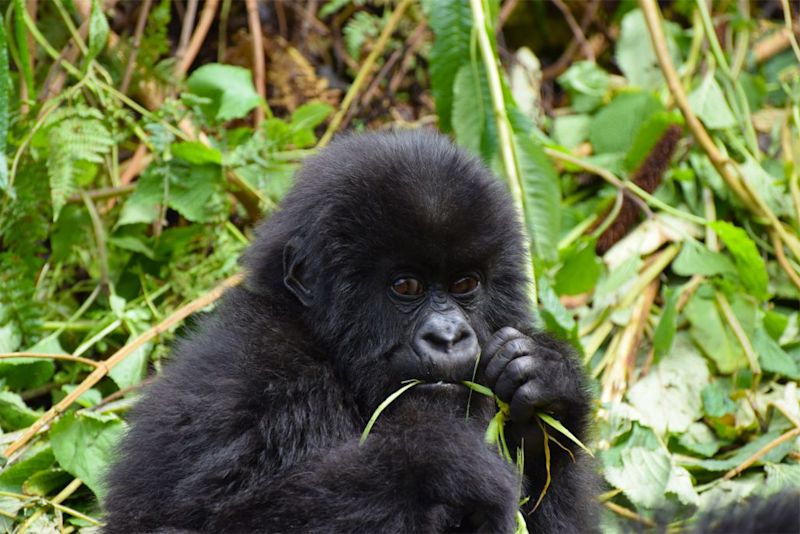 An adorable infant gorilla snacking on a shoot
Trekkers visit habituated mountain gorillas
The mountain gorillas that visitors trek to see are those that have become habituated to the presence of humans. The process of habituating them to humans takes about two years. But even though they become used to the presence of humans, there are still strict rules in place to ensure we interfere as little as possible with their habitat and way of life.
For starters, only one group of eight people is allowed to visit each gorilla troop per day, and then only for one hour. Other rules, as discussed in 20 things to know about mountain gorilla trekking, include not making loud noises or sudden movements while in their presence.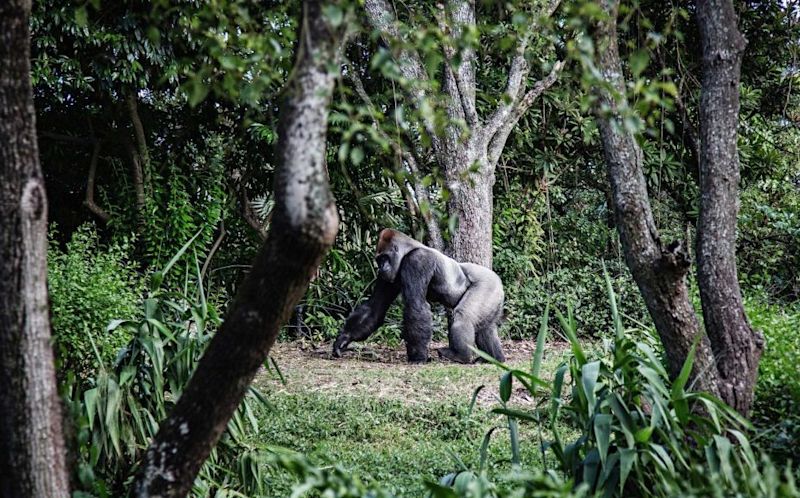 And now check out those massive limbs
Where can I go gorilla trekking?
All of the world's mountain gorillas live in the Virunga Mountains of Central and East Africa. The two main countries for gorilla trekking are Rwanda and Uganda. In Rwanda you can trek to see mountain gorillas in Volcanoes National Park. In Uganda, you can visit mountain gorillas in Bwindi Impenetrable National Park or Mgahinga National Park. The gorilla population in Mgahinga isn't as large and steady as that of Bwindi, making the latter the better and more popular option.
The decision to go gorilla trekking in Rwanda or Uganda usually rests on factors like cost and accessibility. You also want to consider what else you'll do on your trip to the country, as the cost and effort of a gorilla trek means you'll likely only be seeing gorillas on one day. We discuss all these matters in just a moment, but first, let's answer a very important question ...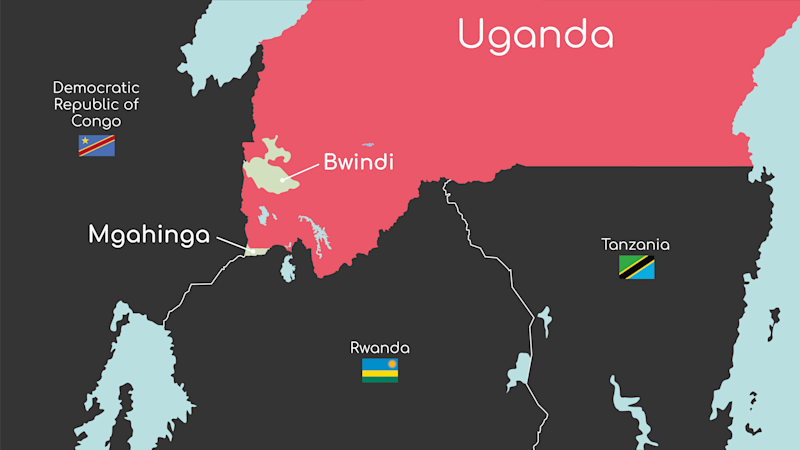 Map showing Uganda's Bwindi and Mgahinga gorilla parks
The mountain gorillas of Rwanda
Rwanda is a small and mountainous East African country with a population of around 13 million people. It's sometimes called the pays des mille collines, which is French for 'land of a thousand hills'. The main language in the country is Kinyarwanda, spoken by most citizens. English, French and Swahili are also official languages.
Rwanda is a phoenix of the twenty-first century, having risen out of the ashes of its tragic 1994 genocide to become one of Africa's great success stories. It's capital city of Kigali is well-known for its beauty and cleanliness. In fact, did you know that's illegal to buy, use or sell plastic bags in Rwanda?
Rwanda is sometimes called the pays des mille collines, which is French for 'land of a thousand hills'.
Volcanoes National Park
Tourism has played a major role in helping Rwanda to rebuild itself, and mountain gorillas are at the heart of its tourism trade. As mentioned, Rwanda's mountain gorillas live in Volcanoes National Park. There are about 56 mountain gorilla troops in the park.
As Rwanda is a small country, getting to Volcanoes National Park is a relatively easy affair. Visitors simply fly into Kigali International Airport and then it's a short drive of about two and a half hours northwest to arrive at the doorstep of Volcanoes National Park. Even though the drive is short, it's always advisable to travel with a reputable tour operator who knows the region and roads well. The proximity of Volcanoes National Park to an international airport is a major draw for Rwanda's mountain gorilla tourism industry.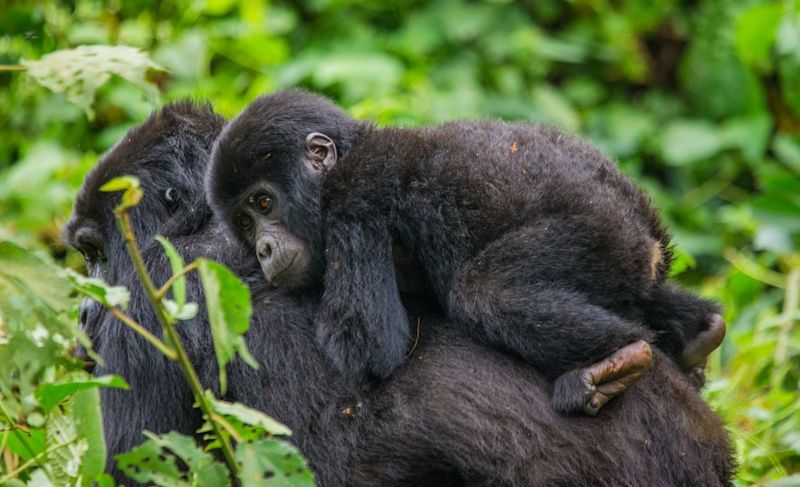 Gorillas are social animals who live in troops their whole lives
The mountain gorillas of Uganda
Uganda is a landlocked country consisting of massive plains, volcanoes, snow-capped mountains, thick forests, savannah, immense lakes, diverse wildlife and more. The population of about 43 million is extremely diverse, and speak more than 40 languages. Ugandans are known for their warmth and friendliness. Many speak English, which is a helpful for tourists.
Winston Churchill dubbed Uganda the 'Pearl of Africa' for its incomparable diversity and beauty
Bwindi Impenetrable National Park
Most of Uganda's mountain gorillas live in Bwindi Impenetrable National Park. Bwindi is an alpine forest that sits between 1,160 m and 2,607 m above sea level. As the name suggests, the Bwindi Impenetrable National Park encompasses a thickly forested area. Given the density of vegetation, it can be pretty dark in the forest. It's a UNESCO World Heritage Site, and rightly so.
If you look at the map of Uganda below, you can see that Bwindi Impenetrable National Park is in the extreme southwest corner of Uganda. This places it decently far from the capital city of Kampala and Entebbe International Airport, both of which are in south central Uganda. Moreover, the roads connecting the two aren't smooth, open highway. So the drive takes about nine hours. It's advisable that you travel with someone who knows the region rather than road tripping on your own.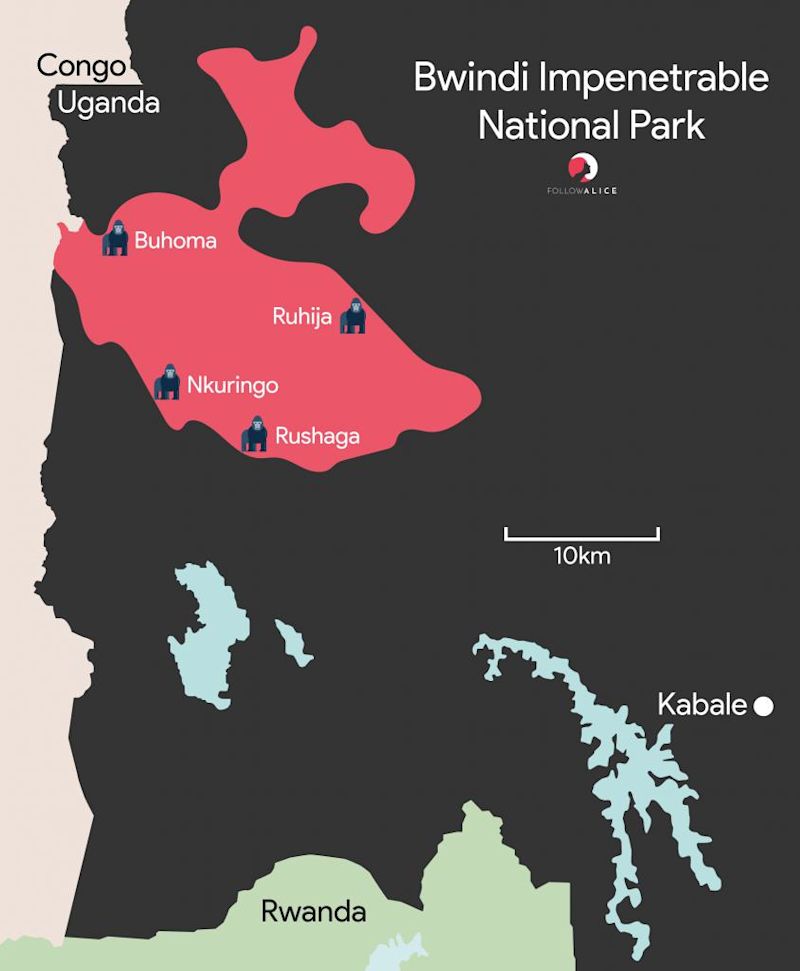 Map showing sectors of Bwindi Impenetrable National Park
While you can take a short flight from Entebbe to Bwindi, driving is the cheaper option, especially as part of a tour group. Some who want to go to Bwindi for gorilla trekking actually choose to fly into Kigali, Rwanda's capital city, and drive north across the border, as this is a shorter drive that lasts about four hours.
It takes longer to reach Uganda's Bwindi Impenetrable National Park than it does to reach Rwanda's Volcanoes National Park.
Trekking prices in Rwanda and Uganda
The first major difference is the difference in the price of the gorilla trekking permits in Uganda and Rwanda. Rwanda chose to implement a low tourist policy with high impact, so they charge $1,500 for a gorilla trekking permit. Uganda on the other hand chose to set its permit price at $700 for a gorilla trekking permit. This makes trekking to see the gorillas in Uganda much cheaper. There are many more luxury lodge options in Rwanda than Uganda, but there are a range of mid-range and luxury accommodations in Uganda too.
Accessibility of gorilla parks in Rwanda and Uganda
Given the relatively close proximity of Volcanoes National Park to Kigali Airport, Rwanda is the better country for visitors who only have time for a brief stopover to go gorilla trekking, and nothing else. This is more likely to be the case for those in transit to somewhere else, or travelling in from a nearby country.
For most foreign travellers, however, the time and expense put into getting to East Africa means they want to do more activities while in the region, like go on safari or climb Kilimanjaro. For such travellers, Uganda is the better option as it has more to offer. But more on that in a moment.
Trek conditions in Uganda and Rwanda
Trekking routes in Rwanda are considered a bit more open and not as steep and slippery compared to Bwindi In Uganda. That said, Volcanoes National Park is at a much higher altitude than Bwindi and this can also make the trek more challenging.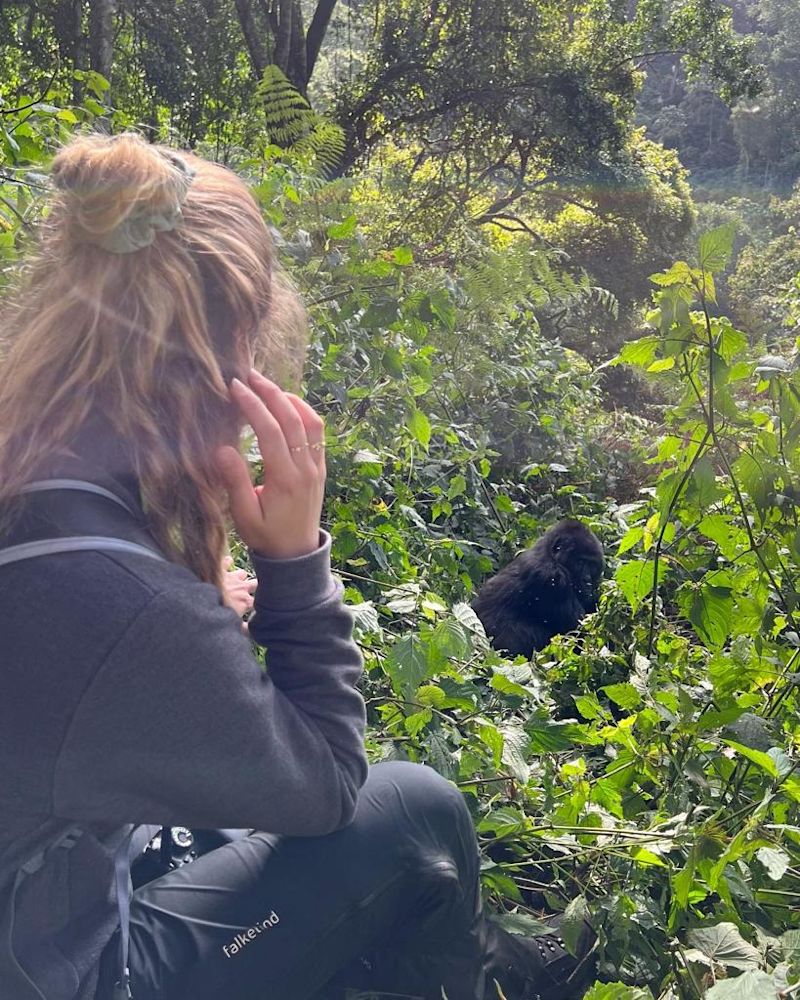 One of our clients in Bwindi Forest
Uganda has more habituated gorilla troops
Note too that while it's easier to reach Rwanda's mountain gorillas, Uganda has more habituated mountain gorillas and so admits more trekkers per day. About 80 people a day are allowed to visit Uganda's gorillas. In Rwanda, the number of daily visitors is about 56. This makes obtaining a gorilla trekking permit in Uganda a little easier than obtaining one in Rwanda, especially if you aren't booking very far in advance. Read about our Uganda gorilla trekking tours.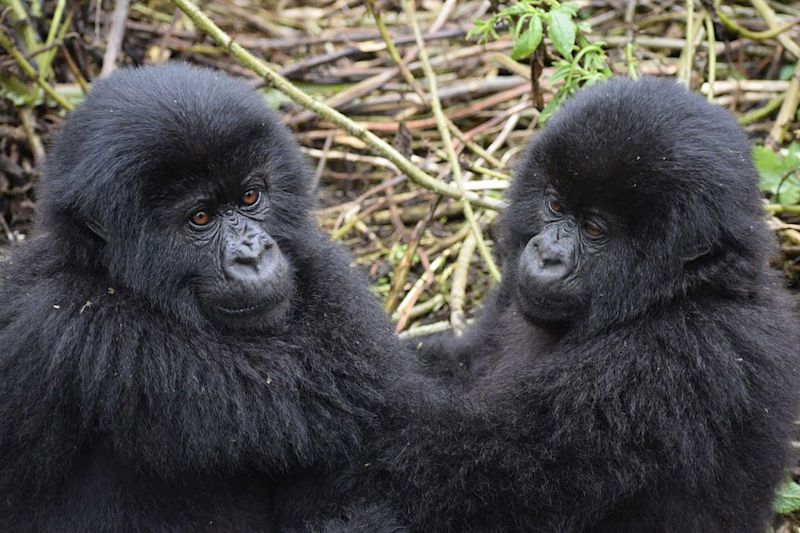 Trekkers get close enough to look into the eyes of the mountain gorillas
I just came back from an amazing 14-days trip to Uganda with Follow Alice, and I strongly recommend them. This was my second experience with Follow Alice, and just like the first trip, everything was flawless.
– Bernardo Guimarães da Fonseca
Gorilla habituation permits in Uganda
Something on offer only in Uganda is the gorilla habituation permit. This permit allows the visitor to spend four hours with a mountain gorilla troop in the south of Bwindi Impenetrable National Park. The habituation permits costs $1,500, which is the same price as the one-hour gorilla trekking permit in Rwanda.
The habituation permit was introduced only recently in response to visitors' desire to spend more time with the mountain gorillas. Only two gorilla troops have been set aside for these habituation experiences. This means about eight habituation permits are issued per day, so you have to book well in advance if you want one.
Visitors who do the four-hour gorilla trek get to take part in habituation activities, like making calls, collecting specimens, and even sometimes naming the individual gorillas. It's a truly special, once-in-a-lifetime adventure.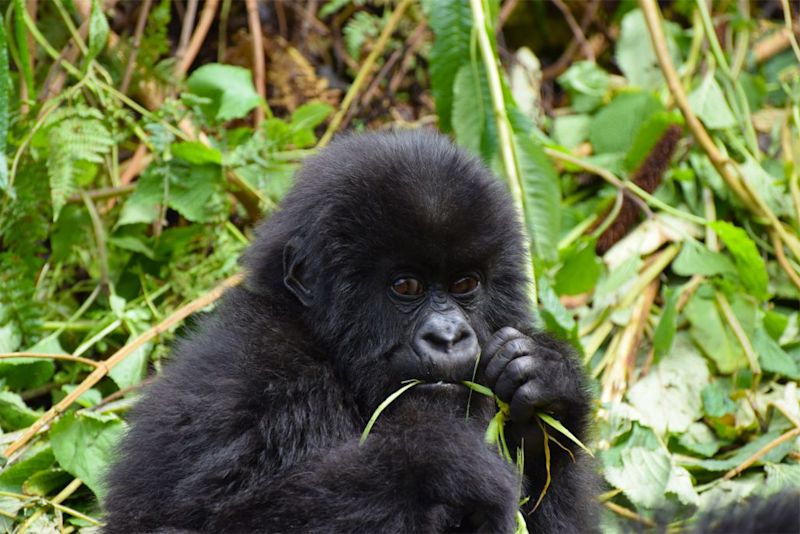 With a gorilla habituation permit you can spend four hours with these beautiful creatures
Gorilla trekking with Follow Alice
For all the reasons discussed above, we at Follow Alice go gorilla trekking in Uganda rather than Rwanda. Check out our suggested nine-day Uganda itinerary, which of course includes gorilla trekking in Bwindi Impenetrable National Park. You can also read through the reviews to see what our past clients thought of the experience. Please note this is a flexible itinerary – we're happy to lengthen or shorten it. We can also switch things up to suit your preferences and needs. We also find that some clients like to bundle a Tanzania safari or Kilimanjaro climb with their gorilla trekking adventure while they're in the region.
Our gorilla trekking adventure also includes visiting other fantastic sites like the mighty Murchison Falls
Dan the Man
Our ace in the hole when it comes to gorilla trekking – and all things Uganda, for that matter – is Dan. Or UganDan, as we like to call him. 🙂
"Dan exudes positivity, confidence, and really was the reason we fell for this colourful, emerging location. He made us feel safe and has a passion for animals. And he loves his country and has interesting insights on its current affairs."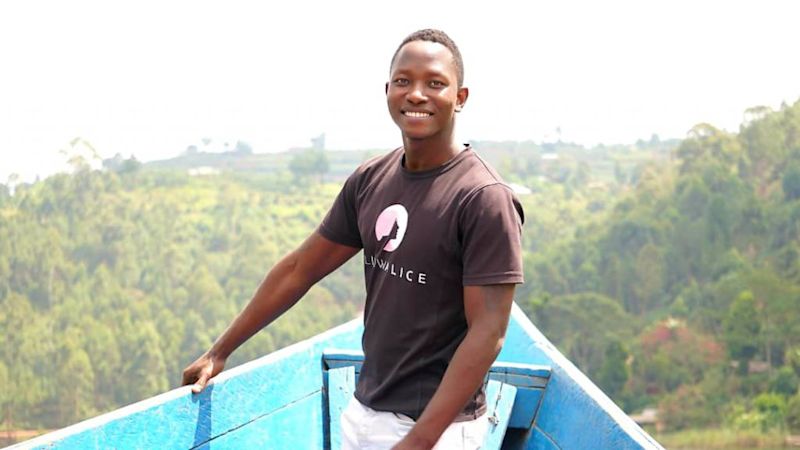 Dan is our passionate, energetic and knowledgeable local guide
Ready to take the plunge?
If you're ready to explore Uganda and go gorilla trekking, or you just have some questions you'd like answered, press that pink button below and let's start chatting!