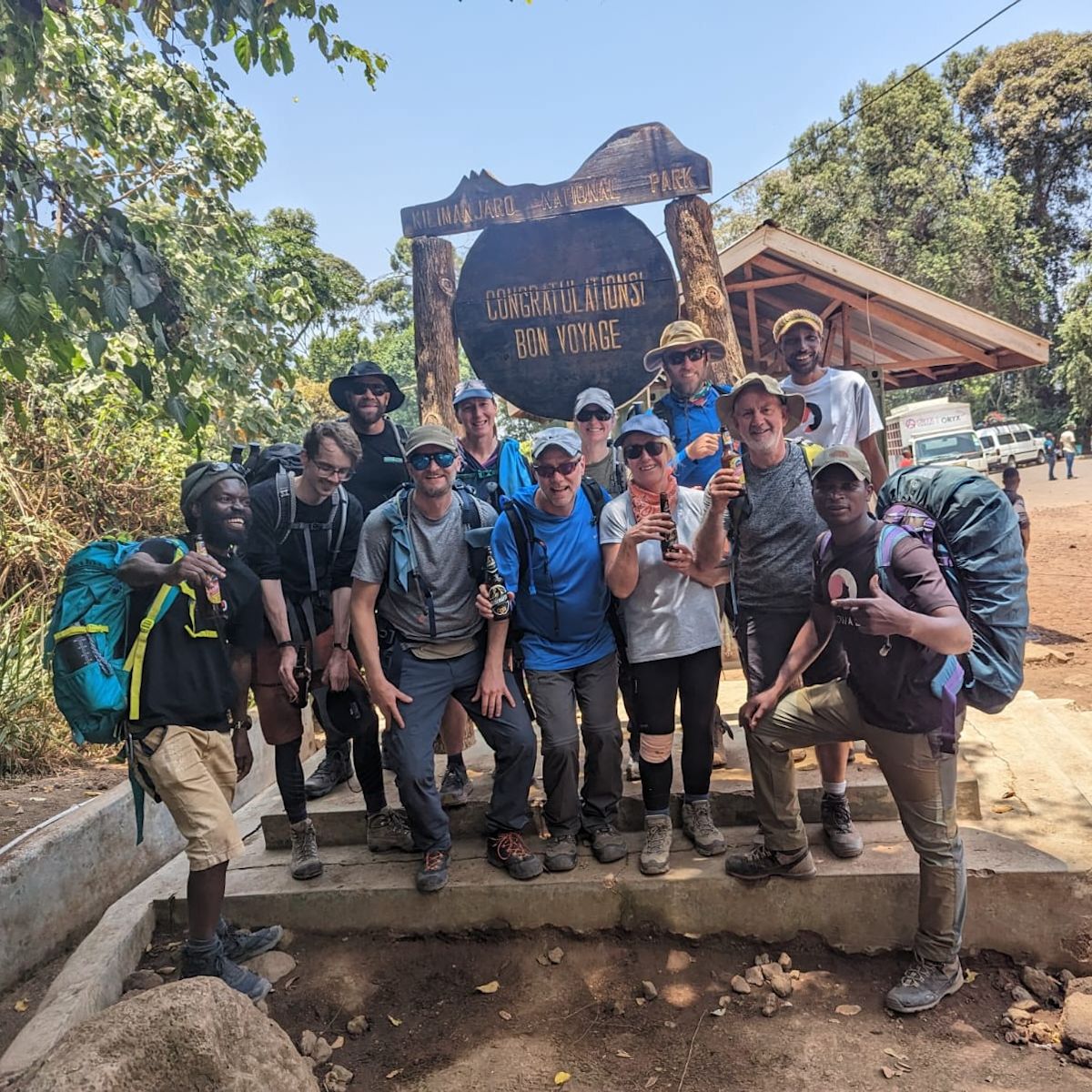 Climbing Kilimanjaro when you're over 50
Mar 17, 2023
Reading time: 8 minutes
People of all ages tackle Mt Kilimanjaro and have a successful climb! That said, here are a handful things to consider if you're an older hiker, like the strain on one's knees coming down, having to hike in the dark, and the sort of insurance you need.
Many folks over the age of 50 climb Kilimanjaro safely and successfully, and have a wonderful experience!
In fact, age really doesn't play much of a role in determining who makes it to the top of Kilimanjaro and who doesn't.
Truly.
Older adults are just as likely to make it to the summit as younger adults. You just need some good fitness and endurance to climb Kilimanjaro.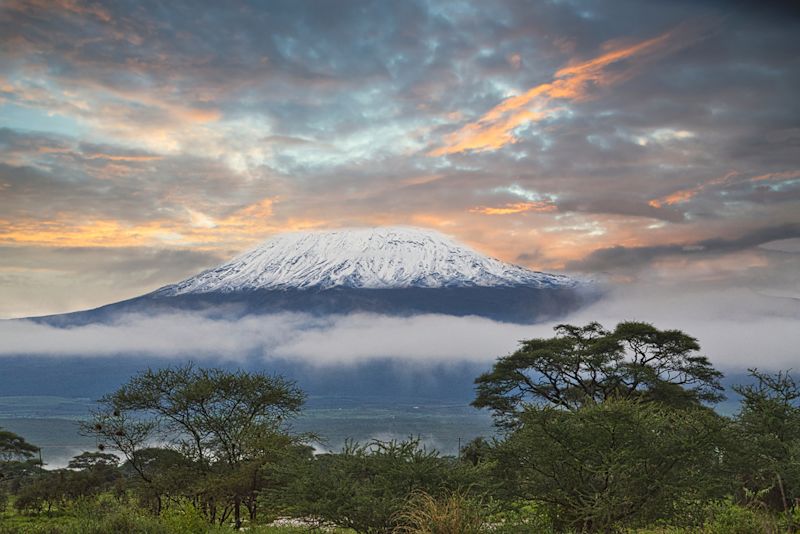 Kilimanjaro in all its glory as seen from Kenya
Sometimes older folks have an advantage on Kilimanjaro: they have learned perseverance and to believe in themselves!
We also want to mention that altitude sickness doesn't care about age; it's just as likely to strike the young as the old. In fact, age and fitness aren't determinants of altitude sickness on Kilimanjaro.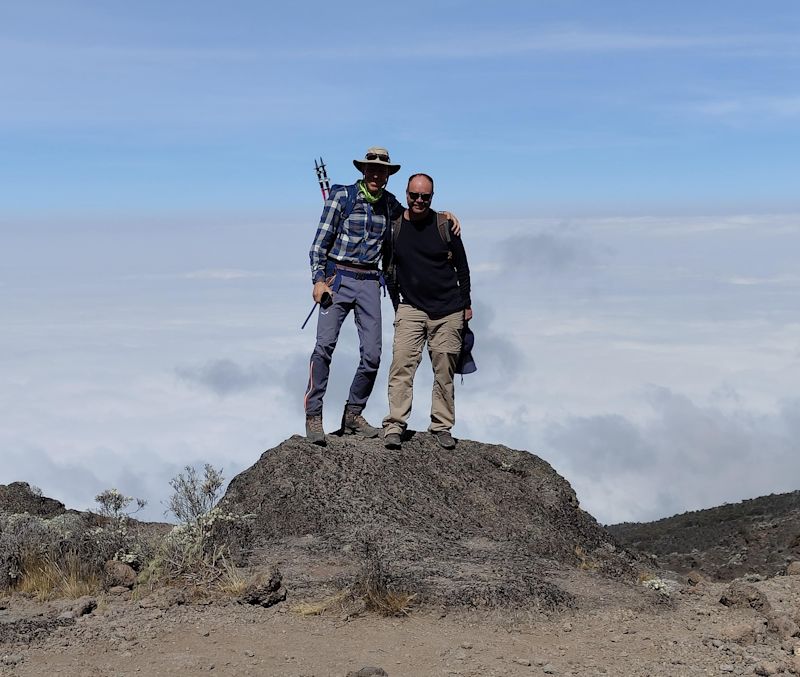 A snap from our client Frederik once he'd climbed above the clouds
All that said, climbing Kilimanjaro isn't the right adventure for everyone. Here are a few things to consider if you're over 50 and wanting to climb Kili ...
1. Are you fit enough to climb a mountain?
The first thing to consider – whatever your age – is whether or not you're fit enough to climb Kilimanjaro.
Kilimanjaro is the tallest mountain in Africa, rising out of the surrounding plain to reach 5,895 m (19,431 ft) above sea level. It's also the tallest free-standing mountain in the world!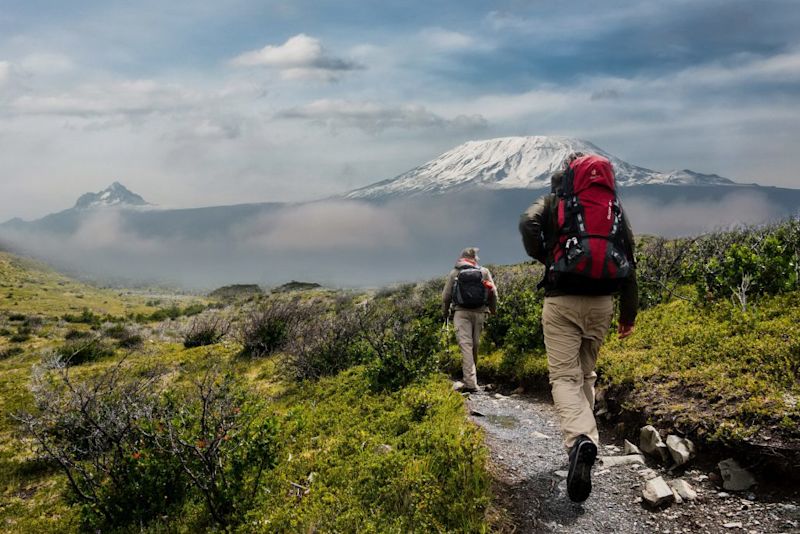 Kilimanjaro is way more of a challenge than many people realise
One of the most common things we hear in client feedback is how people didn't realise how hard it is to climb Kilimanjaro. This is probably because you don't need mountaineering equipment to reach the top – this lulls people into thinking it's not that tough.
It's folks like this that often don't train enough, or give themselves enough days for the ascent, that don't reach the top. How disappointing!
Don't be one of those people.
Altitude gain on Kilimanjaro
As we discuss in Altitude gain on Kilimanjaro, you must ascend between 2,481 m (8,231 ft) and 4,255 m (14,051 ft) on a Kilimanjaro climb depending on which of the seven routes you follow.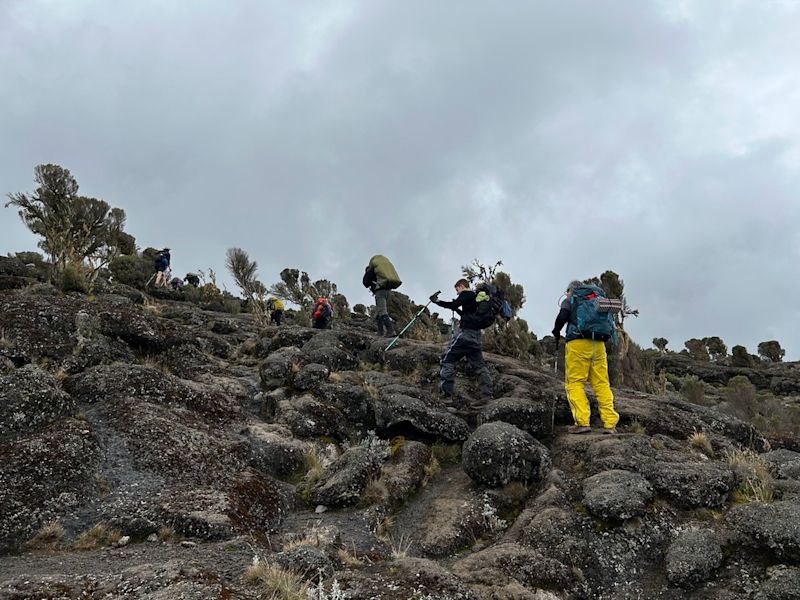 A steep section on the Lemosho route
Our most popular routes – the Lemosho and Northern Circuit – require you to ascend 3,795 m (12,541 ft) over the course of seven to nine days. Can you manage this?
Remember too that the higher you go, the more taxing each step becomes, because the 'thin' air means you're working with less oxygen intake.
Hours of hiking each day
On a Kilimanjaro climb, you need to be able to hike for roughly five hours a day, much of it uphill. And you need to be able to do this for a few consecutive days, without rest.
You also need to be able to manage the hike while carrying a small backpack containing three litres of water as well as your lunch, camera and backup rain gear. (The bulk of your belongings, as well as all camping equipment, will be carried by a porter.)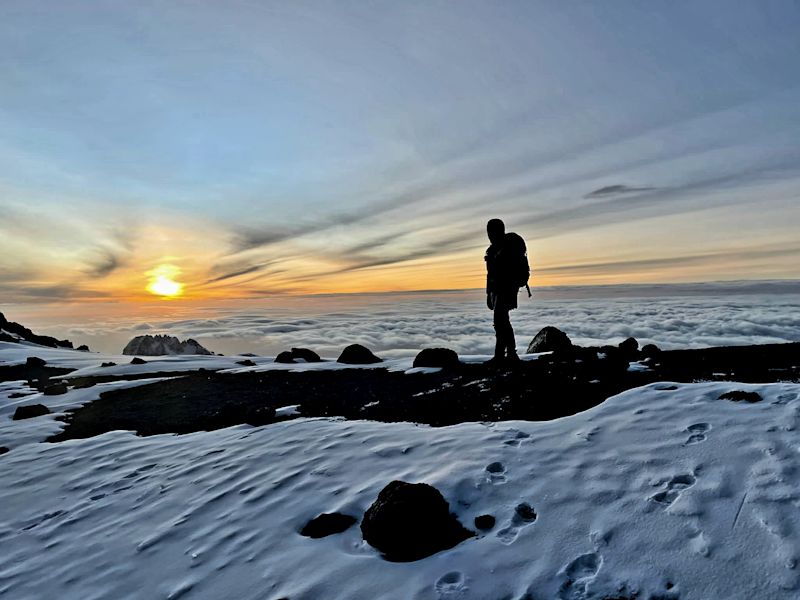 Our client George took this summit snap on his climb
Moreover, you need to be able to manage one hugely challenging day: summit day. On this day – which begins at around midnight – you hike uphill for roughly six to eight hours, followed by a downhill hike of also roughly six to eight hours.
Further to this, the terrain is also rough, including rocks, stones and scree. So you need to be confident that you can navigate this sort of uneven trail.
2. Are you able to hike in the dark?
Please consider if your eyesight and sense of depth are up to the challenge of hiking in the dark over rough terrain.
While you won't normally be hiking in the dark, summit day (or summit night, as we sometimes call it) requires you to start hiking at around midnight. This means walking for hours by the light of your headlamp.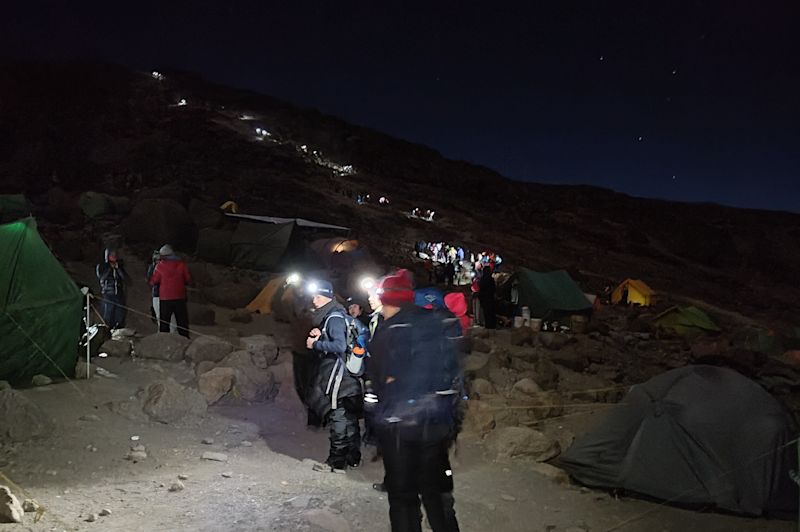 Heading out in the dark for the summit of Kilimanjaro
That said, if you plan to come during a full moon Kilimanjaro climb, you likely won't need the headlamp.
But even then, folks sometimes have to hike in the dark on the first day of the descent if they don't make it to camp before nightfall. Here there could be a degree of darkness even on a full moon climb if there's cloud cover.
3. Should you do a training trek first?
If you haven't done a tough multiday trek before, it might be a great idea to take on one before heading to Kilimanjaro. Ideally, you would do a smaller mountain trek that firstly gives you an idea of your suitability for Kilimanjaro, and secondly helps to train you for it.
Mt Meru is an ideal climb, as it's Kilimanjaro's little sister just 70 km away. At 4,566 m (14,980 ft) above sea level, Mt Meru takes half the time to climb, but still gives you a good introduction to high-altitude mountain climbing. It's also a fantastic climb – and big achievement – in and of itself!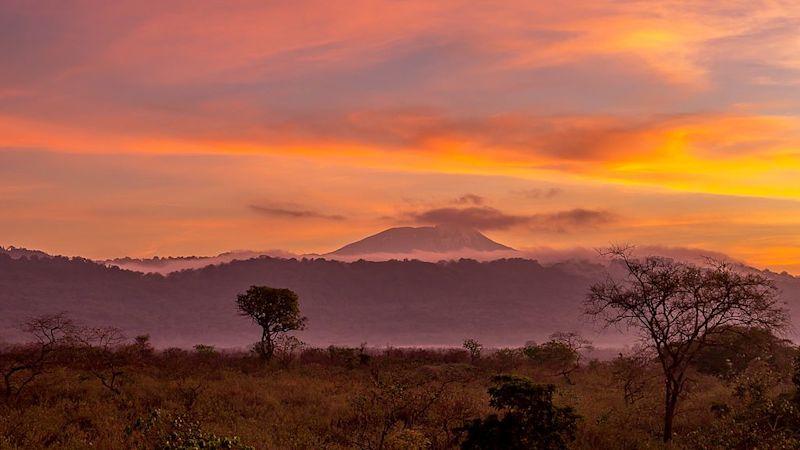 Mt Meru, seen here, is used by many as a training climb for Kilimanjaro
We can take you on a Mt Meru climb, by the way, if you're keen! Just drop us a line.
Of course, any other multiday mountain climb is also great training for Kilimanjaro.
4. Can your knees handle the long descent?
If you think the uphill on Kilimanjaro is tough, you should try the downhill!
A Kilimanjaro descent is done over just two days (one reason being that the ascent campsites need to be vacated for ascent climbers). On most routes, the descent is 22 km (14 mi).
Are your knees up for this?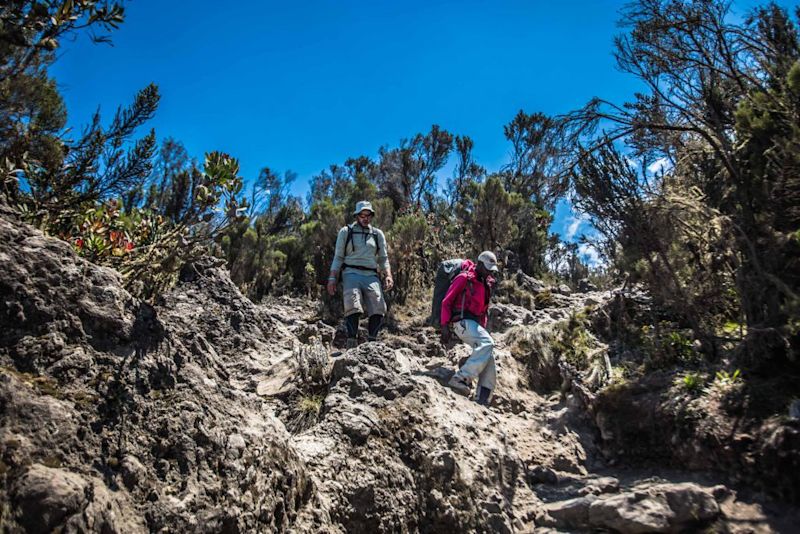 There are some steep sections on a Kilimanjaro descent
Trekking poles are a major asset on a Kilimanjaro climb, and we highly advise you bring along a pair to Kilimanjaro. Most trekkers use them. We can loan you some if you have don't have your own.
We highly, highly recommend that you pack a quality pair of adjustable trekking poles for your Kilimanjaro climb.
As we discuss in How to choose and use trekking poles, be sure to bring trekking poles that can be adjusted in length so that they can be altered for uphills and downhills. Short trekking poles aren't much use on a steep downhill, and vice versa.
5. Are you healthy enough?
On a Kilimanjaro climb, you're going to:
Push your body hard every day for at least a week.

Sleep in a tent for over a week, often in the extreme cold.

Walk in extremely cold weather, and perhaps some rain.

Eat food that's different from what you're used to at home.
Can your body (and mind) handle this? If yes, wonderful! If no, could some training or prior experience help you to get there? Or would it be better to look into a different adventure?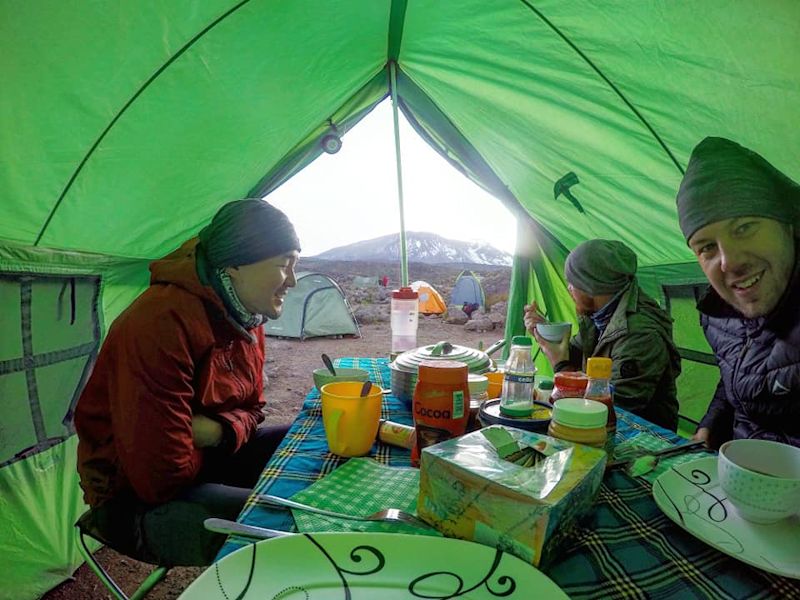 Keeping warm in the mess tent
It's also a good idea to visit your doctor before planning a Kilimanjaro climb, whatever your age. Discuss any pre-existing medical conditions and what they might mean in terms of the adventure.
We also recommend that every Kilimanjaro climber speak to their doctor before the trip to discuss possibly taking altitude meds to help mitigate the negative effects of high altitude. Remember, Kilimanjaro is tall! In fact, it's a thousand metres higher than Mt Blanc!
6. Are you choosing the right route?
To save time and money, many climbers choose a short Kilimanjaro route. They then don't make it to the top, mostly because they get altitude sickness or because the going is too tough.
A longer route is a wise choice for all but the most experienced high-altitude climbers. Not only does it give your body the best chance to acclimatise, it's also less strenuous as the route isn't as steep and each day isn't as long.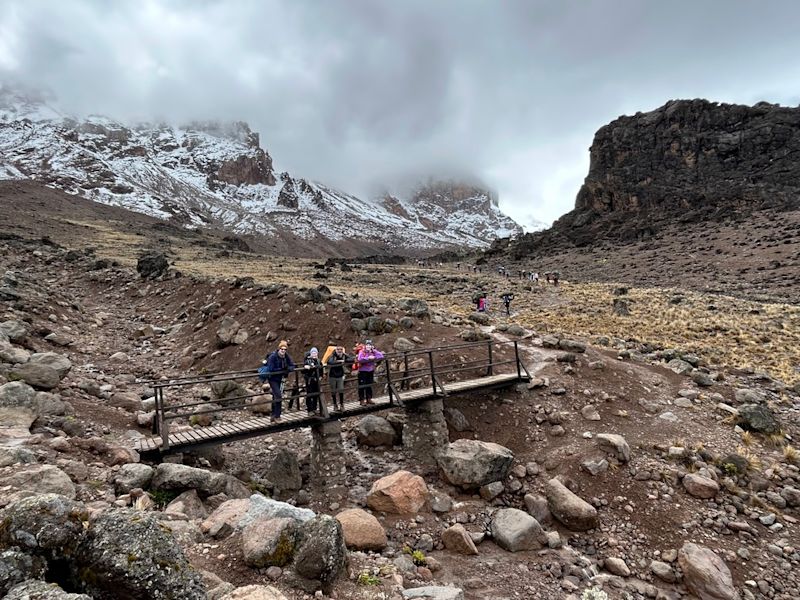 The Lemosho is our most popular route (our client Romy took this snap)
The seven different Kilimanjaro routes are as follows:
| Route | Duration |
| --- | --- |
| Northern Circuit | 9 or 10 days |
| Lemosho | 7 or 8 days |
| Machame | 6 or 7 days |
| Shira | 7 or 8 days * |
| Umbwe | 5 or 6 days |
| Rongai | 6 or 7 days |
| Marangu | 5 or 6 days |
* We don't recommend this route as the starting elevation is too high for good acclimatisation
As an older climber, we highly recommend you choose one of the longer, gentler routes to give yourself the best chance of summiting. Our picks for you would be the Lemosho route (done over eight days) or the Northern Circuit.
The Northern Circuit is the ideal route for older climbers
We recommend that older climbers give themselves at least eight days for a Kilimanjaro climb – nine days is even better.
There would be a youtube video here.
Sadly, the youtube player requires cookies to work.
7. Have you looked into medical insurance?
Before signing up to do a Kilimanjaro climb, please look into travel insurance options and ensure you'll be able to obtain comprehensive medical insurance for climbing up to 6,000 m above sea level.
Kilimanjaro tour operators won't take you on a climb without medical insurance covering you for a climb up to 6,000 m above sea level.
If something goes awry and you have to be taken to hospital, for instance, it's imperative that your insurance policy covers you for everything.
No responsible Kilimanjaro tour operator will even take you on a climb without a copy of your travel insurance.
Do you have any other questions or concerns we haven't covered here? Please feel free to drop us a line and we'll happily chat with you about the wonderful adventure that is a Kili climb!