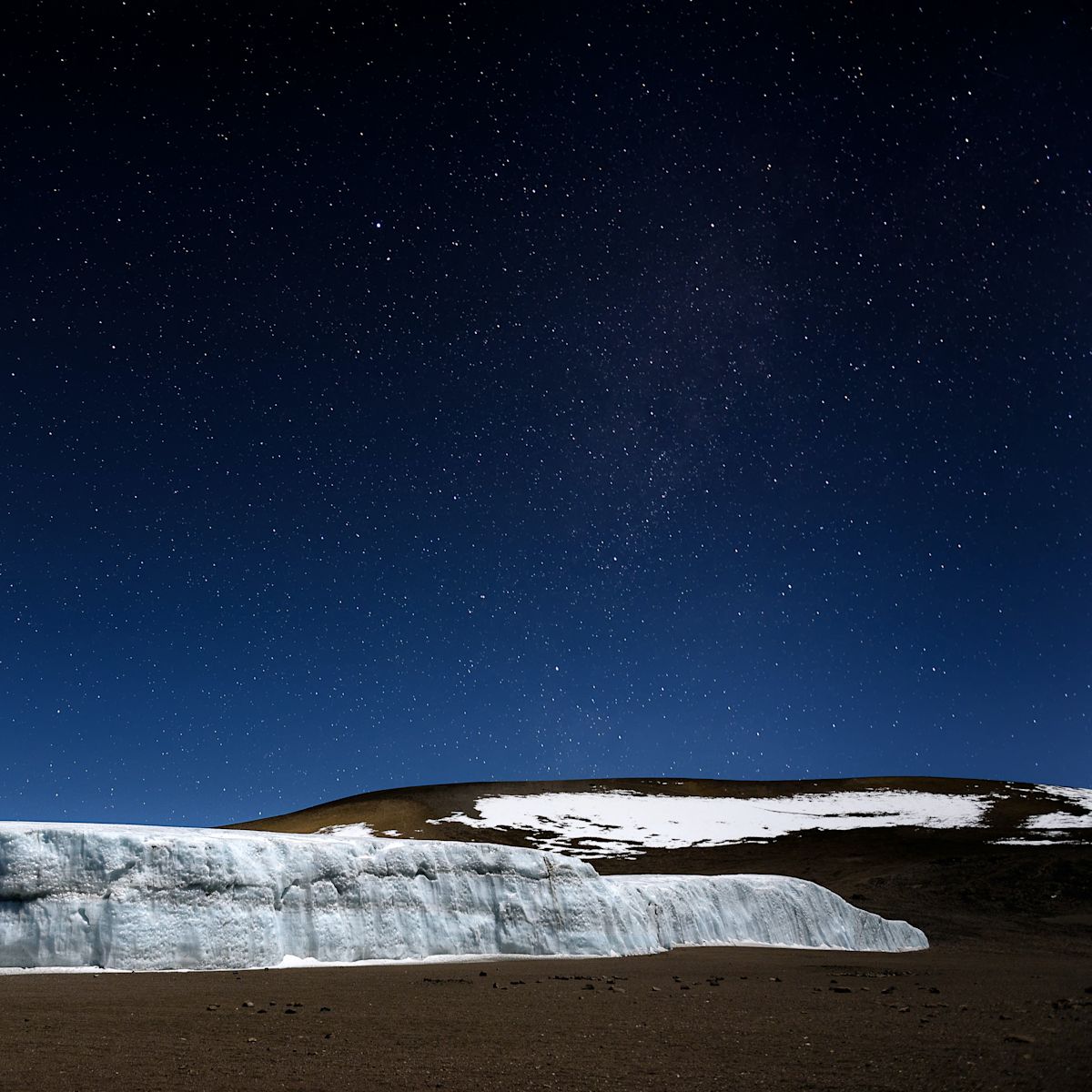 Why summit Kilimanjaro at night?
Nov 30, 2022
Reading time: 12 minutes
You begin your summit attempt at around midnight. This is because you have lots of climbing to do in a day, and reaching the summit just after sunrise is glorious! Here's what to expect, what to wear, and how to tackle this physical and mental challenge.
It takes days of climbing to reach the summit of Mt Kilimanjaro. Unsurprisingly, we hike up the mountain in the daylight. But then (and here's the part that does surprise many), the ascent up the final begins at midnight.
Why?
Why summit Kilimanjaro at night, when it's icy cold, you can't see beyond the beam of your torch, and every instinct tells you to run to your tent and dive back into your sleeping bag?
There are reasons to the madness, we assure you, so please read on …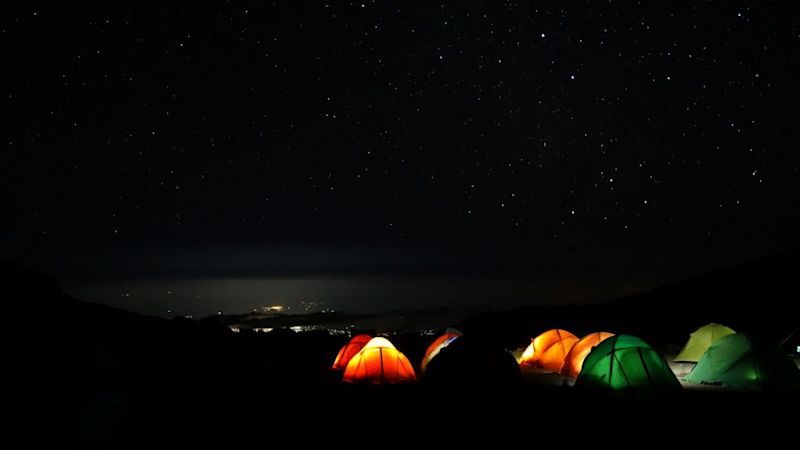 At Follow Alice we begin our summit climb at midnight!
What is summit night?
Summit night is the part of the climb where we set out for the highest point of Kilimanjaro, Uhuru Peak. It's called summit night by some and summit day by others, and both are valid as the climb starts during the night and ends in the daytime. Specifically, the climb starts at midnight and ends late in the afternoon. During this time you trek up to the summit and then hike about half of the way back down the mountain. It's one mammoth day of hiking that will test your mettle in every way!
The hardest part of the climb by far
Summit night (or summit day) is by far the most challenging part of the entire Kilimanjaro trek. There are a few reasons for this:
It's so gosh-darn bleeping cold!!

The wind can be fierce, as there's no protection at the summit

Starting the trek in the dark of night can be mentally daunting

You're trekking on top of little (and probably poor-quality) sleep

It's the steepest part of the entire trek

The scree can be hard to walk on

You hike for around 13 to 16 hours (depending on your route)

The air is thin so breathing is made difficult

The altitude can make you feel sick (for instance, dizzy or nauseous)
It's because the climb is very hard that you feel so glorious when you reach the summit!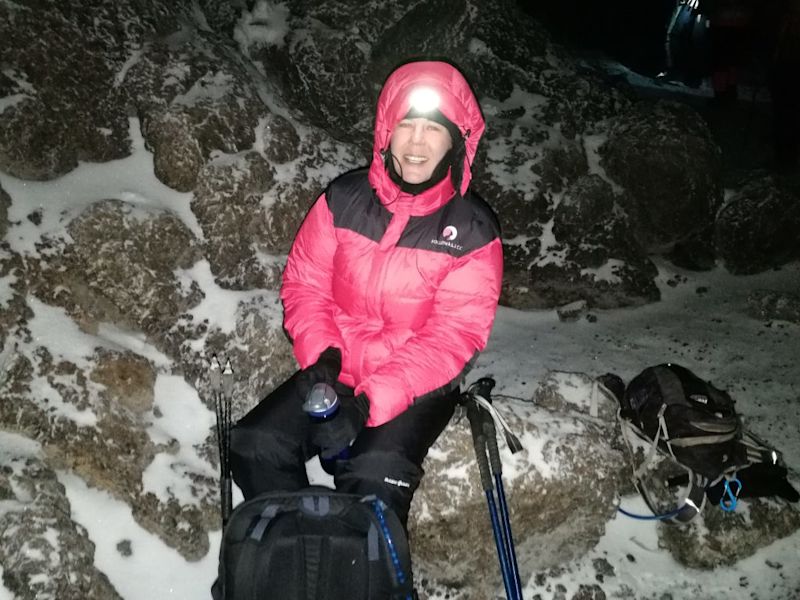 Unless you climb during a full moon, your head torch provides the light by which you climb
Why climb Kilimanjaro at night?
This is a really good question. It may seem strange that we wake up in the middle of the night to make our way to the summit. Are we looking to make things even more difficult than they already are?! Don't worry, there are a handful valid reasons behind the early start ...
1. It's hard to sleep at altitude
The higher the altitude, the harder it is to sleep at night. This is because the reduced oxygen can make breathing laboured. Instead of everyone lying awake in bed fretting over the mega hike ahead of them, we bite the bullet and set out early for the summit.
You might like to learn more about sleeping on Kilimanjaro.
2. There's much ground to cover
Another of the key reasons for the nighttime start is that there's so much ground to cover today. Regardless of which camp is base camp for your summit attempt, you have a long climb ahead of you, followed by a long descent to that night's rest camp. Given there are trekkers a day behind you who'll be camping where you are, you cannot just drop down to your base camp after reaching the summit. Instead, climbers must descend to a lower camp, and this means plenty of downhill hiking.
Look at the map below, for instance, which shows the path trekked by those hiking the Lemosho route. On the Lemosho route, as is the case on many of the other Kilimanjaro routes, your base camp for summit night is Barafu Camp. Look at just how far one must climb from Barafu Camp to reach the summit! This is a BIG day of hiking.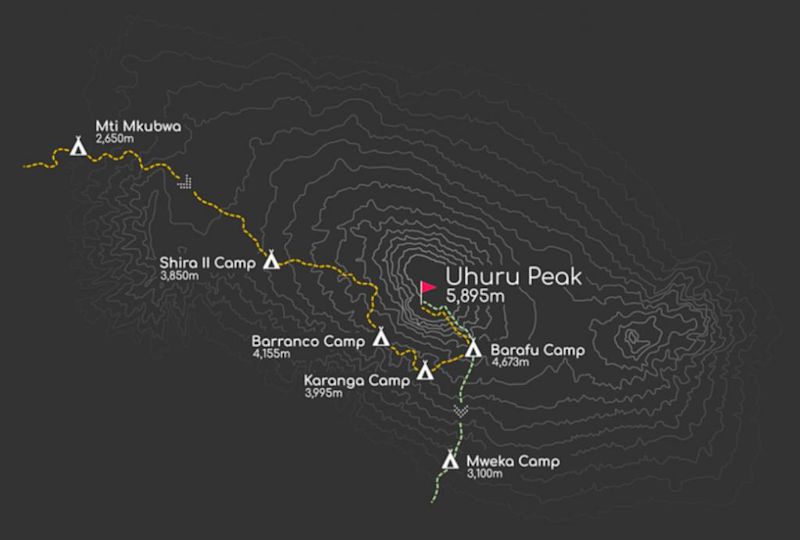 Map showing the Lemosho route up Mt Kilimanjaro – like many of the routes, you make for the summit from Barafu Camp
3. All water at this elevation must be carried up
The longer trekkers stay at very high altitude on Kilimanjaro, the more water porters must carry up to camp. Water is obtained from streams, but these are only found lower down on the mountain. The summit's base camps are in the alpine desert zone, where it's hard to find water. So we don't dilly-dally at such high elevation. This is another reason we drop down substantially in elevation after summiting the mountain.
4. The sunrise from Stella Point is glorious
If you look again at the map above, you'll see we've pinpointed Stella Point. This is the viewpoint we aim to reach by sunrise. To stand on Stella Point, almost at the top of Kilimanjaro, while the sun rises is a special moment indeed.
This is what Reto, Follow Alice CEO, has to say about reaching Stella Point on one of his Kilimanjaro climbs:
The biggest moment during summit night for me was reaching Stella Point when darkness, the freezing cold and uncertainty vanished. The sun came out, the temperature started rising and I felt in a very good physical state to tackle the last half an hour along the crater rim to Uhuru Peak. I felt like nothing could go wrong anymore and this half an hour to the actual summit was one of the happiest and most intense in my life, filled with natural beauty and the feeling of having achieved something truly extraordinary.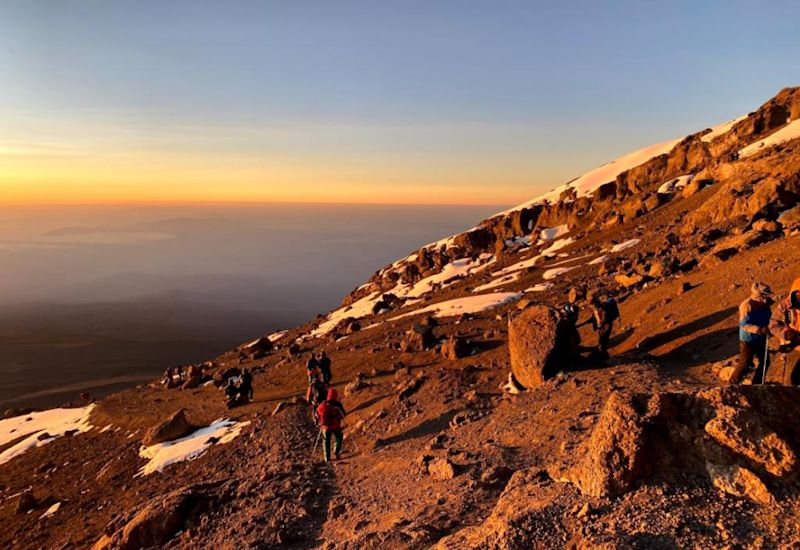 The last bit of the climb is done in the welcome light of the rising sun
Tash's summit night video journal
In her Climb Kilimanjaro video journal, Follow Alice's own Tash King chronicled her Lemosho-route trek. Beginning at the 20.58 mark, you can watch her summit night story. Or watch the whole video for a glimpse into the entire Kilimanjaro climb!
Preparing for summit night
Chris, owner of Follow Alice Tanzania, offers some cool advice about summit night in this Kilimanjaro preparation video. He also discusses how to prepare for it.
Summit night schedule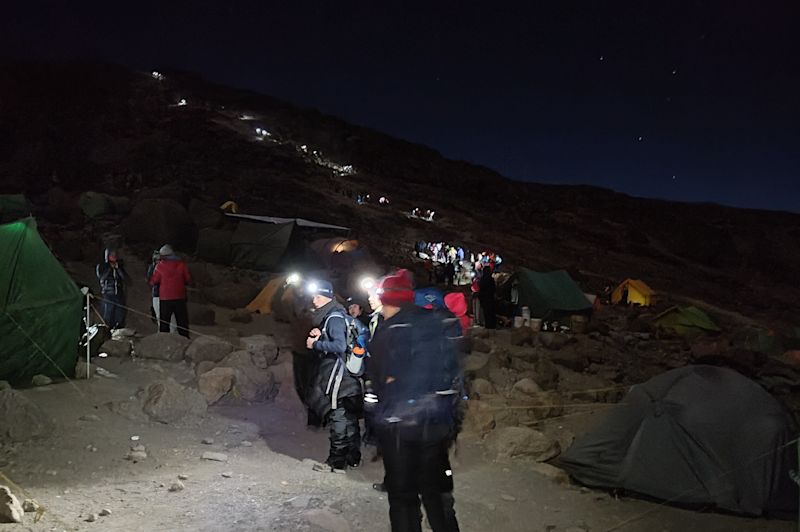 This great pic by our client Frederik Mann shows a line of climbers striking for the summit from Barafu Camp
Below is the schedule we at Follow Alice follow for summit night. We're not alone in doing things this way – you'll be joined by trekkers climbing with other operators who were at base camp with you.
11 pm:

You're woken up by a member of your mountain crew and brought a hot drink. Then it's time to dress, pack and get ready to leave camp.

Midnight:

You leave base camp and head for the summit!

Around sunrise:

Stop at Stella Point (5,739 m) to marvel at the beauty of the sunrise and the emerging view.

About 30 minutes later:

Reach the highest point on Kilimanjaro, Uhuru Peak (5,895 m)! Celebration time!!

15 minutes later:

Begin the descent.

Afternoon:

Reach Mweka or Marangu Camp. Collapse into a chair and mull in wonderment over your massive achievement!
How long do we spend at the summit?
This is a very popular question, and most people are surprised to hear that you spend about 15 minutes or so at the summit. "But why?! We go all this way to spend just 15 minutes at the top?"
We spend 15 minutes at the summit of Kilimanjaro.
Again, there's a reason for the way things are done. First and foremost, we don't hang around at the summit for long because it's cold and you are at very high altitude. We generally find that after 15 minutes of high fives, photographs and soaking in the view, people want to start moving again to warm up and avoid feeling sick.
Remember too that there's a long way to still descend, and so we get on with that after taking in the scenery.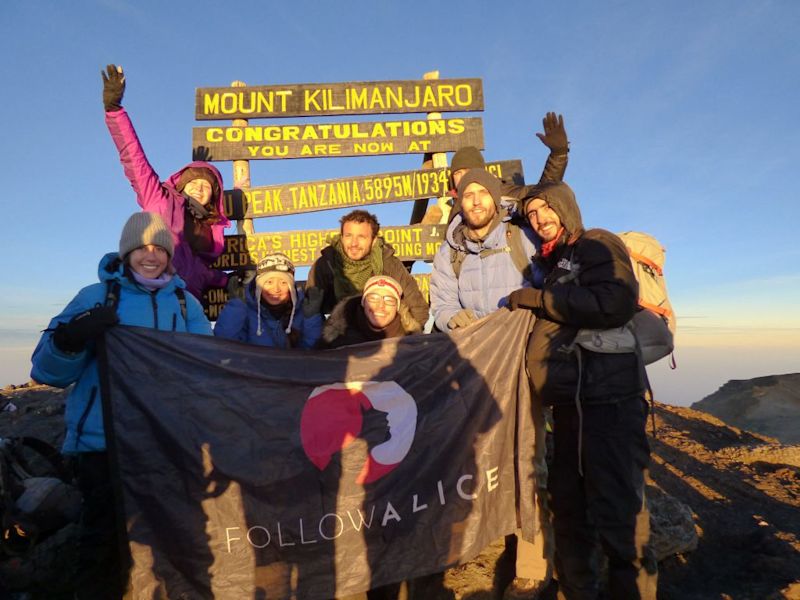 The summit is a place of high-fives and celebratory group photos!
What is the temperature at the summit?
The temperature at Uhuru Peak (the summit of Kilimanjaro) sits at around -5 or -6° C (or 23 to 21° F). There's chances of more snow at the summit in winter, as discussed in Best time to climb Kilimanjaro.
The summit of Kilimanjaro remains below freezing point all year round.
Watching the sunrise as you near the summit reinvigorates you for the remainder of the climb!
How hard is it to summit Kilimanjaro?
Summit night is really tough, mentally and physically.
Follow Alice team member Joel has this to say about summit night:
Summit night is by far the hardest part of the hike for various reasons: it's freezing, it's dark, due to the altitude you only walk very slowly, and you know this is the part where the people who did not make it to the top had to give up. You will certainly ask yourself why exactly you are doing this and why watching a movie on the couch at home wasn't good enough for you? But in the end for us the group spirit, the motivation of the guides and the adrenalin of completing this adventure carried us all the way up! The feeling on top has no words to describe.
Mental preparation
To summit Mt Kilimanjaro you need determination. Build up your resolve and self-belief long before you even step onto a plane bound for Tanzania. Understand the challenges ahead and determine to push through the pain and discomfort. Also do whatever works for you – journal your goal, make a vision board, speak to those who have made the climb for insights and inspiration, whatever. This is your dream, so work on it mentally.
Physical preparation
As we discuss in Kilimanjaro preparation, your physical preparation for climbing Kilimanjaro is of the utmost importance. And at no point does that preparation show up more than on summit night. This is by far the longest day's hike of all. On the Lemosho or Machame route, for instance, your summit hike requires you to climb over one vertical kilometre from Barafu Camp to Uhuru Peak. This takes about six to eight hours. Once that's done, you still need to hike another four to six hours to reach your camp for that night. That's a total of 10 to 14 hours!
Also remember that high altitude makes all exercise harder than usual. This is because the oxygen level of the air is reduced. If you're able to train at altitude in the lead up to Kilimanjaro, that's a great plus.
You might also like to read our Trekking tips for beginners if Kilimanjaro is one of your first major (high-altitude) treks.
Team spirit
Summit night is made so much more doable because you have your team with you. And at the heart of the team is the mountain crew, who cheer you on and keep you going even when you're ready to give up.
Tash has this to say about the value of the team to her on summit night:
Summit night was definitely the hardest part of the entire climb for me. There were a couple of points, when the wind was so strong and it was so bitterly cold, that I wanted to stop and turn around. However the guys and my team really motivated me and kept me going. I appreciated them before, but it wasn't until this particular moment that I knew they were the main reason I was making it up this mountain.
She adds:
I appreciated the mountain crew before, but it wasn't until [summit night] that I knew they were the main reason I was making it up this mountain.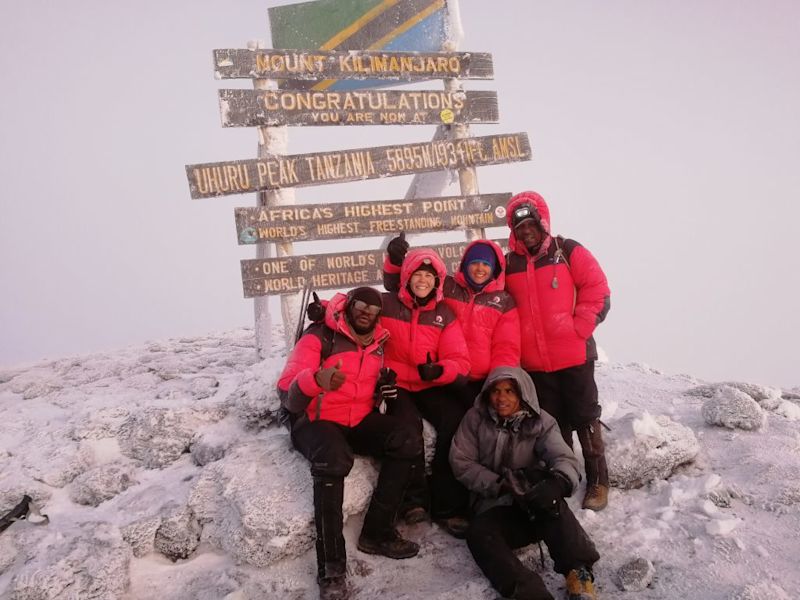 Not everyone has a clear view at the summit – here the team's summit victory is veiled in mist
6 tips for summit night
Here our our top tips for a successful summit night:
1. Eat well the night before. Eat a good dinner the night before the summit climb. High altitude can make many feel nauseous or lose their appetite. (You might like to read about the symptoms of altitude sickness.) Nonetheless, try to still eat a decent meal. There's a gruelling climb ahead, and your body needs the fuel.
2. Rest as much as possible. Most climbers head to their tents around 7 pm the evening before the summit attempt. This is because, as you now know, you'll be roused at 11 pm by the mountain crew to get ready for the summit climb. Don't stress if you can't sleep during these four hours. But we recommend lying down and resting as best you can, like Tash did before her summit climb.
3. Wear a balaclava. We recommend including a balaclava for summit night. It can be incredibly windy near the summit, and a balaclava is essential for protecting your face.
4. Use your water bottle, not your hose. On summit night, the hose and mouthpiece for your hydration pack (water bladder) will freeze over. In the early hours of the trek, drink from your bottle, which should carry at least one litre of water. As we discuss in our Kilimanjaro packing list, you should place your water bottle in a thermal sock and keep it close to your body. Water freezes from top to bottom, so you should also carry your bottle upside down, so even if the top part freezes, you can still access some liquid.
5. Put your spare batteries in your head torch. The extreme cold drains the charge of batteries. We suggest that you sleep with your spare batteries in the hours leading up to summit night, and then place those in your head torch just before setting out.
6. Wear sunscreen, sunglasses and a brimmed hat. As soon as the sun starts to rise, ensure you protect you face and eyes from the UV rays. You burn much easier this high up. Also, don't forget sun protection for your lips.
Follow Alice CTO Marco says:
The summit climb was the toughest part of the trek. Walking in the dark for hours, exhausted and dizzy, on the brink of giving up. But then the morning twilight appeared. The sun slowly rose and revealed the beautiful sea of clouds. I felt exhilarated, as though the tiredness had never existed.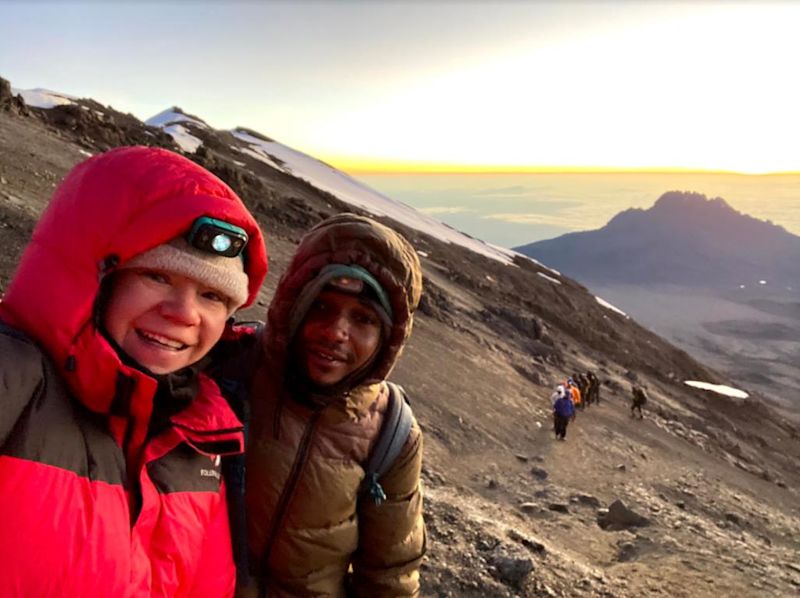 There's always time for a quick selfie!
Full-moon summit climbs
At Follow Alice we also offer full moon summit climbs. As the name suggests, these climbs are timed so that summit night takes place under a full moon. This is a truly special way to climb Kilimanjaro, as the moonshine illuminates your entire path up to the summit.