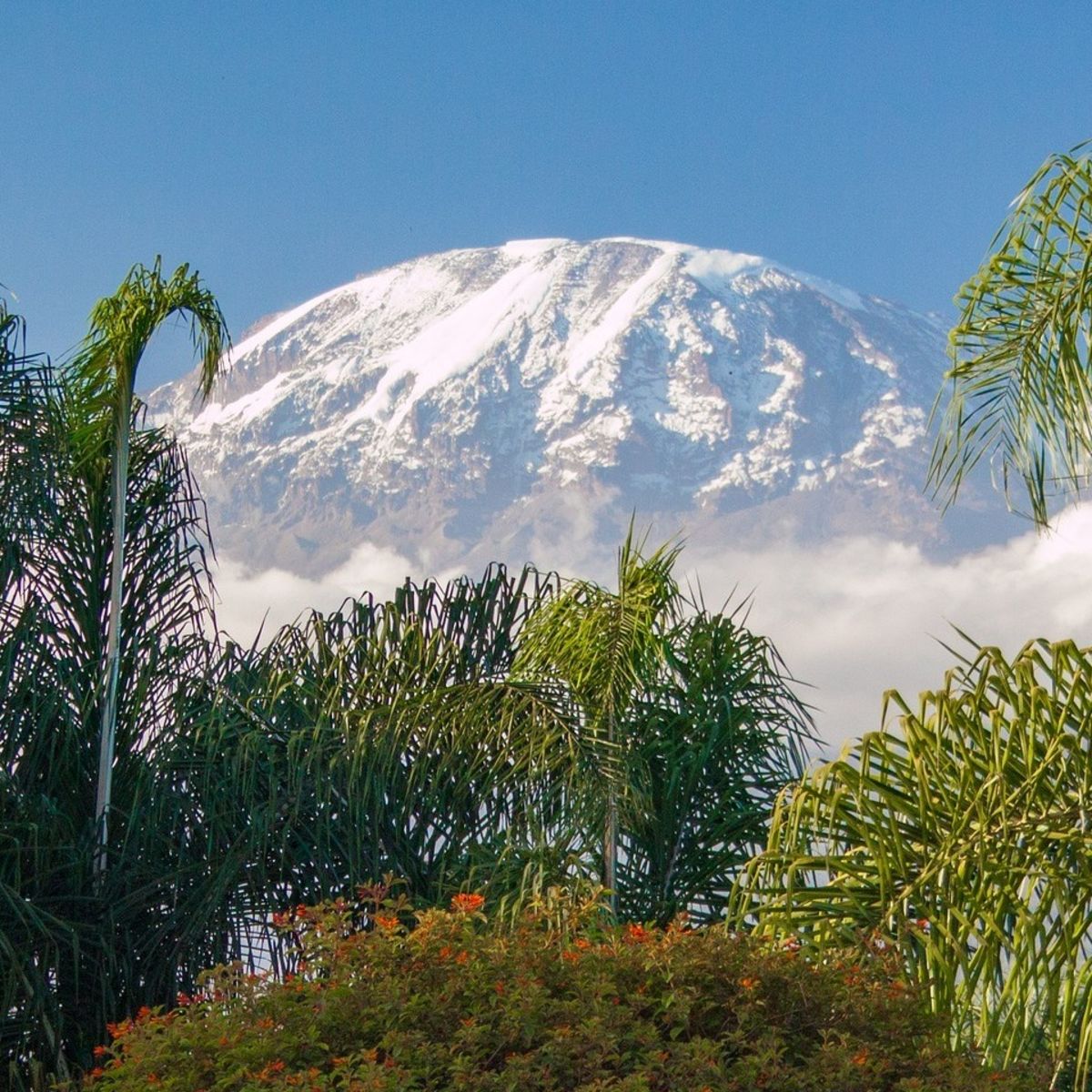 10 things to know before climbing Kilimanjaro
Apr 13, 2023
Reading time: 18 minutes
Do you know which seasons are best for a Kilimanjaro climb? Or that tipping your mountain crew is customary? In order to have a safe, smooth and enjoyable experience, here are 10 important things you must know before climbing Kilimanjaro.
Climbing Mt Kilimanjaro is a life-changing experience, and we're excited that you're planning to take on this adventure! As part of your all-important preparatory research, here are 10 things you must know before climbing Kilimanjaro.
1. Some seasons are better than others
Kilimanjaro can be climbed at any time of the year. No months are off limits.
That said, some months are better than others in terms of climate and weather, and so offer a better, safer experience. So here's a lowdown on when is the best time to climb Kilimanjaro. (For a more detailed description of the weather conditions per month, please read the Best time to climb Kilimanjaro.)
Knowing what to expect of the mountain environment at different times of the year can help you to choose a month that's best for you.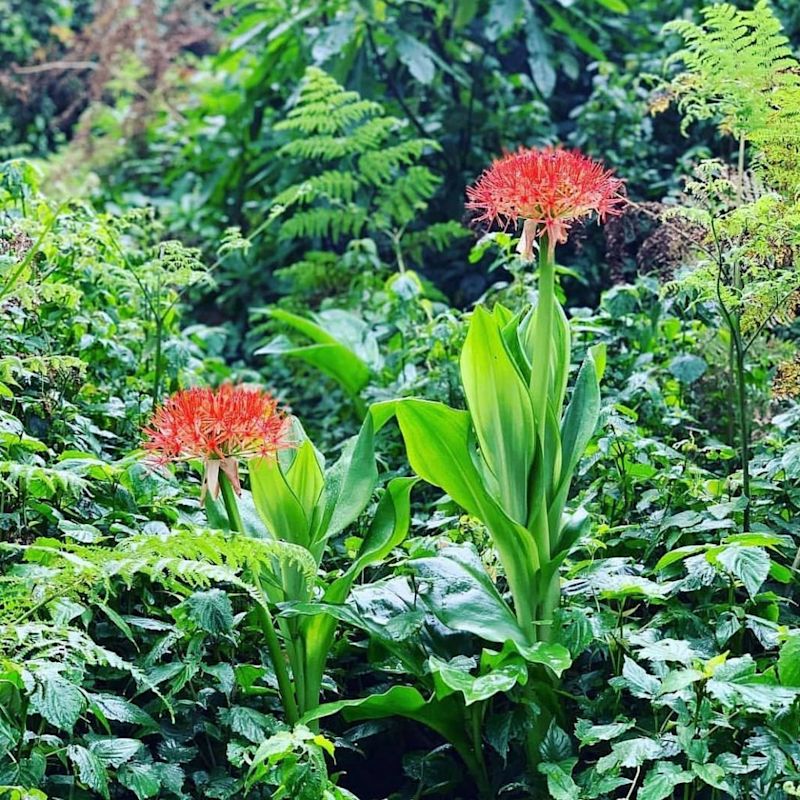 The forested, lower section of Kilimanjaro can get wet and slippery during the rainy seasons
Different seasons on Kilimanjaro
Kilimanjaro has two rainy seasons: a long rainy season between mid March and mid June, and a short rainy season between November and mid December.
But not all sides of Kilimanjaro experience the same weather conditions. Notably, most of the rain falls on the southeastern slopes, where you have the Marangu route. The other routes like the Lemosho and Northern Circuit, which ascend the western and northern slopes respectively, therefore provide a reduced chance of rain.
In terms of temperatures, the hottest months are usually April, May and November. This isn't at all an issue higher up the mountain, but it can be unpleasantly hot and humid in the rainforest zone.
Generally speaking, the clearest skies around Mt Kilimanjaro occur between mid December and mid March, and between mid June and mid October.
For the best chance of avoiding the rains and having clear skies, you should consider climbing Kilimanjaro between mid December and mid March, or between late June and October.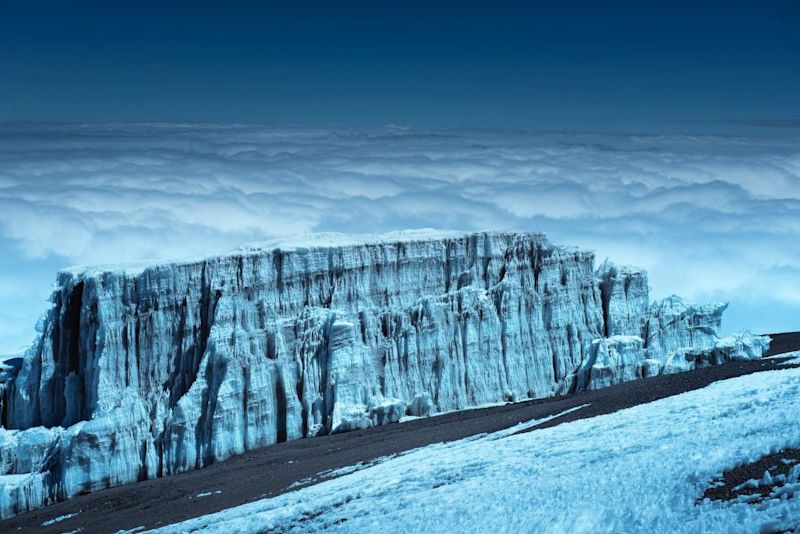 The beautiful glacier near the summit of Kilimanjaro
Expect the unexpected
All that said, it's important to point out that Kilimanjaro is its own boss, and it does what it wants, when it wants! It can rain at any time, snow on the summit at any time … you get the picture. You just never know for sure what the weather and temperatures will be like, and so while you should certainly make an educated decision as to when to trek, it's also good to not expect certain conditions.
Always come prepared for anything!
Anyone who says they can tell you exactly what weather to expect when, is pulling the wool over your eyes!
Peak seasons on Kilimanjaro
The busiest months on the mountain are between January and mid March, and between mid June and the end of October. These are the dry seasons on Kilimanjaro, hence the numbers.
For those wishing to avoid the crowds, you have two options: avoid peak seasons, or choose a quieter route.
Some people really like the busy trails, with buzzing campsites and the chance to meet and chat to people from around the world as you trek. So really it's a personal decision as to whether to embrace or avoid the crowds.
The drier seasons are the busiest – that's January to March, and mid June to October.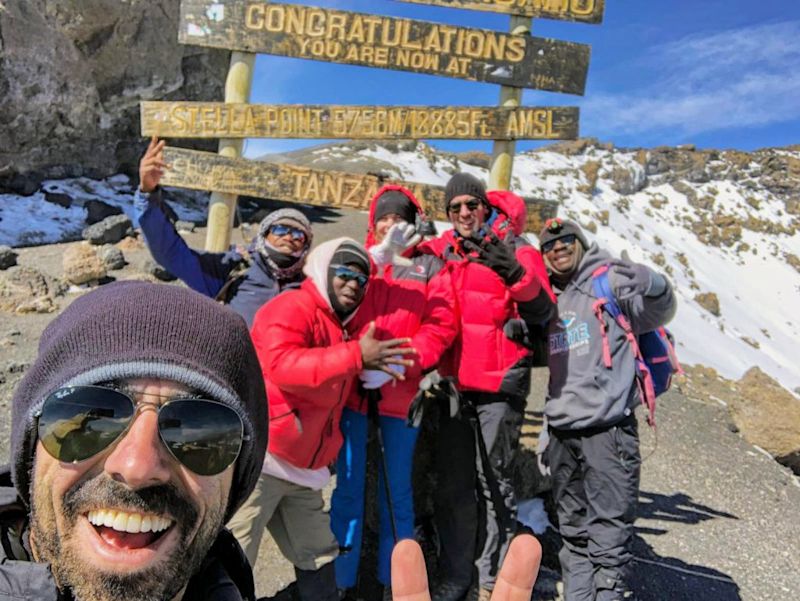 When you reach Stella Point (usually around sunrise), you know you're not far from the summit!
2. Some routes have higher success rates
There are seven different routes you can hike to reach the summit of Kilimanjaro. Each route starts at a different place on the mountain, as you can see on the map below. (The Mweka route is a descent route only, just FYI.)
Some routes have higher summit success rates than others. The reasons for this are linked to how well each route allows trekkers to acclimatise to the higher elevation (i.e. the reduced oxygen). Good acclimatisation is very important – push your body to go too high, too quickly, and you can develop altitude sickness.
The different routes up and down Mt Kilimanjaro
The quicker you ascend the mountain, the more likely you are to develop altitude sickness and not be able to make it to the summit.
You therefore want to choose a route that allows for proper acclimatisation. The best routes for acclimatisation are those that:
Don't start at a too-high altitude, placing your body at strain right out of the gate (for this reason we don't recommend the

Shira route

)

Provide enough days for your body to acclimatise (we recommend a trek no shorter than seven days)

Offer one or more opportunities to 'climb high and then sleep low', a great acclimatisation strategy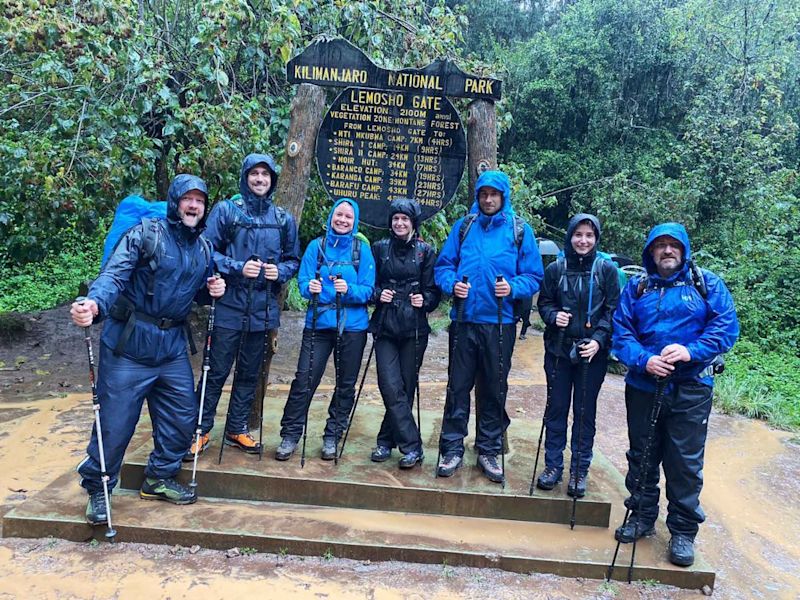 The Lemosho route starts at a good altitude and doesn't place your body under immediate strain like the Shira route does
So what are the different Kilimanjaro routes?
The seven Kilimanjaro routes
Here are the seven Kilimanjaro routes, with the number of days and summit success rate for each. You should see there's a correlation between the duration of the route and its summit success rate.
Northern Circuit
9 days of trekking

Very high summit success rate
Lemosho route
7 or 8 days of trekking

High summit success rate
Machame route
6 or 7 days of trekking

High summit success rate
Shira route
7 or 8 days of trekking

Medium summit success rate
Rongai route
5 or 6 days of trekking

Medium summit success rate
Marangu route
5 or 6 days of trekking

Low summit success rate
Umbwe route
5 or 6 days of trekking

Low summit success rate
We really like the routes that offer the best acclimatisation and so produce the highest summit success rates, namely the Northern Circuit, Lemosho and Machame.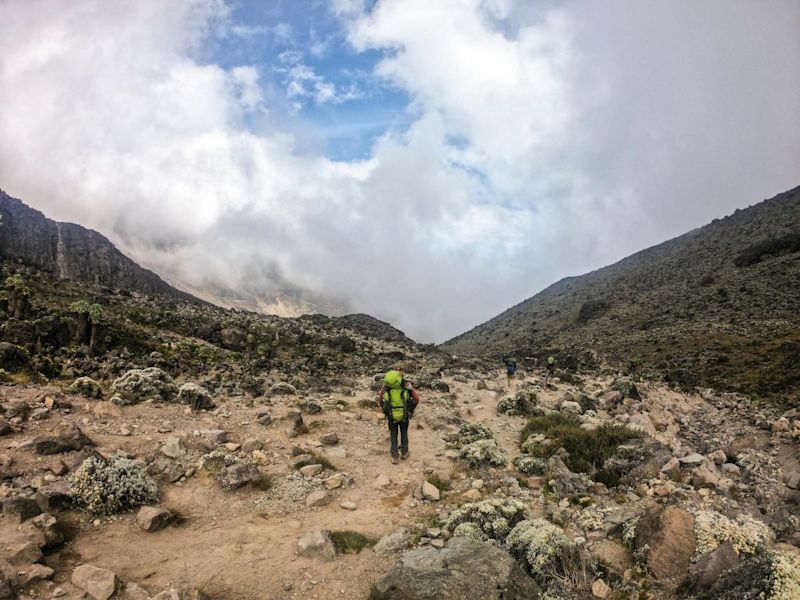 Your choice of Kilimanjaro route is important to your chances of a successful summit
3. Choosing a good tour operator is key
Nobody is allowed to climb Kilimanjaro on their own – rather, you must climb with a registered tour operator.
There are so many operators out there that it can, however, be hard to choose one.
It can also sometimes be hard to know which are good ones if you don't have a recommendation. Part of your Kilimanjaro preparation therefore has to involve research into different types of operators.
Three different types of tour operators
Kilimanjaro tour operators can be split into three categories:
Budget operators

Value-for-money operators

Luxury operators
Budget operators tend to offer a trip package below about $1,900. We advise against using one of these as they tend to cut corners to keep costs down, like paying their staff too little or not having a good guide-to-client ratio.
Value-for-money operators tend to offer trek packages between $1,900 and $3,200, depending on on the length of the trek. Follow Alice falls into this category, as we try to offer a competitive price while not compromising on matters like safety, staff wellbeing and safety training, and quality equipment and maintenance.
Luxury operators charge anything over $3,200 per climb. These operators offer extras like perhaps a portable shower, fancier food, and five-star accommodation before and after the climb. We don't personally feel the extras always justify the higher price tag, but at least these are reputable operators, so you know you'll be properly looked after.
You may like to read more about why prices differ so much between Kilimanjaro operators.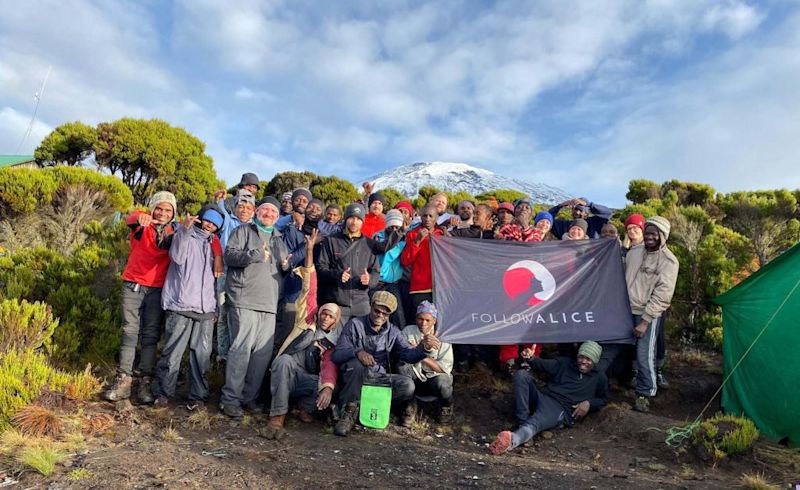 Your tour operator sets the tone for your Kilimanjaro climb
How to choose a tour operator
We recommend that you take the following five actions to find a good and reliable Kilimanjaro tour operator ...
1. Get recommendations
If you know anyone who has climbed Kilimanjaro, ask them for a recommendation. If they didn't like the operator they travelled with, ask them what they'd have wanted to be different to guide you in your search.
2. Look at the website
Check out each potential company's website. Does everything look good? Does the company have a physical address? Look at their photos – can you see evidence of how they conduct their climbs? Is it clear what their fee includes and excludes? Are they a member of KPAP (an NPO advocating for the fair treatment of porters)?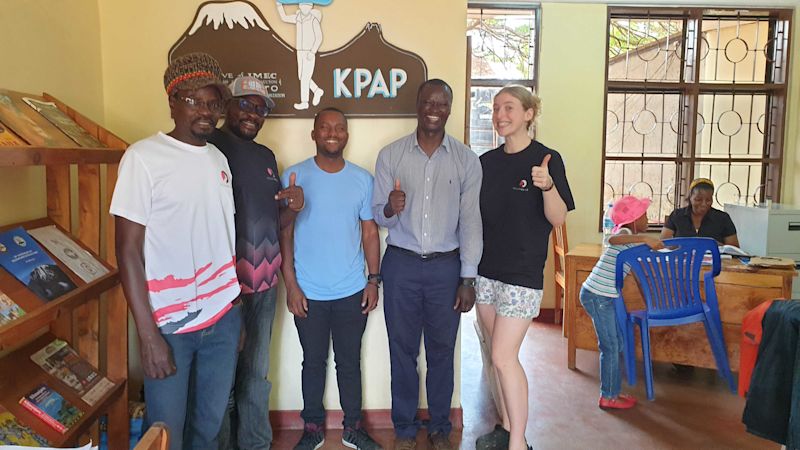 Follow Alice's Chris, Bobu and Tash with some of the KPAP folks in April 2023 😊
3. Read client reviews
Look for reviews from past clients. While it's great to read the reviews provided on a website, be sure to also look at reviews on independent sites like TripAdvisor, Trustpilot, Google and Facebook.
4. Look on social media
Check out the operator's social media sites. You can get a good feel for who they are based on what they share online, and see how long they've been running. Be sure to also read the comments to see what others are saying about them and their service.
5. Speak with the operator
Communicate with the company via any one of their contact methods and see how it performs. You want an operator that is enthusiastic about your potential business and communicates timeously and professionally with you.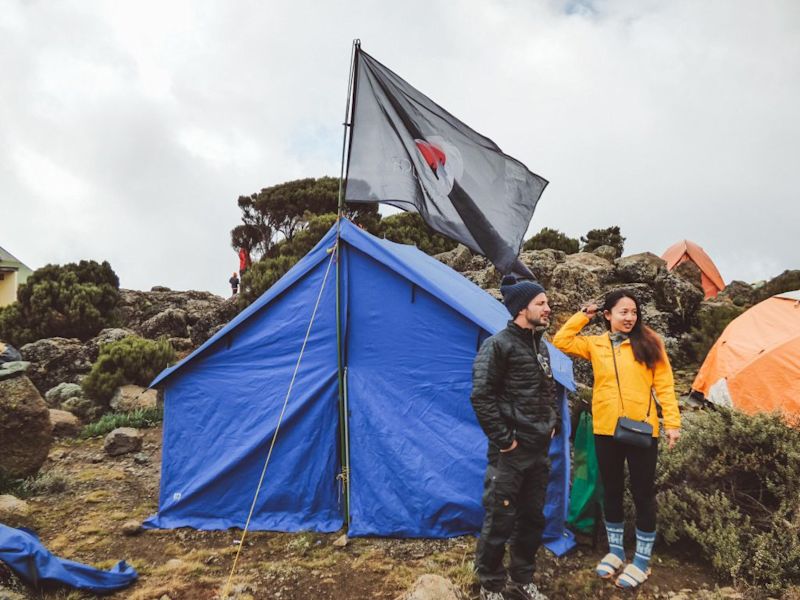 It's important to choose a tour operator who provides quality equipment that will keep you warm and safe on the mountain
Given that Kilimanjaro is a reasonably pricey adventure, we really encourage you to do your due diligence in terms of researching potential tour operators. Don't risk compromising your adventure by choosing a subpar tour operator.
Note that most tour operators include one night's board at a local lodge or hotel both before and after the climb. Be sure to ask any operator you're considering if this is included or not in their fee. An operator offering a very low price might not include this, and so you'll need to consider this in your decision-making.
We highly recommend arriving at least one day before the start of your climb so you're not rushed and any travel delays can be accommodated within your timeline.
Group size
Something you might also want to consider is trekking group size. Some tour operators take large groups of around 20 trekkers, while others offer smaller groups, even down to two people.
Smaller groups have certain pros over larger ones, such as being able to move at a better pace. If you're in a large group and one climber has an issue, for instance, then all of the group must stop and wait.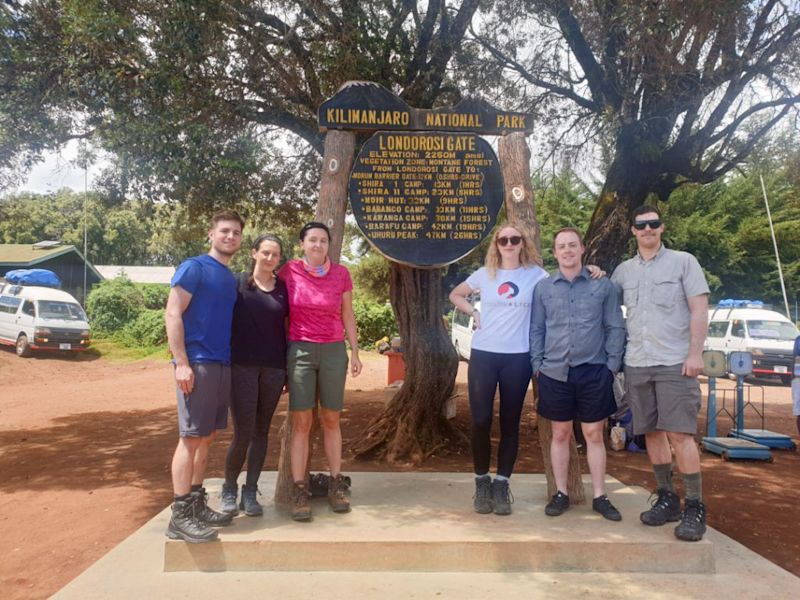 The size of your trekking group affects your experience – we feel groups numbering in the single digits tend to work best
At Follow Alice we generally prefer smaller groups of no more than 12 people. We feel this keeps things streamlined while also offering an intimate team dynamic that's very special.
You might also like to enquire after the guide-to-climber ratio, which we mentioned earlier. Kilimanjaro is a tough cookie, and many trekkers credit their mountain crew with offering them the practical and emotional support that was necessary to getting them to the top.
Other climbers owe their actual safety to attentive crew members who recognised the signs of altitude sickness and were quick to act and advise.
You don't want to be one face among the many with your mountain crew, as that can compromise your safety and wellbeing, not to mention your enjoyment of the trip.
4. Preparation is essential
Kilimanjaro is a tough climb, and don't let anyone tell you otherwise! While it doesn't require any mountaineering experience, it does require decent fitness, and a whole lot of determination. Don't underestimate the physical and emotional effort required to summit this mighty mountain!
Physical preparation
So how do you physically prepare for Kilimanjaro?
Well, to state the obvious, the more you exercise and train in the lead up to the climb, the easier the climb will be. A fit body is better able to withstand the stress of consecutive days of hiking and camping.
So train hard to ensure you'll enjoy your trip and have the highest possible chance of successfully summiting the mountain.
You're probably only going to climb Kilimanjaro once in your life, so if you decide to take the adventure on, be sure to give it your all – not just on the mountain, but also in preparing for it.
We recommend that you create a training schedule in the lead up to your climb (and stick to it, of course!). Your workouts should focus on strength training as well as cardio.
Ideally, include some uphill hikes in your training. For those who don't have any hiking trails nearby, hop on the treadmill and up the incline!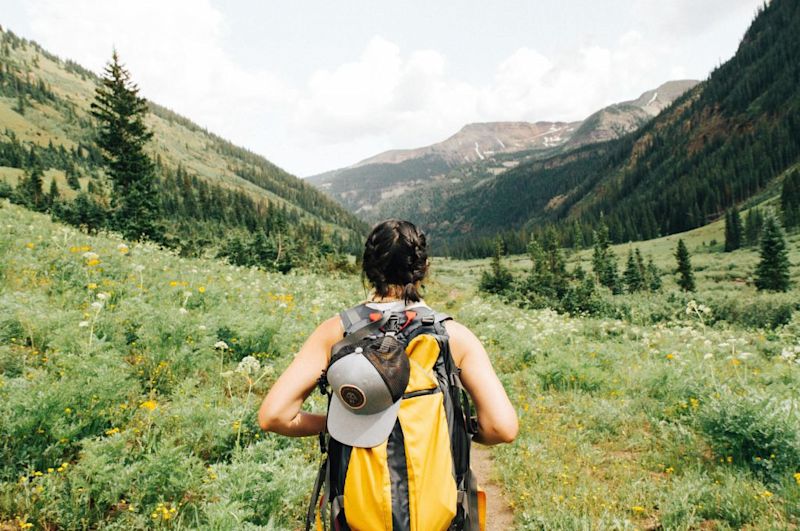 The ideal training for Kilimanjaro is uphill hiking – if you can, get out and walk in the mountains!
Please take a moment to read How should I train for Kilimanjaro? for fuller advice on how to prepare physically for this epic adventure!
Mental preparation
Climbing Kilimanjaro also requires some mental steel, not only because it's a physically challenging and multi-day trek, but also because most people experience some mild symptoms of altitude sickness, which can make carrying on, at times, a battle of the mind.
For this reason, we encourage you to engage in some mental preparation alongside your physical prep! What you do in this regard is largely up to you, since you know how you work. But we suggest exercises such as goal setting (preferably write it down) and visualisation.
5. You need to pack the right equipment
Mt Kilimanjaro has five different climate zones, and they range from a wet, subtropical region to an arctic world of ice. This means packing for the trek requires you to be prepared for many varying conditions.
In our Kilimanjaro packing list we discuss the various types of clothing you need to be comfortable and safe in all of the different climate zones. We also discuss the necessity for things like sunscreen, SPF lip balm and sun hats, which protect you in the hot, lower portion of the mountain as well as from the glare and exposure experienced higher up.
We highly recommend following the packing list closely to avoid over- or underpacking.
Underpacking could mean not having the right clothing to keep you warm and safe in the subzero temperatures near the summit. Overpacking is mostly just a nuisance, and puts unnecessary strain on the porters who must carry the bulk of your belongings.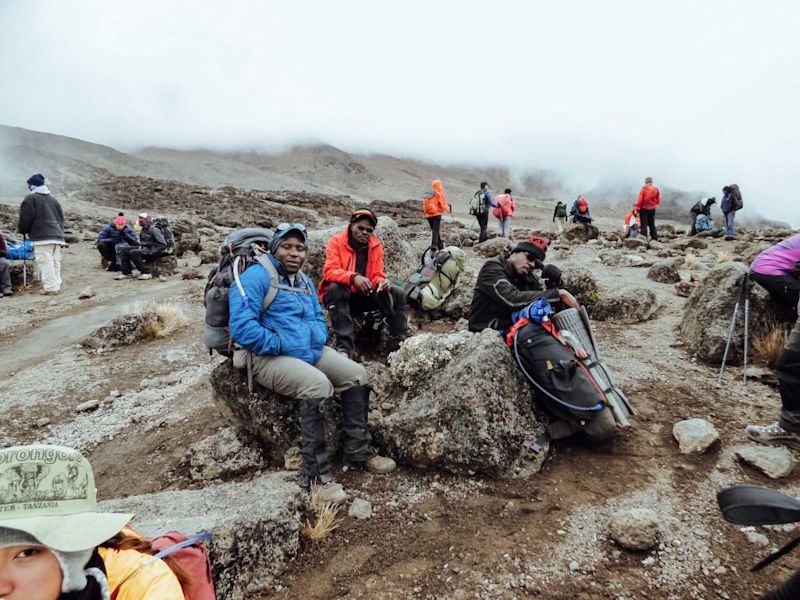 Trekking poles, water bladders with drinking hoses, gaiters, polarised sunglasses – these are just a few of the items you should pack for your Kilimanjaro climb
A quality winter jacket is absolutely vital to your warmth and safety on Kilimanjaro.
Arguably your most important piece of clothing on the mountain is your winter jacket. We recommend buying or renting a down jacket, as down provides excellent insulation. At Follow Alice we rent down jackets that were designed specifically for the conditions of Kilimanjaro for just US$60 per trip.
The importance of your hiking boots
You want to ensure that you wear really good hiking boots.
What makes a pair of boots right for Kilimanjaro?
There are few things to consider, from the obvious ones like being the right size and being comfortable, to the slightly less-obvious, like being water-resistant and having good tread. We provide you with a guide on all the aspects to consider when choosing hiking boots (as well as hiking socks!) in the best hiking boots for Kilimanjaro.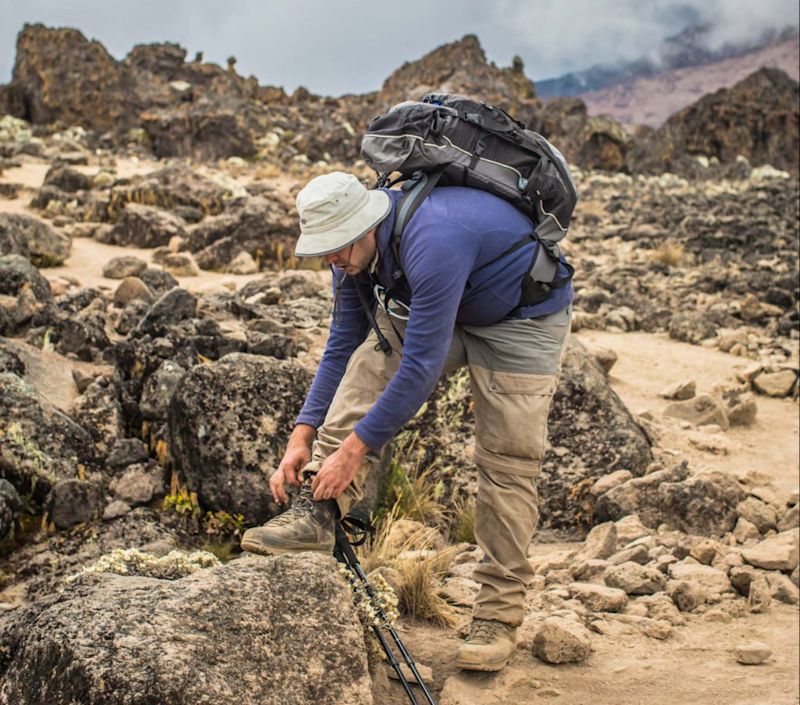 Your hiking boots can make or break your Kilimanjaro climb!
Camping gear
You also need to pack the right camping equipment to have an enjoyable and snug Kilimanjaro climb. Unless you're trekking the Marangu route (which has huts), you'll be camping. Your tour operator provides most of the necessary camping equipment, but be sure to ask if they provide items like sleeping bags and sleeping mats – some do, and some don't.
The nighttime temperatures of upper Mt Kilimanjaro are below freezing, making a four-season sleeping bag a must. We provide our climbers with North Face four-season sleeping bags suitable for at least -20° C (-4° F), at no extra charge.
You also want an insulated sleeping mat. We provide you with a well-insulated, foldable mat that can handle temperatures as cold as -20° C (-4° F).
You'll have a miserable trek if you're cold at night, so please prioritise your sleeping gear.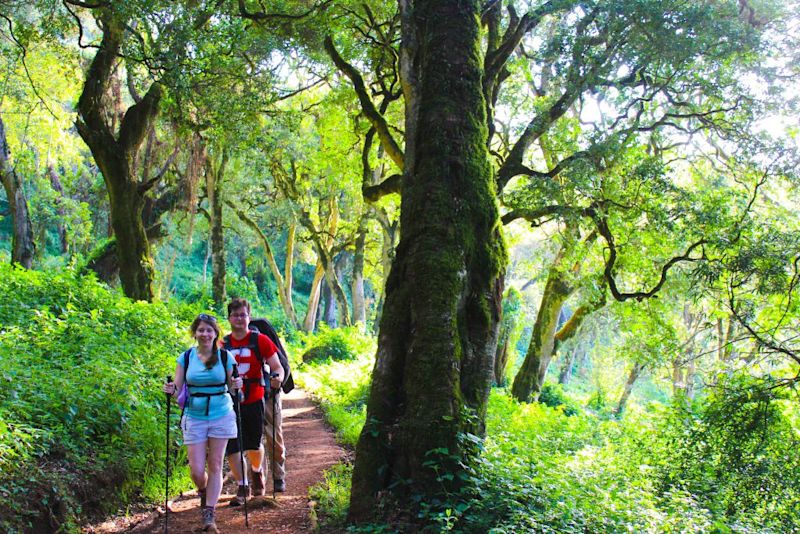 The weather is very changeable on Kilimanjaro, and so you have to be prepared for anything
6. You can't climb without travel insurance
To climb Kilimanjaro without travel insurance would be very risky, perhaps even foolish. We suggest choosing an insurance package that offers cover for all of the following (which is what we do personally when travelling):
Delayed, cancelled or interrupted travel

Medical insurance

Lost or damaged luggage
As we discuss in How much does it cost to climb Kilimanjaro?, you need to take out travel insurance for hiking up to an elevation of 6,000 m. (Remember, the summit of Kilimanjaro is 5,895 m above sea level!) We find that such insurance usually costs around $200.
Please don't compromise when it comes to insurance, thinking to save a few bucks – if something goes wrong, that decision could turn your dream trip into a massive headache!
At Follow Alice, we require all of our climbers to take out travel insurance.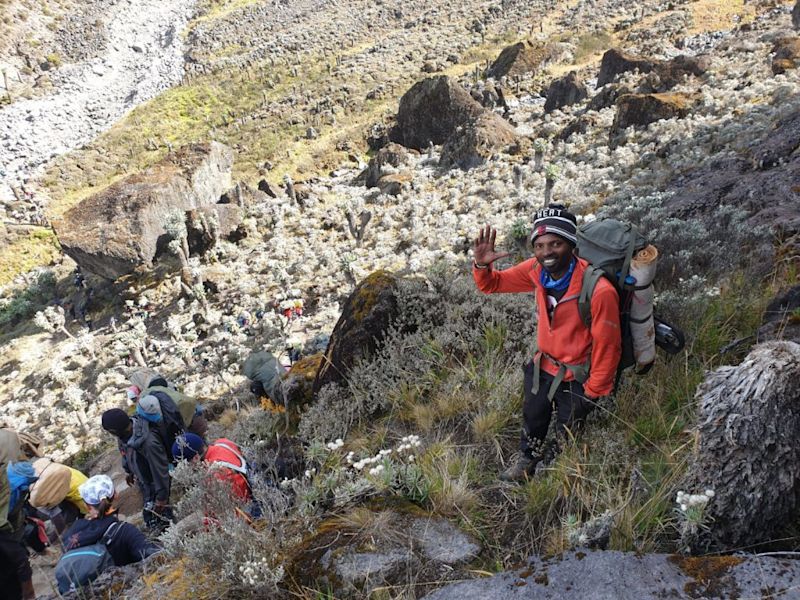 Everyone climbing Kilimanjaro should purchase travel insurance that covers you for hiking up to 6,000 m
7. Be open about your health with your guide
Your entire mountain crew is there to support you in whatever ways you need throughout your Kilimanjaro climb.
That said, your lead guide in particular is responsible for monitoring your health and advising you accordingly. It's imperative that you always be transparent with him about how you are managing.
Don't be worried about being a nuisance, or feeling like a whiner – your guide needs to be kept informed about any ailments or issues. This is because even normally small things like a minor headache may carry more importance on the mountain than you realise.
Your trek guide wants to know about any and all health concerns you experience during the climb!
Remember that your mountain crew are trained in detecting the signs of altitude sickness and treating it. They can also advise on other matters such how to address cold hands or a chafing toe. It's vital that you always be transparent with your guides, and communicate regularly about how you're feeling.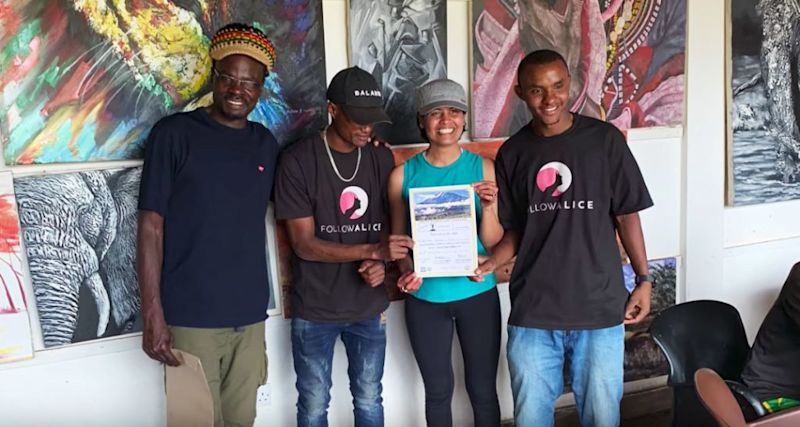 The goal of your mountain crew is firstly to keep you safe, and secondly to help you have a great climb and reach the summit
8. Leave no trace on the mountain
Aside from some footprints and the odd leak behind a rock, your aim should be to leave no trace of yourself on the mountain!
It's vital that every Kilimanjaro trekker respects the mountain so that it stays a healthy and robust environment for generations to come. We want to protect the various beautiful and unique ecosystems that encircle the mountain, from the rainforest near the bottom right up to the arctic summit.
Kilimanjaro National Park actually has a 'leave no trace' policy in place which requires all trekking companies to ensure they remove all waste from the mountain. A company will get in trouble and can even have its licence revoked if it leaves a camp messy or littered.
Kilimanjaro National Park has a 'leave no waste' policy.
Carry your waste to camp
In most cases it'll be easy for you as a climber to leave no trace – there are bins at each camp, and your tour operator deals with your camp's trash as well as the portable toilets.
It's just when you're on the trail really that you need to make an effort – ensure no litter flies out of your backpack, no tissue escapes your pocket, and any toilet paper you use is stowed in a little baggie that you carry with you to dispose of at camp.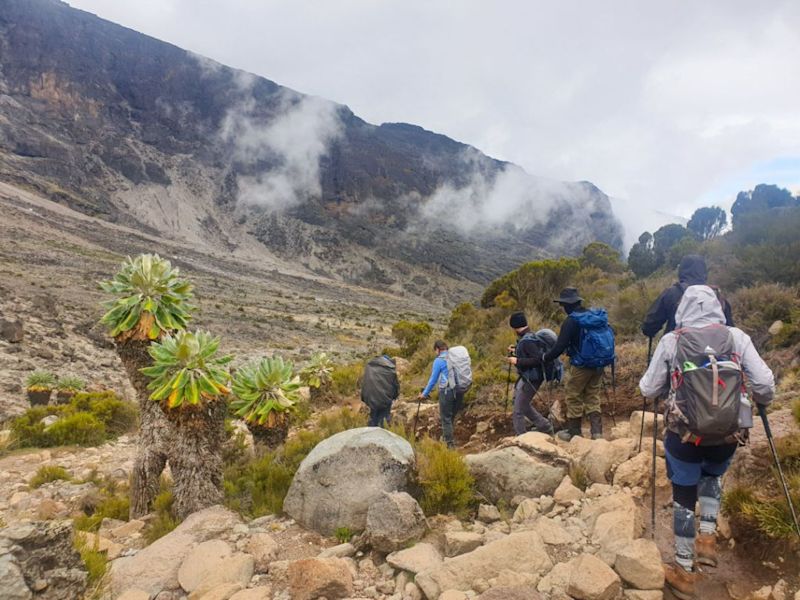 All trekkers should embrace the 'leave no trace' policy to ensure the ecosystems of the mountain remain unharmed
9. Tipping your crew is important
Did you know that it's customary to tip all of the members of your mountain crew at the end of your trek? It's not compulsory, but we've never actually come across someone who doesn't want to! This is because by the end of the trek you've developed massive appreciation for these hardworking folks, and so appreciate how they helped you practically and emotionally to get up that mountain!
The tipping ceremony at the end of each Kilimanjaro climb is a fun and memorable group experience!
There is actually a tipping ceremony at the end of every trek. This is a fun group experience that involves dancing, singing and laughing.
During the ceremony each trekker has the opportunity to hand over some cash to each crew member. The amount is entirely up to you, though we recommend budgeting around 10% of the price of your climb. These tips go a long way in supplementing the crews' wages, and they are so appreciated.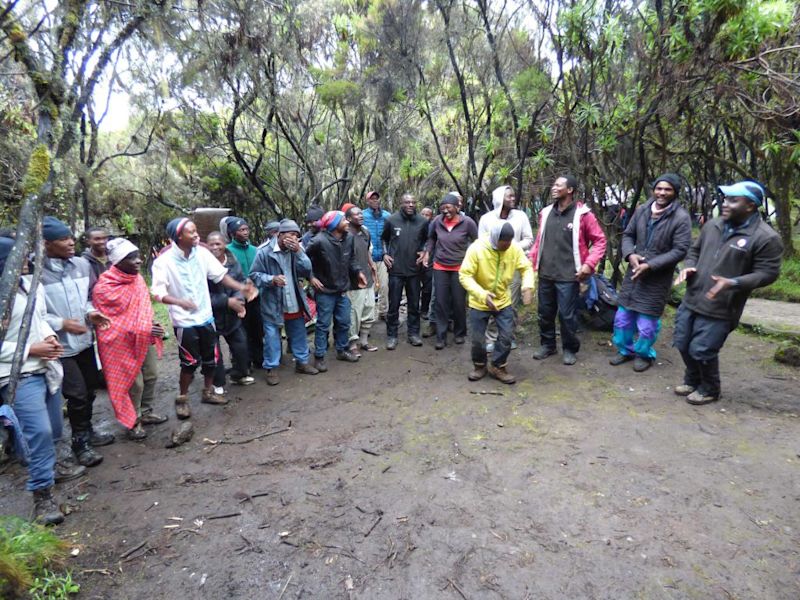 Dancing, singing and having fun at the tipping ceremony!
10. Take your time and enjoy the adventure!
The final item on our list of the 10 things you must know before climbing Kilimanjaro is that while the mountain is a challenging climb, it's also totally doable! You don't need special equipment, nor do you need mountaineering experience. You just need strong legs and a positive attitude. (And even if your positivity wavers on the climb, your mountain crew will be sure to boost it for you!)
So don't spoil your trip preparation – or the climb itself – worrying! Instead, do your research, choose a good operator and route, take your mental and physical Kilimanjaro preparation seriously, and then enjoy the journey!
Kilimanjaro isn't a race
Also, remember that Kilimanjaro is not a race; it's a fabulous journey that you want to savour!
So take your time.
Stop and take in the glorious views. Chat with your neighbour, share a snack, take a photo, smell a flower.
Your guides will no doubt tell you that the motto for Kilimanjaro is pole, pole, which means 'slowly, slowly'. This advice has two aspects: don't rush and miss out on enjoying the experience, but also take things slowly so as to ensure you don't burn out.
Don't waste any time fearing the mountain – rather, prepare for it, and then just soak up all aspects of the experience!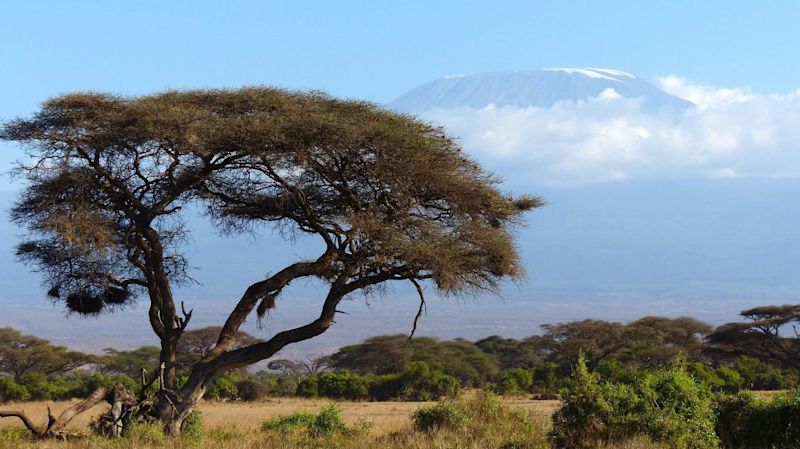 Mt Kilimanjaro awaits you!
Have any questions? Please feel free to chat with us. We love talking about Kilimanjaro and sharing our knowledge with others. 😄