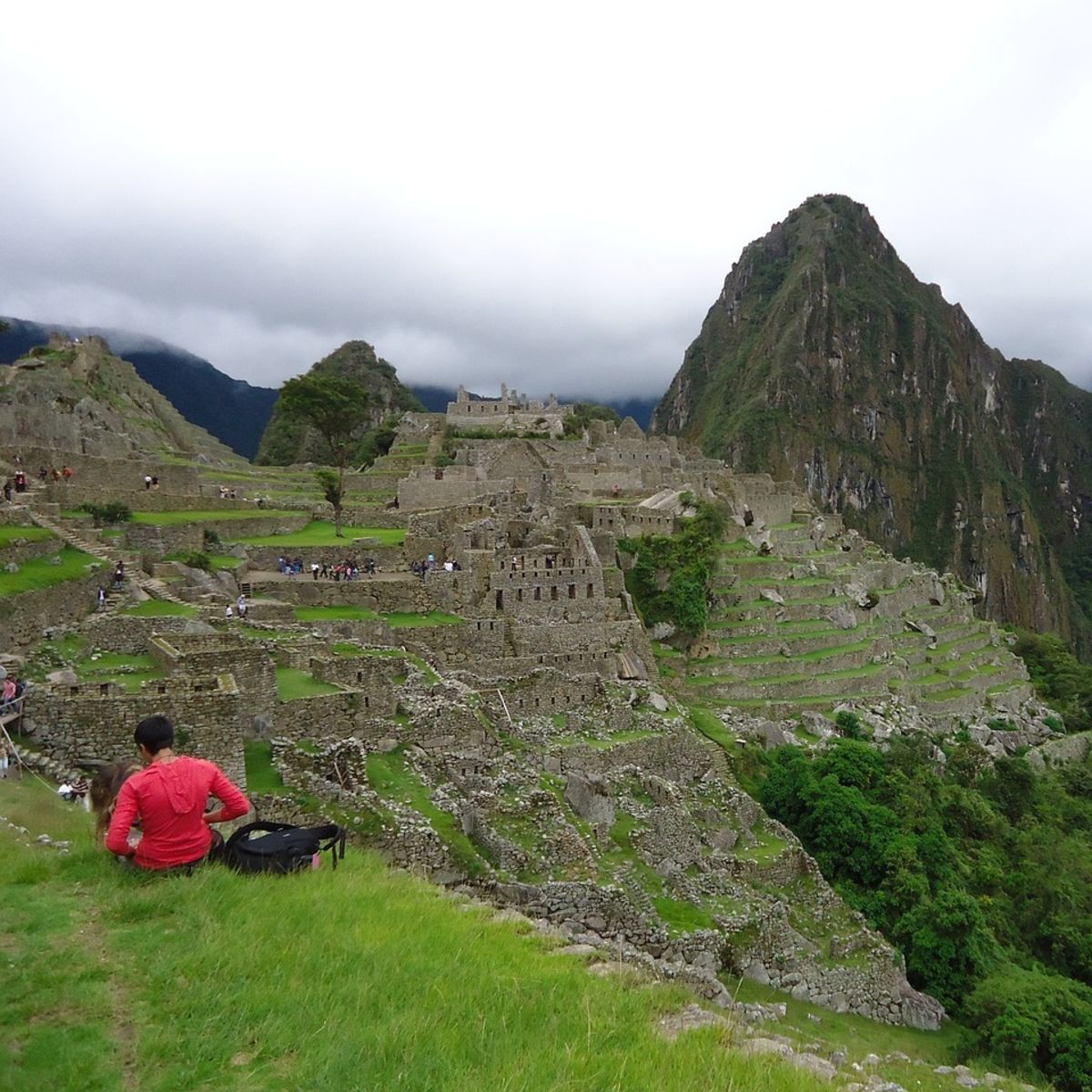 Your complete packing list for trekking to Machu Picchu
Aug 8, 2023
Reading time: 34 minutes
In this complete packing list for trekking to Machu Picchu we list and also discuss the trekking equipment, clothing, shoes, toiletries and other essentials (as well as some non-essentials) that you need to successfully and comfortably manage the trek.
There's a lot to pack when trekking to Machu Picchu, whether you're walking the famous Inca Trail or tackling the lesser-known Salkantay Trek.
Please give yourself plenty of time to work through your Machu Picchu packing list so that you can purchase (or rent) and trial test all items before heading to Peru!
1. Trekking equipment
When trekking to Machu Picchu, you're going to need the following items:
Duffel bag

Backpack

Backpack rain cover

Trekking poles

Warm sleeping bag (if walking the Inca Trail, where you camp)

Sleeping bag liner (optional)

Hydration bladder

Water bottle
Here are details about each of the trekking equipment items you need ...
Duffel bag
When trekking to Machu Picchu, you can hire a porter to transport your belongings (which will be carried on the Inca Trail and put onto a horse on the Salkantay Trek). If you trek with a tour group, this service will be included in your package fee.
We recommend using a duffel bag that you're not too precious about as it will experience a reasonable amount of manhandling. Some tour operators actually give you duffel bags to use for the trek.
Please be sure to check with your tour operator what the weight allowance is for your duffel bag. An ethical company will have a strict weight allowance per trekker in place to ensure their porters aren't overloaded.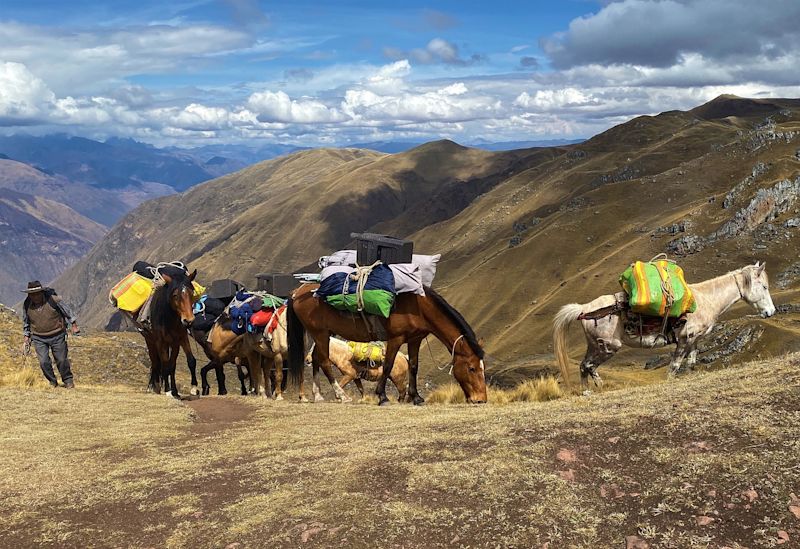 Horses and donkeys are used in the Andes to porter goods
Backpack
You don't need a very large backpack on a Machu Picchu trek since you'll have the use of a porter for the bulk of your belongings. You'll also be overnighting and eating your dinners and breakfasts in teahouses (guesthouses), so you don't need camping and cooking equipment.
We advise you to bring a backpack of around 30 to 50 litres.
Your backpack is where you'll carry your essential items for each day's hike like water, snacks, lip balm, sunscreen, camera and extra layers.
What should I look for in a backpack?
Think carefully about what backpack to bring. Even though it won't contain everything you need, it's still going to be heavy-ish since you're carrying all of your own drinking water for the day.
So you want comfortable and wide shoulder and hip straps. A chest strap is important for keeping the pack from sliding from side to side.
Also look into getting a backpack with a mesh breathing panel, so that you don't get a sweaty back. Side pockets and straps for attaching things (like your trekking poles) are also very helpful.
Be sure to trial test the backpack before coming to Peru to ensure it's a comfy fit and is up to the task.
For a more detailed discussion of how to choose a backpack that can handle the rigours of high-altitude trekking, please read How to choose a backpack for high-altitude trekking. And we recommend going into a brick-and-mortar building if possible and having an experienced sales clerk help you try on different backpacks.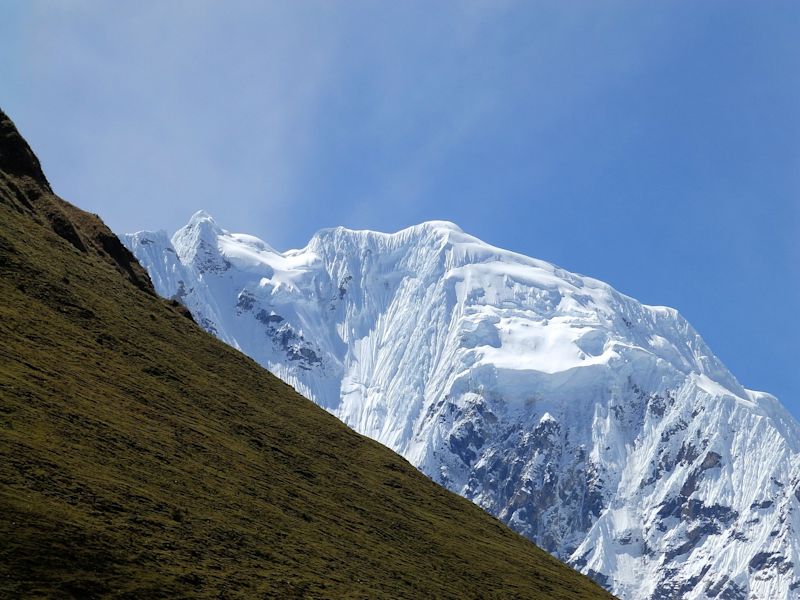 One of the glorious views along the Salkantay Trek
Rain cover
A wet bag is a heavy bag, never mind the state of its contents. A rain cover is therefore an important item to pack if yours isn't waterproof.
As with all your waterproof gear, you're going to want to pack this item in a side pocket. This makes it easy to lay hold of should there be sudden rain. Fortunately these can be bought cheaply, are lightweight, and don't take up much space.
Alternatively, you could get a backpack with a built-in rain cover. These are very useful, as they're made to fit your specific backpack snugly.
Trekking poles
Trekking poles are important for arduous treks. They help with balance and confidence, especially when tackling something tricky like a slippery stream crossing or a rocky surface.
Trekking poles also take some of the weight off your knees on steep descents, of which there are plenty on the Inca and Salkantay treks!
Look for poles that are strong and durable while also lightweight.
A good trekking pole has wristbands so you don't drop them, and is made from a lightweight but sturdy material like carbon fibre or aluminium.
If you have the option, choose telescopic (adjustable) trekking poles as they offer multiple benefits:
They're easier to transport and store, from putting them into your luggage on flights to strapping them to your backpack at times when you don't want to use them.

You can tailor them to your height (a big bonus for the young who are still growing).

If you're walking along a trail that's cut into a hill, you can extend one and shorten the other to allow you to keep using them.

They can be shortened on steep ascents and lengthened on steep descents.
Note: Trekking poles with sharp tips are banned on the Inca Trail, as they can damage the historic path. You can, however, use ones with sharp points so long as you have rubber bungs covering the tips.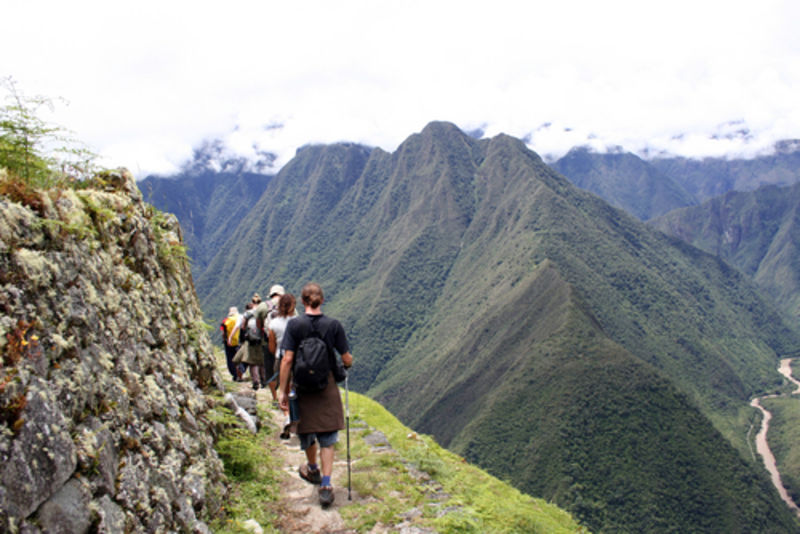 Trekkers on the Inca Trail
If you have ski poles and don't wish to buy trekking poles, then by all means use the former. A walking stick is also an option, but not a great one.
If you're new to trekking, don't think trekking poles are the domain of older folks. Far from it! Most people trekking to Machu Picchu will be using trekking poles.
You can learn more on this important topic in How to choose and use trekking poles.
Sleeping bag (for the Inca Trail)
You should bring along a quality winter sleeping bag for a trek to Machu Picchu along the Inca Trail, which sees you camping. If you follow the Salkantay trail, you'll stay in accommodation and a sleeping bag isn't necessary.
Remember that you're going to be high in the Andes. While you're unlikely to encounter snow or below-freezing temperatures on the Inca Trail, expect nighttime temperatures that are below 10℃ (50℉), no matter the time of year.
You can learn more about the seasons and average temperatures in When is the best time to trek the Inca Trail?
What season sleeping bag is best?
We recommend bringing along a season four sleeping bag. Season four bags will keep you warm even in below-freezing conditions. So you'll be confident of staying cosy in one of these when trekking to Machu Picchu on the Inca Trail.
That said, remember that many sleeping bag ratings are more rough guideline than exact science. Having spare thermals and layers to wear at night is also important.
What shape sleeping bag is best?
The mummy-shaped sleeping bag is a great option for cold conditions as the narrow footwell helps to keep your feet warm.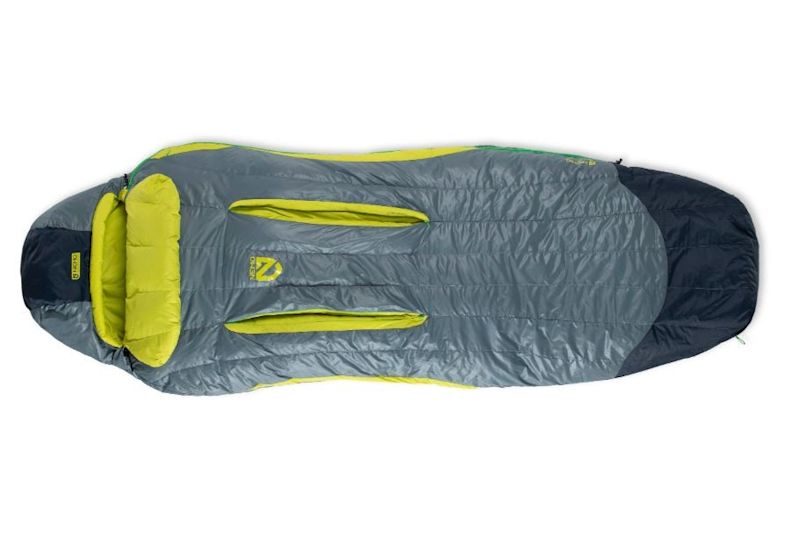 Disco has branded their peanut shell sleeping bags as Spoon™️ bags
That said, if you sleep on your side or are worried about feeling claustrophobic, you might consider one with a semi-rectangular or peanut shell shape.
Which material should you choose?
Another thing to consider when choosing your sleeping bag is its insulation material. Down bags are excellent, as they're very lightweight, compress easily (making them easy to stow) and are durable. Their only downside (pun intended) is that they can be pricey.
Note too that if you do decide to purchase a down sleeping bag, we encourage you to look for the acronym RDS (responsible down standard) or TDS (traceable down standard) on the label. This means the goose or duck down has been responsibly sourced.
Your other option of sleeping bag material – and still a good one at that – is a bag made with synthetic insulation. This option is more affordable.
Finally, be sure to have a compression sack for stowing it before putting it with your luggage to give your porter.
Renting a sleeping bag
Note that you can rent a sleeping bag in Peru if you don't wish to fork out for one. And if you trek the Inca Trail with Follow Alice and don't have your own sleeping bag ... we will loan you one for no extra charge!!
That's right, we have Follow Alice winter sleeping bags that are more than up to the task of keeping you cosy on your trek, and these are free for our clients to use during their trek.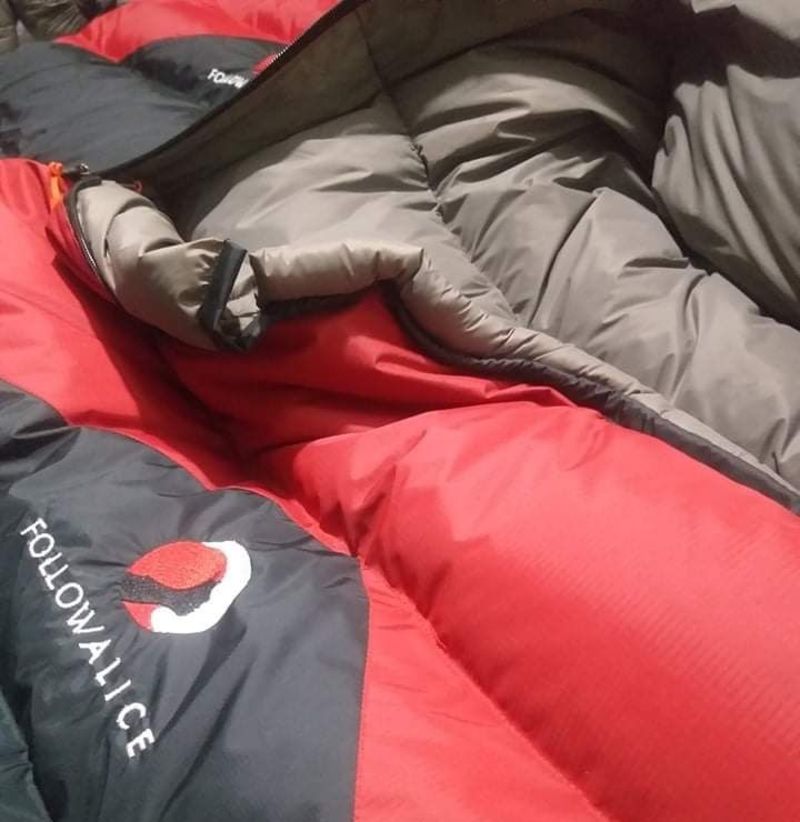 A Follow Alice winter sleeping bag
Follow Alice trekkers can borrow one of our very own winter sleeping bags at no extra charge! 🎉
Sleeping bag liner
A sleeping bag isn't easy to clean, which makes a liner a good idea. And if you're opting for a rented sleeping bag, a bag liner seems really rather non-negotiable.
If you're using a mummy-shaped sleeping bag, opt for a liner that's also in the mummy shape.
Some people simply stitch together a simple liner at home with an old sheet. This is a viable option if you'd like to save some pennies.
Otherwise, you can purchase a thermal liner, which of course offers an additional layer of snuggly-ness. Some liners can actually offer up to 15 degrees more warmth.
What fabric is best for a sleeping bag liner?
Silk bag liners are popular with trekkers as they're lightweight, breathable and warm. Fleece sleeping bag liners are also popular and comfortable.
Hydration bladder
You want to carry at least two litres of liquid when trekking. But three litres is better. So you'll need a hydration bladder (like a CamelBak) of that capacity or more. Ideally the hydration bladder and its drinking hose is built into your daypack.
Dehydration is a common issue amongst high-altitude trekkers. The higher elevation dehydrates you quicker because it:
Increases urination.

Makes you breathe more rapidly.

Has drier air.
So you want to regularly be sipping from your water supply when trekking to Machu Picchu.
Remember that you shouldn't wait till you're thirsty to drink – when you're thirsty, you're already dehydrated!
Finally, note that a hydration bladder is generally a better option than a bottle; you don't have to do arm gymnastics or wait for your friend to retrieve it for you every time you want to take sip like with a bottle. And you're therefore more likely to take the odd sip here and there.
Water bottle
We recommend that you bring along a lightweight water bottle that you know won't leak in addition to your hydration bladder.
Firstly, this will allow you to carry more water than can be stored in just your hydration bladder. And secondly, you may like to tip the contents of an electrolyte sachet into it to while keeping the water in your hydration bladder as just plain water.
2. Clothes and shoes
Here's a list of the clothes and shoes to pack for a Machu Picchu trek:
Base layers (including underwear)

Middle layers

Outer layers

Socks

Trekking boots

Gaiters

Buffs

Warm hat

Sunhat or sports cap

Inner gloves

Waterproof gloves or mitts

Downtime clothes

Sneakers or sandals
You want layers that you can easily put on and peel off when it comes to your Machu Picchu wardrobe. The three groupings of layers to consider are:
| Layer | Role |
| --- | --- |
| Base layers | Draw moisture away from the skin |
| Middle layers | Keep in your body heat |
| Outer layers | Keep you warm and also keep water and wind out |
Base layers
Your base (or inner) layers that you need to pack for a trek to Machu Picchu are:
Long-sleeved thermal vests

Long johns (or leggings)

Underwear
It's vital that you ensure your inner clothes are very comfortable, with no troublesome seams. This means you need to wear them for long stretches of activity before the trek, as that's the only way to know for certain that they're comfy.
Ensure your leggings and vests fit snugly to keep you warm. But at the same, find ones with sufficient stretch so your movements are easy.
Tuck your vests into your leggings (or your trekking trousers) to keep any cold air from finding its way to your torso.
Be sure to look for vest and leggings that are branded as thermal, as these will be made to be moisture-wicking. Regular clothing could well be made from cotton, which, once damp, stays damp and becomes heavy and uncomfortable. Quality thermal base layers are usually made from a mixture of natural fibres and synthetic materials.
Finally, you want all the clothes sitting against your skin to have a high wicking capability to help keep you dry. This applies to your undies too. Ladies, ensure you pack moisture-wicking sports bras that are really comfortable even when worn for many hours a day.
Middle layers
Your middle layers for a Machu Picchu trek should comprise the following items:
Trekking shirts

A fleece jacket

Trekking trousers

Hiking shorts
Trekking shirts
Trekking shirts are lightweight, breathable shirts that you'll wear every day on the trek.
Mostly you'll want long-sleeve trekking shirts, but not exclusively. Naturally you should consider the time of year you're trekking to help you decide which shirts to pack.
As with your inner layers, you want to buy trekking shirts that are good at wicking away moisture. (Side note: you are going to get smelly on the trek, but if you wear cotton, you'll scare the wildlife.)
Fleece jacket
A very important part of your gear is a good polar fleece or micro-fleece jacket. You'll wear your fleece jacket over your trekking shirt to keep you warm.
Fleece is fantastic at trapping body heat. You can't wear it as base layer, however, as it absorbs moisture readily. This is why the fleece goes over your trekking shirt.
While wool is also highly insulating, we recommend a jacket made from fleece as it's more lightweight.
Trekking trousers
It's likely that you're going to wear trekking trousers every day (unless you opt for shorts on occasion).
Trousers with a few pockets, especially zipped ones, are a great option. They allow you to put things like your lip balm within easy reach. A good idea is to get trekking trousers with zip-off sections. These allow you to whip off the bottom half of your pants to turn them into shorts (versus having to change out of your trousers and into separate shorts).
Hiking shorts
If you struggle to wear trousers when it's hot, consider bringing a pair of hiking shorts, or zip-off trousers that can convert to shorts.
That said, trousers are good for protecting your legs from getting scratched, so you might prefer to wear trousers throughout the entire trek, no matter the temperature.
Note that it never gets very hot in the Andes near Machu Picchu. In fact, the highest average summer temperature at Machu Picchu itself is only 27℃ (80℉).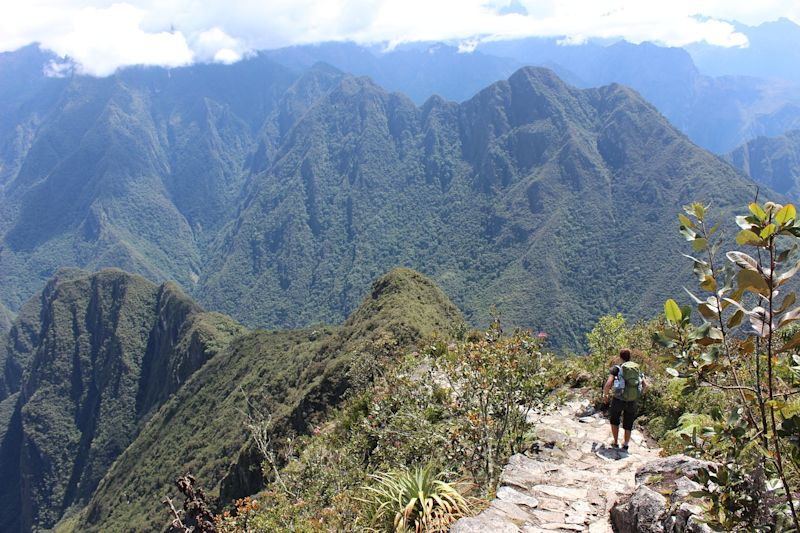 Outer layers
Next you need an insulating and waterproof outer layer that consists of:
A winter jacket

A rain jacket (or poncho)

Waterproof overpants
This final upper layer – sometimes referred to as your 'shell' – is very important because fleece, as already mentioned, isn't water-resistant.
Winter jacket
We recommend looking for a winter jacket made from down. This material, as already mentioned, is an excellent insulator while also being lightweight.
If you go for a synthetic jacket, ensure it offers adequate warmth in ratio to its weight. A jacket with a detachable hood is a great option, as is one with closed (zip-up) pockets.
This jacket will likely be one of the more expensive purchases you make in terms of gear. We encourage you not to stint on this item. See it as an investment, because a quality jacket can travel with you through life.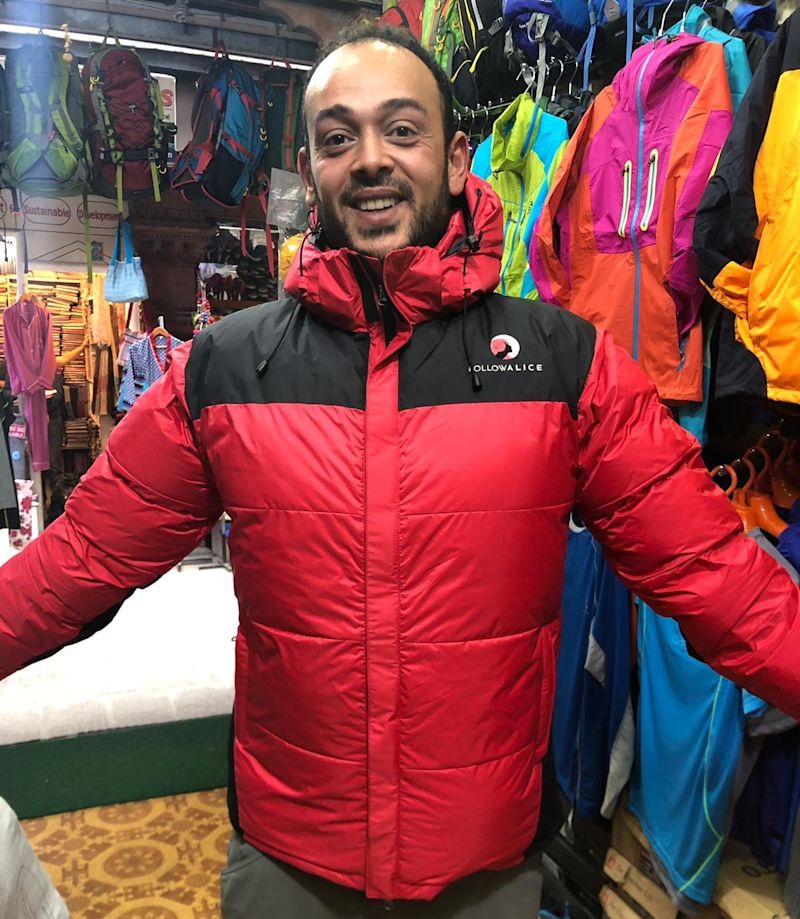 You can rent a Follow Alice down jacket for your trek
If you trek with Follow Alice, you can also simply rent one of our down jackets. One of them is being modelled by our teammate Sal above. 😊 Note that (like most down jackets) they're not waterproof.
Rain jacket (or poncho)
A lightweight windbreaker that's waterproof is an important item to pack for trekking to Machu Picchu. The weather can turn on a dime, so you'll keep this jacket somewhere in your backpack that you can access quickly.
Ensure your rain jacket is big enough to go over your winter jacket if necessary. And look for one that has extra breathability features, such as holes under the armpits, to help keep you from overheating.
Finally, be sure to bring a rain jacket that has a drawstring hood so that you can fit it snugly around your face during big rains.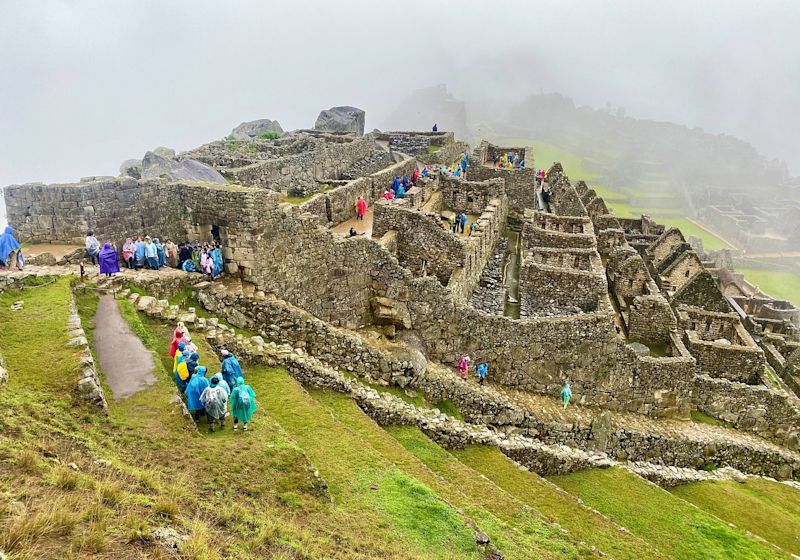 There's frequently rain and drizzle in the Machu Picchu region, even in the 'dry' seasons
Is a poncho a better option?
If you'd prefer, you could bring a poncho instead of a rain jacket.
A poncho has three advantages in this situation:
Firstly, it eliminates the need for a separate rain cover for your backpack.

Secondly, it's more breathable, so you won't get as hot under it. It can be hot and humid on parts of the Inca and Salkantay trails, so breathable layers are important.

Thirdly, it's quicker to whip a poncho on and off as the rain comes and goes than it is to pull a rain jacket and backpack rain cover on and off. (That said, you could just keep the backpack rain cover on most of the time on days when the rain is coming and going.)
All that said, a poncho is voluminous and could obscure your view on the steep ascents and descents you tackle on a Machu Picchu trek. For this reason alone, we'd recommend opting for a rain jacket, as this is form-fitting and thus the safer option in our opinion.
A rain jacket is the safer option on a Macchu Picchu trek as a long poncho could sometimes obscure your view of where you're putting your feet, and even get in the way on big steps up.
Waterproof overpants
It's a good idea to also pack lightweight overpants that can be slipped over your trekking trousers when there's a downpour or unexpected turn in the weather but it isn't that cold.
Be sure the legs of the pants are wide enough to allow you to slip them over your trekking boots.
Socks
Uncomfortable socks can ruin your trek, as can cold feet. And socks made from a fabric that absorbs sweat – like cotton socks – could well lead to the development of blisters.
We suggest bringing along three types of socks:
Hiking socks

Thermal socks

Sock liners
Hiking socks
The main things you want in a good hiking sock are:
comfort/cushioning

flat seams

moisture-wicking or temperature-regulating properties

good length
Sock technology has come a long way in recent years.
We recommend you go to a store with a wide range or look online to find the best options. Wool is a great fabric for hiking socks as they keep you warm and regulate your temperature well, which helps to keep your feet from getting sweaty.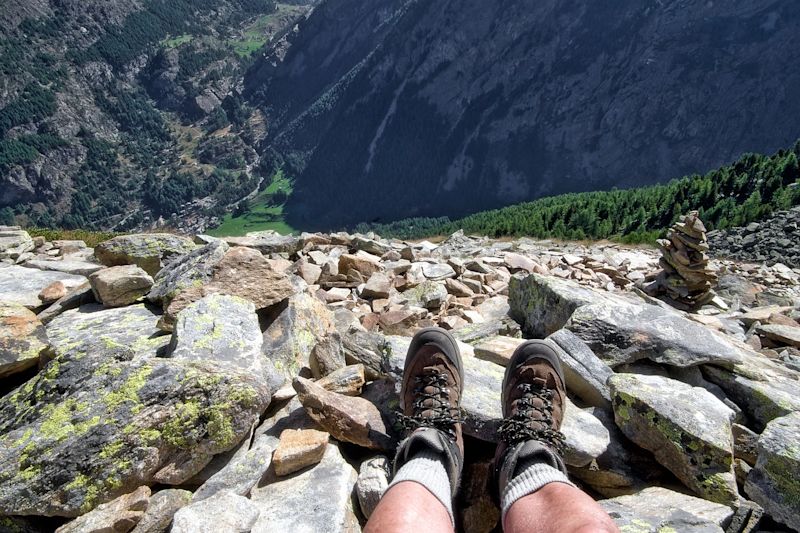 Your socks should be long enough to poke out above your boot cuffs
You also don't want to go with short-crew socks – you want boot-crew length so that the cuffs of your boots don't touch your skin.
Finally, we advise against wearing any brand new socks on the trek. Like your boots, you should test them out beforehand to ensure there are no issues like a worrisome seam.
As we discuss in How to treat (and prevent) foot blisters when trekking, you might also like to pack a couple of small plastic bags in your backpack. In a pinch, if your boots and feet get soaked, you can put on dry socks and then put each foot into a plastic bag before putting it back in the wet boot. This will allow you to keep trekking with dry feet.
Thermal socks
You may well need some thermal socks in addition to your regular hiking socks if you're trekking in the colder months. Merino wool hiking socks are wonderfully warm.
Merino wool socks are a good option for hiking as they're very breathable, meaning your feet won't get too hot.
The same guidelines apply that we've given for regular hiking socks, only you'll be looking within the thermal sock range. We suggest bringing at least two pairs of thermal socks.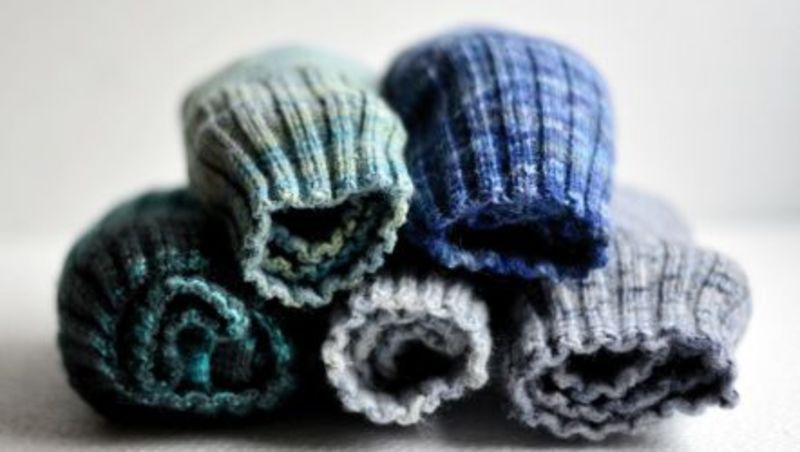 Woollen socks have good thermal properties
Sock liners
Sock liners are thin inner socks that offer an extra layer of warmth while also reducing any possible friction from the main socks against your feet.
Sock liners are often made from synthetic material to help wick away moisture. They're also long enough so there's no risk of them shifting down and bunching. We suggest packing at least two pairs of sock liners so that you can rotate them and ensure you only ever pull on a dry pair.
Trekking boots
Your boots for a Machu Picchu trek should:
Be comfortable and properly worn in – never

ever

wear new boots on a trek!

Be light- or midweight, as heavy boots will wear you out.

Be waterproof (or at least water-repellent), as there could well be rain and you cross streams.

Have good grip, as you're going to encounter scree, slick rocks, rough surfaces, and countless uneven stairs.
Finding the right size
When it comes to choosing the right size boot, you first need to have the socks you'll be wearing. Once you've got your hiking socks on, slip your feet into the boots. Leaving the laces untied, push your feet as far forward as they'll go. Then insert an index finger between your heel and the back of the boot. You want your finger to fit in snugly (too much space and the shoe is too big, too little space and the shoe is too small).
Note that about 60% of people have differently sized feet, so always try on both the left and right boots. Walk around the shop (or at home, if you ordered them online) and even jump on a treadmill if one is available to really test them out.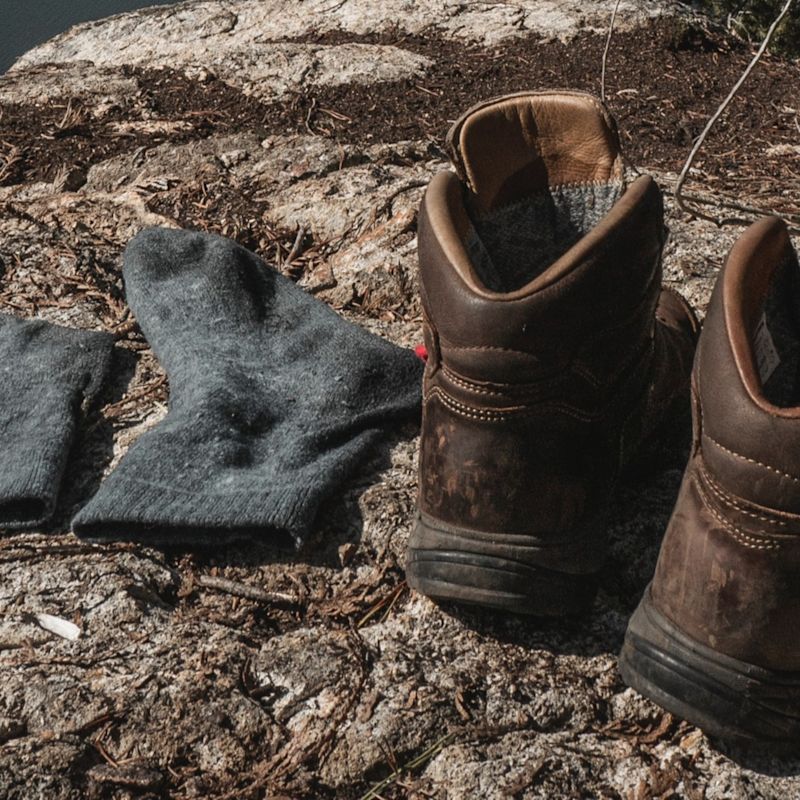 Finding the right boots for you takes a little research and effort
Highly experienced trekkers may well have nicely worn-in leather boots. But for most of us a full-on leather boot isn't required, and it adds unnecessary weight. We suggest you look for a shoe made from split-grain leather (which is leather paired with nylon or nylon mesh) or a synthetic fabric.
It probably goes without saying, but just in case, we'll say it: be sure to wear in your boots before coming on the trek. Wear them on a couple of decent hikes so you can suss out any potential issues.
Gaiters
It's a good idea to bring along a pair of gaiters. You put them over your lower legs and boots. They'll keep your legs and feet dry when crossing streams and walking though mud. On the odd occasion you might even come across some snow.
Gaiters also prevent small stones and dirt working their way into your socks and boots.
Finally, gaiters are a good defence against snake bites. While you shouldn't encounter snakes on the trek if you stick to the path, it's worth noting that there are snakes in the Machu Picchu area, including venomous ones. So gaiter up!
Buffs
We love the versatility of the buff (also referred to as a neck gaiter or snood). This is a circular piece of cloth that you pull over your head and wear around your neck to keep out the chill. It also keeps the sun off your skin.
Unlike a scarf, a neck gaiter never falls off and it also moves effortlessly between being a neck warmer, headband or beanie. Importantly, it can be stretched across the lower face to help protect you from the wind if needed.
A balaclava is an alternate option to the neck gaiter, but a Machu Picchu trek usually isn't cold enough to warrant a balaclava.
Be sure to pack enough neck gaiters so that you have a fresh or dry one to pull on every evening in camp.
Warm hat
We lose so much heat through our heads, as we know you already know. A warm hat like a fleece or down beanie is therefore essential, especially in the evenings and when you head to bed.
Sunhat or sports cap
It's vital to have a hat on any Machu Picchu trek as the high altitude makes the sun's rays that much fiercer. You should wear this every day, even if it's overcast.
A sunhat (or field hat) is preferable to a sports cap as it protects the back of your neck. And a sunhat with a drawstring is ideal to ensure it doesn't get redistributed by a strong wind.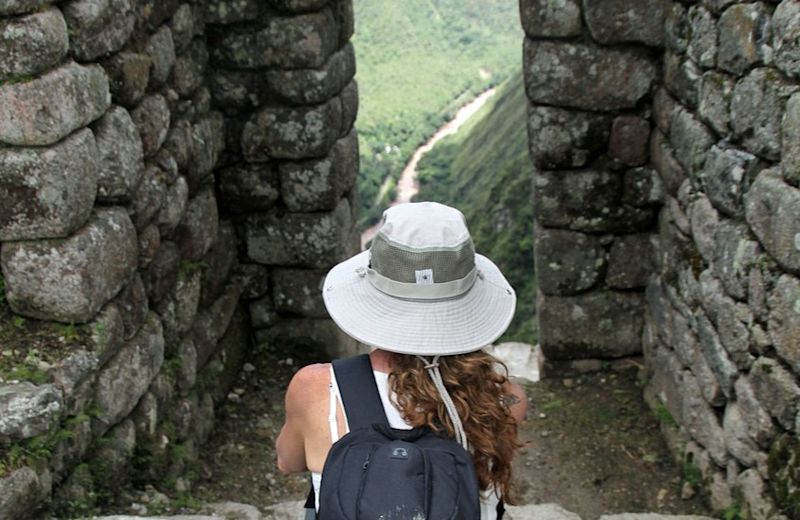 A sunhat's wide brim is good for protecting the back of your neck
If you do go with a cap, we recommend one with a long, wide visor.
Waterproof gloves or mitts
It's a good idea to pack some gloves in case things get really cold.
While mitts can offer greater warmth, during trekking hours you'll probably appreciate the dexterity afforded by fingered gloves more. And it shouldn't get cold enough on the trek to really necessitate mitts.
Downtime clothes
When you're relaxing at camp or at your accommodation, you're going to want comfortable clothes that can double as your PJs. Think along the lines of a long-sleeved fleece top and leggings, or a tracksuit, or stretchy sweatpants and a hoodie. We suggest you also pack a pair warm bed socks.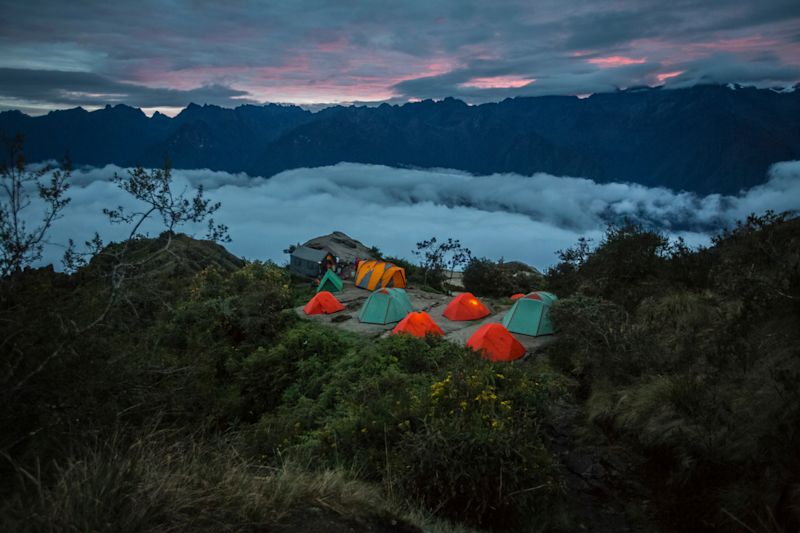 A campsite on the Inca Trail
Sneakers
When you arrive at camp or your accommodation for the night, you will not want to wear your hiking boots!
We recommend packing a pair of lightweight sneakers that you can slip on for moving around camp. Be sure that they're reasonably warm shoes, and also allow plenty of space for warm socks.
3. Toiletries
When it comes to your toiletries, try to take only the amount of each item that you'll need. To do this, decant your liquids into lightweight, travel-sized containers. Or save up the samples and airplane or hotel toiletries you come across.
Some items to consider putting into your toiletries bag are:
| Item | Details |
| --- | --- |
| Waterless hand sanitiser | There will be occasions when you can't wash your hands |
| Biodegradable soap | Pack it in a soap box |
| Face wipes and cleaning wet wipes | For whenever you can't access water or a shower |
| Face cloth | Helpful for scrubbing clean |
| A hardworking face cream | Your skin will otherwise take a knock from the dry air of the mountains |
| Hand cream | Ditto |
| Lubricant eye drops | The cold air and winds could easily cause eye irritation |
| Broad-spectrum, high SPF sunscreen | You burn more easily at high altitude |
| SPF lip balm | The cold air and wind, together with the high UV rays, give your lips a beating |
| Ear plugs | You'll likely be sharing a room or tent |
| Toilet roll | Don't ever be caught without this! |
A couple of items that aren't as important but you might also like to consider putting into your toiletries bag are:
Baby powder.

This is for sprinkling in your boots after trekking to mitigate the pong. You could also put a little on your roots if your hair is feeling too oily.

Dryer sheets.

These are for rubbing on smelly clothes to help freshen them up just that little bit. You can also place them inside your boots overnight to absorb some of the smell.
A note on staying clean
We can't stress enough that you should bring along a decently sized pack of wet wipes if you're doing the Inca Trail. You should be given a bowl of water per tent for you to share for washing your hands and face. Wet wipes are your important backup for a little more cleaning inside your tent.
We encourage you to opt for bamboo eco wipes, or similar. Wet wipes made from long-growing trees and ones that contain harmful chemicals are unhelpful to the environment.
Note that there's a cold shower option at a couple of places on the Inca Trail. But you may be too tired or cold to use them, or stop at a different campsite. So you should prepare mentally and practically for a shower-free trek if you're doing the Inca Trail.
On the Salkantay Trek, however, there are showers available in various locations, though some won't have hot water.
A note on sunscreen
The sun protection factor (SPF) promoted on sunscreens refers to the degree to which the cream protects you from ultraviolet B (UVB) rays, which are the ones that make you turn pink. For a trek to Machu Picchu, which takes you to high altitude, you should opt for an SPF of 40 or 50+.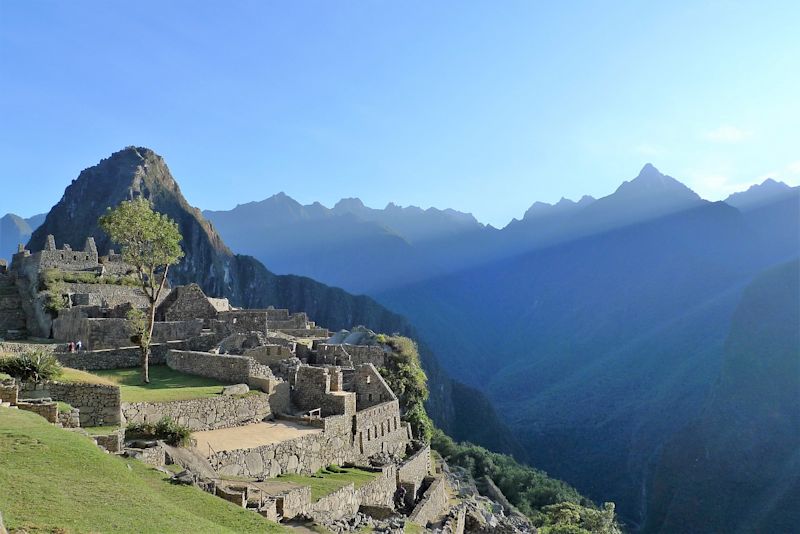 A sunny day at Machu Picchu
Note, however, that you also need protection from UVA rays. And not all sunscreens offer this. UVA rays penetrate deeper and are believed to be even more damaging than UVB over a lifetime. To protect yourself in this regard, you need a sunscreen that is broad spectrum.
We recommend using a broad-spectrum sunscreen with an SPF of at least 40.
Be sure to wear sunscreen even on overcast days. And finally, the eco-conscious traveller should look for a mineral versus a chemical sunscreen to ensure you don't wash chemicals down the drain. It's also healthier for your skin.
Toiletries for women
For women, we recommend packing a urinating device and a pee cloth.
A urinating device like a Shewee lets you pee while standing. A pee cloth, like a Kula Cloth, is an hygienic, environmentally friendly way to avoid the drip-dry method after weeing!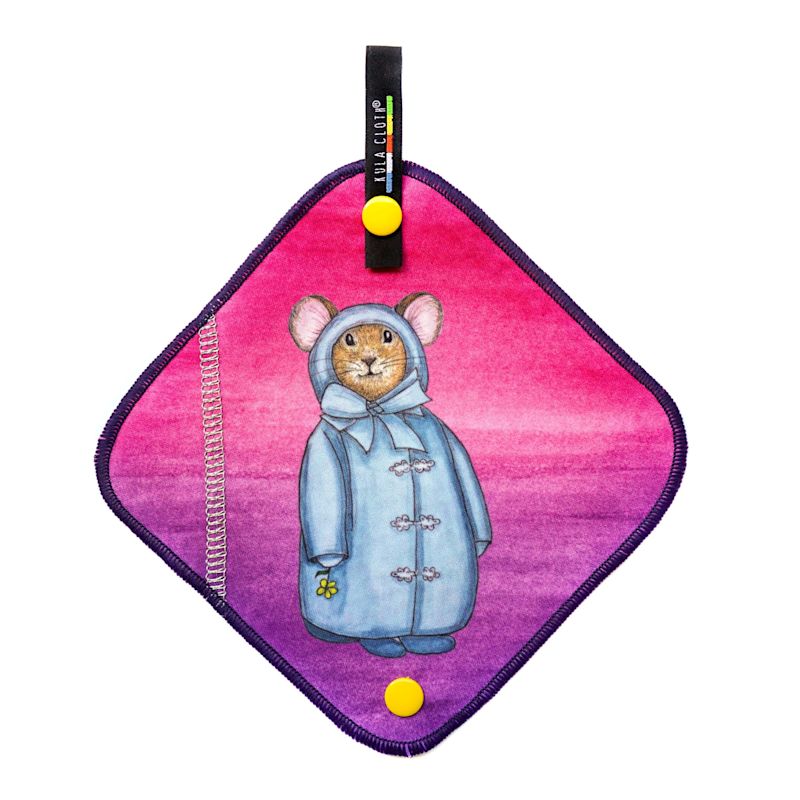 A Kula Cloth
We also recommend bringing your menstrual cycle products, no matter the time of month, as high altitude can bring on your period unexpectedly.
4. First aid kit
Your first aid kit should reflect you and your specific needs. But here are some things we recommend you include in your first aid kit, and why:
| Item | Use |
| --- | --- |
| Antiseptic cream | For any cuts, abrasions or burst blisters |
| Plasters (band aids) and blister plasters | For any cuts and abrasions |
| Blister plasters | To put over any hot spots to prevent blisters |
| Hypodermic needle and zinc oxide tape | To pop and dress any nasty blisters |
| Altitude meds (like Diamox)* | Speak to your GP about this |
| Non-drowsy painkillers | High altitude can cause headaches |
| Anti-nausea tablets | High altitude can cause nausea |
| Anti-diarrhoea tablets | High altitude can cause diarrhoea |
| Anti-constipation tablets | Eating unusual food increases your chances of constipation |
| Allergy meds | Just in case |
| Petroleum jelly or anti-chafing cream | Apply to any area that's becoming a hot spot |
| Medicinal throat lozenges | Just in case |
| A good multivitamin | A good idea for boosting your immunity |
* Altitude sickness generally strikes at elevations greater than 2,500 m. The highest elevation you'll reach on the Inca Trail is 4,215 m (13,828 ft) above sea level. While on the Salkantay, your highest elevation is 4,630 m (15,190 ft). For this reason, we recommend speaking with your doctor about altitude meds before heading to Peru.
We do, naturally, recommend that your first aid kit be kept in your backpack, not your duffel bag, so that you have constant access to it.
5. Other essentials
Here now are the remaining essentials that need to be included in any comprehensive Machu Picchu packing list:
Water purification tablets

Sunglasses

Microfibre towel

Pillowcase

Head torch (flashlight)

Dry bags

High-energy snacks

Passport, entry papers and visa

Nuevo soles

(i.e. cash)
Water purification tablets
If you're doing your Machu Picchu trek with a tour company, then your crew will purify your drinking water for you, and you can ignore this point. However, if you're doing the trek on your own, then you're responsible for purifying your water.
While you can boil water, it's better to be prepared with water purification tablets or a water bottle with a quality inbuilt purification system should you need to obtain some stream water during the trek.
Electrolyte sachets
Adding some electrolytes to your drinking water during the trek is a good idea to help keep you going. We suggest adding electrolytes to the water in your water bottle, not in your hydration pack, as the latter is harder to clean.
Sunglasses
Similar to sunscreen, please ensure your sunglasses are actually protecting your eyes from solar radiation by purchasing a pair that offers broad-spectrum UV protection.
The best option would be to have your optometrist evaluate your sunglasses. Many professionals now have instruments capable of measuring the exact UV protection offered by a lens.
Take note that you should wear your sunglasses even in the shade and on overcast days. Reflected rays are still harmful.
You should wear your sunglasses at pretty much all times during the trek, even on overcast day.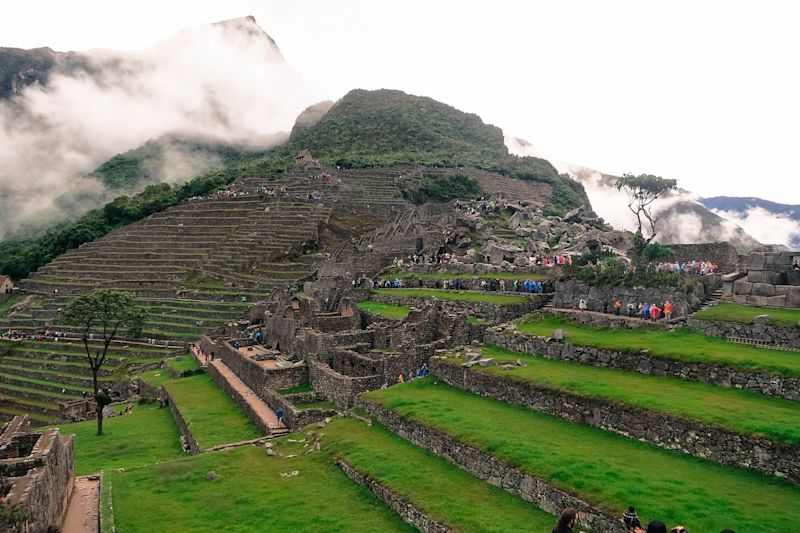 And speaking of reflected rays, fresh snow can reflect up to 80% of UV rays. You likely won't come into close contact with snow when trekking to Machu Picchu, but you should never rule anything out on a mountain trek.
We recommend investing in a pair of wrap-around sunglasses to prevent sun rays sneaking in from the sides. We also suggest a glasses cord if you have one of those noses that tries to ditch your glasses every time you look down.
With a cord, you also won't risk dropping or losing your specs when you take them off for a moment. You also keep both hands free.
Microfibre towel
You'll need a towel for drying off your hands and face after washing them in the evenings. So we suggest you pack a small, lightweight microfibre towel.
Microfibre is a synthetic material made from polyester and polyamide. It's non-abrasive and can absorb up to seven times its weight in water! It also dries very quickly, which is important.
Pillowcase
We recommend packing a pillowcase that you can stuff with your winter jacket or soft thermals to make a pillow for yourself at night.
Alternatively, you could pack a small, lightweight pillow provided you don't exceed your weight allowance if you're using the services of a porter.
Head torch (flashlight)
Every adventurer needs a good head torch (or headlamp). You'll especially need your headlamp when heading to the toilet at night. Also, on many itineraries you start your final day of trekking early in the morning in order to arrive at the gate to Machu Picchu early. So your torch's beam needs to be strong enough to allow you to hike by it.
Choose a headlamp with an adjustable strap and use it before the trek to ensure it's comfortable. Also be sure to pack spare batteries.
Dry bags
We recommend packing a dry bag or two for storing wet, damp or dirty items.
High-energy snacks
It's a really good idea to pack some of your favourite snacks for any trek. During challenging moments along the trail it can be comforting to have a familiar treat. And of course the energy boost is invaluable.
Think protein bars, dried fruit and nuts, and sweets or mints. If you want chocolate (candy), choose something that's unlikely to melt, like M&Ms. Also, choose items that won't fall apart when bumped around in a backpack.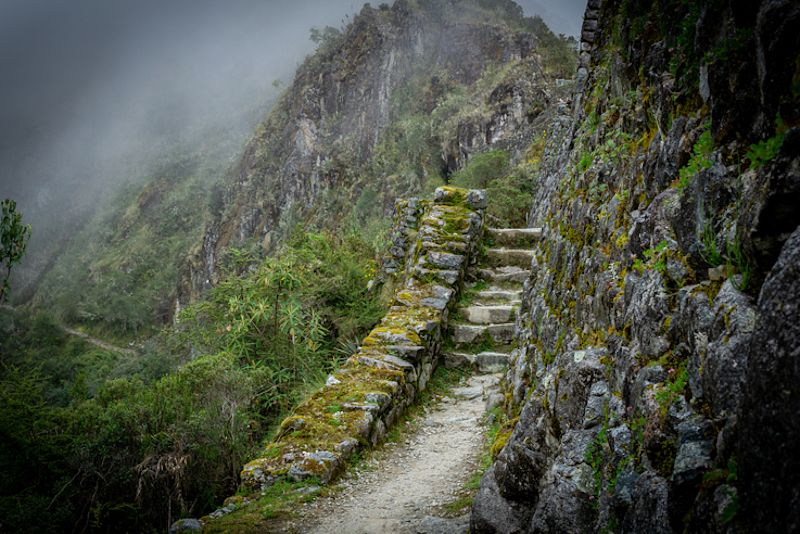 Passport, entry papers and visa (if required)
You need a passport that's valid for at least six months from your date of entry to visit Peru.
Always have your passport on you during the trek, as you may be asked by an official to show it.
The good news is that nationals of many countries don't need a visa to visit Peru as a tourist. Here's a full list of countries not requiring tourist visas for Peru.
That said, whether you're entering Peru with a visa or without one, please take careful note that you'll need to present the following documentation to obtain entry into the country:
Proof of onward travel (like a plane or bus ticket).

Documents showing you can enter your onward destination if you're not returning home afterwards.

Bank statements showing you have sufficient funds to cover your trip expenses.
To learn more, please read What to know about Peru's visa requirements and entry procedures.
Cash in local currency
The currency of Peru is the nuevo sol. In rural areas, like that explored during a trek to Machu Picchu, you'll be in a cash economy. So you need to carry some cash on you.
Note that you'll also want to tip your mountain crew at the end of the trek, and this needs to be done in cash too.
Showers and toilets are available in a few places on the different trek routes, and you'll need to pay in cash to use these. Be sure to have coins and small denominations of banknotes with you, as you likely won't be able to get change for any large notes.
We recommend drawing money in Cusco just before setting off on your trek.
You can learn more about the currency, exchange rate and so on in What to know about money when travelling in Peru.
Non-essentials
Let's finally look at some non-essentials that you might like to pack for your trek:
Camera (and spare batteries)

Power bank

Adapter and surge protector

Flavour sachets

or a water bottle with a purification system

Hot water bottle

Safety whistle

E-reader

Playing cards

Small gifts

Journal and pen
Camera
Most of our cellphones have inbuilt cameras that take fantastic photos, but we're always concerned we'll drop the darn thing and smash the screen.
We recommend bringing along an old-fashioned, single-purpose camera for this trip. Not only are they hardier than cellphones, but they also offer no potential distractions. When you bring out your camera to take a photo, all you end up doing is taking a photo.
Be sure to bring spare batteries for your camera. And store them inside your sleeping bag at night, as extreme cold drains batteries.
Trekking to Machu Picchu is all about stepping away from the regular, and we think you'll be more mindful and present with a standard camera in hand.
Speaking of being mindful photo-taking ...
Mindful photo-taking
Did you know that photo-taking can negatively affect your memory of a moment? Linda Henkel, a psychology professor at Fairfield University in Connecticut, explains:
"When people rely on technology to remember something for them, they're essentially outsourcing their memory. They know their camera is capturing that moment for them, so they don't pay full attention to it in a way that might help them remember.
Of course you should take the photos that matter. But try not to step out of every beautiful or special moment to take photos. Perhaps divvy up photo-taking duties between the group, with each responsible for just one section of the trek?
For more advice on how to do the trek mindfully (with regards to photos as well as other matters), you might like to read Mindful travel: 14 ways to have a more meaningful trip.
Power bank
While we recommend a regular camera, we also know your cellphone is still coming with you, so bring along a power bank to charge it. We don't recommend a solar charger as it's often overcast in the Machu Picchu region.
Adapter and surge protector
In Peru, the standard voltage is 220 volts and the frequency is 60 Hz. The power sockets are Type A and Type C. We recommend bringing along an universal travel adapter that can handle both Type A and Type C plugs.
While you won't need these items on the trek itself, you will need them before and afterwards in Cusco (or wherever else you stay on either side of the trek).
Power cuts and surges are part of life in Peru, so you might also consider bringing a surge protector.
If you're coming back to the same hotel after your trek, ask about storing your gadgets with them so that you don't need to take them with you on your trek.
Flavour sachets or a water bottle with a purification system
As previously mentioned, it's important to only drink boiled or purified water on the Inca and Salkantay treks.
If you're trekking with a tour company, your crew will provide you will purified water. If it's been purified with tablets, a flavour sachet can help if you find the taste unpleasant. And if you're trekking on your own and don't want to have to boil all your water but rather get some from streams, then again, these sachets can mitigate the taste added by the tablets.
Alternatively, bring along a water bottle with an inbuilt water purification system. If this is going to be your sole means of purifying water, then be sure to pass all water headed for your hydration bladder through your water bottle.
Hot water bottle
En the evenings, boil some water, or ask your crew to do it for you, so that you can head to bed with a hot water bottle. Bliss.
Safety whistle
It's a good idea to attach a safety or alert whistle to a hook on the outside of your backpack for just in case.
Note that some backpacks come with in-built whistles, but they tend to be cheap and poor quality.
A safety whistle is a great item to have for numerous outdoor activities, so it's something you can use after the trek as well.
E-reader
You might like to bring along your Kindle or other e-reader for diving into a book in the afternoons or at night.
You always remember the books you read on holiday. They become part of the memory tapestry of that trip. So be sure to download a book you really want to read for the trek, not one you feel you ought to read!
Playing cards
Consider bringing along a deck of cards or a similarly small game for playing with your fellow trekkers in the evenings. This can be a great bonding activity.
However, if your backpack is getting too heavy by this point, scrap the cards and instead go online to refresh your memory as to group mental games. A trek is a great time to reconnect with the games we used to play before tech consumed our leisure time!
Small gifts
You'll be meeting lots of new people on your trek. From your mountain crew to other trekkers in your group (if you go with a tour company), it's likely you'll form strong bonds with some new folks on your adventure.
With this in mind, you may wish to gift something small to one or a few people at the end of the trek as a reminder of your time together.
Journal and pen
We think we'll remember everything, but of course we never do. Even just a few lines of scrawl at the end of each day could wind up being the only connection to an important memory or insight. So we highly recommend that a small journal and pen find their way into your backpack!
And that's it for your Machu Picchu trekking packing list! Still have queries or concerns? Please send us a message via the "Enquire now" button at the top of the website page, and we'll gladly assist you!