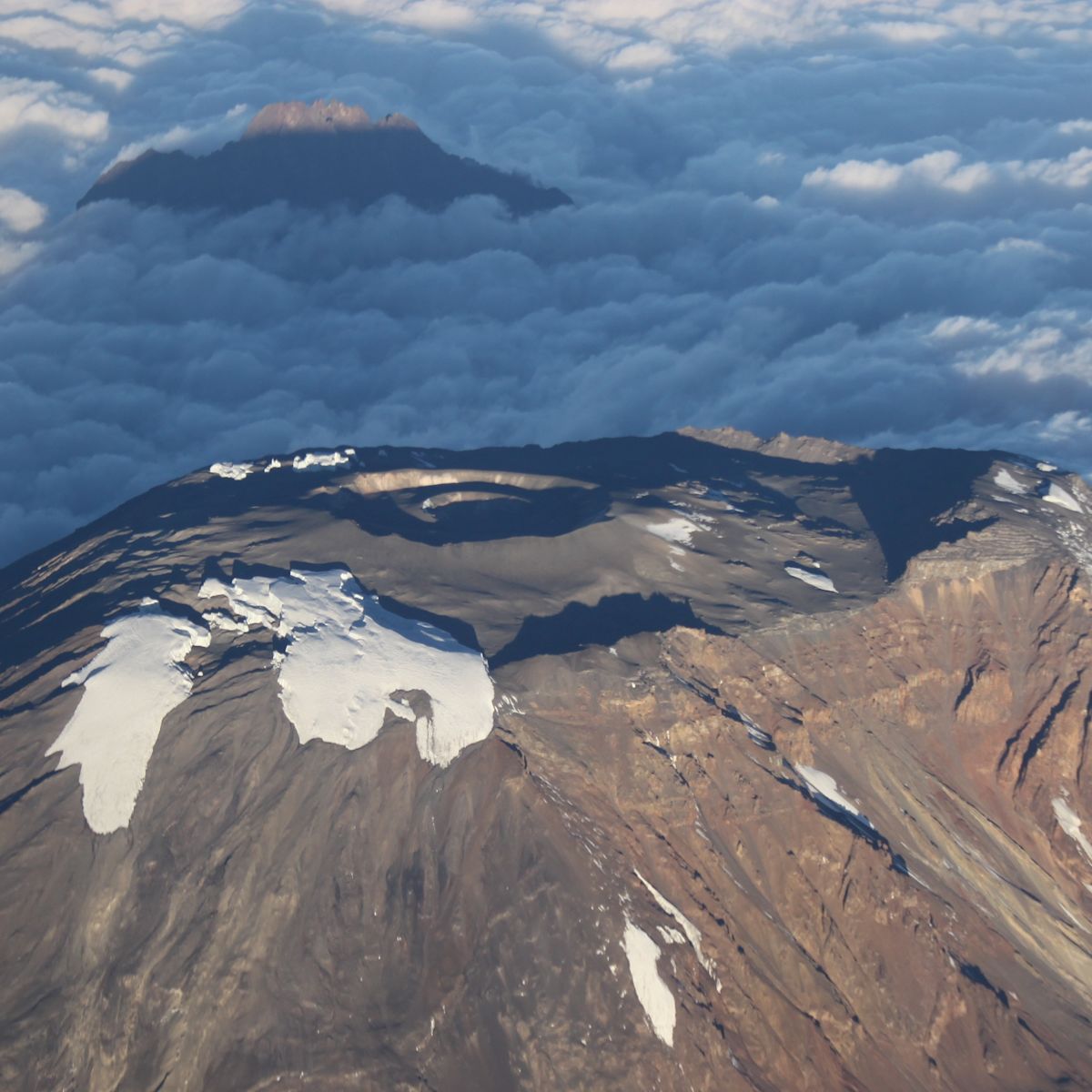 Kilimanjaro Crater Camp
Aug 18, 2022
Reading time: 7 minutes
Crater Camp is by far the highest campsite on Kilimanjaro. ⛺️ Very few people stay there, but for some it's an exciting addition to their Kilimanjaro climb itinerary. We introduce you to Crater Camp and discuss the pros and cons of overnighting there.
Spending a night in Crater Camp is a special experience shared by very few Kilimanjaro climbers. After summiting Uhuru Peak, you set up camp on the crater floor. You can then spend the rest of the day exploring this marvellous lunar landscape and its various features, which include an ice field, beautiful glacier and more.
Where is Crater Camp?
The simplest answer is that Crater Camp sits within the depression that exists at the top of Kilimanjaro's highest volcanic cone. The campsite is a little lower than Uhuru Peak, the highest point on Kilimanjaro.
But to be more precise and explain things better ...
As discussed in 10 interesting facts about Mount Kilimanjaro, Kilimanjaro consists of three volcanic cones, and the tallest cone is Kibo.

Three concentric craters
Kibo is not a neat cone, as a volcanic eruption long ago blasted off its top. What now exists at the top of Kibo are three concentric craters:
The innermost crater is called

Reusch Crater

and contains the Ash Pit.

Encircling Reusch Crater is the

Inner Cone

.

The outermost crater –

Kibo Crater

– is about 2.5 km wide and its on this crater's rim that you find Uhuru Peak, the tallest point on the entire mountain.
Crater Camp sits within the depression that exists at the top of Kibo cone.
You can see the three craters of Kibo nicely in this NASA image, though you might want to zoom in: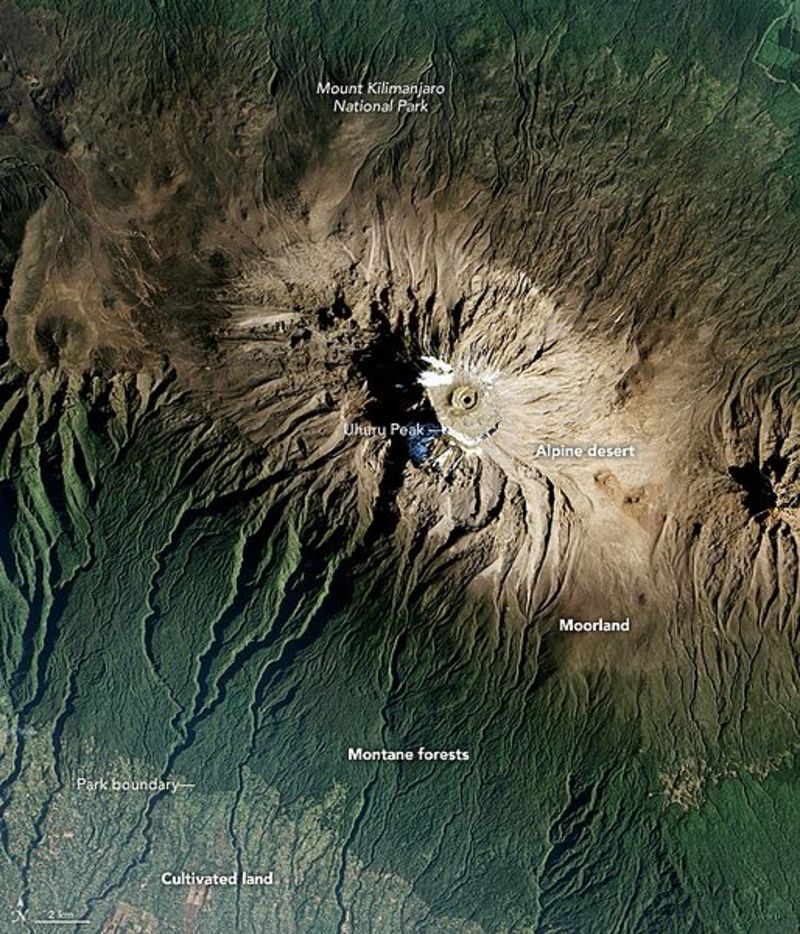 2016 NASA image of Kibo cone
Here's another picture showing the summit as seen from a plane: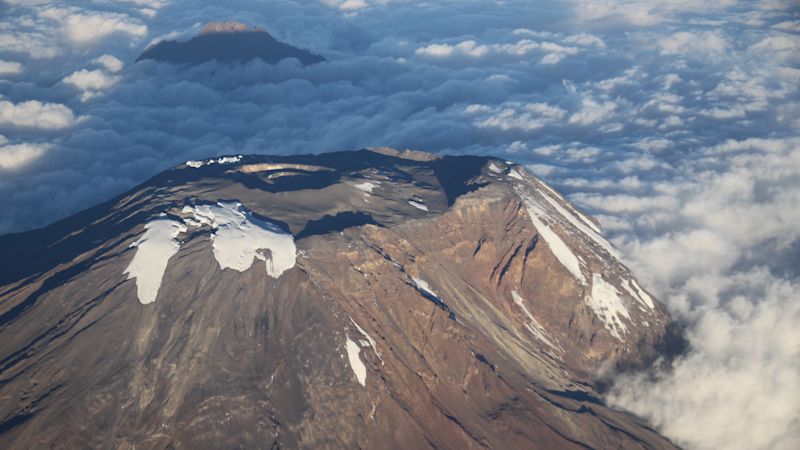 Kibo cone as seen from the northwest, with Mawenzi cone in the distance
Long ago the western rim of Kibo Crater collapsed, creating what's now known as the Western Breach. You can see this breach in the photo above.
Crater Camp lies within the main Kibo Crater, and sits opposite Furtwangler Glacier. We tell you more about this glacier in just a moment.
Uhuru Peak, which is the highest point and summit of Kilimanjaro, is located on the southwestern rim of Kibo Crater.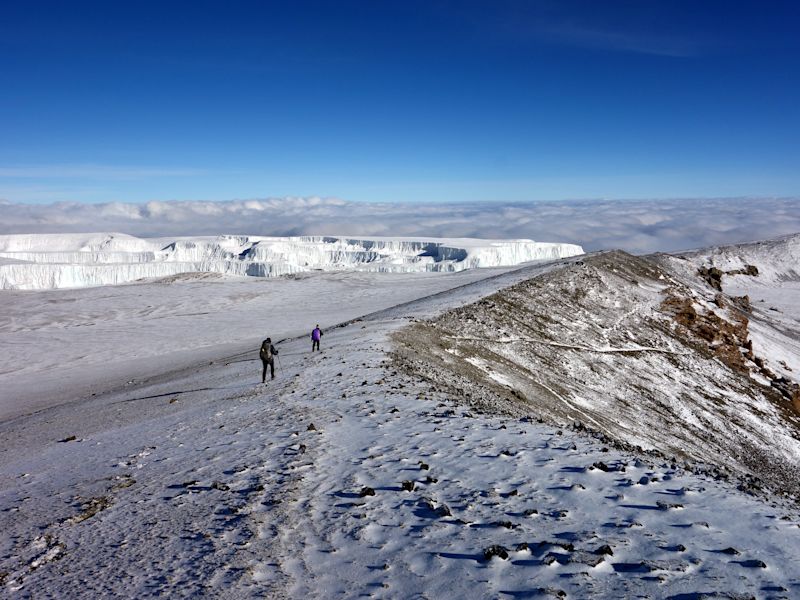 Trekkers walk along the rim of the Inner Crater, with the Northern Ice Field and clouds in the distance | Image by M. Horrell
How high is Crater Camp?
Crater Camp is 5,750 m (18,865 ft) above sea level. For comparison, Uhuru Peak – the mountain's summit – is 5,895 m (19,340 ft). So you really don't descend much before setting up camp.
Another height comparison is Everest Base Camp, which sits noticeably lower at 5,364 m (17,598 ft).
How far from Uhuru Peak is Crater Camp?
Crater Camp is only 1 km (0.6 mi) northeast of Uhuru Peak. It takes up to an hour to hike there.
Which route must I climb for Crater Camp?
We offer to take clients climbing the Lemosho or Northern Circuit to Crater Camp. These routes offer good acclimatisation, which is needed for a stay at Crater Camp.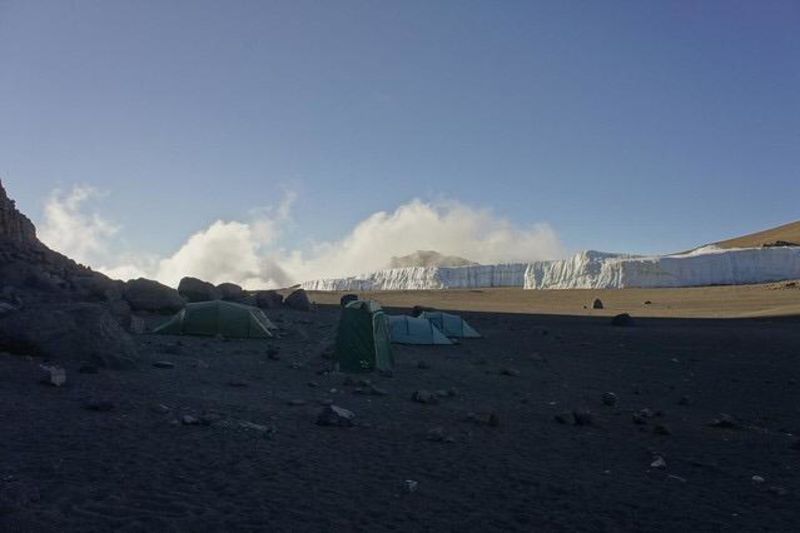 Crater Camp (in deep shadow) and Furtwangler Glacier
What's special about Crater Camp?
The main appeal of Crater Camp is the chance to explore the crater during the day. Temperatures can be quite pleasant in the daytime, and you get to explore the crater at your leisure, with almost nobody else around.
Those visiting Kibo Crater get to enjoy being close up and personal with features that many will never see, like Furtwangler Glacier reaching towards the sky, and the steep sides of the menacing Ash Pit. In addition, the next morning when you awake you have an easy walk to the crater rim for a sublime and unparalleled sunrise!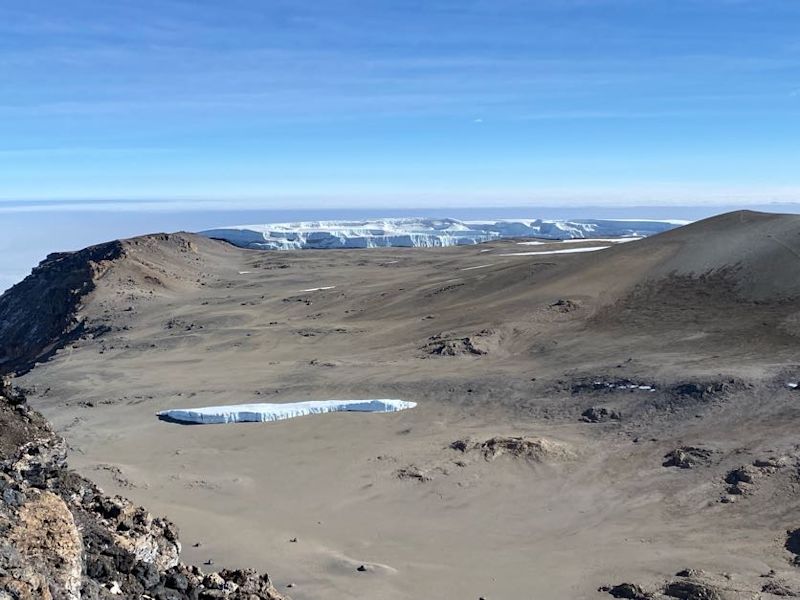 Furtwangler Glacier is in the foreground with the Northern Icefield in the distance, as snapped by our client Roger M. in August 2022
Kibo Crater is completely desolate; to set up camp in such a space is to make a home – for just a little while – of a truly inhospitable place.
Lunar landscape
The lunar-like landscape of Kibo Crater is mesmerising. When not covered in snow, you walk across grey-brown ash, scree and rocks. In winter, a thin blanket of snow can soften the scene and belie its otherworldly nature.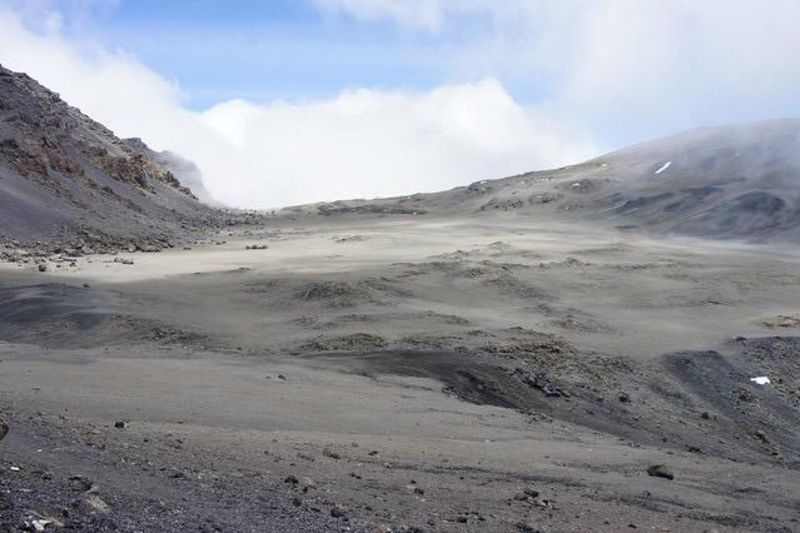 When not covered in snow, the crater floor is a dusty, dry and desolate place
Ice fields
The snow on the top of Kilimanjaro comes and goes with the seasons, but the ice fields and isolated glaciers are constant. That said, they're sadly shrinking: between 1912 and now they've lost about 80% of their mass.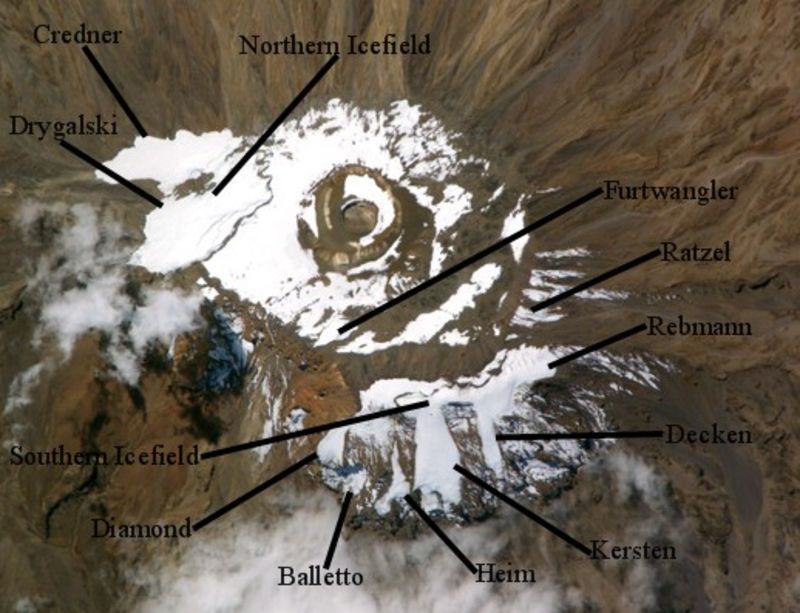 A 2004 NASA image showing the ice fields and some snowfall on Kibo cone
While all Kilimanjaro trekkers get to enjoy amazing views of the Southern Ice Field, those who stay at Crater Camp get a closer look at the Northern Ice Field and especially Furtwangler Glacier.
Furtwangler Glacier
Furtwangler Glacier is one of the most famous Kilimanjaro glaciers. One reason for this is its proximity to Uhuru Peak. Most trekkers, however, don't get close to it. Those who descend to Crater Camp, on the other hand, have the treat of walking right up to it.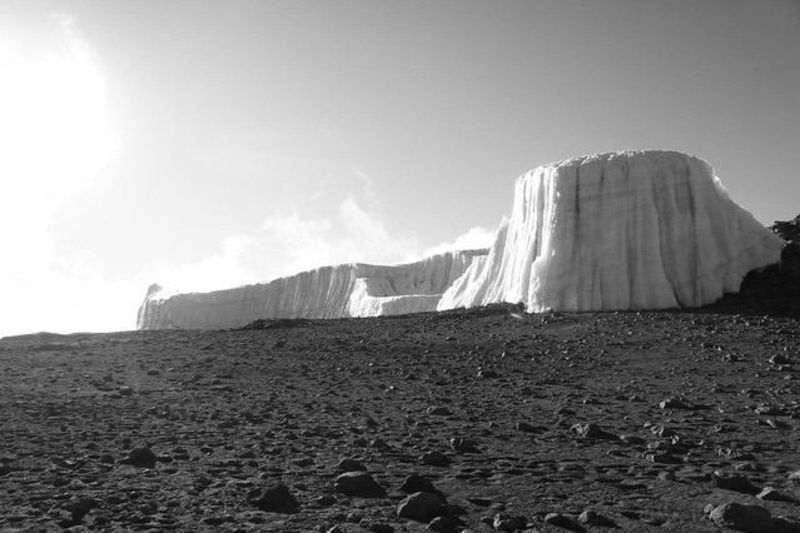 Furtwangler Glacier is shrinking, so for those who want to see it – now is the time
Standing at the base of Furtwangler gives you a sense of its immense scale, which is denied to those who just see it from far away and above. You also get to truly appreciate its icy blue-and-white beauty, and see up close the repeating patterns wrought upon it by endless exposure to fierce cold and winds.
The Ash Pit
The Ash Pit refers to the mountain's vent in Reusch Crater and is something to behold. The steep drop is a heady sight, and the pit is a potent reminder of Kilimanjaro's volcanic history.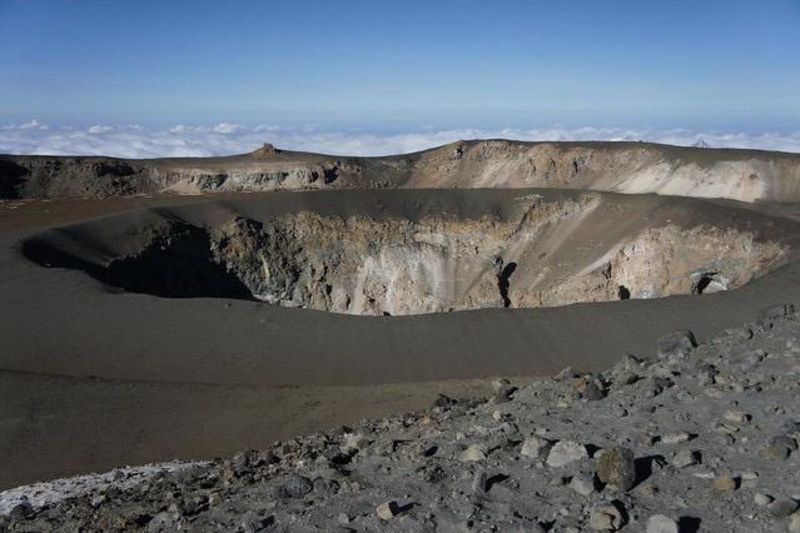 Reusch Crater is the innermost of three concentric craters on Kibo and contains the Ash Pit
Those staying at Crater Camp who are feeling strong can take on the two- to three-hour roundtrip hike from Crater Camp that lets them visit Reusch Crater and the Ash Pit. It has to be one of the most epic photo ops on offer!
Expect a rough night
Those staying at Crater Camp should expect a difficult night. The two main challenges are the cold and the extreme altitude.
A very cold night
At night the temperature in Kibo Crater can easily drop below -10°C (14°F), sometimes even reaching around -20°C (-4°F). Snow is also a possibility. December and January are the coldest months, with the greatest likelihood of snowfall. Snowfall can obscure your view of the landscape, so this is something to bear in mind. When choosing a month to climb, we definitely recommend reading Best time to climb Kilimanjaro.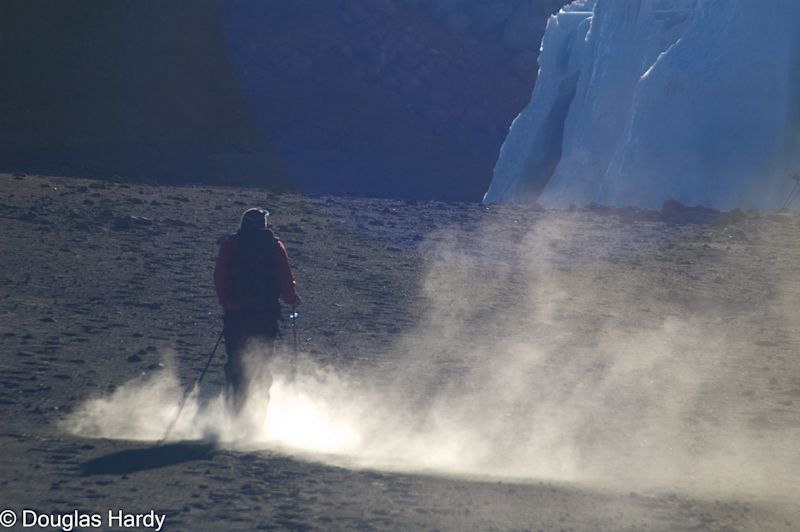 A trekker creates a puff of dust in the dry conditions of Kibo Crater | Image by D. Hardy
Ill effects of altitude
And then there's the effects of the altitude. Everyone staying at Crater Camp experiences some symptoms of altitude sickness, like dizziness, nausea, headaches, shortness of breath and poor sleep. Headaches are particularly common at Crater Camp, and can be pretty bad.
Follow Alice lead guide Chris Sichalwe – who has spent the night at Crater Camp more than a dozen times – says even he feels wonky staying at Crater Camp and doesn't sleep much.
You can expect to only get around 10% of your usual amount of sleep at Crater Camp. You can also expect headaches and nausea.
Who should stay at Crater Camp?
The better candidates for a Crater Camp stay are those who have trekked and slept at high altitude before. These folks have better insight into what their bodies can and cannot handle. People who already live at high altitude also have an advantage.
We don't feel it's for us to either encourage or discourage you from including a Crater Camp sleepover. Everyone is different, and for some the views and experience of staying a night in Crater Camp will outweigh the discomforts associated with it. For others, the almost guaranteed headaches, nausea and sleeplessness will be too much and they'd do better to leave this option alone. Only you know you best.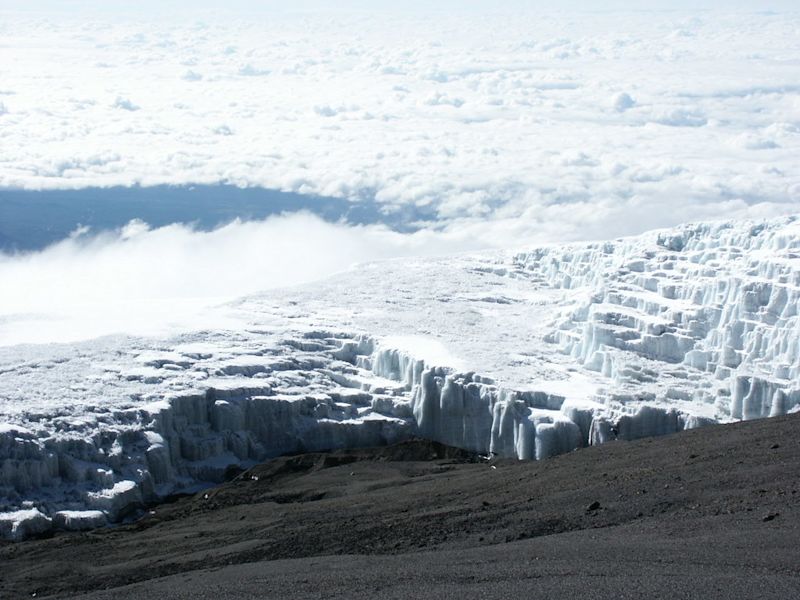 Everyone who summits Kilimanjaro gets to see and enjoy the Southern Ice Field | Image by M. Horrell
That said, we won't take just anyone to Crater Camp. There will need to be a discussion with your trip manager as to your high-altitude trekking experience, your au fait-ness with physical discomfort (!), and your comfort with risk-taking. Your trip manager will also discuss which ascent route you'd take, as you'd need to climb a route that allows for good acclimatisation.
So yes, we'll organise a Crater Camp itinerary for those who want it and we feel can cope with its rigours. Please give us a shout if you'd like to chat more about Crater Camp – we're more than happy to answer your questions, no strings attached! 🙂