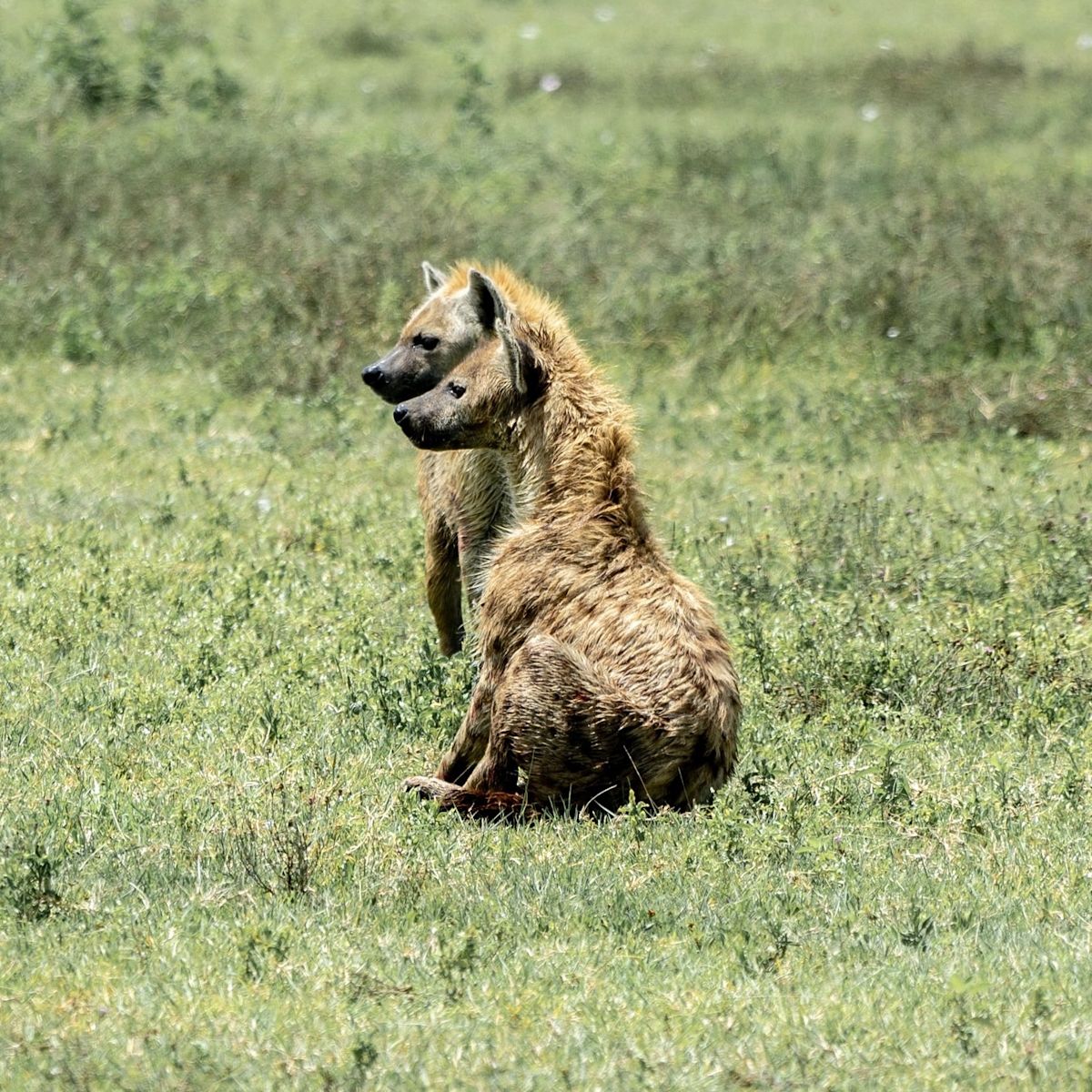 Kenya vs Tanzania – which offers the better African safari?
Mar 17, 2023
Reading time: 17 minutes
The two countries where you can see the Great Wildlife Migration are Kenya and Tanzania. To help you decide which one to visit, we look at considerations like cost, safety, accessibility, crowds and more!
Going on an African safari is always a good idea! The time spent in nature, the magnificent animals, the sunshine, the relationships with your fellow travellers … it's all positives. 😄
If you're keen to see the Great Wildlife Migration, then you need to head to Kenya or Tanzania. And that being the case, we're often asked if Tanzania or Kenya is the better country for an African safari. And that's a great question.
Firstly, we must say that both countries are epic safari destinations. E.P.I.C.
So to help you decide which country to choose, we look at the pros of each, while also making plain the assets that they share. Working from this info, you can decide which country's safari offering would work better for you.
Kenyan vs Tanzanian safaris
So here are the pros of each country as a safari destination, as well as their shared assets ...
| Pros of Kenyan safaris | Pros of Tanzanian safaris | Shared assets |
| --- | --- | --- |
| Better tourism infrastructure | A safer country overall | Host the Great Migration |
| Quicker access to game parks | More animals | Home to the Big Five |
| Cheaper safaris | Fewer visitors | Well-developed safari industries |
| | A longer Great Migration window | Masai culture |
| | More iconic natural landmarks | English-speaking safari guides |
We now introduce you to the geography and similarities of each country, but if you'd just like to know more about the pros of each, please skip ahead!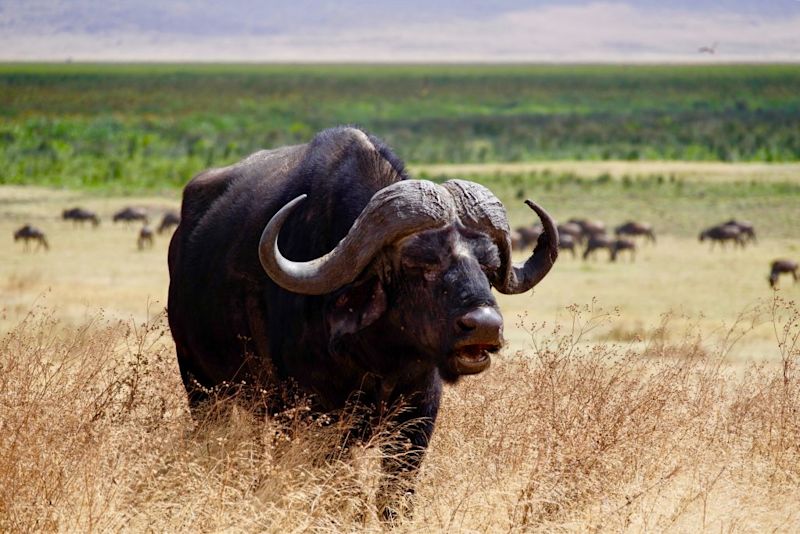 A Cape buffalo, one of the Big Five
Kenya and Tanzania on the map
Unsure where exactly in Africa to find the two countries? Check out the map below.
As you can see, Kenya and Tanzania are neighbours, with a long shared border. As we discuss a little further down, the Great Migration ecosystem straddles this border.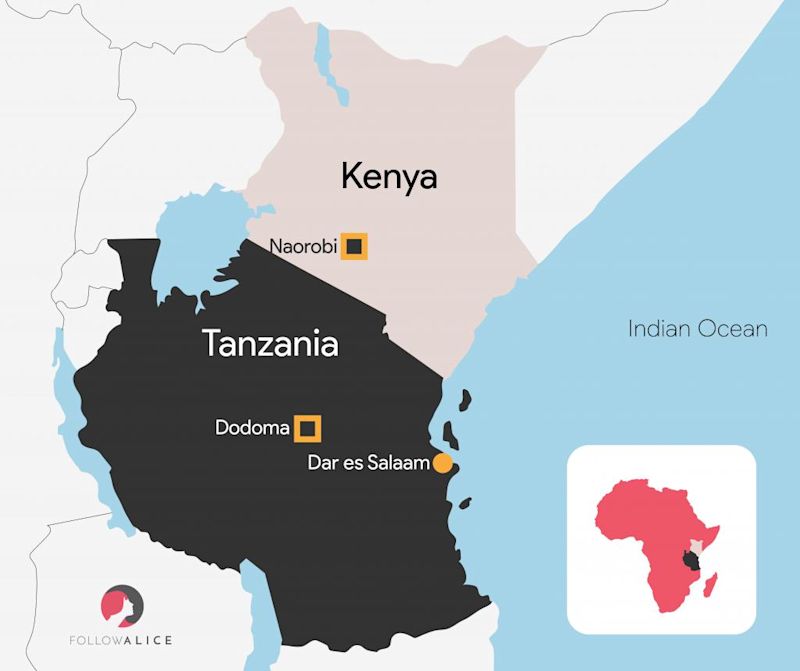 Map showing locations of Kenya and Tanzania in East Africa
Right, so let's elaborate on the ways that each country (and its safari offerings) edges out the other. And we then also discuss the assets that the two countries share!
Pros of Kenyan safaris
Let's start by looking at the ways in which Kenya has the edge as a safari destination, which are:
Better tourism infrastructure

Quicker access to game parks

Cheaper safaris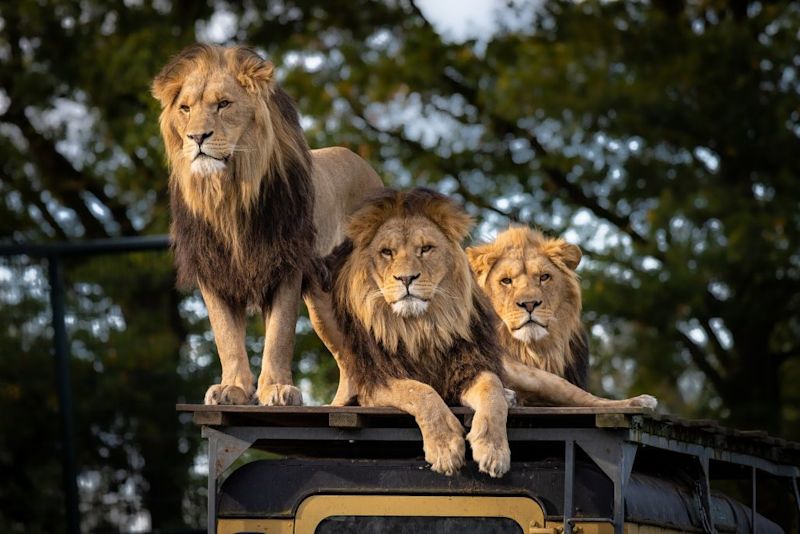 If the lions want your 4x4, let the lions have your 4x4!
1. Better tourism infrastructure
Kenya is wealthier than Tanzania and has more developed infrastructure and tourism infrastructure.
For instance, while Kenya is noticeably smaller than Tanzania, it has about twice the length of paved roads as its southerly neighbour. Kenya also has more trains, and these are a good way of getting around the country. Train travel within Tanzania to reach the Northern Circuit safari destination isn't possible.
So getting around is easier in Kenya.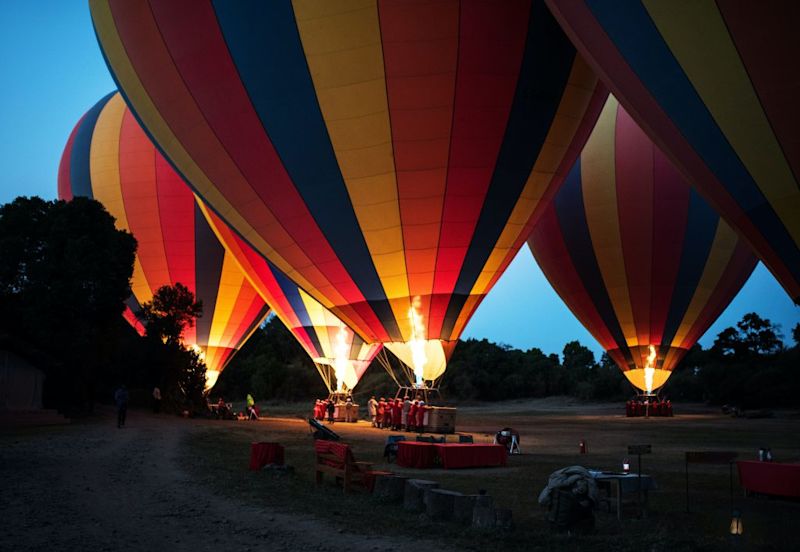 An early morning hot air balloon ride is an incredibly special way to see the Great Migration
Kenya also has more choices when it comes to accommodation, having more hotels and lodges than Tanzania. That said, both countries have numerous accommodations ranging from camping to five-star lodges, so you won't have trouble finding a place to stay in either.
2. Quicker access to game parks
Kenya is quite a lot smaller than Tanzania, helping to make its game parks more accessible. And as mentioned above, it also has a better road network, making for quicker and smoother drives.
Most visitors to Kenya fly into Jomo Kenyatta International Airport in Nairobi, the capital city. Nairobi is in the south of the country, an area of the country rich in game parks – and where you want to be to see the Great Migration.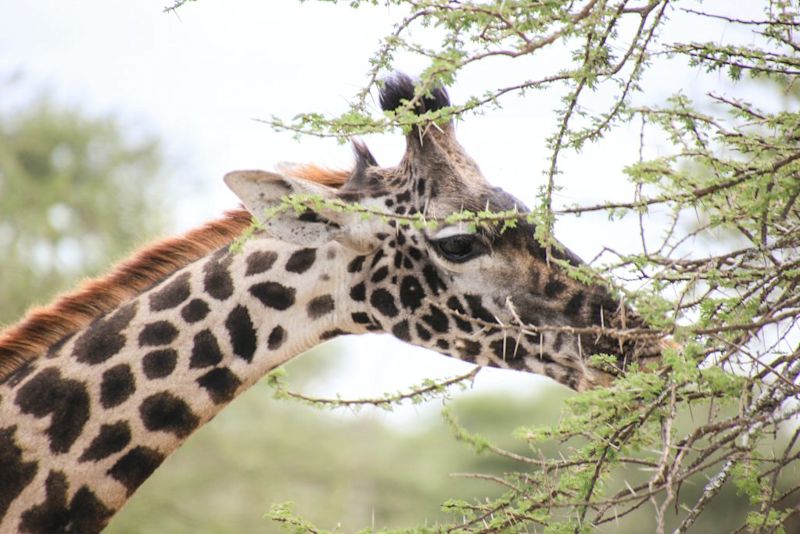 A giraffe munching on an umbrella thorn acacia
The famous Masai Mara National Park is only 270 km from Nairobi, though many people choose to fly to one of the local airstrips there given the poor condition of the road leading there (remember that we said the roads in Kenya are better than in Tanzania – not that they're perfect!).
There's also Nairobi National Park just to the west of the city, so you could land in the country's capital and start looking for rhinos, lions, leopards and the rest of the gang within hours of your arrival!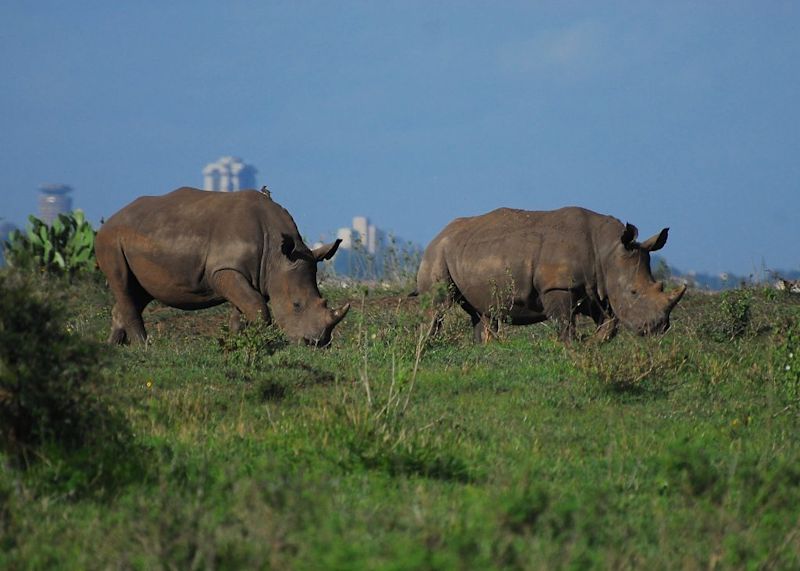 Endangered black rhinos in Nairobi National Park
Most visitors to Tanzania enter the country through Julius Nyerere International Airport just outside of Dar es Salaam. Dar es Salaam, the country's largest city, is on the east coast of Tanzania, a reasonable distance from most of the country's national parks.
For this reason, most safari-goers opt to then fly to Kilimanjaro International Airport (JRO) in the northeast of the country. Or they fly to JRO via Nairobi. But you need to make a transfer somewhere within the region before heading to JRO. This means adding a short flight to your travels.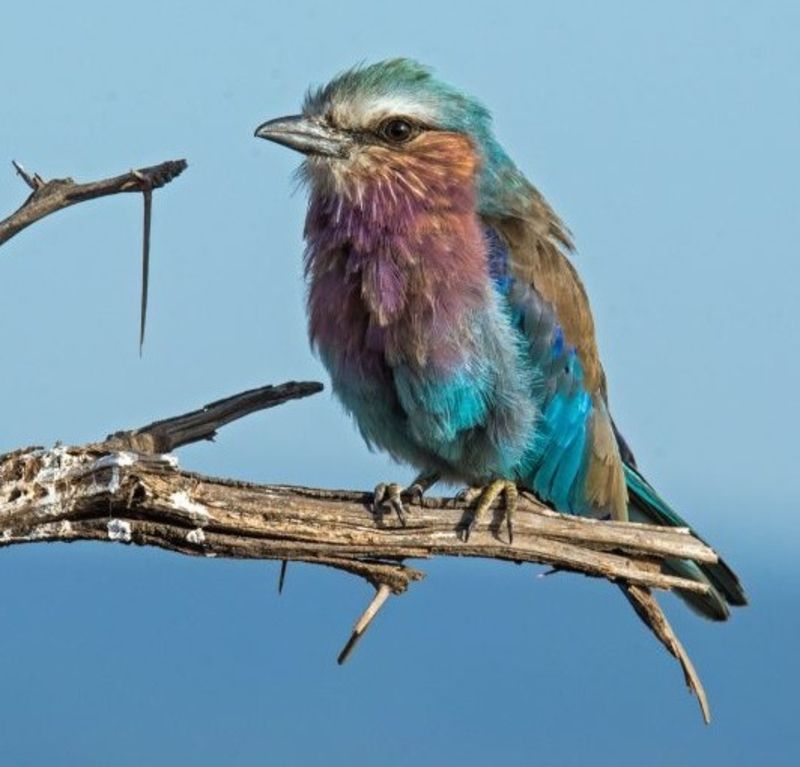 A somewhat bedraggled juvenile lilac-breasted roller
JRO allows you relatively easy access to the Northern Circuit, the name given to the collection of game parks in the north of Tanzania. The most famous park in the Northern Circuit is Serengeti National Park, arguably the number one safari game park in the world! But to get to the Serengeti from JRO will take a whole day of driving, much of which is along a deeply rutted dirt road. So if you don't like long and bumpy rides, you'll need to fly to one of the airstrips in the Serengeti.
3. Cheaper safaris
If you're on a budget, Kenya is probably the right choice for you since Tanzanian safaris are definitely more expensive.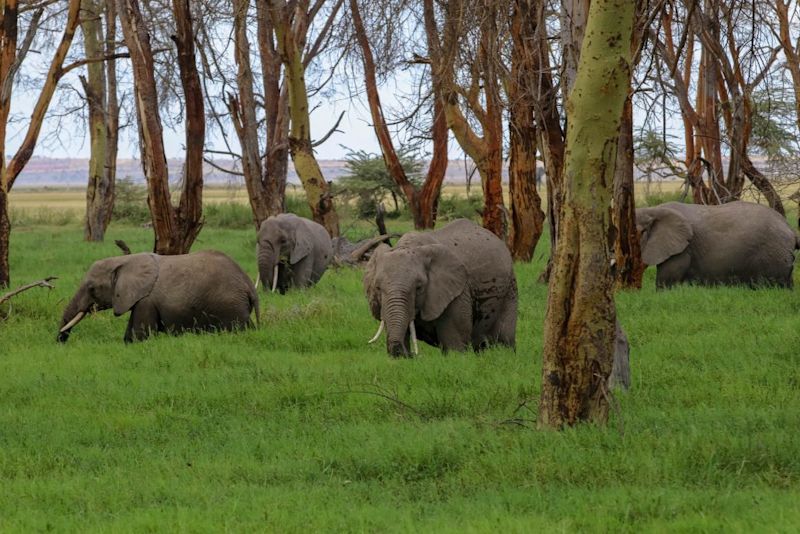 A herd of elephants in Amboseli National Park in Kenya
We must just point out, as you probably already know, that African safaris aren't cheap in general. But accommodation in Kenya, for instance, tends to be more affordable than that of similar quality in Tanzania.
While accommodation prices vary wildly in both countries, a five-star hotel stay in the Masai Mara region of Kenya, for instance, is likely to be around half the price of a five-star hotel stay in Tanzania's Serengeti. The same goes for camping accommodations.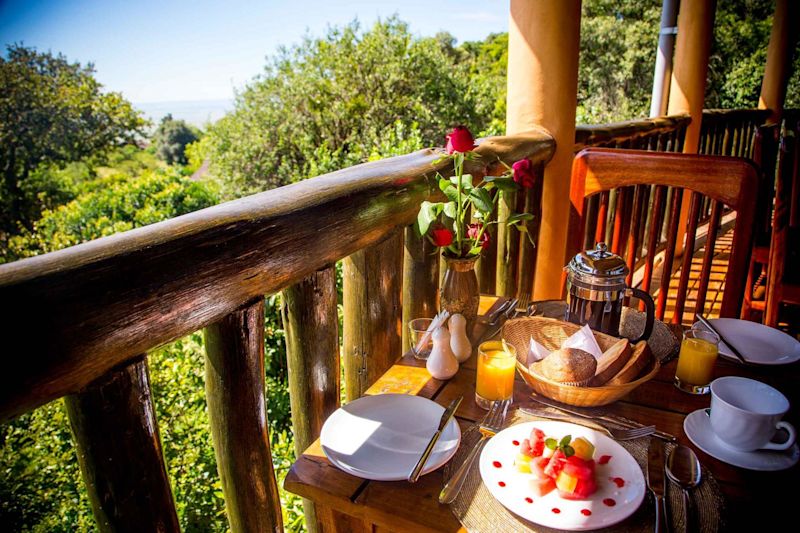 Mara Engai Lodge in Kenya is a mid-range accommodation option
The reason for this price differential is that Kenya has a larger and more developed safari industry, which fosters greater competition and so drives down prices.
Pros of Tanzanian safaris
Let's now look at the following ways in which Tanzania has the edge as a safari destination:
A safer country overall

More animals

Fewer visitors

A longer Great Migration window

More iconic natural landmarks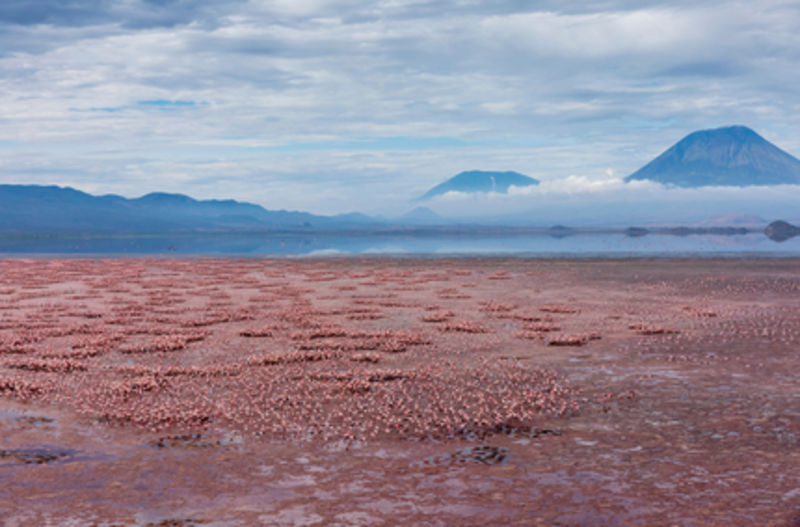 The flamingoes of Lake Natron in northern Tanzania
1. Tanzania: A safer country overall
Firstly, we must say that the parts of both Tanzania and Kenya where visitors go for Great Migration safaris are very safe.
Safety concerns should only pay a part in your thinking if you're planning to travel to other areas of either country. The southern part of Tanzania, on the border with Mozambique, for instance, has recently experienced some troubles. And while Zanzibar itself is very safe, you shouldn't necessarily sail too far into the Indian Ocean as piracy is an issue.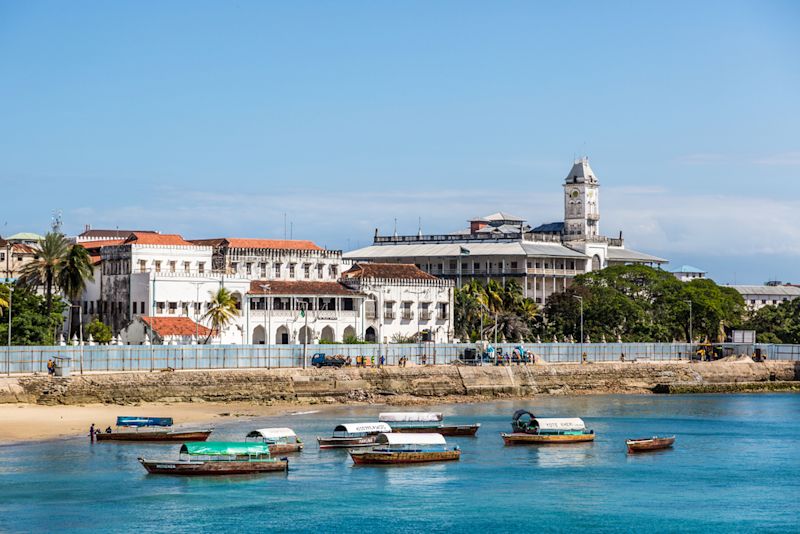 Stone Town in Zanzibar is an international tourist hub
For Kenya, most travel advisories suggest staying away from the country's northern borders with Somalia, Ethiopia and South Sudan.
That said, at present, Tanzania is rated a safer country overall to visit than Kenya. But both countries are really safe for visitors going on safari. Both have very well-developed safari industries where visitor safety is kept paramount.
Furthermore, if you travel with a tour guide, you can feel really safe, as looking after you is the key aspect of a tour guiding job! And with a tour operator like Follow Alice, your guide is there at all times outside of the hotels and resorts to ensure your safety and enjoyment of the trip. 😀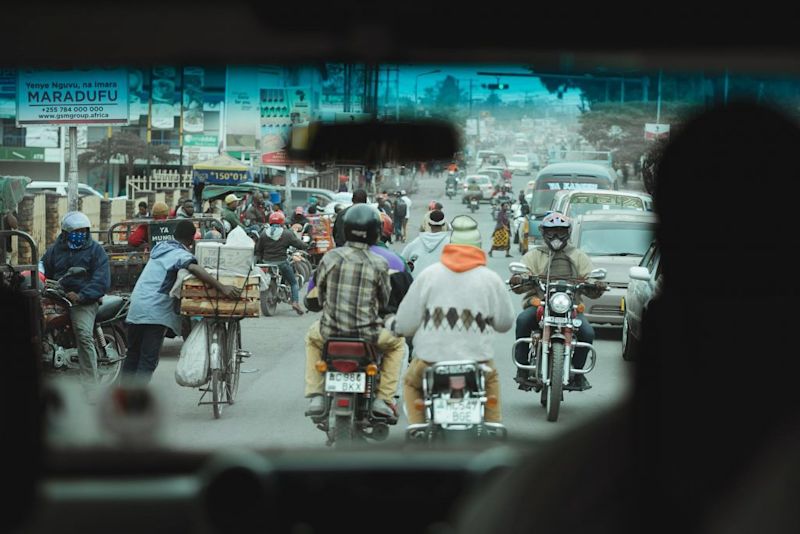 Arusha is the main city in the Northern Circuit region of Tanzania
Just a note that you should be vigilant about your personal belongings while in towns and cities in both Tanzania and Kenya, just as you would in any city around the world.
2. More animals
When it comes to sheer quantity of wildlife, Tanzania comes out on top.
Tanzania has around 4 million wild animals!
One reason for this is that it's the larger country. Tanzania also dedicates far more of its land to conversation than does Kenya.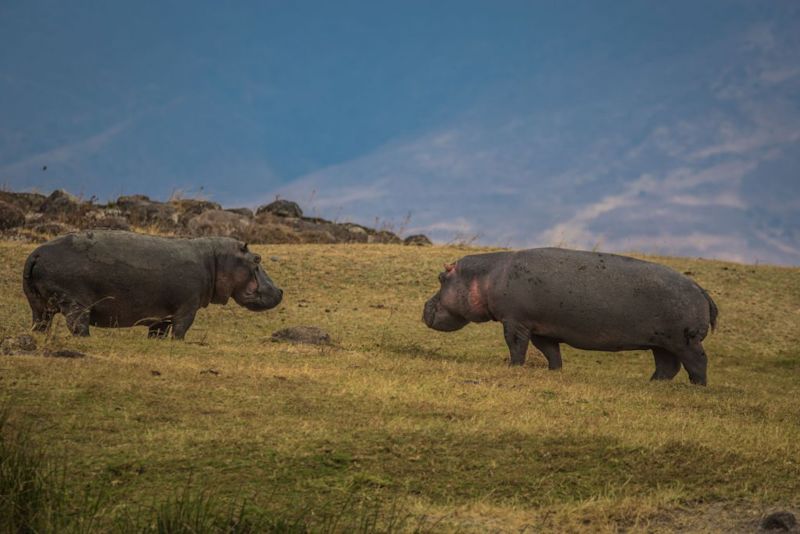 Did you know that hippos can gallop at a speed of 30 kmph on land??
In fact, no other African nation has dedicated as much of its land to conservation as Tanzania! In addition, you can see chimpanzees in Tanzania, but not in Kenya.
That said, Kenya certainly doesn't have a shortage of wildlife! Both countries have some of the greatest densities of large mammals like elephants, lions and leopards, which is why both are such globally recognised safari destinations.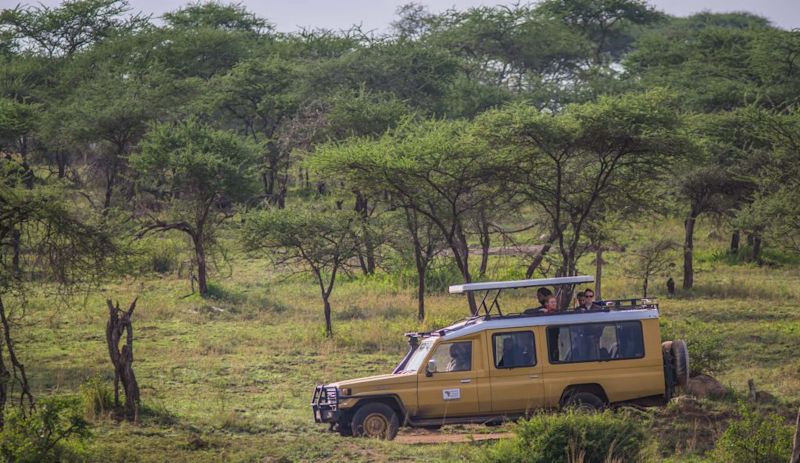 A safari drive is an experience like no other
3. Fewer visitors
Another factor in favour of Tanzania as the better African safari destination is that it has fewer visitors than Kenya. This tends to mean less crowded game parks and safaris.
Given that wildlife can easily be scared off by vehicles, smelly humans, and the cries of "Look, over there!", the fewer the people, the better the game spotting.
That said, there are parks and reserves in Kenya that limit the number of daily visitors to ensure there isn't overcrowding. So it can also depend on where exactly you go game viewing if there'll be crowds or not.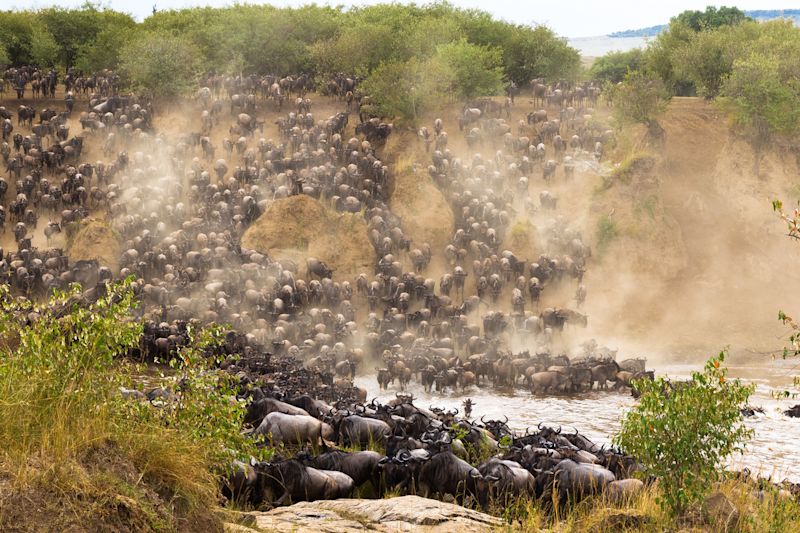 Great Migration river crossings can be pandemonium!
Note that Great Migration river crossings will always attract crowds, no matter which country you're in. We do, however, encourage you to travel with a tour operator that engages in ethical safaris, by which we mean their tour guides are respectful of the wildlife and their habitat, refraining from engaging in habits like hooting (honking) at wildlife or trying to drive too close to the animals.
4. A longer Great Migration window
And finally, as mentioned above, more of the Great Migration takes place within Tanzania than in Kenya. This means there are more months in the year to see the Great Migration within Tanzania.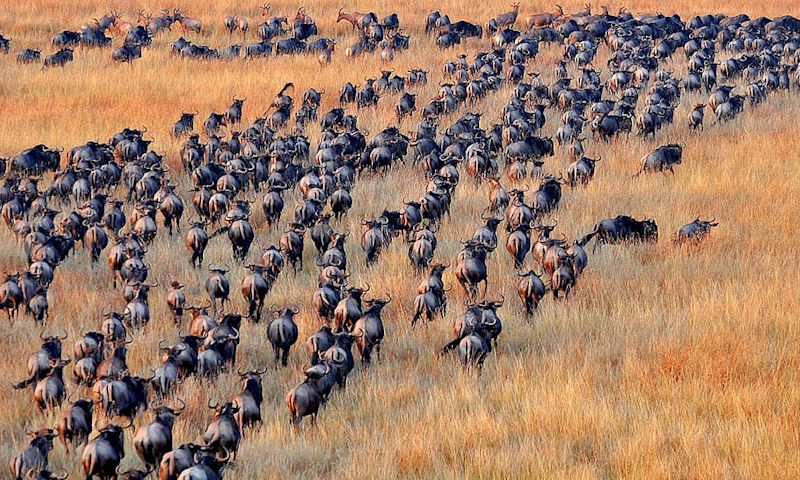 Wildebeests of the Great Migration on the move
July to October are the months when the bulk of the herds can be see in Kenya. During the other months, you should head to Tanzania to see the herds.
Kenya has a far shorter Great Migration window: roughly July to October. In Tanzania you can see the herds throughout the year.
Thank you Kazi and the whole crew at Follow Alice for the wonderful experience! From the pick-up moment to the very end we had a great time, saw so much and got immersed into the real safari experience. Kazi, our guide and driver, was extremely knowledgable and shared with us so many interesting facts!!
– Lyubka Sokolova
5. More iconic natural landmarks
When you travel all the way to East Africa to go on safari, you also want to see beautiful sights and scenery. You're only human, after all! Fortunately, we can assure you that both Kenya and Tanzania are chock-full of gorgeous landscapes and views.
That said, Tanzania takes the prize for having more natural stunners, among which are:
Mt Kilimanjaro

Ngorongoro Crater

Zanzibar
Here's a short enticement for each wonder listed above!
Mt Kilimanjaro
Mt Kilimanjaro is the tallest free-standing mountain in the world, as well as the tallest mountain in Africa. It rises up out of the African plain to reach a staggering 5,895 m above sea level.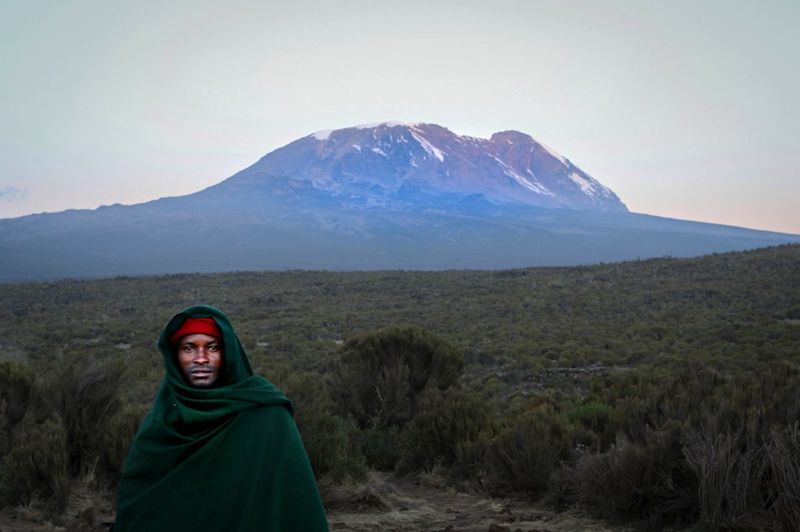 Mt Kilimanjaro rises a mighty 5,895 m above sea level
As you may well already know, we regularly take groups of trekkers on Kilimanjaro climbs. Standing atop the Roof of Africa is a truly memorable moment in your life!
You can actually see Mt Kilimanjaro from Kenya, and go on a safari in its northern foothills. So if seeing this famous mountain is all you're after, either country will do. But if you actually want to walk it – albeit on a day hike in the forest or to climb to the top – then you need to visit Tanzania.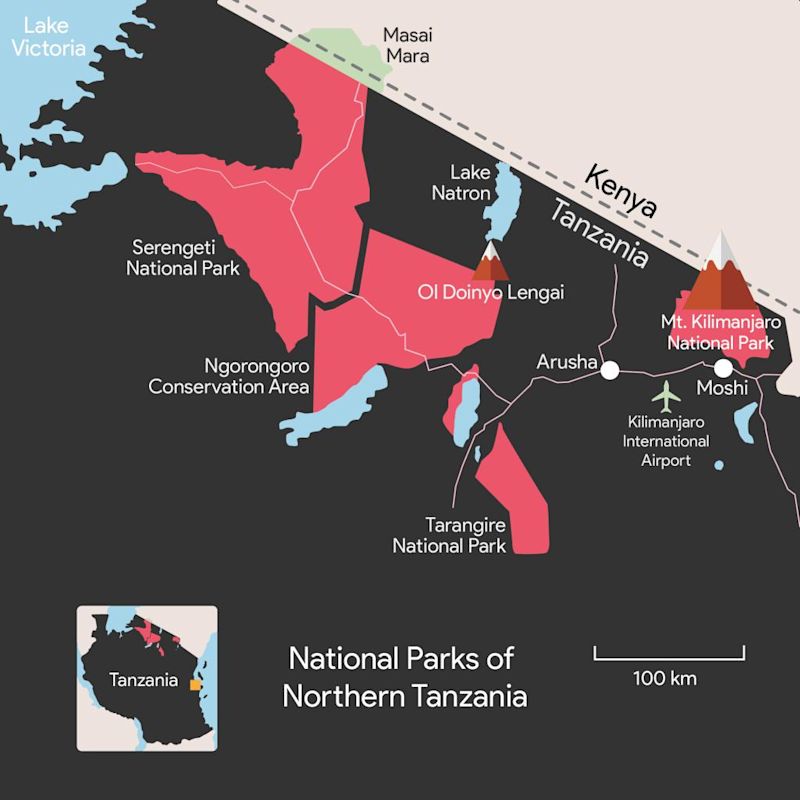 Map showing location of Mt Kilimanjaro near the Tanzania–Kenya border
Ngorongoro Crater
Ngorongoro Crater is a true wonder. The crater (which is between 16 and 19 km wide) was formed when a volcano collapsed in on itself.
Since then, the bowl of the crater has developed into a wildlife haven, offering a natural area of protection for many diverse species of wild animals.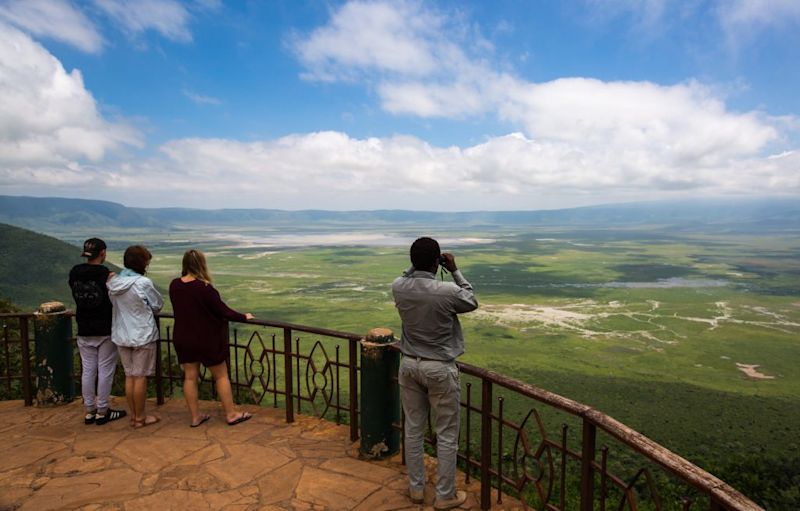 It's incredibly hard to capture the immense scale of Ngorongoro Crater in just one photo!
Today, visitors can drive down into the crater and find a staggering density of animals, including the Big Five (lions, elephants, black rhinos, leopards and Cape buffaloes), hyenas, zebras and baboons.
The birdlife is also amazing, and includes flamingoes, secretary birds, kori bustards and grey crowned cranes.
Zanzibar
Zanzibar is a major feather in the cap of Tanzanian tourism.
A breathtakingly beautiful archipelago off the east coast of the country, Zanzibar has much to offer, including:
Stone Town.

Centuries of maritime trade with the Middle East and India has resulted in a fascinating mix of foreign cultures and languages with the local ones. The archaeology, architecture and culture of Stone Town (a UNESCO World Heritage Site) all point to this rich history.

A spicy cuisine.

The food of Zanzibar reflects its multicultural history and proximity to the sea. Some of the famous dishes to try include Zanzibar pizza (a savoury crêpe), octopus dishes,

mishkaki

(meat skewers) and

mandazi

('Swahili doughnuts').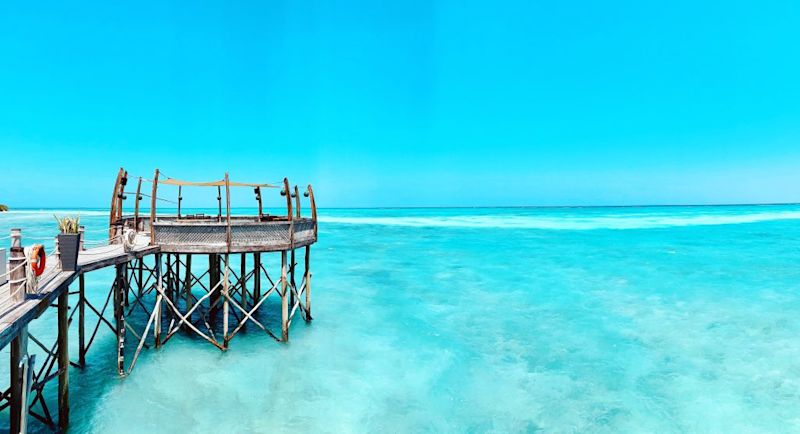 The warm, calm and strikingly blue waters of Zanzibar
Beautiful beaches.

The white-sand beaches of Zanzibar's islands are lapped gently by the clear, warm waters of the Indian Ocean. The activities here are many, from the relaxing end of the spectrum (sunbathing and paddling) to the highly active (waterskiing and parasailing).

Incredible marine life.

Zanzibar has some of the world's best coral reefs and most diverse marine life. Snorkellers and divers are in for a real treat, while scuba divers will find themselves in heaven!
To learn more, read 15 truly unmissable things to do in Zanzibar.
We love safaris in both countries!
At Follow Alice we feel the pros and cons of the two East African countries as discussed make each the better option depending on what it is that you most want out of your holiday, coupled with the time of year that you can travel and what your budget looks like.
At Follow Alice, we feel that both Tanzania and Kenya are perfect safari destinations!
And that's why we offer both Tanzanian and Kenyan safari trips. Take a look at our suggested Tanzania safari itineraries and Kenyan safari itineraries, noting that they're not fixed in stone. We're flexible and happy to tailor all of our trips to suit your needs and preferences.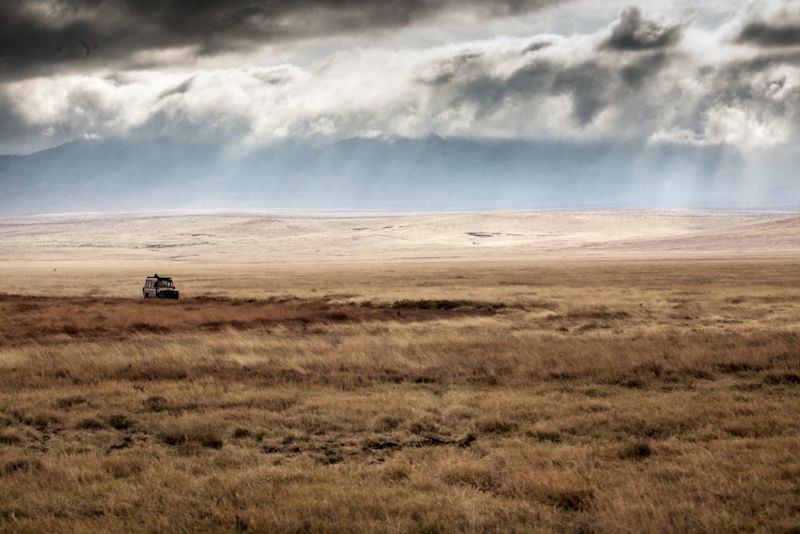 A safari vehicle in Ngorongoro Crater in Tanzania
Two countries, many things in common
Finally, Kenya and Tanzania have so much in common, as already mentioned. Both countries have similar climates, seasons, temperatures, wildlife and vegetation. Both also have well-organised and safe safaris industries. And safari guides in both nations tend to speak very good English.
Obviously we're not suggesting things are the same in Kenya and Tanzania – of course not! Just that the differences in the main safari region of each country aren't very great, relatively speaking.
Here are four important things they have in common:
A shared language (Swahili) and history

A shared culture (Masai)

A shared Great Migration ecosystem

Shared Mara River crossings
What this means is that you can visit either country for safari and enjoy experiencing these four things. Bonus!
The Masai live in both Tanzania and Kenya
We delve into each shared asset in a little detail below ...
1. Shared language and history
There is significant overlap in terms of the languages, histories and cultures of Tanzania and Kenya.
For starters, Swahili is an official language in both nations, as is English (this as a result of British colonialism). Incidentally, the prominence of English in both countries means that tour guides invariably speak good English, which allows them to communicate well with most international visitors.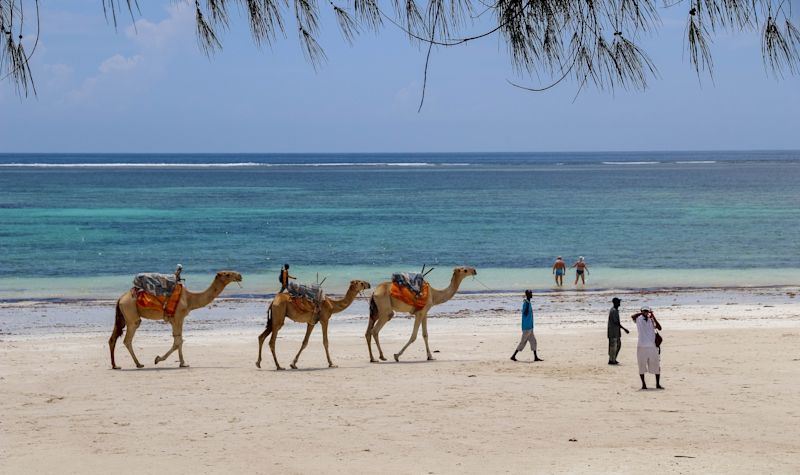 Kenya is home to over a million camels
Then there's the shared legacy of maritime trade with India and the Middle East in the coastal regions of both Tanzania and Kenya. The architecture and spicy cuisine of Zanzibar in Tanzania are a potent example of this influence.
2. Masai communities
The Masai people live in both Kenya and northern Tanzania.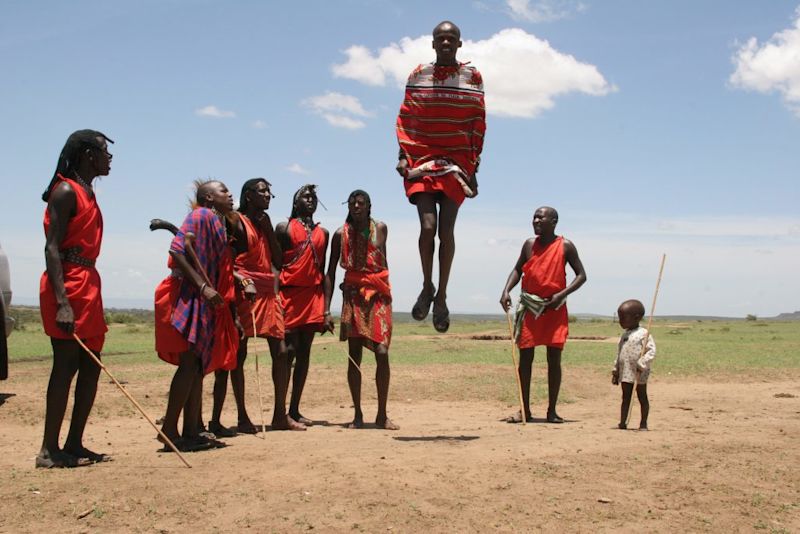 The heights reached by the Maasai during their traditional jumping dance are phenomenal!
The Masai are arguably the most famous of Africa's countless tribes, and we find many clients enjoy including a cultural visit to a Masai community in their African safari trip.
During these visits, you're invited to take part in a jumping dance as well as tour the village, speak with one of the elders, and more. There's also the opportunity to buy some of their colourful beaded jewellery and carved wooden figurines.
3. Shared Great Wildlife Migration ecosystem
As you can see in the map below, Serengeti National Park in Tanzania and Masai Mara Game Reserve in Kenya are both part of the Great Migration ecosystem.
The animals are compelled to migrate by their need for the essentials of life: water and green pasture.
Every year this trans-frontier habitat sees millions of wildebeests, zebras and other antelopes move across the land in mass transit as part of the Great Migration. (That said, the animals group themselves into various herds that move together roughly as a whole – the Great Migration isn't strictly speaking one enormous herd.)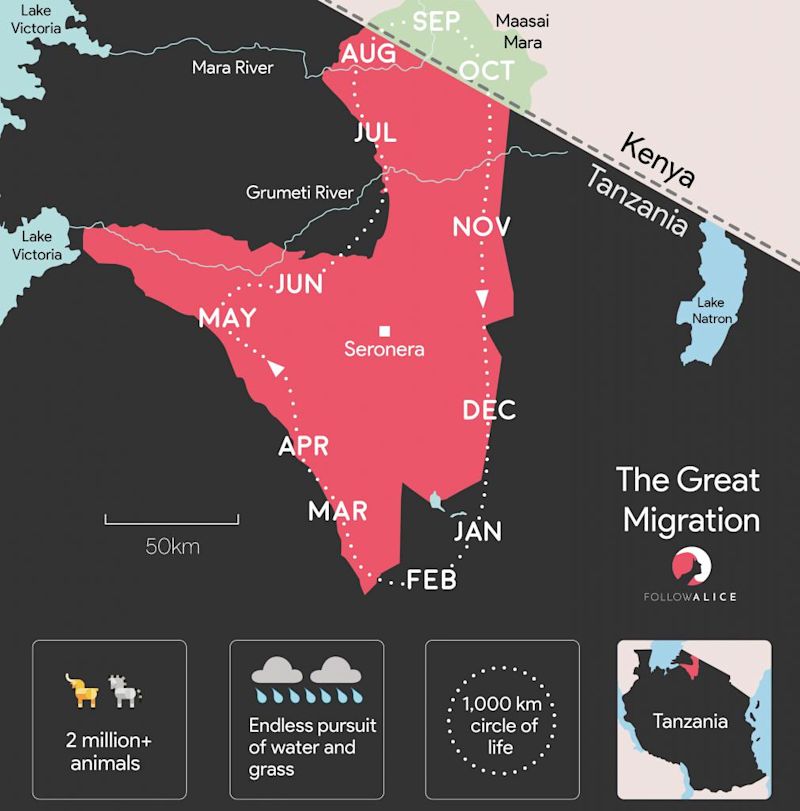 Map showing the movements of the Great Migration
The Great Migration – also sometimes called the Great Wildlife Migration or the Great Wildebeest Migration – is the second-largest mammal migration in the world. It's outstripped only by the Kasanka Bat Migration, which sees 10 million fruit bats head to the small swamp forest of Kasanka National Park in northern Zambia.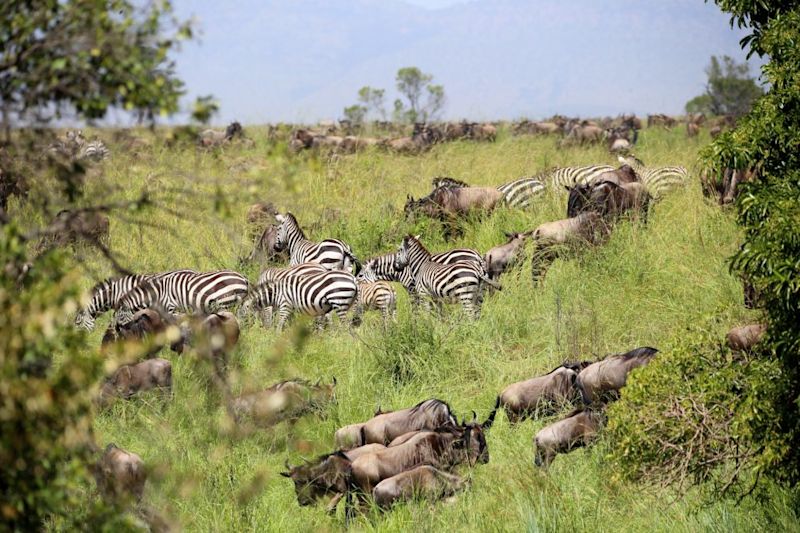 The Great Migration herds include not just wildebeests but also other antelopes as well as zebras
The border between Kenya and Tanzania where the herds cross is marked simply by stone cairns, as both countries are committed to ensuring the animals can move freely along their ancient migratory path.
To go on an African safari has been on my bucket list for so long, and it didn't disappoint! It is by far the best adventure I have ever been on.
– Caitlin Summers
4. Shared Mara River crossings
While the Great Migration is a spectacle wherever you see it, of particular note are the river crossings that take place as part of the migration.
These crossings are a fascinating sight. The herds charge across the croc-infested waters in a desperate attempt to reach the other side, some being taken out by the crocs, others by the stampede.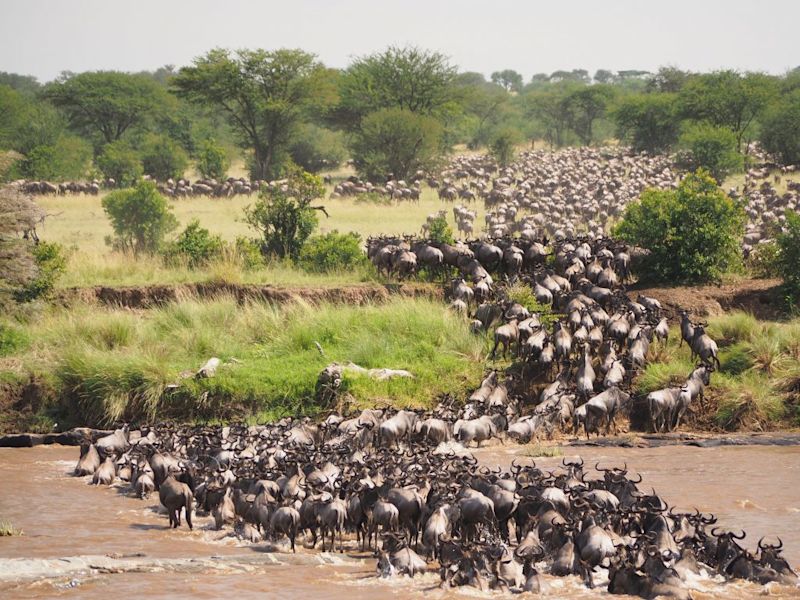 A Mara River crossing by a section of the Great Wildebeest Migration
The carcasses of those that don't survive the river crossings are an important part of the ecosystem, as they become a vital food source for scavengers. And speaking of food sources, another of the treats of witnessing the Great Migration are seeing the lion prides tracking the migrating herds to take out the stragglers and infirm.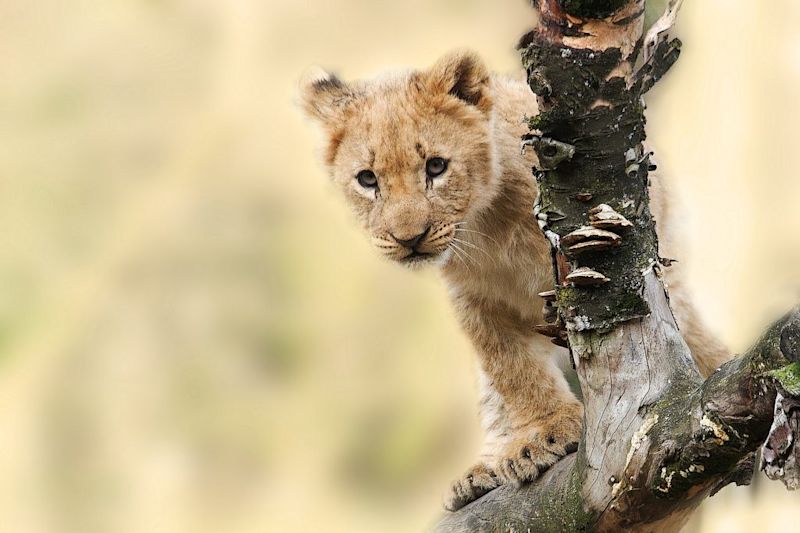 A lion cub, the poster child for African safaris
While the Grumeti River crossings can only be seen in Tanzania, the Mara River crossings take place on the Tanzania–Kenya border. This means visitors in both countries can see and marvel at this spectacle of nature!
Pair a Tanzania safari with a Kilimanjaro climb
If you want to also climb Mt Kilimanjaro during your trip to East Africa, then a Tanzanian safari is the obvious choice. You only need to fly into Kilimanjaro International Airport, which is the starting point for both adventures.
This is something we do all the time at Follow Alice – take clients on a Kilimanjaro climb and then whisk them away on a safari afterwards!