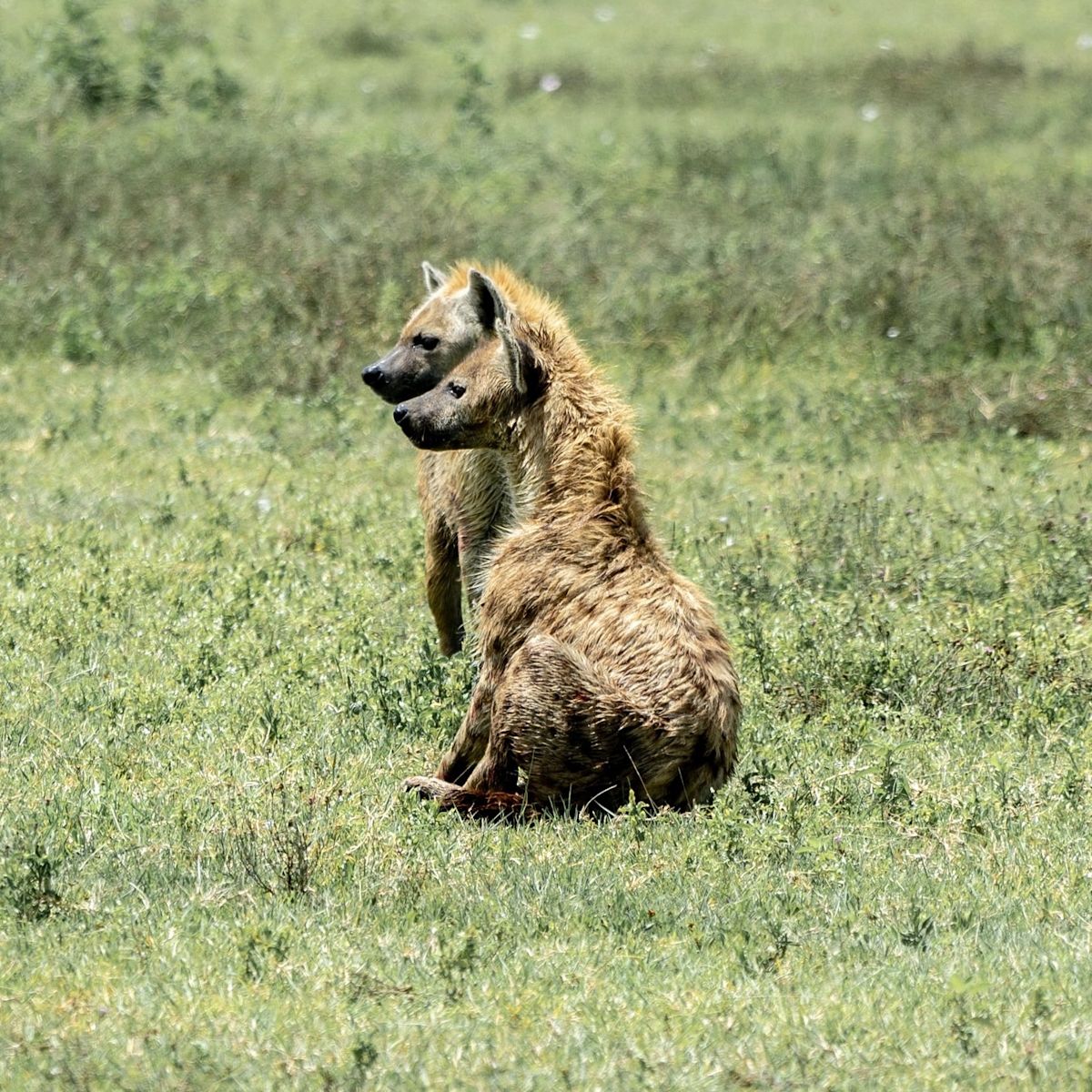 Kenya vs Tanzania – which offers the better African safari?
Jul 7, 2022
Reading time: 15 minutes
The two countries where you can see the Great Wildlife Migration are Kenya and Tanzania. So how do you decide which one to visit? We give you all the details you need to make a decision, like cost, crowds, safety, wildlife diversity, and more.
Going on an African safari is always a good idea! The time spent in nature, the magnificent animals, the sunshine, the relationships with your fellow travellers … it's all positives 😄
If you're keen to see the Great Wildlife Migration as well as the Big Five, then you need to head to Kenya or Tanzania. We're often asked if Tanzania or Kenya is the better country for an African safari. And that's a great question.
Firstly, we must just say that both countries are epic safari destinations. E.P.I.C. They both have a super abundance of wildlife, including the Big Five. And they both have wonderful national parks that allow safari trips. So you can have wonderful game spotting adventure in either.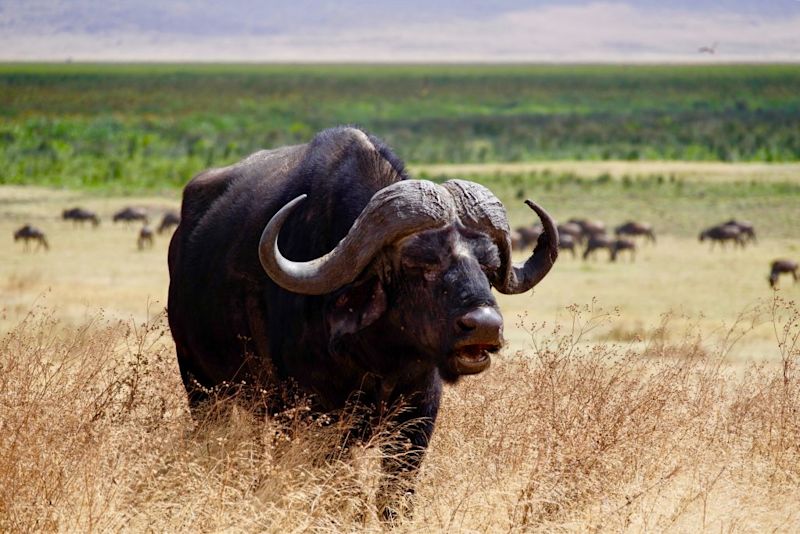 A Cape buffalo, one of the Big Five
But there are, of course, other factors to consider in planning a safari trip. We're thinking of things like price tag, accessibility and other tourist attractions. So let's launch into a list of the pros of each countries, after which we'll provide you with a little more detail. And somewhere in the middle of all that we'll give you a few basic facts about the two countries to give you a clearer picture of each.
Kenyan vs Tanzanian safari
Below we list the pros of a Kenyan safari and of a Tanzanian safari to help you decide which country to visit for an African safari. We then discuss each point in detail below that.
Kenya
Better tourism infrastructure

Quicker access to game parks
Tanzania
A safer country

More animals, fewer visitors

More iconic natural landmarks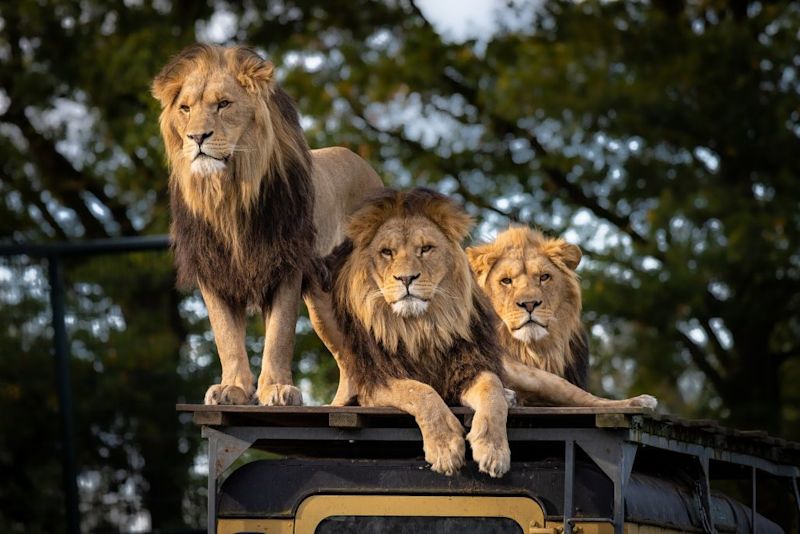 If the lions want your 4x4, let the lions have your 4x4!
We promised a little more detail on each of the above points, but first, let's look at a map to help you locate the countries in your mind's eye ...
Kenya and Tanzania on the map
Unsure where exactly in Africa to find the two countries? Check out the map below. As you can see, they're neighbours, with a long shared border. As we discuss a little further down, the Great Migration ecosystem straddles this border.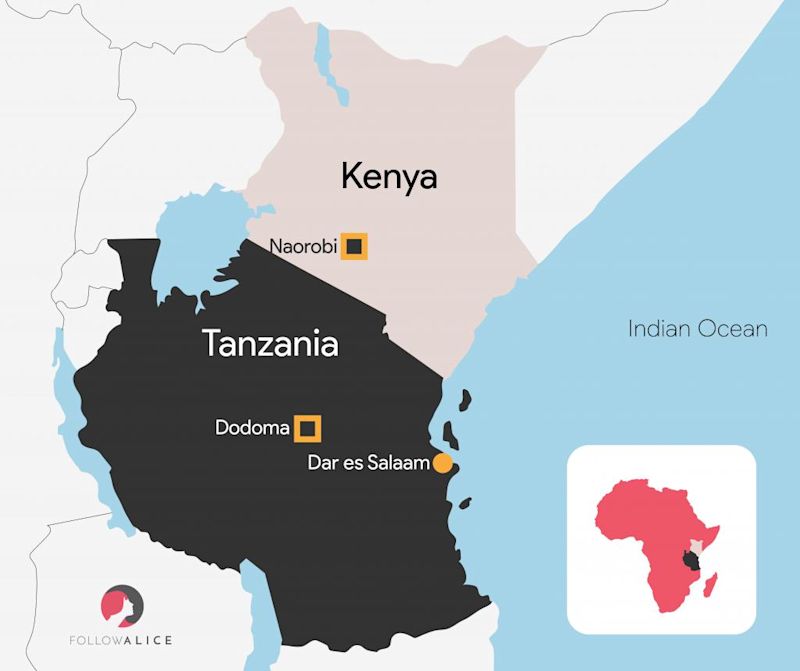 Map showing locations of Kenya and Tanzania in Africa
Two countries, many things in common
It's easy to understand from seeing the above map why Kenya and Tanzania have so much in common. Both countries have similar climates, seasons, temperatures, wildlife and vegetation. Obviously we're not suggesting these things are the same – of course not! Just that the differences aren't very great, relatively speaking. And for that reason we don't recommend referencing them when trying to decide which country would provide you with the better African safari.
There's also significant overlap in terms of the languages, histories and cultures of Tanzania and Kenya. For starters, Swahili is an official language in both nations, as is English (this as a result of British colonialism). Then there's the shared legacy of maritime trade with India and the Middle East in the coastal regions. The architecture and spicy cuisine of Zanzibar in Tanzania are a potent example of this influence.
And finally, the Maasai people live in both Kenya and northern Tanzania. So a Maasai cultural experience (which is very much worthwhile!) is possible in either country. The Maasai are arguably the most famous of Africa's countless tribes, and we find many clients really enjoy including a cultural visit to a Maasai community in their African safari trip.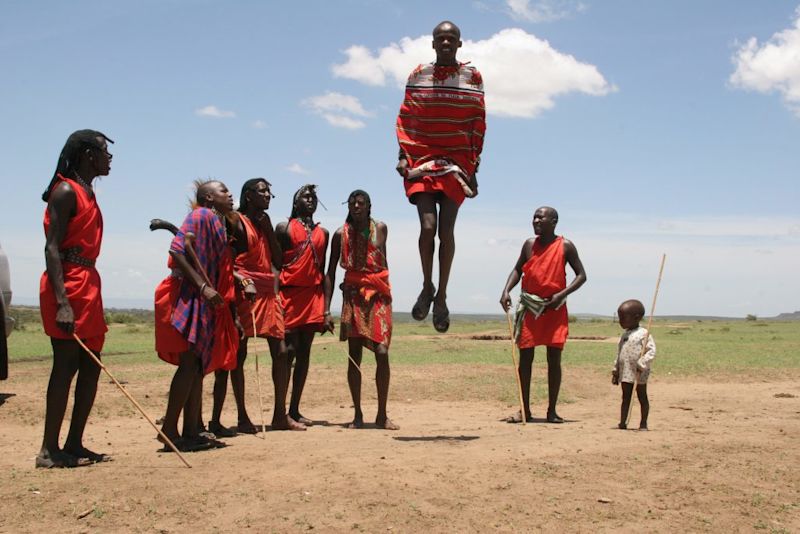 The heights reached by the Maasai during their traditional jumping dance are phenomenal!
Kenya and Tanzania factsheet
Here's a list of a few useful facts about the two countries.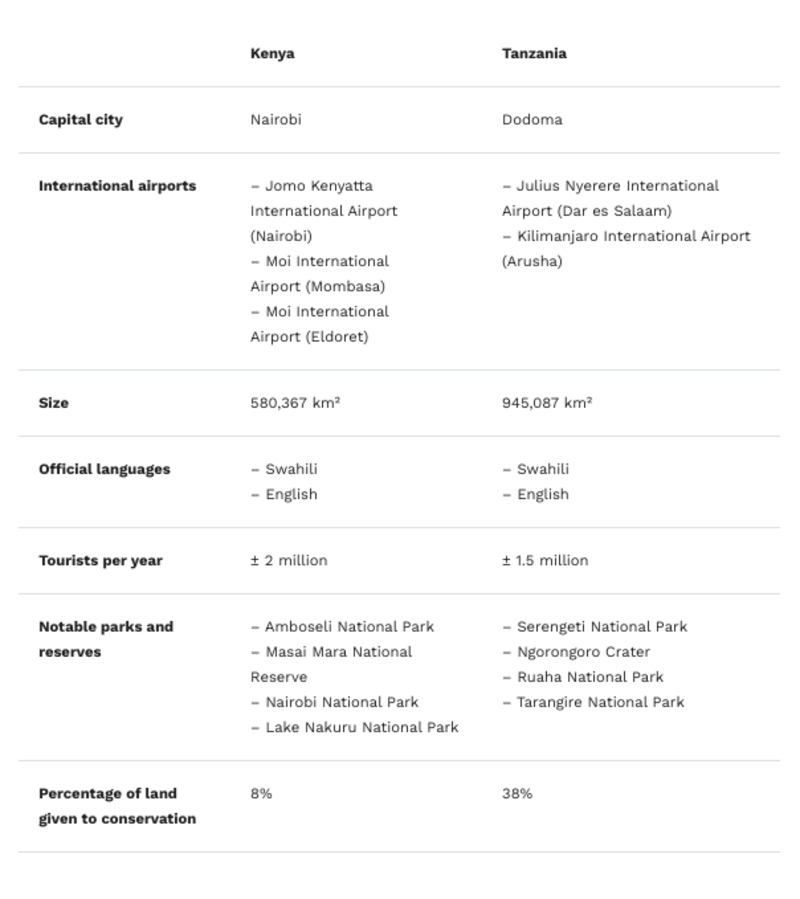 It's worth noting that you'll end up paying about the same amount for safaris of comparable quality in Kenya or Tanzania. This is because Tanzania's cheaper cost of living is balanced out by Kenya's mass tourism infrastructure.
Tanzania and Kenya share a lot in common, especially in the region around their common border. There's the linked history, the Swahili language, the Maasai tribe, the Great Migration ecosystem, for instance. But perhaps we should say a little more on just one of those points: the shared Great Migration ecosystem.
Maasai ladies in their beautiful red and blue traditional outfits
A shared Great Migration ecosystem
As you can see in the map below, Serengeti National Park in Tanzania and Maasai Mara Game Reserve in Kenya are both part of the Great Migration ecosystem. Every year this trans-frontier habitat sees millions of wildebeests, zebras and other antelopes move across its lands in mass transit as part of the Great Migration. The animals are compelled to migrate by their need for the essentials of life: water and green pasture.
The Great Migration – also sometimes called the Great Wildlife Migration or the Great Wildebeest Migration – is the second-largest mammal migration in the world. It's outstripped only by the Kasanka Bat Migration, which sees 10 million fruit bats head to the small swamp forest of Kasanka National Park in northern Zambia.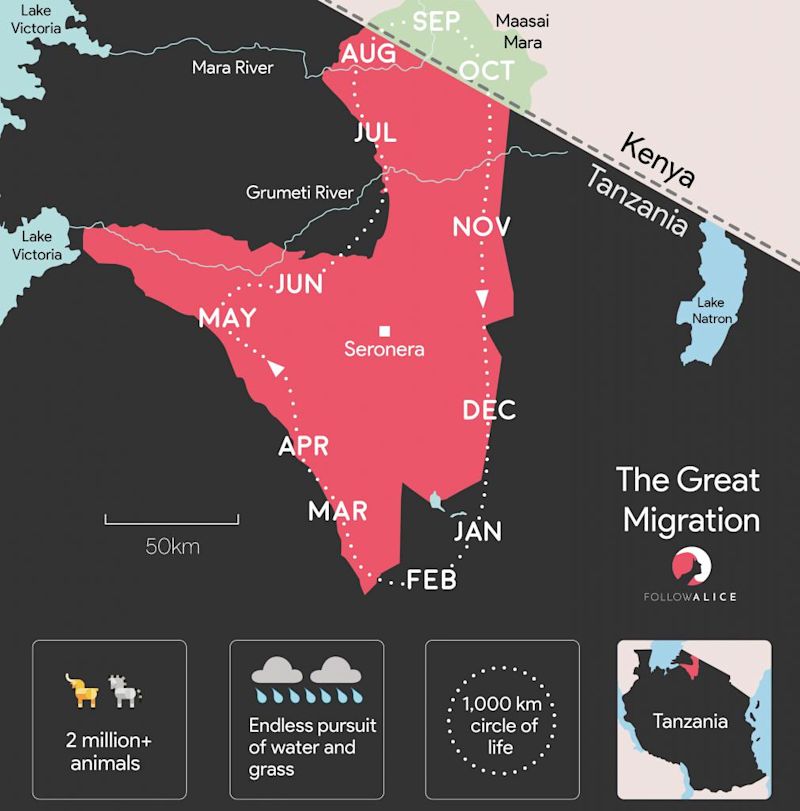 Map showing the movements of the Great Migration
The Great Migration river crossings
While the Great Migration is a spectacle wherever you see it, of particular note are the river crossings that take place as part of the migration. The Grumeti and Mara River crossings in Tanzania (the rivers can be seen in the map above) are a fascinating sight. The herds charge across the croc-infested waters in a desperate attempt to reach the other side, some being taken out by the crocs, others by the stampede. The carcasses of those that don't survive the river crossings are an important part of the ecosystem, as they become a vital food source for scavengers.
Speaking of food sources, another of the treats of witnessing the Great Migration are seeing the lion prides tracking the migrating herds to take out the stragglers and infirm.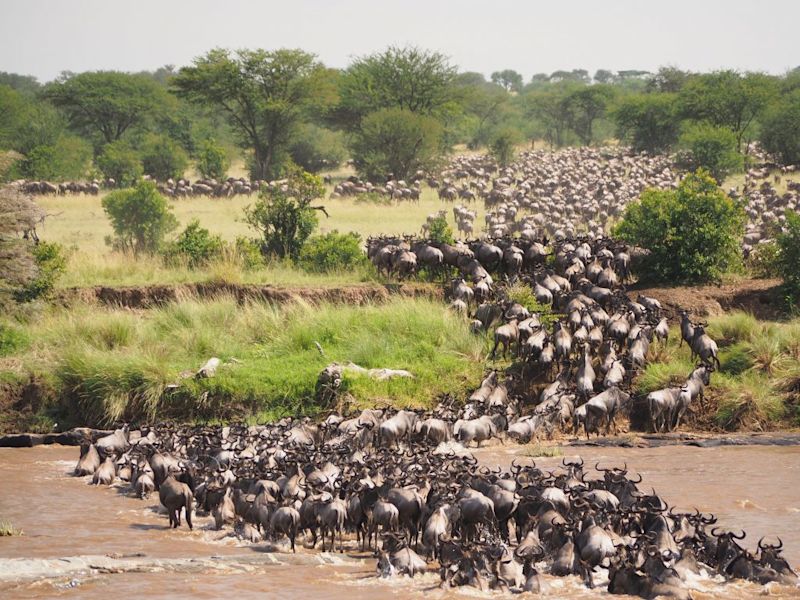 A Mara River crossing by a section of the Great Wildebeest Migration in Serengeti National Park
Choosing between a Kenyan or Tanzanian safari
Right, so here is the promised breakdown of the positives of each safari destination. We offer a little more detail on each of the pros listed in the Kenya vs Tanzania safari table above.
Kenya: Better tourism infrastructure
Kenya is wealthier than Tanzania and has more developed infrastructure and tourism infrastructure. For instance, while Kenya is noticeably smaller than Tanzania, it has about twice the length of paved roads as its southerly neighbour. Kenya also has more choices when it comes to accommodation, having more hotels and lodges than Tanzania.
Other examples of Kenya's superior infrastructure are that it has more taxis in its cities, and more banks able to exchange major currencies for Kenyan shillings. Kenya also has more trains, and these are a good way of getting around the country.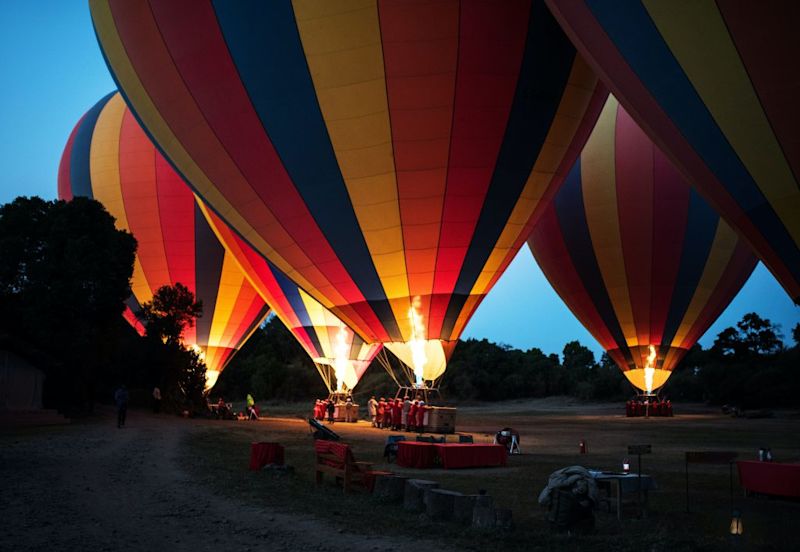 An early morning hot air balloon ride is an incredibly special way to view Serengeti's wildlife!
Tanzania: A safer country
At present, Tanzania is a safer country to visit than Kenya. Some of Kenya's struggles have to do with city-based crime, political violence, internally displaced peoples, and terrorism. In terms of crime, travelling with a reputable tour operator will help to mitigate your vulnerability.
Naturally, some parts of Kenya are safer for tourists than others. Most travel advisories suggest staying away from the country's borders with Somalia, Ethiopia and South Sudan. Some research in this regard should help you to identify where within Kenya you would feel safest.
Tanzania, on the other hand, is a pretty safe country for visitors. You should be vigilant about your personal belongings while in the cities, just as you would in any city around the world. But travelling within Tanzania is reasonably safe, and once you're on safari, you can pretty much forget about everything except spotting wildlife! At Follow Alice, our local leader Kazi Khatibu is also there at all times to ensure your safety and enjoyment of the trip. 😀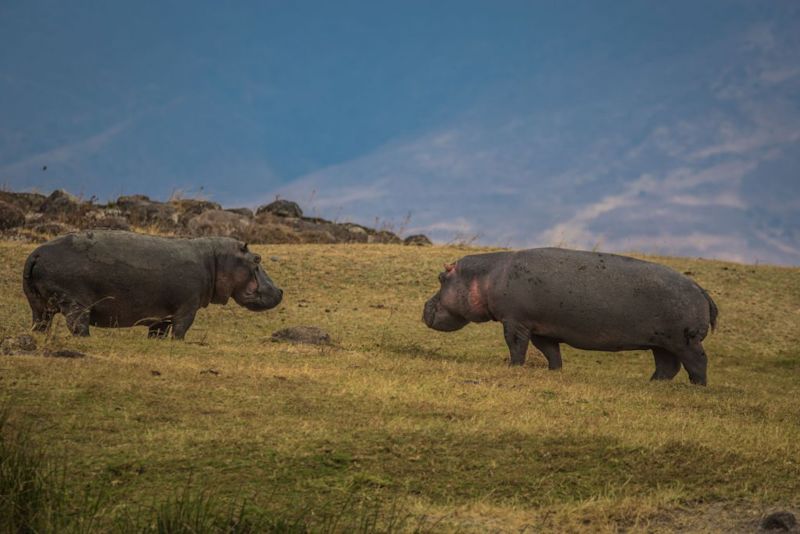 Hippos in Ngorongoro Crater. Did you know that these bulky creatures can gallop at a speed of 30 km per hour on land??
Tanzania: More animals, fewer visitors
When it comes to sheer quantity of wildlife, Tanzania comes out on top. One reason for this is that it's the larger country. Tanzania also dedicates far more of its land to conversation than does Kenya. In fact, no other African nation has dedicated as much of its land to conservation as Tanzania! In addition, you can see chimpanzees in Tanzania, but not in Kenya.
Tanzania has around 4 million wild animals!
Another factor in favour of Tanzania as the better African safari destination is that it has fewer visitors than Kenya. This means less crowded game parks and safaris. Given that wildlife can easily be scared off by vehicles, smelly humans and the cries of "Look, over there!", the fewer the people, the better the game spotting.
And finally, as mentioned above, more of the Great Migration takes place in Tanzania than in Kenya. This means you have a greater chance, during more months of the year, of witnessing the Great Migration within Tanzania.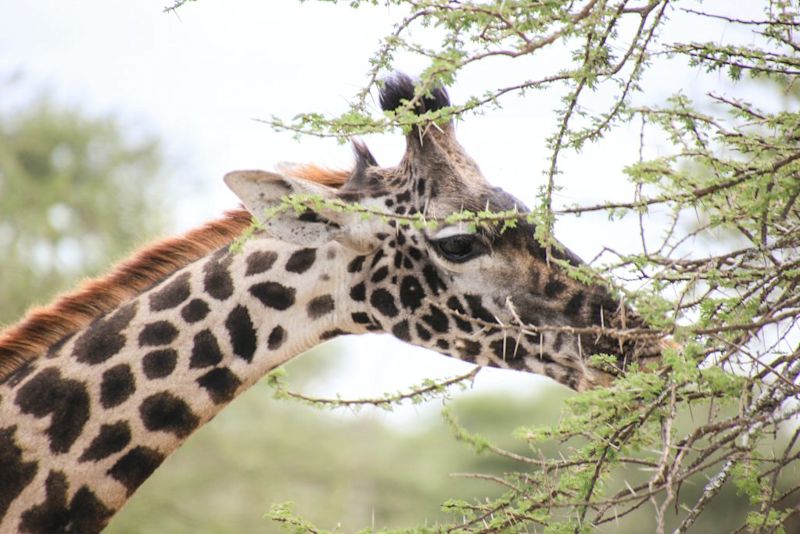 A giraffe munching on an umbrella thorn acacia
Kenya: Quicker access to game parks
Kenya is quite a lot smaller than Tanzania, helping to make its game parks more accessible. Most visitors fly into Jomo Kenyatta International Airport in Nairobi, the capital city. Nairobi is in the south of the country, an area of the country rich in game parks. The famous Maasai Mara National Park is only 270 km from the capital, though many people fly to one of the local airstrips there given the poor condition of the road leading there. There's also Nairobi National Park just to the west of the city, so you could land in the country and start looking for rhinos, lions, leopards and the rest of the gang within hours!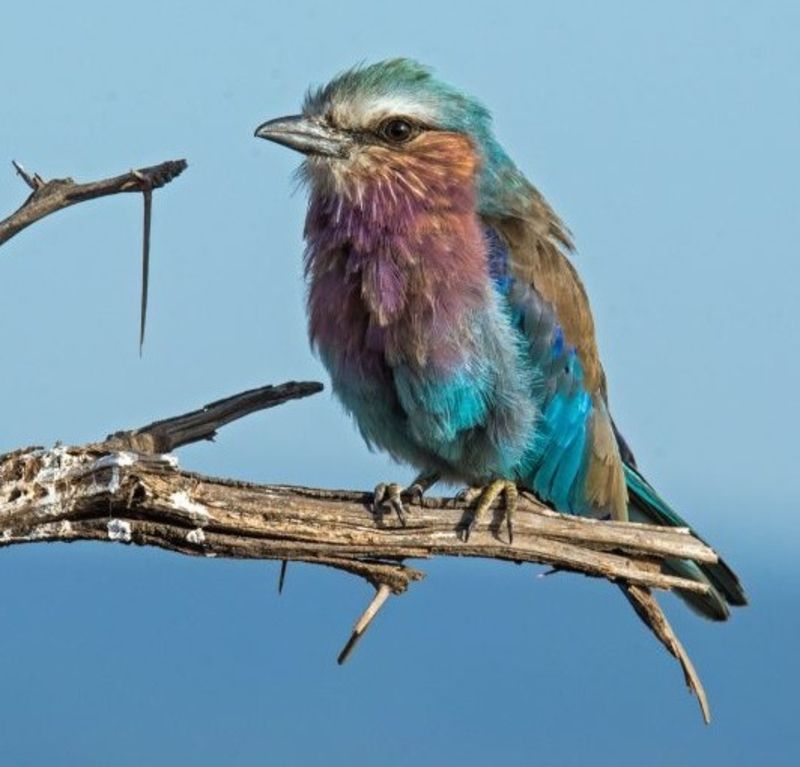 A somewhat bedraggled juvenile lilac-breasted roller
Most visitors to Tanzania enter the country through Julius Nyerere International Airport just outside of Dar es Salaam. Dar es Salaam, the country's largest city, is on the east coast of Tanzania, a reasonable distance from most of the country's national parks. For this reason, many tourists opt to fly to Kilimanjaro International Airport (JRO) in the northeast of the country. JRO allows you easy access to the Northern Circuit, the name given to the collection of game parks in the north of Tanzania. The most famous park in the Northern Circuit is Serengeti National Park, arguably the number safari game park in the world! To drive from Dar es Salaam to JRO would take about 10 hours.
Kilimanjaro International Airport also drops you on the doorstep of Kilimanjaro National Park, as its suggests. This is ideal if you'd like to combine an African safari with a Kilimanjaro climb.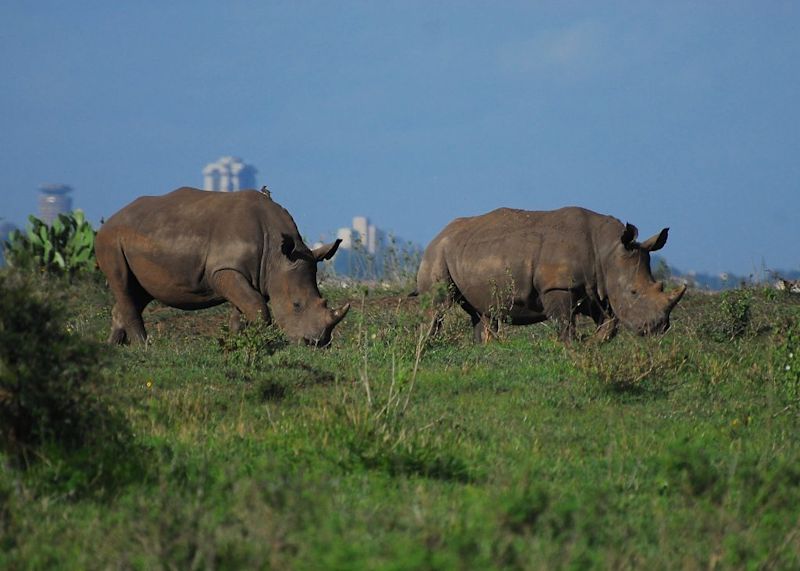 Endangered black rhinos, with Nairobi in the background
Tanzania: More iconic natural landmarks
When you travel all the way to East Africa to go on safari, you also want to see beautiful sights and scenery. You're only human, after all! Fortunately, we can assure you that both Kenya and Tanzania are chock-full of gorgeous landscapes and views. That said, Tanzania takes the prize for having more natural stunners, for example:
Mt Kilimanjaro

The vast plains of the Serengeti

Ngorongoro Crater

The Great Rift Valley escarpment

Zanzibar
Mt Kilimanjaro
Mt Kilimanjaro is the tallest free-standing mountain in the world, as well as the tallest mountain in Africa. It rises up out of the African plain to reach a staggering 5,895 m above sea level. There's a beautiful glacier at the top of the mountain, even though it's not far from the Equator. As you may well already know, we regularly take groups of trekkers on a Kilimanjaro climb. Standing atop the Roof of Africa is a truly memorable moment in your life!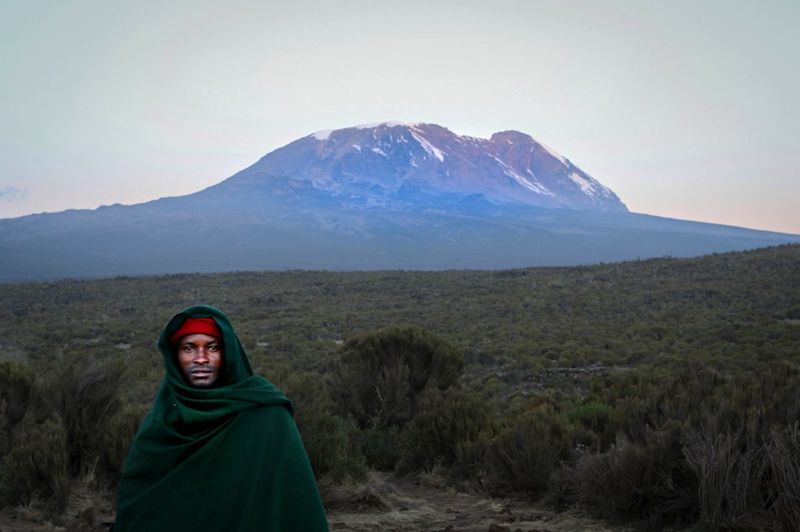 Mt Kilimanjaro rises a mighty 5,895 m above sea level
Vast plains of the Serengeti
The name Serengeti means 'endless plains' in the Maasai language. And what an apt name, given the size of the Serengeti ecosystem, which is about 30,000 km²! The Serengeti is known for many things, including the Great Migration and its large lion and leopard populations. It is, in fact, one of the best places for viewing lions and leopards in their natural habitat. In 2013, the Serengeti was voted one of the Seven Natural Wonders of the World. We guess you'll simply have to come see it for yourself to see if you agree!
A giraffe showing off just how long her neck really is!
Ngorongoro Crater
Ngorongoro Crater is a true wonder. The crater (which is between 16 and 19 km wide) was formed when a volcano collapsed in on itself. Since then, the bowl of the crater has developed into a wildlife haven, offering a natural area of protection for many diverse species of wild animals. Today, visitors can drive down into the crater and find a staggering density of animals, including black-maned lions, elephants, leopards, hyenas, zebras, giraffes and buffaloes.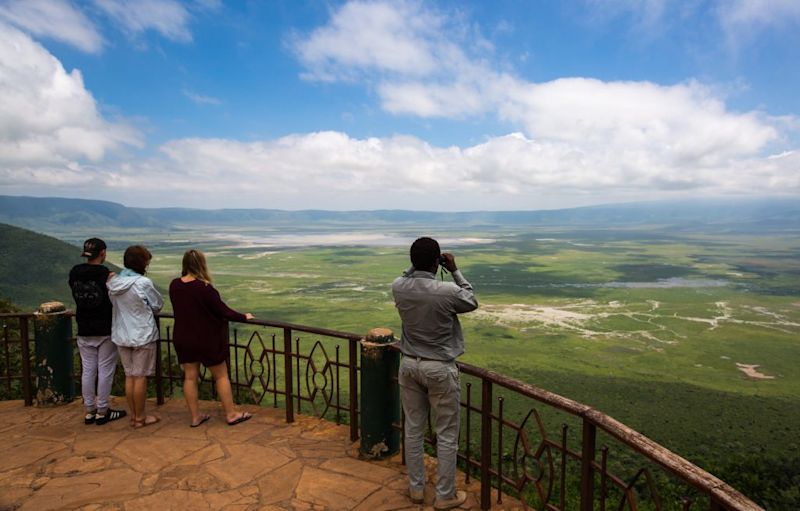 It's incredibly hard to capture the immense scale of Ngorongoro Crater in just one photo!
The Great Rift Valley escarpment
Another spectacular spot in Tanzania is where the plateau of the Great Rift Valley descends steeply to meet the shore of Lake Manyara. This escarpment wall is a dramatic sight, and you can take hikes along the ridge for amazing panorama views. What makes the setting even better are the birds and animals of Lake Manyara National Park, which include lions, elephants, hippos and swathes of flamingoes.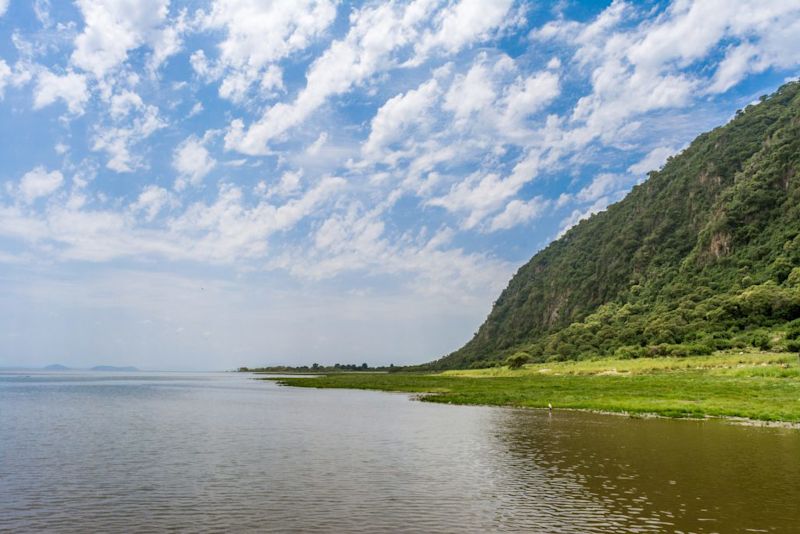 The escarpment wall of the Great Rift Valley dropping to the shore of Lake Manyara
Zanzibar
Zanzibar is a major feather in the cap of Tanzania tourism. An archipelago off the east coast of the country, Zanzibar has much to offer:
Stone Town.

Centuries of maritime trade with the Middle East and India has resulted in a fascinating mix of foreign cultures and languages with the local ones. The archaeology, architecture and goods on sale in the historic Stone Town (a UNESCO World Heritage Site) all point to this rich history.

A spicy cuisine.

The food of Zanzibar reflects its multicultural history and proximity to the sea. Some of the famous dishes to try include Zanzibar pizza (a savoury crêpe), octopus dishes,

mishkaki

(meat skewers) and

mandazi

('Swahili doughnuts').

Beautiful beaches.

the white-sand beaches of Zanzibar's islands are lapped gently by the clear, warm waters of the Indian Ocean. The activities here are many, from the relaxing end of the spectrum (sunbathing, drinking cocktails or fishing) to the highly active end (diving, waterskiing and parasailing).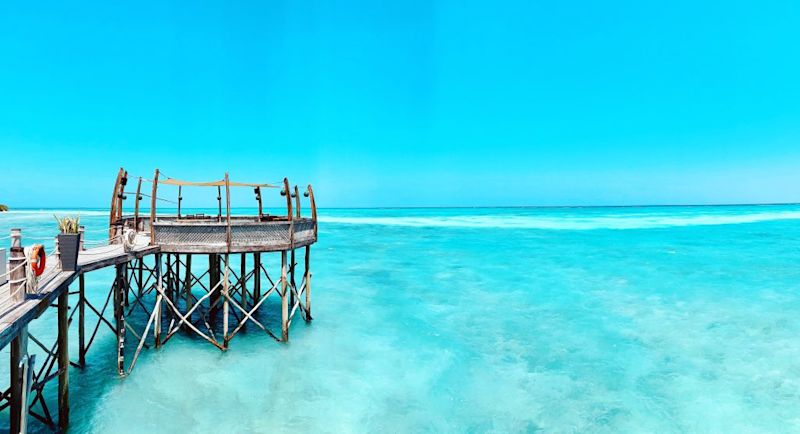 The warm, calm and strikingly blue waters of Zanzibar attract visitors from around the world
Why we prefer Tanzania
At Follow Alice we feel the pros and cons of the two East African countries as discussed above make Tanzania a preferable safari destination over Kenya. In fact, we feel Tanzania is the perfect safari destination! And that's why we offer Tanzania safari trips. Take a look at our suggested Tanzania safari itinerary, noting that it's just a proposed itinerary. We're super flexible and happy to tailor all of our trips to suit your needs and preferences.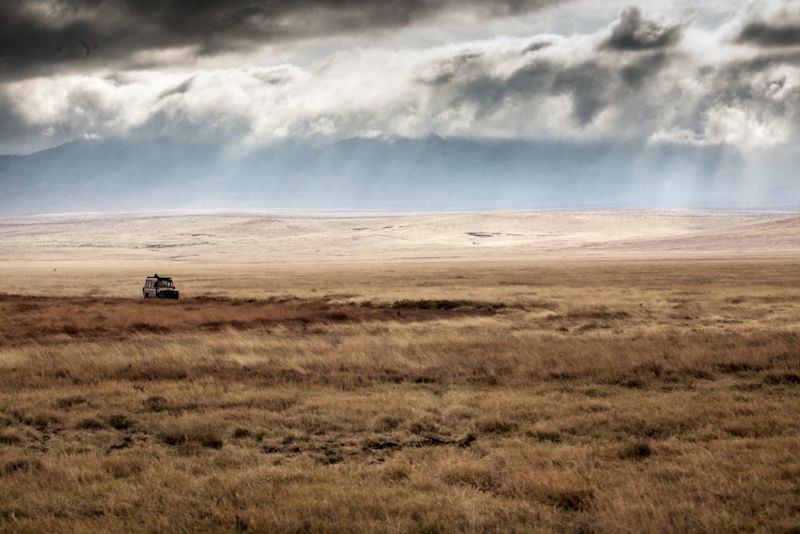 A safari vehicle in Ngorongoro Crater in Tanzania
Why you should definitely go on an African safari!
Here now are several pictures to show that regardless of whether you choose Tanzania or Kenya as your destination, you should most definitely go on an African safari!! We really cannot say enough just what a magical experience it is. We hope you're able to head off on safari sometime in the near future. 😀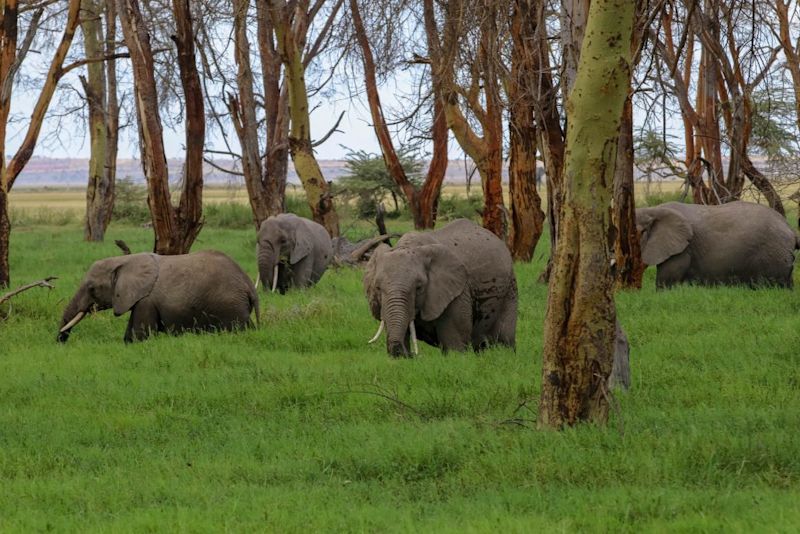 A herd of elephants in Amboseli National Park in Kenya
What others say about their African safari
Here's what some past Follow Alice travellers have had to say about their African safaris:
To go on an African safari has been on my bucket list for so long, and it didn't disappoint! It is by far the best adventure I have ever been on.
– Caitlin Summers
Thank you Kazi and the whole crew at Follow Alice for the wonderful experience! From the pick-up moment to the very end we had a great time, saw so much and got immersed into the real safari experience. Kazi, our guide and driver, was extremely knowledgable and shared with us so many interesting facts!! He really cared for us and that we're well taken care of, that it's hard to put in words. Hope to be back!!
– Lyubka Sokolova
An amazing trip where we have seen and learnt a lot. Our tour was perfectly organized and our guides were very knowledgeable, all these factors together allowed us to enjoy every single moment of our journey.
– Luigi and Claudia Trotta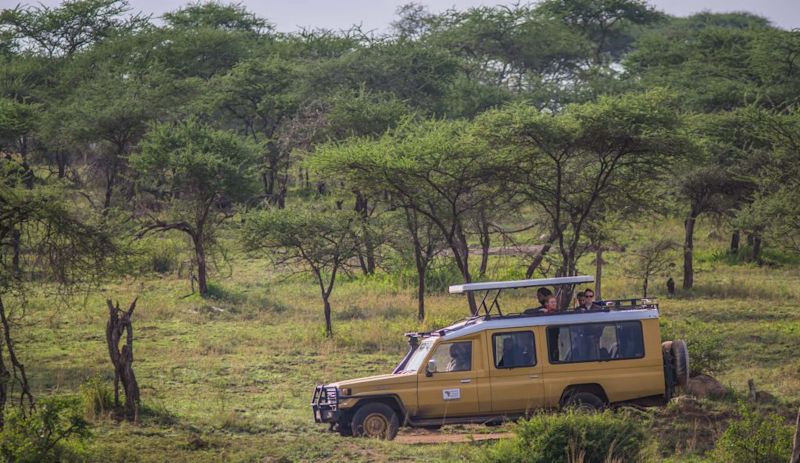 A safari drive is an experience like no other
Want to know more?
We invite you to think of us as the friend you just haven't met as yet – a friend who's happy to set up a Zoom coffee date and spend time chatting over your African safari dreams and answer any questions you may have. So let's connect. 😀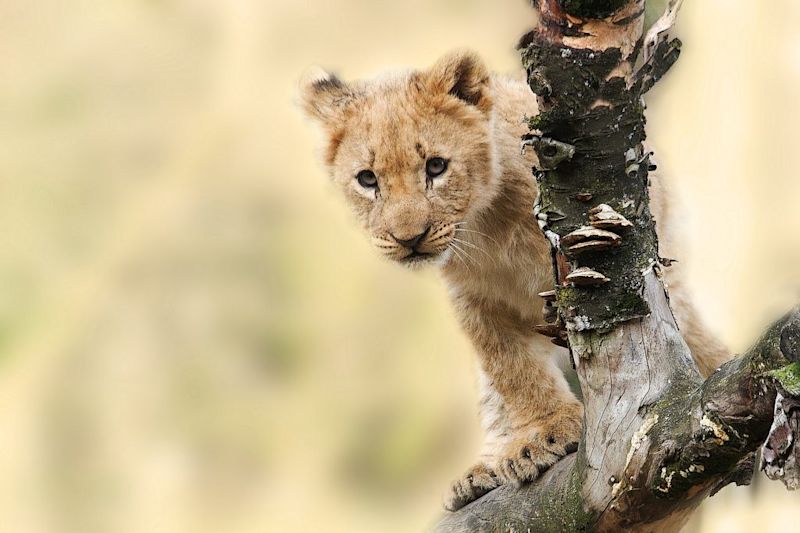 A lion cub, the poster child for African safaris