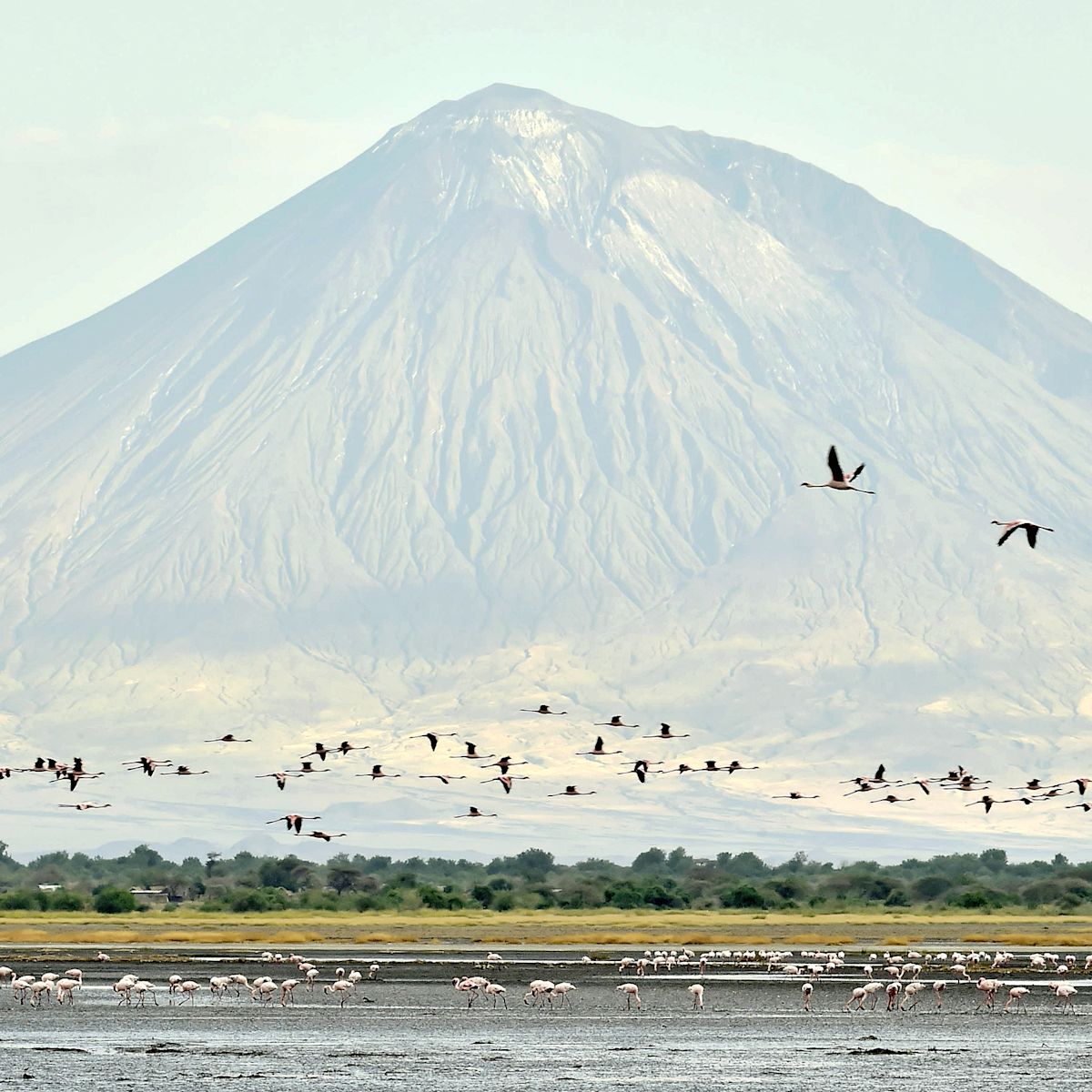 Safari and hiking
9 days
On this fabulous itinerary you go on Big Five game drives, but also do some guided safari walks and take on a challenging hike to the top of an active volcano! To do this, we visit all of northern Tanzania's main safari attractions, like Serengeti and Ngorongoro Crater, but also some lesser-known ones, like Olmoti Crater and Lake Natron. Prepare to be blown away.
Detailed Itinerary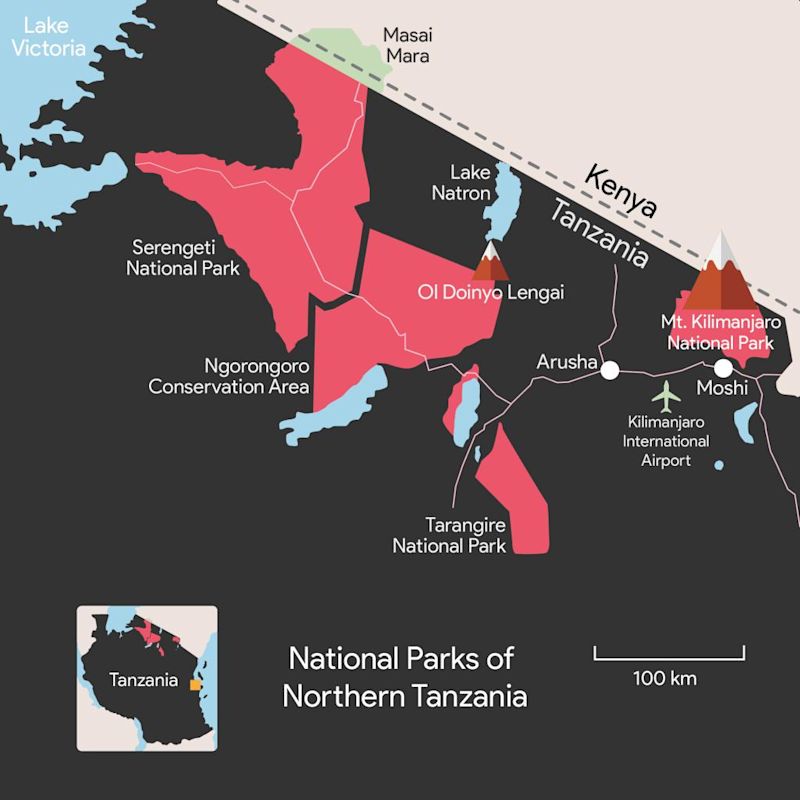 Day 1: Tarangire game drive
Today we head to Tarangire National Park for an exciting first game drive! This park is famous for its enormous baobab trees, massive elephant population, beautiful bird life, and more! Stand up in your safari car and peer through the gap in the roof at the varied wildlife. And enjoy lunch overlooking Tarangire River and the tree-dotted landscape.

Day 2: Hike Mt Ol Doinyo Lengai
After breakfast we drive to Lake Natron, a soda lake which often has algae blooms that turn it red! In the evening we trek up Ol Doinyo Lengai, an active volcano. We hike at night as it's so hot in the day. It's an incredibly challenging and daring climb that takes around 10 hours to complete. Those who aren't keen on the volcano can opt instead to do the Great Rift hike, which is also brilliant.

Day 3: Ngare Sero waterfall hike
We arrive back from the volcano hike in the morning and head to camp to have breakfast and a well-deserved rest. In the afternoon we take a safari walk by the lake shore, led by a local Maasai guide. We also do a guided 5 km roundtrip hike up a narrow gorge to Ngare Sero waterfall. This is a beautiful oasis and you can swim in the pool created by the falls – bliss.

Day 4: Guided safari walk by lake
This morning we enjoy a guided safari walk at the southern end of Lake Natron. We look for large game on land, and the lake's famous flamingo stands on the water. Depending on the time of year, the lake could be red in colour from an algae bloom! We then drive to northern Serengeti, where the game-spotting begins long before we even enter this world-class reserve!

Day 5: Great Migration game drive
Today is all about the animals. Depending on the time of year, we'll either head to northern or central Serengeti to see the enormous herds of the Great Migration, the largest land-based migration in the world! If we head north, it's to see the famous river crossings, where the wildebeest and zebra herds plunge en masse across the Mara and Grumeti Rivers, fearful of crocs and the deadly current.

Day 6: Serengeti game drive
We enjoy another day of game drives in the world's best game park. The Serengeti is home to the Big Five (lion, elephant, buffalo, rhino and leopard), and our safari guide Kazi will be doing his best to ensure you see all of these magnificent animals, as well as the many other gems that populate the park, like cheetahs, hippos, hyenas, serval cats, kudus, impalas and giraffes.

Day 7: Ngorongoro highlands
Today we enjoy a half-day game drive in central or southern Serengeti. January to March is calving season in southern Serengeti, so we'll be sure to head there to see baby animals if your trip is early in the year. There's also lots of predator action to be observed around these herds. We then drive to the beautiful Ngorongoro highlands for dinner.

Day 8: Olmoti Crater hike
Today we do something few include in their Tanzania safari but is a real treat: hike to the floor of Olmoti Crater! This is a chance to see some wildlife up close, and moreover it's a truly beautiful hike. You're also likely to see some Maasai and their cattle in the area. The crater floor is bisected by a valley river, and we can hike to see pretty Munge Waterfall.

Day 9: Ngorongoro Crater safari
This is an epic day, as we drive down into Ngorongoro Crater for a game drive like no other. From the crater rim, the land below looks empty. But once you descend, you realise just how incredibly abundant the wildlife is. Expect to see zebras, buffaloes, elephants, lions, hippos, black rhinos, hyenas and more! In the evening we head to the town of Karatu.

Inclusions
Price Includes
Professional, English-speaking safari guide and driver
A private safari car with pop-up roof and all petrol (fuel)
Book your trip
We do our best to provide you the best experience ever
Don't see your dates?
We can make it happen!
Adventuring made easy
Our dedicated travel consultants make adventuring easy for you by taking away all of the admin. Your only jobs are to train for the adventure if necessary and then pack your bags!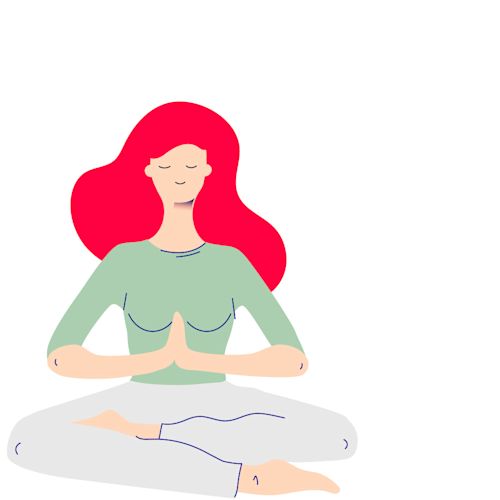 Local guides
Our local guides look after you in every way. Our goal is to give every traveller the feeling you get when a friend is showing you their country.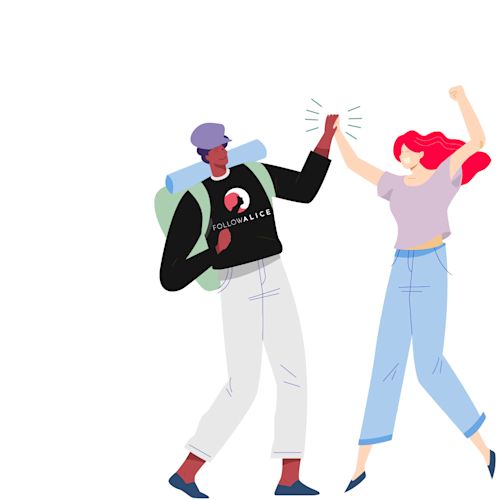 Responsible travel
On average, over 70% of your trip price stays in the local economy. It's important to us that the visited communities benefit the most since they're the ones hosting travellers.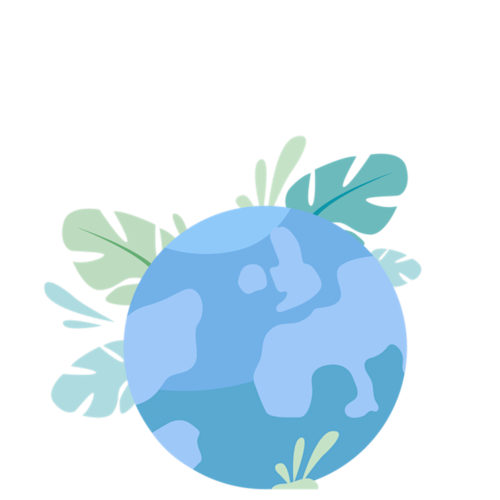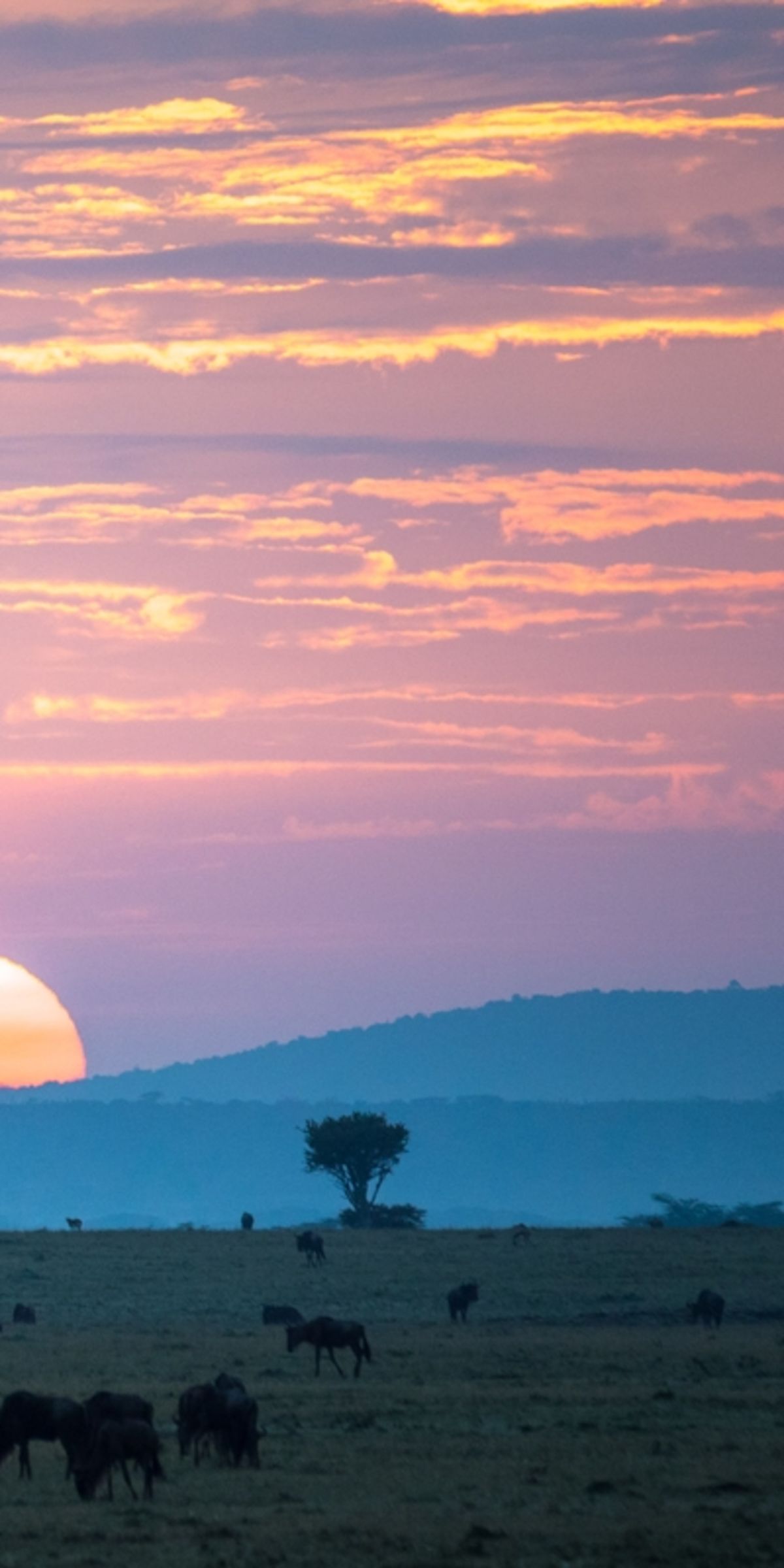 FAQs
How hard is it it climb Mt Ol Doinyo Lengai?
If you love travel,
join our newsletter
Get the latest news about hidden adventure gems, discounted launch trips and much more straight to your inbox