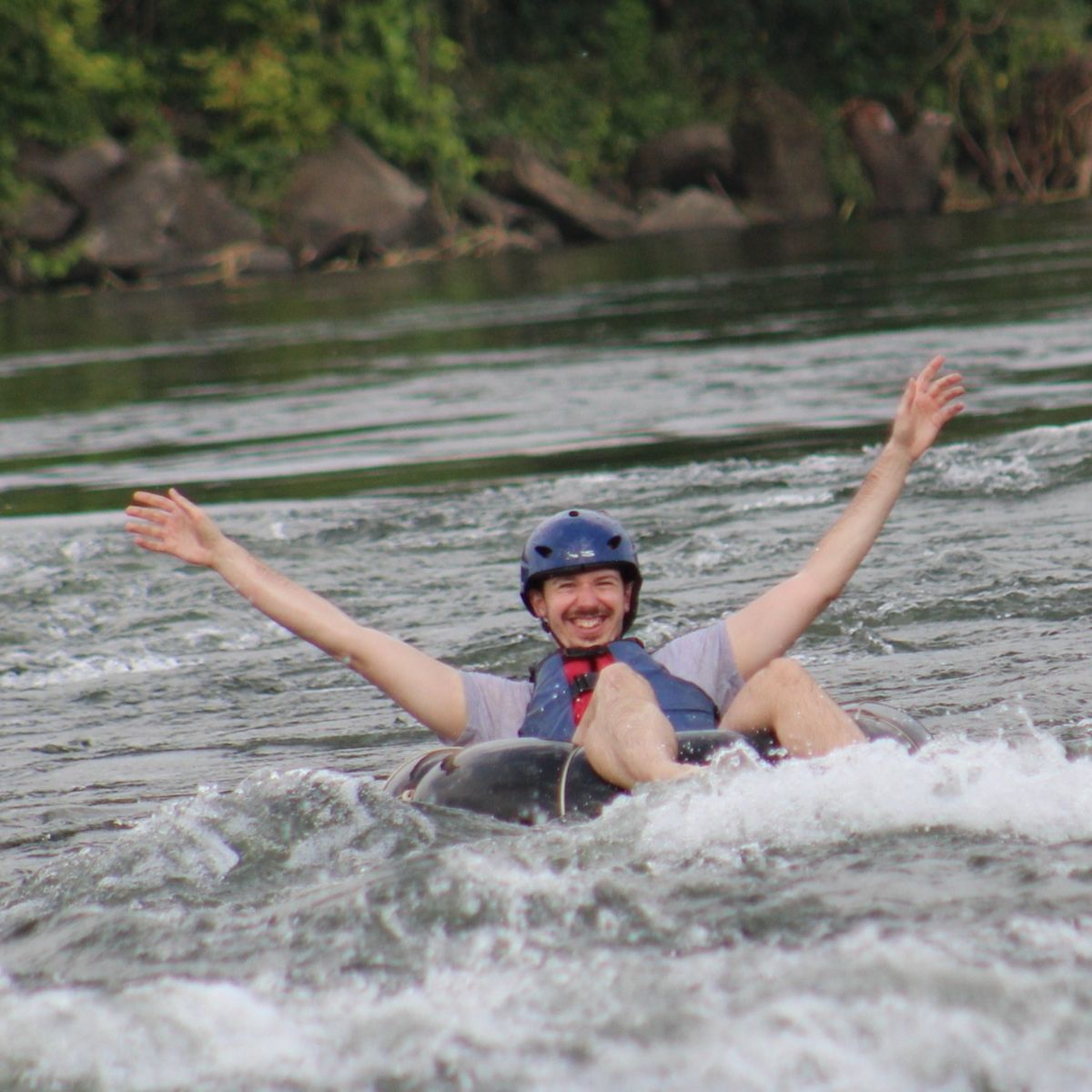 Uganda is calling all adventure-lovers
May 9, 2022
Reading time: 12 minutes
Uganda has something for everyone, and personally we cannot get enough of it! Find out about all of the exciting things to do and see in this beautiful and rugged African country.
Uganda is quite simply one of the best travel destinations in the world! Whether you're wowed by landscape, wildlife or culture, or you simply seek adventure, Uganda is almost certainly the perfect destination for you.
But don't just take our word for it. Winston Churchill – Britain's famously eloquent statesman – was one of Uganda's first tourists. When he explored the country back in 1907, he described it as the Pearl of Africa. He was impressed, as so many others have been, by the country's breathtakingly beautiful landscapes and diverse wildlife.
Today, it's just as magnificent. Despite this, it still receives relatively few visitors compared to its neighbours, Kenya and Tanzania. The fact that Uganda is relatively unexplored is yet another one of the things to make it so appealing.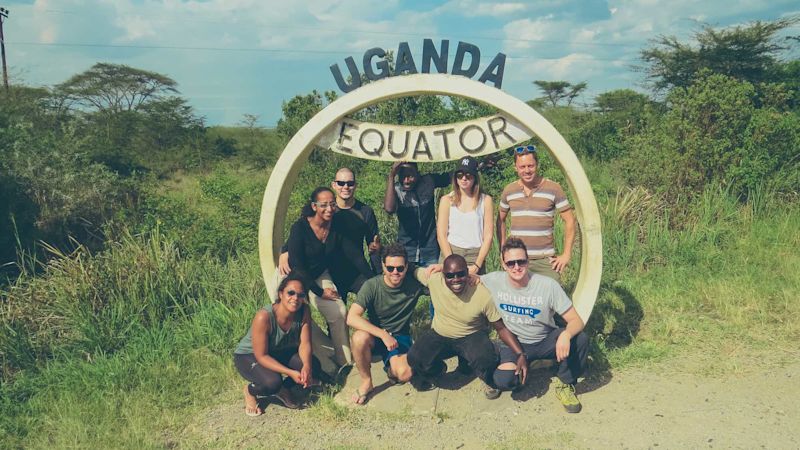 One of our groups at the Equator in Uganda: one foot in the northern hemisphere and the other in the southern!
Uganda's top attractions
Uganda is a diverse and beautiful place, hence its nickname the Pearl of Africa. It has magnificently high mountains (some of the highest in Africa), spectacular waterfalls, gorgeous forests, vast lakes (like Lake Victoria), expansive plains, and mighty rivers (including the Nile!). It also has a rich and varied wildlife population, including the Big Five, mountain gorillas and chimpanzees.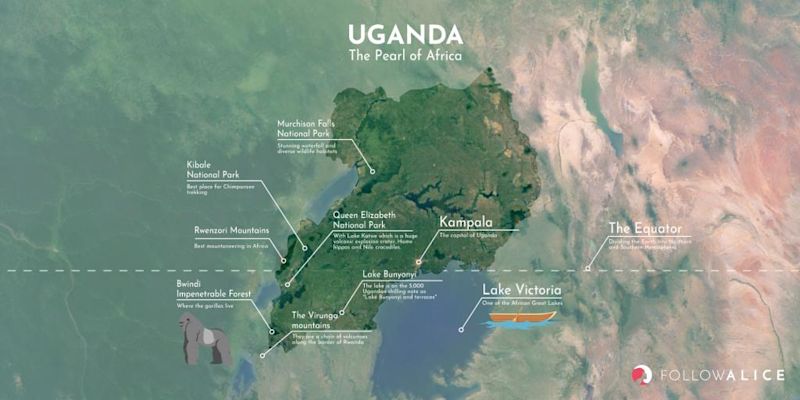 Map of Uganda showing some of the best tourist spots
One of Uganda's main highlights is Bwindi Impenetrable Forest. This is where you can find half of the world's mountain gorilla population. Encountering these endangered animals in their natural habitat is truly a very special experience.
Top attractions in Uganda
Here are just a few of the exciting things one can do in Uganda:
Go gorilla trekking

in misty

Bwindi Impenetrable National Park

Track chimpanzees

in beautiful Kibale National Park

Raft and tube the upper Nile

from the colonial town of Jinja, East Africa's

adventure capital

See the thundering

cascades of

Murchison Falls

on a boat safari, and then go an epic game drive

Trek the snow-capped

Rwenzori Mountains

on the Kilembe or Central Circuit Trail – and climb Africa's third highest peak if you want a challenge!

Have close encounters with hippos, buffalos, elephants and crocodiles on a

boat safari

of the Kazinga Channel in Queen Elizabeth National Park

Take a

boda boda

(motorbike) tour

of the capital city Kampala and take in a cultural show or two

Go on a

sunset safari bike ride

(or walking safari) through Lake Mburo National Park

Visit

Ziwa Rhino Sanctuary

to see endangered black rhinos

Hike to Sipi Falls

and abseil down the cliff face alongside it, then visit a nearby coffee farm for some yummy tastings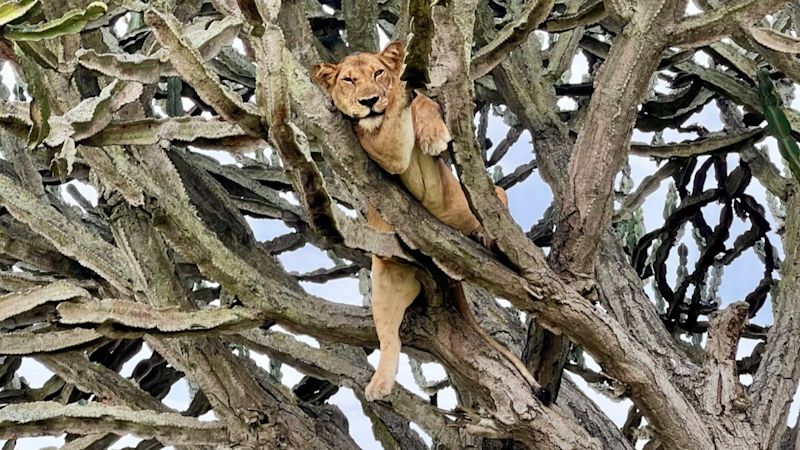 A well-fed lioness lolling in a candelabra tree in Queen Elizabeth National Park
For a longer list and more detail about each option, please read Top 20 things to do in Uganda. You might also like to watch the video below.
There would be a youtube video here.
Sadly, the youtube player requires cookies to work.
If you want a little more of this and a little less of that – just let us know and we'll tailor your Uganda adventure to suit you!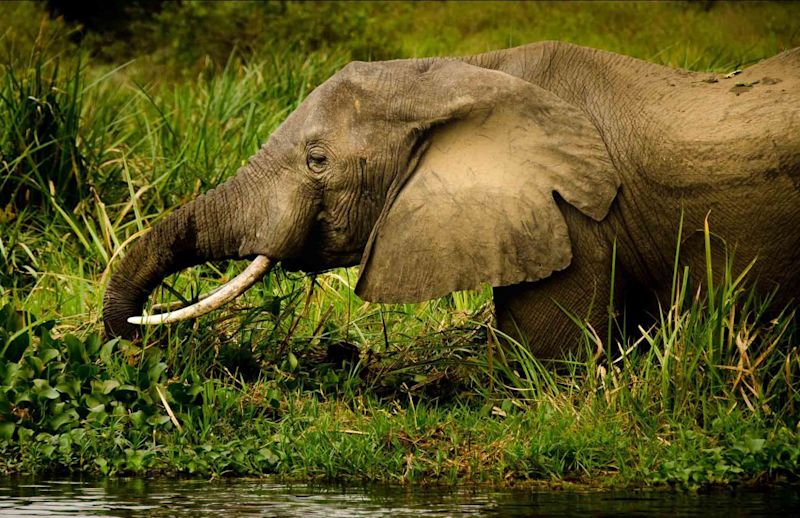 An African elephant in Murchison Falls National Park
What can I expect from Uganda's landscape?
Uganda's diverse landscapes are one of the main reasons why this country is such an exciting holiday destination. In the southwest of the country you will find Lake Victoria. The lake is the main reservoir that feeds the mighty Nile River. Two other Great Lakes, Lake Edward and Lake Albert, also define the borders of the country.
Geographically speaking, Uganda is mostly one large plateau, ringed by a rim of rugged mountains. These include the snow-capped Rwenzori Mountains. From the mountain peaks to the lake shores, the landscapes are incredibly diverse. They boast tropical rainforests, savannah and lush areas of farmland growing crops such as coffee, tea and cotton.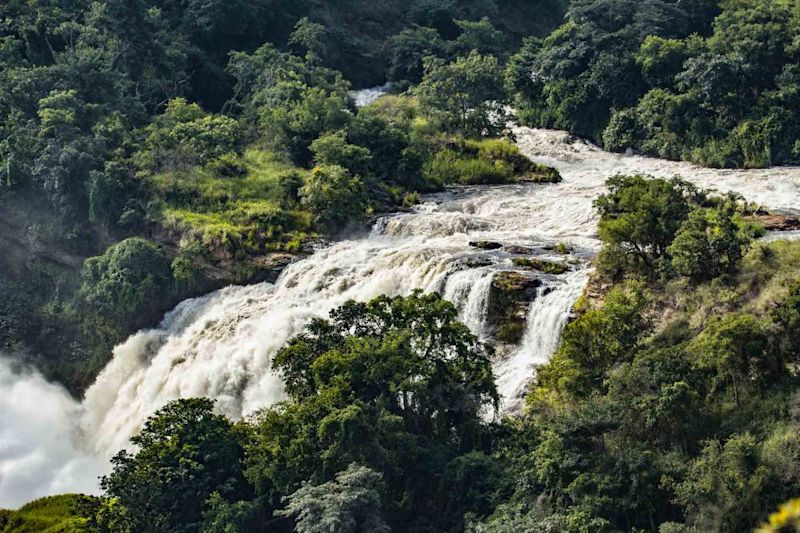 Murchison Falls is a must-see when in Uganda!
What wildlife will I see in Uganda?
Uganda is one of the most biodiverse countries in the world. It also ranks second amongst all African countries. This natural richness is a real asset to the country and helps drive the tourist industry. Opportunities to take safaris and trek to see some of the animals that live here are among the most compelling reasons to visit the country. But what exactly should you expect to see?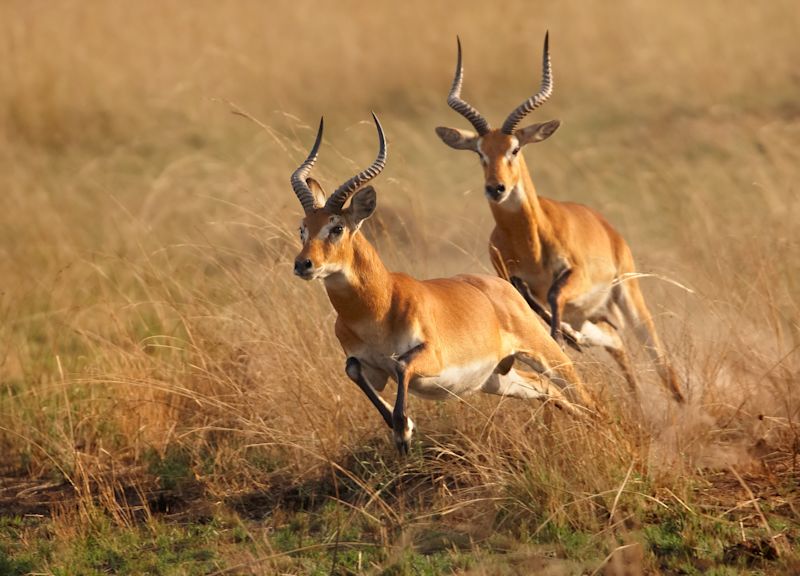 Ugandan kobs
Uganda has the Big Five, which is something only a few African nations can claim. The Big Five are African lions, African bush elephants, black rhinos, African leopards and Cape buffaloes. It also has those famous other African animals everyone hankers to see, like giraffes, wildebeests, kudus, springboks, hippos, crocodile, cheetahs, ostriches, hyenas and zebras.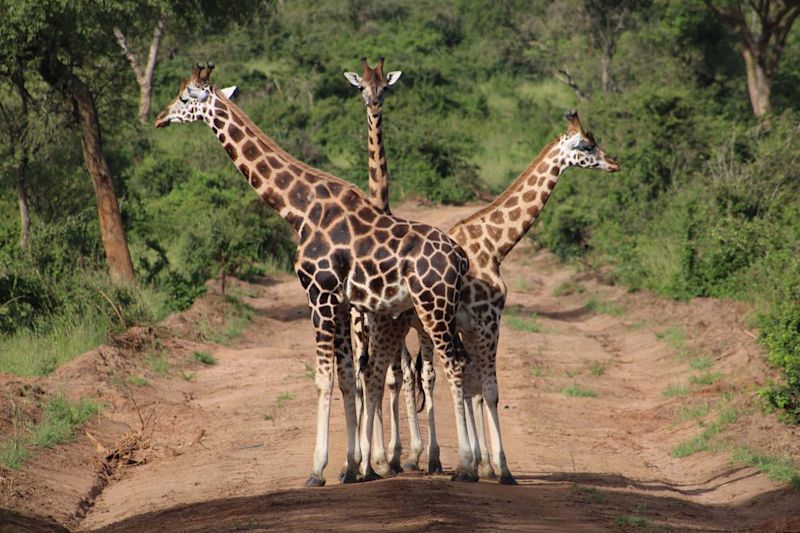 It's almost like they know the fun formation they're in!
And then there are the primates ....
Gorillas and chimpanzees
In Bwindi Impenetrable National Park, you are able to see the stars of the show in Uganda – the mountain gorillas! Almost half of the world's remaining population of these beautiful creatures are to be found here. Read our article on 20 things to know about mountain gorilla trekking to learn other cool facts, find out about the hike to reach the gorillas, and know how to prepare.
Chimpanzees are the major drawcard of Kibale National Park. Of course the forests are also home to many other creatures too, including other primates.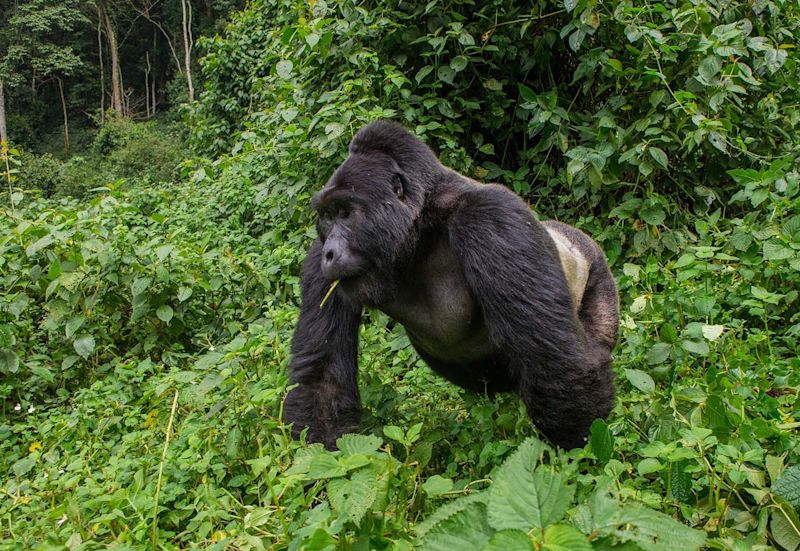 You can only find mountain gorillas in Uganda, Rwanda and the DRC
Uganda is an incredibly beautiful country and the guides showed us some of its most stunning spots ... visiting the Bwindi gorillas was a very special and impressive experience, it's tremendously fascinating to see these peaceful giants in their natural habitat.
– Beni Loertscher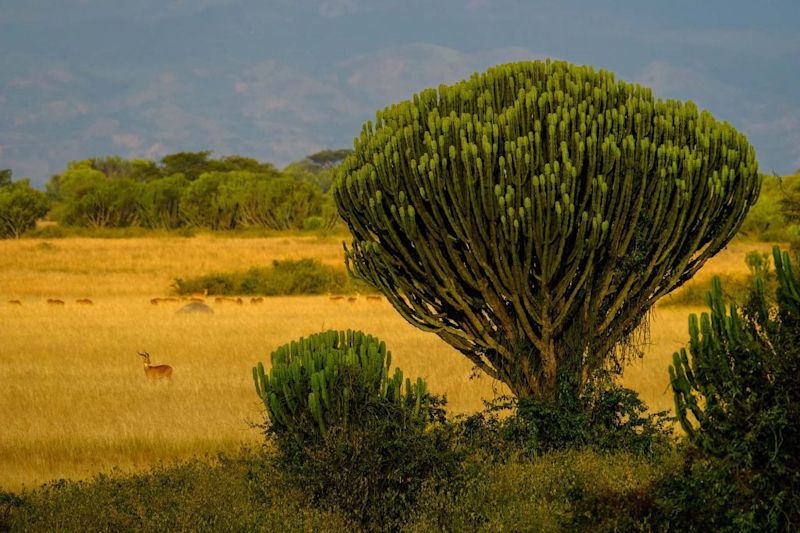 Antelope are such graceful creatures and you usually see them in large groups, which is very exciting
Why go gorilla trekking in Uganda?
Foremost amongst all of the country's attractions, gorilla trekking is something special. Mountain gorillas are an endangered species. Trekking to see these gentle giants and getting to see them up close truly is a privilege. This really is one of two places in the entire world where you can see them.
Hiking through the rainforest is, even without the gorillas, a humbling and exciting experience. This is one of the most biodiverse ecosystems on the planet and a worthy habitat for the majestic mountain gorillas. Sadly, only around 720 mountain gorillas are left in the wilderness today, which is what makes it all the more remarkable when you finally find the gorilla troop on your trek. If you're lucky enough to visit Uganda, don't miss out on this remarkable opportunity.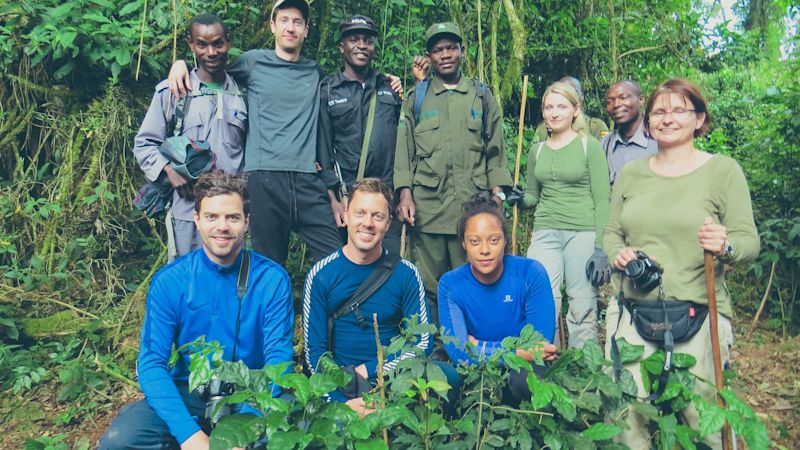 The Follow Alice gang en route to find their troop of mountain gorillas
Learn more about our gorilla trekking tours.
What is the culture like in Uganda?
Most of the 41 million people in Uganda live in the southern and western regions of the country. The people are known to be honest, polite and genuinely pleased to help visitors.
While the cities are modern and aspects of contemporary life feature heavily in the more populous areas, traditional ceremonies and rituals are still very much part of the local culture. Distinctive dances are still practised in different communities.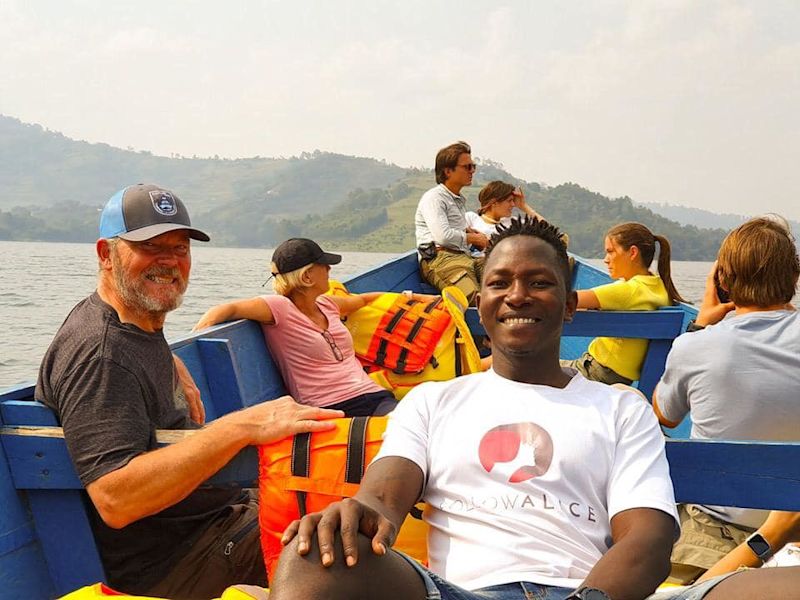 Ugandans tend to be friendly and welcoming to visitors, as epitomised by our Ugandan local leader Dan!
What is the food like in Uganda?
Food is also central to the culture here. Most people will produce their own food, except for a minority who live in urban centres. If you peek inside someone's kitchen, you'll probably find them preparing fish from the lake or making a stew from meat or chicken. They'll serve it later with rice or matoke, a mash made from cooked plantain.
Other popular dishes include millet bread, cassava, sweet potatoes, chicken, beef and freshwater fish. The national drink is waragi, a banana gin.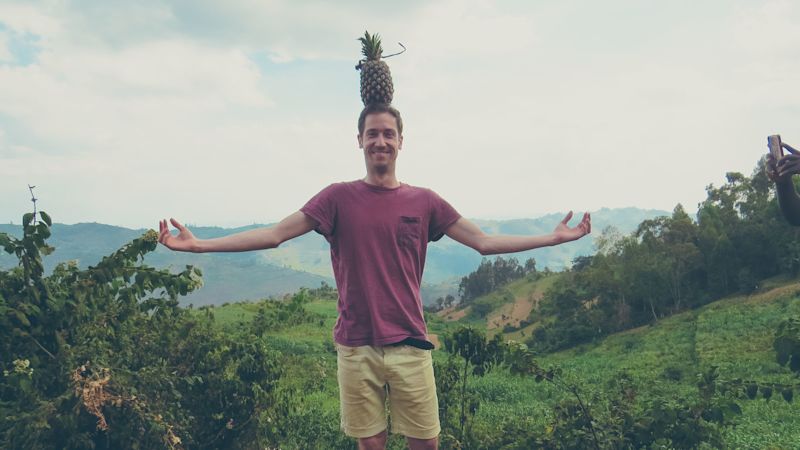 Not only will you have an amazing time in Uganda, you'll pick up lots of useful skills too!
What languages do they speak in Uganda?
The official language of Uganda is English, but there actually 41 living languages spoken there. Swahili and Luganda are widely spoken, but English is used for all formal communications. In total there are 42 languages spoken in the country, 40 of which fall into the Bantu, Nilotic and and Central Sudanic language groups. Many Ugandans speak more than one language, and cross-language dialects are also commonplace.
What currency is used in Uganda?
The national currency is the Ugandan shilling. Like its neighbour Tanzania, Uganda used to be part of the British Empire. This is why its currency is the shilling.
You can spot some gorillas on the 50,000 shilling note (which has a value of approximately €12). You can also see the Independence Monument on the note, as well as the outline of the country.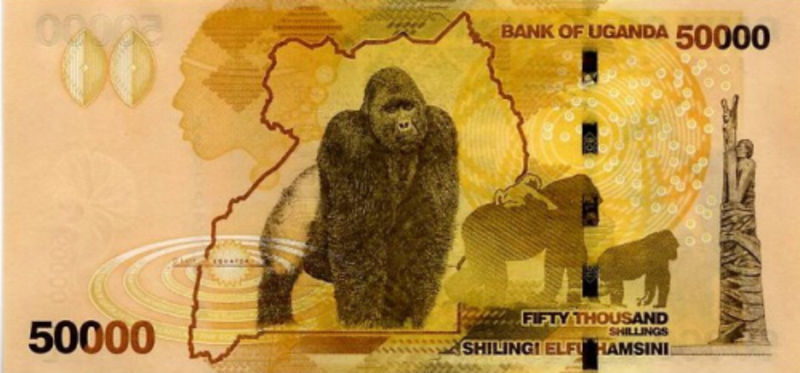 The mountain gorilla on the 50,000 Ugandan shilling note
Is it safe to travel to Uganda?
Like almost all other nations, Uganda has seen its share of conflict in the past. Now, however, it's considered to be one of the safest and most stable countries in Africa. Kampala is one of the safest capitals on the continent.
While Uganda has the same dangers that you might expect in many other countries, usually you'll be perfectly safe as long as you remain vigilant and take sensible precautions. Almost all visits to the country are considered to be trouble-free. There is therefore no reason to avoid Uganda on safety grounds.
For more up-to-date travel advice, speak to us or visit the gov.uk website.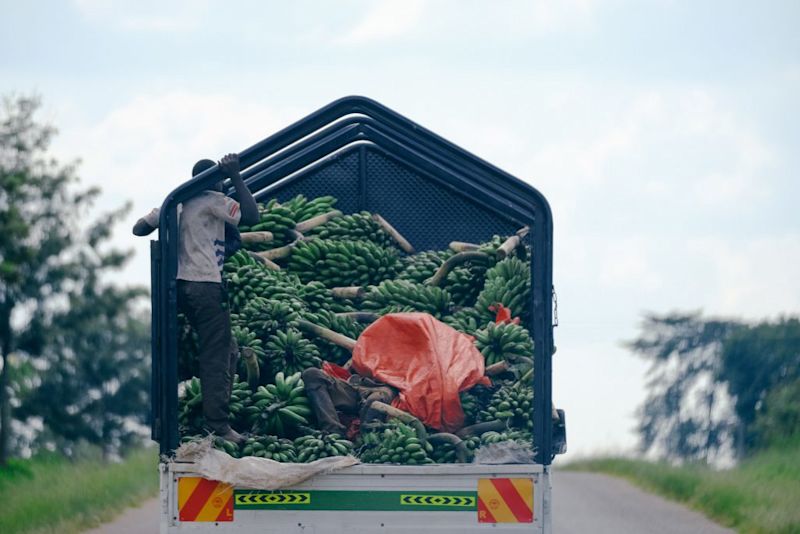 Uganda grows plenty of yummy tropical fruit and veg
What is the climate like in Uganda?
Uganda's climate is almost always very nice. This is one of six African countries that lies on the Equator. The country's dry seasons are from December to February and June to August. These two periods are the best time to travel to Uganda.
The rainy seasons are March to May and October to November. Fortunately, the temperatures here don't often climb above the high twenties celsius, and remain pretty much constant throughout the year. The hottest months are January and February, when the average daytime temperature range is between 24° and 33° C (75° to 91° F).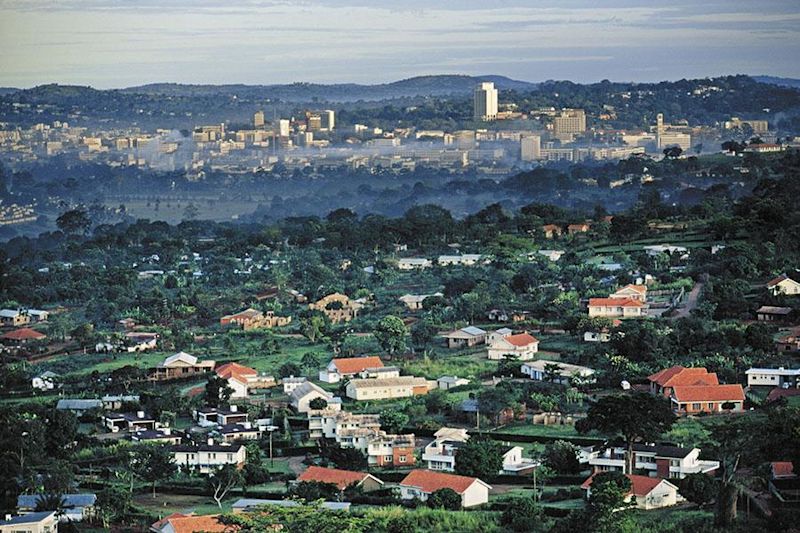 The capital city of Kampala
What do I need to do to prepare for a visit to Uganda?
You should prepare for your visit to Uganda by reading up on all the exciting things to see and do there. You should learn a little about the country, its culture and its people in order to get the most you can from your visit.
There are also a number of practical matters that you should attend to when preparing for your trip:
Check that you have a

passport

valid for at least six more months.

Apply for a

visa

to enter Uganda. This can be done online. If you'll also be visiting neighbouring countries then you can apply for an East African tourist visa which will be valid for 90 days and which will allow multiple entries into Kenya, Rwanda and Uganda. Most passport holders should now be able to apply for a visa online for around €50. But be sure to check visa requirements yourself on your Government's website.

Get

vaccinations

recommended for visitors from your country to Uganda. It's recommended that you visit your GP at least five weeks prior to your trip to arrange everything. Check ahead what you might need online.

Pack comfortable and light clothing as well as shoes suitable for gorilla trekking, safari and other outdoors pursuits. Shoes or

boots with gaiters

to protect your ankles are a good idea for rainforest exploration. Read more in our guide of

what to pack for gorilla trekking.

You may also wish to make arrangements for

international roaming

with your phone service provider. Uganda generally has good mobile coverage across the country and Wi-Fi is available in many hotels and other businesses in cities and tourist areas.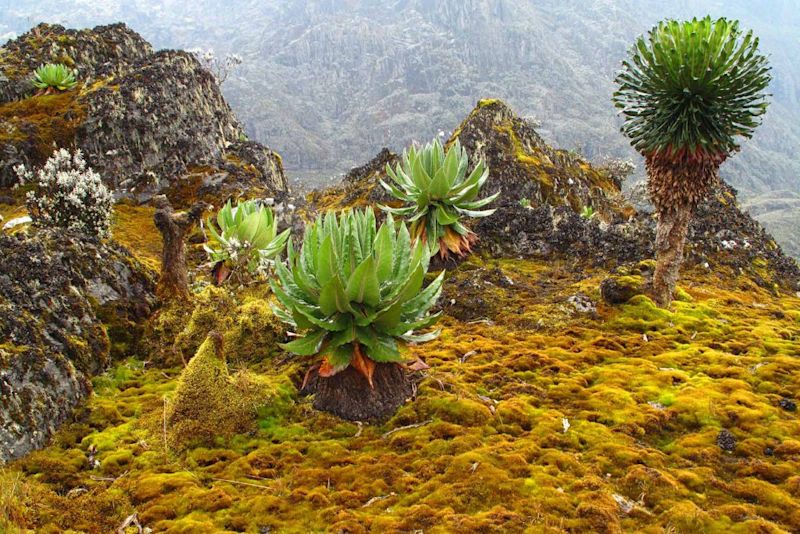 Some of the striking vegetation of the Rwenzori Mountains
Follow Alice to Uganda
Our round trip of Uganda takes you through the best of the country without being stationary at any one place too long. You'll stay at some beautiful lodges, each with its own charm, and many with a swimming pool.
Be prepared to embrace a wealth of new experiences. There'll be new landscapes every day, and an incredible variety of wildlife that call this gem of a country home.
The Uganda gorilla trek adventure was absolutely incredible! I wasn't sure what to expect and the the itinerary completely surpassed my expectations. From doing a cycle safari to beautiful boat rides - it was simply amazing. Of course the main feature, gorilla trekking, is a once-in-a-lifetime experience I will never forget.
– Rosalind Eleazar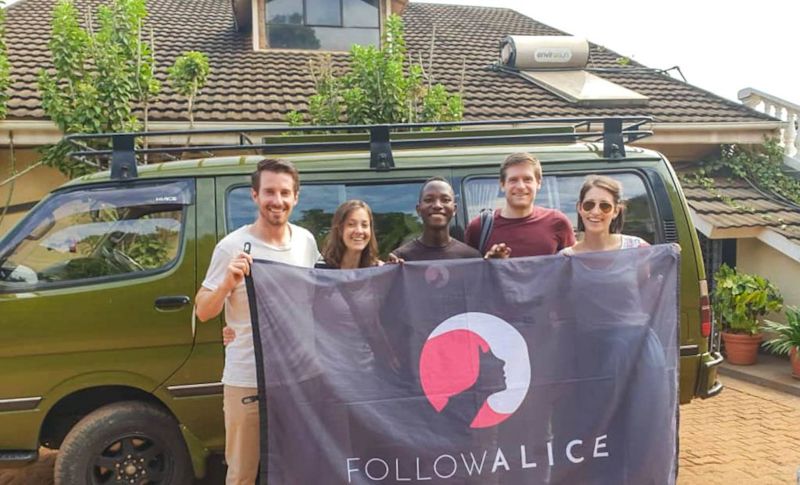 Dan Kabogoza (centre) is our Uganda local leader, and he's always smiling!
Leading the tour will be Dan, our local hero and English-speaking guide. Dan was born and raised in Buganda in central Uganda. He's been a guide and driver for over four years and is great company. Wherever you travel, you're in safe hands with him.
Dan made the safari and the trip around it unforgettable. It didn't feel like travelling with a tour guide but more with a good friend who has invited you to his home country.
– Pete Frank
Follow Alice on a Uganda itinerary that covers an exciting breadth of sights and experiences!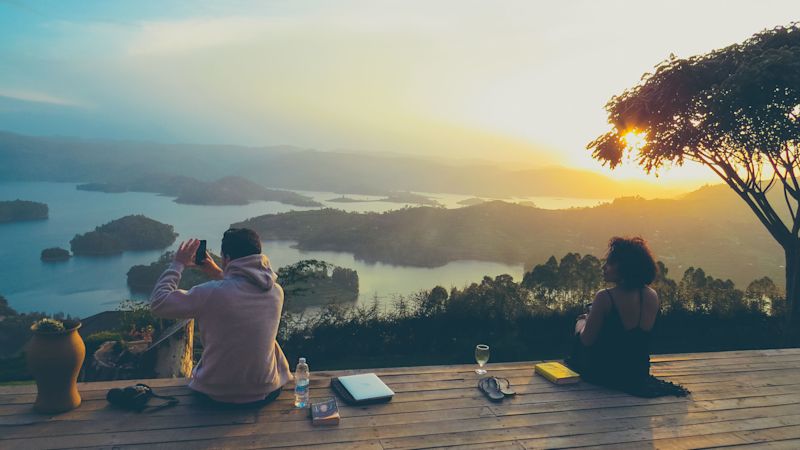 A view of the islands of stunning Lake Bunyonyi