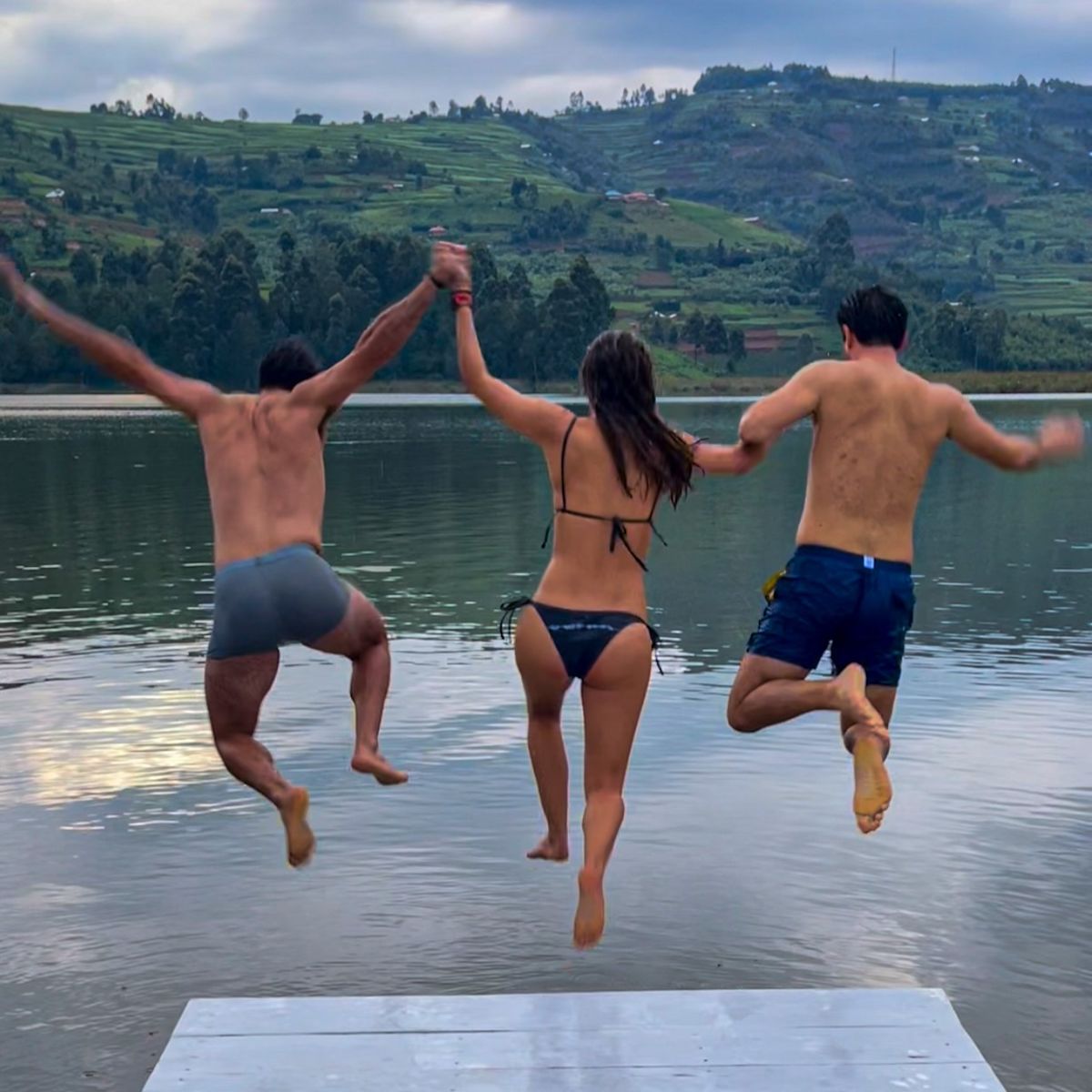 Top 20 things to do in Uganda – the definitive list!
Jun 12, 2023
Reading time: 14 minutes
Uganda has so much to offer beyond just trekking to see mountain gorillas. We're talking amazing wildlife, adrenaline activities, hiking and waterfalls, cultural experiences, and more! Here are our top 20 things to do in Uganda.
Uganda is one of the most exciting and beautiful holiday destinations in the world. Whether you are wowed by landscapes, wildlife, culture, or simply seek adventure – Uganda is the perfect destination for you.
But don't just take our word for it. Read our list of the top 20 things to do in Uganda and see if you don't agree with us! (We're in good company, by the way, in making this claim, as in 1907 Winston Churchill dubbed Uganda the Pearl of Africa!)
1. Go mountain gorilla trekking
Number one on our list of things to do in Uganda is gorilla trekking. If you're looking for adventure, you can't get any better than this! Get up close and personal with mountain gorillas in the Bwindi Impenetrable National Park.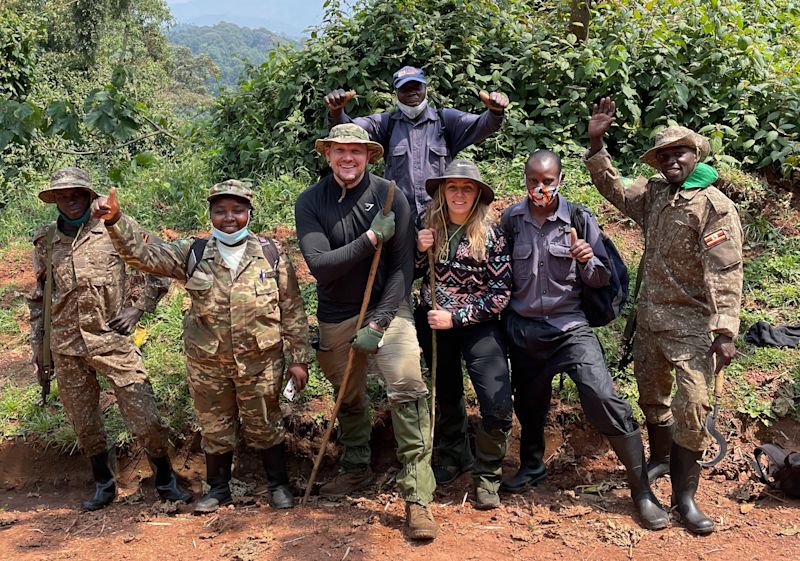 Our clients Amber and Scott with their Bwindi Forest trek crew
Only a handful of people get to spend time with wild mountain gorillas in their natural habit, because there are roughly only 720 left on the planet.
Gorilla trekking is therefore both a fascinating and truly unique experience, one that's understandably at the top of many people's bucket lists! Here are 20 more things to know about mountain gorilla trekking.
There would be a youtube video here.
Sadly, the youtube player requires cookies to work.
2. Visit endangered rhinos
Due to poaching (the very last wild rhino in the country was killed in 1982) you won't spot rhinos in Uganda's national parks. But the good news is that there are several white rhinos living happily in the expansive Ziwa Rhino Sanctuary.
The sanctuary was started in 2005 by the rhino reintroduction project, and profits from visitors go towards the breeding programme and their eventual release into the wild! These endangered, magnificent creatures are free to move around on 7,000 ha of land.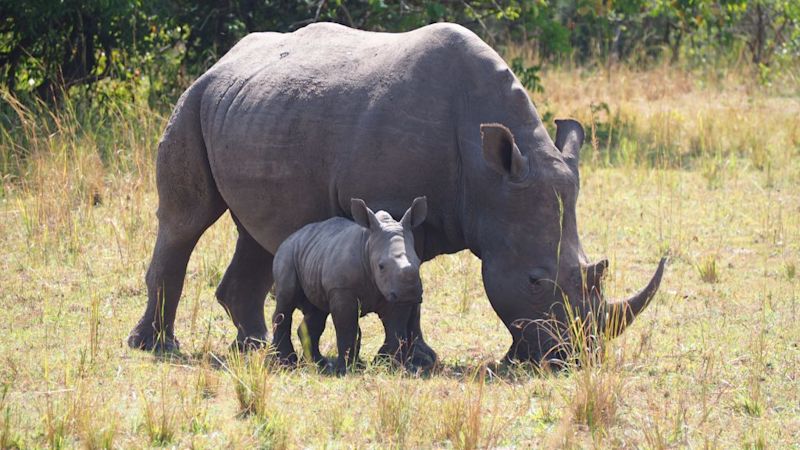 Black rhinos in Ziwa Rhino Sanctuary
Watch them at close range on a one- to two-hour trek whilst they roam in their natural habitat. This is a spectacular African experience not to be missed!
3. Canoe on Lake Bunyonyi
Believed to be the second deepest lake in Africa, Lake Bunyonyi is one of the country's top natural treasures. Hence why it's also on our list of the top 20 things to do in Uganda!
The lake is framed by lush, terraced hills, but it's the 29 islands of various shapes and sizes scattered across the water that make it most magical.
Canoe in traditional dugout canoes
Its the perfect place to relax, explore the neighbourhood on a quad bike or go bird watching. The word bunyonyi in the local language actually means 'birds', and yes, you guessed right – it's thus called because the lake is home to an extremely broad range of bird species! Get your camera ready and check out those stunning views.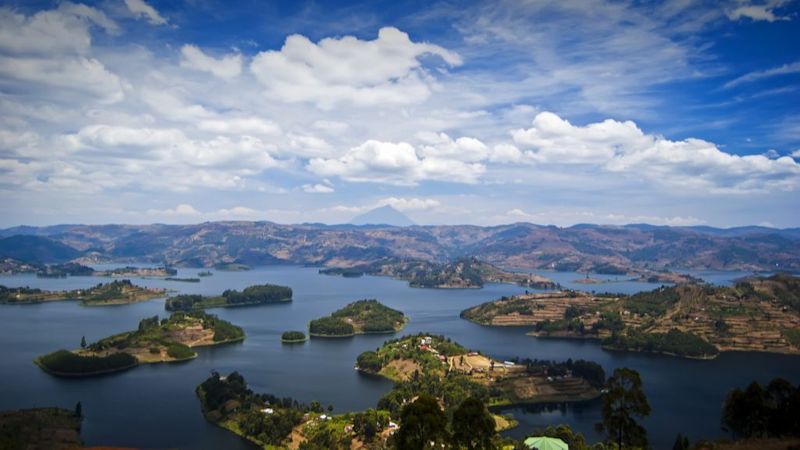 Bunyonyi contains 29 islets, giving it a memorably different look to most lakes
Hop on traditional Ugandan wooden boats and paddle to one of the Lake Bunyonyi's many hidden islands, one of which has a small adventure park including a zip line!
And don't forget to bring your swimsuit. Lake Bunyonyi is known as one of the few lakes in Uganda free of bilharzia (a common parasite found in southern Africa), making its waters safe for swimming. Yippee! It's also free of dangerous wildlife like hippos and crocodiles. Even bigger yippee.
4. Go on safari in Queen Elizabeth National Park
If you consider yourself a bit of a nature buff, you've probably heard about the Queen Elizabeth National Park. It's the most popular tourist attraction in Uganda and the most visited national park – and we can see why! It's home to 96 species of mammals, including lions, buffaloes, warthogs, hippos, crocodiles and elephants. You can spot them all at close range.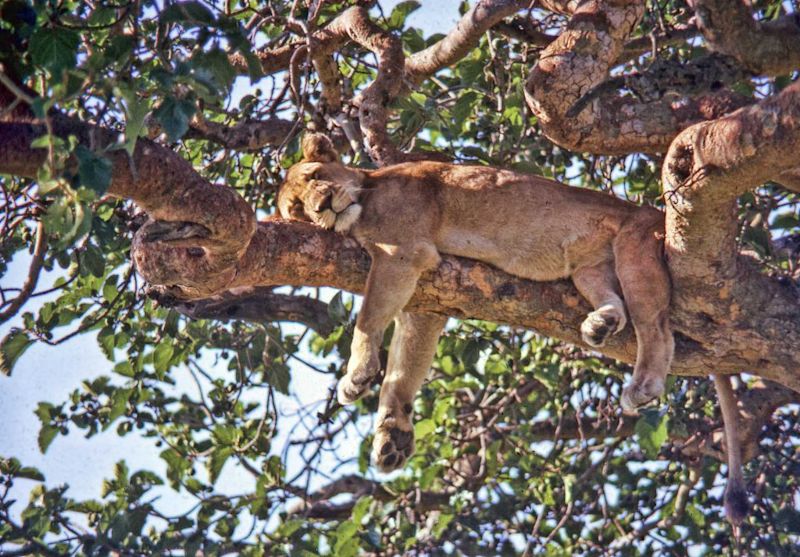 A lion takes it easy in a tree in Queen Elizabeth National Park
What's more, you can see the park's tree-climbing lions! Very few African lions climb trees. Nobody knows for sure why a handful of lion populations in Uganda and Tanzania go up trees when their brethren don't. Some think they climb trees in order to avoid tsetse fly bites. Others believe it's a way of them escaping the heat on the ground. Whatever the real reason, they look rather comfy!
5. Take a boat safari on Kazinga Channel
A narrow stretch of water connecting Lake Edward and Lake George, this channel is among the most important features in the Queen Elizabeth National Park and can't be missed!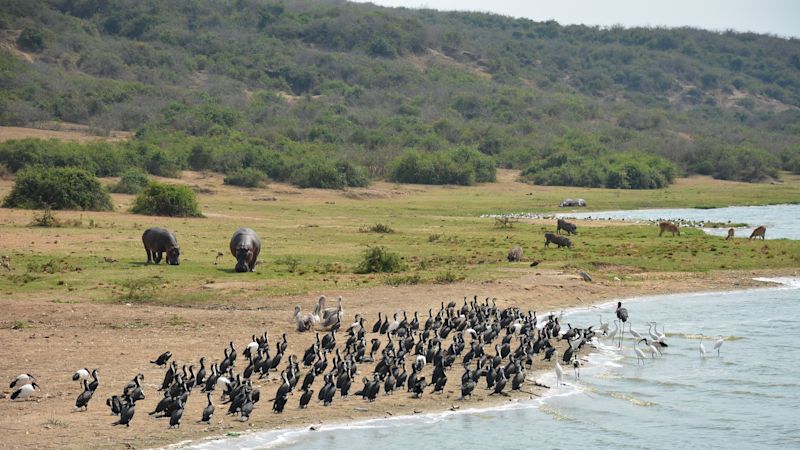 Kazinga Channel is always buzzing with wildlife
The park is known for being home to the world's largest concentration of hippos, who happen to live side by side with Nile crocodiles. Wouldn't want to fall in that water, that's for sure!
Taking a boat cruise down the channel is a great way to keep you distance yet still see these magnificent creatures in their natural habitat.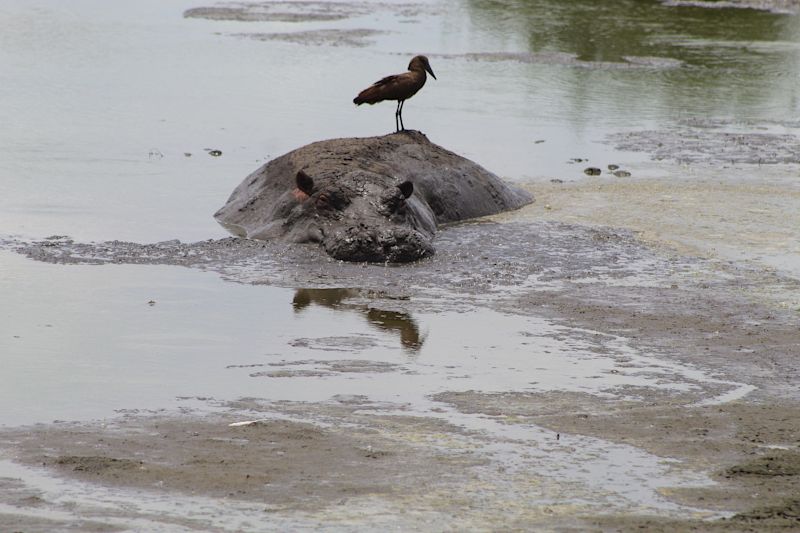 Kazinga Channel is full of hippos
6. Visit the salt pans of Lake Katwe
Lake Katwe is a traditional salt-mining lake known for its high-quality salt. Small salt mines make a pretty pattern on the edge of the lake. We recommend popping by on your way to Queen Elizabeth National Park to see how the local community mines the salt.
FYI, the lake was formed in the aftermath of a violent volcanic eruption.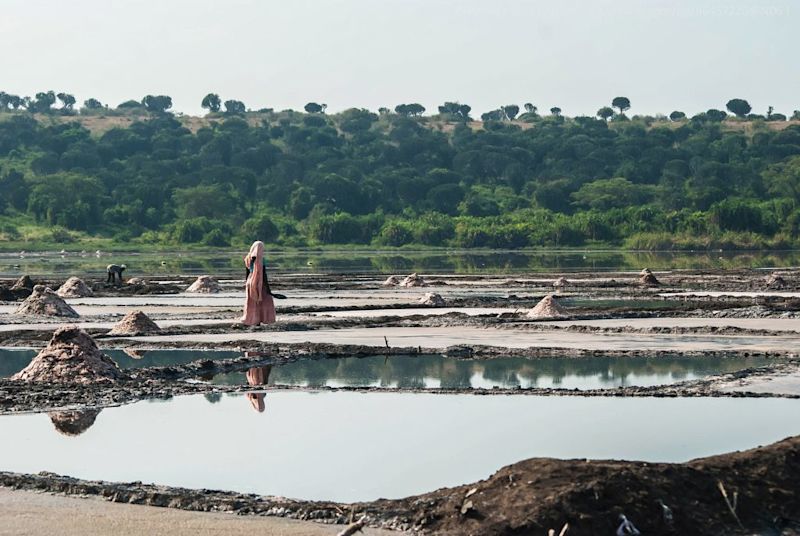 Pans of water on the edge of Lake Katwe which are being mined for salt | Image: Pérsida Díaz
7. Explore the town of Entebbe and its surrounds
Entebbe is a small, green and laidback town on the shore of Lake Victoria. It's a fantastic hub for adventure sports, exploring nature and cultural pursuits.
And bonus: Entebbe International Airport is just next door! This makes it the perfect overnight stop on your way in or out of Uganda.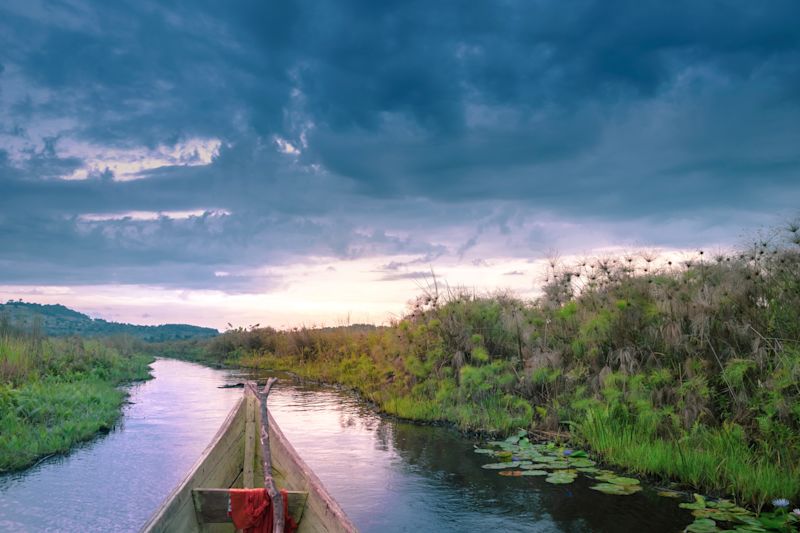 Sunset view of Mabamba Swamp just outside of Entebbe
Some of the activities you can go in Entebbe include:
horse riding

visiting Entebbe Botanic Gardens

shopping at the craft markets

mountain biking

visiting Ngamba Island Chimpanzee Sanctuary (which protects orphaned chimps)

exploring the impressive Uganda Wildlife Conservation Education Centre

and much more!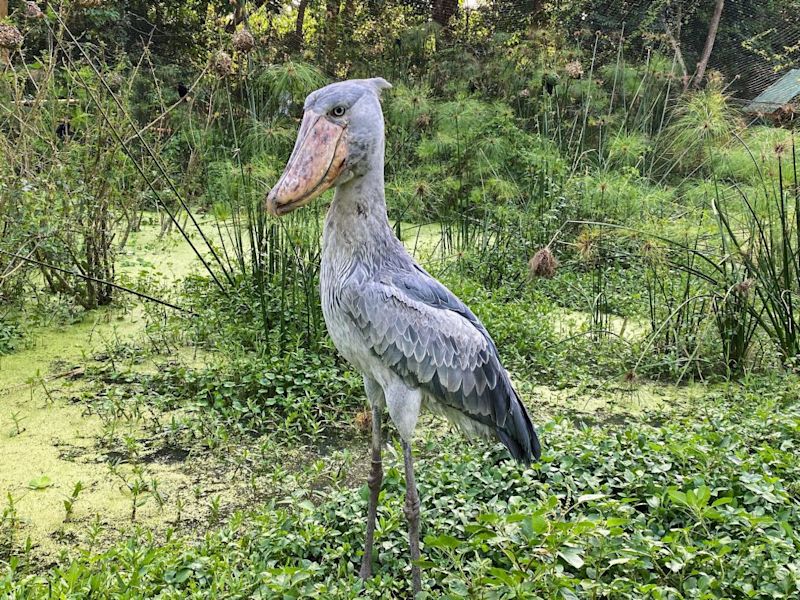 A resident shoebill stork at Entebbe's Uganda Wildlife Conservation Education Centre
8. Have fun on Lake Victoria
While in Entebbe, you have to make the most of Lake Victoria! This majestic expanse of water is shared by Uganda, Tanzania and Kenya. Spending time on the waters of Lake Victoria is most definitely on our list of the top 20 things to do in Uganda!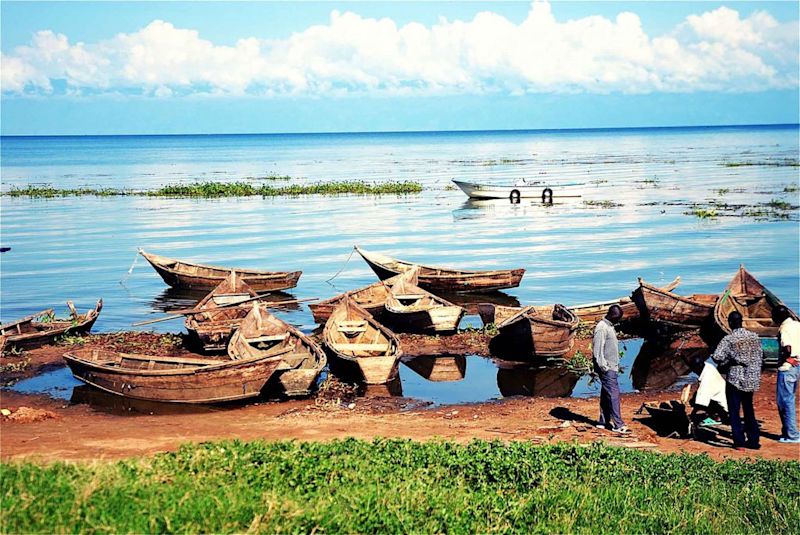 Fishermen on the shore of Lake Victoria
Some popular activities include:
kayaking

sunrise or sunset canoeing

playing volleyball

fishing

swimming at Lido Beach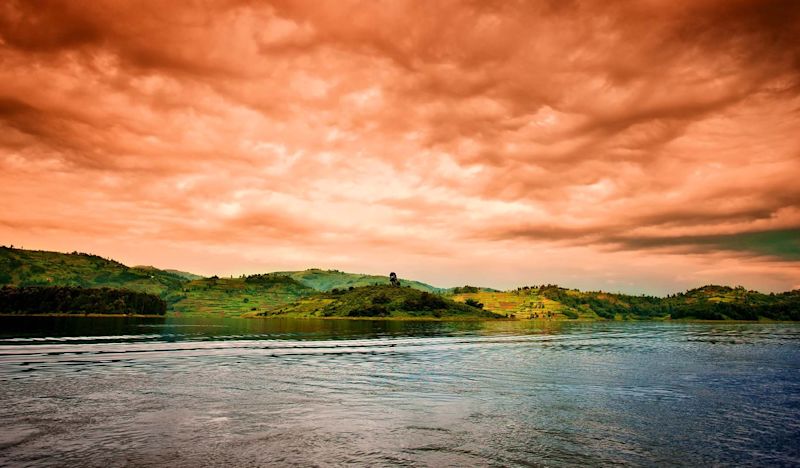 Sunset over Lake Victoria
Did you know that Lake Victoria is the largest lake in Africa and the chief reservoir of the White Nile?
9. Explore the city of Kampala
Northeast of Entebbe, Kampala is a dynamic and engaging city with a rich and colourful history. Visiting the capital city adds yet another flavour to your Uganda experience and you get to see one more side of real Africa!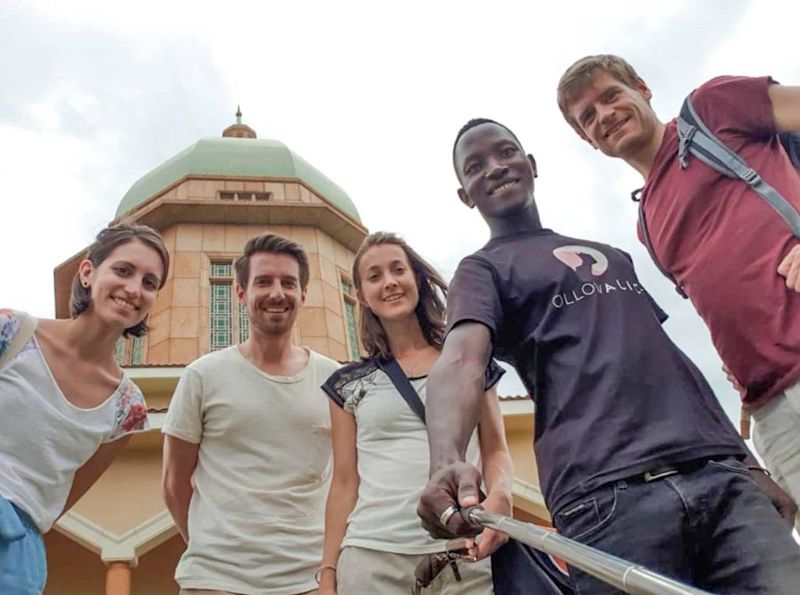 Selfie time in front of Kampala's famous Baha'i House of Worship
Our local leader can take you to a local restaurant or bar in the evening which can be an adventure in itself! If you've enough time, also be sure to check out the Kasubi Tombs, the resting place of four kings of Buganda and a UNESCO World Heritage Site.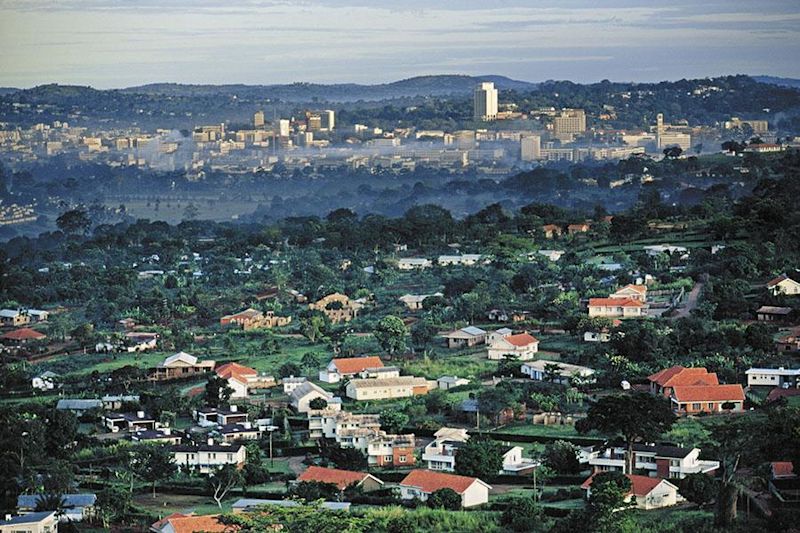 A view over the city of Kampala, Uganda's capital
We also recommend dinner at Ndere Cultural Centre, where guests are treated to a traditional dance performance.
10. Hike to Sipi Falls
The picture below speaks for itself, right?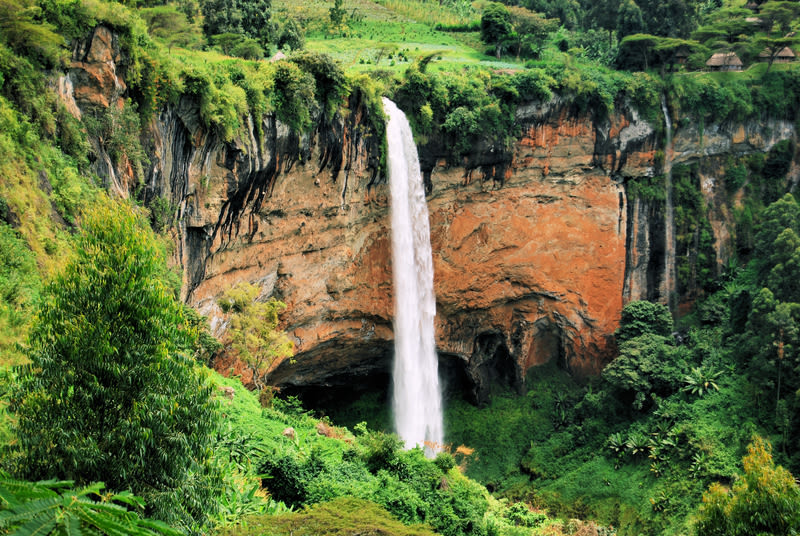 The beautiful Sipi Falls
Just a short drive from Kampala, Sipi Falls in Mount Elgon National Park is a series of three tall waterfalls cascading in a 99 m drop along the lower slopes of Mt Elgon.
There are different hikes you can take, all starting from the small trading centre of Sipi. If you're feeling ambitious, it's possible to undertake a day hike from the main waterfall to the three smaller falls that lie upstream, one of which has a beautiful swimming pool at its base. Be sure to pack your bathing suit!
You can also abseil the cliff face alongside the main waterfall – a must for thrill-seeking travellers!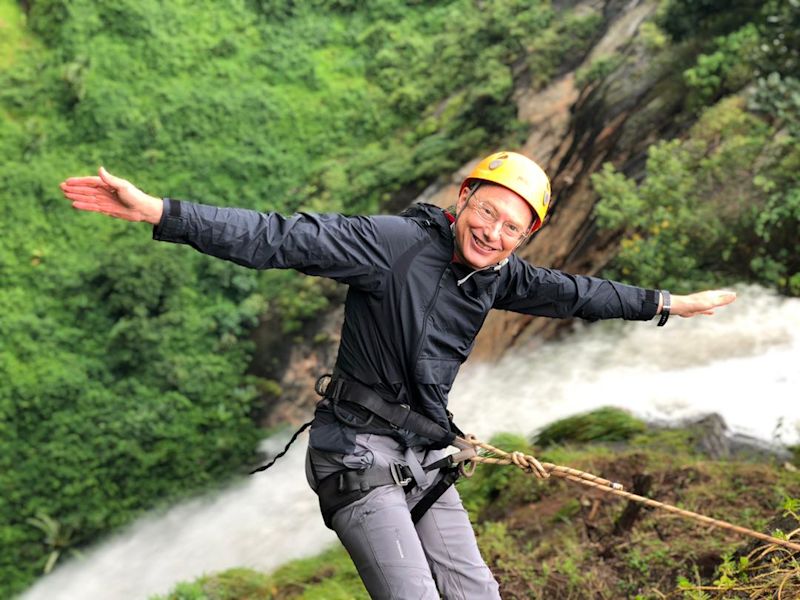 Over the edge we go!
11. Adventure activities in Jinja
Uganda really is the perfect place to get your adventure on, and the small colonial town of Jinja is the country's adventure capital!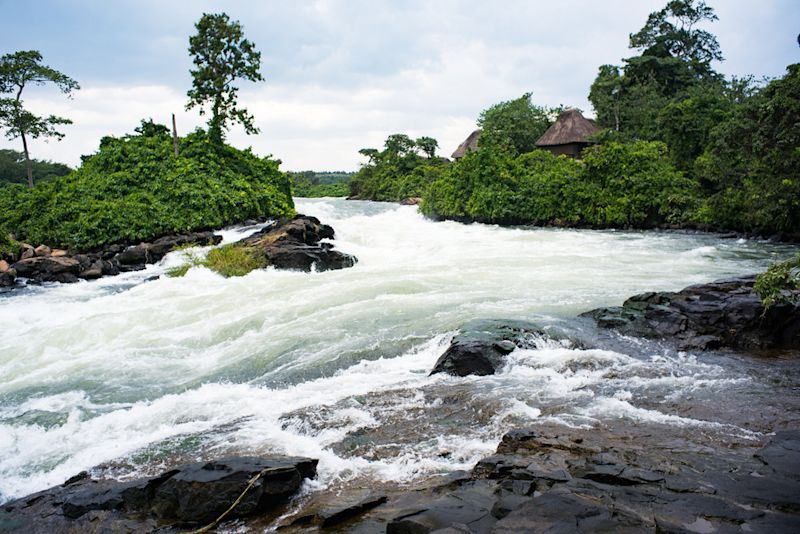 Jinja is where the White Nile flows out of Lake Victoria
Many consider Jinja to be the true source of the Nile! It's an incredibly beautiful spot, and we recommend spending at least a couple of nights here, raising your adrenaline in the day, and relaxing by the shore in the evenings.
Some of the exciting adventure activities on offer in or near Jinja are:
kayaking

white-water rafting

tubing

mountain biking

bungee jumping

horse riding

quad biking
The town itself presents beautiful colonial-era architecture and a buzzing local community.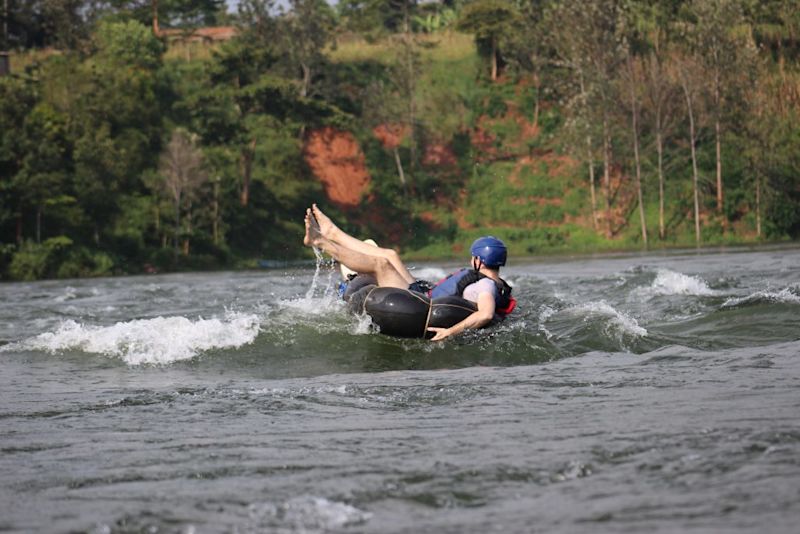 One of our favourite Jinja-based activities is tubing on the River Nile!
12. Visit Murchison Falls
Murchison Falls became one of Uganda's first national parks in 1952. It's the largest national park in Uganda and one of the best destinations for those interested in the country's wildlife.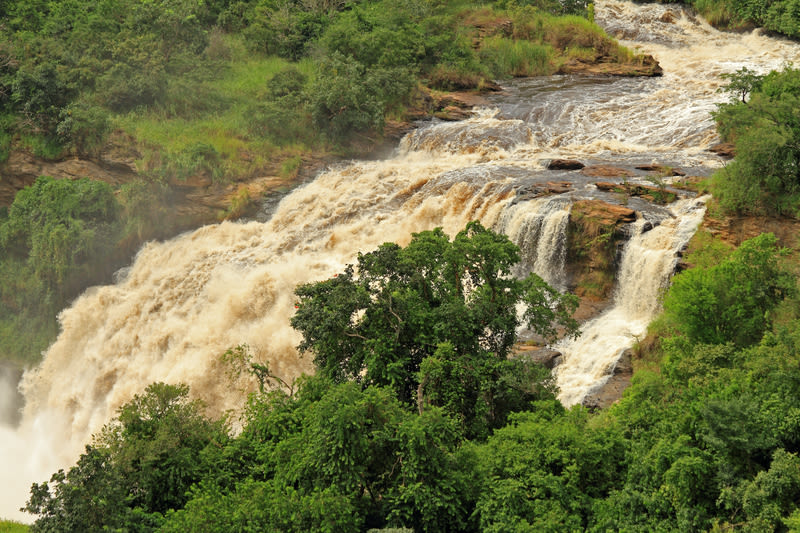 The glorious Murchison Falls from above
Today, you can expect to see elephants, crocodiles, endangered giraffes (more on these below), leopards, hartebeests, oribis, Uganda kobs, buffalos, hippos, antelopes and waterbucks. That's a long list!
The park is also home to 460 species of birds, including the shoebill stork.
And of course a visit to Murchison Falls would not be complete without a visit to the falls themselves up close in person. You can do this on an unforgettable boat cruise.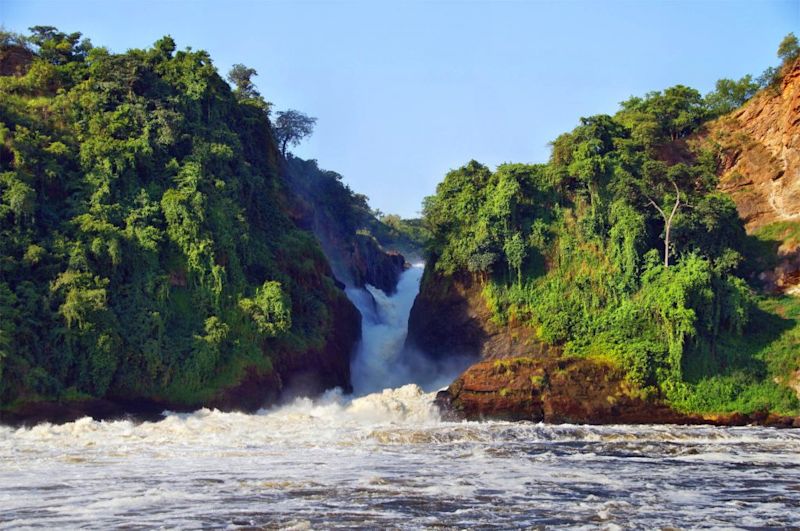 The equally glorious view from below
13. Meet Rothschild's giraffes
Rothschild's giraffes comprise one of the smallest populations of giraffes in the world. It's estimated that there are only around 1,600 of them left in the wild. It's IUCN status is "near threatened". These giraffes can be found in just Kenya and Uganda.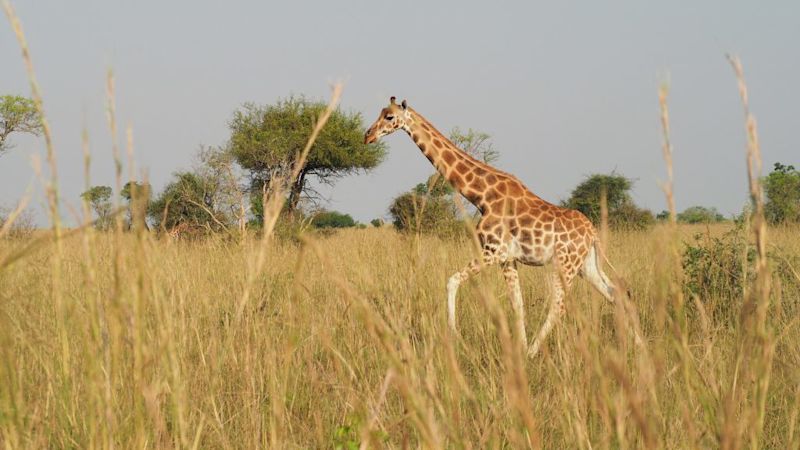 Rothschild's giraffes are easy to identify as they look like they're wearing knee-high white socks
Murchison Falls National Park is home to the largest population of Rothschild's giraffes. Rothschild's giraffes are actually one of the tallest giraffes, able to grow to almost 6 m tall!
Did you know that a giraffe's heart is about two feet long and weighs roughly 11 kg?!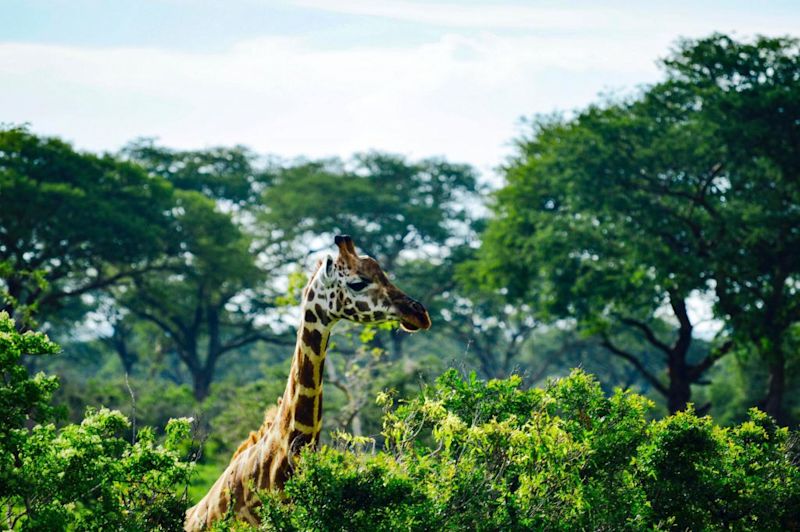 Rothschild's giraffes can be found throughout Murchison Falls National Park
Fun fact: a group of giraffes is called a tower of giraffes. How appropriate!
14. Zip line through Mabira Forest
Mabira Central Forest Reserve is just 44 km east of the capital of Kampala, and on the way to the town of Jinja. This makes it an easy addition to your Uganda itinerary.
Apart from being a beautiful, ancient rainforest that's ideal for hikes and exploratory walks, it has a fantastic zip line that it's dubbed the Mabira Forest Canopy Super Skyway! The zip line grants you amazing views over the canopy, and you'll see the River Musamya as you fly over it.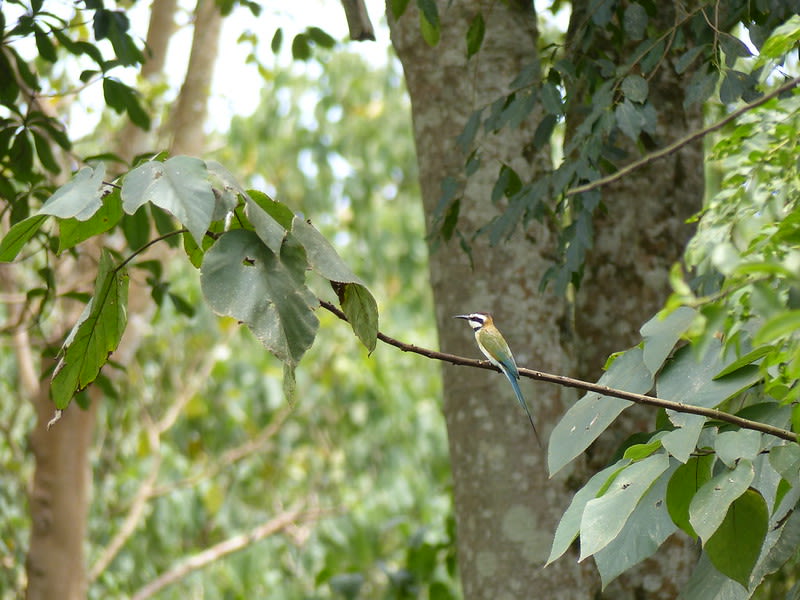 A white-throated bee-eater perches on a slim branch in Mabira Forest
While you're laughing and whizzing through the air with your pals, keep an eye open for African fish eagles, palm nut vultures and great blue turacos, among others! At the end of the zip line, you hike back to base camp via Griffin Falls.
15. Bike through Lake Mburo National Park
Lake Mburo National Park may be smaller than the others, but boy does it pack in a whole load of wildlife! Its fantastic location, between Entebbe and Bwindi, makes it a good stop over to avoid really long drives or a flight.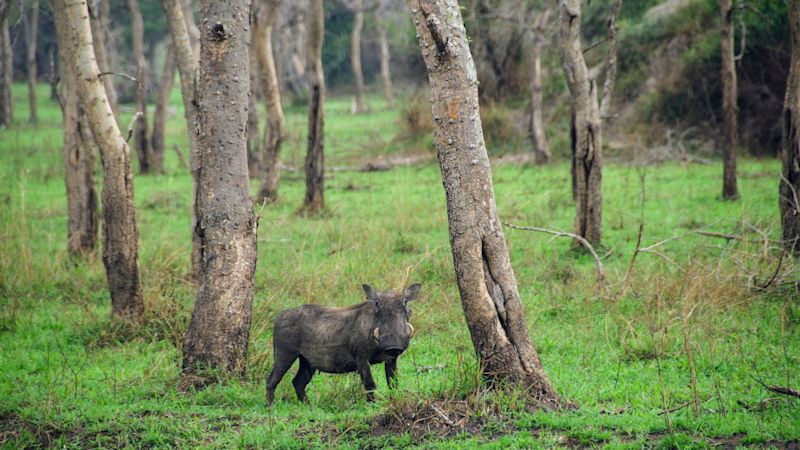 A warthog eyes the photographer suspiciously in the park's woodland section
When there, why not do things a little differently and take a bike ride through the park when the sun starts setting? It's the only safari in Uganda were you're allowed to be outside the car! You'll see zebras, antelopes, baboons, giraffes, long-horn cattle – all from a very close range.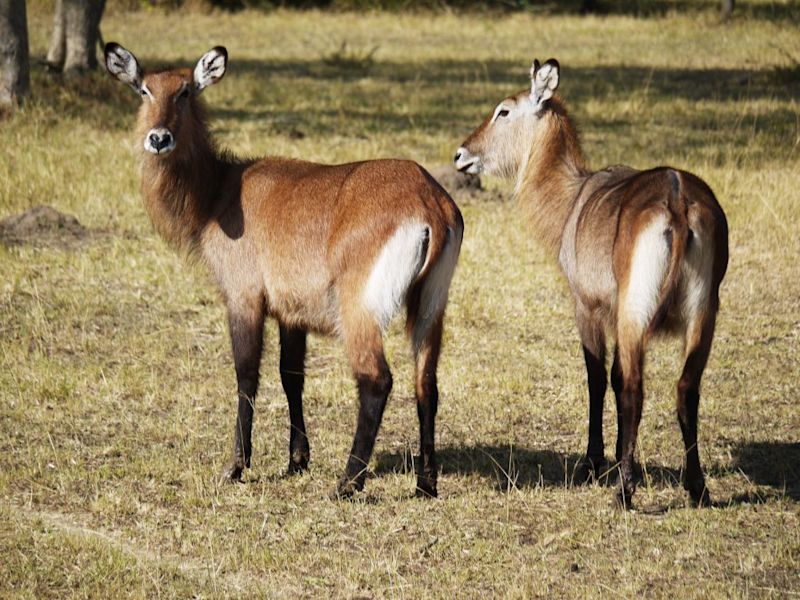 Defassa waterbuck are among the many antelopes you can spot around Lake Mburo
Note that whilst you can explore the national park at any time of day, morning game drives are better for getting photographs.
16. Trek to see Kibale Forest's chimpanzees
It's not only the gorillas that attract animal-lovers to Uganda. Chimpanzee trekking is also a fascinating experience and one you won't forget in a hurry!
On a chimp tracking excursion, you go on a guided hike to through beautiful Kibale Forest to find a troop. Once you find them, you spend about an hour with them, observing them eating, grooming, playing and maybe even swinging from one tree to another if you're lucky!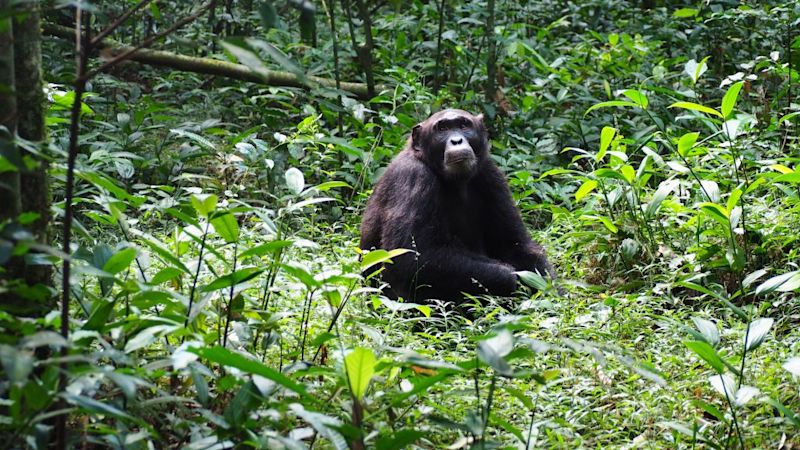 Chimpanzee tracking is a fascinating and, in our opinion, underrated experience
17. Stand at the Ugandan Equator
Instagrammers at the ready – the Ugandan Equator is one of the most photographed and well-known landmarks in the whole country. And of course it is, since we all love the idea of saying we're in two places at once!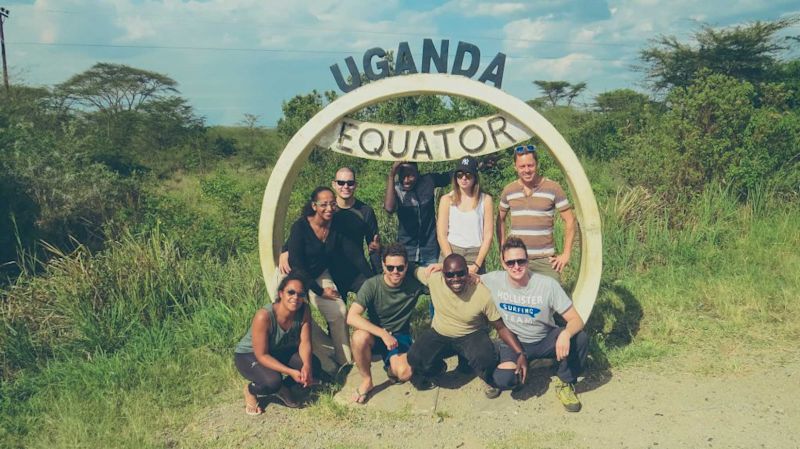 Visiting the Equator is a must when in Uganda!
At the Equator, you're able to stand with one of your feet in the northern hemisphere and the other in the southern hemisphere. This effectively lets you stand on both sides of the world at the same time. Mind. Blown.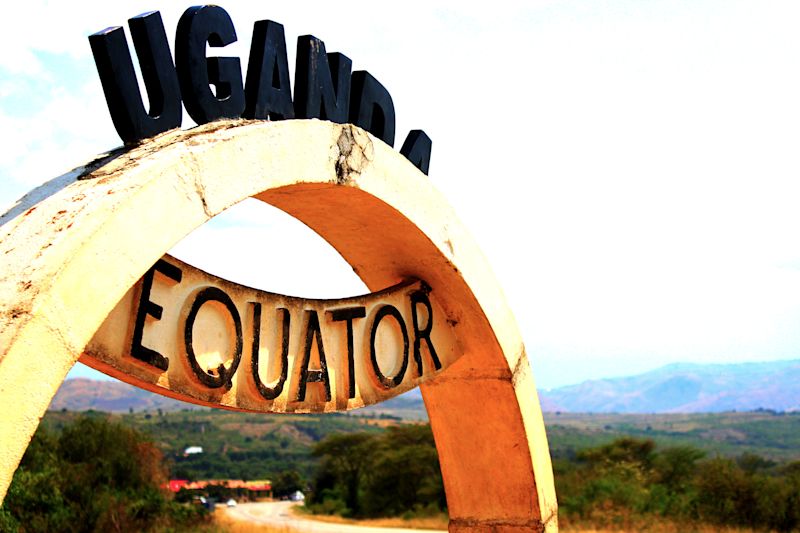 The challenge is to photograph the sign in a unique way, like this
18. Hike in the Rwenzori Mountains
Another worthy addition to our list of the top 20 things to do in Uganda is visit the mighty, mist-shrouded Rwenzori Mountains!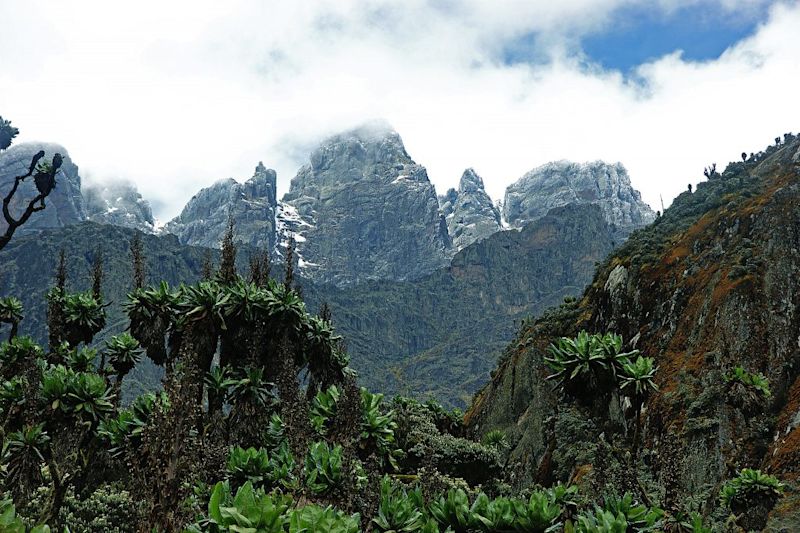 The scenery of the Rwenzoris is unique and absolutely incredible
A UNESCO World Heritage Site in western Uganda, the Rwenzori Mountains are a hiker's paradise. You can embark on short day hikes or tackle more challenging, multiday treks. Mountaineers can have a go at Africa's fourth highest peak: Mt Ngaliema (5,109 m)!
The vegetation in the misty heights of the mountains is unusual and exotic, and the trails are quiet as the range is very remote and little-known. It's an incredibly beautiful corner of the country that's a must-see for anyone who loves the drama of mountains!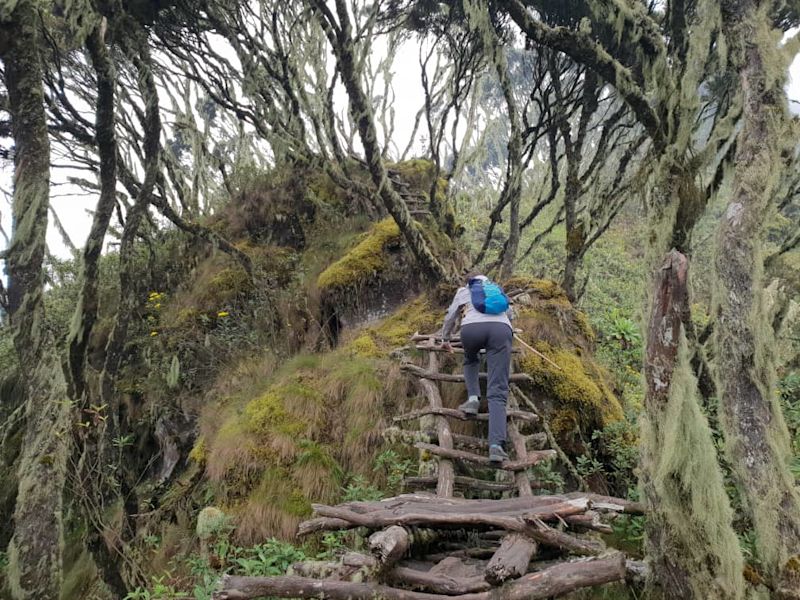 The Rwenzoris are a remote, unique and magical mountain range
19. Hike to Sempaya Hot Springs
The Sempaya Hot Springs are powerful geothermal springs that can reach a temperature of 100° C! There are two hot springs, separated by about a 30-minute hike. The locals refer to the the two springs as the male and female springs.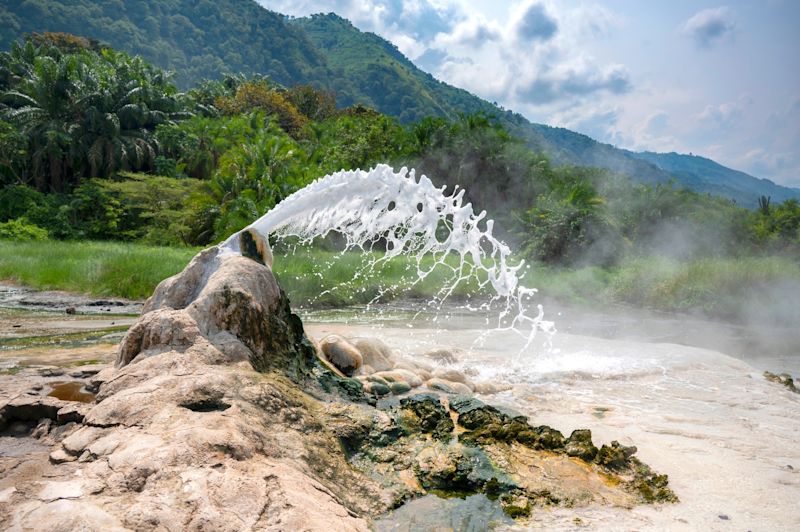 Geothermal hot spring in Semuliki
The hot springs can be found in Semuliki National Park in the west of Uganda. This is an underrated park boasting not only the hot springs but also beautiful wetland. It's also very close to Bwindi Impenetrable National Park, which makes it a great addition to a gorilla trekking trip.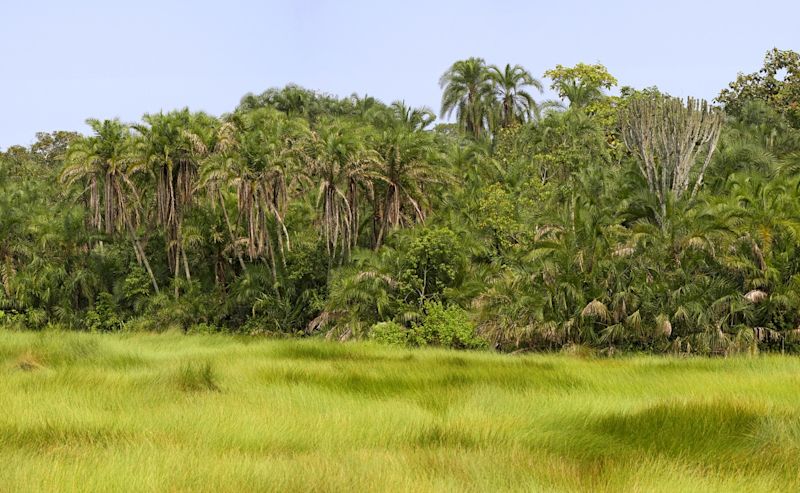 The wetland of Semuliki National Park
Apart from the hot springs, hiking in Semuliki National Park is very rewarding as it's a gorgeous and ecologically rich park. The Semuliki River runs through it before joining with the Congo River.
The park contains many fascinating Old World monkeys, including the mangabey, black-and-white colobus, and red-tailed monkey. Some of the birds to look out for are blue kingfisher and dwarf hornbill.
20. Game drive in Kidepo Valley National Park!
Few people visit Kidepo Valley National Park as it's far from the country's other main attractions. But those who do make the effort to get there are rewarded with fantastic game experiences.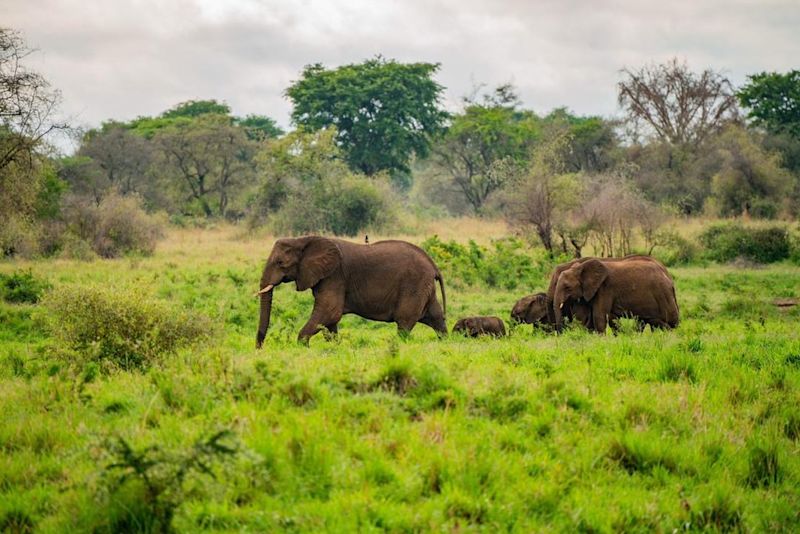 Bush elephants in Kidepo
The park's scenery is gorgeous, and varies from rocky outcrops to wide open grassland, inselbergs and verdant valleys. Importantly, the wildlife spotting is excellent. Many visitors see lions, cheetahs and elephants, as well as enormous buffalo herds. Other animals in the park include jackals, caracals and aardwolfs, mountain reedbucks, dik-diks and kudus.
This quiet corner of Uganda is definitely worth the effort!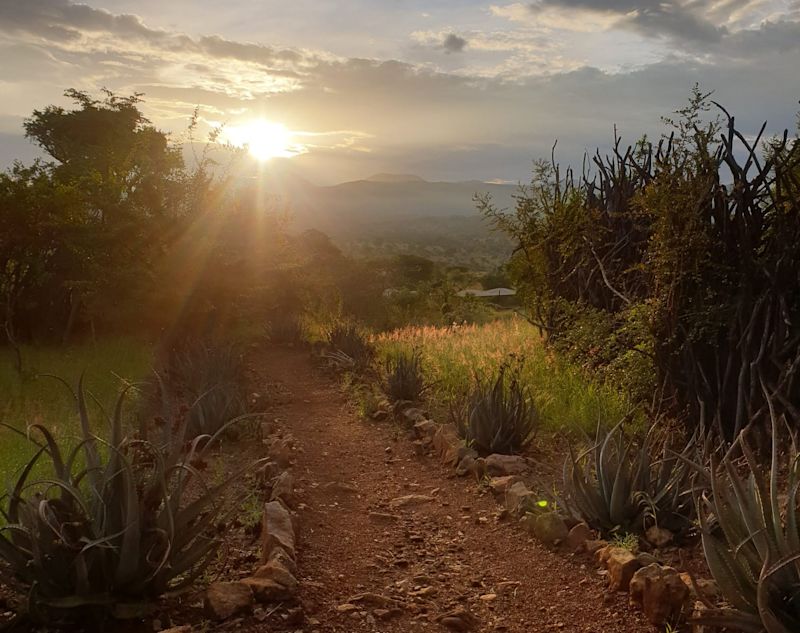 The path to Savannah Lodge (our favourite place to stay) in Kidepo
Feeling inspired!? Why not check out our trips to Uganda. Let's explore together!
There would be a youtube video here.
Sadly, the youtube player requires cookies to work.