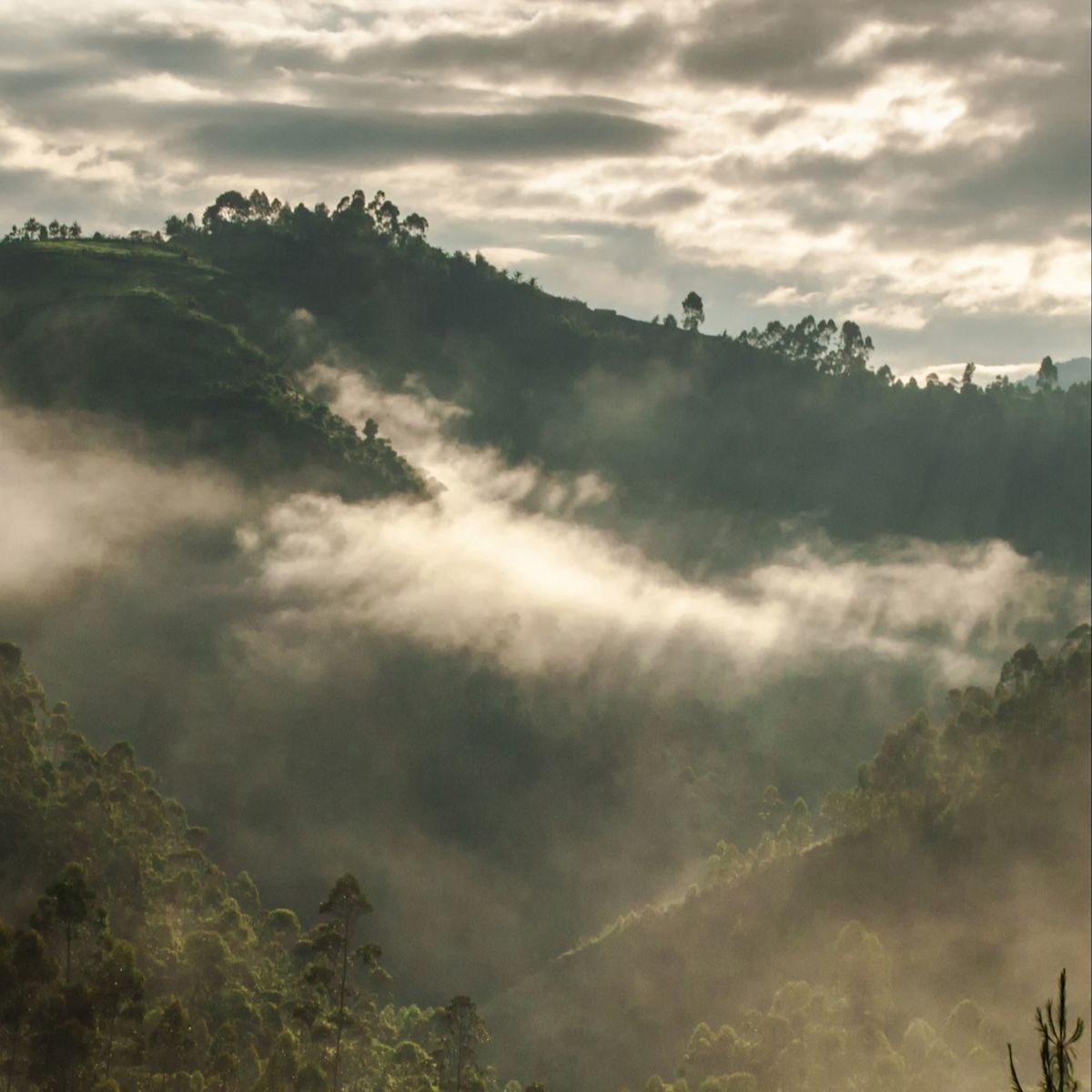 When is the best time to visit Uganda?
Jul 12, 2022
Reading time: 13 minutes
Uganda is a fantastic destination all year round. But depending on what you plan to do – like safari drives or gorilla trekking – some months offer better weather conditions than others.
We recently hosted two groups of travellers in Uganda – one in February, and one in April – and both sets came back saying it was the best trip they'd ever been on. That Uganda is paradise. And that they can't recommend it enough. This is something those of us who'd already been there knew perfectly well. And what Dan, our local leader in Uganda, is on a mission to let the world know!
If you're keen to travel to Uganda to see if the hype is justified (spoiler alert, it is), we want to help you. We advise that you first take a look at our suggested Uganda itineraries for inspiration. You might then like to read Uganda is calling all adventure-lovers to learn more about the country and why it's such a great adventure holiday destination. And then next we think you'll find what we offer below to be very helpful – info on the best time to visit Uganda based where in the country you want to visit, and what you most want to do and see.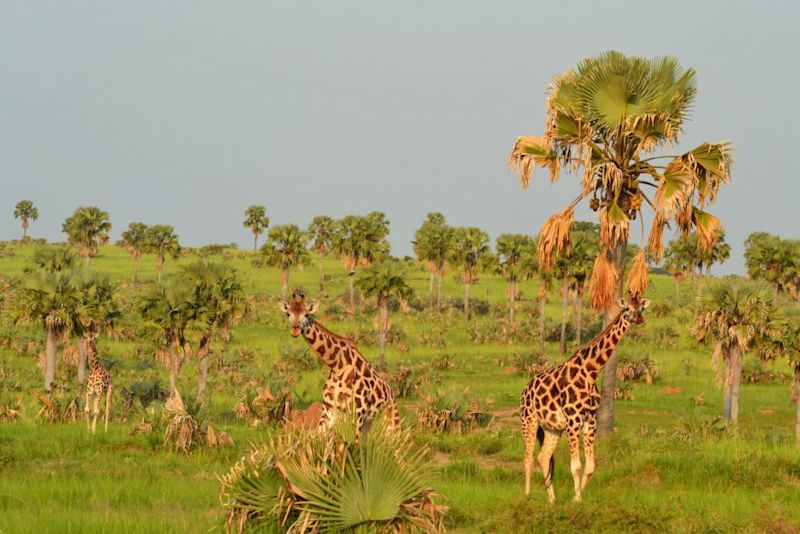 Giraffes among palm trees in western Uganda's Murchison Falls National Park
Best time to visit Uganda in general
Uganda lies on the Equator and has a warm subtropical climate. Daytime temperatures average between 25 and 29°C (77 and 84°F). Night-time temperatures frequently drop below 20°C (68ºF), offering a nice reprieve on hot days. Humidity is pretty much always high, so don't forget your Mitchum.
The best seasons for visiting Uganda
The general consensus is that it's best to visit Uganda during one of the two dry seasons. The short dry season is roughly from December to February (or early March). The long dry season is roughly from June to September. Given its subtropical climate and position on the Equator, however, it might be more accurate to talk about Uganda's drier seasons.
The drier seasons in Uganda are December to February and June to August. These are good months to visit to avoid the rains. December to February are very hot, however, so June to September is the best time for dry weather and cooler days.
The best months for visiting Uganda are, in general, June to September, as there's little rain and the days are a bit cooler.
Uganda sits on the Equator and has a warm, subtropical climate
There would be a youtube video here.
Sadly, the youtube player requires cookies to work.
Different regions of Uganda
If you look at the map above, you can see just what a lush country Uganda is. You can also see how lakes and mountains help to define much of its border.
The eastern portion of the country is a little drier than the rest. This area doesn't tend to be visited quite as much by tourists, though it has many gems to offer like impressive game parks, Sipi Falls, coffee farms, and Mt Elgon National Park. We discuss the best time to visit Kidepo Valley National Park – one the country's best and largest game parks – in the northeast of the country below.
The southern portion of Uganda contains the capital city of Kampala, Entebbe International Airport, beautiful Lake Victoria, the Victorian source of the White Nile at Jinja, and the incomparable Lake Bunyonyi. We discuss the best time to visit this region below.
There are many fantastic game parks in the south and west of the country. We're talking of beauts like Murchison Falls, Lake Mburo and Queen Elizabeth. We discuss the best times to visit these parks below.
The southwestern border region is mountainous and covered in misty jungle. Notably you have Bwindi Impenetrable National Park, the Virunga Mountains, and the Rwenzori Mountains. Bwindi is one of the places where you can go gorilla trekking, and we discuss the best time for this below. The Virungas consist of a chain of free-standing volcanic mountains and also has mountain gorillas, and we discuss the best time to go hiking there below. And finally, we discuss below the best time to visit the mystical Rwenzoris of west Uganda. This high and isolated range is home to Mt Stanley (5,109 m), Africa's third highest peak.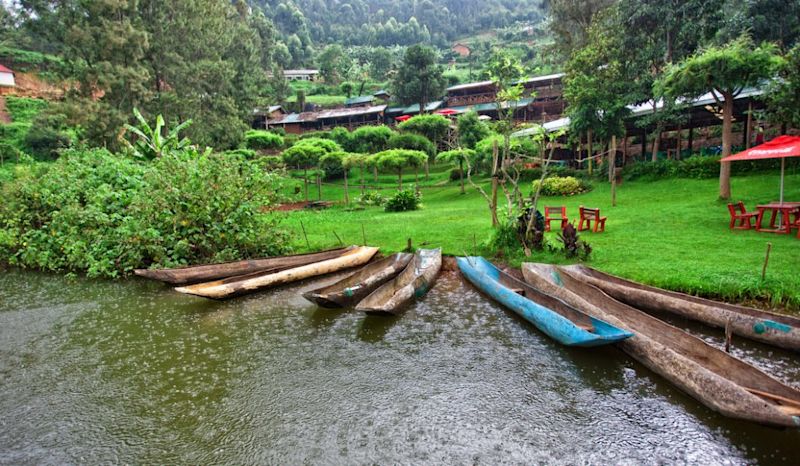 Canoeing in traditional dugout canoes on Lake Bunyonyi in southern Uganda is a must!
Best time to visit Jinja
Jinja is a town in southern Uganda on the shore of Lake Victoria, Africa's largest lake. The Victoria Nile flows out of Lake Victoria alongside Jinja and is considered by many to be the start of the Nile. There's a garden in Coronation Park marking the start of the Nile that you can visit.
Jinja, a pretty lakeside colonial town, is the adventure capital of Uganda.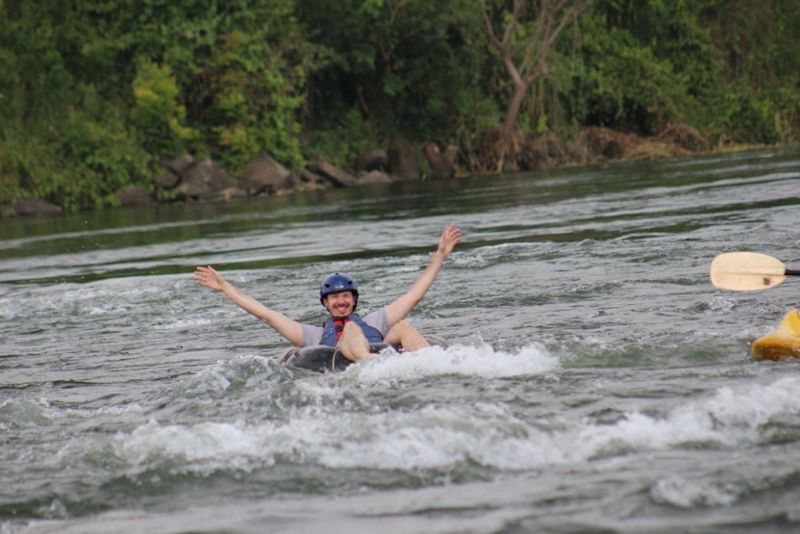 Tubing along the rapids created by the Nile's Itanda Falls is a great mix of fun and relaxation
Given its location by the head of the Nile and Lake Victoria, Jinja has become the adventure capital of Uganda. We discuss the many adventure activities you can do in and around here in The top 20 things to do in Uganda – the definitive list! These include bungee jumping, quad biking, and kayaking and tubing on the Nile.
As to the best time to visit Uganda if you want to stay in Jinja? We recommend anytime of year! Seriously. The place pretty much always has good weather. And Uganda isn't a country where parks close during certain months of the year.
But if you really don't like heat, then maybe opt to visit between April and December. January to early March are the hottest months, with temperatures reaching around 29ºC in the middle of the day. But mid December to February are the driest months, so that's when you're least likely to experience rainy days.
The period from June to August offers the most comfortable weather in Jinja.
June to August are also the best months for many other regions and activities in Uganda, as you'll see below. So you might consider this as the optimal season to visit Jinja.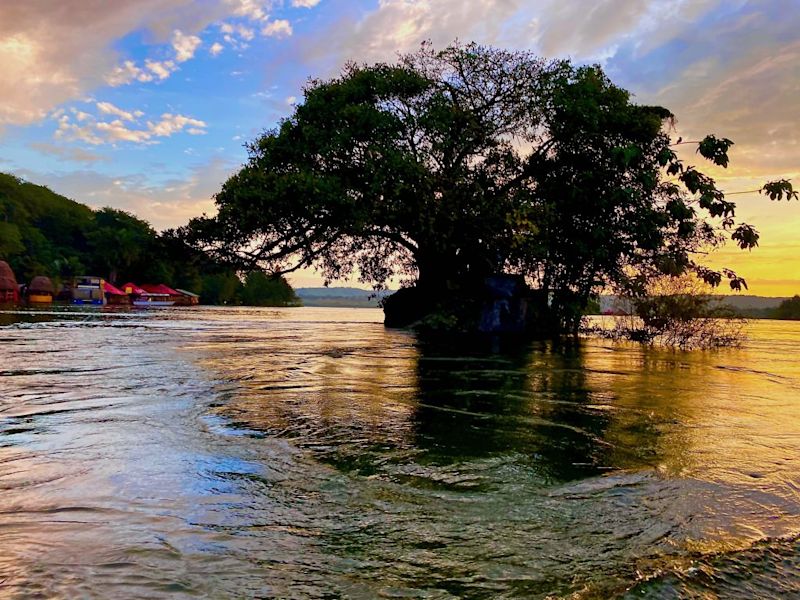 The start of the River Nile can be seen from Jinja
Best time for gorilla trekking
You can go gorilla trekking in Uganda at any time of the year. Permits are sold for gorilla trekking in both Bwindi Impenetrable National Park and Mgahinga Gorilla National Park all year round. That said, gorilla trekking in Uganda's wet seasons can be a very muddy and slippery experience, so maybe opt for one of the dry seasons if possible.
The best time to visit Uganda for gorilla trekking is from mid December to early February, or from June to September.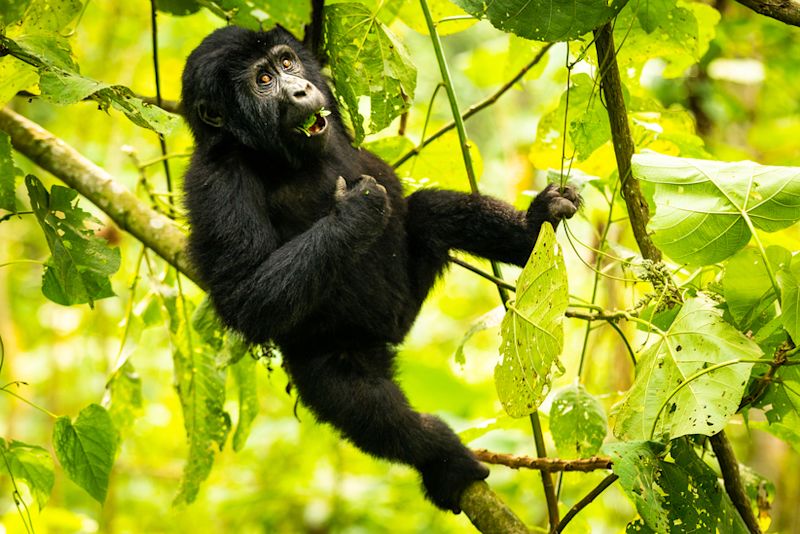 A young gorilla in Bwindi Forest eating leaves
The forests are never fully dry
It's worth pointing out that the forests where mountain gorillas live are never actually dry, even in the so-called dry season. Both Bwindi and Mgahinga experience rain and mist to some degree throughout the year, and they're always wet. They're rainforests, after all.
So know that whenever you go gorilla trekking, it will be a muddy experience. You'll want to bring quality trekking boots and maybe even gaiters, read more about this in What to pack for gorilla trekking post.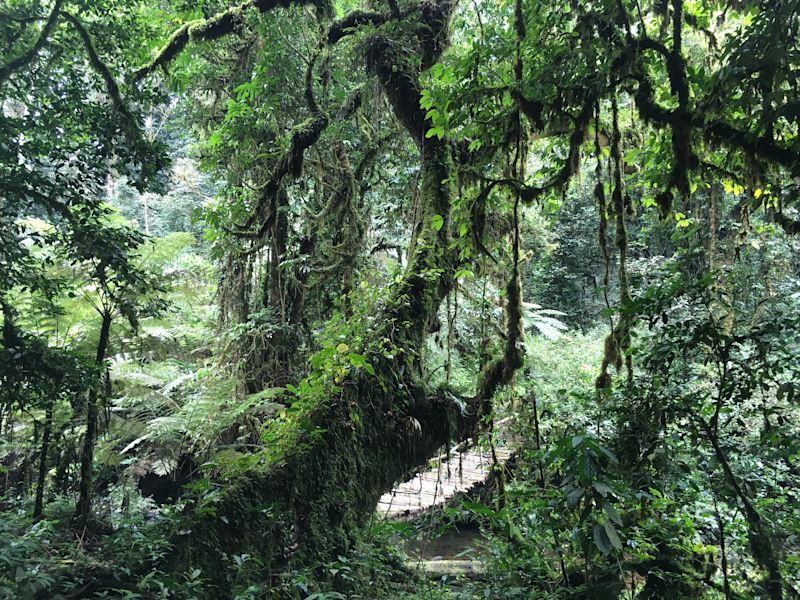 The valleys of Bwindi Forest are wet, tangled, beautiful places
Peak season
Conveniently, the very best time to visit Uganda for gorilla trekking (June to early September) coincides with the school holidays of the Northern Hemisphere. Note that if you want to go gorilla trekking during these peak seasons, you need to book well ahead of time to ensure you get a permit date that fits in with your travel plans.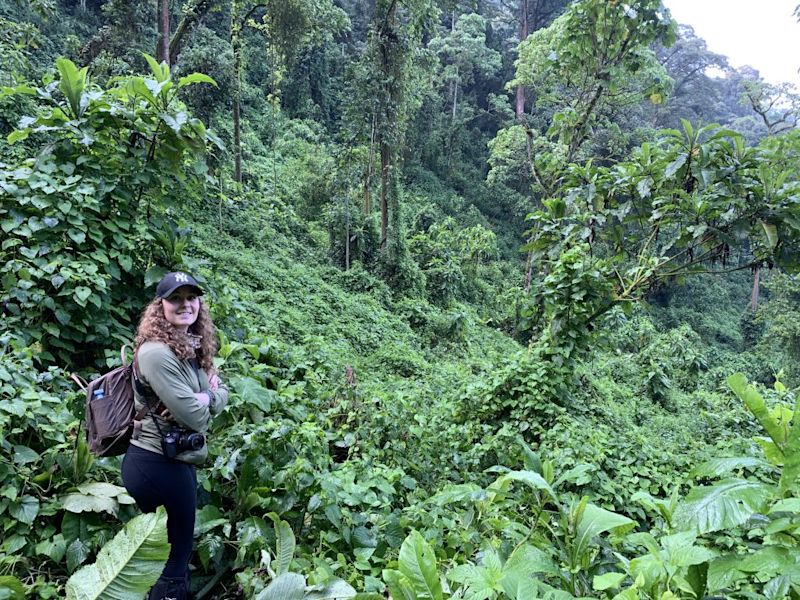 You walk through dense, wet mountain jungle to see the gorillas
Best time for chimpanzee trekking
Chimpanzee trekking (or tracking) is a really rewarding (and underrated) experience. Similar to gorilla trekking, a small group goes on a guided hike in the forest to find and observe chimpanzee troops. We usually take clients to Kibale Forest National Park in western Uganda for chimpanzee trekking. The park protects a beautiful moist evergreen forest, and here you can find chimps quite literally hanging about in the trees.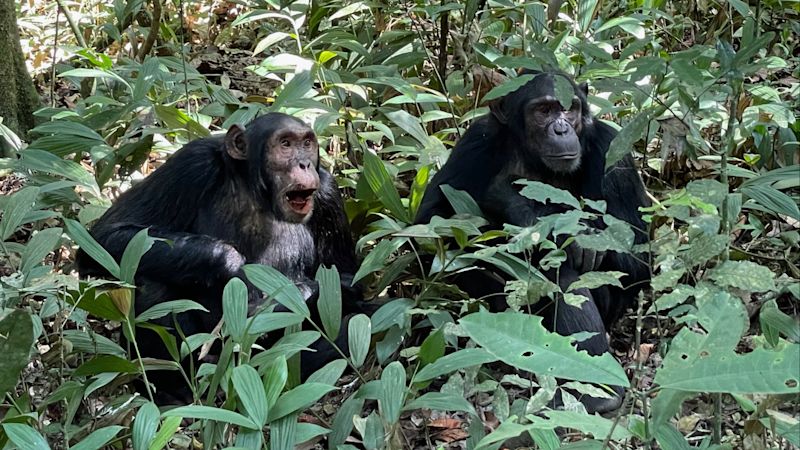 Adult chimps generally weigh between 32 and 60 kg (70 and 130 lb)
Excitingly, the park is actually home to 13 different primates, so you may see exciting monkeys like the red colobus in addition to seeing chimps.
The best time to visit Uganda for chimpanzee trekking is, conveniently, the same as the best time for gorilla trekking: December to February, and June to September.
The best times for chimpanzee trekking are the dry seasons, which are December to February, and June to September. As you'll be walking in forest, the dry seasons mean a less slippery walk. You're also less likely to have a rainy day.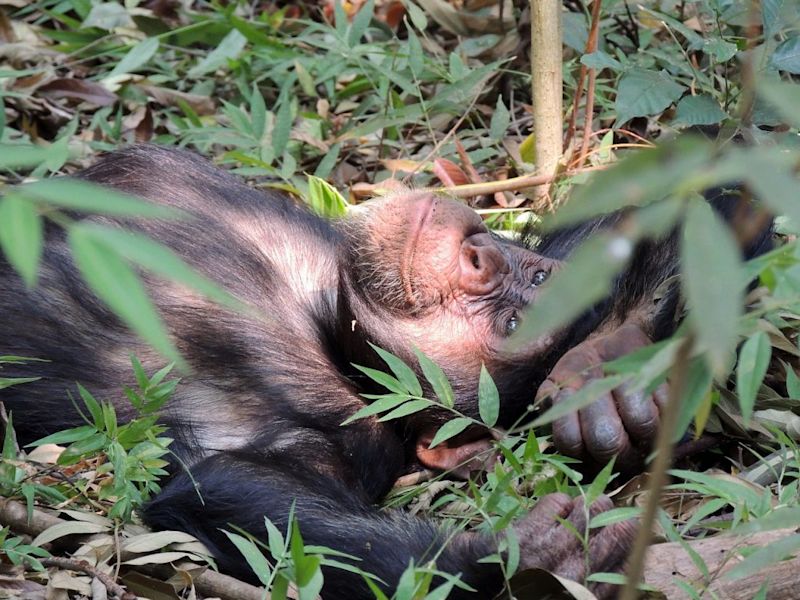 Chimps spend most of their time in trees, but do come to the ground as well
Best time for safari in Uganda
We've taken clients on safari in Uganda at lots of different times of the year, and can honestly say that they've always had a fantastic adventure! But for those wanting to go during the drier seasons, when there's less chance of rain, we suggest opting for December to March, or June to August.
Let's now take a moment to consider a few of the best and most popular national parks and the best times to visit each, as Uganda is a pretty big country and different regions naturally have slightly varying seasonal patterns.
Adventures are better with friends – just ask Elena, Sophie and Beatriz!
Kidepo Valley National Park
Kidepo Valley National Park in northeastern Uganda is arguably the country's best reserve. That's what all Ugandans think, at least, and one should always listen to locals!
Kidepo is an enormous park that has varied scenery and a high density of animals. One of the reasons for its flourishing wildlife populations is that the local people defended them in the past from poachers.
July and August are the very best months for seeing as many animals as possible in Kidepo Valley National Park.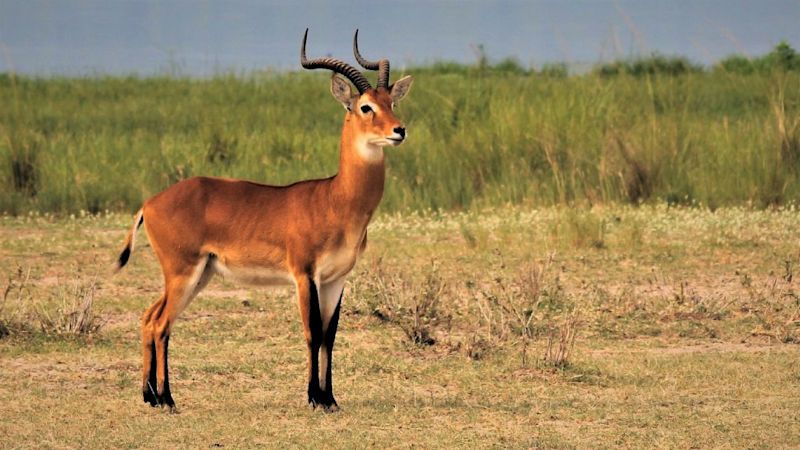 The Uganda kob, seen here, is a subspecies of the kob, easily recognisable by its reddish-brown coat
The best time to visit Kidepo Valley National Park from a game-spotting point of view is in one of the dry seasons. This is because it's at these times that the animals congregate around watering holes, making them easier to find. During the wet seasons, the animals travel higher in search of drier ground, and this makes them harder to find. That said, you'll always find a wonderful abundance of wildlife in Kidepo!
One of our clients heading into her tent at Kidepo Savannah Lodge
To help you decide when you would most like to visit Kidepo Valley National Park, here's a run down of the pros and cons of each season in the park: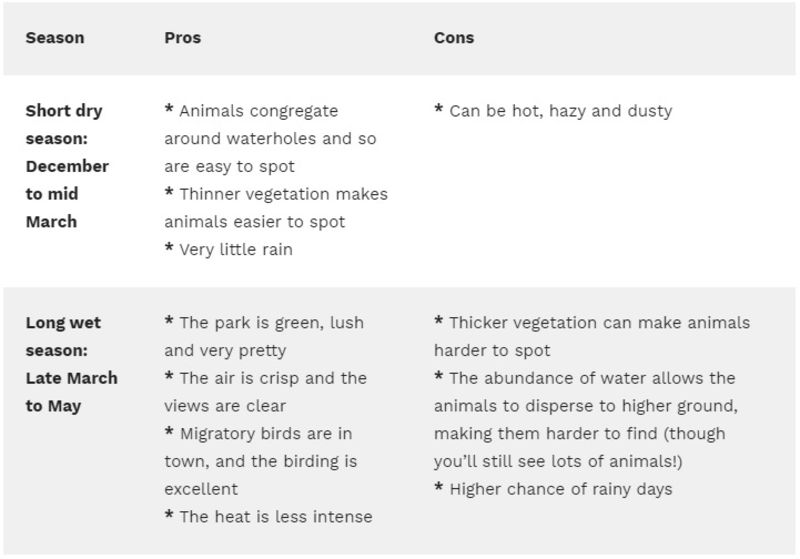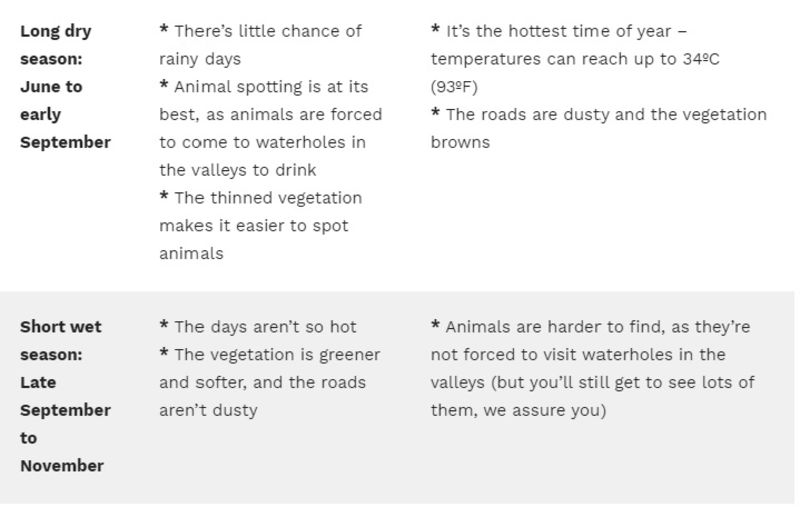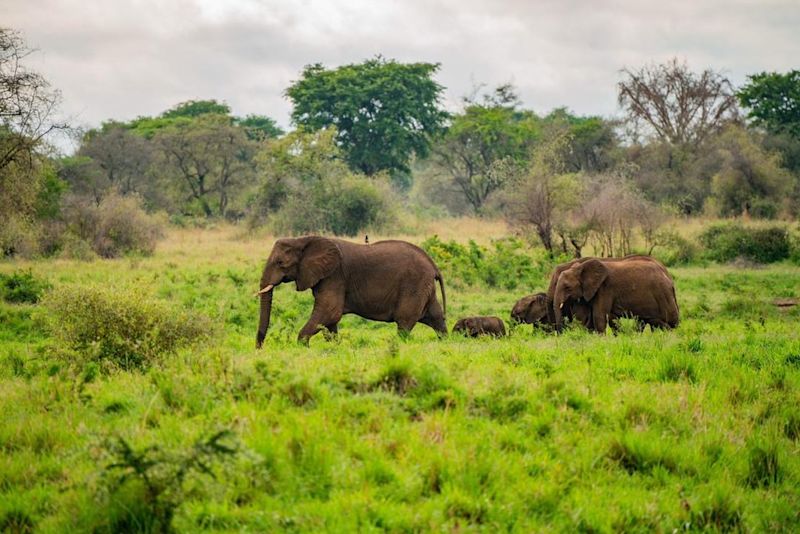 Elephants in Kidepo Valley National Park during the green, wet season
Murchison Falls, Queen Elizabeth and Lake Mburo National Parks
Let's now chat about the best time to visit Uganda when you want to visit one or more of the game parks in the south and west of the country. The most famous of the parks are Murchison Falls National Park in the west, Queen Elizabeth National Park a little further south, and then Lake Mburo National Park not far from Lake Victoria. Murchison Falls and Queen Elizabeth National Parks are notable for offering you not only traditional safari drives, but also boat safaris! These are fantastic experiences, and we always recommend going on at least one boat safari while in Uganda.
June and July are arguably the best months for safari as the days are cooler and animals become easier to spot.
As always, the best time to go on safari depends on what you most want to see. Generally speaking, the dry months are lauded as the best, as that's when you're likely to see the most animals. But there are other factors worthy of consideration, so we've put together the table below, which summarises the pros and cons of each season.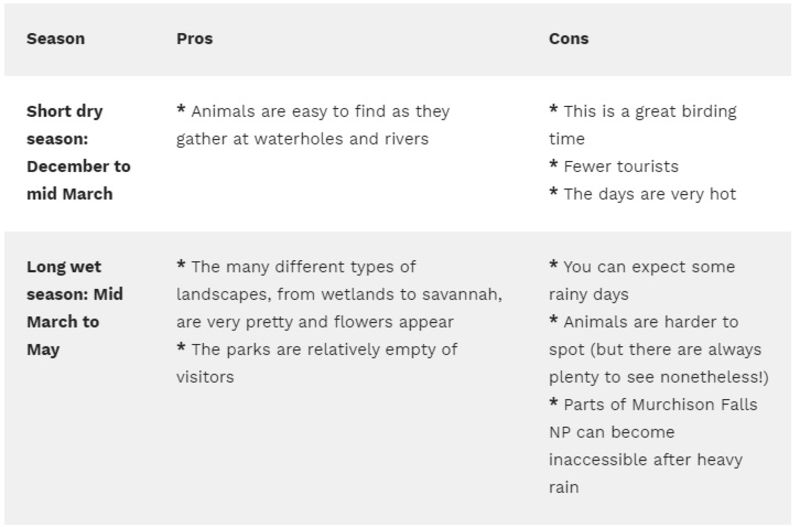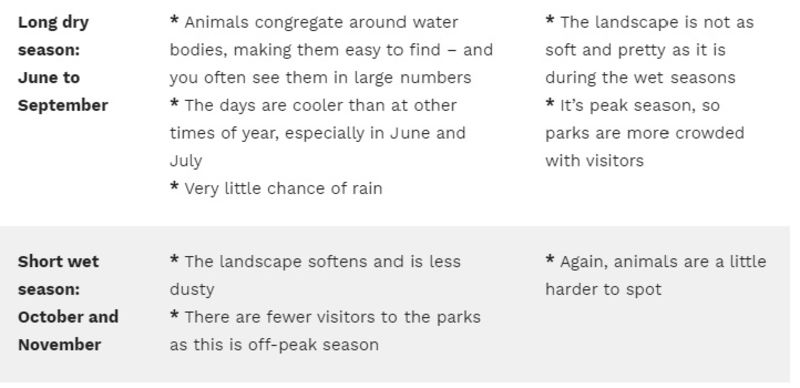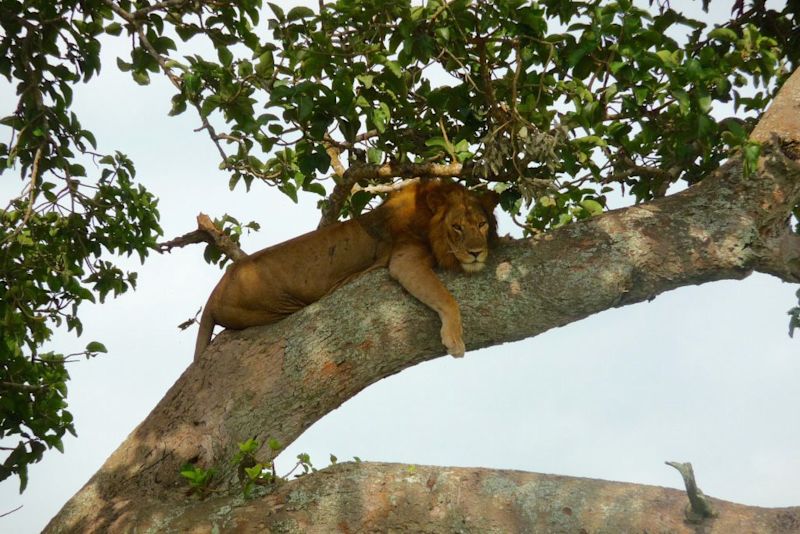 Uganda is one of the very few places in the world where lions climb and hang out in trees
Best time for hiking the Rwenzoris
You can visit the Rwenzori mountains any time of the year and enjoy fantastic hikes. However, if you wish to go hiking high up in the mountains or embark on a multiday trek (perhaps trek to the top of Mt Stanley?), you might like to consider the drier seasons. The trails in Rwenzori Mountains National Park are rugged, sometimes boggy and slippery, and at times very steep. So the best time to visit Uganda for hiking in the Rwenzoris is during either of the dry seasons.
The drier and therefore optimal hiking months in the Rwenzoris are July and August, and December to February.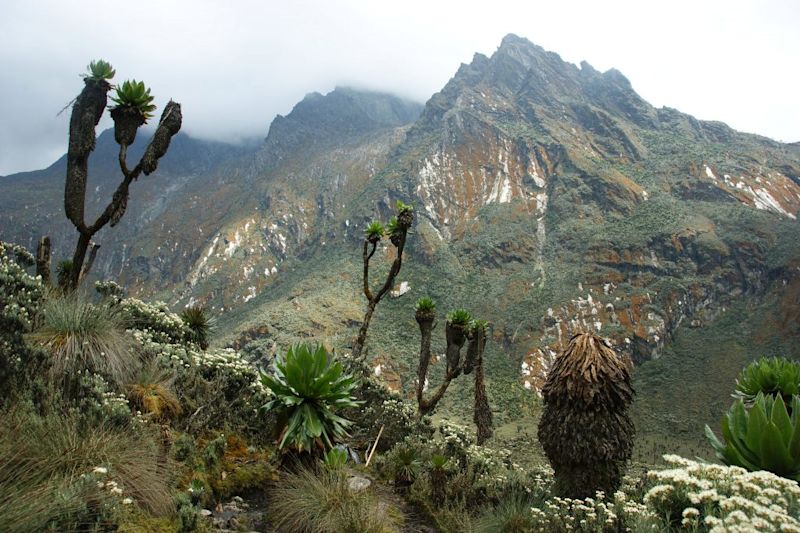 The mist-shrouded Rwenzori mountains have fascinating vegetation, include top-heavy giant groundsels as seen here
Avoiding the crowds
Fortunately for those who don't like overly popular places, the Rwenzori mountains are never crowded. No matter when you decide to visit, you'll enjoy a park full of wildlife and gorgeous vegetation, and fairly devoid of tourists.
Located on the country's western border with the DRC, the Rwenzori chain is actually only a few hours' drive from Entebbe International Airport. But it remains relatively unknown, a fact that keeps it from being overrun and has helped it to remain the pristine, somewhat mysterious and beautifully biodiverse place that it is.
Uganda may be on the Equator, but expect super cold weather when you climb the Rwenzori mountains!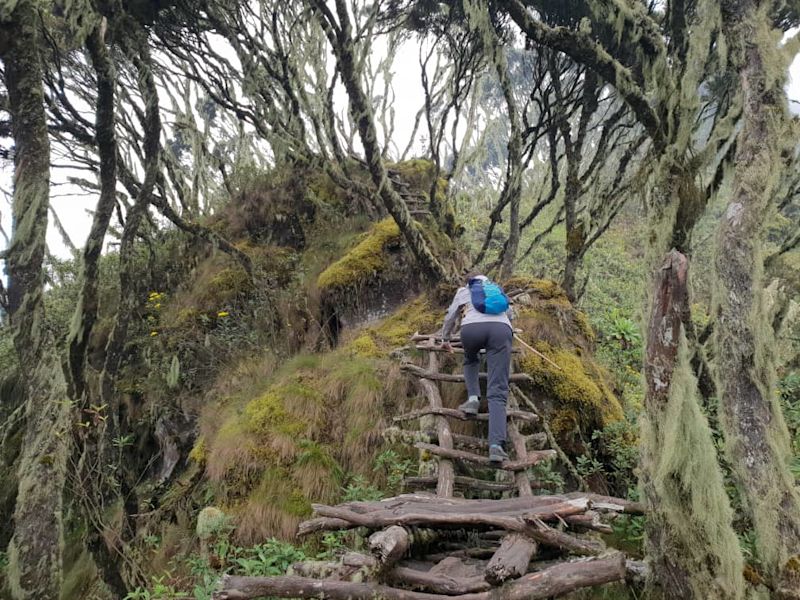 The Rwenzoris are a fascinating and exciting hiking and trekking destination
Best time to visit the Virunga Mountains
The Virunga mountains can be found in the extreme southwest of Uganda. They're not really a mountain range so much as a chain of eight free-standing volcanic cones. The Virungas straddle the border region where the DRC, Uganda and Rwanda meet. The three volcanoes (all inactive) that lie partially in Uganda are: Mt Sabyinyo (3,669 m), Mt Muhabura (4,127 m) and Mt Gahinga (3,474 m).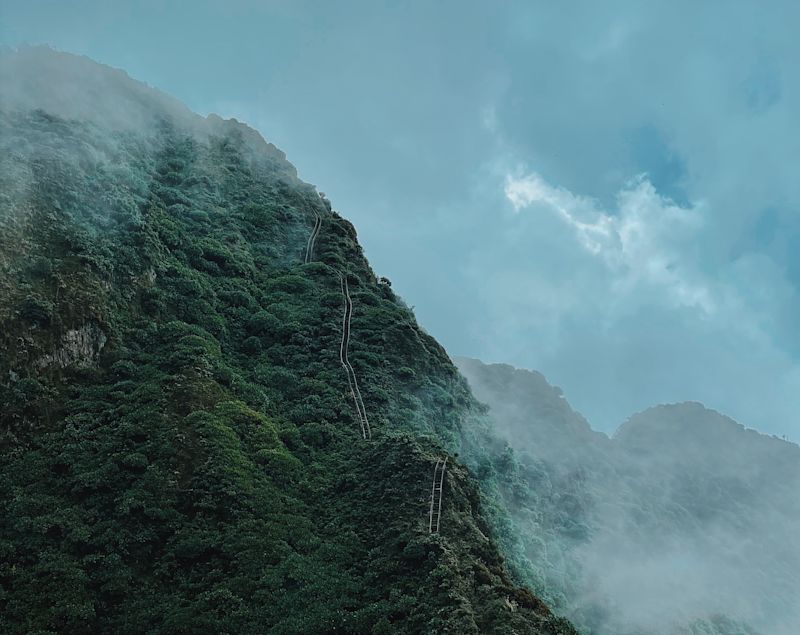 Yep, that's a ladder snaking up the mountain ridge!
While we usually take clients mountain gorilla trekking in Bwindi Forest further north, you can also go gorilla trekking in Mgahinga Gorilla National Park. It's a smaller park than Bwindi, with fewer gorilla trekking permits being issued, but it's incredibly beautiful – some in fact feel it's the most picturesque national park in Uganda. It's also a great birding location.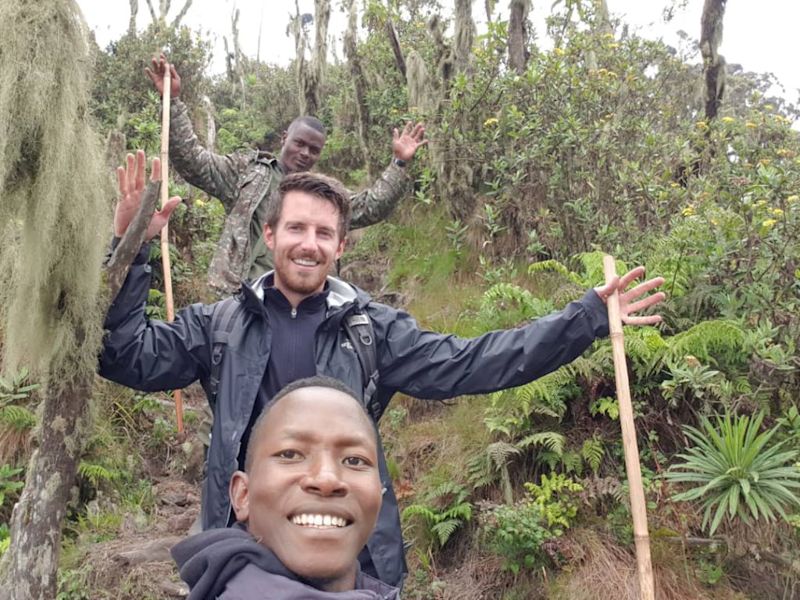 Dan is our local leader in Uganda as well as an accomplished selfie-taker!
If you're keen to travel to the Virunga mountains – whether to go gorilla trekking, on a summit hike, or both – the best time of year to visit is July to September. These are the driest months, so you're less likely to be rained out, or have a downward trail turn into an inelegant slide.
The best time to visit Uganda if heading to the Virunga mountains is between June and September, as these are the driest months.
That said, you can of course visit the Virungas at any time of year. And what's nice is that this region is generally cooler at lower elevations than the bulk of the country.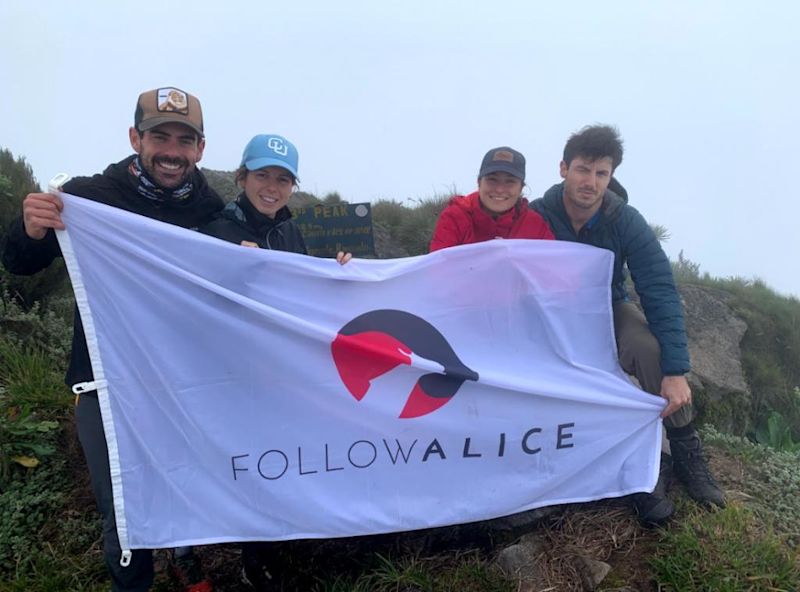 Follow Alice hike up Mt Sabyinyo (3,669 m) in southern Uganda
Best partner for visiting Uganda: Follow Alice!
Hey, if we don't believe in ourselves, why should you, right? So for those of you who just landed on this page and aren't familiar with who we are ...
Follow Alice is a boutique tour operator offering a selection of adventure trips in some of the most beautiful spots around the world. This includes Uganda, the Pearl of Africa! If you'd like to go on an organised group trip to this East African nation, or want to plan a bespoke private trip, please take a look at our suggested Uganda itineraries and get in touch! We'd love to chat and plan your next adventure with you. :D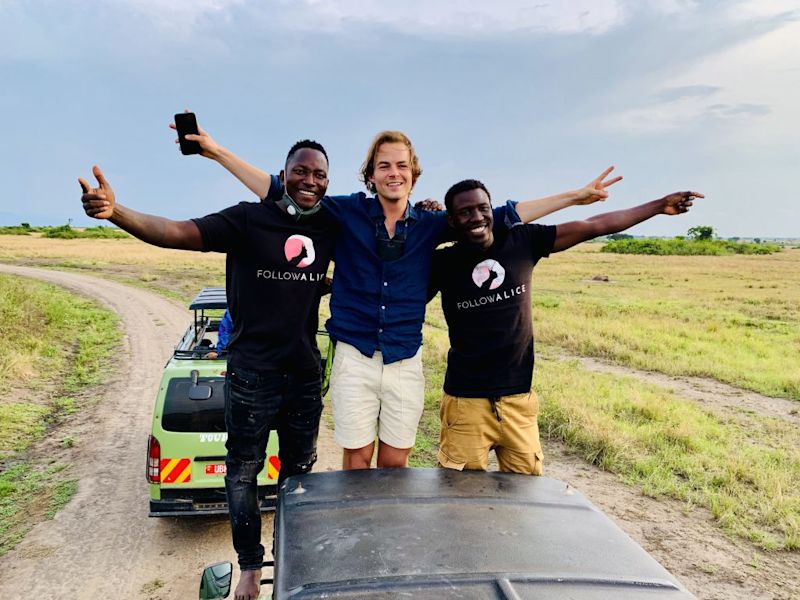 Uganda offers a variety of adventure activities that will often quite literally blow your hair back 🙂