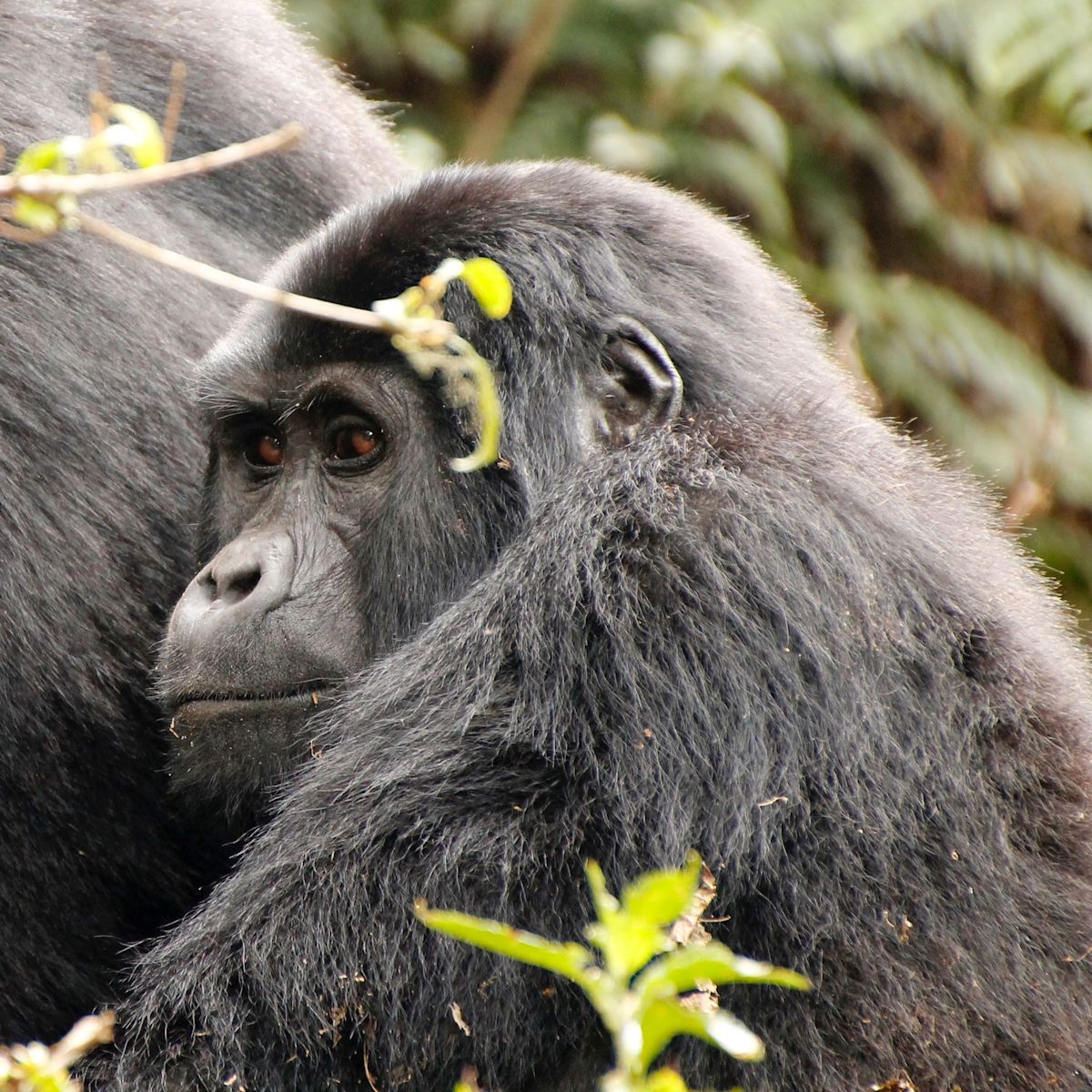 What a Uganda gorilla trekking trip costs in 2024
Nov 3, 2023
Reading time: 8 minutes
Your big-ticket items on a gorilla trekking trip to Uganda are your flights, accommodation, tour operator (if using one) and gorilla trekking permit, which costs US$700. We break it all down for you to help you put together an accurate budget.
Gorilla trekking in Uganda in 2024 is far cheaper than gorilla trekking in Rwanda, even though both offer equally fantastic experiences. (We discuss the reasons for this price difference in Gorilla trekking Uganda vs Rwanda.)
But even while Uganda is the far more affordable option, it's still not an inexpensive adventure. The main reason for this is the price of a gorilla trekking permit, a must for anyone wanting to see mountain gorillas.
In this post we:
D

iscuss the cost of a gorilla trekking permit in 2024, as well as where that money goes.

C

ompare the two national parks where you can go gorilla trekking in Uganda.

L

ook at the two other costs involved in a gorilla trek, namely tipping your trek guide and possibly hiring a porter.

P

rovide links to relevant topics, like accommodation and choosing a tour operator.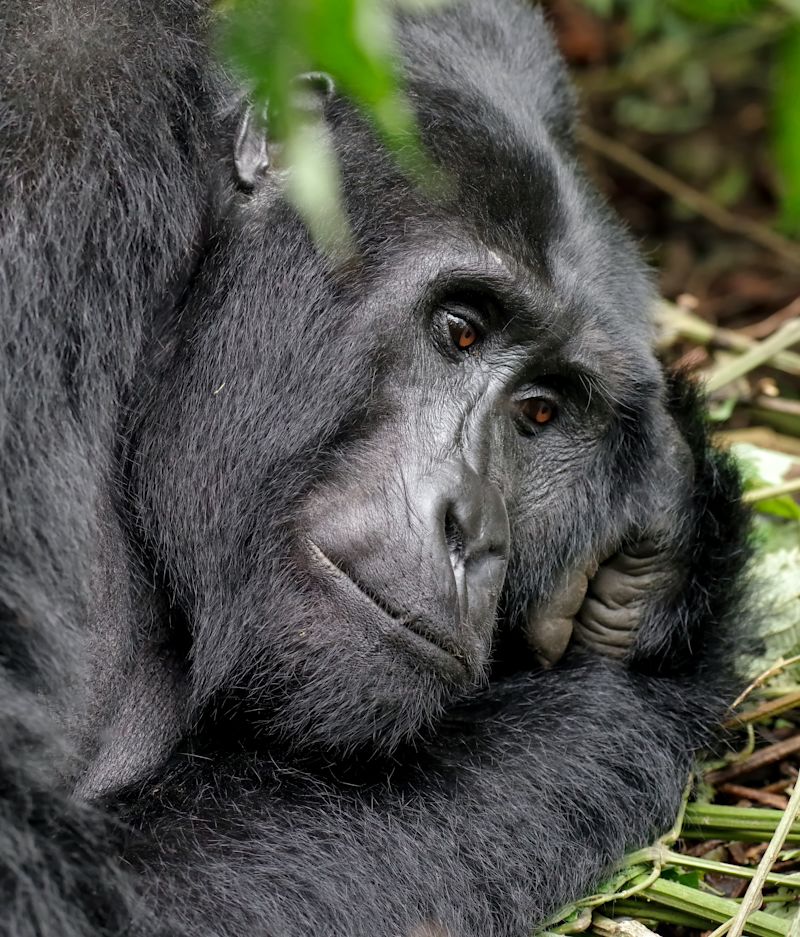 Mountain gorillas are gentle giants
Gorilla trekking permits
There are two mountain gorilla parks in Uganda, namely Bwindi Impenetrable National Park and Mgahinga Gorilla National Park. Nobody is allowed to hike to find a mountain gorilla troop in either park without holding a permit. Permits are issued by the Uganda Wildlife Authority (UWA).
Permits must be purchased for the park where you wish to go gorilla trekking. In the unlikely situation that the gorilla troop in Mgahinga has moved across the border into Rwanda or the DRC, you'll be issued with a replacement permit for Bwindi. You must also purchase a permit for a specific day.
Bwindi has four sectors
It's also important to note that at Bwindi – the larger park – you're issued a permit for a specific sector within the park. Bwindi has four sectors (Buhoma, Ruhija, Nkuringo and Rushaga) and each has its own entrance gate. If you arrive at the wrong sector on the morning of your gorilla trek, you won't have time to drive to the correct sector before the trek starts, and you will lose out. Terrible!
If you travel with a tour operator, they'll not only ensure you arrive at the correct gate, but also organise accommodation close to that gate for you. They'll also ensure you bring your passport with you on the trek, which is a must.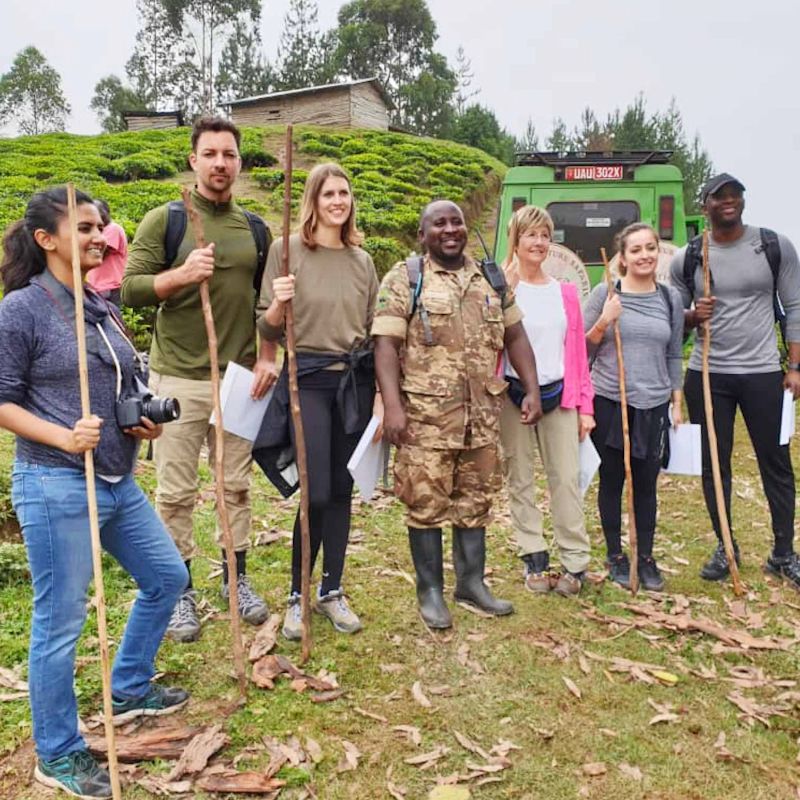 Everyone must trek as part of a guided group
How much does a permit cost?
A permit to go gorilla trekking in Uganda currently costs US$700. The price is the same for both Bwindi and Mgahinga.
The price of a gorilla trekking permit temporarily decreased during the thick of the pandemic, but it's now back to its pre-coronavirus price. Price increases, when they happen, usually take place around November.
Habituation trekking permits
A permit to go on a four-hour gorilla habituation experience costs US$1,500.
This is a different sort of experience to a gorilla trek – it's not just a gorilla trek that's four times longer. Rather, a gorilla habituation experience sees you accompany a team of researchers and rangers who are in the process of getting a wild gorilla troop used to being in the presence of humans.
You can learn more in Gorilla habituation experience.
Why does a permit cost so much?
The main reason that gorilla trekking permits (and habituation experience permits) are so expensive is that mountain gorilla conservation is an expensive exercise. The bulk of your permit fee goes towards the park and its many needs, from staff salaries to park upkeep, research, veterinary bills. The park also needs fences and patrols because gorillas are a target of poachers, one of the main reasons they're endangered and need conserving.
Some of your fee also goes towards the local community, a topic we discuss in detail in Does gorilla trekking help gorilla conservation? A portion also goes to the government.
So while gorilla trekking permits are expensive, it's nice to know that your money is helping in the conservation of these precious animals.
How early must I book my permit?
As we discuss in 5 common gorilla trekking mistakes, you need to book your permits well in advance to ensure you're not disappointed.
This is especially true of Bwindi Impenetrable National Park, where permits can sell out months in advance. Mgahinga Gorilla National Park isn't as in demand, so sometimes you can get last-minute gorilla trekking permits for this park. But don't bank on it – rather play it safe if you can, and ensure you have your gorilla trekking permit before booking the rest of your trip.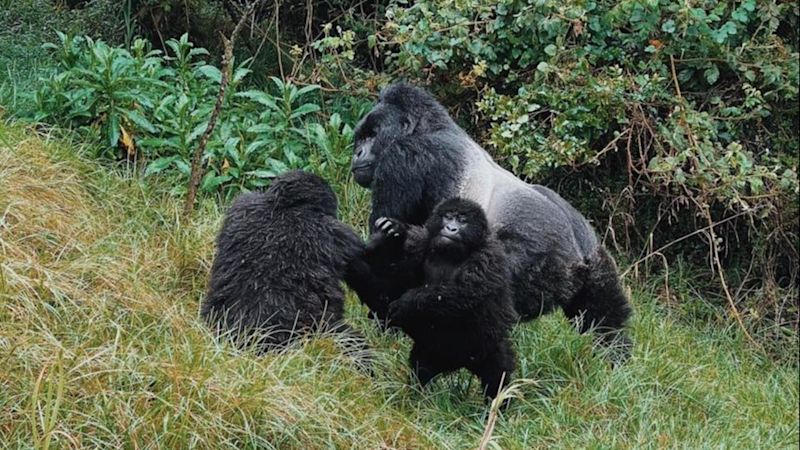 Incredibly, you're allowed within metres of the troop you visit
How do I book a gorilla trekking permit?
You can book your gorilla trekking permit online, but the staff of Bwindi Impenetrable National Park strongly encourage visitors to book their gorilla permits through a tour operator like Follow Alice. One reason for this is that it's better to travel to Bwindi with a local tour operator who knows the roads well and has the right sort of car to navigate them, as they're not in good condition.
If you go gorilla trekking with a tour operator, they book your permit for you.
When gorilla trekking with us, we organise your gorilla trekking permit for you, as well as your transport, accommodation and more. Trips like this are generally more cost effective in a group.
Gorilla trekking in Bwindi vs Mgahinga
As mentioned, there are two mountain gorilla parks in Uganda: Bwindi Impenetrable National Park and Mgahinga Gorilla National Park. These are shown in the map below. You can go gorilla trekking in either. That said, almost all visitors head to Bwindi as it has many more habituated gorilla troops and therefore issues many more trekking permits.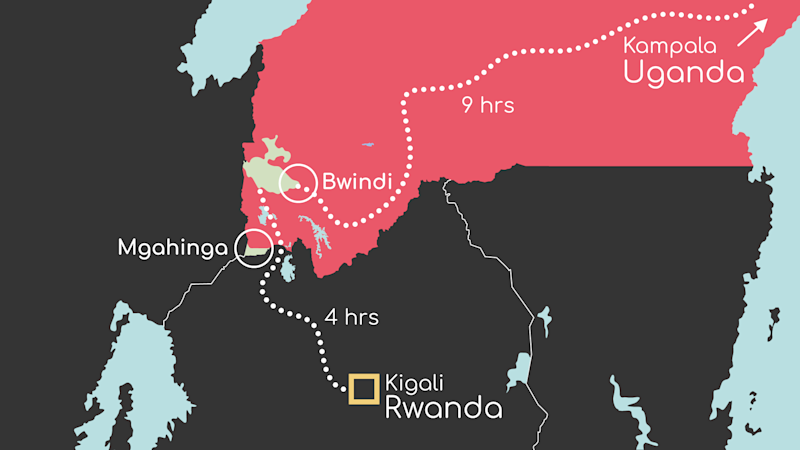 Map showing location of Mgahinga and Bwindi parks
In fact, Mgahinga has just one habituated troop and so issues just eight permits per day. Bwindi, on the other hand, issues over a hundred permits per day for its 17 habituated troops.
Good news: the Bwindi or Mgahinga park entrance fee of US$40 is incorporated into your gorilla trekking permit fee.
Tipping your trek guide
Everyone who goes gorilla trekking joins a guided group. Your trek guide, in consultation with the park's gorilla trackers, leads you on a hike into the jungle to find and spend time with your troop. Your guide not only leads you but also chats with you about what you're seeing and ensures everyone interacts respectfully and stays safe in the company of the gorilla troop.
It's customary to tip your gorilla trek at the end of the experience. The amount you tip is up to you, but we recommend giving a group tip of roughly US$15 to $20.
Please tip your gorilla trek guide in Ugandan shillings.
If you go on a gorilla habituation experience, you may like to tip not just your trek guide but also your ranger and tracker. Again, somewhere in the region of US$15 to $20 per group is a good rule of thumb.
Hiring a porter
Some who go on a gorilla trek choose to hire the services of a porter. There are a couple of advantages to this.
Firstly, you can hand over your backpack laden with drinking water, a snack and perhaps your jacket and some other items to someone else to carry. The guys and gals who serve as porters are familiar with the steep and often slippery terrain and trot over it while most of us carefully pick our way along.
Secondly, the role of porter is highly sought after by locals as it's a much-needed source of income. Hiring a porter is therefore a great way of helping the local community and economy.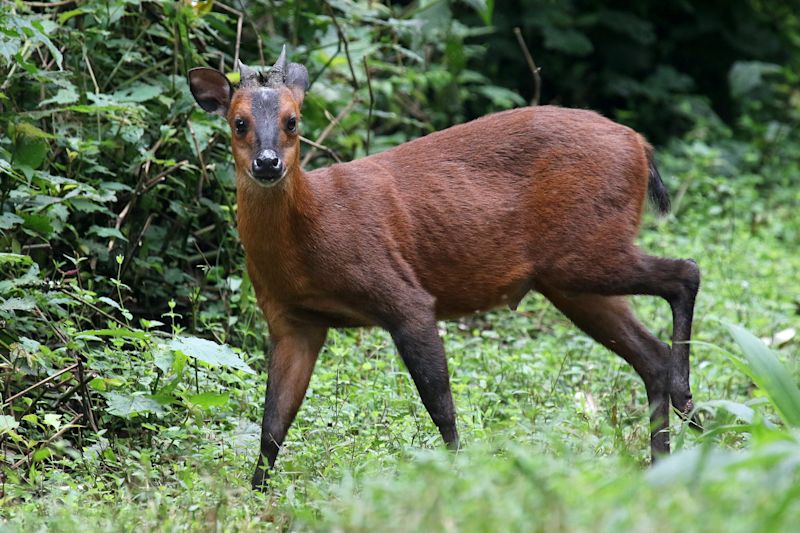 Some lucky folks also spot some other wildlife, like black-fronted duikers, on their trek
You can usually negotiate the cost for a porter. But plan on around US$15 to $20. You might like to give a tip as well as at the end if he was really helpful. The amount is totally up to you.
Other costs
We've covered the cost of a gorilla trek in Uganda, but of course there are other tangential costs to consider when it comes to planning any adventure. Let's look at these to help you with your budget planning ...
First and foremost, you'll need accommodation before and after the gorilla trek. Uganda's two mountain gorilla parks are in the southwest corner of the country, far from the nearest international airport. So you'll need to spend at least one night in the area prior to your morning gorilla trek. We give you our recommendations in Uganda accommodation options.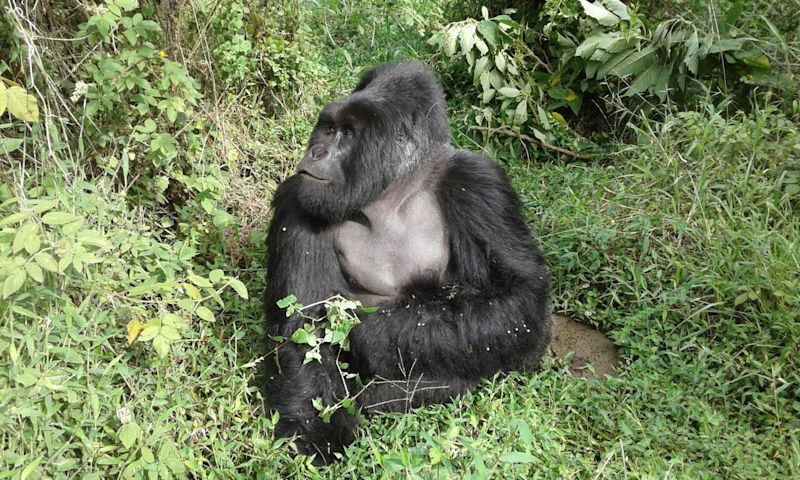 Mountain gorillas are almost exclusively vegetarian
Of course, to even get to one of Uganda's two mountain gorilla parks requires a trip to Uganda. And for most this requires a good deal of time and effort and so folks also plan to see some of Uganda's other start attractions, like its world-class safari parks. The best way to do this, in our opinion, is to travel with a reputable tour operator who employs locals to be tour guides. We discuss how to choose a good tour operator in Gorilla trekking tours.
Finally, for anyone who's not done much hiking, there might also be the need to purchase a few trekking items, like sturdy hiking boots. We discuss what you need in What to pack for gorilla trekking.
Any further question? Please feel free to contact us and we'll be happy to answer them!