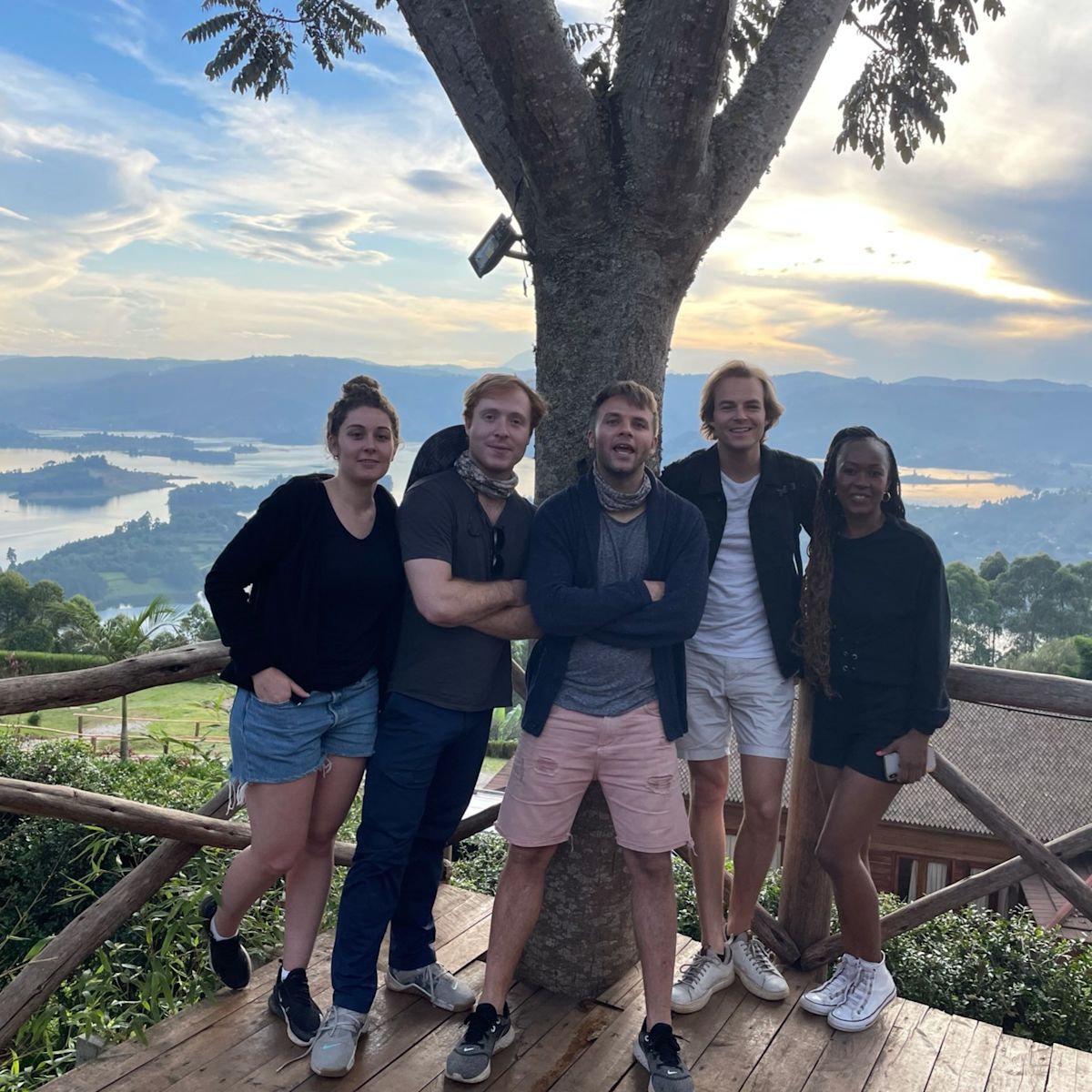 What type of accommodation is there in Uganda?
Jul 11, 2023
Reading time: 8 minutes
We're often asked by clients planning a trip to Uganda what the accommodation there is like? We work with many lovely mid-range and luxury lodges across Uganda, so have a gander at the options below to see which ones suits you.
We make use of a number of mid-range and luxury lodges in our Uganda tours. Depending on your budget and wishes, we'll organise the sort of accommodation that best suits you.
It's worth noting that Rwanda has more high-end luxury accommodation options than Uganda. This is because the tourism industry there is more geared towards wealthy tourists. Uganda, on the other hand, has a more balanced accommodation offering, with a fairly even mix of mid-range and luxury options.
In many respects, the level of accommodation available in Uganda is more basic than what you might find in Kenya and Tanzania. It's good to know this so that you know what to expect. That said, the lodges in Uganda are constantly evolving and being refined.
One thing that never changes is the warm Ugandan hospitality and smiles that you receive wherever you go!
Ugandan hospitality is warm and genuine, and always comes with a smile! 😊
Let's look at our favourite mid-range accommodation options in Uganda, after which we showcase our favourite luxury options ...
Mid-range accommodation options
Here are our top picks for budget-minded accommodation that's still comfortable and charming.
1. Lake Bunyonyi Lodge, Lake Bunyonyi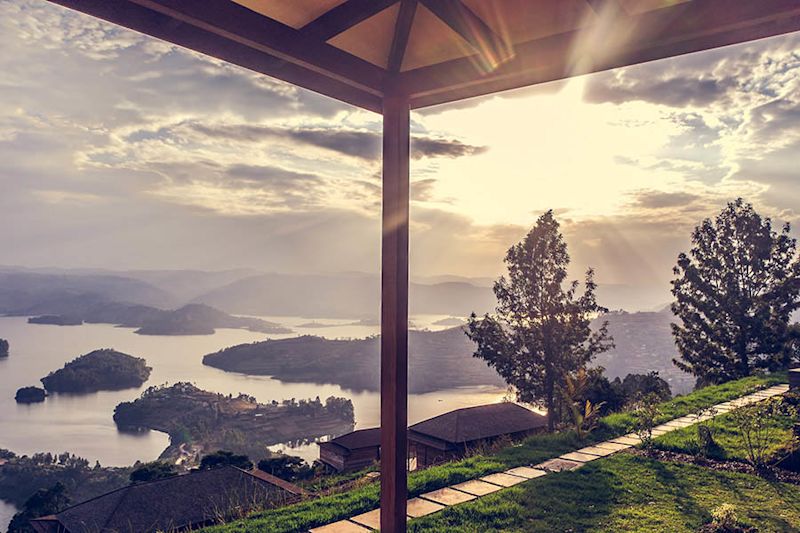 Lake Bunyonyi Lodge (which belongs to Arcadia Lodges Uganda) has a dream location: it sits high on a hill and overlooks the unique and gorgeous Lake Bunyonyi, famous for being dotted with numerous islets. Lake Bunyonyi is a unique spot that offers plenty of adventurous activities, which is why we've included it in our Top 20 things to do in Uganda – the definitive list!
This family-run, mid-range lodge has a friendly atmosphere and great service. The staff always wear big smiles and ensure guests feel comfortable.
The lodge is compromised of 25 cottages. Each cottage is self-contained and has a private deck for guests to enjoy the view over the lake.
2. Agandi Eco Lodge, Bwindi Impenetrable National Park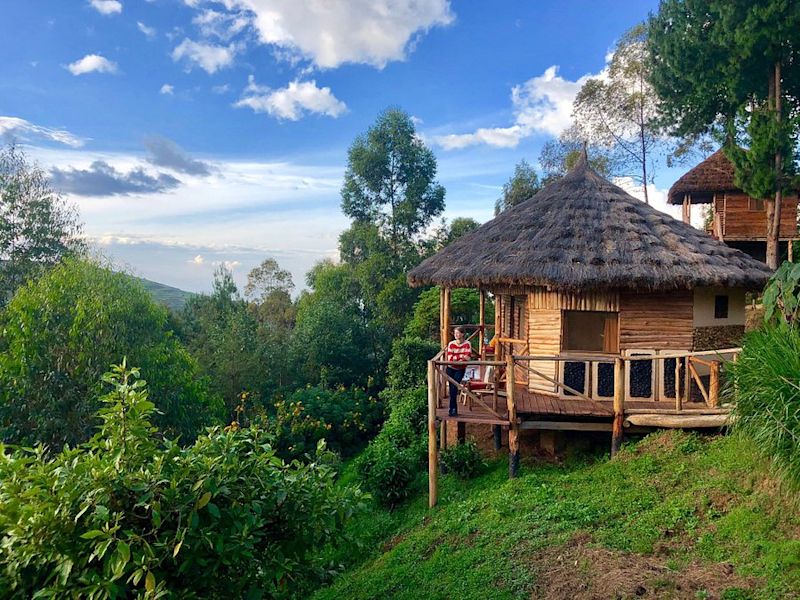 Agandi Uganda is a quirky eco-lodge that's popular with gorilla trekkers. There's range of accommodation types on offer:
Grass-roofed platforms for camping

The Ugandan Huts, which are traditional huts from from wood

The Volcanic Cottages

The Tree Nests, which offer a higher viewpoint
Follow Alice normally books clients into the Tree Nests or Ugandan Huts, both of which offer amazing views of the Bwindi Forest canopy. Built by local craftsman from sustainable materials, all of the accommodation options have a wonderfully Ugandan flavour.
3. Rushaga Gorilla Camp, Bwindi Impenetrable Forest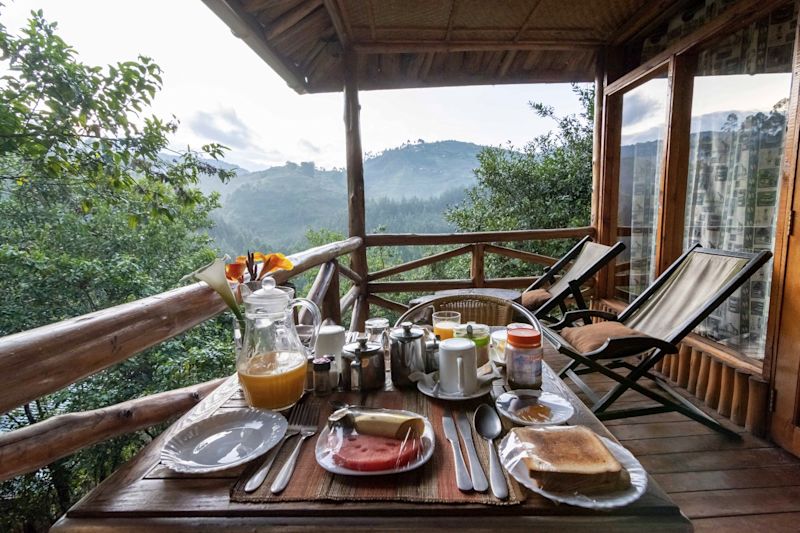 Rushaga Gorilla Camp is right next to Bwindi Impenetrable National Park and the charm of this place cannot be overstated! The wood buildings blend in beautifully with the forest surroundings, and its position on a hill offers fantastic views of the thickly forested hills.
The establishment offers a range of accommodation options, namely:
Luxury tents and suites

Standard rooms and cabins

Family cottages

Camping ground
We normally book clients into the Standard Rooms or Luxury Tents and Suites. The dining room serves delicious meals and there's a bar for those wanting drinks. The lodge also offers yoga classes, relaxation therapy, and massages. Plus there's a swimming pool – yay!
4. The Bush Lodge, Queen Elizabeth National Park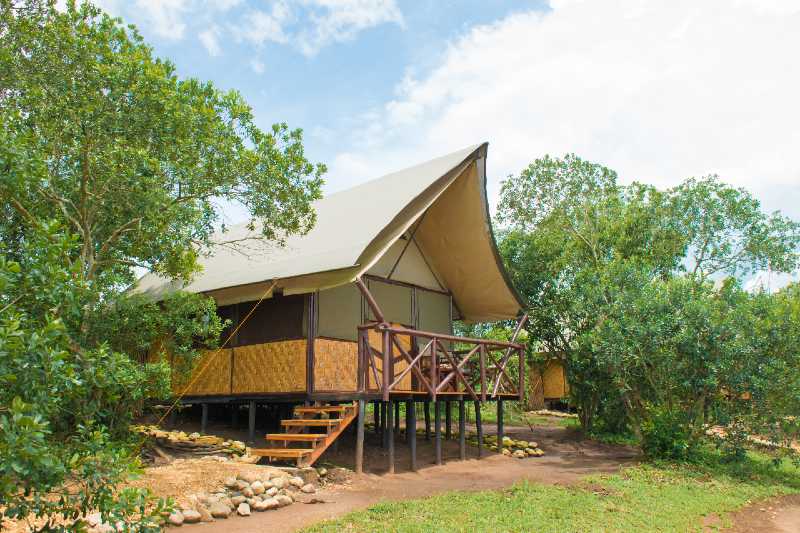 The Bush Lodge is an eco-friendly lodge inside of Queen Elizabeth National Park. It's situated so it overlooks the famous Kazinga Channel between Lakes Edward and George. We think it's the perfect base for an exciting safari in Uganda in search of Africa's incredible wildlife.
The lodge has several accommodation options, including 12 self-contained bandas, which are spacious rooms on platforms with canvas roofs and ensuite bathrooms. Follow Alice normally books this option for clients.
There are 10 tents on offer, each of which sits on a cement floor and is covered by a thatched roof for extra protection from the elements. These are furnished with comfortable beds, a bedside table and a power outlet for charging your electrical equipment. The tents share a communal ablution block.
5. Pakuba Safari Lodge, Murchison Falls National Park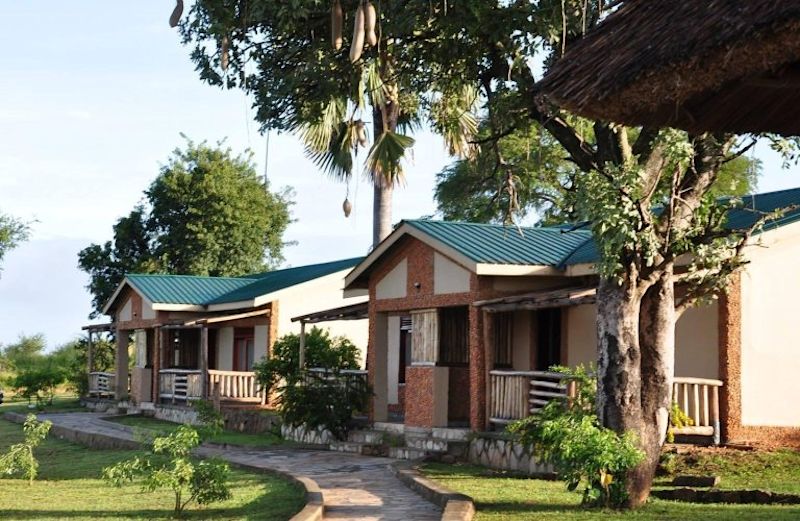 Pakuba Safari Lodge is one of the few accommodations in the Murchison Falls National Park. The lodge has over 40 spacious rooms, each of which has a comfy bed and ensuite bathroom (which has hot running water and flushing toilets). The rooms have lovely views over the Albert Nile and the wildlife that dots the savannah section of the park. It's the perfect place from which to enjoy a safari in Murchison Falls.
6. Kibale Forest Camp, Kibale Forest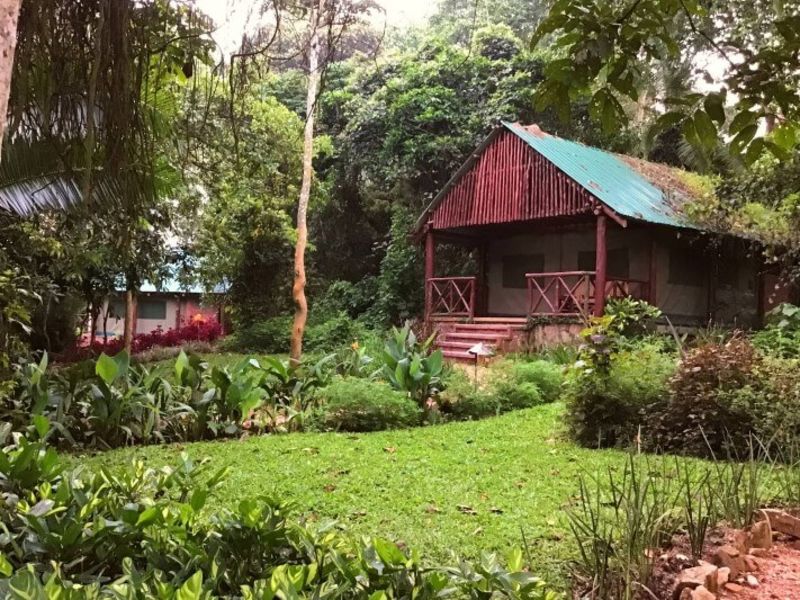 Kibale Forest Camp takes charm to the next level! Situated within a tropical rainforest, the lodge offers all the comforts you need after a day out chimpanzee trekking. Kibale Forest itself is home to 13 species of primates, as well as rare birds and beautiful butterflies, so it's the perfect spot for animal lovers to visit.
Kibale Forest Camp offers two types of accommodation. The first option is safari-style tents, each of which is comfortably furnished with twin or double beds and has an ensuite bathroom. These units also come with a private veranda. Where better to sit in the evening and hear the howling of a black-and-white colobus, or listen to the wood owl calling his partner?
The establishment also has nine, more basic tents, each of which sits on a cement floor and has a thatched roof that provides you with a small, private veranda. The tents are furnished with comfy beds, bedside tables and power outlets for charging your electrical devices. The tents share a communal ablution block which has showers and flushing toilets.
7. Mihingo Lodge, Lake Mburo National Park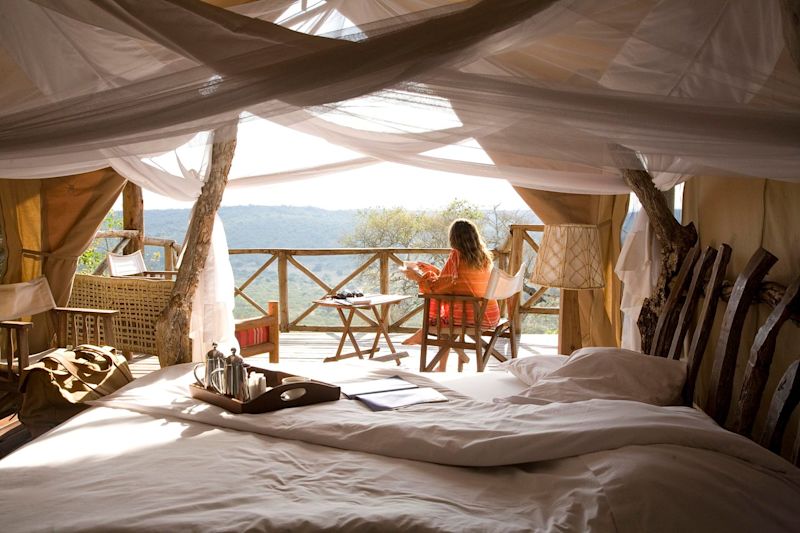 Mihingo Lodge is a family-owned establishment in a magical setting adjacent to Lake Mburo National Park. It has spectacular views over a vast savannah landscape where you can spot wildlife. This environmentally friendly lodge offers comfort, relaxation and the experience of being at one with nature. 🧘🏽‍♂️
Mihingo Lodge has 12 luxury tented rooms designed to provide you with privacy and tranquility. Each room has its own unique situation, whether nestled in forest, overlooking the lake, perched on a rocky outcrop or down by the waterhole. The main lodge area is the perfect place to relax. An infinity pool overlooks the valley below where buffaloes, elands, impalas, warthogs, bushbucks and zebras can be seen coming to drink at the waterhole.
Mihingo is the only lodge that is allowed to do night game drives, which means that you have the chance to spot elusive nocturnal creatures such as leopards. They also offer horse safaris, a wonderful way to get up close to a dazzle of zebras!
Okay, let's now talk luxury accommodation in Uganda ...
Luxury accommodation options
Here are the four accommodation options we recommend for visitors to Uganda who like and can afford the extra niceties!
1. Bwindi Lodge, Bwindi Impenetrable Forest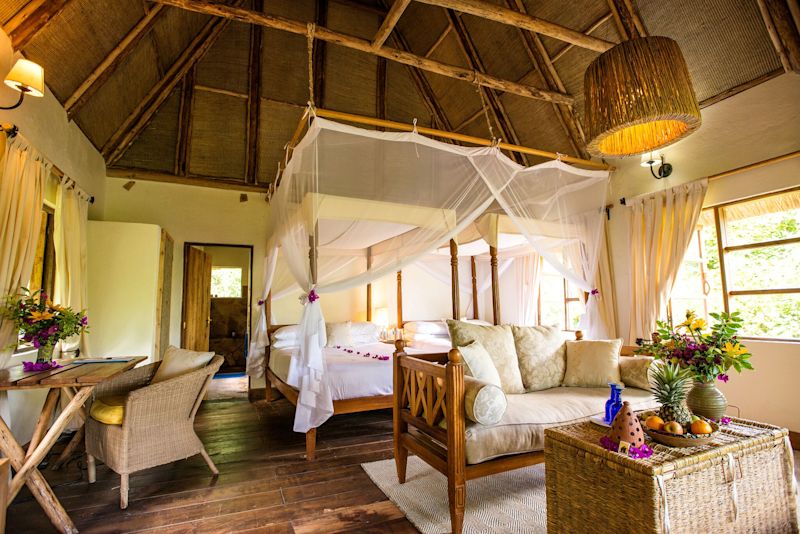 Bwindi Lodge is a stunning luxury lodge overlooking the primeval Bwindi Impenetrable Forest. This is our top pick for clients looking for all the creature comforts while gorilla trekking. The tasteful, earth-toned decor uses vibrant African prints and materials, giving the rooms an authentic feel. It's the perfect place to stay while on a gorilla trekking adventure.
Accommodation at Bwindi Lodge is in six luxury bandas (cottages), each of which comes with the services of a private butler. The communal lounge and fireplace are the perfect place to warm up and relax after a day gorilla trekking.
2. Mount Gahinga Lodge, Mgahinga Gorilla National Park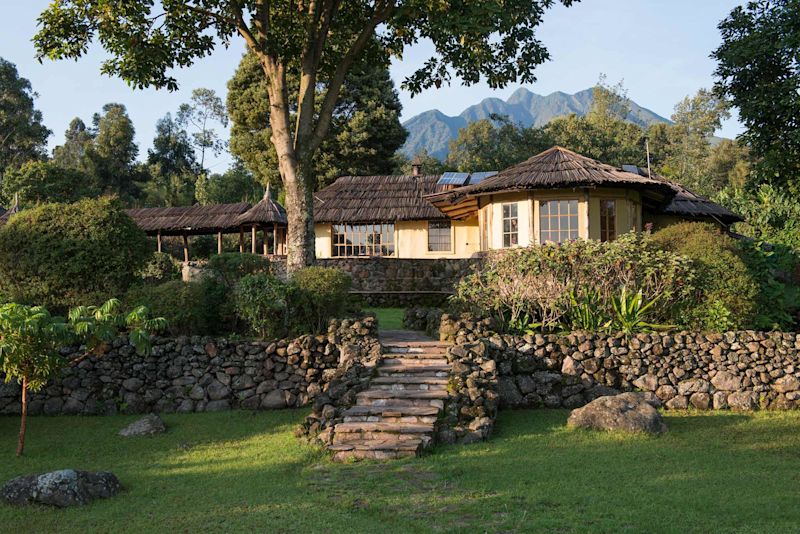 Mount Gahinga Lodge has a stunning location on the edge of Gahinga National Park. This luxury lodge has a truly welcoming feel. Guests stay in charming stone cottages that are decorated in the traditional manner of the Bufimbira (Batwa) people. Each has a roaring fire laid in the fireplace for you each evening to keep you nice and toasty. The lodge has stunning views of the three nearby volcanoes that are part of the Virunga Mountains.
The lodge is the perfect base for gorilla trekking, tracking the rare golden monkey, climbing a volcano, and visiting and learning about the culture of the Batwa, the oldest inhabitants of the Central African rainforest.
3. Kyambura Gorge Lodge, Queen Elizabeth National Park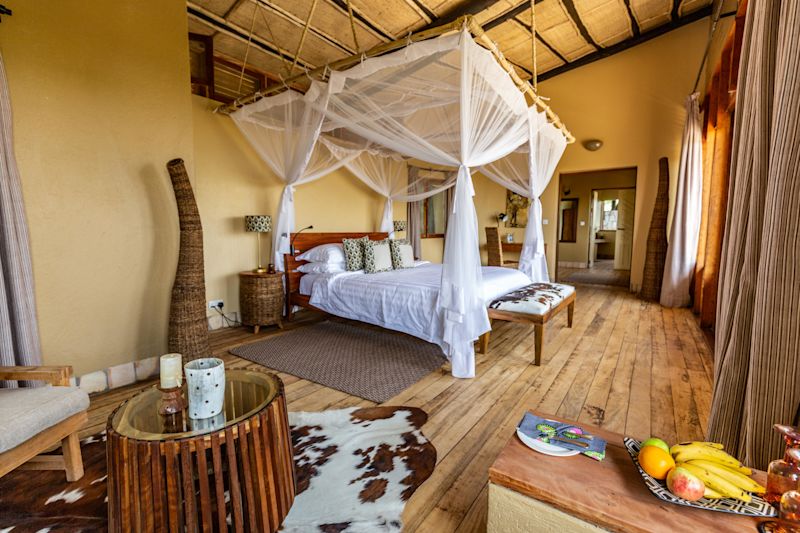 Kyambura Gorge Lodge is a quirky lodge on the edge of Queen Elizabeth National Park that used to be a coffee house. The stylish, contemporary bandas are the prefect place to stay while enjoying an exciting safari, a boat cruise on the Kazinga Channel, or a visit to the 'lost' chimpanzees of Kyambura Gorge.
The lodge has a swimming pool which is great for cooling dips after a game drive. There's also a spa where you can enjoy being pampered.
4. Kyaninga Lodge, Fort Portal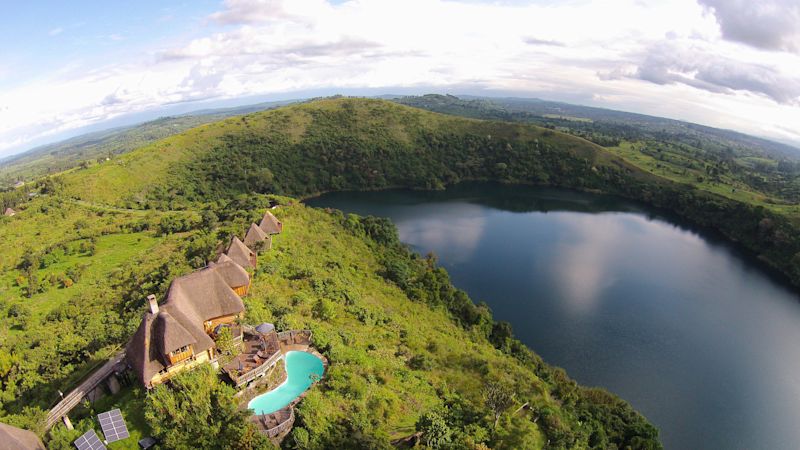 Kyaninga Lodge sits on the edge of a crater lake in Fort Portal and so offers sublime views. Guests stay in spacious, luxury cottages, each of which is built on a platform on the rim of the crater. All of the cottages are linked via raised wooden walkways to the main lodge. The cottages are made of wood, and have a rustic Swedish feel.
Guests have a view not only of the crater lake but also of the Rwenzori Mountains behind it. These mountains – also known as the Mountains of the Moon – offer truly fantastic and rewarding day hikes and longer, more challenging treks. So Kyaninga Lodge is a great place to stay if you want to explore the beautiful crater lakes around Fort Portal or go hiking in the Rwenzoris.