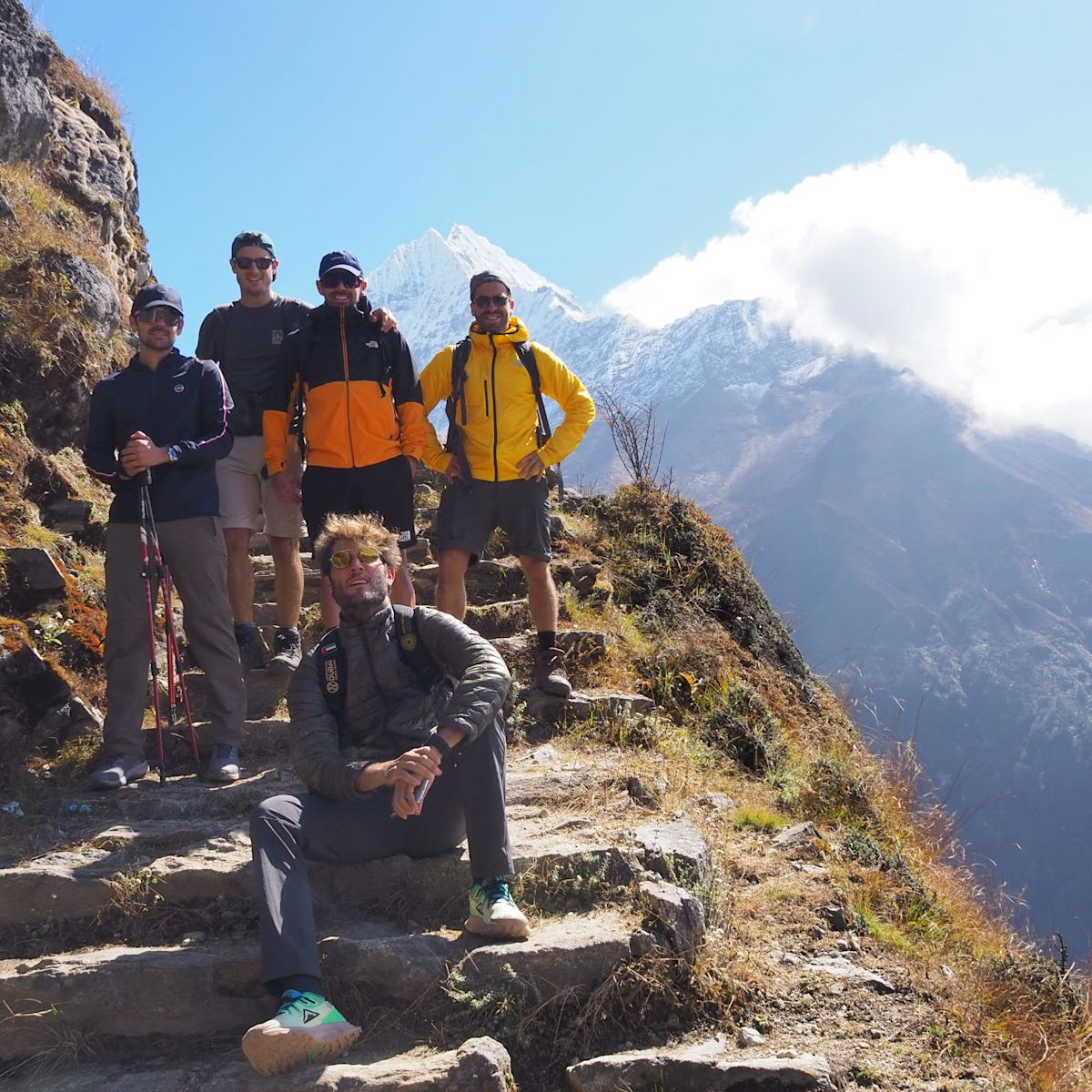 Everest Base Camp trek and helicopter return
Aug 28, 2023
Reading time: 17 minutes
This is our most popular Everest Base Camp trek. Because it's a winner! For starters, it's the shortest trip, so it's more accessible for those with limited leave. Also, you get to fly back in a helicopter and see Mt Everest and the Himalayas from the air!
The Everest Base Camp trek with a helicopter return is an exciting way to visit the world's most famous base camp!
The path you walk from the starting point to base camp is 53 km (33 miles), but you actually end up hiking 65 km (40 miles) in total when you count up the extra bits like a roundtrip day hike and climbing the famous 'Black Rock' (or Kala Patthar) for a brilliant view of Mt Everest.
Map of the EBC trek and helicopter return route
Map showing the EBC and helicopter return route
Route overview
Here's what our Everest Base Camp and helicopter return itinerary looks like in a nutshell. As you'll see, you follow the classic Everest Base Camp (EBC) trek route to reach base camp. You then take a load off by opting to fly back to your starting point in a helicopter instead of trekking back!
Day 1
Fly into Kathmandu and gather at the hotel in Thamel, Kathmandu. Have dinner with your trek guide to get a briefing on what's to come.
Day 2
Drive southeast to the city of Manthali to be ready to fly to the Everest region of Khumbu the following day.
Day 3
Take a short but pretty darn exciting plane ride from Manthali Airport to the town of Lukla (2,860 m). Trek to Phakding (2,610 m) and enjoy the rivers, green mountains, relatively mild temperatures, and pretty villages.
Day 4
Trek from Phakding up the valley to Namche Bazaar (3,440 m), the largest town in the Khumbu region. This day involves a big jump in elevation.
Day 5
Today is an acclimatisation day. Relax and explore Namche Bazaar (attractions include the Sherpa Museum and Namche Monastery), or take a day hike to the beautiful village of Khumjung or to Hotel Everest View for a snack and coffee (or to both!).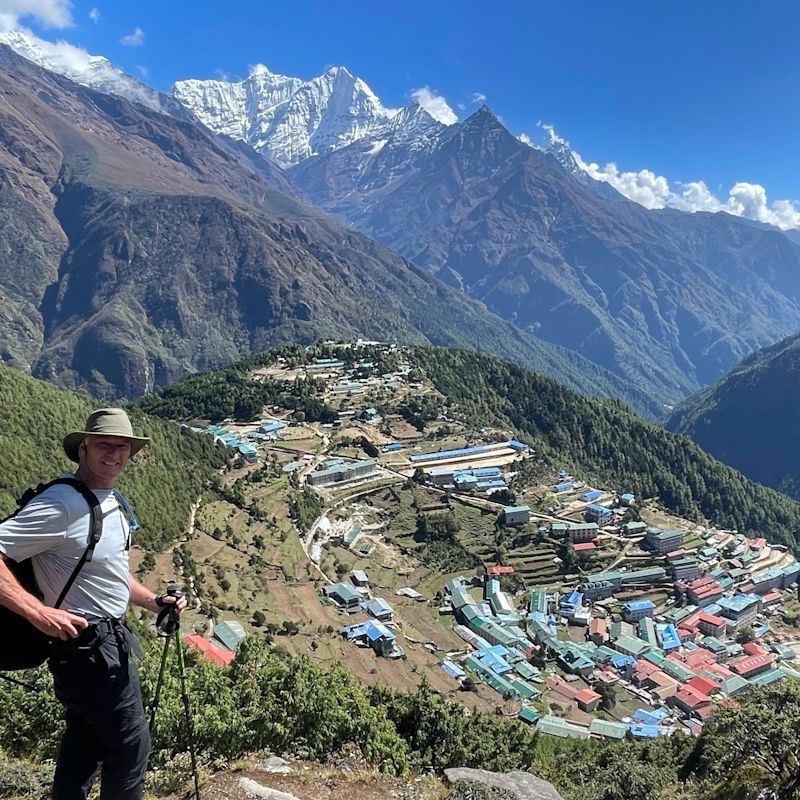 Our client Ross Anker standing above Namche Bazaar
Day 6
Trek from Namche Bazaar up to Tengboche (3,867 m), where you can visit Tengboche Monastery, the largest monastery in Khumbu. The views of beautiful Ama Dablam mountain grow ever more incredible.
Day 7
Trek from Tengboche to the small settlement of Dingboche (4,260 m). Today involves another big jump in elevation.
Day 8
Trek from Dingboche to the tiny village of Lobuche (4,940 m). The terrain becomes increasingly harsh and unforgiving. You feel pretty hardcore for making it this far.
Day 9
Trek to Everest Base Camp (5,364 m)! What an achievement! 🎉 After celebrating, trek down to Gorakshep (5,164 m) for the night.
Day 10
Hike up Kala Patthar (5,643 m) – the 'black rock' – for an epic view of Mt Everest (8,849 m). Then take an exhilarating helicopter ride to Lukla. 🚁
Day 11
Fly to Manthali Airport, then drive to Kathmandu.
Day 12
Explore Kathmandu! This city has s much to offer and delight the inquisitive traveller.
Day 13
Depart Nepal, carrying memories with you that will never fade!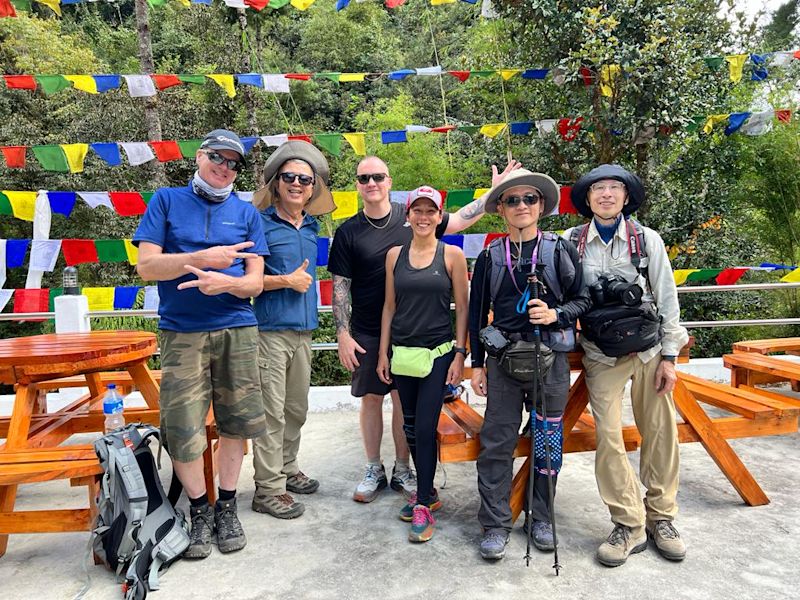 Your trek group is an important source of fun and support on the EBC trek
Video of EBC trek and helicopter return
If you'd like a visual run-through of the EBC trek with a helicopter return, look no further than the video below!
There would be a youtube video here.
Sadly, the youtube player requires cookies to work.
Itinerary
Let's now look at what each day has to hold in more detail. We include some facts and figures to let you know exactly what you're signing up for ...
Day 1: Arrive in Kathmandu
Arrival:

Tribhuvan International Airport

Drive:

Airport to Thamel (30 min)

Overnight:

Thamel, Kathmandu

Accommodation:

Arushi Boutique Hotel

(or similar)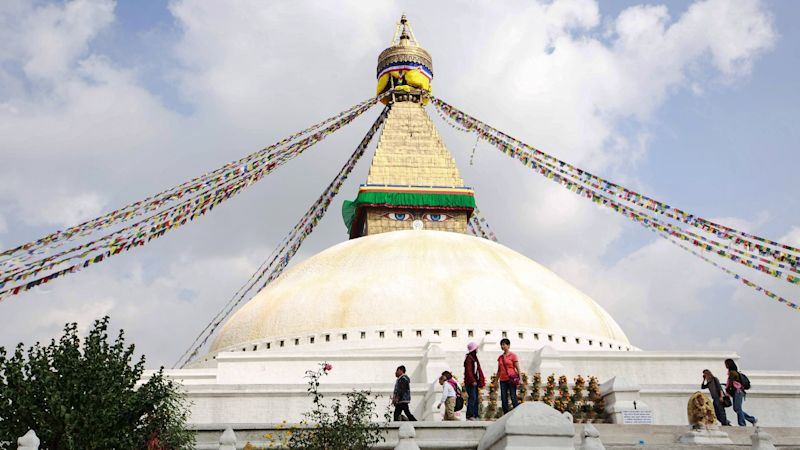 One of Kathmandu's many stupas
Today we fetch you from the airport and take you to your hotel in the Thamel district of Kathmandu. This is a great part of the city – full of life and local colour.
Note that if you need to rent anything for the climb or buy a SIM card, there are plenty of such shops within easy walking distance.
If you're not too tired from your flight and arrive early enough, we encourage you to spend some time exploring Kathmandu. Even just walking the streets of Thamel – looking at the architecture, mixing with the locals and trying some of the local cuisine – is a grand experience. The narrow lanes in the core of Thamel are only for pedestrians and are great for leisurely explores.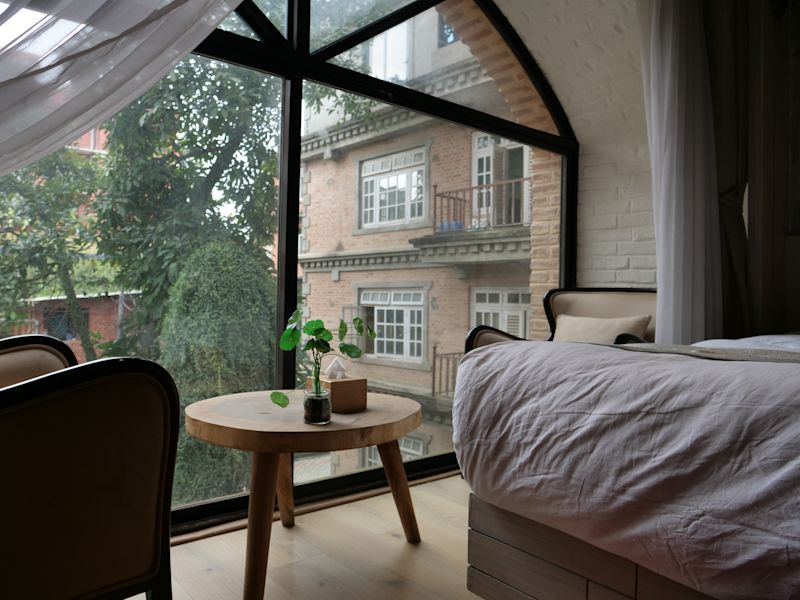 One of the bedrooms of Arushi Boutique Hotel in Kathmandu
Tonight we enjoy dinner together as a group and our lead trek guide briefs us as a group on what's to come.
Day 2: Drive to Manthali
Drive:

Kathmandu to Manthali (5 hr)

Overnight:

Manthali

Accommodation:

TBD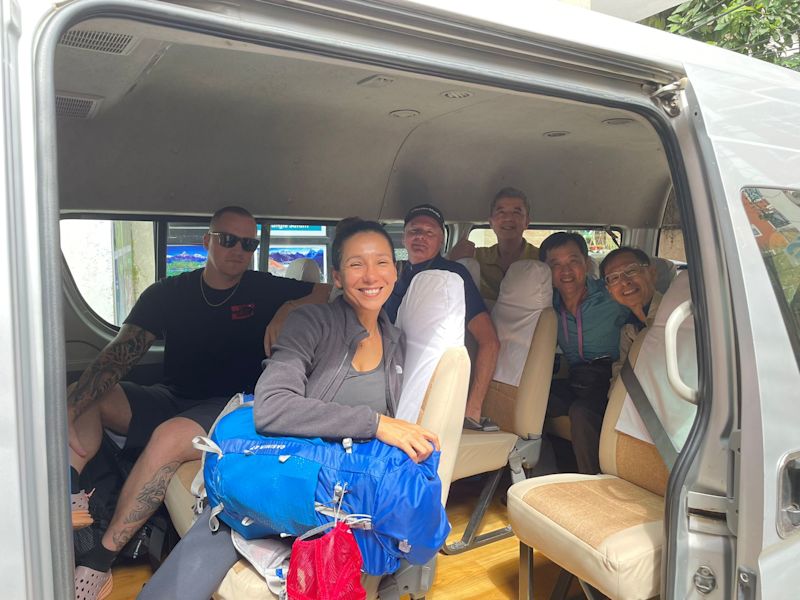 Clients in our private vehicle ready to head south to Manthali Airport
Today we drive south to the town of Manthali in Ramechhap District. We need to catch a flight from Manthali Airport to the town of Lukla, the location of the EBC trailhead. Normally we'd fly to Lukla from Kathmandu, but the airport there is undergoing renovations and so can't manage the usual load of domestic flights.
Day 3: Fly to Lukla, trek to Phakding
Flight:

Manthali Airport to Lukla Airport (15 min)

Trek starting point:

Town of Lukla (2,860 m / 9,383 ft)

Trek distance:

8.2 km / 5.1 mi

Trek duration:

3 hours

Highlight:

Beautiful trek through a forested valley

Overnight:

Village of Phakding (2,610 m / 8,562 ft)

Accommodation:

Teahouse (lodge)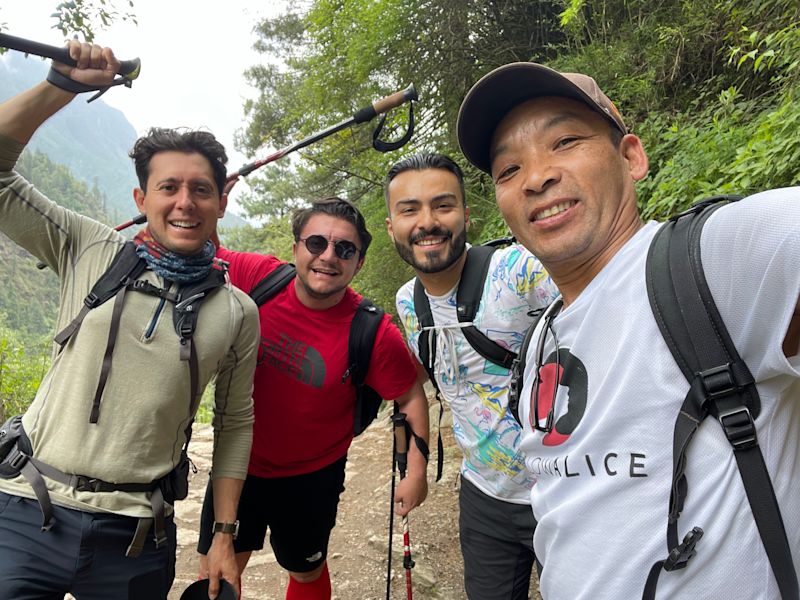 One of our groups with their trek guide, Ang Gelu
This morning we take a short and marvellous flight east from Ramechhap in a small aircraft to the mountainside town of Lukla. The flight is a moment in itself, offering incredible views of the mountains. Landing at Tenzing Hillary Airport is not something you sleep through either – this short runway perched on the side of a mountain demands just the right weather conditions and a skilled pilot to navigate safely!
Flight done and dusted, we then hand over our duffel bags to our porters, straps on our backpacks, and get walking. 😀 And now we head northwest out of Lukla on the famous EBC trail! Whoop whoop!
The route today isn't that tough or long, and we follow a nicely worn footpath through Sherpa countryside.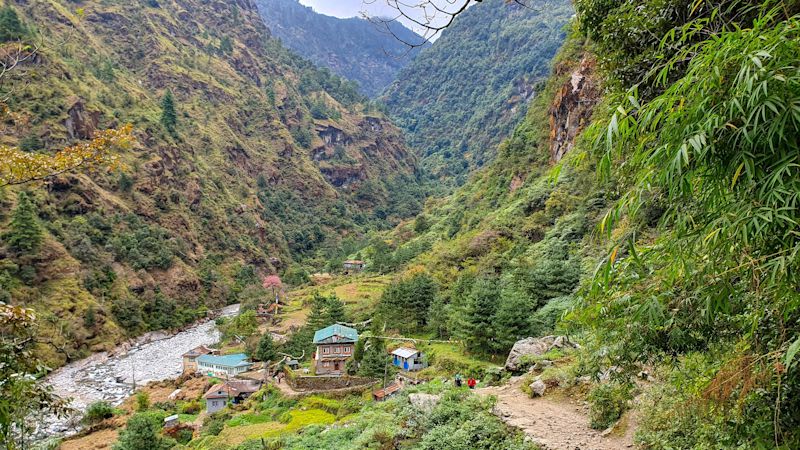 The village of Surke near the river Dudh Kosi
This initial section of the trek is incredibly pretty. We soon enter the lush and forested Dhudh Kosi river valley and wind our way up the valley, with the river staying on our left. En route we pass by picturesque Sherpa settlements, like Surke (shown above).
What some might not realise is that the Everest Base Camp trek route is not a hikers-only path. Rather, the route followed by trekkers is the long-established 'highway' used everyday by locals. There's no road or larger route connecting the various towns and villages of the Sherpas – the EBC trek route is the main thoroughfare. So expect to share the path with tourists and Sherpas alike, as well as yaks, horses and mules.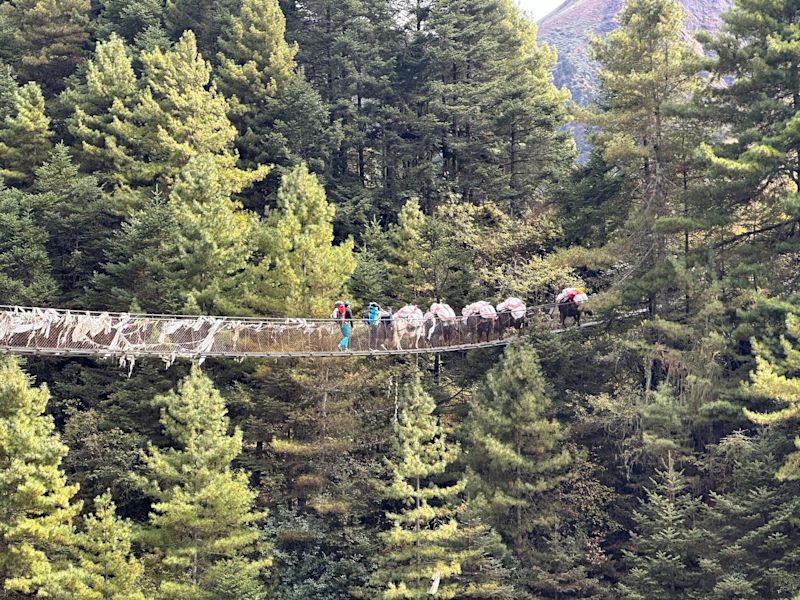 You cross a few suspension bridges on the lower section of the EBC trek
We spend our first night on the trail in the pretty riverside village of Phakding. Phakding is actually at a lower elevation to Lukla, so your body won't be challenged by an altitude increase just yet.
Day 4: Trek to Namche Bazaar
Starting point:

Phakding (2,610 m / 8,562 ft)

Trek distance:

9.4 km / 5.6 mi

Duration:

5-6 hours

Highlight:

Crossing the Hillary Suspension Bridge

Overnight:

Namche Bazaar (3,440 m / 11,286 ft)

Accommodation:

Teahouse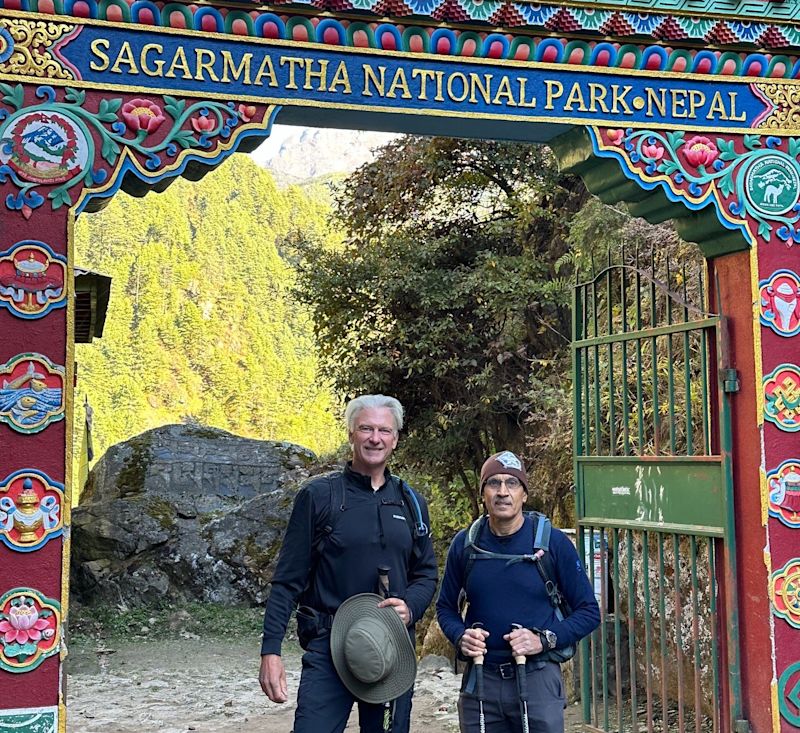 Entering Sagarmatha National Park
Today's trek continues up the Dhudh Kosi Valley and takes us into Sagarmatha National Park, a UNESCO World Heritage Site. We pass the lovely Toktok Waterfall near the park's entrance, and it's a great location for a little rest stop.
What's especially fun and noteworthy today are all the bridges we must use as we crisscross the river! The suspension bridges are draped in multicoloured prayer flags and are often high above the river. We share them with yaks and mules.
The Edmund Hillary Suspension Bridge is the biggest showstopper: it sits 125 m (410 ft) above the river and is 140 m (459 ft) long – quite the daunting prospect if you struggle with heights!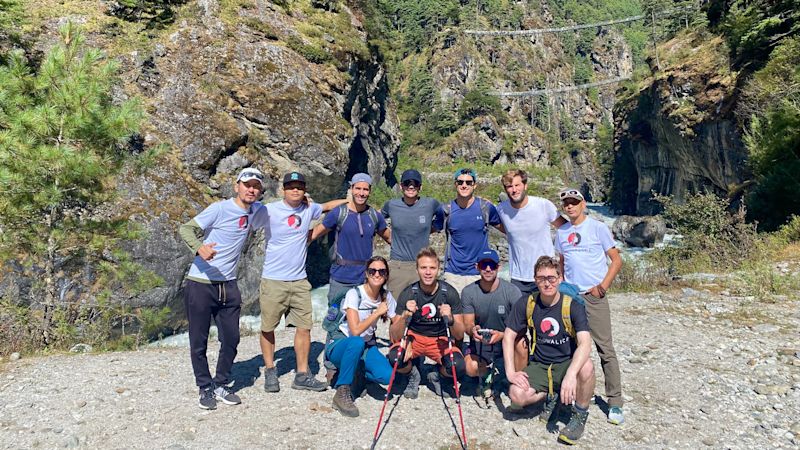 Group shot in front of the famous Hillary Suspension Bridge
Pro tip: Don't enter a suspension bridge if there are yaks or mules busy crossing it, as they could well knock you over.
After this bridge it's a steep and taxing climb up to Namche Bazaar, which sits on a high outcrop at the confluence of the Dhudh Khosi and its tributary the Bhote Khosi. Today is when the change in altitude can really be felt – we climb nearly a vertical kilometre!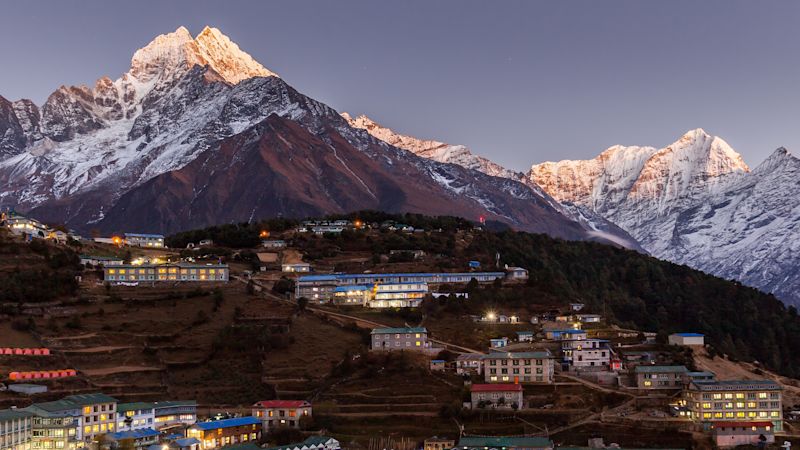 The town of Namche Bazaar is a regional trading hub
Namche Bazaar has so much to offer the curious trekker, though most are tired from the trek and leave any exploration for the next day. A great treat after arriving is afternoon tea at one of the cafés. For many, the German Bakery is a great choice as it offers a comforting taste of home in the form of cappuccinos and dark chocolate cake.
Day 5: Acclimatisation and Hotel Everest View hike
Highlight:

Roundtrip hike to Hotel Everest View for tea

Hotel Everest View elevation:

3,880 m / 2,730 ft

Hike distance:

5.4 km / 3.4 mi

Hike duration:

3 hours

Overnight:

Namche Bazaar (3,440 m / 11,286 ft)

Accommodation:

Same teahouse as the night before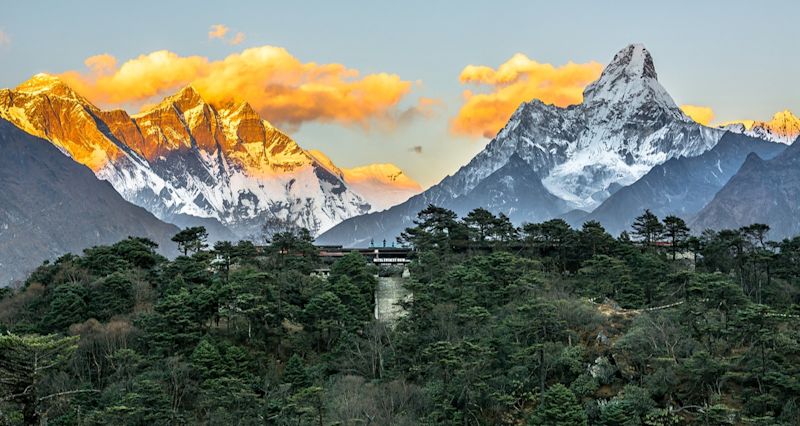 The sublime setting of Hotel Everest View
It's important to give your body enough time to properly adjust to the higher altitude, so we stay put and spend another night in Namche Bazaar.
There's lots to do during the day, depending on what takes your fancy. Some might like to visit the Sherpa Museum or the local monastery. You can also visit nearby Khumjung village (3,790 m), where the monastery boasts what many believe is a yeti scalp!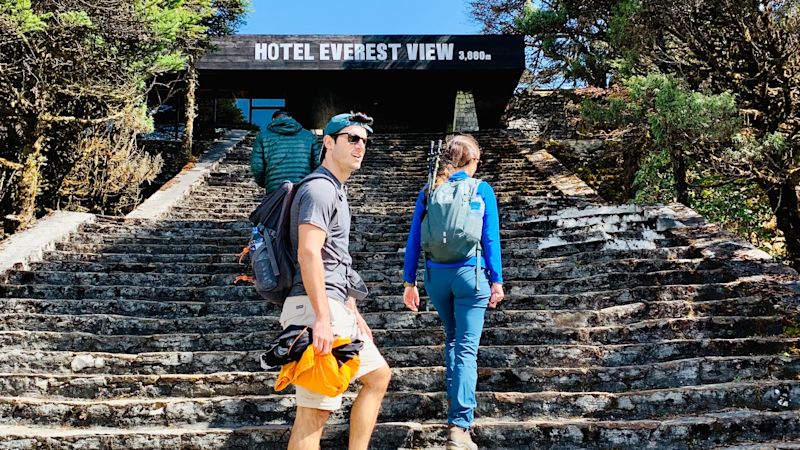 Stone steps lead to the hotel
We recommend that whatever you do with your day, make time for the beautiful roundtrip day hike to Hotel Everest View. Here you can have drinks and a snack while also savouring an unparalleled view of the Himalayas which includes, of course, Mt Everest itself!
Opened in 1971, Hotel Everest View is famous for being the highest hotel in the world: it sits at 3,880 m (13,000 ft) above sea level!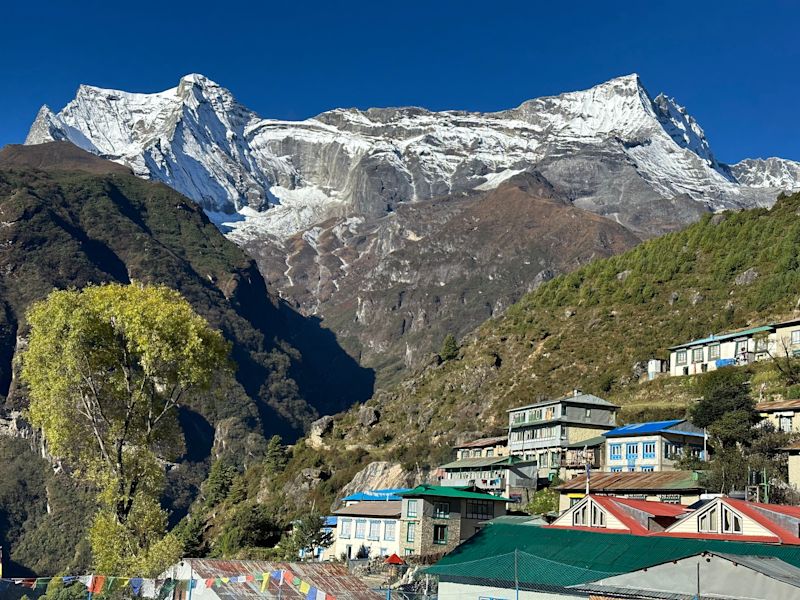 Ross Anker took this great pic of Namche Bazaar
Note that there are plenty of shops in Namche Bazaar for stocking up on snacks and any other trekking whatnots you might need. There are a couple of ATMs in town, but they don't accept all cards and we wouldn't rely on them in case they're not working. The better option is bringing enough rupees with you on the trek, or exchanging dollars or euros at the local bank in Namche.
Day 6: Trek to Tengboche
Starting point:

Namche Bazaar (3,440 m / 11,286 ft)

Trek distance:

9.6 km / 6 mi

Duration:

5 hours

Highlight:

Visit Tengboche Monastery

Overnight:

Tengboche (3,870 m / 12,696 ft)

Accommodation:

Teahouse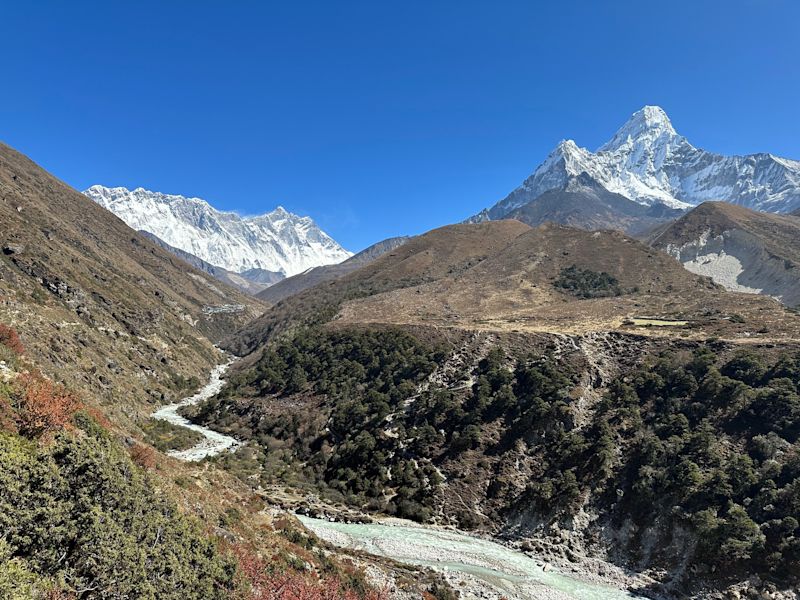 An early view of Ama Dablam, one of the most beautiful mountains on the EBC trek
Today we head in a northeasterly direction up the Pheriche Valley to reach the village of Tengboche. We walk a pretty smooth and flat contour path for a long way. Eventually the trail descends to the valley floor. And then, to reach Tengboche (or Thyanboche), which sits on a hill at the confluence of the Dudh Kosi and the Imja Khola, there's a big climb.
You'll feel the increasing altitude as you climb, but hopefully the acclimatisation day in Namche Bazaar has steadied your body enough to cope.
Given its high position on a hill, Tengboche offers visitors a view of some amazing peaks, which include Tawache, Everest, Nuptse, Lhotse, Ama Dablam and Thamserku.
When viewed from Tengboche, Ama Dablam looks like a mother with outstretched arms. The mountain's name literally means 'mother's necklace'. It's a favourite among many who trek in the region for its striking shape and beauty. It also can be seen on many days of the EBC trek, almost like a mother keeping an eye on things!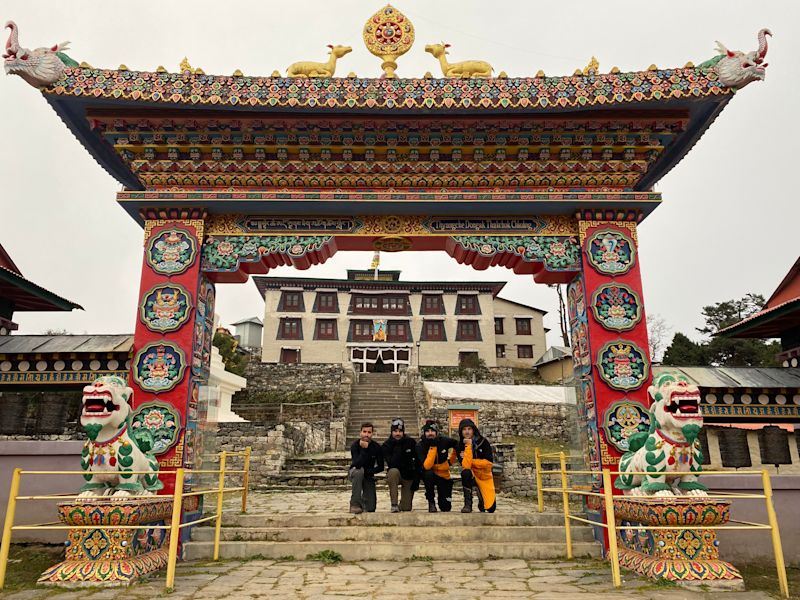 The beautiful entrance to Tengboche Monastery
A highlight of stopping at Tengboche is visiting Tengboche Monastery. The monastery – also known as Dawa Choling Gompa – is Tibetan Buddhist. It's the largest in the whole Khumbu region, and is most definitely worth a visit! It contains a 20-foot Buddha sculpture, as well as detailed wall hangings, clothes and musical instruments. Visitors are even welcome to observe a prayer ceremony.
A yak-cow hybrid in Tengboche
Day 7: Trek to Dingboche
Starting point:

Tengboche (3,870 m / 12,696 ft)

Trek distance:

10.5 km / 6.5 mi

Duration:

6 hours

Highlight:

Looking at Ama Dablam from Nangkartshang viewpoint

Overnight:

Dingboche (4,360 m / 14,304 ft)

Accommodation:

Teahouse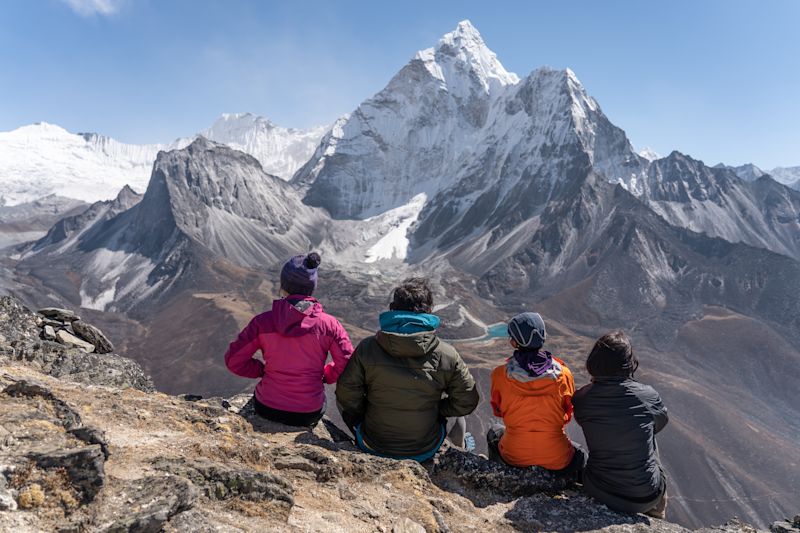 View of Ama Dablam from Nangkartshang
Today we hike for five to six hours to reach the village of Dingboche. We hike up and out of the valley, leaving the Imja Khola river well behind. The landscape becomes more unforgiving, and it's now that you really feel comforted by the fact that you're trekking in the presence of experienced local guides!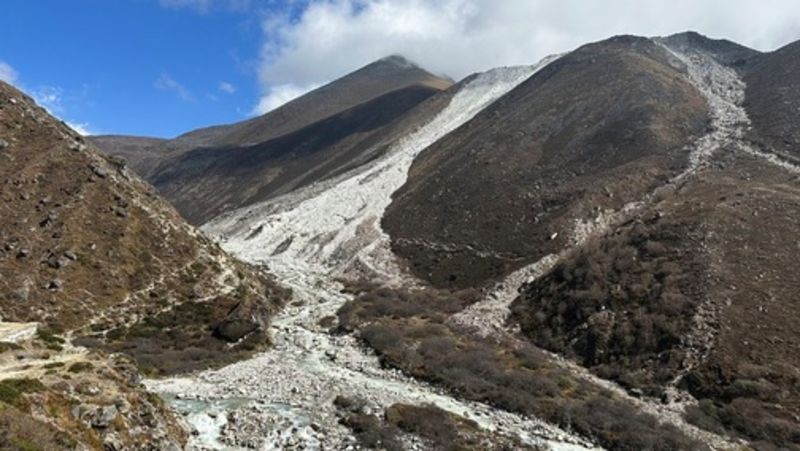 The sort of harsh, cold – yet stunning – environment that we see en route to Dingboche
Dingboche is a very small settlement. Dingboche area has an alpine climate, and is always cold. In fact, it has an average temperature of just 1° C! And the thermometer doesn't even crack 10° C at the height of summer.
The mountains surrounding Dingboche are sublime, and the gorgeous Ama Dablam is on your porch.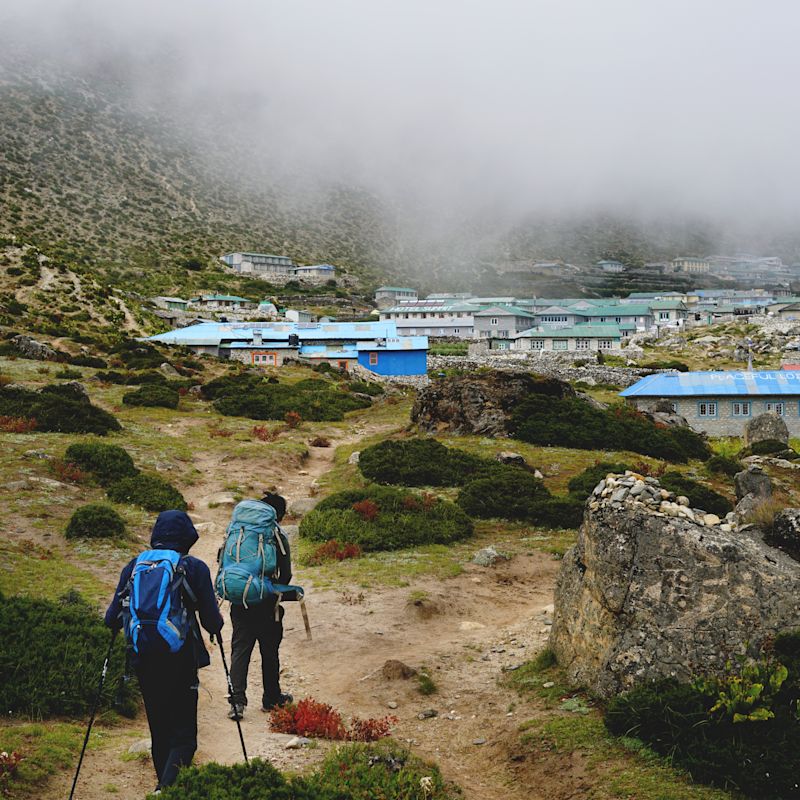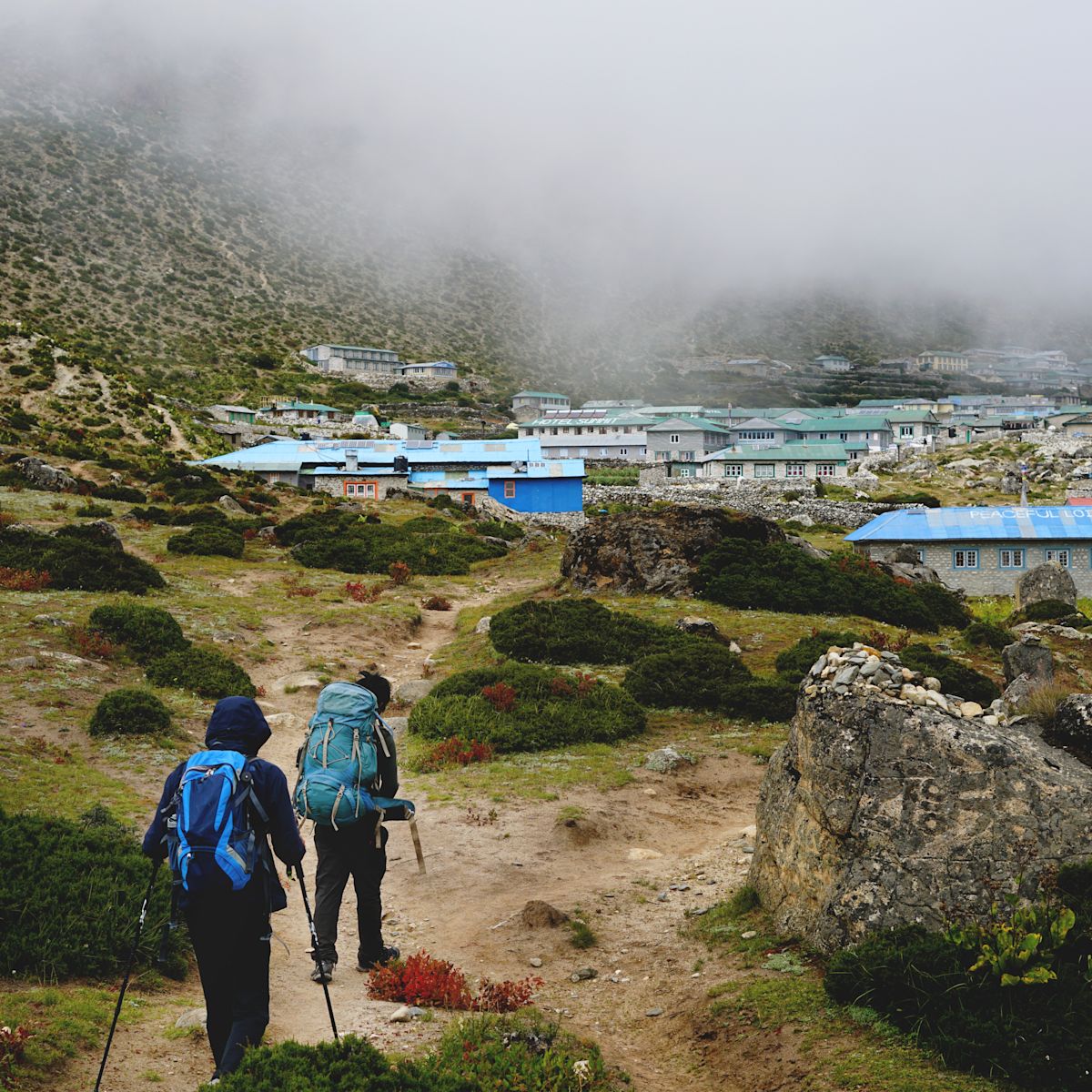 Walking into a misty Dingboche
At this altitude, you can expect to feel some fatigue every time you exert yourself. Certain folks find that the altitude is now affecting the quality of their sleep too. We're really in the thick of the trek now!
Day 8: Trek to Lobuche
Starting point:

Dingboche (4,360 m / 14,304 ft)

Trek distance:

8.4

km / 5.2 mi

Duration:

5 hours

Overnight:

Lobuche (4,940 m / 16,207 ft)

Accommodation:

Teahouse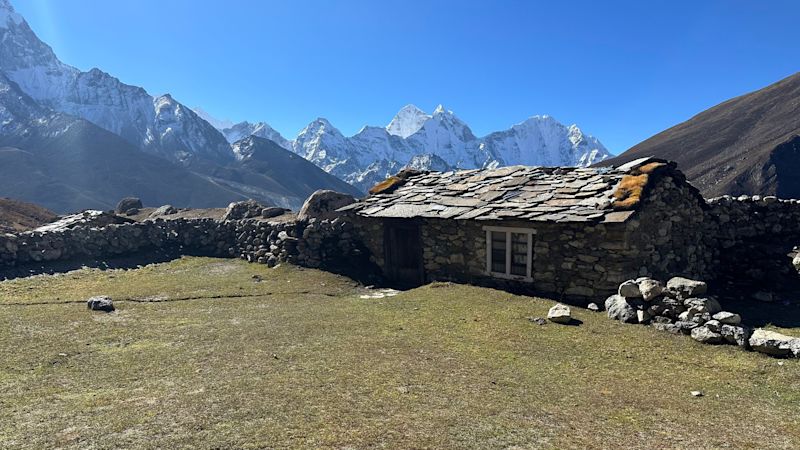 An old stone farmhouse on the way to Lobuche
Today we wind our way up a wide valley for five to six hours to reach Lobuche. The terrain is pretty barren. It's really wonderful to be so surrounded by such enormous and famous mountains on all sides!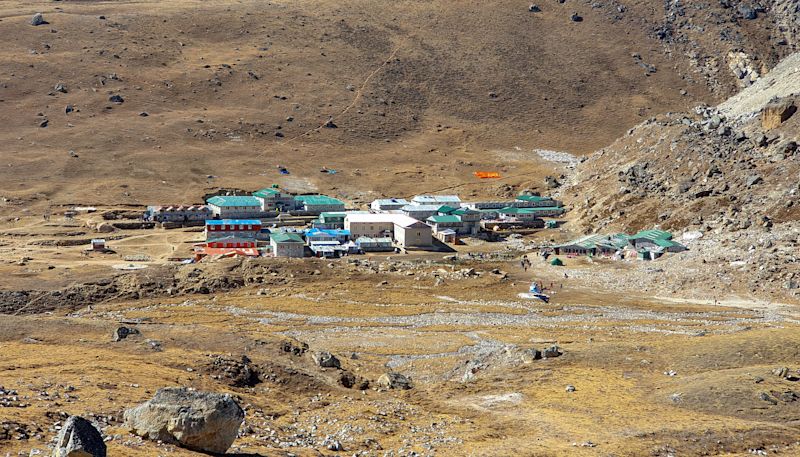 The village of Lobuche
The settlements grow ever smaller and more modest the higher and further into the Himalayas we climb, and Lobuche is no exception. This far into the mountains we no longer look for cultural and religious gems, but are just grateful for a hot dinner and a bed to drop onto at night.
Lobuche is particularly busy in spring when thousands of porters pass through with supplies headed for Everest Base Camp.
Day 9: Trek to Everest Base Camp!
Starting point:

Lobuche (4,940 m / 16,210 ft)

Trek distance:

10.8 km / 6.7 mi

Duration:

4 hours

Highlight:

Visiting Everest Base Camp, of course!

Everest Base Camp elevation:

5,364 m / 17,598 ft

Overnight:

Gorakshep (5,164 m / 16,942 ft)

Accommodation:

Teahouse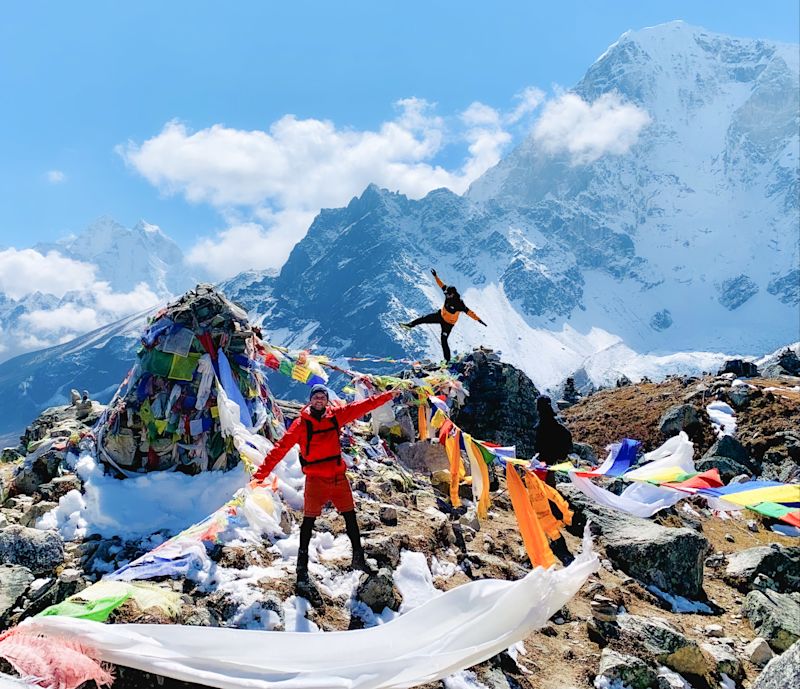 Celebrations – you made it!
Today is the BIG DAY! We head northeast after breakfast along a well-worn path to reach Everest Base Camp. Bring. It. On.
The climb season for Mt Everest itself is spring (April to early June), so this is the time to plan your EBC trek if you really want to see the base camp in action. At other times of the year, the camp is deserted. A riot of prayer flags and a large spray-painted rock (shown below) are pretty much all that's there to indicate you've reached the famous spot.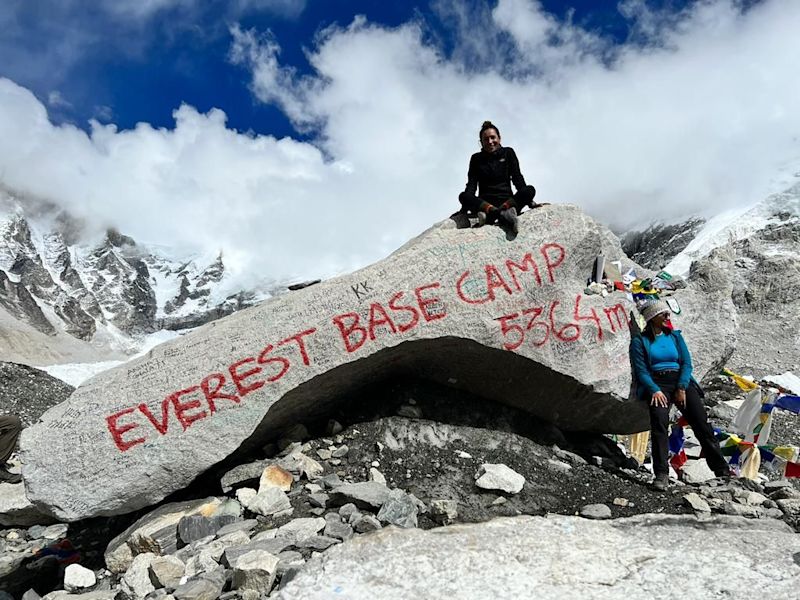 Time to take a load off
You can't actually see the peak of Mt Everest from base camp (we see it tomorrow when we climb the hill known as Kala Patthar). But it's still an epic moment and a privilege to be standing amidst towering mountains in such an iconic spot. You're also up close and personal with Khumbu Glacier, the world's highest glacier!
Having visited EBC, we travel the short distance back to the settlement of Gorakshep, where we spend the night. Gorakshep was actually the original base camp – it was used by Swiss mountain climbers in 1952 in their attempt to summit Everest.
Day 10: Hike Kala Patthar, helicopter flight to Lukla
Starting point:

Gorakshep (5,164 m / 16,942 ft)

Kala Patthar elevation:

5,643 m (18,514 ft)

Hike distance:

3.2 km / 1.9 mi

Duration:

3 hours

Highlights:

The view of Mt Everest from atop Kala Patthar, and the epic helicopter ride!

Helicopter flight:

Gorakshep to Lukla (~20 min)

Overnight:

Lukla

Accommodation:

Teahouse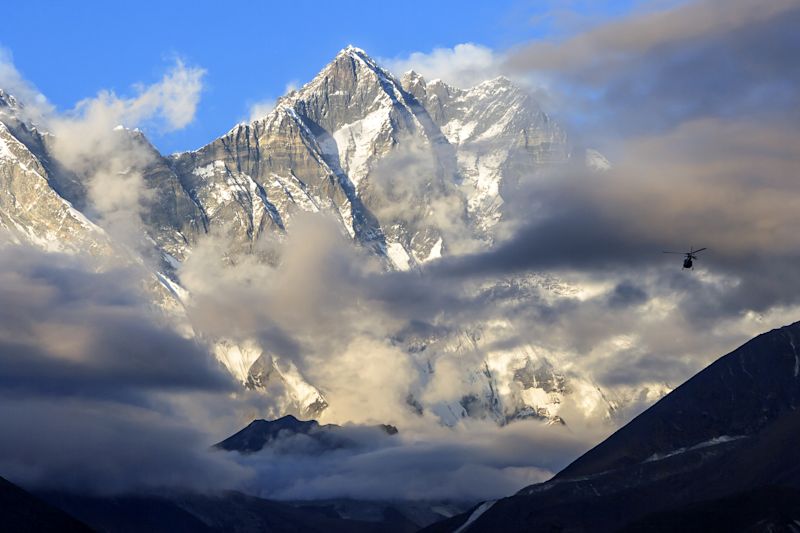 A helicopter is dwarfed in the presence of Lhotse
The morning starts early, with one final big effort to climb Kala Patthar. The hike there and back isn't long (1.6 km each way), but the going is tough when climbing Kala Patthar (the 'black rock'). This is because it's steep, and we're at such high altitude. The climb generally takes about two hours. But the mountain crew is there to support and encourage you the entire way. And once you reach the top, the view of Mt Everest is magnificent and thrilling!
We then return to Gorakshep where we climb into a helicopter for the flight back to Lukla. The helicopter travels down the valleys we climbed over the past week, affording a mesmerisingly different view from high up. It's the flight of a lifetime!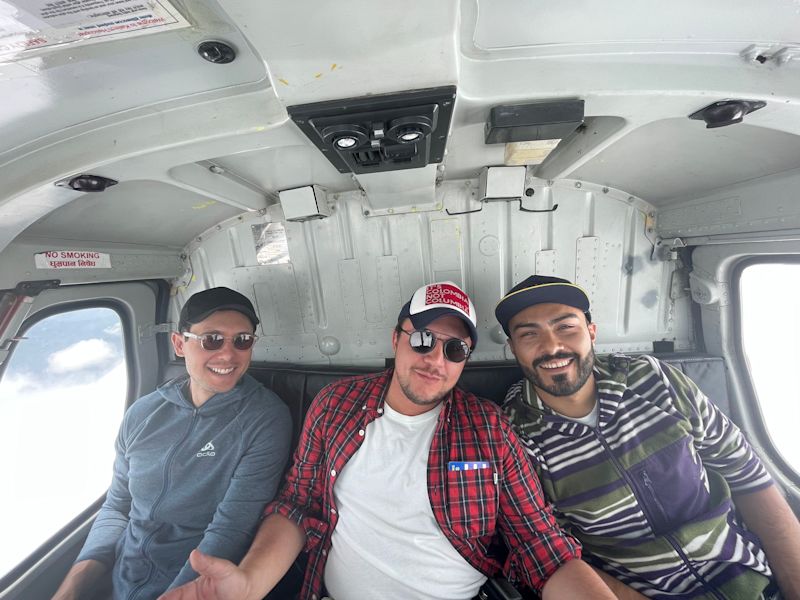 Our client Aldo Varela took this snap of his group's helicopter trip
We overnight in the town of Lukla, ready to catch our flight to Manthali Airport in the morning.
Day 11: Fly to Ramechhap, drive to Kathmandu
Flight:

Lukla Airport to Manthali Airport (15 min)

Drive:

Manthali to Kathmandu (5 hr)

Overnight:

Thamel, Kathmandu

Accommodation:

Arushi Boutique Hotel (or similar)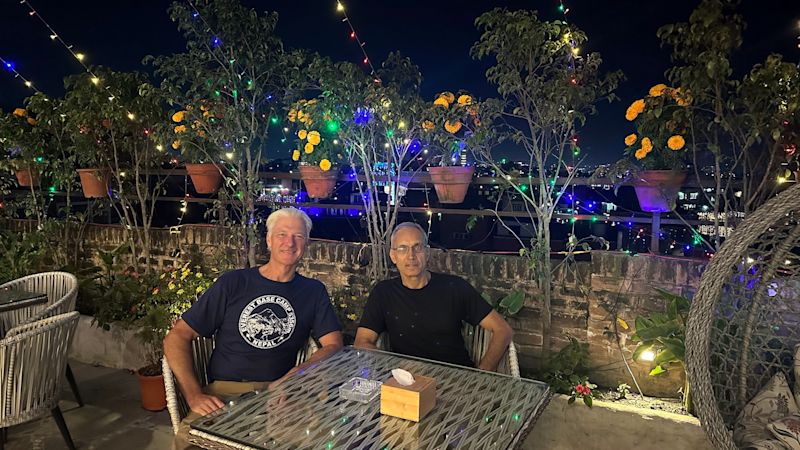 Rooftop dinner in Kathmandu
Today we drive north to reach Kathmandu. After checking into the hotel, you're free to enjoy the rest of the day in whatever way takes your fancy! Spa treatment? You certainly deserve it. Big tasty dinner? You deserve that too. Rickshaw ride to and from your chosen restaurant? You guessed where we're going with this ... you deserve any and all of the relaxing spoils you want! 😉
Day 12: Explore Kathmandu
Overnight:

Thamel, Kathmandu

Accommodation:

Arushi Boutique Hotel (or similar)
NOTE: This day of exploration in Kathmandu is included in the itinerary as an important buffer day. You will need an extra day should the helicopter flight from Gorakshep to Lukla, or the airplane flight from Lukla to Manthali, be delayed a day because of bad weather. This does happen on occasion.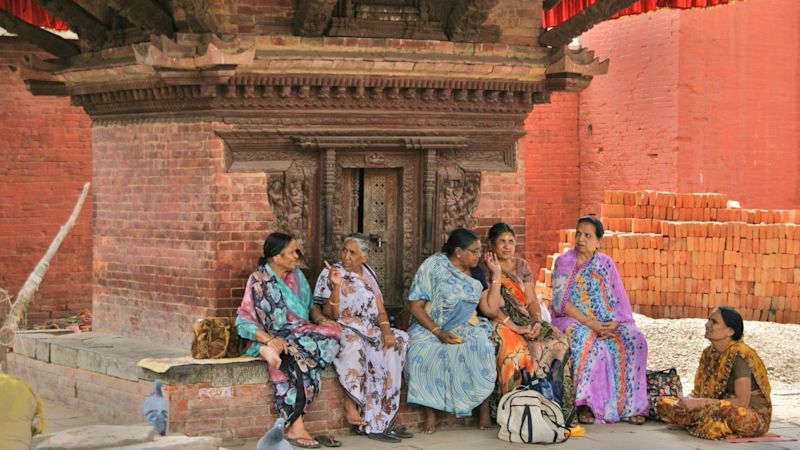 Ladies of Kathmandu in beautiful traditional outfits
There is SO much to see and do in Nepal, as we're sure you know full well!
We recommend going on the heritage walk from Thamel that takes you to places tourists don't always see, like old streets, temples and markets. You can also visit Kathmandu Durbar Square, which is a UNESCO site because of its historic temples, palaces and palace courtyards.
You might also like to pay a visit to Swayambhunath (also referred to as Monkey Temple), just west of the city on a hilltop. This ancient religious complex is an extremely important pilgrimage site for Tibetan Buddhists. It contains a large stupa, several shrines and temples, a monastery, and a museum. The name swayambhunath means 'sublime trees', and yes, there are a variety of lovely trees all over the complex to enjoy.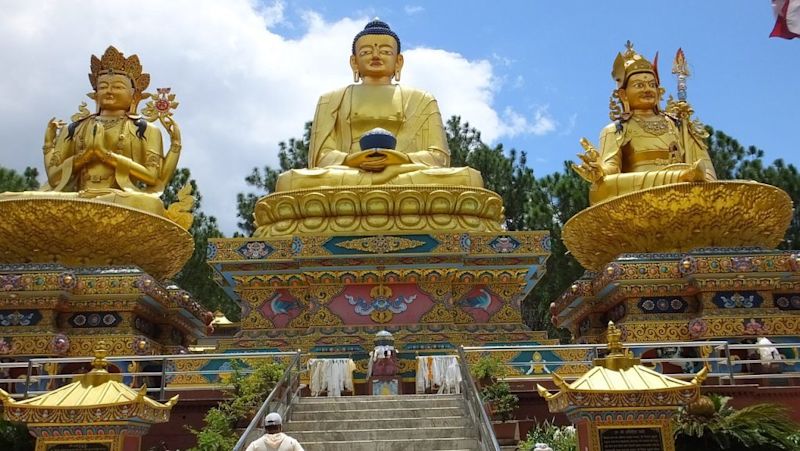 Swayambhunath today contains a stupa, various shrines and temples, a monastery, a museum and a library!
If you feel like the Nepali equivalent of a bus-top tour, we recommend hopping on a rickshaw for a fun way to see the sights of Thamel.
Or if you'd like to visit somewhere a little less busy, US$2 gets you entrance into the Edwardian-style Garden of Dreams. Wander around and admire the pavilions, pergolas, sculptures, fountains and lily pads, verandahs and birdhouses, or just chill with a book and a drink on the grass. If you've forgotten to bring along some reading material, Thamel actually has quite a few bookstores that stock English literature.
Finally, something else you might like to consider for your day in Kathmandu is taking a cooking class at Nepal Cooking School. How awesome to go home and know how to reproduce a taste of the yummy Nepali food you've been enjoying!
Day 13: Depart Nepal
Drive:

Kathmandu to Tribhuvan International Airport (30 min)
Today we drive you to the airport for your flight home. If it's a night-time flight, you'll have still more time to explore the rich culture and beautiful sights of Kathmandu during the day!