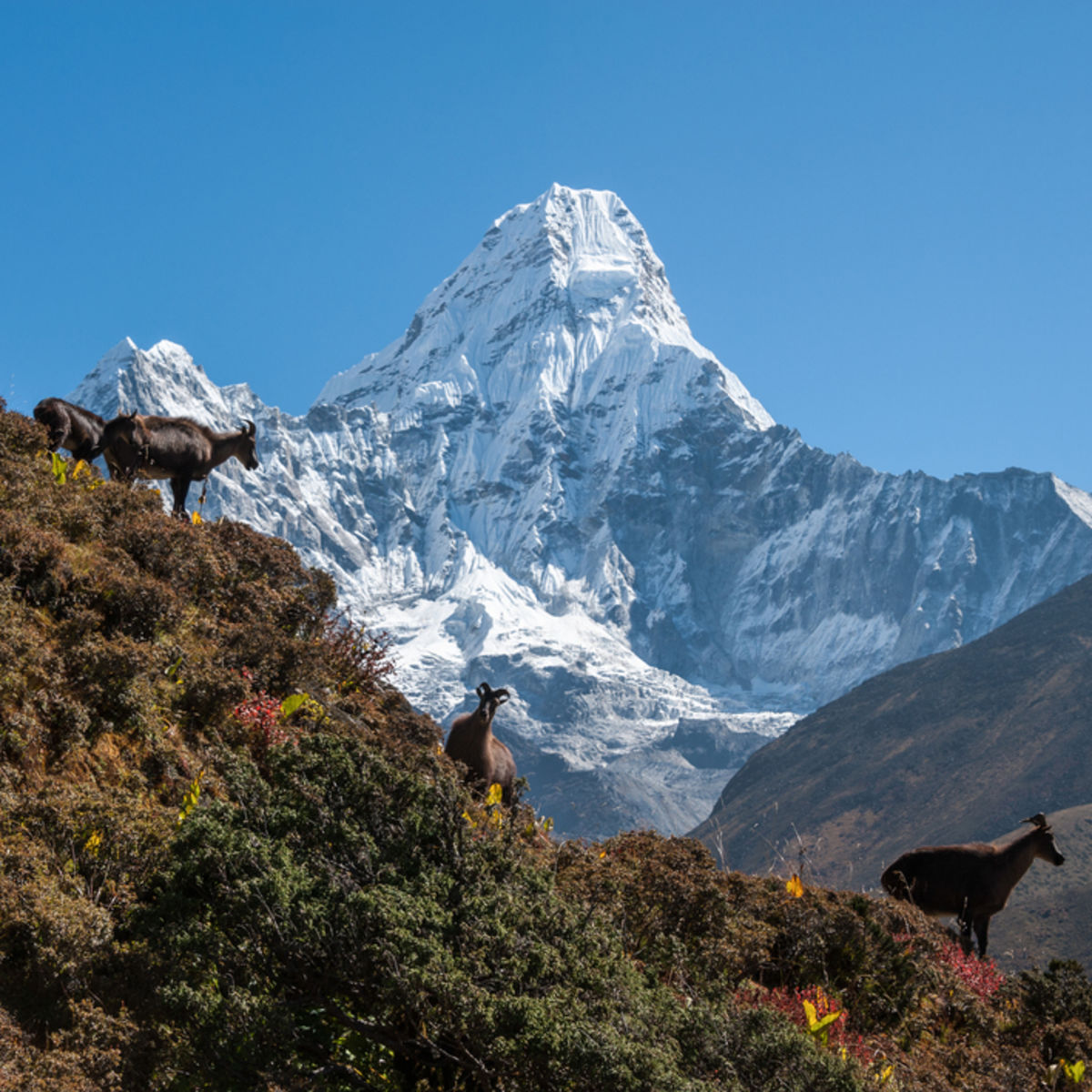 Short Everest Base Camp trek
Jan 5, 2023
Reading time: 10 minutes
The shortest Everest Base Camp trek you can do is the classic route, which is 53 km (33 miles) each way. You can also opt to fly back from base camp by helicopter. In this blog post we discuss both options, as well as how many days you need for each.
We often have clients ask after the shortest Everest Base Camp trek. Sometimes it's because their holiday time is constrained, or their budget is tight. And sometimes folks just aren't feeling for a very long trek.
Whatever your reason for wanting to know about – and possibly choose – the shortest Everest Base Camp trek route, here's the info you need ...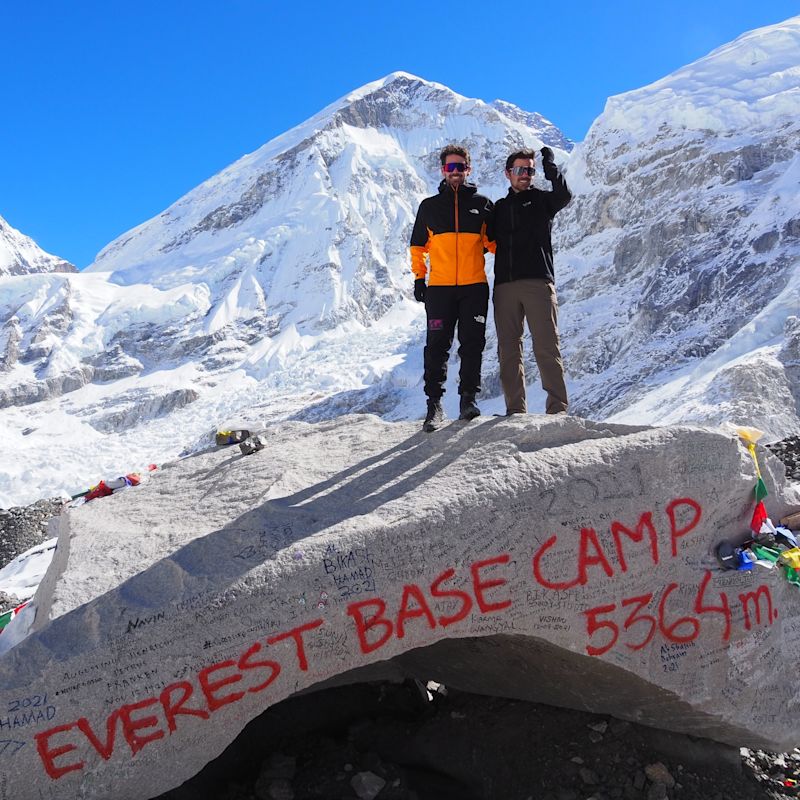 Reaching Everest Base Camp is a major achievement!
Short trek to Everest Base Camp
The EBC trek starts and ends at the town of Lukla, the doorway to the Everest region. You fly into Lukla from elsewhere in Nepal, and usually start trekking the same day. It's all go once your boots hit the ground in Lukla!
As mentioned, the shortest way to Everest Base Camp (EBC) from Lukla is the classic trail. It's a 53 km (33 miles) trail, and you then traverse it again when coming back from base camp.
The shortest possible Everest Base Camp trek is 53 km (33 miles) each way, meaning you trek 106 km (66 miles) in total.
This distance doesn't, however, include two additional stretches of walking that you'll most likely want to do:
An optional day hike to Hotel Everest View on your acclimatisation day on Day 3 – this roundtrip hike of 5.4 km (3 miles) is a great day hike that we highly recommend!

The short – but taxing! – 2.4 km (1.2 mile) roundtrip hike up Kala Patthar (the so-called 'Black Rock') that you tackle the morning after visiting base camp to gain an unobstructed and magnificent view of Mt Everest!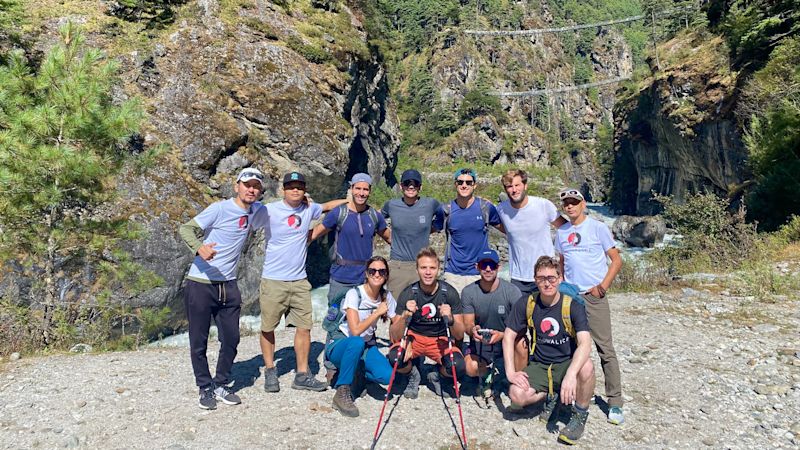 The trek is easier (and better) with friends!
If you're not keen to retrace your steps on the return journey, we recommend that you consider a slightly longer trek like the Everest Base Camp and Gokyo Lakes trek. This trek does a detour on the return journey, showing you other parts of Sagarmatha National Park. We highly recommend it! 🤓
But if you simply want the shortest route there and back, then the classic EBC trek is for you.
Shortest number of days
There are many guesthouses (teahouses) dotted all along the classic Everest Base Camp trek route. And you can also camp. This means there's no strict itinerary for the EBC trek, and you can take as long or short as you like over the trek.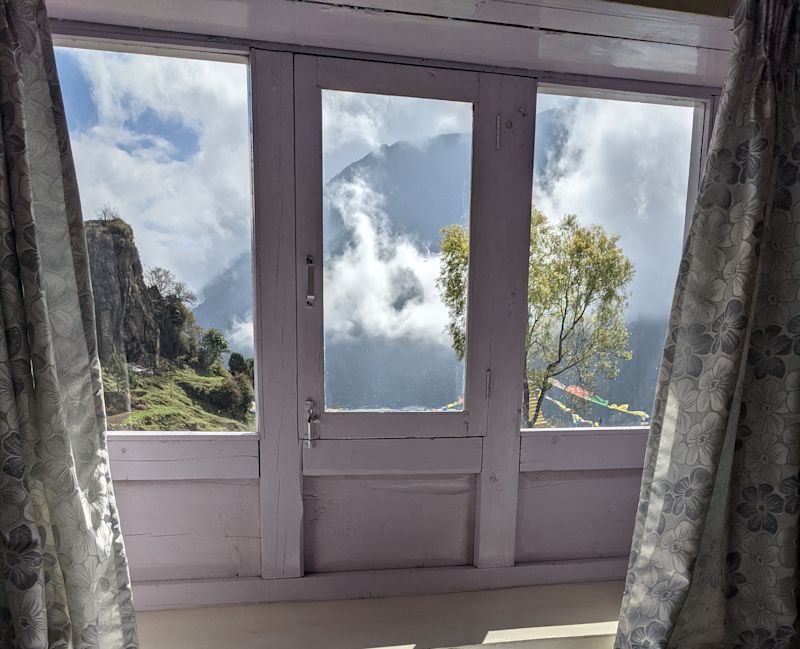 Teahouses offer simple, shared accommodation, but the views are world-class!
Experience has shown that most trekkers should allow themselves at least 12 days to complete the classic EBC trek safely and comfortably. These 12 days include one important acclimatisation day during the ascent.
The shortest EBC trek can be completed safely and comfortably in 12 days. We don't advise trying to do it in under 12 days.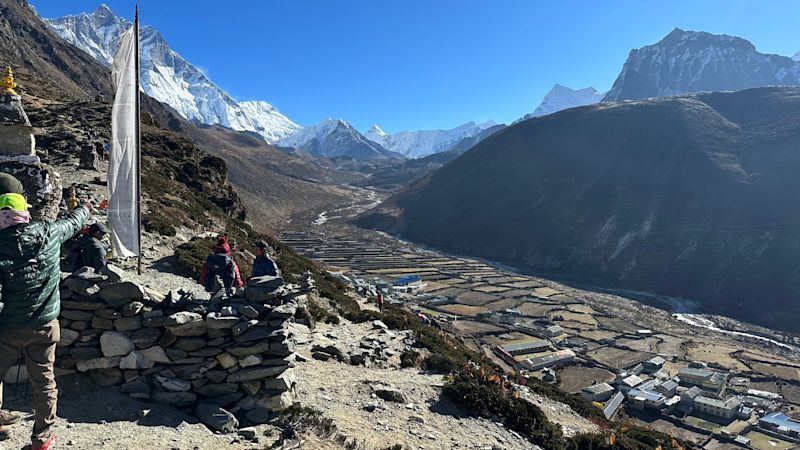 Nice shot of Dingboche village from our client Ross – most EBC trekkers overnight here
Why you need an acclimatisation day
As mentioned, you should allow at least one day for acclimatisation on the outward bound journey. This is because climbing in elevation too quickly can lead to altitude sickness, which can be fatal at worst, or derail your adventure at best. Don't become a statistic, we say!
You want to ascend the EBC trek route slowly enough to allow your body time to acclimatise properly. As we discuss in Altitude gain on Everest Base Camp trek, you ascend 2,504 m (8,215 ft) between the start of the trek in Lukla and Everest Base Camp itself. Proper acclimatisation is therefore vital.
Namche Bazaar as acclimatisation spot
Most people take that acclimatisation day in Namche Bazaar, a bustling Sherpa town.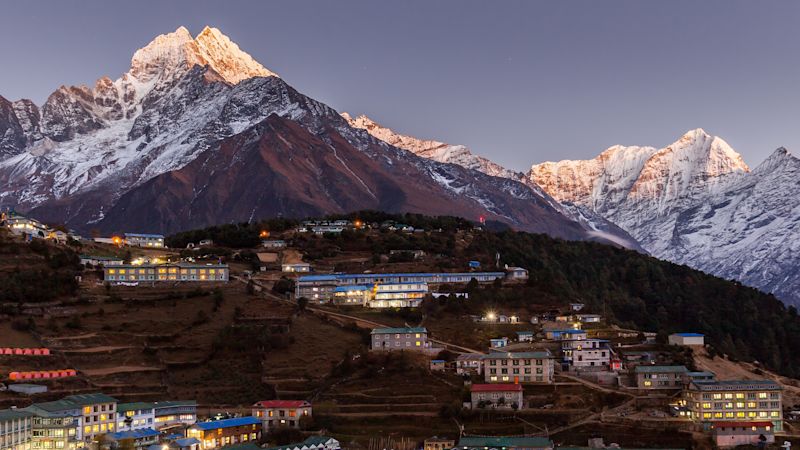 Namche Bazaar is the most popular acclimatisation spot on the EBC trek
Namche Bazaar is the largest town in the region, making it a great place to spend two nights. You can stock up on any items you need, explore the town itself, and even visit the local market if you're there on a Saturday.
Many trekkers also like to hike to nearby Everest View Hotel for coffee and cake on their acclimatisation day. As the name indicates, you have a fabulous view from the hotel!
Short EBC trek itinerary
So what does this short Everest Base Camp trek look like day to day? Here's a breakdown of the itinerary:
Day 1: Trek from Lukla to Phakding
You fly into Lukla in the morning, and straight away start the EBC trek! You hike for about three hours to reach the village of Phakding at 2,610 m (8,563 ft) above sea level. This is a beautiful day's hike, with rivers, waterfalls, green mountains and relatively mild temperatures.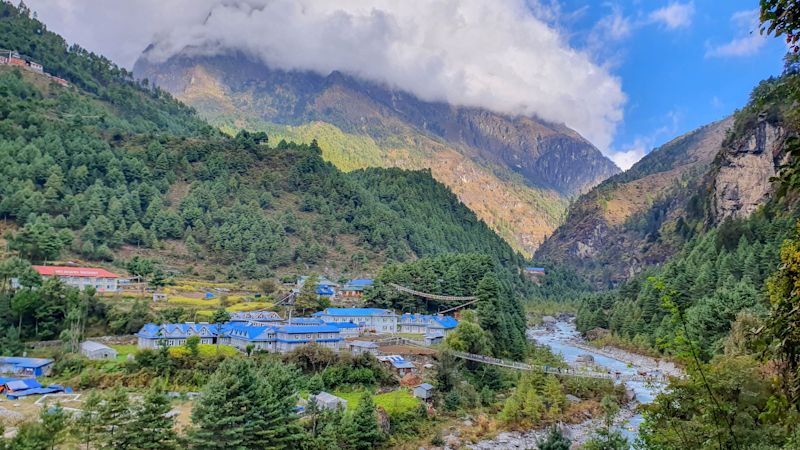 Phakding is a super pretty valley village
Day 2: Trek from Phakding to Namche Bazaar
The going gets tougher on Day 2, with a longer and more challenging day of hiking. It takes about six hours of walking and a big climb to reach Namche Bazaar at 3,440 m (11,155 ft) above sea level. You cross the famous Hillary Suspension Bridge today!
Day 3: Acclimatisation day, with optional day hike
As discussed, it's pretty much imperative to your health to take an acclimatisation day around this point in the trek. There are many great day hikes you can do from Namche Bazaar. For instance, you can hike to Hotel Everest View for a coffee, or visit the pretty, out-of-the-way village of Thame.
Day 4: Trek to Tengboche
You leave the hub of Namche Bazaar today and continue northeast for 9.6 km (6 miles) to reach the village of Tengboche. The trek takes about five hours. You gain nearly 1,200 m in elevation, so expect a challenging hike.
Day 5: Trek to Dingboche
Today's journey is 10.5 km (6.5 miles) and lasts about five hours. The trail takes you up into a much harsher climate. Your admiration for the Sherpas will undoubtedly grow the further into the mountains you climb, as you see these folks going about their lives – farming, portering, cooking, and so on – and making a living in an environment that coddles nobody!
Day 6: Trek to Lobuche
You trek for another five hours today from Dingboche to the remote settlement of Lobuche, covering a distance of 7.9 km (4.9 miles). While it's not terribly far, the going is slow, as the air's oxygen levels are low.
Day 7: Trek to Everest Base Camp!
Today you trek 11.7 km (7.3 miles) from Lobuche to Gorakshep and onwards to base camp. You gain only 500 m (1,641 ft) in elevation, but it's a tough gain, and you're on your feet for nearly eight hours. But, of course, standing in Everest Base Camp, surrounded by prayer flags and other happy trekkers, is a superb reward!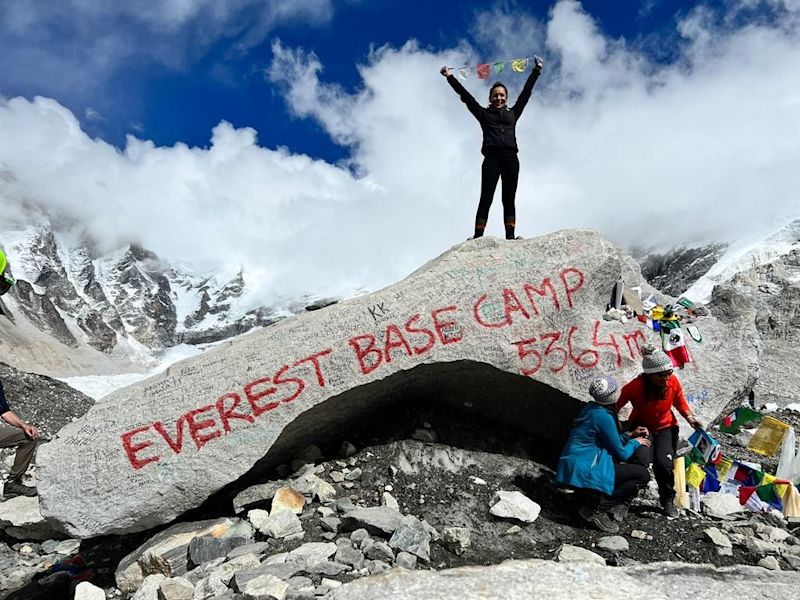 You too can have your triumphant moment on the famous EBC rock!
After visiting base camp, you retrace your steps a little to reach Gorakshep for the night.
Day 8: Climb Kala Patthar, trek to Lobuche
In the morning you climb Kala Patthar for a fabulous view of the peak of Mt Everest. This is a special moment, since you didn't actually get to see the peak the day before at base camp. The top of Kala Patthar is your highest point on the entire trek, standing at 5,644 m (18,519 ft) above sea level.
After taking in the glorious view that comes with this achievement, it's back to the village of Lobuche for the night.
Day 9: Trek to Tengboche
Today you retrace your steps to Tengboche, covering in one day what took you two on the outward bound journey. The increasing oxygen levels as you descend are invigorating! Tengboche is home to the largest and most important Tibetan Buddhist monastery in the region, and if you didn't visit it before, now is your moment.
Day 10: Trek to Namche Bazaar
It's back down the valley to Namche Bazaar today. The beautiful Ama Dablam mountain, which has kept you company for most of the trek, is still within view.
Day 11: Trek to Lukla
For the final day, you cover the distance that you did over two days on the outward journey. You should be bouncing along today, not only because your trekking legs are so strong, but also because the oxygen-rich air is so empowering!
You reach Lukla by day's end, ready for an early flight out of Lukla the following day.
And there it is – that's the shortest EBC trek route that you can follow!
Or is it? If you catch a helicopter back from base camp, you can shave off even a few more days ...
Helicopter return
It's possible – and lots of fun! – to also not trek back from Everest Base Camp, but instead catch a helicopter ride back to the trailhead. This of course knocks a few days off your trek itinerary.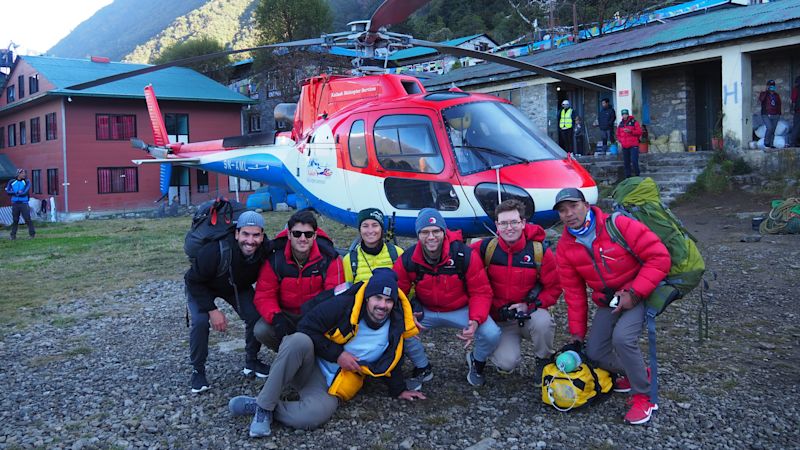 One of our trek groups having a team shot after their heli ride
A helicopter ride through the Himalayas offers incredible views of the majestic Himalayas – it's a flight like no other and a real adventure in itself!
Check out our EBC trek and helicopter return if you're excited about this option! Please note that helicopter flights are understandably expensive, and so this affects the trip price significantly.
Helicopter return itinerary
So what does the EBC trek with a helicopter return look like from an itinerary point of view?
Well, it's exactly the same as the itinerary we shared above for the classic route, except you fly back to Lukla the day after reaching base camp. An exciting alternative!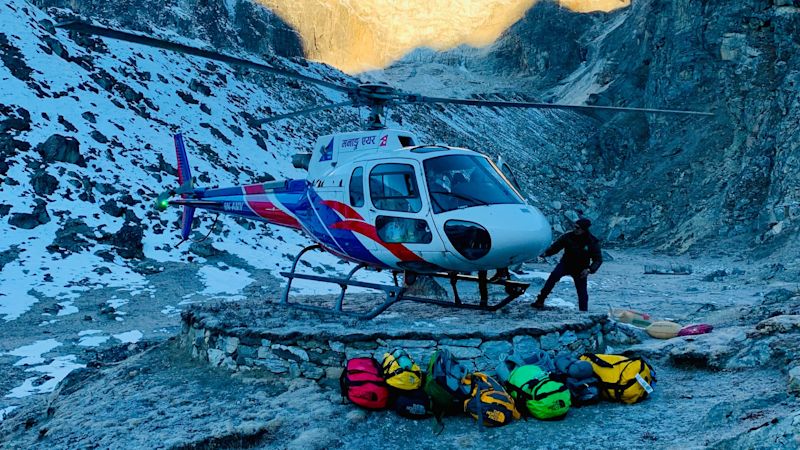 Flying back from base camp makes the trek that much easier
The EBC trek with a helicopter return is only an eight-day adventure, which makes it more accessible for some.
More specifically, the morning after visiting Everest Base Camp, you climb Kala Patthar for a view of Mt Everest, and then trek back to Gorakshep. Here, you climb into a helicopter for an exhilarating ride through the valleys that you just took days to ascend!
This means you trek for just eight days, including your acclimatisation day and the day of the helicopter flight in which you climb up Kala Patthar.
The flight from Gorakshep to Lukla usually lasts about 20 minutes. The memories, needless to say, last much longer.
The EBC trek with a helicopter return is ideal for those with limited time for the adventure, and also those who aren't sure about trekking for so many days.
Getting to and from the EBC trek trailhead
Finally, we just want to point out that you also need to add travel days to the start and end of your EBC trek, which will increase your total number of days in Nepal.
The start and end point of the Everest Base Camp trek is the mountainside town of Lukla. You need to fly here from within Nepal, as Lukla's Tenzing-Hillary Airport is small, with a single, short runway, and only caters to small aircraft.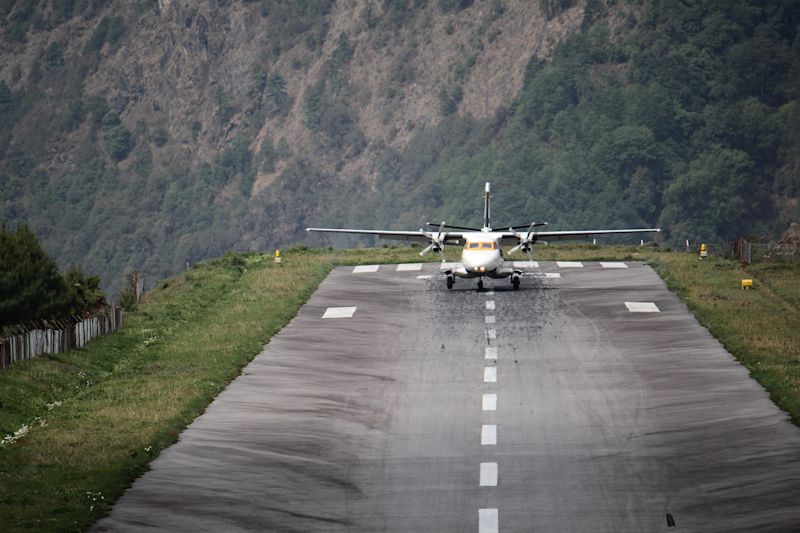 You fly in and out of Lukla to do the Everest Base Camp trek
Usually you fly to Lukla from Kathmandu's Tribhuvan International Airport. This means you can fly into Kathmandu from elsewhere in the world and then the next morning catch the short internal flight to Lukla.
Presently, however, the Kathmandu Airport is under major renovation, and you need to drive south to Ramechhap Airport in the Manthali region to catch a flight to Lukla. This adds another day of travel to your itinerary. The same applies for the return trip.
Give yourself a buffer day
We always advise clients to allow themselves a buffer day on the return trip to Kathmandu to ensure they don't miss their flight out of Nepal. This day hopefully won't be needed, and can instead be used as a sightseeing day in Kathmandu. However, should your flight out of Lukla be delayed due to bad weather (and bad weather does indeed occur in the Himalayas!), then you won't miss your international flight.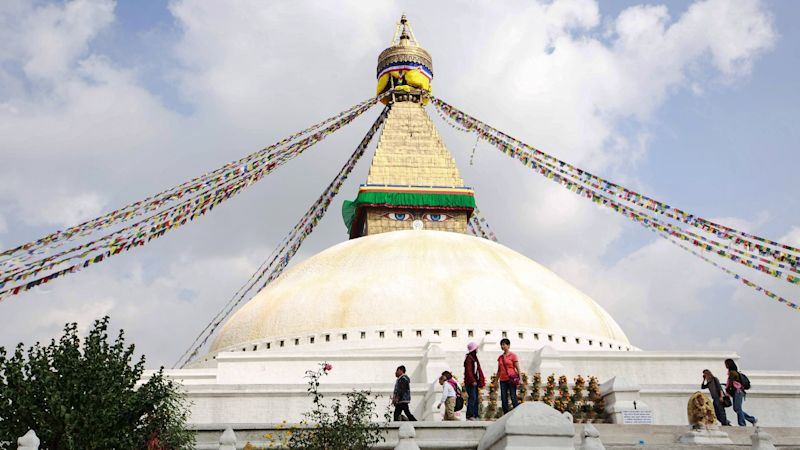 A buffer day in which you explore Kathmandu is hardly a burden! 😉
This buffer day is even more important if you opt to fly back from base camp via helicopter. Bad weather could mean an extra night in Gorakshep, and this would derail any travel plans that are too tightly scheduled. If you can afford two sightseeing days in Kathmandu at the end of your EBC trek, that would be ideal!
Please feel free to chat with us about the different Everest Base Camp trek itineraries and options. We're here to help and would love to plan this epic adventure for you! Just drop us a line and Michael, our Nepal trip manager, will be in touch shortly!