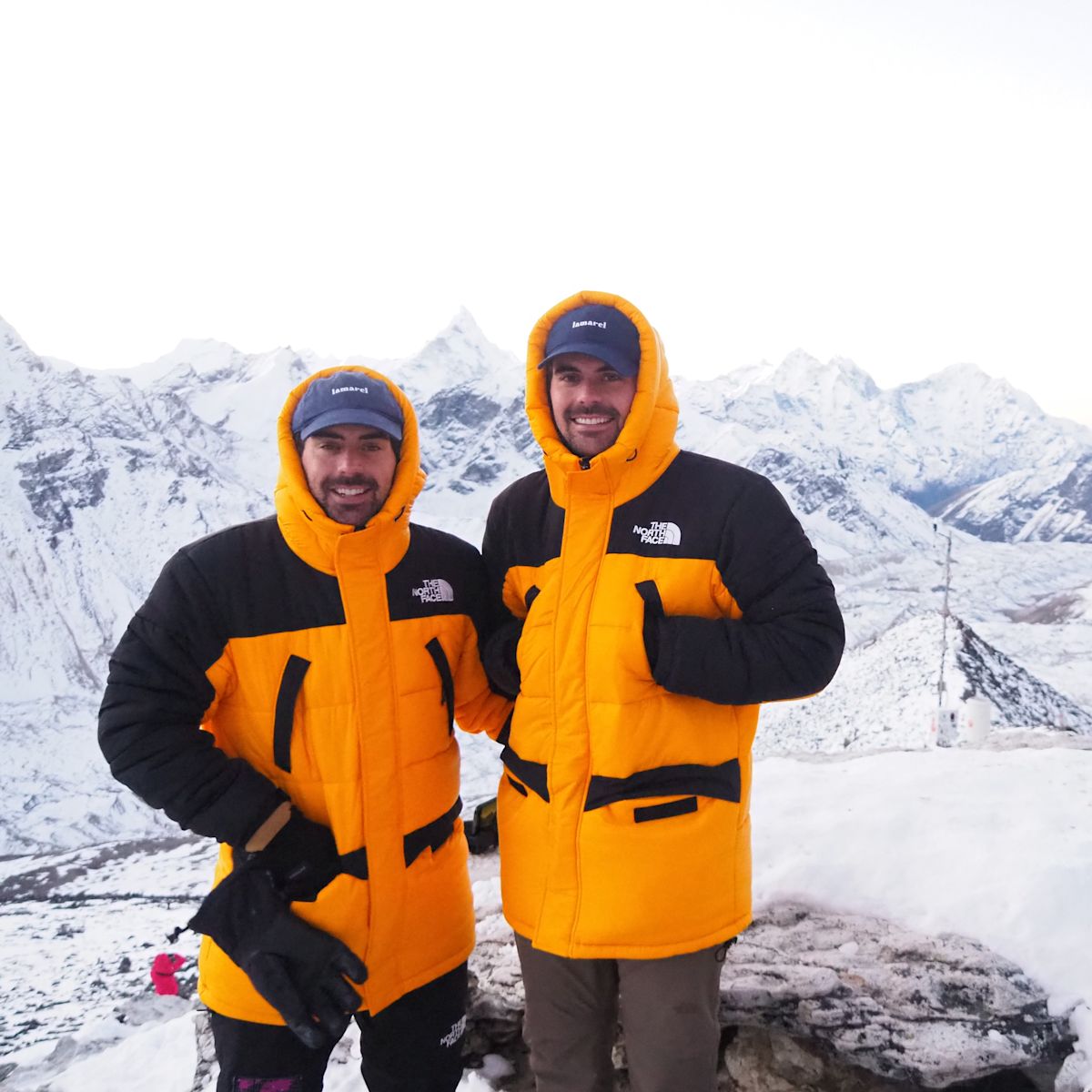 Altitude gain on Everest Base Camp trek
Mar 1, 2023
Reading time: 4 minutes
The Everest Base Camp trek is a challenging high-altitude and multiday trek. From the start of the trek in alpine forest to the frozen world of base camp, you ascend 2,504 m (8,215 ft) in elevation! Here are some further helpful figures about the trek ...
Height of Everest Base Camp
Everest Base Camp (EBC) is 5,364 m (17,598 ft) above sea level. While mountaineers planning to summit Everest generally helicopter into EBC, for most of us the adventure is in trekking to base camp from the town of Lukla. And this is plenty exciting and challenging enough!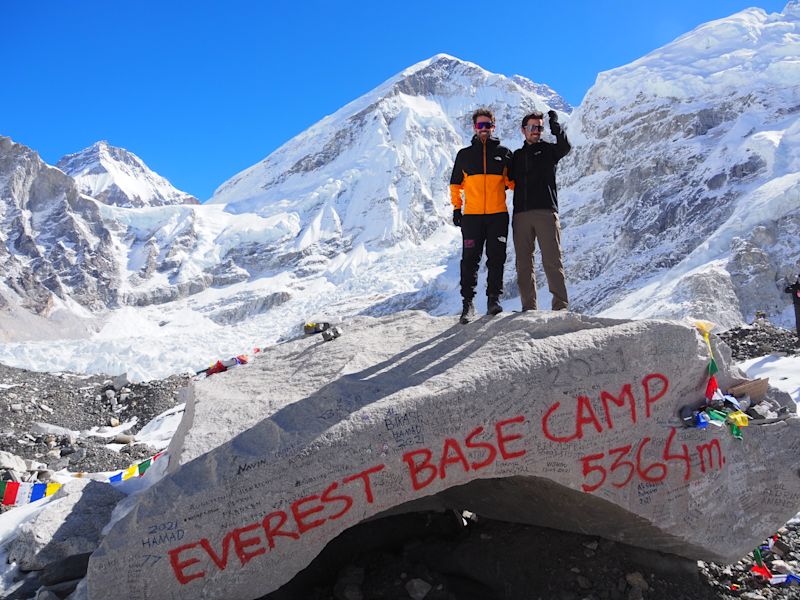 Two of Follow Alice trekkers standing atop a helpfully marked rock in EBC
A note: In this blog post we're referring to Nepal's Everest Base Camp. There's another base camp in Tibet. Sometimes, to distinguish between the two, folks refer to Nepal's base camp as South Base Camp, and Tibet's as North Base Camp. (North Base Camp, incidentally, is 5,150 m above sea level.)
Altitude gain on the EBC trek
Altitude gain (or elevation gain) refers to the vertical distance you ascend from the starting point to the 'summit' of a climb. In other words, it's the overall difference in altitude you achieve on a trip.
As mentioned above, you start the EBC trek in the mountainside town of Lukla, which is 2,860 m (9,383 ft) above sea level. Everest Base Camp is a whopping 5,364 m (17,598 ft) above sea level. That means your altitude gain on the EBC trek is 2,504 m (8,215 ft).
Your altitude gain on the Everest Base Camp trek is 2,504 m (8,215 ft).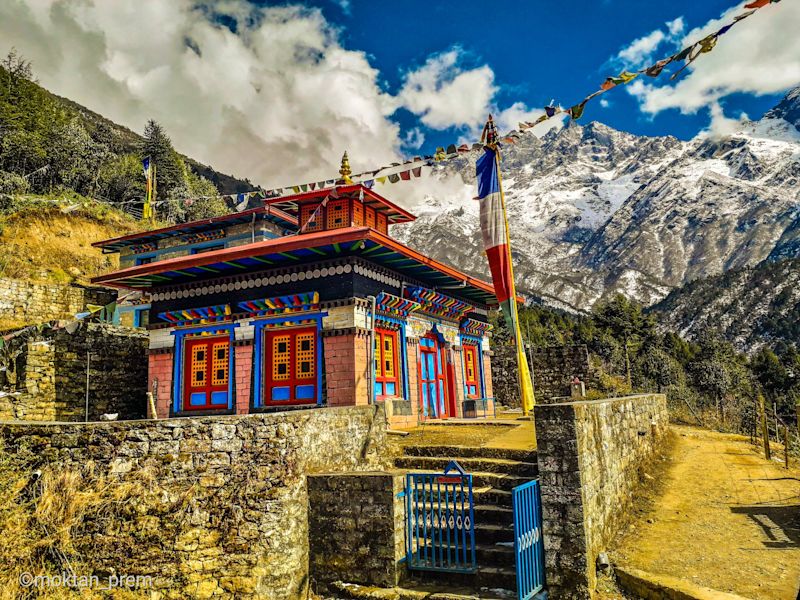 You start the EBC trek in Lukla at 2,860 m above sea level
Altitude gain when you add Kala Patthar
Most folks who trek to EBC also climb Kala Patthar, a beastly little climb that affords you a great view of Mt Everest. In fact, Kala Patthar is part of almost every EBC trek itinerary you'll ever see. This is because you can't actually see the peak of Everest from base camp.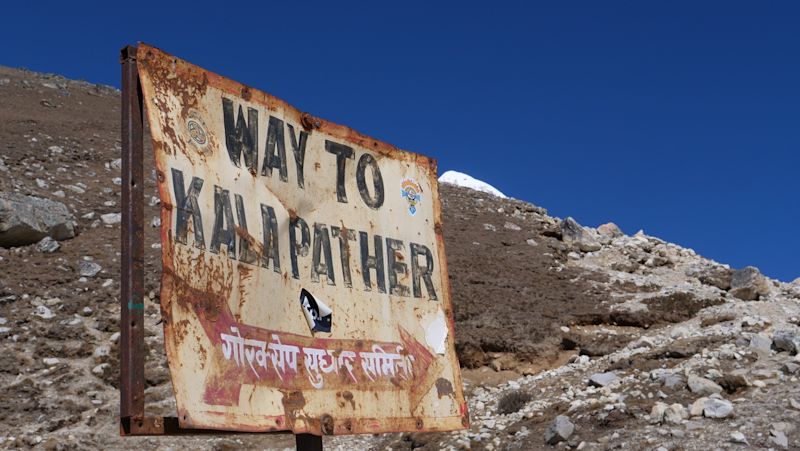 The reason we bring this up is that Kala Patthar (which means 'black rock') has a higher elevation than EBC. And so it makes your EBC trek altitude gain that much greater.
Kala Patthar is 5,644 m (18,519 ft) above sea level. If you include it in your itinerary, then your altitude gain for the EBC trek is 2,784 m (9,136 ft).
The addition of Kala Patthar to your EBC trek itinerary ups your altitude gain to 2,784 m (9,136 ft).
In the video below Brendan shares his EBC trek adventure, including how he experienced the ever-increasing altitude ...
There would be a youtube video here.
Sadly, the youtube player requires cookies to work.
Daily altitude gains on the EBC trek
Here are the daily altitude gains for the Everest Base Camp trek as per the classic itinerary:
Day 1 | Lukla to Phakding:

No altitude gain

Day 2 | Phakding to Namche Bazaar:

803 m (2,723 ft)

Day 3 | Acclimatisation day

Day 4 | Namche Bazaar to Tengboche:

430 m (1,411 ft)

Day 5 | Tengboche to Dingboche:

490 m (1,608 ft)

Day 6 | Dingboche to Lobuche:

590 m (1,936 ft)

Day 7 | Lobuche to EBC:

414 m (1,358 ft)

Day 8 | Climb Kala Patthar:

280 m (919 ft)
Note that if you choose to do either one of our other Everest Base Camp itineraries – EBC and Gokyo Lakes or EBC and Three Passes – you don't go any higher than Kala Patthar. This means your overall altitude gain will be the same no matter which Everest Base Camp trek itinerary you choose.
Finally, one more note: we haven't factored rises and dips in the trail into the above figures. If we had, we'd be talking about ascent and descent figures, not altitude gain. And these would be quite different from altitude gain, as there are plenty of rises and dips along the trail, some quite marked.
Further to this, Lukla isn't even the lowest settlement along the trek – Phakding (your first overnight stop of the trail) is over 200 m lower than Lukla. But we've decided to keep things relatively simple, since we find most folks are just interested in learning what their overall altitude gain will be from the start to the highest point of the trek, and so that's what you have here. 🤓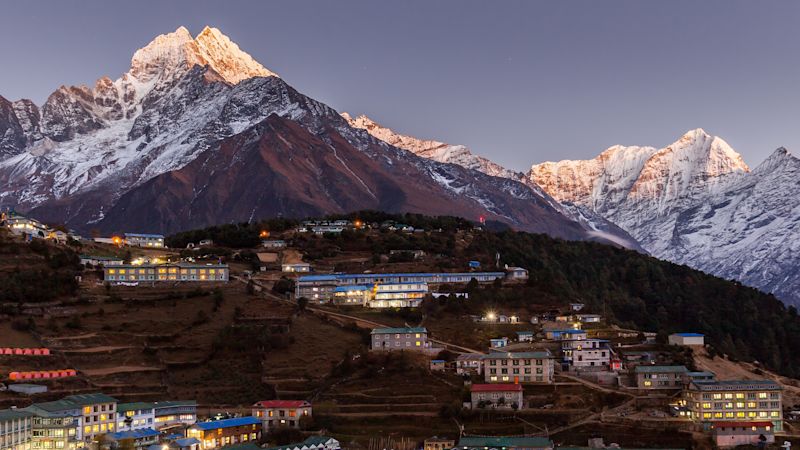 We take a rest day in Namche Bazaar because of the high altitude gain involved the day we reach it
EBC vs Annapurna Circuit altitude gain
Many people considering doing the EBC trek also look into trekking the Annapurna Circuit, as proved by the popularity of our post Everest Base Camp vs Annapurna Circuit. With this in mind, let's compare the altitude gain of each route.
Your altitude gain on the Annapurna Circuit (AC) is 2,216 m (7,270 ft). Compare that with the altitude gain of 2,784 m (9,136 ft) when you trek to EBC (and include Kala Patthar), you can see the EBC trek has a higher altitude gain. Specifically, the EBC trek's altitude gain is 568 m (1,863 ft) higher than that of the AC. This is part of what makes the EBC trek a harder trek than the AC.