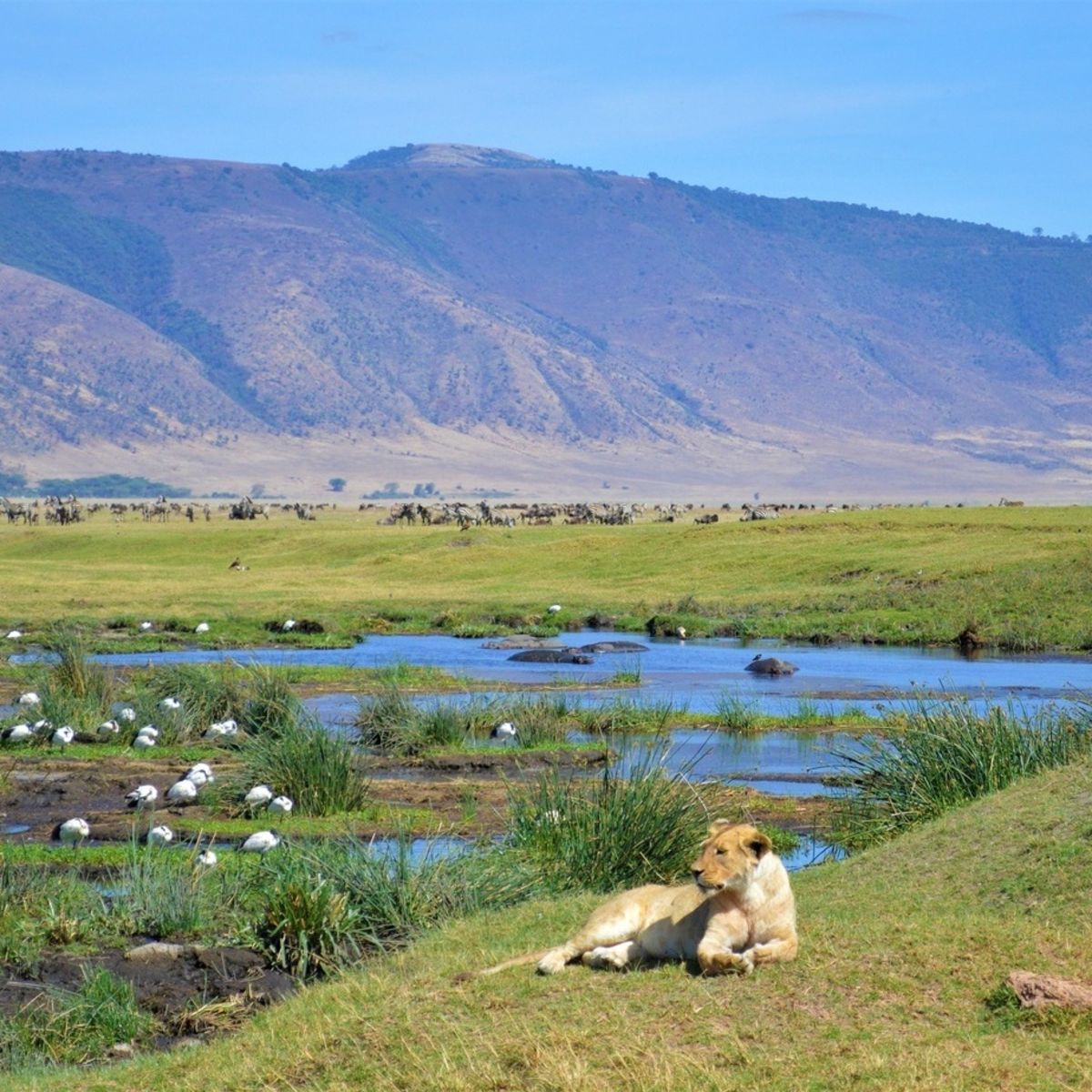 7 best things to do in Ngorongoro Conservation Area
Aug 15, 2022
Reading time: 14 minutes
Few places in the world are as rich in wildlife and heritage as Tanzania's Ngorongoro Conservation Area. This beautiful region is a must for any true explorer. We've got the definitive list of the 7 best things to in Ngorongoro Conservation Area!
Famous around the world for the Ngorongoro Crater, the Ngorongoro Conservation Area (NCA) also has much more to offer the curious visitor. This 8,288 km² expanse in northern Tanzania comprises the highlands between the Serengeti Plains and the Great Rift Valley.
From world-class safaris to exhilarating hikes and cultural immersions, the NCA is a treasure trove. Here's our pick of the top seven things to do while visiting the Ngorongoro Conservation Area.
But first, a map to help you picture the area ...
Map of Ngorongoro Conservation Area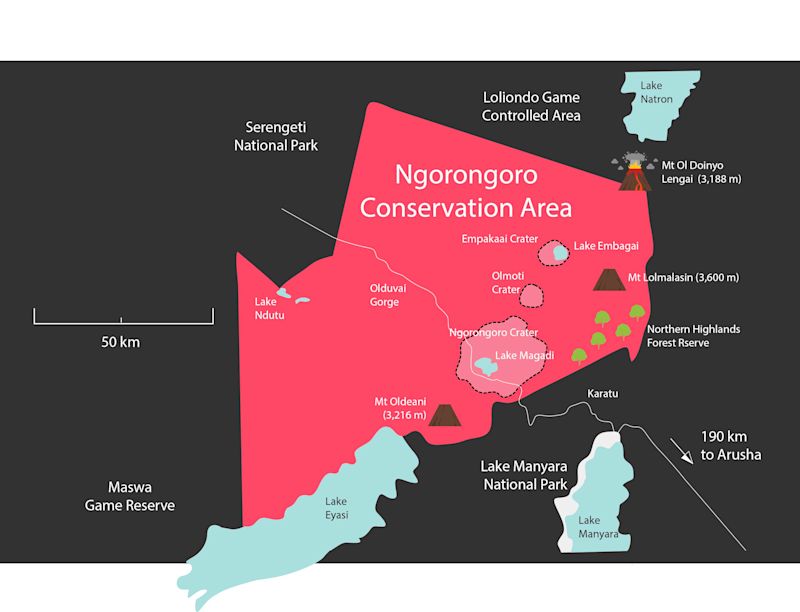 The map above shows you many of the features contained within the Ngorongoro Conservation Area. The chief highlight – and Tanzania's number one wildlife attraction – is the spectacular Ngorongoro Crater.
Two halves
The eastern half of the NCA is mountainous and incredibly lush.
Most visitors experience this part of the area first, driving up from the plains by Lake Manyara on a winding road that offers incredible views. When you reach the top of the plateau, the dirt road winds through thick tropical rainforest, festooned with creepers.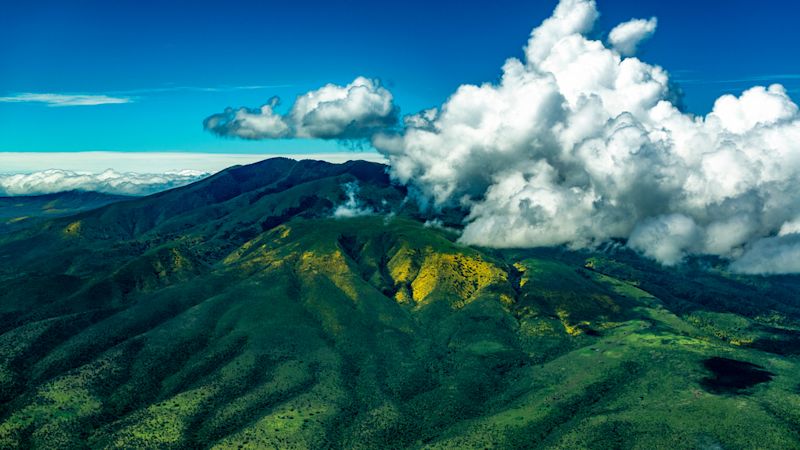 View of Mt Lemakarot in Ngorongoro Conservation Area
The western half of the NCA is flatter, with an enormous, animal-speckled plain that eventually merges with the famous plains of the southern Serengeti.
This is an incredible region for game-spotting. Animals roam freely across all of the NCA. You simply cannot believe how many thousands upon thousands of wildebeests, antelopes and other animals you see when driving through here in the rainy season!
Now that you understand the geography of the Ngorongoro Conservation Area, let's look at the top things to do there ...
1. Ngorongoro Crater safari drive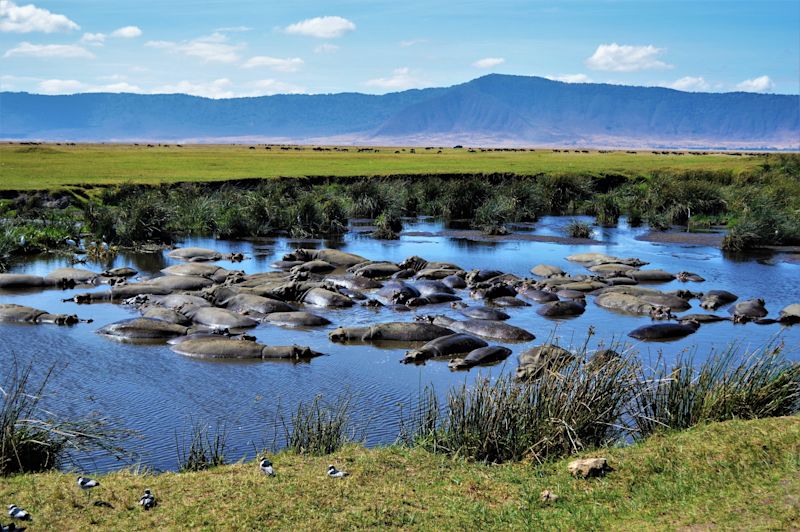 A bloat of hippos in Ngorongoro Crater
First and foremost, every visitor to the NCA needs to go on a game drive in Ngorongoro Crater. Seriously. This will probably be the very best day of your entire Tanzania trip.
Ngorongoro Crater is hailed by many as being the eighth wonder of the natural world!
The crater is an enormous, unbroken caldera. This means that long ago a volcano collapsed in on itself, creating a bowl-like feature that now overflows with wildlife. This wildlife includes the Big Five (lions, elephants, black rhinos, leopards and buffaloes).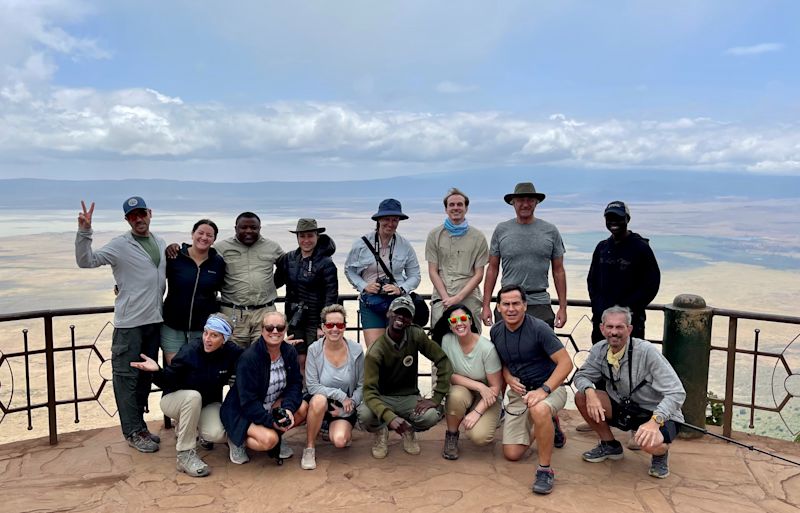 Great group photo taken by Ross Anker at the Ngorongoro Crater lookout spot
The crater wall rises 600 m. Visitors are driven down into the crater along one of a handful of zigzagging roads. This ride, with its hairpin bends, is thrilling in itself.
Once you reach the crater floor, you start to spot the various animals that were too small to be seen from the rim. Your safari guide will take you to explore the various sections of the crater, which include Lake Magadi and Lerai Forest.
Some of the wildlife (besides the Big Five) to look for include wildebeests, zebras, elands, Thomson's and Grant's gazelles, hippos, flamingoes, baboons, jackals and hyenas.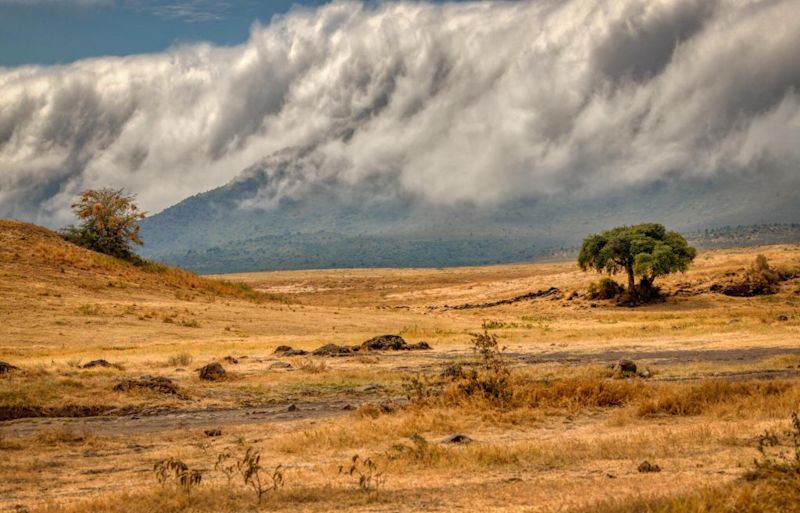 The crater in the dry season
This is an entire day's outing, and there's a lovely picnic spot by the Hippo Pool where you can buy coffees and snacks to enjoy with your lunch. Though watch out – the birds will try to steal your lunch out of your hands!
Keen to know more? You might like to read 12 great facts about Tanzania's Ngorongoro Crater and Best time of year for an Ngorongoro Crater safari.
2. Ngorongoro Crater rim walk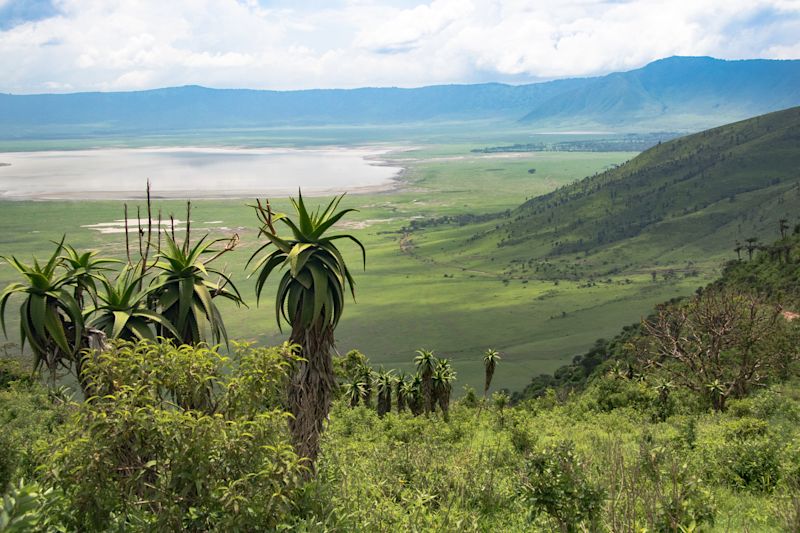 A view of Lake Magadi from the crater rim in the wet season
While visitors aren't allowed to hike into Ngorongoro Crater, you are allowed to go on guided hikes along the top of the crater wall. The upper rim is densely forested with tropical trees, plants and creepers.
The rim is a very beautiful section of the crater, and full of birds as well as some other wildlife, including the odd leopard. Some birds you might see include the martial eagle, olive sunbird, cinnamon-chested bee-eater, and European roller.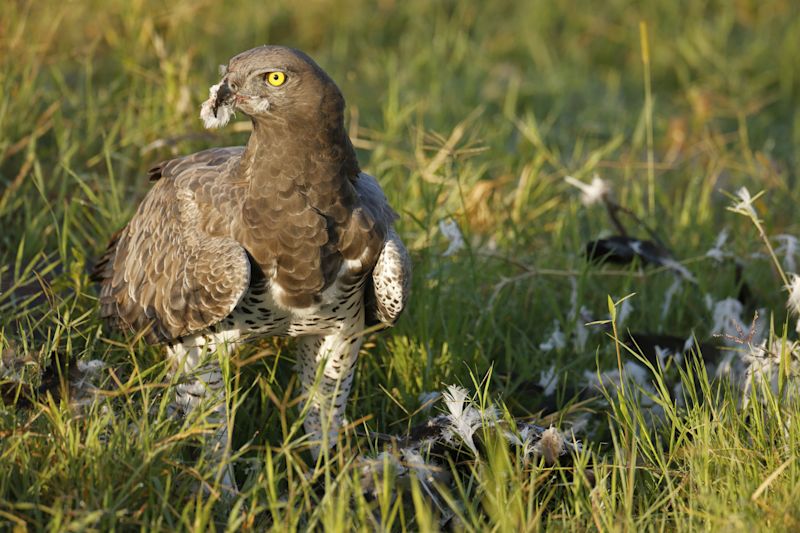 A martial eagle with its prey
The western wall of the crater, which is a little shallower, is a drier environment and forested with euphorbias.
Your guide will tell you interesting stories about the plants and animals you see, from which plants are used in traditional medicines to what animals are near based on scat and spoors. Be sure to ask many questions.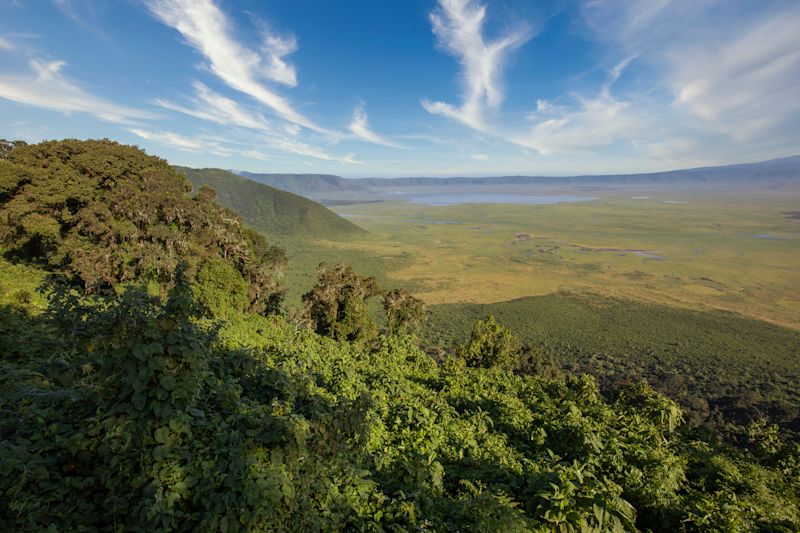 A view from the eastern rim down into the crater
We encourage you to wear proper, waterproof hiking boots and trousers on this hike, as it's very likely to be muddy. A pair of trekking poles will help you with any slippery and treacherous sections. And be sure to pack a rain jacket in your backpack.
The views down into the crater are the highlight of any crater rim walk. It's a great way to experience this natural phenomenon from a different perspective. So we highly recommend including a hike the day before or after your Ngorongoro Crater safari drive.
3. Empakaai Crater hike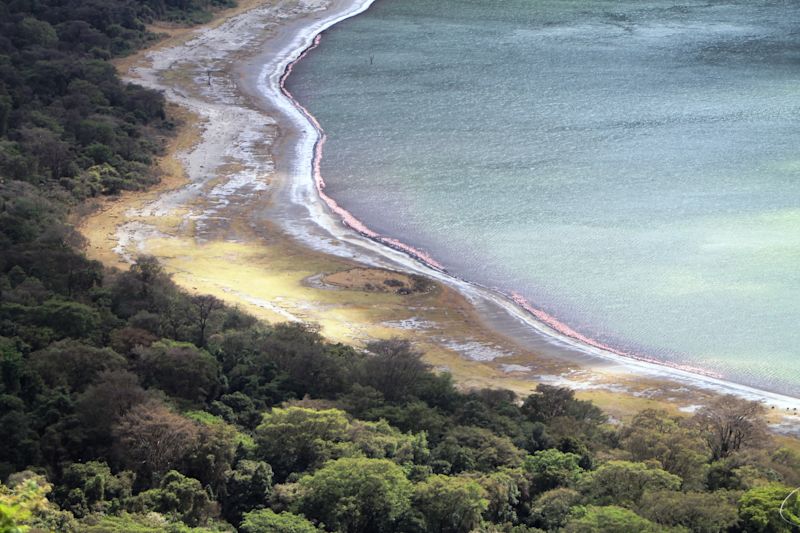 The shoreline of Lake Empakaai with flamingoes creating pink streaks
While nobody except the Maasai are allowed to walk inside of Ngorongoro Crater, one crater that you can explore on foot is Empakaai Crater. Although again, like Ngorongoro Crater, it's technically a caldera, not a crater.
Empakaai Crater – which is 300 m deep and 6 km wide – sits in the remote northeast of the NCA, so it takes a little commitment to get there. But it's much, much less visited than Ngorongoro Crater, and so offers you a very private safari experience.
Empakaai Crater receives few visitors, and so often there's only one hiking party in the crater per day.
You hike down into the crater, a steep walk that descends the eastern crater wall and takes about 30 minutes. It can be tricky in places, so wear proper hiking gear. And remember that you'll need to hike back up, which will take longer, so be prepared for a workout.
During your hike, keep an eye open for various wildlife, including blue monkeys, bushbucks, waterbucks and Cape buffaloes. You will have an armed ranger accompany your party on the hike, just to be safe.
Cape buffaloes are one of the Big Five
When you reach the crater floor, you explore the shore of pretty Lake Empakaai. There are frequently stands of pink flamingoes in the lake, which enjoy its acidic waters. Maasai herdsmen with their cattle are also often in the crater, and the sound of cow bells is a lovely background soundtrack.
Note that this is a full day's outing. The main reason for this is that it can take a few hours to get there along a very bumpy road (depending on where you're staying). You'll carry a picnic lunch with you from your hotel in your backpack. And be sure to bring plenty of drinking water too.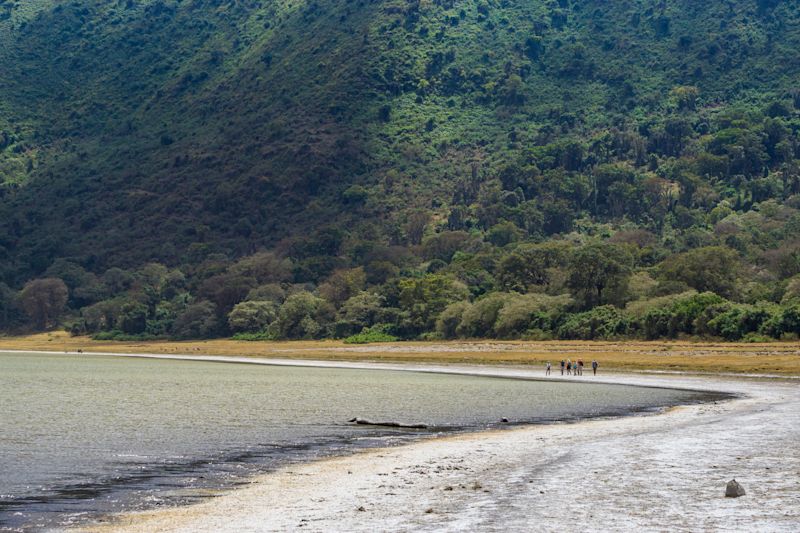 Walking along the lake's edge
You can only explore Empakaai Crater in the company of a guide. This is the historical territory of the Maasai people, and so you will have a Maasai guide. The guides speak very good English, and so you'll be able to ask questions as you go along. We recommend bringing along some cash to tip your guide afterwards, as tipping is customary in Tanzania.
Those who hike Empakaai Crater generally have rave reviews of the experience. And it can be especially nice to stretch you legs on a hike if you've been doing a few days of safari drives.
4. Olduvai Gorge and Shifting Sands visit
Olduvai Gorge – or Oldupai Gorge – is a 48 km-long ravine just north of the main southeast-to-northwest road running through the Ngorongoro Conservation Area. It's a little over half way on the long drive from Ngorongoro Crater to the Serengeti, and thus serves as a really nice stopping point for some exercise and exploration.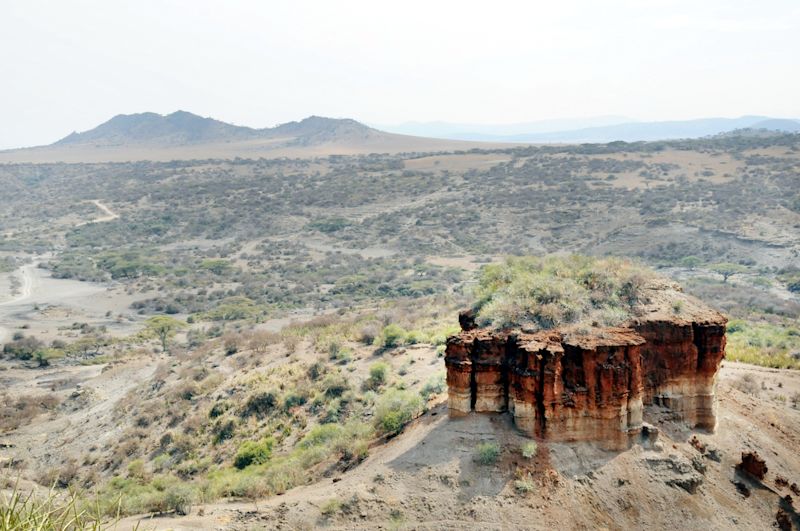 A panoramic view of Olduvai Gorge
We recommend first visiting Olduvai Museum at the eastern terminus of the gorge. While small, the museum is very good. It has interesting fossil displays and tells the story of the highly important discoveries made in the exposed strata of the gorge of what are believed to be hominid fossils.
The museum also offers a lovely view down over the gorge.
Important archaeological discoveries in Olduvai Gorge led to it being considered the Cradle of Mankind for many years.
Next, go on a Maasai-guided walk along Olduvai River, which created the gorge. Your guide can tell you all about the wildlife and nature surrounding you, as well as where the hominid discoveries where made in the twentieth century. You're likely to also see local Maasai children herding cattle and goats in the gorge. Please bring cash to tip our guide afterwards.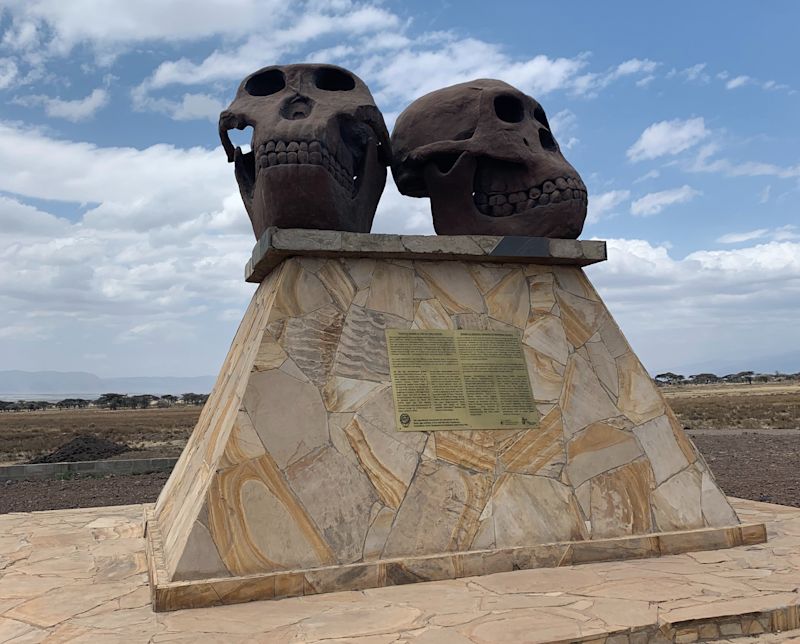 A snap by our client Ross Anker of large renderings of the locally discovered hominid skulls
At the western edge of the ravine, you'll encounter the small blackish dunes known as the Shifting Sands.
The volcanic ash that makes up the dunes contains iron that's highly magnetic. As a result, the ash clings together, forming dunes. These dunes are forever shifting eastwards with the wind, moving approximately 17 metres a year.
If you don't wish to spend as much time at Olduvai, or don't feel like the walk, you can also drive from Olduvai Museum to the Shifting Sands. The drive takes around 30 minutes and will reward you with fantastic scenery.
5. Maasai village visit
The Maasai have lived in the region that's now the Ngorongoro Conservation Area for centuries. They have resisted change to their culture, and as such have a remarkably distinct culture that's steeped in tradition. And unlike the Maasai that live further east and have adopted certain western ways, the Maasai of the NCA live very traditionally.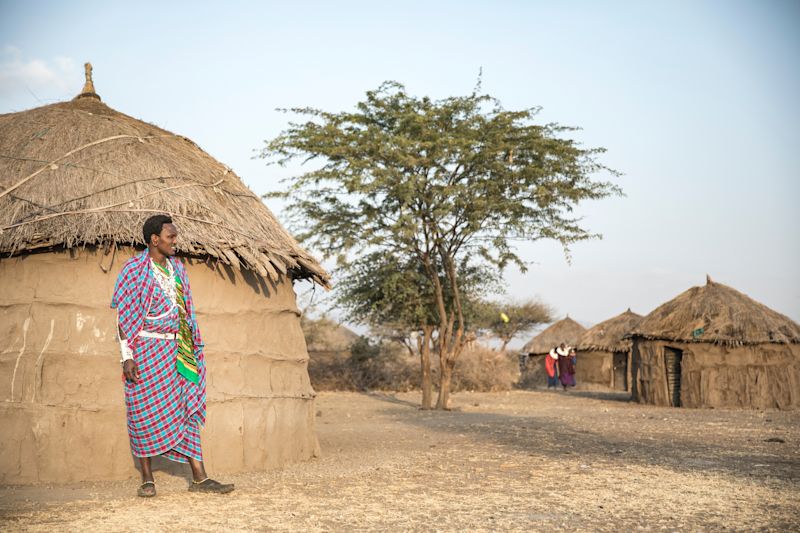 A Maasai man in traditional attire in his village
The Maasai in the NCA have a mostly subsistence lifestyle that relies on their herds of cattle, goats and sheep. They also collect honey, and visitors can purchase bottles of this at many spots along the side of the main road.
For many years now, the Maasai have been inviting tourists to visit their villages as a way of generating some income. This income is needed for certain unavoidable expenditures, like buying water in the dry season and providing what's needed for their children's schooling, as all Tanzanian children must attend school. Your safari guide will pay a set fee per person to visit the village.
Visitors to a Maasai village are always made to feel extremely welcome. Ladies are given elaborate beaded necklaces to wear whilst there. And both men and women are encouraged to join in during the energetic and traditional jumping dance.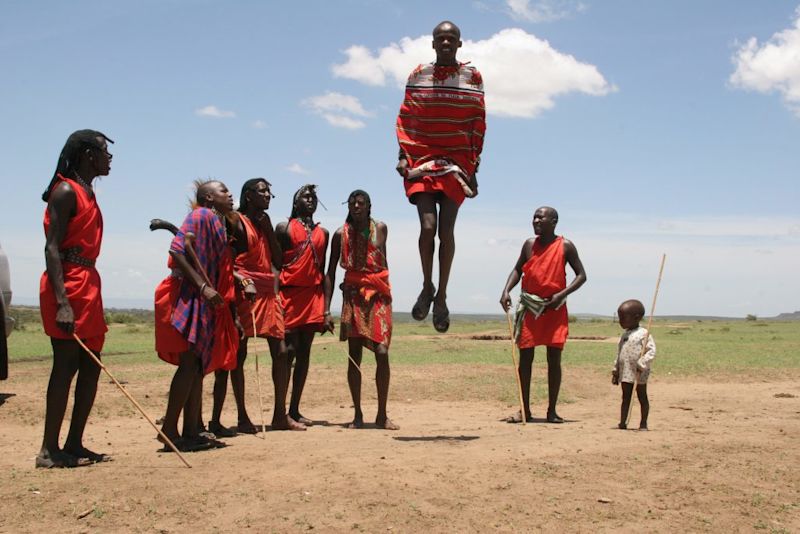 A Maasai jumping dance
Your safari guide will likely stay by the car during your visit. A village elder, who invariably speaks great English, will be your guide during your visit. You'll be invited into a home, and shown how the community lives, eats and sleeps. Questions are welcomed.
Sometimes visitors are also taken to visit the preschool, where the children might show off their English and Swahili learnings. Their mother tongue is, of course, Maasai.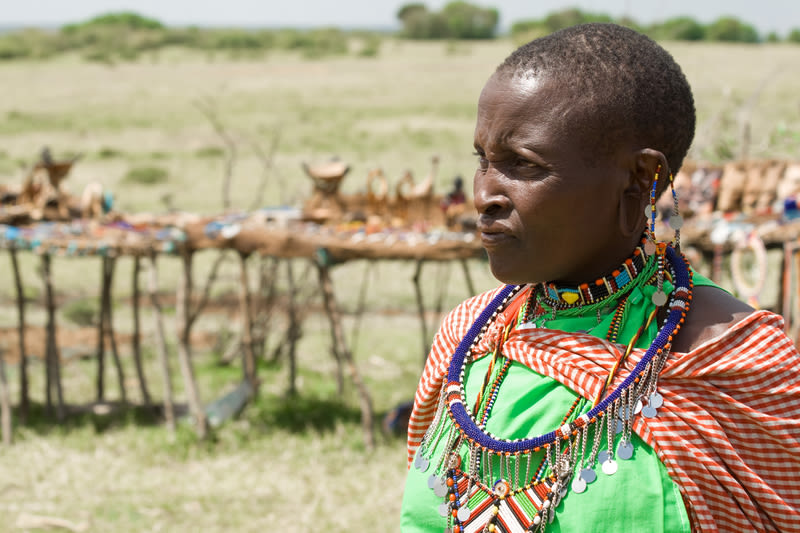 A Maasai woman wearing traditional jewellery
Please note that there's an expectation that all visitors will buy something while there – either some jewellery or a carving like a bowl, animal figurine or traditional mask. There are many pretty things to choose from, so often folks are happy to purchase something to support the community. But we just want you to be aware that there's usually strong pressure to purchase something, and this will need to be paid for in cash.
6. Lake Ndutu safari
The Ngorongoro Conservation Area shares its northwestern border with Serengeti National Park. The two protected areas share an ecosystem, and have no fence between them. In fact, only a dirt road marks the boundary.
This being the case, many of the wildebeests, zebras and antelopes that form the Great Wildlife Migration move into the northwestern section of NCA around Lake Ndutu in summer to enjoy its nutrient-rich grasses.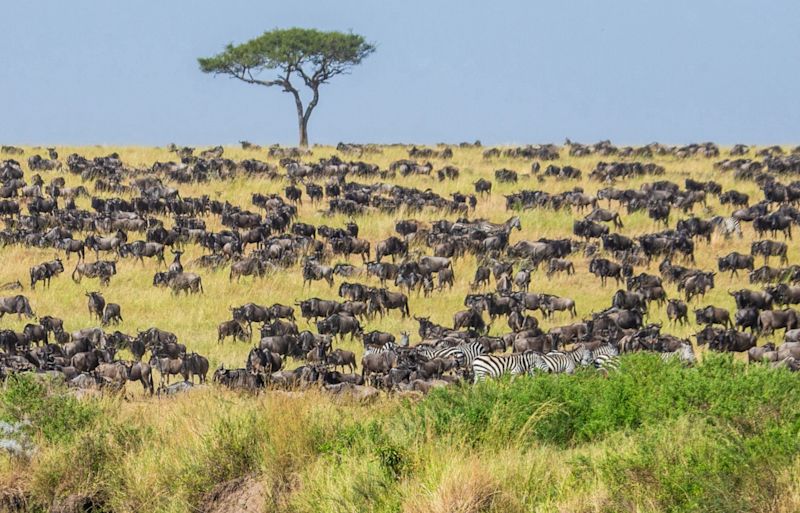 An enormous herd that's part of the Great Migration
The flat plains ecosystem near Ndutu Lake lets you see far and wide. This make game viewing very exciting!
The time of year for a stellar Lake Ndutu safari is summer: January to March. Lake Ndutu and its surrounds are also very green and pretty, with lots of flowers, at this time of year.
The density of animals inhabiting the Ndutu Lake region in summer is truly staggering.
Summer is also birthing season for the Great Migration animals. So you can look forward to seeing thousands and thousands of baby zebras, wildebeests and other antelopes like gazelles.
You can also hope to see many predators like lions and cheetahs around Ndutu Lake in summer. These animals are on the lookout for defenceless newborns for an easy kill. Other carnivores in the region include hyenas, jackals and leopards.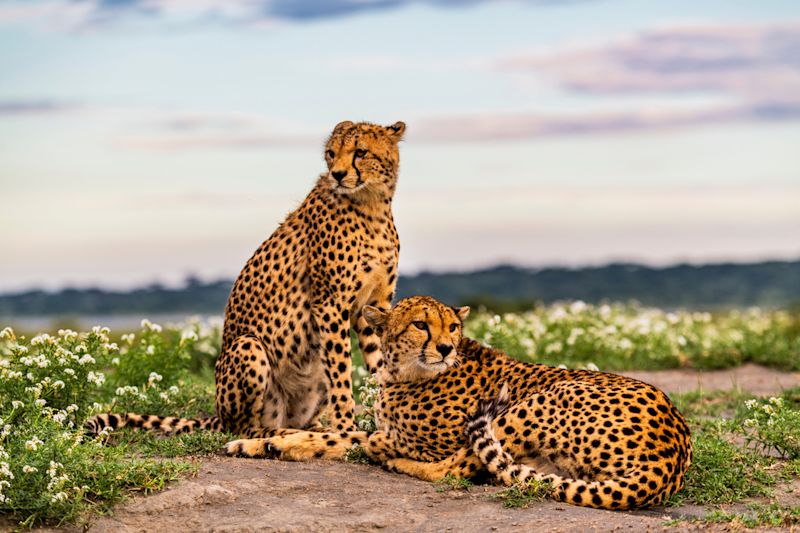 Cheetahs in Lake Ndutu region
At other times of the year, the Great Migration herds move north and away from Lake Ndutu. There are still plenty of other animals to see, but it's just not the same. Outside of these summer months, it's better to head straight north (as we discuss in Best time to visit the Serengeti National Park) for your safari drives.
If you like birds, Ndutu Lake is a great location for spotting an array of large, varied and beautiful species. We're talking grey crowned cranes, greater kestrels, snake eagles, kori bustards, secretary birds, Fischer's lovebirds, and many, many more.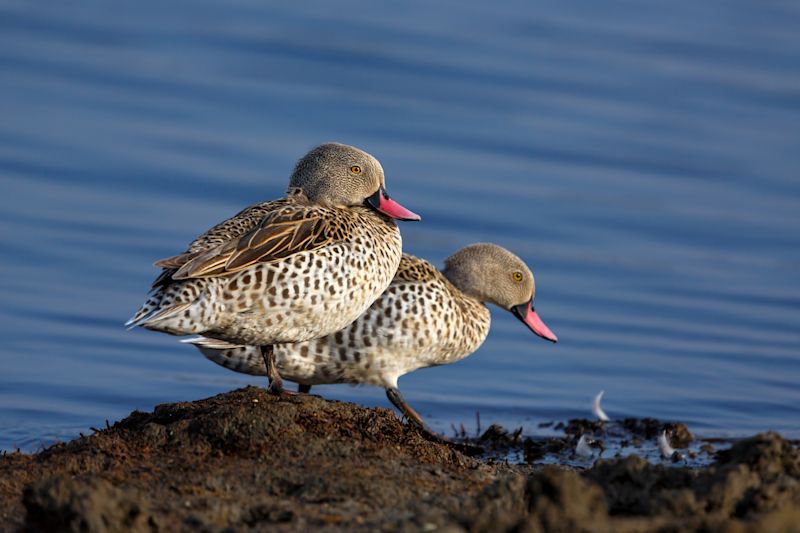 Two Cape teal ducks at Lake Ndutu
Finally, a word of advice.
Choose a tour operator that uses experienced, cautious safari guides. The land around Lake Ndutu is flat and boggy in summer, and vehicles regularly become stuck. Sometimes whole parties have to spend the night in the vehicle when the driver gets it wrong! Our safari guides are always cautious to ensure this doesn't happen to them.
7. Olmoti Crater walk
Similar to Empakaai Crater, Olmoti Crater allows visitors to go on guided nature walks. This is a fantastic opportunity to see animals while also getting some exercise.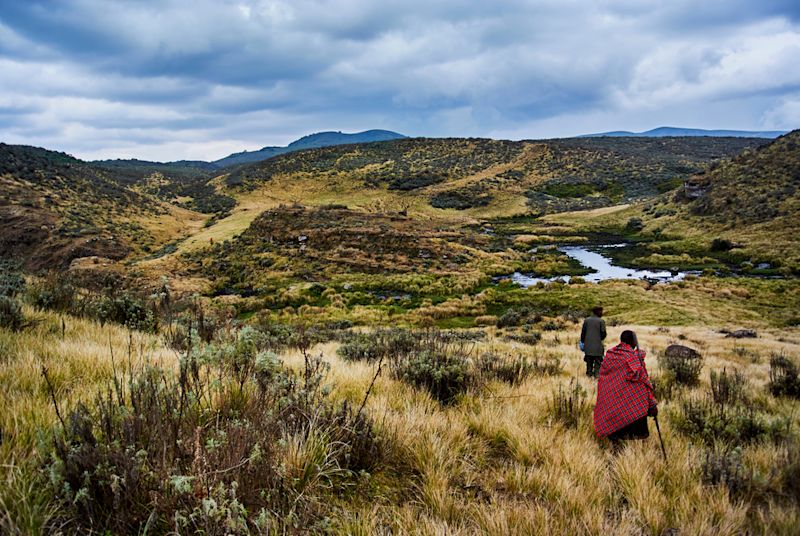 A Maasai guide and armed ranger will accompany you on this hike
Olmoti is also closer to the main NCA road. In fact, it's less than 20 km from Ngorongoro Crater, which makes it a relatively short drive if you stay overnight on the north side of Ngorongoro Crater. Remember that the roads here are dirt and very bumpy, so they take time to navigate.
The Olmoti Crater walk is an incredibly pretty and rewarding guided safari walk.
The Olmoti Crater walk is much less arduous than the Empakaai Crater hike. The walk takes about one to two hours. It can therefore be done alongside some other activity in a day, like an Ngorongoro Crater game drive.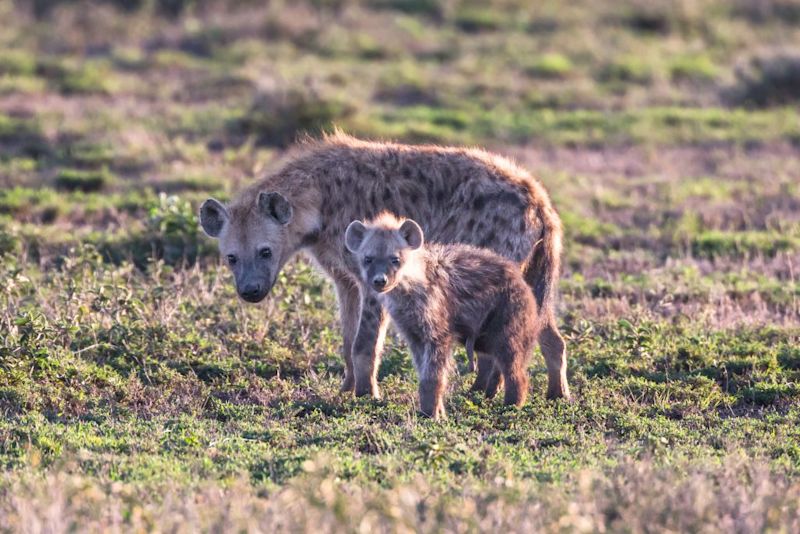 Spotted hyenas are frequently seen in Olmoti Crater
The trail you follow on this walk follows an historic Maasai cattle path.
The Maasai believe in living harmoniously with the land and have a wealth of knowledge about the wildlife and plants around you. So be sure to ask all of your questions! Again, we recommend bringing along some cash so that you can tip your guide afterwards.
While there are no fences within the Ngorongoro Conservation Area, which means all animals can roam freely, Olmoti Crater isn't known for hosting lions and giraffes. It does, however, regularly see Cape buffaloes, hyenas, zebras and bushbucks. There are also sometimes elephant and leopard sightings.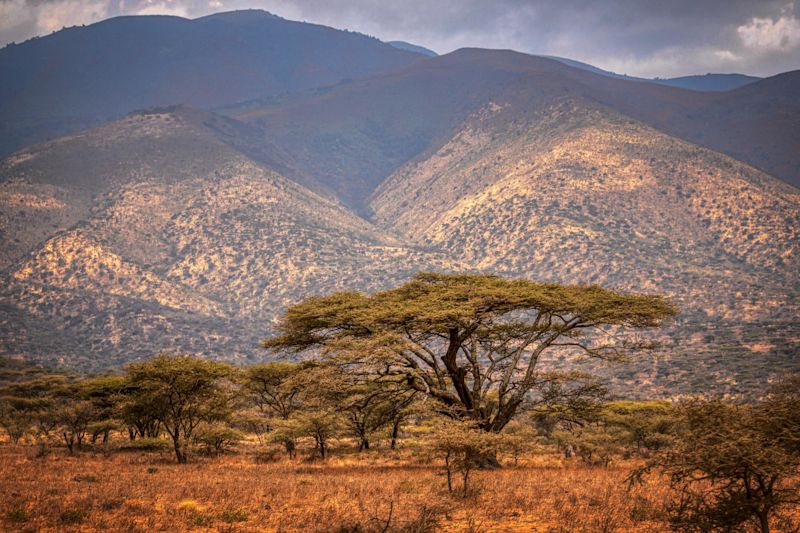 A view of eastern NCA in the dry season
Attractions next door to the NCA
It's important to note that the Ngorongoro Conservation Area is close to many other world-renowned attractions, like Mt Kilimanjaro, Serengeti National Park, Lake Manyara and Lake Natron. In fact, almost everyone who visits the NCA also goes on safari in the Serengeti. We also regularly have clients who first climb Mt Kilimanjaro and then go on safari in the region as a reward for their hard efforts!
If any of this interests you, you might like to check out our exciting Tanzanian safari itineraries, as well as our Kilimanjaro climb options.