Best time of year for an Ngorongoro Crater safari
Aug 17, 2022
Reading time: 7 minutes
We describe the pros and cons of going on safari during the different seasons of Ngorongoro Crater. This includes discussing what you most want to see (for example, baby animals being born) and when to go for that.
The wildlife of Ngorongoro Crater is extremely special. The caldera's 600 m-high walls have created a wildlife sanctuary. Consequently, the crater has one of the best concentrations of wildlife to be found anywhere. In fact, it has Africa's densest predator population! We're talking lions, leopards, cheetahs, African wild dogs, black-backed and golden jackals, and a supremely impressive number of spotted hyenas. Overall, the crater is home to around 30,000 large mammals, which include black rhinos, elephants, hippos, wildebeests, zebras and various antelopes. This makes an Ngorongoro Crater safari an absolute must!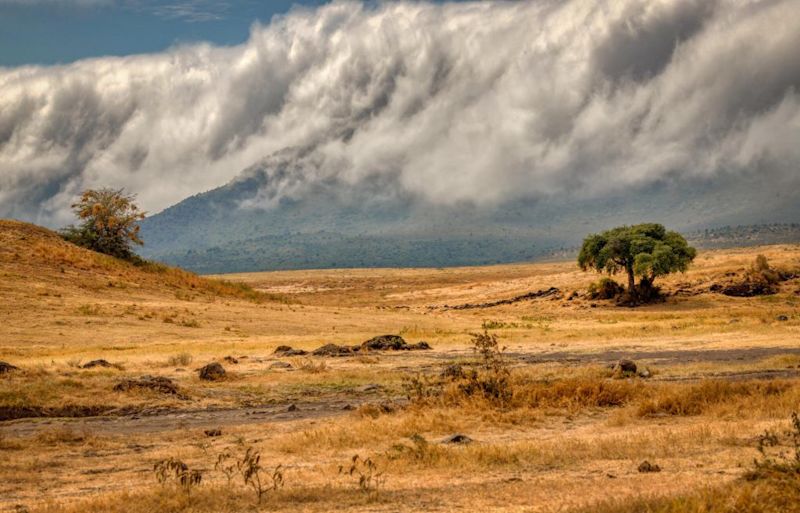 Thick clouds shroud the crater rim
When to visit Ngorongoro Crater
You can visit Ngorongoro Crater at any time of the year and enjoy an amazing safari. Many of the animals are permanent residents, so there's never a time when the crater isn't teeming with wildlife, large and small!
That said, the best time of year for an Ngorongoro safari is different depending on what you most want to see ...
I want to see as many animals as possible!
The best time for seeing as many animals as possible is May or June to October, because the grass is shorter. The vegetation is much drier and browner in the dry season, so the crater overall isn't as attractive during this season. Elephants also tend to leave the crater in the dry season. Temperatures are fairly manageable throughout the year, with a summer average of 18.6° C and a winter average of 14.5° C, so at no time of the year will you melt or freeze.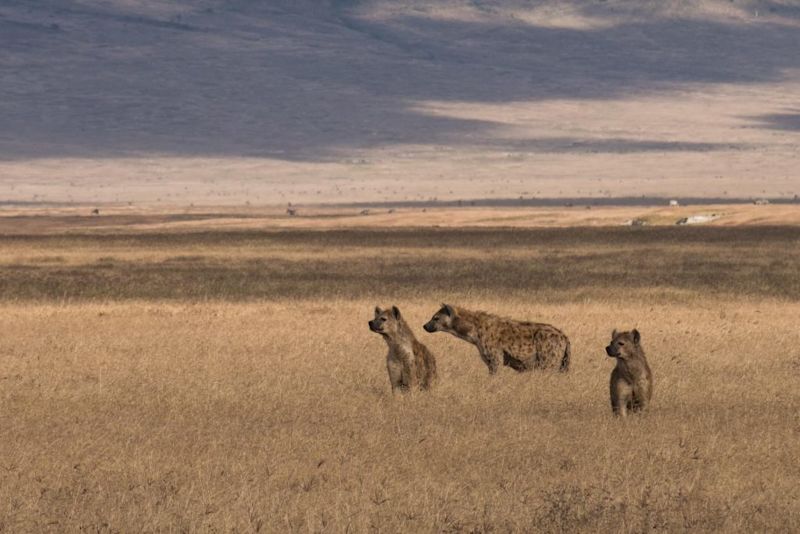 Spotted hyenas in the wildlife sanctuary that is Ngorongoro Crater
I want to see the herds of the Great Migration
The Great Wildlife Migration is mostly associated in people's minds with Serengeti National Park and the Maasai Mara National Reserve. But every year the herds of the Great Migration also move into the Ngorongoro Conservation Area.
Please note that the migratory animals are more likely to be seen in the Salei Plains near Lake Ndutu in the western Ngorongoro Conservation Area (NCA) rather than in the crater itself. We recommend heading to the Serengeti after Ngorongoro Crater to see the vast herds of the Great Migration.
Alternatively, if you're in the area in summer, head to the NCA's Lake Ndutu region to see the Great Migration animals during their calving season! (You can learn more in 7 best things to do in Ngorongoro Conservation Area.)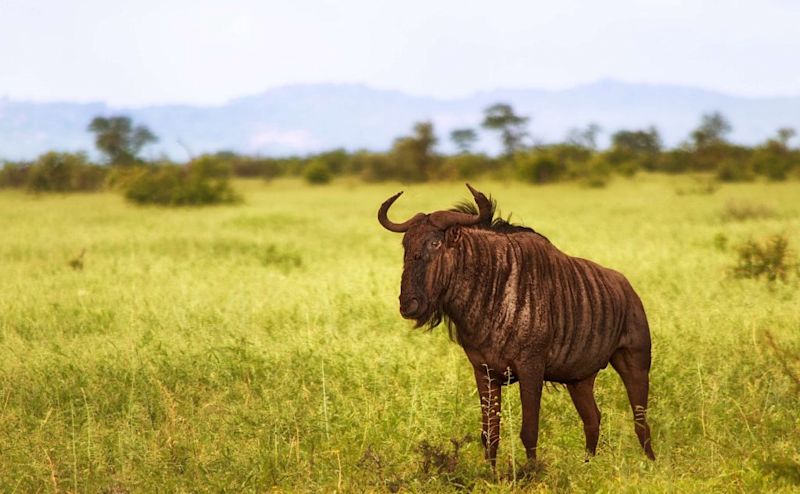 The star of the Great Migration is the blue wildebeest – around 1.5 million take part!
I want to see animals and a lush landscape
The rainy season for Ngorongoro Crater is November to May. Its wettest months are March and April. The grass grows long at this time, which can make smaller animals like mongooses, civets and jackals harder to spot. But the burst of wildflowers across the grasslands is just gorgeous, and make for exciting viewing on their own.
Purple, pink, yellow and white are some of the most common colours to spread themselves in swathes across the plains. It's magical to see a lion lounging in a sea of white, or a cheetah cleaning itself while surrounded by specks of violet.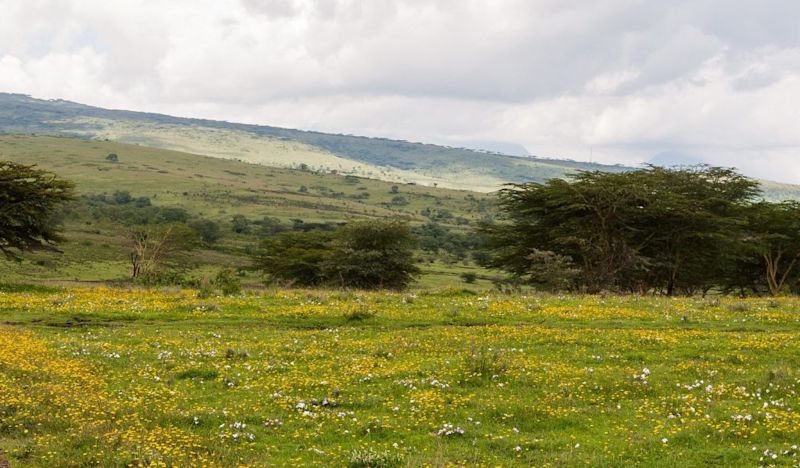 Wildflowers blanket the crater floor after rains
I want to see baby animals
If you want the best chance of seeing newborn animals, you should visit Ngorongoro Crater in February or March. This is when hoofed animals like zebras, wildebeests and antelopes give birth. It's also a time of high predatory action, as the carnivores are hoping to make an easy kill.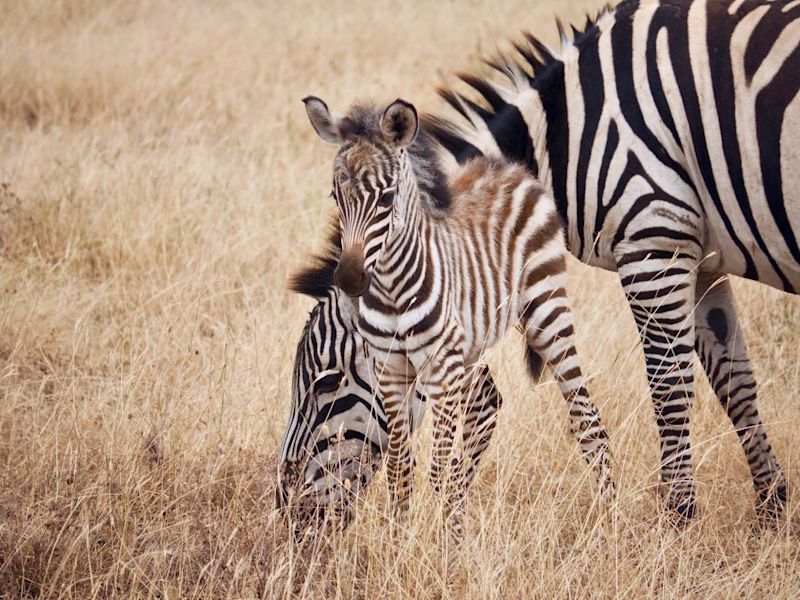 A mother zebra and her foal
I want to see animals and birds
Ngorongoro Crater is a great spot for birdwatching all year round, but November to April is especially good as this is when migratory birds from Europe and North Africa come to the area. Also, many of the resident birds have their best plumage at this time as it's breeding season.
Some of the amazing (and numerous) birds that live in or visit the crater are Verreaux's eagles (black eagles), Rüppel's vultures, augur buzzards, silvery-cheeked hornbills, lesser flamingoes, Hildebrandt's starlings, white-eyed slaty flycatcher, white-browed coucal, Hildebrandt's spurfowls, fan-tailed widowbirds and tinkerbirds. All exciting birds to spot!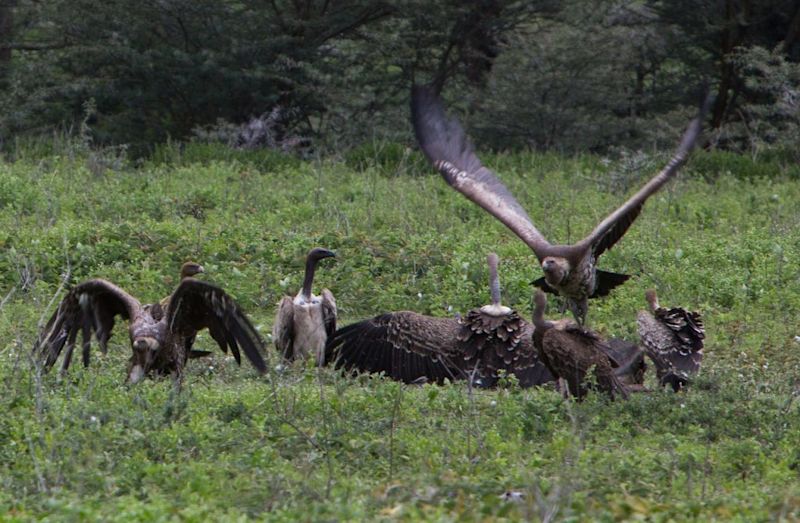 Rüpell's vultures hiss, shriek and grunt when they have a kill
As you can see, there are pros to visiting the crater in each season. So deciding on the best time of year for an Ngorongoro Crater safari might simply mean determining which consideration ranks highest with you.
Below we summarise the seasons and their different attractions.
I want to see newborn animals – January to March

I want to see lots of birds – November to April

I want a green landscape and flowers – March or April

I want to see as many animals as possible – June to October

I want no rain during my safari – May, June or October

I want to avoid the crowds – November, December, May or June

I want to see the Great Migration – December to March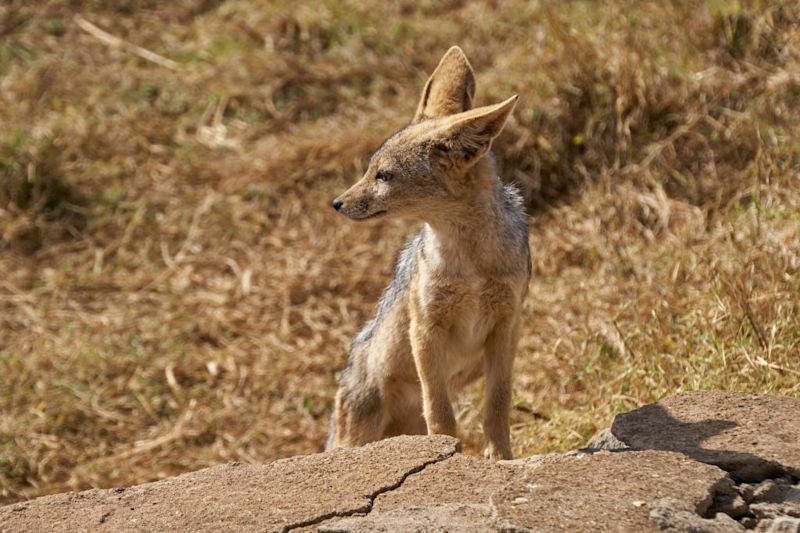 A black-backed jackal, one of the crater's many predators
Fascinating Ngorongoro Crater facts
There's so much that's fascinating about this unique crater and its wildlife population! We've found nine facts we think you'll love, and are pretty sure the last fact in particular will captivate you!
So here are eight Ngorongoro Crater facts we bet you didn't know ...
1. Ngorongoro Crater is the largest unfilled, unbroken caldera in the world.
2. Ngorongoro is a Maasai word for "black hole".
3. The crater is sometimes referred to as the Garden of Eden. For obvious reasons.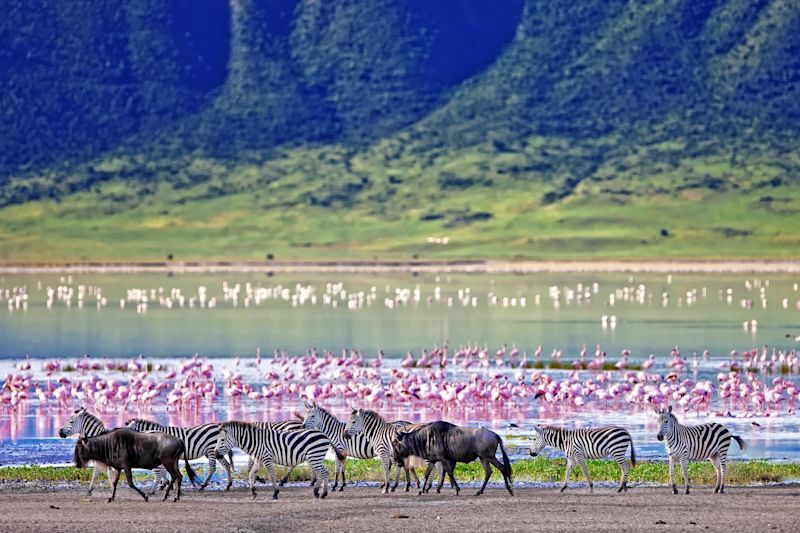 Case in point: a very Garden-of-Eden scene in Ngorongoro Crater
4. There are over 40,000 Maasai tribes people living in the Ngorongoro Conservation Area. They herd livestock and live in harmony with the wildlife.
5. The crater's lake – Lake Magadi – is an alkaline, soda lake and it has created a unique habitat. Blue-green algae thrive in the lake, and soda flats surround the lake. The word magadi is Maasai for 'salt'.
6. On the western shore of Lake Magadi are stone burial mounds. They're thought to belong to the Datooga people, ancestors of the cattler herders known as Barbaig. They lived here before the Maasai pushed them out.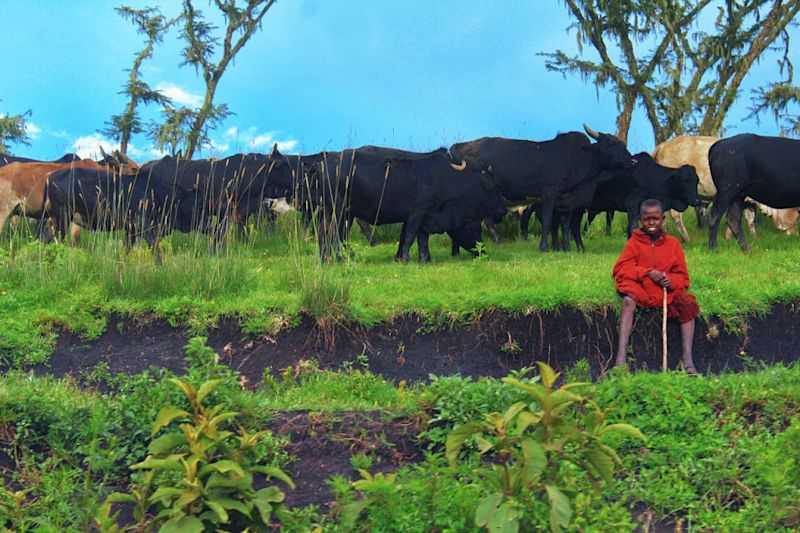 A young Maasai boy herding his cattle in the Ngorongoro Conservation Area
7. There is plenty of accommodation on the ridge of the Ngorongoro Crater, so you can sit looking over the crater from your hotel or lodge.
8. Nobody is allowed to settle in the crater. The Maasai are allowed to descend to the floor to water their livestock when passing through the area.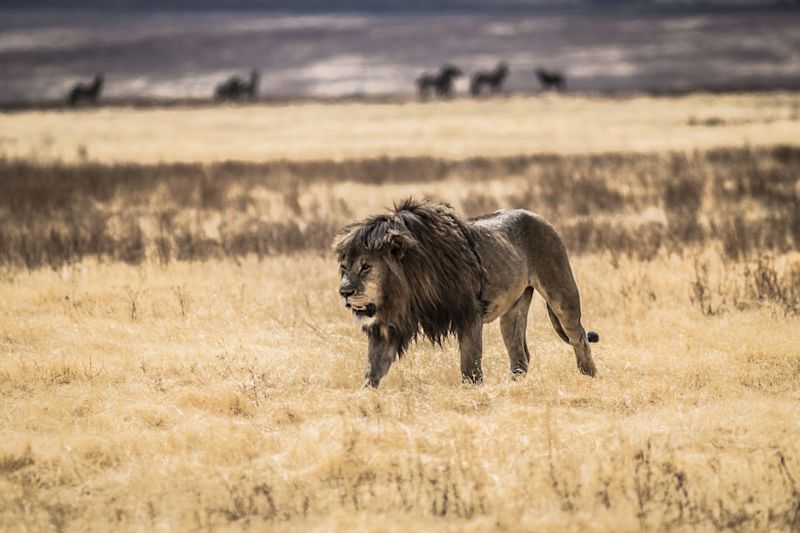 A dark-maned male lion looking pretty darn dominant and threatening!
8 tips for visiting Ngorongoro Crater
Here are a few tips for your Ngorongoro Crater safari:
Bring a decent pair of binoculars. You cannot drive off the road inside the crater, so when you spot wildlife a little ways away from you, you'll want to be able to train your binos on it for a better view.

For the same reason, a camera with a good zoom is a definite bonus.

Beware the monkeys and baboons – they love pinching things from unsuspecting tourists.

Bring plenty of water, a sunhat, and sunscreen. It can get very hot in the crater, especially in summer.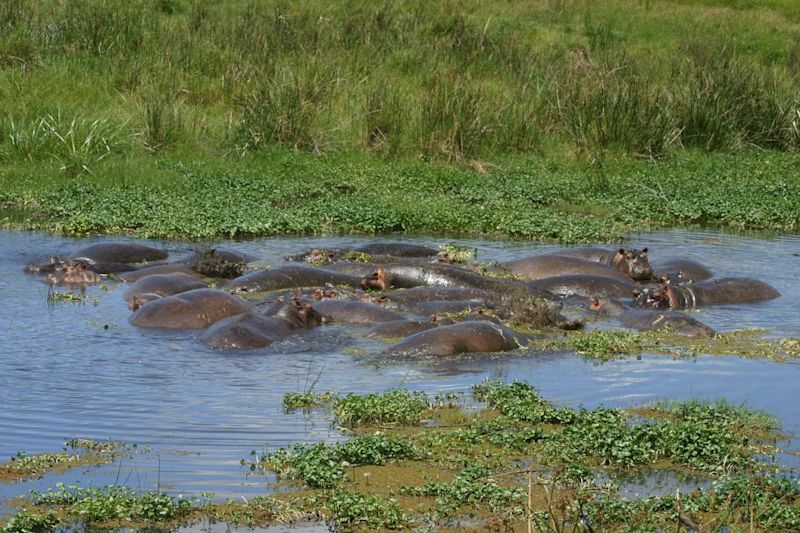 Every visitor to Ngorongoro Crater makes a stop by the Hippo Pool to see these wallowing beasts
Follow Alice on an epic Tanzania safari!
We love to lead people on safari in northern Tanzania, where we visit world-class game parks and reserves like the Serengeti and Ngorongoro Crater! Check out our suggested Tanzania safari itineraries. Can't find exactly what you want in there? No worries, we can plan the exact safari of your dreams with you! Just give us a shout to chat.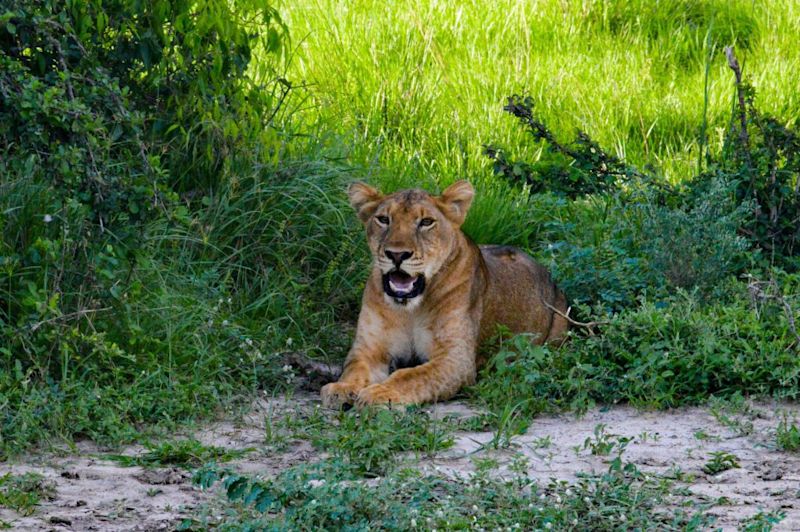 A lioness resting in a patch of shade