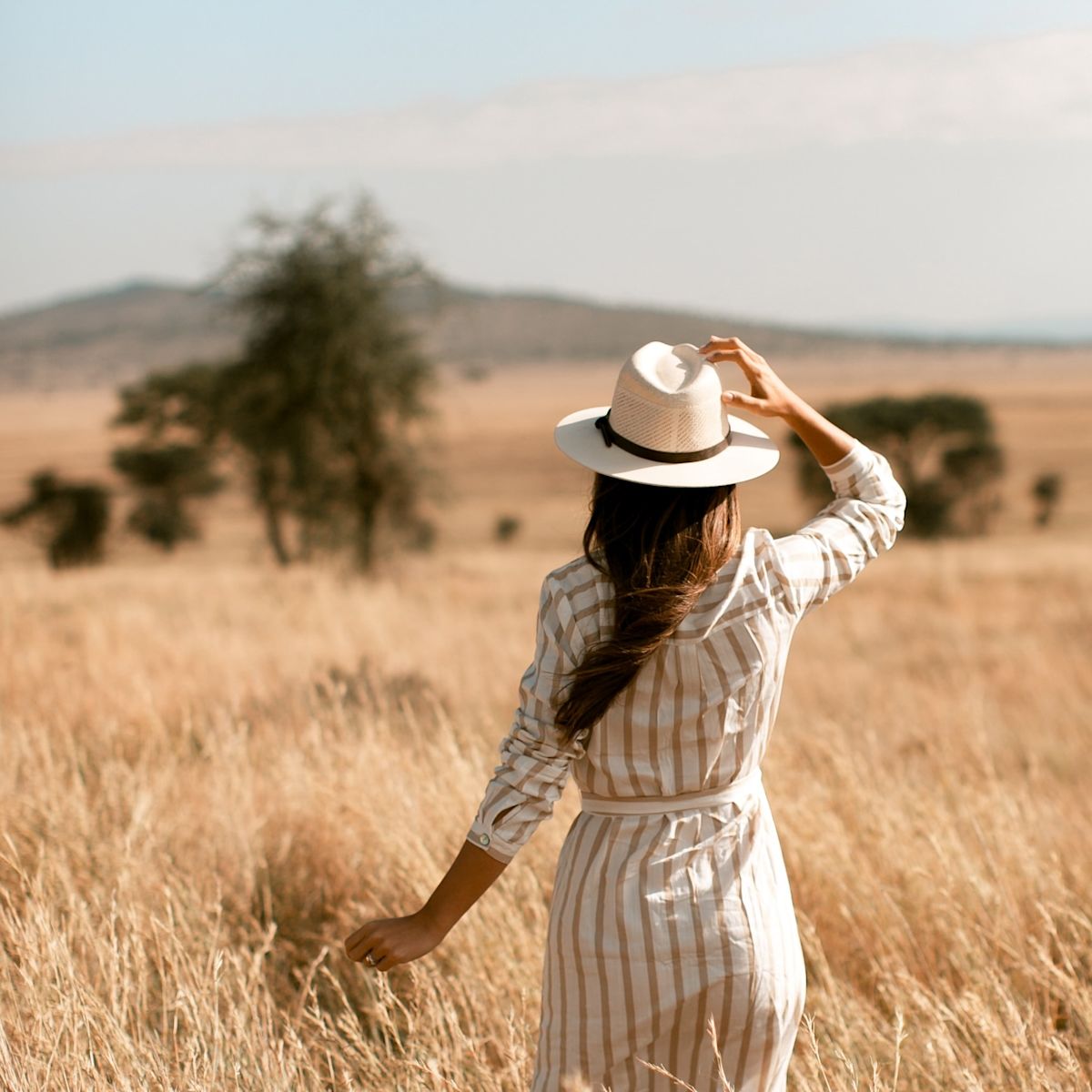 Top 10 attractions in Tanzania
Jul 7, 2022
Reading time: 15 minutes
Tanzania is one of those countries that's blessed out of its socks with great natural wonders, incredible scenery, amazing wildlife, gorgeous, warm beaches, and fascinating historic towns and ruins. We tell you all about them to help you plan a trip there!
Tanzania is the perfect destination for trekkers, wildlife lovers, sun-worshippers and adventure-seekers alike. From the offshore hideaways of Zanzibar to the vast planes of Serengeti National Park, nothing encapsulates the African experience quite like a tour of Tanzania. Read on to discover our pick of the top 10 attractions in Tanzania. And be prepared to add all of them to your bucket list!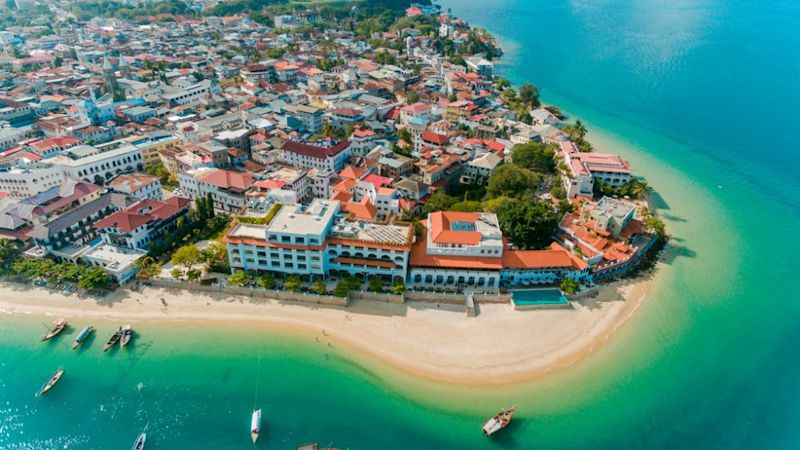 Zanzibar's Stone Town surrounded by beautifully calm ocean waters
It's not easy to whittle down the attractions of a country as large, diverse and spectacular as Tanzania into one little list. But somebody has to do it. 😁 So let's go ...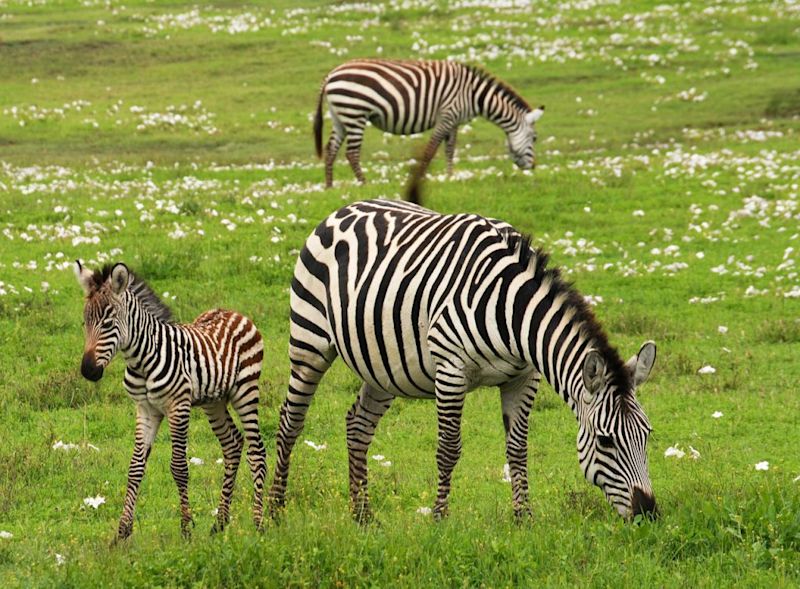 Tanzania is one of the very top wildlife destinations in the world
1. Climb Mount Kilimanjaro
Mount Kilimanjaro is the world's highest free-standing mountain and one of the continent's most magnificent sights. When climbing Kilimanjaro, expect to witness breathtakingly beautiful views and experience peaceful, quiet moments. You can also look forward to sharing stories with your mountain crew and fellow climbers beneath night skies littered with brilliant stars.
You'll be overwhelmed by feelings of joy and satisfaction upon reaching the summit – 5,895 m (19,340 ft) above sea level – early in the morning when the sun comes up. Kilimanjaro really is the adventure of a lifetime!
If you're thinking of adding Kilimanjaro to your travel wish list, you might like to read our article What is it like to climb Kilimanjaro?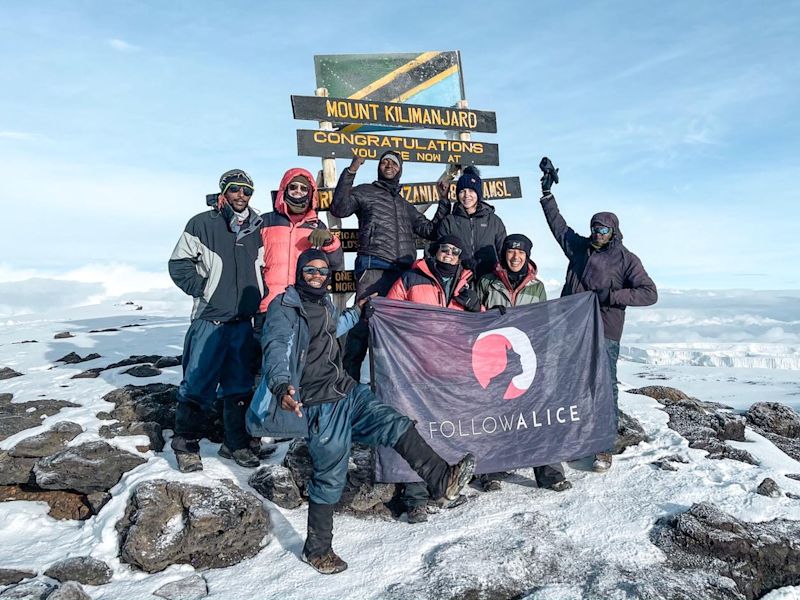 Kilimanjaro's icy summit
Best time to climb Kilimanjaro
This is a whole topic of its own, as there are different factors to consider, like the cold, rain and crowds. We discuss the different seasons in detail in Best time to climb Kilimanjaro. You can also always chat to us for some personalised advice.
Whatever greater power you believe in, when you see the sun rising from the top of that volcano, you get to feel it. It gave all of us a great story to tell our grandchildren some day. 🙂
– Bernardo Guimarães da Fonseca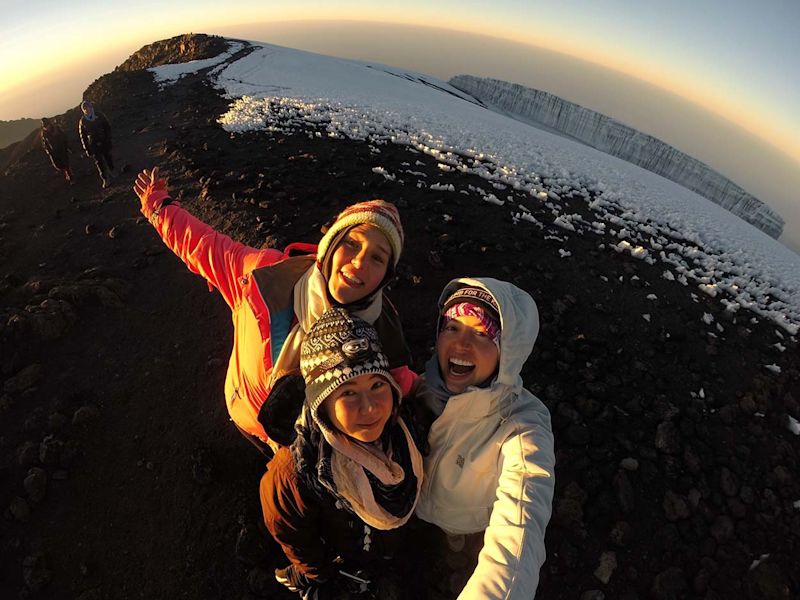 Standing on top of Mt Kili because you hiked up it on your own two feet!
2. See the Great Wildlife Migration
Ah, the Serengeti. Is there any more iconic African locale south of the Sahara Desert? The Serengeti is home to the largest concentration of big game mammals in the world, including (of course) the Big Five.
It's also the primary location of the Great Wildlife Migration, a natural phenomenon that really has to be seen for yourself. Over two million hoofed animals (mostly wildebeests and zebras) take part in a never-ending cyclic migration in search of water and green pastures. To see that many animals stretched out across the Serengeti plains is a powerful sight.
We genuinely cannot recommend a Serengeti safari enough. So mush so that we know that any list of the top 10 attractions in Tanzania would include the Serengeti!
Our fantastic local guide Kazi will ensure you have plenty of wildlife spottings to satisfy even the most jaded heart. 😉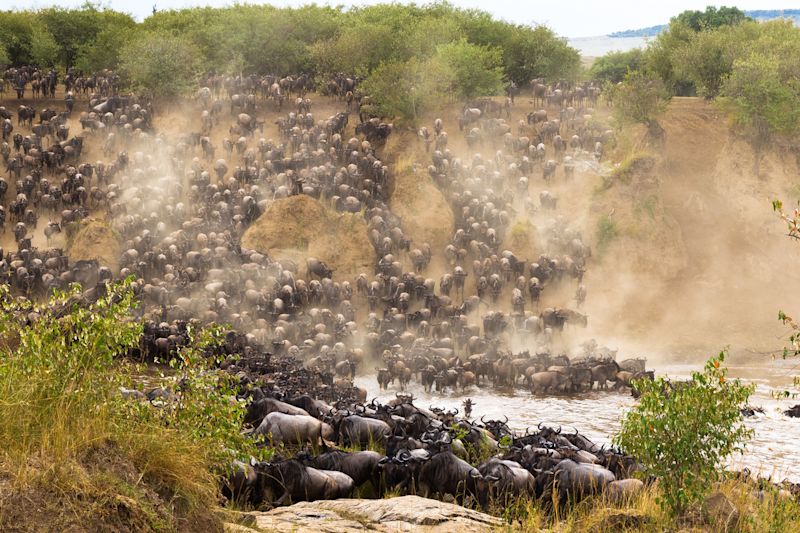 The Great Migration herds plunge across rivers en masse, hoping to avoid the many perils like crocs and the current
When to visit the Serengeti
The best time to visit depends on what you're looking to see while you're on your wildlife safari holiday. If you come to behold the majesty of the Great Wildebeest Migration, come between December and July. While you may see some of the larger predators during that time, you can best see lions, cheetahs and more from June to October. Given the sheer size of the Serengeti, you should probably allot three to four days for your safari for the full experience and the best photos.
You can learn more specifics in our post Best time to visit Serengeti National Park.
3. Go on an Ngorongoro Crater safari
Ngorongoro Crater is the largest unbroken, unfilled caldera in the world. Picture a deep, 19 km-wide bowl that's uninhabited by humans and instead is a riot of wildlife, including the Big Five.
An Ngorongoro Crater safari is therefore like no other safari you've ever been on. You must slowly zigzag your way down the steep crater wall via many hairpin turns. Then the crater floor stretches before you, with vast grassland as well as forest, bush, a lake and wetlands. Each of the ecosystems is bustling with its own rich variety of wildlife.
We gush more about this beautiful and unique location in Ngorongoro Crater – the world's eighth wonder, and tell you all the animals you can look forward to seeing there. We also include it as a must-see in all of our suggested Tanzania safari itineraries.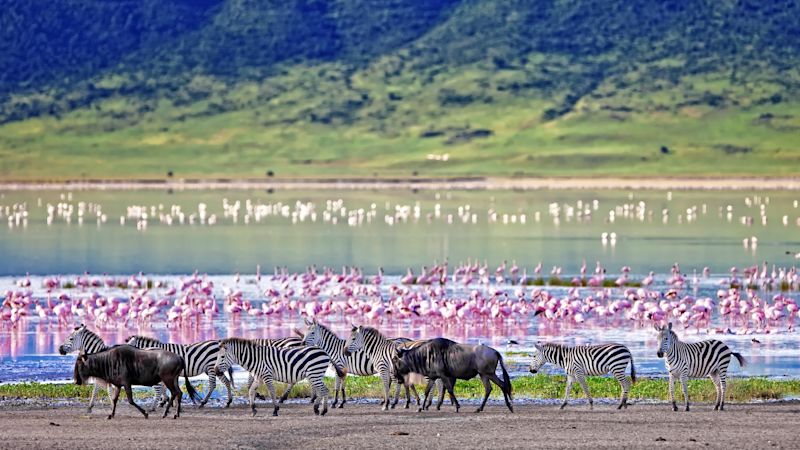 Ngorongoro Crater teems with wildlife, especially near its lake
When to visit Ngorongoro Crater
As the crater is a natural wonder and attracts safari tours all year long, it can get very busy, it's not recommended to stay more than a couple of days. Generally speaking, due to the sheer size of the Serengeti alone, the latter is better for longer safari excursions. Crowds aside, the crater is not a park you will want to pass up. It's a wonder of the natural world the likes of which can't be found anywhere but Tanzania.
Learn all you need to know about when to visit in Best time of year for an Ngorongoro Crater safari.
A yawning hippo on the crater floor during the rainy season
4. Snorkel in Zanzibar and explore Stone Town
Zanzibar has long been a magnet to snorkelers, divers, boaters, surf skiers, sunbathers and the like. It's also a popular post-trek relaxation spot for those who have just climbed Mt Kilimanjaro. The combination of soft sand, gentle and warm ocean waters, vibrant aquatic life, and blue skies and sunny days ... what's not to like??
Hence it simply must be included on our list of the top 10 attractions in Tanzania!
The Zanzibar archipelago has some of the best undisturbed coral reefs in the world.
On top of this, the old Stone Town on the main island is a fascinating site, rich in history. Enjoy meandering through alleyways where you can find signs of Arabic, Indian, Moorish, Persian and European influence among the local Swahili culture. You'll be treated to the aromas of spices, seafood, salt air and tropical flowers. And we've no doubt some tasty local treats will find their way into your luggage!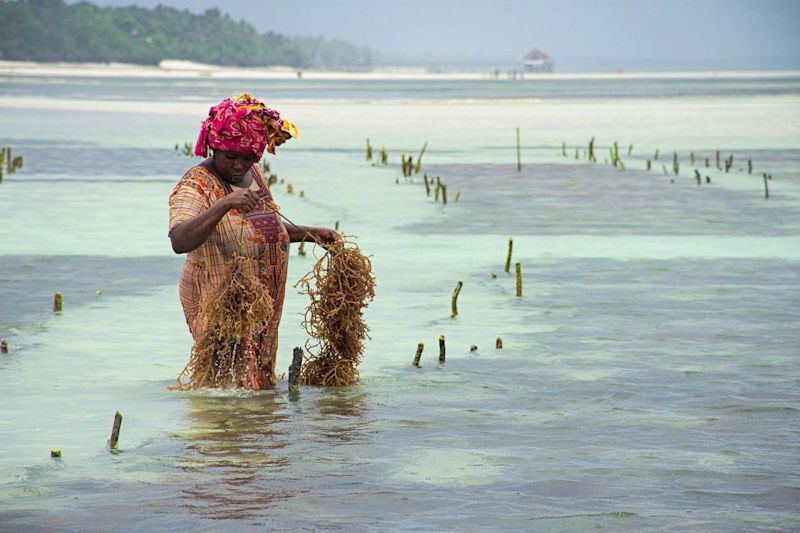 A local lady fishing with nets in the waters of Zanzibar
When to visit Zanzibar
As with so many places in Tanzania, the best time to visit is June to October for sunny but cooler days, and very little rain. Late December to early March is also a popular time, however, as it's hot and mostly dry. That said, you can enjoy a fantastic Zanzibar holiday at any time of he year. And if you visit during an off-peak season, you'll enjoy smaller crowds, so there are pluses all year round.
Christ Church in Zanzibar's historic Stone Town
5. See chimpanzees in the Mahale Mountains
Mahale Mountains National Park protects a very beautiful and quiet piece of land in the far west of the country. The park's western border is the shore of famous Lake Tanganyika, which separates Tanzania from the DRC. This is a very remote region of the country, with few visitors. Sunsets over Lake Tanganyika are a big drawcard for keen photographers!
Lake Tanganyika is the world's longest freshwater lake, as well as being its second deepest and second largest.
The beautiful park boasts grasslands, rainforest, alpine bamboo and woodlands, and is home to thousands of chimpanzees. You're also pretty much guaranteed to see some hippos in the lake's swamps.
The main activities and attractions in the park are:
Going on a guided safari walk to see chimpanzees

Going on a guided forest walk to see various animals and birds, which include the Colobus monkey

Hiking Mt Nkungwe (2,462 m), Mahale's highest peak, for panoramic views

Snorkelling in Lake Tanganyika to see the many endemic fish, which include the eye-catching cuckoo catfish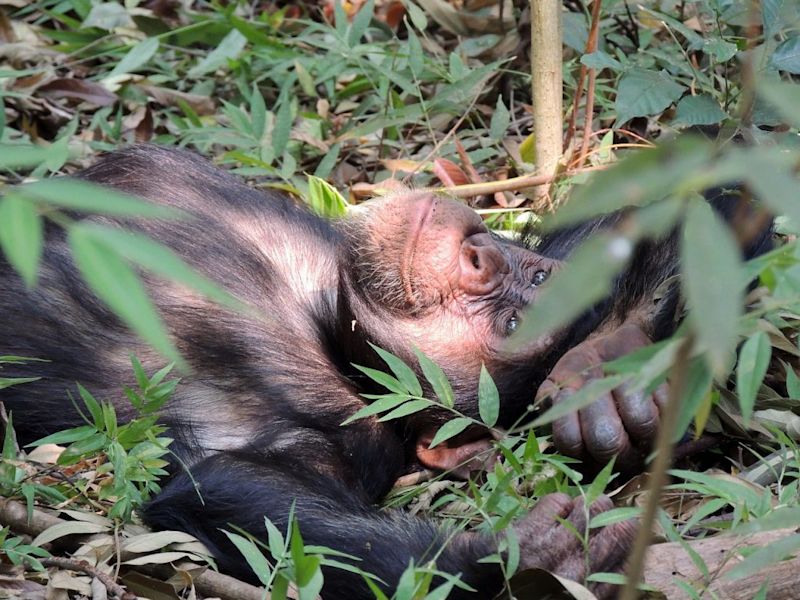 A chimp taking it easy
When to visit Mahale Mountain National Park
The best time visit Mahale Mountain National Park is between late June and October, as there's little rain, lots of sunny days, and it's not too hot. January and February are also good months, though it can be very hot and humid. The area receives a lot of rain from late March to early May.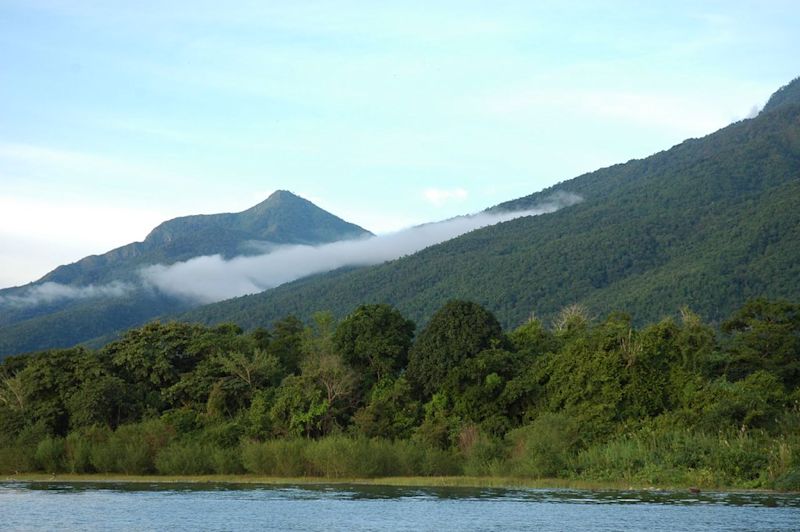 The forested slopes of Mahale Mountain National Park meeting the eastern shore of Lake Tanganyika | Image by J. Mononen
6. Visit a Maasai community
The Maasai are a semi-nomadic people who live in southern Kenya and northern Tanzania. They have long-held and deeply cherished traditions that have afforded them a strong cultural identity even into the twenty-first century, and earned them a worldwide reputation. Cattle herding and hunting are a big part of the Maasai way of life.
Some Maasai villages welcome travellers to visit them and learn about their history, traditions and way of life. Many also sell their beautifully coloured fabrics and intricate beaded jewellery, which are popular with tourists.
When you visit a Maasai community in a respectful way that benefits the community itself, you're learning about a unique culture while also providing valuable income. We find many of our clients look back on these cultural experiences as highlights of their Tanzania trip.
One of the many notable traditions of the Maasai people is their incredibly impressive jumping dance. Visitors who give it a try see first hand just how hard it is!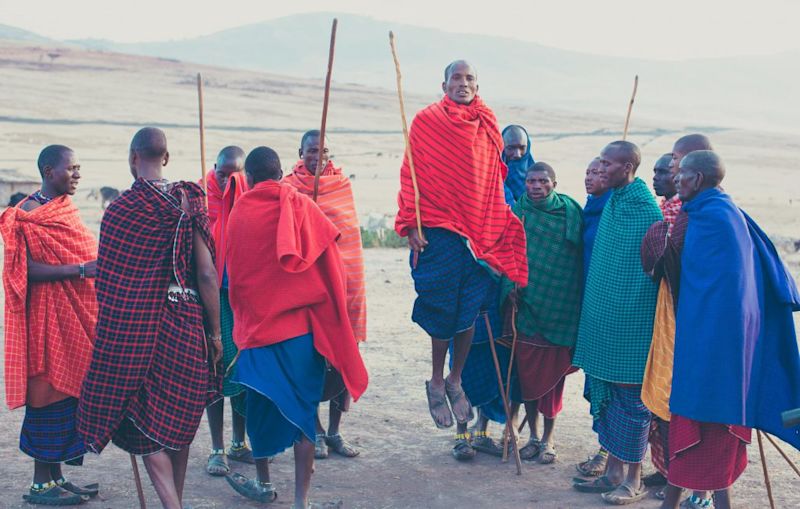 Maasai men performing their impressive traditional adamu (jumping dance)
Where to visit the Maasai
There are a few different Maasai communities you can visit, some more geared towards visitors than others. As discussed in The 10 best things to do in Kilimanjaro region, if you'd like to visit a community close to Kilimanjaro, there's Olpopongi Maasai Cultural Village. Olpopongi is one of the more established cultural experiences, and even offers an overnight option. Then there are also smaller, more remote communities who are open to having you spend some time with them in a more organic fashion.
We suggest you speak to us so that we can suggest a Maasai visit that works well with your planned itinerary and route as well as how much time you'd like to spend getting to know them.
You might be interested to read our blog post Romanian traveller keeps his promise to Maasai community.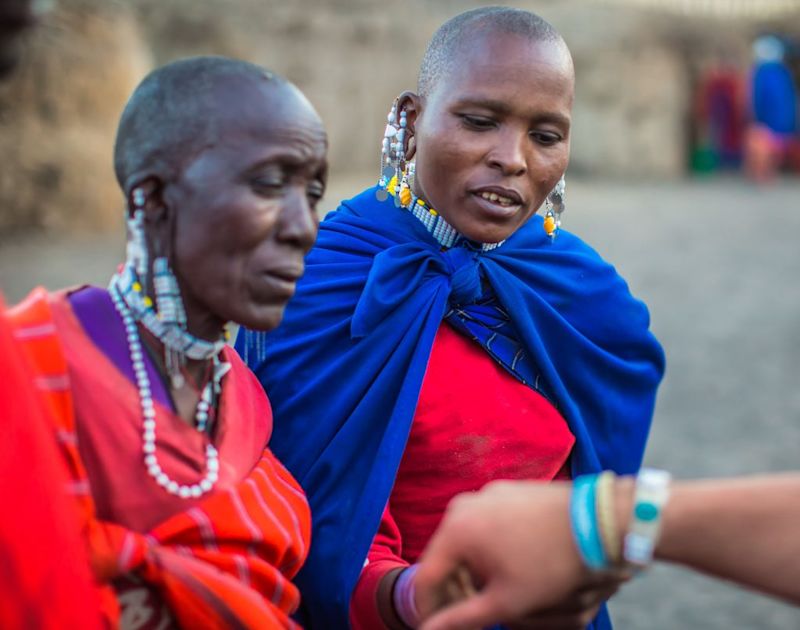 Take time to visit with a local Maasai people and learn about their culture and history
7. See the flamingoes of Lake Manyara
Another of of the top 10 attractions in Tanzania is Lake Manyara. Located only an hour and a half outside of Arusha, Lake Manyara National Park is a beautiful park at the edge of the Great Rift Valley escarpment. It has lush forest, open savannah, and swamps, and its eponymous lake is a hive of bird activity.
We feel Lake Manyara is a perfect (and incredibly underrated) safari destination. It's home to quintessential African wildlife, including elephants, giraffes, zebras, wildebeests, lions, impalas, leopards, and warthogs. It also has an amazing abundance of birdlife, including a staggering number of greater and lesser flamingoes, pelicans and other water birds that adorn the lake.
Lake Manyara is ideal for a day trip, as it's close to Arusha and Kilimanjaro International Airport.
Lake Manyara is famous for its flamingo populations
When to visit Lake Manyara
If you want to visit Lake Manyara National Park, June to October is the best time to view large mammals. A huge number of large mammals flock to the reserve for its water, as this is the long dry season in the region. If you'd like to see birds and a very pretty, green landscape, then you're better off heading there from November to March.
For more detailed information on the seasons and what to expect of each one, as well as how to integrate a Lake Manyara safari with visiting the other major parks, please read Best time for a safari in Tanzania.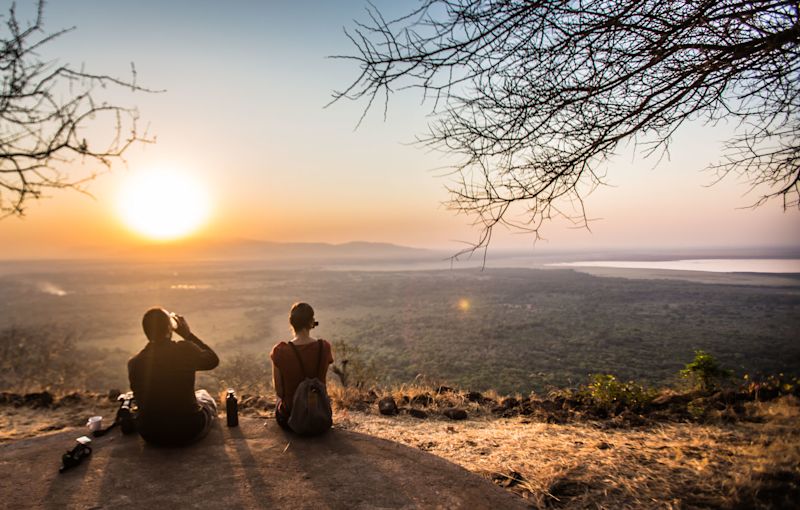 We live for moments like this! Taking in the view over Lake Manyara
8. Explore the ruins of Songo Mnara and Kilwa Kisiwani
On the southern coastline of Tanzania are two historic ruined trade towns known as Songo Mnara and Kilwa Kisiwani. These UNESCO World Heritage Sites are being excavated and offer fascinating glimpses into the heyday of the Swahili Coast.
Both towns were constructed from coral and lime mortar and thrived as maritime trading hubs.
Many in the West are unaware of the rich, multicultural and sophisticated history of the Swahili Coast.
Kilwa Kisiwani
Ruins of an old mosque at Kilwa Kisiwani
Kilwa Kisiwani is by far the older of the two settlements, believed to have been inhabited during the eighth century at least. It was the capital of the Kilwa Sultanate, a medieval island city-state that saw its greatest prominence between the 1200s and 1400s.
Most of the city has as yet to be excavated, but you can presently visit the remnants of the impressive Great Mosque, an Omani fortress, burial grounds, a prison, and the grand palace Husuni Kubwa.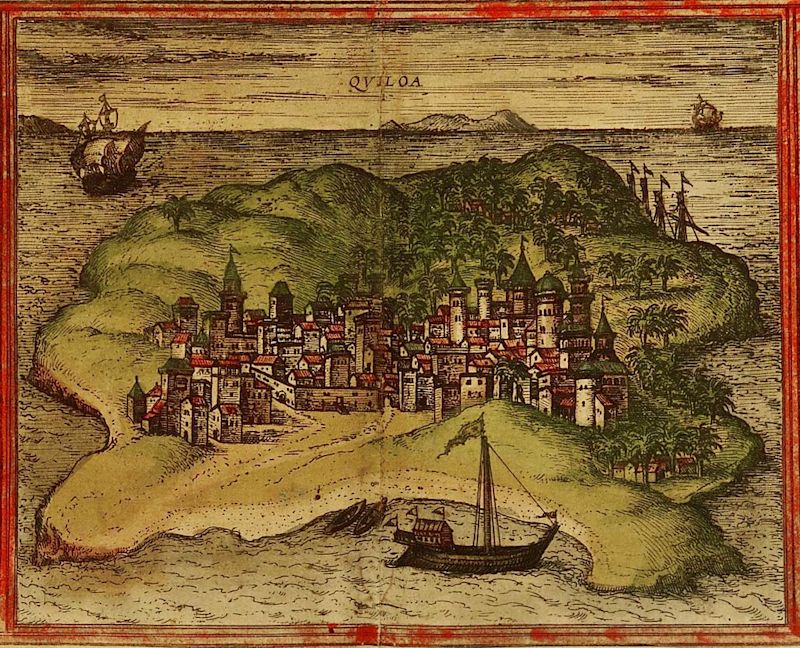 This gorgeous map of Kilwa is from Georg Braun and Franz Hogenberg's 1572 atlas Civitates orbis terrarum
Songo Mnara
On the adjacent island to the south is Songo Mnara. It's believed this stone town was inhabited between the fourteenth and sixteenth centuries. Its ruins include six mosques, four cemeteries, and a couple of dozen house blocks. It's a fascinating place to visit for anyone interested in history, particularly Islamic and Swahili traditions.
9. Witness massive elephant herds in Tarangire
Tarangire National Park is another firm favourite among our choice of the top 10 attractions in Tanzania. It gets its name from the river that runs through it.
The park is best known for its enormous elephant herds. You're pretty much guaranteed to see elephants when you visit Tarangire. There are also many other large mammals in the park, like lions, leopards, buffaloes, wildebeests, zebras, giraffes and African wild dogs.
One of the things we really like about Tarangire is that it's a quieter park than Ngorongoro and Serengeti, so you see few other vehicles.
The park is also well worth a visit for reasons beyond large game, like its abundance of baobab and sausage trees, and its famously enormous red termite mounds.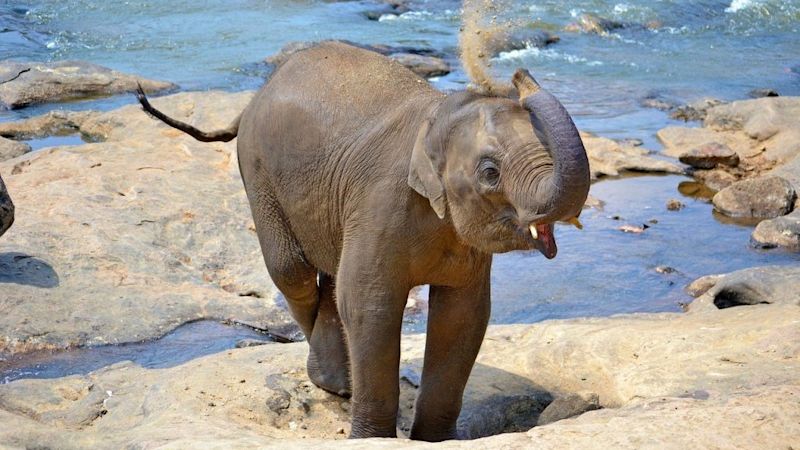 It's all about elephants in Tarangire National Park!
When to visit Tarangire
July through October are the peak months for visiting the Tarangire, as this is the long dry season. Up to 3,000 elephants wander the park during the peak months.
Keep in mind that during the off season, there isn't nearly as much game in the area. This is because the grazing herds (and consequently certain predators and other fauna) generally move elsewhere. That's not to say game won't be present when the season dies down – there's always abundant wildlife in Tarangire!
During the dry season of June to October you have a phenomenal density of large game gathering in Tarangire around its river and waterholes.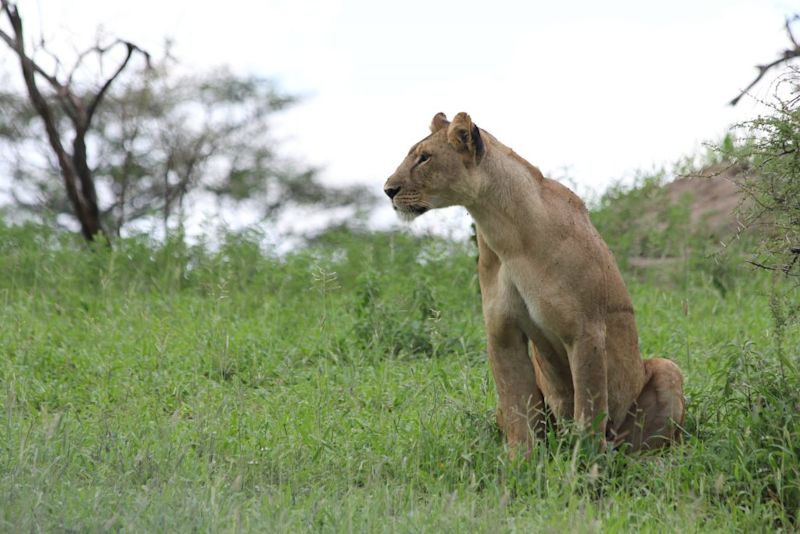 A lioness in Tarangire National Park
10. Go on a safari walk around Lake Natron
The newest addition to our Follow Alice safari itinerary is visiting Lake Natron in the far north of Tanzania. This super-alkaline lake often has red water, a result of the bacteria that thrive in it. You can even see the red waters from space!
For anyone drawn to unusual places, Lake Natron needs to be firmly on your radar!
The water's high alkalinity makes it poisonous to many birds and animals. But lesser flamingoes are among the few birds that can cope with this, and they thrive and blanket the lake's surface in a splash of pink.
You can go a Maasai-guided walking safari around the lake to see the wildlife, as well as a hike just south of the lake to see the beautiful Ngare Sero Waterfall.
Then there's also the nearby Mt Ol Doinyo Lengai (2,962 m). This active volcano can only be hiked at night, as it's too hot during the day. A local Maasai guide leads parties up the mountain, starting at 10 pm and arriving back at the base at dawn.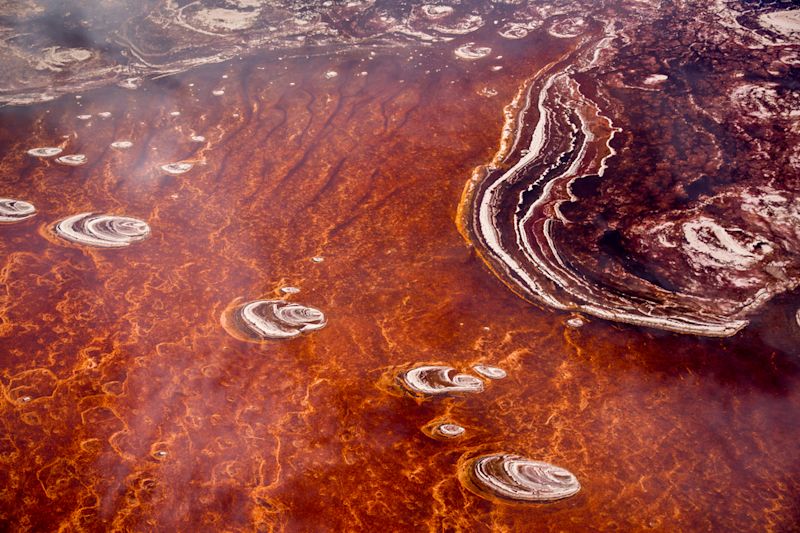 Lake Natron as seen from above
When to visit Lake Natron
As discussed in Best time for a safari in Tanzania, the north of Tanzania has four main seasons:
Short dry season: January to mid March

Long wet season: Mid March to May

Long dry season: June to October

Short wet season: November and December
Lake Natron's surrounds become lush and beautiful in the wet seasons, and then brown and thin out once the dry seasons set in. We encourage you to speak with us about when to visit Lake Natron so we can help you to determine which season is best for you based on what you most to see and experience.
Note that it can get very windy around Lake Natron. And note too that travel times to and from the lake increase during the wet season as the roads can become tricky.
Lake Natron is in a very hot region, so arguably the best time to visit is June to August, when the days are a bit cooler. This is also when the water is most likely to turn beautiful shades of orange, red and pink.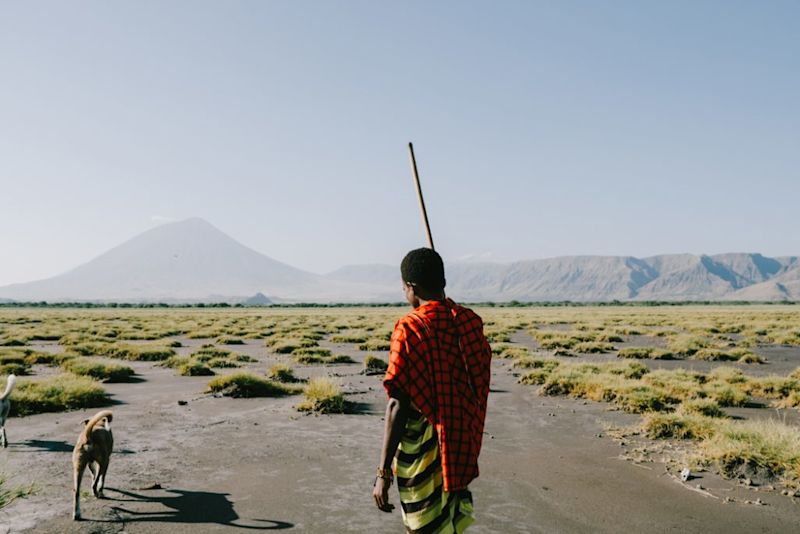 Maasai man with this dogs and the active volcano Mt Ol Doinyo Lengai in the distance
When I tell my friends what I did last summer they don't believe me, still neither do I. I tell them I climbed Mount Kilimanjaro during a full moon night, that I had breakfast in the jungle surrounded by lions, and partied in a remote African city at night. A dream come true!
– Stefano
Chat with us to plan your Tanzania adventure!