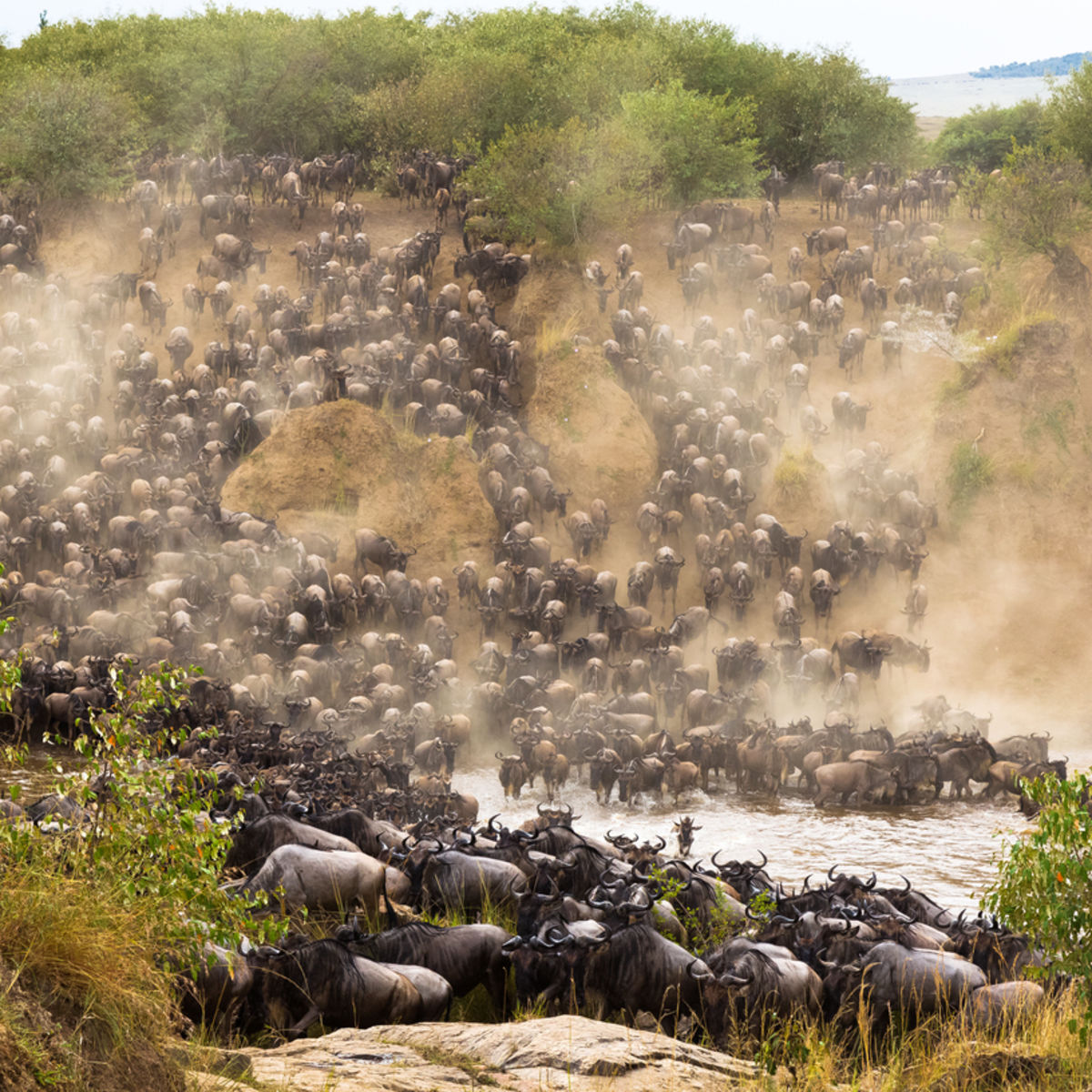 The best things to do after climbing Kilimanjaro
Jan 27, 2023
Reading time: 11 minutes
Many people like to plan a local reward for having toughed it out on Kilimanjaro. And they deserve it! We suggest three nearby adventures you could choose from, all of which are great post-trek options: gorilla trekking, a Big Five safari, or Zanzibar.
Climbing Mount Kilimanjaro is a truly amazing feat. It requires you to dig deep both mentally and physically. And it also demands a decent commitment to get there – first to Tanzania, and then to the mountain itself. So if you're one of the few to summit this epic mountain, you deserve a reward afterwards! Something in the area that lets you unwind and revel in your achievement. Fortunately there's a range of great trips to add on to the back of a Kilimanjaro climb. And that's what this blog post is all about: the best things to do after climbing Kilimanjaro.
For starters, there's going on a Tanzania safari to see the Big Five. Or you could chill with a pretty drink on a beach in Zanzibar. Or alternatively, you could go trekking through an ancient forest to see mountain gorillas in Uganda.
Read on and we'll help you find just the right post-Kilimanjaro R&R for you.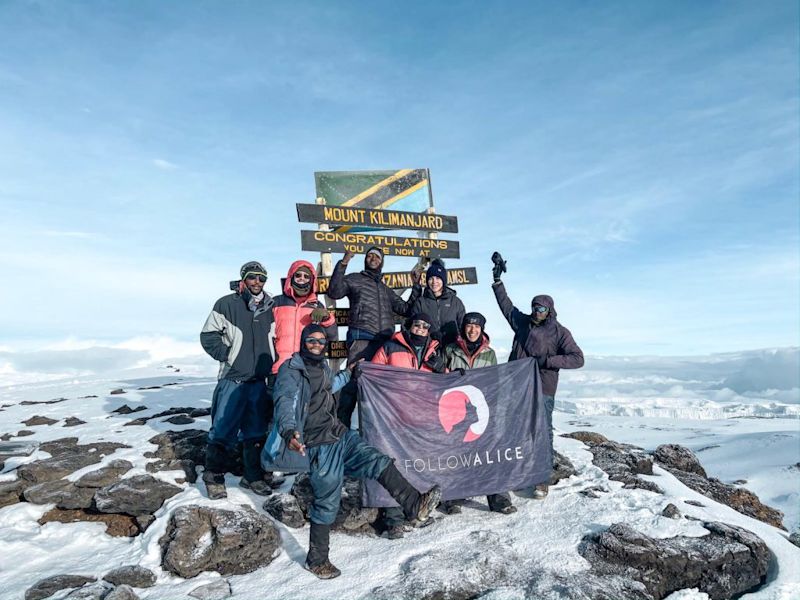 After reaching the summit of Kilimanjaro, explore the region a little more as a reward for all your hard work!
Three best things to do after Kilimanjaro
Obviously there's an almost endless list of things one can do after climbing Kilimanjaro, both within Tanzania and just beyond its borders. But we don't think such a list is useful – what you really want is to know the very best options for nearby travel. With that in mind, we suggest the following three trips, each of which includes plenty of varied and world-class attractions:
Tanzania safari

Zanzibar

Gorilla trekking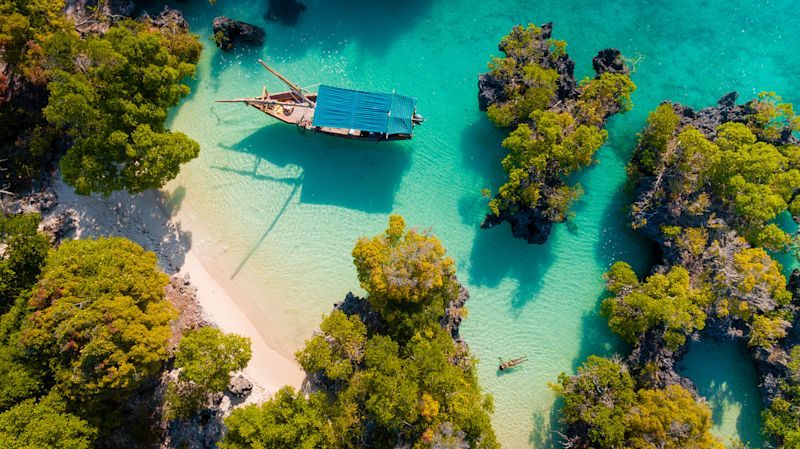 Aerial view of beautiful Panumba Island, Zanzibar
1. Tanzania safari
A Tanzania safari is so much more than just a safari. For starters, Tanzania is home to the Serengeti. This is an ecosystem known around the world for its magnificent and extremely abundant large game and other wildlife. It also boasts the Ngorongoro Crater, an immense caldera (collapsed volcano) that's become an amazing wildlife sanctuary. Among its many claims to fame, the crater boasts the largest concentration of lions anywhere in the world.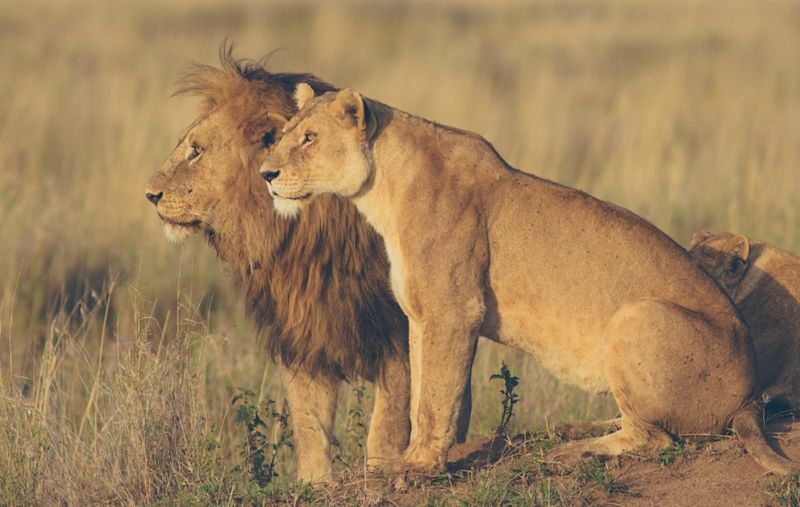 Tanzania's Ngorongoro Crater is home to about 62 lions
Speaking of lions, Tanzania is home to the Big Five. This is a major drawcard for international tourists. In case you've forgotten, the Big Five are elephants, lions, rhinos, leopards and buffaloes.
Tanzania is home to the Big Five: bush elephant, lion, leopard, Cape buffalo and black rhino.
Tanzania also has all the other greats you wish to see on African safari, like cheetahs, giraffes, hippos, warthogs, hyenas and jackals.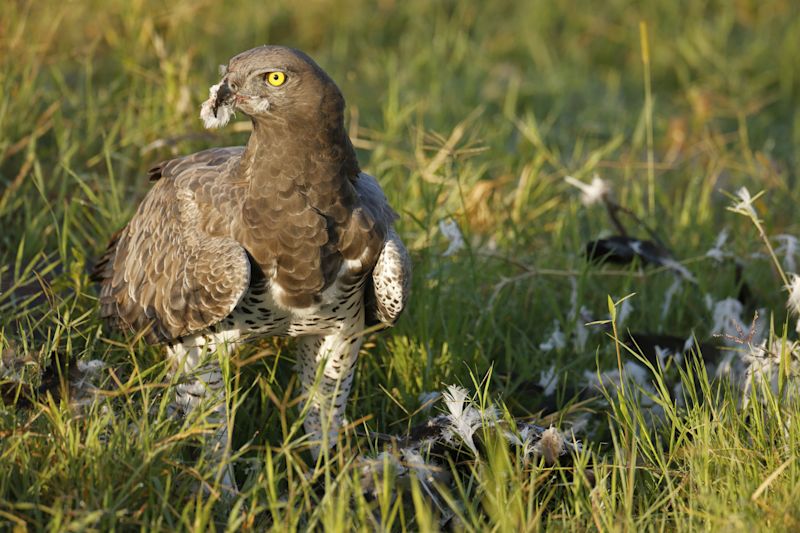 You can spot martial eagles in Tanzania
And let's not forget the fantastic birdlife! Tanzania has well over a thousand species of birds. This number includes eagles, vultures, ostriches and flamingoes, which are common sightings on safari.
The Great Migration
To add to all of this, have you ever heard of the Great Migration? This is an annual mass migration of literally millions of wild animals in northern Tanzania.
The migration starts in the Ngorongoro Conservation Area, heads to the Serengeti National Park, and then moves to the Maasai Mara Reserve. Driven to find good grazing grounds, around 260 million zebra, 470,000 gazelles and 1.7 million (!) wildebeest take part in the Great Migration.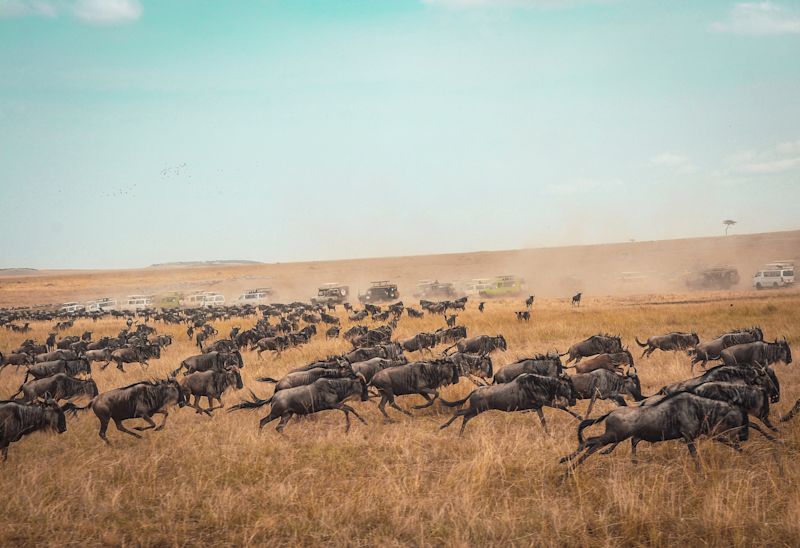 Wildebeests charge across the plain
To see animals move in such numbers across the plains of Tanzania is a truly mesmerising experience.
Follow Alice for a Tanzania safari
At Follow Alice we've put together the ultimate Tanzania safari for you! This is the perfect add-on to your Kilimanjaro climb as you don't need to travel far to arrive on the doorstep of some of the best game reserves in the world. We're talking Serengeti National Park, Lake Manyara and Ngorongoro Crater. Not only do you get to see the Big Five and more, but you do so in some of the most gorgeous surroundings, like a volcanic crater.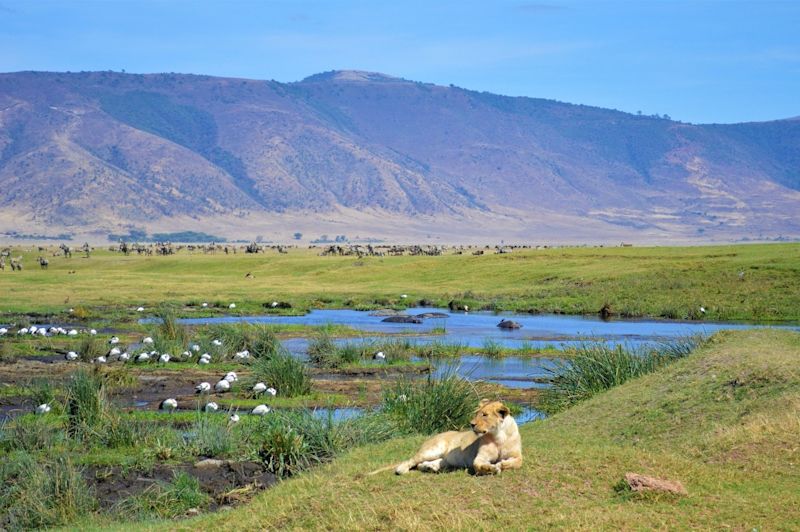 Ngorongoro Crater is true bucket-list material
We haven't forgotten that you doubtless also want to meet the locals and learn about their culture. The Maasai are a Nilotic people well known for their colourful traditional garments and ritualistic jumping dance. We'll take you to meet members of a Maasai community and you can try your best to match the height of their impressive jumping!
Please take a look at our suggested Tanzania safari adventure to see why this is a 'must' of a trip! We recommend a five-day excursion, but you'll see that this is a suggested itinerary only. We can lengthen, shorten or adapt it to suit your needs. The main thing is to not miss out on the opportunity to see Africa's celebrated wildlife!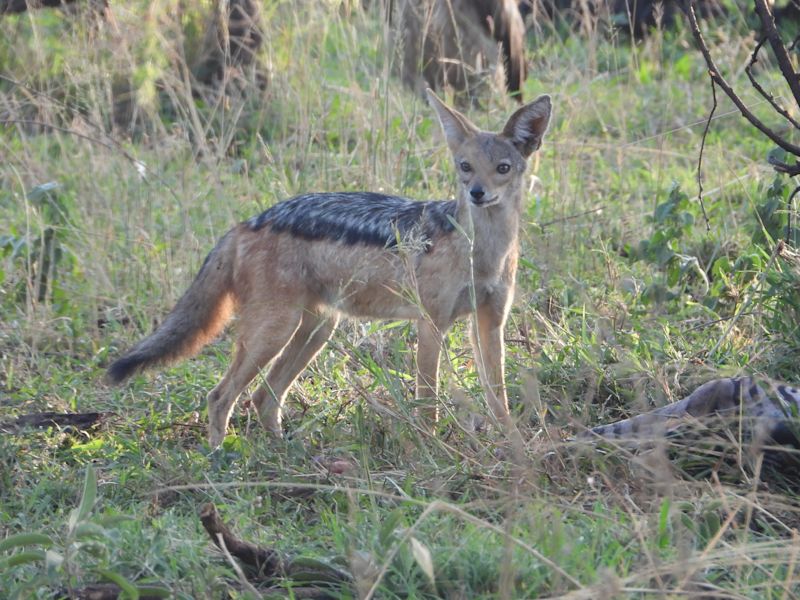 Our client Wiley captured this great pic of a black-backed jackal in the Serengeti
2. Zanzibar
An incredibly popular post-Kilimanjaro option is heading to the beautiful archipelago of Zanzibar off the coast of Tanzania. This is the perfect addition to Kilimanjaro if you wish to follow up your trek with idle days on the beach. Picture stretching yourself out on the warm, white sand, ordering a cocktail, and figuring out whether you want to read your novel under the umbrella or take another dip in the clear, blue waters of the Indian Ocean.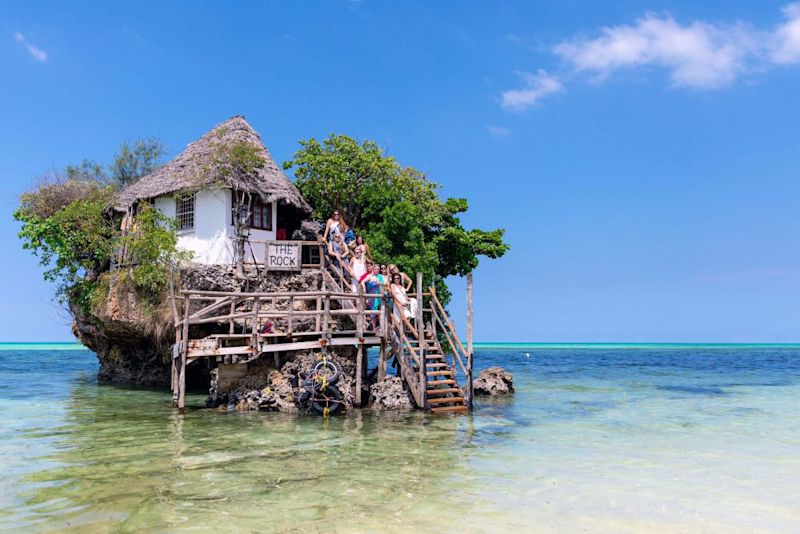 The Rock restaurant in Zanzibar – just wow!
Hit the beaches of Zanzibar
Think what it is you'd like to do on a beach holiday, and you've got it in Zanzibar ...
Swim? Or just float? ✔ (The waters are warm, clear and calm)

Dig your toes in the sand? ✔ (The beaches are white sand)

Go fishing? ✔ (The fishing is epic, and chartered fishing boats are available)

Tan? ✔ (This is the African sun, after all!)

Snorkel? ✔ (Zanzibar is surrounded by gorgeous reefs!)

Eat tasty food? ✔ (Spicy seafood dishes are the name of the game)

Paddle ski? ✔ (All sorts of water sports are on offer)

Go yachting? ✔ (Seriously, Zanzibar offers it all!)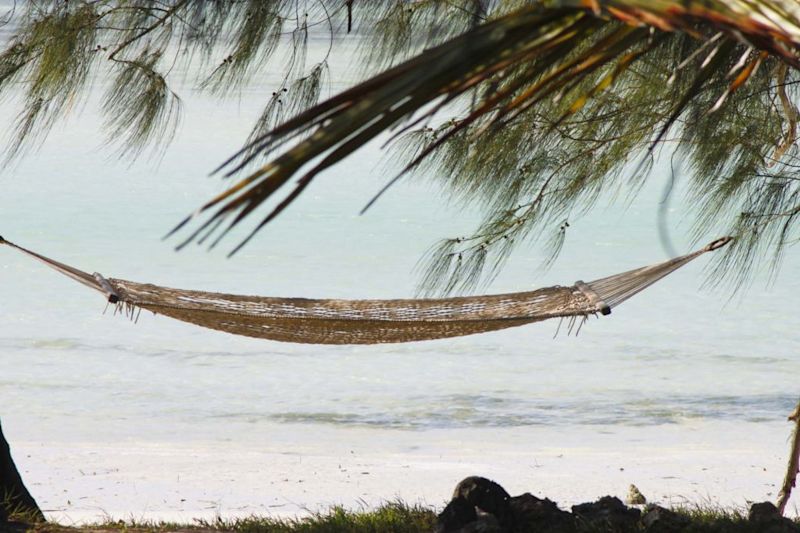 The white sands and blue waters of Zanzibar draw visitors from around the world
Stone Town
Given its strategic position on the coast of Africa, Zanzibar has a long history of trade and cultural exchange. The World Heritage Site of Stone Town, for instance, which sits on the west coast of Unguja Island, is a centuries-old town that has been beautifully preserved.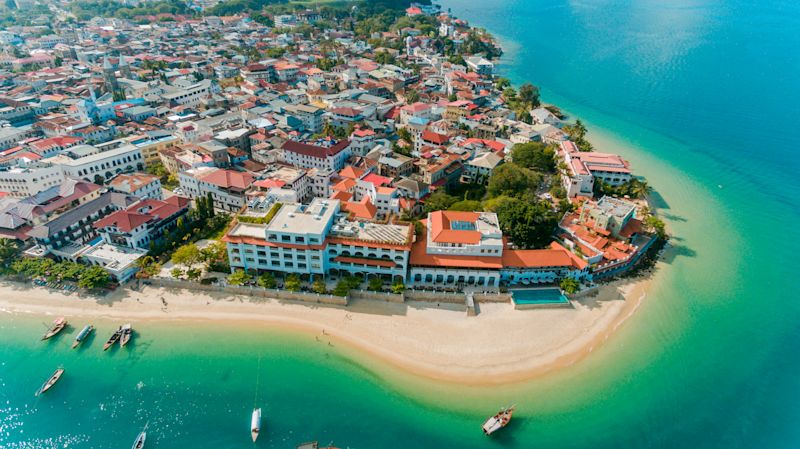 Aerial view of historic Stone Town
Exploring the narrow and winding streets of this ancient town with their heavy and embellished timber doors is an absolute must. Everywhere in Stone Town you can see the influences of diverse cultures, including Swahili, Arab, Persian, Indian and European.
The Old Fort of Stone Town is another must-see; it was built by Omani Arabs in 1699 after they successfully expelled the Portuguese.
You might also enjoy going on a spice tour, where you're taken to local spice farms and do plenty of smelling and tasting. Zanzibar is actually known as the Spice Island, and has a long history of spice growing and trading. Think cinnamon, nutmeg, turmeric, cardamom and cloves. Yum.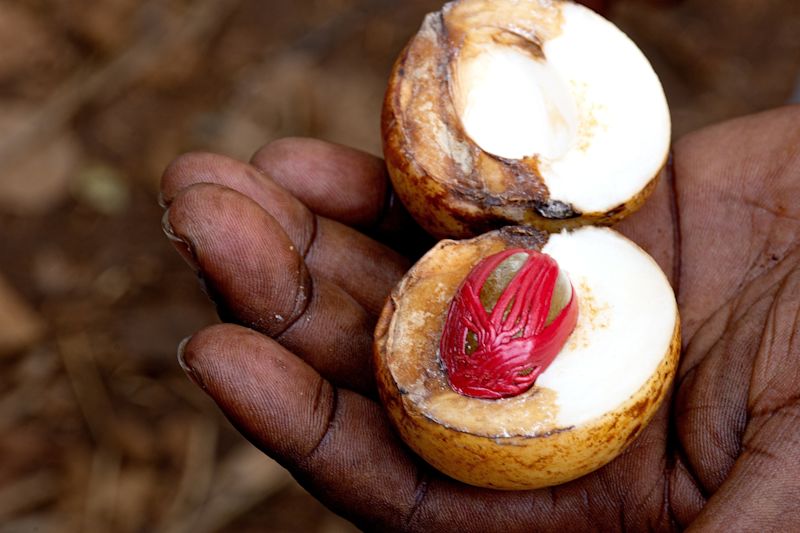 Nutmeg is one of many spices grown in Zanzibar
Zanzibar is known for its spices, so you can expect plenty of tasty food!
If you're sold on a Zanzibar holiday, read 15 truly unmissable things to do in Zanzibar.
3. Gorilla trekking
Picture yourself walking in a small group through dense rainforest high in the mountains.
You're following your trek guide, who's leading you to a gorilla troop. At times he brings out his machete to cut back the thick undergrowth so you can all continue on your way. The ground is muddy and drips of water are hovering on the large leaves hanging above your head.
Everyone is hiking quietly, eyes open to spot birds and butterflies, and the anticipation as thick as the humidity. Soon you'll be standing a few feet from a family of mountain gorillas. You'll watch these social creatures from up close as they eat, play and from one another.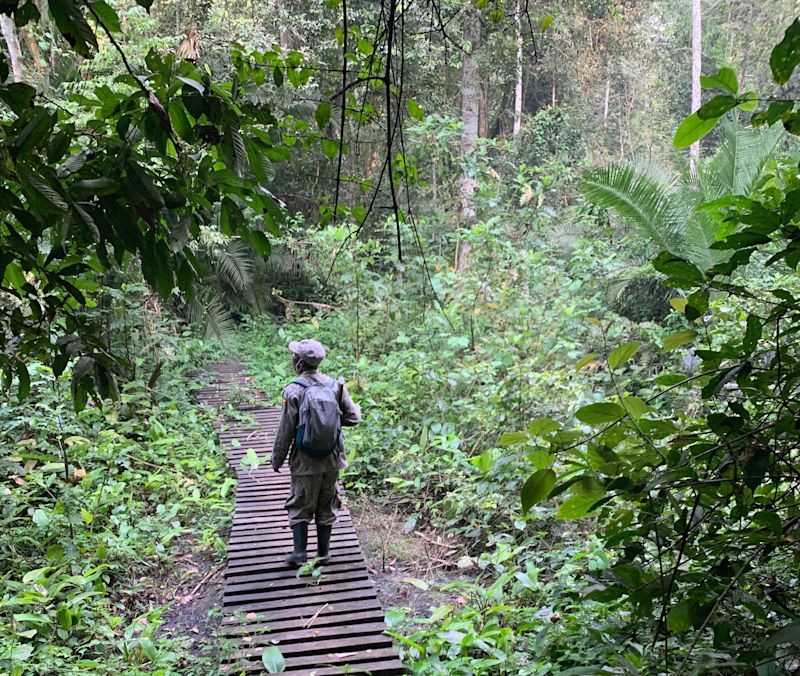 Our clients Amber and Scott snapped this pic of their gorilla trek guide
Gorilla trekking is a very popular trip with conservationists, nature and animal lovers, eco tourists, and adventure travellers. Since mountain gorillas don't live anywhere in the world outside of the forests of Central and Eastern Africa, gorilla trekking is the only way for humans to come into contact with these gentle giants. A gorilla trek usually brings visitors to within a few metres of a troop of gorillas.
Gorilla trekking brings you within metres of these beautiful creatures.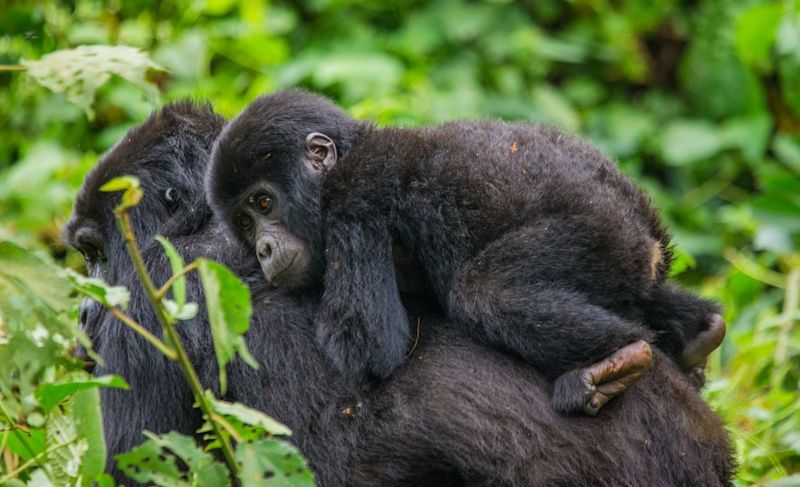 An infant gorilla riding on its mother's back
Who are these mountain gorillas?
Mountain gorillas are mostly gentle creatures. They live off a vegetarian diet of shoots, bark and fruit. They're highly social animals and live in families, known as troops, their whole lives. Male mountain gorillas are called silverbacks because of the silver fur that grows on their backs and hips from around age 12.
Mountain gorillas are an endangered species, but fortunately their numbers are on the rise. The money generated from gorilla trekking helps to secure their habitat and well-being.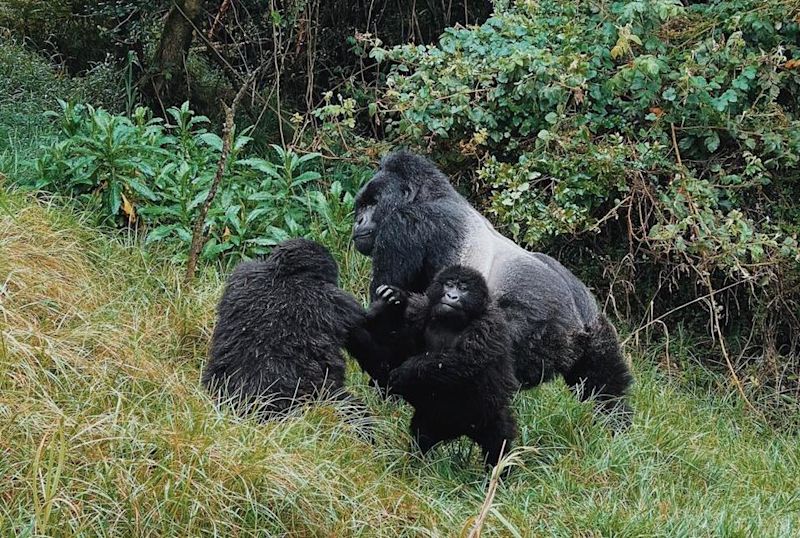 A silverback with two young gorillas
Mountain gorillas don't migrate, but instead live all year round in the forest. This is convenient for gorilla trekkers, as you can visit them any time of the year. That said, their habitat is mountain rainforest, and things can get pretty wet and slippery at certain time of the year.
The best (driest) times of the year for gorilla trekking tours are December to February and June to October. But you can learn more specifics in Best time to go gorilla trekking in Uganda.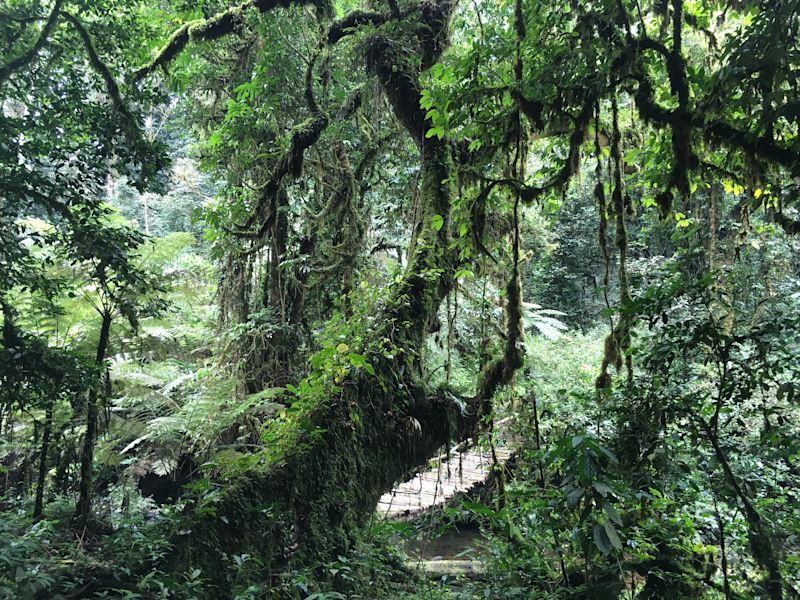 Bwindi Impenetrable National Park is home to an ancient, dense and tangled forest
Gorilla trekking Uganda versus Rwanda
There are two main countries for mountain gorilla trekking: Rwanda and Uganda. In Rwanda you can trek to see mountain gorillas in Volcanoes National Park. In Uganda you can visit mountain gorillas in Bwindi Impenetrable National Park or Mgahinga National Park. The gorilla population in Mgahinga isn't as large and steady as that of Bwindi, making the latter the better and more popular option.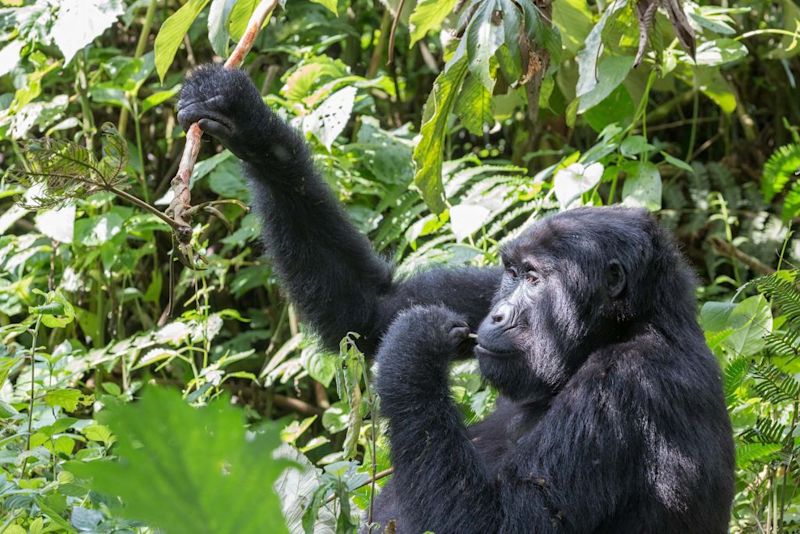 Rwanda and Uganda both have mountain gorilla populations
Bwindi Impenetrable National Park and Volcanoes National Park meet at the Uganda-Rwanda border, so each park admits you to the same forest. This means that visitors to either country are visiting the same gorilla habitat, just from different entrance points.
The decision to go gorilla trekking in Rwanda or Uganda therefore really rests on other factors, like cost and accessibility.
Follow Alice to gorilla trekking Uganda
At Follow Alice we think gorilla trekking in Uganda is the better choice, partly because the permits are far cheaper. But we explain the pros and cons to gorilla trekking in each country and the different factors to consider before choosing a destination in our blog post Gorilla trekking Uganda vs Rwanda.
There would be a youtube video here.
Sadly, the youtube player requires cookies to work.
If you check out our suggested nine-day gorilla trekking itinerary, you'll see the other great inclusions in a Follow Alice Uganda trip, like:
Going on safari in

Queen Elizabeth National Park

Canoeing in traditional dugout canoes on Lake Bunyonyi

Going on a mountain bike safari in Lake Mburo National Park

Visiting black rhinos as the Zhiwa Rhino Sanctuary
Uganda boasts the Big Five, so should you wish to go gorilla trekking and on safari, then the best thing to do after climbing Kilimanjaro might be to hop on a plane for a short flight to Kampala.
In Uganda you can go gorilla trekking and go on safari!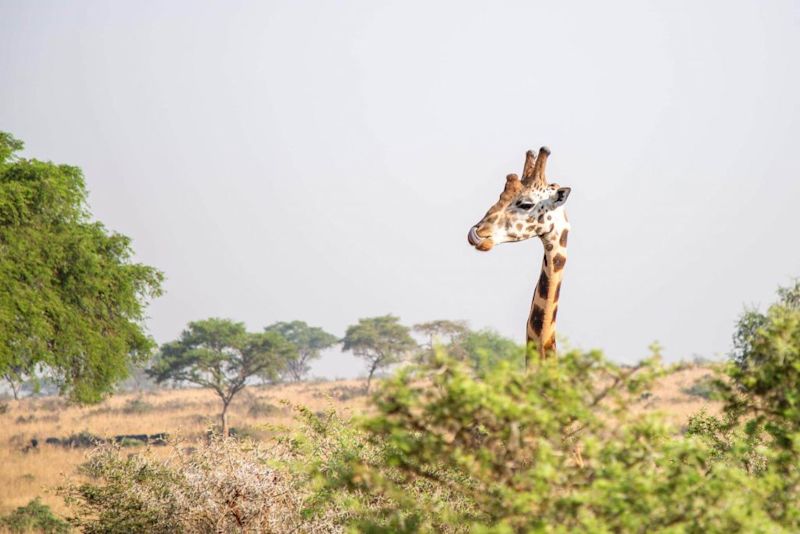 Uganda is home to mountain gorillas as well as large game
Chimpanzee trekking
If you're keen on seeing mountain gorillas in the wild, chances are you'd also love to see chimpanzees in the wild! The beautiful Kibale Forest National Park in Uganda is one of the best places in the world to see chimpanzees in their natural habitat. In Rwanda, one of the best places for chimpanzee trekking is the gorgeous Nyungwe Forest National Park.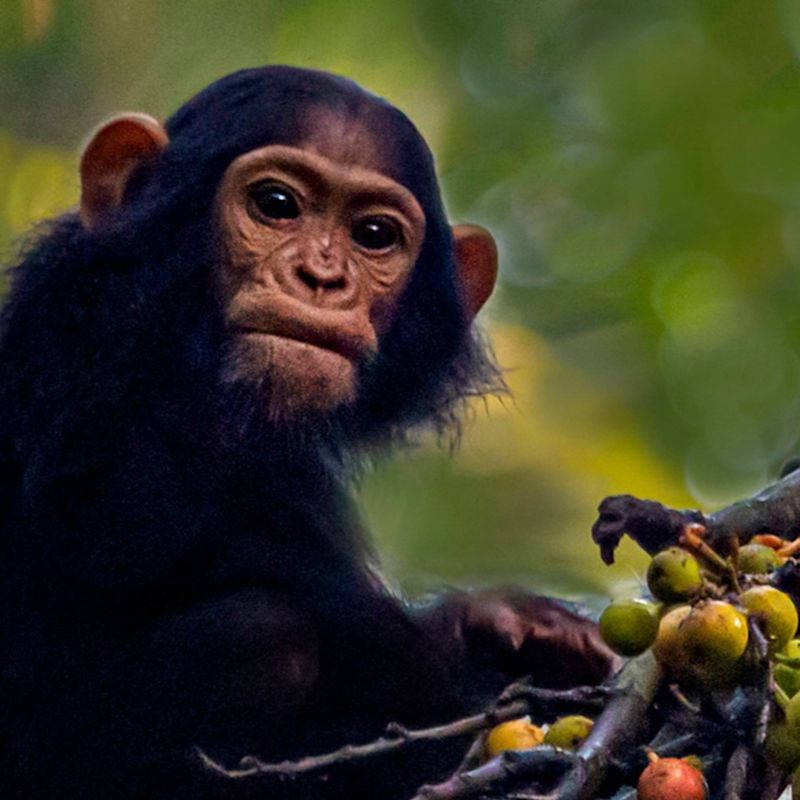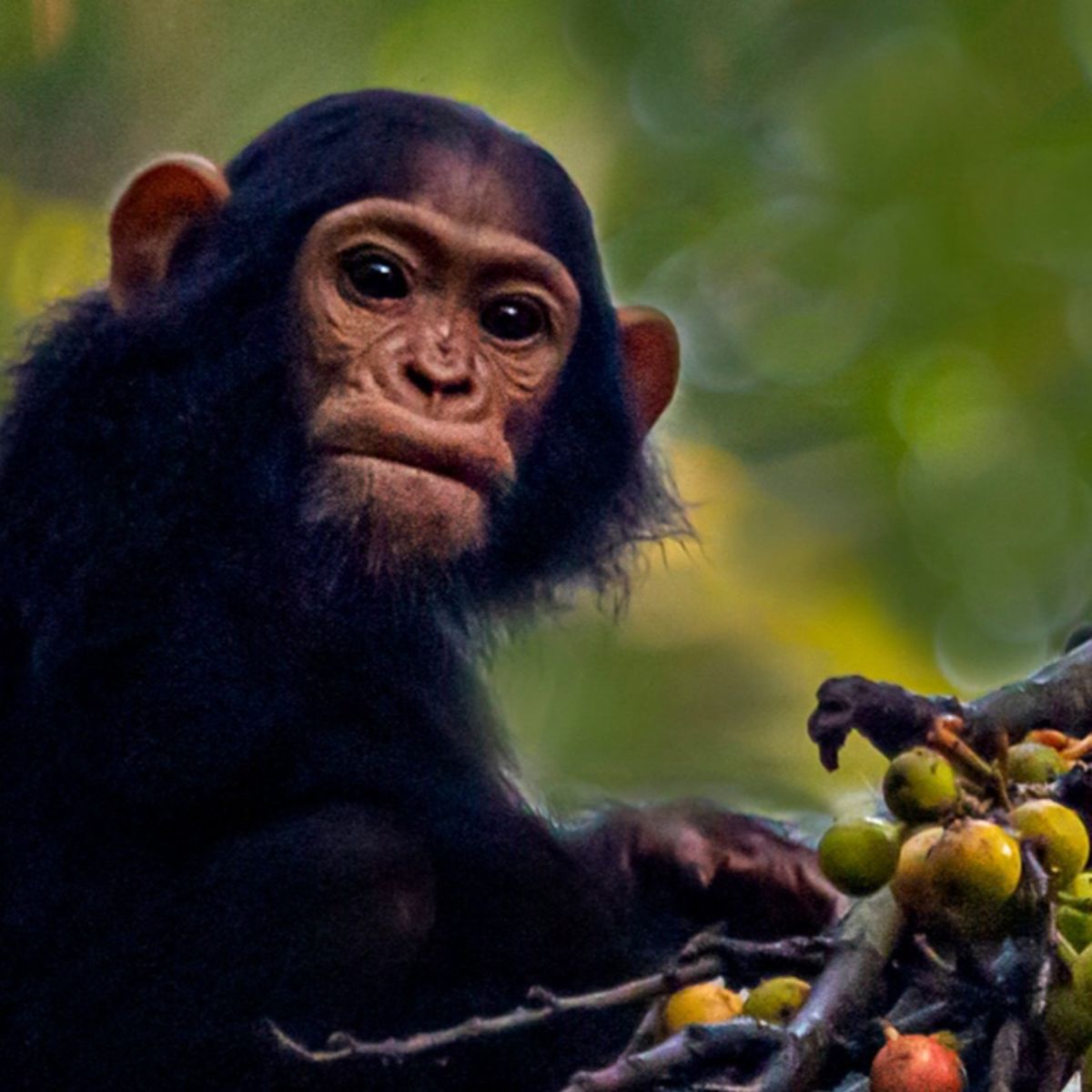 An infant chimp in Kibale Forest
Similar to gorilla trekking, in chimpanzee trekking a small group goes on a hike with trained rangers to see and spend time with a chimpanzee troop in the wild. One of the main differences between a chimp and gorilla trek is that the former live primarily in trees and the latter on the ground. This means chimps are a little harder to spot and photograph.
The best times of year for chimp trekking are the same as for gorilla trekking: November to February, and June to October. This makes it easy to take on both a gorilla trek and a chimpanzee trek in Rwanda or Uganda. Note that we include chimpanzee trekking in our gorilla trekking Uganda tour!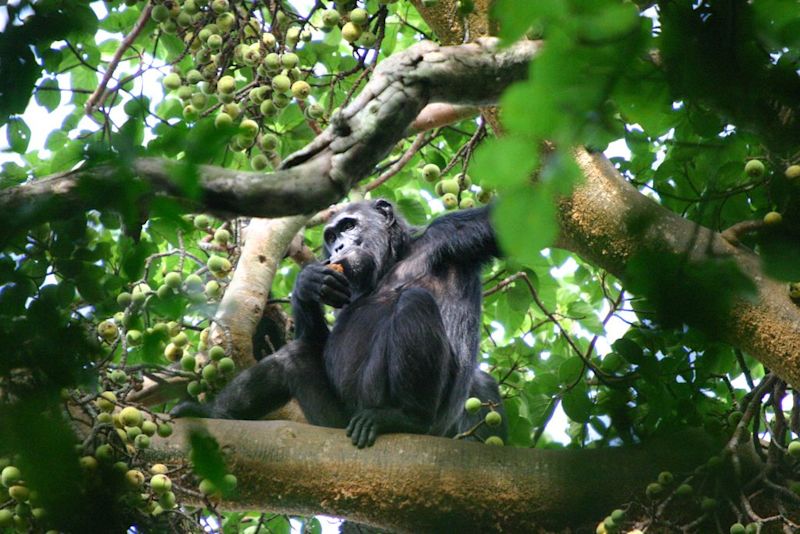 Chimpanzee trekking is popular tourist activity in both Rwanda and Uganda
So what are you thinking? Of the three best things to do after climbing Kilimanjaro – go on safari, visit Zanzibar or go gorilla trekking – has one piqued your interest the most? Or perhaps all three? Whatever you're thinking, if you'd like to find out more, please feel free to drop us a line. We're happy to share our knowledge and insights with you to help you choose just the right trip to add onto your Kilimanjaro adventure!
Let's chat!