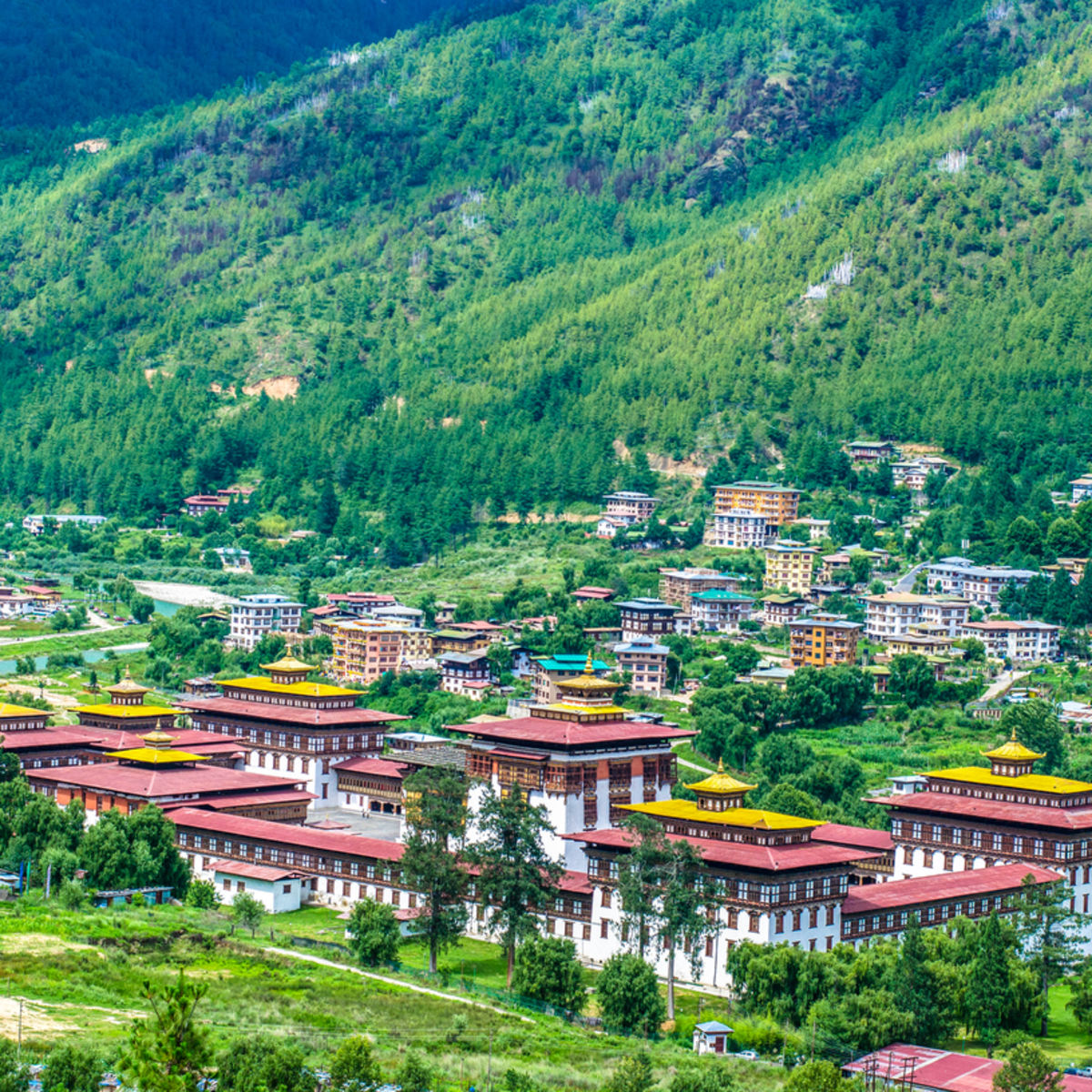 How much does it cost to travel to Bhutan in 2023?
Sep 19, 2023
Reading time: 14 minutes
From September 2022, travelling to Bhutan involves a daily visa fee of US$200. You also need about $100 a day for food and accommodation if you go budget, or above $200 a day to do it in more style. But read on for more detail and costs like entrance fees.
The trip budget. A core component to every travel planning exercise. If you wish to travel to the Land of the Thunder Dragons, you naturally want to know: how much does it cost to travel there?
Travelling to Bhutan is relatively expensive, because Bhutan is very preoccupied with sustainable tourism. They call this approach 'high value, low impact' tourism.
'High value, low impact' tourism
We're going to go out on a limb and say that you want to travel to Bhutan because you've heard about its pristine mountain environment and unique culture. Are we right?
Well, one of the core reasons for the integrity of the nation's natural and cultural heritage is that the Bhutanese have been very clever about how they implement tourism.
The Government of Bhutan has opted for a 'high value, low impact' tourism policy that limits the number of visitors that can enter the country at any given time.
This policy has protected Bhutan against the worst effects of mass tourism, like trampled nature and disrupted ecosystems. Also, by keeping tourist numbers down, Bhutan has been able to retain its character and so remain the holiday jewel we all know it to be.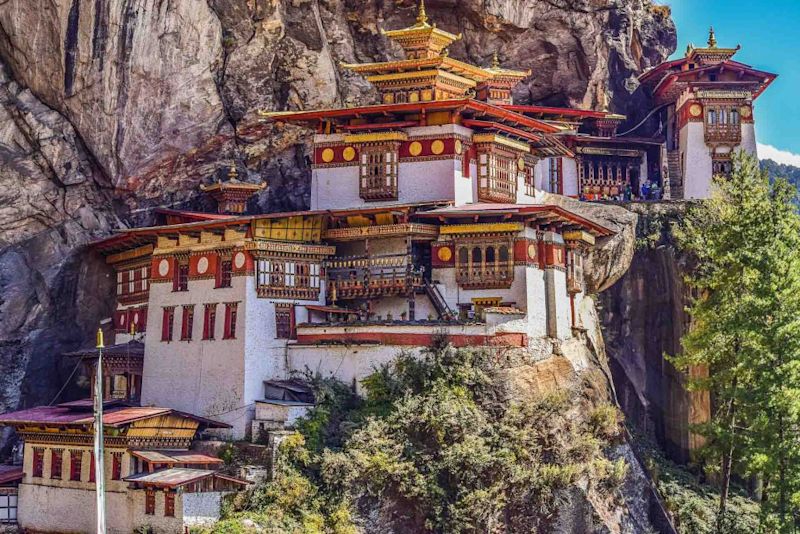 Bhutan's high value, low impact tourism policy has helped the country retain its character and pristine environment
Bhutan visa
One of the key methods of implementing the policy of high value, low impact tourism is the daily visa every tourist must purchase while in Bhutan.
As of September 2022, when Bhutan reopened its borders to tourists after a long coronavirus-related closure, the daily visa fee is 200 USD per person per night in the country. Indian nationals are exempt from this fee.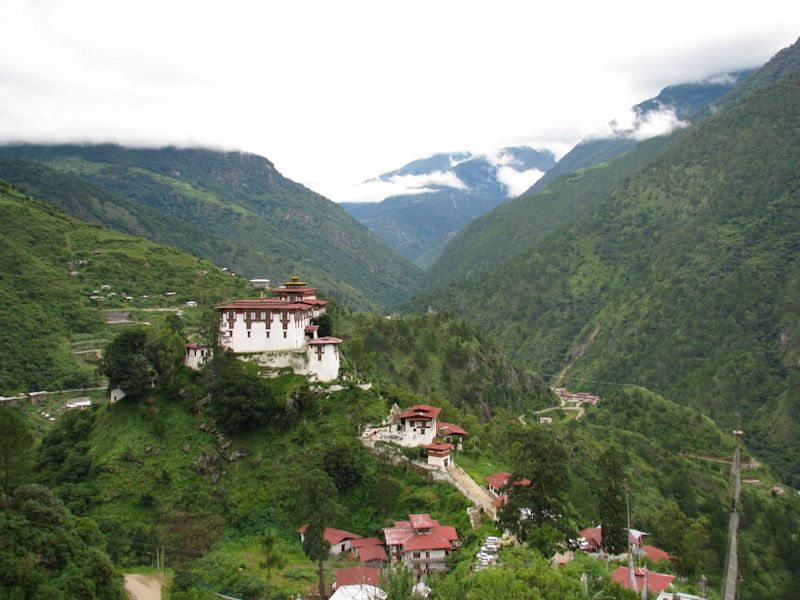 It's not cheap to visit Bhutan, but it's money very well spent!
A changed tourist visa system
For those familiar with the pre-2022 tourist visa fee system, please note that your visa fee will NO LONGER cover any of your expenses while in Bhutan.
As we discuss in A tourist visa for Bhutan now costs more (2022 update), the entirety of the new daily visa fee is to be used for sustainable development. The aim here to is to use the money from tourists' visas to help the Bhutanese Government look after its people, environment and economy.
The daily tourist fee levied by the Government of Bhutan no longer covers any of your accommodation, meals, transport, and so on. The daily visa fee is now purely a sustainable development fee.
So this is a very important change to note. In one sense, the most notable takeaway for you, as a potential tourist, is that a holiday in Bhutan will now cost you more. Though again, as mentioned above, Indian nationals aren't required to pay this sustainable development fee.
How do I obtain a Bhutan visa?
The easiest way to obtain a Bhutan tourist visa is through a registered tour operator, as the company will obtain your visa on your behalf. If travelling independently, ask your travel agent to secure you a visa. Note that there is a visa application fee of 40 USD per person.
Please note that you must secure a visa before entering Bhutan.
Note that you must obtain a Bhutan visa before you'll be allowed to fly into the country. You'll receive a visa clearance letter that you present at immigration when you land at Paro International Airport.
A tour guide
There has been some confusion of late as to whether or not you can now travel in Bhutan without a tour guide. As of September 2023, you do need to have a tour guide to be allowed to travel within Bhutan.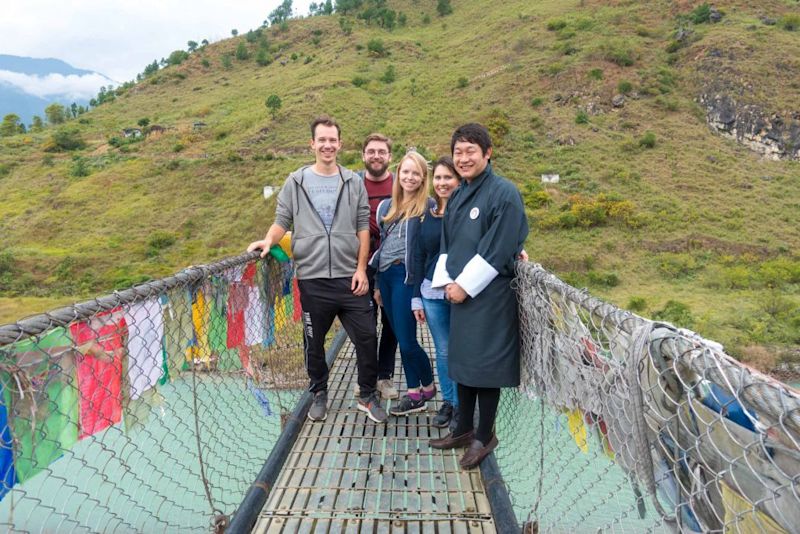 A local tour guide is still compulsory on a Bhutan holiday
At Follow Alice, we believe that using local guides is a really good thing. Firstly, it's important that tourists' money create jobs for locals. (Long live sustainable tourism. 💪🏾) And secondly, a tour guide offers many benefits to the traveller, such as:
Keeping you safe.

Keeping you safe from offensive faux pas.

Being someone local whom you get to know well and have meaningful conversations with.

Removing any possible stresses to do with admin and navigation.

Translating things for you and facilitating engagements with other locals.

Ensuring you don't miss out on special places and lesser-known experiences!
We discuss the many ways tour guides are a blessing in 12 reasons why good tour guides are so important.
Passang, seen here taking the group pic, is a Bhutanese tour guide
Tour guide prices vary. If you travel with a tour operator, the tour guide's fee will be included in your package fee. So you likely won't know what precise sum goes to the local guide unless you ask for a price breakdown.
Note that the minimum monthly wage in Bhutan is just under 50 USD (or 3,750 Bhutanese ngultrum – BTN). The Bhutanese Government is pretty good in terms of providing oversight to ensure employees of the tourism sector are being properly looked after. So you shouldn't come across any tour companies that are being dodgy around the compensation of their guides.
Accommodation
Accommodation is one of the biggest items in any holiday budget. So this is a figure you want to calculate as accurately as possible.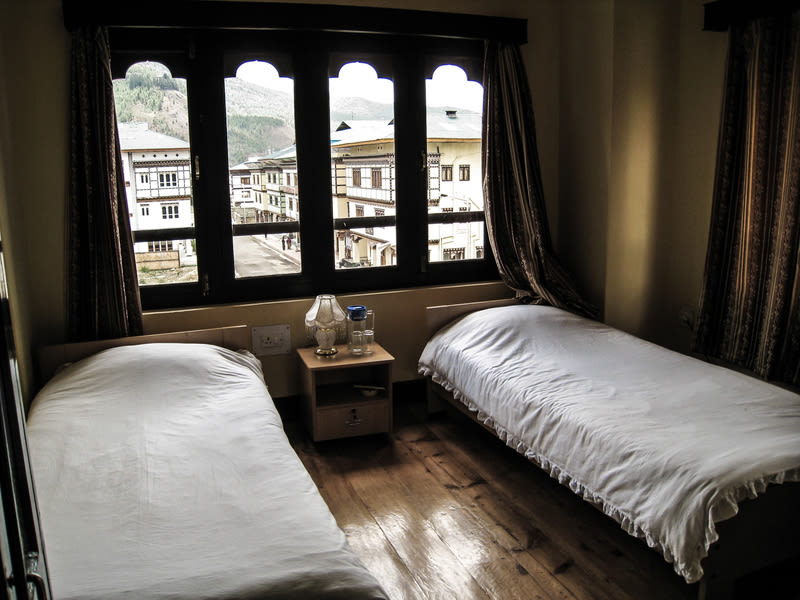 Example of a simple, 3-star hotel bedroom in Paro
There are many three-, four- and five-star establishments in the country, and prices can vary wildly from one to the next within the same rating. For instance ...
A standard double room in a

3-star hotel

in the city of Thimphu in November (peak season) can cost anywhere from around 40-80 USD (taxes and fees included).

A standard double room in a

4-star hotel

in the city of Thimphu at the same time of year generally costs anywhere from 90 to 250 USD (taxes and fees included). That's a huge range!

As to a

five-star hotel

... well, if you're looking into that, you're probably not going to be reading a blog post about costs. 😉
So really, there's a wide range of accommodation in terms of both smartness and cost. Of course you should also look for specials and discounts, as these can make all the difference.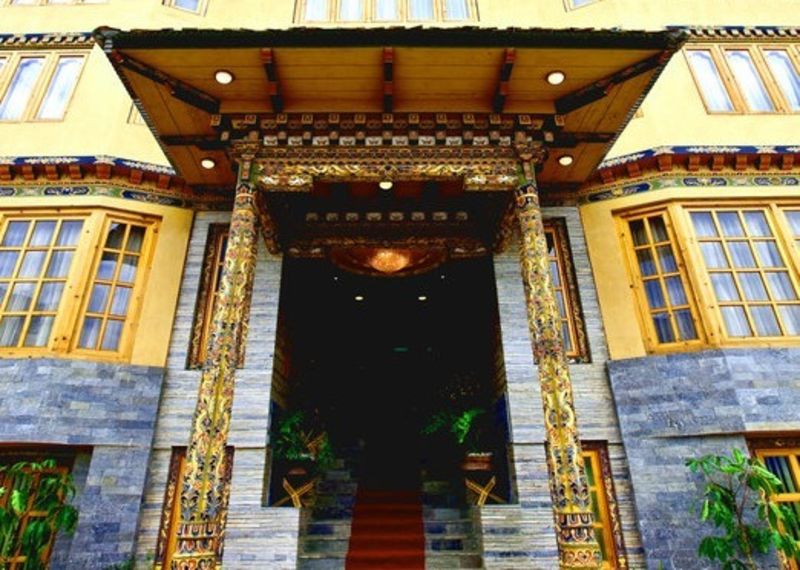 The gorgeous entrance to Namgay Heritage Hotel in Thimphu
Finally, note that if you head to less-visited parts of the country, like the east and south, you can expect cheaper accommodation there.
If you go on a multiday trek like the Laya trek or Jomolhari trek, your accommodation (tents) will be included in your trekking package fee (which will also likely include meals, a cook, a porter, and your trek guide).
Food and drink
Here are the prices of some basic items and meals in Thimphu to help you plan your budget:
| Item | Price |
| --- | --- |
| A 330 ml still water | 15 BTN (20c USD) |
| A 330 ml Coke | 30 BTN (40c USD) |
| A regular cappuccino | 85 BTN (1 USD) |
| A 330 ml imported beer | 250 BTN (3 USD) |
| A bottle of mid-range wine | 250 BTN (3 USD) |
| A fastfood cheeseburger | 70 BTN (85c USD) |
| A meal in a cheap restaurant | 180-200 BTN (2.20-2.50 USD) pp |
| A meal in a smarter restaurant | 250-400 BTN (3-5 USD) pp |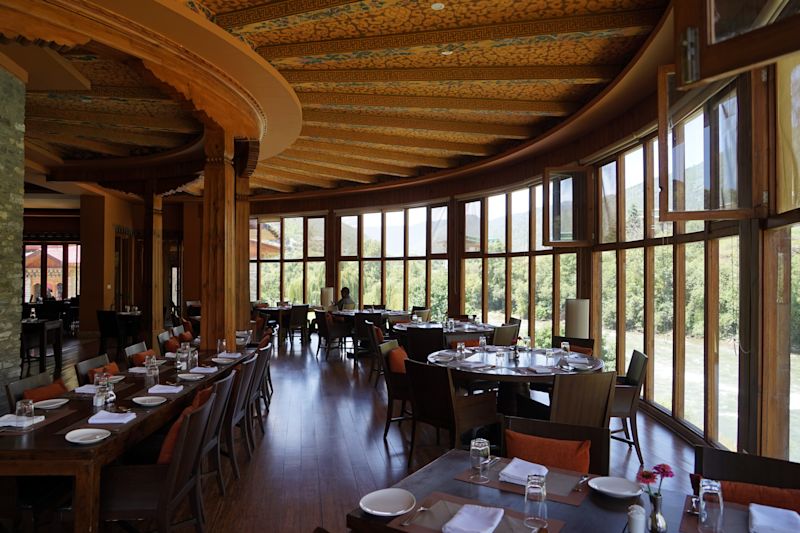 The restaurant at Terma Linca Resort & Spa in Thimphu
A vehicle and driver
The best and easiest way to get around Bhutan outside of the cities and towns is by car. Bhutan has no trains. There are very few internal flights. And while public buses are available in certain districts, they're generally overcrowded and uncomfortable.
It used to be that a vehicle, petrol (fuel) and the services of a driver were part and parcel of the Bhutan daily visa. Now, however, hiring a car will be an added expense. And if you want a driver, that will be a further expense too.
While you can drive yourself in Bhutan (provided you have a valid driver's licence), there's a lot of value to hiring the services of a driver if you can. Most obviously, you can simply say where you'd like to go and be taken there, instead of trying to read a map or using your GPS (and then bickering over who is to blame when you land up in a cul de sac in a misty forest).
Entrance fees
You can expect to pay an entrance fee to visit museums, monasteries, palaces, memorials and other such sites in Bhutan. If you wish to attend a Bhutanese tschechu (festival) – and if you're smart, you wish to indeed! – you'll also need to pay an admittance fee.
As of July 2022, most sacred sites now carry an entrance fee of 1,000 BTN (~12.50 USD) per person. These sacred sites include the country's many dzongs (fortress temples) as well as the famous Buddha Dordenma in Thimphu.
Taktsang (or Tiger's Nest Monastery) – Bhutan's most famous dzong – is an exception to the rule, costing 2,000 BTN (~25 USD) per person.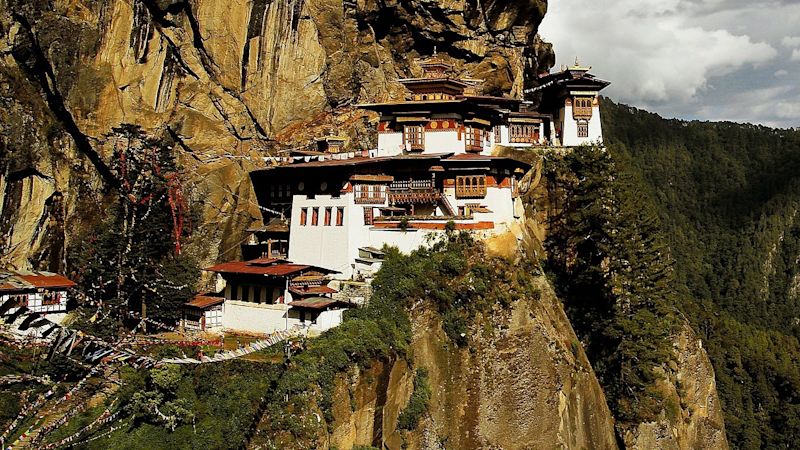 Bhutan's iconic Tiger's Nest Monastery
If you visit Bhutan with a tour operator, your tour guide will organise and pay for entrance fees on your behalf.
Finally, note that there are now six days in the year (national holidays) when many popular tourist sites will be closed to foreigners. This is because locals will be visiting in large numbers for celebrations. These dates are determined each year by the lunar calendar. So it's best to speak with your tour operator ahead of time to see if your visit will coincide with any such closures for tourists.
Adventure activities
As you can see in our Bhutan itineraries, this is a country designed for adventure!
You can go for a multiday trek in the Himalayas, or keep it smaller by opting to go:
white-water rafting (there are Class II to V rapids)

kayaking

cycling

mountain biking

hiking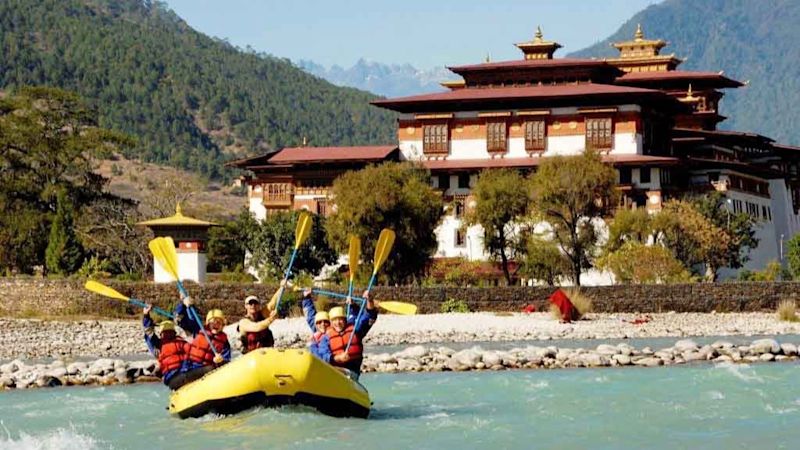 Rafting on the Mo River in Punakha
You can hire a quality mountain bike for the day for around 35 USD. For a rafting trip on the Mo, Po or Manas Rivers, you're looking at 250 USD per raft (which can take up to six people).
Please do note that prices for services in Bhutan are likely to change over the coming year or so in light of the overhaul currently taking place within the tourism industry.
Travel insurance
Something you'll need to sort out yourself is your travel insurance.
Travel insurance is an absolute must whenever travelling outside your own country. If you travel with Follow Alice, it's a compulsory purchase. Be sure to factor this important item into your Bhutan travel budget.
When taking out travel insurance, we advise choosing one that offers cover for all of the following:
Delayed, cancelled or interrupted travel.

Medical insurance.

Lost or damaged luggage.
We give a few details about each item below ...
Delayed, cancelled or interrupted travel
Delayed travel covers things outside of your control like a traffic jam preventing you from reaching the airport on time, a mechanical issue with your plane, or severe weather preventing the plane from reaching its destination. Given bad weather is a part of the Himalaya vibe, this is an important aspect to cover. Delayed travel also covers missed connections that are out of your control.
Trip cancellation covers having to abort your trip beforehand for reasons such as injury, illness, severe weather, or a natural disaster or terrorist attack at your destination.
Trip interruption covers the costs involved when you have to abort your trip post departure, for any of the same reasons listed for trip cancellation. Both trip cancellation and trip interruption should also cover having to cancel or abort a trip as a consequence of illness or injury of a travel companion or family member.
Medical insurance
Regular medical aids don't cover medical expenses incurred outside of your own country. This is why medical insurance is a critical component of any traveller's insurance. Proper medical insurance covers medical emergencies as well as medical evacuation. This means that should you fall ill or be injured, your insurance will pay for all hospitalisation and doctor fees as well as all transportation to and from hospital (including ambulance services) and to get you back home.
Lost or damaged luggage
The cover for lost or damaged luggage is important. Should your luggage go missing en route to Bhutan, you could use the insurance money to gather together what's needed in Paro. You can then continue on with your trip without having to wear the same smelly pair of socks every day.
Recommended cover
We recommend that you cover yourself to the tune of at least 200,000 USD for each of the above categories of insurance (save luggage).
We at Follow Alice often take out travel insurance with our partner World Nomads. They offer comprehensive yet affordable insurance. Whichever travel insurance you choose, we'll require you to send us the details of your policy before your arrival in Bhutan.
Note that many credit cards offer free, automatic travel insurance when you book your flights with them, so do look into this. The cover usually isn't enough on its own, but it's a useful extra. Also, pay special attention to exactly what is and isn't covered by your credit card. This is to ensure your independent traveller's insurance covers all gaps and shortfalls.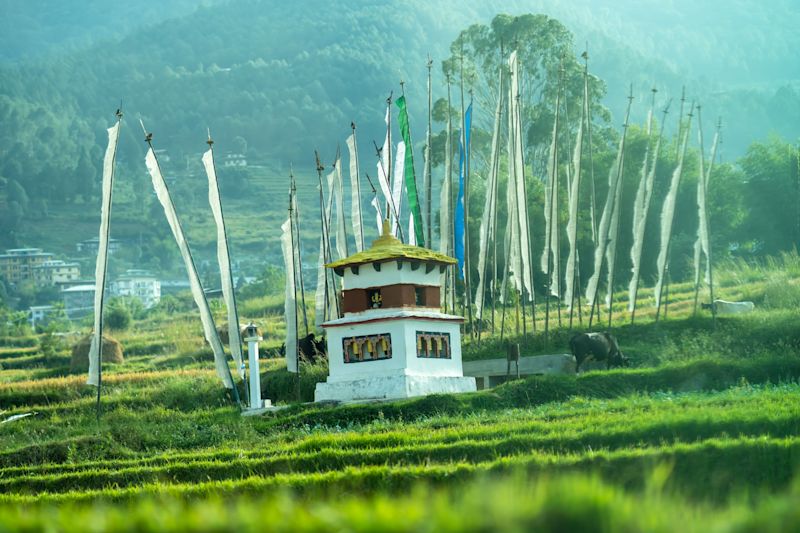 We don't ever advise exploring a new country without comprehensive travel insurance
Tipping
Tipping isn't compulsory in Bhutan, though it's appreciated.
If you go with a tour guide and driver, please budget for tipping them at the end. If you're happy with the service received, then 10 USD per day for your tour guide is a good figure, and we recommend 6 USD per day for your driver.
If you go trekking in Bhutan, then tipping your support staff (like your guide, cook and porter/horseman) is also an appreciated gesture. Around 8 to 10 USD for your guide per day is a good rule of thumb if you decide to budget for tipping. Consider 5 to 8 USD per day for your other support staff.
Sundries
Consider bringing along a little extra cash to buy souvenirs and other local items. The Bhutanese are renowned for their beautiful handwoven textiles, for instance, and you might wish to pad your luggage with a gorgeous silk wrap or stylish gho (long robe).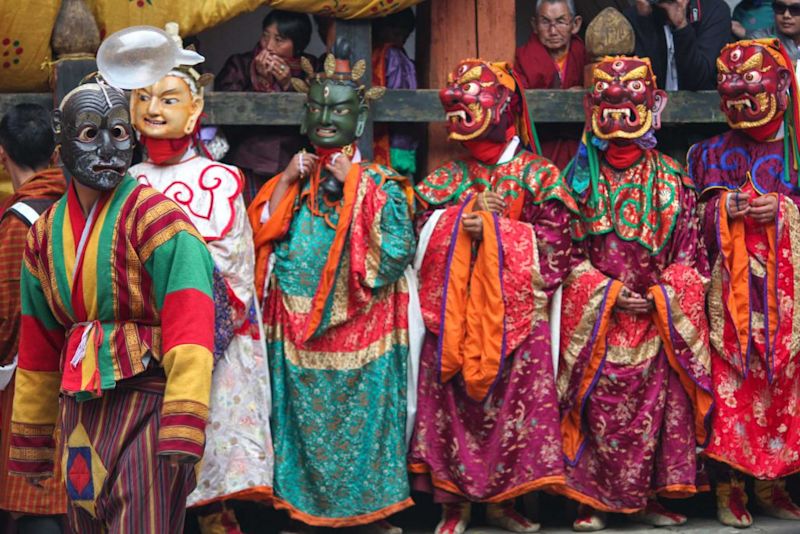 The Bhutanese make gorgeous, high-quality handwoven textiles
Bhutan currency
The currency in Bhutan is the Bhutanese Ngultrum (BTN). It's set to trade at the same value as the Indian rupee. As of August 2023, 1 USD buys you around 83 BTN, and €1 buys you around 91 BTN.
In Bhutan, the currency is the Bhutanese Ngultrum.
Should you want to draw cash while in Bhutan, you'll find ATMs in all of the major towns.
SIM cards and eSIM accounts
The cheapest way to stay connected while in Bhutan is to buy a local SIM card or buy a data package through an eSIM app.
You can purchase a special, short validity traditional tourist SIM card when you land in Paro for 200 BTN. Just note that you'll need to fill in a form and the seller will want to photocopy your passport photo. Your tour guide will help you with this if you have one and would like assistance. You can then buy 1 GB of data for as little as 150 BTN (that's less than 1 USD or 1 euro).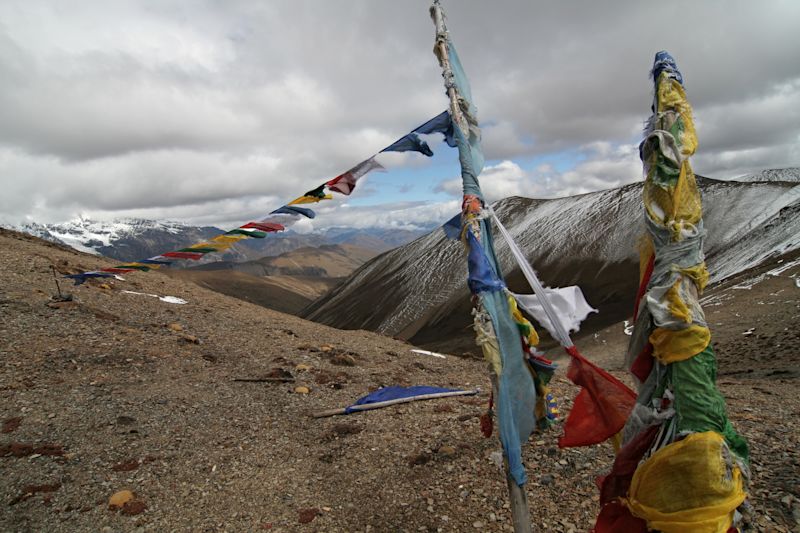 Don't expect the same level of cell service throughout Bhutan!
A more expensive option (though still far cheaper than using roaming) is to use an eSIM. This is a virtual SIM card that you can acquire before heading off on your trip and doesn't require a registration process within the visited country.
If you're unfamiliar with how eSIMs work and wish to know more, please read Why you should use an eSIM on your next trip instead of buying a SIM card.
eSIM costs vary depending on the provider you choose. But with Airalo, for instance, which is the current world leader in eSIM services, you can expect to pay around 5 USD for 1 GB of data for a week.
So ... ready to plan a Bhutan adventure?
We can help! Take a look at our suggested Discover Bhutan itinerary. And please feel free to contact us to ask any questions you might have – we're here to help!