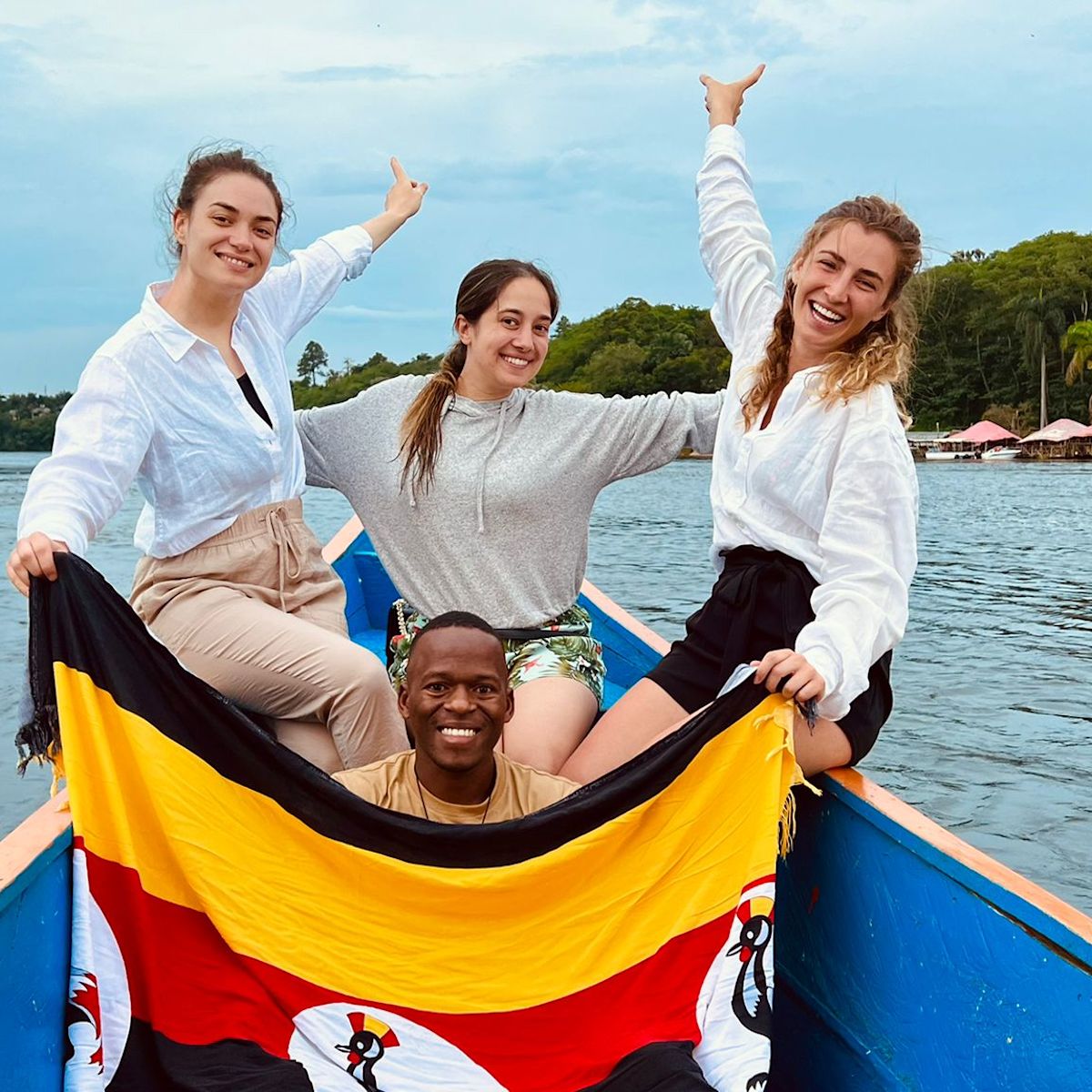 12 reasons why good tour guides are so important
Oct 27, 2023
Reading time: 9 minutes
Ah, the tour guide. That special person who welcomes you to their country and looks after you, ensuring you have a fabulous trip! But how and why exactly are they a great addition to a trip? We enumerate ...
1. Tour guides navigate for you
Wondering if you've missed your bus connection is frustrating. So too is getting off at the wrong stop. And fuming at a loss of signal at the very moment you need your app to tell you which exit to take ... nobody needs that.
So yes, primary among the benefits of a tour guide is having someone to do all the navigating for you.
Navigating can include:
Getting your from the airport to your hotel without hiccough.

Leading you through the warren of streets in an old town.

Taking the lead on a trek so you don't go in a circle.

Even just ensuring you find your way out of that enormous botanic garden.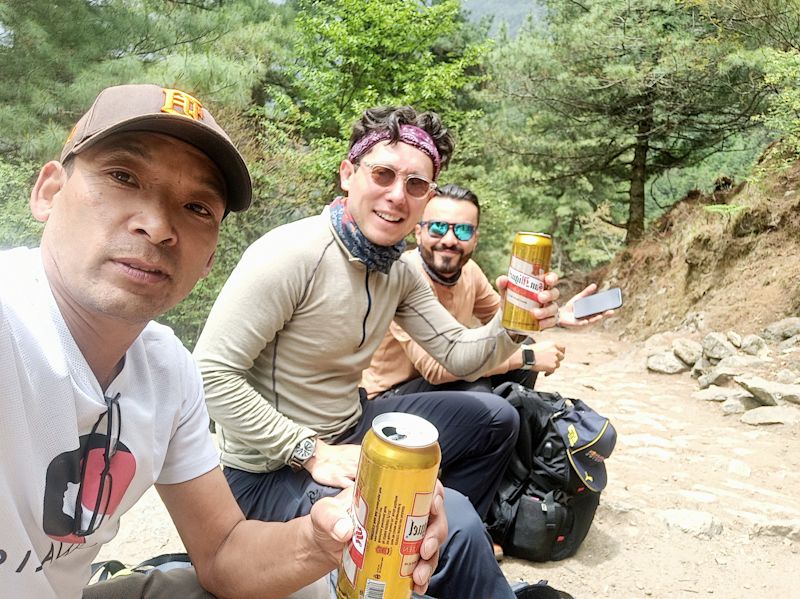 Some of our trekkers with their selfie-taking guide Angelu on the EBC trek
Navigating can include driving you
A tour guide also often drives you around. Or in some cases, they'll acquire a vehicle and driver for you.
This is a big help, saving your from the hassle of a car hire. You also won't have any heart-stopping moments when you pull out and realise you're facing oncoming traffic. And you won't ever come back to your vehicle to discover you didn't feed a hidden parking meter.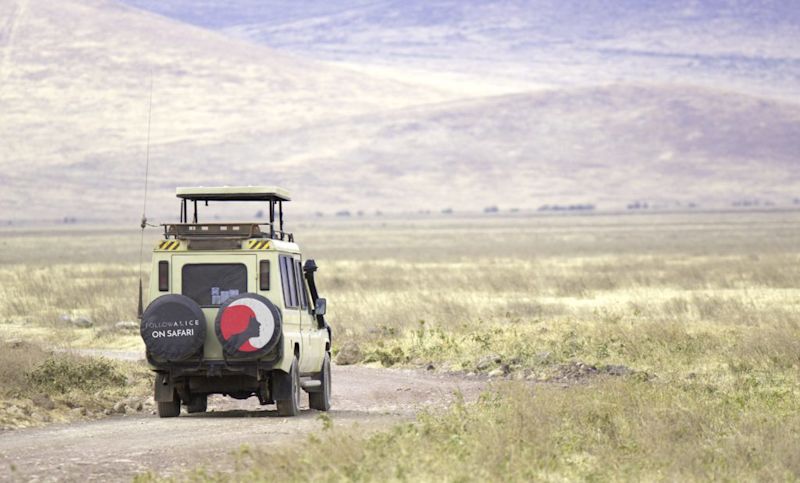 On safari, your tour guide is also your driver
2. Tour guides do your admin for you
This is a biggie. Tour guides take care of all of your admin for you, like:
Preordering permits and pre-booking accommodation.

Paying admittance fees beforehand, saving you the need to queue.

Coordinating travel times for buses, trains, flights, etc.

Overseeing the transfer of luggage.

Ordering and collecting packed lunches, drinking water and the like.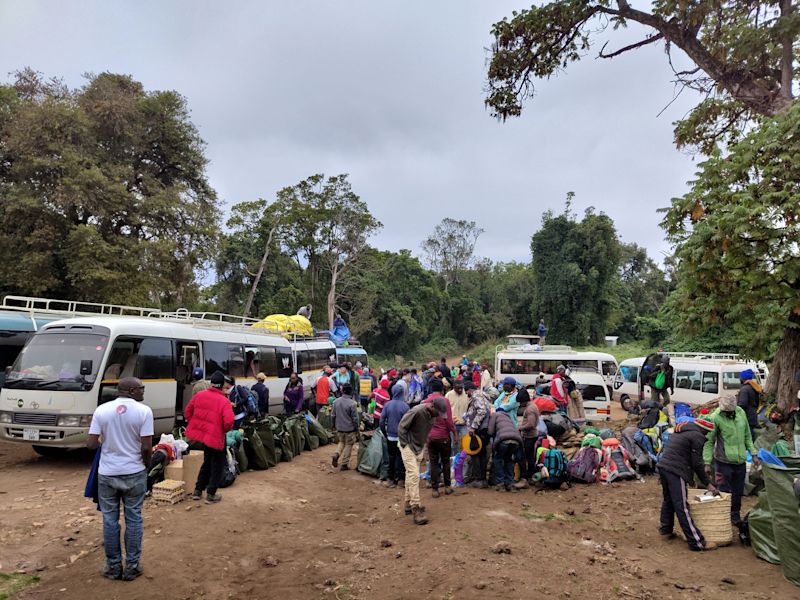 Some of our trips, like Kilimanjaro climbs, involve a LOT of admin!
3. Tour guides keep you safe
If safety was the only benefit of a tour guide, we think it would be enough for us to be super pro tour guides! A tour guide looks after you from arrival to departure.
It's worth pointing out that at Follow Alice we believe tour guides should be locals. One of the reasons for this (although there are certainly others as well) is that only locals can truly know the do's and don'ts of their society and environments in order to keep you safe.
Local tour guides are there with you to ensure:
You don't go into any dangerous areas.

You're not accosted by overly zealous vendors.

Your belongings are kept safe.

You don't get bamboozled by shysters.

You don't pick a poisonous plant, or pet a treacherous animal.
The list could go on.
Tour guides also ensure you don't get 'little things' wrong, like wearing sandals on a day when they know you need closed, sturdy shoes.
Adventure tour guides are especially important
The adventure tour guide offers a whole other level of safety and security. Whether it's guiding you safely through islands on a kayaking adventure, or leading you through thick forest on a trekking trip, they're there to ensure you:
Set out with the right clobber to protect you from the elements.

Stay on path and don't get lost.

Don't push yourself too hard (sometimes by monitoring your vitals).

Receive timely and appropriate treatment (medical or otherwise) should you need it.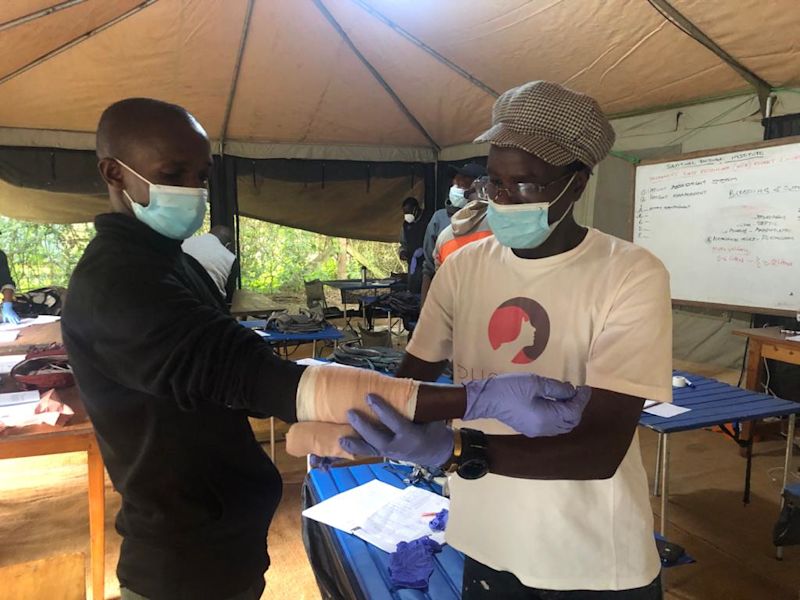 Chris, our Tanzania local leader, doing his refresher mountain first aid course
It's impossible to overstate the value of a tour guide in keeping you safe, especially on an adventure trip.
4. Tour guides are interpreters
A tour guide speaks the language of the locals, and as such is your ever-present translator. Without a tour guide, you wouldn't be able to communicate with some locals. You'd also miss out on many interesting insights and some beautiful moments of connection.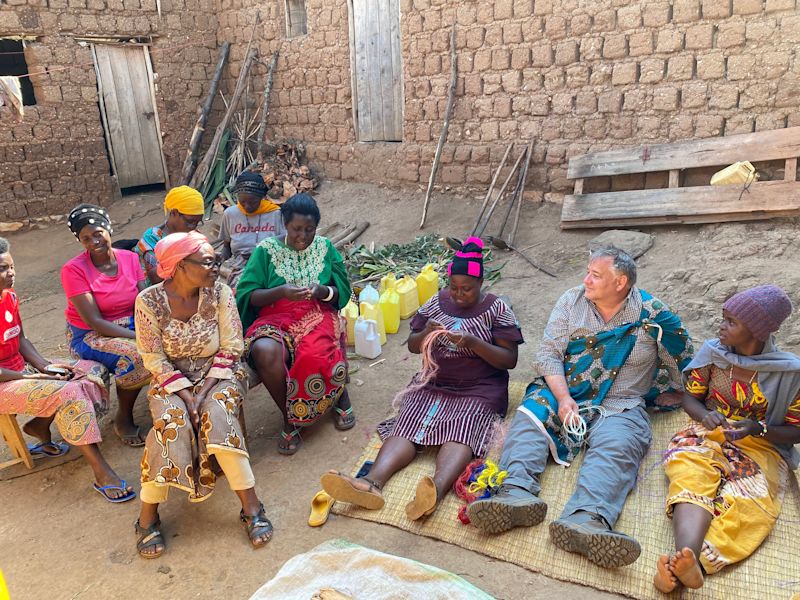 Brad and Rebecca opted to do a homestay in Rwanda through Azizi Life
Remember to always ask before taking photos of locals; your tour guide can assist in this to ensure nothing is lost in translation.
5. Good tour guides explain things to you
It's easy to find out the name of the bridge you're walking over. But do you want to know why it's called that? And yes, you can take a pic of a gorgeous tree and use an app to tell you it's name. But do you want someone there to explain why, for instance, the bark is stripped away near the base?
Tour guides are there to answer your questions, and also supply answers to questions you hadn't even thought to ask!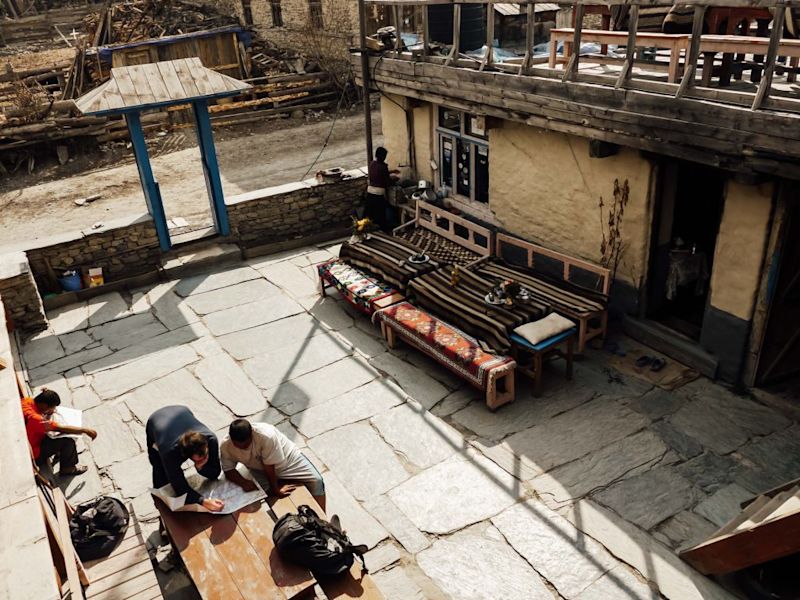 An Annapurna Circuit trek guide explaining tomorrow's route
Tour guides have intimate knowledge of the area and can drop all sorts of fabulous knowledge bombs.
Tour guides also give you insights into how locals feel about what's going on in their country and around the world. So from them you get to learn about some truly local perspectives. And we all know that logic isn't universal – what seems logical to one culture can be very different in another, and it helps to have a guide with you to illuminate such things.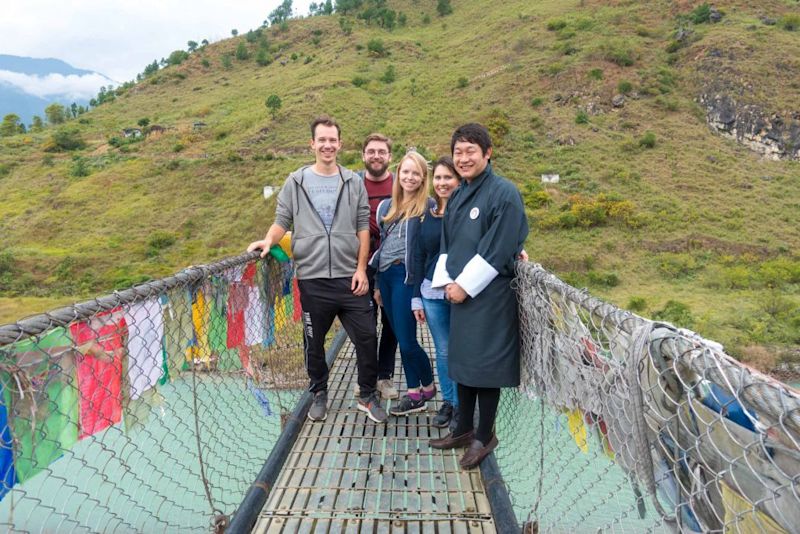 A Follow Alice group with their Bhutanese tour guide
Finally, tour guides are there to ensure you don't blunder unnecessarily in terms of local customs and sensitivities. They can also advise you ahead of time if you need to dress smartly or cover up in order to enter certain places.
6. Good tour guides get you good deals
When you travel with a tour guide, they (and the tour company they work for) are able to get you the best deals. They know which days have cheaper admittance fees, for instance. They can also sometimes get tour guide discounts that aren't available to tourists.
Finally, when you join a tour guide who's leading a large group, they're often able to get some sweet group discounts.
7. Good tour guides are photographers
Sometimes it's great to hand the camera to someone else to take a photo with you in it. 📸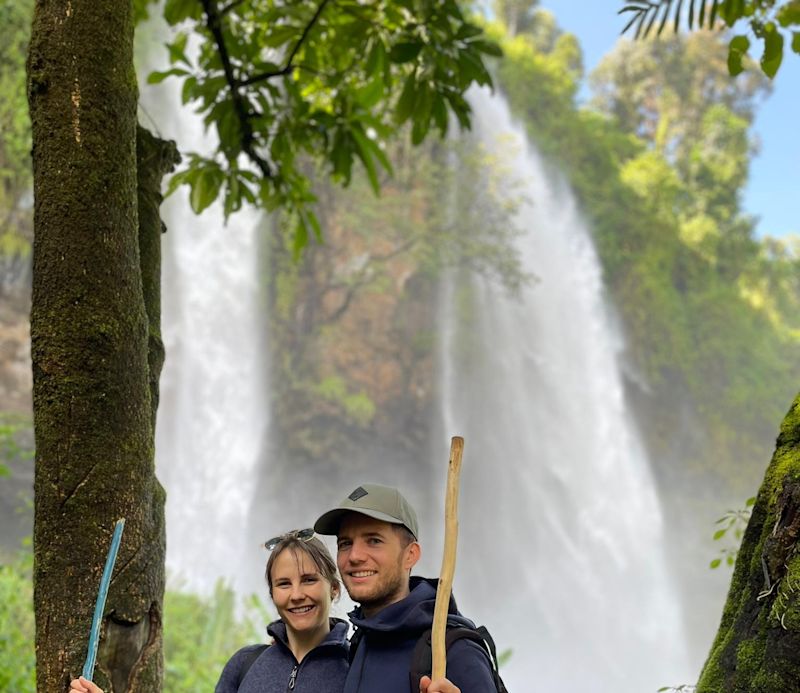 They can take a snap for you ...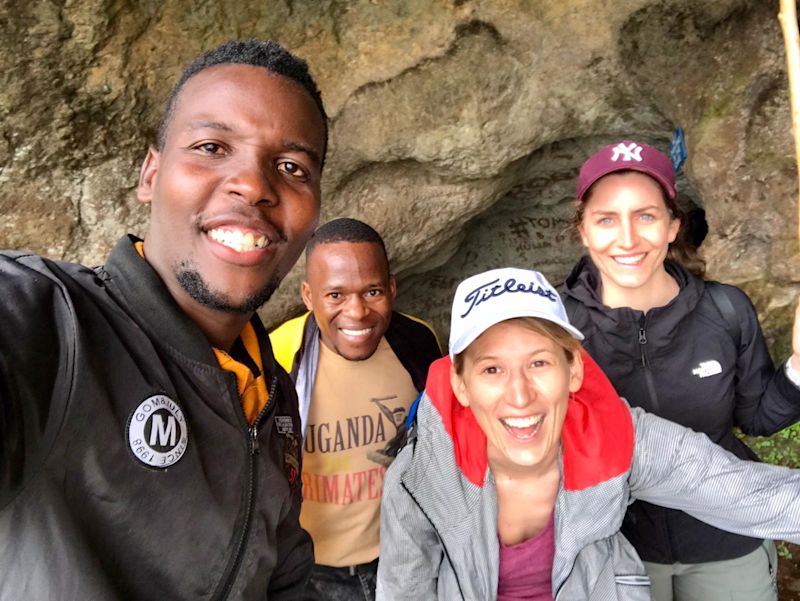 ... or a selfie with all of you in it!
8. Good tour guides encourage you
On tough adventures like high-altitude trekking, most of us end up in need of some encouragement when the legs tire and the mind starts to tell you sneaky lies like you can't keep going. Your guide is invaluable is encouraging you in such moments. They can also provide little tips for the mind and body to help you to keep going.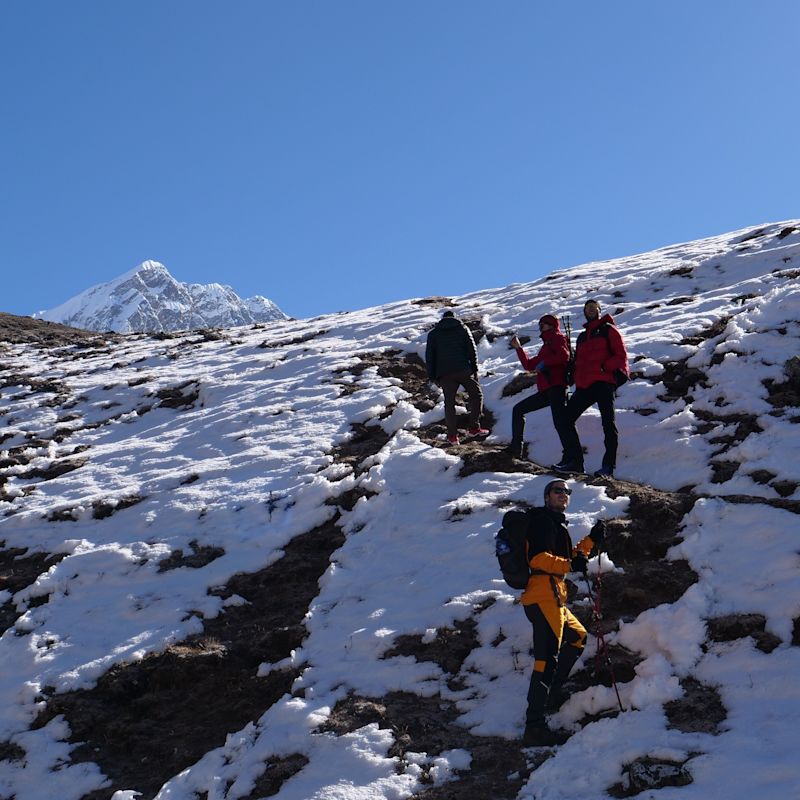 One of our groups tackling the tough Kala Patthar near Everest Base Camp
A good tour guide believes in you and knows how to help you to believe in yourself.
We can't tell you how many folks have told us that they would literally not have made it to the summit of Kilimanjaro if it hadn't been for the support of their guides.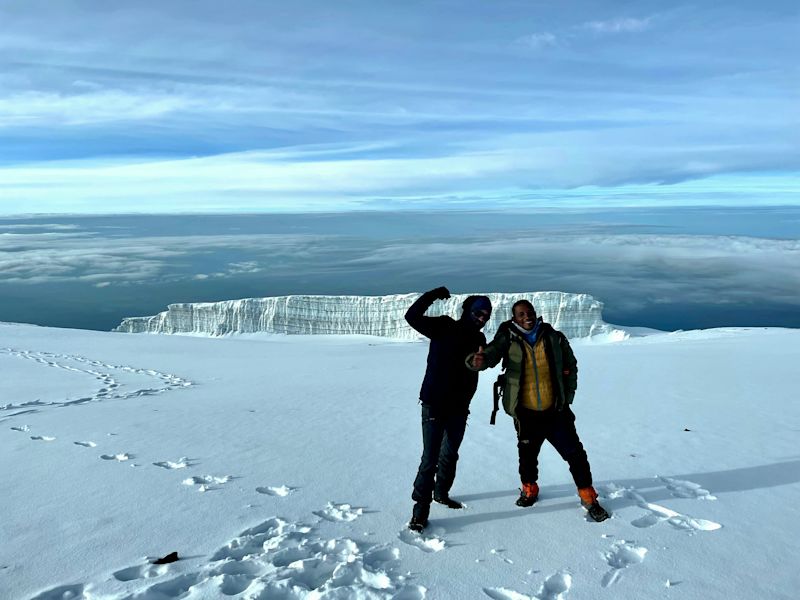 Our client George K. took this fab pic of two of his Kilimanjaro crew members
9. Good tour guides ensure you miss nothing
A tour guide knows the area intimately and knows of people, quiet spots and experiences that aren't discussed on any website. They're there to ensure you get the most out of your time, and have the most authentic experience possible.
Dean with his safari guide Heri on a walk near Lake Natron
This includes seeing animals!
Safari guides are trained to spot hard-to-see animals that city-dwelling mortals would surely miss. It's amazing the number of camouflaged animals and birds that safari guides are able to point out to clients.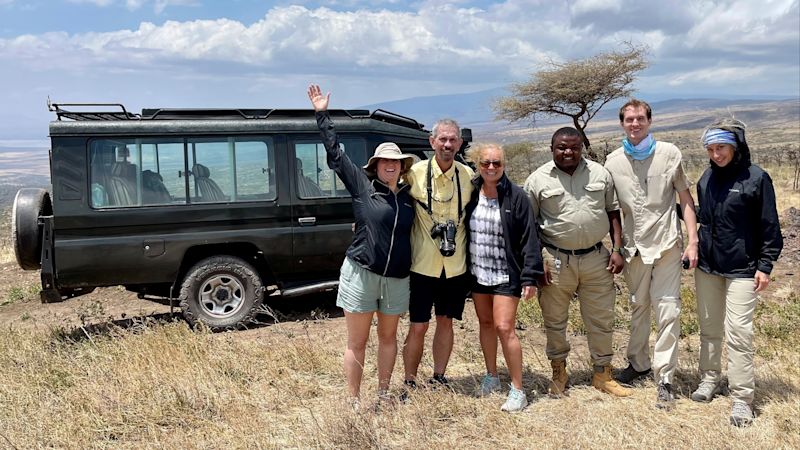 Dannielle took this pic with her group's safari guide in Tanzania
They give you recommendations
A tour guide can also be invaluable in terms of recommendations for markets and shops to pop into, museums, galleries and palaces to visit, gardens and parks to explore, and so on.
And the reverse is true too. They know what places to avoid because they're actually letdowns, overcrowded or overpriced.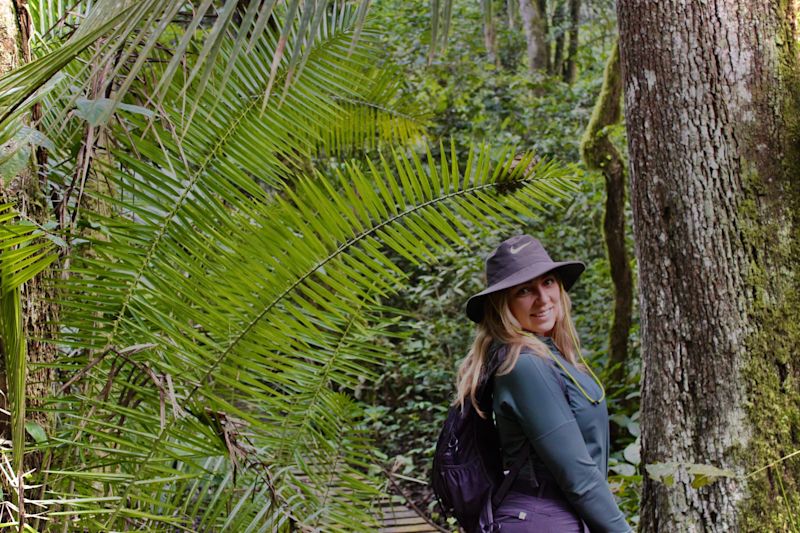 Amber on a chimp trek in Uganda
Tour guides also know where the locals like to eat – and those are often the places with the tastiest and best-prices meals. And when you have a local with you, there's no possibility of feeling awkward, like not knowing if you should seat yourself or wait to be seated. (Your tour guide is also a good person to ask about tipping customs.)
10. Good tour guides pivot when necessary
If you arrive somewhere and it's closed for renovations, or unexpectedly overcrowded, then your tour guide is able to pivot and suggest the next best option, or an alternative, to ensure you still maximise your time in the destination.
They really do take the headache out of travelling!
11. Great tour guides celebrate your wins with you
A really great tour guide is invested in your trip. They want you to get the most out of the experience. And if it's an adventure trip with a set goal in mind, they want you to succeed in that!
Then, when you reach your mark, or push yourself beyond what you thought possible, a great tour guide is there to celebrate with you! They add to the victory moment by high-fiving you and generally making a fuss. 😄
Also, if you're a solo traveller, then it's especially wonderful to have another person there to make a noise about your win with you.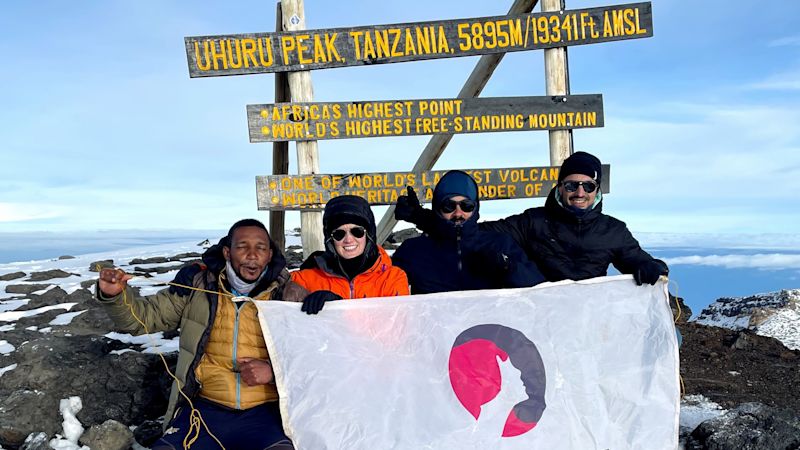 Tour guides are there to celebrate your achievements with you!
12. Great tour guides can even become friends
Sometimes, your tour guide adds so much to your trip, and you spend so much time together, that you end up becoming friends!
We cannot begin to tell you how many times this has happened on our trips. In their post-trip feedback, our clients often express not just gratitude for the encouragement and support of their guides, but also a genuine affection for these special people with whom they bonded and shared an incredible adventure.
One picture that perhaps best sums this up is this one below of Jack with one of his Kilimanjaro crew members at the end of the climb ...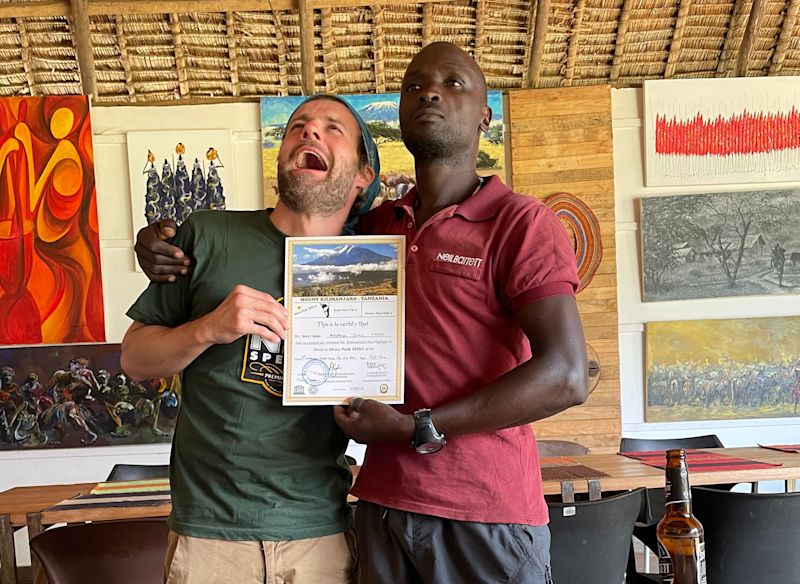 Jack and David celebrating with Jack's summit certificate